INSIDE: A Photographic Ode to The 'Virgin Mary of Guadalupe' YES, OUR EDITOR WENT THERE!
THE END-OF-YEAR ISSUE
PUBLISHER, FOUNDER & EDITOR
ANABEL MARQUEZ
EDITOR@MOMMYINLOSANGELES.COM
IG: @MRS.BELMAR
SALES & ADVERTISING
INFO@MOMMYINLOSANGELES,COM
ADDRESS
MOMMY IN LOS ANGELES MAGAZINE 360 E 2nd St.. Suite 800 Los Angeles, CA 90012
CONNECT
WWW.MOMMYINLOSANGELES.COM
@MOMMYINLOSANGELES
MARKETING , SOCIAL MEDIA & CREATIVE
INSPO MARKETING
LIZETTE VARGAS WENDY RIBEIRO
@INSPO_MKTG
CONTRIBUTORS
RACHEL CARRILLO
@L.A.MOMMA
SHERYL HUEZO-MESHACK
@SHERL80
ANNA BALLOU
WWW.FRESH-NECTAR.COM
WENDY RIBEIRO
@INSPO_MKTG
YADI LEMUS
@YADISHOUSE
MOMMY IN LOS ANGELES MAGAZINE IS AN LA-BASED WOMEN'S PUBLICATION WITH A MOTHERHOOD ANGLE. THIS DIGITAL MAGAZINE IS PUBLISHED BY THE BELMAR AGENCY, LLC. NO PART OF THIS PUBLICATION MAY BE COPIED OR DISTRIBUTED WITHOUT THE WRITTEN CONSENT OF THE PUBLISHER. THE VIEWS EXPRESSED BY CONTRIBUTORS ARE NOT NECESSARILY THOSE OF THE PUBLISHER OR PARTNERS.
MOMMY IN LA 3
BEAUTY & LIFESTYLE
picasso cut papers: a ucla art exhibit showcasing picasso's works made on paper
three moms team up to help women through menopause
from the editor: A weeklong visit to tokyo with kids is exhausting yet exhilirating
CITY & COMMUNITY
a local photographer pays homage to our lady of guadalupe "The queen of LA"
Editorial: what should nury martinez do next?
la mom Marsha SMITH KNOWS MUSIC helps raise happy kids
32 42 70 6 10 12
MOTHERHOOD & WELL-BEING FOOD & FESTIVITIES Cover story: Jennifer yen explains how to believe in your beauty! support your children through the bonds of motherhood the 2022 We All grow summit: a sanctuary of joy LEAVES ATTENDEES RECHARGED & INSPIRED Methodology: A new meal delivery service arrives in socal TO MAKE LIFE EASIER FOR MOMS LA's first surfskate festival is coming to venice our 2022 Christmas gift guide features fabulous items (AND THEY'RE ALL MADE IN LA, OF COURSE) 92 96 103 60 74 80
Picasso Cut Papers
Pablo Picasso, Mask, ca. 1950s. Cut and folded foil-lined cardboard box. 12 3/16 × 11 1/8 in. (30.9 × 28.2 cm).
Fundación Almine y Bernard Ruiz-Picasso para el Arte, Madrid © 2022 Estate of Pablo Picasso / Artists Rights Society (ARS), New York.
Pablo Picasso, Head of a Woman, Cannes, 1957. Wax crayon and graphite on cut and assembled pieces of cardboard. 29 1/2 × 12 3/8 × 13 3/8 in. (75 × 31.5 × 34 cm). Musée national Picasso–Paris. Dation, 1979 © 2022 Estate of Pablo Picasso / Artists Rights Society (ARS), New York.
Now on view through December 31, 2022
HAMMER MUSEUM INFORMATION
Admission to all exhibitions and programs at the Hammer Museum is free.
Tuesday-Sunday: 11am to 6pm.
Address
10899 Wilshire Boulevard at Westwood, Los Angeles. Onsite parking $7 (maximum 3 hours) or $7 flat rate after 6 p.m.
Visit hammer.ucla.edu for details or call 310-443-7000.
CREDITS
Picasso Cut Papers is organized by Cynthia Burlingham, deputy director, curatorial affairs, and Allegra Pesenti, independent curator, former associate director and senior curator, Grunwald Center for the Graphic Arts.
Pablo Picasso, Woman with Outstretched Arms, Cannes, 1961. Cut, folded, and painted sheet metal. 14 9/16 × 13 × 4 15/16 in. (37 × 33 × 12.5 cm). Fundación Almine y Bernard Ruiz-Picasso para el Arte, Madrid © 2022 Estate of Pablo Picasso / Artists Rights Society (ARS), New York.
The Hammer Museum at UCLA presents Picasso Cut Papers, an exhibition about an important yet little-known aspect of the practice of Pablo Picasso (1881-1973). This exhibition features some of Pablo Picasso's most whimsical and intriguing works made on paper and in paper, alongside a select group of sculptures in sheet metal.
Cut papers were created as independent works of art, as exploratory pieces in relation to works in other mediums, as models for Picasso's fabricators, and as gifts or games for family and friends.
Although the artist rarely sold or exhibited them during his lifetime, he signed, dated, and archived them just as he did his works in other mediums. Many examples have been stored flat or disassembled in portfolios until now and have regained their original three-dimensional forms for the exhibition. This survey spans Picasso's entire career, from his first cut papers,made in 1899, at nine years of age, through the 1960s, with works he made while in his eighties. Picasso Cut Papers will be on view from through December 31, 2022.
MOMMYINLA 6
"Los Angeles is like a beauty parlor at the end of the universe"
-Emily Mortimer
MOMMYINLA 7
IN HONOR OF MY LATE MOTHER
Founder and Designer Megha Rao and Creative Director Pooja Desai Shah of Indo-Western fashion label holiCHIC unveiled the brand's new collection titled 'Ma' (meaning mother in Hindi) on the runway during New York Fashion Week. Their runway showcased featured pieces from their latest FW22 'Ma' collection including sari power suits, vintage inspired saris, upcycled cocktail dresses and even a few pieces from their mens line, holiMENs. The inspiration behind it? Rao's late mother.
Designer: Megha Rao
Creative Direction: Pooja Desai Shah
Concept and Shoot Assistance: Pareen Bhagat
Make up: @makeupbypriyanka
Hair: @hairbyliz.jas
Styling Assistance: @shayosaevents
MOMMYINLA 8
BLENDING WESTERN & SOUTH ASIAN CULTURES
Growing up as a first generation Indian American, designer Megha Rao wanted to honor her late mother, Jayshree Lathigara.
Reflecting on the legacy and values South Asian mothers pass down to their daughters, Rao took ten months to create the 'Ma' collection featuring a contemporary interpretation of classic Indian fashion taking influence from her own moms closet.
holiCHIC was created by Rao as a means to blend both Western and South Asian cultures.
"I've always belonged to two worlds, and my mother played a huge role in helping me find balance between both. She taught me how to embrace the opportunities I had growing up in America, while appreciating and respecting my South Asian roots."
The 'Ma' collection draws inspiration from Megha's childhood and bond with her mother.
"The collection features power business suits, dresses and more created out of traditional saris to represent the strength and resiliency of our Immigrant mothers, who never forgot where they came from. My goal with this collection was to continue to find innovative ways to fuse old and new, redefining and re-energising cultural heritage, all while honoring my mother."
holiCHIC, in partnership with Product of Culture, unveiled the collection at their 'Mumbai, NY' pop up shop in New York City. It's now available to shop online on the fashion label's website.
MOMMYINLA 9
By 2025, more than one billion women are expected to have entered menopause. Historically this life stage has been under researched, misrepresented and continues to be a taboo. Today StellaVia introduces holistic, doctor-formulated solutions responding to the needs of these women. StellaVia shifts the paradigm to inspire women to thrive in their wellness journeys, by offering innovative by-women-for-women products infused with doctor-formulated SuperBotanicals™ in artfully designed packaging. The brand uniquely meets women at every need state while navigating menopause by offering a portfolio of over 25 products, a community of support and wisdoms that inspire women to thrive in their wellness journey.
Founded by Carol Mehas, a former beauty industry executive, alongside Dr. Jessica Shepherd, a Gynecologist and Founder of Sanctum Med + Wellness, and Dr. Allyson Shrikhande a Physical Medicine and Rehabilitation MD and Chief Medical Officer of Pelvic Rehabilitation Medicine, StellaVia is here to light the way to wellness for a new generation of women All three are mothers, renowned innovators and are deeply devoted to caring for women while also sharing their wisdom with those looking for answers as they journey through menopause. This women's innovation
group is designed to shift the paradigm of women's wellness from telling to listening to what women want and need all while kicking taboos to the curb, and delivering exceptional products that actually work.
Nearly 6,000 US women reach menopause daily and will be seeking relief, advice and community within an industry that historical has not offered it.
"Every woman wants to be her best self," said Carol Mehas, StellaVia Founder and CEO. "And we have uniquely combined a wealth of wisdom with highly efficacious products to make a real difference in the daily lives of women. If help is out there, why not share it?"
Style and efficacy are at the cornerstone of the brand. StellaVia's innovative products are doctor-formulated SuperBotanical™ and CBD-sourced solutions in reimagined product forms designed to maximize benefits; resulting in delights that make feeling better a naturally authentic experience. All StellaVia products are encapsulated in iconic, artist-designed packaging that will do your purse proud.
"As a menopause specialist, I have seen so many women in the menopausal transition that need more options and desire a holistic option in addition to medical offerings," shared Dr. Jessica Shepherd,
MOMMYINLA 10
Highlights of some of StellaVia's innovative products include:
SuperBotanical™ Sore Muscle Gel - (also available in a convenient Roll On!): This proprietary essential oil blend contains Meadowfoam Seed Oil to assist in fast penetration for temporary relief of sore, stressed out and overworked muscles. Anti-inflammatory Eucalyptol helps to soothe headaches and neck pain. Some of the best features of this product is the quick absorbing formula leaves no sticky residue, only moisturized skin, making it perfect for pre or post workout routines. Roll on wherever you feel muscle tightness - your muscles will thank you.
SuperBotanical Hot Flash Spritz: Infused with cooling Organic Aloe Leaf Juice, soothing Glycerin and anti-inflammatory Eucalyptol, this product immediately cools and refreshes while leaving a youthful glow on skin; turn your hot flash into a power surge without missing a beat. The spritz won't stain clothing or alter makeup, in fact it makes your look last longer. Including taking away those frustrating hot flashes!
SuperBotanical™ Meno Mix Patches: The perfect way to combat many symptoms of menopause, this specialized assortment of botanical formulations can be used anytime to ease body aches, energize tired feet and help you get the most out of a good night's sleep!
Menopause is no match for these no mess, latex-free patches. Finally, solutions worth celebrating! You are not alone in this journey.
SuperBotanical™ Energy GumDrops - Not a sugar rush…but a healthy energy booster! They may taste like a treat, but they also offer the well-being benefits of CBD, the flavor of natural fruit juices and a low sugar coating to keep blood levels from spiking. Win today with these must-have pick-me-ups.
ADVERTISEMENT
"We exist to remind ourselves that the most exquisite and honest expression of beauty is already within you."
MOMMYINLA 11
ONE WEEK IN TOKYO
WITH KIDS
HOW WE VENTURED INTO THE BRIGHT, BUSY CITY IN THE LAND OF THE RISING SUN,WITH LITTLE ONES
By Anabel Marquez Mommy In Los Angeles Magazine Editor
MOMMYINLA 14
For starters, the city is huge and overwhelming at first, but you'll quickly get used to the hustle and bustle. The culture is unique, with a rich tradition of art, music, and dance. And the people are incredibly friendly and welcoming. There is a collective philosophy where people think about the well-being of society first. Their own, individual well-being comes second. The country is super clean, well-manicured and people are very trusting. In one incredible scene that I won't soon forget, a woman about to board a ride with her toddler at Puroland Theme Park left her gorgeous Chanel purse hanging on the stroller handle. She must have left it there for nearly an hour with no supervision and without a single worry of someone stealing the $5K bag. Stealing and tampering with other people's property simply doesn't happen.
But I digress.
There are plenty of things to keep kids entertained, from outdoor Japanese gardens and public parks to museums, zoos and amusement parks. The food is also a big draw for kids, with plenty of tasty options to choose from.
Keep in mind, the history of Japan is both long and fascinating, dating back thousands of years. Its history involves periods of both isolation and great openness, and the country has been greatly influenced by both China and the West. The Edo period (1603-1868) saw very little contact with the outside world. During this time, Japan developed its own unique culture, which is still evident today in things like traditional architecture, cuisine, and art.
You'll want to plan ahead and do your research to make the most of your trip, but Tokyo is a great destination for families. With its mix of culture, history, and fun, you're sure to create long-lasting memories.
Here are twelve activities and experiences to enjoy with kids while in Tokyo:
1. Visit the Meiji Shrine
One of the most popular tourist attractions in Japan is the Meiji Shrine, which was built to honor Emperor Meiji and his wife Empress Shoken. The shrine is located in a large park in the center of Tokyo, and it's a peaceful oasis in the midst of all the city's chaos. Tip: Visit on a weekend where you will bump into dozens of locals wearing traditional kimonos.
2. Stroll through the Imperial Palace grounds
The Imperial Palace is the primary residence of the Japanese imperial family, but the public is allowed to enter the grounds. The palace is located in the center of Tokyo, and it's a great place to take a walk and enjoy some peace and quiet. Just be sure to stay on the designated paths.
3. Visit Ueno Park
If you make a trip to Ueno Park, you can check off several items in one go. The park is home to the Tokyo National Museum, the National Science Museum, and the Tokyo Metropolitan Art Museum. Its also the home of the statue of the Last Samurai, Saigo Takamori. And if that's not enough, the park is also home to a zoo and several restaurants & cafés.
4. Enjoy a Calming Tea Ceremony Experience at Gionji Temple
One of the best ways to experience traditional Japanese culture is to participate in a tea ceremony. And what better place to do it than at Gionji Temple, which is located in the heart of Tokyo. The temple was founded in 1624. Tip: Make sure to take off your shoes before entering the temple.
MOMMYINLA 16
5. Shop in Akihabara
For all anime fans, like my two boys, Akihabara is a must-see. This is the area of Tokyo where you'll find all things anime, manga, and video games. The shops are full of character goods, comics, and games. And if you're lucky, you might even spot a cosplayer or ten.
6. Take an elevator trip to the Skytower viewing deck
Tokyo's Skytower is the tallest building in Japan, and it offers stunning views of the city from its observatory deck. The tower is located in the Roppongi district, which is also home to many shops, restaurants, and bars.
7.
Take in a baseball game
Baseball games in Tokyo are a popular pastime, and the Tokyo Dome is the city's biggest stadium. The Yomiuri Giants are the most famous team, and they play their home games at the Tokyo Dome. Tickets are easy to get, and games are a great way to experience Japanese culture.
8. Eat at a conveyor belt sushi restaurant
You can't visit Tokyo without enjoying a belt sushi experience!
These restaurants are very popular in Japan, and they're a great way to try a variety of sushi. The sushi is placed on a conveyor belt that runs around the restaurant, and you can just grab whatever looks good. Technology allows the restaurants to know which patrons selected which items.
9. Experience the crowded Shibuya Crossing
The Shibuya Crossing is one of the most iconic images of Tokyo, and it's definitely worth seeing in person. Imagine this: hundreds of people crossing the street in various directions at numerous intersections at the same time! The crossing is located in front of the Shibuya train station and it's a great place to people watch. Tip: head to the second floor of the Starbucks across the street for a bird's eye view.
10. Dine at the Pokemon Cafe
If you are able to book a reservation for the Pokemon Cafe, you are in for a real treat. Themed restaurants are very popular in Japan, and the Pokemon Cafe does not disappoint. Everything in the cafe is Pokemon-themed, from the food to the drinks to the decor. And of course, there are plenty of photo opportunities. The cafe is located in the Ikebukuro district of Tokyo.
11. Visit Tokyo Disneyland or Tokyo DisneySea
The Tokyo DisneySea theme park is the most popular tourist destination in Japan. It's located in the Tokyo Disney Resort in Chiba, about an hour outside of the city. The park is divided into seven themed areas, each based on a different legend or story. There's also a hotel and shopping district nearby.
12. Visit Hello Kitty's indoor theme park: "Puroland" Puroland was built in 1990 as a theme park for the popular Japanese character, Hello Kitty. I
MOMMYINLA 17
It's located in Tama, about an hour outside of Tokyo. The park is small, but it's perfect for young kids. There are rides, shows, and a parade, all featuring Hello Kitty and her friends.
Tokyo is an amazing city with something for everyone! The experience is certainly exhausting, especially if you're traveling on the train system with little ones. However, it's quite rewarding when you see the young ones taking it all in, making new friends and asking to stay longer.
Tokyo can be tiring but it's also thrilling and timeless. I am glad I got to experience this journey with my family and I encourage other moms to do the same!
MOMMYINLA 18
Arigatō Gozaimasu
JACQUELINE VELASQUEZ
MCLC
WORKING IN DTLA'S FOOTWEAR INDUSTRY FOR OVER A DECADE, THIS LA BOSS MOM TOOK HER LOVE FOR FASHION DESIGN AND CREATED MCLC, A LINE OF "FOOTWEAR FOR THE SOLE"
AFTER
MOMMYINLA 23
UNDEFINABLE
A GLOBAL CAMPAIGN BY
Victoria's Secret launched the first ever Undefinable Global Campaign Seeking to Inspire & Listen to Women Around the World. Collective Partners included Adut Akech, Bella Hadid, Eileen Gu, Hailey Bieber, Paloma Elsesser & Valentina Sampaio along with Bethann Hardison, Brittney Spencer and others.
MOMMYINLA 24
In October, Victoria's Secret introduces 'Undefinable' -- a
"Undefinable honors the different elements that make every woman special, and reminds us all of the value in owning it. It is so inspiring to be a part of a campaign alongside such incredibly strong women who are proud of their individuality. I am so excited to partner with Victoria's Secret in sharing this important message with all women, while encouraging them to embrace their own unique and powerful stories," says Paloma Elsesser
global campaign designed to cement the brand's continued commitment to welcoming and championing women's voices and unique perspectives. The inspiration behind the global campaign and authentic stories shared throughout are part of the brand's dedication to evolving, listening, and reinforcing that beauty was always for the individual to define. The campaign talent speak from their personal experiences and address the importance of recognizing that women are undefinable by anyone but themselves. and comfort accessible and inclusive for many body types. There is so much power in taking charge of your identity, and Undefinable embodies just that.
The Undefinable campaign was photographed and directed by Harley Weir in partnership with LOOK Creative Agency and styled by Camilla Nickerson and features VS Collective partners Adut Akech, Bella Hadid, Eileen Gu, Hailey Bieber, Paloma Elsesser and Valentina Sampaio as well as boundary breaking changemakers Bethann Hardison, Brittney Spencer, Femita Ayanbeku and Rose Namajunas.
Additionally, as the brand continues its commitment to listen and learn, Victoria's Secret invites all women into the conversation to use their voice and share their stories of what makes them #Undefinable.
"I'm proud to be part of a campaign for a company that's redefining its historic image of beauty by making glamour
Type here
"The Victoria's Secret consumer is at the heart of all we do and we will continue to use our platform to celebrate individuality and diversity given the brand's vision to be the world's leading advocate for women. The cast featured in this campaign represents the multifaceted, honest and ever-evolving beauty of womanhood – a journey that is only each individual's to choose," says Amy Hauk, CEO Victoria's Secret and PINK.
"The Undefinable concept was created as an avenue to really cement our brand positioning and our commitment to our revolution and transformation. This particular campaign goes beyond one season – and is about our ongoing commitment to celebrating all women and every unique layer that makes them who they are. We are not here to dictate how to define beauty for anyone but instead we are here to celebrate how they define beauty on their own terms. We're proud to share Undefinable with women all over the world and invite them to share their own powerful stories," says Raúl Martinez, EVP, Head Creative Director at Victoria's Secret.
The women featured in this campaign are a true representation of loving who you are and I can't wait to share this sentiment with the world," says Brittney Spencer.
The Undefinable campaign was featured at the brand's 5th Avenue flagship location on the 3rd floor as an experiential and immersive exploration of the campaign starting last month. Additionally, the campaign was featured in high impact fashion-driven districts within major cities such as New York and Los Angeles in the format of digital spectaculars, urban panels, bulletins and the brands owned and social channels including Instagram, Twitter, Facebook, TikTok and Youtube.
About Victoria's Secret: (NYSE: VSCO)
Victoria's Secret is the world's largest intimates specialty retailer offering a wide assortment of modern, fashion-inspired collections including signature bras, panties, lingerie, casual sleepwear and athleisure, as well as award-winning prestige fragrances and body care. With nearly 1,400 retail stores worldwide and a predominately female workforce of more than 30,000, Victoria's Secret boasts the largest team of specialty trained bra fit experts worldwide. Victoria's Secret is committed to inspiring women around the world with products and experiences that uplift and champion them and their journey while creating lifelong relationships and advocating for positive change.
MOMMYINLA 26
MOMMYINLA 27
FRAGRANCES
INTRODUCING EMMA WATSON FOR
A LIFESTYLE BRAND FOR FABULOUS, EMPOWERED WOMEN. STORIES, STATEMENT PIECES, STUFF WOMEN LIKE. PERSONAL ENRICHMENT & SELF-EMPOWERMENT // FANCY & FABULOUS // BRIGHT RED LIPS // CANDLES // ART // MOMMY IN LAMERCH // LUXURY & SUSTAINABILITY WE LOVE WOMOM FOR ALL OF US. www.WOWMOMBrand.com
"Los Angeles
is 72 suburbs in search of a city."
-Dorothy Parker Poet
MOMMYINLA 30
Hollywood Park, the largest urban mixed-use
mega development under construction in the Western USrecently signed new tenant, Cosm, to bring entertainment to life with its revolutionary domed & compound curved LED technology.
Located just six miles off the coast, a short drive from LAX and the City of Inglewood's future Crenshaw/LAX Line, Hollywood Park is poised to become an iconic global destination for millions to enjoy.
Guests will be able to directly experience immersive content through Cosm's proprietary, best-in-class technology that seamlessly bridges the gap between virtual and physical realities.
As part of Hollywood Park's retail district, the venue will showcase a 26.6-meter diameter LED dome in a 65,000 total square feet facility that can hold up to 1,700 guests. Programming at the venue will include live sports and entertainment, experiential events and content, immersive art, music, and more.
New Residences
Hotel
acres of tree-lined parks
Construction for Cosm's Los Angeles venue, designed by HKS has already begun
WHEN COMPLETE: * * * * * 890
2,500
300-Room
25
5
HOLLYWOOD PARK A city within a city
Sq. Ft. Retail Space
Million Sq. Ft. Office Space
MOMMYINLA 31
LA REINA DE LOS ANGELES
According to Historians, Spanish settlers originally named the city"El Pueblo de la Reina de Los Angeles" (English: The Town of the Queen of Angels) in honor of the Catholic figure of the Virgin Mary. Her image is a Los Angeles fixture that adorns murals in places spanning from Pacoima to East L.A. and from El Monte to Long Beach.
LA photographer Oscar Rodriguez Zapata honors her influence by documenting La Virgencita's appearances on buildings across the Southland.
PHOTOS BY OSCAR RODRIGUEZ ZAPATA
MOMMYINLA 32
MIRAMAR TORTILLERIA UNION PACIFIC AVE. & SUNOL DR.. EAST LOS ANGELES
A Photographer's Ode to the Queen of Los Angeles
The influence of the Virgin Mary of Guadalupe in Los Angeles is undeniable.
For many Angelenos, la Virgen de Guadalupe frequently referred to as "La Virgencita," is a powerful protector and intercessor. She is invoked for everything from healing the sick to helping win soccer matches. Murals depicting her can be found throughout the city and one local photographer, Oscar Rodriguez Zapata, has made it a personal mission to document as many art renderings as possible of Mexico's patron saint.
"I noticed many Virgencita murals were being painted over due to gentrification so I decided to take action and document," he explains.
To date, Rodriguez Zapata has photographed approximately 400 murals of the "Queen of Los Angeles" using his Nikon z6ii camera. And he has no plans of slowing down. His project already has a dedicated Instagram page with nearly 5,000 followers.
"I have a long list and still growing of images that I still haven't shot," he says.
His method for capturing the images is simple.
"I'm always keeping an eye out," says Rodriguez Zapata.
Even though he's gaining an audience on social media, he has never received a tip about where to locate the next mural. As a matter of fact, it's almost as though Virgencita murals make unexpected appearances when he's around.
RANCHO VERDE MARKET UNION PACIFIC AVE. & S. SUNOL DR. EAST LOS ANGELES
MOMMYINLA 34
N.
JADE'S MINI MARKET HOOPER AVE. & E. 50TH ST. CENTRAL-ALAMEDA, SOUTH LOS ANGELES MEMO'S GARAGE HOLMES AVE & E. 58TH PL. FLORENCE-GRAHAM, SOUTH LOS ANGELES NOHPALLII STUDIO 4292 UNION PACIFIC AVE. LOS ANGELES MOMMYINLA 35
EL MERCADITO
LORENA ST. & E. 1ST ST. BOYLE HEIGHTS, LOS ANGELES
In one curious instance, as Rodriguez Zapata was traveling down a street he's taken for years to go to work, he suddendly noticed a section of a plain brick wall had toppled. When he peaked through the rubble, he caught a glimpse of a fading mural of the Virgin Mary of Guadalupe looking straight at him, on the edge of a decaying wall.
"The only reason that mural appeared was because part of the old fence surrounding the business collapsed," he recalls.
And Rodriguez Zapata was there with his camera handy.
A city's devotion to the Queen of Los Angeles
The Virgin Mary of Guadalupe is a popular figure in Los Angeles.
Chicano and Mexican-American artists including Carlos Almaraz, Gilbert Lujan and George Yepes have focused their talents on depicting her and every year on December 12, the Cathedral of Our Lady of Angels in Downtown LA welcomes Mariachis, Aztec Dancers and large crowds to commemorate the feast day of Our Lady of Guadalupe.
While historians acknowledge her influence within Los Angeles' Latinx community, they also note that LA's official patron saint is actually Saint Vibiana.
ABANDONED BUSINESS STRUCTURE FLOWER ST. &
UCLA Professor Dr. Marissa Lopez has written about it and says Mexican Angelenos in the 19th Century considered the Virgin Mary of Guadalupe the city's guardian. In fact, the city's official name, El Pueblo de Nuestra Señora la Reina de Los Angeles, was named after her. However, in 1859, Spanish-born priest Thaddeus Amat became the Bishop of LA, transforming how residents practiced Catholicism.
"He proposed a practice of the religion that stripped it of the Mexican cultural practices," says Dr. Lopez.
Bishop Amat would kickstart his plan by introducing the image of a white woman-- a virginal young lady named Vibiana whose remains were discovered in Rome.
In 1853, archaelogists led by Pope Pius IX found vessels of blood along with a Latin inscription in her tomb that described Vibiana as "innocent and pure," explains Dr. Lopez
"Amat was charged with taking the newly discovered saint's relics to California and to build a cathedral in her honor," she says.
LA's first cathedral was named ater St. Vibiana, but, be that as it may, the Virgin Mary of Guadalupe never stopped being a powerful symbol of Mexican Identity. And as the city's Latinx population continues growing, we may see many more murals of La Virgencita for years to come and loyal devotees who consider her the Queen of Los Angeles.
LAS MANOS TORTILLERIA Y TAMALERIA
FLORENCE AVE. & MALABAR ST. HUNTINGTON PARK
SANTA FE AVE. WALNUT PARK
MOMMYINLA 36
DISCOUNT STORE
SOUTH
MARLENE'S
HOOPER AVE. & E. 50TH IN CENTRAL-ALAMEDA
L.A.
"By Pardis Mahdavi Provost and Executive Vice President, The University of Montana
MOMMYINLA 39
"Women, life, liberty."
These words are ringing out on the the streets of every city in Iran, as women come out to tell the repressive enforcers of the Islamic Republic that they have had enough.
The death of 22-year-old Kurdish Iranian woman, Mahsa Zhina Amini, on September 16 at the hands of the republic's "morality police" has sparked huge protests across the country. The regime's brutal response has so far resulted in the deaths of more than 400 protesters and the arrest of more than 20,000.
Amini was murdered by the morality police for not wearing her hijab properly, according to the rigidly enforced Islamic Penal Code. To demonstrate their fury at her death and their continuing oppression, Iranian women have been taking their headscarves off and burning them. Unable to drown the loud and determined voices of the Iranian people, the
Islamic Republic has turned once again to its usual tactics: violence, internet shutdowns, mass arrests and killings. Standing shoulder-to-shoulder, Iranian women chant for their freedom. These images appear unprecedented. But for anyone who has followed Iranian politics and society over the years, what we are seeing on the streets of Iran's cities is no surprise. They are the reaction to more than four decades of brutality and violence and the climax of years and years of resistance.
The slogan "Women, life, liberty," adopted from Kurdish, honours Amini's heritage and connects Iranian women's movement to one that is collective and transnational. Even schoolgirls have taken part. Taking off their uniforms, exposing their hair, they give the finger to the Islamic Republic. They are singing for their freedom. 20 days into the protests, we are witnessing a truly feminist revolution in the making.
And yet, global feminist solidarity has traditionally been disappointing when it comes to the struggle of Iranian women against this patriarchal dictatorship. For example, many female western state officials who have visited the Islamic Republic have complied with its dress code for women. This has the undesired effect of normalising the policing of women's bodies.
The images emerging from the streets of Iran's cities – of loud, defiant, courageous women going face-to-face with their oppressors – don't fit a common western narrative of Iranian women being ultra-modest and submissive. More generally, this contrasts with common media and Hollywood depictions of Middle Eastern women that offer racial and gender stereotypes instead of complex or diverse representation.
The compulsory hijab for the Islamic Republic is a symbol of subjugation over women, a tool for oppression. The inequality Iranian women experience goes beyond the way they dress. From child custody, divorce laws, to bodily autonomy, and even the right to leave the country, their every action is controlled by a ruthless regime.
But it is more than just that. From the Islamic Republic's inception in 1979, visuals have played a crucial role in cementing this regime and its propaganda. Forcing the hijab onto every single young girl and woman was a way for the Islamic Republic to carry out its ideology using women's bodies, a way for it to create a visualisation of a supposed homogeneous Islamic state. These visual signifiers are central to how the regime operates and holds onto power.
More importantly, it's the way the regime maintains its image and brand,
within Iran, in the region, as well as to the outside world.
This means, that not only is the compulsory hijab a tool for oppression, but it is an emblem to represent the Islamic Republic.
To burn it is to reject the regime in its entirety. The women of Iran are using the very symbols of the regime, to reject its legitimacy as they call for change.
History of resistance
Expressions of dissent and acts of disobedience have taken many forms over the 43 years of the Islamic Republic. Women have had to negotiate with the state's red lines to challenge systems of power for years.
They have tried to express their agency and dissent through various acts such as wearing bright lipstick or colourful clothing, exposing hair under their compulsory hijab, or daring to dance – all in an effort to retain some bodily autonomy. But protests against the compulsory hijab have roots going back to the beginning of the Islamic Revolution in 1979. And while in recent years
Iranian women have become more vocal both on social media and the streets of Iran, their acts of resistance have been met with violence and imprisonment.
Today, Iranian women are telling the Islamic Republic as well as the men around them and the outside world that they will no longer negotiate.
"Women, life, liberty": these are the words that fill the streets of every city across Iran. A clear, collective and loud stance against the Islamic Republic and everything it stands for.
"Not only is the compulsory hijab a tool for oppression, but it is an emblem to represent the Islamic Republic "
MOMMYINLA 40
a timeline of protests in iran following Amini's death
SEPTEMBER 13: WHILE VISITING HER FAMILY IN TEHRAN, MAHSA Amini is detained AND BEATEN by police FOR ALLEGEDLY WEARING THE HIJAB IMPROPERLY.
SEPTEMBER 16: After three days in a coma, Amini is declared dead.
OFFICIALS DENY ANY WRONGDOING AND CLAIM SHE HAD A HEART ATTACK WHILE IN CUSTODY.
SEPTEMBER 17: Amini is buried in her hometown of Saqez in northwest Iran. Police use tear gas after AREA residents BEGIN PROTESTING.
SeptEMBER 19: Tehran erupts. Protests break out at several Tehran universities.
OctOBER 12: More than 100 charged over the protests in Tehran and the southern province of Hormozgan. EU members agree to impose sanctions on Iran.
Auda
THE CITY WHAT SHOULD NURY MARTINEZ DO NEXT?
racist comments and resigned from the top spot as LA City Council President. Now she's disappeared from public view and hasn't said another word about the biggest racism scandal to rock the City of Los Angeles in years. So what should a Latina who was an elected official do after being cancelled by her constituents, her city, her counterparts and her own culture?
At the time this issue of Mommy In Los Angeles Magazine was published, Nury Martinez had not responded to a request for comment. I sent her a private message asking that she address Los Angeles Moms who were appalled and heart-broken by the recording of racist comments she and a few other city officials were so inclined to exchange.
"I take responsibility for what I said and there are no excuses for those comments," Martinez said in a statement when she resigned as president of the Los Angeles City Council, days after the recording leaked. But what does taking responsibility mean when the damage has been done? We can't "un-hear" the way she referred to the son of her fellow councilman Mike Bonin, nor can we forget the way she disrespected the Oaxacan community. So here is what I think Nury needs to do next.
1.She needs to apologize again. This time, however, she needs to explain herself more. An in depth-look at what has shaped her views about certain ethnic groups and how she may actually represent a larger problem within the Latinx community would be a good start. What made it so easy for a Latina whose culture has its own set of challenges with discrimination— say things that are so racist? Maybe Nury needs to be at the forefront of this discussion. Are her thoughts about Blacks and certain types of Mexican communities something that can be attributed to classism? Is it cultural or generational? And how can society put an immediate stop to demeaning certain populations?
2.Nury needs a mentor. Perhaps spending time with someone like Josefina Maria Pelaez, a Oaxacan elementary school teacher in Mexico who brings awareness to the needs of Mexico's indigenous communities and teaches young children about the beauty of Oaxacan culture would serve her right. Someone else that could teach her a thing or two is a strong woman like Dr. Cheryl Grills, who was my African American studies professor at Loyola Marymount University. Dr. Grills was appointed by Governor Newsom to study reparations for slavery. I'm sure she'd have plenty to school Nury about, especially as it relates to labeling Black people and what racism has done to this country.
3.She needs to do some great work moving forward. And by that I don't mean anything that may be seen as a publicity stunt, no cameras rolling, no hidden agendas, just Nury as intentional and purpose-driven as possible, ready to help the communities most affected by her words. Things that come to mind: spending time learning from students at a Historic Black College/Univesity (HBCU), tutoring children in farm working communities, going back to school for a degree in Social Work and/or Marital and Family Therapy. That would likely help her come to terms with how a person's trauma can be extended by the actions and words of others, especially community leaders and elected officials.
Meanwhile, as mothers, here's what we should do to continue appreciating this incredible city of Los Angeles, which is a melting pot of cultures—
Avoid using language that is demeaning to others. If our children hear us say things that aren't nice about other ethnicities and/or cultures, we have already committed a disservice in our attempt at raising good humans.
Check your values. We are coming of age as adults, parents and caregivers to elders in a time of great societal shifts in terms of cultural consciousness. Voices of color are being heard loud and clear and oppressive values and traditions are being put on blast as folks are standing together to say "enough is enough". It doesn't hurt to question the implicit bias that often shapes our own opinions and degree of empathy to the world around and the people who share it with us.
Commentary By Anabel Marquez, Editor
She surprised us all with her awful,
MOMMYINLA 42
No Ye, No!
The Self-Destruction of Ye
excerpt from the new york times column by charles m. blow
Honestly, I never expected this episode of Kanye West drama to last as long as it has. I certainly didn't expect myself to care much about it. I figured I'd weigh in once and move on.
"Billionaire Maker of Ugly Shoes and Oversize Jackets Ends Career With Reckless Mouth."
That, I thought, would be it. But it hasn't been. His embrace of anti-Black, antisemitic and white supremacist language wasn't the only thing that interested me. I have also been watching the reactions to his fall, which, in all their strange contradictions, have exposed ugly truths about power in this country — who can and will demand accountability, how corporations exploit culture and character until they imperil profits, how some people absorb and accept insult and give too long a leash to those with the most money and most fame.
Let me first say this: West, who now goes by Ye, should have become a pariah when he was talking about slavery as a choice, making a mockery of Black ancestors whose suffering was anything but a choice..
But Ye wasn't vanquished. He offered a weak-tea apology, and the odiousness of the offense faded. People packed his concerts and bought his clothing. Corporations flocked to be associated with him.
He should have become a pariah when he gushed over Donald Trump in the Oval Office and said of his MAGA hat: "There was something about when I put this hat on — it made me feel like Superman."
But nothing. The deals continued. The legend grew.
This is not about mental illness. Mental illness is very real and needs to be part of the conversation. But it doesn't make you espouse anti-Black ideologies and antisemitism.
This is not some master strategy on Ye's part. He's not playing chess while everyone else is playing checkers. He's just playing himself.
And stop the whataboutism. Whether someone else has also been offensive in the same way is irrelevant to Ye's guilt. He is wrong. Period.
To the Ye apologists, and there are some: Please stop babying this former billionaire.
MOMMYINLA 43
SMALL STEPS SAVE LIVES
Are you prepared to help a loved one in case of an emergency?
L.A. GIRL SCOUTS RECEIVED A $4.9 MILLION GIFT (THE LARGEST DONATION EVER FROM A SINGLE INDIVIDUAL) MOMMYINLA 45
The Girl Scouts of Greater Los Angeles plan
other goals
The gift is part of an $84.5 million donation awarded to Girl Scouts of the USA (GSUSA) and 29 individually selected local councils.
Girl Scouts of Greater Los Angeles (GSGLA) recently announced that philanthropist MacKenzie Scott donated $4.9 million to the organization making this unprecedented donation the largest gift from a single individual in both GSGLA and GSUSA's history. The generous donation arrives as the organization celebrates its 100 year anniversary.
"We are deeply grateful to MacKenzie Scott for this extraordinary gift, which will help us reach thousands more girls," said Girl Scouts of Greater Los Angeles CEO Theresa Edy Kiene. "To receive this investment in girls in our 100th anniversary year is particularly meaningful."
Donations to women's and girls' organizations make up less than 2% of all charitable giving.
Scott, 52, is a novelist with a net worth of $34.9 billion, according to Forbes. She has given away more than $12 billion to a wide range of charitable and nonprofit organizations over the past three years following her 2019 divorce from Amazon founder Jeff Bezos.
According to the Girl Scouts of Greater Los Angeles, MacKenzie Scott's gift will enable the organization to:
• Create more equitable membership opportunities in communities previously underserved by Girl Scouts. This includes Diversity, Equity, Inclusion, Access and Racial Justice initiatives, continuing to break down accessibility barriers by partnering with community organizations including after-school programs at Title 1 schools, providing troop start-up funds and free memberships, and partnering with families and communities.
• Fostering meaningful program innovation informed by girls' current interests and needs, preparing them for leadership, including an expanded focus on career readiness, mental wellness and civic and social engagement. A priority is expanding girls' access to STEAM exploration, building upon exciting programs such as hands-on coding, robotics, and sustainability.
• Bolstering the foundations of the council in critical areas such as volunteer and staff training.
•Provide opportunities for more girls to get outside and connect with nature and each other while building confidence at our high adventure camps.
"As we set the course for our future, we are squarely focused on making sure all girls in Greater Los Angeles have access to our programming. We are empowering the next generation of leaders," said Kiene.
MOMMYINLA 46
to create more membership opportunities, among
Girl Scouts of Greater Los Angeles
(GSGLA), is a 501(c)(3) nonprofit organization serving more than 33,000 girls
Partners with more than 17,000 adult members and volunteers throughout the communities of Los Angeles County, and parts of Kern and San Bernardino counties.
Is the largest girl-serving nonprofit agency in Los Angeles, with programs in entrepreneurship, life skills, outdoor, and STE(A)M, building girls of courage, confidence, and character, who make the world a better place.
Provides safe spaces, where everyone is welcome, where all girls and families belong, with girls' well-being at the center.
To learn more, join, volunteer or support, visit girlscoutsla.org.
MOMMYINLA 47
MOMMYINLA 48
Stay On Top of Things: Five Questions to Ask your Roofer Before Signing a Contract
Roofing your home is a big investment. You want to be sure you're getting the best possible service for the money you're spending. ByltUp, a trusted roofing services company based in Long Beach suggests asking several questions before committing to a major roofing project.
Here are five questions to ask before signing a contract:
1. What type of warranty do you offer?
The average roof warranty lasts for one year, however it's good to find out whether the roofing company you're considering offers longer warranties. For the most part, the manufacturer usually covers the materials. The actual work done is generally covered by the roofer. These two separate agreements should be discussed carefully before making any decisions since they could add up if not properly estimated beforehand!
2. What is the estimated cost of the project and do you provide written estimates?
You don't want any costly surprises when it comes time to pay the bill. The contractor should provide a written estimate that takes into account labor, materials, and anything else that may come up during the job.
3. What is the expected timeline for completion?
The roofing contractor needs to be prepared for any obstacles that could impact their completion time. They should outline plans in case of an emergency, have enough employees on staff so they can pick up the slack if necessary and ensure materials are available at all times by making sure there's enough backup supplies too. This information should be considered when promising a completion date.
4. How will you protect my property during this project?
Your lawn and landscape exterior should look the same after a roofing job as it did before the job started. Ask your contractor what steps they take to ensure that lawns do not get damaged during the
roofing process. For example, BYLTup makes sure its crew members are extra careful with people's yards. If possible, heavy equipment is generally placed on hard surface areas.
5. What do you do with refuse material?
When you hire a roofer, it's important that they take care of the garbage and debris resulting from their work. Ask your potential contractor what system he or she uses for disposal so as not to have an overwhelming mess on hand after the project is completed! BYLTup always makes it a point to contain any damaged materials or packaging used during installation.
These questions should help you get started on the right foot with your contractor. Be sure to ask about any concerns you may have so that you can make an informed decision before signing a contract.
EXCLUSIVE OFFER
Just for Mommy in Los Angeles magazine readers! Get $500 off a complete roof replacement with code: MommyinLA. This offer cannot be combined with any other discounts and must be presented at time of inspection.
BYLTup Roofing is available in Long Beach, Los Angeles, Orange County and Surrounding Areas.
ADVERTISEMENT
MOMMYINLA 49
YADI'S HOUSE
Yadi's House is an organization dedicated to providing much needed basic resources to underserved communities. I started Yadi's House because I never wanted another individual to feel the way I didwhen I was in the depths of the darkest time in life - postpartum depression.
I want other mothers out to know that they are supported, and that there are resources and hope. What started as a collection of diapers and clothing swaps has continued to evolve as new members join our cause and share their stories.
We create community and provide support so that the same individuals we assist can pay it forward when they have overcome their struggles.
By Yadi Lemus, Founder Photos By Hilda Centeno
Y
MOMMYINLA 50
MOMMYINLA 51
PHOTO: HILDA CENTENO
HELPING FAMILIES TRANSCEND THEIR CURRENT CIRCUMSTANCES
All of us know how quickly bills add up, and some of us know what it is to have to choose between what basics we provide for our kids and family. The stress it puts on a family, the emotional toll, the unspoken shame, frustration, and helplessness that can hit you all at once is overwhelming. You do your best to survive. Yadi's House continues to provide diapers, wipes, and other essentials to families in the SoCal area, with the goal of growing our reach with each diaper drive.
Families should not have to worry about making the impossible choice of which essentials to provide.
In addition, we are looking to expand to provide educational resources for underserved communities, with the goal of helping families navigate convoluted systems. Ultimately, we want to help families transcend their current circumstances. We are working on partnering with vetted professionals in the areas listed below to provide easy and affordable access to resources and information. Topics include, but are not limited to:
*Parenting
*Early childhood intervention for those with special needs
*Pre-natal care
*Breast feeding
*Managing finances
*Post-partum depression and other mental health conditions
*Teen Parenting & how to continue an educationional journey
*To create an emergency fund for families in need of immediate, short-term shelter and other basic necessities. In addition, we will work to connect these families with resources within the community that can assist with housing, and other support.
*Creation of a scholarship fund for an outstanding college student who has regularly volunteered with our organization. While nominal, we want to invest in the members of our community and encourage them to come back and help the community they grew up in.
While our current focus is within LA County, we are cultivating connections in Orange County and hope to partner with another organization. We are focused on increasing our reach during diaper drives and clothing swaps and on growing the educational resources we connect people with.
Yadi's House believes this is a powerful way to help build the community around us. As we continue to make contacts and partner with other reputable organizations/individuals, we will look at starting chapters in other locations.
Above all else, we serve from the heart. Being of service is a powerful way to heal and transform prior experiences. It does not mean that we deny them, it only means we embrace those experiences in a new way. My hope, always, is that no person feels alone or helpless, as if nothing else can be done.
You are NOT alone!
There are many people out there that want to help –reach out!
"My hope, always, is that no feelspersonalone."
MOMMYINLA 52
Yadi's House Quick Facts
Founded by LA Mom Yadi Lemus in July 2020 How you can help: Volunteer, donate supplies and through monetary donations 501(C)3 Organization Supports low-income families by supplying diapers, wipes and other baby essentials and by providing educational resources IG: @yadishouse MOMMYINLA 53
PHOTO: HILDA CENTENO
JAMIE LEE
educational
for preschoolers called "Giggles & Stardust"
MOMMYINLA 54
LA Mom, award-winning artist, teacher, author and composer. She recently created a boldly imaginative, highly creative, fun and somewhat old-fashioned, new
website
HOFFER
MOMMYINLA 55
Lee Hoffer's new online destination for preschoolers
The screen lights up and you're instantly transported to a magical place where colors are brighter, faces are friendlier, music is happier and the whole world is bigger and better than you ever imagined it could be. And, best of all, your host in this wondrous new destination is so instantly likable and trustworthy, you're ready to follow her wherever her imagination – and yours – will take you.
We're talking about Jamie Lee Hoffer and her new subscription-based online destination for preschoolers, Giggles and Stardust.
"I am at the 'sweet spot' of my life, where everything I've done and everything I've been, has brought me to this place where I am capable of sharing myself in the most genuine way," says Hoffer.
Already a popular online personality among children and parents thanks to a series of musical and educational videos on YouTube, Hoffer officially launched the new Giggles and Stardust site in October. The platform features educational videos, original songs, book readings, colorful artwork, life lesson content and a family of unique puppets.
"We explore the aspects and validity of our emotions, meet interesting people in our community and we giggle a lot," says Hoffer. "[We are] always offering carefully curated, high-quality screen time."
Hoffer is described as a Renaissance woman in the realm of child education, with a career that expands over several roles including teacher, book author, composer, illustrator and award-winning artist.
Born and raised in Asbury Park, New Jersey, Jamie showed promise as an artist from a very young age, parlaying that talent into a BFA degree from Tufts University and the School of the Museum of Fine Arts Boston. After later relocating to Los Angeles, she became a sought-after graphic artist until she began teaching art to children ages 5-11 while also working as a preschool teacher for children ages 14 to 24 months ("Best job I ever had!" she says.).
When COVID forced everyone to learn and work from home, Hoffer, along with her husband Andrew and a team of educators, programmers and entertainment industry advisors joined forces to create Giggles and Stardust.
"Everything I've done throughout my career and personal life…has led me to the creation and launch of GigglesandStardust.com. My goal is to show little ones that they are loved, supported, and important. Here, we sing, we laugh, we ask big questions, we wonder, we create, we love, and we all belong! Let's help each other grow in confidence, connection, and love," says Hoffer.
Jamie
"Here we sing, we laugh, we ask big questions, we wonder, we create, we love and we all belong!"
Subscription-based website offering monthly, weekend or annual passes beginning at $6.99 per month
Website visitors can also purchase one of several books written and illustrated by Hoffer including:
"I Don't Want To Wear A Diaper Anymore"; "There's a Jungle in the Back of My House" and "My Friend Sam."
Hoffer's new album, "Songs From the House on the Hill" can also be downloaded at www.GigglesandStardust.com
Giggles and Stardust
MOMMYINLA 57
NOVEMBER 5TH - 18TH, 2022 | THE COLONY THEATRE, BURBANK, CA A story of a young peasant woman, Anahit, and her remarkable journey as she transforms into a royal warrior, inspires her people, raises an army of women, and rescues the King and entire kingdom from evil forces. Written & Directed by Armina LaManna. Music by Shahen Hagobian. World Premiere Play LIMITED ENGAGEMENT! ONLY 6 PERFORMANCES! WARRIOR QUEEN ANAHIT THE BRAVE BUY TICKETS HERE! Your Visit Includes: Breathtaking immersive projections! Magical special effects! Meet a Life-Sized Nutcracker! Magical Photo Ops, and More! Buy Tickets Your family will be enchanted by Tchaikovsky's sweeping music, including iconic selections like "The March of The Toys" and "The Dance of The Sugar Plum Fairy", as they are immersed in 500,000 cubic feet of holiday wonder!
MOTHERHOOD
"Motherhood is
heart-exploding, blissful hysteria."
– Olivia Wilde
MOMMYINLA 59
BY ANABEL MARQUEZ & WENDY RIBEIRO
BY RACHEL CARRILLO
STORY
PHOTOS
FORMER ACTRESS TURNED SKINCARE CEO
Jennifer Yen
There's this thing about hanging out with Jennifer Yen. You think you've known her for a long time. She makes conversations feel easy and she's fun to talk to, even if only for a few moments out of her busy schedule.
Yen is the founder of Purlisse, a skincare company she launched using her grandmother's Asian beauty rituals and Yensa, a superfood cosmetic line.
The first time we interviewed Yen was in 2018. She was in a smaller office and had fewer employees. She hadn't introduced cosmetics into Purlisse's product rotation and her daughter Gemma was still a toddler.
At that time, she told us all about her journey from the long, make-up heavy days of acting in Hollywood when she appeared on the hit show Power Rangers Lightspeed Rescue as Vypra, a villainous vixen. She told us how she decided to eventually quit acting and give Purlisse her full attention.
Fast forward to 2022 and Yen is still the same girl's girl. She still has the same combination of approachability and girl boss energy but now her company is bigger. And we're not just talking the irresistible new cosmetic products, like BB Cream, cheek color and lipstick she added to the Purlisse lineup in 2019. Since we last interviewed her, she launched Yensa which is currently sold on QVC, Nordstrom's and Sak's Fifth Avenue.
She moved her corporate offices to a bigger facility and has been featured in national publications, including INC. and Forbes magazines, for her business success, her well-formulated products and her unique take on beauty. Plus, Gemma, her daughter is now eight years old and much more involved with Yen's daily operations.
"She's obsessed now," says Yen of Gemma's interest. "She's always trying to wear lipstick…she likes doing makeup on my mom. I hope this really opens another dimension to her creativity."
BEAUTY
IS ELEVATING
Believe in Your Beauty
On this occasion, Yen opened up about her motivation behind creating an entirely new makeup brand. As it turns out, Yensa was an idea that was sparked by motherhood.
"After giving birth to my daughter, I was once again faced with troubled skin, like rosacea and adult acne. But this time it was really hormonal, lackluster, and I needed coverage, because I was also 12 years older than when I first started [Purlisse]," she says. "My mother was taking care of me and she was following this tradition where a new mother sits out for a month and integrates super foods into her daily life, such as black tea, black rice, black seaweed and black sesame oil. And this brought radiance and vitality back into my skin."
That experience inspired Yen. She took the superfood concept and used some of the same ingredients to create full-coverage complexion cosmetics. Each product in her Yensa line is infused with eight superfoods. She works with chemists and skincare experts in Asia, France and the U.S. and the product branding is also very symbolic. Yensa's logo is a type of interlocking mandala with eight overlapping circles which represents the luckiest number in Chinese culture, symbolizing prosperity, great health, and infinite possibilities, explains Yen.
Thinking back on her motherhood journey, Yen realizes
nowadays her daughter Gemma is frequently around to observe meetings, business operations and company activities. We ask her if she hopes to motivate Gemma.
"I saw how hard my mom worked," says Yen. "I didn't think that it instilled anything in me because you just don't think about that, but…as you get older, what your parents taught you, is big part of who you are and who you become."
Yen's Purlisse website uses the slogan "Believe in Your Beauty"—a phrase that admittedly took the Alabama-raised entrepreneur some time to understand but has now become a part of her ethos.
"I grew up as the only Asian in Alabama so I definitely didn't feel beautiful when I was younger, and I was certainly always trying to fit in," she says. "I was diminishing the rich culture that I came from!"
Yen says earlier on, she had distanced herself from all of the wisdom, heritage and traditions from Chinese culture as a way to become more socially accepted.
"It wasn't until I started Purlisse, it was like wow! This is a true purpose and I'm going to infuse all of my heritage. The 5,000 years of knowledge passed down from my great-grandmother, grandmother, my aunts, my mom, all the women in my life. And when I say, 'Believe in your beauty,' it's a call to be loud and proud of who you are, no matter where you came from, what your ethnicity is like, what your age range is. Embrace it!"
MOMMYINLA 62
MOMMYINLA 63
MOMMYINLA 64
saw how hard my mom worked, and I didn't think that it instilled anything in me because you just don't think about that. But...as you get older, what your parents taught you, is a big part of who you are and who you become."
JENNIFER YEN MOMMYINLA 65
"I
MOMMYINLA 66
LIGHT FOUNDATION
IF YOU WANT SOMETHING THAT'S VERY LIGHTWEIGHT BUT OFFERS REALLY GREAT COVERAGE, I LOVE OUR PURLISSE PERFECT GLOW BB CREAM BECAUSE IT HAS SPF 30. I ALWAYS SAY, IT COULD BE WINTER, BUT YOU STILL NEED SUNSCREEN! AND THIS GIVES YOU GREAT COVERAGE. AS BUSY MOMS AND BUSY WOMEN, WE NEED PRODUCTS THAT WORK AS HARD AS WE DO, AND THIS IS DEFINITELY MULTITASKING.
FULL-COVERAGE FOUNDATION
FOR THE HOLIDAYS, IF YOU WANT EXTRA COVERAGE, I ALWAYS LOVE THE YENSA. I LOVE TO WEAR THIS AT NIGHT IF I'M GOING OUT OR IF I'M TOUCHING UP FOR AN EVENT OR GOING OUT AFTER WORK, BECAUSE THIS IS A NEXT LEVEL FOUNDATION. IT'S FULL COVERAGE, INFUSED WITH EIGHT NOURISHING SUPER FOODS. WE LEVELED IT UP WITH TRIED AND TRUE ANTI-AGING INGREDIENTS LIKE VITAMIN C AND VITAMIN E, FERULIC ACID, WHICH HELPS BOOST OLLAGEN AND BAKUCHIOL OIL, WHICH IS A RETINOL ALTERNATIVE THAT SAFELY RESURFACES THE SKIN WHILE GIVING YOU FULL COVERAGE.
FACIAL CLEANSER
IF YOU'RE HAVING A LONG NIGHT, I ALWAYS LOVE OUR BLUE LOTUS 4-IN-1 CLEANSING MILK, BECAUSE IT'S A CLEANSER THAT DOESN'T LEAVE YOUR SKIN DRY OR PARCHED. IT REMOVES MAKEUP AND EYE MAKEUP IN ONE SIMPLE STEP. IT'S ANOTHER MULTITASKING PRODUCT THAT'S VERY SOOTHING AND IT'S INFUSED WITH BLUE LOTUS, OATMEAL, AND WHITE TEA. I WANT TO EMPHASIZE THAT I KNOW PEOPLE LOVE TO USE CLEANSING WIPES AND THERE'S A TIME AND PLACE FOR THEM. BUT IF YOU WANT A REAL CLEANSE, YOU NEED TO USE WATER.
LIPSTICK
OUR LIPSTICKS ARE MORE OF A LUXURIOUS LIP NOURISHING TREATMENT, INFUSED WITH REALLY BEAUTIFUL PIGMENTS. THEY GIVE YOUR LIPS A BEAUTIFUL, VIBRANT COLOR IN JUST ONE SWIPE. THEY ARE MADE WITH EIGHT SUPERFOOD OILS. I LIKE TO FOCUS ON MY LIPS BECAUSE YOU CAN CHANGE THINGS UP REALLY FAST. I FOCUS MORE ON MY LIPS IF I WANT TO CHANGE MY MOOD. HAVING GREAT LIPSTICK REALLY LIGHTS UP YOUR FACE, AND CAN BRING VIBRANCY AND ENERGY.
4 Glam Tips from Jennifer to look good and treat your skin well this Holiday Season using Purlisse and Yensa products 01. 02. 03. 04.
MOMMYINLA 67
LA Mom Marsha Smith has been surrounded by music all her life. Now she leads a team of musicians that are making a difference in children's lives!
Photos By Jayme Burrows
Story By Anna Ballou
Marsha Smith has always been surrounded
As a child, she would spend hours singing and playing the piano, which she started learning at a young age. She was also in choir and fell in love with music from an early age. Marsha's love of music continued into her teenage years and led her to study music education in college, eventually becoming a music teacher.
While attending school for musical theater and communications, she offered piano lessons to help pay for tuition and to stay connected to music and her community. Eventually she moved on to grad school at Berklee College of Music. There she studied with some of the best teachers in the world and graduated with the goal of launching her own business.
"Looking back on my life, everything is categorized by the albums I was listening to at the time," she explains.
Smith's an entrepreneur at heart and she's passionate about helping others find their voice and share their message with the world. Given her love of community and the arts, she created a business helping musicians book gigs throughout the country.
The business allowed Marsha to work with others and help them achieve their goals through the love of music. It was a fulfilling opportunity to help others reach their dreams and achieve success. Then Covid created a plot twist. Smith decided to pivot into something that could be online or in-person that offered education through music. She sought out to create an experience she would have cherished as a child. And so the idea of Minibop Music was born.
"Looking back on my life, everything is categorized by the albums I was listening to at the time."
-Marsha Smith
by music.
Minibop is a children's music school that provides enrichment classes, lessons and entertainment for families and preschools in the Greater Los Angeles area. It's rooted in the idea that music is one of the richest gifts in life, with the ability to transcend cultures, age and it brings people together.
"That's why Minibop Music exists - to teach young children and kids about music in a way that inspires them. Minibop meets children where they're at, and makes sure that their first experience with music is magical," says Smith. "The music teachers at the school are passionate about their work and truly care about the kids. They connect with them on a level that will stay with them for a lifetime, and the kids love it."
Being a business owner and a mom is part of the daily routine these days. Smith's daughter Mylah was literally born in the hospital as Minibop was being finalized. With her husband at her bedside and an hours-old newborn, Smith chatted with the building contractor on Zoom to finalize the details. Granted the camera was facing her husband, but that's part of the Minibop history now. Working on Minibop's business and being a mom is a duality that started the day her daughter was born, literally.
"My daughter has been through a lifetime worth of Minibop Music classes at this point," says Smith.
As for Mylah, she is a true Minibop veteran and has attended almost every class at the studio as her mom works in the next room. She loves coming to class and dancing along with her friends.
With big plans for the future, Smith plans to expand her reach to offer music classes in more preschools and more locations throughout Greater Los Angeles, and beyond. She's also working on an album of songs written by her and her team of music teachers - and she even sings a few of the tunes herself! Further, with her passion in enriching others, there is talk of a program to train adults in becoming music teachers too.
Working on Minibop's music for kids has been a dream come true for Marsha. She gets to be creative making music that she knows will help children learn and to help them develop their musical talents.
Website: www.minibopmusic.com
Instagram: @minibopmusic
MOMMYINLA 72
CONNECT WITH MINIBOP!
ADVICE FROM A FELLOW LA MOM (WHO'S ALSO A LICENSED CLINICAL SOCIAL WORKER)
MOMMYINLA 74
FINDING WAYS TO SUPPORT CHILDREN THROUGH THE BONDS OF MOTHERHOOD
By Sheryl Huezo-Meshack @sherl80
The American Academy of Pediatrics along with other national child advocacy organizations joined together to declare a National State of Emergency in Children's Mental Health. This alarming
declaration is further exposed when you observe the lack of resources for mothers in underserved and underrepresented communities who are dealing with their own set of challenges.
That being said, I have been in the mental health field for approximately 15 years and I'm currently a licensed clinical social worker (LCSW) who has worked with various families from diverse backgrounds mostly residing in underserved and underrepresented communities. In recent years, I have had the experiences (and honor) of working closely with mothers and their children and witnessing their growth and development as they tackle new concepts and learn new skills.
I have also seen the effect that intense trauma, grief/loss issues, addiction, in-utero exposure, etc. have had on families. I've worked with little ones as young as 2 years old who are already experiencing judgment by systems that should be nurturing their growth and increasing their safety and security.
I have seen how mothers who are trying to manage anxiety, depression, post-partum and other mental health challenges are often excluded from conversations around motherhood and how not having
access to supportive mental health resources, impacts their parenting.
When there are conversations around a mother's mental health, they are often accompanied by reports of stigma, cultural perceptions and ways in which generations have been molded into thinking that generational traumas should be carried in silence without interjections from "outsiders."
I have also seen the resilience and determination in mothers and the desire to want to break these generational curses to learn new ways of parenting. They understand that breaking these curses is necessary but not always easy because culture, its influence and the ways in which it shapes our parenting is interwoven in our actions, beliefs and perceptions. Something that remains consistent in my work, is that regardless of background and experiences, mothers want their children to feel safe, secure, loved and supported but are challenged in figuring out how to accomplish this.
MOMMYINLA 75
Fostering our child's emotional growth
Have you heard of the concept of Emotional Intelligence (i.e. emotional IQ)? This is a skillset a person has to help monitor their own emotions and feelings. It is the ability to cope with challenges in a healthy way and access skills to resolve conflict in collaboration with others. It also teaches children to tolerate the discomfort and stressful feelings that may accompany a problem that they are unable to solve.
Teaching children skills to manage their emotions and feelings is imperative for their development and often times it is rarely taught in school settings.
According to the National Association for the Education of Young Children (NAEYC), children who have a higher emotional intelligence are able to focus better in school, engage in positive conflict resolution, have more positive relationships and are more empathetic.
Building a child's emotional IQ can be challenging especially when some of us have grown up with certain cultural beliefs and engrained attitudes around emotional expression.
Being Kind to Ourselves While Continuing to Support our Children
It's normal to experience challenges and moments where you are frustrated. You may find yourself yelling, losing your patience or be at a loss for what to do next. Be kind to yourself and allow yourself to take a step back, regroup and figure out how to continue moving forward.
Besides being an LCSW I am a mother to an 8 year old child and I admit that even with the extensive years and experience I have had working with children and families and teaching emotional regulation skills, co-regulation and other parenting skills, I still find myself experiencing moments of frustration with my own child. I've had moments where I revert back to using phrases I so commonly heard growing up, phrases such as "because I said so," "why are you questioning me?" I recognize that although I have made mistakes, I can make amends and repair with my child. The repair process does wonders for a child's self-esteem and you may not know this but by saying "I'm sorry mommy makes mistakes too," you are modeling skills for them that further develop their emotional intelligence.
I would love to be able to say to you that I have the magic formula that will automatically make children listen and accept choices and limits you provide and that by doing the following things, you will no longer feel the heaviness and challenges that come with motherhood but I don't. What I can share with you however, are tips that I have found to work with my own child and the families I have worked with, highlighted in the following page. I hope you take the time to consider implementing some of my tips.
In the meantime, I will leave you with this- you will make mistakes in your parenting journey and that's ok. Remember to own it, repair, apologize and persist because it isn't easy unlearning what we have been taught but it is possible.
...continued MOMMYINLA 76
Sometimes your child just needs to be heard. Ask questions and demonstrate curiosity. Wonder out loud with them and help them figure out how to make positive choices without outright telling them what choice to make.
Try and let go of things you cannot control and do your best to manage the things within your control. Remember many of us are trying just to get through each day, the best we can and that's ok.
1. 2. 3. 4. 5. 6.
Seek out support for your own emotional and mental health. It's ok to look for a therapist that fits your needs and values. Look for qualities that are important to you, in a therapist. Formulate your questions and don't hesitate to ask for what you need. The more comfortable you feel with your therapist, the higher probability you will feel supported and return.
Support your child in learning to regulate their emotions. Remember: in recent years it has been discussed more as something vital to support children in navigating the world around them, as well as resolving conflict in healthy ways.
Make sure your child knows you love them & you are there to keep them safe. Emphasize that they are allowed to experience any feelings that come up for them. Help them label these feelings to expand their "emotional vocabulary."
Turn to your community. Community Care is rooted in Indigenous practices. It encourages people to think about their own individual care as "an extension of the community they are a part of..." (mhanational.org). It provides people the opportunity to feel valued and create belonging, in a collective manner. Creating a community is vital.
MOMMYINLA 77
MOMMYINLA 78
Mäus Essentials: Made with Love in LA
A brand for new generations, catering to the needs of new parents.
Photos by Priscilla Gragg
Founded by moms Mika Hasak & Larissa Hadjio, Mäus Essentials was created with a focus on Millennial and Gen Z parents who don't want to buy big-box junk, care deeply about brand ethics, but are struggling to find and afford the quality and values they desire.
"We set up shop in Los Angeles, and invested years into researching and blending incredible materials from safe and simple, planet-friendly tree + cotton fibers," says Mika. "We work with the best suppliers and manufacturers to get the highest possible quality at an attractive price, minus the crap and toxic chemicals you find in a lot of big name kids' clothing."
The result is a collection of great looking kids basics that are high-quality, naturally soft and durable, and free of harsh chemicals that can affect one's health and the earth. According to the boss mom duo, their kids' clothing items are made for everyday adventures and designed for real life: strong enough to weather every dribble and spill. In other words, Mäus Essentials carries all of the best things we want and need for our kids' clothing.
MOMMYINLA 79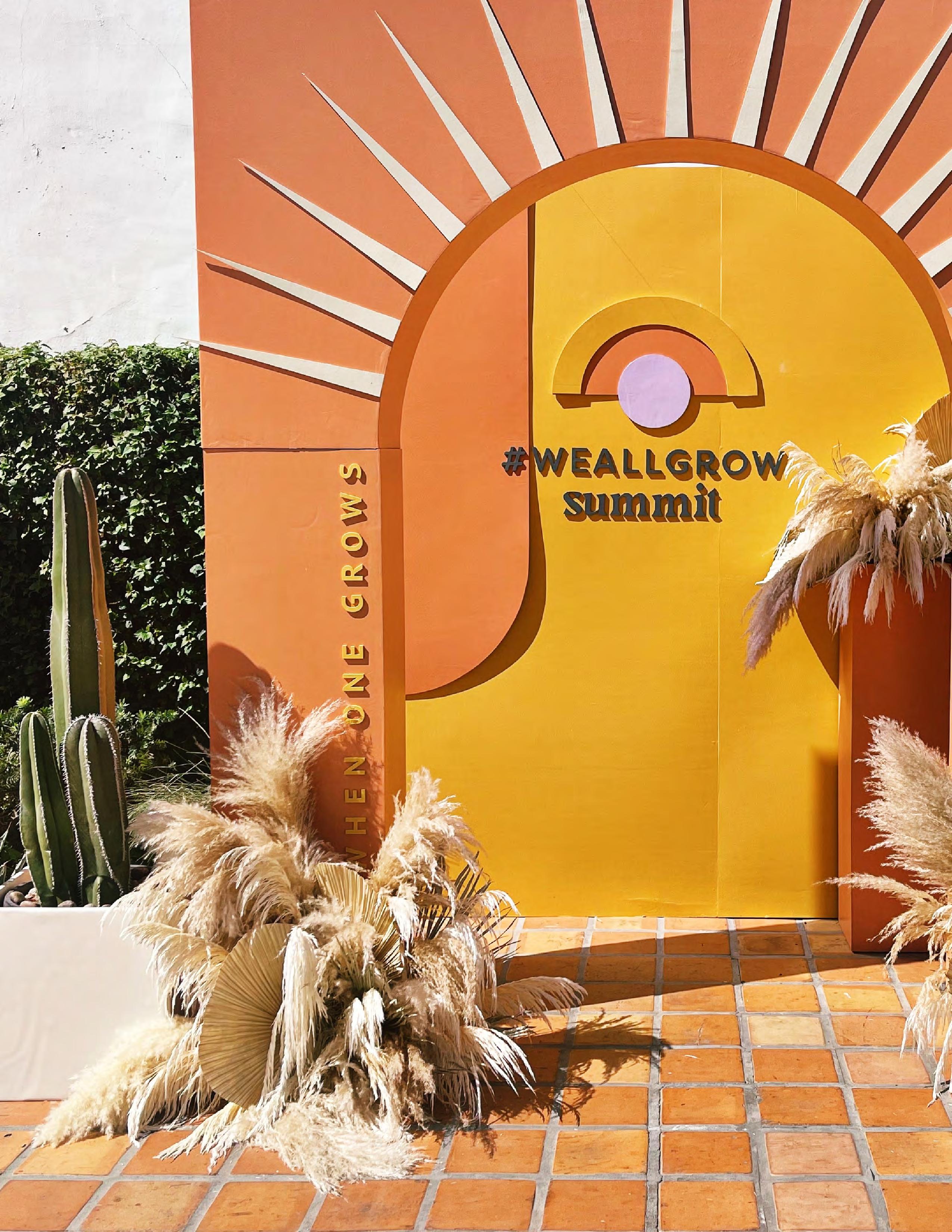 MOMMYINLA 80
2022 WE ALL GROW SUMMIT
SANCTUARY
OF JOY
BY ANABEL MARQUEZ
MOMMYINLA 81
SANCTUARY OF JOY
The 2022 We All Grow Summit kicked off with a powerful speech from Ana Flores, founder of "We All Grow," an organization focused on empowering Latinx influencers and business owners.
"My whole being is just exploding in gratitude, knowing that we are here because each and every one of you sustained that spirit with us. You believed in us and trusted that we would make it happen," Flores told the audience.
Described as a summit "intentionally designed to co-create communal and individual joy via experiential learning, transformational talks, celebratory experiences and wellness sessions," the three-day event marked a powerful comeback after a pandemic hiatus that had left Flores feeling as though her startup was losing ground.
She had refused several acquisition and investment offers from corporate America because that would have meant potentially allowing someone without the same passion, intention and dedication, and, quite possibly, with no Latinx background, take over a grassroots movement she had so ardently grown from scratch, for the purpose of helping fellow Latinas thrive.
"I held strong because my vision has always been for "We All Grow" to be owned solely by Latinas. So we can own our narrative and retain ownership of what we built," she explained to attendees.
What she did instead was something admittedly difficult for her. She recorded a video and posted it on Instagram. In that video, she shared with the community the major financial challenges the
Ana Flores, Founder of We All Grow Summit
MOMMYINLA 82
Camila Huijsmans-Flores (Ana Flores' Daughter)
"My first "We All Grow" Summit, I was broken, going through something difficult at the time-- Still not having my business and kind of at a standstill. Fast forward to now, my 3rd time attending...Having custom earrings in the swag bag for 600 attendees...that sisterhood support was beyond and life changing."
-MELISSA ROJAS
"Years ago, I found "We All Grow" on Instagram and thought this would be a great opportunity to meet other Latina women. Aside from the overall conference and all the workshops, the best part is being able to network with other women who are just like me"
-MARTHA PARDO
organization was facing as a result of the Pandemic.
That same night, Flores received a message from a woman she had only met once before. That woman was Patty Arvielo, a wealthy Latina entrepreneur who offered to support We All Grow financially and eventually became a partner. Another businesswoman, Vanessa Santos, also joined Flores and Arvielo as a partner and together, they slowly lifted the organization back up.
When the team announced We All Grow Summit would return in 2022 at La Quinta Hotel in Palm Springs, tickets priced from $888 were sold out in under 20 minutes.
"And here we are in a Sanctuary of Joy, celebrating and supporting each other" Flores told the audience of 600 attendees. "This is the room where you belong!"
@IsasCrafts
"It was a warm...actually hot "We All Grow" Summit but that didn't stop me from enjoying time of joy, amigahood, girls time and just recharging and stepping into my Diosa power!"
-ISABEL MAGANA
Flores ended her welcome remarks by introducing her own teenage daughter to the stage, Camila Huijsmans-Flores who excitedly told the cheering crowd that she's proud to tell people: "My mom is the founder of We All Grow!"
The weekend program included sunrise heal sessions, deep dive workshops, branded activations, sponsored experiences, plus healthy meals, themed parties and main stage sessions with panelists ranging from successful artists and comedians to business owners and influencers.
Flores emphasized her gratitude for all who bought tickets to attend the 2022 We All Grow Summit and promised the effort to attend the event would not be taken for granted.
"In fact, it's our biggest motivation," she said.
@ChasingCamilla
@Guapas4Ever
MOMMYINLA 83
Farmer John is proud to present the recipients of its California Kindness Project – a grant program designed to support committed California nonprofits that are making an impact in their local communities. After receiving over 120 applications from charities and organizations in the Golden State, 10 organizations were carefully selected to receive grants ranging from $3,000 to $25,000, providing a total of $100,000 in financial support.
"We were so touched by all of the applications we received, and we feel honored to be able to support and shine a light on such deserving organizations making an impact locally," said Lauren Connelly, brand manager for Farmer John at Smithfield Foods.
2022 California Kindness Project Grant Recipients
A Future Superhero and Friends | Long Beach, California
Alliance for Community Transformations Ethos Youth Center | Mariposa, California
America SCORES Bay Area | San Francisco, California
Cancer Support Community South Bay | Torrance, California
Capital Storytelling | Sacramento, California
Court Appointed Special Advocates (CASA) | Sacramento, California
Foodbank of Santa Barbara County | Santa Barbara, California
Momentum WORK, Inc. | Carpinteria, California
San Mateo County Health Foundation | San Mateo, California
St. Francis Center | Los Angeles, California
serena williams
SERENA WILLIAMS has expressed a possible retirement from tennis. During her career, the 40-year-old has often been hailed as the best female tennis player, winning 23 grand slam titles. In 2017, Williams won the Australian Open while eight weeks pregnant, returning to play in 2018 after giving birth and even making the Wimbledon final that same year.
BY CANDICE LINGAM-WiILLGOSS Senior Lecturer in Sport & Fitness, The Open University
Why many female athletes feel pressure to retire after becoming MOTHERS
MOMMYINLA 85
In an essay Williams wrote for Vogue, the main reason given for her potential retirement was wanting to expand her family. Williams is not alone in her decision. For many professional sportswomen, pregnancy and motherhood are often the main reasons they end their sports career.
And, as Williams acknowledged in her essay, it's a decision male athletes often don't need to make. "I never wanted to have to choose between tennis and family," she wrote. "I don't think it's fair. If I were a guy I wouldn't be writing this."
There are plenty of examples of professional male athletes who have continued to play competitively despite becoming fathers. Take tennis player Novak Djokovic, for example, who even said becoming a father was good for his competitive play.
Research has confirmed this, with a study comparing male and female distance runners showing many women felt pregnancy carried an expectation that they would retire. Meanwhile men felt it was both "acceptable and worthwhile" to continue their career, even after becoming a parent.
Of course, there's no denying the physical impact of pregnancy and childbirth, which can see women missing several months of training and competition as a result – something men just don't have to experience. But this isn't the only reason many women feel pressure to retire from competitive sport when they choose to become a mother.
First, dated cultural norms continue to persist, which fundamentally pit being an athlete against being a good mother. This way of thinking suggests that the perfect mother is selfless, solely focusing on caring for her children and her family.
But being an athlete requires a person to focus on themselves and put their needs first in order to compete at their best. This way of thinking can in turn create guilt, especially for someone who may still choose compete after becoming a mother.
Financial pressure can also be a factor, with many women experiencing a distinct lack of financial support from sponsors and governing bodies during pregnancy. Many stakeholders even assume that pregnancy will mean the end of the athlete's career, so funding is often cut or removed.
"Many women felt pregnancy carried an expectation that they would retire. Meanwhile men felt it was both 'acceptable and worthwhile' to continue their career, even after becoming a parent."
Photos on opposite page top; Serena Williams with daughter Alexis Olympia at the Auckland Classic tournament on January 12, 2020 bottom; Serena Williams, Alexis Olympia and Alexis Ohanian attend the 2021 AFI Fest.
MOMMYINLA 86
A pregnant Serena Williams attends the 2017 MET Gala in New Yorrk City on May 1, 2017
MOMMYINLA 87
Having the right support, whether from family, coaches or sponsors can allow a woman the opportunity to continue in sport, both in emotional terms but also in more tangible terms (such as having childcare). This may also be why many women decide to wait until the end of their career to start a family.
We also can't ignore the fact that becoming a mother is hard not only physically but mentally, too. Many professional athletes travel extensively, have hours of training daily and competitions that last weeks. Combining a career with a growing family can be difficult, especially for athletes who may not have the same level of support as Williams did.
Of course, Williams's situation is unique. She has had a long and very successful career, and even continued to compete for a number of years after giving birth to her first child.
While a desire to expand her family may be a driving force in her retirement, it's likely that other factors also came into play, such as the frequent injuries she's suffered recently. By choosing to retire before injury or performance decline hit she is taking some control of her retirement.
There has been a shift in recent years that has seen more women being open about their experiences of being a mother and an athlete and the challenges that might involve. Yet many women still remain concerned about how they may be judged for choosing to continue their career even after becoming a mother.
Women shouldn't have to choose between being a mother or continuing their athletic career. But in order to make this possible, we need a better understanding of how to support athletic mothers, and what they need to manage their training and career both during and after pregnancy.
There's still limited guidance on how to return to exercise after childbirth especially when the return is to elite level competition.
What needs to happen going forward is ensuring more women have a choice when it comes to competing and being a mother. This will include providing the right support, financial stability and information to women on how they can continue to compete during and after pregnancy.
MOMMYINLA 88
CERAGEM
is dedicated in changing the spirit of the world by providing home health appliances backed by years of research, trials, and technology development.
A HOME MASSAGE BED TO HELP YOU RESTORE AND RECHARGE www.CERAGEMUS.com
Los Angeles, it can be nearly impossible to eat in the same restaurant
- Jonathan Gold
"In
twice. "
SoCal's Newest Meal Delivery Service is Perfect for Busy Moms
In 2015, Julie Nguyen founded a meal delivery service called Methodology.
She spent six years researching with nutritionists and personal trainers in Northern California, taking all that she learned to start her company with the mission to heal bodies and minds using food as medicine. She did so after learning the power her diet had in curing her own personal health issues including asthma and eczema.
Since then, Methodology has grown significantly with service now offered in Los Angeles. The company has become a trusted brand by celebrity moms like Jessica Alba. The meals are recommended by doctors and Nguyen's menu was even used in a study by Stanford Medicine where participants were delivered Methodology meals and results showed the diet helped manage glucose and other health factors.
"So much health food tastes like cardboard, and I think this is why most Americans think they can't stick with healthy eating," says Nguyen.
MOMMYINLA 92
PHOTO CREDIT: Methodology
Her mission was to change that mindset in America by showing people that, with enough investment in recipe testing and research & development, the comfort foods people crave can be reimagined using whole food and non-processed ingredients, without sacrificing flavor.
"I think our versions of comfort meals taste better than the originals because we don't skimp on using the highest quality produce and sustainably raised proteins," she adds.
Mommy In Los Angeles Magazine had the opportunity to try Methodology and catch up with Julie Nguyen. The meals were so flavorful and delicious, we just wanted to learn more. Here are some highlights from our interview:
MILA: Can you tell us more about why you created Methodology?
JN: I started Methodology to solve what was my biggest pain point at the time, and a pain point I saw most of my peers struggling with as well: eating healthy consistently. Having ultra-busy schedules due to career and family responsibilities made it difficult to find the time to eat with nutrition in mind. I looked around and saw so many people making tradeoffs between convenience and health when it came to their diets and wanted to start a service that would make it effortless—and most importantly, fun—to eat healthy every day.
"Moms love that they can set it and forget it with once or twice a week deliveries from Methodology that are fully cooked and can be heated in less than 5 minutes on the stove or in the microwave"
PHOTO CREDIT: Methodology
MOMMYINLA 93
PHOTO CREDIT: Methodology
MILA: It's been seven years since you launched the company, what are some of the biggest satisfactions you've experienced with Methodology?
JN: I just got an email today from a customer who's been with us for one year who showed me a screen shot of his weight chart since starting Methodology (he's lost over 25 pounds!), along with a note about how good he feels. He shared how easy it's been for him to eat healthy by just swapping out his daily takeout lunch for a Methodology lunch. Getting notes like that every day are among the most satisfying moments in my journey because they remind me of why I started the business and confirm that the service we've designed is truly effective and enjoyable.
MILA: That's fantastic! What are your plans for the next seven years?
JN: I'm excited to share that the next seven years are going to be about expansion. We'd previously been focused developing our gut-healthy and longevity-focused menu as well as perfecting our sustainable packaging (we're known for packaging our meals in glass jars that we collect for recycling and reuse). Now will invest in launching new markets for the first time. We're launching West Coast shipping in early 2023 and actively planning for our future expansion to the East Coast.
MILA: Why would you say Methodology is good for LA Moms?
JN: Time-starved, health-conscious moms are one of our biggest customer groups, particularly for mothers of newborns and young children. Moms love that they can set it and forget it with once or twice a week deliveries from Methodology that are fully cooked and can be heated in less than 5 minutes on the stove or in the microwave. This means that no matter how tired they are at the end of the day or how busy they are throughout the week juggling work and family, they can eat a wholesome meal that will give them the optimal energy, mood, and focus they need to perform at their best. Moms trust us to take care of them so that they can focus on taking care of their careers and families.
Thanks Julie!
By the way, our favorite menu items were the grass-fed beef bolognese (they have a vegan version as well) with pesto sweet potato noodles and the Vietnamese chicken pho with sweet potato noodles. Delicious indeed.
For more information visit www.GoMethodology.com
MOMMYINLA 94
PHOTO CREDIT: Methodology
MOMMYINLA 95
@GRLSWIRL MOMMYINLA 96
PHOTO
A SURFSKATE FESTIVAL TO UNIFY PEOPLE
A SURFSKATE FESTIVAL TO UNIFY PEOPLE
Founded in 2018 by nine local Venice women, GRLSWIRL is on a mission to unify people globally by cultivating authentic community through skateboarding. Through rigorous grassroots efforts, GRLSWIRL has become the largest Women's skate crew in the World. By bringing together thousands of skaters at group skates with their chapters in Los Angeles, New York City, San Diego and Paris they are changing the way skateboarding is experienced worldwide.
Beyond empowering their members through skate, they sell their own skateboards, pads, helmets and skate gear. They have gained global recognition through their philanthropic work teaching skate with their Skate Mentorship Program where they travel to underserved communities spreading the spirit of GRLSWIRL.
On Saturday, November 12th, 2022, from 8 AM to 10 PM, the organization will host Venice's first annual SWIRL SurfSkate Festival presented with ROXY and Carvers Skateboards.
"CELEBRATING THE ... INDIVIDUALITY YOU CAN EXPRESS SURFING THE PAVEMENT"
MOMMYINLA 97
The first annual Surfskate festival will feature a morning surf paddle out with games and prizes, followed by a SurfSkate style competition with legendary judges and prizes, alongside live music, food, drinks, art booths and skate ramps. The festival will take place in Venice, CA, at Firestone Walker Brewing Company and will be open for anyone to join. The first annual Surfskate festival will feature a morning surf paddle out with games and prizes, followed by a SurfSkate style competition with legendary judges and prizes, alongside live music, food, drinks, art booths and skate ramps. The festival will take place in Venice, CA, at Firestone Walker Brewing Company and will be open for anyone to join.
"SurfSkate style changed the world." says Lucy Osinski, co-founder and creator of GRLSWIRL. "It was the original form of skating that was born out of SoCal in the 60s. Its influence reached people far and wide and eventually birthed so many different forms of skate. We pay homage to this style on our boards daily, celebrating the creativity and individuality you can express surfing the pavement. All levels, ages and board styles are welcome! You don't need to be the best to participate, just be yourself and let the board help you express yourself."
Carver Skateboards and ROXY are the main partners to this annual event. "GRLSWIRL bringing together the largest SurfSkate brand, Carver, with
the only exclusively female surf brand, ROXY, is key to this celebration. These two brands have been the inspiration to millions and the foundation to the surfskate style we see around the world today. We are so honored to partner and co create with these two iconic brands at the very first annual SWIRL SurfSkate Fest," continues Osinski. "We have been dreaming up this idea for years now and it's finally here."
"An event for women, by women, and one in which female creativity and a spirit of community are celebrated, is a natural fit for ROXY'' says ROXY Global Brand Manager, Emilie Souvras. "We are thrilled to partner with the GRLSWIRL team this year in Venice, and look forward to bringing the event globally to the shores of Europe in the near future."
GET YOUR FESTIVAL TIX HERE
MOMMYINLA 98
PHOTO @DONTBEAFOOL
Type here
PHOTO @SHANMOSS
PHOTO @GRLSWIRL
MOMMYINLA 99
PHOTO @GRLSWIRL
WE GO TO WeHO A NEW PIZZA JOINT to try
"It's created by Angelenos for Angelenos"
Crustica, a new, one-of-a-kind pizza restaurant, recently opened its flagship West Hollywood location. In the making for the past five years, Crustica is the brainchild of Nile Niami, world renowned real estate developer and his partners.
With the slogan, "New York folds it, Los Angeles rolls it," this fast casual eatery offers pizza slices that you roll right before eating. Crustica's menu includes a wide variety of savory and dessert pizzas, as well as salads and artisinal sodas. From mushrooms to meatballs to bananas spread with hazelnut or fruit compote, its pizzas are served on stylish, Crustica-engraved wooden boards.
What we love is that this rolled pizza with a paper-thin crust has a fraction of the calories of a normal pizza. By minimizing the amount of dough, which is really only used to hold the ingredients anyway, reduces calories and according oo Crustica, makes the pizza become "more flavorful because those tasty ingredients are no longer overwhelmed by dough." Crustica has quite possibly achieved the impossible: an unforgettable, guilt-free, pizza-eating experience.
As part of its groundbreaking ad campaign, Crustica compares its calories to other fast casual competitors and the numbers are astonishing. Two pizzas at Crustica, one savory and one dessert, have fewer calories than just a standard salad at its competitors.
Niami's goal is to enable all Angelenos, who are known for seeking healthier food options, the ability to eat pizza with fewer carbs and calories. He even designed a thin, sleek pizza box that's easy to carry, making Crustica's pizza an appealing choice for lunch or dinner whether in the office or at home. What's more is that Crustica's pizzas cook and are delivered to the table within 10 minutes of ordering. They all come with eight slices, and are $17.27.
MOMMYINLA 100
Your first visit to Crustica reveals Niami's imagination and creativity. Famous for maximizing indoor/outdoor ambience, he has done just that at Crustica with a patio fire pit and free-flowing space the same as in the many high-end homes he developed. Faux crocodile embossed wallpaper adorns the interior walls, while luscious greenery seems to sprout everywhere, tying it all together. Crustica also offers complimentary valet parking.
In true Niami style, Crustica has also come out with the most expensive pizza in Los Angeles at $3,500 called The One. The price includes toppings of mushrooms, two grams of Alba white truffles and 24k gold flakes, a gold-plated engraved tray, private dinner with Niami at Providence, and a $2,000 donation to Children's Hospital Los Angeles in the buyer's name. It's the ultimate pizza for a very good cause.
"Crustica has been a labor of love over the past five years, and we are so excited that it's now open to the public," said Niami. "Pizza is a worldwide staple, and this was created not just as a novelty, but as a new way of eating healthy. It's created by Angelenos for Angelenos, but this concept is going GLOBAL."
The West Hollywood location is the first of 50 Niami intends to open across the country over the next year. His goal is to build the largest pizza franchise ever, and he's currently talking to multiple parties wanting to turn Crustica into an international megabrand.
CRUSTICA Healthy Rolled Pizza ADDRESS: 9045 Santa Monica Blvd. West Hollywood, CA 90069 HOURS: 11am to 10pm Seven days a week WEBSITE: eatcrustica.com INSTA: @eatcrustica CRUSTICA CINNAMON ROLL PIZZA CRUSTICA HAWAIIAN PIZZA CRUSTICA SPICY PEPPERONI PIZZA CRUSTICA VEGETARIAN PIZZA MOMMYINLA 101
ADVERTISE WITH US!
MOMMYINLA 104
MOMMYINLA 105
MOMMYINLA 106
MOMMYINLA 107
MOMMYINLA 108
Purlisse Matcha Green Tea Antioxidant Sheet Mask, Priming Moisturizer and Detoxifying Charcoal Mask Caliray COME HELL OR HIGH WATER MASCARA $24 Panoplie CERAMIC CONE BOWL $315 3" D x 5.25" H. Glazed stoneware with two-step circular base. Made by LA ceramicist Morgan Peck. MOMMYINLA 109
WRAPPED IN RED...
Los Angeles Landmark
1. The Red Building at the Pacific Design Center in Los Angeles was designed by renowned architect Cesar Pelli and completed in 1975.
2 The exterior of the building is covered in red aluminum panels, which were originally intended to be temporary but have since become a signature feature of the structure.
3. The Pacific Design Center is located in the Melrose District of Los Angeles, just off of the Hollywood Freeway.
4 The Red Building is approximately 18 stories tall and covers an area of 1.2 million square feet.
5. The building is home to a number of high-end design showrooms, making it a popular destination for architects, interior designers, and other industry professionals.
MOMMYINLA 110
CLASSIC SHADOW DUOS
$24
Buildable and easy to blend, this two-in-one shadow is designed to meet the needs of basic, everyday elegance or more elaborate evening looks.
Awe Jewelry Red Aura Necklace This gold vermeil genuine ruby Red Aura Necklace will align with your root chakra to keep you grounded and ready for anything.
$150.00
CRAFT MARGARITA $27 made with strawberries and aromatic basil mixed with premium blanco tequila and other natural flavors. We raise our margarita cocktail glass
Ultra-versatile with a classic silhouette and subtly vintage design. The CJ will take you from the office to dinner and out on the weekend. Three elastic straps, narrow fit. Soft Italian suede and leather fabrication. Supportive insole with plush foam padding.
Isa's Crafts RED SARAPE MESH TOTE BAG $45 13" x19", Handles 22"
Handmade reusable tote bag made with Mexican Sarape (100% acrylic), mesh material, polyester straps and cotton fabric. Bag has outside and inside pocket. Detachable Pom Pom tassel included.
Gaspar Gloves LADIES DRESS GLOVES $138 Made from fine French sheer, and decorated with an antique Japanese pearl.
Ma'am CJ SANDALS $245
Tamez Millinery Red Poesy Hat $485 100% Felt VelourGrosgrain sweatband Matching mesh Brim
Gladys
3"
Dragos Cantina STRAWBERRY BASIL
Besame Cosmetics
MOMMYINLA 111
BY Maria Szatkowski Digital Third Coast
The holiday season is just around the corner, and it's time to start planning. How do we give our kids the most meaningful holiday they can have in 2022?
After a few pandemic years, screen time has gone up. According to a study by MyVision, 68% of parents feel that screen time has increased with their children, and 59% are concerned about the amount of time their kids spend in front of screens. For context, the American Academy of Pediatrics recommends kids under 5 spend less than an hour a day in front of a screen, yet 80% of parents surveyed say their kids spend a minimum of 3 hours a day in front of a screen.
Nearly half of parents feel their kids are addicted to screens; 72% feel it's a negative influence.
So, what to do? 82% of parents have rules around technology for their children, which is a great start- especially considering 94% of them enforce the rules! But what else can be done?
This holiday season, consider setting screen boundaries: device free game nights, or family activities in nature and far away from blue light screens.
54% of parents feel that THEY are also addicted to screens- why not take some time away yourself?
Some potential activities:
Family Game Night- while relationships can be broken over the course of games like SORRY! Or Monopoly, family bonds and great memories are also formed. Take some time to teach your kids some family favorite games and stoke some friendly competition.
Movie Night- Holiday movies are their own genre for a reason! Whether you show IT'S A WONDERFUL LIFE or something more recent like ELF or FROZEN, gathering as a family to watch a beloved movie makes for a cozy evening and some quality family bonding. Make a night of itpop some popcorn and make toppings with the kids, along with some hot chocolate and marshmallows. Theme your snacks to what you're watching and let the magic unfold.
Art Night- There's no shortage of arts and crafts to be done as a family, from paint by numbers to collaging old newspapers. Get the creative juices flowing with your kids and watch them make something unique and unforgettable- cotton ball snowmen, snowflakes made of popsicle sticks, paper bag
MOMMYINLA 112
puppets, and more are at your fingertips.
Skill night- Kids are great at adapting to technology, and 70% of parents feel their kids derive benefit from devices. Why not share the love and have your kids teach you something new? From learning how to build in Minecraft to joining the next social media phenomenon (BeReal, anyone?), there can be bonding (and many laughs!) around technology when it's shared.
Cooking together- Thanksgiving is just around the corner. Why not teach your kids the basics of the kitchen? Eager hands can help chop food, peel potatoes, or even master dishes of their own if they're old enough. Tiny chefs will love learning from elders and carrying on family traditions around gathering and recipes and serve those mashed potatoes with PRIDE.
These are just some of the activities at your disposal if you want to dial down screen time and dial up some presence, bonding, and FUN this holiday season. While devices are necessary in today's society and an important learning tool, they don't need to completely take over our lives.
You can give your kids the tech they want while still creating memories that will last a lifetime that are a far cry from a phone screen or iPad- and have fun doing it!
49% of parents believe their kids are addicted to technology 54% admit they themselves are addicted to looking at screens 22% estimate their kids spend 2 hours or less looking at screens 78% believe their child stares at a screen for 3 hours or longer daily
day. MOMMYINLA 113
The majority of parents (65%) agree: they want their kids looking at screens for less than 2 hours a
Happy Holidays! A publication for L.A. women, with a Motherhood angle #ElevatingWomensVoices WWW.MOMMYINLOSANGELES.COM