2022 111th Fine Arts Exhibition FairStateMinnesota
Staff BOARD LIAISON Joe Fox SUPERINTENDENT Jim Clark ASSISTANT SUPERINTENDENTS C.J. CamMarlenaRennerBromschwig eron Neely STAFF Elaine Beaty Steve Bibus Kenneth Brown Justin Bruhn Anna Cherry Al Clark Pam Clark Bruce Clark Dan ElizabethDonovanFranklin Elena Halvorson Patty Halvorson Robyn Hansen Dan Ignatowicz Anne RichBonitaJandaJanda ard Mensing Tom LynnDawnPayneRennerSchwartz Aaron BarbaraThereseChrisJeanneStilleyUlmerWaltonWeitzWiaderko Awards and prizes First Place $500 Second Place $375 Third Place $250 Fourth Place $100 Honorable Mention rosette People's Choice Award (adult) $150 People's Choice Award (kid) $150 1 3 2 4 H M
"Karen Ruth Kain Memorial Award," for an exemplary piece of fine art in prints or photography. $125 & rosette
Plymouth Arts Council, Plymouth, Minn., will award "Plymouth Arts Council Award of Excellence" $100 & rosette
"John Marley Clarey Memorial Award," to celebrate the emotional impact of art. $500 Allen and Carrie Clark, Minnetonka, Minn., will award the "Allen and Carrie Clark Award for Excellence in Content and Form" to a piece of artwork from the exhibition. $125 & rosette North Suburban Center for the Arts $150 r& osette
Additional awards provided by the following
Anne and Litton Field, Mendota Heights, Minn., "Excellence in Photography Award" $500 & rosette
Minnesota State Fair Foundation awards the "Paul S. Kramer Award" $250 & rosette
"Salminen Family Award," to a selected piece of artwork from the exhibition. $500 & rosette
Textile Center "Award for Excellence and Innovation" $100 & rosette
Minnesota Citizens for the Arts "Great State of Minnesota Award" to an exceptional depiction of Minnesota subject matter. $100 & rosette
Minnesota State Fair Foundation awards the "Friends of the Fair Award" $250 & rosette
Friends of the Hopkins Center for the Arts Award $200 & rosette
"Dylan Barker Award," Minnetonka, Minn. $125 & rosette
Lynn Anderson and John Biesecker will bestow the "Sterling Award" to a selected piece of work from the exhibition. $150 & rosette Maple Grove Arts Center, Maple Grove, Minn., to two selected pieces of art. $100 & rosette (each) $200 & rosette
Minnesota State Fair Foundation awards the "First Glance Event Award" $100 & rosette
"NorthStar Watermedia Society Award" $100 & rosette
"Simon & Kain Family Award," for an exemplary piece of fine art in textiles/fibers, ceramics/glass or photography $100 & rosette
Framing Solutions | artbarn52, Edina, Minn., will award two "Best Custom Framed Awards" for the best use of a custom frame as a complete presentation; based on how the frame highlights, enhances and visually compliments the artwork. $100 & rosette (each)
Weisman Art Museum, Minneapolis, Minn. $100 & rosette
Minnesota Porcelain Arts Guild, Minneapolis, Minn. $100 & rosette
"Lauren Barker Award," Minnetonka, Minn. $125 r& osette
"Margaret Bromschwig Modern Design Award" $100 & rosette
"Mouacheupao Family Award", to a selected piece from the Fine Arts Exhibition. $100
$125 & rosette American Swedish Institute, Minneapolis, Minn. $100 Artistry, Bloomington, Minn. $100 & rosette ArtReach St. Croix, Stillwater, Minn. $100 & rosette
Anoka Ramsey Community College, Coon Rapids, Minn. $100
"Ron Merchant Award "for excellence in oil painting.
Roberta Kitlinski and Sean Lydon, Coon Rapids, Minn. will award the "C. Crist Delmonico Memorial Award" $100 & rosette
North Hennepin Community College "Award of Excellence" in memory of Joseph Gazzuolo $100 & rosette
North Hennepin Community College "Award of Excellence" in memory of Lance Kiland $100 & rosette
"The Quie Family Award," Paul Quie will award a piece from the 2022 Fine Arts Exhibition that shows creativity, in style, subject matter and displays a sense of delight. $125
Minnesota Quilters Inc., Minneapolis, Minn. $100 & rosette
"Victor Gilbertson Watercolor Award," in memory of Victor Gilbertson for excellence in watercolor painting. $200 & rosette Glen Lake Optimist Club, Minnetonka, Minn. $100 & rosette
Minnesota Figure Study Collaborative, Hopkins, Minn., to the artwork with the best creative use of the human fgure. $100 & rosette
North Hennepin Community College "Award of Excellence" in memory of Frank Schreiber $100 & rosette
"Muessig Family Award for Excellence" $300 Metropolitan State University, St. Paul, Minn., will award the "Gordon Parks Photography Award". $100 & rosette
Earthkeepers of Saint Mark's Episcopal Cathedral, Minneapolis, Minn., will award the "Earthkeepers Award" to the piece of art that best expresses appreciation and reverence for the natural world. $500 & rosette
White Bear Center for the Arts, White Bear Lake, Minn. $100 & rosette
The Minnesota Artists Association, Minneapolis, Minn., will bestow two awards of excellence to two selected works from the Fine Arts Exhibition. $100 & rosette (each)
"Minnesota Art Center Sculpture Award" $100 & rosette
Minnesota Museum of American Art, St. Paul, Minn., will purchase one work from the juried exhibition for the M's permanent collection.
"Gareth Albert Award," Minnetonka, Minn.
The jurors MARK GRANLUND Class 1: Oil/Acrylic/Mixed Media CRITERIA STATEMENT
I am 58 years old. I have been making art my whole life, mostly paintings. I am pretty good at it.
The majority of the artwork on display in the Fine Arts Center is for sale and prices include a 20 percent commission to support State Fair arts programs.The State Fair Foundation will sell the artwork for cash or credit and sales tax will be added to the purchase prices. Purchasers can pick up their artwork after the end of the Fine Arts Exhibition during the regular pick-up times for artists: Sept. 6 and 7,from 10 a.m. to 7 p.m.
BUY A WORK OF ART
MARYANN & GARY CARLSON Class 2: Sculpture CRITERIA STATEMENT
This year's Commemorative Art State Fair poster,created by Leslie Barlow,will be for sale at the front desk.
I look for ability and an understanding of one s materials and how they can implicitly express the subject BIOGRAPHY
PEOPLE'S CHOICE AWARD
2022 SPECIAL EXHIBITION Studio: HERE a special exhibition of 12 Minnesota artistseach working for 12 hoursduringthe12daysofthefair.
Adults and kids are invited to vote for their favorite entries in the Fine Arts Center through Sunday, Sept. 4, using the QR code on display at the front desk Winners will be announced on Labor Day.
Special notes and events
Our judging criteria was based on composition, excellence in craftsmanship, creativity and visual communication. BIOGRAPHY
COMMEMORATIVE POSTER
MaryAnn Carlson is a Minnesota artist who has been making art since 1980. In that time, she has worked as a jeweler, a picture framer, a gallery director, art administrator, small business owner, art educator, a graphic artist, digital photo editor, a painter and a sculptor. She has served on art dealers associations and art center boards. Since retiring from teaching art in 2017, her work has been primarily creating found object assemblage sculptures and jewelry. She shares her rural studio with her husband who is also a sculptor. Throughout her career, she has exhibited in galleries, art centers and art competitions in and around the Minneapolis and St. Paul area. MaryAnn has received numerous awards for her unique sculptures. MaryAnn grew up in Minneapolis suburbs and received her degree from the University of Wisconsin. She currently lives in rural Minnesota.
PLAN FOR 2023 For more information on how to register for the 2023 Minnesota State Fair Fine Arts Exhibition, visit mnstatefair.org or contact the competition offce at 651-288-4417.
GAIL SPECKMANN Class 3: Watercolor/Gouache/Casein/Tempera
Overall, I want these elements to engage me and draw me into the piece in some way beyond the subject of the image. Perhaps a feeling of something timeless or universal.
BIOGRAPHY Gail Speckmann of Plymouth, Minn., is an international award-winning watercolor artist, instructor and judge. Gail's book, "Wet-into-Wet Watercolor" , published by Watson-Guptill, is considered a foremost instruction of this challenging technique. She has two fine art posters, published internationally by Graphique de France. Articles about her have run in Watercolor Artist Magazine, Exploring Tosca, Sun Sailor and Lakeshore Weekly News. Classes/workshops by Gail have been conducted in the U S and Canada. She has led 14 Sights and Sounds European tours. Twice a judge for the State Fair Fine Arts Exhibition, her other experiences include judging shows for local and state artist organizations, as well as shows for artists with disabilities.
In 1970
TOM HESSEL Class 4: Drawings/Pastel CRITERIA STATEMENT
BIOGRAPHY
Tom is active as a member of several arts organizations and galleries including The Hopkins Centerfor the Arts, The MinnetonkaArt Center, The Minnesota Artist'sAssociation, The White BearCenterfor the Artsand ArtistryGallery in Bloomington, Minn. Tom has beenlivingand creatinghis artwork inhis home/studio inMinnetonka, Minn., for 45years. His workhas beenexhibited locally, nationallyand internationally, and hehas won awardsin manyofthese exhibits.
In her work, Gail is interested in the energy of a subject along with her response to it, strong composition, color and glazing of layers, and finding a balance between freedom and order. Her subject matter includes landscapes, structures, florals, still life and abstracts. Her art is in numerous corporate and private collections including Cargill Corporation, Black River Association, Midwest Pension and Gustavus Adolphus College. One of her paintings is featured at the front entrance in Turck, Inc.'s corporate sensor division in Tianjin, China.
CRITERIA STATEMENT
Tom received a bachelor of arts degree in studio arts from Loras College in Dubuque, Iowa, and in 1972 received a master of arts degree in creative photography from the University of Iowa in Iowa City, Iowa. He worked as the staff artist for the Telegraph Herald Newspaper in Dubuque, Iowa, and as an art director for Associate Litho Printing Company in Minneapolis, Minn. He's also taught adult education classes in drawing.
Gary Carlson has been making art since 1970. In that time, he has worked as an art educator, a graphic artist, a portrait photographer, a painter and a sculptor. Since retiring from teaching art in 2003 his work has been primarily creating found object assemblage sculptures. He shares his studio with his wife who is also a sculptor. Throughout his career, he has exhibited in galleries, art centers, art competitions and fairs in and around the Minneapolis and St. Paul area as well as the Midwest. Gary has received numerous awards for his unique sculptures. Gary grew up in Minneapolis and received his degrees from the University of Minnesota. He currently lives in rural Minnesota. Their work can be seen at : garyandmaryanncarlson.weebly.com
The first thing I consider is if the image has engaged me in some way, causes me to look again and study it more closely. Whether it is a realistic depiction of some person or thing or completely abstract, I decide if the composition carries my eye over the entire piece, then returns it to what appears to be the main focus or theme of the image. At the same time, I examine the style and technique used to create the image and the level of expertise and control of the media used to achieve the artist's intent.
My congratulations to all the artists who entered. I appreciate the commitment, variety of styles, media and subjects explored. There was much to be admired in the quality of work, making it very challenging to hone down my selections. My selection criteria - Paintings that: Clearly demonstrate a specific viewpoint, emphasis, mood, energy grab and hold my attention (idea, humor, mystery, beauty, etc,), offer a new visual/conceptual experiences, show strong composition, use color with originality and creativity, demonstrate mastery of materials utilizing their unique qualities, skilled and expressive brushwork, and are visually excellent viewed close and far.
BIOGRAPHY Ceramicist Brandon Lutterman has many years of teaching experiences at various locations and institutions. Currently, he is an art teacher and department chair at Saint Thomas Academy. He has previously worked as an assistant professor of fine arts and program director at Lincoln Memorial University in Harrogate, Tenn. Prior to that, Professor Lutterman worked within the University of Maine system and Southern Maine Community College. He started his professional career as the facilities director at Watershed Center for the Ceramics Arts. He got his bachelor of fine arts and master of arts degree in ceramics at Minnesota State University, Mankato. He also has a master of fine arts in ceramics from Kansas State University. My current body of work is created to celebrate life, prompt more awareness and preservation, expressing the importance of being stewards of all life. There is an unseen precious balance at stake between the industrial man and what will become of our biodiverse population of organisms, fish, plants, animals, habitat and nature in general. "Art for me, is a balance of life, therapy, profession, and a passion that documents my journey."
AMY SANDS Class 5: Prints
BRANDON LUTTERMAN Class 6: Ceramics/Glass CRITERIA STATEMENT
If you would like to view more of Tom's artwork or get more details of his history or his contact information, please visit his website at: tomhessel.com
BIOGRAPHY Amy Sands (MFA, Pratt Institute) is a Minneapolis-based artist who creates one-of-a-kind works on paper at the intersection of traditional and digital methods of printmaking. She has exhibited in solo and group shows across the world, including Prints Tokyo 2012, Tokyo Metropolitan Art Museum; the International Printmaking Biennial of Douro, Portugal; and the International Biennial Print Exhibit: 2020 R.O.C. at The National Taiwan Museum of Fine Arts. Her work has been internationally recognized with numerous awards including First Prize ~ Mini Print III International Cantabria/Impact 10 in Santander, Spain; Juror's Choice Award ~ Awagami International Miniature Print Exhibition 2017, Tokushima, Japan. She is a recipient of the 2020 Minnesota State Arts Board Grant, 2019 Springboard for the Arts Art in the Public Realm grant and a 2018 Springboard for the Arts Bottineau Boulevard grant.
In the prints category, I had the honor of reviewing a great range of impressive works, many of which I was unable to include for final display. With the competitive nature of this exhibition, I selected works that had a sense of curiosity or a compelling nature that drew me into their process, materials or concepts. This curiosity was illuminated in prints such as V by Beth Dorsey, where ephemeral objects from the domestic space are carefully aligned in a grid-like fashion and contrasted with rich variations in value, creating a visual chorus of active linework and space. In Our Lady of the Camellias by Lynnette K. Black, I was drawn to the synergy created with the black and white patterns merging eloquently with the colored textural forms, a painterly suggestion of the referenced book. Franklin Avenue Bridge by James W Boyd Brent both had representational elements of places and things we experience but articulated magically with their own vision. Finally, there were several prints that made an impression on me for their exploration of multiple processes or their complexity of layers and meticulous detail.
Sands has been designated as a 2022 McKnight Printmaking Fellow at Highpoint Center for Printmaking with an upcoming solo exhibition in January 2023. Her work is represented at Muriel Guépin Gallery in New York City, and Base Gallery, Tokyo, Japan. She maintains a studio in the Twin Cities area where she is associate professor of studio arts and department chair, fine arts at Metropolitan State University, St Paul, Minn.
CRITERIA STATEMENT
It is an honor to be a part of the subjective and selective process of choosing this year's ceramics and glass entries and award winners. I spent many hours going through the entries to make sure I chose what I felt was the strongest 14 works that represented many criteria and presented both glass and ceramics overall. This was a very challenging task, as juror, I would have loved to have selected many more entries, but due to the restraint of the exhibition space, only 14 where selected. I had over 25 entries that I wanted to include. As an artist and maker myself, I know the feelings that go along with the process of entering and not getting accepted into an exhibition. The criteria that went into the decisions were craftsmanship, quality, concept, content, skill and mastery of the materials. When viewing works of art virtually, the works must present themselves as eye-catching or intriguing. They must then stand up to my subjective opinion on the items mentioned above. Others were just great works that showed the many years of mastery with the material and are interesting pieces overall.
BIOGRAPHY Laura Wennstrom (she/her) is a multimedia artist, working in two and three dimensional formats using quilting, found materials, color and installation techniques. Her work has been exhibited in numerous group and solo exhibitions across the Lauracountry.holds a master of fine arts in new media from the University of Illinois at Urbana-Champaign and a bachelor of arts in studio art from North Park University in Chicago. Laura has a robust teaching practice and has taught classes to children and adults through the Minneapolis Institute of Arts, Bethel University, Anoka Ramsey Community College and the Minnesota Textile Center. Laura lives and works in Minneapolis with her family where she likes to thrift, garden and sew. You can find her work online at laurawennstrom.com or on Instagram @Laura Wennstrom.
I am truly an honored to jury the 2022 photography category of the Minnesota State Fair Arts Exhibition. I am always so pleased to see the Fine Arts Center bustling with people from all walks of life. We are lucky to be a state that supports and participates in the creative arts, an aspect of Minnesota culture that is so unique and should be proud of. There were several aspects of photography that I considered in making the final selections, and I really mean it when I say there were a lot of great submissions. I looked for photographs that I felt represent iconic Minnesota, cabin life, wildlife, lakes, farms and a quirky sense of humor. Then I broadened the pool and chose photos that I responded to in an emotional way, images the made me curious, where I had to think deeper about what caught my attention. Beyond the content I was interested in photographs that were strong on the initial capture. I tell my students a good photo doesn't need a lot of post-production, maybe a tweak here or there. Look through your camera lens and take a photo that is remarkable the moment you take it, photography is about capturing and suspending a sliver of time.
LAURA MIGLIORINO Class 8: Photography CRITERIA STATEMENT
BIOGRAPHY
LAURA WENNSTROM Class 7: Textiles/Fiber CRITERIA STATEMENT
Laura E. Migliorino was born in Cleveland, Ohio, and grew up in a Chicago Heights, a Chicago suburb. Migliorino's bachelor of fine arts is from School of the Art Institute of Chicago and master of fine arts is from the University of Minnesota. She is a professor of art at Anoka-Ramsey Community College near Minneapolis. Migliorino has received numerous grants from the Jerome Foundation, several Minnesota State Arts Board grants, and various exhibition prizes. In 2017, Migliorino was the Community College Humanities Affiliated Fellow at The American Academy in Rome. Migliorino is Fulbright Fellow at The British Library in 2022. Her work is in the permanent collection of the Walker Art Center, Weisman Museum, and The Minnesota Center for Book Arts in Minneapolis, and The Warehouse in Atlanta. She has exhibited internationally for over 30 years. Migliorino's work has been featured in the Huffington Post, DOMUS Magazine, Pittsburgh Post Gazette, The News Hour with Jim Lehrer and DWELL Magazine.
I am blown away by the diversity, depth of content, craft and ingenuity present in the works submitted to the 2022 State Fair Fine Arts Exhibition. An abundance of excellent artworks made my job incredibly difficult! I was immediately drawn to work that is technically savvy, combined with creative utilization of traditional fiber practices. I saw recurring themes of turning to stitching and making in times of social unrest and covid-upheaval. I also saw themes of lighter, humorous work to temper the darkness of long winter nights. Thank you for entrusting me with your beautiful work. I am proud to be a Minnesotan!
As media and practices vary from artist to artist, expect each day to be unique.
Each artist's day is self-contained.
This special exhibition provides a window into the practicing artists' studio to see the labor of art-making in action. Great art objects rarely tumble out as perfect, crystalline, materpieces, but rather are the result of hours of intense activity, reworking, deliberation and research. We invited the 12 participating artists to use their time in our gallery as a 12-hour working studio day. In addition, they have all set aside time during this working day to actively interact with our viewers: this may be talking about the piece they are working on specifically, speaking about their past work or practices or simply fielding questions.
Studio: HERE 12 artists 12 hours 12 days
2022 Fine Arts Exhibtion
Aug 25 Ekaterina Kazachenko Aug 26 Irene Wesee Aug 27 Brian Wagner Aug 28 Nikki Shull Aug 29 Jesse Lang Aug 30 Nina Robinson Aug. 31 Emily Donovan Sept 1 David Roers Sept 2 James Nutt Sept 3 Erik J Olson Sept 4 Deb Zeller Sept 5 Kelsey Nagy
EKATERINA KAZACHENKO
Special Exhibition Studio:HERE 12 artists 12 hours 12 days Studio:HERE, a special exhibition of 12 Minnesota artists, each working for 12 hours, during the 12 days of the fair.
Ekaterina Kazachenko is a Minnesota artist born in Russia. At age 15 she enrolled at the College of Art in her hometown of Perm, marking the beginning of a thirteen-year formal education in painting. During that time she spent seven years at The Academy of Art and Culture under Professor Evgeny Shirokov and received two United Artists fellowships to the prestigious I. Repin Academic Cottage under the supervision of nationally acclaimed artist Anatoly Levitin. She spent countless hours on Plein air and was accepted into the Ph.D program in the Russian Academy of Arts in Kazan City under Professors Abrek Abzgildin and Farid Yakupov. She was also selected twice to participate in the National Art Exhibition in Moscow and much of her work has been displayed and sold at galleries and exhibitions in Perm, Kazan and EkateMoscow.rinaKazachenko holds a Ph D in fine art from the Russian Academy of Arts. Since her arrival in Minnesota in 2011 she has had three solo exhibitions and participated in many local, national and international juried art shows. She has received multiple fellowships and "Best In Show" and "Award Of Excellence" honors for her work. My painting for this show is titled "Maya" and is a part of my "A Chapter" collection of works: Motherhood. It continues to challenge every part of me but is so profoundly inspirational. The act of nurturing and sustaining another human being is an experience that takes me outside of myself and my expectations. To a place where a lot of creativity is allowed to happen. The mother/artist balance is a real trip ... offering only small windows of opportunity to create and interpret the experiences of happiness, joy, frustration—and the courage of child rearing. Here I am in my current environment of creative urges. I give credit to leaping into something new and outside of my comfort zone giving me a renewed sense of purpose and zest for life. I am grateful that I get to express these feelings in paint
NIKKI SHULL Nikki S. Besser (Nifty Nikki) is a northern Minnesota based, self-taught artist. Her work includes a broad range of mediums including, but not limited to paper, pastels, acrylic paint, oil paint and mixed mediums. She desires to demonstrate her flexibility as an artist by depicting a range of subject matter in her work, such as landscapes, animals, nature, people and more. Her most recent work has been centered around paper as her primary media. This particular art form used in the creation of her work is known as paper quilling, which involves rolling, gluing and shaping strips of paper into various forms and arranging them in different ways to create decorative designs and images. She aims to explore and inspire the creative possibilities of paper and other medias through her colorful, detailed and realistic artworks as well as provoking a sense of joy, beauty and appreciation for our existing world. The challenge of replicating the existing world into a realistically unique and original concept has always appealed to her. She aims to bring alive personality traits, convey captivating degrees of emotion, to capture particular aspects of life, and to convey and preserve moments of time through her use of manipulating and arranging paper. Moments of joy, moments of happiness, moments of love, moments of beauty, moments of life.
jessedlang.comInstagram:@jessedlangartist
BRIAN WAGNER Brian received their bachelor of fine arts in printmaking and drawing and art history from Minnesota State University Moorhead in 2019. In 2020 they attended the worldrenowned Tamarind Institute of Fine Art Lithography and are a trained tamarind collaborative printer and lithographer They are currently working and living in Minneapolis, Minn. Primarily a lithographer and book artist, their work often focuses on the queer existence and memory, and their interest in queer domesticity and what it's like living in and occupying these spaces. These spaces we inhabit are no different than any other, they are meant to be reclaimed and lived in. They are spaces of transition and are often temporary and ever-changing, something that they find cohesive with their own sexuality, queerness and identity.
Shecaptivated.began sharing her work in online children's portrait competitions where she was awarded several first place features. What motivated her to enter these competitions was her desire to represent a diverse population within the contest submittal Irene's work has gained attention in photography groups leading her to provide education to other photographers. In addition, she has also offered photography services for local women's and children's shelters for Mother's Day and Christmas holidays.
JESSE LANG Jesse Lang began dabbling in art at an early age inspired by representational works and the realism achieved through paint. His interest would extend through adolescence and in 2007 he received a degree in fine art from the University of Wisconsin-Stevens Point. Additionally, he had a drive for music and spent years writing, recording, and performing as a Today,guitarist.his artwork is a combined result of both of those passions. Jesse's oil paintings are centered around the struggling musician. His narrative-based work depicts the musician's struggle as a physical task, pitting the subjects against themselves, each other, or nature. Instruments are used in non-musical ways, becoming weapons or tools to aid in the fight. The end result is a story of determination even in the most absurd, exaggerated or futile situations.
IRENE WESEE
Originally from Liberia, music and art served as an escape from the harsh realities of living through a civil war while trying to find the beauty that exists in turmoil. During her childhood in Liberia, cooked rice served as glue for her art projects such as cutting photos from newspapers, postage stamps and magazines for scrapbooking. After relocating to the land of 10,000 lakes, she attended an elective black-and-white photography class in nursing school and purchased her first camera. This launched the journey to her new passion: photography. Her photography focuses on portraits, while incorporating vibrant colors and textures. Irene is able to vividly convey emotions and stories drawing inspiration from her childhood, books, and current events that aim to leave the viewer
Nina Martine Robinson is a textile artist based in the northeastern suburbs of the Twin Cities.
Robinson has been exploring the societal inequities among neurodivergent folk through her textile installations. Neurodiversity encompasses a wide variety of brain differences including Autism and ADHD. Robinson first began exploring neurodiversity when her son was diagnosed with autism at 23. The artist researched the condition extensively and expressed what she learned through 3-D textile forms. This started with a focus on repetition and movement, common traits in people with autism. But as Robinson's understanding of the spectrum increased, so did her experimentation in capturing these ideas with fiber. Often utilizing discarded clothing, she deconstructs and reassembles the components in unexpected ways to highlight the wide variety of personalities that exist under the neurodivergent umbrella.
James draws and paints constantly and carries a small kit everywhere to capture the story and energy of places and ordinary things. He focuses more on energy and depth through deliberate proportion and harmony than accuracy. His work covers a wide range from abstract to illustration, but always with an emphasis on relationships and telling the "story.
DAVID ROERS Surrealist Photographer. I was born in Minneapolis in the mid-1970s and grew up in Bloomington, Minn. I took photography class throughout high school and attended Hennepin Technical School for photography. I'm self-taught in photoshop. My first professional job was creating the cover art for my father's (Walter J. Roers) second novel Pathos Rising. Since then, I've had my art displayed in a dozen galleries in and around the Twin Cities and won first prize at the Mississippi Minute Film Festival for my short film "Find the River".Iusephotoshop to blend photographs I've taken to create one surrealistic image. Inspiration can come from all sorts of places, pop culture, modern technology, the environment, social, political or religious issues. Bending and reshaping our reality to make a statement or just to create something that is aesthetically pleasing. I try to make something thoughtprovoking, interesting and unique, while also capturing the eye. I've always thought that if you have a voice to the world, say something worthwhile.
Instagram: @davidroers
JAMES NUTT James Nutt is an architect, artist, instructor and CONSTANT sketcher. His approach to architecture, design and art all inform each other. He believes everything we interact with has been designed and because of that we have a relationship and reaction to it. James strives to stop, look, contemplate and get to the heart of these interactions in his work. He shares a studio in the Northrup King Building (Studio 184) and for the past 8+ years participates in monthly open studios, Art-A-Whirl, commissions and art demonstrations.
Exploring the "ordinary things" with curiosity, ink and watercolor that we love so much is a way to better know ourselves and our community."- James Nutt - Northrup King Building, Studio 184.
Instagram: @nuttdraws nuttdraws.com
Nina Martine Robinson lives with her adult autistic son in a multi-generational household. Her artistic practice focuses on neurodiversity, specifically autism spectrum disorder and age related dementia. Instagram: @collaborativeseamstress
NINA ROBINSON
EMILY DONOVAN
I love being outdoors, watching things grow and learning about what colors can be made from nature. My paintings are created on paper with handmade dyes from natural materials using methods and recipes that are centuries old and shared by all cultures. The process includes a bit of chemistry, observation of plants and seasonal cycles and research. The layers of natural colors are representations of discovery, or the landscape where I gathered, the people who helped or memories about the day. I like to think each is a celebration of what the natural world has to offer and the age-old traditions of making color naturally that are passed from one generation to the next.
DEB ZELLER Deb Zeller owns a studio and gallery on mainstreet in Hopkins, Minn., where she hosts the Minnesota Figure Study Collaborative and a saturday portrait group. She draws and paints portraits every week in the studio. She has traveled to Cuba where she painted watercolor portraits and drew charcoal portraits of the Cubans on the street. She often times sets up her easel at Parley Lake Winery where she has created over 2000 charcoal portraits. Her work and activities in the community can be viewed at zellerstudio.com
Instagram: @kelsey.l.nagy etsy.com/shop/kelseynagy
Using quilted plastic waste as his medium, Erik creates works that deal with the effects of consumerism, mass consumption and unfettered capitalism. By layering environmental issues with social justice messaging, his art emphasizes our alienation from the environment and each other, our willingness to waste, and our subsequent need for healing. An ethos of minimal waste pervades Erik's creative process. He uses nothing new to make his art. Each piece is constructed of eight to twelve layers of machine quilted, previously used, single-use plastic. The "batting" consists of used pallet wrap and packing material, the thread is over stock and left-over from garment manufacturing and his sewing machines were previously owned. He even saves all the scraps from each piece in order to use them in subsequent pieces By minimizing his carbon footprint in the creation of pieces and transcending the medium without denying what it is, Erik creates art that embodies Marshall McLuhan's concept that "the medium is the message."
There will be an exhibition in the gallery in 2023 to showcase "The State Fair Experience." At the end of that exhibition, she will present each of the State Fair models with their portrait. She will create at least one oil portrait painting, several watercolor portraits and numerous charcoal portraits. The oil painting will take three to four hours. Watercolor portraits are quick and only take about half an hour. She is very practiced at charcoal, and can usually finish them in about 20 minutes
KESLEY NAGY Kelsey Nagy is originally from Memphis, Tenn. In 2011, she graduated from Union University with a bachelor of arts in studio art. After graduation, she pursued her interests by interning at Companion Gallery from 2011-2015. In 2015, Kelsey moved to St. Petersburg, Fla. where she completed a two year residency at the Morean Center for Clay Kelsey and her husband moved to the Twin Cities metro in 2019. Kelsey currently maintains an active studio practice.
ERIK J OLSON
Supporting Arts and Culture programs at the Minnesota State Fair
2022
You can help others experience arts and culture at the Minnesota State Fair with a gift to the Minnesota State Fair Foundation. Your donation will support experiences in visual and performing arts, bring forward cultural programming and make art accessible at the Great Minnesota Get-Together. Learn more at ms oundation.org
Class 1: MixedAcrylicOilMedia
SAMARA H ADAM Minneapolis Aromanticism acrylic on canvas 18 x 24 inches NFS samaraadam77.wixsite.com/website EMILY ANDERSON Marine on St. Croix Highview Acrylic on Canvas 30 x 30 inches NFS emilyandersonartwork.com
SCOTT LLOYD ANDERSON Minneapolis Snowfolk 11; The Entertainer oil on panel 30 x 24 inches $ 4,000 scottlloydanderson.com VIRGINIA AVERILL Marine on St. Croix Madonna in Black Mixed Media 18 x 13 inches NFS virginiaaverill.com
NADIA ALENOV St. Paul Urashima Acrylic on paper 22 x 15 inches NFS nadiaalenov.weebly.com RICK BENSON Marine on St. Croix Code Breakers, World War II Acrylic and Pencil on Canvas 30 x 26 inches $ 795
St. PaulROBIN J. BLOCHINGER Sidewalk Angels Oil on Canvas 36 x 48 inches $ 1,200 TINA BLONDELL Minneapolis These Boots are Made for Walking Oil on panel 39 x 24 inches $ 8,000 tinablondell.com
JOHN BOOTH Minneapolis Scrable Tiles Acrylic on panel 26 x 35 inches $ 1,000 DEBBIE BOYLES Roseville Harris Machinery Redux collage #1 Mixed media collage 16 x 20 inches $ 300 debbieboylesart.com
BARRY BROCK Savage Fly Away Acrylic on canvas 48 x 30 inches NFS STEPHEN CAPIZ Mendota Heights My Mother's Night Garden Acrylic on Canvas 48 x 36 inches $ 7,500
Shoreview $ 2,499.99 LUKAS D. CARLSON Quillt Pastel and Oil on Canvas 36 x 48 inches lukascarlson.com Minneapolis $ 2,000 JOSH N. CARPENTER Cup on the Green Oil on canvas 14 x 18 inches carpenterart.com 4 Fourth Place
PIPER L CHRISTENSEN Minneapolis Too Many Acrylic paint, black ink 15 x 18 inches NFS TRAVIS J COLLINS Minneapolis Learning To Listen (WIP) Acrylic On Canvas 60 x 48 inches $ 2,500 https://www.travisjcollins.com/
TERESA COX- KOLAR Duluth Dancing Fairy Deer Botanical Mixed media on canvas 24 x 48 inches $ 1,500 sweetmarestudio.com KATHRYN D'ELIA St. Paul Pressed Oil on Panel 24 x 18 inches $ 800 kdelia.com
BRIDGET MEGAN DAVIS Andover Peony Garden #2 Acrylic Paint on Canvas 36 x 24 inches $ 1,550 instagram.com/bridgetdavispainting DON DICKINSON St. Paul Spring Break Acrylic on Canvas 48 x 60 inches $ 8,750
KEITH DIXON Edina Dakota Chief Ta Oyate Dutta Oil on Linen Mounted on Panel, Set in Artist-Made Wood Frame 30 x 24 inches NFS keithdixonpainter.com SHONA DOCKTER Roseville American Nobility Vintage photo and book page collage, gold leaf, embroidery 18 x 16 inches NFS shonadockter.com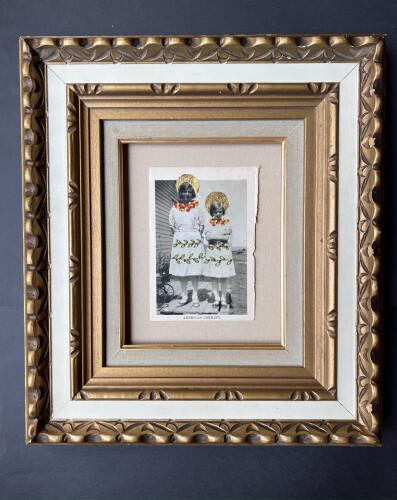 St. Paul $ 4,200 PATRICK DOYLE Crystal Numinosity #3 Oil on canvas 48 x 36 inches $ 2,300 EMILY DONOVAN Conifer Shelter Natural dye on paper w/beeswax 45 x 40 inches Studio:HERE Artist
RON DUFFY Roseville Composition in Orange Minor Acrylic on canvas 26 x 26 inches NFS ronduffyart.com JULIE M. FAKLER Faribault Willy-Willy Acrylic on Hardboard 20 x 16 inches $ 395 juliefakler.com
SUSAN WELLE FELIX Eden Prairie Peace and Justice Oil on canvas 31 x 25 inches $ 480 JR FISCHER St. Paul Self Portrait with Rudy Oil on Canvas 20 x 16 inches $ 850 instagram.com/jr_fischer_art
ABBEY J FITZGERALD Golden Valley Set in Stone Oil on canvas 36 x 24 inches $ 1,750 artbyabbeyfitzgerald.com LAURA G Bloomington A Landscape in your Dream Ink and marker on paper 21 x 17 inches NFS Behance.net/laurageiselman
MARK GRANLUND St. Paul Still Life with Flag Oil on canvas 22 x 32 inches $ 2,100 markgranlund.com WARREN B GREGORY St. Paul Watching and Waiting Acrylic paint and crayon on canvas 24 x 20 inches $ 1,000 Juror
KATHY GRUNDEI Medina Kansas City MO 15Collagex15 inches $ 250 artscapestudio.us ChaskaJEAN M. HAEFELE Search for Elusive Species Acrylic and collage on canvas 18 x 24 inches $ 950 H M Honorable Mention
JOANNA HALLSTROM Minneapolis The Musical Oil on canvas 30 x 24 inches $ 725 joannahallstrom.com NAOMI HART St. Cloud Talisman Encaustic Mixed Media 25 x 19 inches $ 2,000 naomi4art.com
JULIE HAUPERT Savage The two friends Oil on wood panel 16 x 20 inches $ 1,500 etsy.com/shop/bestinterestatart DAREN D HENRY St. Paul Behind It Oil and pencil on panel 24 x 24 inches $ 400
BECKY LEE HIRDMAN St. Paul untitled Oil on plywood attached to wood handmade frame 16 x 19 inches NFS TODD HOLMBERG St. Paul Cattle Cluster Oil on Board 21 x 28 inches NFS
SUZANNE HOWE Robbinsdale Sunsplashed oil on linen 30 x 30 inches $ 3,900 suzannehowe.net SARA J JAMES Minneapolis View from the Steep Acrylic on canvas 60 x 30 inches NFS
MICHAEL JENSEN Minneapolis Christmas Lima Bean Oil on canvas 48 x 48 inches $ 3,500 mjensenphoto.com KRISTA LEE JOHNSON Wayzata Old Friends Oil on Canvas 30 x 40 inches NFS kristaleejohnson.com H M Honorable Mention
MAUREEN CARMODY JOHNSON Edina Lemons Acrylic on canvas 36 x 24 inches NFS MIC JOHNSON Golden Valley Sinclair Acrylic on Canvas 42 x 36 inches $ 3,000
M KAUDY St. Paul Suprematism Acrylic on canvas 31 x 25 inches $ 875 mkaudyarts.com New Hope NFS EKATERINA KAZACHENKO Maya Oil on canvas 40 x 32 inches Studio:HERE Artist
JASON K. KEHRER Maplewood After the Wake Oil on Panel 20 x 16 inches $ 700 BEBE BARBARA BENSON KEITH St. Paul Party Animal (Cat) Mixed Media (paper collage and acrylic on board) 20 x 16 inches $ 350 bebekeith.com
St. Paul $ 600 JEANNINE SPOONER KITZHABER Newest New Mixed media/assemblage 16 x 12 inches jspoonerkitz.com RACHEL KLISMITH Fridley Entering the Ouroboros Oil on canvas 34 x 34 inches $ 3,500 1 First Place
SUSAN KNAPP Marine on St. Croix Untitled Oil on board 5 x 5 inches $ 450 KATHLEEN M KVERN Minneapolis Map Makers and Travelers Encaustic, mixed media on board 19 x 25 inches $ 1,295 kathleenkvern.com
AVA LAMBERT Minneapolis Sunflower for Ukraine oil on canvas 24 x 12 inches $ 1,750 avalambertart.com JESSE D. LANG North St. Paul Songwriter's Foray Oil on canvas 36 x 48 inches $ 2,900 jessedlang.com
JESSE LANG North St. Paul The Front Line Oil on canvas 28 x 40 inches $ 1,325 JIM LARSON Milaca Saw Still Life Oil on canvas 10 x 10 inches $ 1,000 Studio:HERE Artist
LILI LENNOX Robbinsdale Red Prairie Acrylic on muslin 30 x 40 inches $ 960 lililennox.com MANDY MADSEN Apple Valley Showing the Way Oil on Cradled Wood 8 x 8 inches NFS mandymadsenart.com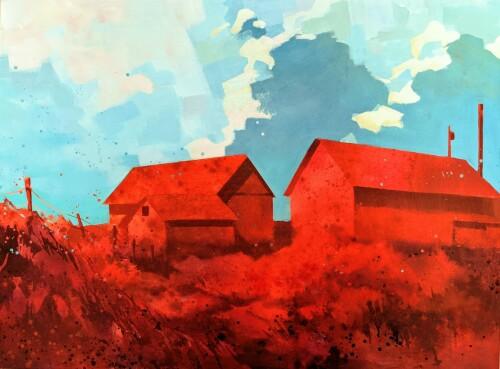 ROD MASSEY Minneapolis Under the Conveyor Oil on canvas 50 x 42 inches NFS grovelandgallery.com/artist/rod-massey LINDSAY MCCALL Edina I'M FREE Acrylic and gouache on wood panel 8 x 10 inches $ 270 lindsaymccall.com
ABBE M MCGRAY Maple Plain Morning Lilies Oil on canvas 36 x 36 inches $ 1,200 abbemcgray.net GAIL MCKISSICK Minneapolis Edge of the Grand Canyon Paper Collage 9 x 5 inches NFS
SERGIO ALFREDO MOJICA St. Paul THE CHILDREN OF UKRAINE. Acrylics/oil on canvas 20 x 16 inches $ 1,200 facebook.com/sergio.mojica.7528 KIMBER OLSON Eden Prairie Blood Moon Acrylic on panel 12 x 12 inches $ 325 kimberolsonart.com
PATRICIA OLSON St. Paul Self-Portrait at 70 Oil on panel 40 x 30 inches $ 4,500 patriciaolsonart.com St. PaulELISABETH S. PAPER Summer Leaves Mixed media/collage with paper & silk 63 x 22 inches NFS 2 Second Place
JOEL K PIEPER Minneapolis Trespass Oil on Panel 23 x 29 inches NFS JESSICA PIETRASZEWSKI Centerville South 6th Street Oil and mica powder on board 12 x 9 inches NFS jessicapietraszewski.com
CHRIS PRICE Lakeville Water Wars Oil on canvas 24 x 36 inches $ 2,000 cpricegallery.com CHARLIE PUTNAM St. Peter What's Next? Acrylic and pencil on Yupo 7 x 5 inches $ 300 charlieputnam.com
JAMIE REICH Scandia Moona Lisa Oil on canvas 30 x 27 inches NFS aproposstudio.com HALLE RITTGERS New Brighton Look Closely India ink, acrylic ink, acrylic paint, pastel, charcoal 40 x 30 inches $ 1,200 hallerittgers.com H M Honorable Mention
JEFF RODENBERG Shoreview Stevie Wonder Acrylic on wood panel 24 x 24 inches $ 3,000 jeffrodenberg.com GRETA SANDQUIST St. Paul Ethos Meets Reality Oil and gold leaf on wood panel 48 x 24 inches $ 4,500 gretasandquist.com
SURELLE SCHEWE Blaine Jezebel Acrylic on canvas 48 x 36 inches $ 8,666 instagram.com/Surelle.schewe.art SUZANNE SISSON Stillwater Salmon Nation Acrylic, glass, beads etc on black boards 48 x 18 inches $ 400
RENEE OLSON SONKA White Bear Lake Embroidered Pine Sumi-e ink, watercolor, embroidery thread 16 x 26 inches NFS RON SORENSON Oak Park Heights Ukrainian Spring 2022 Oil and marker on canvas 24 x 30 inches $ 1,400
TOM E. STEWART Mahtomedi Minnesota State Symbols, Why Not Craft Beer? Oil on canvas 60 x 50 inches $ 3,500 testewart.com DAVID STROM Windom Time Tassel Acrylic on canvas 37 x 61 inches NFS 3 Third Place
JUSTIN TERLECKI St. Paul Matta Oil on canvas 30 x 39 inches $ 3,100 grovelandgallery.com/artist/justin-terlecki KAO LEE THAO Minneapolis Unraveling Acrylic on canvas 24 x 36 inches $ 4,500 innerswirl.com
TRISH TORO New Hope Once Upon a Still Life Oil on canvas 26 x 22 inches $ 550 trish-toro.pixels.com LAURA TUNDEL Minneapolis Contemplation Oil on Linen Mounted On Board 30 x 24 inches $ 3,600 instagram.com/lauratundel
LANDON VALLE St. Paul Recognition Oil on canvas 30 x 40 inches $ 2,500 valleaesthetics.com PATTY VOJE St. Paul In the Limelight Oil on Board 30 x 30 inches $ 2,500 pattyvoje.com
JAMES VOSE Edina Dairy Diptych: Milk and Eggs Oil on Linen 15 x 21 inches NFS jamesavosefineart.com SUSAN WAGNER St. Louis Park Land Marks #10, Limestone Oil on canvas 40 x 30 inches $ 2,500 susanwagnerart.com
Ham lakeCYNTHIA H. WALTHO Am I In The Normal Range? Oil on canvas 17 x 18 inches $ 1,200 BRANDI KOLE Bloomington Detached Mixed media, thread, paper, ink, cardboard 14 x 11 inches $ 600 BrandiKole.com H M Honorable Mention
AMANDA M WEBSTER Roseville Thursday in the Garden of Ruins acrylic on canvas 36 x 24 inches $ 1,597 artbyamandawebster.com KENNETH WENZEL Minneapolis Picture Hook Oil on Wood 11 x 15 inches $ 450 kennethwenzel.com
St. Paul $ 2,200 KEVAN F. WILLINGTON Small Precipice Oil on prepared wood panel 8 x 10 inches kfwillington.com NEYSA WINTERER Excelsior The Pink Cadillac Torn paper on wood 21 x 36 inches $ 2,450 neysas.art H M Honorable Mention
SOPHEA MUNAWAR WOOLNER St. Paul Amir Oil on canvas and silver leaf 36 x 24 inches NFS BARBARA FAIR YOUNG Taylors Falls Everyone Needs to Laugh Oil on Centurion Deluxe oil primed linen panel.. 12 x 9 inches NFS
Victoria $ 1,200 SCOTTY Z Minnetonka PesCATarian Acrylic on canvas 24 x 36 inches NFS DEB ZELLER Anthony - Alla Prima Oil on panel 1 x 1 inches Studio:HERE Artist
Class Sculpture2:
St. Paul $ 1,000 JASON A ARNEY-O'NEIL ONE Ceramic, concrete 17 x 6 x 6 inches jarneyoneil.com PAMELA BELDING Minneapolis Evolution Ceramic with underglaze, deer antlers 27 x 18 x 15 inches $ 1,600 pamelabelding.com H M Honorable Mention
Rush CityGARY CARLSON Red Wing Roadster Found object sculpture 52 x 44 x 4 inches $ Rush3,000CityMARYANN CARLSON Coleman Wobbler Found object sculpture 12 x 14 x 7 inches $ 500JurorJuror
TIMOTHY D. CASSIDY New York Mills FIN Welded ferrous metals 51 x 67 x 25 inches $ 4,500 instagram.com/timothycassidy ALLEN DAVID CHRISTIAN White Bear Lake Grandma's Lap Wooden elements from found tables and chairs 64 x 28 x 33 inches $ 4,500 houseofballs.com
FRED COGELOW Willmar Hayseeds at Heart Carved birch, natural finish 15 x 10 x 2 inches $ 11,437 virtualrurality.com KIMBER Minneapolis Loretta Welded stainless steel 62 x 18 x 18 inches $ 19,000 3 Third Place
KYLE FOKKEN Minneapolis Purser (Piggybank Series) Mixed media 16 x 14 x 8 inches $ 3,000 kylefokken.com St. NFSPaulMATTHEW J GOUETTE American Woodcock Acrylic paint on wood 24 x 12 x 8 inches facebook.com/GouetteArt H M Honorable Mention
MinneapolisMERLE W. HANSEN No where # 107 Metal wood and plastic 30 x 11 x 6 inches $ 1,800 JEN J HEYDT-NELSON Minneapolis Birch Lady Stoneware, underglaze, birch twigs 35 x 11 x 11 inches $ 1,250 instagram.com/jenheydtnelson 1 First Place
MIKE KLEIN St. Paul Grounded on Submerged History Wood carving and construction 24 x 11 x 4 inches $ 800 mikekleinedd.wixsite.com/artportfolio JOY LIBERMAN St. Paul Outside, In Oil and mixed media 20 x 13 x 7 inches $ 2,500 joyliberman.com 2 Second Place
St. Paul $ 35,000 RICK P LOVE Mississippi Indigo Wood with indigo and cyanotype 69 x 32 x 2 inches ricklove.com WILLIAM MALO Minneapolis Troy built horse trailer Cast metals 21 x 14 x 11 inches $ 2,725
GLENN MCKILLIPS Andover Predator 28Stonex15 x 15 inches $ Lino1,600LakesJAMES MCNELIS Untitled Painted resin wall relief 18 x 27 x 1 inches $ 2,500 4 Fourth Place
THOMAS A PAGE Cohasset Dylan Cast bronze 70 x 36 x 20 inches $ 60,000 tompagefineart.com JODI REEB Minneapolis Chalcedony Enamel paint on aluminum 24 x 24 x 3 inches $ 1,450 jodireeb.com
LOIS RHOMBERG Minneapolis Keep 14Ceramicx6x 6 inches $ 600 LoisRhomberg.com MICHAEL ROSENFELD St. Louis Park Formation Direct stone carving 33 x 13 x 9 inches NFS
RICHARD SIMONSEN Minnetonka Comacho Acrylics, wood, cardboard, brass and copper hardware 54 x 36 x 4 inches $ Minneapolis4,000PAUL H WEIG untitled Mixed-up media 60 x 20 x 20 inches $ 1,200
Class TempraCaseinGouacheWatercolor3:
JESSICA BORTONI Edina Confident Leaf Watercolor on paper 38 x 30 inches $ 4,550 jessicabortoni.com HARRIET BRAUN St. Cloud Spring Training, Fort Myers Casein and gouache on watercolor paper 20 x 29 inches $ 1,800 facebook.com/harrietbraunsketches
St. PaulKRISTINE L BURTON The Big Spring Ink and watercolor on rice paper 11 x 9 inches WestNFS St. Paul $ 4,000 ANDREW GRUM CARR Young Man in the Kitchen 26Watercolorx19inches andrewgrumcarr.com H M Honorable Mention
St. NFSPaulCARYS CHURCH Divine Watercolor & ink on paper 24 x 18 inches cargocollective.com/caryschurch GLADYS FOLKERS Excelsior Happy Birthday Mom! Watercolor on 300 weight watercolor paper 15 x 19 inches NFS
ERIK J FREMSTAD Victoria The Grizzly Watercolor/archival ink on cold press 47 x 34 inches NFS erikfremstad.com GREG GRAHAM St. Paul The Shade of Love Gouache on paper 11 x 14 inches $ 1,200 gregorygrahamart.com
RUTH HANSON Vining Winter's Blue Watercolor Batik on rice paper 8 x 18 inches $ 425 songofruth.com Lake Elmo $ 1,800 CATHERINE HEARDING Into the Chasm Watercolor on paper 39 x 31 inches chearding.com
SONJA HUTCHINSON Wayzata Making the Cut 26Watercolorx37inches $ 1,400 NEMAA.org/artists/sonja-hutchinson ExcelsiorGEORGIA O. KANDIKO Duet Transparent watercolor on watercolor paper 30 x 22 inches $ 2,500 KandikoAndKandiko.com 3 Third Place
KAREN A KNUTSON Eden Prairie Close to my Heart Watercolor on paper 16 x 20 inches $ 595 karenknutson.com PlymouthMELISSA A KUGLER Wildflowers Watercolor on paper 12 x 9 inches $ 120
$Hastings1,200JESS LINDELL Big Bird Watercolor on paper 40 x 28 inches aquilawatercolor.com JAMES NUTT Minneapolis If 2020 Was A Pencil! 10Watercolorx48inches $ 2,900 nuttdraws.com 2 Second Place H M Honorable Mention
MinneapolisJAMES NUTT Landmark Center and Rice Park 24Watercolorx40inches $ 2,400 C MARIE St. Paul Circle 67 28Watercolorx28inches $ 1,250 mariepanlener.com Studio:HERE Artist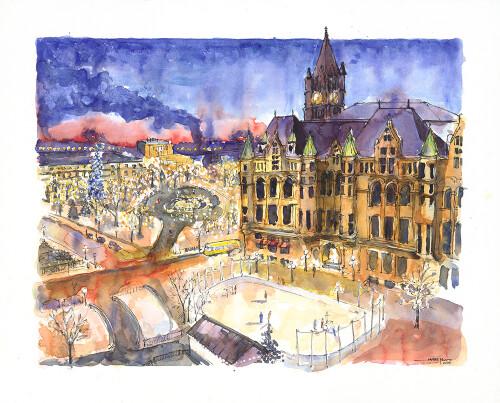 KRISTIN MAIJA PETERSON Lakeville This Is Not A Weed No. 1 Watercolor on 300 lb. fabriano hotpress watercolor paper 28 x 28 inches $ 2,000 terrakindstudio.com SUSAN M RYAN St. Paul Pell Street Black sumi-e ink, watercolor 28 x 24 inches $ 1,200
JOHN SALMINEN Duluth Fortitude Transparent watercolor 29 x 21 inches $ 5,000 johnsalminen.com St. Paul $ 500 SUSAN SOLOMON Unlocking Gouache on masonite 14 x 11 inches susansolomonpainter.com 4 Fourth Place
PlymouthGAIL SPECKMANN Nature's Ornaments Watercolor and Sumi ink 30 x 40 inches $ Burnsville1,200LINDA ANN STOUT Queen Anne's Lace Watercolor and gouache 26 x 33 inches NFS Juror
JAMES TURNER Mound Fish Story Watercolor on YUPO 26 x 20 inches NFS PRERNA VERMA Hopkins Festival of light 17Watercolorx11inches $ 600 instagram.com/prernaverma49 1 First Place
NANCY D WEBERT Minnetonka Head in the Clouds 20Watercolorx16inches $ 350 SUSAN SAUER ZAVADIL White Bear Lake Appaloosa 30Watercolorx20inches $ 2,200 susanzavadil.com
Class PastelDrawing4:
$Crystal3,000SUZANN BECK There Might Be Dragons Pastel on pastelcard 27 x 21 inches suzannbeck.com RITA BERG St. Paul Nightwatch Charcoal on paper 13 x 18 inches $ 650 margaritaberg.com 1 First Place
J.KEVIN BYRNE St. Paul Great, Old Art as Seen with New, Eager Eyes Graphite, pastel, woodless color pencil, some mixed media 22 x 22 inches NFS with/7215765163flickr.com/photos/83761129@N00/albums/7700807 WYNN DAVIS Stillwater Fibonacci's Nest Graphite pencils 18 x 24 inches NFS
KATHE DRAKE Edina Enigma 20Pastelx16 inches $ 1,500 kathedrake.com EILEEN FRANCE Apple Valley Signs of Spring Soft pastel 17 x 31 inches $ 1,000 eileenfrance.com
MARY ELIZABETH GROSS Falcon Heights Jane Doe Graphite on paper 22 x 19 inches $ Minnetonka1,500TOM HESSEL The Persistence of Life Silverpoint drawing 25 x 20 inches $ 8,000 H M Honorable Mention Juror
SCOTT KROHN New Brighton Finding the Light 11Scratchboardx14inches NFS scottkrohnart.com St. PaulROBERT M LUNDGREN Big Sky Country Color pencil 16 x 33 inches NFS robertlundgrenart.myportfolio.com
Brooklyn Park $ 1,500 CHAD MANDERS The Pied Piper Ink, watercolor, colored Pencil 52 x 12 inches mandersart.weebly.com VINCENT L MARTINEZ Plymouth The Wembley Wammer Pencil on watercolor paper 28 x 36 inches NFS
NFSRosevilleABBEY MEYERS Juniper Graphite and charcoal 16 x 22 inches instagram.com/abbmeyersartist TANYA MILLER Plymouth La Fille inconnue 31Charcoalx25inches NFS
ISABELLA M. NGO St. Paul The Dance of Darkness Micron pen and sharpie on paper 32 x 26 inches NFS ROWAN POPE St. Paul Wisconsin Cloudscape Pencil on museum board 10 x 17 inches $ 3,200 popebrothersart.org H M Honorable Mention
CJ RENNER Hopkins Strange Things We Do in the Void Charcoal and ink on IKEA poster sheet 20 x 26 inches $ 800 MARY E RICHEY Forest Lake The Best of What Might Be 31Pastelx38 inches NFS
JOHN SCHUERMAN Minneapolis Fixture Colored pencil on paper 21 x 52 inches $ 1,500 schuermanfineart.com NIKKI SHULL Mizpah The Big One Paper quilling 24 x 20 inches $ 1,100 4 Fourth Place Studio:HERE Artist
JENNIFER ANN SORIANO West St. Paul Lockdown 24Charcoalx30inches $ 1,800 instagram.com/sorianofinearts VICKI STARK Minneapolis Night Owl Chalk pastels 27 x 22 inches NFS facebook.com/VStarkArt
Moose LakeBARBARA TACYSHYN-ROTH End of the Road Pastel on paper 14 x 12 inches $MinneapolisNFS650PEPPER THARP Temptress Soft pastel on U 400 paper 14 x 11 inches peppertharp.com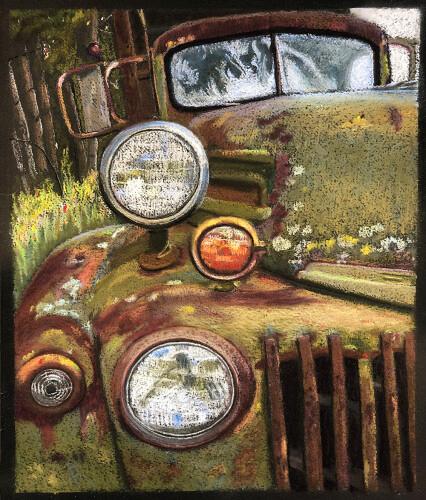 DANIEL VOLENEC Eden Prairie Tomorrow Charcoal and pencil on paper 21 x 29 inches NFS danvolenec.com ShakopeeBRIAN WAGNER Where the Daffodils Grow L 24ithographx20inches NFS 3 Third Place Studio:HERE Artist
RUSS WHITE Minneapolis The Hand (after Heartfield) Colored pencil 40 x 30 inches $ 3,500 russ-white.com Breezy Point NFS DANIEL D WILLIAMS Meeting in the Forest Colored pencil on paper 25 x 19 inches creationsbydw.com/ 2 Second Place
Class 5: Prints
JOSH D BINDEWALD Robbinsdale Ten Year (State 2) Intaglio, chine collé, screenprint 20 x 26 inches $ 850 joshbindewald.com St. Paul $ 2,000 LYNNETTE K. BLACK Our Lady of the Camellias Intaglio with relief 32 x 32 inches lynnetteblackart.com 2 Second Place
MinneapolisJAMES W. BOYD BRENT Franklin Avenue Bridge (spring 2022) 12Etchingx12 inches $ 195 BETH DORSEY Minneapolis V 30Photogravurex30inches $ 1,100 bethdorsey.com 1 First Place 3 Third Place
MARTY HARRIS St. Louis Park 42,000 Years on the Same Block 37Screenprintx29inches $ 3,500 martyharrisfineart.com Maple Grove $ 900 BELLE HULNE Root Beer Falls Relief print/woodcut 22 x 28 inches artwithbelle.com
NANCY A. JOHNSON Edina Photos of my Great Grandmother, Ekorntorp, Sweden Polymer photogravure 22 x 16 inches $ 390 nancyajohnsonphoto.com St. PaulSTUART T. LOUGHRIDGE Vento Nature Sanctuary, St. Paul Intaglio etching 5 x 7 inches $ 400 4 Fourth Place
LISA NEBENZAHL Minneapolis Storm Cloud (From the StillScapes series) $ 500 Polymer photogravure with a la poupée 26 x 19 inches lisanebenzahlphoto.com THOMAS S RAUSCHENFELS Duluth Homage to Elgar "Where Corals Lie" Multi-block relief print with chine colle 19 x 23 inches $ 800 thomasrauschenfels.com H M Honorable Mention
Golden ValleyAMY SANDS Polynya V Monotype on layered kozo paper 48 x 48 inches $ 3,500 STEVE THOMAS Forest Lake Happy Trails Screen print 24 x 18 inches $ 100 stevethomasart.com H M Honorable Mention Juror
$Minneapolis870BRIAN P WAGNER Nestled; Impermanent Places Seven color lithograph 24 x 21 inches glitterkween.com
Class GlassCeramics6:
MinneapolisMARION P. ANGELICA Entwined Hand-built high fired porcelain 18 x 15 x 12 inches $ 1,200 LEE BOWEN Minneapolis One, two, three... Fired clay with underglaze wash 3 x 20 x 24 inches $ 1,500 nemaa.org/artists/lee-bowen-drinking-shoes-studio 4 Fourth Place
KORDULA MAGDALENA COLEMAN Minneapolis Stories Low-fire earthenware with glazes and underglazes 10 x 13 x 6 inches $ 1,095 kordulacolemansculptures.com St. Paul $ 2,500 FRED C. KAEMMER Agate Garden 5Glassx12 x 12 inches fredsglass.com
St. PaulTONY KUKICH Mosquito With Roses Ceramic wheel thrown 16 x 16 x 3 inches NFS SKYLER LARSON Fridley Spesh Veg Blown glass 7 x 14 x 11 inches $ 4,000 H M H M Honorable Mention Honorable Mention
CarverBRANDON LUTTERMAN Pondering Raku clay, ceramics 20 x 14 x 14 inches $ 4,800 KELSEY NAGY Buffalo Platter 1Ceramicx1x1 inches NFS Studio:HERE Artist Juror
ARI L. NAHUM St. Paul Lidded Vessel 14Potteryx8x 8 inches $ 250 LEE M PERSELL Fridley Lions Mane Wood fired cone 12 natural ash 8 x 11 x 11 inches NFS
St. Cloud $ 6,000 LAURA ELIZABETH RUPRECHT Resilience Stained glass mosaics 36 x 26 x 1 inches lauralizmosaicbiz.com MACKENZIE K SERWA Shakopee North Shore 8Glassblownx8x8inches NFS mserwa.art 2 Second Place
$Minnetonka2,500PATTY CARMODY SMITH Prismatic Mixed media mosaic, glass and paper 20 x 36 x 3 inches carmodyart.com MIC STOWELL Minneapolis smx21 Earthenware, glaze, luster coil constructed 9 x 10 x 4 inches $ 300
$Minneapolis1 ,500 BETH THOMPSON Waiting, longing Earthenware, acrylic paint 8 x 30 x 13 inches beththompson.com BONNIE STANOCH TRESSLER Brandon Sunny Mosaic on GoBoard 44 x 62 x 2 inches $ 5,200 1 First Place 3 Third Place
Class FiberTextiles7:
ALEXANDRA BEAUMONT Minneapolis Reunion Photo printed on silk, cotton thread, tamarind seeds 42 x 60 x 6 inches NFS alexandrabeaumont.com LUCIANA BONGIOVANNI Minneapolis In The Clouds 32Weavingx72x 4 inches $ 2,000 instagram.com/lubongi 1 First Place
RACHEL BREEN Minneapolis Workers of the World Unite Embroidery and stitching with used shirts 36 x 60 x 1 inches $ 1,000 rachelbreenart.com MOLLY CORCORAN ERICKSON Minneapolis Ex Boyfriend's Mixtape Cassette Tape Reel and Linen 11 x 9 x 1 inches NFS
KRISTINA NICOLE FJELLMAN Minneapolis Amaranthine Fabric, paper, thread, and steel wire 16 x 16 x 5 inches $ 475 kristinafjellman.com Redwood FallsJEAN S. HAWTON Want It Done Well, Have Her Do It Vintage wool skirt, machine, hand-stitched silk, wool 42 x 27 x 2 inches NFS H M Honorable Mention
JESSICA HUANG Eagan The Cookie Thief Needle Felting 8 x 9 x 6 inches NFS overlyheartfelt.com ANALEISE JARVI-BEAMER St Paul Cowgirl Quilt 45Quiltingx36x 0 inches $ 2,500 analeisemarie.wixsite.com/portfolio 2 Second Place 3 Third Place
TIA KEOBOUNPHENG Minneapolis THREADS no4 Pencil, colored-pencil, thread on wood 19 x 25 x 2 inches $ 6,000 tiakeobounpheng.com WYNNE MATTILA Minneapolis Fire and Ice Handwoven using 41 fabrics 68 x 28 x 0 inches NFS 4 Fourth Place
ERIK JON OLSON Plymouth Amber Waves, Goodbye Quilted Plastic Waste 53 x 44 x 2 inches $ 1,200 https://www.erikjonolson.com $Shoreview275NINA MARTINE ROBINSON Pathways Fiber, machine stitched 24 x 24 x 3 inches Studio:HERE Artist Studio:HERE Artist
CHRISTOPHER ROWLEY Minneapolis A Modest Slaughterhouse Yarn, monks cloth, and batting on panel 23 x 22 x 4 inches NFS christopher-rowley.com CHHOLING TAHA Anoka Spirit Pony Traditional Indigenous Ceremonial Shawl 45 x 54 x 1 inches $ 4,495 shawllady.com
ALEKZ THOMS St. Paul Hours Without You Thread and ink on dress 52 x 21 x 10 inches NFS alekzthomsart.com LAURA WENNSTROM Minneapolis (c)overing Quilted, collected antique and vintage embroidered linens 30 x 30 x 4 inches $ 2,200 Juror
MAGGIE WIEBE St Paul Homemaking/Peacemaking Deconstructed men's dress shirts, ties 20 x 10 x 10 inches NFS maggiewiebe.com IVONNE YANEZ Minneapolis Vuelva pronto (Come back soon) Mixed media, textile, embroidery 24 x 16 x 8 inches $ 450 behance.net/ivonneyanez_manthra H M Honorable Mention
Class Photography8:
DREW ARRIETA St. Paul Summer Cypher Digital print 10 x 15 inches $ 420 drew.works WillernieHOLLAND ATKINSON Stillwater Fog Digital print 20 x 30 inches $ 525 flickr.com/photos/hollandatkinson
JOHNNY BARBER Palisade Deer in the Mississippi Digital print 11 x 17 inches $ 1,500 MATT C BARBER Minneapolis The Photographer Black and white print 19 x 25 inches $ 150 matt-barber.smugmug.com H M Honorable Mention
JOHN BEAUDINE Moorhead Duluth Digital pigment print 14 x 11 inches $ 300 facebook.com/BeaudinePhotography St. PaulDANIEL BEERS Minnehaha Oak Black and white silver print 20 x 16 inches $ 400
DAVID MARKSBERG Lakeville Electronic Window Sign - Westboro Baptist Church -Topeka KS Digital collage print 24 x 38 inches NFS SARAJANE BERGE Plymouth Spirit Dancer Digital print 15 x 12 inches $ 500
$Chanhassen300KAREN L BLENKER Sunrise with the Loons Digital print 21 x 27 inches karenblenkerphoto.com BRITTANY BOE Nevis Bread of life, Bukhara, Uzbekistan Digital print 16 x 20 inches NFS
St. PaulMICHAEL BOECKMANN The Long Haul Inkjet print 18 x 24 inches $ 350 TIFFANY RENAE BOLK St. Paul Where Dreams Die Motel Digital photo 16 x 20 inches $ 500 tiffanybolkphotography.com
JENNIFER BOYCE Chaska Tribute for Ukraine Digital print 15 x 19 inches NFS jenniferboycephotography.com SAM BRUEGGEMAN PHOTOGRAPHY Duluth Little House on the Tundra Digital print 12 x 12 inches $ 350
MinneapolisANGELO BUSH Dancin at Jazz Fest Digital print 24 x 36 inches $ $Minneapolis4,000250ANDREW CANTON Night At The State Fair Archival pigment print 10 x 8 inches andrewcanton.com
DOUG CHAMPEAU St. Paul Downtown St. Paul BW digital 11 x 17 inches NFS BRICK CHAPMAN Edina Memorial Day Digital print 16 x 20 inches $ 175
MinneapolisDOROTHY CHILDERS Uptown Digital archival print 20 x 26 inches $ $New525Brighton2,400HOWARD M CHRISTOPHERSON The In Crowd Digital print 44 x 52 inches iceboxminnesota.com H M Honorable Mention
$Minneapolis280STEVEN COHEN Cornbread Harris and Jimmy Jam Harris Inkjet print 10 x 14 inches stevencohenphoto.com GINA LYNNETTE DABROWSKI St. Paul Former Post Office on E. 31st St: mural of Minnehaha Falls Digital print 14 x 11 inches $ 250
THOMAS E DAVIS Minneapolis USA in Tatters Digital print 16 x 20 inches $ Burnsville200CHRISTINE L DREWEK Road Warrior Digital print 13 x 11 inches $ 75
$Bloomington850DARRELL W EAGER Garden of Eden Digital print 7 x 5 inches darrelleager.com AMY EISENBERG St. Louis Park Late Night Snack Digital print 14 x 18 inches NFS H M Honorable Mention
LORIANNE MARIE ENDE Rogers Wild & Blue Digital print 20 x 24 inches $ 250 TIM EVANS Minneapolis Dispatches from the Steele County Fair Color print 22 x 30 inches $ 550 tevansphotography.com
St. Paul $ 600 CHRIS FAUST Latch Is. Winona, MN Chromogenic print 20 x 24 inches chrisfaustphoto.com MICHAEL KANUBHAI DASA FERRANTI Minneapolis Red Tears Digital print 30 x 20 inches $ 500 michaelferranti.smugmug.com
$Minneapolis600SHOSHANA FINK Rainforest Cloud Archival pigment print 39 x 26 inches shoshanafink.com St. Paul $ 300 LUCY HELENA FRANZEN Mogu Rosie Digital print 12 x 18 inches lucyhelenaphoto.com 1 First Place
OMAR GHRAYEB Minneapolis The Junkyard Digital print 24 x 16 inches NFS ELIZABETH GLARNER New Brighton Herons in Love Digital print 9 x 12 inches NFS 2 Second Place
VictoriaERICA ELLEN HACKER Summer Sunset at Lake Ann Digital print 20 x 24 inches BloomingtonNFSKAYLA HAMMELL Inner Beauty Captivates Digital print 31 x 30 inches $ 600
Golden Valley $ 950 TIMOTHY HARMON Vessel Digital photography 25 x 25 inches timothyharmon.com BECKY A HART Prior Lake Anne's Green Glass Pitcher Digital print 20 x 16 inches $ 480 fineartamerica.com/art/becky+hart
StillwaterJOHN H HARVEY Han-nu-Nah TURTLE ISLAND Pigment ink on paper 15 x 15 inches NFS MIKE HAZARD Minneapolis Piglets Archival ink jet print 22 x 26 inches $ 600 mikehazard.org
St. Paul $ 600 DAVID HEBERLEIN Death Valley Digital print 17 x 20 inches davidheberlein.com KRISTINE HEYKANTS Minneapolis Eugene, actor from MN State Fair Haunted House Archival pigment print 20 x 16 inches $ 400 kristineheykants.com
NFSMinneapolisWALTER HORISHNYK Get Yours Today Monochrome image 20 x 30 inches Horishnyk.com $Minneapolis600NICOLE HOUFF Beauty Salon Barbie Archival inkjet print 27 x 37 inches nicolehouff.com H M Honorable Mention
DAISY JOHNSON PHOTOGRAPHY Cromwell Heat Of The Moment 12Photographyx24inches NFS TOM JUNGROTH Crystal At The Lake B&W digital print 21 x 27 inches $ 125 tajstudio.com
CrystalHANNAH GRACE KAMPA Dog Days Of Summer Digital print 11 x 14 inches $CologneNFS300JOSHUA KERWOOD Bichromatic in Greyscale Black and white print 18 x 28 inches VaterPhoto.com
ISAIAH KING Shakopee The Twins 0Digitalx0inches $ 100 instagram.com/iamisaiahking NANCY S KNAUER Minneapolis Nocturne Archival digital print 14 x 18 inches $ 500 thehappyriver.com
NFSMinneapolisJOHN KOHRING Long Shot Inkjet pigment print 23 x 28 inches johnkohring.com KATIE KORANDA Minneapolis A quiet moment with Moira Digital print 14 x 22 inches NFS korandalab.com
LAURA KUISLE Rochester A Pair of Pears Digital print 32 x 26 inches $ 300 instagram.com/studiokuisle St. Paul $ 325 CHRIS LAFONTAINE Flashback Pigment ink print 12 x 18 inches chrislafontaine.com
DANIELLE J LAINE-PATTON Cyrus Step into my parlor Photography digital print 10 x 8 inches NFS STEVEN LANG Lauderdale Cafesjian's Carousel Color photograph 12 x 14 inches $ 250 stevenlang.net
TAYLOR LEBSOCK St. Paul With quietude Archival inkjet print of large format film negative 16 x 20 inches $ 250 instagram.com/taylarlar GREGORY LEE Minneapolis Osprey with goldfish Digital color print 25 x 20 inches $ 350 gsleephoto.com
$Oakdale750ALICIA LIEBEL-BERG A Day at the Dinkytown Job Site Digital fine art color print 28 x 32 inches studiobismillah.com ROBIN LIETZ Minneapolis Re-Grow Digital print 24 x 20 inches NFS 3 Third Place H M Honorable Mention
PAUL LUNDQUIST Minnepolis American Wagyu Beef Still life Giclee color print 40 x 30 inches $ 950 paullundquist.com $Dayton500MIKE MADISON Thomas Abban Digital photography 40 x 36 inches bumpopera.com
LAURA MIGLIORINO Minneapolis The Autobiography of an Ex-Colored Man Ink jet print, edition of 5 30 x 30 inches NFS THOMAS W MILLER St. Paul Minnehaha Falls - April 26, 2022 Paper negative, digital output 20 x 24 inches $ 295 pinholetom.com Juror
DAVID MORRIS Marine on St. Croix Garden Detail with Hostas and Ferns Digital print 20 x 16 inches NFS SHELLY MOSMAN Minneapolis White Stag Fine art print on canvas 30 x 24 inches $ 2,600 shellymosman.com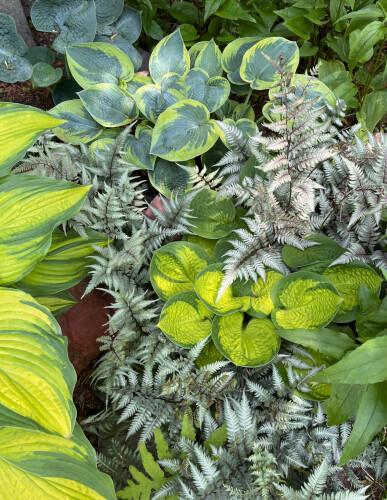 JIM P MUYRES Mankato Storm flower 18Digitalx22 inches $ $Minneapolis325450M.RITA NAGAN Untitled Black and white print 19 x 26 inches ritanagan.squarespace.com
W.LOREN NIEMI Minneapolis cloud canoe Digital print 8 x 10 inches NFS TOM OLMSCHEID Shoreview Hunting Shack Digital image 23 x 29 inches $ 500 tomophotography.com
$Minneapolis800STEVE OZONE Hard Red Spring Wheat #1 Archival pigment print 20 x 20 inches steveozone.com JEFF A PARKER Chanhassen Provincetown Archival ink on canvas 19 x 28 inches $ 100 nexttenphotography.com
MinneapolisLESLIE PARKER La Novia y el Novio Black and white print 25 x 37 inches $ 975 MICHAEL J. PETERS Elk River Emmerik in Action Digital print 24 x 24 inches $ 330 michaeljpeters.com
PAUL PRESNAIL St. Paul Untitled Digital print 16 x 24 inches $ShoreviewNFS250INGRID RADIO Latvian Folk Dancers. Saint Paul, MN. Digital print 11 x 14 inches ingridradio.com
DEB RANNEY Plymouth Hungry Barn Swallow fledglings Digital print 18 x 24 inches $ $Minneapolis200450TERRA RATHAI Tropic of Nokomis Archival matte inkjet print 16 x 24 inches terrarathai.com
$Minneapolis450 ERIN D. REUSING Minneapolis Paying Attention Color photograph 16 x 24 inches $ 350 MERRY J. REIMLER Helen Jane's Return Digital print 20 x 15 inches merryreimler.com 4 Fourth Place
STEVEN RICHARDSON Maplewood The Smoking Protester Digital print 24 x 18 inches $ Minneapolis300LARRY E RISSER The Photographer Archival digital print 14 x 21 inches $ 300
ETHAN ROBERTS Plymouth Riva, almost 4 Digital print 11 x 14 inches $ 250 ethanrobertsphotos.com MinneapolisCHRISTOPHER P RODMAN Target Black and white gelatin silver print 21 x 17 inches $ 350
BloomingtonDAVID ROERS Helicopter Kiss Surreal photography 24 x 18 inches $ 500 CLYDE ROGERS St. Paul View From the Stone Arch Bridge, Minneapolis, 2022 Palladium print 18 x 12 inches NFS Studio:HERE Artist
AUGUST SCHWERDFEGER Minneapolis Red Undie Run Digital print 20 x 16 inches $ 250 boringphotography.smugmug.com MinneapolisCLAUDIA SINCLAIR Sweet Victory Digital print 8 x 10 inches NFS
JOHN P SMITH Nevis Endangered Golden Monkey, Rwanda Digital print 20 x 16 inches $ 500 HETHER MARY SOLHEIM Minneapolis Grateful Dog Photography, print 20 x 16 inches $ 100
CAROLINE HOUDEK SOLOMON Minneapolis Santa, from the series, Cycles Pigmented inkjet print 22 x 22 inches $ 450 carolinehoudek.com SCOTT STILLMAN Hopkins Unfinished Business Silver gelatin print from black and white film 9 x 9 inches $ 349 scottstillman.com
St. Paul $ 550 HEATHER M SWANSON Tree Trunk Digital print 24 x 16 inches instagram.com/photonut74 $Minneapolis500JOHN SWANSON N.shore Silver gelatin print/platinum 11 x 14 inches jps-arts.net/work
MinneapolisGREGORY TENNANT The Boy Who Fell From The Sky Digital photo print 28 x 35 inches NFS JOANNE K THOMPSON Bloomington The Manicurist Archival digital print 26 x 20 inches $ 450
WAYNE TORKELSON Blaine A Summer Day at Black Beach Digital image/black and white processing printed on canvas 30 x 40 inches MinneapolisNFSBECKY TYLER Driftwood Black and white photography 11 x 14 inches $ 300 beckytylerartandphotography.com
MinneapolisNATHAN VISTE-ROSS A Bank Lobby in Owatonna, MN Pigment print 28 x 24 inches $ 625 SUE A VRUNO Eagan Time Stands Still and Moves on in Havana, Cuba Giclée print on archival photo rag baryta 20 x 24 inches $ 650 suevruno.com
CHAO WANG Woodbury Mom to be Color photo print 17 x 23 inches $ 350 DAVID P WARCH St. Paul Lowertown Chess Piece Black and white print 22 x 16 inches $ 800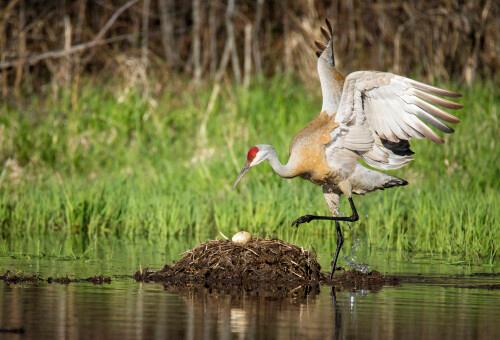 $Lakeville1,199IRENE WESEE Unproductive Cycles Digital photography 30 x 20 inches lilianrosephotos.com IRENE WESEE Lakeville Eternal Love 24Photographyx20inches $ 1,050 Studio:HERE Artist
JERRY R WIESE Stillwater Grandpa's Truck Digital print 19 x 25 inches $ 499 jerrywiesephotography.com North Mankato NSF STEVE WILSON Adrift In Mental Space B & W silver print 22 x 16 inches wilsonsteve.com
Maple GroveCOLTON WOJTA The House In The Hills Analog photography 16 x 24 inches $BurnsvilleNFS1,500PETER WONG PHOTOGRAPHY Being Pampered Digital print 23 x 29 inches peterwongphotography.com
SCOTT STEVEN YOUMANS Brooklyn Park Youthful Jazz Digital print 27 x 22 inches NFS scottyoumans23.com ASHLEE YOUNGS Brooklyn Center Proud to be me Print on canvas 20 x 16 inches $ 500
MIKE ZENNER St. Paul Park Izzys first snow Digital print 12 x 10 inches NFS
Thank you for viewing the 2022 Fine Arts Exhibition! We cannot wait to see you at the Minnesota State Fair. Learn more about the fine arts competition at mnstatefair.org/competitions/fine-arts/