CONSERVATION FEDERATION
JANUARY 2023 - VOL 84 | NO. 1
The Voice for Missouri Outdoors
Gratitude in Conservation
As 2023 is upon us, it's important to reflect on the many things we have to be grateful for in 2022. The recent holidays and hunting seasons are a great time to spend with family and friends. One of my greatest joys is hearing about the many stories from our members' hunting and fishing seasons and all the great times people have enjoying the many recreational opportunities we have here in Missouri.
An extra special outdoor moment for me that I am grateful for was during this past deer season when our eight-year-old daughter Dalaney, harvested her first deer. It was on our family farm near where I shot my first deer nearly 30 years ago. I couldn't have been more proud, not just for making a perfect shot, but for her work in the months leading up to the season, when we practiced gun safety, shooting, shot placement, and more.
As I reflect on it now, the hunt and the day couldn't have been more perfect. My Dad and nephew Walker, who were down the hill and around the corner, had caught a glimpse of the buck heading in our direction. The deer stepped out on the edge of the field, stood broadside at 60 yards and even stood on his back two legs briefly to reach up and grab an acorn. Shortly after that, she calmly made a great shot, like she had been hunting her entire life. Honestly, I surprised myself with how well I kept my emotions together.
After we got down and took a few pictures, and shared in the special moment, we climbed back in the blind to wait on two of Dalaney's cousins to finish their hunt, who were both on opposite fields from us. Plus, I hadn't even had time to have my morning coffee yet! After she made a few excited phone calls to share the news, we heard the rapport of my nephew Paxten's gun. He was with his dad T.J., on the back ridge and also harvested an 8-pointer. From there, the day became extra special: smiles, pictures, family and stories recalling the morning's hunt.
As these two young hunters set their sights on their target, so must we put ours on the year ahead at CFM. Our annual convention is coming up on February 2426 at the Margaritaville at Lake of the Ozarks.
We will once again hold Natural Resource Breakouts virtually earlier in the week, freeing up more time for entertaining and educational opportunities when we gather in person. We will still have our famous auctions and raffles to raise much-needed funds to support the Federation. See additional information on pages 18 & 19 about the convention.
A new year also brings a new legislative session in the Capitol in Missouri. We will continue to protect our precious resources and preserve our heritage on the various issues arising from each session. Be sure to keep an eye out for alerts as we share them with you and engage in the legislative process. Sign up for our Legislative Action Center at confedmo.org/lac
We are also proud to announce Founders Circle being unveiled in 2023. It's for those dedicated Life Members to take the next step in preserving our conservation heritage for years to come. And if you are not a member, or picked up a copy of this magazine somewhere, please consider joining for the year, and help us grow our voice in the outdoors. All the great things we accomplish are because of the dedicated members of the Federation Family!
Yours in Conservation,
Schwartze CFM Executive Director, Editor
Director's Message
JANUARY - 2023 3
Tyler
Tyler and his daughter Dalaney share a moment afield shortly after she harvested her first deer during the 2022 Youth Firearms Deer Season. (Photo: Courtesy of Tyler Schwartze)
OFFICERS
Zach Morris - President
Bill Kirgan - President Elect
Ginny Wallace -Vice President
Lisa Allen - Secretary
Bill Lockwood - Treasurer
STAFF
Tyler Schwartze - Executive Director, Editor
Micaela Haymaker - Director of Operations
Michelle Gabelsberger - Membership Manager
Nick Darling - Education and Communications Coordinator
Erica Loethen - Development Coordinator
Joan VanderFeltz - Administrative Assistant
Emma Kessinger - Creative Director
ABOUT THE MAGAZINE
CFM Mission: To ensure conservation of Missouri's wildlife and natural resources, and preservation of our state's rich outdoor heritage through advocacy, education and partnerships.
Conservation Federation is the publication of the Conservation Federation of Missouri (ISSN 1082-8591). Conservation Federation (USPS 012868) is published bi-monthly in January, March, May, July, September and November for subscribers and members.
Of each member's dues, $10 shall be for a year's subscription to Conservation Federation Periodical postage paid in Jefferson City, MO and additional mailing offices.
Send address changes to: Postmaster
Conservation Federation of Missouri 728 West Main Jefferson City, MO 65101
FRONT COVER
Photo captured by Dan Bernskoetter at Binder Lake in Cole County. The camera used was a Canon 7D MkII, with a 100-400 lens at 107mm, f/8, ISO800 1/4000 sec. shutter speed.
Pruning Trees Smoldering Resentment Mountain Biking Paddling with a Purpose January is a Great Time to Fish for Brown Trout The Law of Honk and Quack Cold Weather Walleye Tips and Techniques Saying Grace CONTENTS Features What is CFM Events Schedule Founder's Circle CFM Elections Open CFM Annual Convention CFM Photo Contest Winners Erica Loethen: New Hire 6 13 16 17 18 22 25 Highlights
January
- V84 No. 1
Conservation Federation
2023
4 CONSERVATION FEDERATION Director's Message President's Message Life Members Affiliate Spotlight Agency News 3 8 11 14 36 Departments 48 46 42 28 32 42 46 48 52 55 60
Gold
Bushnell Doolittle Trailer Enbridge, Inc.
Thank you to all of our Business Partners.
Platinum
G3 Boats MidwayUSA Pure Air Natives
Silver
Custom Metal Products
Forrest Keeling Nursery Learfield Communication, Inc. Lilley's Landing Resort & Marina
Bronze
Association of Missouri Electric Coop. Black Widow Custom Bows, Inc. Burgers' Smokehouse
Central Electric Power Cooperative Drury Hotels
Iron
Bass Pro Shops (Independence)
Bee Rock Outdoor Adventures Blue Springs Park and Recreation
Brockmeier Financial Services Brown Printing Cap America
Central Bank
Community State Bank of Bowling Green
Missouri Wildflowers Nursery Mitico Quaker Windows
Redneck Blinds Rusty Drewing Chevrolet Roeslein Alternative Energy, LLC
Simmons Starline, Inc. St. James Winery
Gray Manufacturing Company, Inc. HMI Fireplace Shop Hodgdon Powder Company, Inc. Missouri Wine & Grape Board NE Electric Power Cooperative, Inc.
Dickerson Park Zoo
Farmer's Co-op Elevator Association Gascosage Electric Cooperative General Printing Service
GREDELL Engineering Resources, Inc. Heartland Seed of Missouri LLC Hulett Heating & Air Conditioning Kansas City Parks and Recreation
NW Electric Power Cooperative, Inc. Ozark Bait and Tackle Woods Smoked Meats
Lewis County Rural Electric Coop.
Missouri Native Seed Association
REMAX Boone Realty
Scobee Powerline Construction Sprague Excavating Tabor Plastics Company
Truman's Bar & Grill
United Electric Cooperative, Inc.
Your business can benefit by supporting conservation. For all sponsorship opportunities, call (573) 634-2322.
Business Partners JANUARY - 2023 5
Voice for Missouri Outdoors"
Mission: To ensure conservation of Missouri's wildlife and natural resources, and preservation of our state's rich outdoor heritage through advocacy, education and partnerships.
In 1935, conservationists from all over Missouri came together to form the Conservation Federation of Missouri (CFM) with the purpose to take politics out of conservation. The efforts of our founders resulted in the creation of Missouri's non-partisan Conservation Commission and the Missouri Department of Conservation (MDC). Since then, CFM has been the leading advocate for the outdoors in Missouri.
Partnerships
Over 100 affiliated organizations Share the Harvest Corporate & Business Partnerships State & Federal Agency Partnerships National Wildlife Federation Affiliate Operation Game Thief Operation Forest Arson David A Risberg Memorial Grants Missouri Stream Team
Education
Conservation Leadership Corps Missouri Collegiate Conservation Alliance Confluence of Young Conservation Leaders Affiliate Summit Scholarships for youth and students Governor's Youth Turkey Hunt National Archery in the Schools Grants Conservation Federation Magazine
Advocacy
Legislative Action Center Resolutions to lead change Natural Resource Advisory Committees Conservation Day at the Capitol Staff and members testify in hearings for conservation and natural resources
Young Professionals
"The
Membership Affiliate Membership Conservation Federation of Missouri began Wildlife and Forestry Act passed
State Wildlife and Forestry Code published First deer season since 1937 First hunter safety program formed
Amendment 4 created Missouri's non-political Conservation Commission
Ways
Missouri Department of Natural Resources formed
Operation Game Thief formed
Stream Teams formed
Missouri voters renewed Parks and Soils Sales Tax by 70.8%
Parks and Soils Sales Tax passed Operation Forest Arson formed
Outdoor Action Committee formed
Schools Program formed Parks and Soils Sales Tax renewed by voters by the highest percentage to date (80%) 2020
Become
placed
CFM provides the platform for a diverse group of organizations to have their conservation voices be heard Affiliates have the opportunity to apply for grants, receive educational training and promote the mission of their organization.
Scholarships and Grant Support CFM
Conservation Federation of Missouri 728 West Main St, Jefferson City, MO 65101 Phone: (573) 634-2322 ~ Email: info@confedmo.org www.confedmo.org
1982
1935 1936 1940 1944 1946 1960 1974 1984 1989 1958 1969 1976 1991 1992 2002 2007
2006 2009 2016
Business partners will enjoy recognition in each magazine issue along with opportunities to reach and engage with our active membership Ask us about our different Business Partnership levels.
You
Support CFM
Can
a life member for $1,000 Life memberships are
in an
fund that allows us to
Support our efforts to promote and protect conservation and natural resources in our state Members will receive our magazine six times a year, event information, our bi-weekly Become a Member today!
enewsletter, and the opportunity to grow our voice
endowment
continue our work in perpetuity
Life Membership Business Partnerships
CFM Celebrates 85 years
Urban fishing program formed in St Louis; first in the nation
season in
years Design for Conservation Sales Tax passed
Name: E-mail: Phone: Address: Credit Card #: Exp. Date: Price $35.00 $60.00 $100.00 $20.00 $1,000.00 Description Individual Supporter Individual Advocate Individual Sustaining Youth/Student Individual Lifetime
All of our events have raffles with both silent and live auctions. The contributions of in-kind products and services not only assists in raising funds for conservation, but also promote the businesses that support CFM
provides scholarships to graduates and undergraduates We also provide grant funds to youth education programs and to affiliate projects Contributing will help future generations
boots on the ground projects Join online confedmo.org/join
Missouri National Archery
in the
First turkey
23
Share the Harvest formed Conservation Leadership Corps formed
Event Sponsorship and Product Donation
initiate
A New Year in Conservation
I've never been overly enthusiastic about new year's resolutions. I figure if you want to make some kind of positive change, there's no need to wait. You can set goals and work to better yourself at any time. But there is something inspiring about new beginnings, so if you're thinking about new year's resolutions for 2023, let me suggest a few outdoor-themed resolutions to help you focus on your conservation passion this year.
1. Join or renew your membership to CFM. Chances are, if you are reading this magazine, you might already be a CFM member. Don't forget to renew your membership this year and continue participating in our great work! If you aren't a member yet, we would love to have you join and help us be the Voice for Missouri Outdoors.
2. Attend the 2023 CFM annual convention. Our annual convention is a celebration of conservation in Missouri and is something you don't want to miss! Engaging speakers, educational seminars, and great times will be shared with like-minded conservationists. The 2023 convention will be held February 24-26 at Margaritaville Resort at Lake of the Ozarks. Hope to see you there!
3. Introduce someone to your favorite outdoor activity. Is there anything better than sharing your outdoor passions with someone new? This year, invite some friends and family with you on one of your outings. You'll have a great time exploring nature and connecting with your loved ones.
4. Try something new. There are so many ways to enjoy the outdoors in Missouri. Is there something you've always wanted to try? Make 2023 the year to do it! If you need some inspiration or resources, check out the list of CFM affiliates on our website. Our affiliates are engaged in every aspect of conservation and would love to help you enjoy a new outdoor experience.
5. Volunteer. Plant a tree, pick up some trash, take a kid fishing. There are so many ways you can get involved and help make a difference. Many of our affiliates have volunteer opportunities and so does the Missouri Department of Conservation. You could also check with your local park board to see if you can support their outdoor programs.
Or go out to your favorite trail or stream and pick up some trash. If you pick up one bag every time you visit, you can make a big difference!
6. Create wildlife habitat at your home. Whether you live on a big farm, a small suburban lot, or even in an apartment, you can help wildlife at home. Consider growing native wildflowers on your balcony or porch, using native plants in your landscaping, or installing a pollinator garden. There are lots of great resources out there to get you started. I'd recommend checking out the Grow Native! program or the National Wildlife Federation's certified wildlife habitat program for information about creating wildlife habitat at home.
outdoors is a great way to connect with people. My partner Mary didn't catch her first fish until she was 25, and now fishing is one of her favorite
7. Share a meal with friends. Are you a hunter, angler, gardener, or forager? Invite some of your friends to share a meal from your outdoor passion. If you don't hunt, fish, or collect, make a picnic basket and take your friends out to your favorite trail or conservation area. Nothing brings people together quite like a shared meal.
Any time is a great time to get outdoors in Missouri, and the start of a new year is the perfect time to try something new. However you engage in the outdoors this year, CFM will be working hard to ensure the rights of every Missourian to continue to enjoy the outdoors. Don't forget to take some time this year to get outdoors. Maybe I'll see you there.
Yours in Conservation,
Morris President, CFM
President's Message 8 CONSERVATION FEDERATION
Zach
Getting
hobbies! (Photo: Zachary Morris)
It's Your
SEASON
Shelter Insurance® is a proud sponsor of Share the Harvest & the Conservation Federation.
Contact your local Shelter agent to insure your auto, home, life, farming, hunting & fishing gear. Find an agent near you at ShelterInsurance.com.
Why I Became a Life Member of CFM:
My start with the Conservation Federation of Missouri was different from most members. I joined as a 17-year-old high school student. I've always had a passion for the outdoors, and especially wildlife. That interest stemmed from time spent outdoors with my family; hunting with my mother, father, grandpa, and cousins; canoeing Missouri streams, and scouring the woods for morel mushrooms.
I hadn't heard of CFM until someone encouraged me to apply to the Conservation Leadership Corps. If you don't understand CFM's motto, "The Voice for Missouri Outdoors," I encourage you to check out CLC. As a student, I was invited to discuss issues with conservation legends who were eager to hear what I had to say. I can't tell you how inspiring that was, and that experience continues to inspire youths today.
The decision to become a CFM life member was easy! After six years of participating in CLC, I graduated and bought into the organization's mission. I witnessed how vital CFM is to protecting our state's immense natural resources and recognized that I had a role to play in it.
Jake Swafford
Fast forward 11 years. I'm now a father, hunter, and conservation professional, dedicated to conserving wildlife habitat and our natural resources for future generations. Conservation is engrained in my lifestyle, whether it's work, family, or fun. I'm proud to say I'm helping make a difference for Missouri's outdoors and I am grateful every day that I committed to becoming a life member of CFM.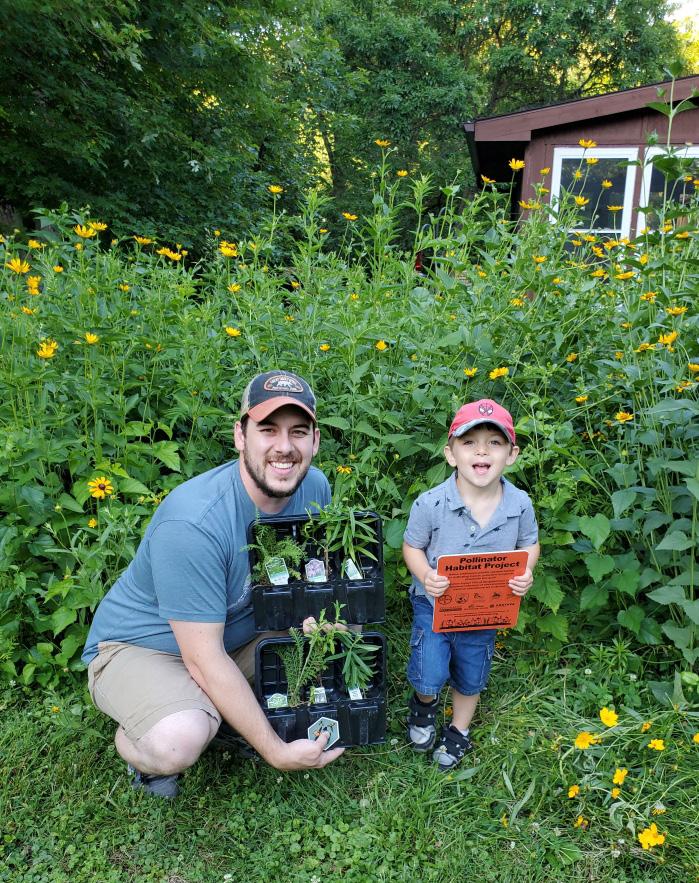 Become a CFM Life Member
When you purchase a Life Membership with CFM, your money is added to an endowment supporting the administration of the organization in perpetuity. Each year, we draw earnings from the endowment, so your contribution will truly be supporting the CFM for the rest of your life and beyond. This is an important funding source for our Federation.
We hope you will consider joining the over 300 dedicated conservationists who have already made a life commitment to the Conservation Federation of Missouri by becoming a Life Member today at www.confedmo.org/join.
Contact CFM at (573) 634-2322 or email info@confedmo.org
10 CONSERVATION FEDERATION Member News
LIFE MEMBERS OF CFM
Charles Abele * R. Philip Acuff * Duane Addleman * Nancy Addleman  Tom Addleman  Nancy Addleman * Michael Duane  Addleman
James Agnew  Carol Albenesius  Craig Alderman * Allan Appell  Victor Arnold  Bernie Arnold  Richard Ash  Judy Kay Ash  Carolyn Auckley  J. Douglas Audiffred  Ken Babcock  Bernie Bahr  Michael Baker
* James Baker  Dane Balsman  Lynn Barnickol  Jamie Barton  Michael Bass  Robert Bass  Don Bedell  David F. Bender  Rodger Benson  Leonard Berkel  Barbi Berrong  Jim Blair  John Blankenbeker  Andy Blunt  Jeff Blystone  Kim Blystone  Glenn Boettcher  Arthur Booth
* Dale Linda Bourg  Stephen Bradford  Marilynn Bradford  Robin Brandenburg  Mark Brandly  Kathie Brennan  Robert Brinkmann * Scott Brundage  Bill Bryan  Alan Buchanan  Connie Burkhardt  Dan Burkhardt  Brandon Butler  Randy Campbell  Brian Canaday  Dale Carpentier * Glenn Chambers  Bryan Chilcutt  Ed Clausen * Edward Clayton * Ron Coleman  Denny Coleman
Rhonda Coleman  Liz Cook  Mark Corio * Bill Crawford  Andy Dalton  DeeCee Darrow  Ryan Diener  Joe Dillard  Tim Donnelly  Cheryl Donnelly  Ron Douglas  Chuck Drury * Charlie Drury  Tom Drury  Ethan Duke  Mike Dunning  William Eddleman  John Enderle  Theresa Enderle  Joe Engeln  Marlin Fiola * Mary Louise Fisher  Howard Fisher  Andrew Fleming  Matt Fleming  Howard Fleming  Sara Fleming  Lori Fleming  Paula Fleming * Charles Fleming  Bob Fry  Manley Fuller  David Galat  Gene Gardner  Matt Gaunt  Jason Gibbs  Timothy Gordon  Blake Gornick  David Graber  Tim Grace  Richard & Sally Graham  Joseph Gray  Tyler Green  Jason Green  Gery Gremmelsbacher  Debbie Gremmelsbacher  Jason Gremmelsbacher  Bernie Grice Jr.  Mark & Kathy Haas  Tom & Margaret Hall  Christopher Hamon * Deanna Hamon  J. Jeff Hancock  Herman Hanley  Keith Hannaman  Elizabeth Hannaman  John Harmon * Milt Harper  Jack Harris  David Haubein  Jessica Hayes
* Susan Hazelwood  Mickey Heitmeyer  Loring Helfrich * LeRoy Heman  Randy Herzog  Bill Hilgeman  Jim Hill  Mike Holley  Rick Holton  CW Hook * Allan Hoover  John Hoskins  Todd Houf * Mike Huffman  Larry Hummel * Patricia Hurster  Kyna Iman  Jim Jacobi  Aaron Jeffries  Robert Jernigan  Jerry Jerome  Roger & Debbie Johnson * Don Johnson * Malcolm Johnson
* Pat Jones  Steve Jones  John Karel  Thomas Karl * Duane Kelly  Cosette Kelly  Junior Kerns  Todd Keske  Robert Kilo * Martin King  Bill Kirgan * Judd Kirkham * Ed Kissinger  Sarah Knight  TJ Kohler  Jeff Kolb  Chris Kossmeyer  Chris Koster  Dan Kreher  Carl Kurz
* Ann Kutscher  Larry Lackamp  Kyle Lairmore * Jay Law
* Gerald Lee  Debra Lee  Mark Lee  Randy Leible * Joel LeMaster * Norman Leppo
* John Lewis  Bill Lockwood  Leroy Logan  Christine Logan - Hollis  Bob Lorance  Ike Lovan  Wayne Lovelace
Kimberley LovelaceHainsfurther  Jim Low  Mark Loyd  Emily Lute-Wilbers  Martin MacDonald  Steve Maritz  Danny Marshall  John Mauzey  Bill McCully  Chip McGeehan  Teresa McGeehan  Nathan "Shags" McLeod  Jon McRoberts  Richard Mendenhall  Tom Mendenhall  Donna Menown  Cynthia Metcalfe  Walter Metcalfe  Stephanie Michels  Mitchell Mills  Joshua Millspaugh  Davis Minton  Lowell Mohler  John Moore, Jr.  Johnny Morris  John Mort  Leanne Mosby  Diana Mulick  David Murphy * Dean Murphy  Richard Mygatt  Steve Nagle  Rehan Nana  Jeremiah (Jay) Nixon  Gary Novinger  Frank & Judy Oberle  Larry O'Reilly  Charlie & Mary O'Reilly Beth O'Reilly  Anya O'Reilly  Jeff Owens  Austin Owens  Sara Parker Pauley  Scott Pauley  Randy Persons  Edward Petersheim  Albert Phillips  Jan Phillips  Glenn & Ilayana Pickett  Jessica Plaggenberg  Becky Plattner  Jerry Presley  Albert Price  Nick Prough  Kirk Rahm  Kurtis Reeg  John Rehagen  David & Janice Reynolds  Carey Riley  Kevin Riley
Mike Riley  Dana Ripper  John Risberg  Ann Ritter  Charles Rock  Derrick Roeslein  Rudy Roeslein  Charles Rogers  Kayla Rosen  Gerald Ross  Pete Rucker  Tyler Ruoff  William Ruppert  Tom Russell  Jacob Sampsell  Bruce Sassmann  Jan Sassmann  Frederick Saylor  Michael Schallon  Mossie Schallon  Evelyn Schallon  Thomas Schlafly  Pamela Schnebelen  Donald & Deb Schultehenrich  Tyler Schwartze * Ronald Schwartzmeyer  Timothy Schwent  Travis W. Scott  George Seek  Arlene Segal * E. Sy Seidler * Sara Seidler  Anita Siegmund  Douglas Smentkowski  Gary & Susanna Smith  Zachary Smith * M.W. Sorenson * Ed Stegner  Jeff Stegner  Everett Stokes  William Stork Jr.  Winifred Stribling  Norm Stucky  Mary Stuppy * Mark Sullivan  Jacob Swafford  Jim Talbert  Norman Tanner  Travis Taylor  Richard Thom  Don Thomas  Tim Thompson * Jeff Tillman  Robert Tompson  Mike Torres  Matt Tucker  David Urich  Alex Uskokovich  Gary Van De Velde  Barbara vanBenschoten
Lee Vogel  Albert Vogt  Frank Wagner  Ray Wagner * Julius Wall  Ginny Wallace  Randy Washburn  Mary Waters  Henry Waters, III.  Daniel Weinrich  Michael Weir  Robert Werges  Evelyn Werges Bennish  Tom Westhoff  Gary Wheeler  Georganne Wheeler Nixon  Mark Williams  Dennis Williams  Dr. Jane Williams  Stephen Wilson  Michael Wilson  Laurie Wilson  Jonathan Wingo  Jon R. Wingo  Michael Wiseman  Daniel Witter  Brenda Witter * Addie Witter  Owen Witter  Dick Wood  Howard Wood  Joyce Wood  Nicole Wood  Charles M. Wormek  Brad Wright  Suzanne Wright  David Young  Judy Young  Dan Zekor  Daniel Zerr  Jim Zieger  Robert Ziehmer  Emily Ziehmer  Lauren Ziehmer  Colton Zirkle  Ethan Zuck  Guy Zuck  Mark Zurbrick
*Deceased
Member News
JANUARY - 2023 11
Committed to Community & Conservation
Owned by the members they serve, Missouri's electric cooperatives do more than provide reliable and affordable electricity. They are active in their communities, concerned for the wellbeing of their neighbors and devoted to the rural way of life that makes the Show-Me State a special place to live, work and play. Missouri's electric cooperatives are dedicated to protecting the land, air and water resources important to you and your quality of life. Learn more at www.amec.coop.
2023 Events Schedule
87th Annual Convention- February 21 - 26
Let your voice be heard at the Annual Convention The event will include meetings, awards, auctions, and so much more. Held at the Lake of the Ozarks.
Conservation Day at the Capitol- April 5
Join conservationists from across Missouri on the radio for a day of celebrating and supporting conservation and natural resources The broadcast will air from 6 am to 10 am on 96.7 FM or KCMQ.com.
Pull for Conservation: Northwest- April 15
Join CFM for the 7th annual Northwest clay shoot at Boot Hill Shooting Ground in Hamilton.
CFM Life Member Event- June
3
CFM will be hosting its 2nd annual life member only event in Rhineland.
Conservation Federation Banquet: Columbia- July 13
Fish or kayak then eat a fantastic meal while supporting CFM at Bass Pro Shops in Columbia
Pull for Conservation: Central- August 12
Take your best shot at the 17th annual Central clay shoot at Prairie Grove Shotgun Sports.
Affiliate Summit- September 7 & 8
CFM affiliate organizations are invited to network and learn with fellow professionals
Conservation Federation Online Auction- October 11 - 20
Enjoy a fun and interactive online auction with many great trips and prizes.
Holiday Online Auction- December 4 - 14
Bid on many exciting items just in the time for the holidays
Event dates are subject to change Please visit www confedmo.org or follow us on social media for the most up to date schedule
St. Louis Audubon Society
The St. Louis Audubon Society came into existence over a century ago, in 1915, as the St. Louis Bird Club, which eventually joined forces with the National Audubon Society as its first local affiliate (1943) and then changed its name to the present one. While we still maintain a focus on birds and birding as a popular entry point for the enjoyment of nature, our mission is broader than that. As stated in our most recent strategic plan, "to create a community connection to nature through education and conservation. This is achieved by fostering awareness and understanding of birds and other wildlife and their habitats, and by educating our community so people can make informed decisions about the natural world."
We have several main lines of activity to put this mission into practice.
First, our signature Bring Conservation Home program (BCH) provides consultations for property owners, giving them an expert assessment and suggestions for growing native flowers, shrubs, trees, and grasses to benefit wildlife, including insect pollinators. To date, we estimate that over 700 acres of mostly urban and suburban land have been refocused in this way as improved native habitat.
Second, we provide speakers on many habitat and naturerelated topics as community outreach; these presentations may be offered to local groups on request or more generally to the public through the St. Louis County Library system and other outlets. We also provide activity packages for elementary grades that teachers can adopt for their classrooms. Third, we organize or assist with various conservation efforts, notably BirdSafeSTL, which strives to reduce the attrition of migrant birds as they pass over our area at night, become disoriented by the light, and collide with windows. At times we also engage in advocacy for the conservation and preservation of natural habitats and public lands in our area if a major threat comes to our attention.
And, getting back to birds, we offer guided field trips for birding at all levels of interest, from "beginner bird walks," for those who are wondering what it's all about, to longer excursions for folks who have been (or are becoming) active birders. Our calendar displays a nearly-every-week schedule of these trips covering most of the year, with destinations that include public lands all over east-central Missouri and adjacent Illinois, and with registration open to members and non-members alike. We also publish a Bird of the Week series that provides fun facts and interesting background on our avifauna, one bird at a time.
Finally, we are proud to be associated with CFM and grateful for its support of conservation in Missouri, including its legislative action alerts.
Bill Rowe President
14 CONSERVATION FEDERATION Affiliate Highlights
Affiliate Organizations
Anglers of Missouri Association of Missouri
Electric Cooperatives
Bass Slammer Tackle
Burroughs Audubon Society of Greater Kansas City
Capital City Fly Fishers
Chesterfield Citizens Committee for the Environment
Columbia Audubon Society
Conservation Foundation of Missouri Charitable Trust
Deer Creek Sportsman Club
Duckhorn Outdoors Adventures Festus-Crystal City Conservation Club Forest and Woodland Association of Missouri
Forest Releaf of Missouri
Friends of Rock Bridge Memorial State Park Gateway Chapter Trout Unlimited
Greater Ozarks Audubon Society
Greenbelt Land Trust of Mid-Missouri Greenway Network, Inc.
James River Basin Partnership L-A-D Foundation
Lake of the Ozarks Watershed Alliance Land Learning Foundation
Legends of Conservation Little Blue River Watershed Coalition
Magnificent Missouri
Mid-Missouri Outdoor Dream
Mid-Missouri Trout Unlimited
Midwest Diving Council
Mississippi Valley Duck Hunters Association
Missouri Association of Meat Processors
Missouri Atlatl Association
Missouri B.A.S.S. Nation
Missouri Bird Conservation Initiative
Missouri Birding Society
Missouri Bow Hunters Association
Missouri Caves & Karst Conservancy
Missouri Chapter of the American Fisheries Society
Missouri Chapter of the Wildlife Society
Missouri Coalition for the Environment
Missouri Conservation Agents Association
Missouri Conservation Heritage Foundation Missouri Conservation Pioneers
Missouri Consulting Foresters Association Missouri Disabled Sportsmen
Missouri Ducks Unlimited- State Council
Missouri Forest Products Association
Missouri Grouse Chapter of QUWF
Missouri Hunter Education
Instructor's Association
Missouri Hunting Heritage Federation
Missouri Master NaturalistBoone's Lick Chapter
Missouri Master NaturalistGreat Rivers Chapter Missouri Master NaturalistHi Lonesome Chapter
Missouri Master NaturalistMiramiguoa Chapter
Missouri Master NaturalistOsage Trails Chapter
Missouri Master NaturalistSpringfield Plateau Chapter
Missouri National Wild Turkey Federation
Missouri Native Seed Association
Missouri Outdoor Communicators
Missouri Park & Recreation Association
Missouri Parks Association
Missouri Prairie Foundation
Missouri River Bird Observatory
Missouri River Relief
Missouri Rock Island Trail, Inc.
Missouri Rural Water Association
Missouri Smallmouth Alliance
Missouri Society of American Foresters
Missouri Soil & Water
Conservation Society-Show-Me Chapter
Missouri Sport Shooting Association
Missouri State Campers Association
Missouri State Parks Foundation
Missouri Taxidermist Association
Missouri Trappers Association
Missouri Trout Fishermen's Association
MU Wildlife & Fisheries Science Graduate Student Organization
Open Space Council of the St. Louis Region
Ozark Chinquapin Foundation
Ozark Fly Fishers, Inc.
Ozark Land Trust
Ozark Riverways Foundation
Ozark Trail Association
Ozark Wilderness Waterways Club
Perry County Sportsman Club
Pomme De Terre Chapter Muskies
Quail & Upland Wildlife Federation, Inc.
Quail Forever & Pheasants Forever
River Bluffs Audubon Society
Rocky Mountain Elk Foundation
South Side Division CFM
Southwest Missouri Fly Fishers
St. Louis Audubon Society
Stream Teams United Student Air Rifle Program
Tipton Farmers & Sportsman's Club
Tri-Lakes Fly Fishers
Troutbusters of Missouri
United Bow Hunters of Missouri
Watershed Conservation Corps
Wild Bird Rehabilitation
Wild Souls Wildlife Rescue Rehabilitation
Wonders of Wildlife
World Bird Sanctuary
Young Outdoorsmen United
JANUARY - 2023 15
Affiliate Highlights
FOUNDERS CIRCLE For more information contact Michelle at 573-634-2322 Ext. 104 or mgabelsberger@confedmo.org Founders Circle Levels Bronze - $5,000 to $9,999 Silver - $10,000 to $34,999 Gold - $35,000 to $74,999 Diamond - $75,000 or More Bronze Level Zach Morris-2022 David Urich-2022 For more than eighty-five years, the Conservation Federation of Missouri (CFM) has served as "The Voice for Missouri Outdoors." Join in our efforts to secure our stronghold as advocates for our state's wildlife and natural resources by becoming a dedicated member of our Founders Circle. Your contribution will
play an influential role in preserving Missouri's rich outdoor heritage. Each year, earnings from the endowment will be used to support CFM's education and advocacy efforts. Special recognition will be given to those who reach each level of giving. Additionally, memberships will be recognized at our annual Convention.
PRESERVING OUR CONSERVATION HERITAGE
Make your contribution today, to preserving our state's conservation legacy.
CFM Elections Now Open
Elections for CFM Board and Officer positions are now open. Please take the time to go and vote at www.confedmo.org/boardelections/.
The Nominating Committee selected the following nominees as candidates in the 2023 board and officer election. A bio and short video of each candidate will be available on the CFM Website.
A request for CFM Officer and Board Nominations for 2023 was made back in July. Eight officer nominations and thirty at-large nominations were received. To develop the slate, the Nomination Committee reviewed, evaluated, and assessed each nominee, which resulted in a ranking for each position.
Positions to be voted on:
At-Large Board positions (4 open positions)
• Ralph Duren
• Steve Jones
• Josh Lane
• Jim Low
• Benjamin Runge
• Ryan Verkamp
Executive Committee (2 open positions)
• Lisa Allen
• Steve Jones
• Tom Westhoff
CFM members now have a slate of candidates with their nomination bio. CFM members can read about the roles and responsibilities of each position at www. confmo.org/boardelections/ as well as the preferred (but not required) qualifications and experience for each. The nominee's bios and short video on CFM's website will give voters a chance to hear nominees express their views.
Secretary (1 open position)
• Benjamin Runge
• Ryan Verkamp
SAMPLE BALLOT:
Voting in this election will take place electronically during the month of January. Please go to www. confedmo.org/boardelections/ to let your voice be heard.
JANUARY - 2023 17 Member News
"By voting, we add our voice to the chorus that forms opinions and the basis for actions." - Jens Stoltenberg
Going to the woods? Gear up with CONNECT WITH US Orscheln Outdoors™ 2-Person Ground Blind 107419147 Wicked Ridge Invader X4 Crossbow 107414185 Legacy Flag Chassis 6.5 Creedmoor Rifle 107408411 www.orschelnfarmhome.com • Hunting Clothing • Hunting Boots • Guns & Ammo • Blinds & Stands • UTVs • & More!
LEGISLATIVE ACTION CENTER S T A Y I N F O R M E D . S I G N U P T O D A Y Act fast on issues that matter to you. V I S I T W W W . C O N F E D M O . O R G / L A C "Be The Voice For Missouri Outdoors" C L I C K " S I G N - U P "
CFM's 2nd Annual Photo Contest Winners
CFM would like to congratulate the winners of our 2022 Photo Contest. The public voted on 26 different entries to determine our 5 winners. All photos were taken in Missouri, and are a testament to the wonderful natural resources we have in the state. Thank you to all our participants and voters. With your help, we were able to raise over $1,500 to support CFM's mission. CFM would also like to thank the Land Learning Foundation, the sponsors of this contest. Learn more about Land Learning Foundation on the next page.
22 CONSERVATION FEDERATION Member News
Best of Show (Left): "Bobcat" by April Hoffman. After this bobcat kit was left orphaned, April Hoffman of Wild Souls Wildlife Rehab and Rescue was able to take it in and care for it until it could be properly released back into the wild. The perfect opportunity arose and April was able to snap a quick photo of the bobcat kit smiling for the camera!
All Aquatics (Right): "Abel's First Visit to the Current River" by Bill Cooper. Bill was able to capture a happy moment of Abel playing with his friends at the Current River. Originally from the Bahamas, this was Abel's first opportunity to see one of Missouri's finest outdoor experiences.
Missouri's Natural Areas (Bottom): "Sunset Over Pomme de Terre" by Ginny Wallace. According to Ginny, "A storm across the lake created the conditions for a most unusual sunset. In the foreground the lake reflects the clouds above, contrasting with the reflection of the sunset on the horizon."
JANUARY - 2023 23 Member News
Get Outdoors (Left): "Golden Hour" by Erica Deitch. Erica had perfect timing to capture the sun setting behind a patch of sunflowers. It's easy to imagine yourself there on a warm summer evening, listening to cicadas sing and watching the sky change color.
Tracks and Traces (Right): "Walking on Sunshine" by Chelsea Mosteller. Chelsea shot an amazing photograph of a solitary deer wandering on the water's edge at sunset. With a view that good, you can't help but be envious of the deer's spot.
Contest Sponsor: Thank you to the Land Learning Foundation for being our title sponsor of this event! Prizes were awarded to our contest winners through a generous donation from LLF.
We appreciate their partnership and their continued generosity toward CFM and our mission to protect Missouri's outdoors.
Land Learning Foundation is committed to fostering stewardship through outdoor experience, education, and conservation. Learn more at: www.landlearning. org/ .
24 CONSERVATION FEDERATION Member News
Erica Loethen Hired as CFM Development Coordinator
The Conservation Federation of Missouri (CFM) staff recently welcomed Erica Loethen as its Development Coordinator. Armed with creativity and enthusiasm, Loethen will manage fundraising and business partnerships on behalf of CFM. Specifically, she will oversee organizational efforts to expand and maintain existing business partnerships, online and inperson auctions and other fundraising-related activities.
"We are thrilled to have Erica join our CFM team. She brings a bright dynamic to the organization," said Tyler Schwartze, CFM Executive Director. "Erica's energy and passion for Missouri's wildlife, natural resources, and conservation, will certainly make her a valuable asset to fulfill our mission, and help us grow our voice in Missouri's great outdoors."
Raised in rural central Missouri, and as a current landowner, Erica is a devoted conservationist, committed to preserving our state's treasured natural resources. The knowledge and skillset she gained from various experiences, allow her to bring attention to detail and productivity into the workplace, as well as effective communication skills to connect with a multitude of outdoor enthusiasts. Erica received a Bachelor of Animal Science degree from the University of Missouri and achieved her Masters' of Science in Agricultural Communications at Oklahoma State University.
"I am beyond excited to be joining the CFM team as the Development Coordinator. From a young age, Missouri's rich outdoor heritage has played a vivid role in crafting me into the individual I am today," said Loethen. "As an avid outdoor enthusiast and conservationist, I am honored to have the opportunity to advocate on behalf of such a dynamic and beautiful industry."
Erica will be handling the many auctions that CFM have each year, including the large auction at the Annual Convention that will be held on February 25th at Margaritaville in Lake of the Ozarks. She will also be administering CFM's new Bee and Butterfly Fundraising Initiative, which schools across Missouri can participate in to raise awareness about pollinators, while raising funds for their school.
In her free time, she can routinely be found exploring Missouri's great outdoors and waterways. She enjoys hiking, kayaking, and horseback riding. Alongside her husband, T.J., Erica helps manage their diversified farming operation in central Missouri and raises standard Australian Shepherds.
JANUARY - 2023 25 Member News
CZ-USA.COM Designed specifically for small-base centerfire calibers, it is a true micro-length Mauser action.
controlled-round feed,
detachable single-stack magazine,
16mm dovetails and our
single set trigger,
ultimate small-caliber platform. OLD SCHOOL CRAFTSMANSHIP 16MM SCOPE DOVETAILS CONTROLLED-ROUND FEED SINGLE SET TRIGGER COLD-HAMMER-FORGED BARREL TRUE MICRO-LENGTH MAUSER-STYLE ACTION DETACHABLE MAGAZINE CZ 527 AMERICAN
With
a
a cold-hammer-forged barrel, integral
renowned
many people think it's the
JANUARY - 2023 27
Pruning Trees
My favorite winter activity, besides going for long walks through the woods, is pruning trees and shrubs. March is the last month to do it before they leaf out in April. Why prune before leaf-out? It's easy to see the branching structure, and safer in terms of disease spread. Oaks, for instance, must be pruned either when dormant in winter or after the seasonal growth spurt is complete (usually after July 1). Pruning oaks during the early growing season creates seeping wounds that may invite deadly pathogens into the tree.
There are many branch issues to look for and resolve (also called corrective pruning). The first is crossing or rubbing branches. These branches cross each other close enough to rub off the outer bark layer. You can tell where rubbing occurs because it looks like a worn-out leather shoe—shiny and the worse for wear. One of the branches needs to go, so prune out the one that does not fill the space properly. This can be an easy decision when one branch points toward the house or back into the center of the plant. Take that one.
But what if they both point outward and it's not so obvious? In this case, save the branch that fills the space better. Huh? This is what I like so much about pruning. You have to visualize what the branch structure will look like without one or the other crossed branches. Which looks better in your head? At this point, remind yourself that you can't put the branch back on the plant after it is cut. So think carefully, take your time (leave it for another day) and make the right decision. When it's a toss-up, you can't go wrong either way.
(Top) For branches over 1 inch in diameter, always make three cuts. The first cut should be from below to prevent a bark tear. Make the undercut several inches away from the main trunk and only partially (5 to 10% through). The second cut should be directly above the first, cutting the rest of the way through, until the branch comes free. The third and final cut is close to the main branch, but not too close. Identify the branch collar (slightly swollen area at the base of the branch you are cutting) and prune just outside it. (Photo: Scott Woodbury)
28 CONSERVATION FEDERATION Feature Story
Next is multiple leaders on a tree. A leader is the singular, and usually central, branch that grows faster and taller than all the rest. It is what forms the often massive trunk on old trees. At times two or three branches are competing for the same place at the top. This is not good, because they usually grow to have narrow and weak branch angles. 'Bradford' pears are notorious for this. They grow for ten or fifteen years, produce multiple leaders, and then one suddenly breaks off in strong wind. One landed on my car years ago! Pruning trees with multiple leaders is usually easy when they are young. Save the leader that looks the most robust or points the direction of the area you want to fill. If one side is pointing toward the house, prune the leader on that side off.
Ideally, you want to prune when trees are young—2-5 years old is ideal. Do not prune newly planted trees for a year or two. Let them get established, even if you want to shape them right away. Don't be tempted, because trees develop stronger and thicker trunks when they are allowed to establish a strong root system first.
When it gets too old, climbing the tree can be cumbersome and dangerous. If you have a double leader on an old tree, hire a qualified arborist to help you safely.
Be careful when pruning branches that are more than an inch in diameter or more than three feet long, because they could come down and break something, like you. They also can come down with a long ugly bark tear. Always make three cuts on branches like these.
The first cut should be from below to prevent a bark tear. Make the undercut several inches away from the main trunk and only partially (5 to 10% through). The second cut should be directly above the first, cutting the rest of the way through, until the branch comes free. The third and final cut is close to the main branch, but not too close. Identify the branch collar (slightly swollen area at the base of the branch you are cutting) and prune just outside it. The branch collar produces growth hormones that stimulate new tissue that closes over the wound. Never paint or tar over cuts because this may encourage rot.
Perhaps it's obvious to prune out dead branches, although dead branches aren't always easy to identify. They are brittle and small ones snap off when bent. They tend to have peeling bark or no bark at all. Olddead branches are more obvious and they may have already partially fallen. Scout for and remove large dead branches because they can damage houses, vehicles, and people. Pole saw blades with a hooked tip work well for pulling/breaking small dead branches from the tree. Always wear protective eyewear and a helmet when pruning overhead. If high branches require a chainsaw, consult an arborist.
Limbing-up lower branches on established trees is a technique for allowing more sunlight to get to plants growing beneath. This can be done on large or medium trees to improve the performance of perennials, grasses, ferns, shrubs, and small flowering trees. You may need a pole saw to remove high branches. Always use very sharp saw blades to make the cut quick, easy, and safe.
Keep in mind that branches that stray into walkways, parking areas, and buildings require removal. Branches rubbing on a building can cause significant damage to gutters, windows, shingles, and siding.
Finally there is branch thinning, when there are so many branches that the plant looks like a witch's broom. Remember the tree in Harry Potter—the one Ron Weasley's dad's car fell into? That's an extreme example of a densely branched tree. Water sprouts that emerge from plant stems and suckers come from the ground. These branches are usually small, numerous, and overly vigorous.
An essential tool for hand pruning is a sharp pruner.
JANUARY - 2023 29 Feature Story
(Photo: Scott Woodbury)
Overly dense branches are common on plants growing in full sun, especially on hawthorn, redbud, dogwood, and viburnum. When young, they require pruning for several years, before they simmer down. Usually after 7 to 10 years, water sprouts and suckers slow down significantly or entirely. At this point, plants are established and more mature.
Speaking of which, I have been pruning, feeding, and watering my young one (his name is Milo) for fifteen years and he still requires much corrective pruning. My final word of advice is that, like child-rearing, pruning requires much practice and patience. In the end, one hopes, it will result in beauty, resilience, and character. Happy pruning, ya'll.
Watch the Grow Native! video of Scott's winter pruning tutorial at https://grownative.org/learn/nativetree-resources/.
30 CONSERVATION FEDERATION
A well pruned redbud highlights the graceful structure of the tree. (Photo: Scott Woodbury) Feature
Scott Woodbury
Story
They also make the plant look chaotic or lop-sided in winter, because too many branches can clutter and hide the main branching structure. Pruning sprouts away is like chiseling a piece of art from wood or stone. With each sprout and sucker pruned, the view to the beautiful branches inside comes into view. Seasoned pruners intentionally open up views (holes) to the main trunk so that it may be viewed even in summer, when fully leafed out. Prune small sprouts (under ½ inch in diameter) with sharp hand pruners. Larger branches require a hand saw or lopper.
Missouri Hunters Took Eight Black Bears This Season
The Missouri Department of Conservation (MDC) reports that Missouri hunters harvested eight black bears during the 2022 bear-hunting season, Oct. 17–26.
More than 5,880 hunters applied during May for 400 permits for the season with the maximum total harvest being 40 bears. Of the 400 hunters selected through a random drawing of all applicants, 350 hunters purchased permits for the season.
Bear hunting in Missouri is limited to Missouri residents and restricted to three designated areas of southern Missouri called Bear Management Zones (BMZ). Each permit issued is for a specific BMZ and hunting is limited to public or private property within the BMZ.
All eight bears were harvested in BMZ 1 out of a maximum of 20 with 177 hunters purchasing permits to hunt the zone. No bears were harvested in BMZ 2 out of a maximum of 15 with 128 hunters purchasing permits to hunt the zone. No bears were harvested in BMZ 3 out of a maximum of 5 with 45 hunters purchasing permits to hunt the zone.
This year, three of the eight bears harvested were taken with bows. During last year's inaugural season, all 12 black bears harvested were taken with firearms. MDC notes that an even ratio of male and female bears were harvested this year, similar to last.
"We anticipated a lower harvest this season over last," said MDC Bear Biologist Nate Bowersock. "Bears love gorging on acorns in the fall and the acorn crop around the state was much more plentiful this season over last. This resulted in bears moving less often and being more dispersed, which made it more difficult for hunters to find them."
Learn more about Missouri black bears and bear hunting in Missouri at mdc.mo.gov/hunting-trapping/species/bear.
Chase Boggs of Bolivar harvested this sow bear with his bow on private land in Douglas County on Oct. 24. MDC data on the bear showed she was 7 years of age. Shown with Boggs is Douglas County Conservation Agent Mark Henry. (Photo: Courtesy of MDC)
JANUARY - 2023 31 Outdoor News
Smoldering Resentments
Set the trigger, put the bead on the buck's shoulder, squeeze and . . . pffft! Don't let it happen to you.
Everyone has heard of a "flash in the pan"—a promising prospect that comes to nothing. We say it nonchalantly today, but to a frontiersman of yesteryear, a flash in the pan of his flintlock could be a matter of life or death, feasting or starvation.
The few modern-day hunters who pursue deer with traditional black-powder rifles do it to get in touch with their pioneer roots. In the process, they discover what it means to have only one shot to put meat on the table. Sometimes, they get in touch with the past a little more than they anticipated when their rifles don't go off.
Muzzleloading technology has come a long way in recent years, but the essentials of black-powder ignition remain unchanged. Regardless of whether you use a flintlock like Daniel Boone's or a sleek new in-line rifle, you still have to hit the main powder charge with a flash of gas hot enough to produce a prompt explosion. If the flash doesn't get there, there is no bang and no deer. If the flash takes too long to reach the powder, "lock time" stretches and shots drift outside the kill zone. Failure to understand the larger truth condensed in the pithy phrase "Keep your powder dry" can turn the shot of a lifetime into a lifetime of smoldering resentment.
32 CONSERVATION FEDERATION
Muzzleloaders are vulnerable to ignition failure because of their basic difference from modern firearms. Instead of primer, powder and bullet being combined in one durable, airtight unit, as modern ammunition is, the black powder load is exposed to the elements from the moment it leaves the powder horn until it goes – or doesn't go – bang. To avoid ignition problems, you have to know when, where and how load components can be compromised and guard those points of vulnerability.
Ignition problems come in two types—hang-fires and misfires. In a hang-fire, there is a hesitation—ranging from a fraction of a second to several seconds—between the pop of the cap (in flintlocks, the flash of the priming powder) and the firing of the main charge. In a misfire, the main charge doesn't fire at all.
Shooters with poorly made guns, poorly functioning locks or improperly matched load components may think it's normal for smoke poles to make a "ka-pow!" sound. However, those fortunate enough to have guns that work efficiently recognize this as a borderline hang-fire. Flintlocks have significantly longer lock time (the time between trigger pull and ignition) than percussion guns. But a well-tuned flintlock should fire so that the flash of the primer charge seems simultaneous with the report of the main charge. And with caplocks, there's no reason every shot shouldn't simply be "pow."
Primer Problems
The most common cause of misfires in caplocks is failure to have a cap on the nipple. Waiting until you are on the firing line to cap your rifle is good safety practice on the range. It has the additional benefit of not giving the cap much time to come off the nipple. But if you carry a caplock at half-cock (the equivalent of having the safety on in modern firearms) for several hours while changing hands, busting brush and occasionally leaning the gun against a tree, the cap can come off unless lodged firmly on the nipple. The result is a resonant "CLACK!" when you drop the hammer on a bare nipple.
To avoid this, always press the cap snugly in place with your thumb. Then try to remove it with your fingers. If you can get it off, it's too loose. Try caps of several different brands to see which fits best. If none is satisfactory, change the nipple. Don't modify the nipple. This can cause other ignition problems, plus it raises safety issues. Also, don't make the fit so tight that the cap has to be forced onto the nipple. This can cause unintentional firing.
Sam Fadala, author and mentor to generations of blackpowder hunters through his popular black powder handbook, warns against putting powder into the nipple to "prime" it, no matter how logical this may seem. This actually slows ignition, because the flash from the cap has to burn through the powder in the nipple to reach the main charge.
Primer problems also can cause hang-fires in percussion guns. If your caplock routinely speaks "ka-pow" as two distinct syllables, try changing to a hotter "magnum" cap. If hang-fire problems persist, once again try different nipples.
Once you find a workable combination, recheck your sight alignment at the range. Different primers produce different ignition rates, resulting in significant differences in muzzle velocity and trajectory.
If cap or nipple isn't the problem, you may need to change to a different type of powder. Modern substitutes have some qualities to recommend them, but none equals real black powder's ability to catch a spark. If your gun stutters, try using the mother of all powders. The problem might magically disappear.
Flintlocks have a different set of potential ignition problems. Besides the foregoing considerations, you need to be sure you are priming the gun properly. The temptation is to overprime, thinking that more flash is better. Not true. A full flash pan will cause a mild hang-fire, because excess powder blocks the flash hole momentarily. The fastest ignition occurs with the pan about half full.
A related problem is slow ignition when the priming charge lies directly against the touch hole. Experienced flinters develop the habit of holding their guns with the lock mechanism tilted down, so the priming charge rests against the far edge of the flash pan.
Finally, don't use anything but black powder for the main charge in a flintlock, and use only FFFF black powder in the flash pan. Nothing beats black powder for quick ignition, and the fine grains of FFFF are less likely than coarser FFF powder granules to block the touch hole.
Test the efficiency of your flint in a darkened room. No powder in the flash pan! (Photo:
JANUARY - 2023 33 Feature Story
Courtesy of Jim Low)
Your next concern should be to ensure that the flint is producing an ample shower of sparks when it strikes the frizzen. This is best done in a darkened room WITHOUT priming powder in the pan. If the fireworks seem a little sparse, try napping the flint to a sharper, straighter edge and repositioning it in the cock so it strikes the frizzen with its entire leading surface. Also, ensure that it meets the frizzen at a point where the resulting sparks fall directly into the flash pan.
Flints eventually wear down and must be replaced. (The same is true of the frizzen. However, you should go through many flints before the frizzen wear becomes a factor.) To position your flint properly, insert it in the hammer, leaving the screw only finger tight. Then lower the hammer until the flint comes in contact with the face of the frizzen. Tighten the screw fully when flint and frizzen make full contact.
Flash Channel Problems
After eliminating the foregoing causes of ignition problems, you'll want to examine your flash channel. With a flintlock, this can be accomplished by sliding a bore light down the barrel and peering in through the touch hole. The channel should look straight, clean and smooth. If not, try swabbing it out with a pipe cleaner. If you can't get the channel looking pristine, ask a gunsmith if he recommends installing a liner to restore positive ignition. In-line muzzleloaders can be checked the same way.
Traditional-style caplocks are more difficult. Some have a cleaning screw that can be removed to open a straight channel to the breech. In others, visual inspection is impossible. It could be that rust or a piece of metal from a cap has lodged in the flash channel. Or the channel from the nipple through the breech may have bends that dissipate the heat of the priming flash.
A gunsmith can fix such problems. But at some point, you may want to consider that with dozens of high-quality muzzleloaders on the market, you don't really need to mess with a balky coal burner. Then a trip to a swap-meet may be in order.
Don't worry if your gun occasionally misfires because fouling clogs the nipple or flash channel during extended shooting sessions at the range. You won't fire your gun a dozen times while hunting.
It's the first shot that counts. A gun that has been cleaned and put away for days or months is not to be trusted. Before loading a percussion gun, always fire a cap to blow any lubricant or other obstructions out of the flash channel. Hold the muzzle up to a blade of grass or another light object when you pop the cap. If the channel is clear, the cap should fire with a hollow sound, and the blade of grass should move slightly. If the cap makes a sharp crack and the grass doesn't move, repeat the procedure.
You can't pop a cap on a flintlock. Instead, use pressurized air to blow out the channel after cleaning. After loading up for the hunt, run a nipple pick through the touch hole to clear away patch lube or other material that may have been forced down the barrel in loading.
Whether hunting with a flintlock or a percussion rifle, you should always fire a "fouling shot" before heading afield. Projectiles encounter less resistance while moving through a clean bore than they do in a slightly dirty one. That creates a difference in pressure and velocity between the first and subsequent shots. Unless you clean the bore after every shot at the range, most of your sighting-in will be done with a fouled barrel. You want your rifle to shoot the same while hunting as it did when you finished sighting-in.
34 CONSERVATION FEDERATION
Feature Story
Powder Considerations
If you store your powder in a tightly capped, original container, you should have no problems with moisture. But if you store your powder in a flask or horn, humidity can creep in, reducing its ignitability. So, it's wise to empty flasks and other less-than-airtight vessels back into the factory container during the off-season.
Most problems with moisture arise after loading. One common cause of wet powder is patch lubricant. Almost any lube will work well at the range, where the time elapsed between loading and firing seldom exceeds a few minutes. But if you spit on a patch or moisten it with a prepared lube that contains water, then ram it down on top of the powder and head out for a day of hunting, you are asking for trouble.
Choose a lube that is made entirely with vegetable grease and/or wax. Vegetable shortening works fine, though I prefer a commercial formulation that is long on beeswax. Be sparing when applying lube, since even grease can impede ignition, and excess lube causes increased fouling, which can cause ignition problems on subsequent shots.
On rainy days, you can prevent moisture from entering the business end of your barrel by stretching a balloon over the muzzle. Be sure this does not interfere with your ability to see the front sight.
A well-fitted percussion cap makes an effective seal against moisture at the back end of the barrel. If you want extra insurance, you can buy thin elastic sleeves that slide over the capped nipple. To keep your powder dry when not hunting, place a strip of soft leather over the bare nipple and let the hammer down gently to hold it in place.
Flinters face a different set of concerns. If you take Ol' Sparky out in wet weather, be sure you carry a dry cloth. (No white hankies, please. They look too much like a whitetail's flag.) The frizzen must be dry to strike a spark, so you might need to wipe the frizzen face periodically during damp weather. Oil on the frizzen kills sparks as surely as water, so wipe down the face of the frizzen each time you go afield.
Some sources recommend sealing the edge of the flash pan with wax or other malleable substance to keep out moisture. I don't. I tried this with grease-based lube with terrible results. The flash of the priming charge liquefied the lube, sealing the touch hole.
Wax might not be as likely to do this, but I could never figure out how to melt wax around a priming charge of FFFF black powder just itching to go "ffffffft!".
You could mold warm wax around the edge of the pan and press the frizzen down on it to form a seal, but wax gets brittle in cold weather, and the seal might not hold up. Anyway, the best-laid plans to waterproof a flintlock's flash pan are prone to failure. Better to wait until the last practical moment to charge the pan and then take a pioneer's care in safeguarding its dryness.
If an errant drop of water finds its way into the pan, wipe it out thoroughly with your dry cloth, run a pick through the flash channel and recharge. Then, do you blow the charge out and reload to make sure your main charge hasn't been compromised, or wait and try it when a deer comes along? That's a tough choice, with a lot riding on it. But you didn't buy a flintlock to make life easy, right?
When I mentioned propellant choice earlier, I noted that black powder is better than modern substitutes at catching a spark. Here's the downside: It's also better at catching water. Traditional black powder is actually "hygroscopic," which means it actively attracts atmospheric moisture. All things being equal, if you can achieve good ignition with black-powder substitutes, you're less likely to experience moisture problems. This is a matter to work out at the range.
Whatever propellant you use, carry it in a good flask. A powder horn may qualify if you ensure that both ends are well sealed, and the stopper fits tightly. Modern metal or plastic flasks are not immune to leakage. A sparing daub of grease on threads that hold the spout in place will help keep moisture out.
This is just an introduction to avoiding and solving blackpowder ignition problems. For an in-depth treatment of this and other black-powder topics, check out Fadala's Complete Black Powder Handbook, which I mentioned earlier. It is available new online for about $25, used or in E-reader version for less than half that.
Fiddling with antique hunting equipment isn't for everyone, but the satisfaction that comes when you get it all right is well worth the effort for those who explore their pioneer past!
JANUARY - 2023 35 Feature Story
Jim Low
Genuine black powder is the top choice for use in flintlocks. Be sure to use fine, FFFF powder in the flash pan. (Photo: Courtesy of Jim Low)
MISSOURI DEPARTMENT OF CONSERVATION
MDC Offers New Online Hunter Education "Game" for Certification
Missouri hunters in need of hunter education certification now have a new interactive online offering in addition to existing hunter education courses. The Missouri Department of Conservation (MDC) has expanded its partnership with the hunter safety course provider Kalkomey Enterprises, LLC, to offer a new fun and engaging, game-style learning option through the online site ilearntohunt.com/
"This new immersive, scenario-based offering allows hunter education participants to have game-like experiences by creating avatars and selecting their preferred game species and geographies," explained MDC Hunter Education and Shooting Range Coordinator Justin McGuire.
Preview the new online offering at player.vimeo.com/ video/706253380?h=0a9f3bc413.
McGuire added that the new online option provides immediate quality feedback on real-time decision making for more than 50 in-course exercises. "They're really fun and engaging, and they still cover all of our hunter education standards," he said.
The new online offering will place participants based on their age at the time of registration. Participants 11-15 years of age will complete the knowledge portion online but will still be required to take an in-person skills session. Participants 16 years of age and older can complete the entire certification requirement through the online course.
The cost for the new online Interactive Knowledge Course is $39.95 paid to the online course provider. The price of the online Traditional Knowledge Course is $24.95. The self-study guide and classroom sessions are free, along with the in-person skill session and final exam.
Missouri's hunter education course is required for any hunter born on or after Jan. 1, 1967, unless exempt.
MDC offers a two-step format for hunters 11 to 15 years of age that consists of a knowledge portion taken online, through a self-study guide, or in a classroom setting followed by a four-hour skills session and final exam. Missouri residents 16 years of age and older can complete the entire program online without the need for a skill session. Learn more about MDC's Hunter Education program at mdc.mo.gov/huntereducation.
"MDC has a proud history of providing hunter education going back to 1957 when it began as a voluntary course in Missouri," said McGuire. "Since then, MDC has provided hunter education training and certification to about 1.4 million Missourians."
He added that MDC's hunter education offerings have changed over the years to meet the changing needs of the public. "The new offerings are a perfect example," McGuire said. "Participants of all ages will find these interactive courses engaging and fun with just the right amount of challenge."
Get started on the new online Missouri hunter safety course at ilearntohunt.com/missouri/.
36 CONSERVATION FEDERATION Agency News
MDC Congratulates 17 New Conservation Agents on 2022 Graduation
The Missouri Department of Conservation (MDC) congratulates 17 new conservation agents upon their graduation from MDC's 2022 Conservation Agent Training Academy. The agent class of 2022 took the Conservation Agent's Oath during a special graduation ceremony Tuesday, Oct. 4 at Runge Nature Center in Jefferson City.
"Missourians have placed such high trust in this agency, and the best way to guard this public trust is to take care of our citizens," said MDC Director Sara Parker Pauley. "As a conservation agent, you play a key role in creating the customer experience and have the opportunity to positively impact so many people across the state."
MDC Protection Branch Chief Randy Doman reminded new agents the importance of recognizing the conservation professionals that came before them.
"We are part of a storied conservation history here in Missouri, and now it's your turn," said Doman. "It's your time to cultivate, to feed, and to grow that conservation ethic and protect the fish, forest, and wildlife resources that we all cherish today."
The new agents spent the past six months housed at the Highway Patrol Academy in Jefferson City. They received more than 1,200 hours of intense instruction both in and out of the classroom throughout the state. Agents received training in criminal investigations, defensive tactics, firearms qualifications, and technical instruction in fish, forest, and wildlife management. Training also included courses in legal studies, communications and conducting education programs, and First Aid/First Responder and CPR certification.
Upon successful completion of this training, the agents are issued a Peace Officer Standards and Training (POST) license from the Missouri Department of Public Safety. The conservation agent training program is also certified by the U.S. Department of Labor's Office of Apprenticeship.
CFM Executive Director Tyler Schwartze was on hand to give out the "Spirit Award", which is given to the Agent that shows the most leadership, courage and determination while bringing a positive attitude and being a great team player to their fellow agents throughout this training. The award is voted on by the Agents themselves.
The 17 new agents joining the 195 existing MDC agents in serving and protecting Missouri's fish, forest, and wildlife include: Ryan Catron, Avery Crisp, Kenneth (Drew) Davis, Ricky Dawson, Cole Eidson, Nicholas (Nick) Freeman, Landon Leonard, Makayla Leppert, John Lowe, Austin (A.J.) Musche, Jacob Myers, Katlin (Katie) Potter, Samuel (Sam) Schick, Katie Stoner, Taylor Stutzman, Taressa Wise, and Paul Wright.
The new agents have been assigned their counties. However, they will be involved in field training operations and special assignments while under the supervision of veteran field agents for a six-week period during which they will acquire vital field experience.
(Left to Right) Cpt. Caleb Sevy (instructor), Ricky Dawson, Austin Musche, Drew Davis, Jacob Meyers,  Landon Leonard, Katie Stoner, Ryan Catron, Taylor Stutzman, Cole Eidson, Avery Crisp, Sam Schick, Taressa Wise, Paul Wright, Katie Potter, Nicholas Freeman, Makayla Leppert, John Lowe, and Maj. Brian Ham (instructor). (Photo: Courtesy of MDC)
JANUARY - 2023 37 Agency News
MISSOURI STATE PARKS
Home of the Free Because of the Brave
Since 1776, the United States has fought in about a dozen major wars, and militarily intervened in hundreds more. In America, every generation has witnessed combat in one form or another, with tens of millions suiting up for the armed forces, with 16 million doing so during World War II alone.
More than one million Americans have succumbed during warfare, with the vast majority occurring in just two conflicts: the Civil War and World War II. Given the military's importance to U.S. history, it's no surprise Missouri State Parks respects and reveres veterans and active duty service members.
"We at Missouri State Parks are proud to honor and support our troops who have sacrificed so much for all of us. We value the contributions of veterans, current service members and their families," said Missouri State Parks Director David Kelly. "We are honored to provide opportunities to those who have given so much."
Recognizing the contributions and sacrifices made by the military and their families, Missouri State Parks has provided several benefits throughout the state for our service members.
Military Camping Discount
Military members and veterans receive $2 per night camping discount year-round at state parks campgrounds. Nightly camping rates vary from campground to campground based on different criteria. Visit icampmo.com for more information.
Retired, veteran and active-duty military personnel, as well as family members of active-duty personnel, receive the discount. All must show the proper valid military identification at time of check-in. Forms of identification include: Common Access Card, DD Form 1173, Form 214, driver's license designating veteran status, Uniformed Services ID card or Veteran ID card.
38 CONSERVATION FEDERATION Agency News
Veteran Recruitment Program
When looking for new team members, Missouri State Parks seeks those who have demonstrated their commitment to protecting public resources, such as our veterans.
In accordance with state law, veterans, family members or survivors of a veteran receive preference in the employment selection process when similarly qualified with other applicants for the same position.
Veterans are encouraged to apply for positions within state parks. Jobs that may be of interest include park/ historic site specialists or supervisors, positions in the ranger program and numerous others jobs.
Blue Star Museum Program
This program is a collaborative effort of the National Endowment for the Arts, Blue Star Families, the Department of Defense and more than 2,000 museums across the U.S. From Armed Forces Day through Labor Day, current military members and their families receive free admission to participating museums and historic sites.
Free Fishing for Veterans Yearly, Roaring River State Park and the Missouri Department of Conservation cohost Veterans Free Fishing Day. Individuals with veteran status can pick up their free permits at the park store and fish in the park at no charge that day.
Hero Deer Hunt
Mark Twain State Park in Monroe County partners with the Missouri Veterans Commission to provide 15 Missouri veterans an all-inclusive managed deer hunt. This event provides lodging, food, permits and a guide. The deer they harvest is even processed.
Lake of the Ozarks Recreation Area : Located within Lake of the Ozarks State Park, the area provides camping, boating, swimming, fishing and more for the whole family to enjoy.
Royal Oaks Golf Course : Owned and operated by the U.S. Air Force, this 18hole golf course is located within Knob Noster State Park and is open to the public.
Missouri State Parks also supports the Governor's Challenge to Prevent Suicide among Service Members, Veterans and their Families. The program launched a new training video intended to help individuals support someone they know who may be struggling with a suicidal crisis. The video outlines a safety plan, or brief intervention to help those experiencing self-harm and suicidal thoughts.
"It takes tremendous courage for a soldier to risk everything to protect his or her country," Kelly said. "The least we can do is offer these thanks to the extraordinary men and women who serve."
For more information on state parks and historic sites, visit mostateparks.com . Missouri State Parks is a division of the Missouri Department of Natural Resources.
JANUARY - 2023 39 Agency News
40 CONSERVATION FEDERATION Get healthy in nature this year. mdc.mo.gov/places–go Healthy is
NATURE
JANUARY - 2023 41
Mountain Biking
I bought my first and only road bicycle in 1973, a 10-speed steel frame bike that I still ride almost daily, weather permitting. I had the bike reconditioned four years ago. I got into mountain biking when our oldest son, Tim, was in college. He had a summer job cleaning out dorm rooms after students left for the summer. He showed up in our driveway with a pickup truck full of mountain bikes in various stages of disrepair that were abandoned by students. From this collection of bikes, we were able to assemble two high-end mountain bikes. I started mountain biking on trails in central Missouri.
Several years later, I got a call from Tim. He had located a house in eastern Kansas where he had his first job as a high school math teacher. He needed a loan for the down payment. I turned him down and encouraged him to find less of a house and fix it up, gradually moving up the homeownership ladder like his parents did. This was obviously excellent and appropriate parenting on my part. His next call was to Mrs. Urich, who as family loan officer, immediately approved his request without constraints or any other considerations. I was now a silent partner in a house that I never got to live in.
42 CONSERVATION FEDERATION Feature Story
His next phone call to me was about a year later. Since his last call cost me thousands of dollars, I naturally went to red alert. But he wanted to reminisce about the family camping trips we took to the mountains in western states when he and his two brothers were young. He admitted he didn't appreciate these trips at the time. But now he suggested we train hard for the next several months, and go on a mountain biking trip to Colorado and I should pay for it. When I asked him why he couldn't pay for his fair share, his response was brutally frank. If we had to wait until he could afford a trip, I would be too old and decrepit to go. I sent him a check.
Our first trip was to Salida, Colorado, where my brother-in-law lived. He was a long-time mountain biker and could act as our guide and mentor on this first trip. We spent the first two days biking at a lower elevation to get used to the altitude. Since I grew up in Colorado, I was never plagued by altitude sickness. Tim was not so fortunate and had to work through the headaches.
On the third day, we drove to the top of Monarch Pass, elevation of 11,312 feet, and went up from there. I can report there is no way to train in Missouri for mountain biking at this elevation. My lungs were about to burst at times. The trail eventually flattened out and we spent several hours biking at a high elevation above the trees. The views were spectacular. We were passed by several other hard-bodied bikers. We were also passed by several men and women who were running the trail along with their dogs. These were tough people.
Soon the clouds began to build in the west which meant the rain, wind, hail and lightning were coming, a daily occurrence at this elevation. We began our decent with me in the lead and I set a fast pace. The trail was well used, and the bikes had made a shallow groove in the center of the trail. I was inattentive to this groove when the front wheel ricocheted from side to side in the groove, the bike jackknifed and I became airborne.
During college, I took many math and physics courses because I enjoyed the challenge and I could take one course per semester pass-fail relieving the pressure for a high grade and avoiding an unacceptable low grade.
All I had to do was squeak by. I have forgotten most of what I learned in these courses, but I remembered that the three major forces acting on my flight pattern were acceleration, gravity and momentum. I did some quick calculations in my head to anticipate issues on landing and the numbers were not good. I was going way too fast.
I worried about my back because for most of my adult life I have had a delicate back that periodically acts up. Fortunately, Mrs. Urich is a physical therapist specializing in back issues. She has helped me manage my back over the years with exercise, stretching and postural changes. I was confident that she would not recommend slamming my back into the ground, so I rotated slightly, thinking a side landing would be better and landed squarely on my back. This went better than I thought because I was wearing a backpack with my rain gear, sweatshirt and lunch which cushioned the blow. I bounced twice more, landing on my back each time before rolling to a stop. Good thing I had a helmet on because it was cracked.
My first priority was to reinflate my lungs. This was an uncomfortable, painful process accompanied by gurgling and gasping until my lungs rebooted. A quick diagnostic revealed that I was in remarkably good shape, considering what happened to me.
(Left) David and Tim Urich on the Monarch Crest Trail, Colorado overlooking Salida and Poncha Springs. (Photo: Courtesy of David Urich)
Feature Story JANUARY - 2023 43
(Top) Tim and David Urich near Crested Butte, Colorado biking across a high mountain stream. (Photo: Courtesy of David Urich)
I rolled over and looked back at my companions who were obviously faking expressions of concern and muffling laughter. They weren't very good at it. Decades of marriage to Mrs. Urich has helped me hone this skillset to a high degree of excellence. I made a mental note to give them some pointers which would no doubt help them with their marriages.
We continued down the mountain at a slower pace. The soreness built in me as time passed. We eventually biked up to a roadside café where I refreshed myself with a soft drink. Unfortunately, a stronger drink with better soothing and medicinal qualities was unavailable.
The next day we went back to the top of Monarch Pass and biked a different portion of the trail. I was much more attentive to the decent this time. I've always been excellent at learning and retaining life's critical lessons the hard way.
The following year, we went to Crested Butte, Colorado, to bike the 401 Trail, known for the scenery and spectacular 8-mile descent. We hitched a ride to the top of the mountain with a student at Fort Lewis College in Durango, who was on the mountain biking team. I had no idea there were mountain biking teams, plus he had an athletic scholarship. The ride down was exhilarating and without incident. We decided to take the car to the top of the mountain, ride a different trail down and bike back up to the car. This was a bad decision because it took us longer than we thought to descend on this other route. At about 4:00 pm we were at the base of the mountain, exhausted and looking at a miserable 8-mile uphill climb on a gravel road in thin air.
About halfway up the mountain, a van came up behind us. I knew Tim would not make it to our car, so I stuck out my thumb. Fortunately, the van was driven by a mountain biker who by policy gave a ride to pooped bike riders who obviously were not going to make it to the top before dark. Two days later we were finishing up the last ride of our trip. The trail was flat and we were nearly back to the parking lot when the crank of my bike hit a tree stump next to the trail that was covered by grass. The rear of the bike came up and I was driven into the ground like a spear.
Tim was following behind recording this last portion of our bike ride on his cell phone, including my crash. I had cautioned him when going over the handlebars not to extend the arms because of the risk of bone fracture. He added music to the video, slowed down the action as I was nearing the ground, added arrows to show my extended wrists and inserted disparaging commentary. He put the video on the Internet which created a minor sensation for a short time.
We made several more trips to Colorado. I managed not to have any more crashes but Tim took a nasty fall that required a trip to the urgent care clinic. Then the demands of Tim's job began to close in on him, especially after he became a school administrator. I continued to ride my mountain bike in Missouri even medaling twice in the Show Me Games at Rock Bridge State Park south of Columbia. However, when the 60 and over age class was changed to 50 and over, I didn't stand a chance.
44 CONSERVATION FEDERATION
Feature Story
I was so far behind during my last race that officials sent out a rider to check on me, thinking I had collapsed. They were half right.
Three years ago, I fell off my mountain bike and cracked several ribs on my left side. I spent weeks sleeping in a chair because it was too painful to lie down which gave me plenty of time to think. I thought about our mountain biking trips to Colorado and Tim's prediction for me. He was only half right. I was getting too old for mountain biking but I had held off nicely on the decrepit part.
I continue to ride my 50-year old road bike several times a week frequently on the Katy Trail and I have completed the entire 243-mile length of the Katy Trail 9 times.
Of course, I take great joy in being in better physical condition than our three sons which I bring to their attention at appropriate intervals. After all, there was no sense having kids unless I could annoy them as adults.
This is another of my well-honed interpersonal and parenting skills. But I finally replaced the curved under handlebars on my bike with traditional handlebars supporting extenders because millions of years of human evolution have produced a species that prefers to sit upright in old age.
David Urich
(Left) David Urich on the Katy Trail near Windsor, Missouri and nearing the completion of a 243-mile bike ride from St. Charles to Clinton. (Photo: Courtesy of David Urich)
JANUARY - 2023 45 Feature Story
(Top) David and Tim Urich at Monarch Pass, Colorado before mountain biking on the Monarch Crest Trail. (Photo: Courtesy of David Urich)
Paddling with a Purpose
As part of its 25th-anniversary celebrations, the James River Basin Partnership (JRBP) co-hosted the inaugural Paddle MO James trip with Stream Teams United. For three days in August, 50 attendees, including staff and volunteers, floated 22 miles of the lower James River from Hooten Town Campground to Galena, Missouri.
Paddlers came from as far away as South Dakota, Kansas, and Illinois. While many had paddled the Missouri before, for most of them, this was their first time on the James.
"I've loved floating the various rivers and streams of Missouri ever since I was a child, but somehow the James River was never on my radar," said Jessica Boldt of Columbia, Missouri. "The perfect mix of deep pools, easy riffles, and stately bluffs convinced me I had been missing out."
While this was the first year for Paddle MO James, the first Paddle MO event was organized by Stream Teams United in 2016 on the Missouri River. A trip on the Current River, Paddle MO Ozarks, was added in 2019. This year, besides the James, another float trip will take place near the Kansas City area on the Missouri.
"The Paddle MO program helps connect people to some of Missouri's greatest rivers by providing the logistics and support for multi-day paddle trips," said Mary Culler, Executive Director of Stream Teams United. "Paddlers leave each trip with more than just a paddling experience - they also gain knowledge about each river, the area's history, and the living organisms found beneath the surface."
46 CONSERVATION FEDERATION Feature Story
Paddle MO was designed as both a fundraiser and an ecotourism opportunity for Stream Teams United, the advocacy organization for the Missouri Stream Team program. Participants learn about the natural and cultural history of Missouri's rivers through both onthe-water activities and evening programs. Plus, it's just a lot of fun getting to know fellow water warriors while paddling downstream.
"I enjoyed the educational opportunities on the river the most," stated Boldt. "After we learned to identify aquatic invertebrates that indicate a healthy stream, like water penny beetles and hellgrammites, we would see them everywhere!"
Paddle MO James channeled the spirit of the classic Ozark float trip on the James and White Rivers. You could almost see one of Jim Owen's famous johnboats up ahead of the group in the early morning mist, leading the way.
The first day on the water was a five-mile float from Hooten Town to a private access at McCall Bridge. Attendees got a brief glimpse of the famed Hooten Town Arch through the trees. They then learned all about macroinvertebrates and water quality thanks to JRBP Education Outreach Coordinator Brooke Widmar and Missouri Department of Conservation employee Brian Waldrop.
The second day's stretch was a longer one, 12 miles from McCall to Camp Tomahawk above H.L. Kerr Access. The float started with the groups "shooting the chutes" through a large riffle, and several floaters experienced their first river "baptism". All of them wanted to go down the chute again.
Participants experienced an authentic gravel bar lunch, just as fishermen did with Jim Owen's guides over 60 years ago. Something about eating next to a river just makes lunch taste so much better.
The last day's float found us paddling past Horse Creek bluff on one of the most scenic stretches of the James, past historic Camp Yocum. Its namesake, Tom Yocum, was one of Jim's most knowledgeable guides. You could almost hear the fish and ghost stories as we passed. We even gathered from a group photo under one of the bluffs.
Basecamp for the weekend was Riverfront Retreat of the Ozarks, located just south of Galena. A sleepy Ozarks town today, Galena in the heyday of the float trip era, was the gateway for hunters and fishermen seeking escape from the city. Riverfront Retreat pays homage to that area in its rustic style and welcoming atmosphere. The Paddle MO crew fed attendees well, and evening programs educated them about the James River and the critters that call her home. An Ozark string band even provided traditional tunes under the pavilion Saturday night.
"The staff and volunteers were extremely knowledgeable and friendly," said Kamie Kleinsorge. "They answered all my questions and showed genuine interest and excitement when it came to educating the other participants and me."
"I'm already planning to bring my family and friends back to the James River now that I am more familiar with what it has to offer," Kleinsorge added.
Sunday afternoon came too quickly, and soon kayaks and gear were loaded in cars and the river was quiet, with Paddle MO James added to the memories of float trips of the past. "By participating in a Paddle MO trip, we hope folks will be inspired and motivated to become more involved in river stewardship activities in our state and have a greater connection to the Missouri Stream Team program," stated Culler.
Paddle MO trips are an excellent way for folks to connect with both their local rivers and the folks who love them, as well as taking a trip back in time. If it sounds like fun, visit www.paddlemo.org/.
(Cover) Besides natural resources, Paddle MO participants also learned about the James River basin's unique cultural resources, such as the historic Y bridge at Galena, Missouri. (Photo: Todd Wilkinson)
(Left) JRBP Education Outreach Coordinator Brooke Widmar discusses benthic macroinvertebrates and their importance to water quality with Paddle MO James participants. (Photo: Todd Wilkinson)
JANUARY - 2023 47 Feature Story
Todd Wilkinson
January is a Great Time to Fish for Brown Trout
January is one of the best months to fish for brown trout in Missouri. Brown trout tend to avoid strong light. They hide under available cover on bright days. On cloudy days they tend to feed more in the open, making them easier to catch. January has a lot of dark, cloudy days, making it my favorite month of the year to fish for them.
Both the Meramec and Current Rivers offer superb fishing for brown trout. I catch greater numbers of browns in the Meramec but larger average fish in the Current.
The Missouri Department of Conservation stocks brown trout in the Meramec River in the Red Ribbon Trout Area from the Highway 8 bridge to Scott's Ford. The fish are reared at its Shepherd of the Hills Hatchery near Branson and are stocked at lengths of 8" to 12", typically once per year. But an experiment several years ago using brown trout at Maramec Spring Hatchery led to a one-time supply of browns for the RRTA up to 15 inches in length.
Parasitic crustaceans called copepods are found on rainbow trout at Maramec Spring Park in St. James. Studies show brown trout significantly reduce copepods when used as a bio-filter at the head of the raceway system at Maramec Spring Hatchery. The crustaceans attach to the brown trout, but do not complete their life cycle as they do when attached to rainbow trout, resulting in fewer crustaceans in Maramec's raceway system. Brown trout used in the parasite-reduction experiments were held for longer than usual and given extra time to grow more significantly than the normal 8" to 12" stocking size.
48 CONSERVATION FEDERATION Feature Story
"The experiments using brown trout to reduce these parasites were a success," said Fisheries Management Biologist Jen Girondo, "So it's likely that Maramec Spring Hatchery will continue to raise a limited number of brown trout to reduce copepods in the park's rainbow trout."
Girondo indicated that in the future brown trout will be held until they are 10 to 12 inches long, and then be used to stock the Meramec RRTA. Formerly, brown trout were stocked one time in the spring to be there for anglers during peak fishing months, and to reduce transport needs from Shepherd of the Hills Hatchery.
"Now, with Maramec Spring Hatchery supplying a limited number of brown trout, fish will be stocked in smaller increments, but at multiple times in the fall," Girondo said. "This will be done to maintain the appropriate number of brown trout needed in the hatchery raceways to keep the parasites in check."
Anglers can expect future brown trout supplied by Maramec Spring Hatchery to be slightly larger in size than what has traditionally been stocked. It is believed that stocking multiple times in the fall and into winter should also prevent most of a single stocking of fish from being wiped out by a major flood event. In the past this has happened several years in a row and left the RRTA with a few brown trout.
As an additional benefit, brown trout reared in Maramec Spring Hatchery are better suited to the river conditions in the Meramec RRTA. Similar water chemistry and temperatures between rearing and stocking locations help lessen fish stress caused by adjusting to a new water body. Missouri anglers benefit by seeing more consistent numbers of brown trout in the Meramec River RRTA.
Anglers who fish in Maramec Spring Park and the RRTA should note that brown trout need to be a minimum of 15 inches before they can be harvested. Artificial lures and flies must be used.
Since the initial stocking of browns from the Maramec Spring Hatchery in 2014, stockings of brown trout in the MRRTA have continued. Several stockings in the fall and winter of 2019 kept brown trout numbers at relatively high levels. Fishing for them has been very good, with reports of large numbers of fish being caught, most of which are under the 15-inch length limit required to keep one.
However, several reports have surfaced of a few much larger fish being caught. They may be survivors of earlier stocking efforts.
I live near the MRRTA and have fished it with great success. Traditionally, I enjoy fly fishing for trout. Heaving heavy Wooly Buggers, size 4-to-6, and articulated streamers up to four or five inches can be a lot of work, but the end results make the effort worth it. One day, however, I chose to fish with heavy spinning gear, spooled with 8-lb. test line in order to toss 5-inch stick baits. Most trout anglers don't think in terms of throwing such large baits. Typically, trout fishermen in Missouri are using ultra-light gear spooled with 2-to-4lb. line. That is great for the trout parks, but the swifter water and heavier structure in the river requires sturdier gear to successfully land larger fish.
I went to the river to test stick baits made by Smithwick and crankbaits made by Bandit. I used a wide variety of colors and had success with all of them. The stick bait models I used were deep-diving baits, up to 10 feet. Shallower running baits would have worked better, but I altered my retrieve to keep the baits at shallower depths, and they worked like a charm. I can't wait to go back again.
JANUARY - 2023 49 Feature Story
Bill Cooper
(Left) Brown trout can be caught during cold weather months on a wide variety of streamers and midge patterns while fly fishing. (Photo: Bill Cooper)
(Right) January is a great month to fish for Brown trout in both the Meramec and Current Rivers. Low light conditions are prevalent in January, which Browns prefer. (Photo: Bill Cooper)
CLARITY EQUALS CONFIDENCE
50 CONSERVATION FEDERATION Available in 9 configurations in exposed or capped turrets.
offers unmatched
and
Don't
engage
the best
GET BEHIND THE GLASS AT BUSHNELL.COM/ENGAGE
Engage, the newest line of optics from Bushnell, gives you optimized clarity on the hunt or on the range. Best-in-class glass with Bushnell's EXOTM Barrier
performance in any situation,
toolless locking turrets secure your zero at any distance so you have the advantage no matter the target.
just look;
with
name in optics.
BNL6276_Engage_Clarity_Digital_7.25x4.35.indd 1 8/4/17 4:28 PM
JANUARY - 2023 51
The Law of Honk and Quack
Watching your news feed, you've probably noticed a significant uptick in the number of archeological finds across the planet. Technology and the use of detection imagery like LiDAR has greatly enhanced our ability to discover humanity's secrets and fragments of long hidden societies.
Recent images of a seemingly silent field in North Missouri near and around Swan Lake National Wildlife Refuge revealed curious subterranean anomalies, prompting Dr. Gustav Zickuhr, renowned bull coprologist and retired braumeister to dig a little deeper. Using historic records, old fashion field work, and the stories of a crusty old duck hunter still able to mutter a few complete sentences, Dr. Zickuhr organized an exploratory investigation.
During a late-night expedition in the town of Sumner, an exploratory tunnel was dug under Maxie, one of the two Wonders of Chariton County. At the bottom of a shaft, a mass grave of an estimated 5,000 Canada geese was found along with a rotting wooden duck boat filled with spent shotgun shells, and the barrel of an old 10 gauge. Some of the relics were removed, and in his basement laboratory in Potosi, Wisconsin, Dr. Zickuhr discovered and extracted scrolls of papyrus from the old shotgun barrel.
Carefully unrolled, the scrolls, now known as the Dead Geese Scrolls were in a stage of advanced decay. Efforts to date them has been difficult, but Dr. Zickhur said, "They're really old."
52 CONSERVATION FEDERATION Feature Story
Writing on one scroll clearly revealed a meticulously composed ancient script. Initial attempts in rough translation revealed a decree entitled: The Law of Honk and Quack. Study continues, but the prevailing theory is that the scrolls are the original source of rules used by duck and goose hunters past and present.
And therein lies a conundrum. How did an ancient decree evolve (or devolve) into a diversified set of nearly universal encrypted rules governing duck hunters in North America? A cabal? A secret society? A complot of convenience?
Research to examine the relationship between ancient and contemporary rules was immediately initiated by Dr. Zickuhr as an attempt to determine correlational occurrences using dysfunctional analysis and predetermined randomness. To help back-trace the relationship, a nearby Missouri duck club was chosen for additional study.
Located somewhere within Missouri's Golden Triangle, it's whereabouts known only by a select few, exists BocaChobee Flats (BCF), a not-to-legendary duck club. You'll eat dust for a few miles getting there, then the challenge begins.
"Stay in the ruts and you should be okay, and check your skid plate, boys. The low-water crossing is real, real rough but doable," said the Colonel, a founding member and club manager.
Like many duck clubs, the Flats began as one man's dream. Hitting his head after slipping on a walnut in his yard, the Colonel had a vision - to buy a bean field and turn it into a wetland. In zombie-like fashion, a group of desperate hunters joined the Colonel's death march. The land was altered, the duck boats arrived, and soon after, so did the rules.
When interviewed by researchers, club members spoke mostly about etiquette, although none could spell the word, and reluctantly acknowledged the existence of a few formal rules. Speaking from behind a curtain of cordgrass, a current member who requested his name not be used for this story, confirmed the rumor of a secret ritualistic gathering of club founders during the Leonid meteor shower in 2000. An outcome of the ceremony was the creation and approval of The Rules.
(Top) Carefully unrolled, the scrolls, now known as the Dead Geese Scrolls were in a stage of advanced decay. All photos courtesy of Dan Zekor.
Olaf, the youngest club member downplayed the idea of rules saying, "First, there are no rules unless we need rules, and like another set of well-known rules, they're not really rules but more like guidelines."
Other interviewees explained the rules are enforced by the President, mostly by explicit group shaming. They are expected to be followed by all members, and subject to change only by a majority vote at a special meeting deemed necessary by the President, or whatever meeting occurred during a late-night card game when four or fewer members were present.
Most importantly we learned, rules matter only when they matter, and do not matter when they do not, and its every member's responsibility to know the difference. A leaked, partial version of the BCF rules was obtained from an anonymous source. An alphabetized unredacted portion follows:
The Rules of Boca-Chobee Flats
Club Motto – The first liar doesn't stand a chance.
Alcohol – Alcohol may not be consumed during hunts; however, wine-in-a-box may be consumed during hunts when temperatures are above 70 degrees and there is no possibility of shooting birds, and no beer is available. Wine should be paired with peppered duck and cheese. Officially sanctioned beverages are available at the club store.
Birds on the Water – Shooting birds on the water (i.e., to Arkansas a bird) is not allowed unless you are actually from Arkansas.
JANUARY - 2023 53 Feature Story
Boats – Only boats powered by pole or paddle are allowed. Motors are prohibited. Falling behind in the wind, you're on your own. Falling off your boat, you're on your own, unless drowning. If drowning, you're on your own. Note: You may hold another hunter under water only by using your pole (pole minimum length 12 feet); length of time a member may be held under is discretionary.
Calling Birds – There are no rules or guidelines on calling birds as they are unenforceable. Ridiculing is allowed. Squashing a member's call into the mud is allowed if no witnesses are present.
Canada Geese – If you must. Dogs gotta eat.
Coots, Mergansers, Cormorants – No. Just no.
Decoys – Names should be written on the bottom of personal decoys; however, ownership is established by possession.
Dogs – Of course.
Emergencies – You have no obligation to assist another member in a moment of peril; voting may be used but not required, especially if the desired outcome is clear, or if an epic story is in the making.
Hens – Shooting hens should be avoided unless unavoidable, or if no birds have been shot during the previous four hours of hunting, or the sun is in your eyes. Hens may shoot hens at any time.
Motion-winged decoys – Robo gadgets may not be used. If found, they shall be confiscated and destroyed using steel #2s. The club store will reimburse you for your shells. Pulsators, splashers, squirters and other similar abominations may be used by the wretched and pathetic.
Politics – Politics may not be discussed when two or more people are hunting together, or during breakfast, lunch, or dinner. Politics may be discussed during the morning constitutional.
Preparations – The hunt shall be planned the evening before. Analysis will include weather, migration patterns, social media, hunter preferences, and other available data. The plan shall be re-discussed in the morning darkness without eye contact. The plan will then be abandoned for no particularly good reason.
Profanity – Cursing is allowed, except when children are present. Points are awarded for uniqueness of terms and combinations thereof. Points may be redeemed at the club store.
Pronouns – A member's pronouns should be acknowledged but adjectives are preferred.
Recollections – Remembering when is required. Not remembering when is expected. Deliberately forgetting is not allowed. Stories will be re-told; pretending you never heard the stories before is mandatory. Sky Busting – Forbidden. Go hunt public land.
Wading – If a member gets stuck in the gumbo or a muskrat hole, they shall be given jerky, cold coffee, two peanut butter crackers, and threes shells to be used in whatever order or way important to them.
Penalty Clause – Failure to abide by these or any rules may result in loss of hunting privileges for the remainder of a season or expulsion from the club.
The Right of Parley – Any member who feels they have been treated unjustly may request a meeting with club officers prior to expulsion.
Footnote: There is no club store.
After extensive analysis and interviews with club members, Dr. Zickuhr was disappointed to find no correlation between the Scrolls and the BCF rules. "We may have completely misinterpreted the scrolls," said Dr. Zickuhr. "But we will continue on this trajectory until we are completely discouraged. It may be Boca-Chobee Flats is simply too primitive in its development to ascertain a relationship."
In the meantime, Dr. Zickhur has accepted an invitation to join the club as an out-of-state, dues paying member. "We prefer members who pay their dues but live too far away to actually hunt," explained the Colonel.
"I am excited to become part of this notorious duck club," added Dr. Zickuhr. This way I can immerse into the culture to see what our research is missing, and maybe learn the Colonel's recipe for peppered duck."
54 CONSERVATION FEDERATION Feature Story
Dan Zekor
Cold Weather Walleye Tips and Techniques
Veteran walleye fishermen love to bundle up in warm clothing and go fishing while most are watching television. The trick is knowing where to look.
Cold-water walleye are structure-oriented and often hungry. Look for angled bottom structures that eventually meet a drop-off, especially around rocky shelves or boulders. Then drift across these areas with minnows. Walleye suspend in these areas in search of baitfish.
Constantly keep your motor running to stay on fish in windy conditions. Wind will push you past productive waters, and suspended fish sometimes stage on slanted areas.
A few feet to the right or left can mean no strikes. The key is staying where the walleye want to be. Try 1/4-ounce jig heads in calm water and 3/8th or heavier in wind and waves. Change sizes until the best size is found.
Most winter walleye suspend on the bottom. A soft occasional lift off the bottom can draw many strikes. Sometimes hits come on the drop, making line control extremely important. Other times hits may be soft; no more than a light twitch or the line might suddenly start moving sideways.
JANUARY - 2023 55 Feature Story
VERTICAL FISHING—Start by moving to likely spots around rocks or weed beds and vertical fish. Drop minnows or nightcrawlers straight down and either suspend or make a reel turn every five minutes. The idea is to let walleye study your bait.
Try using bright gold or blood-red hook for added attraction. Try adding a tiny piece of Christmas tree tinsel for more shine. Some even glue glitter to their hook or bait. Remember that walleye can detect strange odors, so use glue with the least odor.
CASTING—Many cast for winter walleye. Try a smaller jig or lure during the coldest weather. We have caught many fine walleye while fishing for winter crappie with 1/80 or 1/100-ounce jigs tipped with euro larva or a commercial brand of crappie additive.
Again, use a slow retrieve while making sure you keep each offering on the bottom. Twitch your rod tip on occasion. Sometimes this added move will draw strikes. The couch and a football game are warmer, but not nearly satisfying as catching a six-pound walleye on four-pound test line.
LIVE BAIT--Minnows, leeches and nightcrawlers are highly effective for walleye. Hook your leaches towards the end so they can wiggle and flop. Nightcrawlers are more effective with a shot of air from a hypodermic needle making them float off the bottom. This is especially good in thick bottom aquatic growth, making it easier for the walleye to locate them. Minnows, especially salted versions, can be hooked through the mouth, extending the hook through their backs.
LURES--Most walleye are scattered around the bottom, but occasionally these large predators will chase a school of minnows or small perch. Crankbaits are productive when walleye are chasing forage.
Try to match what walleye are going after. For example, walleye chasing bluegill might like lures painted dark green, dark blue or black with an orange belly. Fish chasing minnows or shad might like a silver or goldcolored imitation. You might do well with orange- or pumpkin-colored lures where goldfish are present. Try darker colors in darker water and lighter colors in clear water.
56 CONSERVATION FEDERATION Feature Story
Spoons with plenty of flash are excellent for walleye. Al's Goldfish have the most flash and are excellent on slow retrieves or yo-yoing then fluttering down over walleye cover.
TROLLING—Trolling is an excellent winter technique if you go slow enough. I like to use the current for trolling or bumping baits, lures or jigs across the bottom. I turn my boat sideways and cast out two or three lines. Make sure your baits, jigs or lures are weighted well enough to stay on the bottom. Then watch each rod. Walleye often hook themselves because of this slight motion.
Try trolling floating Bombers and Smithwick Super Rogues in Fire Tiger and Chrome Black Back and Chrome Blue Back color patterns or larger Al's Goldfish spoons. Remember to use plenty of weight about a foot from the lure to hold each presentation on the bottom.
Pay close attention while making S-turns when trolling. Bites seem to come on the turn, no matter if it is on the inside or outside when letting your rod sweep back to allow slack line. Lures like the Long "A," Rogue or other floaters will float up and trigger bites during this action.
EQUIPMENT— A depth finder is more than a little helpful but not necessary, depending on where you are fishing. You can easily find submerged rocks or weed bed lines with a depth finder. Without one you have to guess about prime locations or suspended fish unless you are familiar with the lake bottom.
Try medium-light tackle for winter walleye. A flexible rod with four to six-pound test line is enough unless you are fishing in heavy currents. Fluorocarbon seems to get more bites, even more so than changing to a smaller diameter monofilament line. Fluorocarbon lines are known for their virtual invisibility underwater.
Walleye Chowder
3 to 4 pounds of walleye fillets
1 bottle Lawry's Herb/Garlic Marinade w/ Lemon Juice
1 large onion, diced 6 large potatoes, 1/2-inch cubes
1 stick butter
3 to 4 Tbsp. cooking oil
1/4 cup flour
2 16-oz. bottles clam juice
2 gallons whole milk
1-pint heavy cream
Lawry's Garlic Powder to taste Lawry's Seasoned Salt to taste Lawry's Garlic Pepper to taste
Cut the fish fillets into quarter-sized pieces and combine fish and Lawry's Herb & Garlic Marinade with Lemon Juice in a resealable bag. Refrigerate for 2 hours. Sauté onion in oil. Add enough oil to also cook the fish, sprinkling with Lawry's Garlic Powder and Lawry's Seasoned Salt.
Remove the fish and onions and set aside as soon as they are done. Don't overcook the fillets or they will fall apart in the chowder. Boil potatoes in water with a dash of Lawry's Seasoned Salt until tender (about 20 minutes). Set aside. Melt butter in a large soup pot (be careful not to scorch). Add flour to form a roux. Once the mixture has bubbled for a minute, add clam juice. The mixture will thicken. Add two cups of milk.
Kenneth L. Kieser
(Cover left) The author is showing off a beautiful  walleye. (Photo: Kenneth Kieser)
(Cover right) Steve Matt is showing how successful you can be while fishing in cold water. (Photo: Courtesy of Steve Matt)
(Left) This walleye fell for some spinning flash. (Photo: Lawrence Taylor)
When the mixture comes to a boil, add cream and reduce heat. Add the remainder of the milk until desired consistency is reached. Be careful not to overheat, as the milk will curdle. Add Lawry's Seasoned Salt and Lawry's Garlic Pepper to taste. Let simmer for 15 minutes, then add drained potatoes. Just before serving, add the fish and onion mixture.
JANUARY - 2023 57 Feature Story
Road trip. We didn't choose the perfect playlist. Or program the GPS. But we did fuel the car that made you realize there are no wrong turns, only new adventures. When the energy you invest in life meets the energy we fuel it with, amazing journeys happen.
58 CONSERVATION FEDERATION
JANUARY - 2023 59 • Superior mast production • Greater survivability • Faster growth Bucks' Unlimited Oaktm is a trademark owned by the University of Missouri ("MU") for a tree developed at MU with the support of Forrest Keeling Nursery. Forrest Keeling Nursery is the exclusive licensee for this product. Wildlife are wild about... 800 - FKN -2401 • (573) 898-5571 • forrestkeeling.com
Saying Grace
60 CONSERVATION FEDERATION Feature Story
When I was growing up on the farm, saying grace was something we did before a meal. Our food back then came from my grandmother's garden or from wild plants around the farm. She gathered eggs from the chickens she raised. On special occasions, she would kill one and fry it up. Grandpa raised hogs and butchered them himself. He cured the meat in a smokehouse and milked the cows by hand. Almost everything from every meal came from that old farm. It was important to thank God for what He had provided us.
Today when our family gathers for Thanksgiving and Christmas meals, one of us says grace as we all hold hands and bow our heads. We don't always do that at other meals when we are all together.
Saying grace before meals, among other things, is a way to remember God, not our credit card, provided the meal. Even if you are not a believer, saying grace recognizes the people whose hard work brought food to your holiday table, daily meals at home or eating out: farmers, grocery store clerks, friends, relatives or restaurant chefs. If you are a non-believer, I would be happy to tell you about a true story that can change your life.
Several times I have been asked to say grace at luncheon meetings, banquets, or church. As a believer, it is an honor to do that. I always hope that what I say will touch the hearts of those listening and get their eyes on God instead of the depressing evening news or what they are seeing or reading on their smartphones.
I will admit that I don't say grace before every meal. At home, it's just my wife and me. We usually don't. When I go through McDonald's for a biscuit sandwich to eat on my way fishing, I don't. When I stop by Arby's for a roast beef sandwich after a morning hunt, I don't. I should be thanking God before every meal, but I don't even though I should. I don't know anyone that does.
I found that it is much easier for me to say grace over the game I have harvested or fish I have caught and prepared for a meal. Maybe that's because I have a close connection to them like grandma and grandpa had on that old farm. It is hard to have that feeling with pizza out of a box, broasted chicken in a plastic container, a hamburger and fries in a sack, or store-bought groceries.
When grilling a steak from a deer, I think about that morning in the deer woods. I remember the beautiful sunrise peeking up over the hill. I remember the frosted field, the crows calling, the birds fluttering through the trees, the squirrels running around looking for nuts, and the bobcat walking by.
I remember when that deer first appeared. The deer never even knew I was there in the tree. I remember kneeling beside it, laying my hand on it, and thanking the deer for giving its life to feed my family. I remember looking up and thanking God for my time in his creation. I remember field-dressing it and thinking this deer would feed the crows, turkey vultures, coyotes, raccoons, opossums, and other animals. When I eat any part of that deer, I say grace.
If I am cooking a wild turkey breast in my smoker, my mind travels back to a spring morning and another beautiful sunrise. Birds were singing while crows were talking to each other as always. Everything was green, and wildflowers were blooming everywhere. I heard turkey wings flapping when they flew down from their roost. My hen decoys were poised and ready in front of my hiding place. My jake decoy was near the hens and close enough to make a gobbler want to come in and kick his butt for trying to mess with his ladies.
A gobble came from over the slight rise to my left. I gave a soft purr with the mouth call I hoped would say to him, "Come on in; I am ready for you." He answered me with a booming gobble. My heart rate increased dramatically. I never made another call because he quickly appeared over the rise. He fanned his tail feathers and puffed out his chest. It was his way of saying, "Look how handsome I am."
Then he saw the jake decoy. He immediately went over and attacked it knocking it to the ground. The gobbler stood there over the battered fake jake and strutted out for the ladies again. When he came out of his strutting display, my shotgun boomed. He flopped around for a minute or two. The hens disappeared over the rise. It took one gobble, two struts, and a gobbler was on the ground. It is not always that easy, believe me.
JANUARY - 2023 61 Feature Story
I smooth its bronze feathers in the early morning sun and thank it for feeding my family. The gobblers fan, beard, and spurs hang on my wall with others. The smoked turkey breast is another reminder of a great day in the turkey woods. There was no hesitation in saying grace when I sat down to eat it or the morel mushrooms I found that day.
It is the same with fish I catch. I don't lay my hand on them and thank them for giving their life to feed my family like I do turkey and deer. But when I fry, grill, or smoke the fish I caught, I remember when I caught them. I see the sun or the moon reflecting on the water. I see the eagle sitting in a tree. I see the deer at the water's edge. I hear the water lapping against the boat or rippling down the stream. I hear my lure hit the water.
When I am out on a camping trip, I feel close to God. My meal may not be fish or game, but I try say grace over my camp meal if it's just a hot dog grilled on a stick. As I sit around the campfire, watching the flames flicker and dance, with nature all around me, I look up and say thank you.
When I take the life of a game animal or fish, I don't take that lightly. I remind myself that it is through the gifts He gave me to be a hunter and a fisherman that I could take the game or catch the fish. I will always be thankful to God for the great outdoors He created for me to enjoy my camping, hunting and fishing. I will always try to remember to say grace before a camp meal and before I enjoy eating the wild game or fish that I have prepared at home for a meal. Saying grace is the least I can do for all God has done for me.
62 CONSERVATION FEDERATION Feature Story
Larry Whiteley
(Cover) Honor the game that you hunt. (Photo: Larry Whiteley) (Top) An unforgettable turkey hunt. (Photo: Larry Whiteley)
Dave Murphy Receives Master Conservationist Award
The Missouri Department of Conservation (MDC) and the Missouri Conservation Commission honored Clark-County native and lifelong conservationist Dave Murphy with their Master Conservationist Award.
The MDC Master Conservationist Award honors living or deceased citizen conservationists, former MDC commissioners, and employees of MDC and other conservation related agencies, universities, or organizations who have made substantial and lasting contributions to the fisheries, forestry, or wildlife resources of the state, including conservation law enforcement and conservation education-related activities.
"Dave Murphy has been and remains a tireless promoter and defender of conservation," said MDC Director Sara Parker Pauley. "He has spent his long and notable career going to great lengths to support conservation efforts, build conservation partnerships, and help others learn about nature."
Murphy was born and raised in Clark County in northeast Missouri where he spent much of his youth hunting, fishing, and farming with his family. He graduated from Canton R-V High School and earned both a Bachelor of Science degree in forest, fisheries and wildlife management and a Master of Science degree in wildlife management from the University of Missouri-Columbia.
Murphy then spent four years as a wildlife specialist for MDC and was the assistant science coordinator for Columbia Public Schools for four more years. He also worked as a regional director and field supervisor for the National Wild Turkey Federation where he greatly expanded the number of chapters in Missouri.
He also served as a board member for the Missouri Conservation Heritage Foundation and helped start the Missouri Legislative Sportsmen's Caucus, which supports hunting, fishing, and outdoor recreation.
Murphy also served as the executive director for the Conservation Federation of Missouri from 2003 to 2013 where he initiated and expanded numerous conservation programs in the state, including the Conservation Leadership Corps, Share the Harvest, and the Governor's Youth Turkey Hunt. Murphy retired from the Conservation Federation in 2013.
"Dave's conservation legacy can be seen far and wide across Missouri and beyond. He has done so many wonderful things over many decades for so many people and organizations," said CFM Executive Director Tyler Schwartze. "His exemplary leadership while at CFM has put us on a great trajectory to be able to continue the successes we have today. He is an even better human being than he is a conservationist, and that says a lot about who Dave truly is."
In 2014, he accepted a six-year appointment by Missouri Governor Jay Nixon as a conservation commissioner.
"During his tenure as a conservation commissioner, Dave helped lead MDC in restoring numerous native wildlife species, completing major construction projects, expanding private land and community conservation programs, starting new partnerships, advancing educational programs including support for the Boone County Nature School, and initiating a major Department reorganization," said Pauley.
Throughout his career Murphy has been recognized by his peers for his contributions to conservation. He has received the E. Sydney Stephens Award from the Wildlife Society, the Citizens Award from the American Fisheries Society, and the Tree Farmer of the Year award from the Society of American Foresters. In 2009, Outdoor Life magazine named him as one of the "25 Most Influential People on the Future of Hunting and Fishing."
Murphy is not only a voice for conservation, but also an active outdoorsman. He enjoys hunting, fishing, bird watching, and managing his family farm in Clark County for wildlife. His family includes wife Gunilla, daughter Emma (Murphy) Keicher and son-in-law Todd Keicher, daughter Anna (Murphy) Ballan and son-in-law Joe Ballan, two granddaughters, and four grandsons.
JANUARY - 2023 63 Outdoor News
64 CONSERVATION FEDERATION Quaker Windows & Doors Freeburg and Eldon, MO quakerwindows.com THE FABRIC OF MISSOURI BRANSON, MISSOURI 417.334.6380 LilleysLanding.com Boat Rentals Fly & Tackle Shop Fishing Guides The original seed source of our plants is from wild populations found growing in Missouri. Our plants are as "wild" as we can possibly keep them. 3 Flowers, Grasses, Trees, Shrubs, Vines, sedges, pond plants. 3 Plants for full sun, full shade and anywhere in between.. 3 Seed, seed mixes, and custom blends. 3 Expert advice. Missouri Wildflowers Nursery 9814 Pleasant Hill Rd Jefferson City MO 65109 www.mowildflowers.net mowldflrs@socket.net 573-496-3492
JANUARY - 2023 65 100% AMERICAN MADE & OWNED STARLINEBRASS.COM | 1 ( 800 ) 280-6660 PURCHASE FROM YOUR FAVORITE RELOADING SUPPLIER OR ORDER FACTORY DIRECT. missouriwine.org Free Hot Breakfast Free Hot Food & Cold Beverages at 5:30 Kickback Free Wi-Fi Throughout the Hotel 100% Satisfaction Guaranteed DRURYHOTELS.COM 800-DRURYINN CFM MEMBERS RECEIVE RATES DISCOUNTED AT 10 %
66 CONSERVATION FEDERATION Proud to support our outdoor heritage Missouri's Electric Cooperatives ® SMOKEHOUSE.COM 1-800-624-5426 32819 HIGHWAY 87 | CALIFORNIA, MISSOURI SMOKED MEATS — SINCE 1927 — Ad-simple_'22.indd 1 3/7/22 10:43 AM You've got it bagged with legendary Hodgdon powders. Phone 913-362-9455 www.hodgdon.com H170-044538-6_MOWildlifeGuide_Ad.indd 1 6/13/16 4:30 PM OZARK BAIT&TACKLE • LIVE BAIT • TACKLE • PERMITS • ARCHERY • GUNS • AMMO VERSAILLES, MO 573-378-2220 VERSAILLES, MO 573-378-2220 L AURIE, MO 573-374-6065 L AURIE, MO 573-374-6065 GRAVOIS MILLS, MO *Storage Only* GRAVOIS MILLS, MO *Storage Only* w w w. e d g a r s s p o r t s . c o m w w w. e d g a r s s p o r t s . c o m 3 0 ' & 4 0 ' S t o r a g e U n i t s 3 0 ' & 4 0 ' S t o r a g e U n i t s
Planning Your Future?
Leave a legacy for the natural resources and traditions you have valued throughout your life. Make CFM a beneficiary of your will, trust, life insurance policy, or retirement plan. Any amount helps preserve Missouri's resources and natural history for generations to come. What will your legacy be?
Call 573-634-2322 to find out more information.
Include the Conservation Federation of Missouri in your estate plans.
update your contact information or address, please notify us at:
call
Bass Pro Shops® has been dedicated to conservation since its first days in business. Missouri showcases the world-changing power of sportsmen and women as well as any place in the country.
Pro Shops and Cabela's® are proud to stand with hunters and anglers in support of conservation across the Show Me State. Proud Partner of Learn more at basspro.com/conservation MADE FOR MIGRATION AFTER MIGRATION SHOP THE FULL COLLECTION ONLINE basspro.com @ NORTHERN FLIGHT® WATERFOWL HUNTING JACKET AND BIBS BP22890539
To
Conservation Federation 728 W. Main Jefferson City, MO 65101 or
573-634-2322.
Bass