All things food supply chain.
AS A COMPETITIVE ADVANTAGE Sustainability
INSIDE:
ELEVATING YOUR PROVIDER COLLABORATION SUCCESS
Food Shippers: Drivers' Problems Are Their Problems
Workforce of the Future: Diversity, Equity, Inclusion
EDITION 1 • 2023 FOOD SHIPPERS OF AMERICA OPTION 1
www.foodshippersofamerica.org | 1
ALLIANCE SHIPPERSINC.
Founded in1977,Alliance ShippersInc.has grown to become one of the largest privatelyowned global logistics and transportation service corporations.Today,the Alliance Team links several different divisions with the best people, technology and service for our customers.
THE PERFECT SHIPMENT ®
At Alliance Shippers Inc., we dedicate ourselves to continuously improving our services withThe Perfect Shipment.® It's our company-wide commitment to the following four goals:
• arrange for on-time pickup of the shipment
• arrange for delivery of the shipment at the time requested
• assist for delivery of the shipment without exception
• provide an accurate freight bill
With more than 45 years of commitment to excellence, you can rely on us to arrange the right solution for your logistics and supply chain needs.
No matter what you're shipping, where it's going or how it's getting there, our commitment to you is the same as it was when we beganThe Perfect Shipment® program in1992.
SERVICESANDSOLUTIONS
The Perfect Shipment ® Program
ShipmentTracking (24 7)
State-of-the-ArtMarket Systems and Customized EDI
Intermodal: USA,CanadaandMexico
Highway Capacity Solutions
InternationalTransportation Service
Air Freight Services
Customs Brokerage
Freight Forwarder, NVOCC
Importer SecurityFilingServices (10+2)
Port-to-DoorInternational Shipments
Shippers RiskCoverage Services
Customs Clearance
Temperature Control
Refrigerated Trailer and Container Fleet
Dedicated Fleet
®denotes a registered trademark ofAlliance ShippersInc.
2017+2019 EXCELLENCE AWARD WINNER CERTIFIED MEMBER SINCE 2006
www.alliance.com
FOOD CHAIN Digest
EDITION 3 • 2022
Published three times a year for:
Food Shippers of America
1144 East State Street, Suite -288A Geneva, IL 60134 847-302-1496
executivedirector@foodshippers.org
www.foodshippers.org
Published by: MindShare Strategies, Inc. Ponte Vedra Beach, FL 32004 USA 952-442-8850
www.MindShare.bz
Billing Address: MindShare Strategies, Inc. P.O. Box 843 Springfield, TN 37172 USA
Group Editorial Director and Publisher:
Brian Everett, ABC 952-442-8850 x201
brian@mindshare.bz
Editorial Content This Edition:
Faith Boone Brian Everett Denise Rondini
Courtney Bloom Karen Kroll Tom Gresham
Conrad Winter
Advertising Sales:
Cassidy Haley 952-442-8850 ext. 215 cassidy@mindshare.bz
Design/Production Manager:
Todd Pernsteiner 952-841-1111 todd@pernsteiner.com
Accounting/Administration/Circulation: Karen Everett 952-442-8850 x203 karen@mindshare.bz
Food Shippers of America Executive Director
Paul Newbourne President
David Domencic
ARMADA
Vice President
Mike Marquardt
Birchwood Foods Secretary
Darica Schneider
Univar Solutions
Treasurer
Ernie Seibert Food Shippers of America
Board Chair
Steve Stein
Danone North America
Board Members
Clyde Coleman Performance Foods Group
Chris Domey Ocean Spray
Lori Lammers
Dawn Foods
Rob Lyall Simmons Foods
All things food supply chain.
Board Advisors Motor Carrier: TBA
3PL Advisor: Chris Wilkes, Celtic International Railroad: Jonathan Tinker BNSF Railway Technology Advisor: Jim Mueller Food Shippers of America
Media Advisor: Mary Kearney Tucker Freight Lines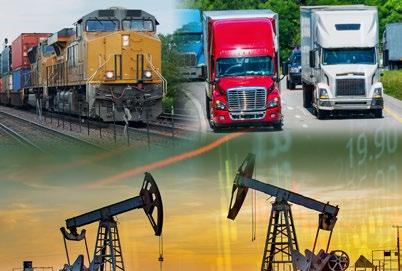 FSA Media Committee Stace Knabel Promise Delivered
35
Edition 3 2022 FOOD SHIPPERS OF AMERICA OPTION
MindShare Strategies, Inc. All rights reserved. Contents may not be reproduced by any means, in whole or in part, without the prior written permission of the publisher. The opinions expressed in this publication are not necessarily those of MindShare Strategies, Inc., nor Food Shippers of America. Printed in USA. IN THIS ISSUE MESSAGES 4 Key Supply Chain Trends Highlighted in This Edition By Brian Everett, Publisher 6 Food Shippers 2023 Annual Conference: Content Reflects Key Challenges, Opportunities FEATURE STORIES 18 Workforce of the Future: Diversity, Equity, Inclusion 26 Elevating Your Provider Collaboration Success 28 Food Chain Snapshot: Unilever 30 Food Chain Snapshot: Musco Family Olive Company 32 The State of the Food Chain Amid the Triple Squeeze MARKET INTELLIGENCE 35 Food Shippers: Drivers' Problems Are Their Problems 41 FMCSA Administrator Robin Hutcheson Talks Trucking Priorities 48 Q4 Freight Patterns Help Predict Trucking Economy 44 Buyer's Guide Food Shippers of America Board COVER STORY 10 Sustainability as a Competitive Advantage 13 Food Companies with Leading Supply Chain Sustainability Efforts 10 18 www.foodshippers.org | 3 32 41
©2023
Brian Everett, Publisher Senior Partner, MindShare Strategies
952-442-8850 x201
brian@mindshare.bz
Key Supply Chain Trends Highlighted in This Edition
Like it or not, disruptions to food chain operations are here to stay - whether they be inflationary pressures in a recessionary environment, climate change weather events, finding and retaining top talent, or issues yet to emerge. They can all impact access to food materials, packaging, and final food products – and how they flow to their end destination.
Amid these disruptions, there will be key supply chain trends to manage and how your organization responds to these will be a critical opportunity. There likely will be turmoil in accessing key materials, manufacturing footprints will change shape, retail and distribution food chains will rapidly morph, technology investments will accelerate, and on the ESG front scope 3 emissions will be scrutinized – notably by investors and regulators in addition to the environmentally conscious consumer.
To set yourself up for success in dealing with these food chain trends, you need to have three overarching things in place for business success:
Capability: Have in place a mature supply chain planning capability to consistently be a step ahead and ready to tackle business risks and opportunities.
Agility: Ensure your food chain is responsive and agile to manage the unexpected, and ultimately be able to deal with threats and disruptions effectively and profitably.
End-to-end forward-looking visibility: Make sure you have "control tower" visibility on key real-time indicators, the ability to maneuver your supply chain beyond your own business borders, and build real-time collaboration within your ecosystem of supply chain partners.
With these trends as a backdrop, our editorial team at Food Chain Digest has compiled a series of powerful articles in this edition that will help you to turn your food chain into a competitive advantage:
• With regulators and other key stakeholders such as customers and the finance community demanding a focus on scope 3 emissions control, our cover story ("Sustainability As A Competitive Advantage") will help you to make informed decisions to reduce these emissions beyond just "greenwashing." Equally important, you'll learn how to make end-to-end supply chain transformations and leverage emerging technologies to provide the transparency you need. Learn how leading food companies such as Cargill, JBS Foods Group, and Dole are making significant strides in their supply chain sustainability strategies.
• You'll read how food shippers are successfully establishing a path to find and retain a diverse workforce in a competitive environment in our special feature, "Workforce of the Future: Diversity, Equity, Inclusion." You'll gain solid practical advice as Dawn Foods shares how it is successfully deploying a DEI strategy that delivers business results.
• Food manufacturers struggle to access critical food materials and ingredients amidst rapidly rising energy costs and price surges of key inputs – and many global food corporations are re-evaluating their manufacturing footprint. Food retailers and distributors also are going through major supply chain transformations. As the footprint of these food chains change, so do the players with the
right capabilities. Our feature article ("Elevating Your Provider Collaboration Success") provides you with practical tips on how to maximize the power of your provider relationships, and two feature articles cover how Unilever and Musco Family Olive Company are successfully leveraging outsourced expertise for business success.
• If your food chain involves warehousing and distribution strategies, you'll want to read "What's Cooking: Food Warehousing Trends" to better understand how companies are using tools and processes to enhance visibility, automation, and efficiency.
• If your food chain heavily involves over-the-road trucking, you'll want to learn more about the priorities of the Federal Motor Carrier Safety Administration. I recently had the pleasure of connecting with FMCSA Administrator Robin Hutcheson on key priorities of her agency – and you'll gain context around how they can impact the operations of food shippers.
• Lastly, three recent economic developments have created profound changes for food chains across the country – persistently high inflation, scarce and expensive talent, and global supply chain issues. Better understand these developments when you read "The State of the Food Chain Amid the Triple Squeeze."
Read this power-packed edition of Food Chain Digest to learn how to navigate these turbulent times. And for those who are attending the 67th Annual Food Shippers Conference in Palm Desert, Calif., I look forward to seeing you there!
4 | FOOD CHAIN DIGEST • EDITION 1 • 2023 LETTER FROM THE PUBLISHER
Nationwide coverage – and beyond!
Whether the US, Canada, or our Southern border, Kam-Way is uniquely positioned to bring you the best in FTL Freight Brokerage, Freight Forwarding, Dedicated Services and Asset based Solutions.
We support you!
Your assigned team is available 24/7/365 supporting your commitments and providing timely updates no matter the time of day.
Growing our business together!
Kam-Way strives to develop a long-lasting partnership with you through honest, forward-thinking collaboration!
Visit the Kam-Way booth at The Global Produce & Floral Show in Orlando! PROUD RECIPIENT www.kamwaytransportation.com (888)886-5949 Kam-Way wants to be YOUR top food chain provider!
(Left to right) Money Singh, President, Harneet Sihota, HR Director, and Kam Sihota, Founder & CEO
Food Shippers 2023 Annual Conference: Content Reflects Key Challenges, Opportunities
The 67th Annual Conference by Food Shippers of America takes place March 5-7 in Palm Desert, Calif., and the content reflects current opportunities and challenges facing today's food shippers. Mark Purdy, Senior Manager Dry Transportation with General Mills and Craig Paulsen, Vice President with Schneider are 2023 Conference Co-Chairs. Purdy and Paulsen highlight some of these key topics to be covered:
Autonomous Trucking
According to Fortune Business Insights, the autonomous truck market size is projected to reach U.S. $2,013 million by 2027, at a CAGR of 12.6%. Waabi is an autonomous developer that is focused on trucking, using its proprietary software to automate driving on commercial delivery routes. Waabi's Dustin Kohl, Head of Transportation, and Sam
Loesche, Head of Policy & Public Affairs, will give an update on the evolving commercial autonomous trucking landscape, regulatory environment, technologies and commercialization.
Inclusion in the Supply Chain
The introduction of new ideas, the exposure to differing perspectives and the collaboration among diverse identities is a bridge to new opportunities. A culture of inclusion expands beyond just one way of thinking and attracts a workforce ready to disrupt and adapt. Shelley Simpson, President of J.B. Hunt Transport Services, will give her perspectives on the future of inclusion in supply chain and how companies can invest in programs that drive innovation, acceleration, and growth.
Innovation and Technology of the Future
Tracy Rosser, Supply Chain Consultant, will discuss what is around the corner with data visibility, new transparent platforms, connectivity
2023 Conference Keynote Speakers
and integration technology that will drive supply chain networks into the future.
Traditional Versus Digital Brokerage
There is a growing difference between the virtues of the traditional versus digital brokerage business models. Cassandra Gaines, CEO with Carrier Assure, Dan Lewis, CEO with Convoy, and Andrew Silver, CEO with MoLo Solutions, will help food shippers will help food shippers to understand the similarities and differences and to best determine how to balance the effective use of both alternatives to meet their supply chain needs.
Seed to Sea and Everything In-Between
The future food supply chain will continue to adapt to keep America from going hungry as these industry participants cover key issues facing every food shipper from the ground to the shelf: Alyssa Correale, Senior Vice President of Strategic Fleet Partnerships, Uber Freight (facilitator);
Andrew
,
talks about his success in the NFL, being the oldest tackle in NFL history, and oldest offensive lineman to win a Super Bowl and how the principles that guided him can be used everyday.
and
6 | FOOD CHAIN DIGEST • EDITION 1 • 2023 MESSAGE FROM THE CONFERENCE CO-CHAIRS
Mark Purdy, General Mills & Craig Paulsen, Schneider
Daymond John is a businessman, investor, television personality, author and motivational speaker. He is well-known as the Founder, President, CEO of FUBU and star from ABC's Shark Tank reality television show.
Daymond John
Andrew Whitworth
MARCH 5 7, 2023 J.W. MARRIOTT DESERT SPRINGS PALM DESERT, CA
Whitworth
NFL Player
Super Bowl Champion,
Russell Leo, CEO of RLS Logistics; Joe Dagnese, CEO of Peco Pallet; Adam DeGroot, CEO of DeGroot Farms; and Mario Cordero, Executive Director, Port of Long Beach.
Making Sense of an Uncertain
Future On a daily basis food shippers are faced with an onslaught of new potential technologies, emerging disruptive social trends, and constantly shifting economic and political landscapes. These trends are exacerbated by the increasing complexity and connectiveness of products. Managers and supply chain executives need to be able to see through this uncertainty to ensure
success for their organizations. Today we have the tools to help us see through the fog and better prepare. Chris Caplice, Senior Research Scientist with MIT and DAT, will discuss available tools and techniques that can be used to better prepare organizations for a future that is ever changing and unpredictable.
The Food that Feeds America
Follow the unlikely journey of Stephanie Stuckey who stepped away from her career as a lawyer, the House of Representatives and Director of Sustainability and Chief Resilience Officer in Atlanta to buy her family's old company back
Working Together to Feed Our Families Well
MARCH 5-7, 2023 PALM DESERT
and rebrand the roadside oasis, Stuckey's. Board member Darica Schneider will facilitate discussion with this "accidental CEO" and navigate through the New Great American Road Trip to learn how Stephanie has taken this reinvented icon from "rags to riches" amid economic hard times through innovation, collaboration, and incredible acceleration.
Annual Economic Update. Bob Costello, Chief Economist and Senior Vice President of the American Trucking Association returns to present current economic data and its effects throughout the Supply Chain.
www.foodshippersofamerica.org | 7
The Shippers Group is proud of our role in the supply chains that positively impact lives. Not only do we provide consistent service and deliveries, TSG exceeds BRC global standards for food safety and AIB sanitation ratings. All this allows us to provide a stellar experience to our customers and beyond. THESHIPPERSGROUP.com To learn more about what The Shippers Group can do for you, call 214-381-5050 or visit us online. 1015 W Wintergreen Road | Hutchins, Texas 75141 CORE VALUES INTEGRITY INNOVATION EXCELLENCE SAFETY SERVICES WAREHOUSING TRANSPORTATION CONTRACT PACKAGING E-COMMERCE
Reach out to schedule a meeting with any of our sales experts to connect while you are there info@genproinc.com Genpro is attending the Food Shippers of America Conference! LEARN MORE 800.243.6770 Genproinc.com 201 NJ-17 #400 Rutherford, NJ 07070
TECHNOLOGY THAT FUELS OUR SERVICES Optimize your supply chain by leveraging our collaborative technology and logistics expertise: TRUCKLOAD INTERMODAL LESS THAN TRUCKLOAD TEMP CONTROLLED DEDICATED CAPACITY FORWARD DISTRIBUTION MANAGED SERVICES
AS A COMPETITIVE ADVANTAGE Sustainability
COVER STORY 10 | FOOD CHAIN DIGEST • EDITION 1 • 2023
Sustainability for any industry is in constant flux of change –and some would say this is even more in the food industry. Once a food company implements more sustainable operations, more ideas and possibilities come into play.
The State of Supply Chain Sustainability 2022 report from the Council of Supply Chain Management Professionals says there is a 23 percent increase in pressure from investors to improve supply chain sustainability measures. The importance of lessening carbon emissions and focusing on environmental responsibility will continue to rise, and the supply chain industry must jump on board.
History of Sustainability in the Supply Chain
A timeline from Spend Matters on sustainability efforts within the supply chain says the idea of "sustainable development" came in 1987. The Elkington's Framework established a sustainability model initially in 1994 that looked at a company's social, environmental, and economic impact. The world spent the next 20 years working to ensure sustainability efforts were being taken seriously. It was 2016 when The Paris Agreement, a legally binding international treaty for climate change, went into full effect. Soon, countries
started adding National Action Plans to their business policies. Today, the United Nations reports 198 countries have some sort of environmental framework law in place.
The State of Supply Chain Sustainability 2022 report says more evidence emerged in 2020 showing an acceleration in supply chain sustainability efforts as a "risk management measure and a way to strengthen their supply chain resilience." That idea spread even faster in 2021.
The report found that the COVID-19 pandemic did not stop firms from staying true to their sustainability goals. Even during unprecedented times throughout 2021, nearly 80 percent of firms surveyed said they were either keeping their commitment to supply chain sustainability the same or increasing it.
Supply Chain Sustainability in 2023
Harvard Business Review says more and more larger corporations are making a commitment to only partner with suppliers that have social and environmental standards. What they really want to see is their first-tier suppliers hold the same standards with their suppliers as well, and so on as a trickle effect.
Sutainability standards take time to put into regular practice, and it needs true buy-in across the board for standardization to be solidified. Environmental, social, and governance (ESG), is becoming a hot topic amongst supply chain
managers, according to Assent. ESG covers the top three areas that affect the internal makeup and external effects of a business. It gives companies a closer look into their supply chain operations to understand where the material comes from, who handles the materials, and what journey it takes to reach its final destination.
The State of Supply Chain Sustainability 2022 report shows the top areas of concern for firms with supply chain sustainability goals are climate change mitigation, energy savings and renewable energy, and employee welfare and safety. Focus on climate change mitigation increased by 50 percent from 2020-2021. The areas with the biggest change increase from 2019-2021 include human rights protection, water conservation, and end-of-life management and supply chain circularity.
Lack of Visibility and Internal Pressures for Sustainability Initiatives
Supply chain executives are under a lot of pressure to deliver results showing significant sustainability changes to business processes and procedures. The State of Supply Chain Sustainability 2022 report found there has been consistent pressure from stakeholders for executives to pursue supply chain sustainability goals. Corporate sustainability is becoming the new goal, which lends more support to executives looking for ROI-backed initiatives.
There are plenty of firms ready to jump on board with sustainability efforts, but are unsure of where to start. Several organizations do not
IT.
COVER STORY www.foodshippers.org | 11
EVEN DURING UNPRECEDENTED TIMES THROUGHOUT 2021, NEARLY 80 PERCENT OF FIRMS SURVEYED SAID THEY WERE EITHER KEEPING THEIR COMMITMENT TO SUPPLY CHAIN SUSTAINABILITY THE SAME OR INCREASING
have the visibility to see upfront what's really missing or causing environmental issues. Supply chain executives are tasked to come up with sustainability initiatives that will pinpoint where emissions and waste are produced in their supply chains, and where labor inequalities are happening across their network. And, once firms gather this data, it tends to be information overload.
Deloitte Principal of Digital Supply Networks Leader
Vadhi Narasimhamurti says, "Organizations continuously face the challenge of better leveraging the data they have to make informed decisions. While the volume and nature of data available to organizations has exploded in the recent years, the ability to translate that into meaningful, actionable, and real time insights is still lacking, both within the four walls of the enterprise and across the broader end-to-end value chain."
Food Shipper Opportunities for End-to-End Supply Chain Transformation
Just as it takes time to generate the buy-in for new initiatives and innovation, the approach to implement an end-to-end supply chain transformation focused on sustainability will also be a process. Logmore says end-to-end supply chain visibility provides businesses with better ways to communicate internally with their teams, as well as externally with partners and customers. Having collaborative, multi-tier supply chain planning and management solutions offers
more insights in how to improve processes and reduce risks. Research from Gartner shows machine customer demand will continue to rise over the next 10 years, and currently only 15 percent of supply chains are properly positioned to respond to the ongoing requests. Real-time supply chain visibility platforms, such as FourKites® and project44™, provides detailed insights and workflow tools for shippers and carriers to have a streamlined supply chain process.
Gartner says 38 percent of supply chain organizations are improving technologies to support end-toend processes. There needs to be a clearly focused plan for a complete digital transformation. This can include integrating advanced analytics, cross-functional collaborations, data-driven decision making, planning organization redesigns, and accelerating cybersecurity strategies.
According to Gartner's Top 8 Supply Chain Technology Trends report, some of the most important emerging technologies in the supply chain space include:
1. Hyperautomation - Artificial intelligence, machine learning, smart machines, robotic process automation, and more help to complete tasks and activities the once required human interaction.
2. Digital Supply Chain Twin - A comprehensive digital version of the physical supply chain as a foundation for local and end-toend aligned decision making.
3. Immersive Experiences & Applications - Using virtual reality, augmented reality, and mixed realit to help users interact with a virtual world.
4. Edge Ecosystems - Edge computing and edge data processing combined and delivered through human interaction, devices, smart machines, sensors and computing systems.
5. Supply Chain Security - An increase in enforcement on a physical and digital level to protect internal information and customer data.
6. ESG - Corporate responsibility and evaluation measures that look closer at a company's social and environmental impact.
7. Embedded AI & AnalyticsReal-time reporting, interactive data visualization, and advanced analytics delivered straight to enterprise business aplpications.
8. Augmented Data IntelligenceExisting and new technologies that offer advanced data processing, predictions, and suggestions that lead to a more connected supply chain.
Sustainability initiatives will continue to evolve, and more advanced innovations will come into play as goals for 2030 are accomplished. Supply chain sustainability practices and capabilities are growing fast and firms of all sizes understand that sustainability needs to be at the core of every business' operations
12 | FOOD CHAIN DIGEST • EDITION 1 • 2023 COVER STORY
RESEARCH FROM GARTNER SHOWS MACHINE CUSTOMER DEMAND WILL CONTINUE TO RISE OVER THE NEXT 10 YEARS, AND CURRENTLY ONLY 15 PERCENT OF SUPPLY CHAINS ARE PROPERLY POSITIONED TO RESPOND TO THE ONGOING REQUESTS.
FOOD COMPANIES WITH LEADING SUPPLY CHAIN
Sustainability Efforts
CARGILL
Cargill has a focus on advancing supply chain sustainability through traceability, transparency, training, and technology. The Minneapolisheadquartered company is committed to zero carbon shipping to ensure safer, greener, and more responsible operations. It also has a focus on addresses climate change, conserving water and forests, and meeting rising food demands.
Cargill's sustainability goals include:
• 10% reduction in greenhouse gas emissions in its operations by 2025
• 30% per ton of product sold reduction in greenhouse gas emissions in its supply chain by 2030
• Transforming agricultural supply chain to be deforestation free by 2030
• Achieve sustainable water management in its operations
• Promote and respect human rights
• Improve the lives of 10 million farmers by 2030 through sustainable agriculture training and better access to markets
"Working together with others, we are learning, adapting, and applying a wide range of initiatives to make zero carbon shipping a reality, knowing that we will face challenges and setbacks," says Cargill Ocean Transportation President Jan Dieleman. "We can see positive results in parts of our fleet and continue to strive toward long-term, sustainable emissions
reductions. We are working closely with our counterparties and wider stakeholders through various initiatives to deliver continual improvements in carbon intensity, spanning from ship technical efficiency and operating efficiency to fleet and supply chain optimization"
Cargill's partnerships to drive supply chain sustainability have led to support for the cocoa sector, protection for forests in South America, elevation of floating solar projects in India, development of an app for protein consumers in Central America, bio-based asphalt initiatives in Australia, sustainable innovations introduced to farmers and customers across the world, and much more.
JBS FOODS GROUP
JBS is committed to being the first global meet and poultry company to achieve net-zero greenhouse gas emissions by 2040, believing that agriculture is a key component to the global climate solution.
combat the
act
effects of global warming," says Gilberto Tomazoni, JBS Global Chief Executive Officer. "As one of the most diversified global food companies, we have an opportunity to leverage our scale and influence to help lead a sustainable transformation of agricultural markets that empowers producers, suppliers, customers and consumers."
www.foodshippersofamerica.org | 13
COVER STORY
"Climate change is the great challenge of our time and we must
urgently to
negative
6 Cargill Ocean Transportation, Making Zero Carbon Shipping a Reality, 2022 cargill.com How we will achieve our decarbonization goals We are applying existing technologies to deliver immediate reductions in emissions, working to scale up wind and biodiesel in the mid-term, and collaborating to explore the long-term solutions that can get the shipping industry to net zero. Digitalization Improved operational efficiencies and reduced emissions through digital technologies (ZeroNorth) Other New Energy Research and development into hydrogen and ammonia, synthetic e-fuels (methanol, methane, ethanol and biofuels) Biodiesel Grow our supply of sustainable biofuels, and the use of biofuels for our own fleet Wind Propulsion Develop futuristic sails with aim to harness wind energy to reduce emissions on voyages Energy-Saving Devices Installing energy-saving devices on our vessels to reduce CO emission (e.g. hull paints, LED lights, stern appendages) Immediate Mid-term Long-term ©Cargill Cargill Ocean Transportation, Making Zero Carbon Shipping a Reality, 2022
HERE
ARE A FEW COMPANIES MAKING SIGNIFICANT STRIDES IN THE SUPPLY CHAIN SUSTAINABILITY SPACE.
JBS adopted the following strategies to achieve reductions in emissions:
• 30% reduction in global scope 1 and 2 emission intensity by 2030
• Investing more than $1 billion over the next decade in emission reduction projects
• Eliminate illegal Amazon deforestation from its supply chain (as well as the suppliers of its suppliers) by 2025
• Using 100% renewable energy in its facilities
• Investing $100 million in research and development projects to assist, strengthen, and scale regenerative farming practices by 2030
Some of JBS' sustainability initiatives include helping cattle producers implement sustainable grazing practicies in Colorado, driving carbon sequestration and conservation practices in Indiana, and helping to identify greenhouse gas impacts of animal supply and feed sheds in Minnesota. JBS has already achieved a reduction in
greenhouse gas emission intensity by 20 percent, a reduction in energy-use intensity by 12 percent, and a reduction in water-use intensity by 10%.
DOLE
California-based Dole said its corporate responsibility and sustainability farming practices and management strategies date back to 1924. The company continues to reveal new environmental and social practices it uses across all of its operations. Dole focuses on empowering farmers, reducing its environmental impact, and protecting natural resources.
improving people's lives and the contribution Dole can make to promoting good health and wellbeing."
Dole's shared it's sustainability goals in its 2022 Dole pls Sustainability Report. Some include:
• 50% reduction in emissions by 2030
• 10% reduction in water usage on all Dole-owned farms in 2030
• Achieve zero waste across all salad processing plants by 2030
• 50% reduction in food waste for harvesting and processing systems by 2030
• Partner and offer grants to small and mid-szied BIPOC farmers for easier access to Dole's
Thanks to the commission of two new cargo vessels, Dole has reduced Scope 1 and Scope 2 global emissions by 4 percent.
Other successful initiatives include joining the Alliance for Water Stewardship with 20 certified banana operations, investing in two wind turbines in California, installing solar panels in Ireland, and adding new electric utility tractors to its San DIego port terminal fleet, as well as receiving several awards for sustainable achievements
COVER STORY
©JBS 2 Comprised of six promises, each one interconnected and of equal importance, the Dole Promise is how we better our world today and for future generations to come. Today, the Dole Promise is our guiding light for how we can make the sun shine brighter for all. * Data as of July 2022, source: IPSOS ** Percentage of total fruit loss sent to landfill in 2021 *** Turnover growth Our reporting years are following our Fiscal Year April 2021 to March 2022. All progress data throughout this report, unless specified, is against our 2019 baseline The Dole Promise Zero fruit loss sent to landfill by 2025 We're repurposing our fruit waste into new uses through Dole Specialty Ingredients, as well as for composting and biogas. 17% fruit loss ended up in landfill** Contributing to good nutrition for 1 billion people by 2025 We're raising awareness about good nutrition and ensuring our products are affordable and accessible for all. 640 million people consumed our products in the last 12 months* Zero processed sugar in all our products by 2025 We're finding natural alternatives to processed sugar and educating consumers on these healthier choices. 44% of our products contain zero processed sugar Shared value for all stakeholders We're tackling human rights by identifying our salient risks and working with suppliers through our sourcing program. We have increased*** the value of our Food & Beverage Group by 17% over the last 2 years Net‑zero carbon in our operations by 2030 We're working toward 100% renewable energy use in all our processing facilities including biogas and solar energy. 15% reduction in Scope 1 & 2 CO2e emissions Zero fossil fuel based plastic packaging by 2025 We're working to remove fossil fuel‑based packaging by inventing alternatives to plastic and minimizing packaging. 23% fossil fuel‑ based packaging ©Dole
© 2 0 2 3 P e n s k e A l l r i g h t s r e s e r v e d
9 5 Y E A R S
O F S U P P L Y C H A I N
E X P E R T I S E
F o u n d e d i n 1 9 2 7 , H e r m a n n h a s a h i s t o r y o f e x c e l l e n c e , s u p e r i o r s e r v i c e , e c o - f r i e n d l y p r a c t i c e s , a n d i n n o v a t i o n i n w a r e h o u s i n g , l o g i s t i c s , a n d t r a n s p o r t a t i o n . L e a v e y o u r l o g i s t i c s t o u s !
G r e e n S u p p l y C h a i n
O u r s u s t a i n a b l e o p e r a t i o n s i n c l u d e p r i s t i n e , e n e r g y - e f f i c i e n t w a r e h o u s e s & a s s e t s , e l e c t r i c v e h i c l e s ( t r a c t o r s & f o r k l i f t s ) , a n d o p t i m i z a t i o n o f o u r s u p p l y c h a i n p r o c e s s e s .
N a t i o n w i d e C o v e r a g e
H e r m a n n h a s a s s e t s t h r o u g h o u t t h e E a s t e r n
a n d S o u t h w e s t U S , a l l o w i n g u s t o p r o v i d e
2 4 / 7 d e d i c a t e d a n d c o n t r a c t c o v e r a g e f o r y o u r n e e d s .
T e c h n o l o g y
W i t h a m o d e r n W M S , y o u r p r o d u c t s w i l l b e m o n i t o r e d w i t h h i g h v i s i b i l i t y , a c c u r a t e i n v e n t o r y , a n d p r e c i s e l o c a t i o n s . A l s o , o u r t r a c t o r s & t r a i l e r s c o n t a i n s t a t e o f t h e a r t s a f e t y a n d t r a c k i n g e q u i p m e n t .
C u s t o m P a r t n e r s h i p s & S o l u t i o n s
F r o m t h e g e t - g o , w e ' l l b e y o u r c o l l a b o r a t i v e p a r t n e r t o d e v e l o p i n n o v a t i v e , c o s t - e f f e c t i v e s h i p p i n g a n d s t o r a g e s o l u t i o n s .
W h y S h i p
w i t h H e r m a n n ?
W e ' l l w o r k w i t h y o u t o c r e a t e c u s t o m s o l u t i o n s u s i n g o u r m a n y s e r v i c e s a n d y e a r s o f e x p e r i e n c e .
S e c u r e , A I B S u p e r i o r f o o d g r a d e c e r t i f i e d w a r e h o u s e s i n N J , D E , N C , a n d T X .
A s s e t s , p e r s o n n e l , a n d f a c i l i t i e s p o s i t i o n e d n e a r m a j o r h i g h w a y s , r a i l l i n e s , a n d p o r t s .
C o n t a c t u s 8 7 7 - 8 0 9 - 6 0 7 0
s a l e s @ h e r m a n n t d s . c o m
w w w . H e r m a n n T D S . c o m
, M o n m o u t h J u n c t i o n ,
2 1 D i s t r i b u t i o n W a y
N J 0 8 8 5 2
DEI is a key component to Dawn Foods' business strategy. The company's last-mile deliveries involve its private fleet with company drivers – and the company has been intentionally recruiting a diverse workforce to reflect the communities in which it delivers shipments.
Workforce of the Future: Diversity, Equity, Inclusion
18 | FOOD CHAIN DIGEST • EDITION 1 • 2023
Recruiting and retaining talent tops the list of workforce challenges in the food and beverage industry— reflecting an industry sometimes struggling to address rising wages, employee expectations, and competition for workers. There is continuing evidence the food industry is embracing a cornerstone strategy: Emphasizing diversity, equity and inclusion (DEI) not only as the right thing to do but also as a means to compete for the best talent in the marketplace.
Diversity can be seen through the business and social lenses of race, ethnicity, ability, gender, sexual orientation and beyond— and can help to strengthen food companies. Quite simply, DEI is used to describe three values that many organizations today strive to embody to help meet the needs of their customers, employees, and key stakeholders from all walks of life.
Food companies that are diverse and inclusive are better able to respond to challenges, win top talent, and meet the needs of different customer bases. With DEI in mind, companies are considering how to better support employees. Over the past few years, many food organizations have taken strides to build diversity and inclusion into their policies and hiring practices.
Diversity, Equity, and Inclusion Defined
These three values oftentimes are grouped together because they are interconnected – and it is usually in combination that their true business and social impact emerges in the most meaningful ways, according to Ellen Voie, President and CEO of the Women In Trucking Association. But sometimes these terms can be easily misunderstood, so it's important to grasp the individual meanings and implications of each of these terms:
Diversity refers to who is represented in the workforce. Some examples of diversity in workplaces include gender diversity (the composition of men, women, and nonbinary people in a given population), age diversity (demographics from one generation or a mix), ethnic diversity (shared common national or cultural traditions or different backgrounds represented), or physical ability and neurodiversity (people with disabilities, whether apparent or not).
Equity refers to fair treatment for all people, so that the norms, practices, and corporate policies in place ensure identity is not predictive of opportunities or workplace outcomes. Equity
differs from equality in a subtle but important way. While equality assumes that all people should be treated the same, equity takes into consideration a person's unique circumstances, adjusting treatment accordingly so that the end result is equal.
Inclusion refers to how the workforce experiences the workplace and the degree to which organizations embrace all employees and enable them to make meaningful contributions. Food companies that are intent on recruiting a diverse workforce must strive to develop a sufficiently inclusive culture, such that all employees feel their voices will be heard—critical if organizations want to retain their talent and unlock the power of their diverse workforce.
Building a Business Case for Diversity and Inclusion
Dawn Foods, a global leader in bakery manufacturing and ingredients distribution, is one such company that is successfully deploying a DEI strategy to deliver business results. Dawn Foods helps customers to grow their business through meaningful partnerships, insights, innovation, and bakery expertise and employs more than 4,000 people in 100-plus countries across the globe.
www.foodshippers.org | 19
FOOD COMPANIES THAT ARE DIVERSE AND INCLUSIVE ARE BETTER ABLE TO RESPOND TO CHALLENGES, WIN TOP TALENT, AND MEET THE NEEDS OF DIFFERENT CUSTOMER BASES. WITH DEI IN MIND, COMPANIES ARE CONSIDERING HOW TO BETTER SUPPORT EMPLOYEES.
Food manufacturers, retailers, and product suppliers look past the pandemic to the future of the workforce to find a path to successfully finding and retaining talent in a competitive environment. Industry leaders such as Dawn Foods center on diversity and inclusion to compete for critical talent and deliver on their brand promise.
"There's a correlation to our company's performance and success that can be directly attributed to diversity and inclusion," says Felisa Stockwell, Vice President of Global People & Culture. "More diverse companies have better financial performance. But for us, it's even more than just about numbers - we want to be an employer of choice. Since we've implemented our DEI strategy, it's driving change and we're benefiting through increased retention, attraction and recruitment of diverse talent in a competitive market."
She notes, for example, that the company has seen employee engagement scores increase by
10% since focusing more on DEI. "When we look externally at sites like Glass Door or In Her Sight where women rate their personal experiences with employers we're seeing ratings on Dawn Foods significantly jump on factors such as family support and career opportunities," she says. However, some things are harder to measure but not necessarily any less impactful," Stockwell points out: "We've seen a shift in behaviors from leaders and team members across the organization, hearing conversations where DEI
topics come up naturally and are part of the decision-making, seeing team members take ownership and lead DEI initiatives where they say 'hey we should incorporate that into our business.' We are seeing that happen in our business and corporate culture today."
"Race, gender, socio-economic status, sexual orientation – it's your background and experiences each individual brings and we at Dawn Foods want all of it, not just a few demographics," says Stockwell.
DEI Strategy and the Supply Chain
As with most food companies, the supply chain at Dawn Foods is complex – particularly because it involves four major U.S. plants that flow freight and materials into approximately 25 distribution centers (DCs), according to Charles Blevins, Vice President, Sales, Inventory and Operations Planning and Replenishment who is responsible for the demand planning inputs from the company's salesforce as well as supply planning involving production and purchase planning, and material buying for the manufacturing plants.
"In addition, we have a more decentralized organization that regionally runs the DCs and driver experience in the final delivery," says Blevins. "Our last-mile delivery is achieved through more than 200 trucks in our private fleet with company drivers and we're making many multi-stop loads per day to delivery high-quality, high-touch experience to our customers."
He notes that Dawn Foods is integrating the business planning up and down the supply chain to align its supply chain with the customer's ever-changing needs by getting those demand chain signals translated down through the company's operations so it has alignment.
20 | FOOD CHAIN DIGEST • EDITION 1 • 2023
With 4,000 people in 70-plus countries across the globe, Dawn Foods has a sophisticated supply chain that relies heavily on a talented, resourceful, diverse workforce.
Charles Blevins
Felisa Stockwell
"A big part of that involves ensuring we have the right people in our supply chain and ensuring they have what's needed to be successful," says Blevins. "We're evolving a customer experience that's very digital and we have a platform through which customers can do new product discovery all the way through order entry and order management which ultimately impacts supply chain activities such as demand and supply planning, and inventory management. We're going through this digital transformation and using the best state-of-the-art tools. We're augmenting with AI and machine learning to improve that, so if someone is looking for a place that is leading those supply chain functions from a digitalization standpoint, Dawn Foods is a place they want to work."
He notes that Covid has had a negative impact on finding quality available talent: "But we've placed a lot of focus and resources toward attracting and retaining the right talent. We apply different strategies to find and retain talent, such as remote work and being flexible when we can. But in our environment, because we're working on the latest and greatest in terms of technology and because of our values, our culture really helps us to attract the quality people. If you're someone who is passionate about baking and/or supply chain business, this is an environment where you can really excel."
DEI is part of that focus. "We want to be as representative of the communities we serve as possible," Blevins concludes. "We try to be as specific as possible in terms of what
we're looking for when seeking new candidates."
Implementing DEI Successfully
The DEI strategy Dawn Foods launched in 2020 is based upon 3 key pillars, according to Stockwell.
"The first is embedding DEI into our mix – and yes, the bakery pun is intended," she explains. "It's about weaving DEI into the policies and practices we have in our business and making it a part of how we work every single day with one another."
"Second, it's educating ourselves and creating awareness through training and awareness," Stockwell continues. "We provide ongoing education and programs to foster a respectful and inclusive workplace. We spent a great deal of time and resources in the first year and a half as organization learning together at all levels, creating shared language around DEI, learning about our own unconscious biases and how to act within inclusion, and helping our managers to manage with inclusion in mind and to create inclusive teams. Learning and understanding of each other our own experiences and how they can help to shape and improve our organization." Some of this success has been driven by creating employee resource groups (ERGs) and women's leadership development "Lastly, through external outreach and focus we've been working diligently to cultivate strategic partnerships to drive inclusive excellence with universities and other organizations to help us to fill our diverse talent pipeline," says Stockwell.
Lansdale has helped us to grow our local business, with excellent shipping and delivery procedures.
The staff is knowledgable and accessible by email and by phone.
Our inventory of merchandise is maintained at the highest standards.
-- Importer and Distributor of Tomato Products
Located within the northeast MegalopolIs that runs from Washington to Boston
- Rail Served Daily by CSX and PNR
- Diverse Material Handling Equipment
- AIB Certification
- ISO 9001:2018 and ISO 200005
- An Asset Based Corporation
- Five Locations between Allentown & Philadelphia
- WMS and RF Technology
- Licensed to Store and Transport Alcoholic Beverages
Dave Emery 215 855 8460 ext. 205 dave.emery@lansdalewarehouse.com www.lansdalewarehouse.com
www.foodshippersofamerica.org | 21
" "
"IT'S ABOUT WEAVING DEI INTO THE POLICIES AND PRACTICES WE HAVE IN OUR BUSINESS AND MAKING IT A PART OF HOW WE WORK EVERY SINGLE DAY WITH ONE ANOTHER."
- FELISA STOCKWELL, DAWN FOODS
"Part of our DEI ambition is to be known for our empowerment of women through our passion for leadership development, and our dedication to diversity, equity, and inclusion," concludes Stockwell. "The Dawn Women's Leadership Development Program helps create exceptional opportunities for professional growth so team members can achieve their highest potential. We also have a Team Member Network focused on intergenerational communities in our workforce, which covers how multiple generations are working together to share interests, experiences, and how to navigate the industry together differently."
Helpful Tips for a Successful DEI Strategy
Stockwell recommends you follow these three tips to ensure a successful DEI strategy:
1. Make sure you're listening. DEI listening sessions helps to validate the direction we're going and to shuffle priorities. "For example, we heard from every region they wanted to see more women in leadership roles, so recognized this as a gap and have been taking action to have more women in these roles," says Stockwell.
2. Ensure buy-in from the top. Visiblity of C-suite leadership and showing they are advocates for DEI is critical. "They're talking the talk and walking the walk and bringing people along," she says. "We have full buy-in within our organization, from the top down."
3. Get people involved and don't limit the opportunity for engagement. There's no one right way to integrate DEI into an organization –and you don't need to be exclusively in Human Resources or Talent Management roles. "If you're in Supply Chain and Logistics and you're interested, raise your hand and get involved," emphasizes Stockwell. "Step up, get involved, and lead in making that positive change."
22 | FOOD CHAIN DIGEST • EDITION 1 • 2023
www.foodshippersofamerica.org | 23 Driven by Values Safety, Sustainability, Driver Satisfaction, Relationships www.stokestrucking.com | 800-722-1616 Mark Lawver | mark@stokestrucking.com | 435-799-8540 Services  Servicing Utah to the 11 Western States, Texas, and the Upper Midwest  Asset and Logistics services  Safe Veteran Drivers  Among the cleanest, greenest fleets in the nation  Continued yearly growth with existing customers Awards  EPA Smartway Excellence award for Sustainability - 2019  Schreiber Foods Carrier of the year - 2017  Utah Trucking Association Grand Trophy - 2016  Heavy Duty Trucking Top 50 Greenest Fleets - 2013  Numerous safety awards from Great West Casualty over the last 30 years 1033976_Stokes.indd 1 24/02/21 12:13 PM
Pandemi cs.
Vari ants.
Labor shortages.
Hurri canes.
A steroi ds.
We've seen a l ot i n the l ast
80 -pl us years, ex cept for maybe the asteroi ds, but w e'l l
keep on trucki ng.
It's i n our bl ood.
TRUE BLUE SUPPLY CHAIN MANAGEMENT We del i ver greatness. We are # Bl eedi ngBl ue. www.kottke-trucking.com * www.truebl uescm.com 80 0 -248-2623 We are here for you. No matter w hat. Truckl oad. LTL. Fi nal Mi l e. Logi sti cs. Warehousi ng.
YOUR PROVIDER COLLABORATION SUCCESS ELEVATING
Food companies with advanced procurement functions in the areas of manufacturing, warehousing, distribution, and transportation know that there are limits to the value they can generate by focusing heavily on price. Smart shippers are keenly aware that when they and their provider partners are willing to openly collaborate, they often can find significant new sources of value that are of mutual benefit to all parties.
Successful supply chain managers and their providers oftentimes take an integrated approach to supplychain optimization - redesigning their processes together to reduce waste and redundant effort, or jointly purchasing raw materials. Sometimes they even collaborate in forecasting, planning, and capacity management to ultimately improve service levels, lower operating costs, mitigate risks, and strengthen the combined supply chain.
Primary Opportunities for Successful Collaboration
There are five major dimensions that underpin successful collaboration programs in procurement and supply chain, according to the McKinsey/Michigan State University Supplier Collaboration Index (SCI). The SCI is
a survey- and interview-based benchmarking tool that assesses supplier-collaboration programs over these areas:
1. Strategic alignment: Involving the company's overall strategic goals and objectives, classification of activities as strategic, and scope of collaboration initiatives
2. Cross-functional engagement: Breadth of relationship across the organization, quality and outcomes of engagement across functions, and the ability to navigate across respective organizations
3. Organizational governance: Incentive structure for sustainable collaboration, type and frequency for mutual feedback, and agreed-upon metrics to measure performance and track progress
4. Communication and trust: mutual trust, type and timeliness of information, and tools and supporting mechanisms
5. Value creation and sharing: Fair value sharing between supplier and manufacturer, adequate room for healthy financial health, and rewards for positive performance on collaboration initiatives.
26 | FOOD CHAIN DIGEST • EDITION 1 • 2023
Barriers to Meaningful Collaboration
Unfortunately, several factors can prevent successful collaboration from happening. Some supply chain initiatives may need a significant amount of time and effort before they generate value – resulting in food companies that prioritize only simpler, faster initiatives that may have lower ROI. Meaningful collaboration can require a significant shift in corporate culture and a change in mindsets among buyers and suppliers who may be more accustomed to transactional or sometimes even adversarial relationships. Most collaborative efforts require intensive, cross-functional involvement from both sides and a significant shift to the more traditional working methods at many companies. This shift from a "cost-based" mindset to a "valuebased" way of thinking requires a paradigm shift that is often difficult to create.
Many food shippers and their providers have experienced barriers to collaboration success in three areas:
Technology. While rapidly improving, the platforms and technologies used to exchange information between supply chain managers tend to be somewhat unsophisticated. For example, in the 2021 MHI Annual Industry Report, 17% of respondents said they use AI already, and another 45% predicted they'll use it in five years. The survey of more than 1,000 supply chain professionals worldwide also found that 25% plan to make investments in AI products in the next three years.
Operations. Participants have not yet developed standards for the exchange of more complex data, from the carbon footprint of parts to the real-time location of products as they move through logistics networks.
Trust. Trust goes both ways in ensuring the integrity of any supply chain. Suppliers need their customers to trust that they will deliver their goods on time, to an agreed price. Equally, buyers need to treat their suppliers with respect by doing all they can to complete payments in line with agreed terms.
8 Steps TO SUCCESSFUL COLLABORATION
Excelling at supplier collaboration requires a more active and engaged working relationship with suppliers. It also calls for a change in mindset, encouraging both buyers and suppliers to commit to the long-term pursuit of value from their collaborative relationships. Follow these eight steps to place your collaboration efforts on the right track.
1. Start by identifying those suppliers that offer unique joint opportunities to create and retain significant value.
2. Align strategically with these partners to define joint objectives and develop a compelling business case for both parties.
3. Adopt a methodical and structured approach to define the scope, pace and targets for joint projects, including a clear methodology on how to measure value creation.
4. Define simple, clear value-sharing mechanisms, and align incentives of the cross-functional team accordingly.
5. Invest in allocating the appropriate resources and building the required infrastructure to support the program.
6. Create a governance model focused on performance, implementation tracking, and hardwiring supplier collaboration into core operational processes.
7. Foster a culture founded in proactive communication, transparency, consistency, and knowledge sharing, to strengthen long-term partnerships.
8. Invest in building world-class organizational capabilities to ensure sustainability over time.
For any organization seeking to improve the performance of its procurement practices, supplier collaboration can no longer be considered a nice-to-have. As companies reach the limits of conventional purchasing practices, further progress will require a new approach based on close relationships, cross-functional engagement, and the shared pursuit of new value.
www.foodshippers.org | 27
Meaningful collaboration can require a significant shift in corporate culture and a change in mindsets among buyers and suppliers who may be more accustomed to transactional or sometimes even adversarial relationships.
Unilever's Supply Chain and Its Suppliers
Established more than 100 years ago, Unilever is one of the world's largest consumer goods companies that manufacturers, markets and distributes wellknown food brands such as Lipton, Hellmann's, Knorr, and Ben & Jerry's.
Unilever's supply chain total spend is €$35.5 billion with a total of 53,800 suppliers, according to its recent supply chain overview published in late 2022. The company's spend is predominantly in Europe (32%), Asia (28%), and North America (18%), while 36% of its suppliers are in Asia and another 25% are in Europe.
Unilever identifies its Strategic Suppliers as those that represent a significant proportion of its supply chain spend or volume. Critical Suppliers are identified in two categories: Those that represent a risk and those that represent an opportunity. Neither type is mutually exclusive (i.e. a supplier can be both a critical that represents risk as well as opportunity).
He outlines three areas of focus for the procurement function in 2023:
• Basic resilience: "making sure our house is in order with the right foundations"
Willem Uijen
"With every disruption to our supply chains, we've come to learn the importance of resilience – building it, strengthening it, and fortifying our supply chains against any unforeseeable circumstances," says Willem Uijen, Chief Procurement Officer for the major CPG company.
Suppliers by geography
Total number of suppliers
• Strengthening resilience: "through a clever network, product and system design, and working in close collaboration with our partners for competitive growth"
• And lastly, "fortifying our long-term resilience by having sustainability at the heart of everything we do, for the here and now and future generations."
"Coupled with agility - or the ability to react with speed to market changes - is where I think Procurement and Supply Chains overall can make a big difference," Uijen says.
28 | FOOD CHAIN DIGEST • EDITION 1 • 2023 FOOD CHAIN SNAPSHOT
Unilever has 400 brands around the world - many of them are food-related products and ingredients of key brands such as Hellmann's, Knorr, Weis, and Ben & Jerry's.
Data as at end of 2022
"WITH EVERY DISRUPTION TO OUR SUPPLY CHAINS, WE'VE COME TO LEARN THE IMPORTANCE OF RESILIENCE – BUILDING IT, STRENGTHENING IT, AND FORTIFYING OUR SUPPLY CHAINS AGAINST ANY UNFORESEEABLE CIRCUMSTANCES."
- WILLEM UIJEN
DELIVERING MORE THAN JUST A BOX
At Trailer Bridge we understand that it's about more than transporting a box on wheels, it's about delivering the goods our neighbors need in their everyday lives. Whether its fresh produce or a load of soda for a backyard barbecue – every load matters.
That is why we focus on delivering exceptional service to our customers ensuring each load is handled with care. Consider us your partner and lean on us for anything, anytime –because we believe it's not just business, it's personal.
Our Solutions.
• Domestic Trucking
• Intermodal
• Ocean Freight
• Drayage
• Cross-Border Logistics
• International Freight
1.844.TB.SHIPS | Info@TrailerBridge.com |
Join us for a drink at the clubhouse after the FSA Annual Golf Tournament on March 5. Find your TB Chip in the golf swag bag to redeem it for a cold beverage. COME MEET US!
How Musco Family Olive Company Leverages Outsourced Expertise
Musco Family Olive Company (Musco) is the nation's leading provider of table olives. Since 1942, the company has prided themselves on sourcing the highest quality olives from over 450 California farmers. Today, they are America's predominant olive brand and supplies a significant portion to private label, equating to ownership of a majority of the U.S. market.
Accessing Capacity, Expertise, and a Way to Manage Costs
As a leading provider of olives in the United States, having efficient and costeffective solutions for managing logistics operations is a fundamental requirement for Musco to meet demand and maintain the high level of quality to which they are committed. With the current challenges of locating capacity in an increasingly tight market and continuously rising costs, it became more difficult for the company to scale their operations and coordinate shipments since it was all being performed manually.
"As a family-owned and operated business that's been around for over 80 years, we had a lot of manual, out dated processes that just stuck around because it's how we had
Senior Director of Supply Chain. "But with our volume, we knew we needed better efficiency to maintain service to our customers, mitigate the impact of rising transportation costs and reduce the margin of error that comes with the territory of basically managing all of our freight by hand."
Musco did not have a coordinated system for tendering shipments which consumed hundreds of valuable hours on a weekly basis. The lack of coordination occasionally led to double, even triple brokering of loads. Additionally, the company was utilizing several brokers who would in turn, re-broker their freight to an asset-based carrier leaving concerns about chain of custody. Long tenured brokers and carriers retained the Musco business year after year, and the result was inflated transportation costs. The company also had developed a regular broker mix so there was no impartial process that ensured the most cost-effective option was being used.
Musco also lacked an effective track and trace system for visibility into the full life cycle of their shipments. Because they were not auditing their LTL, truckload or intermodal freight, they had no way of knowing if they were being inaccurately billed.
And without visibility into the true cost of their freight and lack of data on load status, it became impossible for Musco to dispute claims such as on-time in-full (OTIF), leaving them vulnerable to over payment in accessorials as well as in customer deduction claims.
Musco Engaged AFS to Provide Solutions
To help eliminate waste of hours and cost across multiple modes, Musco engaged AFS to implement its Managed Transportation services – taking ownership of the entire life cycle of Musco's shipments and converting their manual processes to an automated transportation management system that fully integrated with their enterprise resource planning (ERP). All outbound freight for both sales and stock transfers are electronically sent to AFS, then the most competitive rate is returned from a wider breadth of pre-vetted carriers and automatically loaded into the ERP for billing and tracking. By introducing this automation, AFS was able to improve Musco's workflows and reduce their manual hours spent coordinating and managing shipments, scheduling delivery appointments and filing claims. Additionally, AFS's Managed Transportation supports Musco in quickly adjusting to market disruptions with mode optimization and full transparency to proactively address issues when they arise
30 | FOOD CHAIN DIGEST • EDITION 1 • 2023
FOOD CHAIN SNAPSHOT
Michael Lin
and maintain the company's high service standards.
To help gain control of inaccurate fees and surcharges, Musco also engaged AFS to execute an invoice audit process on all modes. Through a comprehensive review of every bill with machine scale precision and accuracy, the company can recover spend from overcharges ensuring they never pay more than they should, while simultaneously consolidating weekly billing into one invoice. By adding this practice to their standard operations, Musco now has a documented audit trail to assist in resolving any potential discrepancies.
For ongoing support and optimization, Musco engaged AFS to coordinate annual freight bids during which, only asset-based providers are considered for the olive provider's carrier network –thus eliminating a majority of their
double and triple brokerage. AFS also conducts network analyses to identify opportunities for movement or consolidation of warehouses. Quarterly business reviews are performed to track progress and performance and to pinpoint any suboptimal shipments.
Musco Generates Significant Results
By implementing more efficient processes and technology for Musco, their relationship with AFS has:
• Lowered the company's total transportation spend by over 10 percent in the first year.
• Identified further shipment opportunities in quarterly business reviews resulting in an additional $50,000 in annual savings.
• Saved the company over $150,000 in lost sales in one instance on a single shipment.
• Restructured roles and responsibilities within Musco to improve quality of employee contribution.
• Increased carrier mix by 100 percent.
"AFS has been the differentiator that puts us where we need to be with rates and scaling operations to keep up with all the changes happening in the global and domestic supply chain," says Lin. "Not only that, but the quality of the data they provide has revolutionized the efficiency of our warehousing network. Our alliance vendors are considered part of the Musco family and AFS has truly become a part of our logistics team."
In the next step of their logistics evolution, Musco will be handing over control of international shipments to AFS in order to lower transit times, secure the chain of custody and help drive down higher than necessary volumes of safety stock. Scorecards are produced for transportation performance and now will be produced for the company's warehouse network as well to measure service and cost of each location. Additionally, 90% of the company's track and trace for truckload and intermodal freight will now be done using AFS systems. All of these initiatives combined truly make AFS a one-stop-shop for Musco.
10% Savings on total transportation spend in the first year $150,000 Recovered in lost sales on a single shipment 100% increase in carrier mix
"AFS has been the differentiator that puts us where we need to be with rates and scaling operations to keep up with all the changes happening in the global and domestic supply chain." -
Michael Lin, Senior Director of Supply Chain, Musco Family Olive Co.
Musco by the Numbers
www.foodshippersofamerica.org | 31
The State of the Food Chain AMID TRIPLE SQUEEZE
AMID TRIPLE SQUEEZE
32 | FOOD CHAIN DIGEST • EDITION 1 • 2023
The food supply chain recently has endured a powerful "triple squeeze" that has brought an array of profound challenges. Persistently high inflation, scarce and expensive talent, and global supply issues have compounded pressures for the food supply chain industry and made decisionmaking for executives a minefield of challenges.
In a collaborative webinar with the Food Shippers of America (FSA) in October, experts from FTR shared their insights on the state of food shipping and the broader economy while looking ahead to 2023 and what conditions the new year will bring. In general, Jonathan Starks, Chief Intelligence Officer for FTR, is concerned that overall economic risks are "weighted to the downside" in the initial months of 2023.
"That doesn't necessarily mean that we're looking for a significant negative sustained environment going forward, but it does mean that the risks of the market going negative for a period of time are out there and they're fairly substantial and worth keeping a close eye on for the next six to nine months," Starks says.
Starks highlights how various foodrelated markets have fared since the pandemic and how they look entering the new year, including beverages ("really strong growth coming out of the early pandemic that really has petered out recently but it's still at a high level"), grain mill products (little impact from the pandemic), meat and poultry (hindered early in the pandemic but bounced back to normal) and dairy products (upward movement early in the pandemic and still strong).
"From an overall food products perspective, things in general are still running at a pretty high level," says Starks. "That means demand is still there."
Avery Vise, Vice President of Trucking at FTR, says the wellpublicized supply chain disruptions that led to steep inventory shortages in 2021 have faded from view in the food sector and 2022 saw a return to "an essentially normal range of inventories."
In addition, Vise suggests the unusually high spot trucking rates and volumes that saw a sharp surge in 2021 have normalized, and "we've come back down to the five-year average." That does not mean the freight market is weak, he emphasizes. In fact, he says that tonnage by trucks is strong and "on the truck side, we're seeing really strong volume growth for food products."
• pallet fit™ door fits any pallet height
• reduces labor
• works with full, partial, or single layer pallets
• no more need for plug pallets, zone can run with one or multiple empty pallet positions
• increased airflow
• more flexible
• more efficient
• more $aving$
www.foodshippersofamerica.org | 33
20,000+ QFR pallet positions installed and the qfr zone® is still the most efficient blast freezing solution ever!
Coldwater Road Fort Wayne, IN 46825 (260) 490-3000 • www.tippmanngroup.com
9009
Jonathan Starks
Avery Vise
However, rail is "a different story," Starks observes. "The numbers have been more volatile, and overall, they're weaker on the rail side."
Todd Tranausky, Vice President of Rail and Intermodal at FTR, says rail has struggled with service levels in recent years, and FTR expects those problems to remain at least through the first quarter of 2023.
According to Tranausky, food shippers often ask why service levels in rail have faced an extended period of struggle: "It comes down to people – and having enough of them to keep up with volumes." Labor tightness is not unique to rail, but he notes that they've certainly had their own unique challenges in terms of hiring people and had a wave of layoffs and furloughs even before the pandemic brought additional labor strain.
A key source of relief for the food supply chain in 2023 could come from diesel prices. According to Dean Croke, Principal Analyst for DAT Freight and Analytics, the U.S. Energy Information Association has a forecast average diesel price of $4.23 per gallon in 2023 versus $5.31 in 2022.
Vise says a development to watch going into 2023 is signs of a shift in where consumers buy food. For instance, he highlights an increase in food purchased at hotels and restaurants (3.8%) and a decline in food purchased at food and beverage stores (2.4%) during 2022's second quarter. He points to two factors in the trend: One was a fulfillment of the expectation that Americans would travel more and eat out more once the pandemic appeared to be largely behind them. The second factor is that inflation for "food at home" prices has been higher by a substantial margin than for "food away from home" prices.
"I think the effect has been to essentially narrow the gap between eating out and eating at home from a cost standpoint and in fact probably making it cheaper to eat in a lower-cost outlet – in other words, fast food," says Vise. "So the fast food outlets probably are getting more business because it is as cheap or cheaper in many cases to eat that food than it is to go to the store, buy food and cook, which is obviously a fairly big change."
FSA and FTR have partnered together to bring FSA members a unique combination of economic and logistics industry information. Visit FoodShippers.org, go to "News & Trends" and click "Industry Forecasts."
34 | FOOD CHAIN DIGEST • EDITION 1 • 2023
Todd Tranausky
Food Shippers: Drivers' Problems Are Their Problems
Watch Issues Making Drivers' Jobs Harder
Fuel prices were the top concern of the trucking industry in 2022 and an even bigger concern for food shippers running reefers that burn more fuel. Food shippers hauling dry goods are disproportionally impacted as well. "In the food and beverage industry, there's more of a tendency for delays at shippers and consignees than there is in the general freight population. So that fuel issue becomes more pronounced," Leathers says.
Food shippers should also note that speed limiters were the number ten industry issue in 2022.
Leathers says Werner has already adopted speed limiters into its fleet because of the safety benefits for its drivers and the motoring public. However he notes there would be
potential trade-offs if the federal government mandates them industry-wide. Leathers predicts transit times would likely increase, causing potential freshness issues for food shippers.
Speed limiters as well as parking (the number three industry issue) and delays (the number six industry issue) make drivers' jobs harder and contribute to the driver shortage—a
top industry issue for four of the past five years. As challenging as the general driver shortage is, it's even more challenging in the food and beverage sector. "Food and beverage is less trailer friendly, meaning less open to drop trailer equipment. And it requires more driver engagement and waiting. That makes it more difficult to hire drivers," Leathers says.
www.foodshippersofamerica.org | 35 MARKET INTELLIGENCE
Derek Leathers
FOOD CHAIN DIGEST RECENTLY SAT DOWN WITH DAN MURRAY, SENIOR VICE PRESIDENT OF THE AMERICAN TRANSPORTATION RESEARCH INSTITUTE (ATRI) AND DEREK LEATHERS, CHAIRMAN, PRESIDENT AND CEO OF WERNER ENTERPRISES, ONE OF THE TOP FIVE LARGEST TRUCKLOAD CARRIERS, AND NEWLY APPOINTED CHAIRMAN OF ATRI TO GET THEIR PERSPECTIVES ON ATRI'S CRITICAL ISSUES IN THE TRUCKING INDUSTRY – 2022 REPORT.
Address Top Issues to be Considered a Shipper of Choice
Both Murray and Leathers point out that although most of the top ten trucking industry issues appear to be out of food shippers' and receivers' hands, they can improve parking for truckers and reduce delays at their facilities. In doing so, shippers have a hand in improving these issues as well as the macro issues of the driver shortage and driver retention (the number seven industry issue), "In our other research a few years back, driver detention was worst at food and refrigerated goods facilities. Driver detention will very quickly frustrate truck drivers and drive them out of the industry," Murray says.
Leathers adds that creating a welcoming environment that doesn't make drivers wait and that provides parking can help food manufacturers and distributors become a shipper of choice "Regardless of the macroeconomic conditions or the current supply-demand imbalances that may exist at any point in the cycle, you are always going to receive benefits from being a shipper of choice," he explains.
To learn what else shippers can do to earn that status with carriers, Leathers says shippers only need to look at the top ten issues of commercial drivers which are broken out separately in the ATRI report— then ask themselves what they could do on their end.
36 | FOOD CHAIN DIGEST • EDITION 1 • 2023
36 | FOOD CHAIN DIGEST • EDITION 1 • 2023 MARKET INTELLIGENCE PROUD RECIPIENT www.kamwaytransportation.com (888) 886-5949 Kam-Way wants to be YOUR top food chain provider! • Nationwide coverage – and beyond • 24/7/365 support • Forward-thinking collaboration
MURRAY POINTS OUT THAT IT'S IMPORTANT NOT TO IGNORE THE ISSUES THAT DON'T APPEAR TO IMPACT FOOD SHIPPERS OR SEEM OUTSIDE THEIR CONTROL.
Dan Murray
Peripheral Issues Affect Food Shippers
Murray points out that it's important not to ignore the issues that don't appear to impact food shippers or seem outside their control. The driver shortage and driver retention determine the truck capacity food shippers compete for. Rising trailer costs and driver compensation affect trucking rates for all shippers. He says even lawsuit abuse reform (the number ten industry issue) impacts food shippers because damages and rising insurance premiums cost carriers more every year.
The worst part, Murray says, is that these costs are inflationary. "Carriers don't eat the margin, they pass it on," he explains. And he adds that the cost per mile of operating a truck is at an all-time high, per ATRI's Analysis of the Operational Costs of Trucking: 2022 Update.
What should food shippers focus on?
Shippers should improve what's close to home, Leathers counsels. Yes, continue to fight against lawsuit abuse and other issues. But he says food shippers should prioritize things they can control like driver delays, facility amenities, driver treatment and operational efficiencies that help get drivers in and out quickly.
In analyzing the top issues for drivers, Murray observes that focusing on driver issues will resolve bigger issues. As an example, he says that fixing the truck parking problem will help make trucking safer and more attractive to women which could help lessen the driver shortage.
Examples like parking and reducing driver delays highlight the potential for solving major industry issues through collaboration that supports drivers and capacity concurrently.
www.foodshippers.org | 37
THERE IS A PERFECT TRUCK FOR EVERY LOAD. CAPACITY FOR SHIPPERS HELPS YOU FIND IT! edgelogistics.com/capacity | sales@edgelogistics.com | 312.319.4766 Access to Instant Quoting Easy and Secure Document Retrieval 24/7 Bilingual Tracking Support MARKET INTELLIGENCE IN ANALYZING
THE TOP ISSUES FOR DRIVERS, MURRAY OBSERVES THAT FOCUSING ON DRIVER ISSUES WILL RESOLVE BIGGER ISSUES.
Q4 Freight Patterns Help Predict Trucking Economy
The trucking industry is cyclical, which means you can count on history to repeat itself, according to Felipe Capella, CEO of Loadsmart, a cutting-edge technology company with strategic partners to help food shippers and carriers move freight. "This makes understanding where the market has been essential to predicting where the market is going," he continues. Looking at Q4 freight data, Capella's team of data engineering experts have compiled several key predictions and industry observations that food shippers need to know:
Truckload Rates
Loadsmart's volume index declined 2% in December although the index's average over the month was 3.6% higher than in November. There was a clear holiday bump similar to 2021-2022 - demonstrating that the holiday season was not entirely muted.
In addition, Loadsmart's price index increased 6% in December. Prices remained somewhat constant during the first two weeks of the month, but took an upturn in the third week as the holidays approached. The small hike in rates was generalized across regions. Our index's behavior was similar to both DAT and Sonar VOTRI data, both started rebounding in the third week of December. Sonar VOTRI soared 50% in December, the biggest MoM rise in 2022 - this is expected to come back down as carriers return to work.
Full Truckload Market Overview
Loadsmart Market Indices - Full Truckload Spot, dry-van only Carrier Rate vs Volume
Ocean Freight
Marine shipping rates started their downfall months before truckload. Overseas maritime shipping started its downtrend four months before trucking. The ocean freight market likely encouraged shippers to keep pushing for lower rates on land as well. The fact that ocean rates have not yet found a floor makes trucking rates more susceptible to further drops – the lower demand for imports might have highlighted the fact that consumer pullback will continue. In addition, market-wise the looseness of the ocean freight market likely encouraged food shippers to push for lower rates on land as well.
Download the Quarterly Freight Data Report: How the Q4 Trucking Economy Will Shape Q1 2023
Understanding the cyclical nature of the market helps food shippers to make better predictions. This report will give insights to these questions:
• Will we finally reach the floor of the spot market?
• Will contract rates take a more dramatic dip to meet up with spot rates?
• Will freight volumes soften further?
To download this FREE report, use this QR code or enter: https://bit.ly/shipperdata
38 | FOOD CHAIN DIGEST • EDITION 1 • 2023 SPONSORED CONTENT
Signs from Overseas
Best-In-Class Transportation Provider With Over 40 Years Of Experience! Toll Free: 800-247-1368 • Fax: 651-688-9501 www.hudsonltl.com • E-mail: info@hudsonltl.com Delivering fresh ideas in food logistics deas s LTL Refrigerated Logistics Specialist We Tailor Our Services To Meet Your Needs • Regional Coverage • National Coverage • Customized Logistics • Cost Efficient • Just-In-Time Service • Express Courier Service • Warehouse Services • Cross Docking 879642 Hudson indd 1 879642_Hudson.indd 1 02/08/17 10:27 PM
40 | FOOD CHAIN DIGEST • EDITION 1 • 2023 905368_Doug.indd 1 06/03/18 5:16 PM YEARS OF MOVING FOOD. RMXGLOBAL.COM 888-824-7365 40 LEARN HOW WE CAN PUT OUR EXPERIENCE TO WORK FOR YOU!
FMCSA Administrator Robin Hutcheson Talks Trucking Priorities
Last fall, Robin Hutcheson was confirmed as the seventh Administrator of the Federal Motor Carrier Safety Administration (FMCSA). However, she has been leading the agency since last January after Acting Administrator Meera Joshi left to become a deputy mayor of New York City.
It has been an action-packed year for Hutcheson since then. Shortly after she took the wheel at FMCSA, the U.S. Department of Transportation rolled out its National Roadway Safety Strategy, an agency-wide initiative aimed at addressing over-the-road
fatalities. In addition, FMCSA issued a significant number of rulemakings, along with information and exemption requests, as the trucking industry transitioned to a post-pandemic economy.
Food Chain Digest recently spoke with Hutcheson about her priorities at the Women In Trucking Accelerate! Conference in Dallas.
Food Chain Digest: What is your top priority at the FMCSA?
Robin Hutcheson: The National Roadway Safety Strategy is a priority for the department. It's a priority for the Secretary of Transportation and it's a priority for the FMCSA. There were more than 5,000 crashes involving a commercial motor vehicle in 2021 and over 42,000 overall. This
is a crisis. With safety on public roadways as our mission, we've committed to zero fatalities as our goal. This is a "call to action" and we cannot solve this problem by ourselves. We're grateful for all the efforts that happen in so many spaces, from the transportation industry, from advocacy, from the federal government, and from local government.
Food Chain Digest: Are there any other priorities?
Robin Hutcheson: Yes, we're focused on driver retention. When I began as Deputy Administrator, I spent some time around the country observing trucks on the road. When you really starty to pay attention, you see the person who is sitting behind the wheel and responsible for what he or she is
www.foodshippersofamerica.org | 41
GOVERNMENT AFFAIRS
Robin Hutcheson
Food Chain Digest Editorial Director Brian Everett recently joined FMCSA Administrator Hutcheson and professional driver Kellylynn McLaughlin in a truck cab to discuss driver safety and how technology facilitates safe driving and productivity.
hauling. Of the 5,000 commercial motor vehicle crashes mentioned earlier, 800 drivers were killed in those crashes. We're doing a lot of listening to the industry – and a driver who is compelled to stay in the industry becomes the safest driver on the road. We have data that says the longer a driver is in the position the safer they become. It's also important for our supply chain and the industry at-large to keep drivers driving because they want to.
In addition, we're focused on technology. We're taking a futurefocused approach at the FMCSA
to leverage this technology. There are many steps that will create efficiencies, improve safety, and improve supply chains. Simple things like speeding up inspection times by using better technology tools and automatic emergency braking (AEB), which is technology that can be harnessed to help a driver and improve safety.
Food Chain Digest: What's FMCSA's position in the push for electric trucks?
Robin Hutcheson: Electric trucks on roadways is something that's widely discussed in this
administration. It's something that the National Highway Traffic Safety Administration is working on, making sure every state has charging facilities. As to how that applies to trucks, we are engaged in that conversation with our partners and we're looking ahead to our core role in this, understanding the possibilities, and how this would change the way we inspect a vehicle. We're asking ourselves how our work here changes if we saw more adoption of electric trucks on roadways and we're staying on top of the early adoption that we're seeing.
42 | FOOD CHAIN DIGEST • EDITION 1 • 2023 GOVERNMENT AFFAIRS
"WE'RE DOING A LOT OF LISTENING TO THE INDUSTRY – AND A DRIVER WHO IS COMPELLED TO STAY IN THE INDUSTRY BECOMES THE SAFEST DRIVER ON THE ROAD." - ROBIN HUTCHESON, ADMINISTRATOR OF THE FMCSA
Real-Time Intelligence
TO IMPROVE SUPPLY CHAIN PERFORMANCE
Seeking a partner that can provide nationwide multimodal solutions and supply chain efficiencies? Looking for seamless tracing of food shipments that provides transparency of supply chain "blind spots" during equipment or driver changes? Look no further. Guydlogistics is your answer.
• FULL-SERVICE MULTIMODAL CAPABILITIES (INCLUDING TRUCKLOAD AND LTL)
• NATIONAL COVERAGE
• END-TO-END SUPPLY CHAIN VISIBILITY & REPORTING THROUGH TMS, EDI CAPABILITIES
Not Just Another Tracking Device
As a food company, your temperature-controlled shipments require a stable environment without temperature variances. Guydlogistics has developed a state-of-the-art tracking system that accurately monitors your every shipment to avoid any product spoilage. This involves a patented, one-time-use device attached to your shipment that instantaneously sends an alert to proactively troubleshoot any temperature variances and avoid product loss and claims.
www.foodshippersofamerica.org | 43 954-414-0561 guydlogistics.com
"GUYDLOGISTICS IS A GREAT PARTNER THAT SAVES US MONEY AND HELPS US DELIVER ON GREAT CUSTOMER SERVICE. THEIR TRACKING DEVICE LETS ME KNOW BEFORE THERE IS AN ISSUE."
Marc Messel, Traffic and Warehouse Manager Newport Wholesalers
Compact and convenient, only the size of a typical credit card. Logistics Powered by People, Driven by Technology
S M A R
Your shipments are protected across every mile with BM2because when we accept a shipment, we service it. Our qualified team is able to service you efficiently and effectively with 24-hour, in-office support.
44 | FOOD CHAIN DIGEST • EDITION 1 • 2023 Alliance Shippers/Pletka Designs 2 ATS 1 Blakeman Transportation 34 BM2 Freight 44 BWS/Flo Trans/B&C Logistics C4 C.A.T. Global 23 Challenger Trucking 44 Continental Express 42 Doug Andrus Distributing 40 Edge Logistics 37 GenPro Inc. 8-9 Guydlogistics 43 Hermann Total Distribution Service 16-17 Hudson Refrigerated Logistics 39 Kam-Way Transportation 5, 36 Kennesaw Transporation 39 Kottke Trucking 24-25 Lansdale Warehouse 21 Legend Transportation C2 Loadsmart 38 Penske Logistics 15 RMX Global 40 Savage Sweets 40 Sharp Transportation C3 Sonwil Logistics 22 Stokes Trucking 23 The Shippers Group 7 Tippman Group 33 Trailerbridge .........................................................................................29 Transport Refrigerated Xpress 37 Transport Security, Inc.- ENFORCER® 39
ADVERTISERS IN THIS EDITION
cassidy@mindshare.bz BUYER'S GUIDE S H I P P I N G S T A R T T H E B M 2 A D V A N T A G E O U R S E R V I C E C A L L U S : O U R W E B S I T E : ( 8 0 0 ) 3 1 9 - 1 1 1 5 w w w . b m 2 f r e i g h t . c o m L a r g e , o p t i m i z e d c a r r i e r n e t w o r k F S M A - c o m p l i a n t , f o o d g r a d e t r a i l e r s T M S i n t e g r a t e d w i t h M a c r o P o i n t a n d F o u r K i t e s t r a c k i n g
For advertising information, contact Cassidy Haley 952-442-8850 x215
T E R
With over 50 years combined experience, our people make all of the difference. We will be your one source transportation solution provider that consistently goes the extra mile. Let BWS optimize and grow your business – one shipment at a time!
BEVERAGE & FOOD INDUSTRY
• Beer/Wine/Spirits
• Packaging Supplies
• Refrigerated service
• Reverse Logistics
• Temp control transport
HIGH VALUE SHIPPING
• Fully vetted CTPAT compliant carrier base
• Additional contingent cargo insurance availability
• Real Time Tracking
• Pallet tracker capability in trailer
• Light sensor alarm availability
DRAYAGE
• Availability at all port terminals in the continental US
• Availability at all rail ramps in the continental US
• 20', 40', 45', 48', 53' equipment handling
• Hazmat and overweight handling
TRUCKING SERVICES
• Solo and Team Drivers
• Flatbed
• Specialized and Permit Loads Hazmat and Tanker
• Cross Border to/from USA, Canada, and Mexico
TRANSLOADING
• Presence in all major port and rail ramp areas
• In/out handling pallets, slips, loose loads
• Short-term storage
• Re-labeling
SPECIAL SERVICES
• Hot shot/expedited/ time-definite delivery
• Trade show/advance warehouse/ show site pickup/delivery
• Inside delivery
• Store opening/closing
INTERMODAL
• Door to door service
• Cross border
• Drop and hook programs
• Multi-stop pickup and delivery
LOCAL
• Same Day and Next Day Service
• 53' Dry Van
• 26' straight trucks, sprinter vans, lift gates
• Airport pickups and deliveries
AIR FREIGHT
• Domestic
• International
• Next Flight Out (NFO) Next Day Air
• 2nd Day Service Deferred Service
46 | FOOD CHAIN DIGEST • EDITION 1 • 2023 info@bws-logistics.com 732-333-3238 www.bws-logistics.com | |