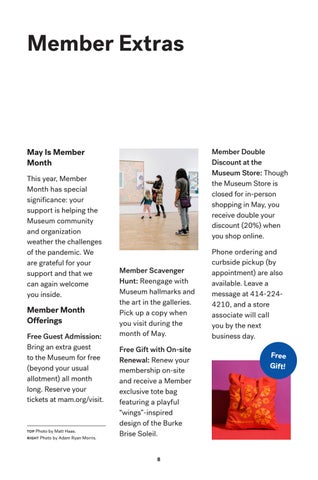 Member Extras
May Is Member Month This year, Member Month has special significance: your support is helping the Museum community and organization weather the challenges of the pandemic. We are grateful for your support and that we can again welcome you inside.
Member Month Offerings Free Guest Admission: Bring an extra guest to the Museum for free (beyond your usual allotment) all month long. Reserve your tickets at mam.org/visit.
top Photo by Matt Haas. right Photo by Adam Ryan Morris.
Member Double Discount at the Museum Store: Though the Museum Store is closed for in-person shopping in May, you receive double your discount (20%) when you shop online.
Member Scavenger Hunt: Reengage with Museum hallmarks and the art in the galleries. Pick up a copy when you visit during the month of May. Free Gift with On-site Renewal: Renew your membership on-site and receive a Member exclusive tote bag featuring a playful "wings"-inspired design of the Burke Brise Soleil. 8
Phone ordering and curbside pickup (by appointment) are also available. Leave a message at 414-2244210, and a store associate will call you by the next business day. Free Gift!
Milwaukee Art Museum: Member Magazine 2021 Summer