COUNCILMAN REV. RICKY BURGESS NOT RUNNING FOR RE-ELECTION
After 15 years, the reverend
by Rob Taylor Jr.
Courier Staff Writer
If anyone knows how to make something known, it's Pittsburgh City Councilman Rev. Ricky Burgess.
Unabashed about calling press conferences, or speaking at the pulpit, the 15-year councilman never shies away from the microphone.
However, as the New Pittsburgh Courier has confirmed that Rev. Burgess will not be running for re-election for City Council District 9 after all these years, the reverend, surprisingly, is quiet as a church mouse as to the reasons why.
Data from the Allegheny County Elections Office shows two candidates on the ballot for District 9, which includes East Liberty, North Point Breeze, Homewood, Larimer, Garfield, Friendship, East Hills and Lincoln-Lemington, and neither candidate spells "Burgess." Instead, the candidates on the ballot for the May 16 Primary
Election are Khari Mosley and Khadijah Harris. The Courier attempted to interview Rev. Burgess for this story, but calls were not returned.
As with most politicians, Rev. Burgess has his share of supporters and detractors. However, facts are facts, and for the past 15 years, and with just as many challengers, Rev. Burgess has held onto his City Council position. You may recall back in 2007, when Rev. Burgess, the pastor of Nazarene Baptist Church in Homewood and a tenured CCAC professor, was the leading candidate for District 9, replacing Twanda Carlisle. He defeated challengers such as William Anderson, Ora Lee Carroll, Judith Ginyard, and Randall Taylor.
"I believe that we deserve a future filled with hope, hope with better jobs in our community, safer streets for our neighborhoods and a brighter future for our children," Rev. Burgess said during
as a church mouse as to why
by Rob Taylor Jr. Courier Staff Writer
Just because you can't hit like Willie Stargell, tackle like "Mean" Joe Greene, or skate like Mario Lemieux, doesn't mean you can't be part of
Pittsburgh's professional sports teams. There are hundreds upon hundreds of people who work for the Pirates, Steelers and Penguins— and collectively, the teams have committed to adopting a "playbook" that will
increase employment for African Americans in their organizations.
Tim Stevens, the driving force behind the Black Political Empowerment Project, created the Corporate Equity and Inclusion Roundtable event
12 years ago after a 2010 report showed that Pittsburgh was 40th in the nation on indicators of racial and economic parity for African Americans, particularly Black children.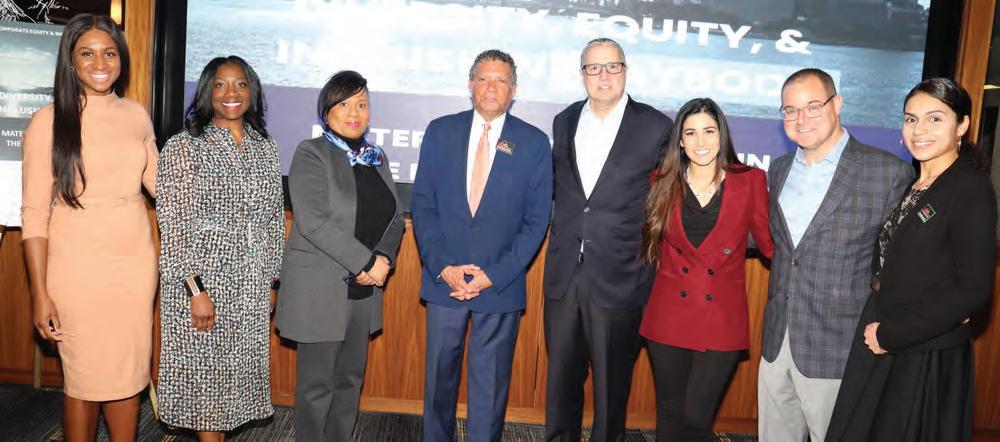 $1.00 Pittsburgh Courier Pittsburgh Courier Vol. 114 No. 11 Two Sections Published Weekly NEW www.newpittsburghcourier.com America's best weekly America's best thenewpittsburghcourier Community mourns passing of Apostle Claudette Dennis See Page A8 To subscribe, call 412-481-8302 ext. 136 Pittsburgh Courier NEW MARCH 15-21, 2023
LONGTIME CITY COUNCILMAN REV. RICKY BURGESS WILL NOT SEEK RE-ELECTION FOR HIS DISTRICT 9 SEAT. SEE BURGESS A6 SEE PLAYBOOK A9 REPRESENTATIVES OF THE PIRATES, PENGUINS AND STEELERS—COMMITTED TO THE CEIR'S "PLAYBOOK." (PHOTO BY J.L. MARTELLO)
Steelers, Pirates,
quiet
Penguins commit to increasing employment for African Americans ADOPTING THE CEIR 'PLAYBOOK'
Bad and Bougie: Black women are taking up space in luxurious living
by Sherri Kolade Michigan Chronicle Staff Writer Attorney Jehan Crump-Gibson, managing partner of Great Lakes Legal Group PLLC, throws the
book at living below the luxurious life.
We are here for Black women living lavishly and in luxury and they are bad and bougie in the best way. From doctors and lawyers to stay-athome women and teachers, everyone is welcome to gather their things and themselves and join the luxe life, which is really all about mindset—plus a cute outfit to boot.
Refinery29.com agrees.
"While luxury may often be associated with expensive, extravagant products and experiences, for some, it runs much deeper than materialism—it's how you perceive it," according to the woman-centric outlet. "For Black women who weren't always welcome in these spaces, luxury is doing what makes you happy and permitting yourself to enjoy them, whether that's spending your hard-earned dollars on designer fashion or simply treating yourself to some 'you' time."
For generations, Black women have championed the cause of luxurious living in the realms of fashion, beauty, lifestyle, living and beyond but not always recognized for it.
While there hasn't always been a direct correlation between affluence and Blackness, it's becoming more apparent that Black women are owning this lane and it's time they're seen for simply existing and being as dope as they are.
While men are doing the thing in the luxe lane, Black women are also claiming a piece of the high life for themselves and doing it with no remorse and doing it all in their red-bottom shoes.
Indulging in luxury is thankfully becoming more common, especially among millennial women, who are definitely leading the life of their dreams. The future has never looked so bright as it does now, inspiring other Black women to join the ranks and spread the luxury lifestyle.
According to the American Association of University Women, Black women are joining the workforce and receiving more college degrees than their (White and Black) male counterparts. Black women are embracing education as a springboard for achievement, with 64 percent having earned bachelor's degrees and 71 percent having earned master's degrees. Brunch, shop-
This Week In Black History A Courier Staple
• MARCH 15
ping sprees and five-star vacations are becoming more and more common as more Black women join the workforce and level the playing field financially.
However, Black women are sometimes criticized for enjoying the finer things in life that don't need struggle, such as staying at home with their children (who choose to and are not compelled to), buying pricey, opulent stuff, and openly luxuriating in their existence. This year, we are leaving suffering behind and entering the lap of luxury. Join along as we talk to some of the Detroit women who are driving the movement and bringing other Black baddies along for the ride with goods and lifestyle advice that benefit women every day.
Social Media Celebrity
Tatianna Merritt, the first lady of Straight Gate International Church, told the Michigan Chronicle, that she is into all things luxury, especially beauty, fashion, makeup, travel, self-care and self-love.
"All that is a newfound, like, love and passion of mine," she said. "It kind of exploded just after the pandemic. I had all four of my kids and it's a journey."
Getting back to feeling "like yourself" after you have children is the path she took and said she felt like she lost herself and realized something had to change.
"I need to pour back into me; I need to love myself like I matter," she said of being intentional and choosing exercise, home organization, nail and hair appointments, family trips and other actions to level up. "It comes in different forms."
She adds that hiring a professional organizer was also the move to keep her accountable and streamlined, especially in her closet. The takeaway? She is reconnecting with herself, her family and making room for what's important in the busy days of life.
"The things that are important to you, you will pour into and create time
to make it happen."
Attorney Jehan Crump-Gibson, the managing partner at Southfield-based Great Lakes Legal Group PLLC, told the Michigan Chronicle that living in luxury is what she does.
Crump-Gibson, also co-founder of Style and Order, a professional women empowerment network, told the Michigan Chronicle that leveling up for her revolves around spiritual, physical and financial, and boosting the women in her group with discussing topics including financial, beauty, style and travel tips.
Crump-Gibson added that living luxuriously does not have to break the bank and getting a stylist can help, too, if women want to get a jumpstart in looking fashionable.
Brittni "Bee" Brown is the award-winning principal publicist and founder at The Bee Agency agrees.
She told the Michigan Chronicle that from luxe home care to fashion, those are her things.
"Jo Malone, Louis Vuitton me please," she said, adding that she began to hold an understanding of everything she deserved can also come in the form of experiences and items. "It was a moment after college that allowed me to be introduced to luxe life —when I was able to spoil myself."
She adds that in every moment of life, humans should experience luxury of their desires accompanied by peace of mind—Black women above all.
"Many [Black women] … want to feel soft and tap into their inner bougie-ness," she said. "You deserve it. Whatever it is, it's okay. We as Black women have been taught to always be humble, or that our image of happiness sometimes looks like only 'strength.' It's now time to take the cape off and step into your soft girl season. Pamper yourself, love yourself and continue to get things done. … Book the flight, the massage or buy the bag."
1897— The 55th Congress convened with one Black member remaining in the legislative body— George White of North Carolina. All the Black political progress made during Reconstruction had been snatched away after the Hayes-Tilden Compromise of 1887. By 1890 states throughout the South had effectively taken away the right of Blacks to vote with schemes ranging from literacy tests to poll taxes to Whites-only primaries. As a result Blacks were forced from elected office. When White's term expired in 1901, there would not be another African American elected to Congress for 27 years and he would come from the North—Oscar DePriest of the Southside of Chicago (1st Congressional District of Illinois.)
• MARCH 16
1 827—The first Black-owned and operated newspaper in America begins publishing. It was Freedom's Journal. It published weekly in New York City from 1827 to 1829. Editors John Russwurm and Samuel Cornish declared as their mission: "We wish to plead our own cause. Too long have others spoken for us."
• MARCH 17
1806 Norbert Rillieux , one of the earliest Black chemical engineers in America or Europe, was born on this day in 1806. The product of a wealthy French plantation owner in New Orleans and his Black mistress, Rillieux was given his freedom and sent to Paris, France, to be educated. He is best known for his invention of the "multiple evaporation process" which revolutionized the sugar and paper industries. It also saved the lives of many who had previously labored in extremely dangerous conditions. Rillieux returned to the U.S., but as conditions for free Blacks deteriorated prior to the Civil War, he went back to Paris and died there in 1894.
1999 Maurice Ashley, a Jamaican immigrant living in Brooklyn, becomes the first Black grandmaster in modern chess history.
• MARCH 18
1933 —The first Black woman elected mayor of a Mississippi town, Unita Blackwell, was born on this day in Lula, Miss. The former field worker with the Student Nonviolent Coordinating Committee became mayor of Mayersville, Miss., in 1977.
1963 Singer-actress Vanessa Williams, was born on this day in Millwood, N.Y. In 1983, Williams became the first African American woman to win the title of Miss America (Miss America 1984). Williams was forced to resign a few weeks prior to the end of her reign on July 22, 1984 due to a scandal surrounding the publication of unauthorized nude photographs in Penthouse magazine. In 2015, 32 years after being crowned and during the Miss America 2016 pageant (where she was serving as head judge), Miss America CEO Sam Haskell apologized to Williams for what was said to her during the events of 1984.
1970 Actress and rapper Queen Latifah was born on this day in 1970.
• MARCH 19
1620 The first Black child born in America, William Tucker, was probably born on this date in Jamestown, Va. However, some controversy surrounds the exact date. What we know for sure is that he was the son of two of the first Africans brought to America as indentured servants in August 1619—Anthony (Antonio) and Isabella. We also know he was baptized on Jan. 3, 1624. Further, there is debate as to whether his last name was actually "Tucker." It seems that many historians simply assumed that the child was given the last name of the man on whose plantation his parents worked. While this would later become the practice on many plantations, there is no documentation that Anthony and Isabella actually gave their son the last name of Tucker.
1919 Singer Nat "King" Cole is born in Montgomery, Ala. In addition to his considerable talents as a singer, Cole—the father of Natalie Cole—was the first Black American
performer with his own syndicated radio program and later a network television variety show. The TV started at 15 minutes, expanded to half-an-hour, but was then dropped due to lack of White advertiser support.
• MARCH 20
1852—The leading Black nationalist of the 1800s Martin R. Delany publishes his manifesto entitled "The Condition, Elevation, Emigration and Destiny of the Colored People of the United States." Delany, who fought in the Civil War to end slavery, became frustrated with American racism and argued that Blacks were "a nation within a nation" who should consider returning to their Africa homeland. Delany, who became a doctor, would later advance an argument for reparations saying, "They [Whites] had been our oppressors and injurers. They obstructed our progress to the high positions of civilization. And now it is their bounden duty to make full amends for the injuries thus inflicted upon an unoffending people." Delaney died in Wilberforce, Ohio, in 1885.
1852 "Uncle Tom's Cabin," a novel by Harriet Beecher Stowe, is published in Boston and becomes a national bestseller. The novel was based in part on a real life Maryland slave named Josiah Henson. Many considered Henson the arch type "Uncle Tom" who was over accommodating to Whites and accepting of his condition as a slave. Revisionist historians have treated Henson more kindly suggesting he was simply being pragmatic and actually helped other slaves.
1883 Jan Matzeliger receives a patent for the "shoe lasting" machine, which would revolutionize the shoe industry, significantly reduce the cost of shoes and make Lynn, Mass., the shoe-making capital of the world. Matzeliger was born in Dutch Guiana (today's Surinam) and arrived in America at 18 or 19 speaking very little English. His invention would eventually enable an entire shoe to be produced in 60 seconds by one machine. The patent was purchased by the United Shoe Company. Unfortunately, Matzeliger died at 37 before he was able to realize any of the enormous profits produced by his invention.
1957 —Filmmaker Spike Lee is born in Brooklyn, N.Y.
•
MARCH 21
1955— Walter White dies . As head of the NAACP, White was perhaps the most prominent and powerful civil rights leader of the first half of the 20th century. The light complexioned, blue-eyed White became somewhat of a legend in 1919 when he "passed for White" in order to investigate the notorious Elaine, Ark., race riot when marauding bands of Whites killed more than 200 Blacks. He barely escaped with his life when news of his true identity leaked out.
1960—The Sharpsville Massacre occurs, in then White-ruled South Africa, when police fired on Blacks protesting the country's "pass laws," which greatly restricted the movement of the majority African population. At least 67 demonstrators were killed and 186 injured or wounded.
1965—The historic Selma to Montgomery March calling for full voting rights for African-Americans begins under federal protection. The original march had actually started on March 7. But the more than 600 demonstrators were attacked with clubs and tear gas by state and local police at the Edmund Pettus Bridge. Organizers, including Dr. Martin Luther King Jr., then went to court to get confirmation of their Constitutional right to demonstrate. The court battle was won and the march resumed under federal protection on March 21. Five months later President Lyndon Johnson signed the historic 1965 Voting Rights Act.
2010—The U.S. House of Representatives passes President Obama's signature legislation Health Care Reform by a 219 to 212 vote. No Republican voted for the measure.
NATIONAL
A2 MARCH 15-21, 2023 NEW PITTSBURGH COURIER THE NEW PITTSBURGH COURIER PUBLISHING COMPANY Publication No.: USPS 381940 315 East Carson Street Pittsburgh, PA 15219 Phone: 412-481-8302 Fax: 412-481-1360 The New Pittsburgh Courier is published weekly Periodicals paid at Pittsburgh, Pa. PRICE $1.00 (Payable in advance) POSTMASTER: Send address changes to: New Pittsburgh Courier 315 East Carson Street Pittsburgh, PA 15219 6 Months—$25 1 Year—$45 2 Years—$85 9-Month School Rate $35
NEW PITTSBURGH COURIER MARCH 15-21, 2023 A3
Jo-Anne Bates shares her love for South Africa in latest art installation
by Genea L. Webb
For New Pittsburgh Courier
Artist Jo-Anne Bates takes people on a visual journey into music, jazz, Juneteenth and police brutality with her exhibit, "Exploration of COLOR 2.0: A Retrospective of Works by Jo-Anne Bates" at Pittsburgh 820 Gallery, at 820 Liberty Ave. It is a series of 20-plus mixed media prints swirled with heavy 3D texture that showcases the pinnacle of Bates' life experiences.
"This was work I'd done over the years—2017 through the end of 2022.
During COVID I was confined so I did create several pieces that made it into the show," said Bates, who was born and raised in Pittsburgh. "This work has been shown once before, in 2017, so that's why it's called a 'Retrospective of Work.'"
Unlike her other works
that usually were not very colorful—save for the color mallory blue—the new works are richer and more vibrant. Bates' inspiration came from a life-altering trip she took to South Africa. The resulting pieces evoke feelings of happiness and hopefulness.
"It was an amazing, amazing experience. It's color everywhere there: the clothing, the buildings, the jewelry, the soil. Color is everywhere. That was a real pleasure for me. It's a powerful place. Especially for African Americans."
Bates spent 17 days in the Rainbow Country in 2000-2001.
"Exploration of COLOR 2.0 A Retrospective of Works by Jo-Anne Bates" debuted at the winter 2023 gallery crawl and will run until April 30. The exhibit is free and open to the public. Bates' works are also available for purchase. The
820 Gallery is one of five art galleries managed and programmed by the Pittsburgh Cultural Trust. The gallery showcases new curatorial and artistic voices in exhibitions throughout the year.
The exhibition came to fruition after members of the Cultural Trust went to Bates' studio and saw all of the pieces she had on display there and asked her if she would like to have an exhibition. She was excited by the opportunity but was unable to create new work due to time constraints.
Members of the Cultural Trust selected pieces of work for the exhibition and put the show together. A reception was held on Feb. 2.
"I'm really pleased at the way the exhibition is hung because you can walk around and see all of the pieces independently. They were extremely nice to me and helpful if I had any
questions," Bates told the New Pittsburgh Courier. "The reception was wonderful. There were a lot of people there and my birthday was a few days before and they even surprised me with a birthday cake."
Bates became interested in art as a child. "When I was young, I was drawing and doing all kinds of crazy things and I decided I should study art and my parents said, 'OK, if that's what you want to do that's fine,' so I went to college to study art."
Bates' first exhibit was held at a bank in Squirrel Hill. "Most of my work is abstract. After I finished working under an instructor doing assignments and I began working independently on my own that's when I started developing abstract prints."
Bates spent 29 years teaching art in the Pittsburgh Public Schools sys- tem. She spent almost nine years at Brashear High School before completing her art teaching career at CAPA.
"CAPA was absolutely a wonderful, wonderful experience," Bates said. "There were very, very talented kids there that didn't realize that they were as talented as they were... most of the kids graduated and went on to college and won some scholarships, some full scholarships, some not full, but they went on to study art. One of my students is now the chairman of the art department in CAPA. Many of the students are doing great things."
Bates attended West Virginia State College (now West Virginia State University), and upon graduating, she worked in PPS, then went to Temple University. She returned to Pittsburgh, working at Pitt with George Nama, who
and put it into the solution and put it on the paper. It takes time, you can't do it in a day. Each color has to be dry before you can put the next layer on if you want everything to be independent. Then I put on black ink which makes the pieces stand out. That was my whole idea to not make them look so flat. All of the work starts with one big sheet of white paper and all of the colors are built up from there. With printmaking you're never sure what you're going to get."
The avid traveler and reader, grandmother and great-grandmother of four has exhibited her work at the Pittsburgh Center for the Arts, Carnegie Museum of Art and numerous regional and national galleries. In 2017, Bates was named the Pittsburgh Center for the Arts Artist of the Year. She serves on various committees including the Carnegie Institute
sparked her interest in printmaking.
"I was enrolled in a master's program at the time. It was a regular class that I had and I done a project and he didn't think it was that great, and I figured if he didn't think it was that great, I wouldn't get a good grade ," she recalled. "So I went home and worked on another piece and took it back and he said, 'this is what you should've been doing all along.'"
Bates also cited Pittsburgh-based wood sculptor and friend Thaddeus Mosley and painter Sam Gilliam as major influences in her artistic development.
In original printmaking—it can be etching or lithograph—one can make multiples of whatever the print is, but Bates' prints are one of a kind.
"When I started doing these colorful pieces, folding and tearing, obviously I couldn't do duplicates, so I started experimenting and working with the various techniques and folding and tearing and adding color here and there. It was just over time that I developed this process and adding the texture to it as I took my shredded paper
Museum, Education Committee, Chairman, Friends of the Arts for the Pittsburgh Public Schools. She is professionally affiliated with the Pittsburgh Print Group, Associated Arts of Pittsburgh National Conference of Artists, Manchester Craftsmen's Guild, Society for Contemporary Crafts and Women of Vision.
She advises aspiring artists to get some art classes under their belts.
"You need to be involved in an art program," Bates said. "If you have a background in art, it helps you to work in printmaking. Drawing, painting, sculpting and drawing background offers you different types of art classes and some of those would involve printmaking. There are so many different kinds of prints that you can make— what I'm doing is different, it can't be taught. But you start with those, and you can make more than one. Just try different things and see what works."
METRO
A4 MARCH 15-21, 2023 NEW PITTSBURGH COURIER
JO-ANNE BATES
'OPTIC VOICES' opens eyes, touches hearts
The installation featured "augmented reality," Alaquiva told the Courier. When a person scanned a photo of a mother on their phone, the phone would display a photo of the mother's son who passed. When a person scanned the poem that Antwon
Rose II wrote, it created a voice that recited the poem. Alaquiva said thanks to the "B.U.I.L.D. Residency" through the August Wilson African American Cultural Center and Richard King Mellon Foundation, OPTIC VOICES will be
hitting the road. Alaquiva hopes the project will land in cities in Florida, along with St. Louis, Los Angeles, and Minneapolis, where the tragedies of Black mothers losing their sons at the hands of police have occurred.
by Rob Taylor Jr.
Courier Staff Writer
On January 27, the heralded project "OPTIC VOICES: Mama's Boys" finished its three-month residency at the August Wilson African American Cultural Center. Its creator, Emmai Alaquiva, told the Courier's Renee Aldrich that his intention with the installation was to "hug the very core of a mother's heart through the cathartic vessel of art."
Throughout the months, people were able to see portraits of the Black mothers who had lost their sons to gun violence, like Michelle Kenney, mother of Antwon Rose II. There were pieces of memorabilia on display, such as the high school diploma of Michael Brown, shot and killed in Ferguson, Missouri. There was the basketball jersey of Eric Garner, who died in a chokehold by New York City police. There was the XBox controller of Philando Castile, shot and killed
in a car outside of Minneapolis.
The closing reception on January 27 featured Gwen Carr, the mother of Garner.
"The closing reception of OPTIC VOICES was something remarkable, a crescendo of how important social justice work is," said Alaquiva. "Really a beautification of what healing looks like when we all come together, in support of each other. Regardless of the tragedy, there's always the process of healing and when we tackle healing through the vessel of the arts, it's something that we can all really internalize."
The August Wilson African American Cultural Center and the Richard King Mellon Foundation played an integral role in the installation coming to fruition. Hundreds attended the closing reception, and even more were able to explore OPTIC VOICES throughout its three-month run on the second floor of the center, Downtown.
METRO NEW PITTSBURGH COURIER MARCH 15-21, 2023 A5
GWEN CARR, MOTHER OF ERIC GARNER AND FORMER PITTSBRUGH POLICE DETECTIVE ALFONSO SLOAN WITH A PAINTING HE DID FOR HER IN HER HAND. (PHOTOS BY J.L. MARTELLO)
BROTHER MELVIN HUBBARD EL, ONE OF THE KIDS IN THE EXHIBIT AND EMMAI ALAQUIVA
KIVA FISHER GREEN, AMONG THOSE CHECKING OUT THE EXHIBIT. IN THE PHOTO ON THE WALL IS MICHELLE KENNEY.
Councilman Rev. Ricky Burgess not running for re-election
a "Meet the Candidates" event in Pittsburgh in 2007 prior to the May Primary. "Many people tell me that's not possible for some communities in District 9, that there's no hope. I tell them they're wrong. Every person in District 9 counts."
Reverend Burgess officially took office in January 2008, and withstood challenges for his seat in 2011, 2015, and 2019. But this year, Rev. Burgess is leaving the seat for someone else.
In the past year or so, Rev. Burgess, politically, is best known for pushing the legislation to prevent Pittsburgh Police officers from pulling over drivers for minor traffic infractions. Reverend Burgess pointed to chilling data that showed just how disproportionate the numbers were when it came to Blacks being pulled over by police in Pittsburgh.
In 2020, there were 4,650 Black motorists pulled over, 137 more than White motorists (4,513). Reverend Burgess said the numbers were staggering, considering Pittsburgh has a Black population that's three times less than its White population.
"African Americans are three times more likely to be stopped by police than other brothers and sisters, and that creates a chilling effect in the African American community," Rev. Burgess said to KDKA-TV in a November 2021 interview.
The ban on those traffic stops has since been
reversed by acting city police chief Thomas Stangrecki, definitely not to the delight of Rev. Burgess and the mayor, Ed Gainey.
Reverend Burgess is also synonymous with the term "affordable housing."
He's voiced in numerous interviews of his ability to secure affordable housing for many Black residents in his district. The HELP Initiative, introduced by the councilman in 2015, sought to combine resources and thus attack the crime and affordable housing problem in Homewood, East Hills, Lincoln-Lemington and Larimer.
In an interview with the online publication The Incline in 2017, Rev. Burgess said that the two biggest issues in District 9 were economic development and public safety, and he stressed the importance of battling both simultaneously, rather than dealing with one issue and forgetting about the other for a time.
The reverend also mentioned how, when he was contemplating on running for City Council, a deacon told him: "Remember when Homewood Avenue used to be thriving? If you can make it like that again, then run."
"I want to do things that are transformational, not transaction or treatment,"
Rev. Burgess told The Incline. "That's my litmus test."
Homewood has since seen the completion of the Susquehanna Homes, 36 new properties along
Tioga, Susquehanna and Dumfermline streets, and Panke Way; and the Kelly-Hamilton townhomes development. There is also a Homewood Comprehensive Community Plan in place to revitalize, among other things, the Homewood Avenue business district.
On the issue of public safety, Rev. Burgess has touted his efforts to have more than 30 city security cameras mounted from Garfield to East Hills,
along with the Shotspotter technology that pinpoints to police exactly where gunfire is happening. In an interview with WPXI-TV, he called those efforts of his as "shortterm" fixes.
"The long-term solution is that this community has to be redeveloped," Rev. Burgess said. "We have to have new homes and new jobs, new businesses and new opportunities, and without a significant amount of re-
development in this community, unfortunately, I believe these incidents will occur. As long as there is hopelessness and concentrated poverty, you're going to see these horrible bad effects."
When Rev. Burgess won the Democratic nomination for City Council's District 9 in May 2019, he told the Courier: "I like to think it was my track record. Reducing gun violence, increasing public safety, starting new
businesses, building new housing and ultimately having better outcomes for the residents. And we made some structural changes in the office to better address everyday needs. We have someone who answers every call and tries to help. I've put a greater emphasis on individual concerns."
But come 2024, after 15 years, there will be another District 9 councilman that the people will be calling.
METRO A6 MARCH 15-21, 2023 NEW PITTSBURGH COURIER
BURGESS FROM A1
REV. RICKY BURGESS
Courier's Merecedes J. Williams celebrates 10 years as 'Movie Scene Queen'
by Ashley G. Woodson
For New Pittsburgh Courier
Preeti's Pitt in the Strip District presented a special edition of "Feel Good Fridays" on Jan. 27 featuring the "Movie Scene Queen," Merecedes J. Williams. Over 200 hundred people showed up to celebrate with Williams, who celebrated her 10th anniversary for being "Movie Scene Queen" and she also celebrated her birthday, too.
Celebrity bartenders included Mayor Ed Gainey, First Lady Michelle Gainey, Emmy Award-winner
Emmai Alaquiva, and WPXI-TV reporter Talia Kirkland. Over $1,900 was raised for the Single Parent Project, which Williams instituted as part of the "Movie Scene Queen: umbrella to help single parents in Pittsburgh.
Portia Foxx was the host of the evening, and DJ Selecta was spinning all the hits.
"I feel full, accomplished and eager to continue to serve this Greater Pittsburgh community," Williams told the New Pittsburgh Courier.
"The past decade has been a roller coaster of learning experiences and
joyful milestones. From my interview with Spike Lee to my first viral film review, I am realizing that I am currently living my dream.
"It is my duty to serve. I stand on the shoulders of so many icons who decided to give back to me, even when I didn't deserve it. Lynne Hayes-Freeland, Dr. Sylvester Pace, Chris Moore, Olga George, Dr. Anthony Kane all saw something in me that I didn't see in myself. I only hope that I use that energy to deposit love, grace and kindness into someone else."
METRO NEW PITTSBURGH COURIER MARCH 15-21, 2023 A7
MAYOR ED GAINEY, FIRST LADY MICHELLE GAINEY, MERECEDES WILLIAMS, AND PREETI TULI
COUSINS BOMANI AND MAISHA HOWZE
MOVIE SCENE QUEEN—MERECEDES J. WILLIAMS (PHOTOS BY ASHLEY G. WOODSON)
Community mourns passing of Apostle Claudette Dennis
by Jacquelyn McDonald
For New Pittsburgh Courier
The City of Pittsburgh and Monroeville church communities continue to resonate over the passing of Apostle Claudette Yvonne Dennis, the beloved widow of Gospel legend Archie Dennis Jr., pastor of The Lord's Church at 2517 Haymaker Road, Monroeville.
Apostle "D," as she was affectionately known, was licensed and ordained as an elder in The Lord's Church by her husband in 1992 and served in multiple capacities in their local and global ministry.
weeks after her passing, the life of Apostle Claudette Dennis was celebrated by an impressive delegation of pastors and community leaders from far and near at the Monroeville Assembly of God Church. The array of Christian leaders shared in a Holy Spirit-filled service that began with a worship prelude conducted by Rev. Nikki Porter and friends.
Join
our growing Praise and Worship Church Community!
For rate information, call 412-4818302, ext. 128. We want to feature positive youth from our Pittsburgh church community. Please mail their bio and photo
Reverend Claudette Dennis' commitment to the emotional stabilization and healing of women in the Kingdom led her to create a Life Givers' Fellowship, Healing for Damaged Emotions Course. The course included two specific series of classes entitled, "The Wholesome Tongue" and "Wisdom in the Raw." Her candid and forthright Biblical teaching style always inspired the women to an elevated scriptural revelation of God's healing power.
On Tuesday, Feb. 7, two
Pastor Brian Ndungu of The Lord's School in Kenya told of Apostle D's contributions and impact on their East African school which was established in honor of her and Pastor Archie. North Versailles Pastor Barbara Gunn referred to Apostle Claudette Dennis as "a presence and a force." Her firstborn, Minister Marita Dennis, stated: "My mother and father brought integrity to the church and everything they did." Her daughter, Pastor Niecy Dennis White, expressed: "Our parents taught us how to distinguish between those who added, multiplied, subtracted or divided from their lives."
The celebratory service
continued with video tribute presentations from celebrity pastors and gospel singers including the Fifth Dimension's Reverend Billy & Marilyn (McCoo) Davis, Reverend Harriet Dennis, Dr. Mike and Pastor DeeDee Freeman, Pastors Norman and Karen Hutchins, Bishop T.D. and Lady Serita Jakes, Dr. Betty Price and family, and gospel singers Tramaine (Hawkins) Richardson and CeCe Winans. All expressed their memories of a no-nonsense, elegant and witty beloved friend who consistently displayed dignity and authentic holiness.
Tramaine (Hawkins)
Richardson stirred the moment with her famous rendition of the song, "What shall I do," and Minister Marita Dennis, along with Pastor Henry M. Davis and Pastor Mark Payne, shared in a dynamic Piano medley.
Apostle John Eckhardt prophesied: "The seeds that were planted (by Apostle D) years ago... you'll see harvest in the days to come, continue this legacy." That prophetic moment was proceeded by son Bobby's passionate narrative of Apostle D's final days.
Renowned Bishop Jac-
queline McCullough, founder and pastor of the International Gathering Of Beth Rapha Christian Church in Pomona, N.Y., preached the message of hope. Pastor Barbara Mann of Pentecostal Temple Church Of God In Christ in Pittsburgh's East End officiated and former KDKA-TV news reporter/host Lynne Hayes-Freeland read the obituary and acknowledgements.
We want to place your event in our Church Circuit weekly calendar!
info to:
Bernice Coleman Whiting transitioned to eternal rest on March 11, 2023 at age 91. She is survived by her son: David Coleman (Mary); sisters: Rosa Coleman and Carleen Matthews; 5 grandchildren; 15 great-grandchildren; 7 great-great grandchildren; a host of nieces, nephews, friends, and other family members. Funeral services will be held on Tuesday, March 21, 2023 at Rodman Street Missionary Baptist Church, 6111 Rodman St., Pittsburgh, PA 15206.
"How art thou fallen from Heaven, O Lucifer, son of the morning! How art thou cut down to the ground, which didst weaken the nations! For thou has said in your heart I will ASCEND into heaven, I will EXALT my throne above the stars of God: I will SIT also upon the mount of the congregation, in the sides of the north: I will ASCEND above the heights of the clouds; I will be LIKE the most High."
- Isaiah 14:12-14
REV. WALKER SAYS: Be aware of the I WILLS, unless God gives us strength we cannot do anything.
RELIGION A8 MARCH 15-21, 2023 NEW PITTSBURGH COURIER
New Pittsburgh Courier 315 E. Carson
Pittsburgh,
religion@newpittsburghcourier.com ST. BENEDICT THE MOOR CATHOLIC CHURCH 91 Crawford Street Pgh., PA 15219 412-281-3141 Sunday Mass 11 AM www.sbtmparishpgh.com East Liberty Presbyterian Church Rev. Patrice Fowler-Searcy and Rev. Heather Schoenewolf Pastors 412-441-3800 Summer Worship.......10:00 a.m. Taize -Wednesdays.........7:00 p.m. Worship in person or Online on Facebook/YouTube www.ELPC.church Rev. Thomas J. Burke- Pastor Rev. C. Matthew HawkinsParochial Vicar Rev. David H. TaylorSenior Parochial Vicar. Praise & Worship
to:
St.
PA 15219 or email us:
The Courier is THE VOICE of Black Pittsburgh.
TELL US ABOUT YOUR NEXT CHURCH EVENT!
Send
New Pittsburgh Courier 315 E. Carson St. Pittsburgh PA 15219 BERNICE COLEMAN WHITING
Visitation: 9:30am to 11am, service: 11am. Interment: Allegheny Cemetery. Funeral arrangements entrusted to West Funeral Home; 2215 Wylie Ave, Pittsburgh, PA 15219; tel: 412-471-2626
APOSTLE CLAUDETTE DENNIS
BISHOP JACQUELINE MCCULLOUGH
BOBBY DENNIS
APOSTLE CLAUDETTE DENNIS
Steelers, Pirates, Penguins commit to increasing employment for African Americans
Part of the annual event is the CEIR "Playbook," a set of 41 measures that, if implemented by local businesses and organizations, will significantly increase the number of African Americans employed at the business, along with ways to retain Black employees and make the organization's environment welcoming to all.
The two million people in the Pittsburgh region can't name every company or organization in the area, but everyone knows at least three—the Steelers, Pirates and Penguins. Stevens knows it's imperative for these famous, influential organizations to lead the way in Pittsburgh when it comes to Diversity, Equity and Inclusion.
"Pittsburgh has some work to do, and we are committed to get dirty doing that work," said Tracey McCants Lew-
is, chief people officer and general counsel of the Penguins. Lewis is an African American woman. "We have the 'playbook' and we at the Pittsburgh Penguins are excited to announce that we are dedicated to using that playbook as our game plan to promote Diversity, Equity, Inclusion and belonging at our organization."
Don't just think about the professional athlete when thinking about the Penguins, Steelers and Pirates.
Everything from communications, PR, marketing, accounting, attorneys, website development/technology, sales, trainers, physicians, building operations, etc., are professions that sports teams employ.
"We're working to provide opportunities for African Americans in the front office in hockey operations," Lewis said during the collective announcement at Acrisure Stadium, Feb. 28. "We also
want to work with vendors, having those contractual obligations with individuals that look like me, that can come to the Pittsburgh Penguins and work and have opportunity."
Delvina Morrow, vice president of community affairs and DEI, also spoke at the news conference. Morrow and Lewis are two African American women who are part of the Penguins' executive operations team.
Steelers president Art Rooney II was unable to make the news conference in person, but provided a video message in full support of the CEIR Playbook.
"In Pittsburgh, CEIR has expanded the National Football League's "Rooney Rule" rule for African Americans to be considered for all positions of employment from entry-level jobs to the 'C-Suite,' as well as being considered for all contractual opportunities throughout
the Pittsburgh region. The CEIR Playbook gives the Pittsburgh Steelers and all entities in the Pittsburgh Region a 'step-by-step game plan for action' to accomplish meaningful Diversity, Equity, and Inclusion throughout their organizations. As president of the Pittsburgh Steelers, I am proud to support this initiative and share it with other owners throughout the league."
Travis Williams, president of the Pirates, called the announcement a "celebration," adding: "The Pirates have been groundbreakers in the DEI space for quite some time," referencing MLB's first all-minority starting lineup for a game, in September 1971, for the Pirates.
"It's really a top-down approach from the Pirates perspective," Williams said.
Williams said in going over the CEIR Playbook, he realized that it "gave us a chance to step back and see where
we (the Pirates) were deficient. We can always get better, it made us realize that we could improve" in some of the organization's DEI efforts.
Nayli Russo-Long, vice president for people and strategy for the Pirates, said the organization has implemented 84 percent of the initiatives outlined in the CEIR Playbook.
"The playbook is really centered around the experience of the African American community," Russo-Long said, "and we have to be cognizant of that. There are things that are different, and we have to have intentionality about what we do, the way we recruit, the way in which we attract people, how we retain them, and how we ensure that our underrepresented groups feel that sense of belonging."
Russo-Long said the Pirates have created an internship specifically for minori-
IT'S A FAMILY AFFAIR
ties, named after the Pirates' first Black player, Curt Roberts, and one of those Black interns was hired by the Pirates. Also, from 2020-2022, Russo-Long said the Pirates improved from 9 to 18 percent in Black employees in its seasonal staff.
"We're not as good there in our front office yet," Russo-Long said. "We did go to about a three-point improvement but we have a lot of work to do."
Russo-Long added: "We are really trying to create opportunities for the African American community and give them an opportunity to be at the table."
"Today stands as a transformational moment in time," Stevens said, "when Pittsburgh's three major professional sports franchises boldly re-certify their unshakeable commitment to supporting full human rights for all."
Some White coaches continue to degrade their Black players
"One child grows up to be, somebody that just loves to learn. And another child grows up to be somebody you'd just love to burn. Mom loves the both of them, you see, it's in the blood. Both kids are good to mom. Blood's thicker than the mud.
It's a family affair, it's a family affair..." - Sly and the Family Stone
Chambers issued a statement that said, in part, "This has been an incredibly difficult year for me and my family, and we are in need of a break to reset and chart our path forward."
How about Pat Chambers not being so worried about the possible difficulty and hardships for his family with possibly a few million pounds in the bank?
ing staffs has culturalized and normalized covert and overt acts of racism directed at young athletes of color. People describing them as slaves has become accept-
able. Our children celebrate daily because they are given the opportunity to sign letters of intent to perform for White institutions that maintain and increase the
generational wealth of their communities while decreasing and diluting the generational and educational values of people of color.
Our children must be re-
cruited not just to perform but to also achieve. It takes a village. We must always remember, blood's thicker than mud, it's a family affair.
Recently, Texas Tech men's basketball coach Mark Adams stepped down after quoting a Bible verse directing that: "Slaves obey and serve their masters." Coach Adams had this to say about his resignation. "My lifelong goal was to help and be a positive influence on my players, and to be a part of the Texas Tech men's basketball team. However, both the university and I believe this incident has become a distraction for the Texas Tech men's basketball team and the university, which I care about so deeply."
If Coach Adams considers his racially-charged remarks merely as a "distraction," then why did he resign? If he was prompted or forced to step down, then why aren't the careers of other White coaches who displayed similar behavior, not on the chopping block? Many more of these "distractions" occur throughout college athletics daily, most of the time with barely a whimper from the NCAA, the schools, or the fan base.
Why are racial epithets usually viewed as "statements of innocence?"
Coach Mark Adams said: "My lifelong goal was to help and be a positive influence on my players."
Huh, lifelong? Has he been a lifelong bigot or was this a "character anomaly," something he picked up along the way? News flash—Texas Tech has agreed to pay former basketball coach Mark Adams $3.9 million as a severance agreement. Almost four million buckaroos for being a redneck!
How ya like them apples?
Leah Asmelash posted this article on www.cnn.com on October 23, 2020, titled: "A remark about a noose around a player's neck led to Penn State basketball coach's resignation." She begins her article by saying, "A year ago, the head coach of the Penn State men's basketball team, (Pat Chambers), made a comment about a noose around a player's neck. Now, after an investigation and new allegations of inappropriate conduct, the head coach has resigned. Chambers had been suspended for the January 6, 2019, game after shoving a freshman player during a timeout several days earlier."
Shouldn't Mr. Chambers have shown a bit more concern about how the noose that he "placed" around the necks of his players could be removed as they searched for a break as they reset and charted their path forward? Pat Chambers was only worried about his family because blood's thicker than mud. It's a family affair.
Hold on tight everyone, just when you thought it couldn't get any uglier, you had better turn on the floodlights and put on your sunglasses. Steve Herman posted an article titled: "Raptors Coach Accuses Knight of Slur" on April 14, 2000. Herman writes: "Toronto Raptors coach Butch Carter depicts former Indiana Hoosiers Men's basketball coach Bob Knight as a 'self-serving coward' who maintains control through threats and once used a racial slur at a Black player. Knight coached Carter more than 20 years ago at Indiana. Butch Carter was a team co-captain at Indiana in 1980. Carter said that 'Knight stormed into the locker room after a practice and berated another player.' He said he would end up like 'all the rest of the ni__ers in Chicago, including your brothers.'" Folks, it goes on and on. There seems to be no end to the systemic privileges offered to these pseudo-educators and fake caretakers of our children. On March 10, 2023, Catherine Ross posted a piece on the News 5 Cleveland website. The name of the piece is: "Notre Dame College to replace women's basketball coaches after accusations of bullying, racist rants."
Ms. Ross reports that:
"New coaches will soon be taking the helm of the women's basketball team at Notre Dame College. The new leadership comes after parents and players accused both the head and assistant coaches of bullying and racist rants. Several parents reported their concerns to News 5. Jennifer Martcheva said her daughter told her about the environment this past fall during her senior preseason."
This repeated behavior by these "closet nationalists" is not isolated. Their "ethnically insensitive" outbursts have now become the norm. Their race-based behavior is and has been the rule and certainly not the exception. Our youth are being treated as if they are being bred and selected just to play sports. The behavior by university and college administrations and coach-
SPORTS/METRO PLAYBOOK FROM A1 NEW PITTSBURGH COURIER MARCH 15-21, 2023 A9
Globetrotting Black nutritionist Flemmie P. Kittrell revolutionized early childhood education and illuminated 'hidden hunger'
by Brandy Thomas Wells Oklahoma State
University
Nutrition is among the most critical issues of our time. Diet-related illnesses are shortening life spans and the lack of conveniently located and affordable nutritious food makes it hard for many Americans to enjoy good health.
Physicians are also alarmed by nutritional trends they see among the
nation's most vulnerable people: children. I think that this situation would frustrate Black nutritionist Flemmie Pansy Kittrell if she were alive today. Throughout a trailblazing career that spanned half a century, she worked to enhance food security and to improve both diets and children's health —under the umbrella of home economics. While you might view home economics as merely a set of practical skills
concerning cooking and budgeting, in the mid-20th century it applied scientific concepts to improve home management, strengthen parenting skills and enhance childhood development.
Kittrell went further, by making the case for healthy and strong families a tool for diplomacy. While researching Black women's global activism for rights and freedom, I became aware of Kittrell's work on behalf of the U.S.
State Department, women's organizations and church groups. I was struck by her pragmatic approach to foreign relations, which emphasized women, children and the home as the keys to good living and national and global peace and security.
I was also stunned by the Black nutritionist's commitment to shattering traditional assumptions about home economics and improving the health of low-income families
around the globe, especially for people of color.
Humble roots
Kittrell, the eighth of nine children born to a sharecropping family, grew up in Henderson, North Carolina. She began working as a nursemaid and cook when she was only 11 years old.
In 1919, Kittrell enrolled at Hampton Institute, a small historically Black Virginia college that later became Hampton University.
A professor encouraged her to major in home economics. She initially rejected the suggestion, claiming the home was "just so ordinary." Kittrell reconsidered once she learned about Ellen H. Swallow Richards, the first woman to attend Massachusetts Institute of Technology and one of the nation's earliest female professional chemists. Kittrell realized that the field was about more than SEE KITTRELL A11
The women who stood with Martin Luther King Jr. and sustained a movement for social change
by Vicki Crawford Professor of Africana Studies, Morehouse College
Historian Vicki Crawford was one of the first scholars to focus on women's roles in the civil rights movement. Her 1993 book, "Trailblazers and Torchbearers," dives into the stories of female leaders whose legacies have often been overshadowed.
Today she is the director of the Morehouse College
Martin Luther King Jr. Collection, where she oversees the archive of his sermons, speeches, writings and other materials. Here, she explains the contributions of women who influenced King and helped to fuel some of the most significant campaigns of the civil rights era, but whose contributions are not nearly as well known.
An activist in her own right
Coretta Scott King is often remembered as a devoted wife and mother, yet she was also a committed activist in her own right. She was deeply involved with social justice causes before she met and married Martin Luther King Jr., and long after his death.
Scott King served with civil rights groups throughout her time as a student at Antioch College and the New England Conservatory of Music. Shortly after she and King married in 1953, the couple returned to the South, where they lent their support to local and regional organizations such as the NAACP and the Montgomery Improvement Association.
They also supported the Women's Political Council, an organization founded by female African American professors at Alabama State University that facilitated voter education and registration, and also protested discrimination on city buses. These local lead-
ership efforts paved the way for widespread support of Rosa Parks' resistance to segregation on public busing.
Following her husband's assassination in 1968, Scott King devoted her life to institutionalizing his philosophy and practice of nonviolence. She established the King Center for Nonviolent Social Change, led a march of sanitation workers in Memphis and joined efforts to organize the Poor People's Campaign. A longtime advocate of workers rights, she also supported a 1969 hospital workers' strike in South Carolina, delivering stirring speeches against the treatment of African American staff.
Scott King's commitment to nonviolence went beyond civil rights at home. During the 1960s, she became involved in peace and anti-war efforts such as the Women's Strike for Peace and opposed the escalating war in Vietnam. By the 1980s, she had joined protests against South African
apartheid, and before her death in 2006, she spoke out in favor of LGBT rights —capping a lifetime of activism against injustice and inequalities.
Women and the March
While Scott King's support and ideas were particularly influential, many other women played essential roles in the success of the civil rights movement.
Take the most iconic moment of the civil rights struggle, in many Americans' minds: the Aug. 28, 1963, March on Washington for Jobs and Freedom, at which King delivered his landmark "I Have a Dream" speech on the steps of the Lincoln Memorial.
As the 60th anniversary of the march approaches, it is critical to recognize the activism of women from all walks of life who helped to strategize and organize one of the country's most massive political demonstrations of the 20th century. Yet historical accounts overwhelmingly highlight the march's male leader-
ship. With the exception of Daisy Bates, an activist who read a short tribute, no women were invited to deliver formal speeches.
Women were among the key organizers of the march, however, and helped recruit thousands of participants.
Dorothy Height, president of the National Council of Negro Women, was often the lone woman at the table of leaders representing national organizations. Anna Arnold Hedgeman, who also served on the planning committee, was another strong advocate for labor issues, anti-poverty efforts and women's rights.
Photographs of the march show women attended in large numbers, yet few historical accounts adequately credit women for their leadership and support. Civil rights activist, lawyer and Episcopalian priest Pauli Murray, among others, called for a gathering of women to address this and other instances of discrimination a few days later.
Hidden in plain view
African American women led and served in all the major campaigns, working as field secretaries, attorneys, plaintiffs, organizers and educators, to name just a few roles. So why did early historical accounts of the movement neglect their stories?
There were women propelling national civil rights organizations and among King's closest advisers. Septima Clark, for example, was a seasoned educator whose strong organizing skills played a consequential role in voter registration, literacy training and citizenship education. Dorothy Cotton was a member of the inner circle of the Southern Christian Leadership Conference, of which King was president, and was involved in literacy training and teaching nonviolent resistance.
Yet women's organizing during the 1950s and 1960s is most evident at local and regional levels, particularly in some of the most perilous communities across
the deep South. Since the 1930s, Amelia Boynton Robinson of Dallas County, Alabama, and her family had been fighting for voting rights, laying the groundwork for the struggle to end voter suppression that continues to the present. She was also key in planning the 50-mile Selma-to-Montgomery march in 1965. Images of the violence that marchers endured—particularly on the day that came to be known as Bloody Sunday—shocked the nation and eventually contributed to the passage of the landmark Voting Rights Act of 1965.
Or take Mississippi, where there would not have been a sustained movement without women's activism. Some names have become well known, like Fannie Lou Hamer, but others deserve to be.
Two rural activists, Victoria Gray and Annie Devine, joined Hamer as representatives to the Mississippi Freedom Democratic Party, a parallel political party that challenged the state's all-White representatives at the 1964 Democratic Convention. A year later, the three women represented the party in a challenge to block the state's congressmen from taking their seats, given ongoing disenfranchisement of Black voters. Though the congressional challenge failed, the activism was a symbolic victory, serving note to the nation that Black Mississippians were no longer willing to accept centuries-old oppression.
Many African American women were out-front organizers for civil rights. But it is no less important to remember those who assumed less visible, but indispensable, roles behind the scenes, sustaining the movement over time.
(This article is republished from The Conversation under a Creative Commons license.)
WOMEN'S HISTORY MONTH www.newpittsburghcourier.com New Pittsburgh Courier MARCH 15-21, 2023 A10
FLEMMIE P. KITTRELL traveled far and wide to support children and families around the world. Cornell University
HIDDEN IN PLAIN VIEW—Women listen during the March on Washington on Aug. 28, 1963. Bettmann Archive/Getty Images
Globetrotting Black nutritionist Flemmie P. Kittrell
cooking and sewing. Furthermore, women who majored in the subject could then pursue sciences that were closed to them because of their gender. With a growing belief that the home and family were the basis of society, Kittrell chose to major in home economics rather than political science or economics.
Nutrition and Black families
After her 1928 graduation, Kittrell briefly taught at a high school before becoming the director of home economics and dean of women at Bennett College, a historically Black college in Greensboro, North Carolina. During a 12-year tenure there, she created a nursery center that trained parents and provided child care. The center also served as a laboratory for experimenting with different teaching techniques.
Kittrell drew on this research when she became the first Black woman to earn a doctorate at Cornell University. In her 1936 doctoral dissertation, she argued that the health of Black families could be improved by focusing on infant feeding practices and parental education. She was the first Black woman to get a doctorate in nutrition at any college or university.
In 1940 she returned to Hampton. During World War II, Kittrell and her students taught local families how to ration and substitute food. The home economics department also joined female students in hosting evening activities, including dances for Black military trainees and their families.
Four years later, Kittrell became the head of Howard University's home economics department. She remained on that faculty for 28 years.
Taking advantage of Howard's Washington, D.C., location, Kittrell persuaded national leaders that home economics could
help transform society at home and around the world. She spent so much time working and traveling for the U.S. government that one biographer called her "a good will ambassador with a cookbook."
'Hidden hunger' at home and abroad
In 1947, the State Department sent Kittrell to Liberia to conduct a nutrition study. Her efforts supported an American commitment to strengthen diplomatic and military with countries around the world.
In her follow-up report, Kittrell explained that while food shortages and hunger were not significant issues, more than 90 percent of Liberians suffered from vitamin deficiencies, resulting in "hidden hunger." Though she did not invent the term, she was among the first to draw widespread attention to the issue at home and abroad.
Arguing that what happens in one place often occurs in others, Kittrell implored the U.S. to examine diet issues at home.
In 1949, she published a study comparing the diet and food choices of Black and White Americans. She showed that the illnesses that many Black Americans experienced were tied to racial discrimination in housing, employment and medical services rather than poor decision-making. In later years, academic, professional and activist organizations similarly applied this intersectional lens to nutrition campaigns.
Nutrition and democracy
American foreign policy leaders found Kittrell's pragmatic and balanced approach indispensable in forging alliances during the Cold War.
In 1950, Kittrell persuaded the State Department's Fulbright program to send her to India, which had recently won its independence from the U.K. She returned there in 1953 under a government program that provided technical ex-
pertise to newly independent nations as a form of diplomacy.
In the 1950s, Kittrell traveled across Africa to improve relations with African states that had criticized the U.S. for boasting of its freedoms while denying basic civil rights to many of its citizens.
In September 1958, the nutritionist traveled to Ghana, the first West African country to gain independence from a colonizing power. She met with Ghanaian political leaders and members of women's organizations, delivering lectures on home economics and the value of higher education for women.
Ghanaians asked Kittrell about racial incidents, including the 1957 Little Rock crisis, in which a White mob tried to stop nine Black students from integrating a public high school. Kittrell cast this incident, which violated the Brown v. Board 1954 Supreme Court ruling that rendered segregation in public schools unconstitutional, as a Southern dilemma rather than a national one.
She also optimistically emphasized Black Americans' progress since emancipation and contended that the U.S. Constitution would prevail in ensuring equality.
An appetite for justice
Though Kittrell's answers sidestepped larger issues of discrimination at home, she claimed to reject U.S. boosterism in her thinking about cross-cultural interactions, family and society.
She argued that newly independent nations had much to teach Americans. Even more, Kittrell claimed to see herself not as a representative of the U.S. but as "a citizen of the world."
A closer look at Kittrell's activities reveals that she maintained a strong appetite for justice. Even as a dedicated bureaucratic infighter, Kittrell was willing to move beyond these bounds.
In 1967, for example, she
protested apartheid in South Africa, the system of segregation that oppressed that country's nonWhite communities and privileged a White minority. Incensed by American inaction, Kittrell became one of five Americans to stage a fly-in—an impromptu trip in which she and her colleagues sought to enter the country without visas to dramatize their protest.
In a 1977 interview with the Black Women's Oral History Interviews Project of the Harvard University Radcliffe Institute, Kittrell hinted that she was engaged in other acts of protest, slyly suggesting that she "was very fortunate not to have gotten into more trouble."
Three years later in an interview for a faculty profile with Howard University, Kittrell boldly claimed that she had not been
"afraid to speak against evil as I see it."
These statements suggest that she was more of a strategist and activist than many people at the time believed.
Head Start
Kittrell kept traveling extensively in the 1960s. She took trips to Russia and several African countries on behalf of the United Nations and professional, women's and religious organizations, such as the Women's International League for Peace and Freedom and the United Methodist Church. Kittrell also increased her focus on the needs of U.S. children.
In the 1960s, 1 in 5 U.S. children lived in poverty. With the conviction that good living began at a young age, Kittrell expanded Howard University's nursery program with
a deeper focus on parents, whom she contended were the key to stronger families.
That center became an early model for the Head Start program, which emerged as part of Lyndon B. Johnson's War on Poverty.
Refusing to "sit still enough to hold hands," Kittrell never married or had children.
Instead, as her archival papers at Howard University's Moorland-Spingarn Research Center show, she dedicated herself to assisting others by cultivating strong families through nutritious habits and healthy children.
(Brandy Thomas Wells, Assistant Professor of History, Oklahoma State University
This article is republished from The Conversation under a Creative Commons license.)
WOMEN'S HISTORY MONTH NEW PITTSBURGH COURIER MARCH 15-21, 2023 A11
KITTRELL FROM A1
KITTRELL, wearing a hat, is pictured in the middle of this group of women during a Howard University Home Economics event. Moorland-Spingarn Research Center, Howard University Archives.
THIS HOWARD UNIVERSITY PRESCHOOL PROGRAM that Kittrell helped pilot became a model for Head Start. Moorland-Spingarn Research Center, Howard University Archives
WOMEN'S HISTORY MONTH A12 MARCH 15-21, 2023 NEW PITTSBURGH COURIER
PROPERTY IS POWER
Five questions to ask when seeking a mortgage
The complexity of buying a home can make for a confusing and daunting homebuying process.
According to a recent survey "49 percent of those polled said they were intimidated by the steps to buying or selling, and 44 percent said they wouldn't even know where to start." If you're beginning your home buying journey, you may feel like you don't know what you don't know. Kellum Mortgage, LLC is here to help. We've compiled a list of questions to ask a mortgage broker as you search for a lending partner. This list will help you get the ball rolling and keep you on track.
Five Questions to Ask Mortgage lenders
How do I get pre-approved for a mortgage loan?
Pre-approval is one of the first steps on your homebuying journey. It shows you how much house you can qualify for, and it shows the seller that you are a serious buyer. Therefore, it's important to know exactly what's required of you. Asking a lender will give you a more specific answer, but in general, seeking pre-approval will result in an analysis of your:
• Debt-to-income ratio: Lenders look at your monthly payments and your gross monthly income to determine your ability to pay back the money you plan to borrow.
• Loan-to-value ra-
tio: Lenders compare the amount of your mortgage loan with athe appraised value of the property you are looking to purchase.
• Credit history: Your credit history helps lenders determine how likely you are to pay back your loan. FICO score: Your
FICO score is based on your credit report and is another indicator that lenders review. Typically, the higher your FICO score the lower your interest rate.
• Income and employment history: As with many of the other factors analyzed by mortgage brokers, your income and employment history can assure lenders of your ability to repay your loan.
What are your rates and fees? The actual purchase of your home is just one of the many prices to take into consideration during the homebuying process. Lenders charge for various thigs throughout the loan process and it's important to understand what all the mortgage "ling" means. Ask your lender for a comprehensive list of what you'll pay for, including an origination fee. Ensure the lender provides you with the loan coast for working with them specifically.
What are my options for a down payment? Your down payment represents a portion of the total coast of the property. You will finance the remaining cost through your mortgage loan. Different loan types require varying down payments.
5 tips for women to negotiate a higher salary
by Alexandra Mislin
For New Pittsburgh Courier
Equal Pay Day falls in 2023 on March 14—a date determined by how long into the new year American women must work to catch up to American men's earnings the previous year. In 2022, women earned 82 percent of what men earned. The wage gap for Black and Hispanic women is even higher—these groups made 70 percent and 65 percent, respectively, of what White men made.
Some of the gender pay gap can be attributed to differences in how women negotiate.
This is not to say that women don't negotiate as well as men, or even less often. Women are negotiating well and self-advocating in their careers every day—sometimes more actively and effectively than their male counterparts. Women have been observed to negotiate exceptions to typical work or business practices more than men. This includes, for example, negotiating a remote work arrangement prior to the pandemic. But when it comes to salary and wage negoti-
ations, research suggests that women are more reluctant to ask and less effective when they do.
That's because salary negotiations are generally seen as competitive situations that favor men and masculinity. In such settings, self-advocating violates societal norms that women should be kind
Here are five tips that you can start applying today to be more effective in your workplace negotiations. These strategies benefit women but represent best practices for anyone seeking higher pay regardless of where they identify on the gender spectrum.
1. Think before you ask
and communal. According to the authors of one study, women anticipating backlash from attempting to negotiate "hedge their assertiveness, using fewer competing tactics and obtaining lower outcomes." The fear of backlash is reasonable. Men and women alike say they are less willing to work with women who ask to be paid more. I research negotiation and conflict management and teach a variety of negotiation courses to undergraduate and graduate students.
Consider what you really want before you launch into your negotiation –hit pause and take a step back. How does what you're asking for fit into your bigger work or life aspirations? You might start with a focus on a salary increase, but what you really want is an accelerated promotion track.
Negotiating professional development opportunities and your role at work may do more to help close the pay gap than getting paid more than you are currently earning. So,
Stop making excuses!
When you make an excuse, you are seeking to defend or justify something. There are things that happen in life that catch us completely off-guard.
When this happens, it flips whatever we had planned inside out. There are some things that are a matter of fact. It is what it is! You have limited to no ability to change it in the short-term. These are the unpredictable circumstances and the realities of life that we all face.
When life throws you an unpredictable curveball or slaps you with real world facts that delays or thwarts you from accomplishing a goal, that's not an excuse, that's a fact. No need to defend or justify. You just need to explain.
There are things that we know that we need to be doing in order to enhance the quality of our life—but it's hard! It requires work. It requires commitment. It requires sacrifice. It requires time. It requires knowledge. It requires consistency. It requires money. It requires thinking outside the box. It requires a change in lifestyle. It requires a new way of thinking. It requires leaving our comfort zone.
The task required to accomplish our desired result is too daunting. We'd rather spend more time employing short-cut tactics to get ahead. We're suckers for the "Get Rich Quick," "Get Fit Quick," "Buy Now, Pay Later," "Cliff Notes," and "Microwaved Food" ideology. We want what we want, and we want it now. We don't have time nor interest for delayed gratification. We'd rather spend hours at the mall getting the right outfit to look good. Or spend hours at the hair salon or barber shop getting our hair done to look good. As
opposed to spending hours in the gym exerting effort to get our body right to look good. Neither the mall nor the barber shop and salon require the amount of effort required at the gym. Those people who are in good shape look good in practically everything. They even look good naked. I can't stand them chiseled gym freaks! (joking)
There's no character, stamina, fortitude, or appreciation developed in the short-cut pathway to success. Microwaved food doesn't taste as good as food prepared and cooked from scratch. There's no longterm success in the quick success route. Easy come. Easy go! I hate to be the bearer of bad news. Mind you, I'm talking to both you and me. If we really want something, we're going to have to bust our donkey to get it. Then we're going to have to bust our donkey time and time again to maintain it and make it better. I had an athletic body before. I used to live in the gym. I currently make excuses as to why I can't get to the gym. The athletic body left me. Do I really want the athletic body?
Will I continue to make excuses as to why I can't get to the gym? Time will reveal.
What about you? Are you where you want to be in life physically, financially, relationally, or spiritually? Are you a sucker for short-cut tactics? Do you
make excuses as to why you can't get things done? Are you a procrastinator?
Are you content with the status quo?
Have you accomplished a desired goal then fell back into those same bad habits that caused you to fall off? Are you afraid to step outside of your comfort zone?
I'm reminded of a baby with a dirty diaper. Oftentimes, you'll find yourself chasing the baby so that you can change their dirty diaper. The baby knows that his or her diaper is dirty but they're comfortable in their own mess. Excuses aside, have you not done what you know you need to do because you're comfortable in your own mess?
At the beginning of this article we detailed that certain unpredictable events and real life facts are beyond our control. They may stifle us from time to time in pursuit of our goals. It is what it is. What about those things that we can control? What's holding us back from reaching our goals or realizing our full potential? Stop! Pick up your cell phone. Take a quick selfie. Take a close look at the picture in the selfie. That's the person that's holding you back from reaching your goals and realizing your full potential. We have to remind ourselves over and over again to "stop making excuses!" Excuses don't explain and explanations don't excuse. We are our own worst enemy.
• Tired? Go to sleep earlier! Take a power nap!
take stock of your goals and make sure you are focusing on negotiating about the right issues.
2. Communicate your value
Once your purpose and objective are clear, figure out how to articulate your value. Women are more persuasive and reduce the risk of backlash when they explain why what they are asking for is appropriate and justified. As you do this, put yourself into the hiring manager's or your boss's shoes and consider how the request you are making is legitimate from their perspective. How can, for example, your data visualization skills help your team communicate more successfully at the next client meeting? How can you position what you are asking for, such as a promotion to senior analyst, in terms of bigger business goals, like expanding the client base?
When women articulate their value while considering the other person's objectives, their negotiation behavior is perceived as more socially acceptable and women are better
• Out of shape? Exercise more! Eat less!
• Don't have time? Quit watching TV! Quit scrolling social media!
• Don't have the money? Stop wasting money! Get a second job!
• Seems too complicated? Put your best foot forward and take baby steps! How do you eat an elephant? One bite at a time!
• Don't have the knowledge? Read a book! Google it! Watch a YouTube video! We all know what we need to do in order to achieve our goals. If we're unsure, the internet is an information gateway. We can learn what we need to know or seek out professionals who will serve as both an accountability partner and help guide us on our path. Most of us don't follow all the way through on our goals. We either procrastinate or make excuses.
Kobe Bryant said in an interview before his untimely death that the biggest mistake he made in life was thinking he had more time. When we procrastinate, we assume we have more time. We make excuses because: We don't believe enough in ourselves. We don't want to put forward the effort. The journey seems too long. We're afraid to leave our comfort zone. We're comfortable living in our own mess.
Excuses are the monuments of nothingness. They are bridges to nowhere. In the end, if we keep making excuses, the only thing we'll have to show for it is the painful emotion of REGRET!
(Damon Carr, Money Coach can be reached @ 412-216-1013 or visit his website @ www.damonmoneycoach.com)
BUSINESS www.newpittsburghcourier.com New Pittsburgh Courier B Classifieds Find what you need from jobs to cars to housing B6-7 Woke, equity, and anti-concepts J. Pharoah Doss Page B4 MARCH 15-21, 2023
ANTHONY O. KELLUM
SEE MORTGAGE B2 SEE HIGHER SALARY B2
U.S. WOMEN EARN 82 percent of what U.S. men earn—and the gap is significantly higher for Black and Hispanic women. (Portra/E+ Collection/Getty Images)
Some of the gender pay gap can be attributed to differences in how women negotiate. This is not to say that women don't negotiate as well as men, or even less often.
Blacks lag behind other races in homeownership
by WI Webstaff
For New Pittsburgh Courier
Even though home prices have significantly increased during the pandemic and homeownership continues to grow overall for Americans, Blacks are behind other racial groups owning homes, according to a study released Friday from the National Association of Realtors (NAR).
African American homeownership, 43.4 percent, remains lower than it was a decade ago, according to the study. The Black rate is almost 30 percentage points behind Whites, who stand at 72.1 percent, the highest of any racial group.
Latino homeownership hovers around 50 percent, for the first time, while 61.7 percent of all Asians own their homes. Jessica Lautz, NAR vice president of demographics and behavioral insights, said the Black homeownership rate is troubling.
CNN reported, "housing affordability and low inventory have made it even more challenging for all buyers to enter into homeownership, but even more so for Black Americans," Lautz said.
According to the study, while households earn more than $100,000 a year including nearly half of all Asians and 35 percent of Whites, only 25 percent of Latinos and 20 percent of Blacks earn that much money. States such as Maryland, West Virginia, Kansas, Ohio, and Indiana are the most affordable for Blacks.
The least affordable states for Blacks are Utah, Oregon, California, Nevada, and Rhode Island. Black and Latinos report being rejected for mortgages at a higher rate than whites and Asians and African Americans report higher incidents of discrimination in a real estate transaction.
Additionally, 41 percent of Blacks with student debt is more than twice that of Asians with 16 percent and nearly twice that of Whites at 22 percent and Latinos at 26 percent. U.S. Housing and Urban Development Secretary Marcia Fudge said more needs to be done to increase the Black homeownership rate.
"Today, homeownership is the principal source of wealth creation for most American households,"
PORTRAIT OF A HAPPY young African American family standing in front of their American suburban home.
Fudge said in the CNN report. "Unfortunately, NAR's report confirms that Black Americans are
being locked out of homeownership opportunities at an even higher rate than a decade ago. It is critical
sistent history of discrimination and inequity and the current crisis of housing affordability."
Black taxpayers are audited at twice the rate of other people
Black men who are raising their children alone are more likely to be audited by the Internal Revenue Service if they use the Earned Income Tax Credit (EITC), compared with married couples of another race who also use EITC, according to a study conducted by the Stanford Institute for Economic Policy Research.
The EITC supports lowand middle-income with taxable earnings from work, replacing welfare as
the largest cash-based safety net program in the United States.
The IRS, which collects $4 trillion to support government programs, relies on audits to detect underreporting tax liabilities and verify that taxpayers qualify for the benefits they claim.
The Stanford study reported that Black taxpayers were audited between 2.9 to 4.7 times the rate of nonBlack taxpayers. EITC causes a high rate
of audits involving Black taxpayers versus non-Black taxpayers. Black taxpayers accounted for 21 percent of EITC claims, but they were the focus of 43 percent of EITC audits.
Stanford RegLab teams work with the Treasury Department, which allows them to analyze more than 148 million tax returns and approximately 780,000 audits. When President Biden took office, he signed Racial Justice Executive Order
13985, which requires all federal agencies to determine how their programs impact racial and ethnic equity.
The discrepancy boggles the mind, although tax returns don't ask for the taxpayer's racial or ethnic identity. So, the IRS uses first names, last names, and the locations where many Black people live.
The most striking statistic affecting Blacks and the IRS is that a single Black man with dependents who uses EITC is 20 times more likely to be audited compared to a non-Black, married couple that jointly filed a taxpayer claiming EITC.
"The racial disparity in audit rates persists regardless of whether EITC claimants
For single Black male taxpayers who did not claim dependents, they are audited at 5.66 percent versus 2 percent for a non-Black single adult.
Seventy percent of IRS audits happen through the mail, and 50 percent involve EITC claimants.
The IRS supposedly uses a colorblind method in which Black taxpayers are audit-
ed at much higher rates than non-Black taxpayers who use the use EITC. The burden of correspondence audits on EITC claimants is more likely to fall on lower-income taxpayers whose tax returns are less complex and less likely to lead to litigation. President Biden's executive order is intended to make the IRS audit selection algorithm more just. Racial disparities in income are well known, and what the IRS chooses to focus on has big implications for whether audits complement, or undercut a progressive tax system, said Daniel E. Ho of Stanford University.
Questions to ask seeking a mortgage
MORTGAGE FROM B1
Ask the lenders you're interviewing how much you need to put down and if that number is adjustable. If coming up with a down payment is an obstacle, ask the lenders about down payment assistance programs. You'll fid that several loans programs require less than20 percent of the home's value for a down payment. Another way to tackle this question is to ask what money you'll need for closing This could an-
swer some other questions as well.
What types of loans are available?
Speaking of loan options, it's important to know what loans are available and which loan makes the most sense for you. Common loan types include fixed and adjustable-rate loans. However, you may qualify for a VA, or FHA mortgage, which would allow you to put a lower percentage down at closing.
Is there a prepayment penalty? If so, what is the penalty?
This question allows you to determine whether paying off your mortgage early will result I additional fees. Some lenders charge a fee if you pay off your loan before it's due. For example, these fees make it more appealing for borrowers to pay their loans back slowly, allowing the lender to gain more in interest. When possible, avoid these penalties. Use the questions above to talk with mortgage brokers, lending institutions, banks, and discover your best loan option and lending partner.
Tips to negotiate for higher salary
SALARY FROM B1
3. Ask for more than just salary Gender differences are most likely to arise when it is less clear whether negotiating is appropriate. This might be a job that doesn't explicitly indicate that wages are negotiable, or where the salary range is not disclosed. In these cases, women are less inclined to negotiate because they anticipate backlash. This applies not just to salary or wage negotiations, but also negotiations for other opportunities, including promotion, work assignments, developmental opportunities and resources. When you are not sure whether negotiating is appropriate, ask around and gather information from trusted sources. Use your network, but also stretch beyond your network. You may want to seek advice from, for example, men in male-dominated work settings. People tend to connect with others who are similar in age, gender, ethnicity and socioeconomic status, so information
from your close network can be skewed. Find out what people are negotiating at work and reduce the social risk of asking by decreasing ambiguity around whether negotiating is appropriate.
4. Check your mindset
Whether you see yourself as a reluctant negotiator, a competitive negotiator or a people-pleaser, what matters more is your mindset going into the negotiation.
A review of individual differences in negotiations identified the single best predictor of performance as having a positive mindset—confidence in one's own ability and confidence that it is appropriate to negotiate.
A positive mindset also means approaching negotiations with curiosity. Make it about trying to work out a problem, not winning a fight. This approach is more aligned with social expectations that women are communal, and it is also a best practice that produces better results. Even if the other person starts with no, don't let that derail your negotiation. Prepare to stay at the
table and find out why. If you cannot get the salary increase you are asking for, maybe you can successfully negotiate a developmental opportunity and revisit the salary conversation in six months.
5. Don't skip the small talk
On the other side of the negotiation is a person, and you will find it easier to reach a solution together if you get along. Small talk before the negotiation helps build the relationship and can have a positive effect on your negotiations. Familiarity with the employer may even give women a bigger boost than men. So get to know the person you will be negotiating with personally, and don't skip the small talk. Practice these five tips and keep negotiating. The more experience you have negotiating, the better you will do. And the better results women get from negotiating well will help shrink the gender pay gap between men and women.
(Alexandra Mislin, Associate Professor of Management, American University)
(This article is republished from The Conversation under a
that we bridge the racial homeownership gap with intentional solutions that recognize both the perBUSINESS B2 MARCH 15-21, 2023 NEW PITTSBURGH COURIER
(TriceEdneyWire.com)—
are male or female, married or unmarried or raising children or are childless," the study noted.
When Black men report a taxable income of 7.73 percent with EITC, they are more likely to be audited by the IRS compared with 3.46 percent for married nonBlacks couples, according to the study.
positioned to succeed.
Guest Editorial
Unrealistic expectations regarding crime
Across the country urban politicians are faced with eliminating or reducing crime. Mayors in particular are judged on how well they impact crime. New politicians are always promising they will reduce crime, often touting the employment of more policemen to help in this regard. But this approach seldom works for a number of reasons.
This is a particularly vexing problem in the Black community. For one, with the history of oppression meted out by the dominant White population, Blacks have often been the recipients of unfair criminal justice policies. This started during slavery and has persisted ever since.
The case of Emmett Till, the teenager from Chicago who went to visit his relatives in Mississippi one fateful summer 67 years ago, and met with an incredibly ghastly demise, is an example.
Accused of whistling at a White woman, and flirting, he was killed and was unrecognizable in the open coffin chosen by his mother, Mamie Till-Mobley. She wanted people to see the barbarity and viciousness of the crime inflicted on her son. The sight of Emmett Till's brutalized body shook the nation, especially its Black constituents, to such an extent that the advent of the Civil Rights Movement was partially sparked by this event. Our knee-jerk reactions to crime ignore some very basic human realities. Most people opine that the reason crime is high is due to a "lack of jobs." The truth of the matter is that there is a lot of money circulating among criminals, especially if they are affiliated with gangs.
Another point is that the greatest number of murders of musicians in America is occurring among rappers. Many of these musicians have a lot of money, so the murders are not connected with poverty in these instances.
The truth of the matter is that there are people who are naturally inclined to criminality, just as there are those who are altruistic. In other words, some individuals are just naturally predisposed to, or enamored with, criminal behavior.
Another problem is the tendency for people in Black communities to protect criminals. A number of Black people, especially Black men, who are caught and punished for criminal behavior, are protected by the Black community. One of the main tools in this regard is "what-about-isms." In other words, if Bill Cosby is accused of doping and raping women, the immediate response is "What about Epstein, Weinstein, et al." (By the way, both of them were brought to justice).
The same what-about-isms are offered for R. Kelly, and just about anyone in the Black community who is charged with a crime. Tory Lanez shot Megan Thee Stallion in the foot, resulting in his incarceration. Now, there are cries for his release.
Young Thug has actually boasted about murdering someone, but the refrain among a large number of observers is to "Free Young Thug." There is also a move on to "Free Larry Hoover."
When gangs of Black youth wilded out in downtown Chicago and other communities targeting merchants, some of whom were Black, community people complained and said the youth don't have enough recreational facilities to keep them busy. This behavior has actually caused some Black businesses to close!
There are a gazillion other examples of the protective, anti-snitching behavior in the Black community, which thwarts the ability of law enforcement to fight crime.
There is a Catch-22 connected with any attempt on the part of authorities, alone, to stop crime. If, for example, the police beef up their activity, the community suffers from overzealous law enforcement personnel and we end up with "George Floyd" situations. On the other hand, when people know who the perpetrators are in the community, the going attitude is "Snitches get stitches," and they protect the perpetrators via silence.
Chiefly, the Black community faces strong impediments when addressing crime, and any politician who campaigns on a platform of "reducing crime" is whistling in the wind. It just can't happen in the present climate where the community is caught between recalcitrant police on the one hand, and violent nihilistic thugs on the other.
Crime will not, and CANNOT, be eradicated until certain SPIRITUAL principles are embraced, and the Black community will have to find a way to work with the police and the establishment to seriously invest in the notion of rehabilitation.
Furthermore, Black community residents will have to end their love affair with, and protection of, Black criminals. Otherwise, fascism is the only other effective strategy, and we certainly don't want that! A Luta Continua.
(Reprinted from the Chicago Crusader)
Founded 1910
Rod Doss Editor & Publisher
Stephan A. Broadus Assistant to the Publisher
Doing us and our history
people with a casual interest in educational matters or those only interested in education processes as they impact their children or grandchildren would not know or consider the wide variety of academic opportunities which supplement traditional learning.  Public and private school curricula will typically only include the subject matter of 'general interest' to the 'general public.'  Any learning beyond that is usually a matter of individual interest and/or a conscientious desire to increase a personal base of knowledge.
Knowing how other ethnic groups and nationalities preserve and disseminate their individual group histories and cultural imperatives, I searched the Internet to ascertain their most contemporary methodologies.  I was not surprised that my search yielded a variety of available academies and learning opportunities.
I entered the term Hebrew School in my search engine which yielded numerous local offerings. A random selection from them provided:
Congregation Agudas Achim infuses the values of Reconstructionist Judaism into all aspects of the Hebrew School. We place a high value on community as a source of strength and resilience in a challenging time. We aim to create a multi-generational community of Jewish learners, worshippers, and do-ers who share a desire to deepen our understanding of Jewish tradition and apply it creatively to serve the spiritual needs of our children
Dr. E. Faye Williams, Esq.
Commentary
and families, and to work collectively to build a world of justice and peace. "Doing Jewish" is fun!  Being Jewish is so much more than religious practice—it encompasses the rich heritage of Jewish culture from all over the world. We explore and celebrate many facets of Jewish life through games, art, music, dance, storytelling, and drama, making and sharing meals, and holiday festivities.
Utilizing weekend instruction, the Jewish community actively works to counter the current resurgence of antisemitism.  I mention this because African Americans and people of color are searching for a remedy to the gradual-to-rapid elimination of our history from American schools.  This elimination is the result of historical truth unfavorably depicting some Whites as the cruel and inhumane creatures they were/are.  Whether the brutal continuum of enslavement from Africa to and in the New World, the Massacre at Wounded Knee and other acts of Manifest Destiny, the Passage of the Asian Exclusion Act or the recent theft and separation of thousands of Hispanic children from their families, the truth of this country's inhumane treatment
of people of color cannot be erased. You ask, "What must we do?" The clear answer is that, like others, we must teach our own history and culture. We must establish the infrastructure and provide opportunities for our children to learn about US. We must spark inquisitiveness in our children about our ancestors whose strength brought us through the most brutal conditions imaginable. Looking in the mirror, our children must see themselves as part of a noble people whose contributions to humanity are incalculable and ongoing. They must realize they live because of the strength of our past and fulfill their responsibility to respect that past while laying the foundation for a more fruitful future.
As expressed by Carter G. Woodson, "Real education means to inspire people to live more abundantly, to learn to begin with life as they find it and make it better."
Dr. Woodson also opined that "Philosophers have long conceded, however, that every man has two educators: 'that which is given to him, and the other that which he gives himself. Of the two kinds, the latter is by far the more desirable. Indeed all that is most worthy in man he must work out and conquer for himself. (Women, too!) It is that which constitutes our real and best nourishment. What we are merely taught seldom nourishes the mind like that which we teach ourselves."
(Dr. E. Faye Williams is President of The Dick Gregory Society (thedickgregorysociety.org; drefayewilliams@gmail.com) and President Emeritus of the National Congress of Black Women)
DeSantis and Youngkin urge white-washing of American history
(TriceEdneyWire.com)—A full page in the June 24, 2018 issue of The New York Times stated that "The truth affects us all. The truth helps us to understand. The truth can't be ignored."
When it comes to teaching the truth about Black history in the United States of America, Gov. Ron DeSantis of Florida, Gov. Glenn Youngkin of Virginia and many other White politicians, educators, filmmakers, television producers and even some Black people ardently believe that the truth of American history can be ignored, downgraded and, in some cases, denied. Their position is clearly revealed in several 2023 articles in The Washington Post. Their headlines and subheadlines are as follows:
I. DeSantis calls for end to Fla. college diversity programs
II. College Board faces criticism over revised African American studies course
III. Board member charts battle for 'soul of UVA': text messages show Younkin's appointee's disdain for school's reckoning on slavery,
A. Peter Bailey Commentary
campus leadership
IV. More states scrutinize AP Black studies
V. On Black history, two roads diverge: As red states target school instruction, blue states embrace it
VI. AP course criticized in Florida gets update: College Board denies that its changes water down African American studies
VII. Fraught fight over AP's new course: politics forced changes to the African American studies plan, critics say Governor DeSantis labels those who want the truth told about Black history as members of a "woke" mob. He, Youngkin and all of those who share their positions
don't want real American history taught. For instance, they want George Washington and Thomas Jefferson to be taught as nearly God-like figures who strongly believed in and fought for freedom and justice for all. They don't want students to be taught that both of them also bought, sold and enslaved over 200 African men, women and children. They don't want students to be taught that advances made by Black people in this country didn't come about because of gracious, freedom-loving Whites. The real deal is changes came about because thousands upon thousands of courageous and determined Black people sacrificed their lives in battles with White supremacists and racists. For further information about Black and American history it is necessary to connect with organizations such as the Association for the Study of African American Life and History (ASALH), the History Makers, the Pan African Federalists Movement (PAFM) and the Malcolm X Leadership Group/Positive Black Folks in Action.
Student debt robs our country of young geniuses
(TriceEdneyWire.com)—Ever since it was taken over by far-right justices nominated by Donald Trump, the Supreme Court has been eroding the quality of life for Americans. Now it looks like it could happen again, if the Court decides against President Biden's plan for student debt relief.
Oral arguments in the case happened in late February. Litigants, backed by far-right politicians, are trying to derail the Biden plan that would significantly reduce or even eliminate debt for millions of lower-income people across the country. Nearly half of Latino borrowers and a quarter of Black borrowers would have their entire student debt relieved.
I sincerely hope the Court will not rule against this program, because debt relief would be good not just for individual students and graduates—it would be good for the country as a whole. Here's why.
Svante Myrick
Commentary
own McDonald's franchise. (And yes, Zuckerberg did drop out of Harvard, but for most of us that would be a bad idea.) Meanwhile millions of hardworking students, including a disproportionately high number of Black, brown and female students, are saddled with debt that will keep them working to pay it back for many years.
And it's reasonable to assume that this debt burden is harming the economy in other ways.  Paying off debt gobbles up discretionary income.  Debt relief could put money back in college graduates' pockets and give consumer spending a boost.
Allison Palm Office Manager
Ashley Johnson Sales Director Rob Taylor Jr. Managing Editor
John. H. Sengstacke Editor & Publisher Emeritus (1912-1997)
We have a great tradition of innovation and the entrepreneurial spirit in the US, stretching from Benjamin Franklin to Mark Zuckerberg and beyond. But what would have happened if our best-known inventors in recent decades had been weighed down by a massive student loan that they had to work off for five, 10 or even 20 years? How long would they have to be employees rather than innovators, robbing us and the rest of the world of their contributions?
That certainly wasn't a problem for Zuckerberg, whose father famously offered to pay either for him to go to Harvard or to have his
And because of that, it's highly likely that this debt crisis is costing us the next entrepreneurial genius, including the next (possibly Black or female) Mark Zuckerberg. With tens of thousands of dollars in debt hanging over their heads, many young people can't think seriously about starting a business, or maybe a nonprofit, of their own. This debt is also linked to the issue of fewer young people being able to become homeowners; in the past, a house was often collateral for entrepreneurs raising money for a startup company.  That's a big loss for the country. But there's more. The debt crisis is also costing us jobs—the jobs that youthful innovators would create. After all, nearly half of Americans work in small businesses, the kinds of companies that young business owners would start out building.
The Supreme Court case that will be decided later this year hinges on a legal argument about the law under which the debt relief plan was created, the HEROES Act.  In a nutshell, conservatives have turned the plan's enormous economic benefit into a legal argument against its legitimacy. They argue that debt relief that extensive is a "major question" of policy that goes beyond what the HEROES Act provided for.  They also argue that the law permits the government to relieve student debt only if it doesn't leave the borrowers "better off" than they were before.  Of course, which individuals are "better off," and by how much, is always arguable.  And there are lots of things that government does to make some segments of society better off than others— but that is a bigger conversation.
What is clear right now is that relieving student debt—and solving the problem of the high cost of education overall, also a bigger conversation—would make our country "better off." I wish the conservative politicians who want to squash the Biden plan could see that. Meanwhile, we'll wait and watch to see what the Supreme Court decides.
(Svante Myrick is President of People For the American Way.)
(TriceEdneyWire.com)—Most
OPINION
NEW PITTSBURGH COURIER MARCH 15-21, 2023 B3
The propaganda machine called Fox News
Woke, equity, and anti-concepts
(TriceEdneyWire.com)—In
2021, the bill to award gold medals to the U. S. Capitol Police officers who responded to the Jan. 6 insurrection passed, despite 21 GOP lawmakers voting against it. The Congressional Gold Medal is Congress's highest expression of national appreciation for distinguished contributions made by individuals. Surprisingly, party members that pride themselves as supporters of law and order opposed honoring the officers who upheld law and order on that tragic day. It is both shameful and insulting that the lawmakers who benefitted from the officers' bravery and sacrifice found reasons to ignore the fact that five officers died carrying out their sworn duty to serve and protect.
No officers were killed on the day of the riot, four died by suicide and the fifth died of natural causes triggered by the events of the riot. The men and women of the U.S. Capitol Police are worthy of the nation's recognition. Rep. Andrew Clyde argued a month before the vote that the riot at the Capitol was nothing more than a "normal tourist visit," regardless of the multiple photos of Clyde helping barricade the doors of the House chamber after rioters breached the Capitol building. With the help of Fox News, Clyde's assessment would later prove to be part of the GOP's ongoing narrative in recreating the events of Jan. 6. Fox News, like its competitors CNN and MSNBC, are cable opinion outlets rather than pure news outlets.
Unlike the news received from traditional TV networks, cable "news" channels cater to the political interests of their viewers. For entertainment purposes, each cable network presents stories with opinions, facts, and a degree of conservative or liberal spin. But the manner of omissions, outright lies, and the sacrificing of facts for extreme political spins (and ratings) separates Fox News into its own special category.
Recently, HBO talk show host Bill Maher was interviewed by CNN. Maher expressed that wokeness, regardless of how it's defined, is a collection of ideas that depart from liberalism, and those that embrace woke ideology shut down debate.
Maher also said ten years ago we were "striving to be a color-blind society where we don't see race. Woke is something very different—it's identity politics—woke sees [race] all the time. [Race] is the most important thing. I don't think that's liberalism."
The View's Whoopi Goldberg rejected the notion that "woke" ideology shuts down debate, and Sunny Hostin complained that Maher compared "woke" with identity politics.
However, Goldberg and Hostin avoided Maher's premise that there was a fundamental difference between liberalism and woke ideology. Why?  Probably to conceal the fact that woke ideology is full of anti-concepts. An anti-concept is a term designed to replace and obliterate a legitimate concept or to obscure understanding.
Let's take equity as an example.
In 2016, Senator Bernie Sanders sought the Democratic nomination for president. His campaign website stated, "This campaign is dedicated to advancing diversity, equity, and inclusion in hiring, in programming, and in all other aspects of the work we do." That meant "building policies, procedures, and services that protect everyone and do not lead to inequalities."
By the 2020 Democratic primary, every nomination seeker said they wanted to create a more equitable society. Vice
J. Pharoah Doss Check It Out
President Kamala Harris explained that equality was a good goal, but let's not presume that equal treatment will lead to equal results because people don't start on the same footing.
From 2016 to the present, there's been an insistence that equity or equal outcomes are preferable to the liberal principle of equal opportunity. If equity vs. equality is typed into a search engine, the results show countless examples explaining why equity leads to social justice and equal opportunity leads to social inequities.
Recently, Bernie Sanders was a guest on HBO's Real Time with Bill Maher to promote his new book, It's Ok to be Angry About Capitalism. Maher asked a two-part question. First, Maher wanted to know if we were confusing equality of opportunity with trying to guarantee equity in outcomes. Maher added, "This word equity has come into the language in the past few years; before that, we didn't hear it a lot [But] people hear equity and hear equality and think it's the same word, but it's not the same word or concept." Then Maher asked Sanders how he would differentiate between equity and equality.
At first, Sanders said he didn't know what the answer was. Then Maher and
Sanders settled on equality as equal opportunity and treating people the same regardless of skin color, while equity equalized outcomes. Based on that distinction, Maher asked Sanders which one he supported, and Sanders said equality. Sanders didn't endorse equity because, in order to achieve equal outcomes, groups of people have to be treated differently. Sanders went along with the concept during his 2016 campaign, but the notion always conflicted with what he got arrested for during the Civil Rights Movement.
In 2021, Kerri D. Ingram, Director of the Discovery Institute's American Center for Transforming Education, wrote that the Merriam-Webster Dictionary defines equity as freedom from bias or favoritism. In 2020, Vice President Kamala Harris stated that there was a big difference between equality and equity. "According to Harris, equality is problematic because it suggests 'everyone should get the same amount.' Instead, she advocates 'equitable treatment' which to her means 'we all end up in the same place'. In essence, Harris advocates for a system in which disparities are eliminated by treating people not equally but with favoritism or bias—a view that conflicts with the very concept of equity as it has traditionally been defined and accepted." Again, an anti-concept is a term designed to replace and obliterate a legitimate concept or to obscure understanding. Moreover, anti-concepts prevent the left-of-center from realizing they have more in common with the right-of-center than with woke ideology.
Celebrating 196 years of the Black Press
David W. Marshall
Fox News viewers are more likely to accept and believe misinformation than viewers of other opinion outlets. Fox News may have once been an outlet for "enjoyment and entertainment, but it has now evolved into a propaganda machine disguised as an entertainment outlet. We see how Donald Trump uses the network to disseminate information—facts, arguments, rumors, name-calling, half-truths, and lies—to influence conservative viewers' and voters' opinions and beliefs. Now, Kevin McCarthy, as House Speaker, is using his position to do the same.
Speaker McCarthy gave Fox News host Tucker Carlson exclusive access to over 40,000 hours of sensitive Capitol security camera footage from Jan. 6. As a result, Fox News was given the freedom to spin, edit, and spin again as they saw fit. Carlson took advantage of a unique opportunity to pick up the talking points of lawmakers such as Rep. Clyde and others who downplayed and attempted to normalize the insurrection. He released to Fox News viewers a manipulated and bogus version of Jan. 6, seeking to change the narrative of the event as peaceful. In doing so, Fox News has become a state-sponsored propaganda machine typical of non-democratic nations.
Approximately 140 police officers were injured during the insurrection. Capitol Police Officer Brian Sicknick was sprayed by chemicals and collapsed, according to witnesses, and died the following day. The family of Sicknick joined Capitol Police Chief Thomas Manager in condemning Tucker Carlson for airing "cherry-picked" video from the calmer moments of the riot rather than the "chaos and violence" that occurred on a day that officers described as medieval warfare with officers slipping on their own blood and vomit. Manager called Carlson's accusation about Sicknick the most disturbing of the program.
"The Department maintains, as anyone with common sense would, that had Officer Sicknick not fought valiantly for hours on the day he was violently assaulted, Officer Sicknick would not have died the next day," Manager said. Sicknick's family issued a statement to CBS News that said they were "outraged at the ongoing attack on our family by the unscrupulous and outright sleazy socalled news network of Fox News."
Kevin McCarthy, who seeks to maintain the power of House Speaker, gave Fox News viewers exactly what they wanted. The same is true for Tucker Carlson and Rupert Murdoch, who aims to increase ratings and revenue. Therefore, the propaganda and misinformation continue, as does the viewership. But the right-wing media giant may have met their match.
Fox News is facing a defamation lawsuit from Dominion Voting Systems, a Denver-based manufacturer of voting machines, over the network's coverage of the 2020 presidential election and Donald Trump's bogus claims that the election was "rigged."
"Yet despite knowing the truth—or at minimum, recklessly disregarding that truth–Fox spread and endorsed these 'outlandish voter fraud claims' about Dominion even as it internally recognized the lies as "crazy," "absurd," and "shockingly reckless" the filing claimed. Dominion is seeking $1.6 billion in lost profits and reputational harm. With the lawsuit, Fox News is now trapped in a spiral of lies and conspiracy theories of its own making. Should Dominion succeed in winning its case, it could have a devastating financial impact that would threaten the media giant's ability to survive. Fox News has no shame and should be held accountable for its misinformation. The network will also have a loyal following. I am sure there are U.S. Capitol Police officers and officers elsewhere who will also continue to be Fox News viewers. The events from the last two years should be eye-openers to the fact that the network and many of its viewers are not true supporters of law enforcement as they claim but followers of a political and cultural cult.
(David W. Marshall is the founder of the faith-based organization TRB: The Reconciled Body and author of the book God Bless Our Divided America. He can be reached at www. davidwmarshallauthor.com.)
This month, the African American community of these United States celebrates 196 years of the Black Press, historically referred to as "Negro Newspapers". It was on March 17, 1827, at a meeting of "Freed Negroes" in New York City, that Samuel Cornish, a Presbyterian minister, and John Russwurn, the first Negro college graduate in the United States, established the negro newspaper.
The Black Press has been called many things during this 196 years of evolution. Its initial publication declared "there ought to be some channel of communication between us and the public through which a single voice may be heard in defense of five hundred thousand free people of colour." What these two men started, initially known as "Freedom's Journal and the Rights of All", has spun off to more than 500 Black newspapers as many embraced the need to tell our story and not have someone else tell it for us.
Today, the number of Black newspapers has dwindled to a little more than 200 with at least two, the Philadelphia Tribune at 130 years old, and the Afro American Newspaper in Baltimore at more than 125 years old, still owned by the families that founded it. At a time
John E. Warren
when few of us could read, these papers grew to be known nationally, long before the internet, social media and even the telephone itself. It was often the lowwaged Black railroad worker, like the porter handling the bags of traveling White people, who threw out copies of the Chicago Defender as the trains passed through "no-stop" small Southern towns. Part of the success was that we all knew we were Black thanks to "Jim Crow" segregation laws.
Today, thanks to the Black Press, we have histories we can read. The book and movie, "Hidden Figures", about the Black women math experts that made the space program work, were based in large part on articles written in the Norfolk Journal and Guide newspaper and kept in the paper's archives. Graphic pictures and articles about Black soldiers in World War I can be found at the Afro American
Newspaper in Baltimore.
Today, with racist Whites seeking to ban all knowledge of the Black experience in America, we must protect and preserve the Black Press as our only "Trusted Messenger". While we must use the internet and social media, let us not lose our souls and our knowledge of who we are in the process.
It is the Black Press that has written about "the stony road we have trod"; helped us feel the pain on our backs and that of our ancestors when we speak of the "Chastening rod". It is the Black Press that has provided the steady beat, so that our "weary feet have brought us to the place for which our fathers sighed". It is the Black Press that will help some of us return to the place where we met God before so many became drunk with the ways and wine of the world, which James Weldon Johnson spoke of when writing the Negro Natonal Anthem. Let's keep the Black Press where it belongs, in our heart and lives as our struggle for equality and fairness continues.
is
(Dr. John E. Warren
Publisher, San Diego Voice & Viewpoint Newspaper)
Federal agenda for civil rights and urban advocacy
(TriceEdneyWire.com)—"Some of the best work that has happened in the ongoing movements for justice, for freedom, for liberty, led by the Urban League, have been fueled by what we all know we do so well when we do it, which is coalition building. Urban League does this so well."—Vice President Kamala Harris The anniversary of the Selma to Montgomery marches this week shone a spotlight on the escalating assault on voting rights. U.S. Department of Justice's scathing rebuke of the Louisville Police Department underscored the urgent need to redefine public safety. The U.S. Senate overturned criminal justice reform in the District of Columbia, reinforcing the case for D.C statehood.
In the midst of it all, about 500 Urban League leaders, staffers, and volunteers were on the ground in the nation's capital, advancing our agenda on these issues and others, as part of the National Urban League's milestone 20th annual Legislative Policy Conference.
Before I became President and CEO of the National Urban League 20 years ago, I served in elective office, including two terms as Mayor of New Orleans and one as a Louisiana state senator. As the first public official to lead the National Urban League, I understood better than most how the proverbial "sausage" of public policy is made and I was determined that the Urban League movement would play a more influential role in making it.
The Legislative Policy Conference became the centerpiece of our redefined role.
One longtime affiliate leader confided in me, "Before you came, we didn't understand the relationship between politics and policy." The preeminence of our Legislative Policy Conference, which attracted the top leaders from Congress, the Cabinet, and even President Biden himself, is evidence of how well we understand it now.  The National Urban League's influence can be seen through-
Marc H. Morial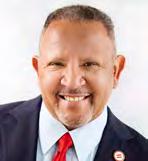 out the most significant and wide-ranging federal initiatives undertaken in recent years, particularly those which impact the five pillars that drive our mission—workforce development, education, housing, health, and social justice.
The landmark American Rescue Plan, which helped bring the crippling COVID-19 pandemic under control and hastened a robust economic recovery, was dramatically enhanced by provisions the National Urban League proposed and advocated like the expanded Child Tax Credit, extended SNAP benefit increases and supplemental unemployment insurance, and a National Urban Leaguebacked community-based vaccination plan to target the hardest-hit neighborhoods.
President Biden's historic Infrastructure Investment and Jobs Act was modeled on the Main Street Marshall Plan, the National Urban League's comprehensive blueprint for addressing lack of opportunity and economic inequality in America's urban communities.  In addition to once-in-a-generation investments in modernizing the nation's railways, roads, bridges, airports; the legislation also includes the transformational expansion of broadband internet infrastructure for which we advocated in the Lewis Latimer Plan for Digital Equity and Inclusion.
Not only did President Biden heed our call to make the Minority Business
Development Agency permanent, but he also appointed National Urban League Executive Vice President and Chief Operating Officer Donald R. Cravins Jr., to lead the agency as the first-ever Under Secretary of Commerce for Minority Business Development.
President Biden's Executive Order on Advancing Effective, Accountable Policing, and Criminal Justice Practices to Enhance Public Trust and Public Safety, incorporates many of the themes of the National Urban League's comprehensive framework for criminal justice advocacy, 21 Pillars for Redefining Public Safety and Restoring Community Trust. These include bans on racial profiling, chokeholds, no-knock warrants, and shooting at moving vehicles; investigation of police misconduct, revision of use-of-force policies, demilitarization of police, data collection on misconduct and use of force, mandatory use of dashboard and body cameras strengthening of hiring and training standards, and increased diversity among both leadership and ranks.
The National Urban League's influence on national policy stretches back through the decades: Executive Director Eugene Kinkle Jones served as part of President Franklin Roosevelt's "Black Cabinet" in the 1930s. His successor Lester Granger led the effort to desegregate the nation's armed forces under President Harry Truman. The legendary Whitney M. Young Jr., was integral to the passage of the Civil Rights Act and the Voting Rights Act. And Vernon Jordan rebutted President Ford's State of the Union Address with the first State of Black America® report, the definitive annual benchmark of the economic and social status of African Americans. The Legislative Policy Conference, however, represents a historic expansion and redefinition over the last 20 years of the position our movement now occupies in the nation's legislative, administrative, and political institutions.
FORUM
B4 MARCH 15-21, 2023 NEW PITTSBURGH COURIER
Commentary
Commentary
To Be Equal
Turning 50? Here are four things you can do to improve your health and well-being
by Jay Maddock Texas A&M University
When the ball dropped on New Year's Eve to mark the beginning of 2023, I came to grips with the fact that I would turn 50 years old this year.
Entering a new decade is often a time to pause and reflect on our lives, particularly when reaching middle age. For 50-yearold American men, the average remaining life expectancy is 28 more years; for women, it's 32.
Turning 50 can be the time of your life—but it also means adapting to new challenges.
As a public health professor who is an expert in health promotion, I started to think about things one could do around this milestone birthday to improve the chances of living a healthy life for decades to come.
After reviewing the literature on healthy aging, I identified four things in particular that take on greater importance when you turn 50—and that go beyond general health advice that's beneficial at any age, like staying active, eating well and getting enough sleep. Get a colonoscopy
Urging everyone to get a colonoscopy is certainly not the most fun piece of advice, but it's one of the most important. The American Cancer Society estimates that there will be more than 105,000 new cases of colon cancer, more than 45,000 new cases of rectal cancer and over 50,000 deaths from colorectal cancer in 2023 alone.
This makes colorectal cancer the second leading cause of cancer-related deaths for men and women.
The good news is that the survival rate is high if the cancer is detected early, before it spreads to other parts of the body.
The survival rate drops precipitously if cancer is found in the later stages.
A colonoscopy is a routine inpatient procedure that uses a scope to examine the rectum and colon and that requires sedation or anesthesia.
In addition to detecting cancerous or potentially malignant polyps, your doctor can also detect swollen tissue and ulcers. These may indicate potential problems and increase the need for more frequent monitoring.
For people at low risk of colorectal cancer, there are less invasive tests that can be done at home, such as Cologuard. This involves collecting and mailing a sample of poop to a lab. These options should be discussed with your doctor to figure out which screening is best for you.
In 2021 the government's Preventive Services Task Force changed its recommendation for beginning colorectal cancer screening from age 50 to 45 for people at low risk. As a result, insurance companies are required to cover the cost of screening for anyone age 45 or older.
People at high risk should get screened even earlier. High risk is defined as a family history of colorectal cancer or a diagnosis of inflammatory bowel disease. Colorectal cancer can occur in younger people too; for example, the "Black Panther" star, actor Chadwick Boseman, died of colon cancer at the age of 43 in 2020.
Get the shingles vaccine
For many people who grew up in the 1970s and 1980s, getting chickenpox was a rite of passage. I had a particularly severe case around my 10th birthday.
Once you have chickenpox, the virus lies dormant in your body for the rest of your life. And it can reemerge as shingles.
While shingles are not usually life-threatening, they cause a rash and can be extremely painful. Getting shingles also greatly increases one's risk of having a stroke over the following year.
The good news is that the shingles vaccine is highly effective. The Centers for Disease Control and Prevention recommends that adults 50 and older get the two-shot regimen, two to six months apart, which is 97 percent effective at preventing shingles.
Bump up retirement savings, look for discounts
Retirement might seem like a long way off, but the average retirement age in the United States in 2022 was 61. The same study found that on average people thought they were going to retire at age 66.
For anyone born after 1960, full retirement ben-
age 67,
erage retirement age.
Retiring earlier than you had planned can occur for many reasons, but involuntary ones, like job loss, injury or illness, can be a financial strain. The general rule is that you need about 80% of your pre-retirement income to be financially comfortable in retirement. This consists of all sources of income, including Social Security benefits, pensions and investments.
If you are behind where you should be in savings, the Internal Revenue Service allows you to make catch-up contributions starting the year you turn 50. Employees who are 50 or older with a 401(k), 403(b) or 457(b) can contribute an extra US$7,500 a year. This money grows tax-free and helps provide an extra cushion when you retire. At age 50, an extra $1,000 per year can also be contributed for individual retirement accounts and Roth IRA accounts.
Another way to save: Many hotels, restaurants and retail outlets offer senior discounts starting at age 50. You can find reliable and up-to-date discounts by joining the AARP. This nonprofit organization advocates for people ages 50 and older. Membership is under $20 per year and provides hundreds of discounts. The challenges of turning 50.
Get your paperwork in order
While people in their 50s and beyond often still have their best decades ahead of them, it is vital to prepare for the unexpected—at any age. The mortality rate for people ages 55 to 64 is double that of those age 45 to 54.
This is an excellent time to decide how you want your affairs to be handled.
According to the National Institute on Aging, this includes your will, living will and a durable power of attorney.
A will describes how you would like your financial assets distributed after your death. However, most Americans don't have a will. There are several online tools for wills and bequests that can make this process easier.
Living wills indicate the type of care you want or don't want if you are unable to communicate your preferences. The durable power of attorney is a doc-
ument that allows someone you appoint to make health care decisions for you if you cannot. This is different from a general power of attorney, which ends if you can no longer make decisions on your own.
These may seem like a time-consuming list of things to do, but break-
ing them down into separate tasks makes it more manageable. So far, I have bumped up my retirement savings and scheduled my colonoscopy—even though I'm five years late on that one, based on the new recommendations.
I will get the rest done by the end of the year— and if you're turning 50
or just planning ahead, I hope you do too. Admittedly, not all of it is fun, but everything on this checklist will add security to your years, and perhaps years to your life.
(Jay Maddock, Professor of Public Health, Texas A&M University
This article is republished from The Conversation.)
don't kick
until
leaving a
gap between that
the
efits
in
six-year
and
av-
ACTIVE AGING www.newpittsburghcourier.com New Pittsburgh Courier MARCH 15-21, 2023 B5
15017
Estate of PAUL JOSEPH M. PELLECCHIA, Deceased of Liberty Boro, Pennsylvania,
Estate No. 02-23-01251 Kenneth B. Hornfeck, Executor, or to Ryan W. Brode, Atty, 6 Clairton Blvd. Pittsburgh, PA 15236
Estate of BRIGITTA WEBER A/K/A BRIGETTE WEBER, Deceased of Coraopolis Borough, Estate No. 00579 of 2023 George F. Weber, Executor, 2019 Ewings Mill Rd, Coraopolis, PA 15108; or to Christina E. McKaveney-Malkin, Esquire, P.O. Box 353, Ingomar, PA 15127
Estate of ELIZABETH M. BELFIORE deceased of Neville Island, PA, No. 01439 of 2023, Paula A. Deacon extr., PO Box 394, Carnegie, PA 15106 or to c/o Jacqueline H. Brangard, Esquire, Scolieri Law Group, P.C. Attys., 1207 Fifth Avenue, Suite 200 Bldg., Pittsburgh , Pa. 15219
Estate of JOSEPH MICHAEL MOZURAK, JR. deceased of Glenshaw, Allegheny County, Pennsylvania, No. 02-23-01329, Elizabeth B. Mozurak, Executor., 2317 Middle Road, Glenshaw, PA 15116 or to EMILY H. HAMMEL, Atty; BRENLOVE & FULLER, LLC. 401 Washington Avenue, Bridgeville, PA 15017
Estate of VIOLA T. VESPAZIANI deceased of Collier Township, Allegheny County, Pennsylvania, No. 02-23-01330, Beth L. Bonzo, Executor., 1149 Cardinal Drive, Pittsburgh, PA 15243 or to ROBIN L. RARIE, Atty; BRENLOVE & FULLER, LLC. 401 Washington Avenue, Bridgeville, PA 15017
Estate of PATRICIA L. BUTLER a/k/a
PATRICIA LOUISE BUTLER, deceased of Monroeville, Allegheny County, Pennsylvania (No. 022301007). Notice is hereby given that Letters of Administration on the above
Estate have been granted to the undersigned at probate number 022301007, to whom all persons indebted to said Estate are requested to make immediate payment, and those having claims or demands against the same will make them known without delay to the undersigned or their attorney.
Laura M. Butler, Administratrix, 127 Holy Cross Drive, Monroeville, PA 15146
ROBERT A. CINPINSKI, Attorney, 200 N. Jefferson St., Kittanning, PA 16201
Estate of VERONICA J. PROVENZANO deceased of 718 Willowcrest Drive Gibsonia, PA 15044, No. 02-23-01126, Mark A. Provenzano, 802 Lakeview Court, Mars, PA 16046, Michael A. Provenzano, 202 Eagleview Court, Gibsonia, PA 15044 Co-Executor., or to William C. Price Jr. Price & Associates, P.C. 2005 Noble Street, Pittsburgh, PA 15218
Estate of MICHELLE JOHNSON-HOPSON
deceased of Pittsburgh, PA 15208, No. 06073 of 2022, Juluis Hopson Jr. extr, 7227 Monticello Street, Pittsburgh, PA 15208 or to Marvin Abrams, Esquire, Allegheny Law Group, LLC. 816 5th Avenue, Ste. 600, Pittsburgh, PA 15219
ANNOUNCEMENTS
Public Notice
AVALON BOROUGH
ADVERTISEMENT
2013 FORD EXPLORER POLICE INTERCEPTOR
The Council of the Borough of Avalon, at its March 9, 2023 Borough Development Committee meeting, authorized the sale of a 2013 Ford Explorer Police Interceptor. The Borough will accept sealed bids until 3:00 p.m. on Friday, March 31, 2023. All bids should be mailed or submitted in person, Monday through Friday, 8:00 a.m. to 4:00 p.m., to the Avalon Borough Administration Office, 640 California Ave, Pittsburgh, PA 15202. The municipality reserves the right to reject any or all proposals. The vehicle is being sold as is, where is, with no warranties, express or implied. For questions or to schedule a time to inspect the vehicle, please contact the Avalon Borough Department of Public Works at (412) 761-5959.
Borough of Avalon Lorraine Makatura, Secretary
ANNOUNCEMENTS Meetings
HACP BOARD OF COMMISSIONERS MONTHLY BOARD MEETING
The Housing Authority of the City of Pittsburgh's Board of Commissioners will hold its monthly Board Meeting on March 23, 2023, at 10:30 a.m. Due to the COVID-19 protective guidelines set forth by federal, state, and local government, the meeting will be held remotely, with public access to be provided online. The HACP will provide a direct link to a livestream of the meeting, and instruction on how to make a public comment. Details will be made available on http://www.hacp.org, in advance of the meeting.
TOWNSHIP OF WILKINS
PUBLIC NOTICE OF INTENT TO ADOPT PROPOSED ORDINANCE NUMBER 1114
The Wilkins Township Board of Commissioners will consider adoption of the following ordinance at a public meeting to be held on the 27th day of March 2023 at 7:00 p.m. in the Municipal Building, 110 Peffer Road, Wilkins Township, Pennsylvania. The complete text of the Ordinance is on file and may be inspected in the Office of the Township Secretary at the aforesaid Municipal Building during normal business hours. The title and a summary of the ordinance is as follows.
PROPOSED ORDINANCE #1114
TITLE
AN ORDINANCE OF THE TOWNSHIP OF WILKINS, ALLEGHENY COUNTY, PENNSYLVANIA, AMENDING ORDINANCE NUMBER 1095, PROVIDING FOR THE REGULATION OF PLANNED RESIDENTIAL DEVELOPMENTS.
SUMMARY
The Ordinance adds a definition for "perimeter buffer" and provides certain landscaping requirements for Planned Residential Developments in both residential and commercial zoning districts.
THE WILKINS TOWNSHIP BOARD OF COMMISSIONERS
PUBLIC MEETING
The Wilkins Township Board of Commissioners shall hold a public meeting on Monday, March 27, 2023 at the Municipal Building, 110 Peffer Road, Turtle Creek, PA 15145 beginning at 6:45 PM. The purpose of the meeting is to receive public comments on a proposed amendment to the Zoning Ordinance which would require certain landscaping in the perimeter buffer of a Planned Residential Development. All interested persons are welcome to attend and speak publicly. A copy of the ordinance amendment will be available on the Township website https://www.wilkinstownship.com by close of business, Friday, March 24, 2023. Virtual access to the public meeting is available through Zoom at the following link: https://us02web.zoom. us/j/84619625991
NOTICE
On Thursday, March 30, 2023, at 6:00 p.m., in Council Chambers, 537 Bayne Ave., Bellevue, PA, Bellevue Borough's Zoning Hearing Board shall hold Public Hearings on the following Applications: (1) NYXQ 31201 LLC/Adam Hussaini, seeking Special Exception approval, per Tri-Borough Zoning Ord. §2000405 & Ord. No. 18-05, to use a portion of the property at 120 S. Bryant Ave. as a Short-term Rental unit; and (2) Bender/Constantino, seeking a dimensional variance from the setbacks required by §2000-406 & §2000-409 for residential Accessory Bldgs., in order to enlarge an existing garage at 64 N. Jackson Ave., along its current setback lines. The Applications may be viewed during normal business hours at the Borough Offices.
Thomas P. McDermott, Solicitor Bellevue Borough ZHB
ADVERTISEMENT FOR BID
The Town of McCandless will receive sealed bids for the Town Hall Window Replacement project until 1:00 p.m., Wednesday, April 19, 2023, at the Town Hall Building located at 9955 Grubbs Road, Wexford, PA, 15090. Bids will be thereafter publicly opened and read at 1:30 p.m. in the Powers Meeting Room at the Town Hall. All bids must be submitted to the attention of Brian O'Malley, Town Manager, and marked "Town Hall Window Replacement". Proposals to receive consideration must be accompanied by a certified check or bidder's bond from a surety company authorized to do business in Pennsylvania, made to the order of the "Town of McCandless", in an amount equal to ten percent (10%) of the total amount of the proposal. Sealed Bids will be received for the following contracts:
1. General Construction Contract
All bids must be on a lump sum basis; segregated bids will not be accepted. Bidders shall be responsible for verifying all addenda prior to submitting bid. Failure to acknowledge receipt of addenda may result in disqualification of bid.
Bid Documents will be available, starting Wednesday, March 23, 2023, for a non-refundable fee, by contacting Accu-Copy Reprographics, 302 Thompson Park Drive, Cranberry Township, PA 16066 or (724) 9357055. A mandatory, pre-bid conference will be held at 1:00 p.m. on Friday, March 31, 2023 , at the Town of McCandless Town Hall, 9955 Grubbs Road, Wexford, PA, 15090.
A site visit is also mandatory prior to bid submission and all interested parties may access the site following the pre-bid conference.
The Contractor, within ten (10) days after the date the Contractor is notified of the Contract award, will be required to furnish a faithful Performance bond in the amount equal to one hundred percent (100%) of the Contract Sum and a Payment Bond equal to one hundred percent (100%) of the Contract Sum.
The Town of McCandless reserves the right to waive any information or to reject any or all bids and to enter into such a contract as may be deemed in the best interest of the Town of McCandless.
Town of McCandless Brian O'Malley Town Manager
ALLEGHENY COUNTY
SANITARY AUTHORITY
LEGAL NOTICE
CONTRACT NO. 1785
FURNISH & DELIVER
HYDROCHLORIC ACID
Sealed Bids for CONTRACT NO. 1785–FURNISH & DELIVER HYDROCHLORIC ACID shall be received at the Engineering Department office of the Allegheny County Sanitary Authority, 3300 Preble Avenue, Pittsburgh, PA, 15233, until 11:00 A.M., Prevailing Time, Tuesday, April 18, 2023 and then shall be publicly opened and read. A link will be required to access The Microsoft Teams Video Conference for the Bid Opening. If interested in obtaining a link to the Bid Opening, contact Kathleen P. Uniatowski via email at kathleen.uniatowski@alcosan.org
ALCOSAN encourages businesses owned and operated by minorities and women to submit bids on Authority Contracts or to participate as subcontractors or suppliers to successful Bidders. Successful Bidders are to use minority and women's businesses to the fullest extent possible.
Contract Documents will be available via email or may be examined at the Engineering office of the Authority. Contract documents must be obtained directly from ALCOSAN to qualify as an eligible bidder. Bid Security shall be furnished by providing with the Bid a Certified Check or Bid Bond in the amount of One Thousand Dollars ($1,000.00) The Successful Bidder shall be required to furnish a Performance Bond in the amount of $10,000.00.
Any questions regarding the Technical Specifications should be directed to Benjamin Heilman, Contract Supervisor, via email Benjamin.heilman@alcosan.org
Any questions regarding obtaining the Contract Bidding Documents should be directed to Kathleen P. Uniatowski, ALCOSAN, via email at contract.clerks@alcosan.org.
The Authority reserves the right to reject any or all bids, to waive any informality in any bid and to accept any bid should it be deemed in the interest of the Authority to do so.
ALLEGHENY COUNTY SANITARY AUTHORITY
Benjamin J. Heilman Contract Supervisor
OFFICIAL BID NOTICE
TOWNSHIP OF UPPER ST. CLAIR
Sealed and separate bids will be received by the Township of Upper St. Clair, 1820 McLaughlin Run Road, Upper St. Clair, PA 15241, Allegheny County, Pennsylvania until 9:00 a.m., Tuesday, April 11, 2023, and the BIDS will be publicly opened and read thereafter in the Township Building at the same address for the following:
COMMUNITY & RECREATION
CENTER ROOFTOP UNIT #10
REPLACEMENT
Please refer to https://www.twpusc. org/business/bid_information.php, for details regarding specifications and Bidding requirements.
Matthew R. Serakowski Township Manage
ADVERTISEMENT
Bids are hereby solicited for the Community College of Allegheny County, 800 Allegheny Avenue, Pittsburgh PA 15233 on the following: Bid 1113 – Furniture for Chalfont Hall – Center for Faculty Innovation Project Labor Agreement Compliance
Required
Due date: 2:00 P.M. Prevailing Time on Wednesday, March 22, 2023
Any bid or proposals received after this deadline will be considered as a "late bid" and will be returned unopened to the offerer. Proposals may require Bid Bonds, Performance Bonds, Payment Bonds, and Surety as dictated by the specifications. No bidder may withdraw his bid or proposal for a period of ninety (90) days after the scheduled closing time for receipt of bids. The Board of Trustees reserves the right to reject any and all bids. The Community College of Allegheny County is an Affirmative Action/Equal Employment Opportunity Employer and encourages bids from Minority/Disadvantaged owned businesses. For more information, contact Michael Cvetic at mcvetic@ccac.edu.
OFFICIAL ADVERTISEMENT THE BOARD OF PUBLIC EDUCATION OF THE SCHOOL DISTRICT OF PITTSBURGH Sealed proposals shall be deposited at the Administration Building, Bellefield Entrance Lobby, 341 South Bellefield Avenue, Pittsburgh, Pa., 15213, on March 28, 2023, until 2:00 P.M., local prevailing time for:
Pgh. Langley K-8 Finish Floor Replacements and Miscellaneous Work (REBID)
Asbestos Abatement Primes
Service & Maintenance Contract at Various Schools, Facilities and Properties: - Fire Extinguisher and Fire Hoses Service and Maintenance (REBID)
Pgh. Carrick High School Whiteboard Installations General Primes
PPS Service Center Service Center Fuel Dispenser Island Replacement Mechanical Primes
Project Manual and Drawings will be available for purchase on March 6, 2023 , at Modern Reproductions (412-488-7700)
127 McKean Street, Pittsburgh, Pa., 15219 between 9:00 A.M. and 4:00 P.M. The cost of the Project Manual Documents is non-refundable.
Project details and dates are described in each project manual.
MEMBER SERVICES AND EVENTS MANAGER
The Allegheny County Bar Association , a downtown Pittsburgh-based professional trade association, is accepting applications for the position of Member Services and Events Manager, an immediate fulltime opening.
Major duties of the position include:
· Assures proper space, food and beverage, and equipment arrangements are made for our meetings, speakers, and programs.
· Works with event budgets, negotiates and executes contracts
· Assists with the publicity, registration and execution of a variety of events
· Serves as liaison to the Young Lawyers Division and other committees
· Assists with the planning and execution of the annual Bench Bar Conference
· Assists with member recruitment and retention campaigns, the administration and expansion of member benefits, and other projects of the Membership Department
Qualifications
· Excellent verbal and written communication skills
· organizational skills
· a passion for customer service
· ability to work collaboratively with staff and member volunteers
· ability to prioritize, move between tasks and meet firm deadlines
· Extensive experience in Microsoft Word and Excel, database experience preferred
· Previous event planning experience, experience with local vendors and venues a plus
· A college degree (Associates or Bachelors) preferred
Position is fulltime with some evening availability required.
Employer is an equal opportunity employer. For consideration, please submit resume and cover letter to jmarhefka@acba.org. No telephone calls please.
GRANTS WRITER/RESEARCHER
MANCHESTER BIDWELL CORPORATION
Responsible for coordinating collection of information for grant proposal submissions, writing accurate and timely proposals, and researching funding opportunities. Bachelor's degree required. Grant writing experience preferred. Demonstrated proficiency in conducting Internet-based research and an understanding of basic budget information. Proficiency with MS Office applications. Experience with online search tools and CRM software preferred. Send Resume with cover letter and salary requirements to resumes@manchesterbidwell.org
EOE
SENIOR DIRECTOR OF OPERATIONS
BIDWELL TRAINING CENTER
Responsible for campus-level administration, including student services and student activities. Oversees all student services operations, including the administration and application of academic policies and procedures.
B.S. in Higher Education Administration, Business Administration or similar area, and minimum of 6 years progressive experience in post-secondary administration and operations required; Master's Degree preferred. Must have demonstrated experience in policy development, PA state licensure requirements, and post-secondary education regulations and guidelines at federal, state, and local levels. Start date July 1st. Send Resume with cover letter and salary requirements to resumes@manchesterbidwell.org
EOE
CLASSIFIEDS GET RESULTS!
CLASSIFIED MARCH 15-21, 2023 www.newpittsburghcourier.com New Pittsburgh Courier 4 9 2 0 7 3 1 6 SONNY BOY 5 LEGAL ADVERTISING Bids/Proposals LEGAL ADVERTISING Bids/Proposals CLASSIFIEDS GET RESULTS! COURIER CLASSIFIEDS GET RESULTS To place a display ad in the New Pittsburgh Courier call 412-481-8302 ext. 128 COURIER CLASSIFIEDS… THE ONLY WAY TO GO! CLASSIFIEDS GET RESULTS! JOB OPPORTUNITIES Help Wanted The Courier is THE VOICE of Black Pittsburgh. B6 LEGAL ADVERTISING Fictious Name FICTITIOUS NAME Notice is hereby given pursuant to the provisions of the Fictitious Name Act of Pennsylvania that an application for registration of a fictitious name was filed with the Department of State of the Commonwealth of Pennsylvania, for the conduct of a business under the fictitious name of LINDYBELLE with its principal place of business at 7 Hemlock Street, Pittsburgh, PA 15228. The names and addresses, including street and number, if any, of all persons who areparties to the registration are: Hillary Lohr - 7 Hemlock Street, PIttsburgh, PA 15228 and Merchy Commerce, LLC - 7 Hemlock Street, Pittsburgh, PA 15228 LEGAL ADVERTISING Legal Notices Estate of EUGENE D. SHERPATA Deceased of City of Clairton, Pennsylvania, No: 02-23-01652, Dana L. O'Hara, Executrix or to Ryan W. Brode, Atty, 6 Clairton Blvd. Pittsburgh, PA 15236 Estate of CHRISTOPHER ZBIGNIEW DE MONTFORT, Deceased of Pleasant Hills, Allegheny County, Pennsylvania, Estate No. 02-23-01043 Bernadette Haverty, Executor, 145 Revere Drive, Pittsburgh, PA 15236 or to Aubrey H. Glover, Atty; BRENLOVE & FULLER, LLC. 401 Washington Avenue, Bridgeville, PA
America's Best Weekly 315 East Carson Street Pittsburgh, PA 15219 Classifieds 412-481-8302 Ext. 134 E-mail: ads@newpittsburghcourier.com Deadline/Closing/Cancellation Schedule for copy, corrections, and cancellations: Friday noon preceding Wednesday publication
BUSINESS SYSTEMS ANALYST
Pittsburgh Regional Transit is seeking a Business Systems Analyst to serves as the primary liaison between the business customers, IT: Enterprise Software, software developers and/or suppliers of third-party developed applications to gather business requirements, identify and evaluate off-the-shelf solutions, communicates and discusses with IT management, and documents in DevOps so that software developers can then transfer into code resulting in a working application to suit business customer's needs. Works with IT management and third-party suppliers to evaluate off-the-shelf solutions, identify technology related software issues and follows through to conclusion. Provides day to day support, training and assists in the creation of documentation.
Essential Functions:
• Serves as the primary liaison to gather business requirements between the business customer, IT Management, and software developers to identify solutions to customer requests and/or issues.
Manages user stories, initial testing prior to business user testing, and closure of completed tasks in DevOps using Agile methodology
• Serve as customer support for software usage: Guide customers with functional support and assist with navigating software. Resolve help desk tickets related to application software. Provide system instruction for report generation and system functionality and also assist in the creation of documentation.
• Serve as technical analyst of software: Analyze application error and message logs, and work to resolve issues.
Job requirements include:
• Two-year technical school/Associate
Degree in Computer Science, Information Science or technology related field from an accredited school with three (3) years relevant experience in web-based software application using SQL OR
• BS Degree in Computer Science, Information Science or a technology related field from an accredited school or related field with one (1) year relevant experience in web-based software applications using SQL.
• Related experience may be substituted for the education on a year-for-year basis.
• Strong analytical and problem-solving skills.
• Ability to quickly understand, retain and apply large amounts of new information.
• Ability to work in a fast paced, dynamic environment.
• Great organizational skills.
• Experience in monitoring and adhering to procedures and policies.
• Excellent verbal communication skills with the ability to present information in a clear and concise manner.
• Excellent customer service and problem resolution skills.
• Professional and effective communication skills.
• Exemplary attention to detail.
• Ability to be flexible and adapt to change.
• Valid PA driver's license. Preferred attributes:
• Prior project implementation experience.
• Good understanding of a web based EAM or ERP application.
• Experience with large, complex application deployments.
• Working knowledge and practical use of Agile development principles.
• Experience with SQL script development.
CRITICAL CARE PHYSICIAN –University of Pittsburgh Physicians seeks a Critical Care Physician to work in Pittsburgh, PA (Allegheny County). Diagnose, manage, and treat critically ill and injured patients, including trauma victims, patients with multiple organ dysfunctions, and patients who require mechanical ventilation; perform medical procedures in an intensive care setting, including central line placement, arterial line placement, tracheal intubation, transfusion, and lumbar puncture; work with a multidisciplinary team of surgeons, physicians, and nurses to ensure patients are medically controlled and stable before transferring them to the proper department for further evaluation; order diagnostic tests and review test results to identify abnormal findings and refer patients to medical specialists, as necessary; prescribe appropriate interventions, therapies, medications, and other treatment modalities; collect, record, and maintain details of patients' histories, physical examinations, diagnostic test results, assessments, management plans, and treatment outcomes. Must have a Medical degree or equivalent; must have completed a residency in Internal Medicine; must have completed a fellowship in Critical Care Medicine; must be Board certified or eligible for certification in Critical Care Medicine; must have a valid PA medical license. Apply by following these steps; visit http://careers.upmc.com and enter 230000N7 in the "Search
Keyword/Job ID" field and click Go. EOE/Disability/Veteran.
NORTHGATE SCHOOL DISTRICT
FULL-TIME SUPPORT NURSERN/LPN
Northgate School District is seeking a full-time Support Nurse, 10-month, RN/LPN Support Nurse position. Requirement: RN or LPN. Please submit a letter of interest, resume and credentials to Mrs. Christina Garczewski, Coordinator of Special Services, 591 Union Ave., Pgh., PA 15202 or email christina.garczewski@ northgatesd.net. Clearances are a requirement of this position.
EOE
FULL TIME POLICE OFFICER –MUNHALL BOROUGH
Qualified persons are invited to apply to the Borough of Munhall Civil Service Commission to take competitive examinations leading to eligibility for appointment as Full-Time Patrol Officer in the Borough of Munhall Police Department. An application can be obtained beginning March 6, 2023 at the Borough Building, first floor, 1 Raymond Bodnar Way, Munhall, PA 15120 between the hours of 8 am and 4 pm, Monday through Friday.
Completed applications must be returned by 3:30 pm, on Friday, March 31, 2023 along with a $50.00 non-refundable application fee payable to the Borough of Munhall. No applications will be accepted after this date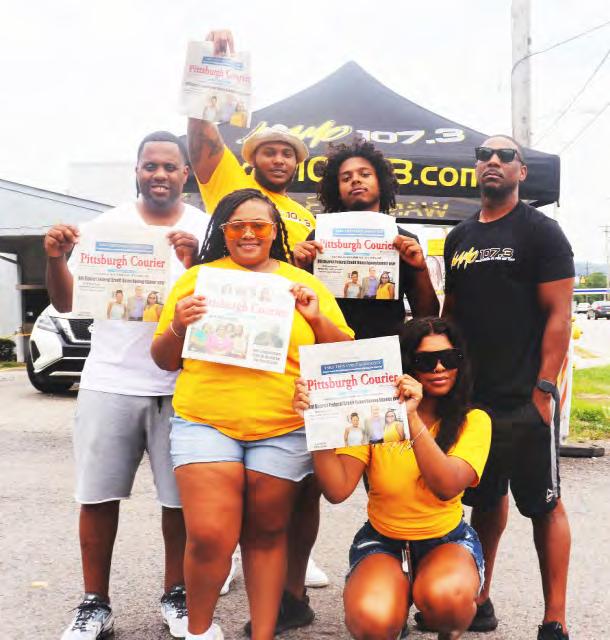 We offer a comprehensive compensation and benefits package. Interested candidates should forward a cover letter (with salary requirements) and resume to:
Danielle Jacobson Employment Department 345 Sixth Avenue, 3rd Floor Pittsburgh, PA 15222-2527
DJacobson@portauthority.org
EOE
AURORA INNOVATION, INC
MULTIPLE POSITIONS
Aurora Innovation, Inc. seeks positions in Pittsburgh, PA. Sr. Software Eng . to work on autonomous vehicle software. Ref# 00288
Mechanical Eng. to design OEM platforms. Domestic travel req. Ref# 00263. Email resumes to jobs@aurora.tech using ref#.
SOUTH FAYETTE TWP.
SCHOOL DISTRICT is seeking the following positions:
CHEMISTRY TEACHER BUSINESS, COMPUTER, AND INFORMATION TECHNOLOGY
TEACHER (HIGH SCHOOL)
Positions available at the start of the 2023-2024 School Year
Complete job descriptions and directions on how to apply are available at: www.southfayette.org
Applications must be received by 4:00 PM March 17, 2023
REQUIREMENTS: Applicants must be a U.S. Citizen, be a minimum of 21 years of age, must have successfully completed or in the process of completing Pennsylvania Act 120 Certification, required to live within twelve (12) air miles of the Munhall Borough building six (6) months after probation ends, a high school diploma or GED, possess a valid Pennsylvania Motor Vehicle Driver's license, and be physically and mentally fit to perform the full duties of a police officer as determined by the physical and psychological testing. Successful applicants must meet all other Civil Service
requirements:
COMPENSATION AND BENEFITS:
Starting salary for 2023 is $52,741 (2023 top Patrolmen base salary is $86,557) with an excellent fringe benefit package including 2 weeks of paid vacation after 1 year of service maxing out at 6 weeks' vacation, 12 sick days per year, 2 personal days after 1 year maxing out at 4 days, comprehensive Health Care package, Uniform allowance of $900.00 a year, longevity and holiday pay, minimum staffing of 2 Officers per shift.
TESTING DATE AND TIME: The physical agility test will begin at 9 am on April 11, 2023, and will be conducted at the Allegheny County Police Training Academy. The written test will begin immediately after the agility test.
An Equal Opportunity Employer
JOB OPPORTUNITIES Help Wanted COURIER CLASSIFIEDS… THE ONLY WAY TO GO! CLASSIFIEDS NEW PITTSBURGH COURIER MARCH 15-21, 2023 B7 NEW PITTSBURGH COURIER CLASSIFIEDS GET RESULTS! The New Pittsburgh Courier.... Often Imitated. NEVER Duplicated. A Courier subscription makes the perfect gift! Call 412-481-8302, ext. 136. SONNY BOY JOB OPPORTUNITIES Help Wanted
FIRE LIEUTENANT MT. LEBANON, PA The Municipality of Mt. Lebanon will accept applications for the position of fire lieutenant beginning February 13, 2023 . Deadline to submit an application, resume, certifications, and complete the on-line written exam will be May 12, 2023. This is a lateral entry supervisory position requiring substantial fire service knowledge, skills, and background. Job responsibilities include supervision of volunteer staff, fire apparatus operation, fire suppression, fire prevention, public education, rescue operations, and hazardous material and emergency medical response. Starting salary is $76,310.00 with excellent benefits and pension. To review requirements and apply, go to https://mtlebanon.bamboohr.com/ hiring/jobs/150. Mt. Lebanon is an Equal Opportunity Employer. America's Best Weekly 315 East Carson Street, Pittsburgh, PA 15219 Classifieds 412-481-8302 Ext. 134 E-mail: ads@newpittsburghcourier.com Deadline/Closing/Cancellation Schedule for copy, corrections, and cancellations: Friday noon preceding Wednesday publication Subscribe to the Courier today by calling 412-481-8302, ext. 136. Support the publication that is ALWAYS focused on Pittsburgh's African American community. COURIER CLASSIFIEDS… THE ONLY WAY TO GO! To place a display ad in the New Pittsburgh Courier call 412-481-8302 ext. 128 Read us online! at... www.newpittsburghcourier.com COURIER CLASSIFIEDS… THE ONLY WAY TO GO!
B8 MARCH 15-21, 2023 NEW PITTSBURGH COURIER