the
Path to Pebble
Our moonshot project models an innovative approach to the learning experience.
FALL 2021
M c PHERSON COLLEGE MAGAZINE
Campus Events
Many activities returned to campus this fall like concerts, theatre, karaoke (inset) and homecoming. As the fall sport season came to a close, basketball was just taking off with the Bulldog Madness event.
THE MOONSHOT
We
Elegance
the
PEBBLE BEACH
Over the years, many McPherson College students have been inspired by the support of Pebble Beach and the experience afforded them to attend the Concours.
THE PROCESS
Not much about the restoration of the 1953 Mercedes-Benz 300 S is ordinary. In fact, a great deal is unique to this particular restoration.
McPherson College Administration
Michael P. Schneider '96 president
Abbey Archer-Rierson '16 chief of staff
Bruce Clary '77 vp for academic affairs
Amanda Gutierrez vp for automotive restoration
Christi Hopkins vp for admissions
Chandler Short '15 director of athletics
Marty Sigwing '16 executive director of operations
Brenda Stocklin-Smith '16 director of human resources
Rick Tuxhorn '16 vp for finance
Erik Vogel '98 vp for advancement
Shana Warkentine Meyer vp for student affairs
M c PHERSON COLLEGE MAGAZINE
have set a lofty, bold, and audacious goal: to compete at Pebble Beach Concours d'
— the Super Bowl of the restoration world — with a car restored by students.
14
2 NEWS 6 FACULTY & STAFF 8 FALL ATHLETICS 22 ALUMNI NEWS 26 ALUMNI NOTES Fall 2021 | Vol. 110, No. 2 McPherson College 1600 E. Euclid PO Box 1402 McPherson, KS 67460 (620) 242-0400 (800) 365-7402 www. mcpherson.edu The Review McPherson College Magazine is published twice a year by the Office of Marketing and Public Relations for the alumni, faculty, staff and friends of the college. Editor - Tina Goodwin director of public relations Design - Brian Lundberg director of marketing
Staff
Rice director of alumni and constituent relations
Barrett '90 advancement officer
athletic communications director
advancement assistant
Contributing
Monica
Dave
Jeremy Nelson
Kendra Flory '00
The Review welcomes and reports the news of our diverse alumni and friends. Their activities may represent a variety of viewpoints which may or may not be endorsed by the college.
College does not discriminate on the basis of race, religion, color, national origin, gender, sexual orientation or physical or emotional disability. ©
College On the cover: Current students of the Mercedes-Benz 300 S Concours Project team.
McPherson
2021 McPherson
Path to Pebble You can also read the Review magazine online at www.mcpherson.edu/review The online version allows for a full-screen option and page enlargement for easy reading.
Largest new class in school history
Continuing the upward enrollment trend established over the past seven years, McPherson College welcomed the class of 2025 to campus on August 17, 2021, for the start of fall semester classes. Freshmen and transfer students comprise the largest group of new students in school history at 350. As classes got underway, full-time degree-seeking enrollment was again over 800.
At 282 students, the class of 2025 is 35 percent larger than last year's freshman class. The class comes to McPherson from 36 states and 12 countries. Twenty students decided to stay closer to home and took advantage of the college's scholarship o ered to students from neighboring communities. While freshmen enrolled in all programs across campus, the top programs included business, auto restoration, behavioral science, health science, and sports management. The health science program, introduced last year,
Orientation week and the 'First 40 Days' programming set up by the Student Affairs office provide opportunities for students to connect and get involved on campus.
pairs students with local health agencies for experiential education opportunities, and sports management is a restructured program for the fall semester.
"While many question whether or not a small college should exist, we are proving that students and families value the kind of experience they find at McPherson College," President Michael Schneider said. "One of the ways we do that is by addressing what students and families are most concerned about, and that is college debt."
For the past three years, McPherson College has o ered students an opportunity to reduce their student loans by participating in the Student Debt Project. Beginning the fourth year of the program, nearly 40% of McPherson College students have applied to the program. During fall orientation, students learned about their own financial wellness by filling out personal budget sheets that explain their costs, financial aid, and how participating in the Student Debt Project could help them reduce the gap owed before loans.
Along with matching funds and a pay-as-you-go option, the program also matches students with mentors to answer financial questions. This year, more than 40 alumni and friends of the college, spanning from Florida to California, serve as mentors to small groups of students in the program.
Christi Hopkins, vice president for admissions, said. "Many students are already planning to work at college, and
them an added incentive to pay as they go while reducing the amount they borrow."
www.mcpherson.edu/news
news 2 review MCPHERSON COLLEGE MAGAZINE
"It is important to help our students understand their financial obligations and see that there are options other than taking out loans to pay for college,"
this gives
Building Community Campaign
Building community is what brings us together at McPherson College. The sense of community found here made us feel at home as freshmen, laid the foundation for lifelong relationships, brings us back to campus for Homecoming, and welcomes new friends. McPherson College understands it is important not to just maintain our community but also to build it for the future.
When we publicly launched the Building Community Campaign at Homecoming 2019, we knew the MC family would come forward to invest in our vision. As of December 2021, gifts and pledges totaling $23 million have been received from over 5,300 donors. The original goal of $20 million was exceeded 2 ½ years ahead of schedule.
With the original $20 million fundraising goal met, an expanded campaign with new goals is being determined. At the cornerstone of this plan is the construction of a Campus Commons, which will be a landmark structure on campus. The new 45,000 square foot, multi-level building will make a more robust community possible with new campus dining, student services and activity spaces.
Additionally, other key campaign purposes include: fostering deeper engagement with MC alumni, especially graduates of the last three decades; growing innovative academic programs; making college more affordable through the Student Debt Project; and bringing awareness to the importance of estate gifts, a crucial piece in reaching a $1 billion endowment.
Learn more about the campaign and view the Campus Commons gallery on our website.
www.mcpherson.edu/buildingcommunity
President's message
Dear McPherson College Alumni, Friends, and Family,
Try to imagine a small school in the middle of Kansas competing at one of the most renowned and elite events in the world. Now, imagine if it were students competing on a level that many professionals never attain. It might seem impossible — a moonshot — but it is what McPherson College has been striving to do for the past several years in the automotive restoration program. Our automotive restoration program has a bold vision to compete to win at the Pebble Beach Concours, the top automotive concours in the world, in August 2023.
The project grew out of a strategic planning session that encouraged the college to think big about how it can be the center of excellence in automotive restoration. While competing at Pebble Beach with a car restored by students became our vision, it also serves as a model for other academic programs to implement the same kind of moonshot thinking that works together with industry to provide a one-of-a-kind student experience.
There will be many more ideas for the next moonshot project on campus, but none of them will be possible without the continued support from alumni and friends or the hard work of our dedicated faculty and sta . Thinking big is something McPherson College students are encouraged to do and continue to do well after they leave MC. It is a distinguishing characteristic for us and one of the most important reasons why it's a Great Day to be a Bulldog!
3 FALL 2021 CAMPAIGN UPDATE
Michael P. Schneider President, McPherson College
Architect's rendering of the new Campus Commons.
Parents Shouldn't Drown in Debt Just to Pay for College
by Michael Schneider, President
Parents make incredible sacrifices for their kids. They're even putting o retirement, dipping into their retirement savings, and taking out new loans – just to help their kids graduate from college. Nationally, about 3.6 million parents owe more than $103.6 billion in federal Parent PLUS loans. But parents with kids at McPherson College are creating a new trend.
McPherson College's fall enrollment has risen annually for the past seven years. And, while overall fall 2021 enrollment is up again, our total parent debt is down nearly 17% over last fall. This sharp reduction in parent debt is due to the Student Debt Project and the newly launched Kansas Commitment program, which guarantees Pell Grant-eligible Kansas residents pay no tuition at McPherson College. Both programs provide MC families financial freedom — making it possible for students to earn their degrees without piling up unnecessary debt.
The Parent Debt Crisis
The media so often focus on student loan debt, ignoring the fact that families are accumulating significant amounts of debt to fund a student's education. A few things to consider about parent loan debt in the United States:
• Over the past seven years, Parent PLUS loan debt has grown from $62.2 billion to $103.6 billion – a 67% increase, compared with a 39% increase in loans for undergrads.
• From 2003 to 2016, the average combined student and parent debt for Parent PLUS borrowers was nearly $38,000.
• According to Sallie Mae's 2021 report, about 9% of college costs are paid by parent borrowing.
• Parent PLUS interest rates are high compared to things like auto loans, averaging more than 7% over the past decade. In addition, the government charges parents a 4% fee on top of the loan. The government makes money o Parent PLUS loans, according to the Congressional Budget O ce.
The Parent PLUS program was originally designed as a way for higher-income parents to a ord private college tuition; yet, in 2016, more than 200,000 families who made less than $40,000 took Parent PLUS loans. As the cost of public education has risen, more low- and middle-income parents have started seeking these loans. Unfortunately, government estimates indicate that today at least 1 in 8 parents will default on these loans, making the debt an irrevocable hardship on people who should be enjoying an empty nest and a well-deserved retirement.
While fixing the $1.7 trillion student loan crisis remains a never-ending debate in Washington, the reality is that it continues
to grow unchecked. And, even if student loan debt is somehow addressed by Congress this year, there is no guarantee that relief for parent debt will be included in the legislation.
Colleges have no business saddling parents with unmanageable debt. We think colleges owe students and parents opportunities to make college a ordable without massive debt. That is why McPherson College developed the Student Debt Project and Kansas Commitment.
How MC Eliminates Debt
Today, more than one-third of our students are enrolled in the Student Debt Project, a mentorship program that teaches financial literacy skills and lets students apply earned income toward their student debt. McPherson College matches 25% of the funds the students contribute toward debt reduction. For students in the program this year, the average projected debt at graduation has been reduced by $10,000 per student.
This fall, MC's vision of a ordable college expanded further with the introduction of the Kansas Commitment, a program that guarantees full-tuition packages to Kansas residents who are Pell Grant eligible and have a transfer or high school GPA of 2.5. The packages are renewable annually for students who continue to meet the eligibility criteria. It's just one more way we can provide our students financial freedom as they plan a future without student loan debt.
Deanna Curtis is a teacher and single mom. At one point, she had four kids at MC at the same time while she was also in college for an advanced teaching degree. She was able to get her students through McPherson College without any private or Parent PLUS loans. Her twin sons were both in the Student Debt Project and Jake graduated in May without taking any student loans.
Deanna shared that "the worry about college debt consumes you as a parent. You lie awake at night worrying about it. As a parent, you do without so you can help your children go to college." The Student Debt Project taught her kids work ethic, determination, time management, and awareness of how they spent their money.
McPherson College isn't waiting for Washington to find a solution to the student debt crisis. Rather, we are creating our own roadmap and developing our own financial aid options so we can provide our students the financial freedom they deserve.
As more students take advantage of our Student Debt Project and Kansas Commitment initiatives, we expect our percentage of students graduating with little to no debt will increase. We also expect fewer MC parents will need to apply for Parent PLUS loans.
If Washington could be this creative, the issue of student debt would be solved, and parents would breathe easier knowing they won't be sacrificing their retirement nest egg to pay o college loans.
OPINION 4 review MCPHERSON COLLEGE MAGAZINE
Long-time Professor, Family Establish Permanent Scholarship
Reflecting on all the relationships he formed during his time as a professor at McPherson College, Bob Green, emeritus professor of English, was inspired to establish a permanent scholarship for first-genera tion students in need of financial assistance who attend McPherson College.
"I gained a lot as a teacher at McPherson College," Green said. "I worked with people of faith and skill. I have gratitude for the people I worked with while I was there."
Green, who lives in Wichita, was assistant professor of English for 27 years before retiring in 1993. His wife, Gayla, also worked as a library assistant in Miller Library and earned a bachelor's degree in English from McPherson College in 1983. Green said, due, in part, to her critical management of their finances, he and his family realized it was within their resources to fund a scholarship and worked with the McPherson College Advancement Office to establish the Bob and Gayla Green Endowed Scholarship to honor his wife who passed away last year.
"As a professor, I always encouraged my students to think," Green said. "My career was over by the time Siri and Alexa came on the scene, but they can't answer questions like 'why am I here?' You have to do some thinking about that."
He said that some of the most memorable times for him were when students would come back to campus, sometimes after as long as 20 years, and tell him they still remember what he taught them and how it made a difference in their lives.
"Professor Green literally taught me how to write. My writing abilities have been foundational to my career," said Ted Bray, a 1992 McPherson College graduate. Bray, a marketing executive with over 25 years of experience, has held leadership roles with prominent technology companies, including Accenture, Oracle, and AT&T.
"There were many times, especially during the Vietnam War, when issues were raised on campus that I was able to sit down with students and have a dialogue and real conversations," Green said. "I had the opportunity to build relationships over the years that I value."
It was not surprising to colleagues, like Kim Stanley, professor of English, that Green would find a way to continue to support McPherson College students long after he left. Stanley had the office next to Green's and has known him for the 32 years she has been at the college.
"It's just like Bob to think of yet another way to be useful to students," she said. "Bob was always the quiet person everyone could rely on to listen and provide carefully considered advice. He took a strong personal interest in his students."
With the endowed scholarship, Bob and Gayla Green's legacy will continue to support McPherson College students into the future.
New Initiative Offers Full Tuition for Qualified Kansas Residents
The Kansas Commitment is a new initiative that offers full tuition for qualifying Kansas residents to attend McPherson College.
Kansas students who are Pell Grant eligible and have a transfer or high school GPA of 2.5 or above can apply for the Kansas Commitment. The scholarship and grant package uses all forms of aid, both institutional and need-based, including Pell and Kansas Comprehensive grants. The package is renewable based on satisfactory academic progress and Pell eligibility. The Kansas Commitment is one more option offered by McPherson College to help students reduce the amount of loans they might need to attend college.
McPherson College offers several scholarship packages based on academic achievement, residency, participation, and area of study. Most students are eligible for up to $24,000 in combined Merit, Presidential, and MC Pillar scholarships. To be considered for scholarships, students need to submit an application to the college and complete a Free Application for Federal Student Aid (FAFSA).
Band selected to KMEA again
In the world of college bands in Kansas, an invitation to play at the Kansas Music Educators Association's (KMEA) state convention is the highest honor and a milestone accomplishment. At the next statewide convention in February 2022, McPherson College will have two bands performing.
Both the MC Concert Band and the MC Jazz Band were selected to perform at the music convention on February 25-26 at Century II in Wichita. This will be the third time in the past five years that the concert band has been selected and the first time for the jazz band.
Bands are selected to perform through a blind audition process and no ensemble can be selected in consecutive years. This year, McPherson College will be the only private college or university concert band or jazz band to perform among bands from much larger state schools.
news 5 FALL 2021
athletics
FALL
Volleyball makes third trip to national
having the 21st-toughest schedule in the nation, the Bulldogs found themselves receiving an at-large bid to the national tournament. They were listed in every NAIA top-25 poll throughout the season, a school first, and were ranked as high as No. 19 in the nation.
The McPherson College volleyball team finished the regular season with an overall record of 14-7 and a KCAC mark of 10-2, which landed them in the second spot in the regular-season conference standings. The Bulldogs went 2-1 in the KCAC tournament losing in the finals to the Ottawa University Braves. Because of their performance in the tournament, the Bulldogs received an at-large bid to the NAIA National Tournament opening round.
With back-to-back appearances, this is the Bulldog's third trip in four seasons to the national tournament. Unfortunately, their draw sent them to Jamestown, N.D., to take on the No. 1 ranked University of Jamestown Jimmies. The Bulldogs lost to the Jimmies in straight sets ending their season with a 16-9 overall record.
The Bulldogs were honored with five All-KCAC selections. Aidan Brown, Cynarah Rodriquez, and Morgan Watson were named to the All-KCAC first team, and Sydney Burton and Katelyn Moore were honored as All-KCAC second team selections. For the second straight year, Rodriquez was named the KCAC Setter of the Year, and this year Brown was named KCAC Co-Player of the Year, sharing the honor with Ayona Tharps from Ottawa.
Men's Soccer
The men's soccer team wrapped up 2021 with a trip to the NAIA National Tournament opening round, their second trip to the tournament in as many years. Their season ended with a 2-0 loss to Mid-America Nazarene University, which went on to compete at the NAIA final site in Alabama.
The Bulldogs finished with an overall record of 12-8 and were 8-4 in conference play. They finished fourth in the conference standings, but thanks to
The Bulldogs received numerous KCAC post-season awards including All-KCAC first-team selections for Dan Connell and Colby Swift, who was also KCAC Goal Keeper of the Year; All-KCAC second-team selections for Marcus Fernandes and Lucas Williams-Fernandez; and All-KCAC honorable-mention selections for Nipho Methula, Antoine Detavernier, and Austin Cuevas.
Women's Soccer
The women's soccer team wrapped up the fall season with an overall record of 3-9-1 and a conference mark of 2-9-1, which landed them in 10th place in the KCAC standings.
The Bulldogs were plagued by injury and a couple of COVID interruptions. The starts and stops made it difficult for the team to build momentum. The Bulldogs started the season with a pair of wins but then lost three straight before getting a big 4-2 win on the road at York College. All four goals against the Panthers were scored by Emma Singleton.
8 review MCPHERSON COLLEGE MAGAZINE
After that win, the Bulldogs tied Bethel 2-2 but then lost the remaining games on their schedule. When the KCAC post-season awards were handed out, both Singleton and Vannesa Cisneros were named to the All-KCAC second team.
Cross Country
The 2021 men and women's cross country season wrapped up with a seventh-place finish by the men, down a spot from their finish a year ago, and a sixth-place finish by the women, up four spots from their 2020 finish at the KCAC Championships. This year's KCAC Conference meet was hosted by McPherson College at Bulldog Park.
The Bulldog harriers raced in five regular-season races beginning with the Terry Masterson Twilight Invitational in September, followed by the second annual McPherson College Carol Swenson XC Invite, which was also a KCAC preview meet.
All season, the Bulldogs never lost back-to-back games. After the season-opening loss to Bethel, the Bulldogs came back with a pair of wins at Tabor and at home against Ottawa. At Homecoming, they lost, 45-34, to Southwestern College, the team that would go on to play in the NAIA playoffs at the end of the season. The Bulldogs played back-to-back road games winning at Friends and falling at Kansas Wesleyan.
Freshman Brock Lauer on the men's team and sophomore Ellyce Mares for the women were the top individual finishers for the Bulldogs at the KCAC meet. Both finished in 17th place, and both were named All-KCAC honorable mention.
Football
The Bulldog football team continued to make strides in Coach Jeremiah Fiscus' third year at the helm. Picked to finish seventh in both pre-season KCAC polls, the Bulldogs responded with a 6-4 mark and fifth-place in the final KCAC standings. It was the first time in 11 seasons that the Bulldogs finished the year with a record north of .500.
The Bulldogs opened the season with a Thursday night game against Bethel College, the defending KCAC champions, in one of the longest games on record. Due to three weather delays, the game took six hours to complete. The Bulldogs ultimately lost, 24-0, but displayed a strong defensive showing against a team that was used to putting up a lot of points.
They were 3-3 heading into the intra-county rivalry game with the Bethany College Swedes. The Bulldog routed their rival, shutting them out on defense and hanging 62 points on them offensively. They moved to 5-3 the following week with a win on the road at St. Mary, then lost, 33-17, on the road at Avila.
They were 5-4 heading into the final week of the season tied with their final opponent, Sterling College. They dominated the Warriors beating them, 48-28, which was a statement win for the program and the 15 seniors honored prior to the game.
Ten Bulldogs were named to the All-KCAC teams. Melvin Reid was selected for first-team special teams and honorable mention as a receiver. Jonathan White and Preston Howard were second-team selections, while J'Kobi Reddick, David MacMahon, Tristan Szabo, Dalton Womack, Kollin Goering, Drew Labertew, and Bailey Sites were added as honorable-mention selections. White was also an honorable-mention selection on special teams.
www.macbulldogs.com
news 9 FALL 2021
Teaching Awards faculty
McPherson College announced the recipients of the 2021-22 Teaching Awards at the Honors Convocation during Homecoming. The college presents the awards each year to one tenured and one non-tenured faculty member. This year's recipients are Dr. Shane Kirchner and Matt Porter.
A committee of three students and last year's teaching award recipients reviewed a record of 75 nominations in each category from students and faculty colleagues to select this year's honorees.
The committee selected Dr. Kirchner '92, professor and chair of teacher education, for the tenured award. Described in one nomination as "definitely leads by example," Dr. Kirchner models the mission of the program he leads, which is to develop service-oriented educators.
Nominations from his students included appreciation for the interest he takes in them and comments about his contagious, positive attitude. One student's most memorable class session was when Dr. Kirchner, in dress pants, suit coat, and tie, turned a cartwheel in front of the class. "He deserves this award for the dedication, passion, and enthusiasm he brings to every class," one nomination said.
This year's non-tenured award recipient, Matt Porter '01, is an assistant professor of business. The selection committee identified three consistent themes in the nominations for Professor Porter. His students appreciate the quality of their classroom experience, his interest in their success, and the lengths to which he has gone to accommodate them during the pandemic. One nomination stated, "He has gone above and beyond to support students all the way through COVID. Professor Porter has paid for things like cameras and boards that work online so that students can experience the same learning at home or in quarantine as they would in class."
FACULTY ARTWORK EXHIBITED AT WICHITA STUDIO
Fiber Studio in Wichita featured the work of the McPherson College art and design faculty in a recent exhibition. The exhibition was originally on display at McPherson College in September and featured sculpture, photography, graphic design, painting, and digital performance art. Faculty participating in the exhibit include Kelsy Gossett Dennis, Michaela Valli Groeblacher, David Harmon, Nathan Pollard, and Dee Erway-Sherwood.
"We were thrilled to have the opportunity to take our exhibit to Wichita. The Fiber Studio gallery frames our works beautifully and allows us to reach out to a wider audience," Valli Groeblacher, associate professor of art and gallery director at McPherson College, said. "The title of our show, 'Title in Progress,' was meant to communicate that we all are works in progress, that our artworks are always in progress, and that, as a group, we have fun together. We are a great team!"
In addition to the exhibit, Valli Groeblacher and Kim Stanley, professor of English, presented a workshop at Fiber Studio for teachers attending the Kansas Art Educators' Association annual conference. They spoke about teaching creativity in art and writing.
6 review
MAGAZINE
MCPHERSON COLLEGE
Dr. Shane Kirchner
Matt Porter
Luke Chennell, associate professor of technology, was appointed a judge of the Chevron Delo Tractor Restoration Competition. High school students restore a tractor, create a portfolio and presentation, and present their tractor during the national FFA convention in Indianapolis. Prize winners receive up to $10,000 for their efforts. Professor Chennell participated as a pre-judge for seven prior years and was invited to become a finals judge this year.
Norman Hope, associate professor of business, was elected secretary/treasurer of the Kansas Society of Certified Public Accountants (KSCPA) board of directors at its annual meeting. The KSCPA is a 2,500+ member, voluntary association dedicated to supporting and developing its members while promoting the accounting profession.
Julia Largent, assistant professor of communication, co-wrote a chapter for the book, "A Fan Studies Primer," published in December by the University of Iowa Press. It is the first comprehensive primer for classroom use that shows students how to "do" fan studies in practical terms. It includes case studies that demonstrate the wide array of methodologies available to fan studies scholars. Professor Largent contributed to the chapter, "What Does Fan Studies Feel Like?"
Kirk MacGregor, associate professor of philosophy and religion, published a book chapter "Shin Buddhism and the New Being" in "Why Tillich? Why Now?" published by Mercer University Press. In November, he presented three papers: "The Book of Jonah: The Rehabilitation of a National Traitor?" at the Society of Biblical Literature Annual Meeting; "The Logical Consistency of Molinism on Branching Time Models" at the Evangelical Philosophical Society Annual Meeting; and "Evangelical Anabaptists on Wealth and Poverty" at the Evangelical Theological Society Annual Meeting, at which he moderated the session "Wealth and Poverty in Christian Thought."
Vicki Schmidt, associate professor of education, completed her Ph.D. and graduated in August 2021 from the University of the Cumberlands, Williamsburg, Kentucky. Her dissertation was titled "Exploring Efficacy: The Effect of Teachers' Reading Motivation on Theoretical Orientation." It centered on discovering the instructional approach to teaching reading. She completed the Ph.D. process in just under two and one-half years and is readying her dissertation for submission to The Advocate, the journal for the Associated Teacher Educators of Kansas as well as submission for consideration of ATE-K's Outstanding Dissertation award.
Michaela Valli Groeblacher, assistant professor of art, and Kim Stanley, professor of English, conducted a workshop for Kansas art teachers at Wichita's Fiber Studio in October. Called "Outside the Box and Inside the Covers," it encouraged participants to develop creativity in two areas: art and writing. Participants used colorful scraps and papers to design their own notebooks, at the same time writing a poem about the experience. At the end, participants presented their books and read their poems. The workshop was offered by the annual convention of the Kansas Art Educators' Association.
Brad Vogel, director of choral activities, conducted two league festival choirs this fall. At the first, the Heart of America League Choral Festival at Moundridge, his setting of the American hymn "How Can I Keep from Singing?" was premiered. He also conducted at the North Central Activities Association Choral Festival at Southeast of Saline High School. His setting of "Wynken, Blynken, and Nod" for treble chorus, flute, and string quartet was performed by the Southeast Kansas KMEA Treble Honor Choir, and, at its winter concert, the McPherson College Choir premiered his setting of "In the Bleak Mid-winter," which was specifically written for the choir. He has also begun a new commissioned work for the McPherson High School Mixed Chorus, which will be premiered in spring 2022.
Ken Yohn, professor of history, will lead a travel course entitled "Intercultural Italy and Greece" in January 2023. The 10-day trip will start in Florence, Italy, then move to Rome; Delphi, Greece, and end in Athens. The trip will visit major cultural attractions such as the Roman Forum and Colosseum, St. Peter's Basilica, the Sistine Chapel, the Temple of Apollo at Delphi, the Acropolis, and the Parthenon. McPherson students can take the trip for credit as part of a January course, but course enrollment is not required. All McPherson College staff, faculty, alumni, and friends of the college are invited to join the trip. For more information, contact Professor Yohn at yohnk@mcpherson.edu.
President Michael Schneider was recently invited to chair the Student Aid Committee as part of the National Association of Independent Colleges and Universities (NAICU) board of directors. His work as chair has been focused on navigating the free community college movement as well as developing guidance for the Double PELL program being considered by Congress. In this new role, President Schneider will also serve as part of the NAICA board's executive committee.
Shana Warkentine Meyer, vice president for student affairs, was awarded the NASPA IV-W Distinguished Service Award. NASPA is the National Association for Student Personnel Administrators, of which the IV-West region is the most diverse and expansive. The Distinguished Service Award is presented to an individual who has a minimum of 10 continuous years of NASPA membership and has volunteered service to NASPA at the regional, national, and international levels enhancing the professional organization. Meyers has served on the national board twice in her role regionally and nationally as the professional standards chair and regional director. She was also MLI co-chair and regional conference chair and has served on countless other committees.
A colleague shared this about Meyers: "Of specific note is her involvement with the NASPA/ACPA professional competencies. She has made a lasting impact on the lives of many students and professionals and the entire profession."
news 7 FALL 2021
Alisha Gridley '08 participated in the workshop.
College Mourns Loss of Long-Time Assistant Coach
McPherson College was deeply saddened by the loss of long-time assistant coach for the Bulldog men's soccer team, Reed Hardgrave, who died suddenly October 25, 2021.
"We are heartbroken in the athletic department," Chandler Short '16, McPherson College athletic director, said. "Reed was an important part of our athletic program, and he will be missed greatly."
Hardgrave graduated from McPherson College in 2002. He was an integral part of both the men's and women's soccer program for the past 20 years. As a student-athlete, Hardgrave played for the Bulldog soccer team for three years and was an NAIA Academic All-American. Hardgrave worked at Ferguson Production in McPherson for over 20 years, working his way up to vice president of the company. He also was active in McPherson youth soccer, serving as vice president for the McPherson FC, a local soccer club.
Funeral services were held November 4 at the McPherson Church of the Brethren.
In Remembrance of Reed by Jerry Bowen '96, pastor youth/young families, McPherson Church of the Brethren
It's August 1998, and a 1991 red Mazda Protégé sits north of Dallas as its driver wonders about the path before him. He calls his mom for directions, quite possibly more of the supportive kind of instruction than navigational. Along that long stretch of road, with his eyes staring north, was future McPherson College alumnus and beloved Bulldog—Reed Hardgrave. What started with a question about where the heck is McPherson, morphed into a legacy that has influenced more students than this little blurb could ever honor.
From his first step onto the soccer pitch at McPherson College to his final traipse with his players, Reed made sure to shower all who crossed his path with a love so deep and robust that each soul who met him left that interaction changed for the better. Few have dedicated more of their being to McPherson College than Reed Hardgrave—20 plus years as an assistant soccer coach. Fewer still devoted their entire being to promoting McPherson College. We lost a great one too soon. However, if we want to honor his role in our collective story, let us be like Reed. Let us introduce more students, from all over, to the holy ground that formed Reed and all of us. Then, let us be part of the beacon that helps lead them to their new home, McPherson College. Reed's McPherson College story started with a red Protégé parked along the interstate; it had a painful chapter last month; but what remains to be written is ours to pen. So let's make it a great one, just as Reed did.
Piechowski Joins Staff as Dean of Students
McPherson College recently hired Dr. Hannah Rushe Piechowski to help lead the Student Affairs Office as associate vice president and dean of students. Piechowski has worked in student affairs and higher education for over 12 years.
Her experience includes housing and residence life, first-year experience, retention, and admissions at Transylvania University, Bellarmine University, the University of Louisville, and Midway University. Most recently, she served as the associate vice president for student affairs and dean of students at Missouri Western State University with Shana Meyer, vice president for student affairs at McPherson College.
"As a product of a private, liberal arts education, I am tremendously excited to join the McPherson College community," Piechowski said. "From the moment I arrived to assist with the start of the school year, the students and campus won me over. I love the school spirit, the clear dedication to academics, and the strong sense of community."
Originally from Lexington, Kentucky, Piechowski is a graduate of Bellarmine University with a bachelor's degree in psychology and piano performance. She also earned a master's degree in counseling and college student personnel from the University of Louisville and a Ph.D. in higher education and social change from Bellarmine University. Her dissertation and research are rooted in positive psychology while seeking to understand and support the experiences of college students in transition.
Piechowski has taught educational research methods in Bellarmine's Master of Higher Education and Social Justice Program, as well as preparatory piano for over eight years. She has served as the president of the College Personnel Association of Kentucky, president of the Kentucky Association of Housing Officers, Missouri state coordinator for the National Association of Student Personnel Administrators, faculty for the Regional Entry Level Institution for the Southeastern Association of Housing Officers, and as a governing board member of the American College Personnel Association. Piechowski and her yellow Labrador, Barley, are a certified therapy dog team and have over 100 hours of service at universities and hospitals.
10 review MCPHERSON COLLEGE MAGAZINE
MC RecognizedRECOGNITION
For the sixth year in a row, McPherson College has been recognized by U.S. News & World Report on the 2022 Best Colleges list for regional colleges in the Midwest. Additionally, McPherson College was ranked on the Best Value Schools and Top Performers on Social Mobility lists.
Only schools ranked in or near the top half of their categories are included on the Best Value Schools ranking list. When evaluating colleges for this list, U.S. News & World Report takes into account academic quality as well as cost. McPherson College was also recognized among colleges that are successful at advancing social mobility by enrolling and graduating large proportions of students awarded Pell Grants.
"It is an honor to be included on such a well-respected list," President Michael Schneider said. "It's further proof that McPherson College is being recognized for the work done by our faculty and staff to ensure quality education, excellent student experience, and value."
"We have some of the highest placement rates in the country with two-thirds of our graduates having jobs or graduate school placement before they even graduate," President Schneider said. "Combined with our focus on eliminating student debt we are proving to students and families that a McPherson College education is the best choice, and the result has been growing enrollment this fall and steady retention over the past few years."
THE FACE OF GIVING
McPherson College is a great place to work, according to a new survey by the Great Colleges to Work For® program.
The results, released in a special edition of The Chronicle of Higher Education, recognized McPherson College for the seventh year in a row. McPherson College was also included on the survey's Honor Roll for the sixth year in a row.
McPherson College is the only Kansas school earning recognition on the list. The results are based on a survey of 196 colleges and universities. In all, just 70 of the 196 institutions achieved recognition on the list for specific best practices and policies. Only 42 colleges were included on the Honor Roll, an elite group of institutions that are standouts within their respective enrollment sizes. McPherson College was one of 14 institutions nationwide to earn top honors in all of the report's 10 categories, which include areas like compensation and benefits along with work and life balance.
"Everyone at McPherson College works hard to make this a great place to work, and it's special to be recognized again this year. This recognition is remarkable given all the challenges presented by the pandemic the past year," President Michael Schneider said.
President Schneider points to some of the basics like the college's health insurance plan that has not had a premium increase for more than 10 years and monthly all-campus meetings called "huddles," as reasons why people like working for McPherson College. Additionally, involvement in training from the Kansas Leadership Center, which develops adaptive problem-solving skills, and other significant professional development opportunities, sets McPherson College apart from other college campuses.
I chose McPherson College because of the Automotive Restoration program and stayed because of the great community.
Before discovering the college, I had considered pursuing an education in chemistry. I did not realize that there were degrees revolving around restoration. I was interested in vintage cars from a young age, but I didn't really consider the automotive industry as a viable career path for me. I found out about the AR program, completely by accident, through my father and from that moment on, I had my heart set on McPherson College.
I am very grateful for the unique opportunities that I have been given at this school, and the hands-on experiences in the AR program are unbeatable. I greatly cherish the opportunity to work on my personal projects and to apply what I am learning in class.
The McPherson College Band has also granted me the chance to play bass and tuba, despite the fact that I am not a music major. Overall, I feel a sense of belonging at McPherson College, which has ultimately enticed me to stay for the remainder of my education.
You can support our students by giving to the McPherson College Fund online at:
www.mcpherson.edu/giving
Or contact the Advancement office at (800) 365-7402.
news 11 FALL 2021
support
Emma Parker, sophomore Hayden, ID
the
Path to Pebble
the Moonshot
by Amanda Gutierrez, vice president for automotive restoration
For more than four decades, the automotive restoration program at McPherson College has been a launching pad for young people interested in turning a love for the automobile into a career. From the beginning, the restoration program relied on skilled faculty who were passionate about passing on the craft and on students who were interested in learning these skills. Many of our early graduates continued into the field and paved the way.
Throughout its history, the program has built on that tradition, passing numerous milestones that have brought it to where we are today — ready to embark on what we hope will be another significant moment for the program and McPherson College.
In the late 1990s, Jay Leno took notice and introduced us to the larger industry. We established an advisory board that provided industry input into the direction of the program, and the degree moved from an associate's to a bachelor's degree. Partnerships established with organizations such as Hagerty and Mercedes-Benz Classic Center expanded awareness of the program and opportunities for students.
Progress continued and a decade later, the advisory board and administration took a deep dive into the future of the program. Much had been accomplished and we were ready to take the next big step. In 2013, a group that included alumni, advisory board members, and administration set a newly defined mission to be the center of excellence for students serious about automotive restoration. And we set a lofty, bold, and audacious goal: to compete at Pebble Beach Concours d' Elegance — the Super Bowl of the restoration world — with a car restored by students. We call it our moonshot.
The goal of competing at Pebble Beach is about much more than getting a car on the field. It is about the educational value that comes from the process of working on a project of such magnitude. The project encompasses both the technical skills necessary for a concours-level restoration as well as the liberal arts components of the auto
restoration degree. Throughout the restoration process, students have gained valuable skills in every area of the shop: metalwork, paint, chassis, drive train, engine, wood, and trim. They have also gained experience in historical research, assessment and documentation, project management and organization, communication, group presentations, professionalism, and accountability.
This project has underscored the importance of transforming students' learning experiences, educational goals, and outcomes by expanding their access to experts, industry networking opportunities, and skill development activities.
The auto restoration moonshot has implications for the rest of McPherson College, too. The college's strategic plan, Community by Design, outlines a future for liberal arts that combines general education with professional studies by developing a creative environment of funded, innovative ventures that solve problems and meet the needs of the greater community. The plan is for our moonshot project to model innovative approaches to pedagogy, curriculum development, and learning experiences to assist students' paths forward.
12 review MCPHERSON
MAGAZINE
COLLEGE
HOW IT STARTED:
Finding the right project
Early on, the 300 S was on the shortlist of cars to consider because the scale of such a project fits well into the program's educational model. Other considerations included the close relationship with Mercedes-Benz Classic Center and the availability of reference materials for student use. Finally, the established relationships with a deep pool of Mercedes-Benz experts among the alumni and friends of the program made the marque an attractive option.
The search for the right vehicle took more than two years. After several unsuccessful attempts at securing a project, the 1953 Mercedes-Benz 300 S appeared almost serendipitously.
A gentleman from Pennsylvania reached out to Paul Russell of Paul Russell & Company in Essex, Mass., who is also the chair of our advisory board. The man was looking to sell some cars. One of them was the 300 S.
The vehicle was owned by Richard and Mary Hopeman, who kept the car in a beautiful old stone building. The car was complete, only had 35,000 miles on it, and included a wealth of spare parts and an additional engine. Paul traveled to meet with the Hopemans and told them of McPherson College, our students, and our bold vision for a student-restored car to compete at Pebble Beach.
Richard and Mary were intrigued. Richard had a long career in engineering and project management, and both he and Mary had worked in higher education. The Hopemans were excited at the prospect that their Mercedes-Benz, which had given them so much joy, could be the signature project for the program. Shortly after the transfer of the Mercedes-Benz to McPherson, Richard passed away. Yet now the Hopemans, and their beloved car, are forever intertwined with the story of McPherson College and our students.
2014 2016
PROJECT TIMELINE
It is determined a post-war Mercedes-Benz was a good fit for the project.
The search begins!
LATE SPRING Paul Russell locates a 1953 Mercedes-Benz 300 S and car is purchased from Richard and Mary Hopeman.
13 FALL 2021
Pebble Beach Concours d'Elegance:
relationship
The Pebble Beach Concours d'Elegance first made a charitable contribution to McPherson College about two decades back, but the relationship between the Concours and the college deepened when the latter was selected to be a recipient of newly established scholarships honoring 1961 Formula One World Champion and famed restorer Phil Hill.
Hill was a longtime supporter of the Pebble Beach Concours, and soon after his death in 2008, Concours Chair man Sandra Button and the Hill family worked with Pebble Beach Company and the Pebble Beach Company Founda tion to establish the scholarships honoring his legacy.
"Phil loved great cars, and we wanted to find a way to support young enthusiasts dedicated to preserving and restoring those cars long into the future," Button said.
Concours entrants and judges were told of the scholar ships and there was a strong show of support. Even Concours sponsors stepped forward; for example, Bentley donated a car for auction during the 2009 Pebble Beach Automotive Week, when a more formal announcement of the scholarships was made.
McPherson College was among several schools considered by Pebble Beach as possible partners for these
scholarships.
2016
lectures," Hill said. "The students are actively at work on a variety of cars and car-related projects—and they are eager to talk about them. The education is hands-on. My father would have loved it."
14 review MCPHERSON COLLEGE MAGAZINE
AUGUST Car is unveiled at Pebble Beach event. Car arrives in McPherson and is unveiled to the campus.
Roger Morrison, a longtime Concours judge and former chair of the McPherson College Automotive
a long and unique
Path to Pebble the
MC student Lucas Jez on the main stage with Donald Osborne, Jay Leno and Derek Hill.
The process of determining where and how the scholarships would be awarded took a little more than a year—and ultimately McPherson was one of two schools selected.
"We were looking for a program where students really gain the knowledge and skills needed to care for historic cars," Button said. "We wanted a program that offered a solid introduction to our automotive history—and then went beyond that to offer the tools and training to maintain the world's great cars. We wanted to be certain the students would be able to gain real experience working with great cars. And we found that in McPherson."
The resulting partnership between McPherson College and Pebble Beach has been beneficial to students for more than a decade.
Additionally, the Pebble Beach Concours has partnered with McPherson College to offer scholarships honoring Jules "J." and Sally Heumann, who were involved in leading the Concours for over three decades, as well as automotive journalist John Lamm.
Over the years, 23 McPherson College students have been inspired by the support of Pebble Beach and the experience afforded them to attend the Concours. Scholarship recipients not only attend the Concours and shadowed the judges, but have been part of panel discussions, prepared and presented cars for the field, and attended numerous additional events during the week. McPherson College's relationship with Pebble Beach also serves as a model for other student experience trips.
Former scholarship recipients are now working as archivists, historians, restorers, preservationists, auction specialists, and collection technicians all over the country. Many have key roles with organizations or companies on the field at Pebble Beach. Thanks to this partnership, MC students and alumni are active participants and future leaders in the automotive endeavor.
HISTORY OF THE MARQUE
The 300 S also has a significant place in the history of Mercedes-Benz. It was the first post-war "clean-slate" design for the company. After World War II the company was struggling to survive and the 300 S was the first completely new model. It was designed to compete with Rolls-Royce quality, and was Mercedes-Benz's ultra-luxury statement telling the world they were back. Its design and engineering laid the foundation for the company's later iconic 300 SL Gullwing model.
FALL Project is incorporated into classes such as trim and chassis.
2017
SPRING Disassembling and documentation begins.
The sheet metal repair needs are uncovered.
15 FALL 2021
The Process
Not much about the restoration of the 1953 Mercedes-Benz 300 S is ordinary, according to Brian Martin, director of automotive restoration projects. In fact, a great deal is unique to this particular restoration.
McPherson College's approach to the project is uncommon in the world of classic cars. It's not customary for concours-level projects to be so visibly shared during the restoration process, explains Martin, who serves as crew chief for the project. Often cars presented at Pebble Beach are kept under wraps by their owners and restorers and are not seen by the public until the day they arrive for the event.
"Most of the time, you don't hear about or see the cars that are being prepared for Pebble Beach until you see them on the field. We have documented and shared every step of our process on social media and in-person with groups and individuals visiting campus," Martin said. "This is a long-term restoration project, and it has been important for our students to see how their work on the car fits into the overall process even after they have graduated."
The idea to compete at one of the world's most elite concours events with a car restored entirely by students began in 2013. It took another three years to find the right car for the project. The 300 S, once acquired, was eventually unveiled by students at a private event during Pebble Beach in 2016.
"When we set out to do this, we knew it was going to be a 10-year commitment," Martin said. "It is a complete, frame-off, top-to-bottom restoration by students. This was not going to be a one- or two-year focused restoration. We planned for it to become the cornerstone of our program and an example of the kind of skills our students develop while they are here."
CLASSROOM OPPORTUNITIES
Some aspects of the restoration were incorporated into classroom curricula. Restoration professionals such as Richard Barnes, who worked on the interior of a 1928 Mercedes-Benz 280 S that won Best of Show at Pebble Beach in 2012, and Bob Lapane, who works for Paul Russell & Company and has 50 years of experience rebuilding exotic vehicle drive trains, served as guest lecturers for classes and demonstrated their craft. PPG representative, Steve Pisano, also met with the advanced paint class. Most recently, Fred Mattson visited campus to offer support in restoring the top of the 300 S.
"I've used Fred Mattson's textbook in my introductory-level class since 2017," Mike Dudley '10, professor of technology, said. "It was exciting for the students to have the author of the book they've been reading in person. We are so fortunate to have key partners in the industry graciously share their time and knowledge with our students."
Other aspects of the restoration were taken on as senior capstone projects by individuals. A large portion of the sheet metal repair on the rocker boxes, front fenders, doors, and spare tire well were taken on as senior projects as well as many interior components like the seats, door panels, and carpets.
SUMMER
Car is completely dismantled and documented.
Parts are sent for media blasting.
Car is sprayed in primer to protect the raw metal.
16 review MCPHERSON COLLEGE MAGAZINE
FALL Richard Barnes, coach trimmer at Paul Russell and Company, visits campus for lectures and demonstrations.
2017 Path to Pebble the
TEAM PROJECT
A large portion of the restoration, however, was done by a team comprised of students who applied for and are paid to work as team members. Managing the student team has presented various challenges. Most of the students who have worked on the vehicle did not have an opportunity to see it or any other 300 S in its original state. Martin also likes to point out that all of the students working on it now were in middle school when the restoration began.
"Many times during the restoration process, the students on the team were learning things they had not covered yet in class," Martin said. "Working on this level of restoration with students who have not completed the program is comparable to asking a state championship football team to compete in the NFL."
To support the students throughout the restoration process, the program leaned on its deep relationships with industry partners. Along with the restoration craftsmen and professionals who were brought to campus, others supported the student team with advice and sponsorship. Mariah Bruins '09, owner of MRestoration Design and a Pebble Beach judge, met with the team regularly to advise on bodywork and paint preparation. Nate Lander '02 and others at the Mercedes-Benz Classic Center in Irvine, CA, assisted in resourcing parts and technical information for the students.
Paul Russell, National Advisory Board chair and owner of Paul Russell and Company, has also been a great resource for the students. He lends his employees for campus lectures and arranged for a restored 300 S, owned by one of his clients, to visit campus during the annual CARS Club car show for students to see as an example and document
Aeristo, a Texas-based fine leather wholesale company, provided nine historically correct leather hides for the interior, and the 300 SL Foundation generously underwrites the student project team wages.
REAL-WORLD CHALLENGES
Other challenges encountered by the team are ones that many professionals encounter while restoring classic cars, according to Martin.
"Like any restoration project," he said, "you find areas of concern during the process that you were not anticipating."
Overcoming and solving those challenges has been a valuable learning experience for the students. The project has helped them understand the standard of excellence that is required of this level of restoration, according to Martin.
Building a car for the Pebble Beach Concours d 'Elegance is a unique process for anyone. Cars on the field are judged not only on originality and authenticity to ensure they were properly preserved or restored, but also on their elegance.
"Pebble Beach represents the best cars in the world," Martin said. "It is the oldest concours in the United States and considered one of the best in the world. Only the top one percent of the classic cars in the world are invited to show there."
Several graduates of the automotive restoration program have key roles with companies and organizations represented at the Pebble Beach Concours d' Elegance. Now, with an eye on the 2023 concours, current students of the program are learning what it takes to drive a car onto that esteemed field.
An engine run stand is built.
Repairs are made to fenders and wheel wells.
Work begins on interior.
SPRING
Cleaning and organizing parts continues.
SUMMER Engine is disassembled.
FALL Leather for interior is officially cut!
17 FALL 2021
2018
The Mercedс Team
Many members of the student team knew from the moment they started as freshman that they wanted to be a part of the Pebble Beach project. Some remember contacting the project crew chief, Brian Martin, daily to ask if there was something they could do and started by spending hours doing the "grunt" work.
That persistence is what it takes to become a member of the team and to work successfully on the project, according to Martin. The current team consists of eight members; some are new to the team and others have been on it for nearly four years.
"There is not a cut-and-dried application process," Martin said. "All of the current team members started out by hanging around and helping wherever they could. Once the members of the team saw their commitment they were asked to become part of the group."
And, it is a tight-knit group, according to those currently on the team. Wyatt Miceli, a senior who has been on the team since his freshman year, says the group needs to be close to accomplish as much as possible each semester.
"For us to be successful," he said, "we need to be able to transfer the work and process on to the next team in a way that they can be successful as they move forward on the project. To do that, we really need to be a tight group and work well together."
On a project where every detail must be correct and completed perfectly, it is important to work as a team. From doing research such as citing multiple sources for the correct finish to redoing parts of the project that they know can be done better, each team member understands the high level of quality in every detail that is demanded on a
project headed for Pebble Beach.
"The scope of this project is massive. It is hard to convey the amount of detail that goes into all of this," Matt Kroeker, junior, said. "Some of the parts have to go on and off of the car three times before they are completed."
The car was restored several years prior to it coming to McPherson College, which makes the process even more complex. The team cannot simply copy what it takes apart, but must confirm what was correct for the car when it was original in 1953. Each step of the restoration has been a learning process for the team members.
"I didn't have the opportunity to work on cars much in high school, so this has been a crash course in restoration for me," Jeremy Porter, a sophomore who does much of the parts sourcing and research for the finishes, said.
Martin says one of the most important characteristics for a successful team member is a willingness to learn and to put in the amount of time it takes on the project. Although the number of hours that team members spend each week varies depending on parts availability and access to facilities, they all agreed they have put in many early mornings and late nights on the project. Most of the team, for example, stayed on after finals in December to work on the project for two weeks before Christmas and plan to return in July before fall classes begin to dedicate time working in the shop.
The long hours are rewarding, according to Colby Marshall, a junior who does body and paint work on the car.
"It has strengthened my skills tremendously," he said. "Being able to say that I am on the team helped me obtain an internship, and even though I may not go into the concours side of restoration, I can apply everything I have learned on this project to whatever I end up doing."
Other team members like Conrad Gramkow, junior, applied his past experience working on tractors to machin-
Transmission work begins.
Engine assembly begins.
18 review MCPHERSON COLLEGE MAGAZINE
Visit from Bob Lapane, Paul Russell and Company, helping students assemble the rear differential and axle.
SPRING Rear axle and transmission restoration are done.
2019
the
Path to Pebble
ing various parts of the car, and Caden Beurkens, senior, and Tyler Natkin, junior, worked one-on-one with professional interior restorer Fred Mattison in a masterclass on restoring the top.
It is not only the technical skills that the team members gain, but also the professional skills they develop that make working on the project so rewarding. Two members, Marshall and Miceli, recently traveled to Santa Fe, NM, to give a presentation to the Gull Wing Group, and others have presented to the program's National Advisory Board and Board of Trustees of McPherson College.
"The experience is not only about the technical skills and the final outcome but also about how to work as a group," Kroeker said. "I think it has made us better professionals in the field. Saying this is what I did while I was at college will be a great send-off going into the job market."
Since the beginning of the project in 2016, there have been many iterations of the student team and many other students who gained experience through the guest and workshops on campus. The vehicle has also been incorporated into various classes.
"It is emotional for our alumni when they come back and see the progress that has been made on the project," Martin said. "Watching each stage of the process get handed over to the next group and seeing it continue to have momentum has been one of the most rewarding aspects of the restoration."
McPherson College wants to hear about alumni experiences while working on the Mercedes-Benz 300 S.
No matter how large or small of a contribution to the project, the college is working to gather the names and stories of any automotive restoration student who spent time working on and learning about the restoration.
Tell us your story at: bit.ly/3HWWeB5
SUMMER
Engine is complete and runs.
Interior work continues on front seats, door panels, rear seats.
FALL
Final assembly of the rebuilt transmission and steering box is complete.
PROJECT CREW CHIEF:
Martin, Director of Automotive Restoration Projects
A project of this magnitude, managed around student schedules, takes exceptional commitment and the right person coordinating every step of the process. Brian Martin '06, senior director of automotive restoration projects, serves as the crew chief for the college's Mercedes-Benz project. In addition to his many other responsibilities within the automotive restoration program, he leads the student team and coordinates with faculty on this world-class restoration. It's a heavy responsibility because the project symbolizes the mission of the program – to be the center of excellence for automotive restoration education.
"Brian is an invaluable asset to our college," said Amanda Gutierrez, vice president for auto restoration. "The work he's done on this project – mentoring students on detailed restoration work in addition to the necessary parts resourcing and research and other matters that come up – is an example of the standard of excellence we hope to instill in students. Whether it's seemingly endless hours of block sanding, test fitting pieces to the car, or researching the correctness of a piece, Brian is working with students to understand the di erence between good and excellent."
While a student at McPherson College, Martin gained industry experience through internships with the Petersen Automotive Museum in Los Angeles and The Henry Ford Museum in Dearborn, Mich. After graduating, Martin worked for Hunter Classics in St. Louis and returned to McPherson College in his current position in the fall of 2009.
19 FALL 2021
Brian
YOUR STORY
the
Path to Pebble
Alumni Team Member
Greg Elvin '19 was a sophomore when the Mercedes-Benz 300 S project was introduced on campus, and he admits not having a grasp of how extraordinary the project was when he first encountered it. Over time he realized that he and his classmates, and the others to follow, would be part of an incredible piece of history.
"Not only is properly restoring a car of that caliber a lofty goal, but to take it and compete at Pebble Beach is a totally different level," said Elvin, who had an opportunity to attend the Pebble Beach Concours d'Elegance as a Phil Hill Scholar. "As time went on and I was around the industry more, I realized just how important this would be for the program and students. To me, it is a testament to the high regard the faculty and advisory board have for the program and the students. It is the ultimate 'put your money where your mouth is' situation. There are restoration shops that wouldn't dream of doing something like this and others that work very hard and never get the chance to present at Pebble Beach."
As a student, Elvin attended the guest lectures and demonstrations, but his first opportunity for hands-on experience came during the spring of his senior year while he was taking the advanced upholstery class taught by Professor Mike Dudley. The previous class had begun
some of the work on the interior while his class was tasked with restoring the door panels, front seats, and carpeting. Elvin and Geoffrey Smith '20 were assigned to the front seat backrests.
"It was exciting for both of us, knowing that if we did a good job our work would be used to help reach the goal of competing at Pebble Beach," Elvin said.
It didn't take long for them to realize how challenging the seat covers were going to be. With bolstering, handstitching, piping, gather-stitching, and roll and pleats that flow in opposite directions, it was a complex project. The
SUMMER
Repair and paint process begins on chassis parts.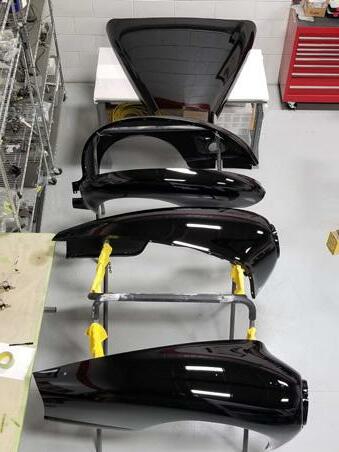 Team works on repairing chrome trim.
Sheet metal work is complete.
Body fitting starts.
FALL
Paint and body work begins.
First round of high build primer on doors and door sills is applied.
Visit from Steve Pisano, PPG representative, lectures and demonstrates painting techniques.
20 review MCPHERSON COLLEGE MAGAZINE
2020
MC student Greg Elvin '19 working on the trim of the Mercedes-Benz 300 S.
easiest way to make the new cover was to take the old one apart and use it as a pattern. To ensure they did it correctly, they took diligent notes and pictures to document everything.
"We felt almost ashamed while taking the old cover apart knowing that it was the original," he said. "It was decided that one cover would be left intact to preserve for presentation and this made us feel a little better."
Elvin remembers the work was exacting and took hours to get right. A slight mistake of just one-sixteenth of an inch would cause a domino effect for the rest of the pleats, ruining that piece and wasting precious material.
"It was a huge challenge understanding the material and its characteristics," Elvin said. "I believe I made three full practice covers for the first seat back. I am pleased with the way both covers turned out, but I wish I could redo the first one because I know I could do better after all that practice. The people who originally made these covers had to be such awesome craftsmen."
Elvin feels fortunate to have also worked on another aspect of the restoration. In 2019, the summer after he graduated, Elvin and Scott Holmes '20 were asked to repair portions of sheet metal to keep the project's timeline intact. Most of the repair was due to rust damage and older damage to the rear end possibly caused by a small accident. It was a challenge to figure out the proper shape of the area below the trunk and to get the trunk lid to fit properly. Elvin relied on advice from Professor Ed Barr and on technical support from restorer Paul Russell, who
allowed him to photograph a 300 S his company restored to use as an example for shaping.
"I consider sheet metal a strength of mine but I never had time during the school year to participate in this aspect of the restoration," Elvin said. "It was a real honor for me to do this. Since our work was done over the summer, it was a completely different environment. It felt like a real job and not a classroom. We put in eight hours a day, Monday through Friday. It made us feel like the most productive people in the world when in reality we were just a couple of greenhorns that were given a once in a lifetime opportunity to not mess up a prestigious project."
Looking back, Elvin appreciates the lessons he learned working on the Pebble Beach project. The attention to detail, documentation, matching part numbers, proper practices, and proper materials make the experience meaningful to him. For example, on the seat cover project they took extra time to copy the factory markings that were drawn onto the inside cover. The markings originally were used to make sure the correct materials were used on the correct car during manufacturing.
"The integrity to make sure every little thing is correct is not easy," he said. "Even details that won't ever be seen are important such as the markings on the seat covers. Other than with pictures, these marks will never be seen but we know they are there, and we know we did our best to make this car as true to original as possible. Some might say it is overdoing things, but I take a lot of pride in that."
2021
SPRING
Car returns to sitting on its own suspension, wheels and tires!
Engine and transmission are installed.
Body work continues on top side of body.
Mariah Bruins '09 helps team with paint sample options.
Chrome trim for interior returns.
SUMMER
The car is painted!
New team members join for interior work.
FALL Chassis components are assembled and installed.
Convertible top is disassembled.
21 FALL 2021
WORK CONTINUES... Follow the progress of the Concours Project as we continue the Path to Pebble 2023! www.mcpherson.edu/mb300s
alumni news
HOMECOMING 2021
Back on campus!
Gray skies couldn't dampen the Homecoming spirit as the McPherson College family gathered on campus for Homecoming 2021! With a weekend filled by class reunions, athletic contests, a campus tree tour, a tailgate that included the introduction of the first class of students receiving the Carolyn Beach Health Science Scholarship and of course the many hugs, fist bumps, elbow taps, and friendly greetings, alumni and friends were reminded that we are all a part of the McPherson College Family!
Classes of 70 and 71
Alumni Board
22 review MCPHERSON COLLEGE MAGAZINE Mark your calendars for Homecoming 2022 the weekend of October 14-16!
MC Honors Young Alumni
Each year McPherson College recognizes the accomplishments of young alumni during the Honors Convocation at Homecoming. This year three alumni – Craig Henderson '91, Jon Paden '91, and Elizabeth Stover Lucore '02 – received Young Alumni Awards on October 1, 2021 in a ceremony at McPherson Stadium.
Craig Henderson, Fruita, Colorado, graduated in 1991 with a degree in history and earned his law degree in 1994 at Washburn University. He serves as the county court judge for the 21st Judicial District in Grand Junction, Colorado. He was admitted to the Kansas Bar Association in 1994 and worked as an attorney in Wichita, and in 1996 was admitted to the Colorado Bar Association and worked as an attorney in Denver. He has served as a deputy district attorney in Sterling, Hot Sulphur Springs, and Grand Junction, Colorado. He is a member of the Colorado County Court Judges Association and has served as a volunteer mock trial judge for Colorado Mesa University's criminal law class.
He enjoys spending time outside of work with his family enjoying the arts and the outdoors. He is an avid reader and loves music, but his real hobby is long-distance running. He has finished two 50K ultra-marathons in Colorado and Utah, three marathons, seven half-marathons, and several other races of various distances.
Jon Paden, Little River, Kansas, graduated in 1991 with a Bachelor of Science degree and later received a master's degree in educational administration and completed hours in a doctoral program at Kansas State University. He is currently starting his 26th year as principal at Windom Elementary School in the Little River School District. He started his career in education with USD 418 in McPherson as an elementary school teacher for first, second, and fifth grades.
The purpose of the Young Alumni Award is to recognize the achievement and potential for accomplishment of the college's young alumni. The award is given to alumni who are meeting significant challenges in pursuit of professional goals as well as involved in service to others and church, and who participate in alumni activities.
He is an active community volunteer. In 2015, he was recognized as Little River Community Citizen of the Year. He has served on the USD 444 Recreation Commission promoting activities for youth and adults, coached youth sports in Little River and Sterling, Kansas, and was a youth group leader for several years. He served on the Little River City Council and currently serves on the Little River Community Foundation Board determining grant awards for the community. He also serves on the Mutual Telephone Company Board of Directors. He is active in his church serving on numerous committees and is a past member of the McPherson College alumni board.
Elizabeth Stover Lucore, DO, MPH, Monett, Missouri, graduated in 2002 with a Bachelor of Science degree in chemistry and biology. She received her Master of Public Health and Doctor of Osteopathy degrees from Des Moines University in 2008. Dr. Lucore is currently chief of sta at Cox Monett Hospital and volunteers as the medical director of the Barry County Department of Health.
Along with her family practice clinic and call schedule delivering babies, she is also involved in several volunteer projects and leadership roles in her community. Most recently, she is working to help develop a biking and walking trail system accessible to hospital visitors, employees, and the community. She is the founder of the Alternative Gift Fair in Monett, which over the last seven years has raised more than $10,000 for local nonprofits organizations. She also helped bring a volunteer chaplaincy program to the hospital. She is active in her church and serves as board chair for Camp Colorado.
While a student at McPherson College, she ran cross country, participated in choir and band, and became a member of Alpha Psi Omega National Theatre Honor Society. Now, together with her husband and children, she enjoys playing, exploring, eating, and laughing.
23 FALL 2021
I have been very blessed in that my parents were extremely supportive of my obsession with classic cars. Without them, I likely wouldn't have had the opportunity to go through the auto restoration program and grow in the ways that I have, both personally and professionally.
I remember my first day at Mac like it was yesterday. It was the fall of 1998, and I recall looking through my dorm window, in Metzler Hall, as Ryan Cheney rolled through the parking lot in his 1973 Pontiac Firebird Formula 400, setting off every car alarm around. I thought, "Man, this is going to be awesome!" The next two years in the program were amazing, formative, and played a significant role in every aspect of my life going forward.
I credit the program and my time at McPherson College with opening doors that would have
otherwise remained closed. The doors that the program opened ultimately led me down the path to owning an Information Technology consulting company. While I haven't pursued a professional career in restoring classic automobiles in quite some time, I am still an avid hobbyist and collector of classic cars.
After my father passed away a few years ago, I wanted to do something to honor his memory and passion for automotive history, so I reached out to Dave Barrett to discuss establishing an endowed scholarship. We came up with the "Evan and Edward J. Hanzlik Endowed Scholarship Fund" to directly benefit the unique needs and interests of students enrolled in the automotive restoration program at McPherson College.
24 review MCPHERSON COLLEGE MAGAZINE
I
why
give
www.mcpherson.edu/giving support our students ONLINE: Amount: $1,000 $500 $200 $100 Other $ Designation: MC Fund Student Debt Project Scholarships Other Special Instructions Name Phone Email Address City State Zip BY MAIL: McPherson College Advancement Office 1600 E. Euclid St. PO Box 1402 McPherson, KS 67460
Evan Hanzlik '02
Athletics Enshrines 2020 & 2021 Hall of Fame Classes
McPherson College Athletic Department enshrined their 23rd Hall of Fame class, in a ceremony held at the McPherson Community Building. The ceremony also celebrated the 2020 class, which missed out on its own induction due to COVID-19 precautions. The 2021 inductees are:
Brian Hill '93 - Basketball Hill was a force on the hardwood, leading the Bulldogs in scoring, and joining the prestigious 1000 point club, accomplishing the feat in just three years. His prowess on the court garnered the attention of the other coaches in the conference who voted him to the All-KCAC first team, two times in his career.
Brian Hooks '05 – Basketball
About a decade after Hill roamed the court in the Sport Center, Brian Hooks joined the Bulldog men's basketball program. Like Hill, Hooks was also a scorer, and found himself in the 1000 point club as well. He earned Honorable Mention All-KCAC status in 2003-04, but the following year was elevated to a unanimous All-KCAC 1st team selection.
Crystal Richardson '05 – Basketball / Softball
Richardson was a standout on two fronts for the Bulldogs spending the winter months on the basketball court then heading out to the softball diamond in the spring. Twice she was All-KCAC Honorable Mention, and one time a 2nd team selection in softball. She finished her softball career with 14 triples. She was also a 1000 point scorer for the Bulldog women's basketball team, earning her an All-KCAC Honorable Mention nod on two occasions.
Greg Mendez '01 – Football Mendez was the Bulldog signal caller in the late 90s, making the All-KCAC 1st team in 1998. At one time he held several offensive records including most TD passes in a game (7) twice, career TD passes, career yards, completions and attempts. He also held the record for most passing yards in a game with 446.
Andrea Peacock (Swanson) '10 – Soccer / Track and Field Another two sport star for the Bulldogs, Peacock was the net minder for the Bulldog women's soccer team, where she was an All-KCAC 2nd team selection in 2008 and a member of the 1st team in 2007 and 2009. In addition to that All-KCAC 1st team selection in 2007, she was also named to the NAIA All-American Honorable Mention team. When she left the pitch in 2009, she was 1st on the All-Time list for career shutouts with 23. After soccer season, she could be found hurling a steel ball from the shotput ring for the Track and Field program. Her throwing accolades included All-KCAC in the shot twice, the 2010 KCAC shot champion, and a national qualifier for both the NAIA indoor and outdoor championships. At one time she was the Bulldog record holder in the shot with a throw of 45' 2.5".
from the director
Dear MC alumni and friends,
Driving around the town of McPherson is a unique experience. At any intersection there is strong probability that a passing vehicle may be a classic car; some restored to perfection, others are works in progress. That prevalence around town is heavily influenced by MC's successful automotive restoration program.
In this edition of the Review, you have a chance to better understand the larger connections that our automotive restoration participants are making, as current students and then alumni. Highlighting the "Path to Pebble" project is the strongest example of the connections that can be made between the college and industry to achieve a larger goal. While much of the physical work is happening in the lab in Templeton, there is cross-discipline work that incorporates communications, business, history, and a wide variety of course work. Added to that, the number of hands and heads that have worked on this project over its life span is nearly incalculable, though careful records are being kept along the way.
While the Pebble Beach restoration is its own project to celebrate and understand, the more important theme of the project is that this can become a model for other departments across campus to undertake their own creative and larger-than-life ventures. The goal of these undertakings is always to engage students in many different learning modes to achieve one collaborative objective.
Our MC automotive restoration students are learning and working to preserve the past on behalf of the future. That future is bright for each and every McPherson College student!
Monica Rice director of alumni & constituent relations
www.mcpherson.edu/alumni
25 FALL 2021
alumni news
ANNOUNCEMENTS
Elizabeth "Betty" Kimmel Sampson '46, McPherson, and great-great-nephew Austin Moffet, current MC freshman, display their Bulldog pride on a walk through campus.
Alferdteen Brown Harrison '61, Jackson, Miss., recently presented the lecture "Midwives in Mississippi History" as a part of the History Is Lunch series sponsored by the Mississippi Department of Archives and History.
Kay Weber Jehle '63, Fort Wayne, Ind., and her husband Fred sat in these two seats in Brown Auditorium while MC students. On an August visit to McPherson they recreated their seating arrangement and enjoyed the campus with family.
Njidda Gadzama '64, Borno State, Nigeria, recently published his autobiography "Standing for Truth with Courage." Njidda is Professor Emeritus at the University of Maiduguri.
Jim Lambert '67, Fredonia, Kan., is the new USD 235 principal for the junior and senior high school. Jim has worked in public education for 54 years.
Ellis Yoder '71, McPherson, with wife Rita were among those honored in September at the Kansas State Fair as the 2020 class of Kansas Master Farmers and Master Farm Homemakers for their leadership in agriculture, environmental stewardship and service to their communities.
Steve Hughes '72, Tonganoxie, Kan., was honored by the USD 464 Education Foundation with its 2020 Alumni Achievement Award. Steve retired in 2015 after 43 years in education.
Dan Lichty '76, McPherson, retired recently from practicing family medicine at McPherson Medical and Surgical Associates.
Pamela Medford '77, Prescott Valley, Ariz., and her stallion, RH Imprinted, were inducted into the APHA (American Paint Horse Association) Hall of Fame on July 1. It is the highest honor bestowed on an owner/horse by the association.
Paula Schnaithman
Vincent '78, Sagle, Idaho, is serving as interim superintendent for the Ames, Iowa Community School District. Paula is a longtime leader in Iowa education and has recently worked as an educational leadership consultant.
Roger Carswell '79, Iola, Kan., has retired after a 42-year career in libraries. The last 29 years he was employed as director of the Southeast Kansas Library System and Iola Public Library.
Tracy Ikenberry '79, Richland, Wash., is Sr. Technical Advisor at Health Physics/Pacific Northwest National Laboratory.
Kristen Cossaart Graff '96, Salina, Kan., is ESL Coordinator at USD 305 Coronado and Meadowlark Elementary Schools.
Brian Cooper '99, McPherson, was recently named vice president of human resources at The Citizens State Bank.
Raechel Sittig-Esser '99, Waterloo, Iowa, teaches English language arts at Columbus Catholic High School.
Stacie Wilson '99, Hutchinson, Kansas, received the Emerging Leader Award as a part of the Kansas Society of CPAs' 2021 Women to Watch Awards. Stacie works as a Certified Public Accountant and Certified Valuation Analyst at Swindoll, Janzen, Hawk & Loyd.
Tim Hayden '02, Wichita, Kan., started this fall as principal at Amelia Earhart Elementary in Goddard, Kan.
Jen Anderson Jensen '04, McPherson, was recently hired by the Church of the Brethren as the Thriving in Ministry program manager in the office of ministry.
Jennifer Schuyler Netherton '04, Urbandale, Iowa, recently received Iowa's Channel WHO 13's Golden Apple Award, which is a special recognition given to one nominated teacher each month during the school year. Jennifer is a first grade teacher at Bergman Academy in Des Moines.
26 review MCPHERSON COLLEGE MAGAZINE
Ziya Gunay '06, Wichita, Kan., vice president-technology at Peoples Bank and Trust, recently graduated from the Bank of Technology Security School offered by the Graduate School of Banking at the University of Wisconsin-Madison.
Whitney Williams '09, Wichita, Kan., has completed her residency training at the University of Kansas School of Medicine—Wichita Family Medicine Residency Program at Wesley Medical Center. She is now practicing with Primary Care Associates in Wichita.
Lora Kirmer '16, Salina, Kan., is community engagement coordinator at Child Advocacy and Parenting Services, Inc.
Carson Clay '17, Harrah, Okla., is a math teacher and basketball coach at Choctaw Middle School.
Grant Tuttle '18, Auburn, Neb., teaches fifth and sixth grade English language arts at Humboldt Table Rock Steinauer Schools.
Grant Barrett '19, McPherson, is sports director and account sales and marketing at KBBE/KNGL MidKansas Radio.
Chloe Cloud '19, Wichita, Kan., is associate art director at Signal Theory Inc.
David Deramee '19, Azle, Texas, is teaching and coaching at Boyd High School in Boyd, Texas.
Justin Wiltfong '19, Wichita, Kan., is an administrative assistant for the Department of Defense and is working on his master's degree in sport management at Wichita State University.
Jordynn Corea '20, Las Vegas, Nev., is working on her doctorate of physical therapy degree at University of Nevada.
Codi-Lane Jones '20, Park City, Kan., is assistant director at Family First Child Care.
Micah Gilbert '20, Elkhart, Ind., recently started working as graphic design coordinator at Godfrey Marine.
Taylor Cunningham '21, Lenexa, Kan., works in graphic design at Trust Think Projects and America's Hemp Academy.
Tomi Simmons '21, Phoenix, Ariz., is working as a junior grant writer at Kim Joyce and Associates.
Myriah Webster '21, Wichita, Kan., is employed at Koch Industries and is working on her Masters of Business Administration with a concentration in accounting at Emporia State University.
MARRIAGES
Sam Tucker '13 to Jordan Dorste Broomfield, Colo., June 26, 2021.
ANNIVERSARIES
65 YEARS
Darius '57 and Ruth Eisenbise Miller '57 West Cliff, Colo., August 19, 2021.
50 YEARS
BIRTHS
River Sage to Nick '08 and Lois Davidson Grummert '05 Valley Center, Kan., June 2, 2021.
Gunner Warren to Raul and Angela Armbrust Carbajal '10 Williamsport, Penn., April 20, 2021.
Kavik James to Kati Beam '12 and Tyler Peachey Andover, Kan., May 13, 2021.
Harrison William to Jared '14 and Tori Carder Buckert '13 Nauvoo, Ill., September 26, 2021.
Mikaela Mae to Derek '15 and Ashlee Maier Bevan '15 Bucklin, Kan., October 13, 2021.
Lincoln Neal to Crystal and Kaven Denno '15 North Newton, Kan., February 13, 2021.
Kol to Marlon Clayton '17 Hutchinson, Kan., September 15, 2021.
Walker David to Aaron '17 and Emily Warner Parrott '17 Wichita, Kan., July 13, 2021.
alumni notes 27 FALL 2021
Nicole Harkins '07 to Chris McDaniel Haysville, Kan., July 24, 2021.
Rodney '72 and Marvis Lahman Custer '74 Spearfish, S.D., July 17, 2021.
BIRTHS
28 review
MCPHERSON COLLEGE MAGAZINE
Max Alan to Wesley '03 and Elissa Thompson Hoffert '03 Loveland, Colo., June 16, 2021.
Tucker James to Brian '08 and Rebecca Grosbach Schippert '10 Kearney, Neb., June 7, 2021.
Echo James Montgomery to Mason Adams '10 and Jessica Schneider Garland, Texas, November 3, 2021
Lincoln Dean to Blake '11 and Danyl Chapman Jones '13 Melvern, Kan., June 3, 2021.
Oran Henry Que to Justin Newman and Tecie Turner-Newman '11 Rapid City, S.D., October 1, 2021.
Silas Isaiah to Liz and Zach Kimble '08 Derby, Kan., November 17, 2021.
Jericho Mahomes to John '12 and Katie Naccarato Davidson '13 Valley Center, Kan., October 17, 2021.
Frank Genaro III to Frank '15 and Stachea Perea Mora '12 Pasadena, Texas, November 4, 2021.
Anistyn Rae to Jordan and Kellea Allison Martens '13 McPherson, December 3, 2021.
Lily June to Trent '11 and Melanie Grosbach Lawrence '12 Hutchinson, Kan., July 19, 2021.
Asa Jay to Austin and Bailey Brown Budke '16 Kansas City, Mo., October 29, 2021.
Myles to Brianna and Michael Ramos '16 Wylie, Texas, August 2, 2021.
Isaac Leo to Michael '17 and Lauren Wankum Janzer '17 Aurora, Colo., September 4, 2021.
Reese Skye to Logan '18 and Madison Hoffman Schrag '18 McPherson, July 31, 2021.
Chloe Diane to Cole '14 and Ashley Frankenbery Long '16 Wichita, Kan., November 5, 2021.
Elvin Frantz '44, Buena Vista, Colo., August 12, 2021.
Ruth Ickes Brewer '45, Dallas Center, Iowa, May 22, 2020.
Phyllis Reeves Howard '45, Meridian, Idaho, June 16, 2021.
Dale W. Brown '46, Lombard, Ill., August 30, 2021.
Frances Petefish '47, San Diego, Calif., May 17, 2021.
Evelyn Metzger Agenbroad '48, Colorado Springs, Colo., October 15, 2021.
Ruth Beery Giles Howell '49, McPherson, October 5, 2021.
Jeane Baldwin Cook '50, Tucson, Ariz., July 6, 2021.
Joyce Birkin Frantz '50, Lincoln, Neb., November 8, 2021.
Vernon R. Nicholson '50, Wichita, Kan., August 14, 2021.
Robert E. "Bob" Odle '50, Hoover, Ala., January 12, 2021.
Leona Richards Johnson '51, Sun City, Ariz., September 1, 2021.
Verlla Hummer Coughenour '52, Lindsborg, Kan., August 7, 2021.
Mary Ellen Yoder Howell '54, McPherson, July 27, 2021.
George A. Keim '54, Springfield, Va., July 25, 2021.
Thomas G. O'Dell '54, Bonita Springs, Fla., August 7, 2021.
George W. Boyd '55, Venice, Fla., June 21, 2021.
Donald L. Butler '55, Grundy Center, Iowa, July 22, 2021.
Jane Grove Battles Brubaker '57, Dallas Center, Iowa, June 20, 2021.
Max E. Royer '57, Matthews, N.C., September 22, 2021.
Ronald K. Anderson '58, McPherson, October 13, 2021.
Joyce Miller Carney '58, Brevard, N.C., June 24, 2021.
Herbert Johnson '58, McPherson, August 6, 2021.
Marlo D. Oltman '58, Buhler, Kan., November 10, 2021.
Maida Tinsley Laughlin '60, Canton, Kan., August 5, 2021.
Virginia Faye Fields Brunner '61, Maize, Kan., October 10, 2021.
Hudson W. Sadd '62, Manheim, Penn., December 11, 2021.
Harvey Davidson '63, Hays, Kan., December 5, 2021.
David L. Priddy '63, Blue Springs, Mo., October 15, 2021.
Kenneth L. Ullom '65, Wiley, Colo., July 14, 2021.
Dean Elliott '66, McPherson, June 30, 2021.
Lois Wood Strickler '66, Grinnell, Iowa, September 29, 2021.
Thomas D. "Tom" Worthing '67, Inman, Kan., January 21, 2021.
Larry B. Heidebrecht '69, Omaha, Neb., September 19, 2021.
Thomas Nee '69, McPherson, July 20, 2021.
Ronald K. Naylor '72, Kansas City, Mo., November 16, 2019.
L. Jayne Miller '73, Wichita, Kan., October 9, 2021.
Mary E. Hoover '78, Silver Spring, Md., October 6, 2021.
Kathryn "Kathy" Burkholder '82, Manhattan, Kan., September 24, 2021.
David O. Sollenberger '84, Doylestown, Ohio, October 1, 2021.
Debbie McCurry Carter '92, Ordway, Colo., November 3, 2021.
Todd M. Lechtenberg '93, Plano, Texas, August 13, 2021.
Jaymie L. O'Dell '99, McPherson, September 1, 2021.
Reed N. Hardgrave '02, McPherson, October 25, 2021.
then & now
Some things remain the same. Auto Restoration student vehicles in the '70s and today.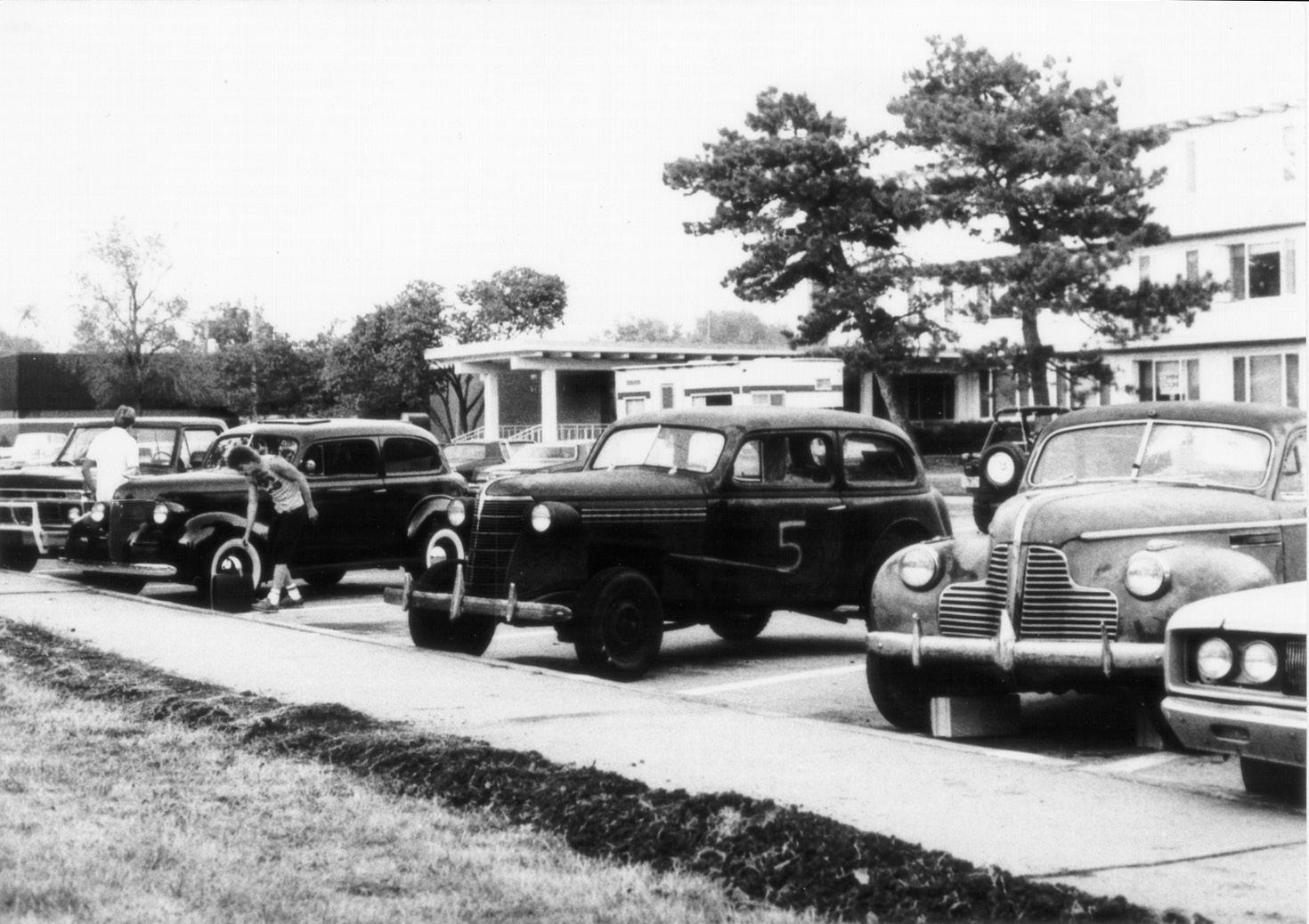 IN MEMORIAM alumni notes 29 FALL 2021
McPherson College
1600 East Euclid PO Box 1402 McPherson, KS 67460
The choir's appearance at New York City's Carnegie Hall has been moved up from May to March 19, 2022. While preparing for their performance, Dr. Bradley Vogel, director of choral activities, and the choir are also working to secure funding necessary for the trip.
To support the choir with a tax-deductible gift, visit www.mcpherson.edu/make-a-gift and select "Choir" in the Gift Designation Box. The choir is deeply appreciative of the support it has received thus far. Thank you to all who have contributed to this opportunity.
Discounted tickets are now available for anyone wanting to attend the choir's performance at Carnegie Hall. For more information about the performance or purchasing tickets, please e-mail alumni@mcpherson.edu
www.mcpherson.edu/make-a-gift
Non-Profit Organization U.S. Postage PAID Permit #1148 Wichita, KS
ALUMNI UPDATE CHALLENGE
Update your alumni information on our website during January and February 2022 and you'll be entered into a drawing for one of two McPherson College blankets.
Complete an additional alumni survey after finishing your update and we'll send you a McPherson College Alumni T-Shirt!
Find the alumni update form at: www.mcpherson.edu/alumni/update
MC Alumni, be sure to participate in the 2022 Alumni Update Challenge!
A portion of the publication cost for the Review comes from Docuplex in Wichita, Kan. - www.docuplex.com
McPherson College Choir to perform at Carnegie Hall!