"Cowboy Camp is a two-day program specifically designed to help students get connected to McNeese, learn to become a leader and meet people in their incoming class that are motivated to be engaged on campus. Students who attend Cowboy Camp are better prepared for the first day of classes," said Dr. Kedrick Nicholas, dean of student services.
McNeese State University commemorated its 80th anniversary with a ribbon cutting ceremony to dedicate the opening of the new Kaufman Plaza facing Ryan Street. McNeese officially opened its doors for classes on Sept. 11, 1939, with 140 students and 13 faculty members in Kaufman Hall, one of three original buildings on campus. The Kaufman Plaza dedication was held jointly with Patriot Day, an annual observance to remember those who were injured or died during the terroist attacks on the United States on Sept. 11, 2001. The ceremony featured a speech from Navy veteran and McNeese Banners outreach coordinator Greg Leute and concluded with the lowering of the American, McNeese and Louisiana flags to half-mast.
Other court members are: Keontae Anderson, Vinton, Andrew Eakin, Sulphur, Maggie McBride, Lake Charles, and Ashlee Sebren, Eros, seniors; John Dalton, College Station, Texas, Kinley Holmes, Sulphur, Jordan Latham, Moss Bluff, and Gavin Nettles, Lake Charles, juniors; Robert Hall, Shreveport, and Breanna Newell, Opelousas, sophomores; and Maycie Fuselier, Elton, and Jake Latham, Moss Bluff, freshmen.
McNeese's College of Agricultural Sciences relyed on a team of students to keep its more than 1,000 acres of agricultural land and three farms operational during the COVID-19 pandemic. This crucial work included everything from planting seasonal crops for research and providing daily care for the animals housed at the farms to processing honey and meat for local retailers and the McNeese CAMPP store. STUDENTS KEEP McNEESE FARM OPERATING
STUDENTS KEEP MCNEESE FARM OPERATING
FALL
At Alpha Delta Pi, we are a sisterhood of friends, a family of individuals and a home away from home. We embrace every woman's uniqueness, we encourage and support each other's goals and dreams and we value character above all else. Founded in 1851 at Wesleyan Female College in Macon, Georgia, Alpha Delta Pi was the first secret society for women
The purpose of Alpha Kappa Alpha Sorority Inc. is to cultivate and
The Zeta Pi Chapter of Alpha Kappa Sorority Inc. has been setting the standard since 1972. We are a sisterhood that strives for success and continues to be of service to the McNeese State University campus and the Lake Charles community
encourage high scholastic and ethical standards, to promote unity and friendship among college women, to study and help alleviate problems concerning girls and women in order to improve their social stature, to maintain a progressive interest in college life and to be of service to all mankind.
c
181 collegiate chapters and over 240 alumnae chapters. Throughout Chi Omega's long and proud history, the fraternity has brought its members unequaled oppotunities for personal growth and development
c
Sigma Gamma Rho Sorority Inc. was
Zeta Phi Beta Sorority Inc.,
the commercial world and students of commerce; and to
brotherhood and excellence.
The Theta Rho chapter of Kappa Sigma was chartered on December 9, 1966, and is the oldest and largest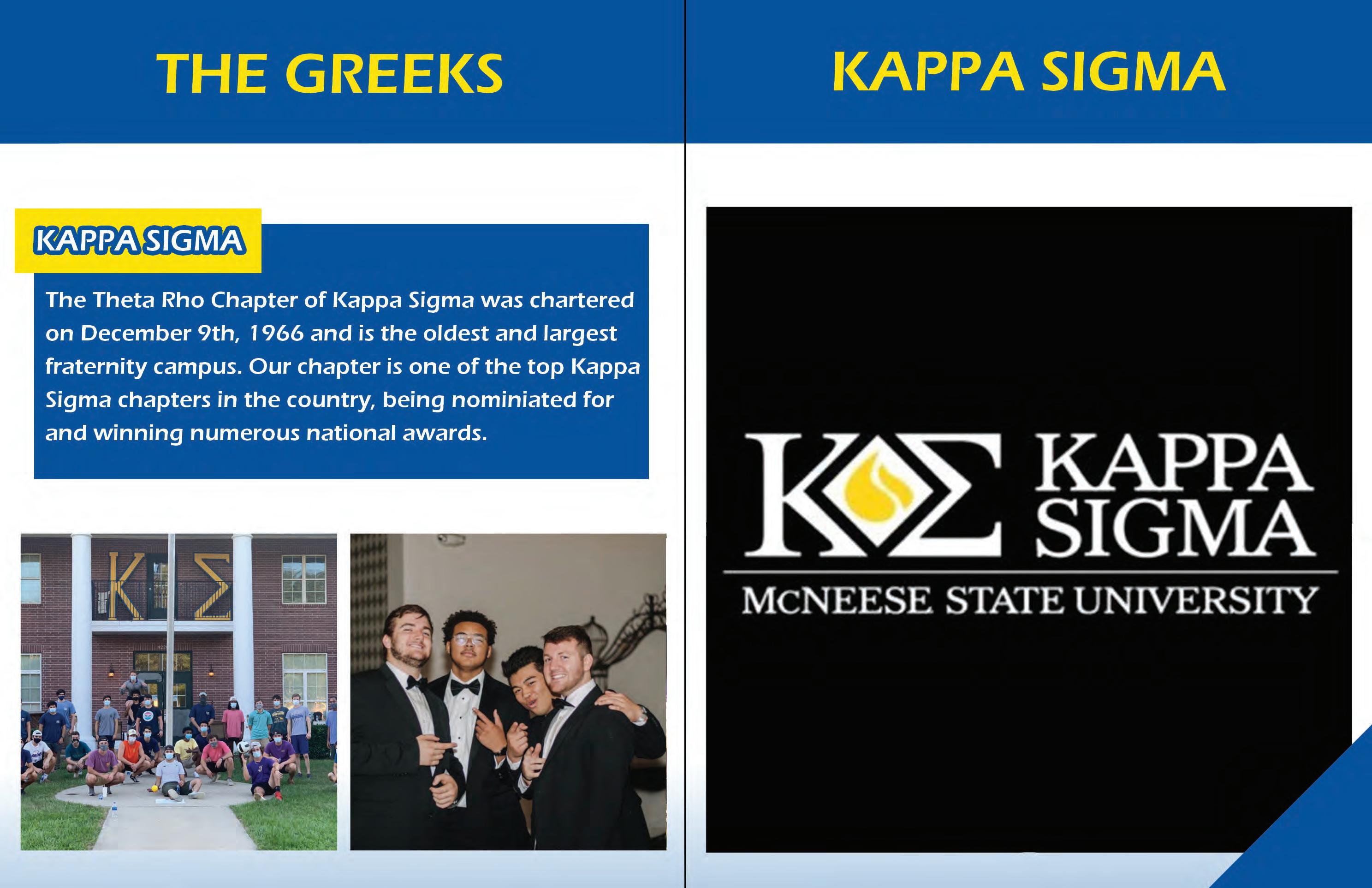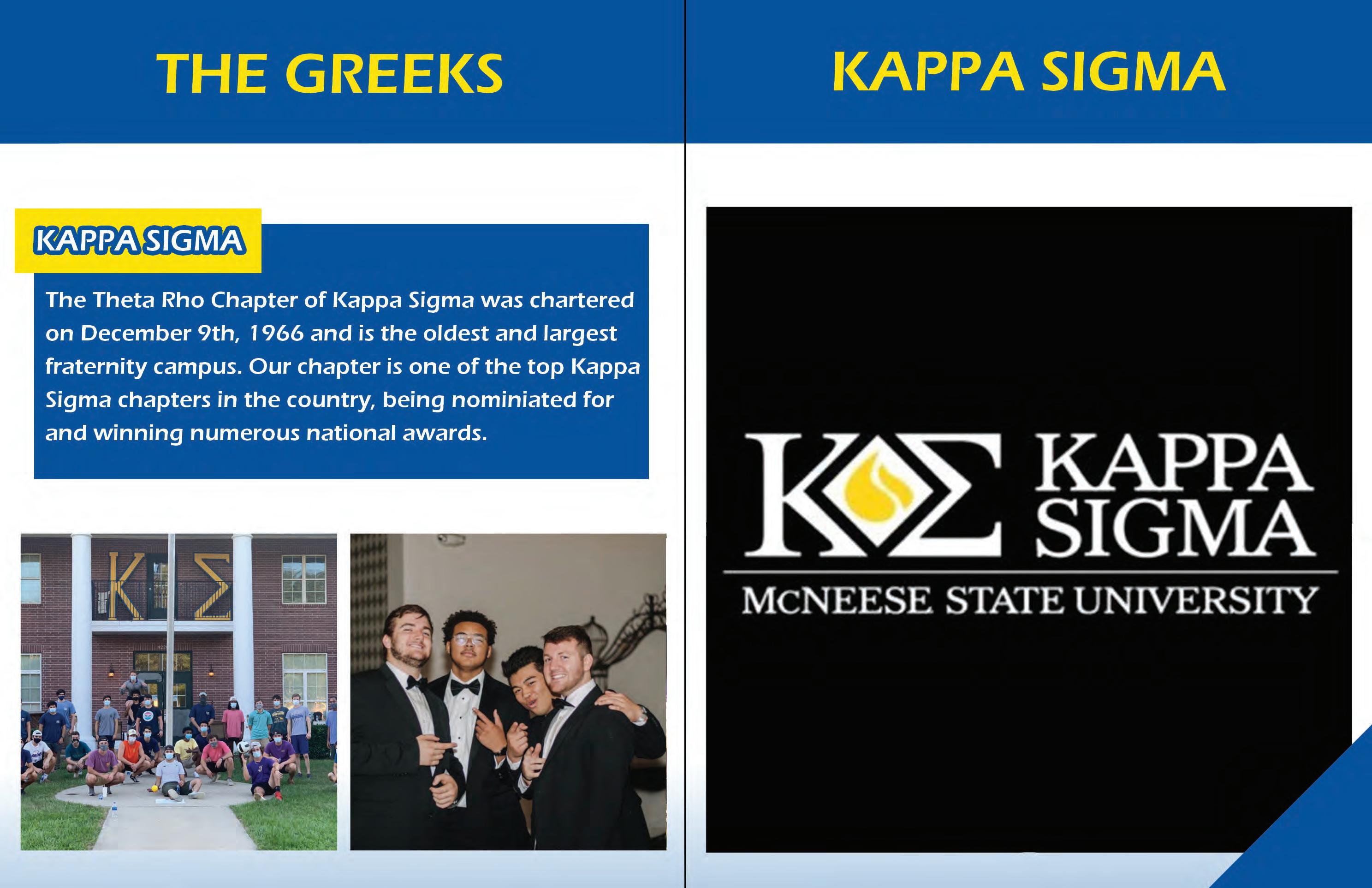 Alpha Phi Alpha Fraternity Inc. develops
Kappa Alpha Psi is the second oldest exisiting collegiate historically Black Greek Letter Fraternity and the first intercollegiate fraternity incorporated as a national body. The fraternity has over 125,000 members with 700 undergraduate and alumni chapters in nearly every state of the United States and international chapters in Nigeria, South Africa, the West Indies, the United Kingdom, Germany, Korea and Japan
Omega Psi Phi Fraternity Inc. is the first international fraternal organization founded on the campus of a historically black college on November 17, 1911, at Howard University in Washington, D.C. From the initials of the Greek phrase meaning, " friendship is essential to the soul," the name Omega Psi Phi was derived.
Founded on the McNeese campus in 1982, Xi Eta chaapter of Phi Beta Sigma promotes brotherhood, scholarship and service. Our motto is Culture for Service and Service for Humanity
Pi Kappa Alpha or "Pike" is a brotherhood of scholars, leaders, athletes and gentlemen. We set the standard for integrity, intellect and achievement. Pike has been ranked #1 on campus in GPA and intramurals since our chapter's founding in 2010. Many of our brothers serve in campus leadership positions. Rushing Pike is a commitment to becoming a part of the "most best men" on campus.
We refounded McNeese State University's first fraternity. We will build a group of men that choose to redefine the fraternity stereotype. We are looking for men who exemplify our ideals of CLASS: character, leadership, achievement, scholarship and service. We are a very diverse group of men, so come hang out and see where you fit in with us.
McNEESESTATE
ORGANIZATIONS
ORGANIZATIONS
It began in the early 20th century as a result of the growing interest in dramatic arts among colleges and universities throughout America, with the aim of encouraging dramatic production at every step in a person's academic career.
The McNeese State University student chapter of the American Chemical Society is an organization that aims to foster the academic and career growth of McNeese students through the development of greater chemical understanding.
ORGANIZATIONS
ORGANIZATIONS
developASMEORGANIZATIONShelpsMcNeeseengineeringstudentstheirprofessionalidentityandprovidesessentialengagementopportunitiesthroughawiderangeofactivitiesandresourcessuchascompetitions,scholarships,leadershipopportunitiesandinternshipsaswellasnetworkingwithintheSociety.
academicautismASMORGANIZATIONSiscommittedtohelpingindividualswithspectrumdisorder(ASD)integrateandexcelwithintheuniversityenvironmentbyprovidingsocialsupportandadvocacy.ASMalsoprovidesopportunitiesforstudentswithASDtogathersociallyanddiscussissuesrelevanttotheirexperiences,whichincreasesthelikelihoodofsuccessful,enjoyable,socialandacademicexperiencesatMcNeeseStateUniversity.AUTISMSOCIETYOFM cNEESE
AUTISM SOCIETY OF McNEESE
The BCM is a student organization that exists to connect college age people to Christ and to His body, to help McNeese students take their next step in their faith journey and allow McNeese students to be the Hands and Feet of Jesus.
ORGANIZATIONS
ORGANIZATIONS
ORGANIZATIONS
communityORGANIZATIONSWeareaSpirit-empowered,diverseofbelieversatMcNeeseStateUniversity,declaringinwordandlifestyleourfaithinJesusChrist,equippedtofulfillourpurposeinGod'sglobalplan.Formanyyears,ChiAlphahashadapresenceoncampus.ChiAlpha,whichcomesfromChristouApostoloi-GreekforChrist'sAmbassadorsin2Corinthians5:20,isfoundonover300campusesthroughoutthenation.AtMcNeeseChiAlphaisconnectingwithstudentsatXALiveandmeetingtogetherinlifegroupsacrosscampus.
worldORGANIZATIONSbutalsochangemembers'lives.
scholarship,ORGANIZATIONSphilanthropy,leadershipandcampus
adultsEntrepreneurshipORGANIZATIONSMonitorU.S.Report,younger(ages18-24)aremorelikelytostartabusinessandcollegegraduatesorthosepursuinghighereducationareparticularlymoreinclinedtopursueentrepreneurship.
ORGANIZATIONS
ORGANIZATIONScommunity
CHAPTERDUCKSducks.wetlandsUnlimitedORGANIZATIONSheadquarterstohelprestorethehabitatandsecureahomeforallWeareoneofthesmallerorganizationsoncampusandwearealwayswelcomingnewmemberstoourDUfamily!UNLIMITEDOFM cNEESE
DUCKS UNLIMITED CHAPTER OF McNEESE
scholarshipORGANIZATIONSandtoembracevariousculturesthroughmusic
c
HUNTORGANIZATIONSSEATTEAMAT
The purpose of the Hunt Seat Team at McNeese State University is to facilitate the opportunity for students to ride and enjoy a Hunter horse in a team setting where emphasis will be placed on skill, growth, horsemanship, equitation and sportsmanship. It is a club that accepts beginners to advanced riders and the opportunity to compete in IHSA/USHJA regulated events is available.
McNEESE STATE UNIVESITY
HUNT SEAT TEAM AT McNEESE STATE UNIVERSITY
ORGANIZATIONSserviceandbrotherhood.
ORGANIZATIONS
ORGANIZATIONS
ORGANIZATIONS
The McNeese American Society of Civil Engineers student chapter was chartered in 1982. Our chapter provides students with an excellent opportunity to develop the leadership and organizational abilities that they use throughout their careers and seeks to provide a training ground for the future leadership of ASCE and the profession. McNeese ASCE has a proud history of active participation in conference and national competition, professional events and community service.
McNEESE ASCE STUDENT CHAPTER
McNEESE AMERICAN SOCIETY OF CIVIL ENGINEERS
As the most visible McNeese ensemble, the marching band
MORGANIZATIONS c BANDNEESE
McNEESE
asMcNeeseinvolvedIntramuralORGANIZATIONSsportsareafun,competitivewayforstudentstorelievestress,stayhealthyandgetoncampus.Nomatteryourexperiencelevelorathleticism,there'sagameforyou.offersindividualandteamsportssuchvolleyball,flagfootball,basketball,softball,tabletennisandmore.
RocketsWaltbasketballFoundedORGANIZATIONSin1980,theCowgirlKickersaretheofficialdanceteamatMcNeese,performingforCowboyfansatfootballandgames,aswellasperformancesatDisneyWorld,DallasMavericks,HoustonandNewOrleansSaints'games,aU.S.navalbaseatPearlHarborandLondon'sNewYear'sDayParade.
ORGANIZATIONS For over 70 years, ACM has helped computing professionals be their most creative, connect to peers and see what's next. Joining ACM means you dare to be the best professional you can be. McNeese students participate in competitions and have access to a large number of publictions, as well as the ACM digital library. Be creative. Stay connected. Keep inventing.
ORGANIZATIONS
The mission of the NAACP Youth & College Division is to inform youth of the problems affecting African Americans and other racial and ethnic minorities and to advance the economic, education, social and political status.
ORGANIZATIONS
The National Pan-Hellenic Council was founded in 1930 to serve as a governing body to the nine nationally recognized historically Black fraternities and sororities. Its purpose is to foster cooperative actions of its members in dealing with matters of mutual concern. To this end, the NPHC promotes the well-being of its affiliate fraternities and sororities, facilitates the establishment and development of local councils of the NPHC and provides leadership training for its constituents.
ORGANIZATIONS
academically,promotestheNational16,000ORGANIZATIONSWithmorethan500chaptersandnearlyactivemembersintheU.S.andabroad,theSocietyofBlackEngineers(NSBE)isoneofthelargeststudent-governedorganizationsbasedinUnitedStates.NSBE,foundedin1975,supportsandtheaspirationsofcollegiateandpre-collegiatestudentsandtechnicalprofessionalsinengineeringandtechnology.NSBE'smissionis"toincreasethenumberofculturallyresponsibleBlackengineerswhoexcelsuceedprofessionallyandpositivelyimpactthecommunity."
ORGANIZATIONS The National Society of Leadership and Success is the nation's largest leadership honor society, with a current number of 912,947 members nationwide and 649 chapters. Inducted members receive their leadership certificate and take their place among the top student leaders at their campus and across the country.
NepaleseaMcNeeseexchangefocusedORGANIZATIONSNepaleseStudentAssociation(NSA)isonspreadingawarenessofNepalesecultureandtraditionsandpromotingculturalamongallotherorganizationswithinthecommunity.TheNSAalsotriestocreatehome-away-fromhomeenvironmentforfirst-timestudentsbyensuringasmoothtransitionwitheducational,socialandculturalissues.
communityconnections.medicine.helpsORGANIZATIONSThePhysicalMedicineSocietyatMcNeeseinformstudentsaboutthedifferentcareersthatareavailabletothosepursuingadegreeinphysicalOurSocietyhasguestspeakerswhotalkabouttheircareersandgiveusinsightandachancetomakeTheSocietyalsobelievescommunityserviceisimportantandourgroupcontributesitstimetotheandcharityevents.Theorganizationisopentoallclassifications.
ORGANIZATIONS
ORGANIZATIONS
universityorganizationsinitiatesORGANIZATIONSTheSGAadvocacyprograms,informsstudentoftheaims,policiesandidealsofthethatpertaintooraffectenrolledstudents.
involvementdevelopmenttheTheORGANIZATIONSStudentLifeCoalition(SLC)contributestosocial,recreational,culturalandeducationalofstudents,facultyandalumnithroughanarrayofprogramsandservices.SLCisthekeytooncampus!Attendfreeevents,volunteerandtrulyenjoyyourtimeasaMcNeeseCowboy!
STUDENTCOALITIONLIFE
opportunitiesTheORGANIZATIONSSNAprovidesnursingstudentswithtodevelopasleadersandasprofessionalsthroughschoolinvolvement,communityserviceandhealthpromotion.
engineering
The Society of Women Engineers (SWE) is a womanled national organization set to empower and give a voice to the women in the field of engineering. At McNeese, SWE is centered around a passion for its members' success and continues to evolve with the and reflected in today's exciting and technology specialties.
challenges
SOCIETY OF WOMEN ENGINEERS
ORGANIZATIONS
opportunities
SOCIETY OF WOMEN ENGINEERS
ORGANIZATIONS