COMMUNITY NEWS Your Garden OSU website makes it easy to identify plants – Inside Vol. 20 No. 7 Serving Mt. Angel, Silverton, and Scotts Mills April 2023 PRSRT STD US POSTAGE PAID PORTLAND OR PERMIT NO. 854 POSTAL CUSTOMER ECRWSS Our Town P.O. Box 927 Mt. Angel, Or 97362 School Spotlight The Best Fox Ever mock-pageant raises funds while being fun – Page 12 Sports & Recreation SHS Dance team en pointe at state – Page 24 Starry Starry Night – Page 20
$799,000
Investors, 64.41 acres, 3 adjoining homesites, 2 @ 5 acres, 1 @ 54 acres. Kingston-Lyons Dr., Stayton. MLS#788228
$645,000
3.85 acres. Prestige Estate property, path of progress potential. 835 Grouse St. NE, Silverton. Sellers will consider carrying a contract.
MLS#770597
gates. 295 Cleveland St., Mount Angel. MLS#793598
Under Contract
$595,000
$599,000
Beautiful renovated Craftsman Home, 4 bd, 2 ba. 1900 sq ft. on 1.30 acres. Outstanding Valley Views! 14448 Evans Valley Rd. NE, Silverton. MLS#792811
Price Reduced $349,000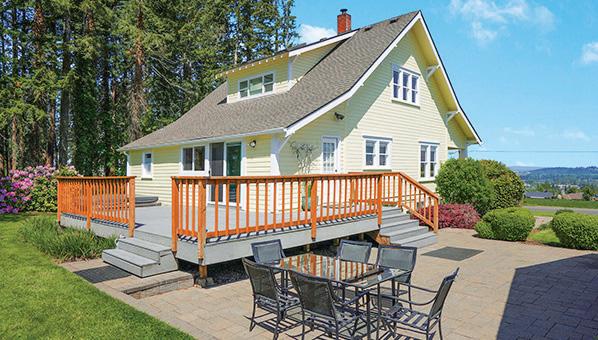 NEW! $595,000
120.50 Acres, Recreation or Timber land, Reprod Timber, road system, Ideal for RV/ Campsite. Maple Grove, Molalla. MLS#802319
114 acres buildable, Valley views! Standard septic approved. Quality Dory & Nekia soils. 42480 Mount Pleasant Dr., Scio. MLS#794562
Under Contract
$449,000
27.50 acres, creek, 30-year old timber. Excellent investment. Buildable. Crooked Finger Rd. Scotts Mills. MLS#785744
2 acres buildable homesite, views! Approved for standard septic & well. 7685 Dovich Ln SE, Turner. MLS#778883
$285,000
3.080 acres, private building site in city limits, maybe dividable. SW exposure. Standard Ave., Brownsville. MLS#777782
$535,000
3 bed, 1 ba. vintage home, on 4.41 acres. farm bldg. Dividable & buildable. On the edge of Silverton. 15056 Quall Rd., Silverton. MLS#799863
NEW! $127,500
Buildable residential lot, 7650 sq. ft. City water and sewer available. Property has iconic water tower located on it. 617 Keene Ave. Silverton. MLS#802507
2 • April 2023 ourtownlive.com Facebook.com/OurTown.SMASM LICENSED IN OREGON AND SERVING YOU FROM OFFICES IN SILVERTON, NEWBERG AND M c MINNVILLE 216 E. Main St., Silverton • Office: 503-874-1540 www.TheBellaCasaGroup.com Buy. Sell. Be Happy. $995,000 157 acres, Ridge Top farm, valley views, 1696 sq. ft home, needs TLC, barn, shed, pasture. 42820 Mount Pleasant Dr., Scio. MLS#794561 $848,000 21.20 acres, 3 bedrooms, 1 ba. lodge style home, 24x48 shop with water & power. 20 yr.plus timber, borders BLM. Seller contract. 20739 Hazelnut Ridge RD NE, Scotts Mills. MLS#802816 $824,000 108.45 acre farm, 1 BD, 1 BA. home, pastoral views! 63 acres planted in grass seed plus timber land. 33950 Bellinger Scale Rd., Lebanon. MLS#794268 ACREAGE $760,000 Renovated, single level home, 4 bd, 2ba, 2437 sq ft, on 1.02 acres. Mt Hood Views! 16826 Butteville Rd. NE, Woodburn. MLS#791368 $649,000 Renovated & updated Craftsman Home, 4 bed, 2 ba. 2784 sq. ft. 30x40 shop, Custom fence &
NEW!
Joe Giegerich Broker 503-931-7824 Dana Giegerich 503-871-854 email: JoeGiegerich01@gmail.com Joe & Dana Giegerich More New Listings Coming Soon!
Contract Under Contract SOLD!
Contract
Contract
Under
Under
NEW! Under
On the Cover
Participants of Community Transition Program and Silverton Mainstay were joined by instructors and friends for their first adult prom at Silverton United Methodist Church on March 10.
Corrections
The editor had a bad day when producing the March 15 Our Town Life. In trying to clarify that the RV park owned by columnist Melissa Wagoner's family was not in our area, the label Eastern was added. Should have been coastal Oregon. Then, the speaker in the article on SACA's plans for the former Ratchet building was misidentified as SACA Board President Ken DeSantis. The speaker was Executive Director Sarah DeSantis.
Sincere apologies to all involved –including our readers and writers –for the confusion.
SILVERTON AREA SENIORS, INC.
Masks are optional, per personal choice.
APRIL 2023 PROGRAMS
This Month
Saturday, April 1 –There is a Lot Going on Here...
Community Breakfast for ALL Ages
Free with donations gladly accepted for Pancakes & More ALL Ages Welcome
VOLUNTEER APPRECIATION PARTY & LUNCH
To Honor Silverton Senior Center & Meals on Wheels Volunteers!
Baked Potato Bar & Dessert – Compliments of Wooden Nickel & NWSDS
RSVP Requested but not required • Friday, April 7 from 12 - 2 pm • at Senior Center
Open Art Studio featured Artist Theresa Sharrar
Wednesday, April 19 at 1pm
Our Town
P.O. Box 927 Mount Angel, OR 97362
401 Oak St. Silverton, OR 97381 503-845-9499
ourtown.life@mtangelpub.com
ourtownlive.com
Our Town mailed free to residents and businesses in the 97362, 97375, 97381 zip codes. Subscriptions for outside this area are $48 annually.
The deadline for placing an ad in the April 15 issue is April 5.
Thank you for spending time with Our Town. Your comments and suggestions are always welcome.
Bingo Friday, April 20, 2pm at Methodist Church with Mainstay Group
Exercise, Dance, Movement
Stamp Camp: Card Making Friday, April 21 at 6:30 pm
Simple Qigong Set to Music: Senior Center: 9:45am, Tues/Thur, $8 (first class free)
Low Impact Exercise Class: 9:30 am Mon / Wed / Fri
Free for members / $5 for nonmembers (donations gladly accepted)
Optimal Health Class: Wednesdays, 10am. $30/class; $25/class with 4. Inc. booklet Saturday Night Fever Dance Party: 6pm, $5
Weekly Drop In Activities
Coffee & Conversation: Mondays 11am
Bridge: Mondays 10am
Poker: Mondays 12pm / Fridays 9:30am
Ukulele Song Circle: Mon 3:30pm & Fri 1pm
Pinochle: Tuesdays / Fridays 12pm
Knit Wits: Wednesdays 10am
Open Art Studio: Wednesdays 1pm
Bingo: Thursdays 2pm $1 / 2 cards
Dominoes: Fridays 1pm
Once a Month
Garden Club Meeting: Tuesday, April 4 at 2pm
Dine Out Club: Water Mountains Restaurant, Silverton. Thursday, April 6 at 6pm. All seniors invited! Order off menu, pay independently Call 503-873-3093 by 5 pm to carpool.
Monthly Member Birthday Party: Friday, April 7 at 10am
SASI Board Meeting: Tuesday, April 11 at 5pm. RSVP 503-873-3093. Public welcome.
Ancestry Detective Meeting: Tuesday, April 11 at 10am
Silverton-Mt. Angel Women's Connection Luncheon Thursday, April 13 at 1pm
Services & Advice
Retiring Joyfully Series: Mondays, 5:30pm $35 • Massages: Wednesdays by appt.
Reflexologist: Thursdays, 1pm by appt. • RN Foot Care: Tue & Wed by appt. only
ASL American Sign Language Class:April 8 & 20 for $20
Veterans Service Office Representative: Thursday, April 13. 9am. Walk-ins welcome.
United Healthcare Rep: Thursday, April 13 at 1pm
Long Term Care Seminar with Rose Elder Law: April 25 at 10am
Facebook.com/OurTown.SMASM ourtownlive.com April 2023 • 3 Civics 101 SFSD – Three to leave Board ................ 4 SFSD – Eight file for Board elections .... 4 SFSD – Hope despite Impasse .............. 5 Silverton reviews civic center options .. 6 Briefs ...................................... 8 Something to Celebrate Bashor named Future First Citizen ..... 10 School Spotlight Best Fox Ever events set for April ....... 12 Robotics pair heads for nationals ...... 14 Your Garden ............. Inside Arts & Entertainment New space at Arts Center .................. 15 Open call for poster art ..................... 15 Something to Do Pollinators topic of Spring workshops.. 16 Datebook........................... .18 Something Fun Starry night, special prom ................ 20 Sustainable Solutions Electric charging now at Silver Falls ... 22 Passages ............................. 23 Sports & Recreation SHS Dance team State Champs .......... 24 A Grin at the End ....... 26 Marketplace ..................
27
COURTESY HOLLY JAYNES
Contents
Jim Kinghorn Advertising Director
Paula Mabry Editor & Publisher
DeeDe Williams Office Manager
Steve Beckner Custom Design
Tavis Bettoli-Lotten Designer & Copy Editor
James Day Sports Editor & Reporter
Janet Patterson Distribution
Melissa Wagoner Reporter
Stephen Floyd Digital Editor & Reporter
Sara Morgan Datebook Editor
Free unless noted
silvertonseniorcenter.org
Plant & Yard Art Sale
am - 12 pm Saturday Night Fever Dance Party $5, 6 - 9pm
8