Fall 2022, Volume 98, Number 3
FromPRESIDENTthe
WilliamSincerely,F. Tate IV
This year, the U.S. Army awarded LSU coastal experts, along with faculty from the University of Delaware, $9.3 million to help make military operations and infrastructure better prepared for weather hazards like flooding. Researchers from the LSU Center for Coastal Resiliency, our Center for River Studies, and the LSU Coastal Sustainability Studio will use ecological modeling and engineering to improve military installation resilience in the face of storm surge, extreme weather, and other hazards with the potential to affect operational capabilities.
LSU Alumni Magazine | Fall 2022 1
You might think Venice, La., is the end of the word, but I see it as a battleground – a particularly fitting term since ground is exactly what we are losing. The effects of what happens here can impact pocketbooks as far away as Vivian in Caddo Parish.
" . . . and while the bulk of our research focuses on the Louisiana Gulf Coast, the impact of our coastal research can be felt around the globe . . ."
LSU coastal researcher and MacArthur Genius Award Recipient Nancy Rabalais was inducted in the elite National Academy of Sciences this year, firmly cementing her expertise as among the top scientists in the United States. She leads the yearly research expedition into the Gulf to measure the size of the Dead Zone, a hypoxic region deplete of oxygen where no fish or other life canAnd,survive.while the bulk of our research focuses on the Louisiana Gulf Coast, the impact of our coastal research can be felt around the globe, as these challenges are not limited to our part of the world. We take our responsibility to secure Louisiana's future very seriously, and our impact on the state's coast remains at the forefront of our research mission now and forever.
Louisiana's Unique and Valuable Coast
The National Oceanic and Atmosphere Administration, or NOAA, has awarded our researchers, along with those in the Southern Climate Impact Planning Program, $5.4 million to study extreme weather impacts. As part of the grant, our scientists will study factors causing extreme rainfall and flooding events and will look at factors affecting heat-related illnesses.
That's why "Coast" is one of LSU's five priority areas in serving our state. Louisiana's coastal ecosystems are among our state's most unique and valuable natural resources. It is essential for national commerce and transportation via deep-water ports necessary for agricultural products shipping to markets around the world. The energy sector thrives in the coastal zone. LSU's cyberdefense team is at work in the coast to monitor foreign threats and protect our energy and industrial infrastructure. And, coastal Louisiana is central to our cultural heritage as a state with its food, recreation, and joie de vivre. Let me share all the things we are doing to serve the coastal zone and protect everything we love from Venice to Vivian and everywhere in between.
Features
Barry Cowan, Ed Cullen, John Grubb, Bud Johnson, MadisonPhotographyMcLoughlin
Contents
BOARD OF DIRECTORS David Braddock, Chair Dallas, Texas
On the Cover
The William A. Brookshire LSU Military Museum in Memorial Tower.
Baton Rouge Printing
22 LSU's Memorial Tower
2 LSU Alumni Magazine | Fall 2022 10204675
Memorial Tower, dedicated in 1926 as a memorial to the 1,447 Louisianans who died in World War I, is now home to the William A. Brookshire LSU Military Museum. Its exhibits pay tribute to the University's rich military history, its present military impact, and its future military influence
Letters to the editor are encouraged. LSU ALUMNI MAGAZINE reserves the right to edit all materials accepted for publication. Publication of material does not indicate endorsement of the author's viewpoint by the magazine, the Association, or LSU.
In Each Issue 1 From the LSU President 4 LSUAA President's Message 6 LSU Alumni Association News 28 Around Campus 46 Locker Room 70 Tiger Nation
Kathryn "Kathy" Fives, Chair-Elect Baton Rouge, La.
Jack A. Andonie, Director Emeritus Metairie, La.
Publisher LSU Alumni MarketingJackiePresidentGordonAssociationMonk&CEOEditorBartkiewiczManagerAllyRichardsonMarketingAssistantEmilyMilletEditorialAssistantJacksonLeBoeuf
Bart B. Schmolke, Past Chair Alexandria, La.
Editorial and Advertising LSU Alumni Association 3838 West Lakeshore Drive Baton Rouge, LA 70808-4686 225-578-3838 • 888-RINGLSU www.lsualumni.org / jackie@lsualumni.org
Art Director/Graphic Designer STUN Design & Interactive Kimberly Principal/CreativeMackeyDirectorSTUNDesign&InteractiveChuckSanchezContributors
College of Engineering, Brandon Gallego/LSU Sports Information, John Grubb, Mary Hardin-Baylor/Provine Photograpy, David Leone, Mallard Bay, Robert Nguyen/LSU Campus Life, Emily Schexnayder, Eddy Perez/LSU Communications & University Relations, Ally Richardson, Katherine Seghers/LSU Communications & University Relations
Printing
LSU ALUMNI MAGAZINE is published quarterly in March, June, September, and December by the LSU Alumni Association. Annual donations are $50, of which $6 is allocated for a subscription to LSU Alumni Magazine. The LSU Alumni Association is not liable for any loss that might be incurred by a purchaser responding to an advertisement in this magazine.
J. Ofori Agboka, Carnation, Wash. Mark Kent Anderson, Jr. Monroe, La. Michael B. Bethea, Madisonville, La. Karen Brack, San Diego, Calif. Cassandra M. Chandler, Hillsboro, N.C. Corey Foster, Lake Charles, La. G. Archer Frierson, III, Shreveport, La. Mario J. Garner, Spring, Texas James G. "Jimmy" Gosslee, Shreveport, La.
Leo C. Hamilton, Baton Rouge, La. Lauren Olinde Hughes, Houston, Texas R. Scott Jenkins, New Orleans, La. Matthew K. "Matt" Juneau, Baton Rouge, La. Michael Kantrow, Jr., New York, N.Y. Brandon Landry, Baton Rouge, La. Jeffrey M. "Jeff" Mohr, Baton Rouge, La. Jady H. Regard, Lafayette, La. Rori P. Smith, Baton Rouge, La. Stanley L. "Stan" Williams, Fort Worth, Texas
© 2022 by LSU ALUMNI MAGAZINE. POSTMASTER: Send address changes to LSU ALUMNI MAGAZINE, 3838 West Lakeshore Drive, Baton Rouge, LA 70808-4686
Thank you for your support – past, present, and future. We couldn't do it without you.
LSU
We enjoyed traveling coast to coast for the spring and early summer crawfish boils. It's always a pleasure to visit with old friends and make new ones while enjoying Louisiana crawfish with all the trimmings! Your efforts to keep alumni and friends connected are deeply appreciated.
We were privileged to host the 2022 Association of Louisiana Alumni Executives Conference, which gave us the opportunity to share news, ideas, and information with our alumni colleagues across the state. See page 19.
Be sure to check out page six for the latest information about "What We Do." And, that includes what you do with us and for us to support the University, its faculty and staff, alumni, friends, and current students – our future alumni.
President and CEO MESSAGE
We'll be seeing many of you in the next few months at football games – on campus and at away games. We have planned exciting Traveling Tigers trips for the Florida State, Auburn, Florida, Arkansas, and Texas A&M games, so make your reservations now!
As we move into the final quarter of the year, I urge you to renew your membership in the Association and consider an additional donation to the Alumni Fund. Your financial support is vital to maintaining and enhancing our programs for alumni and friends, students, faculty, and the University.
4 LSU Alumni Magazine | Fall 2022
"Your efforts to keep alumni and deeplyconnected...friendsareappreciated"
This issue's cover story will surely stir readers' memories. Memorial Tower is one of the oldest and most iconic structures on campus. The bronze tablets in the rotunda memorialize Louisiana soldiers who died in World War I, and over the years the Tower has housed military exhibits, offices and conference rooms, an information center, and an art museum. It is now the home of the William A. Brookshire LSU Military Museum, which will recognize and pay tribute to LSU's rich military heritage and legacy for decades to come.
Hearty congratulations to our spring graduates, whose names appear in this issue. We hope you will take advantage of many opportunities – travel, sporting and social events, camaraderie, and connections – available to you through the LSU Alumni Association.
Forever LSU! Gordon President/CEOMonk Alumni Association
lsualumniassociationAlumniLSU
Looking Back . . . and Looking Forward
• Annual Meeting & Past Presidents/Chairs Luncheon
Take a look at what we – and YOU – do.
• More than 130 chapters worldwide
6 LSU Alumni Magazine | Fall 2022 LSU Alumni Association NEWS
Social events, such as the popular crawfish boils, and recognition ceremonies, such as the Hall of Distinction and University Faculty Awards, put LSU and the Association in the spotlight. What often is not known is that chapter activities raise funds for scholarships and professorships. And, outstanding supporters, donors, and faculty encourage support by example.
• Hall of Distinction
• Chapter Leadership Summit Engage • Connect Serve Recognize What We Do
• Networking Opportunities
• Golden Tigers Reunion
• Scholars Recognition
•
ALUMNI AND FRIENDS
• Classmate and campus connections in print and online through social media, newsletters, and LSU Alumni Magazine
•
• Social Events
The LSU Alumni Association is committed to supporting and strengthening the University through its numerous programs of excellence. We strive to keep alumni and alumni-by-choice around the world connected to their alma mater and to each other and offer opportunities for involvement to faculty, staff, friends, future students, and current students – our future alumni.
Through our newsletter, social media, and LSU Alumni Magazine, we highlight significant University activities and alumni accomplishments. Our sports trips, travel abroad tours, networking opportunities, and Tiger merchandise are additional benefits that help us keep LSU in the spotlight.
• Touring Tigers travel abroad
• Retired Faculty/Staff Events
• Traveling Tigers sports trips
• 10 President's Alumni Scholarships – Full cost of attendance for four years; $2,000 study abroad stipend; $1,550 per year to earn through President's Future Leaders in Research program
• Alumni Engagement Forum – with Staff Development Council
• LSU Ring Ceremony – with Student Life & Enrollment and LSU Finance & Administrative Services
• Margaret-Mary Sulentic Dowell, Education, Cecil "Pete" Taylor Alumni Professorship
• Katherine Kemler, Music, Charles & Mary Barré Alumni Professorship
• Collegiate Club at LSU with Tiger Athletic Foundation
• Grad Fair – with LSU Barnes & Noble Bookstore and other campus units
• Bruce Cameron, Textile, Apparel Design & Merchandising, Kathryn Norwood & Claude Fussel Alumni Professorship
• 4 Faculty Excellence Awards - $2,000 each
• Discounts at The Cook Hotel and on Tiger merchandise at the LSUAA Gift Shop
• 25 Alumni Professorships - $6,200 each
• Griffin Campbell, Music, J. Franklin Bayhi Alumni Professorship
• William Demastes, English, San Diego Chapter Alumni Professorship
• Jane W. Cassidy, Music, Roy & Margaret Gianelloni LSU Alumni Association Professorship
• 4 Phi Kappa Phi Non-Tenured Faculty Awards$500 each
• 2 Teaching Assistant Awards - $2,000 each
• 10 Rising Faculty Research Awards - $5,000 each
• Cynthia F. Dicarlo, Education, W. H. "Bill" Leblanc Endowed LSU Alumni Association Departmental Professorship
• Speakers: The Series – with LSU Student Government
• 1 Josephine A. Roberts Distinguished Dissertation Award - $2,000
• Representation of alumni concerns and priorities to the University administration
• 2 Distinguished Dissertation Awards – with LSU Graduate School
• Barbara L. Dutrow, Geology & Geophysics, Gerald Cire & Lena Grand Williams Alumni Professorship
ALUMNI PROFESSORS
THE UNIVERSITY
• Spring Invitational – with the LSU Office of Orientation
• Partners in Progress and Partners in Communication –with University Executive Council
• Guoli Ding, Mathematics, Herbert Butts Memorial LSU Alumni Association Departmental Professorship
• 16 Global Leaders Scholarships - $2,000 study abroad stipend; $1,550 per year to earn through President's Future Leaders in Research program
• Mette B. Gaarde, Physics, Les & Dot Broussard LSU Alumni Association Departmental Professorship
THE FACULTY
• "Come Home, Alumni" – with Baton Rouge Area Chamber and Louisiana Economic Development
• 174 Flagship Scholarships - $2,500 per year; $1,550 per year to earn through the President's Student Aide program
THE STUDENTS
• Ram Devireddy, Mechanical Engineering, DeSoto Parish Chapter Alumni Professorship
• Anne Grove, Biological Sciences, Ouachita Parish Chapter Alumni Professorship
• Stacia L. Haynie, Political Science, J.W. Annison Family Alumni Professorship
• 4 International Student Scholarships - $2,500 each
LSU Alumni Magazine | Fall 2022 7
• 11 Departmental Professorships - $6,200 each
• P. Lynn Kennedy, Agricultural Economics & Agribusiness, Crescent City Tigers Alumni Professorship
• Guoqiang Li, Mechanical Engineering, Major Morris S. & DeEtte A. Anderson Memorial Alumni Professorship
• Robin L. McCarley, Chemistry, Barbara Womack Alumni Professorship
• Heather McKillop, Geography & Anthropology, Thomas & Lillian Landrum Alumni Professorship
• Pamela Ann Monroe, Social Work, Lois Canulette & W.A. "Buster" Baker Memorial LSU Alumni Association Departmental Professorship
• Graduating Seniors Crawfish Boil
• Marybeth Lima, Biological & Agricultural Engineering, Cliff & Nancy Spanier Alumni Professorship
• LSU on the Geaux and LSU BOUND – with LSU Undergraduate Admissions
• Brett N. Boutwell, Music William Swor Alumni Professorship
• Aixin Hou, Environmental Sciences
• Carla Salas-Ruiz, Music & Dramatic Arts
• James C. Atherton Alumni Departmental Professorship in Human Resource Education & Workforce Development
• Robert Perlis, Mathematics, Cecil "Pete" Taylor Alumni Professorship
EDITOR'S NOTE: In addition to the above-listed faculty awards, the Association annually recognizes some 450 students as President Scholars, Global Leaders Scholars, Flagship Scholars, and International Student Scholars.
• Hector Zapata, Agricultural Economics & Agribusiness, Past Presidents of the LSU Alumni Association Professorship
• Nathan Kamoe, Mass Communication
• Eileen Haebig, Communication Sciences & Disorders
• Daniel Holstein, Oceanography & Coastal Sciences
• Srikanth Bangaru, Engineering
• Elizabeth Cruzado, Geography & Anthropology – Arts, Humanities, Social Sciences
• Darius Spieth, Art History, San Diego LSU Alumni Association Chapter Alumni Professorship
• Philip C. Stouffer, Conservation Biology, Lee F. Mason LSU Alumni Association Departmental Professorship in College of Agriculture
• Emitte E. & David D. White LSU Alumni Association Departmental Professorship in Music
• Patricia Persaud, Geology & Geophysics
DISTINGUISHED FACULTY AWARDS
• Hunter Gilbert, Mechanical & Industrial Engineering
• Biological & Agricultural Engineering, John Rhea Alumni Professorship
• Lance Porter, Mass Communication, Class of 1941 Alumni Professorship
• Robert Tague, Geography & Anthropology, Earleene Nolan Sanders Alumni Professorship
• Jason M. Wolfe, History
• Cristina Mirela Sabliov, Biological & Agricultural Engineering, Richard R. & Betty S. Fenton Alumni Professorship
• Greater Houston Alumni Chapter Endowed Alumni Professorship
DISTINGUISHED DISSERTATION AWARDS
• Shengmin Guo, Mechanical & Industrial Engineering
• Aswathy Anakkathil Pradeep, Communication Sciences & Disorders
• John Flake, Chemical Engineering
• Daniel Holstein, Oceanography & Coastal Sciences
• Weishan Huang, Pathobiological Sciences
• Allison Young, Art History
• Tim Slack, Sociology
LSU Alumni Association News
• Gestur Olafsson, Mathematics, Julian R. & Sidney Nicolle Carruth Endowed Alumni Professorship
TEACHING ASSISTANT AWARDS
• Jin Gyun Lee, Chemical Engineering – Science, Technology, Engineering, Mathematics
8 LSU Alumni Magazine | Fall 2022
• David Young, Physics & Astronomy, Webster Parish Chapter Alumni Professorship
• Rockford Sansom, Theatre
FACULTY EXCELLENCE AWARDS
• Patricia C. Bodin Alumni Department Professorship in ISDS
• Matthew Hiatt, Oceanography & Coastal Sciences
• Fahui Wang, Geography & Anthropology, Cyril & Tutta Vetter Louisiana Fund Alumni Professorship
• Shane Stadler, Physics & Astronomy
• Ashley Clayton, Education
• Frank M. Neubrander, Mathematics, Demarcus D. Smith Alumni Professorship
• James A. Ottea, Entomology, John Benjamin Holton LSU Alumni Association Departmental Professorship
UNFILLED PROFESSORSHIPS
• James V. Moroney, Biological Sciences, Glenda Wooters Streva Memorial LSU Alumni Association Departmental Professorship
• A. Ravi P. Rau, Physics & Astronomy, Robert Stobaugh Alumni Professorship
PHI KAPPA PHI OUTSTANDING INSTRUCTOR AWARD
• Sharon Weltman, English, William E. "Bud" Davis Alumni Professorship
• Andrew Clinton Pereboom LSU Alumni Association Professorship
• Beverly Griffin Shea Alumni Association Department Professorship in Human Ecology
• David Chicoine, Geography & Anthropology
• Renee Carter, Veterinary Clinical Sciences
• Jangwook "Philip" Jung, Biological & Agricultural Engineering
• Nichole Santee, Mass Communication
• Class of 1942 Alumni Professorship
• Todd Monroe, Biological & Agricultural Engineering, Donald & Norma Nash McClure Alumni Professorship
• Christopher Austin, Biological Sciences
• Sonika Patial, Comparative Biomedical Sciences
RISING FACULTY RESEARCH AWARDS
NON-TENURED FACULTY AWARDS
Chapter Events
10 LSU Alumni Magazine | Fall 2022
East Tennessee Tigers gather for a group photo at the Raising Canes and Hurricanes party.
Feast on the 50 – The Central Florida Chapter participated in the annual Florida Citrus Sports "Feast on the 50" event at Camping World Stadium, during which alumni from colleges across the country set up tents on the football field to show their school spirit and unique heritage. Chapter members served red beans and rice donated by the local WalkOn's, along with hurricane samples. There was an LSU Spirit Spin Wheel for participants to win donated prizes and LSU merchandise. Local restaurants and vendors participated, and music and fireworks were provided by event host SouthState Bank.
LSU Alumni Association News
Raising Cane's & Hurricanes – Faced with the high price of crawfish and transportation costs, East Tennessee Tigers improvised with a Raising Canes and Hurricanes party. "We served chicken from Raising Cane's, along with boudin, red beans and rice, etc., and homemade Hurricanes. For entertainment, we watched LSU play Ole Miss in baseball – unfortunately a loss," writes Jim Decker, chapter president.
Terry Jarreau, Bill and Nathalyn Bagley, and Sam Rosenthal.
Bon Air Celebration – The Victorian Days celebration, highlighted by the annual parade, featured the award-winning Central Virginia Chapter Mardi Gras float once again this year. "The crowds did not let the forecast of rain hinder their participation, as they yelled 'Geaux Tigers,'" writes Sam Rosenthal, "and they were in awe of the beautiful, handcrafted Mardi Gras float as they raised their hands for Mardi Gras beads and trinkets along the parade route."
Patrick West, Payton Bragg, Paul West, Terry and Kelly Ledet, Susie Bragg, and Kris Cowart.
LSU Alumni Magazine | Fall 2022 11
Front, from left, Brad Peace, Karen Peace, Allison Walsh, Melissa Oliver, Charlie Oliver, and Berri Glassell; back, Jared Beville, Jacob Hester, Eric Benard, Patrick Walsh, Patrick Gallagher and Fernando Rugerio.
Washington, D.C. – The Louisiana Boys catering company dished up 500 pounds of crawfish for 125 Tigers in the D.C. Metro area.
BB Holoubeck and his daughter, Alice.
Becca Moser and Sarah Lessard, alumni board members, check in crawfish eaters.
Caddo-Bossier – Former LSU and NFL great Jacob Hester joined CaddoBossier Tigers for the chapter's crawfish boil at The Market Restaurant. The event, which included crawdads, a cash bar, and raffle and auction items, helped raised funds for the chapter's Betsy Chandler Peatross Scholarship.
Joe Littlejohn, Archer and Ivy Frierson.
Wayne and Carmen Parker, Charles and Elise Kaufman.
Smile – and wave – for the camera!
The Cajammers, local Zydeco legends.
Triangle, N.C. – The Triangle Chapter set records for attendance and pounds of crawfish served at the annual boil. More than 140 tigers in the Raleigh/Durham/Chapel Hill/Cary area gathered at Lake Montague for the event to put away 750 pounds of crawdads and enjoy entertainment by the Cajammers, a local band that provided live Zydeco music.
T-Bob Hebert, J.P. Chaze, and D-D Breaux.
John Fontenelle, Joe Grappe, and Jacob Webre ready ingredients for the pots.
Gordon Monk, Dan Caneveri, and Tracy Jones.
Servin'em up!
12 LSU Alumni Magazine | Fall 2022 LSU Alumni Association News
Chapter Events
Big BR – More than 700 pounds of crawdads and 120 hot dogs quickly disappeared at the Greater Baton Rouge Chapter's annual crawfish boil held at The Cook Hotel.
Melissa Edgar Hicks, Danielle Dupuis Dupre, and Chi Benson.
Purple Sponsor Big T's Land Clearing agent Terry Hashert, left, with Sonya Hall and his parents.
Laurie Woodel Breaux, chapter treasurer, presents a 10,000 check for the scholarship fund to LSU Alumni Association officers Amy Parrino and Landon Jordan.
Jan Cox, right front, with Tom and Anne Rioux, Mike and Murphy Toerner, and Dan and Dorothy Jowers.
LSU Austin – Austin Tigers gathered at Shoal Creek Saloon for the all-you-can-crawfish boil and annual meeting fundraiser, which benefits the chapter's scholarship fund.
LSU Little Rock – "Our LSU Alumni Little Rock Chapter held the annual crawfish boil at the Pinnacle Mountain Big Maumelle Pavilion," writes Kelly Carmon.
"Seventy-five local Tiger fans attended and welcomed Tammy Brown, representing the LSU Alumni Association. Chris Carmon, Al Aquino, and Brad Feller prepared more than 200 pounds of crawfish. We had a raffle, silent auction, a pop-up shop set up by LSUAA, and a great time was had by all."
LSU Alumni Magazine | Fall 2022 13
LSU football raffle winner Heidi Roesch with Amy Holland and Meg Matus.
Robby Mayne, chapter president, and Amy Holland, social chair.
LSU Tyler – More than 225 Tyler Tigers and friends gathered at True Vine Brewery to put away 750 pounds of crawfish provided by Chasing Tails Crawfish Catering and enjoy entertainment by Pay Mason and the Bayou Boogies Band from Shreveport. Alumna Mashala J. Edwards donated 10 percent of sales from her Urban Deaux Candle Company to the chapter, and The Rotolo's – owned by alumna Meg Matus – "gave back" $1,000 check and raffled two tickets for a fall football game. "We had two Gold sponsors at the $500 level and four Purple sponsors at the $350 level, and we raised $5,365.68," writes Amy Holland.
LSU Alumni Association News Chapter Events
LSU Memphis – "This was our first boil since 2019," writes Kevin Koelemay. "We had about ninety people and consumed about 700 pounds of crawfish at our traditional boil beside the Lawhon family's pond in Memphis."
From left, Ashley Bryant, Chad Hebert, Peggy Arnold, Jacob Colle, Rob Kivel, Renee Kivel, Leslie Danks, and John Spurny.
14 LSU Alumni Magazine | Fall 2022
From left, front, John Gross, LSU Alumni Association Vice-President Claire McVea, Jennifer Lawhon, Karen Koelemay, and Darrel Chumney; back, Kevin Koelemay, Mike Grantham, Brett Fontenot, John Lawhon.
Bill Brack and Pete Terrebonne.
Chapter volunteers of thirty-plus years at the wind-down party.
Nicole Wang, Brandy Ferree, Karin Gentry, and Sierra Terrebonne.
Kathy Crossin, Joe Carvhalhido, and Karen Brack.
LSU San Diego – San Diego Tigers took over Waterfront Park for the chapter's thirty-third annual crawfish boil. Certified as the largest crawfish boil in the world, 25,000 pounds of fresh, live crawfish straight from the suburbs of Lafayette, were boiled on site, with other food vendors selling Cajun and Creole favorites. Live entertainment included performances by New Orleans' Cowboy Mouth and San Diego's Theo & The Zydeco Patrol.
Panhandle Bayou Bengals – After a two-year hiatus, some seventyfive Pensacola-area Tigers gathered at their traditional meeting place, Shooters Sports Bar at Cordova Lanes, to dig into 300 pounds of crawfish, take part in two silent auctions, and enjoy fellowship. Auctioneer John Hutchinson, volunteer Cindy Cash, and tech manager Rajiv Raja were among those assisting chapter president John Spurny manage the event.
Crawfish and camaraderie on the patio at D.S. Tequila Co.
Becky and Mark Crain.
Brian Brazil, chapter vice president and DJ. Steve and Anna Knight with their daughters, Abigail and Elizabeth.
Photos: David Leone
Joy Monahan, Molly Hughes, Kenneth Lirette, and Donovan Lewis.
Eileen Milligan, Richard Coston, and Lauren Britt.
LSU Alumni Magazine | Fall 2022 15
Diego Samayoa, Iran Samayoa, Oscar Oliva, Kenneth Lirette, and Yadira Samayoa.
Chicageaux – Chicago alumni and friends gathered at D.S. Tequila Co. for the chapter's annual crawfish boil. "We ordered 300 pounds of crawfish," writes Kenneth Lirette, "and raffled autographed baseballs, mini basketballs, shirts, and other LSU goodies."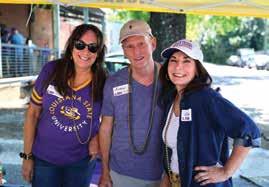 Birmingham – The Birmingham Chapter hosted its thirty-seventh annual crawfish boil at Cahaba Brewing Company. "We sold approximately 170 pounds of crawfish, and our very own Brian Brazil did an excellent job DJ'ing for our event," writes Eileen Milligan.
The Crawfish Krewe, including Ryan and Terry Ledet with family members visiting from Louisiana, prep the crawdads.
Chase Curtis, chair, Young Alumni; Brittany Ernest, LSU Alumni Association; Josie Taylor, chapter president; Sally Stiel, LSU Alumni Association; Stephanie Schmidt, secretary; and Brian Walker, vice president.
LSU Atlanta – More than 250 Tigers gathered at Park Tavern in Piedmont Park for the annual crawfish boil, feasting on 1,000 pounds of crawfish provided by Catering Cajun, as well as seafood pasta, poboys, and pralines supplied by Copeland's. A silent auction by Southern Fundraising, a 50/50 raffle, and the auction of a live painting of the event by artist Ronni Brashear raised funds for chapter scholarships. Creole and New Orleans-style music was provided by Wasted Potential Brass Band, and guests were treated to a second line parade around the park.
LSU Alumni Association staffer Sally Stiel, left, and Joe Carvalhido, far right, with chapter board members Ed and Carolyn Kochan, Kris and Nicole Cowart, Debi and Paul West, and Kelly Ledet.
Chapter Events
Central Florida – The Central Florida Chapter hosted its annual Scholarship Crawfish Boil at Bill Frederick Park in Orlando. The "Ledet Family Crawfish Krewe" washed and boiled more than 800 pounds of crawfish for the some 200 guests who enjoyed Louisiana music provided by the Jeff Howell Band. Ed and Carolyn Kochan cooked up a pot of jambalaya and attendees also enjoyed Abita Beer, hamburgers/brats, and various desserts. Kids participated in the annual crawfish race and an arts-and-crafts function hosted by the park. Sponsors, auctions, and raffles raised nearly $8,000 for the chapter's scholarship fund.
16 LSU Alumni Magazine | Fall 2022
Golden Tigers Charles Golsen and Grace Novak.
Chapter President Paul West with Boone High School student volunteers Dylan, Carson, Josie, and Paul.
LSU Alumni Association News
Erin, Annabelle, Claire, and Brian Chustz.
Ready to serve!
Central Virginia – Some 120 Tigers and guests gathered at American Legion Post 354 on the James River for the chapter's crawfish boil. Bill Bagley provided musical entertainment.
Bluegrass Bengals – Sharon and Scott Siegel hosted the annual Bluegrass Bengals crawfish boil, which attracted some twenty-five Tiger alumni and friends who feasted on 113 pounds of crawdads.
LSU Denver – More than 250 Tigers and guests enjoyed camaraderie, libations, and 700 pounds of crawfish at Stoney's Bar and Grill.
Denver Tigers smile for the camera.
Jason Brandt, Alex Mascorro, Tom Lees, Justin Wahlberg, Barron Long, and Jeremy Hinz.
Bill Balis serves 'em up – and Erin Junkmann puts 'em away!
LSU Alumni Magazine | Fall 2022 17
Scott Siegel, chapter president, tends to the boiling mudbugs.
18 LSU Alumni Magazine | Fall 2022 LSU Alumni Association News
Shawn Lin, Justin Ericson, and Randall Sharper.
Lara Mae D Chollette, Leif Whitman, Kelly Stewart, Justin Ericson, Julianne Dunlap, Amanda Hebert, Shawn Lin, and Randall Sharper.
TIGER BITES
Chapter Events
Unique Cuisine Catering
Since 1984, Unique Cuisine catering has been helping our friends in Baton Rouge, and South Louisiana turn their parties and festivities into events to remember. From our distinctive take on traditional food and creole favorites to our innovative ideas on event planning, you'll find we're true experts on elevating your gathering to another level. Remember, when it comes to planning your next event, "never settle for less than unique."
CORPORATE EVENTS & HOSPITALITYCONFERENCESSUITESCOCKTAILPARTIES&RECEPTIONSGOURMETBOXLUNCHESGRADUATIONS,BIRTHDAYS,&ANNIVERSARIESPRE-GAMEGATHERINGS
LSU Seattle – Forty-five Tigers gathered at Belltown Pizza to put away seventyfive pounds of crawfish and shrimp with all the Justin"fixins."Alfred,Autumn Autrey, and Beth Bello.
founded Ruffino's in 1998 with an understanding that he wanted to create a place where people could come to "celebrate life." Today, his wife Alison continues his legacy and vision with Ruffino's Director of Operations Megan Klock and Executive Chef Reid
FeaturingHenderson.anold Italian feel, Ruffino's has a wood-burning pizza stove, a temperature-controlled wine cellar with over 2,500 different varietals of wine, and three rooms for private parties and special events.
Sally Stiel and Douglas K. Waddell, Sr., at the LSU Alumni Association's reception table.
Teacher Leader Summit – Numerous LSU alums were among those attending the reception at the 2022 Teacher Leader Summit, an annual professional development conference that brings together Louisiana educators and content experts.
TIGER BITES
Ruffino's
Molly Jumonville, Kara Rutherford, and Sarah Parham.
LSU Alumni Magazine | Fall 2022 19
Lindsay Schellhaas and Ellen Daughtery.
RUFFIN RODRIGUE
SIGNATUREOURDISH? CheesecakeCrabmeat HAPPY HOUR EVERY FRIDAY FROM 2-6PM!
As a former football player at LSU, Ruffin always made sure that a big part of Celebrating Life meant celebrating his Tigers, and over the years, countless Tiger fans have gathered at Ruffino's to share their love for all things purple and gold.
Alumni Association News
Class Ring Donations – The class ring belonging to the late Gloria Ann Hebert, a 1959 education graduate, was donated to the LSU Ring Collection by Steve and Catherine Vogel, and Judith Michel donated the ring of her late husband, Larry D. Michel, who earned bachelor's and master's degrees in speech in 1967 and 1969, respectively.
Shea Dinner – A good time was had by all at the annual dinner hosted for LSU Alumni Association and Cook Hotel employees by Beverly and Jerry Shea, Jr. This year's event took place at Nash's Restaurant in Broussard, La. Ardent, longtime LSU supporters, both Sheas have served as members and chairs of the Association Board of Directors, and Beverly is currently a member of hotel board.
Happy Retirement – Friends, family, and LSU Alumni Association staff and board members joined in congratulating Karla Lemoine, executive assistant to the president, on her last day at the LSU Alumni Center. Lemoine served in various roles in the College of Education and the College of Science and as assistant director of the LSU Academic Center for Student Athletes before joining the LSU Alumni Association in retirement from the University. She was recognized for her forty-eight years dedicated service, commitment, and untiring efforts on behalf of alumni, students, friends and former students, and faculty and staff of LSU.
To1963.donate a ring for display in the permanent collection in the Lod Cook Alumni Center, contact Cooper Knecht at 225-578-3838.
Also added to the exhibit were the rings of 1952 agriculture graduate John B. Kent, Jr.; Wisie Virginia Arrington, a 1928 arts and sciences graduate; and Dr. Curtis Duplechain, who earned his bachelor's degree from LSU in 1959 and his M.D. from LSU Medical School in
Photos: Emily Schexnayder and Ally Richardson
Cooper Knecht, curator of the LSU Ring Collection, places donated class rings in the LSU Ring Collection exhibit.
LSU
Karla Lemoine with LSU Alumni Association officers, from left, John Grubb, vice president of hotel and conference operations; David Braddock, board chair; and Gordon Monk, president and CEO.
20 LSU Alumni Magazine | Fall 2022
Snapshots
Beverly and Jerry Shea, Jr., standing behind Harriet Shea, seated, pose for a group shot with staff.
LSU Alumni Magazine | Fall 2022 21
ALAE 2022
Brittany Ernest chats with conference attendees during a tour of Alex Box Stadium.
LSU Alumni Association staff and confencence attendees gather for a group photo. Front row, from left, Leah Mellem, LSU; Ally Richardson, LSU; Katie Chopin, Centenary College; Jazmin Jernigan, LSU Shreveport; Ellen Yokum, Loyola University; Jeannie Brown, Loyola University; Sally Stiel, LSU; Kirsten Angelette, Nicholls State; Cara Traczek, UNO; Koren Thornton, Delgado; Olivia Graziano, Southeastern; back, John Grubb, LSU; Nakia Bates, Delgado; Frank Bernath, LSU; Emily Millet, LSU; Brandli Greer, LSU; Tucker Sappington, ULL; John Claude Arceneaux, ULL: Kayla Hebert, ULL; and Dan Hebert, ULL.
NASA engineer K. Renee Horton, second from left, a conference speaker, was welcomed by Gordon Monk, president; Sally Stiel, vice president; and Brittany Ernest, Alumni Fund coordinator.
Executives of alumni organizations across the state gathered at the Lod Cook Alumni Center in July for the Association of Louisiana Alumni Executives Conference. With an emphasis on listening, learning, and sharing, participants took part in roundtable discussions focused on programming, marketing and communications, engagement, fundraising, and future initiatives.
Conference speakers included LSU alumna and NASA engineer K. Renee Horton, who shared her story of reconnecting with her alma mater; Trent Hill and Jordan Basham, addressing the importance of social media in engagement and fundraising
efforts; Tommy Karam, LSU instructor of marketing, discussing the importance of interpersonal communication; and Brandon Landry, Walk On's founder and CEO, telling his story about overcoming obstacles and building a successful organization. Retired gymnastics coach D-D Breaux wrapped up the conference with the story of her coaching journey. Participants were treated to a trip around campus in the LSU Trolley and a tour of the football locker room in Tiger Stadium, and good eats were also on the agenda – dinner and a social hour at The Chimes, dinner at Walk On's, a late-night social at The Cook Hotel bar sponsored by Visit Baton Rouge, and Southern-style breakfasts and "togeaux" boxes, compliments of Unique Cuisine.
Photos by Ally Richardson and Emily Schexnayder
BY ED CULLEN
R
Leach was an LSU coed sixty years ago. "ROTC was mandatory for young men; that Parade Ground was full of marching cadets," she said. "Young women gathered to watch. All of this was in front of the bell tower. The Tower stood for LSU for us. We girls walked past it on the way to class every day."
ICHARD LIPSEY, A FOUNDING member and past chair of Cadets of the Ole War Skule, remembers LSU's Memorial Tower from his childhood. "I can remember my parents driving me to school at George Peabody Hall in 1944," he said. Peabody housed University High School (now University Laboratory School) where Lipsey was in the first grade. "When we ran around campus, we always knew the way back by looking for the tall tower," he said.
LSU Alumni Magazine | Fall 2022 23
Memorial Tower, dedicated in 1926 as a memorial to the 1,447 Louisianans who died in World War I – and now home to the William A. Brookshire LSU Military Museum – officially reopened in April. Lipsey, co-chair of the LSU Military Excellence Campaign Fund Commission, spearheaded the restoration and renovation of the 175-foot structure with co-chair Laura Leach, past chair of the LSU Board of Supervisors.
LSU was founded as a schoolmilitaryandhas a strong responsibilitytoday.programmilitaryItistheofLSUanditsmilitaryalumnitohonorourrichmilitaryhistoryandheritage."
The football stadium was built below the bluffs on the former 1,200acre Gartness Plantation so that its height wouldn't overpower the twostory quadrangle buildings. Memorial Tower was built on the eastern end of the North Quadrangle, which forms a cross with the much larger South Quadrangle with the library at one end and Atkinson Hall at the other.
From left, front, Rob Stuart, president, LSU Foundation; Christin Meeker, Fusion Architects; Brook Brookshire, donor; Lori Brookshire Garrison, donor; President William F. Tate IV; Governor John Bel Edwards; Rémy Starnes, chair, LSU Board of Supervisors; Jay Dardenne, Louisiana Commissioner of Administration; Mary Werner, member LSU Board of Supervisors. Back, W. Henson Moore, president, Cadets of the Ole War Skule; Jake Netterville, past-president, Cadets of the Ole War Skule, Cory Bates, national vice commander, American Legion.
ROTC, Moore said, grew out of the Students' Army Training Corps (SATC), which the War Department started in 1918, aided by an amendment to the Selective Service Act of 1917. Students who elected to become soldiers received help with their educational expenses and were assigned to participating universities. Assigning SATC detachments ended with the influenza epidemic of 1918, which took the lives of five LSU trainees.
Peter Soderbergh's book Tower, Tablet and Tree: LSU and the American Legion, the Interwar Years, 1919-1941 details the fundraising for Memorial Tower done by the David J. Ewing Post No. 25 of the American Legion and an appropriation by the Legislature. The Tower was the property of the American Legion until the late 1940s, when ownership was transferred to the University.
With proposed plans by the Olmsted Brothers firm of Massachusetts, the LSU campus had the footprint of a first-class college campus. The Olmsted name calls to mind New York's Central Park, New Orleans' Audubon Park, and the college campuses of Stanford and Cornell. The firm designed 250 public parks and sixty college campuses.
24 LSU Alumni Magazine | Fall 2022
Campanile or bell tower. The elegant Tower overlooks the Parade Ground where Lipsey and other Cadets of the Old War Skule drilled as ROTC students.
iger Stadium, whose construction was hampered by cash problems and the failure of a construction company, saw its first game, against Tulane University, in an unfinished stadium in 1924. More than 17,000 people saw LSU's victory on Thanksgiving Day.
The Olmsteds' successor in LSU's design, Theodore C. Link, acclaimed for his design of Union Station in St. Louis in 1894, employed the sixteenthcentury Northern Italian Renaissance style for buildings and provided a toney name for Memorial Tower – the
Reading Professor Emeritus Paul Hoffman's book Louisiana State University and Agricultural and Mechanical College, 1860-1919, former U.S. Rep. Henson Moore, who serves on the Memorial Tower committee and drilled on the Parade Ground, realized that LSU was one of the first ROTC schools in the country.
T
When Link took over design of the campus from the Olmsteds, his drawings included a campanile at the epicenter of campus, Soderbergh writes. As it happened, Link's drawings were among his last. On Nov. 12, 1923, three days after the $85,000 contract to build a tower was set, Link died.
Numbers of LSU's war dead vary slightly according to different sources. Thomas F. Ruffin writes in his book Under Stately Oaks: A Pictorial History of LSU, revised edition: Of the "1,500 Louisianans" who lost their lives during World War II, "the 30 (some records say 31) LSU students and alumni were each remembered with a live-oak planted in the Memorial Grove located on Highland Road just south of the Parade Ground."
In March 1926, the University and the Legion held a joint service to remember Louisianans who died in the war. The Reveille "Memorial Edition" of June 6, 1919, cites twenty-five war dead from LSU, eight dying of flu. Classes let out at 2:30 p.m. with faculty and students convening in a grove of thirtyone oak saplings that we know today as Memorial Oak Grove. There was a brass plate for each of the saplings, including one for the Unknown Soldier. The grove is situated just south of the LSU Student Union.
was born in circumstances similar to the Coronavirus' effect on the schools, restaurants and other businesses. An epidemic of Spanish Flu began at the end of World War I and affected an estimated 500 million people worldwide, about one-third of the world's population. As many as fifty million people are thought to have died, including 675,000 Americans. By comparison, the war killed more than eight million soldiers and thirteen million civilians.
Jerry Campbell, Chair Ellen
–
As fledgling efforts to train college-educated officers were winding down with the end of the war and Americans' preoccupation with the flu, the views of a Baton Rouge physician, H.S. Joseph, were published in The Reveille of Dec. 3, 1920. Joseph and others proposed a bell tower to remember the American soldiers of World War I. The memorial might take the form of a clock tower with chimes. "LSU students were thrilled by the magnificent simplicity of the concept," Soderbergh writes, "and chanted 'We want chimes!'"
Between 1922 and 1926, the American Legion's relationship with LSU regarding a tower grew stronger. When the Legion held its fourth annual state convention in Baton Rouge in 1926, members were told that $92,000 was on deposit, earmarked for the structure.
LSU MILITARY MUSEUM Exhibit Design Committee
MEMORIAL TOWER RENOVATION
LSU Alumni Magazine | Fall 2022 25
Memorial Tower
JakeJohnRichardRandyBrownGurieLauraLeachLipseyMilazzoNettervilleHensonMooreRADMRylandPercyHarveySchwartzbergDanWalsh
LSU Roger Husser Paul Favaloro Tony Lombardo CONSULTANTS Brett Beach Cliff Deal
CADETS OF THE OLE WAR SKULE
The cost of Memorial Tower was $211,625.16. Estimates vary, but that's the figure stated in the "Biennial Report of the President of Louisiana State University to the Governor and Members of the Legislature for 1932-34." Caldwell Brothers of Baton Rouge was the contractor. Colonel Edward
Best information had it that the World War I flu started in Europe, but its origin wasn't known. It's thought the disease was among the ranks of European armies before hostilities. The strain of flu took the name Spanish because the press in neutral Spain reported extensively on the epidemic while warring nations censured the news.
Memorial Tower
Into the late 1950s, the University Museum displayed memorabilia of LSU's early history. A World War I Museum, an information center, and conference rooms were in the tower's wings. The rotunda was open. The structure, renovated in 1960 because of water damage, was rebuilt as it originally appeared and the base was remodeled to accommodate the Anglo-American Art Museum (LSU Museum of Art) in the wings and the Tower Information Center in the rotunda. The art museum moved to the Shaw Center in downtown Baton Rouge in 2005, and Cadets of the Ole War Skule established offices in Memorial Tower at that time.
The late Jerry Campbell, a restoration architect, used construction guidelines in the early architectural drawings to ensure the renovation reflected the interior design as presented in the original structure. Improvements include "smart windows," similar to transition sun lenses, designed to protect the artifacts inside. As the sun rises, the windows darken, allowing sunlight in, but not enough to damage the fragile artifacts on display.
"Memorial Tower is the showplace of the University, a destination for all who visit LSU and wish to experience LSU's rich military history, to realize its present military impact, and to catch a glimpse of its future military influence as an institution of higher education that is committed to educating and training future military leaders for our nation," Campbell said.
26 LSU Alumni Magazine | Fall 2022
The renovation afforded an opportunity to add the names of World War I soldiers from Pointe Coupee Parish, said renovation committee member Harvey Cindy ad Chuck Credo were among those attending the grand opening festivities.
Guests Hart and Dorothy Guenther join Karen and Bill Brack for a photo.
Memorial Tower is a destination for all who visit LSU and wish to experience LSU's rich military history, to realize its present military impact, and to catch a glimpse of its future military influence as an institution of higher education that is committed to educating and training future military leaders for our nation."
reopened largely through the efforts of Lipsey's campaign to raise $13 million through private subscription with an assist from Gov. John Bel Edwards and the Legislature. "It would not have happened without Richard," Moore said of Lipsey's efforts. "It became a personal project for him."
Schleider of New Orleans donated the original eighteen chimes in 1924 at a cost of $25,000. LSU spent $10,000 to have them installed. According to Soderbergh, six weeks later – on April 30, 1926 – LSU officials held the formal dedication of the "Greater University." Since the previous summer, some buildings on the new campus had been available for use. Fall enrollment had been 1,712, and the cadet corps' movement from its barracks in downtown Baton Rouge to its new home on April 11, 1926, signified LSU's transition from the old to the new.
"LSU will do the maintenance and upkeep," Lipsey said. "We pulled together a board for the museum to oversee and raise funds. We will have a full-time curator, part-time student help, and volunteer docents."
Jake Netterville, Immediate Past C/ColPresidentSteven Fletcher
W. Henson Moore, President
MG Hunt Downer, Vice President
CADETS OF THE OLE WAR SKULE Board of Directors
Richard A. Lipsey
The Memorial Tower renovation committee decided to display those names on tablets to be placed beneath the original ones. "There are three plaques beneath the larger plaques in the rotunda," Gurie said. "One includes the names of Pointe Coupee Parish citizens – white and Black. The names of Black Louisianans who died in the war appear on the other three Committeeplaques."member Jake Netterville, a member of LSU ROTC from 19561960, remembers Memorial Tower as "a showplace" as he and fellow cadets drilled before it on the Parade Ground. Cadets of the Old War Skule, whose members number about 300, may be credited with the renovation, he said, but Lipsey, a U.S. Army veteran, made it "LSUhappen.was founded as a military school and has a strong military program today," Netterville said. "It is the responsibility of LSU and its military alumni to honor our rich military history and heritage."
Ed Cullen, an LSU journalism graduate, is author of Letter in a Woodpile, a collection of his essays for National Public Radio's "All Things Considered." He is retired from The Advocate where he wrote the Sunday column "Attic Salt."
RADM Ryland Percy, Secretary
Col Walt Green
Schwartzberg, a charter member of Cadets of the Ole War Skule. Sources vary on the number of Louisianans in World War I. Soderbergh went with the names that may be counted on the tablets,Before1,474.1934, an unnamed Legionnaire discovered that the tablets represented just sixty-three of Louisiana's sixty-four parishes. Somehow, Pointe Coupee Parish had been left out, Soderbergh writes. He comments in a footnote: "It appears also that the persons (Louisiana World War I veterans) so memorialized (on the Tower's plaques) are Caucasians. No serious attempt was made to collect the names of Black males from Louisiana who died in service during the war. Had the 'colored' dead been incorporated into the lists the total number of names would have reached or exceeded 2,000."
LSU Alumni Magazine | Fall 2022 27
Louisiana's soldiers, sailors, marines, and airmen are remembered in the new military museum, with LSU athletes who served in the military
Franklin Foil
CPT Dillon Mathies
John W. Milazzo, Jr. Jake L. Netterville
"I see the Tower as the most iconic LSU structure, even more iconic than Tiger Stadium," said renovation committee member Roger Husser, assistant vice president for LSU planning, design, and construction. "I gained even more feeling for Memorial Tower working on the committee."
LCDR John W. "JW" St. Amant
Bill O'Quin, Treasurer
memorialized in the Tiger TAFFoundationAthleticGallery.contributed$1milliontotherenovation.Thepremierexhibitionis
dedicated to LSU's most prominent military alumni. Memorabilia from U.S. Army Lt. Gen. Troy H. Middleton and the University's only four-star general, Charles "Hondo" Campbell, is on display along with items donated in memory of U.S. Marine Generals Robert Barrow and John A. Lejeune, and U.S. Army Air Corps Gen. Claire Chennault. Among the many artifacts is a license plate owned by Gen. George S. Patton, donated by LSU graduate John Bass, who was head of Patton's motorcade and was given the plate by the general himself.
John Flake, Jay Affolter Endowed Professor of chemical engineering, received the 2022 LSU Distinguished Faculty Award.
Oliver Garden, dean of the School of Veterinary Medicine, received the 2020 Blaine Award from the British Small Animal Veterinary Association. The award recognizes outstanding contributions to the advancement of small animal veterinary medicine or surgery.
AroundCAMPUSChristopher
Ram Devireddy, professor of mechanical engineering, received a 2022 Worley Professor of Excellence Award. An accomplished researcher and educator, he has received multiple awards for teaching and research, including the Tiger Athletic Foundation Teaching Award, LSU Distinguished Professor Award, LSU Alumni Association Faculty Award, and an LSU Alumni Professorship.
collaboration with LSU and UNO is to expand the FloodSafeHome site to twenty coastal parishes and, in the future, to the entire state.
Deborah Goldgaber, director of the LSU Ethics Institute and associate professor of philosophy and religious studies, received a $103,900 departmental enhancement grant from the Louisiana Board of Regents to begin to reshape LSU's science, technology, engineering and math (STEM) curriculum around ethics and human values. Partnering with ten faculty, Goldgaber will build open-source teaching modules to increase moral literacy –"knowing how to talk about values" – and encourage the development of more human-centered technology and design.
Noteworthy
Carol Friedland was named, director of LaHouse, which offers homessustainable,solutionsresearch-basedforresilient,andhealthyandcommunities. Her ongoing project in
Yu April Chen, assistant professor of education, received a National Science Foundation Career Award for her project titled Leveling the Playing Field in STEM: Post-transfer Success for Underrepresented Racial Minority Community College Transfers. The grant totals $497,713 and will span five years. Chen's award is the first NSF CAREER grant awarded to the LSU College of Human Sciences & Education.
Bunnie Cannon was named senior director of outreach and strategic initiatives at the School of Veterinary Medicine, andleadershipprovidingforoutreacheconomicdevelopment
enterprises. A fundraising and public relations professional, Cannon has more than thirty years of experience working at LSU.
Gabriela González, Boyd Professor of physics, is featured in The Sky Is for Everyone: OwnAstronomersWomeninTheirWords , a series of thirty-seven autobiographical essays by women astronomers showcasing their encounters breaking down barriers and changing the face of modern astronomy.
Edward Gibbons, assistant professor of professional practice in the School of Leadership & Human Resource Development, received the College of Human Sciences & Education 2022 Engagement Award.
Zhenhua Chen, assistant professor of accounting, was named Outstanding Teacher, recognizing dedication to excellence in classroom instruction and commitment to furthering the instruction mission of the department.
Margaret-Mary Sulentic Dowell, Cecil "Pete" Taylor Professor of education, received the College of Human Sciences & Education 2022 ResearchDistinguishedAward.
Joy Blanchard, associate professor of education, received the 2022 Brij Mohan ProfessorDistinguishedAward.
Austin, John S. McIlhenny Distinguished Professor of biological sciences, received the received the 2022 LSU Distinguished Faculty Award.
28 LSU Alumni Magazine | Fall 2022
Renee Carter, professor of veterinary ophthalmology, received the 2022 LSU Distinguished Faculty Award.
Chunli Dai, associate professor of civil and environment engineering, received a $68,740 grant from the California Institute of Technology to support her research on sea level rise. Dai's focus is primarily on precisely mapping the coastline, coastal topography, and identifying the low-lying/ high-risk areas.
William Buslepp, assistant professor of accounting, received the 2022 Vincent C. Brenner Award, presented annually to the untenured faculty member who has been most productive in academic research.
Suzanne Marchand, Boyd Professor of history, was awarded a Guggenheim Fellowship for intellectual and cultural history. She is one of 180 individuals among nearly 2,500 applicants chosen by the Board of Trustees of the John Simon Guggenheim Memorial Foundation.
Roy Haggerty was named executive vice president and provost, effective Aug. 1. Haggerty was previously dean of the College of Science and professor of environmental geology at Oregon State University, and he also served as interim dean of earth, ocean, and atmospheric sciences and as associate vice president of research at OSU. He holds doctoral and master's degrees from Stanford University and a bachelor's degree from the University of Alberta.
Sabarethinam Kameshwar, assistant professor of civil and engineering,environmentalreceived nearly $10,000 of a $150,000 grant from the National Science Foundation to collaborate on a project with the University of Miami to study sea level rise and how it affects coastal migration.
Hayley Johnson, head of government documents and microforms at LSU Libraries, and Sarah Sims, undergraduate and student success librarian, were awarded the American Library Association's 2022 Carnegie Whitney Grant for the proposal "Blood and Thunder: The Idealized American West and Its Place Today." They received the grant in 2017 and 2018 for previous projects.
Todd Manuel was named vice president of Inclusion, Civil Rights & Title IX. He was previously director of Organizational Health & Diversity for Entergy and as vice president for Diversity, Equity, and Inclusion Transformation for the Edison Electric Institute.
Shengmin Guo, Jack Holmes Professor of mechanical engineering, received the 2022 LSU Distinguished Faculty Award.
LSU Alumni Magazine | Fall 2022 29
Missy Korduner, assistant professor of professional practice and coordinator of the Online MS/LHRD program in the School of Leadership & Human DevelopmentResourcereceived the College of Human Sciences & Educaiton 2022 Advocate for Diversity Award.
Pamela Monroe, the Lois Canulette & W.A. "Buster" Baker Alumni Professor and director of the School of Social Work, received the College of Human Sciences & Education 2022 Faculty Service Award.
Kelvin Jones, assistant director of bands, received a 2022 Faculty Diversity, Equity, & MentoringInclusionAward.
Nancy Rabalais, professor and the Shell Endowed Chair in oceanography and wetland studies, was inducted into the National Academy of Sciences. She is among the 120 elected members – and the only one from Louisiana – recognized for her distinguished achievements in original research in 2021. She is also among the fifty-nine women who have been elected, the most women elected in a single year.
Caroline Schneider, senior instructor of chemistry, received the 2022 George Deer TeachingDistinguishedAward.
Around Campus
Courtney Szocs, associate professor of marketing in the E.J. Ourso College of Business, received the 2022 Outstanding Service-Learning Faculty Award.
Petra Robinson, director of leadership and human resource development in College of Humanities & Social Sciences, received a 2022 Faculty Diversity, Equity, & MentoringInclusionAward.
James Olson was named executive director of the Stephenson National Center for Security Research and Training (SNCSRT). After retiring from the U.S. Navy in 2006 he held corporate and academic leadership positions, most recently serving as executive director of the Center for National Security Initiatives at the University of Colorado Boulder.
Rafael Orozco, professor of linguistics and Spanish, received the Communication2022across the Curriculum Outstanding Faculty Award.
Melissa Turnage, an academic program specialist in the School of Leadership & Human Development,Resourcereceived the College of Human Sciences & Education Outstanding2022Staff Service Award.
Erin Richard, assistant professor in the School of Leadership & Human Resource Development, received the College of Human Sciences & Education 2022 TeachingDistinguishedAward.
Sabrina Taylor, Weaver Brothers TeachingDistinguishedthenaturalProfessorDistinguishedofrenewableresources,received2022LSUFoundationFacultyAward.
Kevin Smith, LSU Foundation James C. Bolton Distinguished Professor of chemistry, received the 2022 H.M. "Hub" Cotton Award for Faculty.
Laura Wiley, senior instructor of accounting, received a 2022 Communication across the Curriculum Outstanding Faculty Award.
Noteworthy
Jennifer Scott, assistant professor in the School of Social Work, received the College of Human Sciences & Education 2022 Early Career Award.
John R. White, associate dean of research in the College of the Coast & Environment, was awarded the 2022 National Wetlands Award in the scientific research category at the National Academy of Sciences in May. The award, presented annually to a single individual by the Environmental Law Institute, recognizes demonstrated exceptional effort, innovation, and excellence in wetlands conservation and dedication to educating students and stakeholders about the value of wetlands.
Tim Slack, professor of sociology, received the 2022 LSU Distinguished Faculty Award.
30 LSU Alumni Magazine | Fall 2022
Kappie Mumphrey was named vice president for LSU Online & interimservingEducation.ContinuingShehadbeeninthepositioninancapacity.
Shuangqing Wei, professor of electrical and computer engineering, and Kevin McPeaki, associate professor of chemical engineering, were awarded grants by the U.S. Army Information"Advanced$288,579Laboratory.Command'sCapabilitiesCombatDevelopmentArmyResearchWeireceivedforhisproposal,SignalandProcessingfor
Managing Interference in Radio Communication Systems." McPeak's proposal, "Ellipsometry of Thin Films for Mid-Infrared Optoelectronics," received $225,000 in funding.
Golden Cleats Combine – The inaugural Golden Cleats Combine –football camp for members of Bengal Belles – took place in June at the Football Operations Building. The event included position meetings with coaches, on-field drills with student-athletes and coaches, raffle prizes, and silent auction items.
PKP Awards –Daniel Holstein, assistant professor oceanography and coastal sciences, and Allison Young, professor of art history, received Non-Tenured Faculty awards, and Jason M. Wolfe received the Outstanding Instructor Award at the Phi Kappa Phi Initiation and Awards Ceremony in April. The awards are co-funded by the LSU Alumni Association. Also recognized at the event were the new PKP initiates.
History Instructor Jason M. Wolfe, LSU Alumni Association President Gordon Monk, and Professor Louay N. Mohammad.
Matt House, defensive coordinator puts participants through agility drills.
Bengal Belles Karen Eason Peace, Alli Walsh, and Cooper Knecht.
Photos: LSU Athletics- South Stadium Productions
Phi Kappa Phi award winners and new initiates were recognized in April.
Tigers cornerback Sevyn Banks leads the Bengal Belles in a group warmup.
32 LSU Alumni Magazine | Fall 2022
Around Campus In Focus
Assistant Professor of Art History Allison Young, LSU Alumni Association President Gordon Monk , and Professor Louay N. Mohammad.
LSU Entrepreneurs – Alumni and students who launched the tech startup company Mallard Bay were the first LSU entrepreneurs to compete in the world's largest student startup competition, the Rice Business Plan Competition, and took home more than $200,000 in prizes. Mallard Bay won $141,500 in cash investments and $75,000 in in-kind services, including $500 for the best consumer elevator pitch. Mallardbay.com connects outfitters and charters with those booking hunting and fishing trips across North America.
Darr's research on local news has pioneered new methods for understanding the political consequences of America's rapidly changing media environment. The fellowship will help him advance this work by partnering with journalism organizations Trusting News and the American Journalism Project to assess the ways that newsrooms can regain trust and reduce political polarization through their coverage of local and nationalSluyter'spolitics.research delves into understanding racialized places and landscapes in order to contribute to decolonization, a more equitable and inclusive society, and more sustainable and just relationships with nature. His project, "Slavery and Higher Education: New Narratives on the Plantation Past, New Places for Racial Equity," will help colleges built on former slave plantations to understand that aspect of campus place identity in relation to higher education's racial inequities.
From left, standing Sergio Sanjuan, sales manager; Matthew Ieyoub, software developer; Peyton Huval, associate director of business development; Joel Moreau, chief growth officer; Logan Meaux, founder/president; and Wyatt Mallett, director of business development; seated, Tam Nguyen, chief technology officer.
Joshua P. Darr, associate professor of mass communication, and Andrew Sluyter, professor of geography and anthropology, are the first Carnegie Fellows at LSU.
From left, Tessa Stephenson Brand, Emmet Stephenson, and LSU President William Tate, IV after Mac, a Belgian Malinois, "cut" the ribbon.
Stephenson Pet Clinic – A ribbon-cutting ceremony in May officially opened the new Stephenson Pet Clinic located adjacent to the LSU Vet Med building. The 40,000-square-foot facility is the new home of the school's companion animal wellness efforts and many of its clinical services, including community practice (primary care), dermatology, integrative medicine, and ophthalmology. The actual "ribbon-cutting" was done by Mac, a Belgian Malinois owned by Jeannie Hansbrough, an LSU Vet Med veterinary technician. The building is named for longtime, generous University supporters Emmet and Toni Stephenson.
Photo: Mallard Bay
Joshua P. Darr
LSU's First Carnegie Fellows Named
Andrew Sluyter
The Carnegie Corporation of New York selected two LSU faculty members to be among this year's twenty-eight Andrew Carnegie Fellows.
LSU Alumni Magazine | Fall 2022 33
Interim Provost Matthew Lee, President William F. Tate IV, Srikanth Bangaru, and LSU Alumni Association President Gordon Monk.
Interim Provost Matthew Lee, President William F. Tate IV, Aswathy Anakkathil Pradeep, and LSU Alumni Association President Gordon Monk.
to American Academy of Arts & Science
Tate joins six others affiliated with LSU elected to the Academy: Meredith Blackwell, Gabriela González, Isiah Warner, Earl Ward Plummer, James Olney, and Mary Jane West-Eberhard, who was elected during her time at the Smithsonian Tropical Research Institute.
Around Campus In TateFocusNamed
Teaching Assistant Awards – Four students were recognized for teaching abilities and their service to students at the University Faculty Awards event in May. They are Aswathy Anakkathil Pradeep, communication sciences and disorders; Nichole Santee, mass communication; Srikanth Bangaru, engineering; Carla SalasRuiz, music and dramatic arts.
"It is an honor to be selected alongside some of history's greatest scientists, artists and leaders who have advocated for public good during their lifetimes," Tate said. "The research tenets of the Academy of Arts & Sciences are what I've been striving for in my career as well, and since I arrived at LSU, they match the goals that we've outlined in our Scholarship First Agenda for Louisiana."
Photos: Kathryn Seghers, LSU Communications & University Relations
Interim Provost Matthew Lee, President William F. Tate IV, Carla Salas-Ruiz, and LSU Alumni Association President Gordon Monk.
Interim Provost Matthew Lee, President William F. Tate IV, Nichole Santee, and LSU Alumni Association President Gordon Monk.
34 LSU Alumni Magazine | Fall 2022
President William F. Tate IV is among the world's most accomplished scholars, scientists, writers, and artists, as well as civic, business, and philanthropic leaders, elected to the American Academy of Arts & Sciences.
Dorin Boldor, College of Engineering, John Rhea, Alumni Professorship; Dana Browne, College of Science, Class of 1942 Alumni Professorship; Edward Laws, College of the Coast & Environment, Greater Houston Alumni Chapter Endowed Alumni Professorship
To support professorships, faculty awards, and scholarships, contact
,
ALUMNI PROFESSORSHIP
Aswathy Anakkathil Pradeep, College of Humanities & Social Sciences; Nichole Santee, Manship School of Mass Communication; Srikanth Bangaru, College of Engineering; Carla Salas-Ruiz, College of Music & Dramatic Arts KAPPA M. Wolfe, College of Humanities & Social Sciences Cruzado, ALUMNI ASSOCIATION $5,000
Daniel Holstein College of Coast College of
the
RISING FACULTY RESEARCH AWARD
LSU ALUMNI ASSOCIATION TEACHING ASSISTANT AWARD $2,000
Ashley Clayton, College of Human Sciences & Education; Hunter Gilbert, College of Engineering; Eileen Haebig, College of Humanities & Social Sciences; Matthew Hiatt, College of the Coast & Environment; Holstein, College of the Coast & Environment; Weishan Huang, School of Veterinary Medicine; "Philip" Jung, College of Engineering; Patial, School of Veterinary Medicine; Patricia Persaud, College of Science; Rockford Sansom, College of Music & Dramatic
& Environment; Allison Young,
Art & Design DISTINGUISHED DISSERTATION AWARD IN SCIENCE, ENGINEERING, & TECHNOLOGY $2,000 Jin Gyin Lee, College of Engineering LSU DISTINGUISHED FACULTY AWARD LSU SEIKO WATCHES Christopher Austin, College of Science; Renee Carter, School of Veterinary Medicine; John Flake, College of Engineering; Shengmin Guo, College of Engineering; Tim Slack, College of Humanities & Social Sciences.
JOSEPHINE A. ROBERTS DISTINGUISHED DISSERTATION AWARD IN ARTS, HUMANITIES, & SOCIAL SCIENCES $2,000 Elizabeth
$6,200 ANNUALLY UNTIL RETIREMENT
www.lsualumni.org | 1-888-ring-lsu
Daniel
LSU ALUMNI ASSOCIATION FACULTY EXCELLENCE AWARD $2,000
Jangwook
College of Humanities & Social Sciences LSU
PHI
David Chicoine, College of Humanities & Social Sciences; Aixin Hou, Environmental Sciences, College of the Coast & Environment; Nathan Kalmoe, Manship School of Mass Communication; Shane Stadler, Physics & Astronomy, College of Science
Sonika
2022 FACULTY EXCELLENCE AWARDS
Thanks to your generous support, the LSU Alumni Association annually provides funds to sponsor awards recognizing outstanding teaching and research. Your investment in our programs of scholastic excellence truly transforms the lives and work of LSU's distinguished faculty and outstanding students.
PHI INSTRUCTOROUTSTANDING $500 Jason
Arts PHI KAPPA PHI NONTENUREDAWARDFACULTY $500
Photo: Eddy Perez/LSU Communications & University Relations
OOPS! The photo of Jin Guyn Lee, recipient of a Distinguished Dissertation Award, was incorrect. The online version has been updated. The magazine regrets the error.
36 LSU Alumni Magazine | Fall 2022
Congratulations – Tracy Jones, assistant vice president of the LSU Alumni Association, congratulates graduate William Scott McKenzie, recipient of the Tom and Evelyn Jones Top 100 Scholarship honoring Jones's parents. McKenzie, a 2017 graduate of University Laboratory School, earned a bachelor's degree in mechanical engineering and heads to a new job with SpaceX.
Around Campus
LSU awarded a record 4,603 degrees at its 307th commencement exercises, surpassing the previous record of 4,443 awarded in Spring 2019. Female, American Indian, Asian, Black, and Hispanic students received the most degrees ever awarded during a spring semester, and veteran students were awarded the most degrees ever.
The graduating class represents sixty-one Louisiana parishes, all fifty states, and sixty-six foreign countries. Women made up 58.55 percent of the class, and men made up 41.45 percent. The youngest graduates were nineteen; the oldest seventy-one. Thirty LSU employees graduated.
More than 770 students graduated with honors, eleven graduated with Engaged Citizen distinction, seventy received the Distinguished Communicator Award, and twenty-four were recognized during the ROTC Commissioning Ceremony.
Father-Son Grads – Bryan Stokes and his son, George Stokes, graduated from the E.J. Ourso College of Business, dad earning an MBA and son receiving a bachelor's degree in marketing. Bryan attended LSU before joining the U.S. Army and earned a bachelors' degree from Embry Riddle Aeronautical University. George, who received a Distinguished Communicator Medal at graduation, plans to follow his dad's footsteps by continuing his education in the Flores MBA Program.
Record-Setting Commencement
Twenty graduates were selected for induction into The Order of the Coif, the highest honor a law student can receive. Sixty students were awarded the Paul M. Hebert Scholar honor for academic achievement, and eighty-two were named Dean's Scholars.
3. When did LSU's obligation to the federal government to maintain an ROTC program end? 1865 1926 1966 1972
6. Which campus entity sponsored the Darling of LSU contest?
2. When was the college system founded that is the basis of LSU's current model of colleges and departments? 1908 1860 1926 1970
Answers:1:b;2:a;3:c;4:b;5:d;6:a;7:c;8:d;9:a;10:b;11:c;12:d
David Boyd Thomas Boyd
A euphemism for panty raids The last football game of the season to which seniors wore pajamas
Christmas and Mardi Gras Christmas and Good Friday Thanksgiving and Easter New Year's Day and July 4th.
10. Who is LSU's longest-serving president?
LSU Law awarded degrees to 200 students in May. The Class of 2022 included 165 graduates who earned a Juris Doctor (JD) and an optional Graduate Diploma in Comparative Law (CL), twenty-eight who earned a JD, and seven who earned a Master of Laws (LLM). Twenty-five graduates earned an optional Graduate Certificate in Energy Law and Policy (GCELP).
Thomas Boyd Charles Coates
The first football game of the The first home football game to season to which Mike the which male freshmen were required Tiger wore pajamas to wear pajamas
5. What was the "pajama game?"
12. Where were commencement exercises held before the Pete Maravich Assembly Center opened?
Tiger Trivia is compiled by Barry Cowan, assistant archivist, Hill Memorial Library.
The Athletic Department Associated Women Students
The Parker Coliseum All of the above
4. What two holidays were celebrated during the regular ten-month academic session from the 1860s into the early 1900s?
LSU Alumni Magazine | Fall 2022 37
The class represents twenty-six U.S. states and territories, four foreign countries, and thirty-four Louisiana parishes.
7. Who was the first Black student to graduate from the LSU Law School?
The Gumbo Student Government
8. When did the Tigers win their first Sugar Bowl? 1936 1937 1950 1959
TIGER TRIVIA
The Gym Armory The Greek Theater
LSU Law Commencement
James Monroe Smith William Jenkins
Billy Cannon Mickey Mangham Don Purvis Gaynell Tinsley
1. Who founded the Coastal Studies Institute in 1952? Henry Howe Richard Russell
A.P. Tureaud, Jr. Mike Williams Ernest Morial Kerry Pourciau
11. When did Kirby Smith Hall open? 1926 1950 1967 2006
9. Who was named Most Valuable Player for their first Sugar Bowl victory?
38 LSU Alumni Magazine | Fall 2022
Photo: Eddy Perez, LSU Communications & University Relations
Juneteenth 2022 – LSU students, faculty, staff, and members of the community gathered at the Clarence L. Barney Jr. African American Cultural Center for the Juneteenth Celebration, which included food, music, games, and historical reflection. This national commemorative event celebrates the freedom of enslaved Black people in the United States and emphasizes education and African American achievements.Photos:EddyPerez/ LSU Communications & University Relations
A $27.5 million gift from Shell USA, Inc. will establish the LSU Institute for Energy Innovation and enable construction of the LSU Our Lady of the Lake Interdisciplinary Science Building, the University's top capital priority.
From left, Rob Stuart, LSU Foundation president/CEO; Aura Cuellar, Shell vice president of energy transition (U.S.); Rhoman Hardy, LSU Foundation Board of Directors member and retired Shell executive; William F. Tate IV, LSU President; Mike the Tiger; Lee Stockwell, Shell general manager for U.S. carbon capture, utilization, and storage; Selda Gunsel, Shell president of global solutions (U.S.) and vice president of global lubricants and fuels technology; Matt Lee, LSU interim executive vice president and provost; Sam Bentley, LSU vice president of the Office of Research & Economic Development; Krista Allen Raney, LSU Foundation vice president for development; Kimberly Lewis, LSU executive vice president and chief administrative officer; and Paige Carter, LSU Foundation executive director of the Office of Industry Engagement.
With Shell's investment as founding partner, the new institute will advance reliable, affordable, environmentally responsible energy for all through a just and equitydriven pathway. The gift is the University's largest ever from a for-profit corporation as well as its largest ever in support of energyrelated initiatives.
Around Campus Shell Invests $27.5 Million in LSU
Shell's industry-leading partnership with LSU epitomizes the University's commitment to working with global energy leaders to find new ways to fuel the nation – a core focus of LSU's Scholarship First Agenda.
"Energy represents a central driver of Louisiana's economy, and Louisiana buttresses the nation's energy supply, putting LSU in the unique position to partner with industry to discover innovative methods to fuel our nation," LSU President William F. Tate IV said. "Together with Shell, we invite fellow industry leaders to join us in pioneering the research and development pathways forward to protect and preserve Louisiana's energy economy, while meeting the nation's future energy needs."
"There are probably more pairs of boots in Tiger Stadium tonight as there are at the Houston Livestock and Rodeo Show."
–DAWN ROBERTSON
Baton Rouge Called. Garth Answered. The Earth Shook!
By John W. Grubb
Photos: John W. Grubb
Boots and chaps and cowboy hats, spurs, and a lot of gold were among the sights, not to mention a lot of beer, margaritas, and frosty adult beverages.
The air in Tiger Stadium on the last night in April was more energized than the night Ben Franklin "discovered" electricity as 102,000+ fans witnessed the once-in-a-lifetime event – Garth Brooks, Trisha Yearwood, and their enormous group of musicians and crew taking Death Valley by storm. As reported in the Washington Post, smartphones and watches repeatedly displayed messages of decibel warnings reaching 95 as the night processed.
Trisha Yearwood and Garth Brooks took Death Valley by storm.
John Grubb, an LSU retiree and LSU Alumni Association vice president, is general manager/ operations manager of The Cook Hotel & Conference Center, but is a reporter/writer at heart and has been a contributor to this magazine since 1988.
Death Valley shook once again as fan noise triggered the seismograph on campus during the performance of Callin' Baton Rouge.
LSU Alumni Magazine | Fall 2022 39
The Cook Hotel was home for the Garth road crew the week of the concert, having reserved the bulk of the hotel's guest rooms eight months in advance. The eighty-foot-high stage – as tall as the White House – was built on a foundation of four pillars each forty feet square.
The enormous crowd sang along with Garth and even serenaded him with a multitude of voices belting out the tunes they'd come to love over the last three decades. Brooks' first appearance in Baton Rouge was in 1991, and he visited again in 1998. Now approaching sixty, he showed no sign of fading and, in fact, took only one short break from the stage. He even performed duets alongside and as a backup singer for his wife, Trisha Yearwood, during her set.
A dazzling array of lights and special effects created the magic, and at times the stage was intentionally lit to resemble a large football, according to the stage manager as part of the "Stadium Tour" theme. They use four generator trucks to provide power on their tours, he said, and for the first time in his twenty years with the group, they had all four generators ramped up to red-line maximum for the Tiger Stadium performance. The noise at ground level was the loudest he could ever recall.
Around Campus
Udall Scholar – Bridget Seghers, an Ogden Honors College sophomore majoring in animal sciences and linguistics, was named a 2022 Udall Scholar by the Morris K. Udall and Stewart L. Udall Foundation. Seghers is also a Louisiana Service and Leadership (LASAL) Scholar and a Stamps Scholar.
40 LSU Alumni Magazine | Fall 2022
From left, Everett Thomas Craddock, Blaire C. Peterson, Taylor Michelle Perrodin, Kennedy N. Simon, Maia Elise Williams, Alexia Maeanne LaGrone, Grayce Susan Mores, Josephine Dominique Engelman, Alejandra Maria Ham, Emily Ames Otken, Codee Dominque Jones, and Abigail Grace Milligan.
LSU Tiger Twelve – The Tiger Twelve – seniors who contribute positively to the life of the campus, surrounding community, and society and who demonstrate commitment to intellectual achievement, inclusive excellence, leadership in campus life, and service – are Everett Thomas Craddock, College of Engineering/Ogden Honors College; Josephine Dominique Engelman, College of Agriculture; Alejandra Maria Ham, College of Engineering/ Ogden Honors College; Codee Dominque Jones, Manship School of Mass Communication; Alexia Maeanne LaGrone, College of Agriculture/Ogden Honors College; Abigail Grace Milligan, College Humanities & Social Sciences/ Ogden Honors College; Grayce Susan Mores, College of Science/Ogden Honors College; Emily Ames Otken, College of Science/Ogden Honors College; Taylor Michelle Perrodin, College of Agriculture/Ogden Honors College; Blaire C. Peterson, College of Science/Ogden Honors College; Kennedy N. Simon, College of Humanities & Social Science/Ogden Honors College; and Maia Elise Williams, College of Agriculture/Ogden Honors College.
Photo: Robert Nguyen/LSU Campus Life
O'Keefe Award –Steven Fletcher, a spring graduate who served as commander of the LSU Corps of Cadet Corps, received the Sean O'Keefe Leadership Award, which recognizes an outstanding biological sciences and leader who has demonstrated exceptional leadership in the past and possesses the character, capability, vision, and motivation to be a leader in the future.
Students in the Spotlight
significantrecognizedstudents"Outstandingwerefortheiracademicachievements,leadership,andservice."
Ally Kadlubar. Maria Pham.
Fulbright Awards – Ogden Honors College seniors Sanaa Alam, Revathi Menon, and Jacob Miller received Fulbright English Teaching Assistant and Study/Research awards. Alam, a biological sciences major, will head to Spain as a Fulbright English teaching assistant; Menon, an international studies major and Spanish minor will be a Fulbright English teaching assistant in Spain; and Miller, an electrical engineering major, build new devices for medical applications as a Fulbright Study/Research Grant recipient in the Czech Republic.
Rotary Global Grant – Ogden Honors College senior and Louisiana Service and Leadership Scholar Marisa Terry, was awarded a $30,000 Rotary Global Grant, which provides funding for students traveling overseas for graduate school to pursue studies in one of the club's areas of focus. Terry, majoring in international studies with a dual concentration in global diplomacy and Europe, plans to pursue a master's of science in leadership at Queen's University, Belfast.
Sanaa Alam. Revathi Menon.
LSU Alumni Magazine | Fall 2022 41
Prestige Awards – LSU Manship School of Mass Communication seniors Ally Kadlubar and Maria Pham, along with alumnus Johnston Von Springer, were recognized by the Louisiana Association of Broadcasters (LAB) for their accomplishments in broadcast journalism at its 2022 Prestige Awards. Kadlubar was named as the Student Broadcaster of the Year-Television; Pham received the $4,000 LAB Scholarship; and Von Springer was named Reporter of the Year-Television in the large market category.
Jacob Miller.
studying biological marine biology and Louisiana Service and Leadership Scholar, is a 2022 recipient of the National Oceanic and Atmospheric Administration (NOAA) Ernest F. Hollings Undergraduate Scholarship, which provides up to $9,000 in academic assistance and a full-time, paid summer internship at a NOAA facility.
PIMCO Award –Samuel Camacho, a sophomore in the E.J. Ourso College of Business, was one of fifty students nationwide to receive a $20,000 PIMCO LeadersFutureScholarship.
LSU President William F. Tate IV and Stamps Scholar Kenedi Lynch.
Amgen Scholar – Kenedi Lynch, a Stamps Scholar and Ogden Honors College sophomore studying biological sciences with a minor in psychology, participated in the Amgen Scholars Program during the summer. The program allows undergraduates from across the globe to pursue cuttingedge research opportunities at worldclass institutions.
Von Springer.
Rachael Coates.
Cale Locicero.
Spring 2022 Cohort -- Twenty-four students were named to the Spring Cohort Class of 2022 for Leadership LSU, which provides juniors, seniors, and graduate students the opportunity to develop and apply their leadership at high levels while in their final semesters at LSU. Members are Deventria Curtis, marketing and entrepreneurship; Devin Scott, political science; Hayden Leblanc, political science and philosophy; Kennedy Butler, biological sciences; Hayden Cowart, accounting; Benjamin Thomas, biological engineering and computational mathematics; Jordan Joshua, information systems and decision sciences; Angelica Nguyen, biological engineering; Courtney Harding, biological sciences; Claire Inderkummen, international studies, political science, and French; Lauryn Sweet, marketing; Quenton Buckhalter, mass communication; Colby Alexander, sociology; Natalie Richard, kinesiology; Parys Labeaud, marketing; Jackson Leboeuf, history and sociology; Justin Martin, political science and African and African American studies; CJ Harrison, journalism; Kayli Smith, public relations; Khatavia Franks, sociology; Carl Tart, higher education student affairs; Dakayla Washington, kinesiology; Angel Puder, political science and African and African American studies; and Jadon James, business management.
first Faith & Politics Institute John Robert Lewis Scholar, named for the Civil Rights icon and longtime Georgia congressman. Moore is also a Louisiana Service and Leadership (LASAL) Scholar.
Photo: Robert Nguyen/LSU Campus Life
Engaged Citizens – The Center for Community Engagement, Learning, and Leadership, in conjunction with LSU Campus Life, recognized eleven graduates with the Engaged Citizen distinction. Collectively, they earned 138 service-learning credit hours and volunteered approximately 978 hours across their local communities.
From left, Carl Tart, Hayden Cowart, Jordan Joshua, Dakayla Washington, Colby Alexander, Claire Inderkummen, Angel Puder, Justin Martin, D'Andre Taylor, Daniel Burchfield, Bryce Duhon, Hayden Leblanc, Deventria Curtis, Jadon James, Alira Thomas, CJ Harrison, Lauryn Sweet, Quenton Buckhalter, Kayli Smith, Angelica Nguyen, Parys Labeaud, William Gaspard Jr.
Back row, from left, Kennedy Martin, Noelle Toups, Kennedy Simon, Maci Hebert, Lindsey Settoon, Cecil Craig, and Provost Matt Lee; front, Sarah Glass, Emily Baudoin, Charlotte Streat, Angelica Nguyen, Kennedy Falcon, and Associate Professor Sarah Becker.
Students in the Spotlight
42 LSU Alumni Magazine | Fall 2022
Photo: Robert Nguyen/LSU Campus Life Campus
Astronaut Scholars – Ogden Honors College students Rachael Coates, a senior studying biological sciences and Cale Locicero, a senior studying chemistry, were named Astronaut Scholars. The scholarship recognizes the best and brightest minds in STEM who show initiative, creativity, and excellence in their chosen fields. Locicero is also a 2022 Goldwater Scholar.
Lewis Scholar Antavion "Tay" Moore, an Ogden Honors sciencestudyingsophomoreCollegepoliticalandmusic,wasnamedLSU's
Around
Varnado, Ava Landry, Blake Byrne, Preston Dantin, and Collin Devillier.
FromNewhauser.left,Cantan
As part of their senior capstone design projects, two teams of engineering students constructed a ball launcher and painting device for two teens with cerebral palsy. They are mechanical engineering and electrical engineering seniors Camille Wetekamm, Sven Newhauser, Charlie Williams, Molly Shepherd, and Thomas Rinaudo and mechanical engineering and computer engineering students Jack Clement, Timothy Curol, Emily Vu, and Ewan Robertson.
Electrical and mechanical engineering seniors Collin DeVillier, Blake Byrne, Preston Dantin, Ava Landry, and Cantan Varnado designed and created an animatronic head named, MIMIR the 3D-printed system to help local high schools to promote STEAM (Science, Technology, Engineering, Art, and Math).
Photos: College of Engineering
From left , Camille Wetekamm, Molly Shepherd, Thomas Rinaudo, Charlie Williams, and Sven
Love Purple Live Gold – LSU Campus Life celebrated outstanding leaders, advisors, and student organizations at the Love Purple Live Gold awards. Individual recipients were Emily Otken, senior, biological sciences, Agent of Change Award and Legacy Award; Zachary LeBlanc, freshman, biological sciences, Emerging Leader Award; Ella Otken, sophomore, biological sciences, Unsung Hero Award and Undergraduate Student Leader of the Year Award; Henry Hebert, advisor to Les Voyagers and assistant director of Recruitment, College of Agriculture, Advisor of the Year Award; Fatimat Badmus, graduate student, chemistry and Miya Cicely Tate, graduate student, social work and public health, Graduate Student of the Year Award; and Miles McLendon, junior, political science and economics, Undergraduate Student Leader of the Year
Photos:Award.Robert Nguyen/LSU Campus Life
Henry Hebert. Fatimat Badmus.
From left, Emily Vu, Jack Clement, Timothy Curol, and Ewan Robertson.
Capstone Projects
Miya Cicely Tate. Miles McLendon.
LSU Alumni Magazine | Fall 2022 43
Reed Darcey, Reveille, Sports Writing, WinnerPeterRauterkus, Reveille, Sports Writing, ClaireFinalistSullivan, Reveille, General Column Writing, Winner
Reveille Editorial Board, Editorial Writing, Finalist
Lucas Moreau, KPMG Outstanding Junior Scholarship - $1,000
Tahj Gill, William "Bill" Clayton Potter, Sr. Scholarship - $1,000
Hilary Hughes, ExxonMobil Outstanding PhD student - $1,000
Preston Gravely, Postlethwaite & Netterville (Tax)Whitney$1,000Zaunbrecher,PricewaterhouseCoopers Outstanding Sophomore Scholarship - $2,000
Helen Alford, Becker Professional Education Discounted CPA Review Course - valued at Abby$1,750Spada, Carol Calkins MAcc Scholarship - $2,000
Juliana Mejia, James M. Owen Memorial Scholarship - $1,000
Maggie Peltier, PricewaterhouseCoopers Outstanding Junior Scholarship - $2,000 Mikaela Gonzales, DelValle, Robichaux Family Superior Graduate ScholarshipAnna$1,500Montanio,
Brooks Giardina, Thomas Brian Phillips Endowed Scholarship - $700
Evan Cook, H. J. "Monday" Lowe Endowed Scholarship - $700
Camaryn Meaux, Louisiana CPA Education Foundation Undergraduate - $3,000 Kaya Dundar, Deloitte-LCPA - $3,500
Kristyn Brewer, Grant Thornton Scholarship - $1,500
Nick Mitchell, Lloyd Morrison Award Fund$1,000LukePaille, LSU Department of Accounting General Scholarship Fund - $2,500
Jacob Cheatwood, Television News Reporting, Winner
Danial Cheema, Hannis T. Bourgeois, LLP (audit) - $1,000
Kaitlyn Bowlin, Monica L. Zumo Excellence in Accounting Scholarship - $3,000
Reagan Osborne, Sydnie Duncan, and Brooks Giardina, Ernst & Young Outstanding Juniors - $1,000
Joe Rizzo, Joey Bullard, Michael Sanders, Manship News Service, In-Depth Reporting, Winner
Piper Hutchinson, Reveille, Breaking News Reporting, Finalist
Grant Cretin, Postlethwaite & Netterville (Auditing) - $1,000
Caroline Ingraffia, Clarence L. Dunn Endowed Scholarship - $1,000
Students from LSU Student Media outlets brought home nineteen awards for journalism excellence in the 2021 Region 12 Society of Professional Journalists (SPH) Competition and six awards in the 2022 College Media Business & Advertising Managers (CMBAM) Competition.
Texas Tiger Tournament Endowed Scholarship - $900
Samantha Raeder, Richard Roth Memorial Scholarship - $825
Camryn Meaux, Hannis T. Bourgeois, LLP (tax)Claudia$1,000Pickell, Jake L. Netterville Superior Graduate Scholarship in Accounting - $1,500
Wanying Jiang and Alisha Blush, H. Sami PhD Student Scholarship - $500
Sierra Vanderhorst, Radio Feature, Finalist Winner: Brooke Smith, Television In-Depth Reporting, Winner
Student Media Awards
Marissa Galatas, Television News Reporting, AllyFinalistKadlubar, Television Feature Reporting, WinnerKendall Duncan, Television Sports Reporting, TigerWinnerTV, Best All-Around Television NickNewscastOmbrellaro, Gabby Jimenez, Piper Hutchinson, Reveille, Podcast, Finalist
Charlie Stephens, Reveille, General Column Writing, Finalist
Ally Kadlubar, Bailee Hoggatt, Ezekiel Robinson, Jordanne Davis, Reveille, InDepth Reporting, Finalist
Megan David, Clarence Magee, Baton Rouge Society of Louisiana CPAs Scholarships - $1,000
Peter Rauterkus, Reveille, Sports Column Writing, Winner
Lebria Perkins and Sydney Melder, Faulk & Winkler Scholarship - $1,000
Anna K. Breaux and Anne Lagarde, LaPorte Outstanding Senior - $1,000
Reagan Tafaro and Alexandra Stevens, KPMG Scholarship for Incoming MAcc students - $1,000
Accounting Honors
Maddie Scott, Domenic Purdy, Reveille, Breaking News Reporting, Winner
Kristyn Brewer, George Jarvis Williams Scholarship - $750
Miranda Kent, Association of Government Accountants - $1,200
Reagan Osborne, Lonnie H. Bearry Scholarship - $750
44 LSU Alumni Magazine | Fall 2022
James Clement and Elizabeth Cannon, LSU Department of Accounting General Scholarship Fund - $1,000
Mikala Mitchell, Corey Tackett Scholarship$2,925HilaryHughes and William D. Clements, Dale Jenkins Family Scholarship - $1,000 Haley Rietschel and Kareem Qaradeh, Deloitte Outstanding Sophomores/JuniorsJacob$1,000Marchand, Deloitte Scholarship for Incoming Master of Accountancy (MAcc) Student - $1,000
Susan Hardgrave and Lauren Delhaye, Mary Sanguinetti Schroeder Scholarship - $2,500
Ethan Wachtel and Ashley Whelan, Wegmann Dazet Scholarships - $1,000
Megan David, Louisiana CPA Education Foundation Graduate - $3,000
Courtney Hebert and Alisa Blush, Marcela Donadio Scholarship - $3,000
Around Campus
Reveille, Corbin Gwaltney Award for Best All-Around Student Newspaper (Large Schools) – LSU Student Media Advertising, Emily Poole, Best Graphic Designer, Second Place; Best Living Guide, Third Place; Best Sponsored Content, Third Place; Best Print Ad Non-Newspaper, Honorable Mention; Best Special Section, Honorable Mention; Best Rate Card/Media Kit, Honorable Mention.
Calvin M. Morris
Emma K. Armstrong
Caitlyn Ann Oconnor
Sophie B. Sheffield
Kennedy Ann Falcon Christian Fontenot Tiffany
Stephanie Hines
Caroline Alexis Broussard Andrew Kaiser Chenever Olivia Jane Guidry
Madison C. Guilbeau
Karly Anne Kyzar Emma C. Looney
Mary Madeline Marlowe
Brianna Nicole Rogers
Charlisse D. Walters
AnneliseChristopherCamilleClayEmilyBenjaminPerrodinJamesThomasAmesOtkenRobertKnightNicholasMBertucciLaurenMeyerRebeccaNortonHannahSharonRiceElizabethGraceStewartWetekammP.VasquezElenaMitchamCodyBryanSilas
Cara Dominique Ramos Ashlan N. Derouen Bailey Madison Malveaux Chase Daniel Robinson
Sarah K. Glass
Harper G. Street Avery Ellis Tennis Casey LeAnne Thibodeaux Christopher Vidrine Camille Arceneaux Wharton Andrew Bernard Young
Michael Martin Crick
Alison Jade Foster Noah Foster
Dallin Gerard Broussard Francesca Manfucci
Mia Margaret Goodson Lukas Michael Kim
Ogden Honors College Order of
DISTINCTION
UPPER DIVISION HONORS
COLLEGE HONORS
Gloria Carol Mullins
LSU Law
Abayomi Gideon Adeyemo Maia E. Williams
LSU Alumni Magazine | Fall 2022 45
Seth Holden Richard Madison Nichole Craig Caroline Elizabeth Crawford
Alexander Joseph Spencer
Charity C. Williams
Madeleine Elise Breaux
Logan Patrick Berthelot
the Coif
Rees Raphael Romer
Martin Yavorov Ivanchev Rachel J. Bridges
Brigid Clarey
Roy HumzaPaceA. Pirzadah
Analisa Taylor
Collin Jude Devillier
Kira Faun Cates Sarah Katherine McCallum Andre JordanBourqueAinsleyMoutonMorganClaireAlstonSarahNicoleBessomJackThomasClementMadelineHolmesKaitlinElizabethCouvillionSanaaAlamSophiaBrazdaEverettThomasCraddockGabrielleEdavettalAlexiaMaeanneLagroneConnorLandryMiaRayLeJeuneAminaMeselJordanAlexandraBookTimothyCurolEvanJ.DoreLindseyRoseHallClaireKayInderkummenArthurB.OdenheimerMariaC.PhamChristopherLHartPeterA.HowardAkuaLewisJacksonVicknairAbigailBrierRandolphAngelinaP.CantelliSydneyMargaretMcGovernMorganABrownAllisonLoranCannonElizabethA.VoldenKaleyGracePichonHannahMSuttonBlaireC.PetersonWilliamFrostPeltierNathalieDante
Ethan Rome Lauvray Kaitryana M Leinbach Revathi GeorgetteMenonMichelle Metrailer
Trevor Roman Thrasher Mandalay Katherine Martin
Kennedy Olson Beal
Robert Darren Guidry
Paige Long
Heath William Moser
Chaz Spencer Morgan Brennan Foster O'Keefe Bradley G. Oster Marina M. Speligene
Kennedy Nicole Simon
Emily G. ExquisiteHalphenArmante' Williams
TianaMackenzieHuynhJonesThiThuyPhamMyaOrantesKiaHarrisAlejandraMariaHamConnorLangevinKayaLeeLewisMadisonBrzezinskiAimeeElizabethGalatasAliceEllenEpleyAllisonDobsonZieschangOliviaDeBuhr
Heidi Brooke Bieber
Nathan P. Zeringue
Taylor M
Photo: The Fighting Tigers, Peter Finney
Dietzel Finds Three in '58
The two specializing platoons accomplished Dietzel's goal. It kept his best athletes, the White team, fresh for the fourth quarter, a key segment
This depth – manufactured by the LSU coaching staff – was never more obvious than in its final regular season game with arch-rival Tulane. Winning this game meant the Tigers would be declared national champions by the two wire services, the Associated Press and United Press International. LSU did that. But the Tigers' use of the three platoons produced a one-sided, 62-0 wipeout, the biggest victory margin in the history of the series. The score produced a media firestorm, accusing Dietzel of "pouring it on."
The Champs: Back row, Coach Paul Dietzel, Hart Bourque, Merle Schexnaildre, Gus Kinchen, Duane Leopard, Carroll Bergeron, Tommy Lott, John Langan, Emile Fournet, Mel Branch, Andy Bourgeois, Darryl Jenkins, and Henry Lee Roberts. Middle, Donnie Daye, Tommy Davis, Don Norwood, Jack Frayer, Manson Nelson, Mike Stupka, Bobby Greenwood, Al Dampier, Dave McCarty, Scotty McClaine, Durel Matherne, Don Purvis. Bottom, Johnny Robinson, J.W. Brodnax, Mickey Mangham, Bo Strange, Ed McCreedy, Max Fugler, Larry Kahlden, Lynn Leblanc, Billy Hendrix Warren Rabb, and Billy Cannon.
Dietzel was guilty of developing a system that kept his best players energized for the fourth quarter. LSU's best athletes, as intended, had fresh legs. It was the contrast between the two teams – one rested, one helpless – that engendered an outcry from the media. No person in the press box was in charge of substitution eligibility. That was a stat kept by the game officials. Had that information been made available to the media, they would have time to process it and possibly project what was about to take place.
As the search for depth evolved, the staff settled on three platoons – one to play both ways, one to concentrate on offense and one to concentrate on defense. By spending eighty percent of their practice time focusing on their assigned responsibility, the offensive and defensive platoons quickly excelled in their specialties. The offensive Go team, blossomed in a big win over Miami. The defensive Chinese Bandits not only kept Kentucky out of the end zone but also kept the Wildcats from getting a first down.
in SEC competition. It was obvious in wins over Kentucky, Florida, Ole Miss, Duke, and Mississippi State. LSU made big plays late in game.
LockerROOM
46 LSU Alumni Magazine | Fall 2022
In searching for two teams in 1958, Paul Dietzel found three. And the three teams became one of the key factors in his developing the Tigers into a national champion. Dietzel was hoping to find two teams that could play effectively on both offense and defense but soon discovered this versatility was limited to just a few athletes beyond his eleven two-way starters.
Searching for Two Teams
eligible platoon for the Tigers was the White team – LSU's best athletes. They were fresh, and Tulane was tired. "I was not going to use the Go Team on defense, or the Bandits on offense," Dietzel said. "It would have been more humiliating if we had punted on first down in the fourth quarter."
As soon as Purvis scored, everyone on the LSU bench knew the Go team could not re-enter the game. Apparently, other than the game officials, no one else knew. Not the 83,000 in attendance. And no one in the press box. "After Scooter's touchdown," McCarty said, "I remember telling the coaches, 'We're dead. We can't go back in the game. We have already made two appearances this quarter.'"
By the end of three quarters, the LSU lead expanded to 27-0. But there was nothing to indicate a 35-point avalanche was imminent. Early in the fourth quarter the Go team was backed up on its end of the field and had to punt, using one of its appearances for the quarter. On the Go team's return to the game, Purvis took a screen pass from Durel Matherne and reeled off a 54-yard scoring play. That was the Go team's last eligible appearance in the finalMediaperiod.reports did not take into account that the Bandits and the Go Team quickly used their allotted appearances – two each – in the fourth quarter and were unable to return to the game.
The new substitution rule, which had game officials keeping track of a player's appearances in each quarter, was not widely understood by the fans. Most of the media were not aware of the status of a player's eligibility to return to the game, or in LSU's case, a unit's eligibility. While game officials were on top of this information, the press boxes of that period and the stadium public address gave no updates on this vital piece of LSUinformation.dressed only thirty-six players that day, one of whom was not Darryl Jenkins, a safety who prided himself in "reading" the opposing quarterbacks intentions before the play developed. Just three platoons and a few spares. There was no fourth team.
Dietzel's plan had been to build defensive pride at LSU, and a defensive platoon builds pride by shutting out an opponent – a Bandit goal. By playing offensive minutes, Bandit efficiency on defense could
The 6-0 halftime score did not suggest a runaway result, although the LSU players detected that Tulane was noticeably tired when they walked to the locker room at the intermission.
"It's not the will to win that matters. It's the will to prepare to win that matters."
By stopping Tulane, the Bandits quickly used their two eligible appearances for the final quarter. That was the issue. Two of LSU's three platoons were not eligible to play in most of the fourth quarter. The only
LSU Alumni Magazine | Fall 2022 47
"We could see that they were tired," Go Team tackle Dave McCarty said. "We were talking about it in the locker room. We knew that we would be fresh and they would be tired in the second half. The coaches had us believing in the system. When the fourth quarter rolled around, we would have the advantage."
–PAUL "BEAR" BRYANT
LSU had many standouts in the game. Max Fugler was selected National Lineman of the Week for the second time that season. Johnny Robinson, scoring four touchdowns, was chosen as the National Back of the week. He scored one rushing TD, caught two touchdown passes, and returned a punt for a score. Cannon ran for three scores, the last a 45-yard gallop that was his longest run of the season. Bandit Mel Branch sacked Tulane's quarterback, Richie Petittibon, the UPI's All-SEC quarterback, three times in the game. Tommy Davis put on a memorable exhibition, punting the ball over the Tulane safety's head on back-to-back plays.
In hindsight, some critics suggested that LSU could have used its defensive specialists on offense. Only a handful of the media in the Tulane Stadium press box were aware that Jenkins, who played quarterback when the Bandits made a rare appearance on offense, had sustained two broken vertebra against Mississippi State, and would miss the Tulane game and the Sugar Bowl. Purvis replaced him in the secondary against the Green Wave. In practice that week, Jenkins was replaced in brief Bandit offensive preparations by Henry Lee Roberts, also a Bandit safety, who hadn't played quarterback since high school. A sub quarterback playing his first college game at that position would have been flirting with a fumble. Dietzel would not take that chance.
have been reduced. I don't believe Dietzel ever considered playing the Bandits on offense. They were executing their specialty as well as they had all season. The Bandits gave up one touchdown all season in six conference games – to Mississippi State. Bama, Kentucky, Florida, Ole Miss, and Tulane didn't score a TD against the Bandits.
48 LSU Alumni Magazine | Fall 2022
Dietzel was 2-0-1 in three previous meetings with the Greenies. He left Tulane Stadium two years before with a 7-6 victory courtesy of Jimmy Taylor, who scored a touchdown, kicked the extra point and provided several game-saving defensive plays.
Locker Room
The '58 team was Dietzel's first winner at LSU. One-sided wins had been scarce. He beat Mississippi State 34-7 in 1955. Alabama fell 28-0 in 1957. The Miami, Kentucky, and Duke games were blowouts in 1958, but the LSU offense was outgained by Duke. Only five Blue Devil turnovers made that margin decisive. The Tigers had to fight for their lives the previous week against Mississippi State. There was
Tulane had upset Navy and Alabama in earlier games in the season. Their quarterback, Richie Pettibon, was the SEC total offense leader. After a near disaster in Jackson the week before, Dietzel was leaving nothing to chance. He made sure his team was prepared to stop Pettibon from reaching his goal of 1,000 yards. He papered the LSU locker room with a comment from a Tulane player: LSU WILL CHOKE! He had made the Tigers a dominant force in Louisiana recruiting and he wanted to keep it that way.
To hold the score down, LSU could have reduced the White team's offense to Red Brodnax up the middle. However, Red Brodnax played a major role in the Tigers' win over Mississippi State the previous week. Brodnax made a fumble recovery at the Mississippi State 34 early in the third quarter, giving LSU its first opportunity to get back into the game. On first down, Brodnax made a 14-yard power thrust up the middle to put the ball at the 20 yard line, and on third down he bulled four yards for another first down at the 10. That set up Warren Rabb's fourth down scoring pass to Hendrix, allowing Tommy Davis to boot the ball through the uprights and deliver a 7-6 victory.
If anyone had announced to the assembled media that only the White team was eligible to play in what remained of the fourth quarter, the hasty conclusions might not have descended upon the LSU coach after theThegame.Tigers were running past a tired and beaten team in the quarter. Virtually every play LSU ran resulted in a long gain. Robinson averaged 9.1 yards per carry; Rabb, 9.0; Cannon, 7.8; and Purvis had a 6.5. rushing average. Part of Dietzel's plan was to make his team believe "the fourth quarter is ours." On this day, the final game of the 1958 season, they owned the fourth quarter and the greenshirted opponent facing them. On this day, the fourth quarter unfolded more abruptly than Dietzel ever dreamed.
Or, the Tigers could have punted on first down. All of these options would have ultimately attracted criticism.
I don't believe Dietzel made a concerted effort to run up the score. He prepared his team to play a rival that had competed well in the past. Each touchdown scored by LSU in the fourth quarter came on quick scoring bursts, not long, time-consuming drives. I believe he was surprised that both the Go team and the Bandits had used up their appearances so quickly in the final quarter. He always believed that his first responsibility was to his team. If they played their allotted number of minutes each game, they would be fresh enough to give a good account of themselves, and
the likelihood of injuries would be reduced. It never occurred to him that LSU would dominate the way they did.
LSU Alumni Magazine | Fall 2022 49
LSU's three teams did it. The team's depth surprised Miami. But the Tigers followed up with solid fourth quarters against Kentucky, Florida, Ole Miss, Duke, Mississippi State, and Tulane. While they had energy to spare against Tulane, the three teams ensured that LSU's was fresh when they needed it most in the final quarter of the closest games of the year against Florida and Mississippi State – two teams with big linemen that gave the Tigers problems. Florida, Duke and State were bigger at the line of scrimmage and all three out gained the Tigers that season.
little to suggest that the Tigers would prevail by such a wide margin against Tulane.
EDITOR'S NOTE: Bud Johnson, longtime contributor and creator of the magazine's Locker Room section, passed away on June 6 (see In Memoriam, page 76). He had earlier filed this story about "The Perfect Season" – the perfect way to remember our friend and colleague.
Pete was the third pick of the 1970 NBA Draft by the Atlanta Hawks. In his ten seasons, he played for the Hawks, New Orleans and Utah Jazz, and the Boston Celtics. He averaged 24.2 points and 5-plus assists in some 658 career games with four all-star game appearances.
Pete Maravich Statue Unveiled
The plaza now features three members of the Naismith Memorial Basketball Hall of Fame who starred for LSU in different eras – Bob Pettit (1951-54), Shaquille O'Neal (1989-92), and Maravich.
For the third time, a statue of an LSU men's basketball player was unveiled in the plaza in front of the LSU practice facility and this time, the statue honored the greatest scorer and one of the top showmen in basketball history.
Pistol Pete Maravich, who dazzled crowds at the John M. Parker Ag Center (the infamous "Cow Palace") from 1968-70, had his likeness unveiled by his wife Jackie and sons Jaeson and Josh in ceremonies outside on the plaza on June 25. The statue shows Pete at his best, with another perfect behind-the-back pass to a teammate for an easy bucket. The pose was chosen by Maravich's sons.
He was considered to be one of the greatest creative offensive talents ever and one of the best ball handlers of all time.
50 LSU Alumni Magazine | Fall 2022
Peter Press Maravich scored 3,667 points in his three seasons at a time when there was no three-point shot, no shot clock and despite not being able to play varsity as a freshman under then-NCAA rules. He finished with an amazing scoring average of 44.2 points a game, an average that would have been well over 50 points with a three-point shot.
Locker Room
Jackie Maravich, center, with sons Josh Maravich and Jaeson Maravich. Photo: Brandon Gallego/LSU Sports Information
On behalf of the LSU Alumni Association and proud LSU alumni across the country and around the globe, congratulations and welcome to Tiger Nation. You have earned it. You have met many challenges and overcome many hurdles, and we are proud of you and all that you have accomplished.
To take advantage of all we have to offer you, visit LSUAlumni.org/recentgrad. Again, congratulations and Geaux Tigers!
Gordon PresidentMonk&CEO
LSU 2022SPRINGGRADUATESCONGRATULATIONS,GRADUATES!
No matter where you live, the LSU spirit is there – and you'll find fellow alumni to support you in your new endeavors and show the world just how awesome LSU graduates are. Our more than 135 alumni chapters around the world provide connection and camaraderie, and we hope you'll unite with your fellow alums to keep the Tiger spirit alive.
Kayla Christine De Guzman
Jared James Sliman
Abigail Danae Flores
Grace Elizabeth Tassin
Brennan James Cathey
Bryce David Gernon Meredith Giles
Siren Grae Cyr Henderson Chloe Elizabeth Hendrix
Jordan A. Mouton
Benito Juarez Jr.
COLLEGE OF AGRICULTURE
Zachary Lawrence Gallagher Megan Danielle Galloway
Kailey Alyce Thibodeaux
Teresa Anh-Dao Do
Madeline E. MadisonEmmaTaylerJeanneEmmaAmandaGraemePeytonShelbyKiraKathleenMayaRicardoBonnieLoganAlyssaAbbyJosephMaryAshlynHannahNicolMadelynGabrielleJoanHannahAnnaElizabethSamanthaEllieKaylaMargueriteJenniferJacobMorganAlexaLucyDelaneyAshlynGraceDuncanThomasKathrynAbigailSaigeAmyAsiaMohammedAbadieAbusabeM.AdepegbaE.AngelleHollandAnnisonYukaArakiRoseArmstrongMichaelArnoldAubreyAutinElizabethBankstonMarieBaronetA.Barre'RoseBatesLayneBeardDanielBellowLeeBennettEliseBennettA.BentonClaireBergeronM.BertrandAnnBiermanElaineBordelonClaireBordelonAnnBouchouxMarieBourgeoisBurkBourgeoisMaeBourgeoisMarieBrennerNicoleBrewerOliviaHeleneBroussardBrownBryantBullockD.BurasEmmalineBuschCabreraJr.C.CadbyAnnCaneFaunCatesLynnBrownCherryC.ClarkLauraElizabethClarkeMarieClementEliseContoisAlexandraCookClaireCooperRoseCox
Shelby D. Aydell
AlexaMaciTannerGraceNicoleEmilieLa'TaviaMimiLillianHeidiRileyMitchellAlexandraAlainaTyElisaJessicaMichaelaMaryAnnaRandiBrianaTaylorBaileySierraKatieAmyCam'rynOrantesD.PanksAnnParrottMestayerPattersonLynnPeeryGracePentzMichellePerrodinNicolePicouLynnPlaisanceRosePoloJosephinePontiOleviaPowellDaniellePowersMarielPrestonJ.PriceMicheleRandazzoVictoriaRandazzoAllenReedLaurenRegiraE.RhodusR.RigamerGraceRivetteJa'NelleKe'ShaunRobertsonEliseRomeroCarolinaRoseroHeidenreichElizabethRosseauMichaelRoyerAnnSchexnayderNicoleSchleter
Hannah Catherine Dees
Alexa Millie Shepherd Bess Patterson Shuler Warner R. Simon
Kara Elizabeth Norris
Dekka Stone Ducote
Kathleen May Elofson
UNDERGRADUATE DEGREES
Abigail Therese Slattery
Kelly Marie Sullivan
Kristen Noel Head
Braiden James Beam
Alaina Noelle Stewart Charles E. Stewart III
Dylan DeLee Elkins
Lindsey Michelle Ryan
Kathryn Madison Carroll Ogilvie Mya C.
Lucy JuliannaBui Claire Cummins
Kayla Eileen Sweeney
Allison Claire Spillman Katelyn Elizabeth Stanley Harrison J. Steudlein
Daniel Boaz Myers
Taylor Marie Schoen
Andie Nicole Ottenweller
Kathryn S. Evans Angela Yi Fang
Chloe Elizabeth Crawford Amelia Katherine Day Sofia I. Day
Tabitha Lynn Taylor
Ariel Lee Miller
Nicole
Lillian Beatrice Scoggin
Katherine E. Musso
Tanner Nicholas Theisen
Maria E. Telleria
Clinton Barry Boles
KelseyMichaelAlexisEmilyMaiaSydneyElizabethSarahZoriaNathanAinsleeJeffreyCarmelleAmeliaNataliaLaurynMikaelaSpencerGeorgiaMackenzieCarolineTorresE.TousinauL.TousselLouiseTristAdamTrussellTuckerMadelynTurnerAnaidUrrutia-AlvarezJ.ValletteN.WalkerWaltonKayWaterstonP.WelchImaniWellsAnnWhisnantLaneWhitehurstSuzanneWiegandEliseWilliamsYalcinNicoleYoungZeedanYounisZimmerman
Nathan Robert McConnell Heather Annelle McFarland
Hannah Elizabeth Guidry Evan Randall Guillory Wayne R. Guillot
Emilee Kate Taylor
Josephine D. Engelman
Emily Grace Halphen Brooklyn Hampton Haigan Hancock Hancock Rebecca L. Hanly
Kourtney Agatha Carroll
Sydni Nell Nolan
Sarah Michelle Delyea Anna Marie des Bordes
Sara NicholasBeamanMark Bertucci
Gabrielle S. Morstead
Sara Ashlyn Toal
Michael Scott Schmitt Jr.
Taylor Elizabeth Saxena
Andrew Bishop Street
Danielle Monique Dugas
Payton Michelle Hendrix Caroline Grace Hensley Kylie Paige Henson Cornelius Robert Heusel Jensen Rose Hilliard Matthew D. Hodge
Bachelor of Science
Olivia Jayne DeBuhr
Yana ChaseEmilyTkacheva-KuzminaAlexandrovnaRoseWeberH.Welch
Samuel Chase Methvin Hannah Christel Mollere Anna Grace Norman
Madison Alyss Miller
Elizabeth Diane Nick
Cailey Dasovick Hoff Emma Nicole Hogue Oleh AnissaHrushetskyiJanaebAnier Hyde Shea Trichel Johnson Madison A. Jorden Cleopatra Karvounis Daniel Thomas Katzman Ravneet CourtneyKaurLynn Kendall Abigail C. Kennedy Macy MadisonKidderMary Konur Garrett SamanthaChaseCsanyiJessicaMadisonChristianJasmineLakelynMollyConnerEmilyVivianaJessicaMeliaWalterJosephRobertReganKathrynLeeCharlotteMaKennaJulianneCarolineAlexiaSarahKelseyMyaLindsayBrittanyKozarN.KremerKyleRyanLaBicheNicoleLaCazeE.LackeyMaeanneLaGroneFayeLahayeCamillleLamyGraceLandryMaryLeaJosephLeBasAdezLeBlancMcKenzieLeDouxPaulLemannIIIR.LeMoineIIWilliamLewisJr.ReneeLindnerLeeLinkeLobueMontalvoGraceLoebLindsayLoupMarieLuceyAnnLumpkinGabrielleMajorMallettA.MarquetteN.MarshallE.L.MatusiczkyAllenMcDougalMadisonMcNeese
Taylor Jeautel Tischendorf
Julie Jace Svec
Caleb James Gipson Madison Lyric Gregory Michelle Renee Gremillion Lauren Alexis Gresham Lauryn Evelyn Grubbs
Javin Zachary Hebert
Cassie Marie Miller
Currie Flynn Dudley
Sarah E. Hardy
Gwyneth Patrice Miller
Megan Carroll Mincey Mia Rochelle Minor
Alex Chilton Dumestre
Ryan Kenneth Moreau
Dae Kyoung Kim Hayden Lee Lake Abigail G. Landry Peyton Lauryn Matthew
Katherine Elaine Rovira
Savanah E. Stokley
Amanda Renee Distefano
Bachelor of Architecture
Caroline Jane Scheuermann
Samantha Marie Siliezar
Parker Albin Dlabaj Brooke Allen Ducote
Nancy Meng Gandy Carson Zachary Gascon William Joseph Gaspard Jr. Everett A. Germany
Reagan Ariana Naghavi Janice Ranae Neese
Jordan Nicole Tew
COLLEGE OF ART & DESIGN
Gabriella Yvette Miller
Maeve E. BryceAndrewLaurenMustafaMauniKellyElaineGraceJacquelynDumondLeighDupontE.GallagherHollandGarnerElizabethGarrettHaldarSufianMustafaHamedRaeHendersonStephenHotstreamD.Humbrecht
Bachelor of Arts
Justin Dearing
Peter G. Miller Jr.
LSU Alumni Magazine | Fall 2022 53
Carina Anne Etgen
Raeann Lee Didier Gabriel K. Dill
Presley LeeAnn Gutierrez Blake A. Halbert
Sydney Alyse Small Deleah Nicole Spears
Alexis Nicole Theriot
Morgan Grace Lewis
COLLEGE OF ENGINEERING
Ava Mary Accardo Vincent Anthony Arnold Bryan Jeffrey Bergeron Michael Thomas Bernard Ethan Michael Billeaud Hayden Michael Brewster Matthew Joseph Caldwell
Christian McDonald Cox Patryk Grzegorz Czerniewicz Rebecca E. D'Antonio
NathanRebekahAlexanderRobertNoahJohnTrevorHaleighMorganVictorPotylchanskyFernandoRodriguez-OrtizEdwardsStarkeyLynneStevensRomanThrasherMichaelTooraenDavidWaltherCleveWightIIIMeyerWilliamsGraceWoodPaulZeringue
Brian Christopher McGarry Coleman Lewis McKay James Gary Meadows
JaNiece Marie Campbell
Audrey Melissa Claire Lejeune
Holly Elizabeth Fox
Kailyn May Carnaggio
Robert Van Nguyen
Bachelor of Science
Giovanni Raphael F. Gonzaga
Stephanie Marie Hines
Christopher Quinn Ferrier Nicholas Scott Fontenot Adam Joseph Galliano Sarah Kelly Glass
Jacob Liam Sheehan-Dean Olatunde Faruq Sola-Adebayo Brennan Edward Tilyou Brian Peichen Tsai Danielle Lynn Tyler Christopher Paul Vasquez Matthew Joseph Wilcox Robert Knox Williamson Zachary David Womack Xinyue YuanxiangZhenJieYuYuZheng
Mary Michaela Dunkerley-Offor
Elizabeth Whitley Harrison Taylor Elise Kelley
Maxwell Jonathan Dokell
Elise
Tristan Seattle Evans
Tyler Mason Harwell
Kenah Hope Kepper Rylee Ann Martin
William Stephen Stark Danielle Nicole Wilcox
Austin Troy Carter
Lindsay Mae Wipperling
Juan GillianLoganPulidoRayGrace Reeves
Donna Katherine Gordy Zixuan CarolineGuoMarguerite Hebert Michael Paul Howell
Katelynn Nikole Ross
Andrew Ryan Spears Kimball Curtis Joseph Laborde Brandon Garrett Lara Bryce August Lee Han Bum Lee
Noah Bradley Armbruster
Benjamin David Bordelon
Alyse Clare Goodyear
Ian Vincent Chen
Patrick Afolabi Adeosun Arash ArmonAminiDaniel Amos
Anna Camille Bearden
John Ho Cheng
LaurenKaileighMadelynNghiBrookeMoinuddinOliphantPasaMaryPerriattPhamMelissaRicheMckenzieThomasGiannaThompson
Bachelor of Fine Arts
Madysen Ann Blattel
Iklil Said Saleh Al Rawahi
Jonathan Matthew Dolbee
Christopher Michael Duong
Bachelor of Science in Chemical Engineering
Nicole Jamie Frink
Jaizha
Jacob Daniel Chen
Jillian Rose Levy
Morgan Theresa Curtis
Mariah Joi Graham
John Allen Gravois
Brayten Michael Drago
Andrew Hartley Hannie
Jude Patrick Aucoin
54 LSU Alumni Magazine | Fall 2022
Alexa Hanh Gutowski
ChristopherMatilynNoelleAnnaAnnaSamanthaChloeAsarelAllysonMaryRoryJosephRodrigueKirkScallanLouiseSchneiderMemorySmelserRaySmithSmithMichaelaLoveSmithAllisonSmitleyKathrynSoutherClaireSt.CyrMaeStephensLouiseVecaJordanWoods
Colby Cameron Conish Ryan Patrick Courson
RobertGatlinGeorge Haik
Natalia Jessica Arce Basante
Gabriel Thomas Hardy
Austin JoshuaAdamJuliaSethBrettUlucJustinTyPatrickKelvinJasmineMikaylaKalebMichaelCharlesJoshuaRashadMestayerCedricMiltonAlexanderMontesChandlerMontgomeryAnthonyMorelAllenMorganMorrowVuNhiNguyenTamNguyenDuc-ThanhNguyenVanNguyenRichardNicholsOzdenvarAaronRenzHoldenRichardGraceRogersBrendanSchwarzenbachPaulSeverin
Abigail Ruth Batten
Cindy Truong Nguyen Amy Le Register
Evan Bauer Casper
Anna Elise Hebert Hudson LaFaver Hodges
Noah Charles Adams Reilly IsabellaBurkeGrace Caminita
Bachelor of Science in Biological Engineering
Raquel Ynes Hodgeson
Ololade Esther Adeola
Emily P. RuichenJiaminChadElizabethHeathChristopherKeeleyDeniseJustinMadelineCoutureKirschnerElijahMalcoreMartinezEliseMcCutcheonLeeMerrillWilliamMoserAikoVoldenJosephWilkinsZhengZhu
Payne Allen Blanchard
Sophia Allen Robichaux Mack
Jorge Luis Moretti Leah
Julia Catherine Fondren
Kara A. SaulomonJewellL.P.
Jenna Rae Johnson Lloyd Nickeyia Ternae' Johnson Kase Michael Kolder
Bachelor of ArchitectureLandscape
Caroline Grace Weidie
Bachelor of Interior Design
Ashton Nicole Breeding Connor Logan Burgess Austin W. Carbo
Catherine Elizabeth Fuller
Angelica Hoang Anh Nguyen Khoivu Dinh Nguyen
Joseph Michael Giambrone
Sarah Elizabeth Buckley
Cana Chrislan Boudreaux
Nicholas Gerald Gonsoulin Brennan Matthew Hagan Catherine Margaret Harper Terra Alexis Harris
Gracey Michelle Maxwell
Rohin William Gilman
Kyra Nicole Jackson
Mallory Anne Charlet Chelsey Picou Collins
Marigny Jian Harter DeBlanc
Gavin Russell Debetaz
Jarod David Larriviere Suzannah Vivian Mahoney Carson Hunter McBroom Cole Michael McCullough Eleanor Julia McFeaters Alex Pieter Miller
Alyssa M. Catanese
Sydney Seaona Bradley
Tristan Wallace Dorgan
Katherine Farley Hudson
Mustafa Alam Alexis Rae Benoit Zachary Bridges Benton Lance John Blanchard Gabriel Pierce Breaux Taylor Nicole Cleveland Mary Hannah Conde Carolina Virginia Cordova Thomas Hays Coreil Jamelyn Donnae Crockett Breanna Da'Kajha Beverly DylanDavisEdward DeLee Lauren Elizabeth Domingue Morgan Elise Doyle
Zoey Elizabeth O'Connor
Justin Michael Peters
Aoife R.M. O'Donovan
Christian Patrick Gary Henry Harrison Geauthreaux
Patricia Gabriella Mussack
Taylor Brennan Bendeck
Janice Alyse Bourgeois
Christian Paul Fontenot
Brianna Nicole Belliveau
Christopher Clyde Allen Lester
Anna Catherine Nelson Angela Nguyen
Macy Elizabeth McAdams Rebecca Mary Messonnier Ashley M. Moore
Serena Kinglsey Landaiche Christopher Joseph Ledet
Grover Pierre Perkins III
Coby L. Naquin
Devin James Dupre
Cade Morris Forbes
John
John Luke McCain
Mary Caroline Dansky
Tiffany Minh-Tram Pham Grace Elizabeth Pierson
Jacob Jude Boudreaux
Bachelor of Science in Civil Engineering
Nicholas Dean Levergne Victoria Sanyang Liu Mishawn Jakeil Lolis Linh Chi Ly Royden Joseph Lynch III Trenton William Magill Cameron Alex Martin
AshleyRaqualLoganKrystianaJadeArianaKayleeRachelJaNieceTrentLyndseyIlaNnamdiAntoineAnyaeleMaeBordelon-WalkerM.BromfieldM.BultMarieCampbellAiCochranCummingsDalmauCamileDudleyNoelleRaquedanEdoraWayneFinnellElizabethFosterAnnFoto
Brennen John Brazan
Julia Claire LeSage
Olabode Bankole Ige Martin Yavorov Ivanchev Nicholas Keith Johnson Rohan Satish Kadkol Adam Emile Kardorff
Stephen Louis Hoorman
Isabel Rose Oatley
AllisonAdamMelinaAshtonAubreyMaiaAustinBenjaminTejasriMichaelLindseyIgnatiusLandonStevenSaneei-MotlaghMichaelSaweikisSterlingSchwabSemmesHelenSettoonBruceSumeraIIISunchuJamesThomasScottThomassenElizabeth-MarieTrailerAmeliaWakefieldMichelleWeberAnjelWilliamsJosephWiseDobsonZieschang
William M. JacquelineFryElizabeth Gross
Soheil
Christian J. Hollinger
Bryan Davis Edwards Aimée Elizabeth Galatas Alejandra Maria Ham John Bothner Harkin Nicholas John Hudspeth Mary Elizabeth Jordan Huff Adam Joseph Langlois Dominic Marcel Lasquety Luz De Luna Lawes Aidan Robert Lynch
LSU Alumni Magazine | Fall 2022 55
Joshua Lee Romain
Jared David Teachworth
Bradley Matthew Gonzales
Sean Cassidy Brown
Jacob Kyle Conerly Meghan Colleen Croghan
SueAnn Hugh Wheeler
Jacob Lee Holt
Alex Keith Foreman
Samuel C. Jarrell
Jordan Shea Hollier
Evan Michael Fontenot Domenique Monserratt
Bachelor of Science in Computer Engineering
Tarik Hashim Lopez
Jervonta Jerell Carter
Peter Tran Nguyen
Blake Gerard Byrne
Antonio Gabriel Stovall
Zachary Alan Rich
Linjun Huang
William Richard Tullis Carlie Noelle Turk
Colin Patrick Sullivan
William Joseph Fullilove
Clinton Joseph Craig Elizabeth Grace Daigle Joseph Robert Dupepe Logan H. Durey
Isabella Marie Canova
Abigail Elizabeth McNeal
Cameron Paul Carpenter
Nicholas Alexander Lynch
Peyton Joseph Hancock Jackson Cole Hardee Nicholas Nathan Harris Michael Joseph Haynes Cole Bryant Hebert Connor Evans Hebert John Henry Hebert Jude Michael Heidingsfelder Brandon Diallo Herring Jeffrey James Higgs Hayden Charles Hodges Jordan Leroy Hunter Ethan Paul Jackson Nicolas Henry Jackson Trevor Blake Jackson Henry Joseph Jacobs Hunter Thomas Jones Matthew Trey Jordan Daniel Bowers Karam Patrick Joseph Knecht Nicholas Peyton Knobloch David Easton Landry Landon James Landry Adam Rene Larriviere Megan Elizabeth Laviolette Andrew Richard Lee James Michael Lee Logan Paul Lege' Brock Michael Leonard Ali KarsonMarzoughiMyles Matherne Liam Francis McCloskey Hunter Anthony McCraine John Barrett Meijer Brianne Alexis Milioto McKenna Slade Miller Collin Khalil Nami Dakota Ryan Nash Alex Michael Ogea Kyton Anthony Ovide Ty Austin Petty Kenneth Wayne Peyton III Dylan Joseph Rader Jacob Alexander Ralser Andrew Philip Ramon Steven Jacob Rando Evan Scott Rasbeary Spencer Micheal Rayes Dylan Randall Rea Nicholas Joseph Rea Michael Wesley Reeves Kylan Michael Robinson Odelle Alfredo Rodriguez Kendall Nicole Rowe Sammy Mohamed Saleh Katherine Quealy Schaumburg Dean Francis Schexnaydre Luke Alexander Schwaner Noah James Scott James David Shell Aaron Parker Simoneaux Kirandeep Singh Elijah Robert Smith
Brandon Chi Chan
Samuel Scott Smothers
Gian Piero Bruno
ZillahHongjieKyleSophiaJonathanvanderMeulenAlexanderDavidWhitleyClaireWilhelmGiffordWilkersonZhuZanoZoleta
Bachelor of Science in Electrical Engineering
Alyse Katherine Hollis Anna Deva Keegan Tien KaitryanaLe Michelle Leinbach Natalie Camille Morvant Nargiza
Tessa Colleen Guillory Mahajebin Haque
Kenneth Louis Odinet III
Collin Joseph Pertuit
Tyler Daniel Pierce
James Patrick Oubre
Juan Manuel Celaya Hernández
Bachelor of Science in ManagementConstruction
Armando Rafael Castillo
Quinn Joseph Fuentes
Tyler Wendell Billew
Ethan James Jones
Aaron Joseph Gambino Cameron Michael Gary Victoria Leigh Gautreau Brandon Gene Gilbert Jimmie D. Givens Trent Salvatore Greco
Myles Tyrone Martin
Thinh Xuan Nguyen
Madeline Elise Breaux
Ao PrestonChenSamson
Mitchell James Smith James Alfred Stevenson III Kade Everest Stuart Dylan James Talbot Brent Anthony Torres Joseph John Trapp Jacob Douglas Twiner Blake Matthew Vallee Elijah Christopher Waters
Thomas Anderson Delsa Lowell Emerson Dever Collin Jude DeVillier
Maxwell Thomas Stein
Amina Ehab Meselhe
Joel Nash Wand
Corey Allen Canzoneri Erin Elizabeth Easley
Grant Joseph Dawson
Glenn Ocean Gehrmann
Donald Alexander Watkins
Joseph Noel Parenti
Sarah Nicole Besson
Nabil Munther Hamideh
Cody Stafford Nickel
Nicholas Brian Rathe
Thomas Tan Pham
Gabriel Ethan Rice
Jacob Tanner Chandler
Kristian Blake Crotwell
Lauren Claire Chauvin
Noah Paul Ellender
Austin Joseph Lachney
Justin Lewis Rusthoven Tashfia Shehzabin
Ross Pender Buerger Glynn Edwin Burr
Stephen Jacob Plaisance
William David White Hunter Thomas Winn
Dantin
Alex Hillary Portier
Kyle Bryson Burns Mason Wade Cardiff Rogee LaRoyce Clark Chad Tyler Conerly Brennan Matthew Cook Jennifer Leigh Sheffield Cooper Reece Clanan Cosby Colby Paul Coulon Brianna Jean Crump Jeffrey Paul Cupit Jordan Blake Davenport Robert Tyler Davis Nicholas Victor deBouchel Ross Harter Ellison Marshall Graves Etue Dex Joseph Falgoust Holden Stuart Faul Hunter Paul Faust Mason Nathanial French Donovan Keith Furr Kevin Michael Gallagher
Seth Patrick Albright John Michael Altman Luke Monroe Andrews Olivia Marie Armond Thomas Ivy Arseneaux Luke Steven Atchison Jason Gregory Babb Madelyn Bridgette Bahlinger Mikeal Joseph Barbay Gared Matthew Beauvais Garrison Martin Beiriger Benjamin Joseph Bergeron Colin Anthony Berthelot Susanne Mary Besselman Cary Michael Bock Nathan Graham Boe Miller Preston Boyd James Fitzgerald Bradford Chandler John Breaux Hunter Luke Lowe Breit Briggs Frank Brian Caleb Thomas Bridges Halle Grace Briede Ashton Nicholas Briley Spencer Joseph Broussard Jeffrey Paul Brown
Charlotte Kearney
Neil Harrison Holloway
Sydnie Morgan Thibodeaux Willem
Chancellor Lind Clowers
Hiruni Malisha Fernando Steven Curtis Fletcher
Ryan James Hamilton
Scott Matias Boudreaux
Peyton Michael Fury
Joshua Aaron Guitreau
Nathalie Joy Dante
Ethan AndrewDinhMichael Dufour
Sarah Elizabeth Edwards
Emma Louise Irvin
Brady Joseph Theriot Drake A. Theriot
Evan John Becnel
Marcus Anthony Cepeda
Brock Daniel Lundin
Grant Thomas Hebert
Emile M. Fournet
Autumn Landry Callender Renee Elizabeth Cancienne Joshua Thomas Cashio Gregoire Leighton Confer Everett Thomas Craddock
Mallory Marie Gillen Bradley Charles Gray
Angelo Joseph Pecoraro III
Keller Roman Huckaby
Blake Joesph Felps
Mikayla Jordan Lawrence
Clay Robert Knight
Jacob Aaron Rogers Shane Matthew Seeger Catherine Kay Smith
Bobby Martins Ebubechukwu JulietteUgwu-DikeAnnUlfers
Emily Benét Taylor
Mason Anthony Gonzales
Astrid Natalee Andara Sebastian Arredondo
Brandon Scott Bradley
Meredith Alexandra Donovan
Peyton Layne Callender
Jeffrey Alan Ganucheau
Eleanor Marie Golson
Adam Paul Haley
Bachelor of Science in EngineeringEnvironmental
Lindsey Kaye Spears Flannary Thompson
Joshua Michael Poirrier
Vivienne Thanh Le
Bachelor of Science in Industrial Engineering Cole Edward Armstrong
Jack Hunter Ostrowski
Molly Katherine Shepherd
Claire Elise LeJeune
Brock Tyler Johnson Ainsley Marie McGlynn Gloria Carol Mullins Megan Mantoh Nge Anna Katherine Parker
Thuong Thi Doan Griffin Theodore Edwards
NolanWaddihN'DejaBlairColinAlexandraLindseyJacobColeThomasBrandonRenéBrandonNazyrynbekovaMichaelPalmisanoAlcestePetitChristopherPriceNeilRobisonEdwardRossBryantRoutierRaeSassoneMargueriteScardinaJohnScheuermannEllisSibleyLynnetteSmith-BakerKhalilSowmaJamesTiersch
Connor Richard McCarthy
Andrew Eric Cashman
Jay Bautista Crisostomo Timothy Bryan Curol Katie Lois Gonsoulin Sarah Elizabeth Hanks Zachary Daniel Hartdegen Carson James Hymel Michael Joseph Martin II John Garel Bruno McCord Rahsaan Hébert Nahar John Kenneth Tayamora Ner Kendall Hulin Ravey Chase Tyler Swann Chase Tyler Swann Christopher Paul Vasquez Emily Diem Vu Cade Grant Williams Jaden Tyrese Wright
Jordan Andrew Guidry
Thomas Andrew Jackson
Katelynn Marie Buckentin
JordanGuevaraLionel Hanley
Hannah Camille Beene Bryon Andrew Bourgeois
Joseph Patrick Ory
Thomas John Rinaudo
Emily Grace Aldritt
Jamie Lynde Badgley
Evelyn Zama Clawson
Ashley Nicole Deare
Caroline Grace Durr
William Grant Freese
Megan Elizabeth Froelich
Zaria Elizabeth Barley
56 LSU Alumni Magazine | Fall 2022
Kayla Elizabeth Darsam Edward Campbell Davis
Anne JacobAdamsNicholas Agostinho
Kyle Giunta
Nicholas Salvatore Pappas
Kayla Georgette Fortenberry Demetria Chardae Fountain Taylor Rae Fowler
Kyler Clive William Suden Luc Allan Surette
Jessica Denise Frum
Jerry Joseph Crowe Jr.
John Andrew Cronvich
Isabel Constance Collins
Jacqueline Casey Crouch
Margaret Annelise Crick
Kate Elizabeth Bernard
William David Muldowny Sven EdmondJohnGeraldNewhauserF.NeylandConorO'NealJosephPerret
Jhem Danai Broussard
John Patrick O'Donovan
Ansley Grace Austin
AlisonStaffordEmily delCorral
Andrew Joseph Ferguson
Landon Timothy Burns Caitlin Avery Calland Darnevin Canor Camille Katherine Reagan Campbell Dominic John Caravella Kelsey Nicole Case Cecelia Anne Chaney
Abigale Mari Conrad Tristan Mark Conway
William Merrill Esterline Tony Allen Fischer
Rachel Rebekah Lux Brittney Renae Membrey Crystal L. Owens
Haillie Shae Dodd
Cameron Michael Day
Sebastian Louis Valero Cantan P. Varnado Nhu Thi Hoang Vo Camille Simone Wetekamm Charles Wesley Williams
Hunter Weston Babineaux
David Michael Hutton
Ava Elidia Landry
Grant Joseph Dugas
Abigail Elizabeth Brown
Michael Martin Crick
Tyler Frederick Traweek
III
Joseph Tucker Furr
Charles Patrick Besselman Jr.
Katherine Montcalm Smith
Ty Matthew Dugas
Abayomi Gideon Adeyemo
Ryann Allain Beard
Olivia Claire Hardy
Cade John Comeaux
Bachelor of Science in Mechanical Engineering
Gavin C. Calmes
Brian Chargualaf San Nicolas
John Henry de Jong Jr. Merrick Allen de la Vergne
Connor Michael Chustz
John Lewis Dunkerley Nellie Berkley Ernst Erin Kathleen Flaherty Damon Cole Fontenot Devin Madison Fryar
Lacey Monique Barthelemy
Margaret Reid Douglass
Kayla Marie Baudier
Jennifer R. Dedo
Terry Lee Geraldsen Jr.
Kade Austin Edenfield
Peyton Joy Edwards
Gabrielle Leigh Deshotels
Eric Michael Graalmann
CadeRamirezOneal Babin
Abigail Ruth Dorsa
Tracy Josephine Boykins
Brennan Doss Jenkins
Kimberly Anne Crenshaw
Jackson Thomas Clydesdale Brennon Eric Coker
Taylor-Lawren Druery
Benjamin Lewis Eichler Camille Angelina Ellis
Adam Scott Forsythe
Robert Justin Fields
Jessie Maie Furr
William Chandler Black Mackensie Alison Blackwell Gabriellia Marie Bolanos Jack William Bollert Lindsey Claire Boudreaux Zacqkia Shantel Boughton Elizabeth Marie Bourg Bailey Ann Bourgeois
Gray Allen Bailey
Chirsten Jacintha Concepcion
Adam Joshua Bobbs
Mason Hart Candies
Rex Anderson Gellasch
Preshis Mariah Washington
Corrina Vanessa Dean
Mikiah Alise Fluellen Kirstin Nahbila Foncham
Daniel Augustus Holmes Jianwei Hou Hunter Thomas Justice Baylee Simone Kearse James Alexander LeDoux Broderick William Lukens
Lauren Monique Babin
COLLEGE OF HUMAN SCIENCES & EDUCATION
Nicholas James Pizzi Nicholas Dean Poret
Johnathan Pierre Mcgill Davis
Jake Charles Dixon
Lauren Gabrielle Fontenot Emma Marie Foremaster
Lillie Claire Brauns E-li'-Sha Christopher Brent Jared Ryan Brodtmann
William Patrick Fulkerson
Josh Alexander Brooks
Nathan Thomas Gaspard
Michael Roy Melancon
Peyton Alexander Block Albert Benjamin Asiedu Boadu Cole Allen Conrad
Emily Gabrielle Baudoin
Samuel Chong Schasteen
Cali Rae Franklin
Melvin Darryl Allen III
Gabrielle Elise Derise
Ruoqin Pei
Luke Richard Sebald
Noah Bernard Baquet
David Christopher Batastini
Kendra Cherise Thompson
Gavin Joseph Dugas
Gavan Robert Dusbabek
Hawkins Segarra Boyer
Joseph Bush Miller III
John Michael Brown Timothy Marc Browning Hannah Michelle Bryant Madison Arwen Brzezinski Brooke Alexis Burgard
Alexis Taylor Jade Dunham
Joshua Samuel Matthews Douglas Scott McCoy Jr. Stephen Egor McMorrow
Morgan Leigh Collins
Nicholas John Anderson
ManagementConstructionCertificatePost-baccalaureatein
Haleigh Jordan Bartolo
Lindsey Allison Flucke
James Darin Pierce
Caroline Taylor Counts Jonae Alyssa Cox
Hector Armando Arredondo
Marcel Joseph Gallego
Jean Baptiste Labatut Guillot
MatthewTolentinoGregory Wemyss
Matthew Bryant Gordon
Casey Raymond Bourgeois
Troynika Taeshell Bickham
Ella Maxwell Freeman
Morgan Burke Bolinger
Maxwell Louis Cataldie
Collin Anthony Gaydos
Keighly Elizabeth Armand
Samuel Michael Brown
James Michael Albano
Caitlin Brooke Cole Hope Ashleigh Coleman
Dylan Andrew Stanley Mary Staples
Robert Troy Cooper Evan Mark Couget
Dustin Charels Mire Hayden Barrow Mixon Dharla Madison Moore Shawn Michael Mouch
Aliyah Jordan East
Zaid Hayder Ali Nasser Said Al-Riyami Thani Ibrahim AlSuwaidi Caleb Alan AbdulRahmanAndresKhalid Bafail
Jaelon Nicole Farrell Dirden
Braden Michael Erwin Daryl Semaj Evans Ovie Nathan Eziemefe Nauras Faiyazuddin Anna Camille Falgout Ryan Maynard Ferguson Blake Matthew Fertitta Kyler Elizabeth Fisk
Matthew Steuart Chauvin
William Payton Hatcher Casey Evan Hernandez Mason Warren Hitt Heath Stancil Holland Michael Clay Jeter Nicholas J. Kirsch
John Taylor Birdsong
Ugochi Marilyn Akabogu Ainsley D. Albert
Andrene Nicole Blackwin
Michael Joseph Carter
Daylen Mitchel Borne
Abigail Rose Ambeau
Noah Spurgeon Foster
Madison Ann Bertucci
Jalil Joseph Dukes
Laith Joseph Druen
Hasan Andres Al-Shaar
Jacqueline Marie Gonda Adam Michael Grexa Misha Patel Gunaldo Robert Hamlin
John Henry Ballard
Emily Catherine Delord
Jack Thomas Clement
Lisa Ulrika Gunnarsson
Eric Sullivan Hartenstein
Ian Jacob D'Antoni Drake Lamar Darden
Cole William Carter
Kyle Matthew Guillot
Cameron Anthony Feucht
Cade Allen Beloso
Tyler Christian Attales
BrandonWilliamFinnTrentMeganDylanIvanJacobKieferRandyChandlerLecloirec-SwindellSebastienMichaelLemoineJasonLepretreJr.LeeLinerPhilipLofasoAlexanderLopez-ZepedaThomasMaconElizabethMarsaloneMichaelMartinGambleMcCarthyScotMcKenzieLeoMcQuen
Sophia Renee Greenwood
Benjamin Ian Shapiro
Camryn Elizabeth Aucoin
Iyana Ne'kia Charles Abigail Chenevert Gracie Ann Chinoy Dominic Jalil Clark
Bachelor of Science in Petroleum Engineering Ali Kassim Abdalla Georgii Ageenkov Hazzaa Saif Alhammadi
Michael Leon Williams I
Darren Huang
Catherine Claire Anderson
Ethan James Devillier
Trent Jacob Vietmeier
Ashley Breane Baptiste
Lillian Elise Doskey
Taylor Alexander LeBlanc Theodore
John Gordon Weinnig
Bachelor of Science
Manuel Francis Bailey
Quentin Moreau Bernos
Luca Tobias Pfyffer Francesco Alfredo Pineda Sean Patrick Richards Andrew James Sampsel Matthew Martin Schimcek Daniel Clayton Segrest Zachary James Sherman Matthew Thomas Snellgrove Nicholas Hatfield Stuart Sidney Michael Sullivan Connor Burnett Tappel David Mark Tatman Jr. Brock David Thibodeaux Claude Douglas Thompson Jr. Joshua Laksamana Trisaputra Cullen Wheelahan Unsworth
Michael Stephen Thompson
Alexis Elizabeth Colomb
Iesha Tenea Terry
Matthew Allen Hosman
Ian Jett Bourgeois
Jada Nicole Ballard
Emily Catherine Douglass
Bryce Raymond Duhon
Emily Francoise Dupre
Kiara Kristina Thompson
Addison Nicole Hall
Alyssa Madeline James
Shannon Frances Hebert
Frederick Daniel Miller IV Lindsey Blaire Miller Shawn Michael Miller Thomas William Montgomery Nicholas Keys Morel
Gabrielle Claudia Quant Camryn Ashley Rabalais Jannard Douglas Rainey II Chloe Michele Ranatza Brenner Austin Rauch Cassidy Alexandra Redmond Madelyn Adelle Redmond Calder Thomas Reed Kelsey Ann Reed Tyler Harris Reed Kaylen C'mone Rice Molly Louise Richard John McIntire Richey Thomas Jo Roark Brandon Christian Robb Mackenzie Rene Roberie Winston Ellery Roberts Bryson Blaine Roche' Morgan Isabel Rodrigue Emma Simone Roehm
Sarah Grace Hubbell
William Theis Huckabay
Rees Raphael Romero
Ben William Rosing
Lillie Joane Smith
Marli Ann Elizabeth Snaith
Julia C. Summers
Taylor Elizabeth Veron
Tyler Neel Gremillion
Matthew Culpepper Walker
Jasmine Nicole Williams Rayna Jenae Williams
Madison Shea Hanning
TaylorYoungMarie Young
Nicole Rose Zappala
Rachel Josephine Bridges
Jonathan Douglas Bullock Sierra Da Von Davis
Jakayla Jeanee Gauthier
Renee' Pollard Hass
Emmaline Jolie Hebert Kennedy Christin Honore Corinn McKenzie Hovis
Gwendeline Hope Day
Amanda Lillian Gerrets
Claire Lynnette Schmitt
Cameron Emile Hebert
Mary Claire Upton
Alex Salvadore Thomas
Noah Jay Hambleton
Brilyant TyJanae Turner
Shala Kierra Marie Williams Tiairra Marica Williams Cullen J. Williamson Raegan Willis Leann Marie Wills
Carlie Elizabeth Dowell
Caitlin Alexis Hannah Kauff
Analia Paz Susana Munoz
Hannah Elizabeth Hargrove
Brooke Taylor Harper
Lauren Elizabeth Simoneaux
Brianna Alyssa Tovar
Noelle Marie Toups
Erin Lee Loftus
Zadiee Suzana Waller
Jack Williamson Gavin
Jackson Edward Gunnels
Katherine Elise Sclafani
Pierce Sicard St. Paul
Harrison Leavitt Schexnayder
Rachel Elizabeth Toups
Erick John Trotter Jr.
Cody Dean Thomas
Hannah Suzanne Wagner
Madison Elise Split
Mackenzie Elizabeth Johnson
Bachelor of Social Work
Arden Eugenie Townsend
Maisie Renee Baudier
Emma Elizabeth Hover
Caroline Elizabeth Naquin Lauren Elizabeth Nauman Madalyn Cydney Navarro Cade Joseph Nelson Celia Vaughn Nguyen
Girvus Eugene Johnson IV
Anna Rowan Smith
Kyana Ranique' Thymes
Kaleb Ryan Kelly
Heidi Monique Fendlason
JaMarcus Allen Spears
Sydney Jarve Handy
Callie Elizabeth Henry Rena Chloe Hijazi
Kathryn Elizabeth Hall
Kelli Marie Greene-Agnew Austin Jude Gremillion
Alexander Tucker Loytty Catherine Mary Lulich Debrashai Janae Lusk Ben ShantellMa Reane Mackey Gretchen Grace Mallen Rachel Nicole Malmberg Kamryn Bailey Marks Grace Stewart Martin Kennedy Gail Martin Joshua Shane Massa Madison Kendall McBurney Jill Gloria McCarty Katelyn Ryan McCollough Andrew Yi-Zhong McConnell Mary Ellen McCrary Allyson Elizabeth McGlynn Molly Elizabeth McHale Kenlee Suzanne McHugh Santana Raye McKnight
Meghan Bachemin Rotolo Kymberlee Renee Russo
Andrea Louise Huber
Emily Mei Schexnayder
Brady Christopher Moran Ngozika Seon Osiagwu
Luke Bryant Lowery Avery Frances Mann
Taylor Ashley Thomas
Kadie Camryn Keen
Aubert Felipe Waguespack
Anastasia Alexandra Megilligan Chloé Joanna Mendy Nathan Cole Messenger Madison Elaine Kelly Mikulak
Mayson Reiners Schutt
Luke Cameron Ryan Gabrielle Reise Salaun
Taylor Tien Tran
Grace Alexander Gardere
Bridget DeAnne Glueck
Jamie Emily Seward
Emily Nicole Kleefisch Alexander Robert Klein McKenzie Grace Knight Haley Koch Crawford Kaitlyn Marie Koenig Grace Ann Kramer Kelly Ann Kramer
Patrick Wirth Gallagher
Marlee Dawn Heath
Ally Rene Thomas
Grace Lucille Gandy
Tori Nicole Morgan Destiny Dy'Shon Morris
Caroline Webb Woolf Leigh Wray Chassaing Jacob Hunter Wyeth Katheryn Ashleigh Lauren
Mary Madeline Gusky
Noah Dean Schexnayder
Grace Camille Horton
Haley Elizabeth Ross
Amie Lynn Johnson
Abigail Elizabeth Haydel Brooke Ashley Haydel
Tylar Hadleigh Griffin
Grace Emilee Haile
Jordyn Elizabeth Girouard Jordan Paul Glahn
Gabriella Grace Ignacio
Emily Catherine Smith
Abigail Marie Lafleur Bailey Drew Laird Kristin Dawn Lambert Elise Katherine Landry Gabrielle Renee Landry Jacob Luke Landry
Olivia P. Scallan
Sydney Rose Sweitzer
Julia Diane Trahan
Madelynne RitaAnne McDaniel Claire Loula Marie Miller
Kari Renee Stephens
Jada Marie Ward
Lila Rae Harrington
Hilda Mariela Tiburcio Pérez Gabriella Lea Turner
Kyle Edward Glass
Tori Lynn Vaughn
Raegan Nicole Griffin
SusannahDobson Kathryn Munro Mason Anthony Musgrove Alexandra Lynn Musso Molly Ann Myers
Madeline Rose Shorter
David Thien Ton
Johnathan Andrew Haaga
Emily Grace Geno
Trinity Marie Saltaformaggio John Koltun Salyer
Alanna Ngoc Vo
Kathleen Pipes Kelleher
Alexis Simoné-Tara Hoffman
Luke Allen Klein
Nancy Josephine Texada Meaghan Grace Thibodeaux
Lyly Phuong Hoang
Anna Gayle Howze
Carsyn Ann Guitrau
Victoria Helen Rose Pecot Alexis Elizabeth Pelle Jade Ivear Peoples Claire Marie Percle Grace Anna Perkins
Russell David St. Romain
Jenna Marie Short
Claire Elizabeth Zeller Miles David Zietz
Jashayla Dawn Gillespie
Evelyn LaPorte Santa Cruz
Elizabeth Paige Wangler
Lauren Elizabeth Primeaux
Camryn Nicole Green
Jontre Demond Kirklin
Anacaren Sanchez
Joshua Isaiah Weaver Marian Blair Webre Kathryn Elizabeth Welty Maxwell Joseph Wierdak Carley Mackenzie Boyle Thomas Michael Wilcox
Ashley Margaret Seeser
Alexis Renee Soileau
Kaleigh Belle Stallings
Eli Thomas Gaughan
Gretchen Julia Gogreve
Hanna Grace Hutchinson
Lucy Crane Hood
Michael Augustus McLaughlin Harleigh Alexandra McMillan Mikaela Lynn Medica
Isaac Andrew Tyler
Laura Claire Haywood
Edward Anthony Taylor
Gabrielle Alexis Kilbride
Nicholas Hugh Grayson
Jordyn Leigh Perkins Madeleine Elise Marie Perkins Britney Yennhi Pham Vickie Nhi Ngoc Pham Aysia Keonte' Phillips Kendall Rene Pierre Jr. Payton Elizabeth Pippin Jacob Harrison Pirrung Elizabeth Dawn Porter Claudia Catherine Posey Cayleigh Elizabeth Power Evan Stewart Proulx Marcus Alec Pruitt Emily Katherine Purser
Brady Joseph Jones
Catherine Ilene Glicksman
Sable Ann Slater
Stephanie Marie Howell
Joshua Isaiah Hart
David James Romero
Lauren Nicole Taylor
Jaden Alexis Jacobs
Jazmin Roneshia Samuel Georgette Sananikone
Alyssa Michelle Steib
Aleigh Grace Solar Virginia Ann Soprano
Phuong-Nhi Belle Nguyen Sabrina Quynh Huong Nguyen Taylor Huyen Nguyen Vy Phuong Nguyen Presley Blair Nijoka Jake Thomas Norris Trey Daniel Nunez Mary Margaret O'Dell Mackenzie Marie O'Keefe Frances Nwakego Okpalobi Kristen Reneé Olinde Paola Olivares-Nazar Lacie Marie Olivier Sydney Christina Pannagl Bryson Gerrell Parker Freety Parker Rhys Lyndon Parker Emily Lenora Passman Tia Angele Peck
LSU Alumni Magazine | Fall 2022 57
Susannah Abigail Thibodeaux
Zachary Thomas Gachassin
Parker Hayden Kirby
Rahul JasmineWahiAriel
Walker
Patrick Magee Hardin
Whitney Marie Smith
Patrick Robert Meehan
Jocelyn Mari Arce Dudley
Emily Claire Seuzeneau
Jiobahn Kierra Scott
Emily Claire Hunt
Lauren Grace Landry Alyssa Marie Lastrapes Christian Louis Latino Christina Aline LeBlanc Hailey Catherine LeBlanc Erica Nicole LeBoeuf Madison Elise Lee Preston Joseph LeJeune Emmaline Katherine Leleux Emily Virginia Lenox Holden Dane Lester Justin Armand Leveque Kaitlyn Marie Little Lillian Ruth Lochridge Sean Mansfield Loftin Anna Frances Loughlan Landon David Louque Mackenzie Marie Louviere Angelica Marie Lovell Nylah Anjeayl Lowe
Hannah Michelle Havert
Grace Hanlon Aslanian Brittany Nicole Auzenne
Mikayla Latrece Brown
Ashley Veronie Latcha Measara Ahmed Latif
Layla Nora Elkhan
William Jacob Borne
Bailey Madison Malveaux Savannah Belle Markham McKenzi Blaire Marler
Kalvin Marquis Morris
Hester Catherine Bourdier
Jacklynn Nicole Beasley
Claire Kay Inderkummen
Ashley Kali Lozier
Anthony Tam Bui
Grant Michael Bringaze
Erynn deLane Johnson
Olivia Gail Hux
Eva Marie Lee
Justin David Martin
Patricia SummerKlemonsCecelia Knight
Abigail Grace Milligan
Samuel Abbitt Moses
Rachel Emma Brunault
Aayanah Larrelle Cola Jasmine Leigh Collins Caroline Ann Colomb Kaylee Renee Combs Brooklyn Marie Comeaux Gillian Erin Conner Cole Foster Connerat Jennifer Kristen Cook Isabelle Mae Cormier Reygan Elaine Coxe Cecil Meyers Craig Reagan Rene Craig Reagan Rene Craig Makenzie Madere Cranford Tierra La'Shay Criff Margo Alyse Crockett Tori Ann Crockett Kelsy Hope Cross Olivia Rachel Csaki Callie Lauren Cure Jhanara Lanae Cyprian Camille Elise Daigle Reghan Olivia Daniel Anna Kathryn Davis Carl Anthony Davis III Evan Patrick Davis McKenzie Denise Davis Peyton Gray Davis
Claire Kay Inderkummen
Ashley Nicole Evans Cameron Kate Farrell Kenzie Michelle Favaloro Jonathan Matthew Fernandez John Gillis Fleming Shore Christina Fleury Connor Jarrett Florich Allison Elizabeth Flurry Haylee Renae Folmar Chandler Ace Fontenot Morgan Elizabeth Fontenot Joseph Patrick Foret Alison Jade Foster Alison Jade Foster Kaya Naomi Foster Kaya Naomi Foster Anna Brown Fournet Reagan Claire Franklin Camille Paige Frugé Camille Paige Frugé Tara Elizabeth Furey Tara Elizabeth Furey Olivia Claire Fuselier Lanier Elizabeth Fussell Nicolas Patrick Garon Brianna McKay Gauthier Jamie Lauren Gernon Kevin Michael Gilbert Joel Aubrey Gill Austin Lee Gimnick Mary Millet Giovingo Kelvin Abdul Giroir Anna Camille Gitter
Mackenzie A. Jones
Mariah Lauren Alexander Kristen Allen Mire
Mary Madeline Marlowe Brody Logan Martin
Justin David Martin Marco Gatlin Marvelli Dustee Jane Matthews
Olivia Kate Brown
Mary Claire Morel
Benjamin Thomas Mundt
Abigail Grace Milligan Abigail Grace Milligan Fraser Kenneth Mitchell
Joshua Craig Mayo Sarah Katherine McCallum
Olivia Grace King
Alexis Rae Chamberlain Clara Autumn Elizabeth RheaChapmanTheresa Chempakasseril
Bachelor of Arts
Nina Frances Abrusley
Abigail Emily Bowers
Nicole Leigh Anderson
Saryn Brenae Allen
William Patrick Hesslink Luke Nathaniel Hightower Luke Nathaniel Hightower Emiliano Tenoch Hodges Alexa Danielle Hodgson Georgia Leigh Hoffman Madeline May Holmes
Katherine Grace Ahrens
Caroline Elizabeth Ardoin Kaleb Justin Ash
Cameron Scott Baker
Madicyn Rae'-Ann Boudreaux
Hayden John LeBlanc
Emma Christine Gjerset Casey Jean Godbery Crystal Angelique Gray Isabella Ruth Grisoli Mary Katherine Hadden Devon Christopher Hall-Smith Holly Ann Hambleton Dalilah Eileen Hampton Brookelynn Rosella Haner Peyton Matthew Harris Ethan Jude Hebert David Vedder Heidke Joseph Claude Heine Elainey Machelle Heltz Annie Nicole Henry Jonathan Michael Herin Joshua Robert Hermanstorfer Joshua Robert Hermanstorfer
Jamie Lynn Brown
Devin Moore Bonney
Allison Rose Kadlubar Sydney Makena Kanyua
Matthew Rashaun Jenkins
Morgan Adeline Brown
Brenna Evan Lauga
Caroline Alise Dugan Rees Maria Elaine Dunn Rees Maria Elaine Dunn Camille Wilthew Dupuis Lillian Trinity Durham Lillian Trinity Durham Nicholas Matthew Eberly Gabrielle Grace Edavettal Ciera Jonfae Eddings-McCoy Aysa Octavia Edwards Leah Frances Eichenauer Layla Nora Elkhan
Alexis Mackenzie Adams
David Chase Bergeron
Mia Catherine Blake
William Connor Brady
Delaney Jane Herrmann
Graeson Alexandra Bannon
Anabelle Frances Johnson
Katherine Grace Ahrens
Madeline Ann Johnson
Justin Matthew Karam
Julia Angele Lancaster
Olivia Day Morgan
Rachel Emma Brunault
58 LSU Alumni Magazine | Fall 2022
Emily Alise Boudreaux
Catherine Merritt Burns
Peter William Bruno
Taylor Raé Jones
Layna Denise Auzenne
Serena Rose Bolden
Alexis Paige LeBlanc
Bailey Madison Malveaux
Danielle Liberatore Maritza Lightfoot
Danneria Michelle Logan Alexa Rose LoPiano Yvonne Johanna Lotz
Peter William Bruno
Sal KatherineBeebyAnn Bennett
Brianna Taelor Beck
Alison Renee Bevrotte
Stephen John Drury Caroline Alise Dugan
Ethan Rome Lauvray Bailey Christine Lawrence
Frances Marie McCann
Paige Maylinn McKnight Connor Jordan McLaughlin Revathi Menon
AlexandraLi
Jackson Northup Butterbaugh Jackson Northup Butterbaugh Eric Dale Bynog Chloe Ashbrooke Callerame Daisha Milan Calliet Angelina Patricia Cantelli Riley Park Cantrell Sara Michael Capano Courtney Jean Carroll Sydney Kay Carroll Shelby Paige Cascio
Serena Rose Bolden
Kiemi Adina Brown-Rivers
Ashley Elizabeth Meredith Kayla Kennedy Meyers
Logan Patrick Berthelot Brandon Gregory Bertrand
Caleb Talbert Hopkins Courtnay Monique Hotard Moriah Hiu Yuet Howard Moriah Hiu Yuet Howard
Mason Joseph Landry Crystal D'Nais Lanns
Madeline Belle McCrary Sean Joseph McDaniel Wyatt Douglas McFadden Naya Kristy McGill
AndieOrellanaMegan Milazzo
Matthew V. Hurts
Bryce Joseph Miller
Audrey Elizabeth Aitken
Madison Georgia Barnes
Alec LondynBaudyLee Beall
Madeline May Holmes
Eric Edward Jones
Grace Elizabeth Lemoine Akua Lulani Lewis Akua Lulani Lewis Dae'Jhon Anjanae Lewis Dae'Jhon Anjanae Lewis Kaya Lee Lewis Lewis
Jason Max Cogan
Deyzhah Dana Delores Knox Alexandra Juliette Krouse
Paulina Mary Bourgeois
Sydney Margaret McGovern Shane Patrick McGrath
Gloria Carol Mullins
Morgan Alana Aguillard
Kayla Kennedy Meyers
Megan Grace Badeaux
COLLEGE OF HUMANITIES & SOCIAL SCIENCES
Olivia Grace Hudson
Sarah Claire Johnson
Amour Deshaye Louis Hannah Lucille Louis
Natalie Claire Mounier
Timothy Cade Jordan
Logan Patrick Berthelot
Madalyn Lucille Cheramie Joni Abbygail Chilton Nyankir Chiok Choch Kamryn Rae Cicero Brittani Jane Alice Claiborne Brigid Anne Clarey Lemuria Atlantis Clark Chandler Quinn Clegg Christopher John Cluse Allison Ann Coens
Christian Henri Lacoste Summer Paris Lafargue
Hayden John LeBlanc
Katherine Elizabeth Day Katherine Elizabeth Day Alyssa Danielle Deason Kacie Elizabeth Dennis Jay Henry Orman Derr Juliette Jean DiCharia Virginia Faith Dietrich Jay Arboneaux Dornier Mary Elizabeth Dowden Ashton Blair Drury
Megan Elise Buckley
Claire Kay Inderkummen
Heidy Carolyn Midence
Peter Perry Cassady
Mikayla Latrece Brown
Wayne Anthony Juneau Allison Rose Kadlubar
Alexis Marie Barbay
Brianna Taelor Beck
Brandon Le
Nathan Rashad Benson
Sarah Elizabeth Lawrence
Zipporah Marie Moses
Matthew Paul Burgo
Kandace Rose Kyler
Thomas Drake Brignac
Janna Rostom Laymon
Cassidy Marie Monfra Madeline Alicé Monteleone Abbey Taylor Monzon Lisette Noeli Moralez
Davis Patrick Hughes Grant Alexander Hughes Hannah Elizabeth Hummel Matthew Hurts
Alexandra Kate Morris
Javin Deshon Welch Bowman
Kalvin Marquis Morris Sean Colin Moser
Patrick Byrne Kennedy III Neema A. Khosravi Lucas Alton Kincanon
Jalen Tyrik Amos
Rickey Breon Nicholas Bailey
Ethan Rome Lauvray
Alexis Paige LeBlanc
Juliette Noelle Nicole Lincoln Charles Allen Lobrano
Justin David Martin
Jalen Gerard Jackson
Maximillian David Elvir Susan Meade Endom Alice Ellen Epley
Sarah Ann Lemaitre
Ethan Matthew Bourque
Frances Marie McCann
Ethan Matthew Bourque
Maya Michelle Caroline AliceSandersCosta Santiago
Aimsley Grayse Unbehagen
Cally Nicole Quick
Ana Mishell Orellana-Gomez
Trevor Wade Ray
Jacob Thomas Storey Charlotte Wynn Streat
Bachelor Interdisciplinaryof Studies
Calib Artis Alston
Laura Louise DeHart
Jacques Paul Roy Keaton Thomas Russo
William Louis Derzaw Erica Katherine DiMattia James Tonner Dougherty III Seth Lorent Dufrene Tatjana Maria Dunn Katherine Marie Elam Benjamin Enete
William Gerard Rabalais
Awa LewisTrasiRobert Vinson
Ashlyn Grace Guillaumin
Leigh Margaret Boudreaux Doug GabrielleAllenElise Armstrong
Annie KaleighChristinaNguyenNguyenXuan-Nhi Nguyen
Avery Vaughan Vickers
Emily Kathryn Gras
Kia Katherine Harris
Jesse Luke Robert
Madelynne Grace Slocum
Amelia Claire Sylvest Kaitlyn Marie Tague
Lara Paige Nicholson
Daniel Richard Puente
Madison Reece Ready
Alden Elizabeth Wallace Charlisse D. Walters Da-Shonte Ladette Washington Niles Anders Watson
Lemuria Atlantis Clark
Landon Cole Pettigrew
Sidney Alyse Stewart
Ashley Nicole Evans
Daniel Lachlan Bradley
John Emory Walker
Alexis Christine Ford
Titus Vincent Leonhard ShelbiStummvollRenee Sunseri
Milan Jerome Powell Jonathan Ruben Price
Kaylie Danielle Von Kanel
Katie Elizabeth Helm
Catherine Frances Camden
Mark Preston Richardson
Jacob Liam Sheehan-Dean Zoe Maureen Skrobialowski
Jaileen Elizabeth Casco
Kaitlin Brianna Pharr
Ashley Ann Reynolds
Adam Harmon Sequeira Daniela Danica Sestich
Kaleigh Brooke Franks
Angelina Patricia Cantelli
Taylor Madison Burke
Jeanne Ruth Wood Jeanne Ruth Wood Nicholas A. Wood Nicholas A. Wood
Jaqueline Garcia-Lopez
Micah Darren Rodrigue
Chloe Paige Pultz
Victoria Priscilla Cano
Madelyn Therese Smith
Mary Elizabeth Barnes
Luke Owen Parks
Marisa Marcel Terry Natasia Iteria Magnetic Terry Emma Marie Thibodeaux
Jeb Stuart Tubbs
Brandon Patrick Walker
Kasey Allan Ball
Madison Paige Brooks Amber Rose Buettner
Joseph McRae Snowden
Bachelor of Science
Toi Lyn Parker
Katelyn Nicole Brooks
McKenzie Denise Davis
Gary Fabricio Gudiel
Chloe Paige Pultz
Gabrielle Grace Edavettal
Jack William Cooke Rittenberry
Sage Elizabeth Quirk
Lily Therese Kohana Robertson
Alice Costa Santiago
Tara Jo Ashley-MegganSabo Bowie
Caroline Catherine Raymond
Robyn Catherine Giraud
Caprielle Grace Priola
Lauren Alyse Vallet
Kalyn Renee Poirrier
Michael Christian Crutti Jayde Abigail Daricek
Makeia Raejeanné Hardy
Macayla Janae Owens
Devin Karl William Woodson Monica Rose Zmudzinski Allison Beth Zoglio
Julia Grace Roane
Camrynn Ajai Ponds
Colin Stephen Patrick
Michael Christian Crutti
Samantha Mishel Frank
Kristen Allen Mire
John Dale Scalise Grant Scott Scheeringa
Jackson Christopher Vicknair Jackson Christopher Vicknair Jackson Christopher Vicknair Saydi R. AmandaVidrineLouise Viloria
Sydney Alyse Thibodeaux
Jessie Thomas
Annika Raine Wagenecht
Jack William Cooke Rittenberry
Mia Margaret Goodson
Jordan Hunter Robinson
Harrison Alexander Turner Carinne Elizabeth Tyrrell
Annie Nguyen
Sarah Colleen Cherry Christopher James Couty Cecil Meyers Craig Stewart Marston Craig Alexis Paige DeFoe
Joseph William Bagnerise Jessica Alice Bailey
Kaitlyn Elizabeth Gleason
Daniel Virgil Guillie Grace Lauren Haggerty Rodney Joseph Harris Amanda Herrera
Isabella Maria Rotondi
Louise Nicoll Chancellor
Eric Lemuel Stevens
Bre'Shana Jasmine Arcement
Sadie Elizabeth Taylor
Mia Autumn Burkhardt
Jacob Michael Pelle
Sara Jane Pellegrin
Elizabeth Anne Bourg Brodi Lynn Bourque
Toby Andre Weathersby Felisha S. Williams
Sarah Marie Chevalier
Brenna Louise Bonura Piper Jouleigh Bordes
Aleah Lynn Falcon
Christopher Lee-Juan Hart
Ugonna Valentine Njoku
Luke Patrick Scoggins
Rivani Adelia Sihotang
Stephen Ryan Privat
Kyron Di'Jon Neveaux
Emma Katherine Armstrong Elyse Alexandria Arnold
Allen Todd Babin
Chloe Michaela Love Smith Latatyana Smith
Matthew Edward Palmer
Joshua Martin Thompson
Joseph Louis Foret
Jeffrey Stanton Tobias Mary Elizabeth Towey Joshua Duong Loi Tran Jesse McKenna Tregre Todd Daniel Trosclair
Ashley Marguerite Roberts
Natanael Pabon-Trinidad
Warren Giovanni Huembes
Rebecca Camille Norton
Camryn Claire Beebe Brooke Morgan Billison Mackensie Alison Blackwell
Madeleine Grace Pennison
Sidney Alyse Stewart
Robert Stevens Hayden
Carlin Ivory Salter
Caroline Grace Vaughan Christian Lemoine Verde Chrys Jareth John Viator
Jeb Stuart Tubbs
Rosemary Grace Pimpinella Katya Irina Pineda
Jackie Regan Redding
Harlee Ashlynn Rowe
Dylan Joseph Schram
Sophie Elizabeth Norrick Megan Nicole Nosworthy Aja Marie Palermo
Graham Wells Overcash
Jordan Alexander Plain Brandon William Poulter Rachel Morgan Prescott Bryce Nolan Priest
Cornel Ray Sims
Colton James Ray Tilley
Skylar Marie Carson
Taylor Michelle Tidwell
Mikayla Angel Olson
Zulema Michelle Avila
Emma Katherine Hays
Caitlyn Ann O'Connor
Charles Michael Pennison
Julia Elizabeth Pace
Louise Nicoll Chancellor
Jasmane Shantae Myles
Megan Elizabeth Plunkett
Alira Shawntel Thomas
Kamryn Ashley Thompson
Allie Anne Cotten
Lindsay Regina Noyes
Claire Elizabeth Padilla
Madison Elizabeth Smith Thuy-Anh LeAn Smith
Spencer Thomas Buvens Kiziah Leah Cameron John Graham Chandler
Collin Evan Nolan
Ashlan Nicole DeRouen Macie GabrielleDerouenHannah Dufrene Mariah Mercedes Duncan
Emily Grace Webre Wesley Jude Webre Gabrielle Kristine Welling Victoria Grace Wells Victoria Grace Wells Jasmine Heaven Werner Kaileigh Marie White Matthew Christopher White Preston Charles White Wayne Gilbert Wickman III Alanna Marshay Williams Exquisite Armante' Williams Exquisite Armante' Williams Gracie Nicolle Williams Kobe Deon Williams Taylor Brooke Hatfield Westin Ben Williams Hope Leah Willis Lauren Taylor Willis Aaron Benjamin Wilson Aaron Benjamin Wilson Darren Jamal Wilson Drake Anthony Wilson Hailey Elizabeth Reiko Kanoelani Wilson Maggie Moore Wise Di EmilyWongJordan Wood
Rachel Brooke Tingle
Courtney Helen Broussard
Alexandra MatthewRosenbohmElizabethAllenRotolo
Sophia Elena Anderson
Isabella Ruth Grisoli
LSU Alumni Magazine | Fall 2022 59
Hannah Ruth Perret
Nicholas Joseph Rist
Madison Faith Strother
Kennedy Ann Falcon
Keaton Thomas Russo
Tiffany KatherinRileighUgonnaLoganDelanaAnn-EliseSarahAdrianHeidyGeorgetteJessicaErinMackenzieZykeriaCarolineCarolineAlexisMaggieErynAbigailAveryDarriusBlaydenLorraineAlyssaAlyssaMadisonDaelynSethGriffinNorahNorahNadiahNadiahHuynhE.JonesE.JonesKhanfoorKhanfoorMichaelKnightMichaelLatiolaisNicoleLeBlancHopeLeBlancMorganLeBlueMorganLeBlueAnnaLeeCaseLevensDeontyeLewisClaireLongRoseLoweAdairLoweMeguireMahonyTravonneMarrioneauxLoftinMartinLoftinMartinMo'lindaMartinEleanorMcComasElizabethMcFaulRayleneMcGowenMichelleMetrailerCarolynMidenceMillanEliseMillerElenaMitchamMarieMitchellTimothyMurphyValentineNjokuOliviaNormanMichaelaNugent
Thomas Killgore Kirkpatrick Scott Allen Korzep Kelly Ann Kramer Kirby Camille Lastrapes Nicholas Scott Leonard Mark Allen Letson Davis Elliott Little Brooks Dalton Major Shamika Boxie Mamou Alexandra Anne McDaid Hillary Taylor Melara Madeline Claire Neyland Calli Thao Nguyen
Sarah Maren Resnick
Rebecca Camille Norton
Graham Wells Overcash
Alexis Daye Varner
Natanael Pabon-Trinidad Natanael Pabon-Trinidad
Alexis Marie Sargent
Mackenzye Khrystyne Olsen
Alexander Joseph Spencer Abigail Thibaut Stephenson
Joseph Kale Purdom
Logan Elise Ridenour
Julia Grace Roane
Sunakshi Sharma Claire H. Shihadeh
Zoë Elizabeth Springfloat
Abigail Jade Segura Elijah Scott Skalisky
Muhammad Faheem Ahmed
William Frost Peltier
Tyler James Emick Marshal T. Hodges
Thomas Noah Bergeron
Rohin William Gilman
Emily Katherine Flake
Bachelor of Music
Sarah Anne Blady
Sarena Rose Chambliss
Lauren Elizabeth Hingle
Mikaela Marree Herrera
Brianna Hope Burgan
Abigail Brier Randolph
AustinCourtneyCaseyAshleyGarrettLindseyNadiaBrettAlexandraChrisAdamJohnJoshuaCristinWebsterGloriosoMontgomeryDouglasGordonNicholeGrimsalGubertAshleyGuidrozGuillorySansarGuptaLigiaGutierrezC.HaagaJr.VictoriaHaikRoseHallRussellHamiltonR.HannaDelennHannaTranieceHardingMatthewHarris
Emily Marie Ortiz
Cara Dominique Ramos
Sydney Claire Pattison
Katherine M. Belleau
Ethan Zane Archer
Hannah Marie Thibodeaux Tia Rachelle Young Jingyi Yu
Britt Austin Faulk
Kristin Nicole Reinhardt Orlando Marcellus Richard Brandon Rico Sydney Nicole Rohlinger Anna Catherine Romero Mary Jordan Rubenstein Olivia Claire Schexnayder Caroline Alice Schluter Zachary Mikael Schmiedlin
Robert Louis Cobden
Shi Yong Chong
Clacey Re'Ann Tibbetts
Michael James McDonough Brendan Anthony Pyron
Richard E. Barden
Leili IzatullahShabaniHussain Shah
Gabrielle Kristine Welling Everitt James Williamson
Gabrielle Alyse Broussard
Britney Truc Banh
Morgan Claire Alston
Cassidy Rae Altazin
Jack Hartman Steele
Jaden Gabrielle Scrantz
Michael Cody Thurber
Cameron Reha Hassenboehler
Mengjuan Li
Sanaa Alam
John August Hennagin
Mya D. JosephAddisonJamesAguda III
Brooks Michael O'Dell
Ian Michael Nicaud
Reece Adam Watts
Saida Nkisi Joshua Smith Madisen Julianna Kelly Gabriel Lasserre Keowen
Bachelor of Fine Arts
Tara Elizabeth Butler
Katelyn Elizabeth Gill
Midyen Husam Ahmad
Robert Vincent Blanche
Kristen Mackenzie Adams
Jordan Alexandra McNamara
Madison Bailey Pearce
Victoria Lynne Hammond
Bachelor of Music Education
Michael Joseph Barkemeyer
Mary Hope McDaniel
Catherine
Jessica Elizabeth Breaux
Leigh-Anne Michelle Thompson
Bachelor of Science
Bachelor of Arts
60 LSU Alumni Magazine | Fall 2022
Taylisse Malia Boissonneault
COLLEGE OF SCIENCE
Joel Adam Pinell
Morris Foux Arena
Akalanka Richi Fernando Victoria Dufrayer Filloon
Jesse McKenna Tregre Daniela Estrella Vazquez Tyler Shawn Ward
Delana Elizabeth Lorance
Roderick Jerrell Middleton
Christian Paul Fontenot
Andrew Sutton Gauthier
Madisen N'Cole Artus
Shane Cordale Harris
Thomas Clancy Hidalgo Megan May Hingle Bria E. LukasTaufiqMichaelClaireKatherineCarolineAaryanaMaxwellMeghanGrantEmilyAshleyAlexisHyerinMakenzieLaibaRossClaireSabrinaEricaPeterAbigailAdelineHitchensElleHolyfieldGraceHooverA.HowardAnnHuangVictoriaHuezoReneIennusaJosephIncardonaIqbalElizabethJamesJeongJune-MarieJohnsonA.JohnsonElizabethJohnsonBishopJohnsonEliseJohnsonJosephJohnstonShante'JonesMichelleJoynerElizabethKahaneNicoleKarcherPatrickKarlEyadKhaledMichaelKim
Jessie Renee Hayden
Laurel Elizabeth Adams
Connor Alan McElwee
Amanda Lynn Smith Amanda Lynn Smith
Alycia N. Boucher
Mary Brent Bankston
Sydney Ellen Cooke Alba Cristina Layana Izurieta Mandalay Katherine Martin Isaac James Nebeker Charles Keith Nugent Arthur Burtram Odenheimer Thomas Karl Odenheimer Thomas Karl Odenheimer
Nathan Thad Catalanotto Noah Kai Catalanotto
Austin Reid Straight
Jonathan Bo Aphaiyarath
Reese Naomi Arceneaux
Cecilia Anne Aucoin
Sarah Jenell Becnel
Jillian Anne Florez-Bhandari
Charlotte Finch McKeon
Yesenia Halima Medina
Courtney Beth Patterson
Raelyn Alise Thomas
Jeanne Marie Garriz
Gabrielle Jeannine Gilmore
Stephany Yesenia Solis Charlotte Wynn Streat Danielle Nicole Struwing Hannah Marie Sutton Hannah Jade Taylor Layla Lynne Taylor Genevieve Marie Terito Madison Grace Texada
Keller Addison Kieschnick
Natalie Patricia Ogle
Angelle Nicole Smith
Matthew Steuart Chauvin Robert Michael Chedville Jr.
Anthony Trevon Felder
Stephen Jacob Browne Bradley Steven Burford
Maci Catherine Anderson
Maya Aimee Billiot
Hannah Lane Barrow
Andrew Thomas Haynes Jr. William Scott Haynes Kaila M. Hebert
COLLEGE OF MUSIC & DRAMATIC ARTS
Brett Anthony Bernard
Miranda Rain Scott-Catoire
Sawyer Jacob Patterson
Evan Zachary Outhouse Hannah Sharon Rice Hannah Sharon Rice Anna Kristina Stanley
Cade Matthew Paddie Akia' Brijea Parker
Ian Michael Dupuy
Allison Paige Farr
Cameron Joseph Petite Anna Thu Pham
Kennedy Nicole Simon Kennedy Nicole Simon Landry Lois Flynn
William H. Adcock
Lee Hastings Lambert
Kirsten H. Alfortish
Ethyn Kade Evans
Hannah Marie Blackmon
Tai Genevieve Girard
Thomas Michael Gaspard
Jordanne Ashley Davis Guerin
Sophia Marie Brazda
Thomas Karl Odenheimer
Kaley Grace Pichon
Majd M.T Al-Falah
Robert Michael Chedville Jr. Amber Elizabeth Cummings
Ross Michael Boudreaux
Riley Kathryn Bordelon
Nicholas Santo Russo
Abigail Nicole Fontenot
Michael Manton Simpson Elizabeth Maura Siravo Victoria Rose Smit
Kendall Anne Berry
Collin James Harris
Joshua Chase Colvin Camryn Elizabeth Cook Noah A. Cormier Caroline Mary Cotten Grace S. Cottingham Jordyn Taylor Courville Kaitlin Elizabeth Couvillion Patrick Chandler Crain Skylar Alexis Culmone Turner Stuart Dailey Bryn Charise Daneshfar Alexander William Dang Meredith Paige Darnell Emily A. LaurenceDartWillard de la Bretonne William Joseph Delahoussaye Braden Scott de Lanzac Nicholas Martin Desselle Drew Richard Dethloff Kendall Anne Diiulio Grace Camille Dirks Cindy Thao Phuong Do Evan Jacob Dore Alexandra Christina Drago Phuong The Duong Rendon Chiles Dupaquier Bryson James Duplechin Morgan Elizabeth Ebersole Stephen Michael Ecuyer Sophie Claire Elliott Aidan Rowley English Elise Catherine Ericksen Victoria Elizabeth Eure Whitney Marie Eure
John Michael Heraty
Thomas Karl Odenheimer
Mina Maher Fanous
Anna-Grace Miller Gibson
London Marie Boudreau Andre ElizabethAlissaSarahTimothyAmandaSaadOliviaWilliamEduardoAbigailLiamCameronAnnahAllisonCelesteLukeSarahKaitlynGraceCaseyMatthewMorganMackenzieThanhAmberOliviaMorganEliseJoshuaDeborahJohnVictoriaBourqueNicoleBowlerSanfordBrasherA.BrewsterTyreeseBrightMarieBroussardAdelineBrownKateBrownNgocBuiNgocDanBuiLeeBullerColeBurasDavidBurtonNicoleButlerFrancesButlerChelseyButlerClaireCaballeroCollinsCagleMadeleineCailletLoranCannonEliseCarnlineChristopherCarterLangdonCaveLouiseCazayouxA.ChamahNicolasRossChampagneGraceCharouleauS.ChaudharyNicoleChavezChenColleenCherryCorinneChisesiAnneClements
Vivian La
Gage Michael Polkey Radhika Nilesh Prajapati
Matthew Thomas Arceneaux
CourtneyZijingElizabethXinyueSkylarSeanJohnElizabethPatrickSophiaMarkiaMackenzieWilliamsImaniWilsonDeOnnaWilsonC.WinterL.WollesonAnneWoodHaydenWoodM.WoodBrittYeggeYuL.ZhangZhengAnneZohn
Anthony Christopher Ceasar Jared M. Cebrun
Ryan Alexander Smith
Bailey Nicole Camp
Mollee Madonna Swift
Brayden Chance Veuleman
Morgan Elizabeth Thomson
Victoria Ngoc-Quynh Nguyen Jacob Edward Reinhardt Chase Daniel Robinson
Gabrielle M. Barnes
Bryce Christian Berard Louis D. Bergan
John Christopher Cascio Paul Robert Cassisa
Evangeline Rose Smith
Bachelor of Science in Geology
Taylor Alexander Cox-Rancifer
Katherine Elizabeth Rieger
Cally Nicole Quick Esmeralda Ruby Ramirez
Sophie B. Sheffield
Kim Thien Tran
Chania Thaerhonda Anderson
Aurelio Ismael Benavides
Amy Lynn Blair Nicholas A. Blake
Emma Elizabeth Lane Connor Langevin
Mauda Gisselle Ash
Vy Dan
Aristotelis Athanasios Markou
Cecile M. Theard
Christine M. Boudreaux
Justin Joseph Anderson Lucas Mitchell Anderson
Corin Xiao Knight
Jenny N.M. Quach
Ameena F. Suliman
Anna M.
Marz
Brett Parker Suits
John Ross Williams
Bailey Marie Boudreaux
Taranjit Singh
Jonothan Patrick Chappell
Marvin Ivan Carbajal Cole Thomas Carmouche Leonard John Carollo Wakely Elizabeth Carter
BradenBridgesJohn Brignac
AinsleyAzhaJamisonEricMatthewAndrewAutumnSaneei-MotlaghCamilleScalesWalterSchlosserHenrySchmittMichaelSchorrIIC.SchumakerScott-LeBlancIsabellaSeals
Matthew C. White
Brannon Cole Breaux
Daniella Makenzie Strauss
Jamie Keyshawn Montrea
Hassan Arshed Malik
Courtlyn Marie Moore
Javen Emani Terrell
Benjamin John Thirlkel
Sergio E. Sanjuan Jeremy J. Thompson
Matthew Stephen Marx
Jared Micheal Navarre
Zoe Mae Long
Ridge Alexander Retif Joli Marie Rich
Cathryn Marie Morris
Alexander Bradley Aucoin
Madison Rose Leblanc
Brandon Richard Robbins
Kenneth Joseph Aucoin Kenneth Joseph Aucoin Ashton Paul Austin
Dylan T. Plunkett
Haley MyHang Althaus
Bernard Terrel White
Olivia Madison Acree
Alec M. Lacour
Michael Joseph Plessala
Grace Anne Tate
Bridget Marie Adam
Jacob Zekang Cheng
Karina Ramirez Rodriguez Cara Dominique Ramos
Ashley Thuy Phung Vo Dylan Tai Vo An Hong Vu Dinh Dong Vu
Cade Thomas Martin
Joshua Steven Tubbs
Bailey Ryan Lemoine
Dorian Claudiu Mocanu Jr.
Bachelor of Science
Abby Lynn LeBlanc
Nicholas Holden Ashy Aidan Grace Asmus
Matthew Gerard Barrack
Hailey Ann Blondeau
Arielle N. Anders
Victoria Njeri Borum
Jonathan Louis Benit Matthew Ogden Bennett
Trevor Henry Luthy
EmilyEliseMatthewMayeauxJosephMccoyLouiseMcCullisonJensenMedine
Camille Adrienne Landry
Claire Nicole Poché Dean William Poche Miles Patrick Polito
Eden Elizabeth Smith
RyanAdeyemoMichael Alfonso
Bridget Marie Adam
Madeline Amelia Mahtook
Natalie Christine Thornton
Matthew Blake Arceneaux
Carson Joseph Bergeron
Emily Grace Taylor
Lelia Grace Langham
Lindsey Rhea Shankle
Alexandra Marie Lansou
Grayce Susan Mores
Kristen Mary Waguespack Tyler Shawn Ward
Abigail Brier Randolph Keegan B. Reed Amy Le Register
Ethan Scott Rushing Isabel Maeve Sanders Soheil
Summer A. Smith
LSU Alumni Magazine | Fall 2022 61
Todd John Thibodaux
Benjamin George Brodnax
Helen Frances Cressy Rebecca Ann Dufrene
Josh HaleyWilhelmVictoria Williams
Tavia Diamond Riggins Blake Randall Robbins
Madison Claire Medver
Calley Robin Blue Hannah Blum
Matthew Julian Lagrange
HumzaEthanKristyBreighEliseBlaireAlainaDominiqueDanielLaurenCameronEvaRoyRoyEmilyCodyCarolineArthurHaydenDienVivianTrishaLilyFatimaCalliAnhShelbyNewmanGraceNewmanNguyenThaoNguyenMinhDucNguyenThaoNguyenYen-NhiNguyenThuy-TienThiNguyenNguyen-BuiAndrewNobletB.OdenheimerElizabethOdinetAlexanderOrvinAmesOtkenPacePaceLanePaulLeighPedrowPeltierSchumannPereiraMariePerillouxB.PerryC.PetersonArdenPeyrouxNicolePeytavinM.PhamC.PhillipsA.Pirzadah
Davis Alton Mitchell
Ryan Nicholas Fahey Gayle Joanne Kees Katherine Reese Kelso
Brandon Scott Andrews
Brittany Lynn Roberie Jazsmine Aiyanna Robinson
Brianna Nicole Rogers
Hannah C. Settoon
Forge Akers Prometheus
Lauren Elizabeth Meyer
Gloria Tan
Phoebe Vi
Anna Lyn Wetzel
Oluwafunto Adebowale
Cynthia Amanda Stoute
Jhosmira Sherlyn Augusto Lena Blair Byers
Julia S. ChristopherBogartEvan Boles
Colin J. Landry
Cassie Christine Louque
William Taylor Mallory
E. J. OURSO COLLEGE OF BUSINESS
Helen Trask Alford
Ya'Real M.
COLLEGE OF THE COAST & ENVIRONMENT
Paige Elizabeth Long
Benjamin James Thomas
Lila Nu Ton
Rebecca Evangeline Warren Emily Grace Webre
Megan Elizabeth Rojas Keegan Patrick Rooney Bradley E. Rosenston Pilar Simone Ruiz
Benjamin Jude Thibodeaux
Anandita Verma
Ellie Claire Batte
Sabrina Lea Smith
Krishna P. Shah
Carmen M. Moore
Nadine Awad Claire Elizabeth Balutansky
Annie Elizabeth Smith
Isabella Rose Baudry William Nathan Bell
Alaina L. Poche
Johnson Hoang Luu
Analisa Leblanc Taylor
Raven Lorraine Sparrow
Dallin Gerard Broussard Jared Allen Broussard Mason Joseph Brown Tre Jamison Brown Blaire Elizabeth Buck Andrew Phelps Burnside Jr. Patrick Calhoun Jr. Emmalie Grace Callegan Emily A. Callia
Jessica Mary Lin
Olivia Claire Thurmon
Lukas Michael Kim
BayleeHannahCarinneMargaretTruongAnnTullisElizabethTyrrellLeighUsieA.Vaughn
Anaijha Lashae Lacour
Andrew Arthur Herr
Kenneth Stephen Matar
Sarah Sylvia Alfonso
Dylan Michael Kane Annis
Jordan Alexandra Brook
Kennedy Rae Alphonso
Lucy Kyler Barnes
Nicholas Jeffrey Bergsma Breanna Craig Berteau Abigail Joy Besselman Cole Ethran Bielkiewicz Andrew Clifford Black
Annmarie Louise Lahasky
Dylan Michael Spedale
Daniel Joseph Sentilles
Bachelor of Science in Coast and Environmental Science
Ian James Arnold
Garrett Thomas Barber Chase Andrew Baril
Sydney A. Lau
Cole Jaren Barrett
Tommy Phong Le
MaryMathesKathryn Maxwell
Clayton Michael Merwin
Hannah Elizabeth Paradis
Conner Andrew Boudreaux
Alexander D. Aoun
Nathan John Boudreaux
Scarlett Ann Abrams
Alexander James Martin
Grant William Brignac
Robert Grant Boudreau
Zachary Jacob Leno
Isaac Creech Andry
Sarah Madeline Bowman
Morgan Anne Chapman
Danylo Cheked
Kyra Alexis Marie Robinson Enrique A. Robles
Patrick Alan Scott Cormier
Megan A. Crawford
Kelly Aidan Dwyer
Matthew Douglas Maier
Julian A. Rodriguez-Fierro
Tiana Thi Pham
Riley Elizabeth Fonseca Harrison Edward Fontana Khristian Tyler Ford Michael Ty Foster
Camryn Dale Cox
Helena M. Daniels
Jordan Nyein
Chase E. Colkmire
Alexandre Christian Partimbene Carissa G. Paul
Alec Nicholas McCloskey
Ali N.
Lorene Marie Ledoux
Evan Michael Francioni
Emily Elizabeth Maheu
Jared Christopher Cyprian
62 LSU Alumni Magazine | Fall 2022
Soleil Marie George Sophie G. Giustiniano Danielle Rose Going Karina Rose Goldthorp Randall G. Gondrella Bryson Ocatvio Gonzalez
Nicholas Jude LeJeune Haibo
LauraStevenLiLiChristine
Mason Elizabeth Christian Georgia Catherine Clark
David Joseph Dantonio
Sze Hui Kong Sze Hui ElizabethKongVictoria Krutzfeldt
Hela Blix Chilman
Camryn Lee Conner
John Paul Hand Brant Michael Hanks
Madison Leigh Diez
William Carey Daley
Evan James Kelly
Robert Louis Perez III Ashley Nicole Perniciaro Michael Louis Petro
Emily Catherine de Baroncelli Colton G. Decell
Joris Antonio Kingsby Jr. Sarazen Olivia Knight Claire M. Koke
Parker Kathryn Penick Marissa Arlynn Peoples
Natalie Lemay Reeves
Chase Ryan Reyes
Brandon Joseph Ferrell Michael Ike Ferry Jr. Kelly Joanne Fetter
Tanner Nicholas Deeds
Jackson Bradford Core
Parys Felecia LaBeaud Paul Michael Laborde Alvaro J.
Licciardi
Julian A. Rodriguez-Fierro Gerard Christopher Roeling Destiny L. Rooney
Abbigail Rae Crouchet
Anthony Thomas Marro
Shelby Lea Hall
Gabrielle Robert Nicholas J. Robichaux
Brian Dinh
Lauren Elizabeth Clawson
William Carey Daley
Daniel Gerald Cullison
Thomas J. Ellis
Rory Matthew O'Meallie Nicholas Jared Orlando
Jack Clifton Owens
Kaitlyn Emma Cox
Isom J. Colbert
Claire Marie Colomb
Owen Chandler Farber Aleshia Renia Fefie Elizabeth Catherine Felger
Deventria Trenae Curtis
Mikaela Antoinette Gonzalez
Skyler Lynn Maxwell
Eric T. McCauley
Christian Melito Hess
Cole Michael Delacruz
Larilyn G. Gay
AdamChristopherMatyTommyKennediDawsonJacobCassandraKathrynWilliamRaeesBrooksLindseyAlyssaBridgetGracenSamerJahkheemJoshuaChristopherArturoPaytonMikalaJoshuaMadisonSavannahLaurenDavidGabrielJeffreyKatherineChristinaConleyJulianaTuckerMcLaughlinRayMcNairThaoMejiaAndreMenardMadisonMenouElizabethMetrailerD.MetzgerLewisMiciottoA.MillerE.MillerKenziMillsLouiseMiltonBadenMitchellL.MitchellE.MitchellMoncadaIIIMackMonclaGabrielMorphetMoselyRamzyMosrieLayneMoutonRose-NakawombeMukasaMichelleMulkeyCarolineMumeyWesleyMurrellMohammadMuzaffarWeathingtonNanceElizabethNastasiNavarroGrijalvaColemanNerrenTateNetheryAlexisNewmanT.NgoNguerMichaelNicolayB.Norris
Regan Claire Russell
MikaelaDelValleAntoinette Gonzalez
Jenise Joy D'Cruz
Marie Louise Devillier
Gabriela Charcas
Thomas Parker Collins
Dylan J. Cone
Deventria Trenae Curtis
Breanna Alaysia Price Collin Michael Quijano Edward William Radius Jordan Elizabeth Raffray Madison Clarie Rantz Cambrie K. Reed
Nanine Brent Cowan
Thomas J. Ryan
Emily Kaye Lissarrague
Nicholas Slater Donze
Madeline Christine Magrath
Nicholas Alexander Pelle Griffin John Pels
Lauren Marie Delhaye
Alyssa Leigh Higgins Danna Aline Hmidan Austin Minh Man Hoang Elisabeth Grace Hoffman Caleb Thomas Hogan Gabrielle D. Hogan Stephen Nicolas Holliday Mary-Claire Hollier Alena Marie Honold Lauryn M. Hornbeck Lindsay Mary Horridge Logan Ransom House Josie L. Hoychick
Luci Michelle McCumsey
Alain Francois Pitre Catherine Patricia Plessala Frank Pierce Poche Cole Scott Polluconi Evan Wayne Polozola Lillian Lawrence Powers Austin H. Price
Allison Ann Coens
Ashton Noah Durham
Dylan Scott Chaney
Evan James Kelly Miranda A. Kent Elizabeth Grace Kharoba Mary Claire Kincannon Justin Michael King Mallory Baker King
Jack Christopher Ducote
Paul Walter Hanley Susan Elizabeth Hardgrave Cydne
Andre Matthew Roth Jackson Lenoir Rowe
Cameron P. Dowden
Nolan
Megan Marie Donaldson
Laurel A. Dennies
Matthew Mason Doyle
Cameron Andrews Maynard
Tom V. McGee
Tamrah Alexandria Offlee Daniel Henry O'Leary Austin Ryan Oliva Sydney C. Oliver
David Joseph Dantonio Katherine Elizabeth Darby
Megan A. Crawford
Jalen Patrick Norwood
Shawn H. Matlock
Thomas Bishop Frederick Thomas Bishop Frederick Ben Robert Fruge Timothy Cameron Furrate Olivia Claire Fuselier John Michael Gardner
Madalynn Breaux Duplantis
Cole Connel Robbins
Evan Erickson Chaney
Cameron Claire Cooke
Alexander James Lefran
Cara Rebecca Pisciotta
Kathy N. Chau
Jackson Lea Ryder
Jesse ClaudiaPheaAnn Pickell Caleb G. Pipes
Grant Riley Davis
Myra Lillian Claire Robbins
Jacob Anthony Lowe
Troy Michael Rivet
Samuel Alexander Russell Christopher Thomas Russo Andrew Seale Ryan
Joseph Brooks Parker Carley Ann Parks
Callie Rachel Engle Carter James Enis Saylor Ariel Ennis
Mitchell Mastin
Connor Stafford Comeaux
Yanqiong Liu
Daniel Ivan Oduber
Laurel Elizabeth Guidry
Victoria Elisabeth Peace
Evan Salvador Cook
CarlosKynleeKelseyQuynhPhuongSeanConnorLukeKaitlynRichardMargaretKarlAnnAnnaLukeLukeJon'NeikaLacayoD.LaCrosseMichaelLacyMichaelLacyMariaLafleurMarcelleLafrancaKellerLambertFrancesLambertGrantLanasaClaireLanauxR.LanconWilliamLandryMichaelLaneLamLeNgocNhuLeLeeLeblancGraceLeblancEnriqueLedezma
Julia Anita Enos Anna Marie Ensminger Anna Marie Ensminger Olivia R. Ernest Gabriel Eduardo Fabrega Sydney Blair Fant
Collin Ray Oubre
Jeremy Michael Collins
Francesca Manfucci
Caroline Elizabeth Crawford
Jon Alton Desselle
Ferris Vidal Lister
Julia Howze Davis
Anna Catherine Guillot Shelby Lea Hall
Daniel Michael Hupfer John Schell Hurley Halle Marie Hutchison Christian Brown Ieyoub Gabe M. Ingram Casner F.E. Jablonski Maci Ann Jackson Jadon Micaiah James Roy Lee James Jason G. Jasildo Nicholas Trey Jenkins Joshua Michael Johnson Matthew Loftin Johnson Paige Kimball Johnson William L. Jones III Alexis Breanna Jones-Sawyer Jordan Michael Joshua Hector Fransisco Joya Jack Alexander Judice Thomas Randolph Juneau Jr. Gurpreet Kaur Lilli Elaine Kearns
Jacob P. Marchand
BrookeDelValleNicole Goodman
Dylan Patrick McKeough
Rebekah J. Dupart
EllenCadeNicholasWarrenAriesGraceMaryMaciCourtneyPeytonSaraSaraSarinaAnnaHarrell-MalveauxCymoneMargaretHarrisDaviHarrisonE.HazletonE.HazletonWayneHeapNicoleHebertGraceHebertCatherineHebertMadelineHeidingsfelderD.HendersonThomasHenningHenryHerbertPatrickHernandezE.Herndon
Peyton Alexander Lege
Amy Lynn Dempster
Paul McKay Malatesta
Jeremy Michael Collins
Noah Benjamin Dollar
William Gerard Ott
Madison Nichole Craig
Brock A. Russell
Tyler H. McCullough
Paige Nicole Manning
Camryn Lee Conner
William Watson Ellinghausen
Molly Ann Grady Molly A. Grant Bentley Wainwright Greenfield Katelyn Jordan Greenwood Mason L. Gremillion
Camille E. Leger
EmmaLoydMorgan Maclean
Raleigh Nicole Richard William Jordan Richardson
Taylor A. Delpidio
Dhlren Xavier Ollerhead Nicholas James Olsen
Rebecca Elizabeth Parsons
Orlanda Rosa De Almeida
John Thomas Harrington
Renee Rachelle Simon
Grace Golden McArthur
Sophee Leah Sanderson
Bailey Theresa Shattuck
Nyah Marion Johnson Addison Anne Jones Codee Dominique Jones
Jessie Thomas
LSU Alumni Magazine | Fall 2022 63
Morgan Rayne Black Dylan Ryan Blitz
Amiel'yae
John Gullo Long
Oscar Leon Arthur Scruggins
Sydney Margaret McGovern
AnnaGrace Estelle Schoeffler Skylar H. Schoen
Grant Sternfels Saunders
Ngoc Han Thoy Tran Ngoc Han Thoy Tran Hayden Robert Utrera Emerson Thaddeus Vaccari Clay Joseph Valentino Dwain Paul Varisco Jr. Norman J. Vascocu
Eldon James Smith
Mitchell James Scaglione
Malorey Marie Uzee
Adeline
Hayli Mariah Hunter
Hailey Marie Mathieu
James Michael Sanders
Jessica Lynn Smith
Thomas Roane Waring IV
Sarah Nicole Healy Caroline Anise Hebert Jada Shania Hemsley
Anna Catherine Ball
Gabrielle Marie Taylor Kelsi Elise Taylor
Logan Kile Starkey
Hannah Grace Babin
Joseph Aidan Tompkins
Dustin Antonio Smith
Sophie Marie Bech
Natalia Maria Bereciartua Grace Margaret Berndt
Henry William Weldon
Madelyn Elizabeth Williston
Abbigail Carran Alonzo
Jacob Anthony Villere Matthew Manh Vong
Richard Michael Haydel
Emily Jordan Wood
Logan Grace Ante
Abigail Christine Simmons
Hailey Madison Thibodeaux Brittany Kay Thompson Hanah Michelle Thorne Chase Alexander Tillman Alexis Brittany Toney Hailey Alexis Touchet Sydney Catherine Trainor Michael Vuong Tran
Anne Morgan Blundell
Maria Andrea Solis Galan Kelli Renee Speyrer
Jessica Marie Bakalis
Anna Bechtold Shortess
Landon Paul Simoneaux
Montgomery Jett Angel
Luke A. Stelly
Lauren Jean Seroyer
Hunter Michael McCann
Grace Victoria Snellgrove
Quinton Burke Sanders
Mary Madeline Suter
Isabella Maria Lorusso Ashley Jiawen Lou Parker J. Loy Mia Rose CarsenMackenzieMacalusoRayeMalatestaElizabethMansour
Benjamin Allen Sivils
Marcus MelanieKaylaKatherineLaurenLynetteMollyGabrielleTaylarMadelynArietteMarieHannahAlainaJoshuaCamronAndreaJordanDerrickJalisaGideonToreeRoselJulietteAlyssaGriffinTaelahBrennanKloe'ClaireMorganVeronicaMeganOliviaKelseyChastityHelenMadisonAbbyCourtneyKennedyBryceBelleShannonPeytonGabriellaChialastriMarieCocoLayneConlinKatherineCoulonCouvillonA.CrierEliseCrittendenElaineCrooksRenee'CroweMarieCrumpElizabethDavisAmiraDayRuthDayRoseDeffesElizabethDeSopoIsabellaDiazOlivierDicharryAndreéDinwiddieMadelineDonleyAnnDoussanMoetEllsworthMonjureEncardesNicoleFerroElaineFieldsSunnieFloresRyanFortuneReneeFrancisAntonioFrazierNicoleFrederickLayneFulsonDavionGalesAmadeeGaribaldiClaireGaudinQuinnGautierElizabethGeorgeVictoriaGradneyClaireGravesRoseGreenEugenieGremillionMcCarthyGroverReginaGuidryRachelHaefeleOliviaHaikMarieHamiltonElyseHanclich
Bailey Elizabeth Acosta
Cody Bryan Silas
Julia Angelle Watson
Kyle Joseph Segalla
Jeremiah W. Wendel Mason Wayne Whatley Hayden Michael White Kelsey Charles Whittemore Hayden Lance Williams
Noah Blake Vaughn
Zachary John Paul Taylor Courtney Allison Teas Deborah F. Theophilus Alexandre Theriot IV Madeleine Anne Thibeaux
Maggie Lynn Babineaux
James Anthony Way
Skylar Nicole Ballard
Alexander Gilbert Watermeier Elizabeth Claire Watson
Rece William Louis Beaugh
Sophie Elizabeth Hubbard Adele Christina Hudson
VictoriaClesiMerissaCarolineAlejandroKaceyElizabethRickyJillianThomasEmilyTaylorDelaneyJoshuaCarolineHannahD'AshuntreyllLee'AryunnBookerGraceBorgElizabethBoswellCalebBoweringMarieBraggMcKaeBravenderAnnBrewerDrakeBrignacChristineBrownStephenBryantJr.AyresBuecheTabithaBuercklinPilarBurgosGraceBurneyKanaButlerJohannaCamdenBrookCates
Rakena Denisha Spears
Kathryn SuzanneWellsMichael White
Matthew Rowland Stalter
Ysabella Lyssette Ayo
Brevin Deloyd Williams
Khalid Anas Saleh
Emily Anne Simons
Johnny Lloyd Williams III Jordan Lee Willis Blake R. Wilson
William Tate Aguillard
Miguel Andreas Velasquez
Alexander Joseph Spencer
Ivian Alecia Toney
Oscar Alexis Williams Jr.
Meghan Elizabeth Zito
Gavin Wills Wolff
Isabela Clair Wineski
Patrick Anthony Vuljoin Taylor Marie Wale
Kanisha Rocquell Marie Jones Trevor Garrett Jones Allison Rose Kadlubar Joseph Xavier Kehrli Shelly Ann Kleinpeter
Emilly C. Swisher
Angel Destinée Willie
Salena Jalal Ali
Mary Katherine Weldon
Jonathon Michael Viator
Charity Christina Williams
MargaretGeorgeElizabethAlexandraSternfelsPaigeStevensGraceStewartMadisonStokesRoseSturdivant
Sophie Livaudais Liberto Mandy Liu
Ainsley Elyse Summers
Olivia Carolyn Taylor
Sarah Elizabeth Hodgson Bailee Cabrini Hoggatt Julia Eve Hollander Jordan Clark Holloway Abigail Grace Houghton
Nicholas Edward Watson Christopher Matthew Wauldron
Alaina Ashten Alfred
Tyler Andrew Wallace
Morgan Leigh Barksdale
Sydney Elizabeth Henry Audrey Lynn Hess Aerial Mo'Nae Hill
Kayla Nicole Bennett
Brock Daniel Sanders
Caeli McGee Boatner
Grace K.
Jasmine Iman Simpson
Eric Gabriel Henderson Madeline Elise Henning
Lily Marie Kraynak
Lauren Nicole Thirstrup
Austin Lee Wade
Kirby Elizabeth Sheridan
Eric JustinSchaubmaierChristopher Schilleci
Brooke Elizabeth Vietmeier
Harrison Walker Valentine
Culley Daniel Shannon
Ryne Elie Weiss
Bryce Anthony Billiot
Reyna Catherine LeJeune Lauren Elizabeth Leonard Austin Cole Lewis
Raegan Meredith Tafaro Hayley Kristine Tassin
Aaron Alphonzo Jacobs II Maddison Lynne Jarveaux
Adele Catherine Labat Mazie Elizabeth Lee Emily Claire Legnon Mia Ray LeJeune
Diamond Alexus Scott
Cassidie Grace Tingle
Chancellor Sinclair Townsend Anne Vilde Tuxen
Israel Ulysses Warr
Bachelor of Arts in Mass Communication
Gabrielle Maria Angelle
Haley Julia Thompson
MANSHIP SCHOOL OF MASS COMMUNICATION
Logan Hunter Watson
Lauren Michelle Watson
Mia Rose Bacilla
Emma Julianne Jackimowicz
Kevin P. McDonald
CarolineCarolinePerlaTaylorOliviaEzekielJoshuaHannahLandryAshlynBryantHallieHannahJoshuaAvaAlanaCarolineZaneBryannaErikMariaEmmalineJaceClaireMalloryJuliaMasonSavannaReganAdjoaLaraMadelynMarykellyTylerOliviaHannahLaurenBrockAlexisMadelineMcKinnieRoseMichaelMackenzieMillerMichaelMillerCamilleMillerDanielleMoranDayMorganAliceMorrowCarolineMunsterEliseMurretPaigeNicholsonT.NyamekyeElizabethOdenwaldJaneOrgeronJouetteO'TooleHartleighPalinElizabethPanzavecchiaElizabethParishAlexandraPaustLouisePeneguyChauPhamCharlesLuigiPiccoliHopePilgreenBatistePiontekMariePocheAdairPolozolaVioletPolsterAldeirPortilloElizabethPrimeauxElizabethRambinDavisRandallNicoleRasnick-PopeElizabethRayNicoleReidGarrettRobertsonPeterRobinsonCameronRodgersBrookeRodgersJazminRodriguezStewartRowleyAnnSalvaggio
Lura Elizabeth Stabiler
Savannah Blake Wilson
Christopher James Woollam Delorndre Mickel Wright Harrison L. Wright
Pirakant Suksucheep
John Starns
Thomas Marner Sawyer
Justin Albert Savoie
Austin Ray Smith Brandt C. Smith
Jocelyn Rose Sliva
Tyler John Viso
Gabrielle Elyse Rotolo
Alyxandra Linn Breaux
School Librarianship
Kendra Michelle Johnson
Mary Katherine Peshoff
Hayden Dawson Livaudais
Master of Architecture
Ashley Lynette George Suzanne Grimmer
Educational Technology
Shunequika J. Gilmore
Cody Wayne Pate
George Antonios Evangeloulis Kaylin Rose Grouchy
Katherine Elise Daugherty
Environmental Health Sciences
Geographic Information Science
Emerging Technologies for Business
Mariah Jade Case
Joseph JenniferAziziLee Barnekow
Nathaniel James McDavid
John Paul Mason
Rexanna Elizabeth Powers
ColleenAlyseMarieSadieKaitlinSarahPatrickJessicaLilySamanthaRyanKortneyKaelaLindseySethHannahKarenAnnaCalebLaurenJohannaClaireJawaunReginaldMorganMarroquinAleaseMatthewsMatthewsRavanellMcClamE.McNamaraAmarisMiddletonE.MillerEricMobleyCatherineMoodyPatriciaMurtaughPerkinsStarkBensonPooreElizabethPowellNoellePoweryKlingPrejeanJustinPulidoAshleyRegisterAnastasiaRennhoffMarieReyesSalisburyRoseLevesqueSalesnevesNoelSamplesMarieSchoefflerClaireScioneauxBreanneSheltonDionShifter
Lisa Ann Mire
Danielle Kathleen Thompson Deborah K. Werling
J. Ryan
Maya Cole Shakoor
Chaoyang Li
GRADUATE AND PROFESSIONAL DEGREES
MengyaoAndreaAlexandraSabrinaAlexaLynnAbigailBeverlyAlisonEmilyGraceFrancisCelesteCarlJingAustinStojanovićTylerSvedjanTanAlexanderTartJr.MarieTevisRafaelTorresElizabethToupsAnnTrahanPaigeTurkAnnTurnerRynValiquetteTrenellVerrettMichelleViolaLeeWilliamsonMarieWirthLynneWisniewskiXu
Annamaria Fredrick Nderimo
Analytics
William Brandon Beale
David Johnson Day Robert Curtis Teal
Workforce Development
Casey Nicole Hines
MASTER'S DEGREES
Master of Accountancy
CommunicationStrategic
Dana Carden Wempe
Lauren D. Wilson
William Don Clements
Emily Rachel Ritchart
Danita Catherine Majeau
Jonathan Otto Kubik
Alvera Holland McMillan
Chandler Elise Hendrick
Darcie Daliah Simeon
Felicia Rene' Burse
Jacob Stabler Turbeville
Lucie Sere Barnard Wyssmann
Sarah Peyton Cagle
Joelle
Instructional Coaching
Rubayet Bin Mostafiz Marisa Rose Karpinski
Rebecca Eller-Molitas Phebe E. Huderson-Poydras
Environmental Modeling and Analysis
Savannah Tess Lyle Noonburg
SydneyAlexisLukeSarahMichelleKristenYolandaLeonJessicaWillieLakenAbigailMeghanTyraJenniferMeganVeronicaJulianaBrandiTaylorLaurenPhillipLisaSamanthaEmmaNolanFontanaPeytonForeElizabethFoxLucilleFrenzMarieGambinoPlaiaMillerGandyAlexisGauthierReneeGeorgeKeionGibsonClaireGonzalesGorenshteynMarieGreeneKaitlynHawrylakK.HeckstallElizabethHodgesElaineHoukesHunsickerXavierHurstReneeJacksonJohnsonHuggJohnstonAnneJonesLeeKimAnnKransAbramLambrightAnnLangloisMaxineLarriviere
Xiangping Zhang
Faith Noel Ellington Belinda Flores Shinshillas Clare
Jeffery Todd Alexander Betty Lee Johnson
Jaimie Nicole Ament
Keiana M. Smith
Hannah R. Clark
Maureen Kathleen Iverson
Amber Frances Leon Erika Nickole Lewis Allison Joy Little Gary P.
Alyssa Danielle Bellelo
Veterinary Medical and Biomedical
Sydney Anne Talbot
Allison Claire Smith Joan Ellise Spears Dara Michele St. Pierre Maja
Molly Kathleen Porter
Sommer Elise Davis
Shelby Kate Wainwright
Cameron Frances Betbeze Karley Nicole Bordelon ChristopherKaitlanFontenotDarbyPaul
Brady Clyde Calcote
Regina Ann Cook
Calyx Chene Verret
Taylor McKenzie Barnett
Master of Arts
Wei JiantaoLiu Ma
Bonnie Bowler Saygin
RaShunda K. Veals
Adele Elizabeth Poche
Robert Joseph Celentano
McKenna Dawn Benbow
GRADUATE CERTIFICATES
Records and ManagementInfo
John Gardner Murray Eager
Lauren Feltner LeDesma Abigail Jean-Marie Gaudin Carleen MarciaCumberbatch-GreenidgeKeecherLynneSpaulding
Shelby R. Bascle
Megan Nicole Tassin
Fasasi Olatunde Animashaun
Amanda Ann Kowalski
Teaching in the Healthcare Profession
Econometrics
Charles Richard Anderson
Molly Elizabeth Magee Clemens Paetzold
DeFelice Caroline Claire Licciardi
Fawwaz Abduh Hazzazi
Jane Lesley Fiegel
Adriana Cordero Wilson
John Richard Landry
Marianne Abigail Smith
Taylor Rebekah Glover
Archival Studies
Minh H. Vu
Arzu Sevinc
Matthew Frank Rochon
DanielDanielMaryStevenAndreaAnnaKennethDavidRaymondJakeDarlaKristopherClemensAuryChaseJuliaAnatolyNicholausHudsonJ.HutchinsonPeterKastinClareKingsleyLangdonAmeliaMedinaPaetzoldScottRiveraEliseRizkAnthonyRoviraJoshuaSanfordKeithSikesErbyStieffelCatherineTalbertTenaEscutiaMichaelTroutmanElizaVarneyRyanWilliamsonFarrisZollinger
Kelly A. Gatzke
Kennedi Renee Smith
Kimberley L. Davidson
Susan Elizabeth Delaitsch
Sarah Dawson Hood
Marlen Stephanie Breve Oyuela Marlena Francesca Janes
BrandonAbbyCatherineMaryRossXiomaraAbigailDelaneyLauraAmariAliciaSkyllerLindseyMeganNatashaDanielCameronMichaelaKaylaJesseRiannaMadysonAnnaTraceyJulietaAucoinBarretoAnnBartonCatherineBillsJaneyBleakleyLaJoyceBowenJamarBradleyNicholeBransonBrownMichaelBuckbeeHunterBurchfieldMoniqueButlerMcKenzieCallahanAliciaCarmeniaDeMarisCastelloZoeColemanIfeanyelCollinsSuzanneCreekmoreJoDarraghLouiseDaviesNicólDiazMichaelDiversKathleenDucoteAnneDuncanKatherineDupuyJamesEich
64 LSU Alumni Magazine | Fall 2022
Jingya Sun Murad Zeynalli
Materials Science and Engineering
Kiran Mary Ahluwalia
Master of Applied Statistics
Peyton Daniel Phillips
Kelsey Lynn Cyr
Cristina Nicole Abarno Kara Elizabeth Aguillard
Joshua Scott
Karley Nicole Bordelon
III
Sarah Elisabeth Antell
Lisa Harsch Miller
Jazmine Elizabeth Morales Gonzalo Morell Raschiatore Martin T. Morris Grace O. Myers
Luis Bernardo Castro
Rachel Margaret Lautigar
Kenneth Erby Stieffel Bryan Jeffrey Stokes
Caitlin Nicole Broadwell Brenda Cárdenas-Rivera Carissa Allyson Crawford Brittany Nicole Day Amanda Lynn Doyle
Erika Nancy Dawson
Bailey Layne Williams
Christopher Paul DeFelice
Master of AdministrationBusiness
TommyClaireDavidRobertScaliseJ.SchulteaMichaelSedgeElizabethSenecaMasonSimmons
TaeyoungNolanJenniferConnorMathewKeyiNatashaJacobRoderickStellaCarlyeSarahRubyAngelaJoshuaAmileMaryJennaAaronHenriqueGilbreathBorgesGomesAlonsoGonzalezHernandezReneeGrissomKatharineMcClureGuthrieJoHonsteinEricHuffMarieLamarLaurynLeeEvelynLeonardLatasMcGregorLouiseMonshawOrinPaulinAllenPetersonPizarroGuerreroQiuWilliamTukBradUnderwoodMarieWebberPatrickWibleYun
Christian Brady Hebert Alexander Michael Hebrank
Nicholas Thomas Fahrenkrug
Nadia KristenKirbyHenryShelbyChristineJoshuaAbigailSungEunClemensEthanBiancaRansfordMadisonNahviN.NallyNyamaahRaschellOlivoGabrielOlsenPaetzoldPaulinoMariePolsonAnthonyPriestleyS.PuriLisePutnamH.QuinNicoleRathjenJohnsonReinart
FredSayasJohn
Cameron Antonio Jenkins James William Jeter Patrick Killis Johnson Thomas Harlan Johnson III Shae Agnes Jones
Richard Thomas Barnes Jr.
Tetyana O. Hoover
Sayegh Canada
Victoria Noelle Witherow
Kellie Nicole Murphy
Anne Marie Herring Amy Thao Ho
Marshall Taylor Thompson Kamryn E. Trahan
Master of CommunicationMass
Murry Arnold Goldberg
Jacques Timothee Breaux
Christina Renea Gonzales
John Brandon Taylor
Samuel Scott Allen Charles R. Anderson
Nicholas Hebert Adams
Jeffrey Todd Alexander Brenden Richard Allan
Spencer Jeffrey Baudier
Madison Alexandra Bledsoe
Caroline Elizabeth Crumb
Hope Nicole Garrigan
Kenneth Craig Smith III
Stephen Louis Bonnaffons
Cody James Meglio
Hunter Lance Collins
Dideolu J. Daniel
Anna Catherine Talbert
Samuel Joseph Crowton
James Hunter Moser
Jaylin Nicole Russell
Master of Arts in Teaching
Alyssa Marie Gill
Kelly A.
Derek James Shay
Miguel V. Espiritu
Master of Library and Information Science
Steven Michael Courtney
Caroline Alexandria Iannetta Lee Phelps Jacoby Marlena Francesca Janes Emily Seidel Jaques
Cole Catherine Dunnam
Master of Education
Franzetta Dionna Cullen
Rachael Aaron Forbito
Rachel Erin Cisneros
Darla Elise Rizk
Patrick Shane Roberts Marissa Erin Rode Nicholas E. Romero Jake Anthony Rovira Stephen Everett Russell Jonathan Alexander Ryan Raymond Joshua Sanford Tasha
BenjaminLucieKellyDeborahKellieDanielleMarianneHayleyJessicaKaiJuliaMollyWillieHaroldEricMeghanMeganSavannahAmandaJessicaElizabethMaureenSarahShunequikaGatzkeJ.GilmoreDawsonHoodKathleenIversonAlejandraJuanLynnKochAnnKowalskiTessLyleNoonburgElizabethMartinezLeighMcConkeyChadMetzLamareMillicanNelsonNettlesKathleenPorterSadeReedAmariRobertSusanRobertsMarieSchaffAbigailSmithKathleenThompsonAnnVedrosK.WerlingMichelleWestSereBarnardWyssmannFelixZaunbrecher
Taylor McKenzie Barnett
KaitlanFontenotDarby
Qutell Sharzeia Adderley
DeShae Syble Campbell Kristofer Carlson
WrynMalyndiSharaePatrickKaraJennaDaleTaylorMadisonJohnsonKlepzigEliseMecheHamiltonRhodiesHighSchiebelElizabethSmothersArthurSuttonRichelleVicknairR.WestElizabethWilliamson
Francisco Javier Ballestas
Aubrey Lynn Phillips
Master of Fine Arts
Shakirah LaQuise Peterson
Jane Lesley Fiegel
Tessa Rain Jackson
Samantha Kay Slicker Catherine F.M. Smith Grant Barrett Smith
Daniel Farris Zollinger
Lauren Alexandra Sanders Erika Olivia Shoup Madison Stinemetz
Cleveland Patrick Forrester
Lawrence Brennan Messina
Yakeema Nakkiah Anderson
Christina Marie Verret Scotty Paul Verret Mary Catherine Watkins
Cooper Edward Haney Genevieve O. Haylock
Joseph SavannahAziziBeth Bamburg Jennifer Lee Barnekow Courtney Rene Bodin
Master of Music
Audry Grace Allen Sidney CameronClaryLynn Lore Taylor Drew Morgan
Brittany Antonia Doucette
Thomas Christian Baynham
Aimee
Crystal Lynn Hayner Sophie Parke Kennedy
Matthew Ryan Dolan
Caroline Claire Licciardi Jessica Maija Maki
Andrew Joseph Hrusovsky Hannah Lee Hughes Nicholaus J. Hutchinson
Jessika Carsen Smithwick RaShunda K. Veals
Andrea Elaine Bodin
Nicholas James Willett Daniel Eli Williams Carter Wayne Williamson Daniel Ryan Williamson Matthew Louis Word Jessica Zhuo
Alyssa D. Bellelo
Emily Elizabeth Bueche
Christine A. Butler
Benjamin Gerard Cote
Blake Clyde Becker
Julia Clare Kingsley Bradley Thomas Korch Jonathan Otto Kubik Athena M. Kuehn Zeljko
George Antonios Evangeloulis Ja'Qualin Travon Evans
Kailyn Marie Smith
Holly Nicole Carlton Meghan C. Causey
Drew Alexandra LaPorte Christopher Edward Lee Robin Elizabeth Leonard Dajyra TimothyLewisMichael MacDonald
Caley Rose Hewitt
Kennedi Renee Smith
William Thomas Macken Molly Elizabeth Magee Logan McKinley Manuel Joshua Ray Mason
Jillian Rose Teeter
Johnny Wayne Burton
Cameron Frances Betbeze
Irma Andrea Hernandez
Joshua Curtis Collins
Orlando Macedo
Sasha Baranco Mathieu
Hannah R. Clark
Colby Danielle Hearman
April Lynn Herder
Emily Anne DuBoulay Meghan Leigh Farley Stephon Gerald Greenlee Alexis Marie Harris Michelle Alaina Hogan Deanna Marie Howell Juliana M. Jensen
Carey Elizabeth Grace Galvin
Emily Rachel Ritchart Jessica Ying Shaw
Abigail Michael Bourg
Andrea Tena Escutia Madison Claire Thibodeaux
Robert Barry Bergeron
Kailyn Elizabeth Arabie
Alyxandra Linn Breaux
Jennie Ann Bouzigard
Kristopher Scott Rivera
Master of Natural Sciences
Master of Arts in Liberal Arts
Marlen Stephanie Breve Oyuela Peyton E. Brooks
Nicholas Frank Chauvin
Candace Faryl Crawford
GarrettKuzetMichael Langston
Jonathan Jeffrey Clark
Christian Elisha Brown
Molly Alison Foltyn
Jaimie Nicole Ament
Lucia Berenice Carrera Troya
Dustin Lane Dier
Rukhshaba Shehrin Carlos Xavier Torres De Janon
Matthew Conrad Hughes Deborah Elizabeth La Rue
Master of AdministrationPublic
Benjamin T. Brown
Master of ArchitectureLandscape
Clarissa Iolani Melendez
Nicholas Dane Gilbert Cathal Martin Gilmore James Wesley Gore Morgan B. Gorney Cameron Mackey Grimball Latreace Moore Grisby Kaylin Rose Grouchy Taylor L. Halsey
Christopher Justin Toombs Emmaline Jean Walters Zachary Lamarr Williams
Brian Edmund Florsheim Jr.
Joan Palette Henderson
Jolie Claire Cornay
Hayden Michael Broussard
Riley Wynn Dixon
Jarrod Jude Gardiner
Julia Grace Chetta
Brendan Vincent Patrick JeffreySullivanRyan Sullivan
Caroline Ford Upton Ethan Matthew Urbina Madeline Elizabeth Van Pelt Mary Eliza Varney Calyx Chene Verret
Imani Sarai Francis
Jami Alyce Kleinpeter
Devin E.
Richard Owens Davis Jr.
Daniel Lee Turnbull
Master of Science
LSU Alumni Magazine | Fall 2022 65
Kyle Anthony Matesic Christopher James McCready Connor Orion McMillan Aury Amelia Medina
Kristin Kennedy Marsiglia Kristen Ann Mathews Melinda Marie Mathieu Kayla Nicole Book-Mauro Megan Marie McCarty Marissa Lucia McDade Summer Marie McDaniel
Kierra Alisha Blase
Jay Samuel Merrill
Jennifer Faith Johnson Shemika Renee Johnson Keisha Johnston
Angela Higginbotham Mizell Ali Tanya Moore
Allisha Mary LaGrange Brittany Renee Laubenthal Nadine Antonette Lawes Darlene Alisa Lewis
Jeanne Louise Marquette
Wajeedah Faye Jones Sarah Cristine Kaltenbacher Philip Curtis Katner Abigail E. Kinder
Brooke Elizabeth Sutton Henry Kellie Idell Henry
Ann Katherine Motogawa
Ryan Louise Nash
Vanesha Michelle Jackson
Caroline Elizabeth Jarvis
Christina Nicole Moore
Josie Brianne Belgard
Joseph Alexander Mock
Andrea Raquel Muela Negrete
Jonie
Max Elliot
Nelson Jerome Morgan
Master of Science in ManagementConstruction
Veronica Marie Marhoffer J'Kierra An'Jelle Marsh
Danielle Joyce Johnson Deaddiral L. Johnson
Sara Margaret McGrew Caitlin Paige McLurkin
Christina Journet Bayman
Tyler Ray Tagle Musgrove
Ashley Marie Bailey
JoAnna LaFratta
Laura Jane McLaurin
Ashley Nicole Jones Cameron Jones
Baihan Li
Brittany Juliette Hanlin
Master of Science in Civil Engineering
Master of Science in Electrical Engineering Debsmita Biswas Fouad JoshuaYongqingHasanLiangOnyeka Ogbebor
Master of Science in Digital Media Arts and Engineering Bailey E. Barnes Melanek Marche Cotchery Jonathan Wing-Yun Lai
Ryan Christopher Averitt
Dondra Marie Houston
Megan Irene Klar Sharna S. Knight-Wilks Saheli A. Kothari
Hannah Marie Hicks
Carleton Blake Baucum
Amanda Stark Ochiltree
Jonathan Edward Murphy
Jayne Madeline Lydiatt
Sai Naga Sasi Aditya Bandaru Md Nafis Imtiyaz Md Adilur Rahim Alex Edward Ramirez Md Golam Sobhani
Jessica Elizabeth Murphy
Kamicia Miller
PeiDavidRichardShawnanAlisonJacobKyleDarrenNicholasJacksonAsherRicardoJamieIbrahimLesheenaJordanNoahAndrewBecerraDavidBlankenshipChoiMarcelCollinsKalynDixon-GrassoAliIbrahimElsayedElnamlClayHarrisAndresHungriaAndrewKenneyHowardKimbrellCadeLasherKeithNelsonRobertRamseyTimothySanabiaOlsenStilwellWilliamTownsendMichaelWellsPhillipWiseQiYu
Bridgette Marie Autin
Johanna Mary Bengson
Daniel Adam McCarthy
Jane Marie Kunberger
Hailey Lynn Armstrong
Rosemary Lee Berardino
LaTronna Joykia Hill-Cooper Margaret Jane Hooper Deanna Elise Horton
Rachel Lauryn Merritt
Angela Bishop
Michael Dale Howard Dirnelda Dorsey Hunt
Monica Marie Jerzak
Molly Elizabeth Malkemus Ali Elizabeth Marceaux
Matthew Parrish Mizell
Kristie My Linh King
Erin Beales Moody
Duane Malik Ingram
Kennedy Jo Raoski Mary-Kate Merchant
Grace Francis O'Brien
Joel Bradley Moreau
Master of Social Work Kaelyn Leigh Abdalla Danielle Rebecca Adams Heather Raey Anthony Zenia Violeta Arenas Jodi Briley Arkell
Julie Ann Morgan
Victoria Elizabeth Hardin
Robin L. SherideneLittleLeigh Long
Logan Jamisen Babin Joseph
Israel Moore
Mason Young Chenie Zamora
Mary M.
Scott Michael Maggio
Hector Jesus Mendoza Lagos
Margarite Lynn LaBorde
Michele JaquenettaHarmonTana Harness Alayna Tyrell Hart Kimberly R. Hayes
MayshonnaBalakoffWinslow Bayonne
Master of Science in Petroleum Engineering Oluwafemi Temidayo Alaofin Thelma Anizia Ihunde Ebubekir Kaldirim Jing Zhan
Brittney Nicole Johnson
Natalie Anne Jones
Sindy Laweenkey Moses
Master of Science in Chemical Engineering Yada JingyaJordanChulakhamRobertRyanXiao
RobynChloeAmandaDanaMarilynJenniferZoeLauraShavaughnLaurenTaylorGracielaNicoleMadisonChristopherLeighBrittanyMarkaylaLauraEveAshleyCharlotteAndresEmilyTameyaMackenzieLaSoniaJenniferBrittanyAlexandraMaitrangRebeccaPavneetAmandaCedricSierraHopeAshleyKolbyLeticiaLaurenJessicaKenishaDylanLillyCrystalSantiaRachelWeldonAlexisShanaKennedySandiBrandyBrandiDestinyKatharineBolganW.BrambleKristinaBreitkreutzJeanBrewsterNicoleBrodnaxReneeBrouilletteMasonBroussardMonicaBrumfieldMarieBrunetWalláceBullockIIICapritoJolivetteJeanCasagrandThomasChambersRaineChapmanThomasCharpentierLashaeCollinsSlavinsConnollyNicoleConnorDoloresOrtizCooperTaylorCurryNicholeDavisJosephDawanJaneDeMelloLeonDentJr.DeversKaurDhillonAnnDillHoangDoLeighAnnDoddReNee'DorseyDotsonD.DozierLeighDroddyRochelleDucksworthMarieDupontEstradaAnnFatafehiRayeFleuryAntoinetteFontenotCatherineFortnerLatriceFosterNicoleFrenchAnnFresinaAndersonFriisElizabethFruge'FutchJenksGarciaNicoleGerardSuzanneGodardLeeGordonCameronGraeberEliseGrahamZubeGregorioSabineGsponerMingGuanNicoleGuidryAliseGuidryCarrawayHamilton
66 LSU Alumni Magazine | Fall 2022
Nikki Elizabeth Neubeck
Arnett Lock-McNair
Tashondra Kioka Hicks Collin Glenn Hill
Megan Elizabeth Berry
Carol Silvana Atehortua
Joshua MatthewNealRoshanPatrickEthanCarolineLawrenceAliciaHannahAbbyBayleeBradleyAlexanderJ.PhilipOknecaHelenElaErinBrianAndrewSherronTaylorSeanCharlesCarolineAdamNicholasMeganTylerCameronDanielRaquelAthenaChristinaSilasDavidEmpressChristianKadajaDanaeAishaPaigeCaitlynCyleighTaylorMeganJeremiahGabrielChristopherEmmaThayneLoganJobelleMylesLamontMichaelVani'TraVictoriaMaximeBernardAlbertBesseLynneBloiseDeshonBraudDanielBroussardDuanBrown,IIIArthurBrownSantiagoBrunoJalikBuecheHobsonBukowskiElizabethCangalosiMatthewCaseyCastro-CuellarY.ChambersElizabethChesalElizabethClementSueCliffordPaigeCollinsMarleneColowichLianéCookNicoleCowartDanyellCryerAlexandre'DaltonMonetDavenportJohnsonDayAlceeDeJeanLydiaDesiderioNoelDixonAlexandraJardinDiasDomingosAshtonDonzeJamesDunnAlexEschetteKristineFarrellRogerAlexanderFloryMichaelGartelmanTheresaGielenElliotGlassPatrickGordonRoseGravoletNicoleGreerMarkGreferDavidGroveLynnGuntherMariaGutierrezGarciamorenoRiceHammonTahivJuanitaHamptonieRyanHaydelRyanHudsonBradleyIglJamesJanisBrookeJankowskiElizabethJohnsonGraceJohnsonBuckelewKabatIvanM.KadicAnnabelKallamRileyKerrWakemanKilshawKoiralaEdwardKolonayEdwardKratochvil
LaurenMaryRochelleJosephBriaPengjuPengfeiJorgeVannraBeatriceRobertHaleyHomyraWilliamJasmineAlissaAbbyJagdeepEdwardEmmalethHannahJeremyErichNicholasDebraRaphaelaCarolinaJoseCameronJustinConnorSaraStephanieMelbaKristenNicholasJasonMaryPaulinaOliviaSamuelAlberthaJosephSmothers-PadenRobertPassalugoShemalePennJohnsonPenningtonMargueritePicardM.PillaElizabethPoeRoebuckPriddleDavidPriehsMariePritchettAliciaRoaRobinsonCelineRodrigueDavidRogstadWilliamRogstadJamesRoigOmarRosarioSalvaSantosMettigRochaAnnSchoenbauerScottSchulerArnoldLumSchultzThomasShahanLandryShortClariceSibleyPeterSilberSinghJeanSnowdenWalshSt.BlancShondellStewartRobertStormentTasnimElizabethTatumCurtisTealTomaselloUokVillalobosAlvaradoWangWangSadéWattAlexanderWebberWilkingMargaretWilliamsD.Wilson
Christian Earl Bailey
Megan Elizabeth Mahler
Derika Lacole Pruitt
Abby LayneTaylorMichelle Templet
Mass Communication and Public Affairs, PhD
"Phenotypic and Genotypic Characterization of Low Chalk Endosperm and Presence of Awns in U.S. Rice"
Kayla Renee Potts
Samantha Anne O'Donnell
Civil Engineering, PhD
Antoinette Patrece Selvy
Blessing Adebola Adewumi Electrical Engineering, PhD
Caroline Elizabeth Armbruster History, ProfessorPhDVictor Stater
"Essays on Intersection of Economics and Judicial Decision-Making"
"Writing Exclusionary Spaces: Myths, Tropes, and Stereotypes Surrounding the Roma in 19th- and 20th-Centurey French Literature"
Masoud Asadi Economics, PhD
"Behind the Timeline: The Gendered Dynamics Among Civilian Volunteer Search and Rescue Organizations"
Becky LeBlanc Prestidge
"Exploring Cognitive Associations of Athletes' Activism Through Social Issue Primes: A Convergent Analysis"
Alexis Armani Washington Maya Simone Washington
Jessica Melissa Seymour
"Droplet-based Fuel Property Measurements" Natalie D'Auvergne-LaMotte English, ProfessorsPhDCarolyn Ware and Stephen Andes
Leslie Hidalgo Vidrine
Plant, Environment Management, and Soil Sciences, ProfessorPhD Adam Famoso
Savannah Noelle Stamates
Krystle Jarrell Allen Agricultural and Extension Education, PhD
Andrew Robert Burns Sociology, PhD
"My Favorite Murder as Discursive Performance"
"Design and Fabrication of a Low-Cost, Portable, BatteryOperated Surface Enhanced Raman Scattering (SERS) Optical Device"
Kelsey Elizabeth Vaillancourt
"Computational Study of the Reactions of Heteroatomic Compounds on CeO2"
Kyah Deshon Richardson
"The Spectra of Hydrogen-Deficient Carbon Stars --- The Effects of Evolution and Nucleosynthesis"
"Deriving Auditor Quality and Manager Quality from Form 10-K"
Professor Ashley Clayton
Shamira Levette Weeks
Roseanna Marie Rome
Anna Hissahe Borjas Artica Plant, Environment Management, and Soil Sciences, ProfessorPhD James Oard
"Privilege, Power, and Patronage: Examining the Lives and Afterlives of Three Tudor Noblewomen"
Haley Lauren Spilker-Johnson
Mckenzie Layne Tucker-Gosnell
Professors Joseph Legoria and Kenneth Reichelt
Trenton Wayne Dawson Curriculum and Instruction, PhD
Randi Lynn Seitz
Breelyn Elise Thames
Sonya Dionne Walker
Tommaso Cerioli
Caroline Rose Redman
"A Discussion of Contemporary Chinese Graphic Design And Its Historical Antecedents"
Professor Mostafa Elseifi
CANDIDATES FOR DOCTORAL DEGREES
Megan Ann Oakes
Suman Bhasker Ranganath Chemical Engineering, PhD Professor Ye Xu
Aaron Joseph Volk
Barry Matthew Shannon
Certificate of Education Specialist
"Seismic Inversion and Modeling for Improving Earthquake Hazard Assessment"
Professors F. Richie Roberts and Michael F. Burnett
Kyle D. Breen Sociology, PhD
Devin Alexis Winfield
Professor David Terry
Yolanda Nicole Winfield
Ronyelle Carole Ganaway
Rasheed Ajala Geology, ProfessorPhDPatricia Persaud
Nikki Bonton Porterie
Victoria D. Vance
Reyna Peña Nava
Randi Lillian Vicory
"Phase Noise Analyses and Measurements in the Hybrid Memristor-CMOS Phase-Locked Loop Design and Devices Beyond Bulk CMOS"
Sarah Elizabeth Allred Mathematics, PhD
Professor Naci Moc2an
Tomaya Cimmone Turner
Adam Joseph Singer
Mattea Nicole Van De Wiele
Professor Meghan Sanders
Taylor Michelle Dawson Communication Studies, PhD
Professor Kerri Tobin
Wanjun Dang Mechanical Engineering, PhD
Professor Sarah Becker
William Armand Ross
"Our Stories Light the Way:A Phenomenological Study Exploring the Experiences of Black Women STEM Graduates from Predominantly White Institutions"
Professor Wesley Shrum
Jade Basford French, ProfessorPhDRosemary Peters-Hill
Tiffany Michelle Stacy
Monica Nichole Ramirez
Maya Danielle Porter
Professor Martin Feldman
"Visuomotor Rotation Adaptation and Workspace Manipulation: A Behavioral and Cognitive Emphasis"
"Multi-year Data Analysis and Genomic Selection to Improve the Efficiency of a Rice Breeding Program"
Professor Bogdan Oporwoski "Unavoidable Substructures of Large and Infinite Graphs"
Yocheved R. Retig
Professor Michael Desmond
Tomeka S. Williams
Allison Elizabeth Nicolosi
Demond Lavon Roberts
Meagan Paige Snedigar
LSU Alumni Magazine | Fall 2022 67
Jason Edward Romeyn
Olivia Maria Rivera
"Women of Power: Mapping the Spiritual Journeys of Caribbean Women Across Regional Fiction as Portrayed in The Book of Night Women, Texaco, and Erzulie's Skirt"
Naheem Olakunle Adesina Electrical Engineering, PhD
Karely Guadalupe Poche
Amanda Lichele Scott
Krystal Nicole Young
Megan L. Jenny
"A New Generation of Open-Graded Friction Course for Enhanced Durability and Functionality"
Reuben Newton Addison Kinesiology, PhD
Erica Hahn Pusateri
Professor Grover Waldrop "Inhibition of Biotin Carboxylase by Three Antibacterial Compounds"
Professor Frank T. C. Tsai
Ashley Therese Vienne
Anna NaTyshiaTanascuAngela Marie Smith
Hossam Saber Abdelraof Mohamed Abohamer Civil Engineering, PhD
Lacey Louise Donley Accounting, PhD
Lauryn Audrie Roberts
Professors Arend W. Van Gemmert and Jan M. Hondzinski
"Computer Science at Community Colleges: Attitudes and Trends"
Educational Leadership and Research, PhD
"Investigation of Groundwater Depletion and Levee Underseepage with Unstructured-Grid Modeling Approach"
Bredell Richardson
Jacqueline Marie Savoy
Cetera Xiomara Carlynn Tuesno
Tiffany Arvie Bosley
"Cutivating Black Leaders for Rural Louisiana Communities: A Case Study of a Leadership Development Program"
Matthew Krauss Craft Biological Sciences, PhD
Professor Jian Xu
Kaitlyn Delaney Roy
Na'Loni La'Shea Walker
Nicholas Michael Silvio
Erin Elaine Warner
"Pharmakon in the Firelands: Connecting Historical Discourses and Small-Town Social Contexts with Substance Use Experience"
Ye-Hong Chen
Professor Shyam Menon
Raeshan D'Atra Davis
Courtney Lauren Crawford Physics, ProfessorPhDJeffrey Clayton
Anthony Joseph Ciaramella
Richard Brian Doubleday Cultural Preservation, DDes
Carlee Michelle Swindle
Yolanda LaVette Rhyne
Jack Kelly Mallard English, ProfessorPhDBrannon Costello
Tyler Clark Granberry Agricultural and Extension Education, ProfessorPhD
William Bradley Greer Plant, Environment Management, and Soil Sciences, PhD
Madhusudan Kamat Civil Engineering, PhD
Dennis "Parker" Kelley
Jeremi Wayne Edwards Music, ProfessorPhDMara Gibson
"Deformed No-Core Shell Model and Symplectic Effective Field Theory"
"Essays in Empirical Asset Pricing"
Yangzhi Nicole Jiang Mass Communication and Public Affairs, ProfessorPhD Hyojung Park
Alex Kipchirchir Kirui Chemistry, PhD
Anthony Wayne Graham Educational Leadership and Research, ProfessorPhD
"'Unnatural Lusts and Vile Solicitations': Same-Sex Sex in the Civil War"
Professor Christopher Arges "Tuning Electrochemical Interactions and Polymer Electrolyte Interfaces for Enhanced Organic Acid Separations using Electrodeionization"
"A Case Study of The Underrepresentation of African American Male Educators: Career Choices and Experiences in Secondary Schools"
Stephanie Lynn Korle Animal Dairy Science, PhD (ANSC)
Professor Ron Niedrich "The Effects of Service Failure Attribution and Company Initiated Recovery Actions on Behavioral Intentions"
"Evaluation of Hippocampal Allostatic Load-Associated Factors in Animal Models of Post-Traumatic Stress Disorder: Relevance to Human PTSD"
Professor Ramachandran Vaidyanathan "Practical Considerations and Applications for Autonomous Robot Swarms"
Professor Richard Cooper
Professor Gerald Knapp
"A Deep Reinforcement Learning Approach with Prioritized Experience Replay and Importance Factor for Makespan Minimization in Manufacturing"
Michael Hay Psychology, PhD
Dustin Ray Haigler Music, ProfessorDMABrett Dietz
Renewable Natural Resources, PhD
"Ecology of Periphyton in a Subtropical River Floodplain"
"The State of Agricultural Mechanics in the Preparation of School-Based Agricultural Education Teachers"
Daniel Paul Gary Chemistry, PhD
Professor Denise Holston "Applying Transformative Evaluation to Assess Service Provided to African Americans Through the SNAP-Ed Program"
Rory Alan Hector Electrical Engineering, PhD
Mehdi Khorram
"We Are on the Same Page: How to Leverage Strategic Internal Communication to Create Shared Meaning of Corporate Social Responsibility Between Corporations and Employees"
William Joseph Mattera Jr. Leadership and Human Resource Development, PhD
Professor Sunyoung Park
"Ysaye Sonata No 4 — A Sonata of Past and Future"
Relius Jabbar Johnson Educational Leadership and Research, ProfessorPhD
Anowar Hossain Khan Chemistry, PhD Professor John A. Pojman "Synthesis of Thiol-Acrylate Hydrogels for 3D Cell Culture and Microfluidic Applications"
Maretta Darnell McDonald Sociology, PhD
"Enforcing Child Support: An Intersectional Approach"
Tasia Mehzabin Kazi Sociology, PhD
José Napoleón Martínez Engineering Science, PhD
Nishir Sanatkumar Mehta Mechanical Engineering, PhD
Professor Manas Ranjan Gartia "Multimodal Photonics Approach to Monitor Biophysicochemical Interactions of Bio-Nano Materials"
"New Aspects of Optical Coherence and Their Potential for Quantum Technologies"
68 LSU Alumni Magazine | Fall 2022
Professor Rendy Kartika "New Chemoselective Dehydration and Cyclization Strategies Enabled by Triphosgene"
Professor Matthew B. Chambers
Rosalind Maryweather Hudson Curriculum and Instruction, PhD Professor Kim Skinner "A Case Study of Fourth Grade Students' Literacy Difficulties with Mathematical Word Problems"
Vincent B. Jeseo Business Administration, PhD
Professor Dana Berkowitz
Modhuparna Manna Computer Science, PhD
"The Lived Experiences of Migrant Domestic Workers in Taiwan"
Sylvestre Mekem Douanla French, ProfessorPhDPius Ngandu
Professor Shuangqing Wei "Efficient Low Dimensional Representation of Vector Gaussian Distributions"
Kamela De Gallardo
Li-Yu Liao Sociology, PhD
Professor Petra Robinson "A Necessary Shift? A Qualitative Exploration of Black Women's Experiences with Altering Self-Presentation for Job Attainment"
Mohammad Rashidul Hassan Industrial Engineering, PhD Professors Bhaba Sarker and Hyun Woo Jeon
Ashley Clayton
"Newly Dependent:The Living Experiences of Transnational Women in North America"
Professor Anas Mahmoud "Efficient Information Retrieval for Software Bug Localization"
Business Administration, PhD
Professors Haitao Mo and Gary C. Sanger
William Henry Katzman Curriculum and Instruction, PhD
Matthew Dolan Greene Nutrition and Food Sciences, PhD
Professor Samuel Snow
"A Synthesis of Contemporary Music Composition Pedagogy Practices for the Undergraduate and Graduate Level Sequences and an Exploration of Time, Sound, and Space an Aleatoric Event Score in Collaboration with the LSU Museum of Art"
"Limits on Parameter Estimation of Quantum Channels"
"The Design, Construction, and Testing of a Recombinant DNA Vaccine for Brucella abortus and Brucella melitensis"
Saeed Fosshat Chemistry, PhD
Eugene Kennedy "Black Students and the Fight for Racial Equity:Integrating Qualitative and Quantitative Methods"
Professor Dana Berkowitz
Sun Tae Kim Business Administration, PhD Professor Gabriele Piccoli "Strategic Use of Topic-Congruent Magagerial Responses in Online Review Systems"
Yingzhen Ma Chemical Engineering, PhD
Professor John Pojman
Professors Joseph Francis and Nick Gilpin
"See You in the Funny Pages: Forms and Aesthetics of Newspaper Comic Strips in Bill Watterson's Calvin and Hobbes"
Professor Lori L. Martin
"A Performance Practice Guide for :only. just.almost.never for Solo Vibraphone by Jay Alan Yim"
"De La Quete Des Memoires Des Esclavages Dans La Litterature Francophone"
Ashe Natalie Miller Physics, ProfessorPhDOmar Magana-Loaiza
Professor Thomas Ricks "Effects of Engagements and Presentation Order in Informal Science Presentations"
Moshood Oreofeoluwa Ganiu Chemistry, PhD
"Kinetics, Characterization, and Applications in the Development of NextGeneration Cure-On-Demand Polymeric Materials Through Frontal Polymerization"
Vishal Katariya Physics, ProfessorPhDMark M. Wilde
"Use of Halide Radicals in Water Treatment"
Karuna Kharel Nutrition and Food Sciences, PhD Professor Achyut Adhikari "Effect of Steam Conditioning on Pecan Safety and Quality and Utilization of Pecan Shell Extract as an Antimicrobial Coating to Maintain the Quality and Safety of Fresh Produce"
Biomedical and Veterinary Medical Sciences, PhD (CBS)
Completed a Non-Thesis Program of Research and/or Creative Activity
Md Mahmudul Hasan Electrical Engineering, PhD
Professor Tuo Wang "Functional Structure of Biomacromolecules in Plant Biomass Using Solid-State NMR and Dynamic Nuclear Polarization"
Chaoyang Li Animal Dairy Science, PhD (DARY)
Professors William E. Kelso and Allen Rutherford
Saket Khatiwada Computer Science, PhD
"Analysis and Simulation of Energy Performances of Additive Manufacturing Systems"
Michelle L.J. Lollie Physics, ProfessorPhDOmar Magana-Loaiza
"Advanced Communication and Sensing Protocols Using Twisted Light and Engineered Quantum Statistics"
Javier Angel Elizondo Music, DMA
Joey Blackburn
Naiyin Hou Music, ProfessorDMALin He
Professors Kenneth McMillin and Xing Fu "Fibrogenesis and Adipogenesis in Farm Animals and Rodents"
Matthew Leo Jordan Chemical Engineering, PhD
"Synthesis, Characterization, and Photo-reactivity Studies on Mo(VI) Dioxo Complexes for C-H Activation and O-atom Transfer"
Kellie Janelle Hedgers History, ProfessorPhDAaron Sheehan-Dean
"Examining Factors Related to Employees' Perceived Value Congruence in a Newcomer Training Program"
Professor Golden G. Richard III "Using Memory Forensics to Analyze Programming Language Runtimes"
Professor Jason Harman "Promotion Denied! How Promotion Denial Impacts Turnover for Nonpromoted Employees"
Dorothy Rachael Kemp Human Resource Education, PhD
Professor Don Labonte "Weed Management with the Pro-Herbicides Benzobicyclon and Florpyrauxifen-Benzyl in Louisiana Rice Production"
Sarah Kagoya Agricultural Economics, PhD Professor Krishna P. Paudel "Essays on Climate Smart Agriculture and Multidimensional Poverty in Uganda"
Professor Bhuvnesh Bharti "Assembly of Nanostructures at Solidliquid and Liquid-air Interfaces"
David Kekejian Physics, ProfessorPhDJerry Draayer
Khary Ode Wilson Music, DMA
Biomedical and Veterinary Medical Sciences, PhD (PBS)
Dmitriy Nurullayev Political Science, PhD
Ronald Joseph Rodi Civil Engineering, PhD
Professor Jas Sullivan
Ali Simaei Gargari
Sneha Sudhakaran Computer Science, PhD
Professors Golden G. Richard III and Aisha Ali-Gombe(Towson)
Rexanna Elizabeth Powers Agricultural and Extension Education, ProfessorPhD Richie Roberts
Professor Don R. LaBonte "Evaluation of Residual Herbicides Across Multiple Rice Production Systems"
Karunya Shirali Physics, ProfessorsPhDIlya Vekhter and William Shelton
Professor Guillaume Spielmann "Impact of Exercise and Cytomegalovirus Infection on Age Associated Changes in T-cell Immunity"
"Interpretable and Anti-Bias Machine Learning Models for Human Event Sequence Data"
Pujan Shrestha Mathematics, PhD
"Antioxidant Enzyme Bystander Defenses: Environmentally-Driven Cellular Protection"
Emily Jane Safron Physics, ProfessorPhDTabetha Boyajian
"Girlhood as a Spatial Politic in Black Diasporic Literature by Mary Prince, Harriet Jacobs, Edwidge Danticat, Natalie Baszile, Jesmyn Ward, and Kacen Callender"
Professor Daniel Keniston
Wentao Shi Electrical Engineering, PhD Professor Jagannathan Ramanujam "Artificial Intelligence for Target-Based Drug Design"
Professor Neil Johannsen "Cardiovascular and Range of Motion Effects from Exercise Training Interventions"
Professors Oliver Dasbach and Shea Vela-Vick
"Provocation & Resolve in International Politics"
Professor Anas Mahmoud "Digital Discrimination in the Sharing Economy: Evidence, Policy, And Feature Analysis"
"Students with Intellectual and Developmental Disabilities and Their Educational Pathways After High School: Transitional Planning and Access to Postsecondary Institutions"
Professors Hui-Hsiung Kuo and Padmanabhan Sundar "General Stochastic Calculus and Applications"
Professors Jared Soileau and Padmakumar Sivadasan
"Performance Analysis and Improvement for Scalable and Distributed Applications Based on Asynchronous Many-Task Systems"
LSU Alumni Magazine | Fall 2022 69
Robert John Quarles Mathematics, PhD
"Corporate Website Disclosures and Financial Reporting Quality"
"Experts' Views on Issues Affecting Egg Labeling in the United States: A Delphi Study"
Professor Clinton S. Willson
"Tuning Properties of Topological Insulators: An Ab-Initio Approach"
Nanmiao Wu Electrical Engineering, PhD Professor J. (Ram) Ramanujam
Cheng Yan Engineering Science, PhD
Sudipta Sen Electrical Engineering, PhD Professor Shahab Mehraeen "Inductor Free Methods for Breaking Dc Currents"
Lucas Connor Webster Plant, Environment Management, and Soil Sciences, PhD
Professor Mingxuan Sun
Professor Donghui Zhang "Moisture-Tolerant and Operationally Simple Synthesis of Synthetic Polypeptides and Polypeptoids by Ring- Opening Polymerization of N-Thiocarboxyanhydrides"
Professor Kidong Park
"Applications of Applied Economics Utilizing Geographic Information Systems Data and Regression Discontinuity Designs"
Business Administration, PhD
Joshua Tyler Padilla Plant, Environment Management, and Soil Sciences, PhD
Ifeanyi Kingsley Uche Biomedical and Veterinary Medical Sciences, PhD (PBS)
Margaret-Mary Sulentic Dowell
Professor Daniel Kuroda
"Black Students in Higher Education: An Identification of Factors Predicting Academic Success"
"Novel Platforms for Large-Scale Adherent Culture of Mammalian Cells"
Professors David Sobek and Cecil Eubanks
Shondra Antoinette White Educational Leadership and Research, ProfessorPhD April Chen
David Charles Walker Plant, Environment Management, and Soil Sciences, PhD
"Exploring Co-planning Conversations as a Professional Development Activity for Mentors and Mentees at the Beginning of a Yearlong Teacher Residency"
"A Street-based Simulation Approach to Evaluating Crime Theories and Deterrence Efficacy in Baton Rouge, Louisiana"
Jennifer Lauren Popowycz History, ProfessorPhDSue Marchand
David Thomas Siefker Chemistry, PhD
"New Synthetic Reactions Enabled by Protected Oxyallyl and Amidoallyl Cations"
Jeramie Christopher Rushing Chemistry, PhD
Professor Fahui Wang
ProfessorPhD
Miroslav Tushev Computer Science, PhD
"Competitive Sorption and Transport of Heavy Metals in Soil and Mn OxideCoated Sand"
Professor Michelle Livermore
Professor Rhonda Cardin "Novel Roles for Viral GPCRs in CMV Latency and Imunity"
"Reel Transgressions: Global Business, National Film and Female Filmmakers in Twentieth Century Mexico and Cuba"
Kaiyue Zhu Music, DMA
Franklin Antone Soares Educational Leadership and Research, ProfessorPhD Jennifer Curry
"Are Long-Period Exoplanets Around Cool Stars More Common Than We Thought?"
Jagdeep Singh Mathematics, PhD
Nicholas James Mueller Accounting, PhD
Timothy McGuire White Biomedical and Veterinary Medical Sciences, PhD (PBS)
Ashkan YekrangSafakar Electrical Engineering, PhD
"Infrared Investigation of Lithium Ion Electrolytes: Characterization of Structure and Dynamics via Linear and Nonlinear Spectroscopy"
Professor Rendy Kartika
Completed a Non-Thesis Program of Research and/or Creative Activity
Cassan Nicole Pulaski
James Ralph Wilkey III History, ProfessorPhDStephen J. Andes
"The Influence of Perceived Realistic and Symbolic Threat on College Students' Attitudes Toward Immigrants and Immigration"
"Numerical Modeling of Bulk Sediment Deposition and Scour in the Lower Mississippi River Physical Model"
Brook Shantel Spurlock Political Science, PhD
"A New Perspective on a Polynomial Time Knot Polynomial"
Nolynn Ernessa Sutherland Kinesiology, PhD
"Drug Resistance in the Canine Filarial Parasite, Dirofilaria immitis: Emergence and Clinical Epidemiology in the Lower Mississippi River Alluvial Valley"
"World War II, Displacement, and the Making of the Postwar Ukrainian Diaspora, 1939-1951"
Peter Edward Piers Jr. Chemistry, PhD
Sudip Sinha Mathematics, PhD Professors Hui-Hsiung Kuo and Padmanabhan Sundar "Anticipating Stochastic Integrals and Related Linear Stochastic Differential Equations"
Janeal Marie White Social Work, PhD
"From the Mouths of Women: The Life Model of Homelessness"
"A Numerical Investigation of Flood and Sediment Dynamics Over Coastal Watersheds During Hurricane Events"
Dongxiao Yin Oceanography and Coastal Sciences, ProfessorPhD Z. George Xue
Professor Rudy Hirschheim "Three Essays on Behaviors in Crowdsourcing Communities"
"Machine Learning Assisted Discovery of Shape Memory Polymers and Their Thermomechanical Modeling"
Professor Robin L. McMarley
Professor Konstantin G. Kousoulas "The Herpes Simplex Virus Type-1 (HSV-1) VC2 Live-Attenuated Vaccine Strain Induces Robust Antitumor Immune Responses and Ameliorates Intra-tumor Immunosuppression in an Immunocompetent B16F10-derived Murine Melanoma Model"
Binod Nepal Chemistry, PhD
Completed a Non-Thesis Program of Research and/or Creative Activity
Zihan Zhou Computer Science, PhD
Shaun Edward Williams Geography, PhD
Channing Christopher Parfait Educational Leadership and Research,
"A New Transcription for Cello and Piano of the Sonata for Violin and Piano" by Uruguayan Composer Hector Tosar, Including a Performance Edition, Analysis, and Biography"
"Canopy Anthropod Responses to Catastrophic Wind Disturbances in Gulf Coast and Caribbean Forests"
Professor John B. Malone
Manoj Pandey Entomology, PhD
Professor Timothy D. Schowalter
Jose Romero Ottonello Music, ProfessorDMADennis Parker
Stephanie S. Rambo English, ProfessorPhDAngeletta K.M. Gourdine
Professors Magdi Selim and Lewis Gaston
Martina Santia Mass Communication and Public Affairs, ProfessorPhD Raymond Pingree "Cross-issue Agenda Setting from Racism to Immigration: Spreading Activation or Group Threat?"
Edward Powell Seyler Economics, PhD
Professor James Oxley "Characterizations of Certain Classes of Graphs and Matroids"
"Performing Memory Forensics for Object Recovery from Android Application Memory"
Professor Guoqiang Li
Professor Eric Webster "Impact of New Technologies on Weed Control in Louisiana Rice Production"
Bailey Marie Theall Kinesiology, PhD
HS&E Human Sciences & Education
BACH Bachelor's Degree
David R. Cassidy (1972 BACH H&SS, 1972 JD), an attorney with Breazeale, Sachse & Wilson, was listed in the 2022 edition of Chambers USA in the area of Tax.
James G. Wyly, III (1975 BACH BUS), an attorney with Phelps Dunbar, New Orleans, was listed in the 2022 edition of Chambers USA in the area of –Litigation: General Commercial.
SCE School of the Coast & Environment
SW Social Work
PHD Doctorate
H&SS Humanities & Social Sciences
DVM Doctor of Veterinary Medicine
ENGR Engineering
Murphy J. Foster, III (1979 JD), an attorney with Breazeale, Sachse & Wilson, was listed in the 2022 edition of Chambers USA in the area of Construction and Labor & Employment.
MAST Master's Degree
Gregory D. Frost (1977 BACH H&SS, 1981 JD), an attorney with Breazeale, Sachse & Wilson, was listed in the 2022 edition of Chambers USA in the area of Healthcare.
1980s
Richard Arsenault (1980 JD) was awarded the Top Lawyer Rating for 2022 in the AVVO Legal Directory. He was also nominated by his peers to be included in Acadiana Profile
SCI Science
SVM School of Veterinary Medicine
JD Juris Doctorate (LSU Law School)
Eve B. Masinter (1978 BACH H&SS, 1982 JD), an attorney with Breazeale, Sachse & Wilson, was listed in the 2022 edition of Chambers USA in the area of Labor & Employment.
70 LSU Alumni Magazine | Fall 2022
Michael D. Hunt (1974 BACH H&SS, 1977 JD), an attorney with Phelps Dunbar, New Orleans, was listed in the 2022 edition of Chambers USA in the area of Construction.
Steve J. Levine (1977 BACH AGR, 1984 JD), an attorney with Phelps Dunbar, New Orleans, was listed in the 2022 edition of Chambers USA in the area of Environment, Environment: Litigation.
Van R. Mayhall, Jr. (1971 JD), an attorney with Breazeale, Sachse & Wilson, was listed in the 2022 edition of Chambers USA in the area of Corporate/M&A.
MLIS Master of Library & Information Science
TigerNATION
COLLEGES/SCHOOLS
A&D Art & Design
Vincent L. DiLeo, Jr., (1976 BACH H&SS) was installed as president-elect of the Louisiana Dental Association (LDA) for 2022-2023. He graduated from the LSU School of Dentistry in 1982 and achieved his master's in the Academy of General Dentistry and Fellowships in International College of Dentists and the American College of Dentists. DiLeo is a member of American Dental Association and New Orleans Dental Association.
E. Fredrick Preis, Jr. (1971 BACH BUS, 1974 JD), an attorney with Breazeale, Sachse & Wilson, was listed in the 2022 edition of Chambers USA in the area of Labor & Employment.
Claude F. Reynaud, Jr. (1974 BACH BUS), an attorney with Breazeale, Sachse & Wilson, was listed in the 2022 edition of Chambers USA in the area of Litigation: General Commercial.
Magazine's 2022 list of Top Lawyers in Acadiana, selected as a member of the Nation's Top One Percent by the National Association of Distinguished Counsel, and selected for inclusion in the 2022 Lawdragon 500 Leading Plaintiff Consumer Lawyers guide.
SPEC Specialist
LLM Master of Laws
1970s
MD Medical Doctor (LSU School of Medicine)
C&E Coast & Environment
MCOM Mass Communication
AGR Agriculture
Douglas Cross (1978 BACH H&SS,1982 DDS ) was named the 2022 Louisiana Dental Association Humanitarian(LDA)Award, which recognizes dentists who have distinguished themselves through outstanding dental service activities in the U.S. or abroad. He is a member the American Dental Association and the New Orleans Dental Association
Randy P. Roussel (1977 BACH BUS, 1984 JD), an attorney with Phelps Dunbar, New Orleans, was listed in the 2022 edition of Chambers USA in the area of Real Estate.
DEGREES
BUS Business
M&DA Music & Dramatic Arts
DDS Doctor of Dental Science (LSU School of Dentistry)
John B. King (1981 BACH BUS, 1985 JD), an attorney with Breazeale, Sachse & Wilson, was listed in the 2022 edition of Chambers USA in the area of Environmental.
Susan W. Furr (1986 BACH H&SS, 1989 JD), an attorney with Phelps Dunbar, New Orleans, was listed in the 2022 edition of Chambers USA in the area of Labor and Employment.
David R. Kelly (1982 JD), an attorney with Breazeale, Sachse & Wilson, was listed in the 2022 edition of Chambers USA in the area of Tax.
Brian J. Borne (1984 BACH A&D) was appointed city manager of the City of Monroe, N.C. He began his career with the city in 2008, serving in roles centered on downtown economic development, revitalization, historic preservation, parks and recreation, and facilities management, and was assistant city manager for thirteen years. He holds an MBA from Nicholls State University. Borne and his wife, Tory, reside in Gastonia, N.C.
V. Thomas Clark, Jr. (1986 BACH H&SS, 1990 JD), an attorney with Breazeale, Sachse & Wilson, was listed in the 2022 edition of Chambers USA in the area of Insurance.
Kevin LaVie (1981 BACH H&SS, 1984 JD), an attorney with Phelps Dunbar, New Orleans, was listed in the 2022 edition of Chambers USA in the area of Transportation: Litigation-outsideShipping/Maritime:NewYork.
Alonzo Llorens (1984 BACH BUS) was named a partner in Parker Poe Adams & Bernstein, Atlanta. He focuses his corporate practice on capital markets and finance.
LSU Alumni Magazine | Fall 2022 71
Warner Delaune (1986 BACH ENGR, 1991 JD), an attorney with Phelps Dunbar, New Orleans, was listed in the 2022 edition of Chambers USA in the area of Intellectual Property.
2000s
Annie Morrison (2003 BACH MCOM) is cofounder and principal consultant at Rivet Education, an organization dedicated to improving professional learning in
Paul Danos (1999 BACH BUS), owner and CEO of Danos, was elected chair of the National Ocean Industries Association (NOIA) board of directors.
72 LSU Alumni Magazine | Fall 2022 Tiger Nation
Emily Black Grey (1997 BACH H&SS, 2000 JD), a partner in the Baton Rouge office of Breazeale, Sachse & Wilson and manager of the firm's healthcare section, was elected to the board of directors of the American Health Law Association (AHLA) for a three-year term. She serves on the Annual Meeting program planning committee and co-chairs the Online Dispute Resolution Working Group. She has served as chair and vice-chair of the Hospitals and Health Systems Practice Group and as a member of the Health Law Curriculum Task Force and the Mentoring Committee. She was listed in the 2022 edition of Chambers USA in the area of Healthcare.
Bea Gyimah (2004 BACH H&SS) was named the Greater Capital Area Champion and received a 2022 Champions of Service Award, which recognizes outstanding volunteers across the state. Gyimah formed the America My Oyster Association, a nonprofit dedicated to promoting multi-cultural awareness and understanding the diversity of individuals, communities, and cultures throughout America. Her volunteer service through the East Baton Rouge Parish Library led to the creation of an interactive program called "Building a Better America Today."
Charlotte Rigsby Conner (1998 BACH H&SS) received the Dr. Annie Webb Blanton Scholarship from Delta Kappa Gamma Society International, which promotes excellence in education and personal and professional growth of women educators. Rigsby Conner holds a master's degree in multicultural special education from the University of St. Thomas and is pursuing a degree in educational leadership at the University of Mary
mergers and acquisitions, securities compliance, corporate governance, and minority business enterprise (MBE) certification and transactions.
Charles Jones (1998 BACH BUS), a private wealth advisor with Ameriprise Financial in Dallas, was named to the list of "Best-in-State Wealth Advisors" published by
Colton Fontenot (2006 BACH BUS), internal audit director at PwC, joined the company partnership effective July 1.
Photo:Hardin-Baylor.ProvinePhotography
Jeffrey M. Barbin (1992 BACH BUS, 1998 JD), an attorney with Phelps Dunbar, New Orleans, was listed in the 2022 edition of Chambers USA in the area of Gaming and Licensing.
Karleen J. Green (1994 BACH BUS, 1997 JD), an attorney with Phelps Dunbar, New Orleans, was listed in the 2022 edition of Chambers USA in the area of Employee Benefits and Executive Compensation.
Lara Kaufmann (1990 BACH MCOM) was appointed executive director of the Greenville Chautauqua Society. She was previously public relations director of the Greenville Downtown Airport in Columbia, S.C.
Catherine Maraist (1998 JD), an attorney with Breazeale, Sachse & Wilson, was listed in the 2022 edition of Chambers USA in the area of White-Collar Crime & Government Investigations.
Miriam D. Childs (1992 BACH H&SS, 1993 MLIS) and Sara V. Pic (2014 MLIS) were elected officers of the American Association of Law Libraries. Childs, director of the Law Library of Louisiana, was named treasurer, and Sara V. Pic, Law Library head of public services, was elected AALL secretary/ treasurer of the Government Law Libraries Special Interest Section.
Kelsey Funes (1994 BACH H&SS, 1997 JD), an attorney with Phelps Dunbar, New Orleans, was listed in the 2022 edition of Chambers USA in the area of Construction.

Forbes magazine. The list recognizes financial advisors who have demonstrated high levels of ethical standards, professionalism, and success in the business. Jones is part of Luminate, a private wealth advisory practice of Ameriprise Financial Services, Inc.
Nicole Gould Frey (1996 BACH BUS, 2000 JD), an attorney with Breazeale, Sachse & Wilson, was listed in the 2022 edition of Chambers USA in the area of Tax.
1990s
Virginia Dodd (1993 BACH BUS, 1997 JD), an attorney with Phelps Dunbar, New Orleans, was listed in the 2022 edition of Chambers USA in the area of Insurance.
J. Alan Harrell (1994 BACH H&SS, 1997 JD), an attorney with Phelps Dunbar, New Orleans, was listed in the 2022 edition of Chambers USA in the area Environment: Litigation.
LSU Alumni Magazine | Fall 2022 73
schools across America. She was previously director of communications at the Louisiana Department of Education.
Alden Cartwright (2017 BACH BUS), president of Edelberg and Associates, Marietta, Ga., was selected as a member of the Forbes Business Council, an invitation-only organization for successful small-and mid-sized business owners. Cartwright played baseball for LSU from 2014-2016 and is member of the LSU Young Alumni Advisory Council. jackie@lsualumni.org
Danielle Borel (2011 BACH BUS, 2014 JD), a partner Breazeale, Sachse & Wilson, Baton Rouge, was sworn in as 2022-2023 chair of the Louisiana State Bar Association (LSBA) Young Lawyers Division Council. The recipient of numerous awards for contributions to LSBA and the American Bar Association, she is also a member of the Louisiana Hospital Association and
participates in the Baton Rouge Bar Association's Holiday Star Program. In the community, she serves on the board of directors and chairs the Baton Rouge advisory board for Lighthouse Louisiana and volunteers as a trial advocacy coach and judge for the LSU Law Center.
SHARE YOUR NEWS Share news of your new job or promotion, your wedding, honors, awards, new babies, and other celebrations with fellow alumni. To submit an item and photos for publication, e-mail
Douglas M. Stinson (2004 H&SS, 2008 JD) was elected district judge for the Louisiana 26th Judicial District Court, Bossier and Webster parishes. He was administered the oath of office in April by his father, retired District Judge Ford E. Stinson, Jr., (1974 H&SS, 1977 JD). His grandfather, Ford E. Stinson, received his law degree from LSU Law School in 1936.
2010s
or call 225-578-3370.
Ally Byrd (2014 BACH H&SS, 2011 JD) joined McgGlinchey/ Stafford, New Orleans, enterprise litigation and investigations section.
Tiger Nation
"I love LSU football, but the distance between Ellensburg, Wash., and Death Valley makes it a real challenge to attend a game," writes Keith McGowan (1977 BACH AGR). "Last week I decided to buy LSU football season tickets for the first time ever, expecting that the investment would encourage me to get back to my LSU roots, my friends, and the place where I met my wife of forty years.
"Three days after securing my seats in Tiger Stadium for the 2022 season, as if an omen, I was greeted by the 'Eye of The Tiger Rising' southeast of my home, in the direction of Baton Rouge. It could only mean a great season lies ahead watching the LSU Fighting Tigers from within Tiger Stadium."
Since moving to his horse ranch, family and friends have tagged Keith "Bronceaux."
74 LSU Alumni Magazine | Fall 2022
WHAT'S YOUR VOLUNTEER PASSION? Send a photo of yourself "in action" and tell Tigers Around the World how and why you share your time and talents with others. Eye of the Tiger Rising
David J. Wesse (2012 PHD HS&E) was named interim vice president for finance and administration at California State University San Bernardino in March. He was previously vice chancellor for financial and administrative affairs at Purdue University Fort Wayne.
St. Pierre Fremin (2012 BACH BUS) was named the Danos 2021 Staff Employee of the Year. A commercial supervisor, she oversees the commercial process from bid inception to submittal and chairs GIVES, the Danos Foundation's nonprofit grant program. She holds an MBA from Nicholls State University.
Korey Ryder (2016 BACH H&SS) was named political director of the Baton Rouge Alliance for Students. After spending more than seven years with The Political Firm, he will be coordinating electoral programs, developing and managing a local candidate pipeline, and supporting fundraising efforts for the organization.
Dario Scalco (2014 BACH H&SS) joined Guidehouse, an international private and public sector consulting firm, as a consultant. He previously served as the top political aide to then-New Hampshire Senate President Donna M. Soucy and as government affairs director at the Professional Fire Fighters of New Hampshire. Scalco earned a master's degree in public administration from the University of New Hampshire's Carsey School of Public Policy.
2020s
Chantelle George (2020 BACH SCI) was awarded the University of Houston's 2022 Rising Star Award, which honors alumni who have made a significant impact early in their careers. Her firm, Chantelle George Consulting, helps school districts, institutions of higher education, and nonprofits prepare traditionally underserved students for postsecondary success. George earned a master's degree in higher education from the University of Houston and is pursuing a doctoral degree at LSU.
Katherine Overby (2021 BACH H&SS) is one of seventy-five Americans selected to study and work in Germany as part of the 2022-2023 CongressBundestag Youth Exchange (CBYX) for Young Professionals. She will take part in an intensive language course, study at a German university, and complete an internship in the career field of political science. Participants are placed with host families throughout Germany and act as citizen ambassadors, promoting a positive image of the U.S.
Catherine Moore (2015 JD), an attorney with Breazeale, Sachse & Wilson, was listed in the 2022 edition of Chambers USA in the area of Healthcare.
LSU Alumni Magazine | Fall 2022 75
WEDDING BELLS
Emily Millet (2020 BACH MCOM) and Nicolas Schexnayder (2020 BACH ENGR) were married in May at the Country Club of Louisiana. The wedding party included nine fellow LSU alumni, two of whom were the bride's Zeta Tau Alpha sorority sisters, Courtney Ragsdale Griffin (2020 BACH BUS) and Marissa Rovira (2021 BACH HS&E).
Newlyweds Emily and Nicolas Schexnayder. The bride and her attendants.
OOPS! The name of Sarah Holliday James (1984 BACH H&SS) was misspelled in the summer issue. She was pictured with LSU President William F. Tate IV at a spring meeting of the Press Club of Baton Rouge. LSU Alumni Magazine regrets the error.
Robert Lawrence "Bob" Cangelosi, 1961 BACH BUS, 1964 JD, May 28, 2022, Baton Rouge, La.
Alonzo Dyer Lafleur, 1950 BACH SCI, 1952 MAST SCI, April 8, 22, Baton Rouge, La.
1950s
Anne Byland, 1954 BACH H&SS, June 14, 2022, Zachary La.
Carolyn Sue Sides Danburg, 1962 BACH HS&E, May 24, 2022, Baton Rouge, La.
John Dickinson, 1967 BACH MCOM, June 9, 2022, Zachary, La.
Donald Ray Fuller, 1962 MSW, April 14, 2022, Baton Rouge, La.
Benjamin C. Hablutzel, 1964 BACH H&SS, May 31, 2022, Durham, N.C.
Janet Quinn Rhorer, 1945 BACH HS&E, April 30, 2022, Baton Rouge, La.
Joan Carole Pourciau Prejean, 1955 BACH SCI, May 25, 2022, Baton Rouge, La.
Graydon K. Kitchens, Jr., 1958 BACH H&SS, 1964 JD, June 12, 2022, Minden, La.
Sumpter Boyer Davis, III, 1964 BACH H&SS, 1968 JD, April 20, 2022, Baton Rouge, La.
Barbara Atkinson Stanfill, 1965 BACH H&SS, July 8, 2022, Sebring Fla.
Laurie Andrew Bertaut, Jr., 1969 BACH BUS, May 31, 2022, Baton Rouge, La.
1960s
Allie Pierre Landry, III, 1969 BACH MCOM, May 23, 2022, Baton Rouge, La.
Patricia "Pat" Hester Crabtree, 1956 BACH HS&E, May 27, 2022, Baton Rouge, La.
Michael J. Lucia, Jr., 1959 BACH HS&E, 1961 MAST HS&E, April 29, 2022, New Roads, La.
Elizabeth Joy "Betty" Olinde Wilson, 1946 BACH HS&E, April 8, 2022, Lafayette, La.
In Memoriam
Michael Edward "Mike" Schouest, former director LSU Computing Center, 1963 BACH ENGR, 1965 MBA, July 11, 2022, Baton Rouge, La.
so many stories to tell. There was that time as Pistol Pete's handler when he accidently took him to a mob hangout to eat on the way home after a game and a presser in New Orleans. Shortly after dining there, the hangout was on the news after the mobster was arrested. That was a story he was too afraid to tell until after Press Maravich's death. Who selected a name for a pro basketball team? Bud, a life-long fan of Jazz, suggested it for a new franchise in New Orleans.
Timothy John McNamara, 1959 BACH H&SS, 1961 JD, May 4, 2022, Lafayette, La.
José Enrique Torres, 1948 BACH H&SS, 1955 MD-NO, Professor Emeritus-LSU Health Sciences Center, April 22, 2022, Baton Rouge, La.
Ann Oliva Boudreaux Metzinger, 1958 MAST AGR, May 6, 2022, New Orleans, La.
Marjorie G. Thompson, 1945 BACH H&SS, June 16, 2022, Baton Rouge, La.
Marilyn Frank Knight "Sue" Ferrara, 1960 BACH HS&E, 1978 MAST HS&E, June 4, 2022, Baton Rouge, La.
Charles Phillip "Phil" Daspit, 1965 BACH H&SS, 1968 MD, March 26, 2022, Paradise Valley, Ariz.
Wayne George Strickland, 1943 BACH SCI, May 23, 2022, Gainesville, Fla.
Gertrude Marie Beauford, 1959 MAST BUS, May 8, 2022, New Orleans, La.
Arthur Jackson "Jack" Perrault, Jr., 1950 BACH ENGR, July 7, 2022, Baton Rouge, La.
Larry Cortez Glover, Jr., 1968 MAST HS&E, April 23, 2022, Walker, La.
Earl C. Reynolds, June 17, 2022, 1964 BACH ENGR., 1979 BACH H&SS, Baton Rouge, La.
Sara Clare Ritter Traylor, 1955 BACH H&SS, June 14, 2022, Baton Rouge, La.
76 LSU Alumni Magazine | Fall 2022 Tiger Nation
The capstone of his career was spent curating LSU sports history for the LSU Alumni Association's Andonie Museum, publishing books and articles on sports, and ensuring the memories he held so dear were kept alive for futureBudgenerations.earnedabachelor's degree in history and journalism from Southeastern Louisiana University (SLU). During his professional career, he was an independent journalist covering Tangipahoa Parish sports, an SLU sports publicist, worked with the University of Louisiana at Lafayette sports information, LSU sports Information, and New Orleans Jazz sports information, and was assistant athletic director at Tulane University. He received the Distinguished Service in Sports Journalism Award from the Louisiana Sports Writers Association Professional Career in 2001. He was an independent consultant for Johnson Communications, a book packager and writer, served as director of the LSU Andonie Museum, and was a longtime contributing writer to LSU Alumni Magazine
John D. "Don" Lyle, 1956 BACH ENGR, June 23, 2022, Baton Rouge, La.
Anita Goodman Barfield, 1960 BACH HS&E, May 17, 2022, Covington, La.
James Hyde, 1958 BACH H&SS, May 13, 2022, Baton Rouge, La.
Julia Katherine Stearns Levert, 1955 BACH H&SS, June 13, 2022, Baton Rouge, La.
The nickname "Bud" came from a middle school basketball coach. He was small and eager, and the nickname stuck as he found a way to pursue his passion without numbers on his jersey. Not to be deterred by his size, Bud pivoted in high school to writing about sports encouraged by Jim Corbett, then LSU athletic director and later NBC news director. Bud continued writing, covering the Tangipahoa sports beat and calling his articles into newspapers across South Louisiana. His teenage sports journalism mentors included Hap Glaudi of the New Orleans Item and Bud Montet of the Baton Rouge Morning Advocate. Later in his life, sports memories became stories that Bud needed to tell. And he had
Marvin L. "Bud" Johnson, Jr.'s relationship to sports and athletes was his life's work and his life's story. His canonical knowledge of sports, specifically LSU sports, began by listening to games on the radio, collecting memorabilia, reading the sport's page, and consuming stats. His childhood obsession led to a career spent with Louisiana sports hall of famers, and his life's memories were punctuated with memories of the "game" or the "team" of the shared moment. The Cuban Missile Crisis? That distracted LSU fans from Coach Mac's first year and the fact that "three SEC teams – Alabama, LSU, and Ole Miss –were nationally ranked that year...." The birth of his daughter coincided with the momentous game where the Soviet Union defeated the USA in basketball.
1940s
Johannes W. Aalders, 1955 BACH H&SS, 1957 MAST BUS, Feb. 22, 2022, New Orleans, La.
Charles Pierce Roland, 1948 MAST H&SS, 1951 PHD H&SS, April 12, 2022, Nicholasville, Ky.
James Bert Daigle, 1957 BACH AGR, Retired Associate Director of LSU Rural Life Museum, Prairieville, La.
N.A. "Dr. Tom" Contine, 1959 BACH HS&E, Former Curator, Andonie Museum, June 2022, Baton Rouge, La.
2010s
Robert L. Zehner, 2001 PHD H&SS, May 6, 2022, Chesterfield, Va.
Lee Wilson, 1975 BACH H&SS, 1986 JD, May 29, 2022, Baton Rouge, La.
Fort Smith, Ark.
Nancy Jeanne Dumas Cook Alumna by Choice June 23, 2022, Eureka, Calif.
LSU Alumni Magazine | Fall 2022 77
Elizabeth "Liz" Walker, 1968 BACH BUS, May 18, 2022, Baton Rouge, La.
1990s
Mary Elise Baldwin, 1975 BACH HS&E, 1980 MAST HS&E, Estes Parks, Colo.
David Scott Halphen, 1992 BACH ENGR, April 20, 2022, Baton Rouge, La.
1970s
Charles Raymond "Ray" Comis, 1972 MBA, June 19, 2022, Lake Charles, La.
1980s
Maria Teresa "Terrie" Granier Stuart, 1984 BACH BUS, May 23, 2022, Baton Rouge, La.
Charles "Brennan" Kean, 1999 BACH H&SS, April 19, 2022, Baton Rouge, La.
John C. Maher, Jr., 1994 MBA, March 6, 2022, Zachary, La.
Thomas R. Klei Boyd Professor of Parasitology Retired Interim Vice Chancellor of Research & Economic Development April 18, 2022 Baton Rouge, La.
A memorial gift to the LSU Alumni Association in the name of a family member, friend, or classmate is a caring way to pay tribute to a person's life and accomplishments. To make a gift or for more information, call 225.578.3838 or 1.888.746.4578.
Barbara A. Rau, 1972 BACH SCI, May 1, 2022, Atlanta, Ga.
Alvin M. Phillips, Jr. RetiredDepartmentMicropaleontologist/CuratorofGeologyJune1,2022BatonRouge,La.
Ryan David Blount, 2003 BACH ENGR, June 30, 2022, Baton Rouge, La.
Edgar Leon Cretin, III, 1994 BACH BUS, June 15, 2022, Baton Rouge, La.
Ronnie Evans, 1972 BACH H&SS, April 20, 2022, Baton Rouge, La.
James Ford "Jim" Hanna, 1977 BACH M&DA, June 23, 2022, Baton Rouge, La.
Ebba Day Wilson, 1965 BACH H&SS, May 13, 2022, Birmingham, Ala.
Mark Steven Martin, 1989 BACH H&SS, April 26, 2022, Baton Rouge, La.
Merietta Spencer Norton, 1984 BACH BUS, 1991 JD, April 19, 2022, Baton Rouge, La.
Holly Ann Hollis Stars, 2008 JD, April 19, 2022, Baton Rouge, La.
Francis E. "Frank" Gremillion, Jr., 1972 BACH H&SS, July 16, 2022, Thibodaux, La.
David C. Blouin, Sr., 1973 MAST H&SS, 1976 MAST AGR, 1977 PHD H&SS, Retired Professor of Arts & Sciences, April 23, 2022, Baton Rouge, La.
John Douglas "Dee" Tullier, 1970 BACH BUS, June 2, 2022, Baton Rouge, La.
Michael Edward "Mike" Hicks, 1971 BACH AGR, April 21 2022, Baton Rouge, La.
William "Bill" McGrew, 1970 BACH H&SS, April 2022, Kansas City, Kan.
Adam Wayne Miley, 2010 BACH BUS, May 6, 2022, Baton Rouge, La.
Keith Copponex, 1978 BACH AGR, June 29, 2022, Baton Rouge, La.
Erin Kathleen Kirby Molter, 1987 BAHC MCOM, 1995 PHD H&SS, May 19, 2022, Woodstock, Ga.
Lynn Hugh Wallace, 1981 BACH H&SS April 9, 2022, Nashville, Tenn.
2000s
Carl Allen Retired Head Department of Kinesiology Jun 14, 2022
Jacques Bernard Favret, 1986 BACH BUS, 1979 JD, May 5, 2022, Baton Rouge, La.
Kenneth Pope Wilbert, 1976 BACH H&SS, April 2022, Port Allen, La.
Colin Shawn Cavell, 1982 BACH H&SS, April 5, 2022, Bluefield, W.V.
Clayton James "Keto" Walker, 2013 BACH BUS, May 31, 2022, Denver Colo.
Karen Basham Moody, 1999 PHD AGR, May 20, 2022, Baton Rouge, La.
Imagine a bee sting that results in a four-day flu; spending thirty years overcoming the fear of house cats; deciding what to do about the monkey sitting on your head; being within touching distance of a swimming jaguar; or finding yourself host to a young alligator in your backyard pond. Coming from a family of curious nature lovers, Janina Fuller recounts her interactions with animals in tones of deep respect mixed with lighthearted self-reflection. Her observations and
First Class: America's Marvelous Midcentury Stamps Schiffer Publishing
The Gecko in the Bathtub: Encounters with Marvelous Creatures Peace Corps Writers
Tigers in Print
First-Generation Professionals in Higher Education: Strategies for the World of Work
NASPA
Janina Fuller (2008 MAST SCI, 2012 PHD HS&E)
Service Management, the tenth volume in McDonald's Master's Program in Dealer Management series, focuses on practical tools and techniques to build more profitable and customer-friendly machinery dealer service operations. Success depends on five areas of skills and knowledge: business management, operations management, leadership and supervisory management, aftermarket marketing, and customer service and retention. Successful service managers must also understand and track relevant Critical Profit Variables – quantitative performance benchmarks drive tech service profitability, market share, and customer retention. This book helps service leaders understand and best utilize these concepts while developing product support as a competitive weapon for their machinery dealership.
Mary Blanchard Wallace (1964 BACH HS&E, 2012 PHD HS&E)
78 LSU Alumni Magazine | Fall 2022 Tiger Nation
David Cobb Craig (1979 BACH H&SS)
ability to put herself in the minds of those she's observing will bring new light to the life you share with the animals around you, no matter who they might be.
Walter J. McDonald (1966 BACH BUS) Service Management: Machinery Dealer Manager's Handbook McDonaldGroupInc.com
Every picture tells a story—even one on a postage stamp. Presented hugely enlarged, the 144 stamps in this book chronicle a stylish era of design: mid20th-century America. Spanning the late 1950s to the early 1970s, these mini-masterpieces were created when the US post office started to lavish color on its stamps and to hire the best midcentury talents to design them. The roster includes Japanese American children's book illustrator Gyo Fujikawa, barrier-busting Black graphic artist Georg Olden, industrial design legend Raymond Loewy, and sultan of psychedelia Peter Max. Photographed at five, ten, and even fifteen times actual size, each stamp is presented with a morsel of fun info that will broadly appeal to stamp collectors, history and nostalgia buffs, midcentury design fans, and everyone who likes to geek out on magnified views of tiny, beautiful images.
First-generation Professionals in Higher Education: Strategies for the World of Work explores complexities related to the transition from college/ professional school to the work world of higher education, as well
turned-refugee after the Fall of Saigon, is obsessed with divining her daughters' fates through their Vietnamese zodiac signs. But Trac, Nhi, and Trieu diverge completely from their immigrant parents' expectations. Successful lawyer Trac hides her sexuality from her family; Nhi competes as the only woman of color on a Bachelor-esque reality TV show; and Trieu, a budding writer, is determined to learn more about her familial and cultural past. As the sisters begin to encounter strange glimpses of long-buried secrets from their ancestors, the story of the Trung women unfurls to reveal the dramatic events that brought them to America.
LSU Alumni Magazine | Fall 2022 79
E.M. Tran (2011 BACH H&SS) Daughters of the New Year HarperCollins Publishers
In present day New Orleans, Xuan Trung, former beauty queen-
questions for reflection, offering readers an opportunity to discern strategies for their own professional development.
Daughters of the New Year is a captivating debut novel about five generations of Vietnamese mothers and daughters, drawing on Vietnamese zodiac astrology to chart the fateful events of their lives. What does the future hold for those born in the years of the Dragon, Tiger, and Goat?
as the advancement from mid- to senior-level leadership, and how first-generation professionals navigate these transitions. Framing their chapters in the asset-based lens of cultural capital, the authors approach topics of navigating the field of higher education as firstgeneration professionals through personal experience as well as evidence-based approaches and strategies. Organized in three sections – Professional Identity, Purposeful Interaction, and Career Path – the book examines concepts such as imposter syndrome, politics, financial literacy, resilience, networking, mentoring, career progression, and more. Each chapter includes activities, exercises, and
80 LSU Alumni Magazine | Fall 2022
Bringing Psychology to Academic Research
Tiger Nation PROFILE
By Madison McLoughlin
As she led a group therapy session in 2016, one client triggered another, who lunged at six-month pregnant Benedetto. Shaken, she ran into the office and slammed the door. The client followed, pounding the glass so hard it cracked. "I don't blame him at all – he was very ill," Benedetto explained. "It shook me enough where I was kind of like, I don't think I'm built for this Benedettoprofession."tookher genuine passion and her social work instincts with her when she inquired about pursuing a doctorate in geography and anthropology at LSU. Five years later, she's "all but dissertation." It
"The main goal is to do outreach, get the stakeholdersinvolved."
Kathleen Benedetto.
"It was like hearing about someone you love just getting destroyed," Benedetto said.
Almost eighteen years after Hurricane Katrina, the city of New Orleans had not returned to normal. The brass bands and Saints fans put on a front for the damp, traumatized city. Hundreds of thousands of people left when The Storm struck in 2005; many of those who stayed were not the same people they were before. Some of the fault lies in the preparation – the levee system was not prepared; disaster relief efforts were not prepared; communities were not prepared. Kathleen Benedetto (2012 BACH H&SS, 2013 MSW) a former licensed social worker, is working to change that as she finishes up her Ph.D. in climatology.
may seem like quite the jump to go from a licensed social worker in New Orleans to studying the science behind hurricanes, a source of trauma, in Baton Rouge, but for Benedetto, it made sense. "I've always loved bad weather," she said. "'Loved' is a weird word, but I've always found it interesting." Growing up in Southeast Louisiana, Benedetto and her mother would track hurricanes as they entered the Gulf of Benedetto'sMexico..own experience with Hurricane Katrina rents a room in the back of her mind. She was an oblivious high schooler in Baton Rouge when the storm hit. Once Katrina rolled through, the family was without power for ten days, and she was out of school for two weeks. Her mother, originally from New Orleans, cried in front of the battery-powered radio.
The scar that Hurricane Katrina left throbs visibly even today. In 2013, Benedetto saw it for herself when she began working at New Hope NOLA, a short-term, five-bed facility designed to help the mentally ill. For two years, the social worker cared for severely mentally ill residents, helping them stabilize before moving on to a group home or substance abuse facility. A few of her clients died during her tenure. "I was really struggling. I loved my clients, but the resources weren't there," Benedetto said.
She's also looking into how scientists, meteorologists, and lay people can better understand hurricanes, so they can better prepare for the storms. "If people had a little control over their preparedness, they probably wouldn't feel as lost," Benedetto said. "The main goal is to do outreach, get the stakeholders involved, not just go and collect answers," Benedetto said. "I want them to be involved because they deserve to be. It's their community."
Madison McLoughlin is a freelance journalist and graduate student at Johns Hopkins studying science writing.
Within her climatology studies, Benedetto incorporates psychology because she believes it's becoming even more important to understand the mental health impacts of natural disasters. Her dissertation focuses on the increasing number of rapidly intensifying tropical cyclones. "They're all individual, like little people. Each storm has its own personality and set of issues," she explained.
Louisiana State University and A&M College 3838 West Lakeshore Drive, Baton Rouge, LA 70808 POSTAGEPeriodicalsPAIDPostalPermitUSPS14120