Longney Luk
[selected works]
contents
00_Resume
01_Cradle Rocking Planters
01_Hut on Fowl's Legs in the Shape of a House
02_Six Mile Island
03_Bath House
04_Duple(x)city
05_Inhale & Exhale
06_Anatomy and Organic Forms
07_Hoop House
p. 2 p. 3 p. 8 p. 16 p. 19 p. 20 p. 26 p. 27 p. 29
contact: Longney Luk longneyluk@gmail.com longney.com
(713) 208-8527 Houston,TX | Pittsburgh, PA
skills:
Digital: Rhinoceros 3D; VRay for Rhino; Grasshopper for Rhino; DIVA for Rhino; Climate Studio; AutoCAD; ArcGIS Pro; KeyShot; Fusion 360; Revit GBS; CES; EnergyPlus; IESVE; Photoshop; Illustrator; InDesign; Lightroom; Premiere Pro; Muse
Analog: Drawing; Rendering; Hand Drafting; Model-Making; 35mm Film Photography
Fabrication: CNC Machine; Laser Cutter; 3D Printer; Vacuum Former; Woodshop; Power Tools
Languages: Fluent English; Fluent Cantonese; Conversational Mandarin
education:
Carnegie Mellon University | Pittsburgh, PA Bachelors of Architecture | Class of 2021 Masters of Science in Sustainable Design | Class of 2022
Strake Jesuit College Prep. Houston, TX | May 2016 H.S. Diploma
Carnegie Mellon University | Pittsburgh, PA | Summer 2015 Six Weeks Architecture Pre-College Program
experience: Research Assistant, Pittsburgh, PA | Summer 2019 - 2022 Designing and researching under Dana Cupkova of Epiphyte Lab for a fabrication installation as part of a plant nursery located in Hazelwood Green
School of Architecture Publication Assistant, Pittsburgh, PA | 2017-2019 Planning school lectures and curating annual architecture school-wide showcase called The Ex-Change under Sarah Rafson of Point Line Projects
CMU Achitecture Third Year Studio Teaching Assistant, Pittsburgh, PA | Fall 2021 Providing feedback and workshops on building performance modeling & simulation feedback and digital & analogue drawings
CMU Architecture Pre-College Teaching Assistant, Pittsburgh, PA | Summer 2018 Instructing in courses Studio, Digital Media, and Analog Media; Providing lessons to high school students on designing and curating a portfolio for college applications; Documenting and curating students' work for family weekend; Organizing field trips
Patrick Berrios Designs, Houston, TX | Intern | Summer 2018 Revising residential projects; Redesigning interior details; Redesigning showcase templates
IvyMeet | Tutor | 2016-2017
Working part-time as an ESL (English as a Second Language) Online Tutor; Improving students' English comprehension, critical reasoning, vocal and writing skills through series of reading and writing exercises
awards: Third Place EPIC Metals Competition | 2019
Measuring & Monitoring Services, Inc. Internship Fund | 2020
involvement: Peer Mentor Program | 2017-Present Mentoring underclassman architecture students
Inter-Punct | 2018-2020 Writing and editing for school of architecture journalism; publishing pedagogy zine; editing interview transcripts
AIAS | 2018 Engaging in construction and assembly for SOA Pavilion for Spring Carnival 2019; Participating as a Post Usage Coordinator for AIAS Pavilion Project for Spring Carnival 2018
The CUT | 2017-2018 Writing and editing for school-wide music magazine
Student Advisory Council Advisory Representative | 2016-2017 Serving as one of three liaison between students, faculty, and professors
2
Cradle Rocking Planters | Spring 2019 - Present
Research & Design Team: Dana Cupkova; Josh Bard; Putu Dawkins; Robert Heard; Matt Huber Kirman Hanson; Gil Jang; Ryu Kondrup; Longney Luk; Louis Suarez; Alex Wang
Collaborators: ExOne; Center of Life Hazelwood, Pittsburgh, PA
Carnegie Mellon University's School of Architecture research & design team collaborating with ExOne's binder jetting 3D printer investigate and re-shape architectural components that capitalize on the low carbon footprint of concrete unit mass. Cradle rocking planters were developed for local industrial-site revitalization to test material properties while studying surface patterns for plant growth and rainwater collection.
Material properties of reclaimed construction materials are being tested for advanced architectural designs that devolumize materials like concrete for more sustainable use and re-use.
Binder jet 3D printing offers the material flexibility to investigate reclaimed materials for more sustainable architecture while complex, ecofriendly designs revitalize nature and encourage community growth though environmental engagement and stewardship.
Hazelwood, Mill 19 Pittsburgh, PA
Given the temporary nature of the installation, the entrenched environmental conditions of the site, and our team's research in architectural surface performance and fabrication, the design intent is to create compelling sculptural forms that bring people to the site and the nursery, provide opportunities to gather and play, serve as an achor for continued environmental remediation, and engage community in dialogues on waste upcycling in advanced manufacturing.
The patterned surfaces of each landscape furniture have been fabricated from upcycled building waste material from either crushed concrete, brick, or sand. These pieces are designed to collect water and serve as growing space for plants - from moss to trees.
Prepared in Partnership with Pittsburgh Park Conservancy
Site Landscaping & Art Set Layout
4
Deep Double Spout Bench with Surface Texturing
Small Scale Prototype 5
Deep Double Spout Bench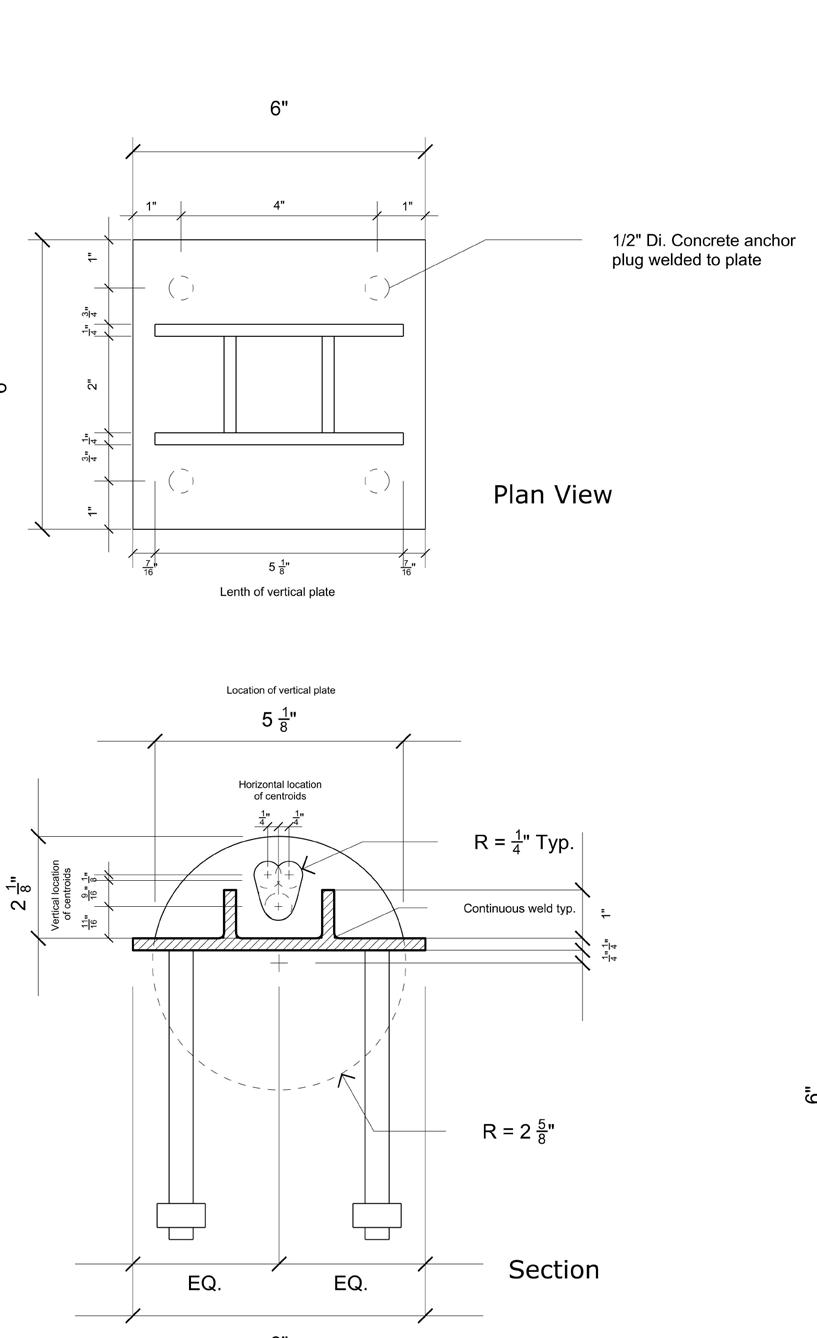 Rocker Base Anchor Construction
6
CNC Milled & Concrete-casted Base
Work-in-Progress
Early Prototype Study Models
Interlocking Non-Rock Twin Sets Aggregate Iteration Layout
7
Chicken House | Spring 2020
Instructor: Dana Cupkova; Robert Heard; Matt Huber Collaborator: Louis Antonio Suarez
At the peak of Industrial Pittsburgh, early 20th century steel mills and coke factories provided optimistic job opportunities while employees conveniently lived in proximity to the plant. One of these notorious coke plants resides approximately 4 miles south of Downtown Pittsburgh. From the economic meltdown, the majority of those residents abandoned their neighborhood, leaving a repercussion in the early lot vacancy phenomenon. Arrives the 21st century 178-acre transformation plan along with secondary intentions of neighborhood revitalization through Mill 19. Still, the development disregards the historical local values by its large scaled infrastructure and dwelling complexes. Expectations of domesticity and family operations are lost within the massive single unit blocks. As continual commercial development inevitably leads to a loss of culture and climb of consumerism, we venture to discover a new pastoral life order.
On approach, the Chicken House appears against the horizon of a forest. When one turns around, the town is revealed. Hazelwood neighborhood in Pittsburgh's picturesque landscape is grounded in a hilly topography and contaminated post-industrial soils. Nurturing a collective self-sustaining system and biodiversity, this New Pastoral design calls for a vernacular sensibility and deindustrialization of agriculture while immaculating pollution through upcycling of contaminated soil for new construction.
Hazelwood, Pittsburgh, PA
Co-operative
Summer view from Electric St & E. Elizabeth St
Housing
Lithopic House: Ecologies of Earthen Matter
8
The house evolves from the Pennsylvania bank barn embedded in a hill with the entrance at the top. The lower level becomes a garden for chickens and the upper a house for human dwellers. The house is centered around a hearth and chimney, providing warmth and acting as a thermal mass. This strategy transforms lot vacancy into productive landscapes, for the inhabitants that belong to a racially diverse, underserved, economically and socially vulnerable demographic. The Chicken House seeks to examine a new form of pastoral urban life, incorporating a human/non-human co-sharing dialectic, as a contemporary ecological thought moves to include other species. The clients are a farmer-gardener, her family, and a family of chickens. Here, the co-operative farmhouse for pan-species dwellers lies between Hazelwood Greenway and suburban neighborhood.
Lithopic House: Ecologies of Earthen Matter
Co-operative Housing
Workflow and Fabrication Process
Co-operative Housing
9
Lithopic House: Ecologies of Earthen Matter
Overall site plan showing Hazelwood greenways and pollution density
Close up site plan showing water runoff on roof and surrounding hill
Rooted in a research studio "Lithopic (Living Stone) House: Ecologies of Earthen Matter", that was led in conjunction with a material science seminar, our design approach is underpinned by a potential of construction waste recycling through direct 3d binder-jet printing. This cradle-to-cradle method would reduce CO2 levels by reducing the volume of new architectural materials, as well as offsetting waste streams heading to industrial landfills. Shaping printable components for minimal material use aligned with structural and ecological potential is coupled with a desire to integrate new landscape and biomass directly into the architectural form, function and experience.
Design Process Workflow: Using Generative Adversarial Modeling to identify ecological patterns that would support plant growth integrated into material form of the thin shell constructions. Additional process: de volumizing variation through texture and stress load exploration.
Co-operative Housing
Lithopic House: Ecologies of Earthen Matter
Co-operative Housing
10
Lithopic House: Ecologies of Earthen Matter
Integration of the thin shell
Lithopic House: Ecologies of Earthen Matter
Lithopic House: Ecologies of Earthen Matter
Co-operative Housing Co-operative Housing
11
Co-operative Housing
Co-operative Housing
Hearth component shape reduction iteration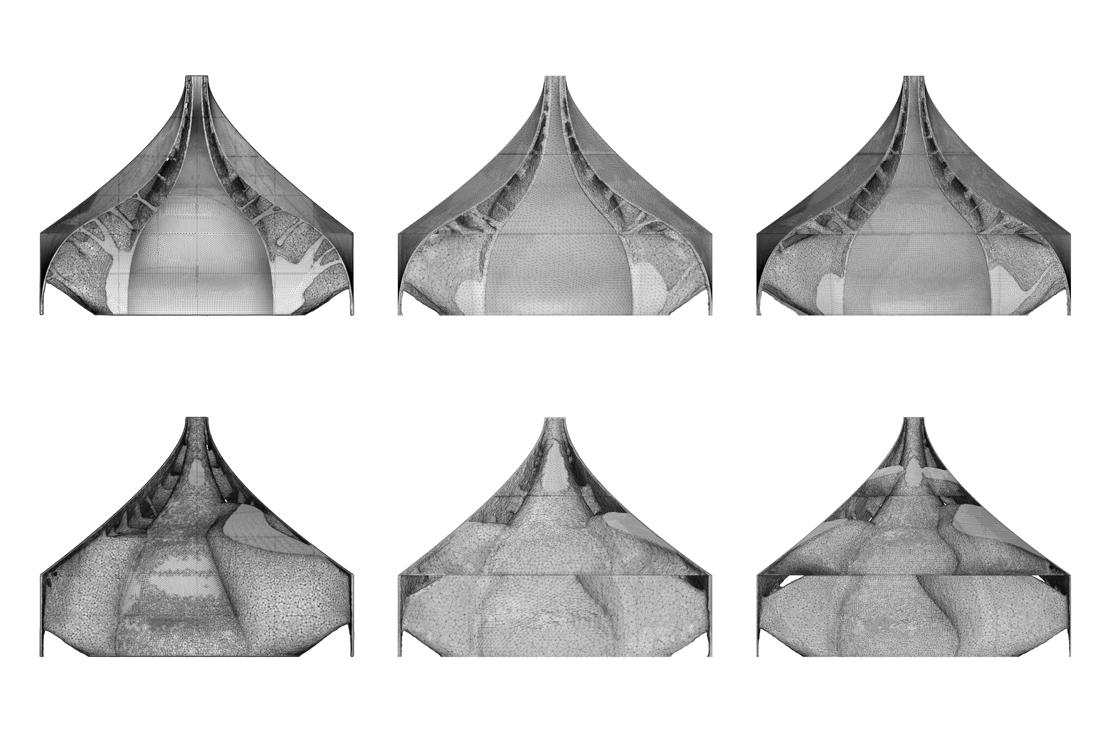 Lithopic House: Ecologies of Earthen Matter
Lithopic House: Ecologies of Earthen Matter
12
Lithopic
Co-operative Housing
Co-operative Housing
Lithopic
Structural Form Study: Increasing ecological impact by reducing material volume
House: Ecologies of Earthen Matter
House: Ecologies of Earthen Matter
3D Print Studies
13
Shaped Optimized Component Assembly
3D Jet-binding Sand Print Studies
(Left) Chimney Component Base (Middle+Right) 70% Reduction
Co-operative Housing
Co-operative Housing
Chimney Component Base Model (Bottom) 70% Chimney Component Reduction (Top)
Lithopic House: Ecologies of Earthen Matter
Lithopic House: Ecologies of Earthen Matter
14
Co-operative Housing
Co-operative Housing
Lithopic House: Ecologies of Earthen Matter
In the Grotto, after Jean-Francois Millet
In the Kitchen, after Ander Zorn
Lithopic House: Ecologies of Earthen Matter
15
Winter view from Electric St.
Environment, Form and Feedback Studio | Fall 2018
Instructors: Dana Cupkova; Marantha Dawkins Allegheny Country/ Sharpsburgh, Pittsburgh, PA Six Mile Island
(Individual Project)
How do these spaces and geological forms changing over time affect the way humans settle and operate within the eco-machinic housing? How do these individual units affect the communal activity of farming and harvesting overtime with driven environmental factors such as flooding?
This research proposal investigates the involvement of eco-machines such as wetlands and bioswales within the architecture and its geological land manipulation and terraforming.
Human Adaptation to Geological Manipulation
For a temporary and active site that overflows frequently, the focus initially began with the categories of zoning and their relationship composed to the individual housing units; The zoning inspects the flow and storage of water in addition to the occupancy and circulation of humans on Six Mile Island.
The agenda studies the composition of housing units and their manipulated landscaping which allows specific rooms to flood overtime; qualities of flooding provide alternative ways of harvesting.
Human Adaptation to Geological Manipulation
Community Housing
(Above) Community housing during a flooded scenario
(Above) Analysis of runoffs and impervious zones
Community Housing
16
The program re-evaluates the idea of new human settlement to a changed setting. It not only focuses on new functions of the architecture, but it also questions the role of current generation habitation and their offspring's role of living in future geological changes of housing.
FEMA Flooding Site Analysis (ONE CENTURY) Allegheny Country/ Sharpsburgaah, Pittsburgh, PA Six Mile Island
(Above) Early prototypical casting models of grotto dwelling spaces
Community Housing
Human Adaptation to Geological Manipulation
Community
(Above) Alternative roles of utilizing new resources as part of grotto dwelling
Housing
17
Human Adaptation to Geological Manipulation
Housing topologies situated accordingly to the water flow from the east side. Grotto from each unit typically faced along the edge conditions of land near frequent water streams. Within the community, available open yards are shared between each unit.
(Above) Site Plan
(Above) Section Perspective Renders
Human Adaptation to Geological Manipulation
Human Adaptation to Geological Manipulation
Community Housing
Community Housing
18
Instructors: Jeremy Ficca; Manuel Ladron Crawford Notch, NH
The intervention explores the enclosure and spatial conditions through the material of concrete and it's free formed textures. The project diverges into the concrete's weathering qualities and its sensible temperature conditions. Geometries defines interior and exterior transitional spaces that include temperature qualities.
Bath
|
House
Spring 2018
Bath House Earthen Wellness 19
Duple(x)city | Fall 2019
Affordable housing in high-rise form
Instructor: Akhil Badjatia
Group: Isabella Ouyang; Chitika Vasudeva; Curran Zhang East Liberty, Pittsburgh, PA Penn Ave & Centre Ave
With an affordable housing shortage crisis in Pittsburgh, the proposal addresses an accessible high density housing with a progressive sustainability agenda through the use of crosslaminated timber construction and integration of environmental systems throughout the site. Situated at the busiest intersection in East Liberty, public accessibility was a priority in fighting against further urban density.
Facing east of the residential tower, outside the main entrance of the ground floor lobby situates a 18,000 sqft. park with rain water biofiltration systems. By providing outdoor seating, the space encourages community events such as a weekly farmer's market. For convenience of transport, farmers have access through a private corridor for parking and tent set up. During harsh winter seasons, the season long public cafe provides substantial seating for the public and residents.
High-rise Housing Future Dense
High-rise Housing Future Dense
First Floor Plan Podium
20
Winter Season Activity
Future Dense
Farmer's Market Future Dense 21
High-rise
Housing
High-rise Housing
South Elevation East Elevation North Elevation High-rise Housing Future Dense High-rise Housing Future Dense
East Section 22
West Elevation
High-rise Housing Future Dense Future Dense 23
Multi-level housing created alternative possibilities of residential access to personal outdoor space. CrossLaminated Timber provided at opportunity of creating aggregative extrusions from living rooms of 3 bedroom units. In the same unit the level above the extrusion provided an outdoor balcony for the master bedroom.
Axonometric High-rise Housing Future Dense
Facade Detail
Housing Future Dense 24
High-rise
System is composed of layers of solid-sawn lumber glued together with each successive layer oriented perpendicular to the first. The project uses 16'' thick square column and 12'' thick floor plates.
Different unit types and design of multi-level units integrated throughout the residential tower encourages a multi-generational housing practice. Additional factors include communal amenity spaces every two-three floors with access for all residence in creating a strong sense of neighborhood community.
3 Bedroom Duplex Daylight Analysis
High-rise Housing
Future Dense
Future Dense
High-rise Housing
Study Space
Common
25
Sky
Garden 11th Floor Garden 12th Floor Dining 13th Floor Kitchen
Inhale & Exhale | Spring 2019
Third Place EPIC Metals Competition
Duration: 3 days
Partner: Alex Michael Wang
Proposal "Inhale & Exhale" can be described as a self-operating machinic specimen that mutates into different forms through inflation and deflation of the "lungs". Through the solar power generating air pumps, the plastic bubble or "lungs" can expand which provides larger surface area for rainwater collection. Due to the expansion of the plastic bubbles, the pods constructed from a series of EPIC Metals collection operates along with the act of expansion by the use of rails extending outward. The eco-machine manifest entices the public through small apertures of the soft material slipping between the metal panels. The soft materials and changing state can be a playful and experimental tactile experience in learning.
EPIC Metals Competition EPIC Metals Competition 26
Anatomy & Organic Forms | Fall 2019
Medium: Charcoal and Conte on 24'' x 18'' Newsprint (Individual Project)
Study
Anatomy and Organic Forms
of Knee + Tendon
Anatomy and Organic Forms
27
Study of Hip + Tendon Study of Calf
Hoop House | Fall 2017
Grow
Collective Studio
Instructor: Josh Bard; Brian Peters
Group: Erin Fuller, Leah Kendrick, Evan Lehner, Xiaoying Ming, Stephanie Wong
Phipps Conservatory, Pittsburgh, PA
From the transitional stages of fall to the harsh winter season in Pittsburgh, a public urgency of environmental communities demand accessible and affordable microclimate shelters for plants to grow and harvest.
Methodology of the design approach incorporate unrestricted environmental learning opportunities while physically involving new ways of teaching the public.
Siting strategies within the city's historical botanical landmark tie critically to the necessary exposure to visitors. The small-scaled contraption mediates the interaction between humans and Phipps Conservatory as a host. Placement of the Hoop House provides alternative methods of rethinking the outside spaces of conservatories at a larger scale.
Hoop House Grow
Hoop House Grow Collective 28
Collective
Hoop House
Hoop House
29
Grow Collective
Grow Collective