ISSUE 60 JAN/FEB 2023
Hi again!
I wanted to share my thoughts that I wrote on my Notes app from my phone on September 23, 2022. I was initially planning to have a new issue in 2022 but I'm a firm believer that everything happens for a reason. I'm incredibly grateful for my team, contributors and our readers for being a part of this next chapter of Local Wolves. Here we go!
The past two weeks have been wild with barely any sleep and anxious thoughts. The feeling of failure is so scary but it's definitely still 'a work in progress' for me. I'm tired of waiting for the "perfect time" to start my dream career. Why not right now? Long story short, a very special opportunity came out of the blue and it's been a few months in the making. We received good feedback today, which at this moment confirmed why this risk was worth the late nights and just doing the best I can this time around. I'm very grateful and happy for where I am right now in life. I've learned that if it's meant for you, it will happen.
This issue is curated to the old school roots of Local Wolves. Lots of new music discovery to add to your radar and incredible stories by our talents and submissions by our growing community. P1Harmony has this undeniable talent that after that first listen– you'll be instantly in awe of what's to come for the group and it's only the beginning. A huge thank you to my dear friends who listened to me ramble out of frustration and the random sparks of joy as Local Wolves is here to stay, for good.
Take Care, Cathrine Khom
2
local wolves • 3
I'velearned that if it's meantforyou, itwillhappen.
contents
4
classics
features
almost monday
perspectives
local wolves • 5
02 editor's
08
10
16
110
30
36
42
54
58
68
78
84
90
96
letter
playlist
pinpoint
wolfie submissions
offline itinerary
alisa xayalith
spencer neville
noah guy
P1HARMONY
zzzahara
beach weather
kimbra
the wrecks
lexie jayde
24
46
72
102
the nymph tale
idyllic
daydream
transitions
ISSUE 60: P1HARMONY
Local Wolves is an independent digital and print magazine driven by the passion of storytelling for creative minds from diverse fields of work.
CONTACT
General: info@localwolves.com
Press: press@localwolves.com
Advertising: advertising@localwolves.com
Get Involved: community@localwolves.com
MAGAZINE TEAM
Founder & Editor-in-Chief: Cathrine Khom
Copy Editor: Sophia Khom
Social Media Coordinators: Jessica Spiers, Olivia Pannu
Designers: Lisa Lok, Yoolim Moon, Ridwana Rahman
Contributing Writers: Ailie Orzak, Ang Cruz, Ariella Nikita Lai, Lan Do, Mara Go, Mun AM, Sami Harris, Uma Snow
Contributing Photographers: Alex Lam, Ana
Oquendo, Avery Belser, Caroline Safran, Isaiah Pate, Sam Green, Sravya Balasa, Vanessa Le
Logo: Lisa Lok & Fiona Yeung
MANY THANKS
Cover: P1Harmony
Classics: Cathrine Khom, Sravya Balasa
Editorial: Alisa Xayalith, Almost Monday, Beach Weather, Kimbra, Lexi Jayde, Noah Guy, Spencer Neville, The Wrecks, zzzahara
Perspectives: Michelle Castillo, Lara Olindi, Sravya Balasa
Wolfie Submissions: Ashley Corvin, Cara Presta & Tess Morgan, Caroline Safran, Cerys Rotondo, Chelsea Muscat, Eilidh Mahoney, Fawzul Himaya Haree, Jameson Ramsey, Landon Khiry, Sylvie Lam, Tristan Martin
ON THE COVER
Writer: Uma Snow
Photographer: Vanessa Le
Photo Assistants: Emilia Lahtela, Sravya Balasa
Hair Stylist: Kyeongrim Han
Makeup Artist: Eunsol Park
Stylist: Gabe Bass
Styling Assistants: Young Ju Chung, Theingi Thann, Jayeon Kim
Onsite Assistant: Jessica Spiers
6
SHOP NOW, SHIPS WORLDWIDE magcloud.com/user/localwolvesmag
CURATED BY EDITOR-IN-CHIEF, CATHRINE KHOM
COMEBACK 1. Wild Flower (with youjeen) RM 2. Little Freak Harry Styles 3. Blue Jackson Wang 4. By My Side GSoul 8
PLAYLIST
5. Deep Green Christian Kuria 6. Uniform (Ft. pH-1) Woo 7. Side Effects ft. Satica Woosung 8. Not Coming Home Nolie
It's You ft. Keshi MAX 10. HURT NewJeans
9.
E R M O N T
WRITTEN AND PHOTOGRAPHY BY SRAVYA BALASA
10
V
local wolves • 11
12
Growing up in California all my life, all I've ever romanticized was one day living on the East Coast to experience the crisp breeze and warm-toned leaves that meant it was fall. After moving to New York City in September, I knew my first stop on this seasonal journey was Vermont. Known for its fall foliage, maple syrup, and quaint towns, it's exactly what I imagined an East Coast autumn would be.
I visited Vermont during mid-October, which is when Vermont's fall foliage peaks. On the 6-hour drive to our weekend cottage in Barre, we grew progressively more excited with every red and yellow tree we saw on the interstate.
local wolves • 13
To be honest, I spent the entire weekend in awe. At Quechee Gorge, I closed my eyes and listened to the river peacefully running along, cradled between a sea of green and orange trees. During our walk along the Lake Champlain waterfront, I couldn't stop running to every red maple tree, picking up a leaf in disbelief that it was just that red. As we walked through Burlington's downtown, the owner of every stall at the farmer's market was eager to strike up a conversation about their 30 years in Vermont. Driving along the Appalachian Gap from Waitsfield to Bristol, we sat in silence, absorbing the rich colors around us. When I ran to the peak of Owlshead Mountain to catch the sunset, hair flying around me and wind biting my face, I just stood there staring, feeling unbelievably small but present.
So now, when the hustle and bustle of New York City overwhelms me, I fondly remember the way my breath caught seeing orange trees in Barre that looked like fire under sunlight. Autumn in Vermont is a reminder to let your whole world stop and for just one second, breathe and take it all in.
14
local wolves • 15
WOLFIE SUBMISSIONS: COMEBACK
The past few years have been challenging yet it brought so many emotions, celebratory wins as well as the time and space that everyone needed to slow down, unwind and heal. No matter who you are, this sense of time allows you to reconnect with friends and loved ones over the phone or on virtual calls. It brought us to create what matters to you, discover new hobbies and finally calling the shots for once in your life— to live your best life. Share your perspective on how these past few years have shaped you through any forms of art, written words, photography and design.
16
— TRISTAN MARTIN / PORTLAND, OR
the music is too loud for me to concentrate
The inspiration for this piece was going to many parties in the past and being the only one around sober and anxious. It describes the emotions of not wanting to be somewhere but willing to risk it just to be accepted and follow the norms of what society makes you think having fun is. The blank faces were to describe the lost memory of the night, I would be so anxious I couldn't even make eye contact.
local wolves • 17
— LANDON KHIRY / Brooklyn, NY
— ASHLEY CORVIN / Richmond, VA
— EILIDH MAHONEY / VANCOUVER, BC
18
— CAROLINE SAFRAN / BROOKLYN, NY
Daydreaming — JAMESON RAMSEY / MERIDIAN, MS
"bloom" explores the theme of growth and the lessons I've learned over the past few years. The isolation during the pandemic brought introspection – being cooped up at home provided time and a safe space for me to work on myself and explore different avenues of growth. I built my set of values, pushed my personal, professional, and creative comfort zones, and learned about what keeps me sane. Although it may not seem like much, the pause in "normal" life during my sophomore and junior years of high school felt like it came at a perfect time – even though high school is a time for exploration and preparation for the "real world", productive exploration isn't really possible without having a good sense of self.
Despite physical connection being something that I, and many others, desperately missed, the period of isolation tested which connections were essential to us. We chose who to call. We chose who to text. We chose who we wanted to connect with. Whether they were old friends we wanted to reconnect with, current loved ones we wanted to checkin on, or strangers that we would eventually build strong relationships with, we intentionally made choices of whom we wanted in our lives.
Creatively, I realized how much I used photography to escape and connect with others. Even though photographers all around the world tried to work around physical isolation guidelines with FaceTime/Zoom photoshoots, to me, they were never a full substitute for the sense of heartwarming fulfillment I got from creating art with others. The time apart just showed how much creating with others means to me and how important it is to my identity.
Coming back to a new normal this past year, I was able to bring my personal growth into the relationships fostered during the pandemic. "bloom" – a photo set I created with Carly, a middle school friend whom I reconnected with over the past few years– allowed me to feel connected to others again through creating art. Here's to many more authentic connections and photography adventures ahead!
— SYLVIE LAM / BAY AREA, CA (MODEL: CARLY LAM)
local wolves • 19
20
Emanating from my ongoing series documenting my mother and her mental illnesses titled Story of My Mother, these pictures take a new turn in the series becoming very playful, imaginary and tapping into my childhood as opposed to the usual dramatic approach.
Shot spontaneously in our garden two weeks ago in my childhood home of Nadur, Gozo. My original home is everything and I have fond memories of playing and finding snails with my mother and sister as a little kid. Our garden was always a place of wonder and magic still swearing to this day that I once saw heaps of butterflies in all shapes and colors (one shaped like big red lips) that don't formally exist in our world now and also a miniature dinosaur that then disappeared into the bushes.
Channeling that childlike innocence and wonder we created these images while being home the past three months. Our relationship has eased out over the last few years and I have grown immensely, mainly from deciding to move to Malta during the pandemic for a year. This really let me see the value of life, connecting and moving with intention. My photos of my mother were often critical due to the intense trauma she put me through. I am now happy to say they have now been moving in a more celebratory, playful way that celebrates life and her essence even if she's at times hard to deal with.
Life is beautiful, and I am grateful for that.
—
CHELSEA MUSCAT / NEW YORK, NY
local wolves • 21
— CERYS ROTONDO / Berkeley, CA
the last few years have changed our lives in a way we would never have expected. granted the passage of time has always been heavy with us, it has always knocked on our doors and ushered in through spaces — time has always been a cautious stranger, then a friend, and then a lover and consequently someone we would grow to despise but never abandon.
the last few years, however, have changed us in ways we shall never be able to unravel without more time. it has given us both space and time, letting us take a step back from the things that made us undeniably human. at the very beginning, it was space we needed, space we took from one another, to protect each other from something that we didn't know. we would then take it as time for us to slow ourselves down a little and look at our family and ourselves more. but it wouldn't be so easy, always. the world as we knew it would narrow down to our screens, headlines and counts. it was time we were losing. the roaring twenties, they said, had been silenced without a word. outside the world would pass by without us, there were trees that touched the glass of your windows, you would stop yourself from reaching out to them.
the last few years would pass by agonizingly. the end (but not really) would come to us without a warning. it would teach us what humanity really meant to each other and what being human was. it would teach us what it meant to be human all over again. it would teach artists and writers there were people who could not live without their words. it would teach us to write them. it would teach me to hold mine carefully. it would teach me how little meaning my words could hold if there was no one to read them.
it was us and only us who could hold each other, the way we wanted to. we would only understand what it meant to be human by reaching out to one another.
the last few years were difficult. we are only on the cusps of waking up from a long, hazy sleep. the end is still not here. we must remind ourselves it is only our care for each other that sustains us. that we have walked this far because we look out for one another and nothing else. that we need to look out for each other. that it is deeply meaningful to exist, to live and take time for the people we love and this is a world that we must create for everyone. it has taught me how we must pay attention to the world that exists around us, that it is important we learn and take the time to understand, to be careful, to notice. to reach out through the glass and touch the leaves you want to and remind yourselves what it means to be human.
— FAWZUL HIMAYA HAREED / SRI LANKA
JUST BE ART
When my mother died unexpectedly, I was tasked with organizing a memorial to honour her life and legacy. In those dark weeks leading up to the event, I found solace in rediscovering the facets of her that resonated deep within my own existence — waking up to the forms she had sculpted in me from the earliest days I can remember. I spent hours sitting in our musty basement, dusting off a collection of paintings that had not seen the light of day since my early childhood, reminiscing on the stories she would tell of her years as a fine artist — a vivid, exciting life she had lived far before my time. My mother was gifted beyond words in everything she crafted which had always shaped the image I held of her in my mind. But it wasn't until the memorial where her artwork was displayed on every easel that the funeral home could provide, that I realized she had kept this gift hidden from her friends and loved ones; buried in the basement of her world. It was like a rehearsed skit. Each and every person who came to offer their condolences also expressed how shocked they were that with her own two hands she had produced such compelling pieces. Though that recognition was offered in good light, my heart ached — she would never hear those words of praise, she would never see the way the image others held of her had grown, knowing that she was capable of such beauty.
The thought of embracing your art can be daunting. In turn, the idea of sharing said art is an act of vulnerability; exposing your subconscious ideations to critiques, both good and bad. As aspiring artists, the intrusive thoughts and themes we face when putting ourselves and our work out there have no bounds — they will always be there willing us to keep hidden in doubt. But what if we changed the narrative? We forget that we are inherently art; everyday we start with a blank canvas and paint ourselves in the light that we feel reflects who we've chosen to be that very day. Our clothing is our armour, our face is our mask and it is the job of our spirit to shine through and create the persona that lives vibrantly inside the walls of the body we call home. 'Just be art' is a love letter to those artists whose colours have yet to be celebrated; your time of hiding has passed. Wear your creativity as plainly and openly as you wear your clothing each day and watch as the community around you finds meaning, hope, and inspiration in works that otherwise might have lived in the basement of your mind — collecting dust and never breathing your individual light into a world desperate for your touch.
WORDS BY TESS MORGAN
PHOTOS & EDITING BY CARA PRESTA
FEATURED PAINTINGS BY TESS MORGAN
CREATIVE DIRECTION BY TESS MORGAN & CARA PRESTA
— TESS MORGAN & CARA PRESTA / TORONTO, ON
22
local wolves • 23
THE NYMPH TALE
PHOTOGRAPHY BY LARA OLINDI
24
MODEL: NAZARENA GONZALEZ
MAKEUP ARTIST: MARÍA NOEL ALONSO
HAIR STYLIST: M.BELEN ROMERO
WARDROBE STYLIST: VALENTINNA
AGENCY: ADON MANAGEMENT
local wolves • 25
26
local wolves • 27
28
local wolves • 29
A lisa X ayalith
30
WRITTEN BY MARA GO PHOTOGRAPHY BY ALEX LAM
HER KIND OF MAGIC: ALISA XAYALITH HAS FOUND HER POWER IN VULNERABILITY
At the time when the concept of "superpowers" entered our vocabulary, a new desire for heroic abilities was born. Our unapologetically ambitious, dauntless, and confident young minds mostly daydreamed about flying or at least thought about traveling through time. In that defining period, our imaginative playground made it easy for us to identify our extraordinary means and analyze the heroes we want to become.
It wasn't soon until our perception of "superpowers" shifted. Perhaps we can blame age or the pain of growth, but as one gets older, the idea of heroic abilities finds a new life outside of telekinesis or super strength. Loving is a superpower. Forgiving is a superpower. Healing is a superpower — it doesn't construe that the spirit of extraordinary means is dead but rather it's a call to embrace our kind of magic.
"Overcoming your fears can feel like a superpower to become your best self," ALISA XAYALITH candidly shared in an exclusive press release. Her recent debut solo EP Superpowers hints at how the award-winning artist found her power, "I wrote this about pushing through my self-imposter syndrome to do with the pursuit of my solo project. I feel like I became my best self, stepping into being the leader of my songs and getting them to the finish line."
Alisa Xayalith has a kind of magic that is hard to miss. In this feature, the artist illuminated the story that has taken her from being the frontwoman of The Naked and Famous to embracing her rhythm.
local wolves • 31
LIFE OUTSIDE THE RECORDING STUDIO
Despite her schedule as an artist, Xayalith unveiled that she admires slow days. "One constant thing I will always be busy doing is making something delicious to eat. I love cooking and baking projects over the weekends. There's something therapeutic about following a recipe, it's methodical and creative. It's a great way to bring my friends together," she expressed. The artist also unveiled how she exercised her creativity outside music "I would get into some pretty crafty things like sewing, so I could up-cycle my clothing. I'd love to revive painting dates I had with my sister during the pandemic where we'd find silly memes of animals, and paint them. All of my hobbies would be creative, I like making things. But so much of my time is accounted for every day, between taking care of my mental health and running this little business of truly being an independent artist, it's hard to make time for hobbies."
ON BECOMING A SOLO ARTIST
"I think I've become a lot more independent and confident in who I am as a human and know how to play to my strengths and know when to ask for help with my weak spots," Xayalith explained "I got to explore a different sonic palette with my music and songwriting. So much of my life has been dedicated to being a teammate in a band, making accommodations, and managing people's expectations in the creative process, and can get strained with the weight of history that comes with The Naked and Famous."
The artist also nodded to Stevie Nicks who also shared the same career direction as her, "I read an interview with Stevie Nicks talking about her solo career and being asked a similar question. I imagined her having a cheeky smile on her face as she said 'I get to be the boss.' That's how I feel."
Xayalith also revealed that it was something that she'd wanted to do. "I started on my own. I went to music college as a singer-songwriter with my guitar and I didn't think that I'd be starting my career in a band with four other boys. At the time, I looked up to artists like Michelle Branch, Feist, Fiona Apple, PJ Harvey, and Bjork. Then I discovered The Yeah Yeah Yeahs, The Kills, and Blonde Redhead, all of which are amazing frontwomen in bands."
"The catalyst for really doing this thing was when the pandemic came and the world shut down. I had just come off the back of releasing The Naked and Famous's album Recover. I was at a low point. I needed a creative break from the band and needed to take care of my mental health. Through taking care of myself, I found joy in making music again. I would say, it was a thousand little moments that lead to the one where I decided I need to prove something to myself and create my path."
32
ON HER LIFE WITH THE NAKED AND FAMOUS
As Xayalith embraced her power as a solo artist, she credited The Naked and Famous and its impact on her career. "The Naked and Famous was the biggest teacher in my life and music," she revealed. "It's been responsible for a world of firsts, the only band I've been part of. And Thom Powers has been my main partner and collaborator in writing, recording, singing, performing live, and confidant in navigating the music business together." The artist also opened up, "We also went through a public break up and it became the central story of our band as we released our third studio album. Which presented interpersonal dramas in my life at the time."
Nonetheless, Xayalith still acknowledged the band as a big part of her growth as an artist and as an individual. "This band was my life throughout my formative years and I built so much resilience through all the pitfalls as they came. I was so tethered and tangled in all the ways you can imagine being in this band. Imagining myself standing alone and building my world was scary, but I felt the need to do it. I owed it to myself to figure out who I was on my merit. A big part of pursuing my project was finding the self-confidence that eventually propelled my path forward."
IN HER CREATIVE PROCESS
Often, artists are entwined with their source inspirations and for Xayalith, there is still a lot of uncovered ground from her own life that is yet to be explored. "Sometimes friends inspire songs as it did with I'll Be There. I like to write on my own and with others. Some of my favorite writing sessions happen where it feels like I'm just connecting and hanging out with people who have a deep understanding of what I want to do on the day and we write something meaningful."
The artist also became honest about her creative process for Superpowers. "I was pretty stuck in my creative process for a while when Superpowers came about," she explains "I got a Netflix movie pitch to write for, which can be fun sometimes because it allowed me to take a break from playing the central character in the everyday process of being an artist. The movie pitch was actually for Tall Girl 2. They needed a song where they felt empowered and confident for the teenage character who was navigating her insecurities in high school and eventually overcoming them. I guess I didn't see it at the time, but the feeling ran parallel to what I was feeling at that time too."
Behind every successful track in the EP is Xayalith's growth over her struggles. "To overcome my insecurities about being an artist that could stand on their own. Part of me didn't believe I could ever do it because, for the longest time, I felt like I wasn't good enough," she reveals. "For a second, it looked likely this little song would make the film but they went another way and it ended up being the title track to my debut EP."
local wolves • 33
N o matter how ugly life gets, don't stop creating.
34
ON OVERCOMING HER STRUGGLES AS AN ARTIST
"I think it has to do with being worried you'll never reach your full potential, scared of what people will think of you, and fear of failure," Xayalith notes when asked about her thoughts about self-imposter syndrome among artists. "Maybe you think you need all the fancy tools to accomplish your goals, but, most of the time, we have what we need. Plus, no matter how many good people you have in your life telling you how wonderful you are, if you don't believe in yourself, you can be stuck for a long time."
She continues, "I was doing a lot of therapy and learning about my inner child to overcome my blocks. The answer was always really simple, believe in yourself, don't be afraid to ask for help and you can always start from where you are." Xayalith also imparted a piece of short but impactful advice for all emerging artists who are struggling with self-imposter syndrome: "Create art without judgment and go to therapy."
ON WHAT IS NEXT FOR ALISA XAYALITH
"There is so much I want to explore," Xayalith mentioned "I've been lucky to have traveled the world and toured in a band. I'd love to see what it would look like for me in the future. My dream is to have an all-female/female identifying/POC band who would take up space with me in the indie music spaces. I'd love to open for my favorite artists like Kacey Musgraves or tour with Alvvays."
ON A PIECE OF ADVICE, SHE'D GIVE TO HER YOUNGER SELF
As we close the conversation, Xayalith shared a piece of advice for her younger self that applies to any artist of every age, "No matter how ugly life gets, don't stop creating."
In between the gentle indie-folk-leaning song that soon builds into a swirling anthemic crescendo, Alisa Xayalith introduces a new take on the power that the world can resonate with. Every track inarguably reflects her magic and charisma. And while the debut solo EP celebrates her new chapter as a solo artist, it also sheds light on Xayalith's power to make her fans feel safe with their vulnerability and at the same time find the will to stand alone in their power. Xayalith is not just in the business of creating long-time favorites but she's here to make an impact.
local wolves • 35
SPENCER NEVILLE
WRITTEN BY ARIELLA NIKITA LAI PHOTOGRAPHY BY ANA OQUENDO
36
From Lebanon, Tennessee to Los Angeles, California– the future is looking bright for up-and-coming actor SPENCER NEVILLE . Following his role as the young wise-cracking naval aviator, Bo Lavery in J.D. Dillard's Devotion, the 31-year-old actor is set to star in season 2 of the hit HBO Max TV show, The Sex Lives of College Girls
The Tennessee native began his acting career in 2014 where he guest starred in Parenthood and several episodes of the long-running soap opera, Days of Our Lives. Neville found his first big break in 2017 when he was casted as Zach in Ozark. Succeeding it was roles in several TV shows, such as FX's Emmy-nominated horror anthology, American Horror Story and its spin-off, American Horror Stories
HOW DID YOU PREPARE FOR YOUR ROLE IN DEVOTION ? DID ANYTHING DIFFER FROM THE WAY YOU PREPARED FOR YOUR PAST AND CURRENT ROLES?
SPENCER NEVILLE: I started off by reading the book (of the same name), written by Adam Makos. I'd never worked on a project that was based on a book, so that wealth of information and detail of the world these guys lived in was invaluable to me in my preparation. I guess I should say, I read the script first. When an audition comes to me, it's often the case that I only have a day or two to read any and all materials, prepare the character for the self tape, shoot it, edit and send to casting. Reading the book before that initial audition prep would've been impossible for me…I'm a bit of a slow reader. Fast forward to getting the role a month later, and then reading the book…I was then in full character prep/research mode. My family has a lot of military roots, and I've been on bases all around the country growing up. So I utilized those connections to have conversations, specifically with pilots, about the rigors of the job, the training, all of it. JD (Dillard, the director) sent the cast a "Pilot Prep Manual". It had an incredible amount of information– movies, documentaries, YouTube videos to watch, the pilot's manual of the F4U Corsair (the plane we fly), a Spotify playlist for the tone he wanted to set, and the yearbook from the USS Leyte– with photos of life/camaraderie/duties on the ship. We also had numerous conversations, individually and with the entire cast, about how we all fit into the group, and what our roles within that circle looked like. I also reached out to Adam Makos (author of the book) to discuss his thoughts on my character, Bo Lavery. Bo is the only of the main characters that was not an actual person. He is an amalgamation of people/personalities that moves the story along, creates tension and conversation, brings levity. I listened to podcasts that members of the naval aviation community produced. With this type of story, there's an exhaustive amount of information and research to be done, and from day one of getting the job, I was in full tilt intake mode. And then of course, the character work-creating the circumstances in Bo's life that informs my interpretation of the script and performance. It was different than any other project I've been involved with so far based on the amount of information available to immerse myself in. It truly was my most memorable experience yet as an actor.
WORKING ON A PRODUCTION, ESPECIALLY FOR A WAR MOVIE, MUST BE PHYSICALLY AND MENTALLY EXHAUSTING. HOW DO YOU USUALLY UNWIND AFTER A LONG DAY OF SHOOTING?
SN: This was my first experience having as much time with a project as we did (mid-Jan through end of April 2021). So, I knew it was going to be a marathon, and I wanted to challenge myself to stay in the
mindset of the character, a naval aviator, as fully as possible. These are a bunch of type A, highly motivated, disciplined, and skilled individuals at the top of their class. It was an exciting life to imagine and to embrace. I wanted to maintain my living quarters in the same manner one would aboard a ship-tidy, clean, organized. I constantly consumed films/TV that were based on military stories. I went for runs in the early morning before heading to set, or we would have group workouts on set/at the trailers – very much like PT on a base. While all of that was a joy to dive into, the cast also really bonded and developed friendships outside of the workdays as well. The 32s (our squadron) would get together for dinners, game nights, and golf. We were highly discouraged (by producers) to go out and about, as we were still in the midst of the pandemic (pre-vaccine for most of it), and highly encouraged to spend time with each other. Since we had extensive testing, it was safe to do so in our little production bubble. I think the camaraderie we developed in our downtime is apparent on screen as well. To answer the actual question, I would typically unwind by getting home, cooking a healthy meal to keep me fueled physically and mentally, the occasional glass of red wine, military movie/doc/show, and lights out at a reasonable hour. Also, I try to practice meditation daily to keep the mental strong.
YOU'VE BEEN IN THE INDUSTRY FOR QUITE SOME TIME NOW, WHAT'S THE MOST MEMORABLE ON-SET MOMENT OF ANY PRODUCTION YOU'VE WORKED ON?
SN: I have great memories from a lot of projects. I feel very lucky. One in particular was from working on a couple of episodes in the first season of Ozark. They brought me down to Atlanta a few days early to teach me how to drive this big ass boat that my character owns. I grew up in Tennessee, I had a little bit of experience with lakes and boats, but I would essentially be parallel parking this nearly 40-foot boat during a scene. I was terrified that I would screw it up and run into something (I nailed it on the first try!). Later that day, I was driving the boat out in the middle of the lake with the other actors aboard for a scene, and the camera/director/etc. were in a second boat next to us. We were going pretty fast and my job was to keep it straight, but the wake from the other boat made that pretty difficult. My memory probably sensationalizes it a bit, but it was a little too close for comfort a couple times (I should say, there were professionals there to keep it safe, but in the moment, it was adrenaline inducing). An eventful day – I had a blast filming that show, wonderful people all around.
WHAT'S IT LIKE WORKING ON-SET OF TV PRODUCTIONS LIKE AHS OR THE SEX LIVES OF COLLEGE GIRLS COMPARED TO A MOVIE PRODUCTION LIKE DEVOTION ?
SN: Biggest difference: time. TV productions move so much more quickly, in my experience. I've yet to be a series regular on a show (we're working on it), so when I come on for an episode or recurring, it's typical that I get the scripts last minute, and you're always working against the clock, with numerous people involved in the decision making. The same happens on film sets too sometimes (especially when the budget is smaller), but with Devotion, it ran like a well-oiled machine. Black Label Media produced the film, and they're excellent at what they do. JD did an amazing job of letting us play in the scenes, trying different things, giving us freedom, but also keeping us on pace to complete the scheduled work. That time with Devotion afforded me the opportunity to really dig into the world and the character.
local wolves • 37
HOW IS IT BEING AN ACTOR IN THE PANDEMIC AND POST-PANDEMIC ERA? WHAT ARE THE BIGGEST CHANGES AND WHICH ONE IMPACTED YOU THE MOST?
SN: Phew – this one gives me anxiety just thinking about it. It's difficult at times. Acting is an art of connection. Looking someone in the eyes, feeling their energy, reading their body language, being enveloped in the environment-the sets, the costumes. To me, that proves to be more difficult to translate through a screen on Zoom calls with directors/producers, chemistry reads with other actors. It's not impossible. And everyone has to do it, so we're all in the same boat. But I liked going into a room and connecting during the casting process. I felt like that was an advantage for me. Also, with everything being on tape now, the number of actors auditioning for roles has greatly increased too. It used to be with some roles, especially the smaller parts where it wasn't just offered to someone, you had to physically be in Los Angeles to go in for these appointments with casting/creatives. You could still self tape, but the advantage gained from being in person was usually enough to get you the job. So the competition has increased, and the whole process is done through a computer screen until you get the job, both of which make it more difficult. Then once you get a job everyone has been masked and shielded on set (this is slowly changing back to being a bit more normal). Of course, these are all things to keep productions moving forward safely, it's just less human connection, which I think we all need more of. That sense of community. But we figure it out and we make it work, and soon enough we'll be back to breathing the same unfiltered air, on cramped sets, with very little A/C (for sound)!
IS THERE A DIRECTOR OR ACTOR OR ANYONE IN THE INDUSTRY WHO YOU DREAM OF WORKING WITH?
SN: I've already lived three dreams working with Jonathan Majors, Glen Powell, and JD Dillard on Devotion. Truly, the best guys. And it inspired the hell out of me getting to learn from each of them. Though, I love Edward Norton and dream of working with him, preferably on stage somewhere. That list goes on. Director wise, again, hard to narrow down to one, but Wes Anderson has such a unique vision and originality in his work. That appeals to me greatly. Also, Yorgos Lanthimos is at the top of that list.
WHEN AND/OR HOW DID YOU REALIZE THAT YOU WANTED TO BECOME AN ACTOR?
SN: I grew up in Lebanon, TN, a small town about 30 miles east of Nashville. It was the country (by city folk standards). I loved movies as a kid. I think my first favorite was called The Man from
Snowy River. We had horses growing up, and my mom is obsessed with them, so that rubbed off on me. I would always dress up like a cowboy for dinner, and straddle the arm of the recliner and pretend to be riding my horse while watching that movie. Or Walker Texas Ranger. I had a very specific taste. I would also make my family sit and watch me sing "The Thunder Rolls" by Garth Brooks. I had a performer's soul from a young age. But also, the sports culture in the South had a heavy influence on my childhood/teenage years. I started in martial arts when I was probably 5-years-old, and did that for about a decade. Jean-Claude Van Damme movies were an inspiration for me during that period, I thought Bloodsport was the shit. I also played football from about 8-years-old until the start of college at 19. That had a great impact on my life. Not only in terms of movies ( Friday Night Lights , the film not the show!), but in preparing me for a life as an actor…the dedication, resilience, discipline, confidence that would be required (at the time though, I wanted to play in the NFL). I wasn't in the theatre program in high school, I was too involved in football, and I ended up choosing a college based on that (Middle Tennessee State University). I quickly stopped playing football in college, and then felt pretty lost– my life until that point was wrapped up in sports. My family is pretty heavily involved in the medical field, so I thought I'd go to medical school (I did end up getting my degree in Biochemistry). I was really interested in science, but then a friend introduced me to an agent in Nashville. It's a big music city, so naturally there were a lot of music videos happening there. I went on my first audition, which was a Taylor Swift music video, and it came down to me and another guy. I didn't get it. But I was captivated by the feeling I had in that audition room. I immediately signed up for theatre classes at my college. It was an amazing experience. Uta Hagen's book " Respect for Acting," was the template for that class, our bible. I fell in love with acting during that semester. The other students felt like my kind of people, and I enjoyed dissecting monologues and scenes so much more than dissecting a Physical Chemistry problem. I immersed myself in acting as much as I knew how to at the time. I didn't have any influence in the arts from my family, so it was a process. I took classes outside of college as well. And within a few months of all of that happening, I told my mom at dinner one night that I wanted to move to Los Angeles and be an actor. And she encouraged me to follow that feeling. I had very little idea of what I was signing myself up for, but I finished my degree early (to appease my parents) so I could move to LA a month after graduating, to be ready for "pilot season" in January of 2013. I wasn't even close to being ready, but I was determined. It's been a long journey since. But I've learned so much along the way, and I'm very grateful to those who have lent a helping hand.
38
WHAT'S THE BEST ACTING ADVICE YOU'VE EVER RECEIVED AND WHAT'S THE WORST?
SN: A couple quotes come to mind. One from Denzel Washington: "Between goals and achievement, are discipline and consistency." This resonates with me from my days as an athlete. I grew up on this mentality, and to hear someone that I admire so much say this was very impactful. I could translate things from athletics to this new world of being an artist.
Another from Heath Ledger: "Acting is learning about the life around you and the person you are." Be curious and observant of life, of people. Mine the depths of yourself to know who you are, how you feel, and what you want to say to the world. Having a point of view in your own life enables you to inform the life of a character, and what their point of view may be.
Let surprise happen– the moment. Free fall with your partner. Fail big.
IF YOU HAD A CHANCE TO SPEAK TO A YOUNGER VERSION OF YOURSELF, WHAT WOULD YOU SAY TO THEM? OR IS THERE SOMETHING YOU WISH SOMEONE WOULD'VE TOLD YOU WHEN YOU WERE JUST STARTING OUT?
SN: Embrace who you are, don't run from it. It makes you unique. Stay curious and learn as much as possible, and work incredibly hard. It will be worth it. Take up space. (Took a lot of therapy in recent years to really lean in and learn those truths.)
DO YOU HAVE ADVICE FOR ANYONE WHO WANTS TO PURSUE A CAREER IN THE INDUSTRY OR IS CURRENTLY IN THE MIDDLE OF PURSUING THAT DREAM?
SN: It's a marathon, not a sprint. I battle with that often. Work hard. Learn as much as you can about yourself. Be curious about the world. Immerse yourself in presence. Be yourself– your point of view will make you stand out.
40
LW TRIVIA CORNER STARRING SPENCER NEVILLE
WHAT SONG OR ALBUM HAS BEEN ON REPEAT LATELY? Anything Ludovico Einaudi.
WHAT ARE THE 10 THINGS YOU CAN'T LIVE WITHOUT? Good coffee, my Hydro Flask, a good book, exercise, peanut butter, dark chocolate, my dog Ruki, a beanie, trees, and friends/family.
WHAT'S A BOOK YOU THINK EVERYONE SHOULD READ? "All the Light We Cannot See" by Anthony Doerr and "The Gifts of Imperfection " by
Brene Brown
IF YOU COULD ONLY WATCH ONE MOVIE FOR THE REST OF YOUR LIFE, WHAT WOULD IT BE?
Home Alone (1 or 2, don't make me choose!)
WHAT WAS YOUR FAVORITE COURSE IN COLLEGE? Loved Evolution, but that first theatre class changed my life– hard to beat that.
DO YOU HAVE ANY PRE-AUDITION RITUALS? All of my little warmups-vocal, body, etc. And a quick meditation to be present.
WHICH CHARACTER OF YOURS DO YOU THINK YOU COULD VIBE WITH? Bo Lavery would be a fun hang (from Devotion). Though I'd need to have a conversation about his filter-less dialogue.
HAVE YOU MET A CELEBRITY THAT LEFT YOU ABSOLUTELY STAR-STRUCK? Adam Sandler on the Sony lot years ago. We were walking down the same alley and he looks at me and says "Do you play hockey? You look like you play hockey." I can quote Billy Madison, start to finish. And Happy Gilmore
WHAT'S A MUST HAVE ITEM FOR YOU IN YOUR DRESSING ROOM? Headphones/speaker for music and my journal.
WHAT'S YOUR GUILTY PLEASURE? I have a major sweet tooth. Anything with dark chocolate.
WHAT'S A CAREER MILESTONE YOU'D LIKE TO ACHIEVE? Of course I'd love to be nominated/win an Oscar. And a Tony. But overall, I want to have a reputation as a great collaborator.
HAVE YOU EVER IMPROVISED IN A ROLE? WHICH ONES MADE THE CUT? Yes, I love improvising. Lots of improv for me in Devotion, probably half of my little one-liners that ended up making the cut were improv.
ALMOST MONDAY
WRITTEN BY ARIELLA NIKITA LAI PHOTOGRAPHY BY ALEX LAM
From surf-shops to Lollapalooza, the sun keeps on shining on ALMOST MONDAY Originally from San Diego, the band is best known for their songs and jams that are as sunny and bright as summers in South California. With more than 120 million accumulated streams across platforms, the trio consisting of Dawson Daugherty (vocals), Cole Clisby (guitar) and Luke Fabry (bass), draws listeners in with their funky basslines, ecstatic choruses, and danceable tunes. Their latest single, "cough drops" has a notably more mature vibe than their previous singles and EPs, but remains true to the band's signature sound of being 'summer in a bottle'.
HI GUYS! THANK YOU SO MUCH FOR SPARING SOME TIME FOR THIS INTERVIEW. HOW ARE YOU GUYS DOING? ESPECIALLY AHEAD OF THE EUROPEAN SHOWS.
LUKE FABRY: Excited! This is the last international trip of the year and a couple of US shows after that.
I FEEL LIKE ARTISTS USUALLY HAVE THAT ONE SONG THAT'S A STAPLE TO EVERY GIG SETLIST, WHAT DO GUYS THINK WILL BE ALMOST MONDAY'S 'MANDATORY' SETLIST SONG? AND ARE THERE ANY SONGS YOU'RE PARTICULARLY LOOKING FORWARD TO PLAYING LIVE DURING THOSE SHOWS?
DAWSON DAUGHERTY: Maybe "sunburn" or "parking lot view" –fan favorites.
COLE CLISBY: We also added some new songs to the set that we're looking forward to playing and it's unreleased music.
I BET THE FANS WILL LOVE IT! WITH A SLEW OF HEADLINE SHOWS, FESTIVALS, AND THE TOUR WITH THE DRIVER ERA, HOW WOULD YOU GUYS DESCRIBE THE BAND'S JAM-PACKED 2022 IN THREE WORDS?
CC: Best year yet.
42
local wolves • 43
WHAT'S THE MOST MEMORABLE SHOW YOU GUYS HAVE PLAYED SO FAR?
CC: Lollapalooza 2021 was a really memorable one for me. It was our first show back from the pandemic and it was so surreal to play in front of people again and see people enjoying the music we put out during the pandemic in person.
WHAT OR WHO DO YOU GUYS MISS THE MOST WHEN YOU'RE ON THE ROAD?
LF: Something I miss on the road is this pizza place called Best Pizza which is right by my house and has really good cheap slices an hour before they close.
WHAT'S THE CRAZIEST THING THAT HAS HAPPENED ON TOUR SO FAR?
CC: It's tough to narrow down to just one or let alone remember all of them but it was pretty crazy when we ran the roof of our van into a hotel one time.
THAT SOUNDS WILD! MOVING ONTO YOUR LATEST SINGLE. I LOVE "COUGH DROP", IT VERY MUCH GIVES OFF A 2014 TUMBLR-ESQUE VIBE. WHAT'S THE INSPIRATION BEHIND THE SONG?
DD: Thank you for saying that. Writing music is a real time expression, so when we go to the studio, we chase the feeling. We got the chorus line, the guitar riff, everything.
"COUGH DROPS" HAS A DIFFERENT VIBE THAN YOUR PREVIOUS SONGS, IT HAS MORE OF A ROCK, POP PUNK SOUND. IS IT A HINT FOR THE TRAJECTORY YOU GUYS ARE HEADING AS A BAND FOR YOUR NEXT EP OR ERA OR MAYBE EVEN... ALBUM?
DD: I don't know, it's back to that real time expression. It's the value of an artist when they evolve overtime. So we just try to evolve.
WHAT'S YOUR SONGWRITING OR OVERALL CREATIVE PROCESS LIKE?
LF: The creative process is always changing. We usually listen to music that has been inspiring us recently, to try to narrow down a general direction of what we wanna go for. But after that it's pretty random. Sometimes Cole will play some chords or Dawson will play something on a piano or guitar. We all play different instruments so who's playing what changes a lot.
WHO OR WHAT ARE YOUR BIGGEST INFLUENCES IN MUSIC AND IN LIFE?
DD: David Bowie, The Strokes, Arctic Monkeys – it's always changing honestly. Life heroes, probably our parents!
44
HOW DID YOU GUYS END UP WITH A 'SUMMERY' VIBE FOR YOUR MUSIC THEN?
LF: Trying to be yourself, trying to be authentic, and then music comes out. It naturally comes out who we are as people – it's important to be authentic and genuine.
HOW DID YOU GUYS MEET AND END UP BECOMING A BAND?
LF: Dawson and I have been friends since middle school, and Dawson met Cole out surfing some years back. We all wanted to play live shows so we wrote a handful of songs and started putting on shows.
WHERE DID THE BAND'S NAME COME FROM? WERE THERE ANY ALTERNATIVES OR POSSIBLE OTHER NAMES?
LF: Believe it or not it's pretty difficult to come up with a band name that isn't already taken. Our friend back home suggested that we should be called "the mondays," but it turned out that the name was already taken so we became 'almost monday.'
HOW WOULD YOU DESCRIBE YOUR FANS AND THE RELATIONSHIP YOU GUYS HAVE WITH THEM? DO THEY HAVE AN INFLUENCE ON YOUR PERFORMANCES OR MAYBE EVEN CREATIVE PROCESS?
DD: We love our fans so much! They keep us going and are honestly the only reason we can do what we love! I think we're always keeping them in mind when approaching the live show to make sure it's the best experience possible.
BEFORE WE WRAP UP, I ACTUALLY SAW ON TWITTER THAT, DAWSON, YOU JUST WROTE YOUR FAVORITE ALMOST MONDAY SONG EVER AND IT'S COMING NEXT SUMMER. I JUST HAVE TO ASK, IS THAT THE TITLE OF THE SONG OR THE RELEASE DATE?
DD: *laughs* You'll have to see!
KEEPING THE SUSPENSE HERE! ANY CLOSING STATEMENTS? OR IS THERE ANYTHING YOU GUYS WOULD LIKE TO SHARE WITH THE WORLD ABOUT WHAT'S NEXT FROM ALMOST MONDAY?
DD: A lot of new music! It's our favorite songs yet. Last year was great!
NO THOUGHTS HEAD EMPTY RAPIDFIRE TRIVIA STUFF WITH ALMOST MONDAY (FT. LW)!
WHICH ARTIST (PAST AND PRESENT) WOULD YOU LOVE TO COLLABORATE WITH?
LF: I think it would be really cool to collaborate with Daft Punk
DO YOU GUYS HAVE ANY RITUALS OR THINGS YOU DO EVERY PRE AND POST-GIG?
CC: Before going on stage we usually do a quick huddle and literally say hip hip hooray three times
WHAT'S THE ONE ALBUM YOU GUYS THINK EVERYONE SHOULD LISTEN TO?
CC: Is This It by The Strokes
WHAT HOBBIES DO YOU GUYS HAVE THAT'S NOT RELATED TO MUSIC?
LF: I really like to be outside and either ride my bike or go for a run.
WHAT'S THE BEST AND WORST THING ABOUT BEING ON THE ROAD?
CC: Trying different food, thrifting, touristing around as well as playing shows are the best things and the worst is probably having to be away from family and friends for a long time and not getting enough sleep or healthy food.
WHICH CITY YOU'VE BEEN TO HAS THE BEST FOOD? AND WHAT IS IT?
CC: Tokyo had some amazing ramen and Japanese barbecue
WHAT'S THE BIGGEST CAREER MILESTONE YOU GUYS WANT TO ACHIEVE?
DD: Something like winning a Grammy sounds sick. But I think creating a community of people around our music has always been my ultimate goal and dream.
FAVORITE MUSIC VIDEO AND WHY?
LF: My favorite video was "sun keeps on shining" because we got to go to Australia and hold a koala which was super fun.
WHO'S THE BEST AND WORST DANCER IN THE GROUP?
DD: Can't lie I've got some moves up my sleeve. But I don't think I've ever seen Cole dance so I can't say for sure if he's better than me. So I guess we'll have to have a dance battle some day.
local wolves • 45
IDYLLIC
PHOTOGRAPHY
46
BY SRAVYA BALASA MODEL — SHERIDAN ELAINE
local wolves • 47
48
local wolves • 49
50
local wolves • 51
52
local wolves • 53
Noah Guy
INTRODUCTION
54
BY ANG CRUZ INTERVIEW BY MUN AM PHOTOGRAPHY BY AVERY BELSER ONSITE ASSISTANT — JOIE ERB
"Who's taken time?" is the metaphorical and literal question that pervades LA-based singer-songwriter NOAH GUY 's debut project of the same name. The album is a fusion of multiple genres such as R&B, soul, pop, and hip-hop, that showcases Guy's skills as a storyteller and his ability to pull from his inspirations (such as his dad's Motown's Greatest Hits CD, a music memory he holds dear) while still crafting his own unique sound.
After a year filled with changes, experiencing both an unpredicted pandemic and a move to the west away from his family, friends, and community, Guy's debut project, WHO'S TAKEN TIME?! (ACT I) approaches this shift with vulnerability, reflection, and introspection. Along with releasing new music, Guy's background as a film major helped in developing multiple visuals for the EP, creating an immersive journey that listeners will immediately jump into.
With ACT II coming soon, Noah Guy got candid with Local Wolves to discuss his artist journey both past, present, and future.
WHAT'S YOUR (FIRST) FONDEST MEMORY YOU'VE HAD WITH MUSIC?
NOAH GUY: Probably when I was like 3 or 4. My dad had this Motown's Greatest Hits CD stuck in his Jeep so it was the only thing we could listen to when he'd drive me to preschool. I remember being in the booster seat just taking it all in; as my parents recall it, I had the whole project memorized pretty much word for word– Marvin Gaye, Temptations, Martha and the Vandellas, I loved it all.
SINCE YOU HAVE HISTORY STUDYING FILM (NIGHT CLASSES AT NYU'S FILM SCHOOL), HAS MUSIC AND FILM ALWAYS BEEN INTERCONNECTED FOR YOU? HOW DID YOU LAND ON THIS DECISION?
NG: I've always been a visual learner and most interested in visual story-telling. When I was a kid I found any excuse I could to make a moodboard, collage, etcetera. SLAM magazine and VIBE magazine were probably the two biggest victims of the scissors and glue.
So yeah, I'm obsessed with movies and music videos, but creating an audio/visual experience out of my artist project is really just about world building. I love placing the records I make into their own universe, and creating weird music videos helps me accomplish that goal.
local wolves • 55
CAN YOU RUN THROUGH YOUR CREATIVE PROCESS?
BOTH SONGWRITING AND VISUALS WISE?
NG: Ahh, I wish I had a step one, step two, answer! Right now, it's pretty structureless though. I live with my producer "choob" and we spend a ton of time just freestyling song ideas in our living room. He will just make beats and I'll mumble over them until something really exciting connects for us. When stars align and we find an idea worth pursuing I'll start the recording process, which is usually around the same time when video ideas start to develop. Pretty much with every session I do I'll have a google doc going simultaneously just to collect imagery and treatment ideas. It all sort of flows in at once I guess (laughs). Ideas first, then fine-tuning later.
I KNOW YOUR JOURNEY WITH BEING A MUSICIAN HASN'T ALWAYS BEEN EASY (COUCH-SURFED AND WAITED TABLES TO MAKE ENDS MEET JUST TO SURVIVE LIVING IN LA), HOW HAS YOUR JOURNEY WITH MUSIC BEEN LATELY?
NG: I guess that's kind of the "artists" journey in some way or another? Peaks and troughs with every new chapter and the finish line is always moving. Right now it's a beautiful time but also kind of the craziest it's ever been getting this project ready and out the door. Me and my team are working on a ton of things right now (merch line, live performance, etc.) so finding the time and space to step back and focus just on music creation without distraction can sometimes be a challenge. I wouldn't have it any other way though – here for the chaos and blessed to have it!
DO YOU THINK THE PANDEMIC HAS AFFECTED YOU AND YOUR PLANS WITH MUSIC? IF SO, HOW?
NG: Absolutely, I honestly don't know if I would've found my way into pursuing music full-time had it not been for the pandemic. It feels wrong and weird to find a silver-lining in pandemia so I won't try to, but prior to school going virtual in 2020, I was mostly just a songwriter and label intern. Once things went remote I couldn't afford classes without work opportunities, plus living in NYC didn't make sense anymore so I moved back home with my parents in Philadelphia. It was during that time of global uncertainty where I was able to really find my sound and voice, fall in love with the process, and create without limitations.
WHAT IS YOUR FAVORITE PART OF MAKING MUSIC?
NG: I love all the phases but I think that the "surrender" after a record is fully completed might be my favorite feeling ever. So many checks and balances go into the creation and presentation of a record. By the time you complete it, you've probably thought everything there is to think about the piece and listened to it ad nauseam. Crossing the finish line and giving it to fans can at times be nerve racking, but it's also a really beautiful leap of faith.
YOUR EP, WHO'S TAKEN TIME?! (ACT I) IS ABOUT TO BE RELEASED, CAN YOU TELL ME MORE ABOUT THE EXPERIENCE OF WRITING THIS DEBUT PROJECT? WHICH SONG ARE YOU MOST EXCITED TO PUT OUT?
NG: The project is called WHO'S TAKEN TIME?!, a loaded question that can be read both literally, (i.e. "who's taking away my time?") and metaphorical (i.e. "who's taking the time to care?). Certainly these curiosites are a bit broad-scoping, but my personal meditations on them really stemmed from fighting the intense physical separation from friends, family, and the community that raised me when I moved out west last year.
The project is really just a progressive journey through self-help– recognizing where I missed the mark in my relationships over the past year, and reminding myself to "take time" for those who "take time for me" (regardless of the physical space between us). An introspective piece for sure but I think the pillars of kinship, community, and being "present" for yourself and for others is something that everyone can relate to! All the stories and sound on this project are deeply personal so it would be impossible to pick one song. I'm really excited to see what the fans connect with most though!
WHAT DO YOU WANT YOUR LISTENERS TO TAKE AWAY FROM YOUR MUSIC?
NG: I hope they love where I'm headed of course, or at least see the creative risks I'm taking on this project and appreciate them. Recently, I've been super into this idea of self-mastery, or the idea of consistent innovation, experimentation, and self-development with my art. I think if my fan base is growing with/open to those changes we are going to have a really fun journey together!
IS MUSIC YOUR EMOTIONAL OUTLET? IF SO, HOW HAS THAT BEEN?
NG: Absolutely, and it has always been that way. I honestly don't know if anything can make me cry harder than a Sade song (laughs). I think making it a career though has changed my music listening experience a ton. Not necessarily in a bad way but I'm a lot more critical than I used to be as just a fan of the art. There is this concept in Zen Buddhism called The Beginner's Mind, which I've been reading a lot about. Finding my way back to the beginner's mind and the joy of music listening I once had as a kid is the goal!
SINCE THIS YEAR IS COMING TO AN END, ARE THERE NEW THINGS YOU WANT TO EXPLORE MUSICALLY OR FILM WISE?
NG: The second half of my debut project, ACT II is slated to drop early 2023, so me and my team have been head down piecing everything together there. The most I can say right now is that we've been really stripping things back– attempting a "rawness" with our sound that people haven't heard from us yet. I'm super excited, I think it's going to be something really special.
56
local wolves • 57
58
WRITTEN BY UMA SNOW | PHOTOGRAPHY BY VANESSA LE PHOTO ASSISTANTS SRAVYA BALASA, EMILIA LAHTELA | ONSITE ASSISTANT JESSICA SPIERS HAIR STYLIST KYEONGRIM HAN | MAKEUP ARTIST EUNSOL PARK STYLIST GABE BASS | STYLING ASSISTANTS THEINGI THANN, YOUNG JU CHUNG, JAYEON KIM ILLUSTRATION AND LETTERING BY JENNY SORTO
local wolves • 59
OVER THE LAST DECADE, South Korean media has slowly carved space for itself in every corner of the world. With how quickly the country's music, film, and television have racked up both public affection and critical acclaim, it is not unexpected for the average person to have seen at least one Korean drama, nor is K-Pop the niche genre it once was. In an industry growing so exponentially, it can be difficult for new groups to stand out. P1HARMONY debuted in 2020 with a full-length feature film to accompany their mini-album. Amidst the chaos of the pandemic, all eyes were on them.
With the huge sci-fi production that was the film P1HARMONY: The Beginning of a New World (2020) and their first mini-album, DISHARMONY : STAND OUT, P1Harmony gathered multiple nominations for prestigious Korean music awards in the year following their debut. Nearly two years later, the group now have five mini-albums, a U.S. tour, and multiple global shows under their belt, with an even larger U.S. tour prepared for early 2023. In between their busy schedules, I had the chance to have a quick chat with the six members—Keeho, Theo, Jiung, Intak, Soul, and Jongseob.
We met over Zoom, the boys bright and smiling, dressed in blues and whites. When we spoke, they had just released their first mini-album of the HARMONY series, and both artist and fans—called P1eces— were still feeling the high of the tour they wrapped up in March. For a group that spent its early days in the height of the pandemic, performing for large audiences over a month-long tour was an adventure. While this endeavor was a huge success—the entire tour sold out within thirty minutes—it also had its challenges. P1Harmony's leader, Keeho, mentions having to be extra conscious of caring for his voice on the road, carrying medicines, steamers, and teas to every new city. "It was a whole process to keep my voice healthy."
The experience of tour was overall an incredible one. P1Harmony per formed in front of fans of every nationality and had each of them sing their own language back to them. Nineteen-year-old Intak marvels at how to know every word, P1eces must have listened to their music countless times and put in effort to memorize lyrics. "Thinking about that," Intak says earnestly, "I just want to give back as much love as we've received."
P1Harmony has more than fulfilled that desire. They are constantly show ing love for their fans through heartfelt interactions, genuine words, and compelling music. The first single off of their recent mini-album HARMONY : SET IN, titled "Back Down," similarly excites and motivates. My own first listen had me dancing to myself in my office chair, filled with the kind of exhilarating determination that comes with the territory of listening to something so explosive that you just can't help but imagine yourself doing something uncharacteristically formidable, starring in your own little music video playing in your brain. When I ask if they had any particular goals with "Back Down," Intak says that apart from the primary message of the song, as a lyricist he puts effort into making or thinking of a special sound or phrase that could act as the highlight of the track. Something that stands out and gets you hooked. And the cho rus of "Back Down" embodies this motivation. The repetition that P1Har mony is never going to back down, interspersed with cocky laughs, fe verish whoops, and other electric snippets of motivating words makes for a message that you can't miss or forget.
60
local wolves • 61
62
The eldest member, Theo, says that the hardest part of the comeback process is memorizing the choreography. When asked about the simplest, he replies, "nothing is easy." The other members crack a smile in understanding. "There's just so much to think about and practice for and prepare for," Keeho adds.
As for the most rewarding, it's seeing it all come together. Jongseob tells me that they have only a short amount of time for each component of an album's preparation. "I think I feel most satisfied when I make the rap to the best of my ability within that time frame and think 'this is pretty good' after I listen to what I've recorded." For Keeho, it's when the group gets the choreography right for the first time. "Finally finishing it and doing it in one piece, seeing that video, even though it might be a little rough still…I think that is very fulfilling." Keeho explains that nailing the choreo is actually what takes the longest. "Recording it, we have to do it quick, quick, quick. It's like, one day and boom, we're done recording it. Writing in two or three days and boom It's a very fast process."
Knowing that P1Harmony creates so much high-quality work on such a short time frame makes them all that more impressive. From the music to the dance to the video production, every aspect of their work is masterfully crafted. I adore the grandness of their music videos in particular, with extravagant sets, all sorts of visual effects, and coordinated costumes that reflect the concept. When I ask about what visual styles they want to explore in future videos, Jongseob, the youngest of the group, says cyberpunk, because of something he recently watched with that theme.
He doesn't remember what the movie was called, but the members are happy to tell me their own favorite films. The second oldest, Jiung, who has been sitting quietly but listening intently, pipes up to say he likes About Time (2013). Intak lists Forrest Gump (1994) and Keeho's own favorite is Bridge to Terabithia (2007). When I comment on how emotional the film is, he exclaims, "I know, isn't that such an impactful movie? I feel like that had an impact in my childhood." Jongseob asks if he can name two, and shares that he loves Harry Potter—the whole series—and Notting Hill (1999). Seventeen-year-old Soul says he likes the series with Jack Sparrow, Pirates of the Caribbean and Theo states that his own favorite is Captain America: Civil War (2016).
With the continued busyness of their lives, I wonder what the members would enjoy doing during a rest period. For Soul, the first thing on his list has to do with his two French Bulldogs back in Japan, where he is from. "I want to make rings [with pictures] of my dogs at home in Japan," he states, and I melt a little at the sweet sentiment. Jiung smiles softly through his answer. "I wanna go on a trip alone to Jeju island." So you like traveling, I ask. "Yeah," Jiung replies, "I like traveling…alone." The others giggle at the emphasis. I guess quiet time is valuable when you spend your every day with a group of boys, I ponder, and Jiung nods, agrees. He tells me that he would like to visit New Zealand. "Maybe Brazil…and Iceland…and Switzerland…." He laughs at his unending list.
KEEHO SHIRT: Bobblehaus BLAZER: Paul Smith NECKLACE: Sparkle Baby Gem EARRING: Veert INTAK TANK TOP: K.ngsly JACKET: Bode PANTS: Giani NECKLACE: Veert SHOES: Atoms JONGSEOB FULL: Bode NECKLACE: Veert SOUL FULL: Keith Kelly SHOES: John Fluevog NECKLACE: Sparkle Baby Gem THEO SWEATER: Tanner Fletcher PANTS: Unknown SHOES: Atoms JIUNG TOP: Giani SWEATER: K.ngsly PANTS: KidSuper NECKLACE: Ian Charms SHOES: Paul Smith
THEO TOP: GIANI SWEATER: Tanner Fletcher TIE: Paul Smith RING: Keane JIUNG T-SHIRT: Giani SWEATER: Tanner Fletcher PANTS: Giani JEWELRY: Veert SOUL SHIRT: Bode CARDIGAN: K.ngsly NECKLACE: Ian Charms GLASSES: MAM KEEHO JACKET: Paul Smith SHIRT: K.ngsly PANTS: K.ngsly NECKLACE: Sparkle Baby Gem EARRING: Veert RING: Keane 64
INTAK TOP: K.ngsly SWEATER: Tanner Fletcher TIE: Paul Smith RING: Keane JONGSEOB TOP & JACKET: Kid Super PANTS: Giani RING: Keane local wolves • 65
On October 28th, P1Harmony celebrated their second anniversary. With every new photoshoot, concert, album, the group have gotten better at what they do without even realizing it, always pushing themselves to work harder. "The sky's the limit," Keeho says, "I just can't wait to see how much we'll improve." Theo declares that he is also looking forward to their growth, explaining that "because we started at such a young age, I think we're maturing significantly as each year goes by." He hopes that they continue to mature as a group in this upcoming year as well.
Although they've spent two years in the public eye, P1Harmony is still so young, all teenagers and barely-adults. I ask what they might have to say to their fans, P1eces, who are living through the same phases of their lives. Jongseob is encouraging in his answer, insisting that it is important to challenge yourself to try and experience everything. "I say this all the time, but I hope that in this phase [of life] you try to find what will make you the most happy…I hope you always go here and there, trying this and that, and just talk a lot with people." Every person you meet will have diverse stories that will help you figure out your own.
Keeho agrees, telling me that he thinks he missed out on more universal experiences because of his work. "We started so early," Keeho begins. "So, I think it's very, very important to put yourself out there. I feel like a lot of people are so stressed and worried about their future…but honestly, I feel like this is the age where you don't have to worry about that. I feel like it's the age where you can meet people, try new things, and really find something that you love." Keeho says that once you've locked yourself down into something, it can be hard to get out of it, to explore again. "Within your capability, it's so important to experience and meet people and…find something you love and be fearless."
Intak shares that the first, and perhaps biggest, leap of faith he remembers taking is continuing to ask his dad to take him to learn dance instead of his scheduled English lessons, despite initial refusal. "I think there's a need to be a little rebellious…in a world where everyone is going in the same direction. And I think chances to try something new…come when you become a person that can stick out from a certain [set] path. I feel the need to be a little rebellious."
These stories and advice they share, their themes of rebellion and resolution, they thread through everything P1Harmony create. You don't have to look too closely to identify these concepts in the group's work, from their first debut trailer depicting acts of defiance in a world of conformity, to their new single "Back Down." The art they make, the performances they put on, are done with great care, pride, and diligence. Hearing them talk about their goals, creative process, and even relatively trivial things like travel only confirms that they are earnest with every word they write, they mean every note they sing. Having already reached such a global audience only two years into their career, I have no doubt that P1Harmony will continue to evolve and mature as beautifully as the art they make.
66
ZZZAHARA
WRITTEN BY ANG CRUZ PHOTOGRAPHY BY SAM GREEN
Liminal space is defined as a location where a person is during a transitional period. For many of us these past few years, due to an unpredicted pandemic, we were forced to transition into new ways of living that left many people nostalgic of how life was before.
As the title of zzzahara's debut album, this term perfectly encapsulates the themes and energy interwoven in every song on liminal spaces. Released through Lex Records, the album is the first release for ZZZAHARA , the solo project of LA-based singer-songwriter Zahara Jaime. With a multi-layered tracklist rooted in nostalgia, liminal spaces discusses everything from gentrification, heartbreak, queerness, and survival. And although Jaime's influences, such as Blood Orange, Tame Impala, and music you'd find on MTV or Fuse, is clear on every track, the album is still fully their own.
Just days before their album release show at the Lodge Room, located in their hometown of Highland Park, zzzahara spoke with Local Wolves about everything from dreamcore, the L Word, the woes of working at a smoothie shop and having to deal with rude customers, and their hopes for the future.
68
HOW HAS THE JOURNEY BEEN SO FAR SINCE YOUR FIRST SINGLE TO NOW RELEASING YOUR DEBUT ALBUM?
ZZZAHARA: It's been good. It's been crazy. I didn't realize how much work would go into making an album, but there's a lot of work put into rolling it out along with releasing music videos and having shows at the same time. It's been fun but it's been a lot of busy work. I've had fun learning the whole process and putting out the songs and seeing the feedback. It feels good to have something out that I've worked on for many years. I feel like my sound has matured over time, so being able to put that out feels good.
YOUR DEBUT ALBUM IS TITLED LIMINAL SPACES , A TERM ASSOCIATED WITH TRANSITIONS AND NOSTALGIA. WHAT EXACTLY IS THE TRANSITION THAT YOU THINK INSPIRED THIS ALBUM?
ZZZAHARA: Have you been on Twitter? It's also on Tumblr, but there's this page where they have a bunch of pictures of bathrooms and crazy abandoned places in Russia and all over the world.
LIKE DREAMCORE?
ZZZAHARA: Yeah. That inspired me to look into that. And then I looked up the definition and this kinda feels like what I go through growing up in LA. There's a lot of places that I feel nostalgia for. Like, I went to Chinatown the other day and there's this restaurant called Wong Kok and I used to go when I was eight and the same lady working the bakery recognized me and was like "Oh my god you used to come here when you were really tiny and now you're big!" It's crazy. It's like everything has a bit of nostalgia for me. I grew up here, all my family lives here, my dad grew up here. So it's like, even in relationships, friendships, etc., there's so much nostalgia and I have one foot here but also one foot back in my past. So after learning that term I was like oh man, that really inspired me and made me want to write.
YOU'VE MENTIONED SOME OF YOUR FAVORITE ARTISTS INCLUDE THE YEAH YEAH YEAHS AND MY CHEMICAL ROMANCE– BUT I HEAR A RANGE OF GENRES THAT SHINE IN EACH SONG. WHAT ARE SOME INSPIRATIONS THAT HELPED MOLD LIMINAL SPACES ?
ZZZAHARA: Lots of Blood Orange's Coastal Grooves album, and when I was seventeen or sixteen I was into Tame Impala so some of the shoegazey elements inspired this too. Also Title Fight, their Hyperview album. I was super into hardcore pop punk and emo genre too. Just anything you'd find on Fuse, MTV, Beavis and Butt-head. To me it's all the indie artists and rock artists that I've listened to that inspired me for this album. I think I have my own sound, but also no idea is original, so I'm pulling from everything that's inspired me.
A LOT OF THE PRODUCTION FOR THIS ALBUM OCCURRED DURING THE PANDEMIC, DID THIS INFLUENCE THIS ALBUM IN ANY WAY?
ZZZAHARA: Some of these ideas were recorded in my garage before the pandemic. But it was the weirdest time for me. At the beginning of the pandemic, I wasn't sober. I was kinda going hard on a lot of the things that I did, and toward the end I got therapy and I got sober, so it was like a different vibe.
It was a self-help, self-learning journey. A lot of people had to live with themselves in the pandemic instead of going hard, going to work, or going out. They had to take a look in the mirror and I think that's what I did during the making of this album. Getting more organized with my thoughts and getting my life together because it was moving so fast the past four years and I didn't have a chance to stop and look in the mirror. The pandemic, at the end of the day, did inspire the album with self-reflection.
YOU TOUCH ON A LOT OF COMPLEX TOPICS IN THIS ALBUM INCLUDING QUEER HEARTBREAK, JEALOUSY AND POSSESSIVENESS, AND GENTRIFICATION, HOW DO YOU BALANCE TACKLING THESE SERIOUS TOPICS IN A WAY YOU FEEL WILL RESONATE WITH YOUR AUDIENCE?
ZZZAHARA: I have a saying, it's called: keep it simple, stupid. I love a lot of complex topics. I love complex lyrics, poetic lyrics. I think I wanted to be straight-forward with the music in a way that resonates with someone. When you hear a lot of pop choruses it's big, basic, and simple like "You don't love me anymore !" and people are like "Oh my god my heart !" and I wanted to do that with indie music. I just took these topics and simplified them, especially with love. I wanted to make it universal and queer-friendly. I say girl a lot, but girl includes trans people and anyone who identifies under that and lesbian and queer culture, etc.
GOING BACK TO GENTRIFICATION, YOU BRING UP YOUR UPBRINGING IN HIGHLAND PARK OFTEN, WHICH HAS BECOME INFAMOUS BECAUSE OF THE GROWING CONCERNS OF GENTRIFICATION IN THE AREA. WHAT MADE YOU WANT TO WRITE "GET OUT OF LA" A SONG SPECIFICALLY ADDRESSING THIS TOPIC?
ZZZAHARA: Growing up here, I met so many different people. I've seen people who grow up to do crazy stuff, I've been in rooms with crazy people, I've seen it all. Just seeing how things work and seeing how people come here with the intention of making it big while also stepping on people's heads and doing things that I don't think are ethically okay. I know I'm from LA and I feel no sense of entitlement to ask " Why doesn't this city put me on? Why don't my friends put me on? " It's always someone with money and connections doing messed up things to people who always end up making it here because they have this niche way of looking at things and their ego is big. Seeing that made me sick. They always say things like nice guys finish last but I wanted to do things with a peaceful state of mind.
I worked at a smoothie shop in Highland Park and I was treated like shit by famous people everyone loves, country stars, actors – and witnessing that while being a service worker and playing shows with other bands I wanted to make a song that's a fuck you, get out of LA, basically. What are you doing here if you're treating people who grew up here like shit? I wanted to make a song that resonates with people who grew up here and I feel like a lot of people feel that way in the cities they live in especially if they've been priced out or displaced.
local wolves • 69
IN THE LAST SONG, "IT GETS BETTER," THERE'S TAGALOG IN IT. WHO IS THE PERSON SPEAKING AND WHAT WAS YOUR INTENTION TO HAVE TAGALOG IN THE ALBUM'S FINAL TRACK?
ZZZAHARA: It's my mom. My mom speaks Tagalog. I wanted her to say something. Personally I don't speak Tagalog, I know a few words, and they're all bad so they're not even relevant. But I remember her doing it, and it took her an hour to write that message.
She says something like "it takes zero dollars to dream" and I think that really resonated with me. My mom comes from this city in the Philippines called Mindanao. She grew up in an environment where she was very religious, poor, and shut off from everyone else. So her saying that message was nice because I get to be in music and do something totally different from what my parents had to do and I get to make a song called "It Gets Better" because I want everyone to know there's opportunities in the world and to persevere and keep going no matter what dollar amount. Years from now I think it's going to be really nice to hear that message.
YOU JUST FINISHED GOING ON TOUR WITH LUNA LI, WHAT'S IT LIKE WORKING WITH ASIAN ARTISTS WHO ALSO CAME FROM THE INDIE SCENE?
ZZZAHARA: Luna Li is super dope. I was blown away. She's not an ordinary musician. I'd see her practice and I thought it was epic. There's a lot of people who are Asian who are being included in indie, pop, rock. Everyone is a BTS fan now. I love working with other Asian artists, but Asian or not, I love working with other artists you don't really see in the media because it's not as popular. It's nice seeing anyone coming from different cultural backgrounds out there because it feels like a win.
HOW DO YOUR INTERSECTING IDENTITIES INFLUENCE YOUR MUSIC AND SONGWRITING?
ZZZAHARA: Growing up I took a lot of ethnic studies classes, and I learned about intersectionality at a really young age, like 20 or 21. But
I never want to fully make something my identity because it all intersects. I'm part Latina, I'm part white and I'm Asian, and I'm gay.
I think hanging out with so many different crowds made me feel accepted. I was hanging out in every crowd and accepting everyone on my end, and I think being malleable with so many different people has helped me make my own identity. Because in the press you'll see queer, Latina, Filipina – but when you meet me I'll be hanging out with everybody that it's so hard to see me be put in a box.
There's so much more progress to happen. Asian people are barely getting into rock or indie industries, and there's so much inclusivity we
have yet to see in the future. I'm cool with it being tied to our identity, but I just want to be a person in how I earn my respect so everyone can see that. I hope kids nowadays can earn this respect and don't have to be this or do bad things to be included in groups. And I've seen it because I worked with kids. I think it happens in due time. It's not like the 1950s, we have the internet, where you don't only see straight white people. I just saw on Sunset and Alvarado an L Word billboard. Stuff like that is catching on, so hopefully other kids doing music or the arts or business can all be gay if they want, or whatever they want to be.
YOU RELEASED A NUMBER OF MUSIC VIDEOS TO GO ALONG WITH THIS ALBUM, ALL OF WHICH MATCH THE DREAMY BUT ALSO DARK UNDERTONES THAT ARE PREVALENT IN LIMINAL SPACES. WHAT IS THE PROCESS LIKE DEVELOPING THESE VIDEOS?
ZZZAHARA: They're all from different directors and all the directors are really cool. I feel in these videos I have to connect with the director or else I don't feel like it can be done. Because in reality, I'm really shy and awkward on camera. I don't really like filming the music videos at all. I don't even like taking pictures, but I feel like when I connect with a person they have to like the song because if they don't like the song or have an idea come to mind then we can't work together.
Working with Cole Santiago (director of "julia" and "coldish"), Hassan (director of "bulletproof feat. Mareux"), Ross Harris (director of "they don't know" and "lust") is like working with a friend with a computer in their mind, knows how to listen to a song, and how to portray the art. That's the most valuable thing to me. I think Cole, Ross, and Hassan get a lot of work because they're down-to-earth and see the vision in their own way but know how to put the vision together in a way that people can watch and listen and resonate. Like you said it's dreamy, they're my dreamy homies.
NOW THAT YOUR DEBUT ALBUM HAS BEEN RELEASED, WHAT DO YOU SEE FOR THE FUTURE OF ZZZAHARA?
ZZZAHARA: I want to keep working on music, keep touring, play festivals, and keep writing. My dream goal is to have a big-budget album and I hope this proves to myself that one day I can have that and work at a really expensive studio and with a producer that I've always wanted to work with. I hope liminal spaces is something that'll be like "Hey, I'm capable of having something like a hefty budget around an album and capable of working with a crazy producer and doing all that!" I want it to be like a statement piece opening the door to even bigger and better things for me and for the live band I play with.
70
DAYDREAM
PHOTOGRAPHY
BY MICHELLE CASTILLO MODELS — ANNY BARROS, ALYSSA GACHES STYLING BY SAHRA BANDT MAKEUP BY EMILY FREW ONSITE ASSISTANT — CHRISTINA FRANCESCA
72
local wolves • 73
74
local wolves • 75
76
local wolves • 77
78
BEACH WEATHER
HARRIS
After a half-decade hiatus, alternative pop-rock band BEACH WEATHER are back with new singles "Unlovable" and "Trouble With This Bed," an upcoming full-length album, and a recently completed fall tour. Those active in the poprock scene before their hiatus might fondly remember Beach Weather as the groovy group with nostalgic tunes that spent a few years touring with big-name bands. In the decade since, the trio—consisting of Nick Santino, Reeve Powers, and Sean Silverman—has gone on to make a big name for themselves. While their earlier EPs Chit Chat and What A Drag are still fan-favorites, their 2016 song "Sex, Drugs, Etc." went viral on TikTok this year, bumping the streams of the song to the hundreds of thousands just in time for their return. In anticipation of Pineapple Sunrise, Beach Weather's debut album, Local Wolves had the chance to chat with the band about their music, reunion, and sudden virality.
REEVE POWERS: What's crazy is that all of this started before it was a TikTok trend. A Spanish Netflix show, Control Z, was the first place it took off. And then it got the song millions of spins while we were working on our new album. After we had finished the album, it took on a whole other life on TikTok which took it to an unbelievable level. It feels like we have lived a few different lives since the original release, but the surreal essence of the whole thing makes it feel brand new. Family and friends call me every day to congratulate me… I still can't believe it to be true.
NICK SANTINO: The universe works in mysterious ways. SDE was always our favorite song when we wrote it and toured. It was only a matter of time until peo -
local wolves • 79
HOW HAS IT FELT SEEING A SONG YOU RELEASED OVER 6 YEARS AGO GAIN POPULARITY BECAUSE OF TIKTOK? HAS THE SUCCESS FELT SURREAL IN ANY WAY?
INTRODUCTION BY UMA SNOW | INTERVIEW BY SAMI
PHOTOGRAPHY BY SAM GREEN | ONSITE ASSISTANT AVERY BELSER
ple caught on, I'm just happy they finally did! And TikTok helping it get there was cool. I started out on MySpace back in the day and this isn't too far off from what that was back then. Just feeling grateful and appreciative for what's happening to this band at the moment. None of us thought we would be here doing this again. We were all working regular jobs and planning our futures around those. We're happy people found this song and applied it to their lives. That's why we wrote it in the first place.
YOU HAVE A NEW RECORD COMING OUT CALLED PINEAPPLE
WHAT CAN WE EXPECT FROM THIS RELEASE?
SUNRISE
REEVE: It feels like Beach Weather with more life experience and musical depth. The words Nick sings on this album hit way harder in my opinion.
NICK: This record is the best thing Beach Weather, each as individuals have made. It feels like beach weather. It sounds like beach weather. But it's got this fresh perspective on life and music that we had to go through a few years of self discovery to realize. These songs are honest and real. All very personal lyrically while being fun and fresh musically. You won't hear the same song twice on this record or any record we make. We've never been more excited to share music than we are with this record. Proud doesn't even cut it.
WHAT INSPIRED THE VISUAL AESTHETICS OF THE NEW ALBUM/PROMOTION FOR THE NEW ALBUM?
REEVE: The glowing souls that appear in our artwork always felt like a renewed spirit. Recharged and ready to return to the path. We've also been dressing up a lil more because who doesn't love a good reason to get a lil sassy with it?
NICK: Well the title track " Pineapple Sunrise" may sound goofy and fun but it's really got a deeper meaning in being comfortable with your true inner self. During our hiatus I went inward, it was something I put off for years and during that time it needed to happen. Practicing mindful meditation has given me the ability to feel my emotions more clearly and it has helped me sort out my internal struggles and how I deal with them and find comfort in my place in the world. " Pineapple Sunrise" is a song about just the internal awakening of the spirit, self discovery and being comfortable with finding your "happy place" and allowing it to make your life a more enjoyable experience for yourself and everyone around you. Once you find your " Pineapple Sunrise" you'll be forever changed. So all of the aura artwork and imaginary hotel ads that we've been promoting all fit into that deeper meaning of the record while looking very literal on the surface.
WHO WOULD YOU SAY ARE YOUR BIGGEST MUSICAL INSPIRATIONS –CURRENTLY AND FOR YOUR PAST BODIES OF WORK?
NICK: We all listen to everything. Music is magic. It can make you sad, happy, excited, anxious, scared. My favorite artists who have helped mold who I am as a songwriter spans genres. Anyone from Tom Petty to Mac Miller. I was raised on The Beatles and the Carpenters. The Beach Boys and Michael Jackson. You can find inspiration in anything and anyone. My parents, my wife, my children.
HOW DOES IT FEEL NOW THAT "SEX, DRUGS, ETC." HAS HELD A NUMBER ONE SPOT ON BILLBOARD'S ALTERNATIVE CHARTS?
SEAN SILVERMAN: It feels a bit surreal to be honest. I don't think any of us
80
"BUT IT'S GOT THIS FRESH PERSPECTIVE ON LIFE AND MUSIC THAT WE HAD TO GO THROUGH A FEW YEARS OF SELF DISCOVERY TO REALIZE"
could have dreamed up this scenario if we tried. SDE was the last song on our second EP. We always loved playing it live but never thought it would have the sort of moment that it's having. It just speaks to the power of the message and maybe a few years needed to pass for the lyrics to reveal themselves in a real way.
WHAT SPARKED YOUR DECISION TO REUNITE AS A MUSICAL GROUP?
REEVE: Everyone ended up missing each other and we all had a hard couple years, so it was a nice therapeutic experience.
SEAN: There wasn't an exact time that we could pinpoint. It was more of a collective feeling that everyone had gotten to a healthier place in their lives. The time away gave everyone a minute to regroup. We knew that we couldn't come back into the process without tending to our personal situations first. Hearing the first group of demos after some time away felt very inspired and refreshing because we had always viewed the band through one type of lens. Now with our heads on straight, it all felt special again.
WHO WOULD BE YOUR DREAM MUSICAL ACT TO OPEN FOR OR TOUR ALONGSIDE?
REEVE: Kings of Leon, the Strokes, Phoenix (WHO WE GOT TO PLAY WITH TWICE LAST WINTER) and probably Harry Styles because his live show looks off the wall.
SEAN: I would love to open for The Killers. Brandon Flowers has always been someone I've looked up to. I can still picture their entire Live From Albert Hall performance and hope that an opportunity magically presents itself some day.
WHAT HAS IT BEEN LIKE TOURING WITH BANDS LIKE THE MAINE, PVRIS, AND SLEEPING WITH SIRENS? HOW HAVE THEY INFLUENCED YOUR WORK OR PERSPECTIVE?
REEVE: Personally, those were my first tours. The Maine taught me the most about appreciating your listeners in a way it's not only assumed but shown to them. It makes the whole experience a more wholesome one.
SEAN: We've been fortunate enough to build great friendships out of those tours and that's definitely had a lasting impact on us. Some of these relationships go back almost a decade now so it's nice to know you're touring with people that you completely trust and believe in the art you're making, even when times are challenging.
WHAT HAS BEEN THE MOST FULFILLING EXPERIENCE IN YOUR TIME AS A BAND THUS FAR?
REEVE: Seeing parts of the world I probably would've never experienced if I hadn't been playing music.
SEAN: Getting to make this new record has been incredibly fulfilling. There was
no agenda when we went about recording it. Just friends in a room trying to make the best music possible. There was this immense feeling of relief knowing we were making something without the pressure of a deadline. The whole process felt pretty cathartic for all of us, especially being together for the first time in several years.
FINALLY, WHAT ADVICE WOULD YOU GIVE TO MUSICIANS WHO ARE JUST STARTING OUT?
REEVE: Don't try to BE anyone else. Letting your favorite artists inspire your authentic self is what's up, but never copy. It's so easy to see through that shit, especially these days. Besides, you shine way more as a human when you're truest to yourself. It might take longer and that's ok. You'll thank me later! Haha! NICK: Keep going, keep doing you, and don't write what's already been written. I've been in too many writing sessions with people who only want to write songs that sound like other songs that are on the charts. Those songs got there because they did something new and fresh. Not because they copied another song's vibe. Stay true to yourself, never change because someone says otherwise. It's a battle but worth the fight. Some days the songs don't come and that's fine, don't force them or you'll end up hating everything you make. I didn't write or pick up a guitar for two solid years during our break from BW. I felt no inspiration. I felt I couldn't do it without my team. Then I taught myself piano and it gave me an entirely different outlook on songwriting. It also gave me this confidence in myself that I was missing or ignoring forever.
82
local wolves • 83
INTRODUCTION
KIMBRA
BY ARIELLA NIKITA LAI INTERVIEW BY LAN DO TRANSCRIBED BY SOPHIA KHOM PHOTOGRAPHY BY SRAVYA BALASA
84
With two Grammy-Awards and a multi platinum hit already under her belt, KIMBRA is ready to return to the music scene in full swing. The New Zealand-born singer-songwriter is known for her experimental pop sound that has the ability to transport you into a hypnotically beautiful hallucinogenic dream. After nearly 5 years since her last album, Kimbra is ready to start a new chapter in her career with A Reckoning that's set to release in 2023. A Reckoning is a product of soul-searching throughout the pandemic, resulting in a record that's inspired by the transformative and historic global reckonings that has an influence on our society and relationships as seen through the archetypal Mother's eyes. Taking on a more sonically independent sound, Kimbra draws inspiration from movie soundtracks and industrial, synthetic, metallic music to reflect a conflict of the soul. Alongside new music, Kimbra released Playing With Fire, a podcast that hosts open and honest discussions surrounding existential topics of life, spirituality, political issues, and more. The first single of A Reckoning, "Save Me" is a hauntingly beautiful reflection of reaching out to others in the path of your own healing, and is out now.
HOW DOES IT FEEL TO BE COMING BACK AFTER A WHILE? HOW DO YOU THINK THE YEARS, SINCE YOUR LAST ALBUM, HAVE CONTRIBUTED TO YOUR CHANGE AS A PERSON AND AN ARTIST?
KIMBRA: I think it's really important to take breaks from the industry. It gives you a chance to live in the real world for a bit and draw inspiration from the things people are experiencing day to day that a touring musician doesn't really– you know they are in a very strange isolated bubble. It's important to go through relationships and macro reckonings. Our world went through some of the most transformative protests and environmental reckonings in the last, even two or three years. I was alongside everyone else going through these huge historic events. As you are challenged by the world around you, you begin to look inward as well– I think a lot of us had to go inward in the pandemic. We kind of had no choice, right? I did a lot of soul-searching and decided there was healing I needed to do. I decided to do it through music.
TELL US ABOUT YOUR ALBUM'S CONCEPT? WHAT MADE YOU DECIDE TO TAKE ON A MORE POLITICAL AND SOCIAL APPROACH?
KIMBRA: I've always been definitely interested in using my music as a platform to speak out for those who have less of a voice than mine. When I was younger, I didn't really feel like it was my place to talk about things like race or even the environment and things… well you know, that's not true. I felt like I'm a New Zealander, you know–I'm a white New Zealander living in America. What do I know about politics? What do I know about American issues? But then as I lived here, I'm going on ten years here now. I've realized, these wars we're fighting are human wars not compartmentalized to race or religion or even political parties. I just began to become more active in using my voice. I'm not about to stand up on a podium and talk in-depth about my deep activist views. But I do think I have a voice or the emotional landscape– though I use my voice for the emotional landscape of these issues. That's where I can shine best.
WHAT WAS YOUR THOUGHT PROCESS BEHIND YOUR DECISION TO TELL THE ALBUM FROM THE PERSPECTIVE OF THE ARCHETYPAL "MOTHER"?
KIMBRA: As I grow as an artist, I'm looking to reveal my authentic voice, more and more. I'm searching to uncover the most essential part of me. I think there's a lot of voices, though. There's my devils on my shoulder and my guardian angels, the voice of reason, the voice of violence, the voice of pain, and the voice of redemption. They're all in there. It's hard to say that there's just one. Because no one is made up of one voice. We're an amalgamation of all the words we've heard, all the opinions surrounding us, the prejudice and the religious upbringing– it's all there. I didn't have a religious upbringing but for many people their language is framed by what they're taught growing up. There's a lot of voices and I like it that way. It keeps it fun for me!
WHAT WERE SOME OF YOUR MUSICAL AND ARTISTIC INFLUENCES FOR THIS ALBUM? IN WHAT WAYS DID THEY INSPIRE YOUR DIRECTION FOR THIS COMEBACK?
KIMBRA: I honestly feel like pop music is in a really exciting place. When I look at prophetic voices, I believe Kendrick Lamar is a voice in a generation– he is a pop star and a hip-hop legend. I look at people like James Blake and Rosalía, it's a very exciting time to be in pop. I continue to be inspired by those artists and watching a lot of R&B get really experimental like Chloe x Halle and SZA. A lot of these artists are just being fearless and that's what I care about. I get turned on by artists who are saying the stuff that really matters and sonically creating something unique and original. I was drawn to movie soundtracks and industrial, synthetic, metallic music because I wanted my record to feel like conflict. I wanted it to feel like a conflict within the soul.
local wolves • 85
IN YOUR SINGLE "SAVE ME", YOU CONVEY AN EMOTIONAL RAWNESS IN REACHING OUT AND ASKING FOR HELP. IN WHAT WAYS DOES ASKING FOR HELP MAKE US BOTH STRONG AND VULNERABLE?
KIMBRA: The first step into any kind of healing is the admittal that you need help. The admittal that you can't need help makes it sound dramatic but really it's saying I can't do this completely on my own. It's kind of become very unsexy to say that because there is so much movement around healing yourself from codependency. Nobody wants to be codependent but it's also a denial of the human experience to say that we are completely independent. We're not, we are inherently in relationship with everything – this phone that I'm talking to you on, the air that I'm breathing, the table that I'm leaning on– we are relationship. So, "Save Me" is really about admitting to reality which is that I do need others. I think it's the first step to empowering yourself because the deeper meaning of that song is of course, you can't look to someone to save you all the time. You have to learn to find that within yourself or your higher power. It's kind of always in all of my songs, this paradox within them and you have to sit and meditate on it. I like when pop music challenges you and makes you sit and think– rather than give you the whole story in the first minute.
WHAT WAS YOUR SONGWRITING PROCESS THROUGHOUT THIS ALBUM? DID YOU FIND IT CATHARTIC OR EMOTIONALLY TUMULTUOUS? DID IT COME EASIER TO YOU THIS TIME AROUND, OR WAS IT A LENGTHIER PROCESS? KIMBRA: It's funny, when you work out what the record is about– like when you land on the title and you realize: oh, this is about this woman dismantling all of these ideas within herself and reckoning really coming face-to-face with all the shit that lives inside her mind. It kind of writes itself a bit, you know what it's about now and the music starts to guide you. That's not to say it's not difficult! There were many moments in this record, where I was really challenged by just finding the right sounds and environment for the words to live inside. Lyrically, it might have been one of the more smoother journeys for me. I really know what I want to say at this stage of my life and career. I just want to tell the truth. So when you commit to that, you just let the music make decisions. Just stop trying to control everything and worry so much about what everyone else thinks. I think it gets in the way for a lot of songwriters.
86
TO UNCOVER
I'MSEARCHING THE MOST ESSENTIAL local wolves • 87
88
YOUR ALBUM IS TITLED A RECKONING. WHAT IS THE SIGNIFICANCE BEHIND THIS TITLE? IS THIS RECKONING INTERNAL, EXTERNAL, OR BOTH?
KIMBRA: A Reckoning is very much a chance for me to look both outward and look inward. I think there is no real change, until we do both. If we're always just pointing the finger, we don't really get anywhere. But if we're just consumed by the constant analysis of self, we also never get anywhere– we just become self-absorbed. Both are really important, I'd say, A Reckoning title started with a book I read about rage and anger. I was really interested in that emotion for women because we don't have many healthy representations of it and much context to process it. I actually read a book called Reckoning with Aggression: Theology, Violence and Vitality by Kathleen J. Greider. I just love the idea of this reckoning and chance to reckon with those forces inside of us. Instead of it being negative, I found that these things in of itselves are not bad. They just need to be channeled into the heart and spaces. For example, protests and catharsis, you know this is life force. Anger is life force, but when it's channeled destructively it becomes violence.
WHAT IS YOUR FAVORITE SONG FROM THE ALBUM, BOTH LYRICALLY
AND MUSICALLY?
KIMBRA: They are all part of a reckoning. Personally, I don't have my reckoning without the upbeat, dancey songs on the record as well as the ballads. They all play a part. I think "Save Me" was actually the scariest song to release and that's why I wanted to do it first. Just because it's like such a vulnerable thing, it's a very vulnerable opening line to say: "I'm the accident, waiting to happen / It's just a matter of time." It's not exactly a comeback with a "I'm back, bitches!" It's really like a "Hey, I'm about to tell you some real stuff right now." So lyrically, that was the one that I knew was going to encapsulate a lot within one song. I get so excited now to release the next single because my favorite thing about an album campaign is the element of surprise. Getting to fuck with people each time and drop something, I think that's really fun. The next song that I release is actually really important as a marriage to "Save Me." That's how all the songs work, they have a partner in crime and they're all married to another song. It's the spectrum– the chaos on one end and the stillness on the other.
WHAT ARE YOU MOST LOOKING FORWARD TO DURING YOUR UPCOMING TOUR? ANY PLACES YOU'RE EXCITED TO STOP BY?
KIMBRA: I love a lot of America. I've been to places like Portland and San Francisco, of course. I get excited to go back because I have my favorite restaurants and bookshops now. I'm a huge Ethiopian foodie and one of my things that I do whenever I get to a new city whether it's Amsterdam or Atlanta– I find Ethiopian restaurants. It's the first thing I do. I can't wait to get back to that side of my personality, which is food. Washington, D.C. is really the spot but it's hard to pick one because there's so many there. That's definitely the hub in America I found.
YOU HAVE A NEW PODCAST THAT FEATURES FAMOUS ARTISTS, SUCH AS MITSKI. WHAT DO YOU HOPE YOUR PODCAST WILL CONVEY TO LISTENERS THAT HASN'T BEEN SAID THROUGH YOUR MUSIC?
KIMBRA: I'm trying to tell a story, which starts with me but then it expands to others. I have these amazing friends! People ask me: what is the thing you're most proud of… and I say, my friends. I'm so proud of the people I've magnetized in this life. I catch up with them over a drink and we'll get talking about the existential topics of life, and God, and the transcendent, and Spirit, and of course political issues. All kinds of things. I'll always sit there like why aren't we recording this? This is so helpful to people and not because we're geniuses. We're having honest conversations with no filter. That's really the inspiration for the podcast, like let's just get talking about these things. I'd say another big part of my life aside from Ethiopian food is also spirituality. It's sort of what drives me– is my search for meaning. It's less about me talking about that and me just asking what transcendence means to other people. The cool thing about reckoning with yourself and with the world around you is that is what you get in the end…you get a transcendance. You get the transcendent moment of awakening or unlearning. I think it's related, not just random like everything in this campaign is part of a larger story of A Reckoning. I'm so excited for people to hear the podcast because they're fun, again, they're silly conversations– just friends fucking around. But also, we touch on stuff I think maybe need to be talked about a little more.
local wolves • 89
90
THE WRECKS
WRITTEN BY AILIE ORZAK PHOTOGRAPHY BY ISAIAH PATE
For the majority of the last year, THE WRECKS have been on tour — The Back and Better Than Ever Tour — and the name in and of itself feels like a declaration.
From selling out the biggest venues the band has ever headlined, to releasing their second studio album, Sonder, this tour is clear confirmation that everything Nick Anderson (lead vocalist/producer), Aaron Kelley (bass), Nick "Schmizz" Schmidt (guitar) and Billy Nally (drums) have been building is resonating with audiences everywhere.
"The fans are so engaged," marvels lead singer Nick Anderson during a coveted break between hours of morning travel and the night's fast approaching soundcheck. "Every show has been electric."
Before Back and Better Than Ever, The Wrecks had toured with a who's who of alternative rock and pop punk: All Time Low, SWMRS, Waterparks, The Hunna, the Struts, Paramore, Dashboard Confessional — their support tours alone read like a fantasy festival poster. Now, as The Wrecks face crowds on their own, they're pulling inspiration from playing alongside the names that raised the band to this level — or more accurately, what those bigger artists weren't doing.
"3000 people in the room could know every word to your song, but if you're not reaching out to them, there's no connection," remarks Anderson. "For everyone who came to the show knowing our songs, I'm gonna do everything I can to make sure that they know, that I know, that they know it," he laughs, "if that makes sense."
"I want the barricade close, I want to physically be able to reach out and touch the people who are reaching out to me. No matter what, we're gonna connect at that moment."
For Anderson, growing up in the pop punk scene 20 miles south-of-nowhere-New York exposed him to the raw energy of house shows: the power of low lights, blown out amps, and the genuine connection formed between those making the music and those moving to it. The Wrecks live set pulls from this DIY sort of upbringing, leaving crowds soaked in equal parts sweat and tears as they experience the moment as one massive, undulating body.
local wolves • 91
92
There's a bit of imagination happening at all times.
local wolves • 93
"There's not even that much moshing going on or anything," Nick says of the typical show night. "There's a little bit, but mostly because everyone's off their feet. The whole show, everyone's crying, moving… Everyone's really engaged in every moment."
It's no surprise fans connect so easily with The Wrecks live set. Their 2022 release, Sonder, was written by Anderson mid-pandemic in the aftermath of a life-halting breakup. Isolated both emotionally and physically, Nick turned to writing to cope with what he described as "emotional rock bottom." "I could lay in bed for three weeks and do nothing, or get up and make an album," he reflects, "I just had to act, because three weeks could've turned into three months or something."
Waving between feelings of inspiration and depression, Anderson transformed internal chaos into what is easily The Wrecks most real work to date.
Leaning into angry, intrusive thoughts and warm, rose-tinged memories alike, Sonder recasts an intensely personal experience into a record that reaches outwards. Between breakup ballads and hard hitting anthems, mellow folk and your traditional high-energy pop punk, Sonder stretches The Wrecks self-produced style to new heights, weaving honest and vulnerable themes into a genre-bending, eleven-track experience.
'Sonder' is defined as the "profound feeling of realizing that everyone, including strangers passing in the street, has a life as complex as one's own." To Anderson, 'sonder' was more than just that instant of realization — it was a call to extend compassion to each and every person he is surrounded by.
"We can't as human beings possibly be empathetic toward a billion individual people the way we are with the people we know," acknowledges the lead singer. "But those people outside of your immediate surroundings deserve just as much care as those around you, whether that be in broad strokes, or in small ways. Because those people could be you."
In the wake of a devastating breakup and midst of a public health crisis, 'sonder' became something to latch onto, to inspire hope. And now, in rooms filled with hundreds — sometimes thousands — of sing-screaming fans, the strangers Anderson was aching for are right in front of him, desperate for that same compassion and connection that originally inspired the title of the record.
"There's a bit of imagination happening at all times. You watch fans cry the songs you wrote, and it's like "Yeah man, I don't know what you're thinking."
"You guys got your own shit, but we're all doing it. Together."
94
local wolves • 95
JAYDE
WRITTEN BY LAN DO PHOTOGRAPHY BY CAROLINE SAFRAN
Rising singer and songwriter LEXI JAYDE graced us with a quick interview, despite her hectic tour schedule. From her favorite artistic inspirations to her perspective on Gen Z's influence on the new wave of music, Lexi gifts us with an honest and deep look into her thoughts, in the midst of her headline tour and following the release of her single "what's the matter with you."
HOW DID YOU GET INTO SINGING AND SONGWRITING?
LEXI JAYDE: Since I can remember, I have been writing music! I have videos of me at 6-years-old performing my songs to my parents. I would constantly write as a kid but never really knew what I was doing. When I got older and matured, I then realized writing songs was something that was a huge part of my life and it became my therapy. As an only child, that was my outlet to express my emotions. Now singing-wise, I think it was always very obvious it was what I wanted to do! I was always the annoying kid singing everywhere I'd go. I grew up doing musical theater which really shaped me as a performer, singer, and just even as a person. Overall singing and songwriting have always been such a huge part of who I am and I'm so grateful every day that I get to do it as a job!
IN WHAT WAYS HAS BEING A SINGER/SONGWRITER INFLUENCED YOUR ABILITY TO PERCEIVE YOUR PERSONAL LIFE? IN WHAT WAYS DO YOU THINK ROMANTICIZING YOUR LIFE INFLUENCES YOUR MUSIC AND VICE VERSA?
LJ: Being a songwriter has made me really perceive my personal life a bit deeper than one usually would. I take things into more detail and explain things more as a story than an experience. In my lyrics, I'm able to dive deep into my emotions and really get to the bottom of what I'm feeling! So when something happens in my life, I tend to really feel hard and I'm really in tune with how I feel! I think in general I tend to romanticize a lot of things in my life. I could spend one night with a guy and I could then write 5 songs about that one night! I think it influences my music in ways where I get to tell even more of a story than I could before. I just love how I'm able to take an experience that I went through and make art out of it hoping it connects with someone and their story!
96
LEXI
local wolves • 97
98
and really get to the bottom of what I'm feeling.
In my lyrics, I'm able to dive deep into my emotions
WHAT WAS YOUR THOUGHT PROCESS BEHIND YOUR EP, CLOSER TO CLOSURE 'S, CONCEPT? HOW DO YOU THINK YOUR NEW SINGLE DIFFERS FROM OR CONTRIBUTES TO THIS NARRATIVE?
LJ: closer to closure is all about the emotions and feelings you experience in the entirety of a breakup. I really wanted to take you along the road of emotions I went through from start to finish on the project. Each song tells its own story and throughout the project, I express vulnerability, nostalgia, heartbreak, hope, anger, and denial. I never got closure from my ex, so that EP was, I think, the closest I'll get to the closure I was searching for. I think "what's the matter with you" is the step right after the heartbreak. The in-between of still dealing with trauma from your breakup and trying to open your heart up again. Falling in love again is scary and this song talks about what it's like to meet someone you like when your heart isn't healed yet. I think it just continues the story of closer to closure
WHAT OR WHO ARE SOME ARTISTIC INFLUENCES THAT HAVE INSPIRED YOUR MUSIC?
LJ: Definitely big props to my parents for introducing me to all the amazing classic artists when I was younger. I grew up listening to Elton John, the Beatles, Billy Joel, Counting Crows, Sixpence none the Richer, Fleetwood Mac, etc. I also loved early Taylor Swift and Miley Cyrus. I think there wasn't ever really one person that inspired me. I think a lot of the 80s, 90s, and early 2000s stuff really shaped me as an artist. Currently, I've really been loving Kacey Musgraves, Lennon Stella, early Coldplay, Taylor [Swift], obviously, and Noah Kahan. Zach Bryan, right now I would say is my favorite artist.
WHAT KNOWLEDGE/ADVICE HAVE YOU GAINED FROM YOUR COLLABORATIONS WITH OTHER ARTISTS?
LJ: I feel lucky to have so many incredible artist friends around me that I know will always be there when I need them! I love to observe every show I go to, as I learn so much just from watching other artists on stage! Everybody in this business has always given me the best advice to always take care of yourself and have fun! This job takes a lot of sacrifice and time and emotion and if you don't love it and your heart isn't in it for the right reasons then don't do it. I feel lucky, like I said, to have a lot of amazing people looking out for me who love and support me through the bad times and the good.
WHAT IS A HARSH REALITY YOU HAVE LEARNED AS AN INDIVIDUAL IN THE MUSIC INDUSTRY?
LJ: Growing up in LA, I feel like I've seen firsthand what the entertainment world is like. I've learned a lot of lessons very quickly from a young age. The music industry isn't all rainbows and butterflies all the time, and just like every job, there is always some downside to it. I've learned that nothing comes easy and that you really have to sacrifice a lot to achieve your dreams. You learn very quickly to stand up for yourself, especially as a young woman in the industry, I think people think they can get away with things easier because of it. I've learned to always be aware and to be careful who you trust. You never know honestly what people's intentions are in this business and it's so extremely important to keep good people around you. You gotta really love this job to do it because it takes a lot of blood sweat and tears, which at the end of the day, are all worth it. Have to protect yourself and trust your intuition no matter what!
WHAT DO YOU THINK YOU OFFER TO THE NEXT GENERATION OF MUSIC THAT DIFFERS FROM WHAT IS OUT THERE NOW?
LJ: I think one thing I'm really proud of about my music is how personable and real it is. And the way I perceive myself on social media is exactly the way I am in person. I've always been a big believer in staying true to myself on and off the internet. It's so important to me to be there for my fans and treat them as if they are family, [well] because they are. I feel like I'm an older sister to so many people around the world who may not have a person to refer to when they are down. If I could just make one person feel less alone then that's a win for me! Connecting and being there for my fans is one of the most important things to me, and seeing how my music has inspired and helped so many people is really why I do it.
HOW DOES THE NARRATIVE OF GEN-Z ALTER CONTENT IN THE MUSIC INDUSTRY TODAY?
LJ: The music industry today is a lot different than what it used to be! Even just in the past year I feel like it's changed a lot. I try to have a positive outlook on the way music is perceived on the internet nowadays, especially when things run so quickly. I've had a lot of incredible experiences on apps that have really helped jumpstart some of my music. I think it's a beautiful thing that we have outlets like TikTok where the app has such an impact on the music you make, but I also
local wolves • 99
think it affects people's creative thoughts. The way Gen-Z's attention span is so short, I think, is affecting the way people listen to music now. Instead of focusing on making a body of work that you as the artist are obsessed with and love so much and listening to an album from start to finish, it's now up to 15 seconds of any song for the song to be considered "good".
I think for a while I felt this expectation that if my songs weren't performing well they weren't good songs. But that is so not true and not how any artist should think. 15 seconds of a song shouldn't represent whether a song is great or not. I find that people are only listening to singles and not full bodies of work, and only so little of a song then skipping to the next. As I said, I'm really grateful for the accessibility I have to get my music out there, but I don't want certain things to take away the beauty and art of what music and songwriting are all about.
YOU'RE CURRENTLY ON YOUR FIRST HEADLINE TOUR NOW. HOW DO YOU THINK THIS TOUR WILL CHANGE/IS CHANGING YOU AS AN ARTIST?
LJ: I think this headline tour is super special. You only get one first headline and these intimate shows have been really magical. I think this was the start of something much bigger than it is right now! As the show grows with bigger venues and so on I can't wait to see how this world of Lexi Jayde evolves on stage. It's been so cool to see the fans react after each show, and this is truly one of my favorite parts about being an artist! I think the tour is changing me in the sense that it is making me grow as a performer and as a person. You learn a lot about not just your fans on tour, but you learn a lot about yourself. I think if anything, the shows are making me better.
IS THERE ANYTHING YOU WANT TO EXPLORE OR DISCUSS THAT HASN'T ALREADY BEEN SAID THROUGH YOUR MUSIC? ARE THERE ANY GENRES OR MUSICAL STYLES YOU WISH TO EXPERIMENT WITH IN THE FUTURE?
LJ: One thing I love about music is how there are no rules. I have so, so much that I want to express and talk about during the next project. I believe my debut album is a place for me to push myself out of my comfort zone and get deeper with my emotions. Talk about things maybe I was too afraid to talk about before that are personal. And yes, in the future I definitely want to experiment with more genres and styles!
100
local wolves • 101
TRANSITIONS
BY SRAVYA BALASA MODEL — HYNING GAN
PHOTOGRAPHY
102
local wolves • 103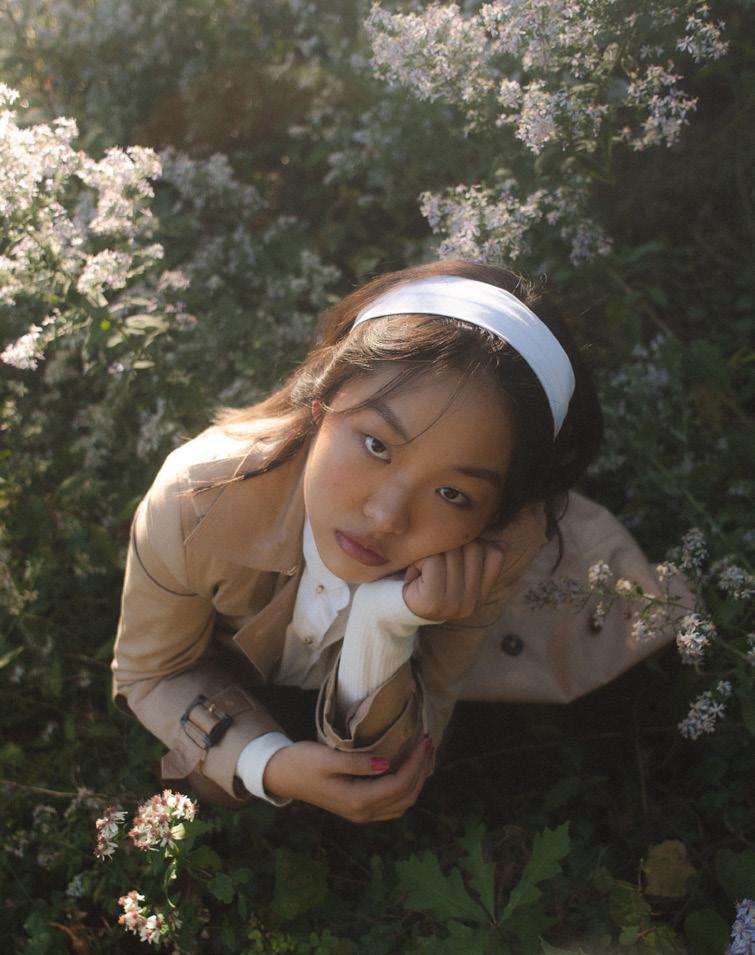 104
local wolves • 105
106
local wolves • 109
@cathrinekhom
by
walk, Trader Joe's hash browns + iced matcha latte w/ oat milk
for cute gems and visit Barnes & Nobles for books and magazines!
110
Founder & Editor-in-Chief of Local Wolves Cathrine Khom she/her Long Beach, CA cathrinekhom.com Donkatsu from Yoko! Iced matcha latte with oat milk New Girl! Icebreaker
Hannah Grace. It's so good, so far! Low by SZA. This song has been on repeat. Morning
from Thank You Coffee. Thrift
Baekjeong for KBBQ, so good. Skincare routine is a priority to me (day & night). Catch up on my Kindle before bed.
READ ON THE GO
issuu.com/localwolves local wolves • 111
"I hope that in this phase [of life] you try to find what will make you the most happy." - JONGSEOB OF P1HARMONY