INDOOR
Intérieur Interior FR ES
Product INDEX 3 INDEX des Produits Producto INDEX About LIGMAN 5 A propos de LIGMAN Acerca de LIGMAN LED Technology 9 Technologie LED Tecnología LED BIM – Building Information Management 12 BIM - Gestion des informations du bâtiment BIM – Building Information Management LIGMAN Tailor-Made 14 LIGMAN Tailor-Made LIGMAN Tailor-Made LIGMAN Inspired by Nature 17 LIGMAN inspiré par la nature LIGMAN inspirado en la naturaleza Production & Quality 19 Production & Qualités Producción & Calidad How to read our catalogue 25 Comment lire notre cataloge Cómo leer nuestro. catálogo Luminaire for track 29 Luminaires pour rail Luminarias para carril Tracks 48 Rail Senda Surface ceiling luminaires 51 Plafonniers Luminarias de cielo raso Surface wall luminaires 100 Appliques murales Luminarias de superficie de pared Pendant luminaires 107 Suspensions Luminarias colgantes Recessed ceiling luminaires 157 Luminaires encastrés Luminarias empotrables en cielo raso FR ES EN spotlight wall surface ceiling surfaceModular ceiling recessed track light track Modular Pendant spotlight wall surface ceiling surfaceModular ceiling recessed track light track Modular Pendant ceiling surfaceModular Modular Pendant wall surface ceiling surfaceModular ceiling recessed Modular Pendant Pendant ceiling surfaceModular ceiling recessed Modular Pendant
Recessed downlights 211 Downlights encastrés Downlights empotrados Modular multiple recessed directional downlights 241 Downlights directionnels encastrés multiples modulaires Downlights direccionales empotrables múltiples Modular Continuous LED solutions 249 Solutions LED en continu Soluciones LED continuas DALI & Control Devices 279 Dispositifs de contrÔle DALI Dispositivos de control DALI DMX & Control Devices 287 Dispositifs de contrÔle DMX Dispositivos de control DMX DMX/RDM system 293 Système DMX RDM DMX/RDM sistema Connection guidelines 303 Consignes de connexion Consignes de connexion Photometric Information 305 Informations photométriques Información fotométrica Symbols 307 Symboles Símbolos Article index 309 INDEX de L'article Articulo INDEX Accessory index 313 INDEX D'accessoire AccesoriosINDEX Family index 314 INDEX de Famille Familia INDEX Terms of sales* 315 Conditions de vente* Condiciones de venta*
FR ES EN surfaceModular Modular Pendant ceiling surfaceModular Modular Pendant bollard LINE
INDOOR CATALOGUE 2022
LUMINAIRES FOR TRACK
3
TRACKS Rails Senda Luminarias de cielo raso Plafonniers
CEILING LUMINAIRES Luminarias de superficie de pared Luminarias colgantes Appliques murales Suspensions SURFACE WALL LUMINAIRES PENDANT LUMINAIRES FR ES FR ES FR ES FR ES FR ES 32 - BE RLIN 30 - BE LIZE 35 - H AMBURG 38 - H ELSINKI 41 - R OY 45 - T OKYO 48 - TRA CKS 52 - ARDE N 56 - BRISBANE 59 - G AVLE 65 - M ALMO 69 - M UNSTER 72 - N YBRO 78 - N YBRO JUNCTION 84 - O ULU 91 - P IAZZA 94 - PI TTSFIELD 98 - T OKYO 101 - N YBRO 130 - M UNSTER 116 - BRISBANE 108 - A RDEN 113 - BRIGH TON 119 - G AVLE 125 - M ALMO 133 - N YBRO 145 - O ULU 152 - PI TTSFIELD 139 - N YBRO JUNCTION NEW
Luminaires pour rail Luminarias para carril
SURFACE
4 158- A RDEN 166 - BRIGH TON 169 - G AVLE 173 - M ALMO 163 - A RUBA Downlights empotrados Soluciones continuas Downlights direccionales empotrables múltiples Modular Downlights encastrés Solutions LED en continu Downlights directionnels encastrés multiples modulaires RECESSED DOWNLIGHTS CONTINUOUS LED SOLUTIONS MODULAR MULTIPLE RECESSED DIRECTIONAL DOWNLIGHTS FR ES FR ES FR ES luminarias empotrables en cielo raso luminaires encastrés RECESSED CEILING LUMINAIRES FR ES 179 - N YBRO 185 - N YBRO JUNCTION 192 - O ULU 197 - PI TTSFIELD 201 - V ICTORIA 208 - Y ORK 205 - V IENNA 212 - A MOS 215 - B AKER 221 - H AYS 218 - BRISBANE 228 - M ARYS 232 - M UNICH 235 - P ERTH 238 - SIDNE Y 224 - J ASPER 242 - C EDAR 245 - R OCKY 257 - PRO LINE 250 - L INE
About LIGMAN A propos de LIGMAN
LIGMAN's comprehensive ability to design, manufacture and distribute quality lighting fixtures has been well established over the years.
The company is committed to producing world-class, high efficiency and top quality outdoor and indoor lighting products and is now being recognised for these key merits not only in local markets but internationally by lighting professionals.
At LIGMAN, designs are born out of their passion to provide perfect lighting solutions for people. Not just to illuminate the environment in which they live, but created especially with them in mind; going beyond the typical matrices and making genuine differences to enhance lives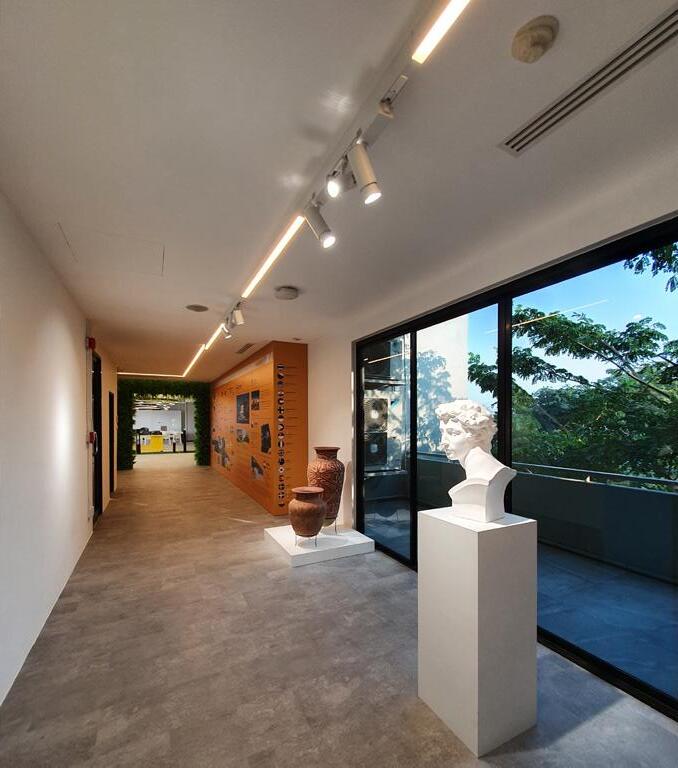 Utilising state of the art advanced modern technology, the highest level of technical expertise and innovative designs, LIGMAN is committed to ensuring product quality and offering total lighting solutions for their customers, with every lighting component used in their luminaires carefully considered and of the highest quality.
LIGMAN is continuously expanding its global footprints and ready to provide their customers with excellent service and collaboration to provide greater lighting solutions for all your projects.
LIGMAN is your global, flexible and competitive lighting solution partner.
La capacité globale de LIGMAN LIGHTING à concevoir, fabriquer et distribuer des appareils d'éclairage de qualité a été bien établie sur les années.
La société est engagée dans la production de classe mondiale, haute efficacité et des produits d'éclairage extérieur et intérieur de qualité supérieure et sont maintenant reconnu pour ces avantages clés non seulement sur les marchés locaux, mais à l'international par des professionnels de l'éclairage.
Chez LIGMAN, les créations naissent de leur passion pour fournir solutions d'éclairage pour les personnes. Pas seulement pour éclairer l'environnement dans laquelle ils vivent mais créé spécialement pour eux; aller au-delà de la matrices typiques et faire de véritables différences pour améliorer la vie – Éclairage de vie.
Utilisant une technologie moderne de pointe, le plus haut niveau d'expertise technique et de conceptions innovantes, LIGMAN s'engage à assurer la qualité des produits et offrir des solutions d'éclairage complètes pour leurs clients, avec chaque composant d'éclairage utilisé dans leurs luminaires soigneusement considéré et de la plus haute qualité.
LIGMAN étend continuellement ses empreintes mondiales et est prêt à fournir à leurs clients un excellent service et collaboration pour fournir de meilleures solutions.
LIGMAN est votre partenaire mondial, flexible et compétitif en matière de solutions d'éclairage.
5
EN FR
La capacidad integral de LIGMAN para diseñar, fabricar y distribuir accesorios de iluminación de calidad se ha consolidado a lo largo de los años.
La compañía está comprometida con la creación de productos de iluminación para interiores y exteriores de primera clase, alta eficiencia y calidad. Y ahora está siendo reconocida por estos méritos clave, no solo en los mercados locales sino también a nivel internacional por profesionales de la iluminación.
En LIGMAN, los diseños nacen de su pasión por brindar soluciones de iluminación perfectas para las personas. No solo para iluminar el entorno en el que viven, sino que se crea especialmente pensando en ellos; yendo más allá de las matrices típicas y haciendo una diferencia genuina para mejorar vidas. Utilizando tecnología moderna avanzada, el más alto nivel de experiencia técnica y diseños innovadores, LIGMAN se compromete a garantizar la calidad del producto y ofrecer soluciones de iluminación totales para sus clientes, con cada componente de iluminación utilizado en sus luminarias cuidadosamente considerado y de la más alta calidad.
LIGMAN está expandiendo continuamente sus huellas globales y está listo para proporcionar a sus clientes un excelente servicio y colaboración para proporcionar mejores soluciones de iluminación para todos sus proyectos.
LIGMAN es su socio de soluciones de iluminación global, flexible y competitivo.
6
ES
Acerca de LIGMAN
LED Technology Technologie LED Tecnología LED
EN FR ES
LED Spectrum
LEDs in LIGMAN luminaires provide options from neutral white (W40, 4000K) warm white (W30, 3000K) and warm (W27, 2700K).
Some fixtures offer tuneablewhite (2700K to 6500K) or RGBW (Red, Green, Blue, White) colourchanging sources.
LEDs do not generate UV or IR radiation and have very low colour fading rate as compared to conventional lamps.
Spectrum LED
Les LED des luminaires LIGMAN sont en option: blanc neutre (nw: W40, 4000K) blanc chaud (ww: W30, 3000K) chaud (w: W27, 2700K).
Toutes les LEDS ne génèrent pas de rayonnement UV ou IR et ont un très faible taux de décoloration des couleurs par rapport aux lampes conventionnelles.
Espectro LED
Los LED en las luminarias LIGMAN ofrecen opciones desde el blanco neutro (W40, 4000K) al blanco cálido (W30, 3000K) y cálido adicional (W27, 2700K).
Algunos accesorios ofrecen fuentes de cambio de color de color blanco ajustable (2700K a 6500K) o RGBW (Rojo, Verde, Azul, Blanco).
Los LED no generan radiación UV o IR y tienen una tasa de pérdida de color muy baja en comparación con las lámparas convencionales.
LED Colour Rendering
The colour rendering index (CRI or Ra) is a standard measure of how well a light source reproduces the colour of an object compared to a standard reference (tungsten) source. The index value is computed from how well the light source under test reproduces the colour of 8 standard pastel colour swatches. Generally, for LED fixtures, a colour rendering index of between 80 and 90 is stated as good and a value between 90 and 100 considered as excellent.
LIGMAN provide fixtures with a tested CRI value >80 for general indoor and outdoor as standard, however, CRI >90 is optional upon request.
Rendu des couleurs LED
L'indice de rendu des couleurs (CRI ou Ra) est une mesure de la façon dont une source de lumière reproduit la couleur d'un objet par rapport à une source standard. La valeur d'indice est calculée à partir de la mesure dans laquelle la source de lumière testée reproduit la couleur d'un certain nombre d'échantillons de couleurs standard. Généralement, l'indice de rendu des couleurs entre 80 et 90 est bon et la valeur entre 90 et 100 considérée comme très bonne.
LIGMAN fournit une valeur d'IRC> 80 pour l'extérieur général en standard, mais l'IRC> 90 est facultatif sur demande.
Representación de color LED
El índice de reproducción cromática (CRI o Ra) es una medida estándar de qué tan bien una fuente de luz reproduce el color de un objeto en comparación con una fuente de referencia estándar (tungsteno). El valor del índice se calcula a partir de qué tan bien la fuente de luz bajo prueba reproduce el color de 8 muestras de colores pastel estándar. Generalmente, para las luminarias LED, un índice de reproducción cromática entre 80 y 90 se indica como bueno y un valor entre 90 y 100 se considera excelente.
LIGMAN proporciona accesorios con un valor comprobado de CRI > 80 para interiores y exteriores en general, no obstante, CRI> 90 es una
9
Spectrum Multi LEDs W27 - 2700KMulti LEDs W30 - 3000K Multi LEDs W40 - 4000K % 100 80 60 20 0 40 400 500 700 nm 600 300 ww w nw LED nw: LED ww: LED w: 4000K 3000K 2700K
LED Colour Deviation
SDCM is an acronym which stands for Standard Deviation Colour Matching and it has the same meaning as a "MacAdam ellipse". The SDCM value, defined from visual colour matching experiments, shows the standard deviation of the colour discrimination variations from a specific center on the xy chromaticity diagram based on ANSI engineer Davis Lewis MacAdam described. Increasing size of ellipse can classify the maximum colour deviation of light sources referred to as MacAdam ellipses of a certain step size SDCM.
LIGMAN uses high-power LEDs and Chip-on-Board LED (COB) with 3 SDCM (or 3-Step MacAdam ellipses) as the standard suitable for most indoor and outdoor project applications.
Déviation de couleur LED
LIGMAN utilise des LED haute puissance et des LEDS ChiponBoard (COB) avec 3 SDCM (ellipse en 3 étapes MacAdam) comme le standard le plus élevé actuellement disponible sur le marché. L'écart de couleur entre les LED rarement trouvé par la perception de l'oeil humain. La valeur SDCM (écart type de la correspondance des couleurs) défi nie à partir des expériences d'appariement visuel des couleurs montrent l'écart-type des variations de discrimination des couleurs d'un centre spécifi que sur le diagramme de chromaticité xy décrit par l'ingénieur ANSI Davis Lewis MacAdam. L'augmentation de la taille de l'ellipse peut classer l'écart de couleur maximal des sources lumineuses appelées ellipses MacAdam d'une certaine taille
Desviación del color del LED
SDCM es un acrónimo que significa «Desviación de color estándar» y tiene el mismo significado que una «elipse de MacAdam». El valor SDCM, definido a partir de experimentos visuales de coincidencia de colores, muestra la desviación estándar de las variaciones de discriminación de color de un centro específico en el diagrama de cromaticidad xy basado en el ingeniero de ANSI Davis Lewis MacAdam descrito. El aumento del tamaño de la elipse puede clasificar la desviación de color máxima de las fuentes de luz denominadas elipsis de MacAdam de un determinado tamaño de paso SDCM.
LIGMAN utiliza LED de alta potencia y LED Chip-on-Board (COB) con 3 SDCM (o elipsis de MacAdam de 3 pasos) como el estándar adecuado para la mayoría de las aplicaciones de proyectos de interiores y exteriores.
TM-30-15 (LATEST)
TM-30-15 is the latest method adopted by the Illuminating Engineering Society Of North America for quantifying colour rendering properties of light sources, these results distinguish both colour fidelity and colour gamut and provide a far more comprehensive framework for better interpreting chroma and hue shift associated with light sources as compared to the standard Ra rating method.
In keeping with the new measurement standards and meeting market requirements, LIGMAN now provides TM-30-15 as well as CIE Ra and CIE R9 reports for all fixtures.
TM-30-15 (DERNIÈRE)
TM-30-15 est la dernière méthode adoptée par l'Illuminating Engineering Society pour quantifier les propriétés de rendu des couleurs des sources lumineuses. Ces résultats distinguent à la fois la fi délité des couleurs et la gamme de couleurs.
Conformément aux nouvelles normes de mesure et aux exigences du marché, LIGMAN fournit désormais les rapports TM-30-15 ainsi que les rapports CIE Ra et CIE R9.
TM- 30-15 (ÚLTIMO)
TM-30-15 es el último método adoptado por la Illuminating la Sociedad de Ingenieros de Iluminación de Norteamérica para cuantificar las propiedades de reproducción del color de las fuentes de luz. Estos resultados distinguen tanto la fidelidad del color como la gama de colores y proporcionan un marco mucho más completo para interpretar mejor el cambio de croma y tono, asociado con las fuentes de luz en comparación con el método de calificación Ra estándar.
De acuerdo con los nuevos estándares de medición y los requisitos del mercado, LIGMAN ahora proporciona TM-30-15, así como informes de CIE Ra y CIE R9 para todos los accesorios.
10
de. 0 .3 8 0 .3 9 0 .40 0 .41 0 .42 0 .43 0 .410 .42 0 .43 0 .440 .45 0 .46 x y LIGMAN 3 SDCM 5 SDCM 7 SDCM Standard industry LED SDCM MacAdam Ellipse Spectrum Multi LEDs W27 - 2700KMulti LEDs W30 - 3000K Multi LEDs W40 - 4000K % 100 80 60 20 0 40 400 500 700 nm 600 300 ww w nw LED nw: LED ww: LED w: 4000K 3000K 2700K 10% 90% > 90% luminous ux < 90% luminous ux LIGMAN LEDs Lifetime L90B10
EN FR ES
COLOUR
LIGMAN LEDs Module
Reference source Test source Rf : 83 Rg : 99 CCT(K) : 2694 Ra : 83
VECTOR GRAPHIC
2700K
LED Technology Technologie LED Tecnología LED
EN FR ES
LED Lumen Maintenance
At LIGMAN we design our own LED light engines to maintain the thermal equilibrium of our luminaires below the critical temperature range and we properly input the optimum driving current and operating conditions to state maximum luminous flux output together with the stated useful life performance of the LED luminaires.
We publish the rated values of L90/B10, L80/B10 and L80/ B50 for our entire range of LED products, which indicates the lifetime expectancy of the LEDs used. As an example, a rated lifetime of L90/B10 to 60,000 hours means that the LEDs maintained lumen performance is over 90% after 60,000 hours. It also indicates that only 10% of LEDs will not achieve 90% of their original luminous flux after 60,000 hours.
Maintenance de LED Lumen
Chez LIGMAN, nous avons conçu notre propre moteur à LED pour maintenir la température au-dessous de la plage de température critique et nous fournissons le courant de commande optimal correct pour garantir unflux lumineux maximal et une longue durée de vie des LEDS.
Nous publions les valeurs nominales de L90/B10, L80/B10 et L80/B50 pour l'ensemble de notre gamme de produits LED, ce qui indique la durée de vie des LED utilisées. À titre d'exemple, une durée de vie nominale de L90/B10 à 60 000 heures signifie que les LED ont maintenu un rendement lumineux supérieur à 90 % après 60 000 heures. Il indique également que seulement 10 % des LED n'atteindront pas 90 % de leur flux lumineux d'origine après 60 000 heures.
Mantenimiento de lúmenes LED
En LIGMAN diseñamos nuestros propios motores de luz LED para mantener el equilibrio térmico de nuestras luminarias por debajo del rango crítico de temperatura e ingresamos adecuadamente la corriente de conducción y las condiciones de operación óptimas para establecer la salida de flujo luminoso máxima junto con el rendimiento de vida útil declarado de las luminarias LED.
Publicamos los valores nominales de L90 / B10, L80 / B10 y L80 / B50 para toda nuestra gama de productos LED, lo que indica la esperanza de vida útil de los LED utilizados. A modo de ejemplo, una vida útil nominal de L90 / B10 a 60.000 horas significa que el rendimiento lumínico mantenido de los LED es superior al 90% después de 60.000 horas. También indica que solo el 10% de los LED no alcanzarán el 90% de su flujo luminoso original después de 60.000 horas.
11
0 .3 8 0 .3 9 0 .40 0 .41 0 .42 0 .410 .42 0 .43 0 .440 .45 0 .46 x y LIGMAN 3 SDCM 5 SDCM 7 SDCM
% 100 80 60 20 0 40 400 500 700 nm 600 300 ww w nw LED nw: 4000K 10% 90% > 90% luminous ux < 90% luminous ux LIGMAN LEDs Lifetime L90B10
Multi LEDs W27 - 2700KMulti LEDs W30 - 3000K Multi LEDs W40 - 4000K