GOLF: A GREAT GAME FOR ALL TO
ENJOY
There's something for everyone learn how the sport can benefit you
BEING
TROY MULLINS
SPECIAL EVENT ISSUE!
The 2nd Annual Lee Elder Memorial Golf Charity Classic Program Guide
F O R T H E B E N E F A C T O R S O F L A N G S T O N G O L F C O U R S E VOL. 2 | SPRING/SUMMER 2023
The Wake-Robin Golf Club member reflects on her experiences as a Black woman in Golf
PROUD SUPPORTERS OF THE 2ND ANNUAL LEE ELDER
MEMORIAL GOLF CHARITY CLASSIC
THANK YOU TO THE FRIENDS OF LANGSTON!
La'Mont Baxter
Leslie Branson
Audra Cunningham
Barry Curtis
Darrell Darnell
Patrice Davenport
Dwayne Davis
Craig Dean
Derek Ford
Dexter Gaines
Alvin Gross
Delicia Gunn
Michelle Hagans
Joigie Hayes (Circle of Friends)
Lester Hosten, MD
Cheo Hurley
Kim Jones
Bernard Joseph
Dallas Lea, MD
Curtis Lewis
Paul Maylone
Richard Peter Martin
Robert Newman
Keith Perry
James Price
Robert Prince
Anthony Roberts, MD
Colin Rock (Golden Decade)
Joseph A C Smith
Paul Spence
Stephen Taylor, Esq
Joseph Thieman, Esq
Robert Thorne
Desirée Walker (Road2Par)
Brendon Walsh
David Wilmot, Esq
Greg Winfree
Jason Zeigler
HITTING A LONG SHOT!
I am pleased to welcome you to the 2nd Annual Lee Elder Memorial Golf Classic at the historic Langston Golf Course in Washington, DC This year we have enhanced the golfing experience and added a variety of activities for non-golfers Indeed, the Langston Golf Course Conservancy has pledged to significantly increase our support for the Langston Boys and Girls Golf Club in addition to our primary goal of raising funds to improve the playability of Langston
As Executive Director, I am immensely fortunate to work with an extraordinary Executive Committee: led by our board chair Patrice Davenport and including Paul Spence, Delicia Gunn, Derek Ford and George Hall Together we have navigated various obstacles with an unwavering zeal to succeed in our quest to make Langston a sparkling jewel in the heart of our Nation's Capital, for generations to come We have also sought to engage the surrounding community, again with the purpose of preserving and highlighting the illustrious history of Langston Together we have brought our vision closer to reality and for that I am very grateful to our founding team and our Chief of Staff, Kanisha
This tournament honors the legacy of black golf pioneer Lee Elder who was a tireless supporter and hands-on advocate for the improvement of Langston We are so proud to carry on in his wake and make Langston worthy of its moniker--The Mecca of Black Golf It is in this regard that I offer my sincere thanks to all of our sponsors, donors, and supporters that have enabled us to carry out this worthy endeavor On behalf of all of the 'Friends of Langston', welcome to the family--onward and upward!
Williams
www.friendsoflangston.org | 1 LANGSTON MAGAZINE
A Note from Craig Dean, Executive Director, Langston Golf Course Conservancy
THANK YOU FOR A GREAT YEAR!
Last year ' s inaugural Lee Elder Memorial Golf Charity Classic was truly a beautiful experience to behold, as golfers arrived from around the DMV and across the country to witness history being made at the beloved Langston Golf Course in Washington DC We were thrilled to receive such positive feedback from golfers--moreover, our fundraising efforts were successful! Proceeds from the tournament enabled the Conservancy to make substantial donations to the core programs we support
We hope you will be inspired to get involved with the work of the Conservancy as we host this exciting 2nd tournament honoring golf great Lee Elder and raise funds to provide stewardship for the golf course that he so cherished! Your participation as a volunteer and or supporter will also help us expand our outreach for youth and collegiate golf programs, launch community development initiatives, and identify cultural preservation and course revitalization opportunities in and around the surrounding Langston Golf Course neighborhood
We cannot do this work without participants like you and we truly look forward to showcasing our profound appreciation for your engagement If you are interested in becoming a Friend of Langston, making a donation, or serving as a volunteer please email langstongcc@gmail com and we will be happy to follow up with you!
2ND ANNUAL LEE ELDER GOLF CHARITY CLASSIC
Langston Golf Course | June 19, 2023
ProceedsbenefittheLangstonGolf CourseConservancycourseimprovement initiativesandtheLangstonJuniorBoys andGirlsGolfClub
7:30 AM
Registration/ Grab'n Go Breakfast
9:00 AM
Shotgun Start / Scramble Format
12:00 PM
Grapes on the Green Spectator
Wine Experience / Slay the Fairway fashion showcase / Golfer Lunch
3:00 PM
Après-Golf Classic Cookout and Awards
STATE OF PLAY
ShotgunStart/ScrambleFormat Alltournamentplayerswillbeginat thesametime,fromyourdifferent assignedholeonthecourse Golfers willcontinuealongthecourseinorder fromtheholewheretheybegan
Don't forget to stop by the Shinju Whisky toast to Lee Elder on hole 13!
GRAPES ON THE GREEN SPECTATOR EXPERIENCE
12:00 PM - 3:00 PM
Whispering Grapes / Flo Wine / Massanois / Black Leaf Vodka
Join in the fun under the Spectator tent and enjoy wine and appetizers from Ivy City Smokehouse
Par4Puppies
PetSmart, invites you to stop by their tent and give a pet in need the loving home they deserve
APRÈS-GOLF AWARDS & CLASSIC COOKOUT
3:00 PM - 5:00 PM
Awards
1stPlace/2ndPlace/LongestDrive
Acknowledgements
Bill Deal, Executive Director, Market Head of Sales & Service, Aetna
ClassicCookout
Golfers and guests will enjoy culinary delights from Ben's Chili Bowl and CalPro Group
Slay the Fairway Join us for a golf fashion showcase curated by GOLFDOM
LANGSTON GOLF COURSE CONSERVANCY EXECUTIVE COMMITTEE AT THE MASTERS + MIMOSAS
2023 tournament hosts
WELCOME FROM THE
THE 2ND ANNUAL LEE ELDER MEMORIAL GOLF CHARITY CLASSIC HOST COMMITTEE
Lamont & Kelli Baxter
Patrice Davenport
Craig Dean
Chip Ellis
Derek Ford
Alvin Gross
Delicia Gunn
George & Kerri Hall
Marcus Johnson
Camelia Mazard
Doyle Mitchell
Paul Spence
ENJOY THE 2023 GRAPES ON THE GREEN / CLASSIC COOKOUT EXPERIENCE!
Nothing pairs better than great food, wine, and golf! The Grapes on the Green wine tasting experience is hosted concurrently with the 2nd Annual Lee Elder Golf Charity Classic Tournament spectators sip varietals under a tent, curated by Soul of Sonoma and Vino 301 from Flo Wines, Massanois, Whispering Grapes, and Wines for Humanity Enjoy delicious appetizers from Ivy City Smokehouse on the picturesque and historic grounds of the Langston Golf Course Our signature après-golf event will feature a golf fashion show curated by GOLFDOM, delicious food from hospitality partner Ben's Chili Bowl and the CalPro Group, DJ Mr E, an award ceremony, and cocktails from Shinju Whiskey and Black Leaf Vodka!
GOLD SPONSORS
BRONZE SPONSORS
EXPERIENCE PARTNERS
Publisher/ Art Director Staff Writer/ Editor
Feature Writer
Patrice Davenport
Michelle Morgan
Tony Starks
George Hall 455 Massachusetts Avenue, NW, Suite 226
Contributing Writer
(202) 412-3456 | langstongcc@gmail com
BALDI MANAGEMENT GROUP
Langston Magazine is a publication of the Langston Golf Course Conservancy
MAGAZINE
TEAM
LANGSTON
EDITORIAL
WWW FRIENDSOFLANGSTON ORG/MAGAZINE
www.friendsoflangston.org | 3 LANGSTON MAGAZINE
CONTENTS
THE FRONT 9
EXECUTI VE DIRECTOR'S WELCOME
TOURNAMENT PROGRAM
CELBRATING THE LIFE OF JACQUELYN 'JACQI' GLOVER
REVITALIZING AN ICONIC GOLF COURSE
THE BACK 9
PERSPECTIVE: GOLF: A GREAT GAME FOR ALL TO ENJOY
NLT'S NEW EXECUTIVE DIRECTOR
FRIENDS OF LANGSTON SCRAPBOOK
TROY MULLINS ON BEING BLACK BEING A WOMAN BEING IN GOLF
A GAME FOR ALL TO ENJOY
GEORGE HALL MAKES THE CASE / PAGE 12
The newest member of the Conservancy Executive Committee discusses the evolution of his love for golf
TROY!
TROY MULLINS COMES OUT SWINGING / PAGE 18
linksoul.com
THE LEE ELDER X LINKSOUL CAPSULE
In our journey to make Lee Elder's name synonymous with a little tournament held out in Augusta, Linksoul launched the second edition of the "Thank You, Mr. Elder" Tee – to round out a capsule of items we hope would make the man himself proud
We created this capsule to commemorate Lee's accomplishments and support his family 100% of the proceeds from the sale of each item and any additional donation you wish to make will go directly to the Lee Elder Trust to cover healthcare costs for his widow, Sharon, who is battling Alzheimer's, and sustain the Lee Elder Memorial Fund to grow his legacy and expand the reach of golf.
12 15 16 18
Photo: Troy Mullins at Desert Willow Golf Resort, Palm Desert, CA (2021)
1 2 7 9
www.friendsoflangston.org | 5 LANGSTON MAGAZINE
CELEBRATING THE LIFE OF OUR FRIEND JACQI
Jacquelyn 'Jacqi' Glover was a wonderful advocate and supporter of the Langston Golf Course Conservancy's mission.
Jacqi was an exceptional daughter, godchild, niece, cousin, and friend. We have found comfort in knowing that she left a huge footprint that will last a lifetime. Jacqi took part in the inaugural Lee Elder tournament and festivities on behalf of Delon Hampton last year Those fortunate to know her, know she was a wonderful inspiration to all those she touched, and was an avid golfer and supporter of the Conservancy's mission This year, the Conservancy memorializes her by naming this year's Women's Longest Drive Contest in her honor on June 19, 2023 (Juneteenth).
CONGRATULATIONS TO THE LANGSTON GOLF COURSE CONSERVANCY ON HOSTING THE 2ND ANNUAL LEE ELDER MEMORIAL GOLF CHARITY CLASSIC
WE DON'T BUILD HOUSING, WE BUILD COMMUNITIES.
JACQUELYN GLOVER (CENTER) WITH FRIENDS AT THE 2022 TOURNAMENT
TAKING THE TURN
When it opened in 1939, Langston was one of only 20 golf courses in the United States open to blacks
Langston Golf Course stands as a shrine of African American golf history in Washington DC, and has a legacy steeped in phenomenal stories of perseverance, persistence, and faith. In 2019 a group of local business owners and concerned citizens colloquially referring to themselves as "Friends of Langston," met to discuss strategies to keep this amazing legacy alive through activities that focus on stewardship and community engagement. Now formally, the Langston Golf Course Conservancy, the board of directors established a 501(c)(3) nonprofit organization, dedicating its activities to raising funds in support of course revitalization, youth and collegiate golf empowerment programs, community development, and cultural preservation in and around the neighborhood surrounding the historic Langston Golf Course
The Langston Golf Course, named after John Mercer Langston (the first African American elected to the United States Congress from Virginia, and the first dean of the Howard University School of Law) opened in 1939. Mercer Langston was the uncle of famous writer and poet Langston Hughes. Prior to the founding of Langston, African Americans played golf at the Lincoln Memorial (now West Potomac Park). The other public courses in the city were for whites only.
Black men and women golfers lobbied the federal government for inclusion and Langston was the compromise
The Capital City Golf Club was founded in 1928 as a club for black men and was eventually renamed the Royal Golf Club in 1933 The Wake Robin Golf Club, the city's first black female golf club and the first of its kind in the United States, was organized in 1937
Continued on page 11
www.friendsoflangston.org | 9 LANGSTON MAGAZINE
Both clubs joined forces to demand that the federal government desegregate the city's public golf courses
In 1938, the clubs petitioned Secretary of the Interior Harold Ickes for access to public courses funded by their federal taxes Instead, Ickes permitted construction of a golf course for blacks on an abandoned trash site Langston thus began as a ninehole golf course Both clubs continued to fight for the desegregation of all public golf courses In 1941 Ickes issued a desegregation order at the city's federal courses It would take longer for local white golfers to accept it
The Langston Golf Course in Anacostia Park was opened as a 9-hole course in 1939 (and expanded to 18 holes in the 1950s). It was constructed with the help of the Civilian Conservation Corps (CCC) and the Works Project Administration (WPA). Langston Golf Course, which was always open to all, quickly
became a popular course It attracted local residents and celebrities, including singer Billy Eckstine, golfer Lee Elder, and boxer Joe Louis It is operated by the National Park Service as part of Anacostia Park and was listed on the National Register of Historic Places in 1991
Today, the course is popularly regarded as the best public golf course in the District of Columbia As one of the first courses in the country specifically built for use by African Americans during segregation, its mere existence is a miracle and many people persevered for a long time to make it come to fruition The history and the people who have been involved there make it a special place. The Conservancy seeks to bring awareness and increased resources to innovative programs and projects that preserve and perpetuate the rich history, legacy, and full potential of Langston Golf Course. We hope you will join us in these efforts!
GOLF:
There is a saying, "Golf is a good walk spoiled." But I think it's more a good walk made better. And I believe there are plenty of reasons why taking a stroll on the golf course could be one of the best things you can do for your mind, body, and soul.
One of the true gems of the game of golf is that it has no age limit Whether you're 8 or 80, you can enjoy swinging a golf club and chasing that little white ball around a golf course And it's not just for men women have been playing golf for centuries, and there are countless female golfers who have made their mark on the sport
I didn't start playing golf until long after college In fact, I was married and well into my thirties when I picked up my first golf club I was on President's Club in Hawaii with my wife one of the many Club trips my wife has won during her career. While in Hawaii, I was asked by some of her coworkers to join them for a round of golf. To which I quickly replied, no. I was not in the habit of embarrassing myself or my wife. I had never played the game and this did not seem like the ideal time to start.
Later on that day my wife and I were relaxing just off the fairway of one of the holes We were sitting on the patio of our bungalow where we had a great view of her coworkers playing The same coworkers who earlier invited me to play with them As we watched them attempt to hit their golf balls, it seemed as though the vast majority of the balls were flying in every direction, except the right direction Very few of the golf shots went in the direction of the flag on the green But with many of these errant shots, what I came to notice was the facial reactions of the person taking the shots More often than not, they did not reflect that of a person who'd just taken a dismal golf shot In fact, there was either a sense of calmness in the person, or some were just simply laughing and having a jolly old time.
FOL PERSPECTIVE
N O M A D I C | 2 4
A GREAT GAME FOR ALL TO ENJOY G E O R G E H A L L
As we watched the bad play, once in a while a golfer would hit a good shot. And the look of delight on her or his face was priceless. After I witnessed this, I was on the golf course the next day hitting my ball any and everywhere. And I had a blast doing it.
GEORGE HALL IS LANGSTON GOLF COURSE CONSERVANCY'S NEWEST EXECUTIVE COMMITTE MEMBER
I've been hooked on the game ever since.
One of my attractions to golf is the history and the tradition of the game. Golf has been played since at least the 15th century, and today it's a sport that's enjoyed by millions around the world. Unfortunately, like many sports and social activities in the United States, golf did not always welcome all who wanted to play. In fact, African Americans could not play at many public courses in the United States for many years. But even with these barriers to the game, African Americans have created a great legacy in the game. Thanks to people like Lee Elders, Althea Gibson, Charlie Sifford, Calvin Peete, Renee Powell and Tiger Woods to name a few.
Golf can be an expensive sport, but there are plenty of avenues into the game that won't break the bank. You can start with a few lessons at your local driving range, or join a club that offers affordable membership options. And once you're hooked, you can invest in some better equipment and start taking your game to the next level.
Golf is a wonderful game to enjoy with family and friends Whether you're a parent teaching your kids how to putt, a grandparent introducing your grandchildren to the joys of the game, or you are explaining the etiquette of the game to a friend, golf is a way to bond over a shared passion and create memories that will last a lifetime I always enjoy playing a round of golf with my sons and my wife It's an amazing opportunity to spend 2 to 4 hours together with family, friends, and co-workers laughing and catching up with people you simply enjoy being with. Not to mention the countless hours folks spend on the golf course discussing business
However, it is a sport that one can develop a love-hate relationship with. It can be frustrating (very frustrating) when you're not hitting the ball the way you want to, but it can also be incredibly satisfying when you finally nail that perfect shot. The key to enjoying this great game is to manage your expectations. Like anything else in life, you get out of golf what you put into it. Practice doesn't necessarily make
Continued on next page
TOP: George at Langston with members of the Youth Golf Education Committee MIDDLE: Golfing with his wife Kerri and hanging out with Doug Williams at the Lee Elder Memorial Golf Charity Classic | BOTTOM: George in DC rocking his signature cap
www.friendsoflangston.org | 13
WWW.COFDC.ORG
perfect in golf, but it does make the game that much more enjoyable
Through golf, one can travel and see the country and the world There are golf courses in every corner of the globe, from Scotland's historic links to the sun-drenched fairways of California And every course has its own unique character and challenges and wonderful people that you meet during a round Golf is a social sport, and there's a real sense of community among golfers. Whether you're playing with friends or strangers, you're all united by a shared love of the game
help you find a sense of peace and calm And when you finally hit that perfect shot, it's like a moment of transcendence
CONGRATULATIONS
DRYWALL / CONSTRUCTION MANAGEMENT
FLOORING INSTALLATION / METAL FRAMING
ACOUSTICAL CEILINGS / MATERIALS PURCHASE
GENERAL CONTRACTING
WWW.THGCOMPANIESLLC.COM
For me, golf can be a spiritual experience. There's something about being out on the course, surrounded by nature, that can
So is golf a good walk spoiled? I like to think it's a good walk made better and a nice ride to remember It's a sport that can be enjoyed by anyone, regardless of age or gender It's a way to bond with your family and friends while creating lasting memories. It's a way to travel and meet new people. And ultimately, it's a way to find joy, peace, and adventure So why not take a stroll on the golf course and see for yourself why this sport has captivated so many hearts and minds? You just might find it blends in nicely with your perfect, imperfect world See you on the links Cheers!
WWW.HEMPSULATIONLLC.COM
George with his two sons enjoying the links
IS A PROUD COMMUNITY PARTNER OF THE LANGSTON GOLF COURSE CONSERVANCY
TO THE LANGSTON GOLF COURSE CONSERVANCY
NATIONAL LINKS TRUST NAMES NEW EXECUTIVE DIRECTOR
The National Links Trust (NLT), a 501(c)(3) nonprofit dedicated to positively impacting local communities across the United States by protecting and promoting accessible, affordable, and engaging municipal golf courses, today announced it has named Damian Cosby, PGA as its new Executive Director Cosby will provide top level management for the organization with specific focuses on operations, fundraising, and strategic planning. He will report to NLT's Board of Directors.
Cosby comes to NLT with more than two decades of experience in the golf industry, as well as Class A PGA Professional membership. Most recently, he served as the Director of Golf Operations for Cleveland Metroparks where he oversaw the system's eight golf courses including Manakiki Golf Course, a Donald Ross design, and Sleepy Hollow Golf Course, a Stanley Thompson design. Prior to this, he served as Chief of Golf Operations & Park Maintenance for Anne Arundel County in Maryland where he was instrumental to the highly lauded, sustainability-focused renovation of The Preserve at Eisenhower Golf Course
organization continues to work towards the full-scale renovation projects at Rock Creek Park Golf, Langston Golf Course, and East Potomac Golf Links – coined "The Nation's Capital Project". The Rock Creek Park Golf portion of the project will be the first leg of this undertaking Additionally, NLT is tackling numerous interim course improvement and community engagement projects, as well as leading national initiatives including the annual "Symposium on Municipal Golf".
Will Smith, co-founder of NLT, commented: "From the minute we first discussed municipal golf with Damian, it was obvious we shared similar values and a vision for a sustainable, equitable future of the game His track record in leading both day-to-day and long-term projects at municipal facilities is extremely valuable to NLT, and we are excited to welcome him aboard."
Cosby added: "I am honored to lead NLT as we enter a pivotal time for the organization. I believe that municipal golf facilities can play a key role in positively impacting their local communities, and to have the opportunity to demonstrate that with NLT is an exciting opportunity "
This hiring comes at a busy time for NLT as the
Executive Director National Links Trust
www.friendsoflangston.org | 15 LANGSTON MAGAZINE
Damian Cosby
Courtesy of National Links Trust
"Friends ofLangston " Scrapbook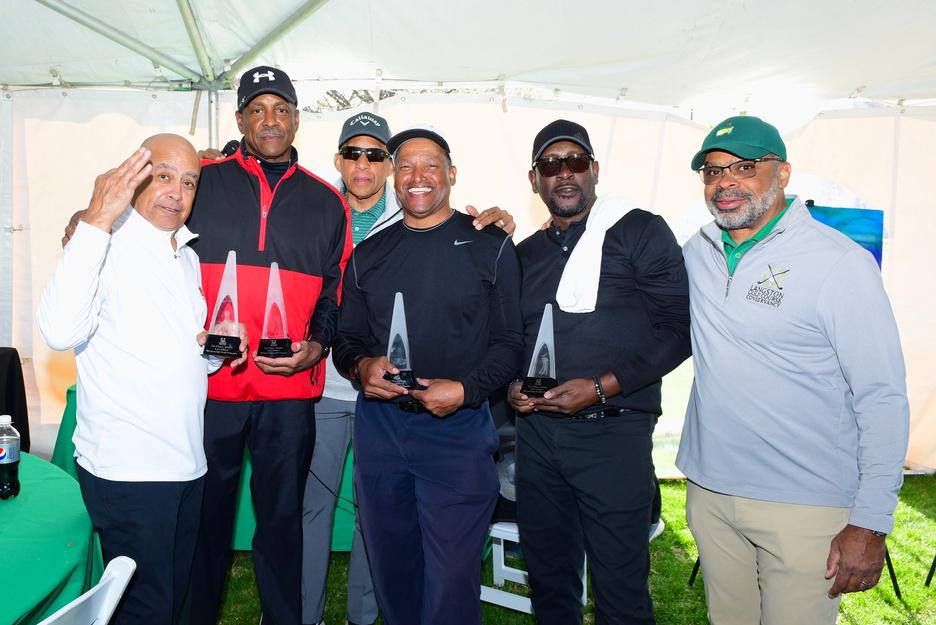 BY | Tony Starks PHOTOS | Courtesy of Troy Mullins / TaylorMade Golf
By nature, golf can be a lonesome pursuit. It's the ultimate individual sport. There's no singular opponent to stare down, no teammates to blame when things go wrong only you, the course, and the shot in front of you.
If only we were engineered to be solitary. People strive for connectivity, belonging and acceptance. For women of color in golf, those things can seem rarer than a hole-in-one. Within the following lines, we'll unpack Troy Mullin's journey within the game and industry, exploring her struggles to find her "tribe," and her unwavering commitment to being a successful role model for women like her.
"It's been a challenging world to navigate," says Mullins "Trying to be taken seriously in a space where I didn't fit in, where few women of color are in visible roles. But I can feel the tides shifting. More and more black women are interested in golf, and there are so many talented players at the collegiate level that can break through as pros "
Among those talents is AllAmerican Amari Avery, the USC super sophomore currently ranked 14th in women's amateur golf rankings. Then there's Bailey Davis from the University of Tennessee, who has a 2022-23 scoring average of 73 28 and a career-low round of 63 this season
T R O Y M U L L I N S O N B E I N G B L A C K . B E I N G A W O M A N . B E I N G I N G O L F . www.friendsoflangston.org | 18 LANGSTON MAGAZINE
TROY!
Mullins, age 36, was also a premier college athlete. The Ivy League graduate earned a degree in China Asia Pacific Studies and International Relations from Cornell University while standing out on the track as a heptathlete - shot-put, javelin, long jump, high jump, 100m hurdle, 200m and 800m By professional standards, golf came late to her life. She first picked up a club when she was an adult. Because hand-eye coordination was second nature, she was among the select few who could hit the ball from Day One
For those of us who have toiled with the game for years, we love and hate Troy for that God-given ability.
While studying abroad in China to complete her degree, Mullins often found herself at the driving range She used it as an escape, something different to break up the monotony of academics while finetuning her fluency in Mandarin
"People would come up and ask crazy things. 'Are you a pro?' 'Are you here to play in a tournament?'" she laughs, thinking back on it "When they found out the truth, the questions turned to how are you this good, this fast? Truthfully, it gassed me up It made me believe this golf thing is easy, and if I kept it up, I would turn pro within a year."
With her degree in the books, Mullins turned her attention to golf Adopting her track mentality, which was fueled by her father, Billy, who held a 400m world record in 1978 and qualified for the 1980 U S Olympics team, she started training.
She consumed every instructional book she could get her hands on and fell into a deep YouTube rabbit hole Mullins was obsessed She even pulled out her savings to get lessons from Rick Sessinghaus, the now famed coach of two-time major champion Collin Morikawa. Her game elevated quickly, but there was one area where she towered above the rest: Distance.
Troy Mullins could bomb the golf ball So much so that her closest golfing friend, a Women's European Tour member, encouraged her to pursue the burgeoning world of long drive. It wasn't mainstream golf. It wasn't the LPGA Tour, but it was an opportunity – one that Mullins would take full advantage of.
Her style, charisma and ability made Mullins a main attraction As a World Long Drive competitor, she won the 2017 Mile High Showdown in Denver when she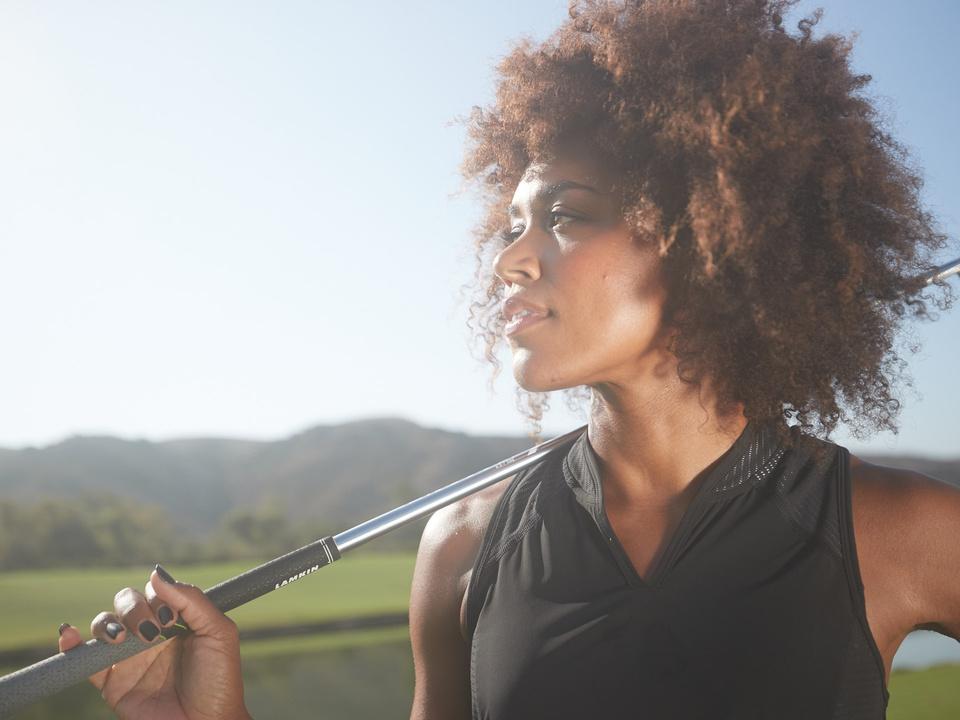 Continued on next page
over 117 miles per hour.
hammered a then-record 402-yard drive -- becoming one of just a handful of women to eclipse the 400-yard mark However, she is far more than a bomber Her effortless swing is more poetry than power, more rhythmic than ravenous.
Off the course, Mullins' magnetic personality makes her a natural in media settings. She made several guest appearances on Golf Channel in partnership with NBC Sports before signing as an on-course analyst and media personality with the controversial LIV Golf Tour in 2022.
The PGA TOUR competitor (turned partner) is funded by the Saudi Arabian royal family and has been accused of sports-washing, taking advantage of a fractured ecosystem in men's golf as tactic to save face on a geopolitical scale Mullins, however, sees things differently She first met Majed Al Sorour in 2019 – he's now the managing of LIV Golf. At that time, Golf ad just founded the Aramco ductively defined as the s version of LIV.
was up in arms about the Tour There was no talk of washing when they wanted to women's golf, only when it was a competitor to the PGA TOUR," llins. "Double standards are real."
merit to that argument The around LIV has quieted in recent while the alternate tour has ed to gain momentum, adding a ner and more events in 2023 sked the most surprising thing V Golf, Mullins speaks about her ship with the players one in ar.
Reed is one of my favorites," she e's gotten this stereotype, this But I did a feature story on his t year, and he was so fun and cool I learned that he was quietly sponsoring Michael Herrera at the time, who's playing on the APGA Tour. Who would have known he was out here supporting people of color on their journey in golf? It's cliché, but you can't judge a book by its cover "
Time and time again, Mullins has felt like people in golf misjudged her. Whether it was being perceived as "difficult" because she challenged the makeup artist's misuse of toner or an apparel company's appropriation of her style, she struggled to find allies until she joined LIV
"It's been tough to stand up for myself without being characterized," she continues "I'm careful with how I represent my blackness; I know that I'm not only representing myself I won't stand for the stereotypes or the nonsense."
Mullins admits that things aren't perfect with LIV She laughs uncomfortably as she tells the story of being confused for the "other" women of color who works for them The golf industry is a continuous work in progress Through it all, she embraces her employer's sincere effort to reach new audiences and the willingness to separate from "the way things have always been "
Having had multiple sponsors over her career, she's emphasizing the feeling of acceptance and appreciation overall. For that very reason, she's beyond thankful that she was invited to join Wake-Robin Golf Club – the country's oldest Black women's golf club, instrumental in the founding of Langston Golf Course. That invite told her she was on the right path That she needed to continue emphasizing her commitment to stewardship, mentorship and community service.
"In a sport often associated with conformity and assimilation, we must boldly embrace our individuality and style," she says. "Wake-Robin has been doing that for decades Golf needs a fresh perspective, no matter how much they may fear it. We must continue to be unapologetically ourselves, representing the unrepresented and pursuing our passions with confidence and resilience That's what women of color do "
www.friendsoflangston.org | 20 LANGSTON MAGAZINE
Long-drive champion Troy Mullins, generates club speeds clocked at
IS A PROUD GOLD SPONSOR OF THE 2ND ANNUAL 2ND ANNUAL 2ND ANNUAL LEE ELDER LEE ELDER LEE ELDER
MEMORIAL GOLF CHARITY CLASSIC
MEMORIAL GOLF CHARITY CLASSIC
MEMORIAL GOLF CHARITY CLASSIC
19 JUNE LANGSTON GOLF COURSE
Our fresh homemade chili and delicious half smokes are still made with love, using the original secret recipe. Dine in, carry out, or enjoy delivery from one of our locations, or order from HalfSmokes com to bring a taste of The Bowl to your own table
P R O U D H O S P I T A L I T Y P A R T N E R O F T H E 2 N D A N N U A L L E E E L D E R M E M O R I A L G O L F C H A R I T Y C L A S S I C B E N S N E X T D O O R . C O M | B E N S C H I L I B O W L . C O M
I C O N I C S I N C E 1 9 5 8