MIDDLE EAST OCTOBER 2022
EDITOR'S
For those of you planning a trip to Qatar for the World Cup, make sure to check out Khalifa Avenue, which has the largest living wall project, not only in the Middle East but the biggest in the world standing at over 7,000 square metres. See page 28 for stunning images of the project which was created by Nakheel and ANS Global.
Also featured in our October issue is a new eco-friendly resort in the Hatta mountains, designed by local landscape architecture practice –plenerr who are assisting LAMI Architects in developing a sustainable design that focuses on creating various natural outdoor experiences throughout the project. See page 20.
I can imagine as a landscape architect there is no better feeling than watching children play and have fun in the spaces you have designed for them. GAJ have designed Ladybird Nursery Al Barsha their second nursery school to design and landscape. See the outdoor play areas and interconnected spaces come to life on page 26.
We also showcase two private villa renovation projects in Dubai that maximise their outdoor living spaces for the families who own them through clever, innovative and sustainable design.
Enjoy the issue!
Please email us admin@landscape-me.com if you would like to have your company's landscape projects featured in the magazine.
Managing Partner: Ziad Maarouf Amine
Copy Editor: John Hampton
Administrative Assistance: Sarry Gan
Art Director: Ramon Andaya
Contributors: Keziah Biggs , Sejal Nagjee, Oskar Szlachetka, Asif Iqbal, Elaine Nettleton, Nabil Sherif
Printed by: Al Nisr Publishing LLC
Webmaster: www.pdinventive.com
Landscape
PUBLISHED BY:
MEMedia Publishing FZ LLC
IMPZ PO Box 485005, Dubai, UAE
Telephone: +971 4 4470927 Fax: +971 4 4470928
1 The First Specialised Landscape Magazine in the Middle East
is distributed free of charge in KSA, UAE, Qatar, Kuwait, Bahrain, Oman, Jordan, Eqypt, and Lebanon by Emirates Post UAE For free subscription and to view the magazine please visit our website: www.landscape-me.com The First Specialised Landscape magazine in the Middle East The opinions and views contained in the articles in this publication are those of the contributors and not necessarily of the publishers. The publishers cannot be held liable for any mistake or omission enclosed in the publication. Our magazine is available in app store and google play, search under Landscape Middle East.
NOTE
2 October 2022 - Issue 184 CONTENTS 20 22 36 14 26 14A Spanish Hideaway in the Desert Greens Hatta Gateaway Resort Turning sand into paradise Setting the stage for endless play The Largest Living Wall In the World is in Qatar Pakistan's residential landscape is changing Beijing's latest luxe residential tower 20 28 22 28 32 36





















consisting of fully natural minerals. Zeoplant has an extremely high water holding capacity (WHC) and high Cationic Exchange Capacity (CEC) supplying your plants with extra nutrients for speedy and healthy growth. Fast visual effects can be seen! Guaranteed savings by using Zeoplant: Minimum 50% on NPK fertilizers Save at least 50% of water Save up to 50% on fertilizers Increase growth of plants 100% natural mineral product Save money & time
Modernscape MENA Summit
The process of urbanization began centuries ago, coinciding with the Industrial Revolution to create spaces where the population can survive, and more importantly, thrive. In a metropolitan region as diverse as MENA, providing an emphasis on green urbanism is essential to enhancing the quality of life of its citizens.
This past week, we successfully concluded the Modernscapes MENA Summit with almost 200 attendees, ranging from renowned support partners, media representatives, and pioneers in the urbanscape industry. The summit –in line with the Dubai 2040 Urban Master Plan & inspired by the long-standing vision of HRH Sheikh Mohammed bin Rashid Al Maktoum – set out to transform the region into a modern world of its own.
To say that the summit was a resounding success would be an understatement, as we achieved exactly what we were seeking; two days of networking, with industry professionals initiating the conversation revolving around the future of a region as globally distinguished as MENA is. Cities within the region have emerged regardless of the harmful environmental conditions and limited natural resource availability, therefore possessing every reason to work towards the capitalization of the MENA region's incredible potential. "In the Middle East, green credentials are expected to become a key battleground in the post-COVID world, amid a renewed effort to avoid the ensuing climate crisis," said Abdulatif Albitawi,
Director of Emirates GBC during the course of his discussion stemming from the design of a greenscaped, urban realm for climate resilience. He added, "The built environment needs to commit to net zero whole-life carbon emissions to contribute to climate change mitigation."
The densities of cities in the MENA region provide a basis for thriving developments that can help achieve the combined environmental, social, and economic benefits of urbanism as long as appropriate measures are carried out to ensure sustainability for future generations.
Moreover, it's a known fact that architecture can contribute to fostering biodiversity by stimulating the provision of habitat opportunities as part of new developments, while simultaneously ensuring the protection of existing habitats within the region. "We're all working towards a shared goal – the government and corporations like ours – i.e., building better sustainability and infrastructure for the region as a whole. We have to make sure our cities are prepared to accept legislations put into place, to guarantee the sustainable future of
urbanscaping.", were the wise words of the Head of Urban Planning at the Sustainable City Diamond Developers, Marwa Nahlawi during her panel discussion on biodiversity. The panel, featuring regionally renowned urban developers and professionals within the industry, went into the importance of horizontal integration, to make s ure the region works with its people to create a mobile, yet urban environment that protects generations to come. Like Sebastian Miller, Design Manager at Masdar City, said during the course of the discussion, "Cities are not proje cts, they're constantly evolving, constantly changing.", and while working towards this transition, it's essential to keep in mind the people who are said to benefit from top-line decisions.
All in all, we're proud of a scintillating couple of days initiated through the course of the summit, luring professionals from some of the most globally esteemed corporations to network and work together to potentially solve any challenges stemming from urbanization, all to create a region that enhances the experiences derived from avid masterplans and projects.
"The tool is to capture the needs of the people, because, at the end of the day, we design for the people."
Dr. Hishem Trache, a well-known advisor of the Urban Planning Department in the region.
4 I NEWS & EVENTS
Suwaidan Al Dhaheri, managing director at IMKAN, said: "Our strong property sales have strengthened the UAE's position as a global destination and reinforced Abu Dhabi's reputation as one of the world's most sought-after real estate markets. The right design, in a premium location, developed by a trusted developer continues to represent a quality investment opportunity, and our projects fit this profile.
IMKAN Properties will launch new projects
A wholly-owned subsidiary of Abu Dhabi Capital Group, IMKAN's proposition is built around a unique research platform that identifies the needs and desires of its customer segment
IMKAN Properties, Abu Dhabi real estate developer, a subsidiary of Abu Dhabi Capital Group, will launch new projects ahead of schedule this year after reporting strong demand for its stunning portfolio of UAE projects.
The upscale developments in AlJurf and Makers District will be announced after a remarkable sales performance contributed to the sell-out of Pixel, Nudra and the first phase of AlJurf Gardens.
Local and global demand continued to soar after investors rushed to buy property in some of the country's most sought-after locations. More than 74% of real estate transactions were recorded by UAE nationals in the last 24 months, with sales to buyers from 18 countries across Asia and the Middle East.
Customers cited attractive destinations, spacious unit sizes, smart floor plans and IMKAN's long-standing reputation for quality as the key factors that influenced their decision to invest.
IMKAN Pixel Abu Dhabi
Offering more than 500 contemporary residential units, Pixel is a mixed-used community in Abu Dhabi with seven towers surrounding an open plaza offering artisanal dining, homegrown restaurants, cafes, co-working spaces, offices, and shops. Every apartment in the creative community has been sold, underscoring the growing attractiveness of the waterfront destinations on Reem Island.
In the last two years, IMKAN also achieved a successful Phase 1 launch for AlJurf Gardens, a coastal community located between Abu Dhabi and Dubai. Every villa and land plot in the masterplan development situated along the Sahel Al Emarat is sold.
With growing popularity of AlJurf Gardens, IMKAN has launched the second phase of the project. High demand from customers searching for an exclusive luxury community located in the heart of Saadiyat Island contributed to the sale of all premium Nudra beachfront villas, designed by world-class Maisam Architects and Engineers.
"Today's announcement is a milestone and an achievement underscoring our strong rebound from the pandemic. As we continue to bring new projects to the market, we are confident in our ability to build unique communities using an innovative research-driven strategy.
"Our radical approach to placemaking has contributed to a portfolio of 26 projects in three continents, maximized financial value, minimized risk for investors and created unique living environments focused on the wellbeing of our residents. We are all set to launch new projects ahead of schedule in Makers District and AlJurf this year and look forward to welcoming a new generation of buyers to the IMKAN family."
AlJurf's masterplan was designed with integrated living in mind and offers a variety of offerings across a coastal, nature-inspired residential community. The ample greenery and preserved ecosystem, which includes 1.6km of coastline, will be home to the first SHA Wellness Clinic in the Middle East, which will bring new world-class health and wellbeing treatments to the region. The masterplan of Makers District features a creative community hub with 3,700 residential units built to bring the residents together through co-working spaces, retail and F&B offerings. IMKAN has worked with some of the world's leading architecture companies to create a community designed in a way where residents can enjoy a pedestrianized plaza that will connect all areas of the community together.
6 I NEWS AND EVENTS
Dubai-based URB have unveiled plans to develop Africa's largest sustainable city known as THE PARKS. The city will provide the world's highest standard for sustainable living for 150,000 residents. The city will also produce 100% of its energy, water & food on site to become a self-sufficient destination.
URB reveal designs for Africa's largest sustainable city
THE PARKS is a 1,700 hectare smart city, planned for the eastern region of South Africa promoting a net zero lifestyle. The development provides various mixed use hubs such as residential, medical, tourism, entertainment, retail & education. 40,000 residential units are distributed in 12 residential districts.
The economy of the city will be automated & digital with majority of jobs in green tech. More than 40,000 jobs will be created in the short and long term during the planning, construction & operation of the city. The city will thus become a benchmark of economically viable sustainable living and a positive
contribution to the green economic growth of the country.
CEO of URB, Baharash Bagherian, who has masterminded designs of various sustainable cities including recently launched projects such as Xzero, AlNama, Nexgen and many more yet to be revealed, highlights the importance of THE PARKS as a new benchmark in sustainable cities:
"THE PARKS is innovatively planned with the highest standards of sustainability to create a car-free community & a unique zero carbon destination. THE PARKS is designed from its landscape to provide the happiest & healthiest ecosystem. The landscape is designed to promote social sustainability and an active lifestyle, which permeates throughout the public realm of the city. Some of these features include outdoor fitness stations, community farming plots, outdoor sports courts, dedicated jogging and cycling tracks, waste to art public realm, outdoor concerts and much more."
Baharash Bagherian added "Green spaces are the heart and arteries of the entire development. At the center of the development there is a unique 5km long multifunctional green spine, which has various branches of vibrant community parks that link all the buildings together. This resilient landscape will connect residents to all hubs within the development in minutes by walking, cycling or electric buggies. With over 32kms of dedicated running, cycling and equestrian tracks, THE PARKS will also provide the greenest & safest modes of active transport."
The housing typologies within each district will cater for all income levels, with no segregation. This will enable a truly inclusive & diverse workforce to flourish & increase community cohesion.
Additional sustainability initiatives include the use of intelligent solutions and a smart grid system to transform THE PARKS into the smartest city on earth. Local urban food production will provide 100% of resident caloric intake whilst also reducing food miles associated with carbon emissions from transport.
8
I NEWS & EVENTS
Experience 300-year-history and luxury Arabian hospitality at Mysk Najd Al Meqsar Village
Discover world-class hospitality atop a 100-year-old mountain village in Sharjah, complete with a 300-year-old fortress and hiking trails
A fairytale setting with a 300-year-old fortress and watch tower as its backdrop awaits culture and adventure enthusiasts alike at the Mysk Najd Al Meqsar Village, nestled in the mountainous terrains of the picturesque city of Khorfakkan on Sharjah's East Coast.
Developed by the Sharjah Investment and Development Authority (Shurooq) as part of its wider plan to bolster the emirate's touristic appeal and drive its future growth and urban development, Mysk Najd Al Meqsar Village is an ideal destination for an action-packed day trip or a more leisurely stay at any one of the 13 heritage style hotel units.
Operated by Mysk by Shaza, the ambitious eco-project involves
the restoration of 13 houses in the 100-year-old Najd Al Maqsar Village, an ancient human settlement that stands as a testament to the resilience and fortitude of the local inhabitants who sought shelter in the impenetrable mountains during the Middle Ages.
The restoration is part of a larger revitalisation project in the Wadi Shie archaeological site by the Sharjah Infrastructure Development Authority 'Mubadara'. Distinguished by a rugged mountain range, Wadi Shie is an extremely important archaeological site dating to thousands of years.
The first phase of the restoration project will see the development of the heritage style hotel units, a café,
and a restaurant, where a barbecue and outdoor areas and a mosque, are complete. In the second phase, Shurooq will develop 9 villas with private pools, private farm, hiking trails, horse-riding routes and tracks for electric club cars, to provide unique activities for adventure and entertainment.
With the completion of the project in 2023, the eco-accommodation will further elevate Sharjah's status as a cultural tourism destination. Once the restoration is complete, visitors can enjoy breathtaking panoramic views of the mountains of Khorfakkan, the lush valleys of Wadi Shie, and the adjoining villages and fertile farms.
10 I NEWS & EVENTS
11 The First Specialised Landscape Magazine in the Middle East
Reshaping the urban fabric of Saadiyat Island
A new project on Saadiyat Island will turn three of the world's most famous museums into a sustainable mixeduse neighborhood
Saadiyat Grove – the mixed-use neighborhood taking shape on the shorelines of Abu Dhabi's Saadiyat Island will stitch together the urban fabric around Abu Dhabi's Louvre and Guggenheim and the Zayed National Museum. The new mixed-use development which has sustainability at its core for an integrated live, work, play, shop, and stay model has been created by CRTKL, a global cultural agency specializing in architecture, planning and design.
Once completed, Saadiyat Grove will feature 60,000 square meters of retail, entertainment and leisure spaces, and will have approximately 3,000 homes, two hotels and co-working spaces for new enterprises and start-ups.
Geoff Ford, Associate Principal at CRTKL said: "Saadiyat Grove is a testament to the shared vision of CRTKL and Aldar Properties, together we have been able to set a new benchmark for mixed-use design and development. With community and culture at its core, Saadiyat Grove exemplifies the modern lifestyle and points to the future of residential, retail and entertainment environments."
"Driven by Environmental, Social and Governance (ESG) principles, we advance upon the 15-minute city concept at Saadiyat Grove with a heightened pedestrian experience that we have enabled year-round with low carbon solutions and passive strategies that combat the urban heat island effect."
12 I NEWS AND EVENTS
Intelligent urban design
Saadiyat Grove has a layered community design.
With inspiration drawn from traditional, urban design principles - the streets and squares have been organized in a city-layering plan across multiple levels. It places food and beverage outlets at the street level, retail at street and first level, and the views of the museum from all levels. The residential and office buildings rise above for clear views across the community and to the shorelines and edges of the development to the museums. Saadiyat Grove has been designed for visitors and residents, providing unique experiences and maximizing the immersive opportunities in the culture and art of the museums themselves.
Multi-modal connectivity
Facilitating travel throughout the vast area of the island, several modes of transport can be used such as motorized bikes, Segways, shuttle busses, and personal rapid transit which are autonomous cars operating on fixed infrastructures. Shaded walkways are spread out across The Grove for more leisurely walks. The forms and districts inspired by the iconic cultural houses merge smoothly
at the central plaza or Grove Town square. The skylight concept has been integrated throughout the development and especially along the viewing corridors for ambience and convenience to walk outdoors during anytime of the day or night, all year round, in any temperature.
Cultural and community connection
The Grove is an authentic cultural district that complements and enriches three world-class museums and architectural wonders. The connective fabric creates spaces where culture can thrive with memorable moments for residents and visitors of all ages, in a wellconnected community.
Sophisticated retail, leisure and entertainment mix
The retail district at The Grove is an urban quarter, comprising of a constantly evolving space that is always on-trend. It is a flexible space, meant to generate change, incubate ideas and evolve the neighborhood. It consists of a sophisticated, minimalist lifestyle focused zone that promotes entertainment and activities for families in a space that embraces the outdoors.
13
By: Sejal Nagjee CEO, Milestone Landscaping LLC
A stunning villa overlooking Arabian Ranches golf course is transformed by its luxe landscape
A Spanish Hideaway in the Desert Greens
Overlooking the desert course at Arabian ranches golf club, La collections Mirador villas celebrate Spanish architectural style and design. The luxury villas were built by Emaar and designed by Ian Baker-Finch and Nicklaus design for the golf connoisseurs living in this high-end community.
14 I LUXURY LANDSCAPE
Milestone Landscaping were tasked with designing this outdated villa and its jaded landscape. The client wanted to use the space creatively to swim, barbeque with family and friends, spend time with children, read, dine and enjoy a luxury outdoor experience.
Space planning is an integral part of the Landscape floor plan. The location of the pergola attached to the villa is made to oversee and relax beside the pool, straight out of the living. It's an extension of your home and therefore the patio must flow effortlessly between the living room and outdoors providing easy access between the two areas for guests.
The other large dining pergola is placed on the right side of the villa. The bar overlooks the stunning golf course. Lantern wall lights not only provide critical light over the area but they also create a calming, romantic ambience with their flickering candle design. The barbeque area has a wood fired pizza oven from La Fontana, Italy, a Calflame P4 burner grill with charcoal tray, Girdle and rotisserie, wash basin, outdoor fridge and built-in ice bucket. It's a very well equipped
15
outdoor kitchen and bar. The white statuario quartz looks great on the counter with black marble looking porcelain tiles.
A round dining table creates a communal outdoor fine dining experience, shielded by a fully waterproof pergola which adds a comforting touch. While, the solid wood cladding on the moisture resistant ceiling creates a warm and exotic feel.
16 I LUXURY LANDSCAPE
Photo credit: Mr. Orkun Orcan
A fireline table is surrounded by concrete seating with cushions that creates a lovely space for parties and intimate after-dinner conversations. The area is naturally fragranced by a Murraya jasmine plant, as well as a lemon tree which provides a wonderful aroma around the garden. An old olive tree is a focal point of the garden located just beside the seating area, along with rosemary bushes in the ground and mint and thyme potted herbs.
All of the mechanical works such as the pool pump room, storages and irrigation tanks are tucked away in the service area. They are clad with WPC Fluted panels with light and hence don't seem untidy at all. In fact they make a nice feature.
17 The First Specialised Landscape Magazine in the Middle East
The lagoon shaped overflow pool is tiled in 5x5 light blue mosaic with limestone white coping and porcelain, creating a resort-like feel for the family within their own home. At night, the pool and garden area is transformed with warm white lights that are on a timer, adding a serene element to the luxe design.
Lighting plays a major role in creating a 'wow factor' at night. Tree enhancing lights such as garden spike lights illuminate the plants and trees, while in-ground lights in stepping stones and pathways create a guiding trail. The Pergola has spotlights and concealed led strip lights in the ceiling, giving options for intensity of light. The seating, planter boxes, and raised pergola decks also have concealed led strips that highlight the riser fascia, creating an exotic feel.
A variety of sustainable and weather appropriate materials were used in the landscape design including, porcelain tiles (2cm thick) for the garage, driveway, top edges of the planters and tread of steps. While 60x120x10mm beige porcelains with gray porcelain borders were used around the villa façade. Wood looking porcelains cover the dining pergola deck and seating area.
18 I LUXURY LANDSCAPE
Designing Nature
A new resort inspired by its natural mountainous terrain is the ideal getaway in Hatta
By: Plenerr
The project
Situated right in the heart of the Hatta mountains, this 45,000 m2 project will create a natural getaway, in sync with the environment and local surroundings. Local landscape architecture practice - plenerr, is assisting LAMI Architects in developing a sustainable design that focuses on creating various nature inspired outdoor experiences throughout the project.
Sustainable approach
Following a site visit, plenerr immediately recognized the site's environmental sensitivity and its existing assets that were enhanced during the design process.
The site features a grove of well-established trees that are thriving in their natural setting, without the need for an irrigation system as their roots lie deep in the ground, providing an abundance of natural water reserves. This was a perfect opportunity to enhance
this area with native grasses and trees to add accents of color, as well as design a simple boardwalk experience that would take users towards a private destination point where they can unwind by the fire and enjoy a beautiful view of the local mountains.
Design response
Hardscape interventions needed to be limited, to ensure that the local aesthetic is preserved as much as possible. For that reason, most of the ground material has remained untouched and only a few localized destination points were paved or had decking installed.
The site has been enhanced with gabion basket walls, to be filled with stone found directly on site. These were carefully positioned in various locations to create interest and provide privacy between private and public spaces. They were also used as retaining
20 I LANDMARK
walls to create traditional ha-ha walls that would allow guests to observe farm animals roaming freely in front of them, without having to separate them with fences.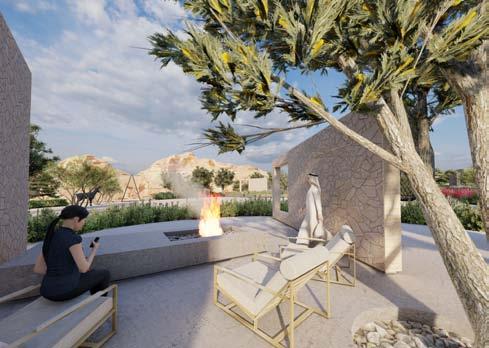 One of the other amazing natural features of this site is the tall rock formation with greatly
exposed strata, where we've proposed to create a common congregation area where all guests from each individual unit can socialize in the evening, while admiring the formation, lit up at night where the grooves between each layer of the strata are highlighted with lighting.
21 The First Specialised Landscape Magazine in the Middle East
Turning Sand into Paradise
22 I LUXURY LIFESTYLE
A family home in Azalea Arabian Ranches 2 community is transformed by its new landscape
NGS Architects were appointed to design and build a pavilion for a young family who had just moved into their forever home in the heart of one of Dubai's most popular suburban communities Arabian Ranches 2. What started out as a piece of desert to the left side of the Azalea villa, turned into a lux resort inspired garden.
The client was inspired by NGS's previous project across the road from Arabian Ranches 2 known as 02 Mudon. The client's brief was to the point; to build a structure that had a work and social aspect to it as well as shade for dinning and open air space to BBQ. An outdoor shower and changing/ WC facilities and a bathing area was also required. A swimming pool and a place for the kids to play would be a focal point of the garden, this would be facilitated by knocking down a wall that would give extra length to the whole garden.
23 The First Specialised Landscape Magazine in the Middle East
The most important factor was to create a kid friendly space whilst creating privacy for the adults, which would be achieved through screens and glass balustrades.
NGS played around with different levels, various lighting options and color materials, as well as space in order to create a design that befitted a holiday experience.
NGS also designed the interiors of the villa and whilst doing that created a window in the dining area so the family could always enjoy the landscape area throughout the year.
The man cave has windows on three sides to allow for natural light to flood in and also allow the client to feel like they are surrounded by a tropical forest whilst working or entertaining.
The custom pergola above the seating area is at a perfect height so it will not restrict the space, it acts as a shade but also gives an openness to appreciate surrounding nature.
The pool has multiple levels to allow for swimming and or bathing in the pool, as well as a seating platform to sit and enjoy the surroundings.
The client made smart choices when it came to the brief creation and with our design touch earning it a spot on the shortlist for an award by The Arabian Property Awards.
24 I LUXURY LIFESTYLE
Setting the stage for endless play
The new Ladybird Nursery Al Barsha is the third campus in Dubai for the group, which includes Ladybird Nursery JVC Dubai, and the second designed by British architects GAJ.
It is a single storey building with indoor and outdoor play areas and a similar theme to the original design with each of the three age groups having their own distinct area.
The scale of the classrooms is governed by the age groups which in turn defines the placement of sizes of various elements in the teaching
rooms. The youngest children are placed nearest to reception for ease of access for buggies, while the one to two year olds have their own wing with internal garden and links to the exterior, but away from the main active internal play space. The older children have access to a wide choice of protected internal and external play areas with a mixture of both traditional and shared learning spaces.
"The skill of role playing is an important part of learning through a child's environment, and this is reflected in our interiors," said Jason
26 I INSTITUTIONAL
GAJ design outdoor play environments for children
Burnside, partner at Godwin Austen Johnson.
"We have created a landscape in the main play areas that features symbols of familiar objects such as houses and fences with modular cutouts of free-standing buildings adding tangible elements to the scenery."
Open classrooms and shared learning spaces throughout the nursery create a sense of unrestrained and boundary free environment while the abundance of natural daylight through skylights and the large, glazed façade helps promote an optimum learning environment for both children and teachers.
Walls and adjoining facilities are kept to a minimum to encourage flow and avoid inhibitory barriers and additional innovative learning and social spaces have been created within the nooks and corners of the building. Small, coloured pods in the shape of small houses, have been added as storage spaces. From the initial point of entry fixtures and fittings are appropriately scaled to children's height and appeal to their interests – a low counter in the reception area to childsized sinks and toilets and low shelving in the classrooms were all designed in keeping with the behaviour and user experience of the children.
27
The
First Specialised Landscape Magazine in the Middle East
The Largest Living Wall In the World is in Qatar
By: ANS Global
This huge project in Qatar, named Khalifa Avenue, connects four key areas and involved the construction of a 12km four lane carriageway in both directions and five new interchanges, including an expertly engineered tilted interchange.
Expert Engineering
This shows the project in construction, focusing on the structure of the tilted interchange, with a smaller tail-end of the living wall stretching underneath.
Landscaping was also a huge part of this infrastructure project, the presence of greenery in such an arid environment is a luxury feature in this part of the world, thus elevating the completed project to become an outstanding example of urban greening. Ashghal, who were working to complete the scheme, had a vision to source as much as they could from local suppliers, which is where their partnership with Nakheel Landscapes came into play.
28 I WALL GARDEN
Global expertise, local knowledge
As a certified partner in Qatar, Nakheel is an experienced landscaping company who hold a large variety of case studies in their project portfolio and have strong horticultural knowledge. Our partnership allows us to combine our technical expertise with the ANS Living Wall System, with their knowledge and experience of the local area.
At over 7,000 square meters, this is not only the largest living wall project we've worked on, but the biggest living wall in the world. Working with Nakheel, we supplied our living wall and irrigation system and helped advise on the technicalities of substrate, planting and design. With their in-house horticultural team, a substrate and plant palette were selected that could not only withstand, but flourish in the harsh conditions.
With temperatures that reach over 50ºC in the summer, humidity levels that fluctuate between 30% and 90%, and a UV index that often exceeds 11, selecting the right substrate, plant palette and calibrating the irrigation system correctly was crucial.
Local biodiversity
The Middle Eastern conditions don't restrict us from curating a beautiful plant palette that has measurable benefits. We are always looking for plant species and designs that will increase the biodiversity of the local area, focusing on the scope within the native plant palettes. Working with a team whose collective knowledge of local species is extensive allows us to maximise the benefits we can gain from one living installation.
29 The First Specialised Landscape Magazine in the Middle East
Once these details were confirmed, planting and the growing period commenced near to the site. This allows the plants to establish in the environment in which they will be finally installed, which means they adjust and adapt to the conditions and therefore can flourish.
Measurable benefits
This vast living wall now lines the sloping sides of the major elevated road interchange with lush greenery, regulating the temperature in the immediate area, boosting biodiversity and providing a welcome sight in the harsh landscape.
A stark contrast to the arid surroundings, this panoramic expanse of greenery truly highlights the versatility of a natural system based on soil, where we can be more flexible in design and therefore plant selection, creating installations that flourish in harsher climates. As always, nature's way proves to be the most resilient.
30 I WALL GARDEN
Pakistan's residential landscape is changing
Residents
Meraj housing development is positioned on Daska road amid vast agricultural fields and just 30 kms away from world famous sports goods manufacturing hub Sialkot in Punjab, Pakistan. Developed by Pakistani businessman Khurram Virk,
32 I RESIDENTIAL LANDSCAPE
have their every whim catered to in this new development in Punjab
the development offers modern living set within spacious gardens and parks, and includes state of the art road networks lined with trees and greenery to provide shade on roadsides and minimize the carbon impact on environment.
Houses are designed for small and mid-size families complete with onsite commercial facilities within walking distance, including business parks and a shopping mall. Since it's a family-friendly community, the venture has spent millions developing technically sophisticated outdoor amusement areas and interactive activities to cater for children.
33
The First Specialised Landscape Magazine in the Middle East
While the playgrounds have been designed primarily for youngsters, the community parks cater to residents of all ages, with a dedicated "readers park" designed for book worms of every age and outdoor sports areas for residents to play football, basketball or skating etc. The park also has water activities for children and a special board game activity zone.
For avid runners and walkers there is a dedicated jungle track all around the area to let residents soak up the natural flora and appreciate the 40 ft to 80 ft tall sculptures and water features that are dotted around the neighbourhood.
Project: Meraj Housing Scheme-MHS
Location: Daska Road, Sialkot, Pakistan
Ownership: Mr. Khurram virk
Architects & Town Planners - Studio O, Gulburg Lahore
Landscape: - IALA- Israr & Associates , 12 nazim U Din road, F-6/1, Islamabad.
Email: info@iala.pk .
Contact: +92-300-8839900
34 I RESIDENTIAL LANDSCAPE
36 I RESIDENTIAL Ballistic Architecture Machine (BAM) establishes a grand sense of time in Beijing's luxury residence redevelopment project Beijing's latestluxe residential tower
Ballistic Architecture Machine (BAM) worked closely together with renowned hotelier, Adrian Zecha, and the MAHA team to design the landscape and develop a multiphase masterplan strategy to seamlessly weave a complex mixture of preexisting contemporary and classicallystyled elements on the site.
The fast-paced world of Chinese real-estate development is not well suited to ideas, themes, and methodologies based on slowly maturing landscapes. However, BAM believes that luxury in a landscape is fundamentally an expression of time. While the quality and richness of materials in architecture and interior design tend to be defining factors of 'luxurious', BAM believes that time occupies that role in a landscape - time given to mature, time and effort to care for it and maintain it. A luxurious landscape can therefore be understood as a physical manifestation of time.
Luxury redevelopment project
The site occupies the northern edge of Chaoyang Park inside the Fourth Ring Road. At the time of engaging BAM, the site architecture was a mixture of four occupied residential towers, five incomplete and unoccupied towers, a Chinese-styled members club, and multiple classically-styled gatehouses in varying states of functionality. The existing landscape was also
37
a smorgasbord of functional and dysfunctional spaces, including a scaled replica of an imperial garden, and a beautiful and maturing man-made forest.
BAM's design for the landscape and master plan unifies disparate aspects of the site together in a seamless series of gardens, functional spaces, and circulatory pathways. The existing landscape spaces are blended with new landscapes. Conflicting styles, epochs, and cultural references are reconciled with a minimalist landscape approach.
China's real estate market is constantly changing. Even before the recent economic meltdown, in part driven by the collapse of one of China's largest real estate developers, focus was shifting toward redevelopment and upgrading of existing projects, rather than on expanding into new and increasingly further territories. The MAHA residential park is an exemplar of this changing
mentality in the Chinese development industry, and as more and more projects are reimagined, the Chinese development and associated design communities will need to grapple more seriously with how to design by integrating, rather than erasing, existing site conditions.
Forest threshold
In most regions of the site, buggy circulation is pushed to the periphery. However, in some key areas, the buggies pass through the center of the site. In those areas, it is critical to define a clear boundary beyond which the buggies should not venture. A low retaining wall, punctuated with low heavy stone bollards marking important entries, demarcates the boundary of the central forest.
BAM carefully picked the best trees to plant in the MAHA gardens from sites with ancient histories. The evergreen pines come directly from the base of Taishan, in Shandong Province.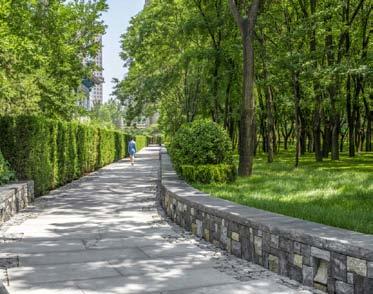 38 I RESIDENTIAL
The First Specialised Landscape Magazine in the Middle East
39
The soft opening of the MAHA Gardens took place last summer and featured an exclusive open-air fashion show by British designer, Jenny Packham.
The planting was upgraded to include more allseason greens. Seasonal highlights feature plant species such as Wysteria vines, maple trees, plantain lilies, and red dogwood, infusing color and character throughout the year.
Walking gardens and ceremonial places
The circulation around the site is defined through a hierarchy subtly expressed through the paving. The main loop, which circumambulates the site, is divided into two materials - a permeable poured material ideal for jogging or children's scooters, and a walking path of granite cobbles. The stone-stepped pathway slows the pace of the walk, allowing one to appreciate the presence of the forest from within.
Seasonal gardens
Although Beijing's climate can be extreme, it also experiences the fullness and distinct qualities of each season. Typically, the Winter and Summer seasons are the longest, punctuated by short, but much-anticipated, Spring and Fall. Gardens for
40
FOUNTAIN TECHNOLOGY
Some bridges just close gaps. This one also opens hearts.
The Banpo Bridge in Seoul was just an important traffic artery over the Han river - until one day thousands of people gathered on the riverbanks to experience it in an entirely new light: Over the length of 1,140 m giant water arches splashed down from 20 m height, illuminated in rainbow colours by countless LED spots - a spectacular sight that has enthused millions of spectators since then. The figures behind the fascination: 38 OASE high-power pumps transport 920 tonnes of salt water per mi nute to 380 proportional swivel valves that have been especially created to achieve the desired effects. Not only did OASE engineers set a new world record for the longest bridge fountain - most of all they turned a matter of traffic into a matter of heart for the people of Seoul. Do you want similar enthusiasm in our region? With our global network of qualified partners, we are at your side - also here in the Middle East, at our office in the Dubai Design District. www.oase-professional.com
41
OASE
each season are designed to take advantage of the planting's seasonality, bringing unique identities to each space. The Wintergarden is a garden contained within a traditional garden wall that is punctuated with minimally expressed windows and gates. Planted only with evergreens, the garden will remain green through the gray and frigid Beijing winter.
The entry of the Wintergarden, shrouded by evergreens, peers into the man-made deciduous forest, with a meandering path guiding the way. The Wintergarden doubles as a small multifunctional space for parties, events, or tea ceremonies. The space is occupied by sculptural pines, which appear to dance together in the space. During the winter season, the austere garden comes to life when snow periodically blankets the space, making the pines appear even more expressive than usual.
Luxury in landscape - Measured in time
A garden cannot be constructed in a day. It must be allowed to grow, and landscapes must be maintained, cared for, and cultivated. When one looks at a masterful or luxurious landscape, one can see time itself in its years of growth, years of maintenance, and seasonal progressions. Unlike architectural fields that depend upon rare or expensive materials to express luxury, a landscape can only truly achieve luxurious expression measured in years or decades. BAM's idea is to establish a grander sense of time by planting the foundations of a landscape that will grow and continue to mature for generations.
Technical sheet
Project: MAHA Xiaoyun Road Beijing Location: 8 Xiaoyun Road, Beijing, China Design Period: 2018-ongoing Construction Period: 2019-ongoing Planning Area: 115,000m2 Landscape Design Area: 64,755m2 Scope: Masterplanning, Landscape Architecture Photographers: Jonathan Leijonhufvud, Amey Kandalgaonkar, LIN Banye, WU Qingshan
42 I RESIDENTIAL
BOOKS OF INTEREST
THE COURSE OF LANDSCAPE ARCHITECTURE
ISBN: 9780500342978
PUBLICATION DATE: May 31, 2016
HARDCOVER: 304 pages
BOOK DESCRIPTION:
Christophe Girot sets out to chronicle this history, drawing on all aspects of mankind's creativity and ingenuity. In twelve chapters, he brings together the key stories that have shaped our man-made landscapes. Each chapter consists of a thematic essay that ties together the central developments, as well as a case study illustrated with specially commissioned photographs and meticulously detailed 3D re–creations showing the featured site in its original context.
The result of over two decades of teaching experience and academic research at one of the world's leading universities, The Course of Landscape Architecture will reach international students and professionals. But its wealth of visual material, the wide range of its cultural references and the beauty of the landscapes it features will attract the interest of all who desire to enrich their understanding of how our landscapes have been formed, and how we relate to them.600 illustrations, 550 in color
COMMUNITY LANDSCAPE DESIGN
ISBN: 9789881296887
PUBLICATION DATE: 1 Aug. 2014
HARDCOVER: 288 pages
BOOK DESCRIPTION:
As the world is undergoing rapid urbanization and demands for good housing in cities soar, we are looking for residential environment where we can take refuge from our intense and hectic lifestyle. This enticing book is a window to a diverse range of community landscape design creating exceptional living environment across the globe addressing this need of high-quality housing. This stimulating book is divided into three sections high-rise residential tower landscape, mid-rise residential block landscape and low-rise villa landscape as each category has its unique landscape character. Included projects demonstrate how landscape architects integrate the key parameters; culture, context, sustainability and budget making it a useful reference to both landscape design professionals and enthusiast.
LANDSCAPE ARCHITECTURE DOCUMENTATION STANDARDS: PRINCIPLES, GUIDELINES AND BEST PRACTICES
ISBN: 9780470402177
PUBLICATION DATE: 18 Nov. 2015
PAPERBACK : 432 pages
BOOK DESCRIPTION:
Construction Documentation Standards and Best Practices for Landscape Architectural Design offers guidelines, methods, and techniques for creating more robust project documents. Developed and authored by one of the world′s leading landscape architectural firms, this material has been field tested by Design Workshop′s ten offices and 150 designers to ensure completeness, practicality, and effectiveness. The book provides an overview of the entire design and construction process in the context of actual documentation, with best practice standards for design document content, format, and graphics. Readers learn how to apply these practices to serve the specific needs of different projects, gaining a comprehensive understanding of how complete documentation better serves the project as a whole. This book presents a set of standards that serve as a roadmap of the design process, helping designers provide the complete documentation that the most highly executed projects require.
Discover how documentation ties into project performance
Learn the best practices for documenting every stage of the process
Study actual project documents serving various project needs
Gain documentation insights from one of the world's top firms
With its headquarter in Tokyo, Japan and world class stores spread over countries like America, Singapore, Indonesia, Malaysia, Thailand, Australia, Taiwan and now in DUBAI – UAE, Kinokuniya is a globally known book seller of repute.
The store in Dubai Mall is a massive 68,000 square feet wide paragon book gallery which stocks more than half a million books and thousand magazines in English, Arabic, Japanese, French, German and Chinese at any given time.
The Store is also a distinct cross cultural hub wide range of time to time multicultural events such a comic art demonstrations, language learning workshops, book launches etc.
The pleasant ambiance, stenographic design and add to it the impressive view of modern skyline – world's tallest building, Burj Khalifa, Kinokuniya at The Dubai Mall is just the place to evoke emotions and add pleasure to your book shopping. You may like to visit our website for more information. www.kinokuniya.com
44 The First Specialised Landscape Magazine in the Middle EastI BOOK REVIEW
LANDSCAPE CONSULTANTS
Plenerr
T: +971 56 5851407 info@plenerr.com www.plenerr.com
JC Melone Landscape
Design FZ LLE
T: +971 50 6410715 jcmelone@gmail.com
LANDSCAPE CONTRACTOR
Zaid Al Hussain Group
T: +971 4 3296630 info@zaidg.com
Green & More
T: +971 4 8830100
T: +971 4 8830101 info@greendmore.com www.greendmore.com
Proscape LLC
T: +971 4 277 0244 info@proscapeuae.com www.proscapeuae.com
Desert Group
T: +971 4 5904000
T: +971 4 3404441 group@desertgroup.ae www.desertgroup.ae
Basatin Landscaping LLC
T: +971 2 2077729 info@basatinlandscaping.com www.basatinlandscaping.com
FOUNTAINS
OASE Middle East
T: +971 56 4845412 uae@oase-professional.com www.oase-professional.com
Fluidra Middle East
T: +971 4 8835505
F: +971 4 8836761 info@fluidrame.com www.fluidrame.com
Aquashi
T: +971 4 3208777 sales@aquashi.co.uk www.aquashi.co.uk
TURF/LANDSCAPE PROFESSIONAL PRODUCTS
Polyclean LLC (Turf Division)
T: +971 4 338 8226
F: +971 4 338 8785 babiker.khateeb@polyclean.ae www.polyclean.ae
SOIL ADDITIVES
Gulf Perlite
T: +971 55 1235248
T: +971 55 1539640 info@uaeperlite.com www.gulfperlite.com
Zeoplant LLC
T: +971 4 4473588 F: +971 4 4473587 info@zeoplant.com www.zeoplant.com
INDOOR LANDSCAPING, POTS, PLANTS & GREEN WALLS
Plantscapes Indoor Plants Trading LLC
T: +971 55 724 6193 plantscapes@desertgroup.ae www.plantscapes.ae
LANDSCAPE PRODUCTS
Tanseeq LLC
T: +971 4 3617199
F: +971 4 3607966 info@tanseeqllc.com www.tanseeqllc.com
Desert Turfcare General Trading Te: +971 52 902 9267 deserttrading@desertgroup.ae www.desertgeneraltrading.ae
IRRIGATION
Hunter Industries
T: +001 760 591 7114
F: +001 760 591 7194 Hanna.Zaidan@hunderindustries.com www.hunterindustries.com
Middle East Agrculture Company (MEAC)
T: +971 4 8861151
F: +971 4 8861152 www.meac.com.sa
METTS FZC
T: +971 4 4470927
F: +971 4 4470928 info@mettsfzc.com www.mettsfzc.com
Alwasail Industrial Co.
T: +971 4 8886987
F: +971 2 6733565 hashim@alwasail.com www.alwasail.com
SWIMMING POOLS
Aquaverde
T: +971 4 4538469
T: +971 50 8763630 info@aquaverde.com www.aquverde.ae
Fluidra Middle East
T: +971 4 8835505
F: +971 4 8836761 info@fluidrame.com www.fluidrame.com
Pentair
T: +971 4 320 8777 malikhan@mettsfzc.com www.mettsfzc.com
Satma International L.L.C.
T: +971 4 2956088
F: +971 4 2956077 satmaint@emirates.net.ae www.satma.ae
Water in Motion LLC
T: +971 4 277 0244 info@waterinmotionllc.com www.waterinmotionllc.com
PRECAST CONCRETE PRODUCTS / HARD LANDSCAPING PRODUCTS
Consent LLC
T: +97143472011
F: +97143472957 sales@consent.ae www.consentblock.com
BUILDING MATERIALS
Stones &Slates LLC
T: +971 4 885 4688 info@stonesandslates.com www.stonesandslates.com
TREES & HERBS
Acacia LLC
T: +971 4 265 3397 info@acacia-ae.com www.acacia-ae.com
SPORTS FACILITIES/ PLAYGROUND EQUIPMENTS
Tanseeq Projects LLC
T: +971 4 361 7199 info@tanseeqprojects.com www.tanseeqprojects.com
WT Burden
T: +971 4 8860700
F: +971 4 8860701 streetfurniture@wtburden.ae www.wtburden.ae
METAL FABRICATOR
Metaline LLC
T: +971 224 3369 info@metalinellc.com www.metalinellc.com
4470927
46 Listyourcompany inourListing Pagethatreaches thousandsof subscribers BookyourspaceNow! Contact: admin@landscape-me.com • Tel: +971 4
I COMPANY LISTINGS
47 5 – 8 DECEMBER 2022 DUBAI WORLD TRADE CENTRE CONNECTING THE GLOBAL CONSTRUCTION INDUSTRY TO BUILD A BETTER TOMORROW • BUILD YOUR NETWORK • EXPAND YOUR EXPERTISE • GROW YOUR BUSINESS FOR FREE REGISTER Specialized events at The Big 5: #big5exhibition www.thebig5.ae 2000+ EXHIBITORS 90+ CPD TALKS 150+ PARTICIPATING COUNTRIES
middleeasttenders.com +971 2 634 8495
STATUS : NEW TENDER TRADE CATEGORY : AGRICULTURAL, LANDSCAPING AND IRRIGATION
NEW & CURRENT PROJECTS
Tender Name Description
Client Region Tender Cost (USD) Post Date Closing Date
Marine Ghaf Trees Removal Removal of Marine Ghaf (Mesquite) Trees. Ministry of Agricultural, Fisheries & Water Resources (Oman) Oman 0 10/20/2022 10/30/2022
Marine Ghaf Trees Removal Removal of Marine Ghaf (Mesquite) Trees. Ministry of Agricultural, Fisheries & Water Resources (Oman) Oman 0 10/20/2022 10/30/2022
Nurseries Construction
Landscaping & Irrigation Works Maintenance
Accurate Irrigation System O&M
Landscaping & Irrigation Works Maintenance
Irrigation & Agriculture Networks Rehabilitation
Palm Trees Transplanting & Landscaping Works
Construction of Nurseries at Wafra Agricultural.
Annual Maintenance of Landscaping, Irrigation and Associated Works at Daba and Madha 2023.
Maintenance and Operation of The Accurate Irrigation System and Maintenance of The Horses Farm for Two Years.
Annual Maintenance of Landscaping, Irrigation and Associated Works at Khasab and Bukha.
Public Authority for Agricultural Affairs & Fish Resources - PAAFR (Kuwait) Kuwait 8285 10/19/2022 11/20/2022
Musandam Governorate (Oman) Oman 65 10/19/2022 11/20/2022
Kuwait Institute for Scientific Research (KISR) Kuwait 250 10/18/2022 10/31/2022
Musandam Governorate (Oman) Oman 65 10/18/2022 11/20/2022
Rehabilitation and Development of Irrigation and Agriculture Networks and the Central Control System. Riyadh Municipality (Saudi Arabia) Saudi Arabia 267 10/13/2022 11/2/2022
Removal, Disposal and or Transplanting of Existing Palm Trees and Ornamental Trees, New Soft Landscaping Works.
Ministry of Works, Municipalities Affairs & Urban Planning (Bahrain) Bahrain 266 10/13/2022 10/30/2022
Agriculture Services Provision of Agriculture Services. Petrochemical Industries CompanyPIC (Kuwait) Kuwait 0 10/11/2022 11/8/2022
Maintenance & Landscaping Services Provision of Maintenance and Landscaping Services of Princess Sabeeka Park.
Aesthetic Agriculture & Irrigation Maintenance
Green Clover
Bahrain Petroleum Company (BAPCO) Bahrain 265 10/4/2022 10/30/2022
Extraction, Development and Maintenance of Aesthetic Agriculture and Irrigation. Public Authority for Agricultural Affairs & Fish Resources - PAAFR (Kuwait) Kuwait 11667 10/3/2022 11/1/2022
Supplying of Green Clover. Ministry of Environment & Climate Affairs (Oman) Oman 65 9/28/2022 10/31/2022
Consultation Service Consultation Services for Design Sustainable Park. Buraimi Governor Office (Oman) Oman 65 9/22/2022 11/2/2022
Landscaping & Irrigation Works Provision of Landscaping & Irrigation for Sultan Qaboos Street. Muscat Municipality (Oman) Oman 125 9/21/2022 10/30/2022
Landscaping & Irrigation Works Maintenance Annual Maintenance of Landscaping and Irrigation Works. Buraimi Governor Office (Oman) Oman 65 9/21/2022 11/2/2022
Consulting Services Consulting Services for the Design and Development of the Cave Park Buraimi Governor Office (Oman) Oman 65 9/21/2022 11/2/2022
Agriculture & Rural Empowerment Activity
Agriculture and Rural Empowerment (ARE) Activity - Annual Program Statement. Chemonics International (Lebanon) Lebanon 4/19/2022 4/12/2023
48
I NEW ONGOING PROJECTS
49 The First Specialised Landscape Magazine in the Middle East RESIDENTIAL & COMMERCIAL IRRIGATION | Built on Innovation® Learn more. Visit hunter.info/MPe JUST LIKE RAIN. BUT NO UMBRELLA NEEDED. EFFICIENT. DURABLE. VERSATILE. With the revolutionary MP Rotator® Nozzle, you can install more heads on one zone with matched precipitation, no runoff, and water savings up to 30% over traditional sprays — plus 15 years of proven performance. Now that's smart watering!