TRAVEL / TASTE / TALENT
Sustainable seeds
Why traditional crops are the future of food
Glam for the gram
influencer
Kabete Beauty and the beach
Pay for your flight in
YOUR FREE AIR TANZANIA MAGAZINE Issue 15 / October to December 2022
instalments Visit airtanzania.co.tz KIBUBU
Tanzanian
Julitha
Breathtaking coastal resorts
contents
CEO foreword Expanding into exciting times
Air Tanzania news
Twiga competition Win a dinner for two at FarmTo-Table dining event
Swahili story
Ipo Kesho by Salum Makamba
Cookery column With Belinda Mkony
Kid's puzzle page
challenges
Faysal's
modern significance of data protection and privacy
Features
Twiga Business Lounge
DJ Joozey Tanzanian artist's rise from slums to stardom
Picture special Nature TTL Photographer of the Year
Beauty and the beach
Sandy sanctuaries across Air Tanzania's network of destinations
20 Kilimanjaro Internet Africa's highest point gets high-speed internet
Food of the future
The traditional crops making a comeback
Green Christmas Eco-friendly gift ideas
Picture perfect life Meet Tanzania influencer Julitha Kabete
Business opportunities Comoros call to investors
Shoe guide
What do your shoes say about you?
Ian Iqbal Rashid Tanzanian filmmaker has made London his new home
Luxury travel
Style it out on air, sea and land
Business column How to deal with unruly customers
Twiga is published by: Land & Marine Publications (Tanzania) Ltd 4th floor, Josam House Block A, along Coca Cola Road Mikocheni Area, Dar es Salaam
Tel: +255 686 118 816 www.landmarine.com
Head Office: Land & Marine Publications Ltd 6 The Square, Ipswich Suffolk, IP5 3SL, UK Tel: +44 (0)1206 752902 Email: publishing@landmarine.com
Read Twiga online: qrs.ly/qdbooco
Editor: Mark Edwards markedwards@landmarine.com
Advertising sales: Catherine O'Callaghan
Tel: +44 (0)7944 212063 (WhatsApp)
Email: catherineocallaghan@landmarine.com
Godfrey S. Urassa
Tel: +255 (0) 686 118 816 (WhatsApp)
Email: godfreyurassa@landmarine.com
Printed by Jamana Printers Ltd, Dar es Salaam
On behalf of:
Air Tanzania Company Ltd (ACTL) Second floor, ATC House, Ohio Street Dar es Salaam. Email: info@airtanzania.co.tz Office (JNIA) Telephone: +255 222113248
Theodora Meru, Marketing Executive, Email: theodora.meru@airtanzania.co.tz
Call toll free: 0800 110 045
International customers: +255 222 113 248
@AirTanzania @airtanzania
airtanzania_atcl
For the latest flights, information and to book online, visit: www.airtanzania.co.tz
The opinions expressed in this publication are not necessarily those of the editor, or any other organisation associated with this publication. No liability can be accepted for any inaccuracies or omissions. ©2022 Land & Marine Publications Ltd.
Regulars 5
6
19
33
40
43
Fun
54
blog 54 Sound and vision 55 Arts column 51 Legal eye The
7
9
12
15
23
28
35
38
44
46
52
57
airtanzania.co.tz / 3
12 35 449
Air Tanzania information 59 Twiga miles 60 Travel information 60 Air Tanzania fleet 62 Air Tanzania destinations 64 Air Tanzania contacts
EDITOR'S NOTE
The hashtag 'quiet quitting' has been all over social media in recent weeks. The term is meant to refer to the trend of employees meeting the requirements of their job and not much more. For adherents, it is a way of establishing the boundaries of a healthy work/life balance and not becoming defined by their job. It's not a movement that is likely to chime too well in Africa with its hustle culture mentality. Here, many of us work in the informal economy and our family's livelihood is dependent on our indefatigable work ethic, 'quiet quitting' is not an option. As a prime example, check out our feature in this issue of Twiga on DJ Joozey. Now one of Tanzania's most in-demand artists, he grew up in a slum in Shinyanga and left school aged nine to start earning money to support his single mother and younger siblings. That striving to be more has never left him and even today he is known as one of the hardest working DJs out there. #wedontquit
Expanding into exciting times
It gives me great pleasure to welcome you onboard your Air Tanzania flight today and to the latest edition of Twiga, our inflight magazine.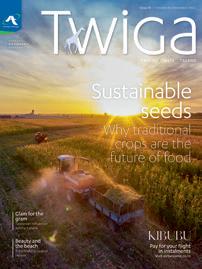 In flying with us today you are a cherished part of our plan as the national carrier to put Tanzania on the map in terms of global aviation.
We are making important progress in expanding Air Tanzania's reach and making Dar es Salaam a prominent transport and logistics hub in East Africa. Having recently resumed flights to Guangzhou, we now serve two intercontinental destinations, 14 domestic destinations and eight African destinations outside of Tanzania. That list will keep growing with new routes planned to West, Central, Northern Eastern and South Africa as well as the Middle East and Europe.
To service this growing network we aim to bolster our fleet of aircraft with plans in place for an additional two Boeing 737 Max - 9, one Boeing 787-8 Dreamliner and one Boeing 767-300 Freighter.
All these advancements are driven by our mission to better connect our cherished passengers. You can also see evidence of that in the increased frequency of our flights. The recent introduction of additional flights to Entebbe means we are currently operating 150 flights a week across our network. Initiatives such as our reduced rates for students to fly to Guangzhou – with one-way tickets available for US$ 1,600 below the standard price – are helping connect more Tanzanians than ever.
Thank you for sharing the journey with us.
Eng. Ladislaus Matindi Managing Director and Chief Executive Air Tanzania
markedwards@landmarine.com CEO foreword airtanzania.co.tz / 5 Follow us on: @AirTanzania @airtanzania airtanzania_atcl Air Tanzania ATCL www.airtanzania.co.tz
Students save on flights to Guangzhou
China is a study abroad hot-spot for a large number of Tanzanian students with talent programmes and scholarships on offer.
Air Tanzania is making this major step for some of the country's brightest young talent a little easier with weekly discounted flights to our Chinese destination, Guangzhou.
On our weekly Sunday morning flights to the Chinese port city, students can book a one-way all-inclusive ticket for the discounted price of US$ 2,100.
To qualify for the discount, passengers must be able to provide their student visa, university ID, admission letter and certificate allowing entry to China.
The eligible flights in the offer leave Julius Nyerere International Airport at 5.15 am every Sunday.
For more information, visit airtanzania.co.tz or call free on 0800 110 045.
AIR TANZANIA SPONSORS SWAHILI
INTERNATIONAL TOURISM EXPO
Air Tanzania is proud to sponsor this year's Swahili International Tourism Expo (S!TE). The annual event that showcases the tourism opportunities in the country for domestic and international travellers is now in its sixth year and will take place at the Milimani City Conference Centre, Dar es Salaam, from October 21 to 23.
The hugely popular event, organised by the Tanzania Tourism Board (TTB), provides excellent networking oppor tunities for travel professionals as well as plenty of social events and features to attract visitors of all ages.
For more details on the events and to book a place as a buyer or a visitor, head to site.tanzaniatourism.go.tz
6 / Twiga Air Tanzania news
Bao zhonghui
/
Shutterstock.com
Business Lounge
Begin your holiday early Twiga Business Lounge
The US$ 314 million Terminal 3 has transformed operations at the Julius Nyerere International Airport in Dar
es Salaam with total airport capacity increased to 6.8 million passengers annually. Among the new terminal's features is Air Tanzania's Twiga Business Lounge. Here, lounge manager Muntazir Dazoo details the exclusive hospitality available to travellers.
You can't miss it!
Mr Dazoo says: "After you pass security clearance, and come up the escalator in Terminal 3, the Twiga Business Lounge is directly to your right. You cannot miss our mascot, the three-metre tall 'twiga' (giraffe) standing right in front of it."
Food and drink around the clock
"The lounge offers both a buffet service and an à la carte menu. The buffet is made up of Tanzanian, Indian and continental food choices. The à la carte menu, provides you with hot, freshly made snacks such as samosas and traditional cassava, as well as freshly made sandwiches of your choice. Both options are available 24 hours.
"We also have a fully-fledged bar, providing alcoholic and non-alcoholic drinks. This is also open 24hours."
A relaxing environment
"The lounge's décor is Mediterranean merged with a traditional African concept. This therefore creates an atmosphere which is relaxing and soothing to passengers ahead of their travel. We have spacious seating arrangements and can cater for up to 130 passengers. For those who wish to work, then work-stations are available, comfortable sofas are available for families, private enclosures for those who want privacy, and recliners are available in a dedicated quiet sleeping area. We also provide fresh towels and a shower/changing area."
Catch up on work
"We have conveniently located work-tables with electrical outlets to allow for device
charging. There are numerous USB outlets placed throughout the lounge. We also provide super-fast WIFI connection to allow for ease of working."
Outdoor space
"The lounge also has access to an outdoor courtyard. Here you are able to enjoy the sunshine and have a smoke if you choose."
Not just for business travellers
"Economy passengers from any airline can access the services of the lounge at a cost of US$ 35. The lounge also accepts Priority Pass and Diners' Club passengers.
A team to attend to your needs
"We have a team of 35 staff, of which 30 are dedicated to looking after the passengers throughout the 24-hour period."
For more information, visit www.twigalounge.co.tz
airtanzania.co.tz / 7
DJ Joozey has become one of the fastest rising music stars in East Africa. The dancing DJ is in high demand with recent shows in Dubai, Uganda, Kenya and Burundi, but you can also catch him in Dar es Salaam at his residency at Eternals nightclub or weekly leading sand-shaking beach parties at the city's just-opened Wavuvi Kempu club. Here he speaks to Twiga about his challenging early years in Shinyanga that launched his lifelong hustle and why, for all his famous friends, no-one means more to him than his mum.
8 / Twiga DJ Joozey
'W hen you are limited in life it doesn't mean you have failed, all it means is that you get a chance to TRY AGAIN'
Q. Can you tell us about Wavuvi Kempu, your new project with the owner of the Samaki Samaki chain of restaurants in Dar?
A. I recently started playing at Wavuvi and the feedback has been great. The spot is on Coco Beach and it's a breath of fresh air. I love it! Dar needs more places like Wavuvi. It's the perfect place to listen to Afro House Music, enjoy some great food while, admiring the scenery, especially during the sunset hour. I play a mad six-hour set every Saturday from 4pm to 10pm.
Q. One of your first jobs after moving to Dar es Salaam was in Kariakoo market. What did that involve?
A. I was selling ladies' underwear and bags. Life was very hard, and every day was a struggle. I don't want to go back there. From 12am to 7pm in the evening all I would be doing is hustling. Kariakoo was my last job, I used to also work odd jobs like carrying people's loads, cleaning and working as a labourer.
Q. You started learning your DJ skills on a second-hand desktop. Was that a challenge?
A. It was very tough, it's as if you're driving a manual car. I had dream to be a big star ever since I started liking music and I wanted to be like all the role models that I looked up to such as [South African DJ] Black Coffee, [Nigerian DJ] Spinnal and many more. Not having a laptop or equipment was hindering me from doing the things I wanted to do. I was not effective and was hard to adapt to new trends. Following my dreams seemed almost impossible, but because of these challenges that I have faced in the past I have one drive – to continue moving forward with one goal and be my best. When you are limited in life it doesn't mean you have failed, all it means is that you get a chance to try again or move in a different direction.
Q. How did you make the jump from there to DJing your first shows in Dar es Salaam?
A. My first show was for free! Honestly no one knew me, I was a nobody. I would look for perfor mances from different places or favours from people. I remember one time I went to Tips Lounge in [Dar neighbourhood] Mikocheni looking for a chance just to show what I can do. I met DJ Baffy who at the time was the resident DJ at Tips. He was so kind as to help and give me a chance to play. In the end, I did for almost eight hours non-stop. At that time all that mattered was to keep trying no matter what.
Q. I believe Amour Shante, who owns exclusive Dar nightclub Maison, was instrumental in launching you as a DJ. How impor tant was getting that validation and support early on?
A. For the record, without Amour Shamte let's just say I would not be here as Joozey!
He is like a godfather to me. I have learnt a lot of things in the earlier stages of my career both from him and his wife, Sheko Shamte. They have been instrumental to me finding my path in the music industry.
Through them I met great people and got to know a different side of the social world from what I was used to at the time. I am forever grateful.
Q. What do you think makes you different from other DJs?
A. There is no special difference really, what matters is how you stand out. For me I always want to be different from anyone really, more accurately I want to be myself.
Everything in this world takes time to build and that journey includes standing out from the rest. I want to be original, build a legacy that is truly mine. Honestly, I do a lot of research on my craft. I look for inspiration in places that please my senses and part of that journey is making people happy.
Q. Who have been your other inspirations in your DJ career?
A. Honestly, my mum is the biggest inspiration because she did everything and anything for me and my family. She has been through so much just to make sure that me and my sister got what we need. To the extent of doing things that she shouldn't have had to do. That reminds me every day of who I really am.
Therefore, I sacrifice my life and dedicate everything I do for my mum and my family that I love so much.
Q. What is the most rewarding part of being a DJ?
A. Making people happy and to see people excited while I play in that very moment.
There is something special about how I connect with my fans. I have come from a very difficult background, living in the ghetto,
airtanzania.co.tz / 9
All images courtesy of DJ Joozey / DJ Joozey
Joozey teamed up with a trio of African artists on single 'Tobetsa'
DJ Joozey has won renown in Tanzania and internationally for his gigs
living a life of uncertainty – that is an unhappy life. When I see people happy – it makes me happy. When I'm on stage and I can feel that electrical feeling of vibrating bliss – it is priceless! That is the peak of living – being able to be an instrument of positivity in someone's life, touching people in ways only music can, now that is something to live for.
Q. You had a challenging upbring ing in Shinyanga and left school at just nine years old to work and help support your single mum and younger siblings. How do you remember that time?
A. I remember when I was a kid, I was just living the life I knew, being a little hustler, and it's like one day, everything changed. I just woke in a bad dream – a dead end! I woke up to this thing we call life. Things changed quickly. I did everything I could to fight for my family and what I knew was right. I was vulnerable, but at the same time hungry to do anything to support my family.
Q. What kind of work did you do at such a young age?
A. I have been working since I was so young, helping people to sell goods. I would sell anything or carry anything for money, I was paid TZS 400-500 a day, but it was not enough so I also sold peanuts and fruits.
I have done so many things, I have worked as a houseboy in different households. I have been a vender selling eggs, a fundi working odd jobs. My only goal was to make money for my family by any means and that was my focus. That drive keeps me going.
Q. Do you credit those early years with giving you that hustle that still drives you today?
A. What I have been through pushes me every day and it is what drives me and my mentality. I believe anything is possible and that you should never limit yourself. I wish I could go back into the past and get
one more chance. I swear I would be a different person on this planet on another level – more like the last man standing.
Q. Now you are gaining DJ success are you able to offer even more support to your family?
A. Oh my God, that question! I can't believe you asked me that. My family my mum, sister, girlfriend and my supporters are so important to me. It doesn't make sense to have 10 million in my bank account and my family is still suffering back at home. My people are the reason I am doing this thing, living this life, chasing my dreams! I dream of seeing my mother, my family happily living a life without worries!
Q. Are there genres of music you stick to with your DJ setlists or do you like to throw in a few surprises for clubbers?
A. Depending on the crowed, energy and the vibe. I always try my best to connect with everyone. However, I really love to play Afro beats and Afro house music, that's my vibe! However, I am hustler as well, I am out here working to put food on the table and see my family living a good life.
Q. What are some of your favourite places to play in East Africa and why?
A. Elements of course! It's my resi dency, my home ground. I love the Elements crowd; they are my people and it's my happy place. I get to meet with new people, connect with other likeminded music lovers and talents. Elements has a special place in my heart and has been a platform of growth for me.
Q. Unlike many DJs, your shows are something to watch as well as hear. You like to dance to the music you play. How did that start?
A. Music is energy, and I am a per former by nature. It's all about how music makes me feel. When I get on stage, I am a different person. The
music takes over and dancing comes naturally. The energy that I feel when I am behind the decks translates to the crowd and that is where the magic is. So, I would say it is really about the vibe.
Q. I have read that you want to become the 'Tanzanian DJ Khalid'. What do you admire about the US artist?
A. He's one of my biggest inspi rations. Back in the day I used to follow up on him and what he was doing. I admire the fact that he believes in himself and understands
10 / Twiga
/ DJ Joozey
Dj Khalid is living the dream, and it all started when he was doing what he does best on Snapchat – talking about his focus and positive mind set while living it –no filters
Joozey plays regular nights at Dar es Salaam club Elements
that anything is possible if you put your mind to it. Dj Khalid is living the dream, and it all started when he was doing what he does best on Snapchat – talking about his focus and positive mind set while living it – no filters. Today I want to be like him or more. I want to tell the world my story!
Q. Like DJ Khalid, do you want to release your own original music in time?
A. Yes, definitely. I have already started working on that. In fact, am working towards producing my own music. Very soon I will be releasing an EP with a few collaborations with other Tanzanian artists. However, the main goal is to become a producer. I want to make music and share and express my thoughts and experiences with the world.
Q. You are in demand as a DJ across East Africa and the Middle
East. Can you tell me about some of the countries you have performed at recently?
A. I recently performed in Uganda, Burundi and Dubai and all were amazing experiences!
The response was positive and welcoming. It's something special when you see people from other countries supporting you, espe cially when they are excited to see and connect with you. Travelling has opened my eyes, I can say that I am starting to get exposed to other cultures, nationalities and envi ronments. This has really opened up my mind. I think differently, I approach things differently! I want to travel the world and make an impact in people's lives. I will be travelling soon – outside of Africa, God willing – before the year ends.
Q. Is there a story behind your DJ name?
A. Yes, my first DJ name was Joe Black Simba. Joe was for
Joseph [Joozey's real name is Joseph Simon] and Black Simba represented black excellence. I was proud to be black and I added Simba, meaning lion in Swahili. The lion for me is the ruler of the animal kingdom so they are undefeated and inspire me to aim for bigger things. However, the name Joe Black Simba was too long so I adapted my nickname since childhood, Jose – a short form of Joseph – and that became Joozey and the rest is history.
FIND OUT MORE
To find out the latest on DJ Joozey's shows and recordings, visit @djjoozey on Instagram.
To find out more about his residency at Eternals visit @elemnetstz on Instagram.
To find out more about Wavuvi Kempu, go to its website at wavuvikempu.com
airtanzania.co.tz / 11
/ DJ Joozey
Crowd-pleaser: Joozey's live shows are something special
Nature TTL Photographer of the Year
Dennis Stogsdill A Cat and Its Prize
Dennis Stogsdill, from the USA, took the overall prize with his image A Cat and Its Prize.
He says: "We had received word about a serval hunting birds along the shore of Lake Ndutu (lower Serengeti) so we raced over to see.
Upon arrival, we quickly realised
that it was in fact a caracal and not a serval, and it was hunting flamingos that were feeding in the shallows. Within a minute of arrival, the caracal started stalking and eventually was successful (in dra matic fashion) at hunting one of the beautiful but unlucky birds."
The wildlife riches of Tanzania shine in the winning entries of a recent global photographic competition. An image of an unfor tunate flamingo caught in the jaws of a fierce caracal taken by Lake Ndutu was the overall winner while a dra matic shot of an elephant spraying
12 / Twiga
© Dennis Stogsdill / Nature TTL
Michael Snedic Elephant in the dust
Michael Snedic, from Australia, took this image of an African ele phant puffing dust. He says: "After wallowing in the mud, this majestic elephant was walking towards our safari vehicle in the Ngorongoro Crater. It sucked up some dust in its
trunk and before long, it turned its trunk upwards and released a huge puff of dust. My camera was set to continuous shutter, and I was click ing away like crazy – an exhilarating moment."
a storm of dust from its trunk in the Ngorongoro Crater was one of the runners-up. More than 8,000 images from were entered into the prestigious Nature TTL Photographer of the Year competition this year with the winner securing GBP 1,500 (US$ 1,800) in cash.
Here are the two Tanzania-taken images with a word on how the magic moment was captured by the winning photographers.
Nature TTL is the world's leading online nature photography resource. Find out more at naturettl.com. The
website also has all the winning and runner-up entries from this year's competition to view.
The competition is open to pho tographers of all ages and abilities and will open for entries again in January 2023.
airtanzania.co.tz / 13
© Michael Snedic / Nature TTL
/ Nature TTL Photographer of the Year
retreats
BEAUTY AND THE BEACH
The Dreamland Resort Air Tanzania destination: Guangzhou
Lakeside retreats, Zanzibar's latest luxury offering and a Chinese island paradise. The Air Tanzania route network is filled with dazzling hotels that make the most of their beachside setting. Here's our pick of them.
Adding a beach escape to your stay in Guangzhou is easier than you think. The city's bullet train takes just an hour to zip you to Zhuhai, known as "the city of a hundred islands" for its ferry boat links to Wanshan Archipelago in the South China Sea, between Hong Kong and Macau. Among the islands is the tiny fishing community of Dawanshan. Here, nestled in a hillside surrounded by rainforest, you'll find the Dreamland Resort. This carefully crafted boutique hotel is made up of a series of interlacing terraces and gardens that help it blend
in with the pristine surroundings and offer wonderful views of the bay and port. Among its high-class facilities is a gourmet restaurant serving a fantastic range of seafood brought in daily by local fishermen.
What makes it so special? The spectacu lar infinity pool. It is hard to see where the pool ends, and the emerald waters of the South China Sea begin.
More information: relaischateaux.com
airtanzania.co.tz / 15 Beach
Sun n Sand Hotel
Bamboo
It's just a 10-minute drive from Entebbe Airport, but the moment you arrive at this sanctuary on the shores of Lake Victoria, you'll feel a world away. There are 16 rooms set amid attractive tropical gardens – more natural riches can be found at the Entebbe Botanical Gardens just a short walk away – with a lovely outdoor swimming pool to enjoy.
The rooms with a lake view are, under standably, the most prized but this cosy, welcoming hotel has plenty of communal areas such as the beach bar and restaurant that have given guests magnificent views out across the water.
What makes it so special? The hotel rooms are brought alive by paintings by local artist Diana Dottir and can be purchased.
More information: 2friendshotel.com
Mumbai is an endlessly fascinating city, but it is also a crowded and noisy one. A great way to ensure you escape the bustle after a day of sightseeing is to book a stay at one of the city's beach hotels. Juhu is an affluent neigh bourhood with a breezy, sprawling beach beloved by Mumbaikers and by Bollywood directors, who can often be seen filming scenes here. Screen stars have been frequenting beachside land mark the Sun n Sand Hotel since it was set up in the 1960s becoming the city's then first 5-star beachside hotel – with guests including US actor and film direc tor Clint Eastwood. It has been stylishly revamped in recent years with spacious rooms and a swimming pool and gym set among frangipani trees and palms and making the most of the priceless views out over the Arabian Sea.
What makes it so special? The hotel's bar, The Beachcomber Lounge, has become a one of the most popular drinking spots among Juhu's cool crowd with an international cocktail menu curated by world-renowned mixologist and bartending globetrotter Dre Masso.
More information: sunnsandhotel.com
Zanzibar is not short of chic beach hotels, but new arrival Bamboo does much to distinguish itself. Local architect Lucas de Oteyza has given the minimalist beachfront structure of bamboo, concrete, teak and stone a chameleonic quality as it blends in with the surrounding white cliffs of Jambiani on the island's south-east coast. All 10 suites have ocean views to soak up from their private verandas. Over 100 metres of waterway zigzag around the hotel's lush grounds, providing each suite with its own plunge pool.
What makes it so special? The on-site restaurant has a truly mouth-watering menu for breakfast, lunch and dinner, but the tuna tartare on a bed of avocado and drizzled with sesame oil is the stuff of dreams.
More information: bamboozanzibar.com
16 / Twiga
/ Beach retreats
Air Tanzania destination: Zanzibar Island (Unguja)
Mumbai Air Tanzania destination: Mumbai 2 Friends Beach Hotel Air Tanzania destination: Entebbe
Old Boma Hotel
Air Tanzania destination: Mtwara
Tanzania's south coast shares the white sand beaches, Swahili culture and crumbling colonial and Omani architecture that make Zanzibar such a popular post-safari wind-down, but it is relatively untouched by tourism.
That's part of the attraction for those that do make it down here as they have picture perfect coastal villages such as Mikindani to explore crowd-free.
The historic village – it was here that British missionary David Livingstone set off on his final expedition into the African interior – has a spectacular bay of sheltered, shimmering water dotted with the drifting dhows of fishermen.
The best vantage-point to take in this spectacular view is the hill-top Old Boma – once a fort built for German colonial forces in the 19th century and now immaculately restored as a hotel by British charity Trade Aid. It is a haven of tranquillity with cool, airy interiors and a lush, terraced garden that descends to the bay.
What makes it so special? Trade Aid has turned the Old Boma into a hotel and a hospitality training centre with staff all young locals leaning on the job.
The service is exceptional and among
the trips they can organise for you is one to Msimbati beach. This softly shelving beach is ideal for swimming and some of the protected coral reefs of the Mnazi Bay Marine Reserve are very close to the shore.
More information: mikindani.com/hotel
GETTING THERE
Visit airtanzania.co.tz to book your trip or call free on 0800 110 045 for more information.
airtanzania.co.tz / 17 / Beach retreats
18 / Twiga
WIN WIN A DINNER FOR TWO AT FARM-TO-TABLE DINING EVENT ANSWER THESE QUESTIONS
To be in with a chance of winning, email your answers to the three questions below along with a photograph of yourself holding Twiga 15 on your Air Tanzania flight to competition@landmarine.org by 15th December 2022. Bahati njema!
1 Where was DJ Joozey born?
2 Approximately how tall is the model Twiga (giraffe) at the front of the Air Tanzania Business Lounge at Julius Nyerere International Airport's Terminal?
3 What is the name of the flatbread made from teff grain that is a hugely popular part of Ethiopian cuisine?
COMPETITION TERMS AND CONDITIONS: Prizes dependent on availability
One entry per person. Entrants must be 18 years or over. The decision of the organisers will be final. The competition is not open to employees and their relatives of Air Tanzania or Land & Marine Publications Ltd and Msonge Organic Farm. The prize does not include accomodation at the destination. Images are for representation only.
M
songe Organic Farm has been a leading light in nature-driven farming practices in Zanzibar. More and more people on Unguja are signing up to its 'pakacha' doorstep deliveries of its just-picked, wild-grown produce. You can also sample the diverse delights of the farm –located just 12km from Stone Town – at its weekly Farm-ToTable alfresco dining events. Here guests get to feast on a menu of traditional and often long-forgotten Swahili dishes with ingredients all grown onsite. Twiga is delighted that the farm has agreed to provide the prize for this issue. Two readers will win entrance to the weekly Sunday event and both will be able to bring a guest of their choice.
Last issue's
WINNER
Congratulations to Jesse Ainebyoona who wins a return flight to Nairobi for themself and a friend. Well done and thanks for flying Air Tanzania.
airtanzania.co.tz / 19 competition
Now you can tweet from
Mt Kilimanjaro gets HIGH-SPEED INTERNET
Struggling to get a decent wi-fi is a common complaint in Tanzania. Well, don't worry, you won't have that problem if you are climbing Mount Kilimanjaro.
In August Africa's highest mountain had high-speed internet services installed on its slopes in a move hoped to improve safety for porters and guides and mean tourists don't have to climb all the way down before they can share that summit selfie.
The government licenses Tanzania Telecommunications Corporation set up the broadband network at an alti tude of 3,720 metres meaning social media-savvy climbers can now share their ascent with followers on Twitter, Instagram or WhatsApp.
Official launch
At the official launch of the service, Minister for Information, Communication & ICT Nape Moses
Nnauye: "Previously, it was a bit dan gerous for visitors and porters who had to operate without internet."
He went on to say that work was ongoing to ensure the internet connectivity would reach Uhuru Peak, the 5,895-metre highest point of the mountain, by the end of the year.
The move is the latest example of bringing modern creature comforts
20 / Twiga
Kilimanjaro
Internet
12,000 ft:
to some of the world's remotest and wildest places. The world's tallest mountain, Everest, has had internet coverage up to its Base Camp (5,380 metres) since 2014 and there are upmarket expedition companies that offer luxury tents, bars and gourmet meals and even 5G mobile reception at the summit.
As for Kilimanjaro, the Tanzanian government has plans to build a US$ 72m cable car on the southern side of
the mountain to 3,700 metres at Shira Ridge. The move was met with criti cism from climbers, expedition com panies and environmentalists, but Kilimanjaro is an important source of tourism revenue in Tanzania with its slopes filling up with more than 35,000 hikers attempting to reach the peak each year.
The cable car route is estimated to take around 20 minutes – and you'll be able to live stream the trip
on the internet. It's all a world away from the experience of the first person to climb Kilimanjaro, German geographer Dr Hans Meyer, who in 1889 took months to reach the summit. Then again, he did start from Mombasa, with a 14-day trek to the town of Taveta!
airtanzania.co.tz / 21 / Kilimanjaro Internet
Food of the future
THE COMEBACK CROPS
how Africa's forgotten foods could combat global hunger in a warming world
Grains indigenous to the continent that have long been part of subsistence farming among traditional communities may have fallen out of favour in modern diets, but experts say they have a global potential to combat long-term food security fears. Here, Twiga takes a look at three of these super crops.
airtanzania.co.tz / 23
It could be time for Africa's forgotten foods to make a comeback. While supermarket aisles here are filled with bags of imported rice, you are unlikely to find any fonio, teff or sorghum – even though these nutrient-packed grains are readily grown on the continent.
All three have been long-established staples of the diets of traditional communities in East Africa, where they are enjoyed for their nutritional density and their ability to grow in high temperatures. It is these marked qualities that food security experts believe make the grains a crucial part of plans to keep feeding the world amid the environmental effects of climate change.
Projects are being put in place to encourage a comeback in these crops in Africa's farms and fields and also on our plates. Award-winning chef Fatmata Binta has been running a series of pop-up culinary experiences in Ghana called Dine On A Mat that showcase the fonio-favouring food of the Fulani –the nomadic African tribe she was born into.
Across Africa, the International Crops Research Institute for the Semi-Arid Tropics has been working on innovative methods to educate consumers, farmers, food processors, health workers, and government leaders about the various benefits and uses of sorghum.
Here in Tanzania, the Msonge Organic Farm on Zanzibar Island, which has been at the forefront of spreading the word on permaculture and crop diversity on the archipelago, grows sorghum, which it ferments to make a healthy and refreshing drink. Diners at the farm's Sunday Farm to Plate alfresco lunches are often lucky enough to sample it among a menu of traditional Swahili favourites.
As for teff, the ban on the seed's export from Ethiopia has been recently lifted and now its availa bility across the continent is growing.
Here's our guide to three grains ripe for a revival.
TEFF
No Ethiopian meal is complete without an accom panying stack of injera. Diners tear off strips of the flatbread to use like an edible spoon to scoop up curries and sauces. It is the national dish and its pre dominantly made with teff flour, which has undergone a short period of fermentation that gives injera its delicious tangy taste and its slightly spongy texture.
Teff itself is a tiny grass seed that is native to Ethiopia and Eritrea, where it has become a staple food crop to millions.
Nutritional benefits:
Unlike other grains like wheat, barley, and rye, teff is gluten-free. It has a particularly high calcium content plus plenty of iron and protein.
A food for the future:
Teff has the ability to grow in high temperatures, which has meant it has been the salvation crop many times during the threat of famine. It also has a huge yield with the seeds produce a harvest proportionally hundreds of times greater than wheat or other staple grains. The grain cooks very rapidly due to its small size, which means less fuel is required. As a conse quence, it is an effective dietary staple for countries with limited resources.
How does it taste?
The seed has a mild, nutty flavour that allows very many culinary uses ground into flour or as a whole grain. The light fermenting process in making injera adds a sour, satisfying flavour.
24 / Twiga
/ Food of the future
SORGHUM
Sorghum is an assortment of about 30 species of grass raised for grain, native to East Africa. Because of its nutritional density and its tolerance for hot, dry conditions, it has become the primary source of daily calories for more than 30 million people in the region. It can be eaten as a porridge, used to make bread and its stems can even be used as building material.
Future food:
Sorghum is now branded as a future-proofed smart food because of its resilience and health benefits. It can grow in hot, arid conditions, in degraded soil and can survive pestilent diseases.
Nutritional benefits:
Sorghum is known to be rich in phenolic com pounds, many of which act as antioxidants to reduce inflammation in the body. It is also rich in vitamins, minerals, protein and fibre. It may help reduce the risk of certain cancers, as well as aid in diabetes control and prevention.
How does it taste?
Sorghum has a mild, earthy taste and while it is gluten free, it is said to have a flavour profile quite close to wheat. It can be used in soups, salads, side dishes, pilaffs, porridge and more.
FONIO
Fonio is an ancient African grain that is thought to the continent's oldest cultivated cereal. Native to West Africa, it's a staple most commonly enjoyed in the mountainous areas of countries such as Burkina Faso, Guinea, Senegal, Mali, and Nigeria. However, its health properties, hardiness and the fact it is ready to harvest in six-to-eight weeks have led to being named a future food of the world by the World Wildlife Fund (WWF) in 2019 with plans in place to spread its cultivation. Beyond subsistence, with fonio now being found in speciality food outlets worldwide, it has become an important income source for smallholder farmers in West Africa.
Nutritional benefits:
Fonio is a nutritional powerhouse, packed with vitamins and minerals such as immune system-boost ing zinc and energy-giving magnesium. The United Nations Food & Agriculture Organisation suggests that among all grains it is fonio that has the highest content of bone-strengthening calcium.
Food for the future:
Fonio is a very hardy crop and grows well on poor shallow, sandy or rocky soils unsuitable for other cereals. This added to its germination speed and its numerous nutritional benefits, has led to the grain being branded a climate-crisis-ready crop.
How does it taste?
Fonio not only satisfies hunger much more than the dominant grains, but it also has a nutty flavour and texture, similar to cous cous. In fact, in Senegal it is considered such a delicacy that it has become the dish-of-choice at special events such as weddings.
airtanzania.co.tz / 25 / Food of the future
26 / Twiga
airtanzania.co.tz / 27
A green Christmas
GIFTS FOR A GREEN CHRISTMAS
Rather than wishing for a white Christmas –unlikely in Tanzania unless you're planning a festive ascent of Mount Kilimanjaro – why not ensure your own green Christmas by treating loved ones to gifts crafted by local artisans using natural materials. There may be no snow to see Santa's footprints, but you can content yourself that your Christmas carbon footprint is just as untraceable with these sustainable gift ideas.
Peanut butter and jam gift set
Why not treat your special someone to another example of couple goals – peanut butter and jam.
Tanzanian made: Essy Jams is the brainchild of Tanzanian entrepreneur Esther 'Essy' Matemba and offers a range of organic jams, nut butters and chillies. You can buy online or catch them at the regular Oyster Bay Farmers' Market in Dar es Salaam.
Green credentials: Essy Jams' farm to jar range is packed with ingredients freshly picked from a range of Tanzanian farms.
Price: TZS 30,000 (US$ 13)
Online: @essysjam on Instagram
Body oil
Spoil someone special this Christmas with Seven Precious Oils, a unique conditioning treatment for hair and body that combines avocado, baobab, coconut, macadamia, marula, moringa and yangu. Fragranced with refreshing notes of lime, lemongrass, coconut and vanilla, the oil has proved to be Tanzanian natural skincare company Inaya Zanzibar's bestselling product.
Tanzania made: Independent skincare brand Inaya Zanzibar – the name means 'kindness' in Swahili – makes all its soaps, oils and moisturisers by hand in small batches at its factory in Unguja, Zanzibar's largest island. The company's trained production and sales team is made up entirely of Zanzibari women with every effort made to create an inspiring and fulfilling work environment
Green credentials: The Inaya Zanzibar range is made with all local ingredients and each product is biodegradable and free of parabens, mineral oil and artificial colours.
Price: US$ 16 for a 150 ml bottle.
Online: inayazanzibar.com
28 / Twiga
Cotton dressing gown
You can lounge around the house in style on Christmas morning in this dressing gown made from handwoven 100 per cent Tanzanian organic cotton.
Tanzanian made: Handmade In Tanzania is an enterprise in Dar es Salaam preserving the traditional art of handweaving. A team of trained weavers work on four huge hand looms, working with raw cotton which is also dyed in-house. The results are luxurious duvet covers, pilot cases, bed throws and clothes for men, women and children.
Green credentials: The cotton is sourced from Tanzanian farms and all the dyes – such as Indian almond leaves –are totally natural and applied in-house.
Online: Website handmadefromtanzania.org or @handmade_from_tanzania on Instagram
Reclaimed wood Christmas tree
This one-of-a-kind Christmas tree sculpted from sunbleached driftwood is the perfect Zanzibari festive decoration.
Tanzania made: This tree and a host of other festive decorations are available to buy at Make It Matter – an artisans' marketplace with its flagship store in Oyster Bay, Dar es Salaam. The store showcases and supports the work of crafters from some of the most remote parts of Tanzania.
Green credentials: This Christmas Make It Matter will be continuing its annual zero waste collection of festive decorations with loads or innovative upcycled products. On top of this, for each sale from the collection, the store will donate a seedling to be planted in the foothills of the Uluguru Mountains in Morogoro, Eastern Tanzania.
Price: TBC
Online: Website makeitmatter.org and @makeitmatter_tz on Instagram
Custom-designed handbag
Keep it colourful this Christmas with this handbag made from 100 per cent cotton kitenge. Each design is unique, and you can even select your own combination of patterns for a bespoke design.
Tanzanian made: Aromas of Zanzibar is a locally owned shop in Stone Town. Its wide range of textile handbags, laptop bags and purses are all handmade by local artisans.
Green credentials: No imports here. Products are all handcrafted on the archipelago using local materials.
Price: TZS 65,000 (US$ 28)
Online: @aromasofznz on Instagram
airtanzania.co.tz / 29 / A green Christmas
Organic beeswax soap
Another Christmas is here, but you can turn back the clock on your skin with this soap, which contains antioxidant-packed beeswax to diminish the appearance of signs of ageing.
Tanzania made: Pure Joy Honey is a social enterprise that works with local beekeepers to produce sustainable, organic honey in western Tanzania. The product range includes honey varieties, beeswax soap and food wraps.
Green credentials: No pesticides or chemicals are used to make this honey, just the expertise of local farmers passed down through generations. The hives in gazetted forests and game reserves help to preserve bee populations, which are so important for maintaining biodiversity by pollinating the plants that provide food for us and habitats for wildlife.
Price: TZS 10,000 (US$ 4.50)
Online: @purejoyhoney on Instagram
Maasai star
This Maasai star is a handcrafted decoration worthy of topping any Christmas tree.
Tanzanian made: Shanga is a social enterprise based in the Arusha Coffee Lodge hotel, which trains Tanzanians with disabilities to make unique and high-quality jewellery, glassware, textiles and metal sculptures. The workshop is open to the public to see the artisans at work as well as browse and buy from the range of products.
Green credentials: Much of the Shanga range employs recycled materials, repurposed into inventive gifts and homeware.
Price: US$ 5
Online: Website shanga.org or @shanga_tanzania on Instagram
30 / Twiga / A green Christmas
Cinnamon Spice tea
There's
/ A green Christmas
something about the fragrant warmth of cinnamon that make it the perfect spice for Christmas. This high-quality tea is flavoured with the spice freshly picked from farms in Zanzibar. Tanzanian made: Kazi Yetu (a Swahili phrase which translates as 'our work') is a start-up that sources, processes, flavours and packages its unique tea blends here in Tanzania for domestic and international markets. Green credentials: Kazi Yetu's traceable Tanzania Tea Collection offers a range of single origin teas from the foothills of Mt Kilimanjaro and the Usambara Mountains as well as spices and herbs from across Tanzania and Zanzibar. Price: TZS 16,000 (US$ 6.90) Online: Website kazi-yetu.com and @kazi.yetu on Instagram airtanzania.co.tz / 31
Ipo Kesho
BY SALUM MAKAMBA
The Swahili phrase 'Ipo Kesho' roughly translates as 'There's (always) Tomorrow'. However, in this short story by Tanzanian writers' collective Uwaridi member Salum Mkamba, Ipo Kesho is the name of a young man who reverses his fortunes by writing the story of his harrowing early years. It's a tale with the message: no matter how hard life gets never lose hope, there is always tomorrow.
Alifunika kitabu na kutazama nje ya dirisha huku akili yake ikimkumbusha mambo aliyopitia maishani…
"Pumbaf! Toka hapa. Nije nikuone tena unasogea karibu na duka langu. Mwanaharamu wewe," alifoka Mbarbaig kumwambia kijana aliyevaa nguo kuukuu aliyemkuta amejilaza nje ya duka lake.
"Samah…aargh…samah…" alijaribu kuomba msamaha kwa taabu kijana yule huku akiugulia maumivu makali katika eneo la mbavu, yaliyotokana na teke alilopigwa na Mbarbaig ambalo ndilo lililomgutusha kutoka usingizini.
"Nimesema toka! Sihitaji kusikia chochote kutoka kwako. Kibaka mkubwa," alipayuka yule Mbarbaig huku akigonga ngumi ukutani kwa hasira. Kijana yule alijikokota na kuondoka kwa taabu eneo lile.
Kijana aliyekuwa akifokewa alifahamika kwa jina la Ipo Kesho. Ni kijana aliyezaliwa katika familia ya watoto wanne, yeye akiwa kitindamiba. Akiwa na umri wa miaka thenaashara baba yao aliwatelekeza na kutokomea kusikojulikana.
Yeye, ndugu zake wakubwa pamoja na mama yao waliishi maisha ya dhiki kijijini. Milo mitatu hawakuifahamu. Kuupata hata mmoja tu, kwao ilikuwa ni kazi kubwa. Mama yao aliwapa moyo na kuwasisitiza kujituma na kutokata tamaa maishani, huku akiwaaminisha kuwa baba yao angerudi tu.
Ingawa maisha yao yalijaa dhiki lakini hamasa waliyopatiwa na mama yao iliwafanya wawe na tabasamu japo la muda mfupi. Hali iliendelea hivyo hadi siku ambapo jirani yao mmoja,
alipowapelekea taarifa ya kushtusha iliyobadili kila kitu maishani mwao.
"Mama Ipo. Mumeo ameoa mke mwingine huko Manyara," Ipo Kesho aliikumbuka kauli ya jirani yao iliyoangamiza tumaini la milele alilokuwa nalo mama yao.
Tangu siku hiyo mama yao akageuka kuwa mtu wa huzuni na majonzi. Hatimaye alipatwa na msongo wa mawazo. Siku moja aliweka sumu kwenye chakula chao ili yeye na wanawe wakapumzike milele baada ya tabu kuzidi. Mama yake na ndugu zake wakubwa wakapoteza maisha. Yeye akapona kwa miujiza tu. Majirani walimstiri kwa muda, lakini hatimaye walichoka. Wakamwacha. Ikambidi akimbilie Manyara kumtafuta babaye.
Alipofika Mkoani Manyara alifanikiwa kumpata baba yake. Lakini mke mpya wa baba yake hakutaka kumwona. Alimfanyisha kazi za sulubu na kumpa chakula kidogo. Ipo Kesho akayashindwa yale maisha ya nyumbani kwa baba yake. Akatorokea mitaani. Huko akawa akijifunza uandishi wakati wa mchana huku usiku akifanya kazi ya kumenya viazi mbatata. Hata hivyo, gharama za malazi zilimshinda, hivyo akawa anajilaza nje ya maduka pindi usiku unapokuwa mwingi.
Hatimaye aliandika simulizi yake ya kwanza. Simulizi hiyo ilifanikiwa kufika mikononi mwa mtalii mmoja kutoka Uropa. Mtalii yule alivutiwa sana kisa chake. Akamuunganisha Ipo Kesho na kampuni kubwa ya kutengeneza filamu duniani, SkyDance. Simulizi ikachezwa filamu na Ipo Kesho akalipwa Mamilioni ya Dola. Leo hii yeye ni miongoni mwa watu matajiri na maarufu duniani.
Baba yake amekuwa akimwomba msamaha
kila uchao, na mpaka sasa Ipo Kesho bado anajiuliza iwapo amsamehe au la? Haelewi!
"Mmh! Ama kweli," Ipo Kesho alijisemea mwenyewe huku akitabasamu na akiliangalia tena jalada la kitabu kilichokuwa mkononi mwake. Alikuwa ndani ya Air Tanzania huku akisoma kisa chake mwenyewe kilichoandikwa na mwandishi kutoka Afrika Mashariki. Safari yake kuelekea Serengeti kutalii ilikuwa inaendelea.
"… duniani usikate tamaa... Ipo Kesho!" alimaliza kujisemea.
About the author
Salum Makamba ni Mwandishi Chipukizi kutoka Umoja wa Waandishi wa Riwaya wenye Dira (UWARIDI) nchini Tanzania. Ana uzoefu katika nidhamu ya Uandishi wa Habari na Mawasiliano kwa Umma kutoka Mtandao wa Wanahabari Vijana na Watoto jijini Mwanza (MYCN) pamoja na taasisi ya kimataifa ya Children's Radio Foundation (CRF). Vilevile, ana Shahada ya Udaktari wa Binadamu kutoka Chuo Kikuu cha Dar es salaam. Hadi sasa, amekamilisha uandishi wa miswada kadhaa na anatarajia kutoa kitabu chake cha kwanza hivi karibuni.
Uwaridi emerging talent Salum Makamba has worked as a journalist and in public communication for the Youth and Children Journalists Network in Mwanza (MYCN) together with the international Children's Radio Foundation (CRF). The University of Dar es Salaam graduate has completed a number of short stories and hopes to release his first novel soon.
airtanzania.co.tz / 33 Swahili story
******
******
A PICTURE PERFECT LIFE
Julitha Kabete rose to fame as a contestant for Miss Tanzania in 2017 and has continued her celebrity status as an international model and now online influencer. Her Instagram page @ julitha.kabete is a mood of aspirational travel, fashion and beauty aspirations with images of the 25-year-old living her best life in a host of glamorous East Africa locations.
QYou are photographed in a host of glamorous locations in Tanzania.
Is it important to showcase the attractions of your country?
A. My country is naturally beautiful. I find everything here picturesque. The more places I discover when I travel in Tanzania, the more I want to share with the rest of the world, how beautiful my country is. I feel blessed and obliged to show off the beauty. Pictures tell a story and show a glimpse of a location, so it attracts other people to feel the urge to visit my country.
Q. Do you also travel extensively outside of Tanzania. Where have been some of the favourite places you've visited recently?
A. I absolutely love to travel. Nothing excites me more than an adventure of discovering a new location and being in a foreign environment. It brings me joy, peace and relaxation. I am mostly out of Tanzania, but it's all for the love of exploring. The most recent favourite travel spot for me is Zanzibar. It is not only my favourite because it's my country but because I just never get tired of experiencing it over and over again every year it's
like a tradition. Anytime of the year, the season is just always right. The islands are my place of peace and I'm thankful to God we've a beautiful island. I use my platform to showcase the beauty of different spots people could explore while in Zanzibar.
Q. What is the message you are trying to get across on your Instagram page?
A. My Instagram page is curated as a personal lifestyle blog. My intention is to share positivity and beautiful places to explore through my images. It's a lifestyle blog for
airtanzania.co.tz / 35
Julitha Kabete
A life in travel: Julitha is always ready for her next adventure
showcasing my own likes, taste in fashion and travelling. It's a sort of highlight reel of my life. When I'm done working on projects I've being planning on the side, I will then share more part of that life, but I'm a person who shares finished work than when it's in progress. I hope it acts to set a good example to young women out there trying to achieve balance in a world of social media advancement.
Q. Before you became an Instagram It girl, you were the 2017 Miss Tanzania, how does your life now compare?
A. Hahaha… It girl? I don't think I'm a lady who boxes herself with that title.
I am a lady who is patient with brand ing, I appreciate passion and I don't believe in trends. I believe in growth that comes with experience good and bad. Miss Tanzania gave me the
opportunity to hold my country as my pride to represent everywhere I am in the world, so my life changed since 2017 but in the most beautiful way. Since then, I know whatever it is I'm doing, I'm impacting on young ladies of next generation, therefore I am more vigilant with some things I share or communicate. I'm just a girl next door who still seeking to achieve the extraordinary. The differ ence is that I have more of an impact now. I'm grateful for the platform.
Q. You are also a model for international agency 20 Management so you are used to posing for pictures. Do you feel you are more in control of your image when selecting pictures for your feed? Is there an overlap between the two jobs?
A. Under my agency, when I get booked by a client or a brand, they have their own specific vision for how
the campaign should be handled. However, with my feed, it is me who chooses which brand to work with and who has control over the shoot. I barely post my modelling work.
Q. Tell us more about your work as a brand strategist helping small businesses in Tanzania reach a wider audience?
A. I have a BA degree in strategic brand communication and as a brand strategist I've worked freelance with a pool of people I've networked over the years through university, modelling, travelling and family connections. It's not only in Tanzania, but I've also expanded my horizons. Freelance works for me as it enables me to be flexible, work remotely and have time to pursue my other passions. It is good to see the brands I have worked with progress. Ultimately, I hope to study for a master's degree and build on this side of my work.
Q. There is a mood of effortless elegance to the images across your page, but can you tell us about the work that goes into getting that perfect single shot?
A. Effortless elegance… I love that. I don't plan to curate my content in the most perfect way, but I appreci ate a clean and classy look and feel. When I am professionally shooting with a photographer, I make it clear how I love beautiful backgrounds, and by that, I mean clean and at an angle to suit my posture. Even when I ask a friend to take a picture, I direct where they should stand and, the angle and what I want included in the shot. My poise is important, I barely pose to be quite honest. I mostly just allow the mood to be felt and shown in a picture.
Q. You are a beautiful woman, in beautiful clothes, in beautiful locations. Do you think your images are aspirational to others or do you worry that they can present an ideal that few can reach?
A. Thank you. One thing I've discovered about branding, and the world of social media is that as it
36 / Twiga
/ Tanzanian influencer
Glamorous: The former Miss Tanzania is now an international model
Tanzanian
evolves you cannot cater for every trend or be everyone's cup of tea. I do not worry that my images can be presenting to a small niche or have an ideal reach that's not for everyone. I think my images can be influential to some and not everyone and I'm totally okay with whoever the shoe fits.
Q. It all looks very glamorous, but are there challenges in being an Instagram influencer that most do not see?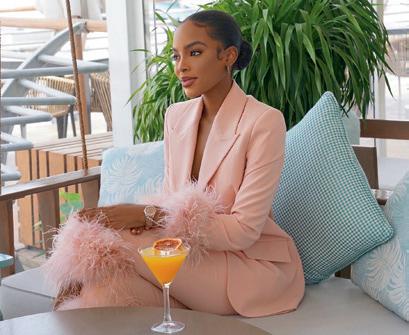 A. I enjoy working with different brands and those I have chosen I feel passionately about, but of course there's some challenges. I think one that irks me is not meeting the deadline for a post I've agreed with a brand. Some things happen in life that can delay you and I find that challenging as I'm a perfectionist. Another is being underestimated as an influencer. It might look cute and fun but it's a full-time job and a lot of work goes into it. Then there's the fact that as I am mostly promoting fashion brands people tend to focus on my body. That means I can get picked on if my body goes through changes, as in weight loss and weight gains. I try to block out the noise of judgements in that area.
Q. You share a lot of your life on Instagram. Is it important to find a balance between your public and personal life?
A. I'm the queen of balance in this area! I can say that I barely share my private life at all. Sometimes I slip up and share something personal with the public, but I usually bite my tongue or delete when my senses hit, feeling that I've overshared. I have become so vigilant about this as many people don't understand that what you share on social media, even after it's deleted, can last forever. So, if you make a mistake, it's already recorded or screenshot by someone out there. I love my personal life to remain as private as possible and I respect my small circle of friends who respect this as well as family. I don't believe I have to be public about everything I only use the platform
to share my interests. It's an elective audience of people on my page who understand. And some think I'm so closed off for this, but it's the way I've chosen to be and represent myself as a lady, to only share something I won't mind to impact. My page is like my alter-ego – it's totally separate from the normal me.
Q. What inspired you to become an Instagram content creator?
A. I am a creative person who loves to wear fashion pieces that are extraordinary. Dressing up has been a hobby from a young age. I take pleas ure in creating looks for different occasions and most of all I feel I'm in a better mood when I'm dressed better and I represent myself well. I love being a lady and dressing like one inspired me to create content of what my style in different occasion could possibly be, so I have being sharing images since I joined Instagram. I remember I was bored during my break after my reign as Miss Tanzania and I was waiting to embark on my university journey. I posted a photo of myself dressed up to have lunch with friends. I had bought the dress online from Fashionnova so I tagged them on the post. Then the brand PR contacted me for collaboration and soon many more were getting in touch. I capitalised and started working on my style. It became a beautiful hobby while I went to uni versity and a good side job because I was looking good and taking pictures while getting paid for it.
Q. Any advice you would like to give to budding social media influencers?
A. Simply to be authentic in their representation of brands they're influencing and to simply enjoy this new era of impacting people through just images, videos and stories. Tell a story in your own way and your market will follow. Be driven by quality and not quantity, it's important to know what exactly you are influencing. Focus on what you know and always be ready to learn new ways of marketing and expanding yourself.
Q. You seem to be always on the move to new glamorous locations. Can you tell us about the travel involved in a particular week for you?
A. I am always on the move. My family always say to me: "Julitha you love to travel, can't you chill", but my body and mind feels right when I am on some mission that involves moving from one place to other. When I'm extremely tired or having a creative block, and I have a travelling week, usually I would work with a concierge company. In Tanzania, I've trusted Luxe by Elle, who make sure my stay, transportation and glam team are all planned for me according to my needs and schedule. When I work with a brand or hotel when I'm out of the country, I com municate my needs ahead of time, so my personal activities and business stays separate. The itinerary in my travel involves which restaurants to visit, the locations for shootings, the activities and some local knowledge for shootings."
airtanzania.co.tz / 37
/
influencer
Dressing up has been a hobby from a young age. I take pleasure in creating looks for different occasions and most of all I feel I'm in a better mood when I'm dressed better and I represent myself well
COMOROS: call to investors
Comoros is one of the easiest places in the world to set up a business with just 11 days all it takes to get a new company registered. Foreign investors will also be attracted by the Indian Ocean archipelago's wealth of natural resources. Here the Comoros ambassador in Tanzania, Ahamada El Badaoui, talks to Ingrid Kim (@dhowconsulting, consult-ingrid.com) about the country's focus on developing the rich potential of its blue and green economy.
What is meant by the blue and green economy?
Blue is related to the sea so all the products you can get from maritime activities while the green economy relates to agriculture, farming and crops.
Coronavirus has had a devastat ing effect on the whole world over the past two years so, of course, Comoros was also affected. There was not much activity during the past two years, but now the situation is improving and we have great hope. Our government is working hard to find a solution. We have one of the world's most attractive investment
opportunities. There are a lot of facilities here and when foreign investors come, they don't have to pay any taxes or charges for a period of five years. If they decide to recruit local staff and the busi ness is reliable and efficient, we will provide more advantages. We have a promotion programme in place, specifically aimed at foreign investors. It takes just 11 days to set up a new business here. We have national investment agency now set up to handle the registration of projects and grant a business licence. It means we can provide a unique window. Everything happens in the same office and investors can start the process
online. After 11 days you get your business licence.
How is the tourism industry doing?
Comoros is an international destination for tourists. There is elite tourism and mass tourism, and here we focus on the elite.
Our tourists are select, and we concentrate on quality rather than quantity.
We want to increase the capacity of the hotels on the islands. In Moroni [the capital of the largest island Grande Comore] we have the Retaj, which is an international
38 / Twiga
Business opportunities
Natural riches:
Comoros
is a fertile place for arable farming
standard hotel run by Qatari owners. There are also other hotels of a medium standard.
Which countries are most of your investors coming from?
We have our own diaspora in Europe and a good number of them come here to invest. We want to get some of the hospitality investment that is mostly going to Zanzibar and the air sector invest ment that goes to Kenya. Now we are relying rely on neighbouring counties such as Tanzania, Kenya and Mozambique for the transport of commercial cargo.
Investors here will have a lot
of facilities available to them and Comoros is working hard to spread the word on the advantages we offer such as the five-year tax exemption. There is a chamber of commerce on each of our islands which will find foreign investors a local partner to work with.
Can you tell us about the resources in Comoros that are attracting outside investors?
Now they are investing in solar energy, tourism, health and educa tion. The Comoros government is prioritising investment in housing, energy tourism, health and the foreign interest is growing in these four sectors. This is important to an island state like Comoros that must import a lot of its staple food supplies such as rice and meat.
Comoros is a fertile archipelago. What are some of the crops culti vated here?
We grow maize, wheat, coconut, tropical fruits and many other vegetables.
When was Comoros consulate established in Tanzania?
We opened the Comorian consu late in Tanzania in January 2014 – a bit late compared to other nations. We have historical relations with neighbouring Tanzania by blood and geography, and Tanzania played an important role in the independence of Comoros in 1957.
Relations between the two countries are strong, something which the regular Air Tanzania flights between Dar es Salaam and Moroni is helping to maintain.
What advice would you give those people considering investing in Comoros?
The country needs foreign investors in its energy, health and hospitality sectors. They should come here to visit and experience the good times on offer. It is safe and easy to travel here. Your visa can be sorted on arrival, and you'll find our islands are welcoming, peaceful clean. Doing business here is very safe.
We have also introduced a digital banking system, having done the same with our health and educa tion systems. These are positive changes and improve the environ ment for investors.
airtanzania.co.tz / 39
/ Business opportunities
The harbour at Moroni, the capital of Grande Comore
Altrendo
Images / Shutterstock.com
A creamy karanga soup to savour
With Air Tanzania launching direct flights to the Ghanaian capital Accra before the end of the year, it seems fitting that Belinda Mkony, Twiga's culinary columnist, has chosen a West African classic, peanut soup, as this issue's recipe. Of course, Belinda – who brands herself the 'rebel cook' – has given the dish her own unique twist.
Peanut butter soup has its origins in West Africa – in Ghana it is known as Nkatenkwan in the Akan language – but karanga (peanuts in Swahili) are also in plentiful supply in the east of the continent and this recipe fuses it with elements of a creamy coconut chicken stew widely enjoyed by Tanzanians, (especially by the Nywamwezi and Sukuma tribes).
Karanga is a popular ingredient in our culture and is used in everything from savoury sauces to sweet treats. With the abundance of local industries producing super creamy peanut butter (please buy local) this recipe is a must try. It's delicious and calls for coconut. Serve it with a selection of vegetables and ugali mlaini along with some rice or a chapati. Believe me, this soup hits you from the first spoonful. If you're looking for a delicious and easy one pot meal, step this way.
40 / Twiga
Cooking with Belinda Mkony
Ingredients
6 1 tablespoon extra virgin olive oil
6 2 red onions peeled
6 3 cloves garlic peeled and roughly chopped
6 2 pieces of ginger peeled and roughly chopped
6 1 teaspoon ground paprika
6 1 teaspoon Tropical Chicken Masala spice
6 1 teaspoon coriander powder
6 1 teaspoon chili powder
6 1 teaspoon curry powder
6 1 tablespoon of Royco Chicken
Powder
6 1 tablespoon of tomato paste
6 1 litre low sodium chicken broth
6 2 whole ripe plum tomatoes
6 5 or 6 okras, cut off their top and bottom
6 5 to 6 peeled baby onions
6 65g roughly chopped cilantro (coriander)
6 1 tablespoon brown sugar
6 3 whole habanero / Scotch bonnet chillies, peppers
6 1½ teaspoons salt more to taste
6 ½ teaspoon freshly ground black pepper
6 ¾ cup peanut butter
6 1 can light/freshly grated coconut milk
6 2 pieces of chicken thighs or any part of the chicken.
6 Finely chopped fresh cilantro (coriander) for topping
6 cooked jasmine rice for topping (I use 125g per serving)/or ugali mlaini.
Method
1. Marinade your chicken pieces with paprika, cilantro/coriander, chicken masala, grated garlic, salt and pepper. This should preferably be done overnight to ensure maximum depth of flavor.
2. Heat oil over medium heat in a large stockpot or dutch oven. Add your chicken to brown. Cover with the stock or water and add two whole peeled onions, whole tomatoes, ginger, garlic, Scotch bonnet chillies, curry powder, salt and pepper. Bring to the boil, then reduce the heat and simmer over a medium heat for 25 minutes until the chicken juices run clear, skimming off any froth that rises to the surface.
3. To make the spicy peanut butter blend.
4. In a blender add peanut butter paste, fresh tomato, one whole
onion, ginger and garlic, salt and pepper.
5. Add coconut milk to blend everything together until smooth. Transfer the contents to a saucepan and place on a medium heat. Use a whisk to make sure everything has combined well while giving the mixture a stir every 15 minutes. Cook it gently for 30 to 45 minutes, stirring continually until it becomes an oily paste. Add the chicken stock/coconut milk to the peanut paste and mix well.
6. Combine the tomato paste. Using a fine strainer, pass the spicy peanut mixture into a saucepan and place on medium heat. Soup
7. Remove the tomatoes, onion and Scotch bonnet peppers and place in a blender as you add the
remaining chicken stock and Royco mchuzi. Blend to a smooth consistency.
8. Return the blended mixture to the large stockpot with the chicken. Cook the soup gently over a medium heat for another 10 minutes. Add the steamed okra and baby onions.
9. To serve: Scoop three ladles of the peanut butter soup into a bowl, add your ugali/rice and some chicken pieces. Garnish with cilantro/ coriander leaves.
FOLLOW BELINDA
To keep up with her latest recipes and events, visit Fork.Ur.Munchies on Instagram
airtanzania.co.tz / 41
All images courtesy of Belinda Mkony / Cooking with Belinda Mkony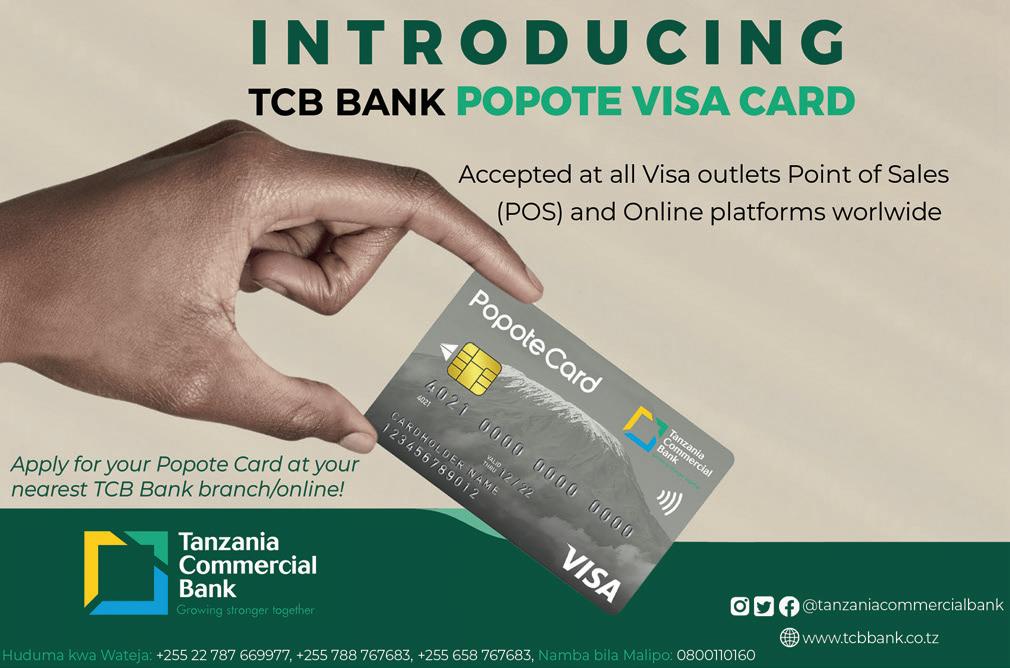 Kids' fun and puzzles
WORD SEARCH FROM THE BAKERY
SPOT THE DIFFERENCE
Find the five differences between the two groups of fruit below


DOT TO DOT
MUFFIN DONUT BAGUETTE SLICE COOKIE LOAF CROISSANT CRACKER BREAD
Follow the dots to finish the image and see what sea creature is hiding below
airtanzania.co.tz / 43
MEN, WHAT DO YOUR SHOES SAY ABOUT YOU?
We know you shouldn't judge a book by its cover, but appraising a person on their choice of footwear, well, that's different. Twiga speaks to Atuza Nkurlu, founder of designer shoe store Atuza in Dar es Salaam, about how what you wear on your feet on a daily basis can reveal a lot about who you are and your overall style.
Oxfords
These classic shoes are characterised by the shoelace eyelets under the upper part of the shoe; a design feature that allows the leather upper to close tightly to the foot, giving a slim fit. The name was first coined in the 18th century when they the shoes were popular with students from Oxford, home to the UK's oldest university.
In the unspoken language of footwear, a pair of Oxfords tell people that you are a professional and all business. If you want to appear intelligent, mature, handsome, and confident, these are the shoes to go for. They might not be the most comfort able shoes you own, but sometimes pain is gain.
Atuza says: "The Oxford man appreciates tradition and quality. He is confident and focused on details."
Loafers
In the early 20th Century US travellers to Europe returned raving about a super comfortable slip-on shoe worn by Norwegian fishermen. The Spaulding family in New Hampshire started making shoes based on this design in the early 1930s, naming them loafers, a general term for slip-on shoes which is still in use in America.
If you wear a pair of loafers, you are all about being comfortable and casual while still remaining stylish. Loafers will coordinate with just about any casual outfit and are ideal if you don't want to stand out from the crowd, but don't want to be considered boring.
Atuza says: "You are all about being comfortable, casual but also remaining considerably stylish."
Chelsea Boots
This boot dates back to the 19th Century England when it was popular among men and women. There was a second wave of popularity in the UK in the 1960s when they were associated with the 'Swinging Sixties' of fashion and music in London. This is how the name Chelsea – one of the UK capital's coolest neighbourhoods at the time – became attached to the boot.
The boots are a sleek, modern footwear option. They look good paired with a suit, but also give you that arty, rebellious vibe with a pair of boot-cut jeans.
Atuza says: "You have a strong sense of what your personal style is. Confident and know what you want."
44 / Twiga Shoe guide
Brogues
Broguing is the term used to describe the pattern of holes that marks the outer leather of shoes. They originated in the reliably rainy Scotland and Ireland with the perforations allowing water to escape the leather. Today, the perforations are purely decorative.
There is a lot of detail and attention that goes into making a good pair of brogues so if you have got a pair on your feet, you want it to be known that you are a perfectionist. These are bought by men who care about style and are adventurous with it.
Atuza says: "These are a classic, worn by well-groomed types who are believed to be creative minded."
Mules
These backless shoes have a history going back to Ancient Rome, where they were known as mulleus calceus and graced the feet of the three highest magistrates. However, they became far more widely popular in sixteenth-cen tury Europe where they were worn as bedroom slippers. The backless option is enjoying a renaissance today with men keen to air out their ankles in style and they are as popular in the boardrooms as they are on the beach.
Atuza says: "Stylish and contemporary, not for the ordinary people. You can tell how easy-going he is just by looking at his shoes. These people are calm and composed."
Patent Oxfords
A glossy update of the classic Oxford with the leather finished with chemicals to give it a shiny, reflective surface. They are usually black and are perfect for events when you need to dress up.
Atuza says: "For people who want to stand out of the crowd. Normally worn in black tie events and weddings."
Sliders
If you are flip-flopping on what is the best sandal if you want to remain stylish, sliders are probably the coolest option. Pairing them with white socks is an enduring look with roots in the hip-hop scene. It is fast becoming a style staple whether you are chilling with friends or out and about in town.
Atuza says: "Light and comfortable for the laid-back vibe type of people. Sliders buyers are usually trend followers."
ATUZA
All these styles of shoes are available in a range of colours at Atuza in Rose Garden Road, Mikocheni, in Dar es Salaam. Call +255 784 436 380 for details or visit the Instagram page @atuza_
airtanzania.co.tz / 45
/ Shoe guide
Living in a vital, modern city like LONDON IS INCREDIBLY EXCITING
46 / Twiga
Ian Iqbal Rashid
/ Ian Iqbal Rashid
With Air Tanzania getting closer to securing its first flights to London we thought we'd speak to a Tanzanian who knows the UK capital well. Born in Dar es Salaam, filmmaker, poet and screenwriter Ian Iqbal Rashid now shares his time between Canada and UK, but it is London he still calls home and where he developed much of his award-winning work such as television series This Life and feature films How She Move and Touch of Pink. Here the 53-year-old talks about his first impressions of the city, how it supported his creativity and his favourite places to visit.
Q. You left Dar es Salaam as a young boy. What are your memories of the city, and have you had many opportunities to return?
A. My family left in the 1970s when I was very young, but I retain some very vivid memories: Upanga, where my grandparents lived; the harbour in front of the Aga Khan Hospital where I was born; the lot across Diamond Jubilee Hall where my father built a house; the beaches of Oyster Bay; and eating street mishkaki after watching Hindi films at the Odeon cinema.
I've only been back to Dar once. About 20 years ago, my brother was working for the World Health Organization (he's a doctor specialising in refugee care) on a project based in Pemba. Our family rendezvoused in Dar es Salaam and then went onto Zanzibar, where my father's side of the family is from. (One of my early short films, Surviving Sabu, screened at the Zanzibar International Film Festival and won an award three – but unfortunately, I was in production elsewhere and couldn't attend.)
Q. What did your parents do in Dar?
A. My father was manager for the Dar es Salaam branch of the National Bank of Tanzania. My mother worked as an administrative assistant at DeLeuw Cather & Associates, a US engineering firm.
Q. Your family left Tanzania when you were young. Had life become difficult for them as Indians in post-independence Tanzania? What is the story of why they left?
A. Yes, things became difficult for people of South Asian ancestry in post-independence East Africa. While my father was very sympa thetic to the African independence project, he feared that there would be few prospects for my brother and me. His own job was in jeopardy and there were increasing incidences of violence against South Asians. After Idi Amin expelled Asians from nearby Uganda, my father decided it was time for us to leave. We managed to secure tourist visas to the UK and left with just a suitcase and the small amount of money we were allowed. When we arrived in London, we sought asylum. But even as British subjects, we were denied the right to remain and eventually continued on to Canada, where I grew up.
Q. What were your first impressions of the UK as a young boy?
A. I remember thick fog – though I can't be certain if those were just memories from old movies or actual experiences. We lived in Earl's Court in a rooming house and were surrounded by people from all over the world: Aussies, families from the Caribbean, and fellow East African Asians.
Specific memories include [waxwork museum] Madame Tussauds, which fascinated me even though I didn't know any of the celebrities on display. And the pedal boats in Battersea Park. I remember loving to travel on the old Routemaster buses, and in the clamour of the Underground.
Q. How do you think life in London has contributed to your creativity?
A. Colonisation has a long, deep reach. In spite of my family's scarred colonial history (ancestrally in India; and in East Africa during my own lifetime) I think I've always been fascinated by British culture, and recognise myself within in. I grew up mainlining novels by UK writers, and old British cinema.
Since moving to London, I've worked primarily as screen writer. I think the quality and craft of writing in the screen industries is incredibly
airtanzania.co.tz / 47
/ Ian Iqbal Rashid
high – and I've been inspired by my cohort and colleagues over the years to do and be better.
Q. You were selected for the BBC's Black Screen writers' internship. How important was this and who would you also credit for encouraging and developing your craft?
A. BBC's Black Screen was the first scheme to recognise my screenwrit ing ability. They were also interested in telling stories by non-white writers with immigrant ancestry – which was very rare for the time.
I've also worked regularly with Sienna Films in Canada – now called Sphere. We've partnered on a few projects – usually UK/Canada co-productions – over the years and I'm currently working with them on the TV series Sort Of, which just won America's prestigious Peabody Award.
Q. What is it about the energy of London that distinguishes it from other capitals you have visited?
A. I think London is invested with an understanding of its own history unlike some other capital cities. The past always seems to be present, which makes the experience of living here even richer. Having said that, young people from all over the world continually gravitate here, renewing its vitality and modernity – and relevance as a cultural capital. The tension between past and present is palpable and makes living here incredibly exciting.
Q. London is a big city with neighbourhoods that have their own distinct character. Which neighbourhoods do you most frequent and why?
A. I've become a loyal South Londoner. I live on the border of Camberwell and Peckham and love the mix of cultures and generations there. There's a high concentration of artists and students. I love the energy of south-east London – and the food and art scenes.
Q. London is a cosmopolitan city and you settled here from abroad. Is that part of its appeal?
A. I think the history of colonialism – in spite of its problematic history – is responsible for my fascination with London. That and the city's mix of peoples and cultures. I have never been interested in living in any other part of the UK: it's always been London for me.
Q. What is your favourite place to eat out in the city?
A. Nandine [Nandine.co.uk] is a restaurant and café, both very close to my home. The owners are Kurdish, formerly refugees, and the food is authentic, complex, sophisticated, and so delicious. The décor is warm, welcoming, simple, and modern. The success and skills represented by this restaurant are a wonderful expression of the things I love I best about this city.
Q. London is a bustling city, but if you wanted to quiet time in a natural environment where would you go?
A. London is filled with parks. Most neighbourhoods have several – small if not large. Hampstead Heath in North London is vast and beautiful. Regent's Park has a particular romance. Closer to my home, the recently revitalized Burgess Park is a lovely communal space.
48 / Twiga
Young people from all over the world continually gravitate here, renewing its vitality and modernity –and relevance as a cultural capital
An alley of trees at Regents Park
Q. What is your favourite view in the city?
A. I love the views from Waterloo Bridge. So much of what is iconic in London – old and new – is visible from there.
Q. London is packed with museums. Which is your favourite to visit?
A. I love the Victoria and Albert Museum – which celebrates decora tive arts and design – not least of all for its fabulous gift shop!
Q. Is there a place in London that few of the travel guides mention, but you think is worth experiencing?
A. Columbia Road Flower Market on a Sunday is fun. After enjoying the amazing display of flowers and plants, I stroll down to Brick Lane to check out the markets there. And have a salt beef bagel or some good Bangladeshi food along the way…
Q. You spend a lot of time in Canada now. What do you miss about London?
A. So many talented people who work in the arts find their way to
London and it's a privilege to call many of them my friends. But I've been disheartened by Brexit. So many people that made London a special place for me have left – both immigrant and indigenous friends. It feels as if the country – and city – are losing its greatest assets sadly: the people that connect it to the rest of the world and a welcoming, outward facing sensibility.
Q. Where do you go in London to spoil yourself?
A. I'm a foodie so I'd probably treat myself to one of the many great fine-dining Indian restaurants in central London: Gymkhana, Benares, and especially Trishna, which riffs off of Gujarati cuisine. My great grandparents came from Gujarat, so the food is both familiar and special.
Q. What projects are you working on at the moment?
A. I'm working on is a UK-Canada co-production that is reinventing the tales from 1001 Nights in a modern setting. It features moments set in East Africa, as well as the UK and Canada: the geography of my life…
airtanzania.co.tz / 49 / Ian Iqbal Rashid
Food stalls on the Borough Market in Southwark, central London
andreyspb21 / Shutterstock.com
The modern significance of data protection and privacy
In our modern digital world data protection has become more important than ever. Here, Dar es Salaam law firm Victory Attorneys reveals the extent of legislation in Tanzania that is in place to protect your privacy.
TThe globe is moving at pace into a digital era whereby government activities, commerce, social engagement and political activities are all being carried out through online platforms. This means an enormous amount of data is being generated through e-government systems (such as e-passport, e-permit or e-health), e-commerce and social media engagement.
The growth and use of these online platforms have made data a big asset with high value in the digital economy. This raises deep concerns about how personal data is being handled from when it is collected, stored, processed, transferred, managed through to being disposed of.
The right of privacy
Emerging technologies such as arti ficial intelligence and big data are designed with the use of data in mind. This has made data protection laws more important today than ever, and people are highly concerned with data
protection and privacy issues. The terms data protection and privacy are usually used synonymously as they are interre lated however the two are not the same. Privacy is a right of a person over their information and freedom from intrusion or interference of the information. Data protection is generally a legal mechanism that aims to avoid intrusion into one's privacy caused by the collection, storage and dissemination of data thereby ensur ing that a person's privacy is observed.
Need for data protection
The absence of a data protection law denies citizens from certain rights such as the right to rectification, right to access, right to erasure, right to data portability and enables different actors to unlawfully process personal data, conduct surveil lance, targeted advertisement, spread misinformation as well as undermine privacy-related rights.
The above concerns are what neces sitate the need to have a data pro tection framework and mechanisms.
The enactment of legislation on data protection creates safe cyberspaces, safeguards digital rights and ensures that data collection or processing is done with due respect to people's privacy.
The absence of specific legislation on data protection is hindering digital growth in Tanzania. The general pro tection from the constitution or other pieces of legislation are inadequate in the increased evolution of data and their values. Consequently, data protection regulations, institutional frameworks and protection mechanisms must be put in place to empower data subjects, restrict unlawful processing, restrain damag ing practices, safeguard the rights and dignity of persons. Without these legal protections and procedural safeguards in place, it is difficult to control and govern how personal data are being collected, processed, used and stored.
You can call Victory Attorneys & Consultants on +255 752 089 685 or email info@victoryattorneys.co.tz.
airtanzania.co.tz / 51 Legal eye
TRAVEL IN STYLE on air, sea and land in Tanzania
Want to explore Dar es Salaam in style? Luxe By Elle is a Tanzanian company that creates tailor-made travel experiences for its clientele and here its founder, Julda Makundi, suggests three modes of exclusive transport that each give you an unforgettable perspective on the country's commercial capital.
There are three things my clients value most of all – exclusivity, privacy and quality. Luxe By Elle give them this luxury trifecta whether we are organising a flight to catch, a ferry trip, a hotel booking, car rentals, chauffeur services, a private yacht charter or a helicopter ride.
It is challenging to meet such exacting requirements, but I enjoy every moment of it. Problem solving is in my DNA and I decided to make a business out of it. I got my masters degree in communications, fashion and travel and set about building a brand that was a watchword for integrity and luxury. It's a demanding, highly pressured job but when your satisfied customers keep coming back, you know it's all worth it. Let me present to you three ways to travel in style in Dar es Salaam. All are available through Luxe By Elle.
Helicopter ride
A helicopter ride takes sightseeing to new heights and is a unique way to experience the beauty of this country. We work with Tanzanian company VIII Aviation, which is re nowned for its safety and expertise. It has a fleet of modern helicopters to fly leisure and business travellers
across the country. We offer heli copter flights over Dar es Salaam and Zanzibar. Also popular are flights to sand bank islands in the Indian Ocean in which the pilot land on the sand and waits for you while you swim and enjoy a picnic on your own private beach paradise. The flights can accommodate up to four passen gers. For more details on the fleet and excursions, visit viiiaviation.com
Yacht charter
Hiring your own yacht simply screams sophistication and luxury. It is as exclusive as it is liberating as you and a select group of friends take to the Indian Ocean on a crewed yacht mooring wherever the mood takes you for the opportunity to dive into the crystal-clear waters. Luxe By Elle takes care of all the catering so you can wine and dine as you take in the Dar coastline in glamour. I work with a lot of international musicians who come to Tanzania to play concerts and they love the yacht trips to wind down after a show and enjoy private time with their friends. Early this year, we entertained Nigerian artist Adekunle Gold on his East African tour. We organised a private yacht party for him, and his team and it was a blast.
Chauffeur-driven limousine
Let's face it, navigating the traf fic-clogged streets of Dar es Salaam, can be a stressful experience, even if you are just the passenger. So, instead why not let one of our welltrained chauffeurs focus on roads they know very well while you stretch out in the plush, leather seats and enjoy the ride. Whether it's an airport pick-up, a lift to an event or the drive is the event itself you'll feel like a true VIP taking in Dar es Salaam through tinted windows.
For more information on Luxe By Elle, visit @luxe.by_elle on Instagram
52 / Twiga Luxury travel
Travel in style with a chauffeur-driven vehicle
Curator of luxury experiences – Luxe By Elle founder Julda Makundi
I work with a lot of international musicians [such as Nigerian star Adekunle Gold, left] who come to Tanzania to play concerts and they love the yacht trips to wind down after a show and enjoy private time with their entourage
airtanzania.co.tz / 53 / Luxury travel
Faysal's blog
A Swahili wedding to remember
Faysal Alao is a vlogger and tour operator from Tanzania living in Arusha. He uploads regular videos about his experiences and everyday lifestyle on his YouTube channel, 'Lifestyle of Faysal'. You can also keep up with him on Snapchat @faysal_alao and Instagram @callmefays
I wasn't convinced that wedding customs and traditions vary that greatly between countries, cultures, and religions until I attended celebrations in Buza – a district in southern Dar es Salaam. Even though most people here in Tanzania have adopted the traditional Western customs of wearing a white wedding dress and a veil, a typical coastal Swahili wedding is a far more colourful affair of dance and music in which guests get an authentic taste of local culture.
The wedding was held on a Friday and the day started with bright sunshine. My friend came by on the way to the wedding and asked me to accompany him as his guest.
We took a bus from the place I was staying and upon arrival at the bus station close to the venue, we joined a convoy of other invited guests all travelling by boda boda – local taxi motorbikes. In contrast to other weddings I have attended, guests here – both men and women – made their way to the house of the bride's family for the ceremony. I saw a group of girls with matching outfits carrying presents for the bride which they referred to as 'Kombe'. When I asked them why they were all wearing the same clothes, they said they each represent the close relationship they have with the bride. They also explained how important it was for them to spend a huge amount on the presents because, according to their custom, people in the area need to ac knowledge how much they have spent for the bride.
The wedding began with the vows being taken and witnessed by very close friends and relatives. While I was outside, I saw the crowd going crazy celebrating by blowing trumpets, singing, dancing wild and even the boda boda guys drifting their bikes on the streets. Fresh Swahili food from biriani rice to samosas and kebabs, was served and later on, the newly-weds took to the streets to be greeted with flags to continue the celebrations. It was my first time ever seeing anything of this sort and when I got back home, I really had a day to remember.
Sound and vision
Mark Edwards rounds up the latest releases to stream, screen and read
MUSIC REVIEWS
JOHN BLAQ / Chai Mata
The Ugandan dancehall singer, who recently teamed up with Rwandan artist Bwiza on the track 'Ready', returns with his own romantic jam with a title that loosely translates from the Luganda language as 'milk tea'. The 26-year-old – born John Kasadah – is not praising the merits of a good 'cuppa' here, but rather showing some sugar to the 'light skinned' love of his life. The results of this loved-up dance track are super sweet. Check out the official video filmed at The Slipway Hotel in Dar es Salaam.
FILM REVIEWS
BEAST / Director: Baltasar Kormákur
Idris Elba plays a widowed father who hopes a holiday in a South African national park will give him the chance to reconnect with his still-mourning teenage daughters. The trio hope to spot some spectacular wildlife, but they are not expecting running into a truly enormous lion on a venge ful killing spree. More 'Claws' than 'Jaws', this animal action thriller is full of popcorn-flinging shocks interspersed with some majestic savannah scenery.
BOOK REVIEWS
MY LIFE AS A CHAMELEON / Diana Anyakwo
When 15-year-old Lily is sent home from her home in Lagos, Nigeria, and transferred to new school and a new family in England, she sees it as a chance for a new start as the happy, popular girl she has always dreamed of being. The reality, though, is quite different with mixed-race Lily struggling to fit in. She realises she may have to draw on the strength she showed in her traumatic early years to get through this new stage in her life. This debut novel from Nigerian-Irish author Anyakwo is a powerful examination of family and finding your place in the world.
54 / Twiga
FATHERMOH featuring Shekina Karen / Dai Dai
This two-handed rap row featuring Kenyan artists Fathermoh and Shekina Karen has become an internet sensation, spawning its own challenge with Tiktokkers miming either the male or female half of the track's quick-fire lyrics. That the track has captured people's imaginations is no surprise. While it spicily documents an argument between a mistrustful male and his free-spirited lover, the lasting message is of the need for trust and respect in a relationship. This is a track that shows the depth of the Kenya's Gengetone genre of Swahili rap of which Fathermoh, as a solo star and part of Nairobi trio Mbuzi Gang, is a leading light.
EK VILLAIN RETURNS / Director: Mohit Suri
The 2004 Mumbai-set thriller Ek Villain gets a sequel and once again a serial killer is reigning terror on the city. The new killer even seems to be mimicking the notorious Ek Villain by using a Smiley Mask to cover his identity and similarly appears driven by vengeance for a lost love. He's not the only one tor mented by romantic complications with the film's quartet of photogenic leads Disha Patani, John Abraham, Tara Sutaria and Arjun Kapoor turning up the heat in their scenes together.
THE HOUSE OF RUST / Khadija Abdalla Bajaber
This debut novel by Mombasa-born poet and novelist Bajaber was selected as the inaugural winner of the Graywold Press African Prize. The coming-of-age story centres on Aisha, a young girl who sets out to sea in search for her fisherman father. There are magical elements with Aisha setting sale on a boat made from a skeleton and accompanied by a talking scholar's cat – joined later by crows, goats and other animals, who all have plenty to say. Bajaber, like her heroine, is of Hadhrami descent and the fabulous tale is told through the lens of the diasporic Arab ethnic group.
Arts column
When the artist becomes the art
By Rebecca Mzengi Corey, the director of Nafasi Arts Space in Dar es Salaam and Twiga's arts columnist. You can visit Nafasi Art Space online at www.nafasiartspace.org and instagram @nafasiartspace.
I know that not everybody 'gets' performance art. After all, it can be quite tricky to pin down, drawing on acting, poetry, music, dance and painting. Then there is the fact that there is no permanent artwork to judge. Instead, it exists in the moment as a live event presented to an audience or to onlookers.
In my opinion, this last point gives performance art a magic all its own and here I'd like to try to sway you into experiencing some in Tanzania. Recently, some of the Nafasi Academy students put on performance art pieces in two public spaces in Dar es Salaam. They were a huge success and drew curious crowds in the city.
This is what I love about the art form. Dar residents who were lucky enough to be walking by at the time were witnesses to a true work of performance art. We filmed the event, but those who watch the footage are just seeing the leftovers, as impressive as they may be.
I am sure there were many at the Dar events who were not sure of quite what was going on at first, but I hope that once they gave it a chance, they found it fascinating. Performance art breaks down the barriers between art and artist to engage time and space in innovative ways.
In doing so, the art form raises important questions that emphasise the need for the audience to self-reflect and think about their own assumptions, habits, and behaviours – as well as provoking conversations on human nature itself. Look out for more Nafasi events on the streets of Dar.
I am also delighted to announce that Nafasi Art Space's hugely popular arts festival Wikiendi is back after a two-year Covid break. Come see us for an all-day celebration of music, art and performance on December 3.
airtanzania.co.tz / 55
Business column
How to deal with unruly customers
Charles Joseph Nyahucho shares life lessons gleaned from his many years of experience in supporting business undertakings as a trained accountant and business analyst. Here he offers tips on dealing with an unruly customer.
Iam of the belief that every working comes with a new lesson to learn and many opportunities to cater for my customer needs, wants and fears.
My mind goes back to an afternoon when three visitors – a lady and two men – approached my office. The conversation went something like this:
Rhobi: Hello, welcome, how can I serve you?
Andre: We booked two tickets for the route from Dar es Salaam to Arusha and purchased them using my credit card before the travel date. However, we then changed the tickets to the Kilimanjaro to Zanzibar route. The Internet booking Engine (IBE) shows that there should be a refund of US$ 67 for each ticket. I sent a number of emails to try and resolve this, but each was in vain.
Rhobi: OK. My colleague Lil will take a look at it.
Ten minutes later, Lil gave me her feed back and I was able to update Andre and his two companions.
Rhobi: Andre when you modified the tickets, the IBE in the backend cancelled the unused travel segment and used the residual amount (shown as the amount to be refunded) to purchase the new ticket. In the pursuit of yield management, the price of the new ticket must be higher class. The residual amount – US$ 67 in your case –funded the change of your reservation and the fare class difference.
Andre: I still don't understand. The amount I paid for first flight is higher than the cost of the second one so I would ap preciate my refund now.
After another 15 minutes of discussion, I proposed: "Give me an hour to write an official response on this case." As I left the office to do just that, Andre shouted an expletive at me.
"Is that for me," I asked. Andre says it was.
I reported the incident to security offi cials and when I came back to our offices, I bumped into Andre getting into an Uber.
Andre recognised me and apologised for his language earlier.
That evening after office hours, I picked up Mariana, my best friend, drove her back home.
During the journey, I shared the earlier incident with Andre. Once I was finished, I was surprised by her response. "The cus tomer always has the right to be resilient," she said.
The response prompted me to consider how someone in my position should also stay resilient amid such treatment. I came up with five facts that will serve well anyone working on a customer care desk.
1. Principal – Agency relationship
When working in customer care don't forget you are represent ing the image of the business you work for. It doesn't matter how bad customers' behaviour may be, you have to remain resilient.
2. Don't take it personally
On the customer care desk, you are going to at some time be dealing with customers who are not accustomed to your identity, social class and your emotional status. Don't be offended, they are not personal attacks.
3. What the customer needs is a solution
Take time to listen to and appre ciate the wants, needs and fears of the customer. This will help you identify what your custom er's primary interest is and work towards providing a solution.
4. You are there as a problem solver
Working in customer care, you are trained, trusted and categorised as a problem solver so remember never to appor tion blame to customers even if there is reason to do so. You are there to provide comfort, encouragment and advice on the issues raised.
5. If you can't offer a solution, escalate
If you feel the situation falls beyond your pay grade and capacity, remember you are not the only fish in the ocean. Consult the advice of others. Escalate.
airtanzania.co.tz / 57
Sign up to Twiga Miles now and get 1,000 free points!
There's never been a better time to take advantage of Twiga Miles, Air Tanzania's loyalty programme, with all new members who sign up before May 19 this year getting a welcome pack of 1,000 points as soon as they take their first flight.
And that's just the beginning of your savings as every subsequent flight you take will earn you more points, which can all be redeemed towards future free flights across Air Tanzania's domestic and international network of destinations. The amount of points you will earn depends on your ticket type, fare class and destination.
As a Twiga Miles member each flight you take will also help you climb through the ranks of our tier system. With each tier upgrade, you'll get access to even more varied and valuable benefits.
So, what are you waiting for? Sign up at www.airtanzania.co.tz now.
FAQS
How do I enrol? Visit airtanzania.co.tz or contact our call centre on 0800 110 045
Will I get a membership card?
Cards will be issued to Silver Selous and Gold Serengeti members.
How long does it take for my points to be transferred to my account? Your points will have been transferred
Member Benefits
BLUE
SILVER SELOUS
Start earning points towards a free flight with Air Tanzania.
Members will earn 25% more points than Blue members on each flight they take.
Free extra 5kg baggage allowance on domestic flights
Priority check-in at Dar, Kilimanjaro and Zanzibar airports
Priority membership baggage tags that ensure your bags are first on conveyor belt at your destination
GOLD SERENGETI
Members will earn 50% more points than Blue members on each flight they take.
Free extra 10kg baggage allowance on domestic flights
Priority check-in at Dar, Kilimanjaro and Zanzibar airports
Priority membership baggage tags that ensure your bags are first on conveyor belt at your destination
to your account no later than 72 hours following your flight.
How long do my points remain valid? Until the end of the third calendar year following the date you earned them. For example, points earned in June 2021 remain valid till the end of 2024.
How can I spend my points? You can spend your points by clicking
on "Use My Points to Buy" section under the payment options tab for the tickets you are going to buy on our website at www.airtanzania.co.tz
Twiga Miles is only for passengers aged 18 and above. The scheme applies to all Air Tanzania destinations. Air Tanzania reserves the right to amend the terms and conditions of the campaign. All users participating in the campaign are deemed to have read and accepted these rules.
airtanzania.co.tz / 59
Travel information
Before take-off
Taking your first flight is certainly exciting, but can also become a source of stress for those who are unfamiliar with the rules, procedures and customs of flying. To prepare yourself for your first flight, it is therefore important to get information on everything you need to do before and during your journey. Here is a useful pre-departure checklist.
1 Before departing, it is important to check the air line's website for its hand luggage rules: weight, sizes and types of objects you can take on board. For example, as regards liquids, you are advised to carry these in your hand luggage, only in transparent, reseal able, plastic containers, not exceeding 100 ml. In this section, you will find information regarding the hand luggage permitted on your flights; if you have connec tion flights, we advise that you also check the websites of other airlines.
2 Arriving at the airport in advance (at least two hours for domestic flights and three hours for international flights)
will enable you to check in and board your flight calmly, without anxiety and without unexpected last-minute issues.
3 Check in online, if possible. If travelling with hand luggage alone, you can check in online and print or download your boarding pass which you must take with you directly to security checks. This will enable you to save precious time once at the airport and to go to the gate calmly. For further information, please visit the dedicated page.
4 Set your mobile to flight mode, as well as other devices connected to the internet that you are taking on board.
Cabin crew will remind you of this step before take-off. With flight mode set, you can still take photos of your unforgettable journey and you can also enjoy the in-flight entertainment system! To find out more, please visit the dedicated section.
5 If you suffer from motion sickness… you will only find out about it during your first flight! To prevent sickness from ruining your first flight on a plane, we advise you to take natural rem edies, such as, for example, ginger tablets or gum to chew. Ginger is believed to have a anti-nausea properties. Otherwise, ask your doctor to prescribe you antihista mines with a sedative effect.
6 Enjoy the view! By choosing a seat near the window, you will see breath-taking landscapes and you can take photos of the exquisite white clouds you will be flying above.
7 Try to take a nap. Sleeping on the plane will make time pass faster and you will arrive at your destination calm and rested.
8 Lastly, especially during take-off and landing, the change in pressure inside the cabin may cause discomfort in your ears. To prevent this discom fort, you are advised to stay awake during these manoeuvres and to chew gum or wear earplugs.
AIR TANZANIA FLEET
National carrier Air Tanzania is justifiably proud of its revamped six-strong fleet. Here we take a close-up look at our aircraft with technical data and specifications.
DE HAVILLAND CANADA DASH 8-Q400
Number of aircraft available: 5 De Havilland Canada
Seat capacity: (3 De Havilland Canada) Business Class 6, Economy 70, (1 De Havilland Canada)
Business class 10, Economy 68
Number of flight-deck crew: 2 Range: 2,063 km (1,362 Nm)
Typical cruising speed: up to 360 knots (414 mph or 667 km/hr)
Wingspan: 93 ft 3 in (28.4 m)
Length: 107 ft 9 in (32.8 m)
AIRBUS 220-300 (CS300)
Number of aircraft available: 4
Seat capacity: Business Class 12 and 120 Economy Class
Number of flight-deck crew: 2
Range: 6,112 km (3,300 Nm)
Typical cruising speed: 470 knots (541 mph or 871 km/hr)
Thrust per engine at sea level: 23,300 lbf / 103.6 kN
Wingspan: 115 ft 1 in (35.1 m)
Length: 127 ft (38.7 m)
Interior cabin width: 129 inches (3.28 m)
BOEING 787-8 DREAMLINER
Number of aircraft available: 2
Seat capacity: Business Class 22 and 240 Economy Class
Number of flight-deck crew: 2
Range: 13,621 km (7,355 Nm)
Typical cruising speed: 488 knots (561 mph or 903 km/hr)
Thrust per engine at sea level: 64,000 lbf / 280 kN
Wingspan: 197 ft 3 in (60.12 m)
Length: 186 ft 1 in (56.72 m)
Interior cabin width: 18 ft 0 inch (5.49 m)
60 / Twiga
FREE BAGGAGE ALLOWANCE
Air Tanzania has a free allowance for passengers' baggage across economy and business class. For full details and rates please see our website www.airtanzania.co.tz or contact booking enquiries 0800 110045
Flying between
- AFRICA
- TANZANIA
- INDIA
- AFRICA
hours ahead of your flight time for domestic flights and three hours for international flights.
Family travel
Fares for infants and children
Passports and visas
A valid passport or travel document that is valid for at least six months is required to enter the United Republic of Tanzania.
Visitors will also require a valid visa upon arrival. There are a range of visas available depending on the nature and frequency of your visits, but a single entry visa can be obtained on arrival in Tanzania subject to the fulfilment of all immigration requirements. There is a US$ 50 charge for the visa.
For a full list of visas available and for countries for which special terms exist, visit the Air Tanzania website.
Check-in Check in online, if possible. If travelling with hand luggage alone, you can check in online and print or download your boarding pass, which you must take with you directly to security checks. You should check in two
As a general rule, children up to two years old are not required to have their own seat and are allowed to travel on parents' lap. An infant tickets costs 10 per cent of the regular fare. Depending on the destination, taxes and fees may apply. Please note that only 1 baby per adult is accepted. You can choose to buy a seat for your baby at the reduced rates for children if any children's rate is applicable.
If your child is older than two years or turns two while you are travel ling, you will have to book a sepa rate seat for him or her and book the children fare for the entire journey. If a child travels with an accompanying adult in the same class of cabin, the child should be seated in the same seat row as the accompanying adult. Where this is not possible, the child should be seated no more than one seat row or aisle away. Reduced rates apply for children aged two to 11 on most routes, depending on the travel class. Children turning 12 years en route need to be booked as adults for the entire journey.
Expectant mothers
Our priority is always your safety and that of your unborn child.
To avoid unnecessary risks to you and your baby, we recommend
allowance
that all expectant mothers consult a doctor before booking their ticket and inquire about their fitness to fly the length of the trip they intend to take.
Depending on the stage and circumstances of your pregnancy, you may be required to present certain medical forms before flying. For your own safety and the well-being of your child, Air Tanzania will not accept expectant mothers who are pregnant from their 34th week or beyond.
UMNR (children travelling alone)
If you're planning for your child to travel alone, we're here to make sure they enjoy their trip and that they are well taken care of throughout their journey.
When you book our unaccom panied minor service, your child will be received at the originating airport, taken care of during transit and while on board the aircraft. He or she will be handed over to the person designated by the parents/ guardians upon arrival at the final destination.
Cost
To avail the unaccompanied minor service, an adult fare needs to be purchased for the child. Please contact us to book the flight and the service.
Infant fare checked baggage allowance
Infants travelling on an infant fare are allowed 10 kg as baggage allowance.
Child fare baggage allowance
Children and infants travelling on a child fare are eligible for the same baggage allowance as adults.
Wheelchairs
If you need wheelchair assistance at the airport, you must advise Air Tanzania of this at the time of booking. You can request wheelchair assistance through our Call Centre or at Air Tanzania Sales offices.
Inflight Wi-Fi
On board Wi-Fi
Enable Wi-Fi on your laptop, tablet or smartphone, and select AirTanzaniaWifi
You will need to launch your web browser, which will display the log-in web portal. From the portal, simply select your preferred price plan.
Portable electronic devices (PEDs) You can use your e-readers, tablets and smartphones from gate to gate – including taxiing, take-off and landing – without a risk to safety.
Note that on-board Wi-Fi is only available on certain aircraft. Please follow cabin crew instructions at all times.
For Booking & Enquiries:
airtanzania.co.tz / 61
0800 110045 www.airtanzania.co.tz
Free
Free allowance COMOROS
30 kg 40 kg TANZANIA
23 kg 30 kg AFRICA
2PC @ 23 kg 3PC @ 23 kg AFRICA
2PC @ 23 kg 3PC @ 23 kg BUSINESSECONOMY
Dar es Salaam Zanzibar Mwanza Geita Kilimanjaro Mbeya Songea Kigoma Dodoma Bukoba Tabora Katavi Arusha Mtwara 62 / Twiga Air Tanzania destinations DISCOVER Domestic and international routes For Booking & Enquiries: 0800 110045 | www.airtanzania.co.tz
airtanzania.co.tz / 63 TANZANIA Mumbai Bujumbura Lusaka Ndola Harare Guangzhou London UGANDA Nairobi KENYA INDIA UK CHINA BURUNDI Lubumbashi DRC KigaliRWANDA ZAMBIA ZIMBABWE Dar es Salaam Dubai UAE Muscat OMAN Dzaoudzi MAYOTTE GomaDRC Johannesburg SOUTH AFRICA Juba SOUTHERN SUDAN Kinshasa DRC Lilon ilon MALAWI Entebbe Entebb Lagos NIGERIA Comoros ilongwe International customers call: +255 222 113 248 Active routes Upcoming routes
WHERE TO CONTACT US
CONTACT CENTRE
Location: ATC House, Ohio Street. Email: contactcentre@airtanzania.co.tz
0800 110045 Toll Free (Tanzania only) Tel: +255 022 212 5221
International customers: +255 222 113 248
AIR TANZANIA CONTACTS
DAR ES SALAAM (HQ)
Location: ATC House, Ohio Street PO Box 543
Office (JNIA) Tel: +255 222 117 500
Email: darairport.station@airtanzania.co.tz
ARUSHA
Location: Old Moshi Road, NSSF Mafao House
Email: arusha.station@airtanzania.co.tz Tel: + 255 272 520 177/ +255 739 787 500
MBEYA
Location: Mbeya Mjini
Email: godfrey.Samanyi@airtanzania.co.tz Mob: 0714 800 080 / 0737 800 090
COMOROS
Location: Immeuble MATELEC Moroni, Grande Comores
Email: com'airgsaatc@gmail.com Tel: +269 3312570 / +269 3322058
BUKOBA
Location: Jamhuri Road, NSSF Building
Email: airtanzaniasalesbukoba@gmail.com Tel: 0767351336 /0735351336
KILIMANJARO
Location: KIA
Email: arusha.station@airtanzania.co.tz
Mob: +255 735 787 249
DODOMA
Location: Hatibu Road, Tofiki Street, CDTF Building  Tel: + 255 262 322 272/ 0735 787 241 (mobile)/ 0683 776 744 (mobile)
Email: dodoma.station@airtanzania.co.tz
MWANZA
Tel: +255 735 787 239/ +255 28 2501059
Email: mwanza.station@airtanzania.co.tz
E-COMMERCE
Location: ATC House, Ohio Street.
Email: tce-commerce@airtanzania.co.tz
For the latest flights, information and to book online, visit: www.airtanzania.co.tz
Follow us on: @AirTanzania @airtanzania airtanzania_atcl Air Tanzania ATCL
TABORA
Email: tabora.station@airtanzania.co.tz
SONGEA
Location: African Benedict Office
Hanga- opposite TRA Songea
Email: songea.station@airtanzania.co.tz Mob: +255 712 796 421
KIGOMA
Location: Lumumba Road, opp. Mambo Leo Pharmacy
Email: kigoma.station@airtanzania.co.tz Mob: +255 742 580 580
IRINGA
Location: Asas House, Dodoma Road, opp. TCC.
Email: Iringa.station@airtanzania.co.tz Mob: +255 753 574 986
ZANZIBAR
Location: Postal Building, Kijangwani
Email: zanzibar.station@airtanzania.co.tz Mob: +255 785 452 585
ZIMBABWE
Location: 24 Shamwari Complex, 157 Sam Nujoma Street, Ext Belgravia, Harare
Email: hresalestc@airtanzania.co.tz
Tel: +263 424 796 286/7 Mob: +263 773 119 462
ZAMBIA
Barnetts Building, Shop 3, Hailie Selasie Avenue, Longacres, Lusaka. Mob: +260 956 610 250
Email: support.lusaka@airtanzania.co.tz
KAMPALA
Location: Park Royal Mall, Room 208, Buganda Road. Email: uganda.station@airtanzania.co.tz
Email: bbesalestc@airtanzania.co.tz Tel: +256 414 289 474 / +256 393 517 145
ENTEBBE
Location: Entebbe International Airport, Room no 095.
Email: uganda.station@airtanzania.co.tz
Email: bbesalestc@airtanzania.co.tz Tel: +256 716 680 250
BURUNDI
Location:  Bujumbura-Mairie, Boulevard de la Liberté, Galerie Alexander, No 10
Email: fantasticvoyage1@gmail.com Tel: +257 610 139 48.
INDIA
Location: Ajanta Travels PVT Ltd, VN Road, Mumbai.
Email: Res.bom@airtanzania.co.in
Tel: +91 224 979 0108/09/ +91 98200 61232 (cargo)/ +91 98193 65286 (reservations)/ +91 740 0084680 (staff airport supervisors)
JOHANNESBURG
Location: West Tower, 2nd Floor, Nelson Mandela Square, Maude Street, Sandown, Gauteng, South Africa 2146
Email: southernafrica@airlinepros.com Tel: +27 11 881 5945 Tel: +27 11 881 5945
NAIROBI
Location: 35 Muthithi Road, Stellato Building, Westlands, Nairobi, Kenya Mob: +254 736 197 197 / +254 732 247 000.
64 / Twiga Air Tanzania contacts