A r t R e v i e w LandEscape
PRIMOST SARA CONDE STEF FRIDAEL ANDRE OZGA
LEE
GOLDBERG
MATSUMOTO
POËTZ STÉPHANE BISSIÈRES ART Anniversary Edition Chronométries live@Toulouse, France. Nov 2014 (c) S.Bissières
EVOS
FLOUNDER
YAEL
RYOTA
HANS-JÜRGEN
Stef Fridael
The Netherlands
My love for beauty comes from living in Canada surrounded by mountains, lakes, sky, fields and forest. Nature inspires me. I love her changing colours, random designs, luminosity and infinite space. My aim as a painter is to capture natural beauty – not by painting landscapes or sunsets; rather by painting the essence of nature using abstract elements of pure colour, light, texture and space. Lightness and darkness mirror who I am. I am both conscious and unconscious. Light and dark are metaphors for ignorance and enlightenment. Light elicits a primordial instinct of survival, safety and hope. Light makes me happy. Light removes fear of the unknown. Darkness is equally profound. Darkness evokes stillness, mystery and timeless infinity. Darkness is the womb of creation. Darkness comforts my eyes and lets me rest. When I paint relationships of light and dark I am expressing my emotional, philosophical and spiritual Truth.
All my creation consists of research and questioning about digital art, scenic art, and representative forms. It is a reflection about our relationship to technology and obsolescence, and about every forms of human hybridization with machine. Interactive design is central in my works, and live improvised performances with machines are intrinsically linked to my approach so the artistic process is directly linked to gestures. I am convinced that at some point in the future the frontier between humanity and « machinity » will be blurred. Questioning the identity of machines is also a reflection about our evolution.
Making art, doing art is like oxygen I can't do without. It ensures the liberation of the mind that a person needs sometimes to function. In my art it's all about the instincts of Living Creatures. Fear, lust, safety, abuse, courage, to be or not to be. In clear words power, prestige and status. For my inspiration I often use images displayed around me in a context of twisted images dictated by TV, the Internet and other media. I want to make art about contemporary concerns, what keeps us busy and we philosophize about. I want to explore what living beings engaged, find a relationship between human and animal. With this I attempt by the work to loosen discussion on this given image or experience. Many of my own culture, I was born in Indonesia, has lost in my mind during my childhood in the Netherlands. Still images from the post-colonial era comes surface.
Sara Conde creates abstract artworks on paper and canvas that are inspired by contemporary culture and the sublime natural world. It is a combination of drawing, painting and printmaking. The color is inspired by color theory of the 60s with a palette which comes in the form of acrylics, watercolors, ball point pens, colored pencils, markers, graphite, enamels, mica, and the inclusion of fluorescent and metallic colors. The mixture of materials and techniques results in a conceptual complexity of texture and surface: the immediacy of drawing, the ponderousness of painting, and the graphic quality of woodblock print. It is a way of working that comes to her naturally but that she has developed through research in biology, contemporary communication technology, and from direct observation of the environment; when Conde finds images that interest her, she makes them her own through abstraction by complicating or simplifying them.
My work focuses on the engagement with interactions, frictions and spaces between different media types (sound, sculpture/object, light, video, photography and architecture). Contextualizing the sensory perception of space, time and location as well as the examination of cognitive processes and technical errors are central themes that I realize in my space installations, sculptures, interventions and performances. Space thereby turns into a place that changes with the recipient's position, allowing for a situational and continuously changing perception. How the space is perceived is nevertheless deliberately limited to a certain field, through which cognition is led and choice is channeled. The exploration of and experiments with architectural, virtual or even social spaces are fundamental.
My evolution is related to freedom of expression and emotional flow. At the beginning I used to premeditate what I would apply on canvas. My biggest evolution was to drop the premeditated imagery and let the moment find the right expression of what I was painting. Getting into an experience of swimming on canvas. I paint emotionally but in real time I am very aware of the collective state of emotion so therefore while standing on my own in the feild painting I feel that I am not on my own. The only thing that connects me to my audience is that emotion that I am experiencing at that moment. I could be feeling love, pain, beauty or whatever and since we all share those emotions it will be shared by my audience. Only as an aftermath I'm aware that my emotions could be shared by my audience. This thought does not direct my painting or emotion in any way.
SUMMARY C o n t e m p o r a r y A r t R e v i e w Special Issue
Sara Conde USA
Evos Primost France
scape Land CONTEMPORARY ART REVIEW E
Flounder Lee USA Austria
Stéphane Bissièrs France
Hans-Jürgen Poëtz
Matsumoto's artwork reflects the morphological transformations of our everevolving urban and ecological milieus that are attributed to a multitude of spatio-temporal phenomena influenced by social, economic and cultural factors. The artwork explores the hybrid technique combining both traditional media (ink, acrylic, graphite and photo collage) and digital media (algorithmic processing, parametric modeling, data transcoding and image compositing with custom software ). The varying scale, juxtaposition of biomorphic forms, intertwined textures, oblique projections and visual metamorphoses are employed as the multilayered drawing methodologies to question and investigate the ubiquitous nature of urban meta-morphology, the ecopolitical reality of the Anthropocene epoch, the advancement of biomaterial technologies and their visual representation in the context of non-Euclidean configuration.
My work deliberately attends to the interplay between humans and nature. As I have mentioned above, I treat my art materials as living materials that speak to my imagination and guide the developmental course of my art pieces. Additionally, I seek to expose the 'other' side of nature—the aging, decaying, dying nature—that is removed from purview when we seek only to keep what is pristine. I celebrate the old, the experienced and the weathered. In my view, it is time that gives indescribable beauty--it gives spirit, makes things distinguished, unique and special. One way I do this is by avoiding solid, flatcoloured surfaces; these, to me, have a pristine quality. I like to make my paintings to look weathered and dirty by forming the largest variety of colour relationships/effects from limited palettes. I am also interested in old photographs and how they affect our memory, which has led me to incorporate characteristics from those types of mediums as well.
After I finished my art studies I rented a studio and continued to make art In any free time I had. I had few exhibitions and in that period I believe I discovered my aesthetic way of how I see the and think the world. I believe that some events I experienced In life had influenced my artistic way. The most significant one was at the age of 16 when my mom past away. Facing death at that age made me eventually to a person who cast doubt in everything. that is I believe very important as an artist. The death experience brought me to a place where I ask questions all the time in any matter. I insistently search and study life and everything in them And that is the way to understand how to make art in a conscious way. I understood that every color or every way of cutting has to mean something and as an artist you must know and implement that. The challenge now is to keep the intuitive also while I think about every step I do when I create. I find it easier at painting and that is one reason why I decided to go back there after a while that I did other things.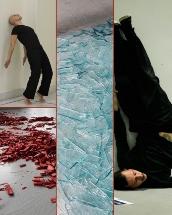 On the cover , a work by
Special thanks to Haylee Lenkey, Martin Gantman, Krzysztof Kaczmar, Joshua White, Nicolas Vionnet, Genevieve Favre Petroff, Sandra Hunter, MyLoan Dinh, John Moran, Marya Vyrra, Gemma Pepper, Michael Nelson, Hannah Hiaseen and Scarlett Bowman, Yelena York Tonoyan, Haylee Lenkey, Martin Gantman, Krzysztof Kaczmar and Robyn Ellenbogen.
Special Issue SUMMARY 4 32 Stéphane Bissières lives and works in Paris, France Flounder Lee lives and works in Dubai Hans-Jürgen Poëtz lives and works in Vienna, Austria Stef Fridael lives and works in Eindhoven, The Netherlands Andre Ozga lives and works in Thailand Sara Conde lives and works in New York City, USA Yael Goldberg lives and works in Tel-Aviv, Israel Ryota Matsumoto lives and works in New York City and Tokyo Evos Primost lives and works in France 62 86 114 136 156 174 202
Yael Goldberg Israel
Ryota Matsumoto Japan
Andre Ozga Poland / Canada
scape Land CONTEMPORARY ART REVIEW E
Chronométries live@Toulouse, France. Nov 2014 (c) S.Bissières