LATE SUMMER 2022 1 THE CITY OF LAKES LIFESTYLE & DESIGN PUBLICATION LATE SUMMER 2022 MINNEAPOLIS CITY LAKES
2 lake society magazine Every home has a story.
4 lake society magazine Local Expertise in Fine Downtown Minneapolis and City Lakes Real Estate 612.327.5905 | betsylucasrealtor.com
LATE SUMMER 2022 5 123763.760.0761FARRINGTON STREET ST. PAUL, MN ANDREWFLESHER.COM55102
6 lake society magazine Pam & Mark What's your designed life? fur-childemptytransitioningnestersfanaticssnowbirds inunisondesign.com 612.659.1775
LATE SUMMER 2022 7 Friends. Neighbors. Architects.Built by PhotosLandscapingStreeterbyTVLSbySpacecrafting
Building exceptional homes is in our DNA; we've been doing it for over 40 years. Corey Gaffer Photography Rauscher & Associates Design
REAL ESTATE shanespencer.com | citydwellingsmn.com
ARCHITECTURAL PHOTOGRAPHY
LATE SUMMER 2022 11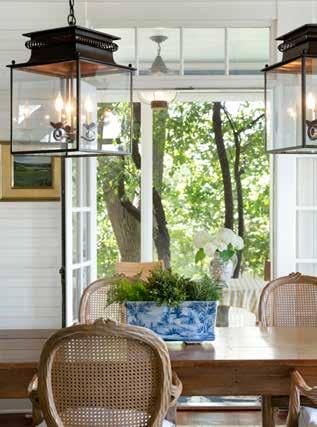 LATE SUMMER 2022 13
14 lake society magazine 612-338-2020 vujovich.com MN License: BC006077 Transformative Home Remodeling
LATE SUMMER 2022 17 DAVID HEIDE DESIGN STUDIO ARCHITECTURE INTERIOR DESIGN RESTORATION Innovative, respectful & contemporary solutions for your home, old or new. DHDSTUDIO.COM | info@ DHDSTUDIO.COM | 612.337.5060
"Simplicity, carried to an extreme, becomes elegance."–JohnFranklin
"Simplicity, carried to an extreme, becomes elegance."–JohnFranklin
LATE SUMMER 2022 19 www.nobleinteriorsinc.com612.904.0933
LATE SUMMER 2022 19 www.nobleinteriorsinc.com612.904.0933
20 lake society magazine Susan E. Brown Interior Design 2395 University Ave W, Suite 318 Saint Paul, MN 55114 651 330 susanebrown.com8707 Complete interior development and implementation.
LATE SUMMER 2022 21 artgirlsmpls.com hollie@artgirlsmpls.com 612.834.6565 Representing a Large Collection of Original Art HOLLIE BLANCHARD
Interior designer Andrew Flesher's column has a new look. Instead of the Q&A format, he'll share thoughts about the design process and will share some of his experiences in the business. He'll begin with a discussion of how he kicks off his design process with clients.
The lineup of homes in our Late Summer issue is diverse. A new home on Lake of the Isles is the result of one couple's collaboration between PKA Architecture, Hage Homes and Brooke Voss Interior design. It will be featured on the AIA MN Homes by Architects Tour on September 17th & 18th, 2022. Landschute is well known for their work with historical lakeside properties. Cofounders Jon and Mary Monson take us through one of their all-time favorite projects. It's timeless – a stunning and classic beauty. Color and texture, paired with an extensive art collection, headline Susan E. Brown's project on King's Highway, The home is full of artistry and creativity. Jacquelynn Brown and Justin Baylor are firmly rooted in the Lowry Hill community they call home. A sense of belonging and walkability of the neighborhood are just part of what they appreciate. Molly Broder isn't of Italian descent, but she has captured the country's soul in each of her three restaurants located in southwest Minneapolis. Her children have joined her in creating a family business that celebrates the joyful simplicity of Italian cooking. I joined Art Girls Hollie Blanchard and local artist Richard Merchán at Lake of the Isles for an "en plein air" session. His mastery of his craft was evident, as he worked quickly to capture the light and essence of the lakeside scene. Hollie finds that her clients are gravitating toward landscape compositions, as they can transport the observer to a place of refuge and offer solace for the soul. Sustainable choices for outdoor living have become sophisticated and beautiful. Carter appreciates the simplicity of their form and function. His choices could enhance your appreciation of the great outdoors. Jen and Andréa's selections embody the best that summer has to offer. Pattern and color are part of their signature style. If you are planning a move sometime soon, Feng Shui expert Carole Hyder's checklist might come in handy. The simple truth, however, is that her strategies are helpful for anyone whose accumulated clutter is overwhelming. Her advice will leave you feeling lighter – and enjoying space you didn't know you had! Enjoy these last days of summer and know that I remain grateful for your readership and support. Lake St E, Wayzata 746
MN | (952)
David Heide and his partner, Michael Crull, will kick off the series. Their shared appreciation for good design in furniture, houses, cars, and the decorative arts unites them.
lake society magazine
5826 www highcrofthome com
770
Another summer is flying by, and I am clinging to the last, lazy days that offer a respite from this busy and chaotic world. In this issue we are launching a new "Design at Home" feature, which will offer a glimpse into the private lives of the Minneapolis City Lakes design community.
From the Publisher
LATE SUMMER 2022 23 companionship or association with one's fellows: a group of people involved in persistent social interaction, or a large social group sharing the same geographical or social territory LAKESOCIETYMAGAZINE.COM
24 lake society magazine 1 THE CITY OF LAKES LIFESTYLE & DESIGN PUBLICATION LATE SUMMER 2022 MINNEAPOLIS CITY LAKES LATE SUMMER 2022 ON THE COVER DESIGNING THE DREAM PHOTOGRAPHY BY SPACECRAFTING PUBLISHER KAREN T. STOECKEL GRAPHIC DESIGN SHEBA CONCEPT & DESIGN, INC. ART DIRECTION KAREN T. STOECKEL MANAGING EDITOR ELLEN OLSON SOCIAL MEDIA JACOB PIERRE LOUIS III CONTRIBUTING WRITERS CARTER ANDREWANDREWANDRÉAAVERBECKDIXONFLESHERCAROLEHYDERNANCYMONROEMELINDANELSONJ.RAMIREZJENZIEMER CONTRIBUTING PHOTOGRAPHERS LAURA HULL Lakesocietymagazine@gmail.comLakesocietymagazine.comSPACECRAFTINGKARENPHOTOGRAPHYMELVINRICHMICHELL@lsm_magazine LAKESOCIETYMAGAZINE.COM
LATE SUMMER 2022 25
26 lake society magazine CONTENTS
LATE SUMMER 2022 27
46 HOME Landschute, known for their work with historical lakeside properties, transformed an 1892 home into a stunning, classic beauty.
74 FENG SHUI EVERYDAY Carole shares a checklist for de-cluttering, whether you are moving to a new place, or staying in the place you call home.
34
For Jacquelynn Brown and Justin Baylor the love of Lowry Hill is a generational affair.
Landscape compositions are an anchor to any fine art collection, as they can transport and transform.
32 SUSTAINABLY CHIC
28 SPOTLIGHT
58 DESIGN AT HOME
The Broder family restaurants in southwest Minneapolis beautifully capture the essence of Italian wine and culinary traditions.
Andrew often kicks off his design process by asking clients to describe how they want their space to feel.
A well-traveled couple collaborates with PKA Architecture, Hage Homes and Brooke Voss Interior Design to create a new home on Lake of the Isles.
Fiddlehead shares their picks for enjoying every last minute of summer in MN.
42 ANDREW ON DESIGN
Sustainable selections from Carter make our precious outdoor time more enjoyable this summer. HOME
54 LIFESTYLE
Creating the proper proportions of color and organizing an extensive art collection were vital elements in updating a home on King's Highway.
A glimpse inside David Heide and Michael Crull's home reveals an eclectic collection of beautiful art objects, glassware, and family heirlooms. 62 HOME
MerchánRichardbypainting 22 A LETTER FROM the publisher.
44 THEDIARIESTASTEMAKER
70 CHEFS' KITCHEN
En Plein Air
written by ellen olson, photography by spacecrafting
Landscape compositions are an anchor to any fine art collection, as they posses the ability to transport the observer to another time and place.
Merchán, one of the artists Hollie represents, is a talented landscape artist. He describes his art as storytelling, while leaving the interpretation to the observer. He has been painting for over 40 years and has become a master of his craft — entirely in command of his medium. He often does small studies to "warm up" before he tackles a particular subject. When working "en plein air," he quickly sets up his easel, taking mental notes to not lose the memory of what he is experiencing as the light changes rapidly, shifting hues within the composition. To start he outlines the foundation of the water, the shoreline and he drifts into a meditative state, painting from his heart and not his head. Painting early in the day is optimal, allowing the light to exhibit a hue that is true to what he is experiencing. Smaller strokes tighten up the details, and as an impressionist painter he loves to use the palette knife to depict lily pads and grasses coming out of the water to create the illusion of a sharp focus and texture. Water has long been a source of inspiration as he has lived in Miami, the coastal region of Northern California, and near Lake Minnetonka. His work communicates the natural beauty of those settings, but he also is drawn to all of the activities that lake life entails. His sailboats skim across the water in such a powerful way that you can feel the spray of the water on your face. "Richard is the master of color," said Hollie. "He can do very loose Impressionistic works with bold and energetic brushstrokes, or he can create a tight Impressionistic work with the most minute details. In one of my favorite pieces, he adds touches of pink to a tree. It's unexpected, and is a glimpse into the brilliant mind behind his artistry."Merchán has a loyal following of collectors, and his work is constantly evolving. Cinema, travel, and the millions of photographs he snaps fuel inspiration for his next composition. Landscapes are a small portion of his body of work with hundreds of paintings currently in the inventory. "My work is a true portrait based the interpretation of my own understandings and NOT what it should"Landscapesbe." are a timeless treasure," said Hollie. "They can transport you to another time and place, and have the ability to tap into senses beyond sight. Art can slow down the pace of life, away from the screens and the headlines, a much needed sanctuary in our world today." artgirlsmpls.com
The classical realism of representational landscapes makes you feel like you are looking out a window and, if hung in the right place, can spatially add to a room. Oil works can glow off the canvas where the sun is setting on the horizon with zero light being placed on it. The French expression "en plein air," meaning "in the open air" is a form of landscape painting where the artist is leaving the studio to paint on location. The artist has little time to capture the ever changing sky, light, and scenery and often will take notes to make sure they bring the viewer along the journey of what they are experiencing.Richard
I30
In a world that feels a little chaotic, we often rely on the arts to transport us to a place of refuge where our souls can find solace. Art Girls founder and owner Hollie Blanchard finds that her clients are gravitating to landscape compositions. "They allow the viewer to escape to nostalgic memories of a place or time we have been or traveled to," she remarked. "Landscapes are like the little black dress — they never go out of style and are an anchor to our art collections. There is something very healing about nature, water, and trees."
SPOTLIGHT
Ah Summer,…your intoxicating heat has us under a spell of umbrage and relief. It may be the end of summer, yet being outdoors during this time means a sun filled face keeps the shadows away. Cold days will come soon enough, but not yet. Not if we can help it. That's why taking advantage of the outdoors is paramount during our shortened season here in the upper midwest. The sustainable movement has really taken off in the realm of the outdoors offering products with such simplicity of form and function that it is a pure joy to sit away those languid days with a cool drink in hand.
Stepping onto this soft outdoor rug, one would never know it was made from recycled plastic meant to survive the elements for decades. A parametric sofa is as sleek as it is comfortable, using discarded plywood sheets to create the form. Tables made from tree roots give reassurance that nature has its own beauty while the stout rounded form of another recycled wood and resin table offers hidden storage within. Planters made from recycled plastics in sculptural form make for interesting visual stimulation. Finally, when the sun starts to set, slim modernist rechargeable LED lamps made from recycled aluminum will light your way beautifully. Sustainability, as you can see, is growing up. God bless summer days, enjoy them while you can.
SUSTAINABLY Chic lake society magazine
Carter Averbeck is an interior designer specializing in stylish, sustainable design. For More Information: Info@omformedesign.com. Note: All items can be purchased through Omforme.
34 lake society magazine
theDESIGNINGDREAM
A well-traveled couple collaborates with PKA Architecture, Hage Homes and Brooke Voss Interior Design to create a new home on Lake of the Isles. written by melinda nelson, photography by spacecrafting
LATE SUMMER 2022 35
HOME
"Giuseppe and I loved imagining what it would be like to live in the neighborhood, but it only ever felt like a dream." –KELLY CARUSO
HOME
"The views were amazing and we immediately fell in love." –KELLY CARUSO
40 lake society magazine O
In similar fashion, a stylish new home recently landed on East Lake of the Isles Parkway, bringing a frisson of modern European flair to the neighborhood. As timeless as a Chanel suit, the 3,400-sq.ft. house is the creation of Kelly Caruso, former CEO of Shipt and longtime Target merchandising executive, and her Italian-born husband Giuseppe. As newlyweds, the Carusos often strolled around Lake of the Isles, admiring the stately mansions and modern homes. "We loved imagining what it would be like to live in the neighborhood, but it only ever felt like a dream," says Kelly. Fast forward twenty years, the couple was craving change. Their two sons were in high school, so the empty nest was on the horizon. Four summers ago, Kelly and Giuseppe took a walk around Lake of the Isles. As they rounded a curve, they spotted a realtor's open house so they crossed the parkway and walked up the steps."The house was small and dated but the views were amazing and we immediately fell in love," says Kelly. "It felt very serendipitous, since it was the right time and the right place for this next chapter in our lives, so we bought the house. Our first order of business was to determine whether a total renovation was feasible, or if we needed to start over and design a new house that would be worthy of the neighborhood. Giuseppe and I really enjoy the design and construction process, so we knew we wanted to surround ourselves with high-performing artisans. We were initially drawn to PKA Architecture because of their reputation, and as soon as we met co-founder Gabriel Keller and designer Chad Healy, we knew they had the perfect blend of creative brilliance and passion for the details."
Based on the condition of the home, it quickly became apparent that the best option was to start over, so the Carusos began working on plans with Gabriel and Chad and expanding the team. The couple hired Kerry and Kate Hage of Hage Homes for their quality craftsmanship, as well as their enthusiasm, hands-on approach and willingness to innovate to stay true to the budget while honoring the design intent.
Kelly had designed the interiors of the family's previous homes, but given the scope of the new construction project, she knew she wanted to collaborate with Brooke Voss, an interior designer she'd long admired for her warmth, approachability and strong, sophisticated aesthetic.
Once upon a time, when Nicollet Mall was home to Young Quinlan, Jackson Graves, Harold and other fine shops, a woman could always find the perfect dress, fresh from the European runways, and have it wrapped in a beribboned box and delivered by a uniformed driver to her home on Lake Harriet, Lake Minnetonka or White Bear Lake.
Inspired by the family's travels in Europe and Asia and several years in Birmingham, Alabama where they discovered the discreet charm of Southern homes, the Carusos' new house is as welcoming as a boutique hotel. Finished with an edited palette of romantic neutrals and luxe textures, the home offers a myriad of places to enjoy the Isles streetscape, including a covered porch, a diminutive roof deck and a skybox—a modern bay window with a pillowy bench in the owners' suite. "I adore reading in the skybox, suspended in the air overlooking the lake," says Kelly. "I also love our curvaceous banquette in the kitchen. It's got a casual vibe that makes for great family dinner conversations. But, my most favorite space of all is my office, with its dark, moody paneling, a mix of prints and textures, and a colorful painting I found at a Paris flea market. I can easily spend hours in there, dreaming about my next design project."
The Carusos' home will be featured on the AIA MN Homes by Architects Tour, Sept. 17 and 18. Get details and tickets at homesbyarchitects.org.
HOME project credits: · designed by pka architecture · interior design by brooke voss design · built by hage homes · landscape design by tvl studio
42 lake society magazine
ANDREW DESIGNon
Andrew often kicks off his design process by asking clients to describe how they want their space to feel. photography by laura hull photography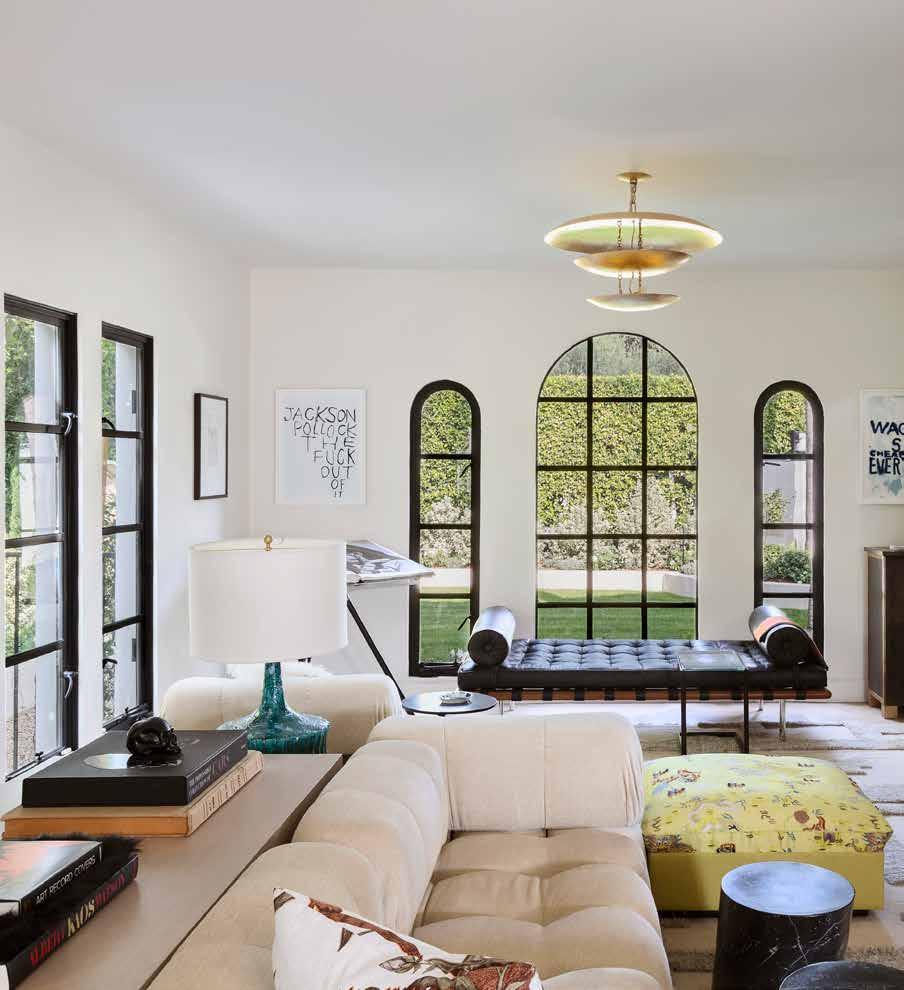 Andrew Flesher Interiors is an award-winning design firm with offices in Minneapolis and New York. A portfolio of his work is available at andrewflesher.com.
During those years of figuring things out, I happened to see a Peace Corps volunteer speak at a local event. She described the despair, devastation, and incredible human suffering she saw every day. She was ready to give up and return to the States when she stumbled into a peaceful garden that transported her a world away. There she gathered the strength to go on with her service. It became a safe haven where she was able to regroup and recharge. That's when the light bulb went on for me. I realized that design is really important. It's more than paint chips, fabric swatches, and furniture choices. It's a thoughtful process. I help my clients design spaces that create a respite from the outside world's pressure and noise. Creating beautiful interiors is essential work and, when done well, can enhance an individual's or family's well-being and enjoyment.Functionis an integral part of the discussion, but most important is how you feel in a particular space. Do you enjoy having loved ones hanging out around the kitchen island? Or do you love the solitude of a chaise lounge in a quiet corner to read a book? These are the things I try to understand as I begin work with new clients. One of the first questions I ask is, "How do you want the space to feel?" along with "How do you want to feel in the space?"
I often get asked how I got started in the interior design business. My dear mother, recently deceased, was a powerful influence in my life. My family always jokes that her wedding vows were to "Love, honor, and redecorate every three years." Even as a young man, she would find ways to involve me in the process. When I was in junior high, she allowed me to choose the paint color for our family dining room. I chose blue, and she honored my decision. It was just awful, but she kept it for three months before she had it repainted. That speaks to the kind of encouragement I received from her.
DESIGN
I
LATE SUMMER 2022 43
When I went to college, I studied architecture. I stuck with it for four years, but my heart wasn't in it. Too much math and science! Good architecture is a critical design aspect, so I am grateful to have that training, but I wanted more freedom and creative license. I resisted interior design for a while, as I thought it was kind of a "fluffy" thing. However, my mother always said, "Andrew, men can be interior designers, too."
I like to imagine our homes as our sanctuary. They are a place to rest, recharge, seek solace, and have fun. A home can help give us the strength to go out and face the world the following day. It is also a creative expression of our personality and the things we value. I take my work very seriously because I know how much a home can impact how people feel. Joy and happiness are the goals. I've come to realize that interior design is a little bit like creating fine art. All of the elements combine to create beauty and elicit a particular emotion or feeling when you are in the space. Balance and composition matter, as do color and texture. Guiding clients through the process successfully is one of the great rewards of my career.
The things that go into creating a home that feels safe and restorative are different for everyone. It takes a little self-reflection. People often gravitate to something they like, but they don't know why. That's my job – to crack the code on what's important and how it should all come together.
44 THE TASTEMAKER Diaries Fiddlehead shares their picks for enjoying every last minute of summer in MN. Lawn chair with parkitmovement.comcooler Grethenhouse.comFashion Layered rugs | tapis-decor.com
Grethenhouse.comTote Woven leather shopper | Highcrofthome.com Garden shower gel and Highcrofthome.comlotion Coffee table Highcrofthome.combook Macandawayzata.com

TREASURETIMELESS
Landschute, known for their work with historical lakeside properties, transformed an 1892 home into a stunning, classic beauty.
written by ellen olson, photography by spacecrafting
LATE SUMMER 2022 47
HOME
"The home is comfortable and classically beautiful –a true lake home of yesteryear." –JON MONSON, AIA, LANDSCHUTE
HOME "My interior design philosophy is to have things look collected, not designed." – MARY GRAY MONSON, LANDSCHUTE
O
LATE SUMMER 2022 51
In 2009, Landschute tackled the remodel and modernization of a stately lakeside home built in 1892. It was winterized in 1941, and the floor plan modified slightly, but was in need of a total transformation. The windows were covered with sheers, heavy draperies and louvered shutters. "The interiors were elegant and formal, but you didn't even know that you were at the Lake! Our vision was to open it up and make the view the main attraction," said Mary. Jon added, "We wanted to change the way the house lived. When the home was built originally as a summer home, the relationship to the Lake occurred outside the home – on the porches and in the yard, where it was cooler in the shade. We wanted to reverse that and provide Lake views from inside the home, all year long."
In 1986, when he co-founded Landschute with his wife, Mary Gray Monson, he knew he wanted to build what he designed. "Ever since studying the architecture of the old Bavarian town of Landshut in 1977, I've wanted to follow the master builder approach, where the architect is the builder," he said. "That approach provides for the architect to directly guide the building process and to be involved in every twist and turn the project takes. Flexibility is key. We collaborate with our clients as the design evolves. It's an approach we believe serves everyoneAlthoughwell."Landschute has built many new homes over the years, the firm has developed a reputation as the "go-to" resource around Lake Minnetonka to help potential buyers or existing homeowners decide if a lakeside home is worth saving and restoring. "It is a real thrill and privilege to be consulted on these decisions," said Mary. The Monsons approach these projects with a respect for history while incorporating for their clients the conveniences and functionality preferred for modern living.
The small kitchen was combined with the dining room to create a kitchen which would be a spacious, hub of the home. Windows were minimal in the existing living room, so a pair of French doors were taken from the upper level and installed along with other matching windows from the side of the home. The "magic" is that they all look as though they were always there and combine to frame a magnificent view of the Lake. As there was not a single built-in anywhere except for the 1970's stained box cabinets in the kitchen, cabinets needed to be designed and built throughout. The home features the original 1892 Eastlake door hardware, now burnished by 130 years of use and more beautiful than when new. A commanding staircase leads to the home's upper
continued on page 52
Old houses have a story to tell. For architect and builder, Jon Monson, AIA, old houses have always fascinated him. He's a history buff and has been particularly drawn to Lake Minnetonka since he went to the Excelsior Amusement Park in the 1960s.
One of the most dramatic aspects of the renovation was the combination of three bedrooms into a single owners' suite on the second level. Built-in cabinetry lines one wall of the suite. An unused sleeping porch was transformed into a windowed sitting area that overlooks the Lake. Almost all the home is awash with creamy white enamel paint finishes. Extensive use of wood helps maintain a timeless, vintage vibe. The exception is the richly stained, pine-paneled library/TV room, which offers a dose of coziness and warmth. The finishes create the backdrop for a collection of furniture, décor, and art acquired over time. Pillows are changed out seasonally, and chairs and sofas are slipcovered. The ambiance is relaxed and comfortable, yet quietly elegant. "My interior design philosophy is to have things look collected," said Mary. "I favor interiors that look as if they evolved over time. They, too, can tell the story of a family's life." The home exudes a timeless quality that was created with intention.
The home's landscape features plantings that are mature and lush. The hydrangea blooms are the size of volleyballs and were planted decades ago. A white picket fence features broad sweeping scallops. The home is quite hidden from the Lake, as only a whisper of white peeks out from the oaks. Mature vegetation provides a frame of greenery. Once inside, the home has a surprisingly expansive and beautiful view of the Lake, given how hidden it is from the water.
While pulling down the chimney, Jon realized the attic that hadn't been used for anything but storage for 118 years. It was an attic waiting for a higher purpose. "It was such a cool, raw space with the most amazing view of the Lake – through the canopy of the trees," he recalled. "We added a pretty stairway and created Grandma's attic, a whimsical play and sleeping space for children and grandchildren alike."
Now the boathouse functions as a waterfront hideaway. The original hardware still holds the bi-parting sliding doors in place. Tackle, fishing poles, and life jackets hang on the walls, and in the summer becomes a favorite spot to dine, relax, play cards, or read a book. It's the epitome of "Lake life."
continuedlandschute.comfrom page 51
52 lake society magazine
The home was shown as part of the Homes by Architects Tour in 2010. "This is one of our all-time favorite projects," said Jon. "The home is comfortable and classically beautiful – a true Lake home of yesteryear."
A boathouse, built in 1908, remains at the water's edge. It has been refurbished, although not modernized. It was a "dry" boathouse; at one time, a winch would pull a small dingy out of the water and store it safely. Eventually, that became impractical.
levels. The treads are 1941 black oak which serve as a base for the nautically-inspired carpet runner. The flooring on the main level of the home is the original tongue and groove fir which was carefully removed from the home's upper level after it was discovered under the thick wall-to-wall carpeting. "Our crew counted, measured, and pieced it all back together on the main level," said Jon. "It was painstaking work." But so was the removal of the brick fireplace located in the middle of the original living room. "We did everything we could to incorporate it into our design, but it just didn't work," he continued. "We took it down brick-by-brick, all 15,000 of them, and moved the fireplace to the end of the enlarged living room, where it became the interior focal point of the room."
LATE SUMMER 2022 HOME53
For this young couple, the love of Lowry Hill is written by andrew j. ramirez, photography
URBAN FA
by spacecrafting
BRIC a generational affair.
LIFESTYLE
If there is anything that Jacquelynn and Justin Baylor learned in all the events over the past two years, it is that their neighborhood is a tight-knit community. "I am so grateful for my neighbors. They really look out for us," remarked Jacquelynn. "There is a sense of belonging in the neighborhood." Lowry Hill's tree-lined parkways and fashionable homes were built on the gradual rolling hills between Downtown Minneapolis and Lake of The Isles. "What I like about the neighborhood is the socioeconomic diversity," explained Jacquelynn.
Another aspect of the neighborhood that the couple loves is the fantastic ease of walkability. They are steps from Walker Art Museum and Minneapolis Sculpture Garden, farmer's markets, cafes and parks. The connectedness of neighbors is especially apparent while out walking. "The neighbors know your name and are genuinely interested in who you are and how you are doing," affirmed Justin. "This gives the neighborhood a sense of community."
LAKESOCIETYMAGAZINE.COM
Justin's father is Tim Baylor, who was a National Football League defensive back for the Minnesota Vikings. Today, the fatherson real estate team specializes in impact investing. They have taken a particular interest in working to improve neighborhoods on the North side of Minneapolis. This area has historically been underinvested. They believe in strengthening communities, improving people's lives, and helping them achieve growth and prosperity. Their newest project is Satori Village. Sartori is a concept in Zen Buddhism of Enlightenment, said to be an unintelligible and unexplainable experience or spiritual rebirth. The multiphase urban redevelopment project offers architecturally bold market-rate apartments designed for active young professionals. The project also includes culturally appropriate, affordable lofts and independent senior living with easy access to groceries, transit, and pharmacy on the West Broadway Corridor.
LATE SUMMER 2022 57 I
The urban fabric in this area is characterized by a blend of homes built for more affluent residents next to affordable apartment homes built for young single people and families.
Grandparents Doris and Tim Baylor are very involved in raising Aristotle and Dahlia. They genuinely enjoy babysitting, which provides welcome relief to parents Jacquelynn and Justin. This allows them to enjoy all culture that Minneapolis has to offer. Often, they can be seen on the patio at Lurcat, enjoying live music in Loring Park. Lowry Hill has been meaningful to this family for three generations and the Baylor family is a pillar of the community. The area's charm and allure keep the neighborhood relevant in the twenty-first century.
Lowry Hill was originally developed by Thomas Lowry along the western side of the horse-drawn streetcar line on Hennepin Avenue. "I have been land-lording in this neighborhood since I was 12 years old: mowing grass, shoveling snowy sidewalks, painting walls, and repairing broken things," begrudgingly explained Justin about the sturdy brick apartment buildings his family owns and manages. By day Jacquelynn works in insurance marketing. By night, she fashions herself as an aspiring mystery novelist, penning her first book manuscript. She has tastefully appointed their 1908 Victorian home with treasures found at estate sales from the finer homes in the neighborhood. The walls are adorned with original oil paintings depicting floral gardens and pastoral, agrarian scenes. The home is also very livable for the young family. Their children, Aristotle and Dahlia, make this house into a home. Both fill the house with their lively viola melodies, practiced consistently. When not playing his music, Aristotle can be found running and playing soccer, whilst Dahlia can be seen on stage as a performance dancer.
58 lake society magazine DESIGN at HOME
A glimpse inside David Heide and Michael Crull's home reveals an eclectic collection of beautiful art objects, glassware, and family heirlooms.
LATE SUMMER 2022 59
written by ellen olson, photography by rich michell
"He also has his mother's spot-on color memory and eye," adds David.
"Since childhood, cars and car design figured prominently in our lives," says Michael. Collecting vintage promotional cars from dealerships is another shared passion. Whether attending classic car shows in their 1966 Buick Skylark or visiting art and house museums around the country, their life-long interests provide them with a source of relaxation and inspiration. "We like to see how things were designed and built and how they were decorated," said Michael. Other inspiration comes from old movies offering glimpses of historic interiors and architecture. Their appreciation for good design in furniture, houses, cars, and the decorative arts unites them. "It is our great fortune that we have the privilege that our life's work is about the things we love – and that we get to do this work together," concludes David.
60 lake society magazine
C
Childhood experiences create deep impressions that often influence the direction our lives take. "Growing up in Des Moines, Iowa, for me it was all about model cars, Lego Blocks, and Salisbury House" reminisces David Heide. "Twenties-era Storybook and revival-style houses are always intriguing, and Salisbury House is an over-thetop example." Built by cosmetic magnate Carl Weeks and his wife, Edith Van Slyke Weeks the house had become headquarters for a state education program. As a child, David accompanied his mother to meetings there and had unrestricted access to the house and its fascinating contents. "Constructed of imported English architectural salvage and filled with art and antiques, this opportunity was defining. It was a stark contrast to the contemporary white-brick ranch we lived in, and it seduced me."
Michael Crull's experience was a little less dramatic but no less profound. "My great-grandfather was a photographer and a painter," said Michael. "My mother shared her interests and talents in design with me. She decorated houses professionally and I was fortunate to inherit that creative gene with an appreciation for art and beauty."
Over the past twenty-five years, the two have built a successful architecture and interior design business, as well as a life together. "I quit my day job and started the Studio in September, and we met in October of 1997," says David. Now numbering twelve designers and architects, Michael joined the firm in 2005.
Chairs David's parents bought when they married — now on their fifth or sixth upholstery — combine with an antique Chinese table and contemporary fireplace tile. Beautiful old Tiffany pieces sit comfortably alongside art glass from the Renaissance Festival. Some are with pedigree, and some are from new artists, others are dumpster dive finds. "We are not driven by brand," said David. "We surround ourselves with things we love."
www.dhdstudio.com DESIGN AT HOME
David Heide Design Studio is nationally known for its work with old houses, but the firm's range extends far beyond that niche. "Some people shy away from historic properties because it takes a bit of work to adapt them to modern lifestyle, but that's my favorite part," said David. "It's important to listen to and be respectful of the building. I don't like to impose a design on a space. Our goal is to leave an overall impression that we haven't been there. It just needs to feelDavidright."and Michael have just recently reclaimed their own home, as it was their office during the pandemic. "Not only were we in the midst of a remodel, but we had moved out most of the furniture. The dining room was filled with printing equipment, and the living room was lined with product samples," remarked David. "We are so happy to have our house back!" Eclectic furnishings are the "accumulation of our lifetimes."
50th & France ◆ Highland Park ◆ RFMoeller.com Experience our curated Vintage & Estate Jewelry Collection or have your beloved jewelry repaired. Our goldsmiths specialize in restoring and repairing vintage jewelry.
COLORFULWhimsy
LATE SUMMER 2022 63
written by ellen olson, photography by karen melvin photography
Creating the proper proportions of color and organizing an extensive art collection were vital elements in updating this home.
HOME
C
When the homeowners for this project on King's Highway contacted Susan, they wanted to update their home. The couple is retired, and they have amassed an extensive art collection. Some pieces were acquired during their travels, while others were purchased from local artisans. "The primary goal for the project was to create an environment conducive to displaying their art to its best advantage," Susan remarked. "We wanted the entire home environment to reflect artistry and creativity."
The family room is the most whimsical in the home. "It came about very organically," said Susan. "We kept the rug and enameled the fireplace in a beautiful teal color to coordinate with the wallpaper and create contrast with the art above the fireplace. The mix and match of fabrics and colors on the sofas and chairs is something I had seen in Europe. The family room combines all the colors used in rooms throughout the home for a final punch of color and pattern. At night, the warm glow of the art lit up above the fireplace draws you in."
"This was such a fun project because my clients were so open and adventuresome," said Susan. "They were willing to do something unique and different." susanebrown.com
The home was built in the 1950s. The interiors feature an inside living arrangement with enough walls to give spaces privacy. "I started the process by taking an extensive inventory of their art, including measurements and photographs," said Susan. "I noted the lines and shapes of each piece. In this case, I didn't edit out any pieces. In fact, we purchased more art! Once things are properly organized, you actually gain space." Some of the art was reframed and re-matted to create better flow between vignettes and rooms. The homeowners had a lot of existing rugs that Susan chose to keep. They provided a palette of colors to play off of in each room. The home's foyer is painted in a dark raspberry, with subtly patterned wallpaper on the ceiling. "I wanted it to feel like its own room," said Susan. "The white pillars pop and help to define the space."The main living area features a fireplace and decorative accent wall finish by Aurora Decorative Finishes. It is a worn dark pewter finish, with just a bit of sheen. The fireplace wall features a subtle, patterned grasscloth wall covering. "I love accent walls," said Susan. "In larger spaces, it breaks up a room and creates a strong focal point to accompany the coordinating areas. Then I carry the eye around the room by using color in different proportions. The eye connects color."The kitchen needed to be updated, but the cabinets and the terra cotta floor had to stay. The cabinets went from black and dark purple to a soft gray, with a bright yellow kitchen island. Copper light fixtures create a soft glow and tie nicely to the floor. There is a copper metallic touch to the wallpaper in the kitchen and dining room. The dining table and chairs have a mid-century modern aesthetic – clean, sculptural, and not too chunky. The table leaves swing around on each side to expand when the homeowners are entertaining. Both dining spaces and the family room were added in the early 1990's.
Color and texture are two hallmarks of interior designer Susan E. Brown's work. Although she grew up in a small town in southern Minnesota, her mother's fashion and design magazines transported her to another place. They sowed the seeds for a creative life. "Although my career took somewhat of a winding path, design was always my first love," said Susan. "I focus on creating the proper proportions of color and texture, and how to balance them in a room."
LATE SUMMER 2022 65
HOME
68 lake society magazine HOME
project credits: · builder: destiny homes · interior design: susan e. brown interior design
70 lake society magazine CHEFS'
LATE SUMMER 2022 71
The Broder family restaurants in southwest Minneapolis beautifully capture the essence of Italian wine and culinary traditions.
KITCHEN
written by nancy monroe, photography by spacecrafting
72 lake society magazine CHEFS' KITCHEN
•
• ¼ cup Broders' extra virgin olive oil
• 1 large red onion, about 8 oz, halved lengthwise and thinly sliced
Just as you never ask a mother who her favorite child is, never ask a cook which pan is her favorite. It all depends on what's cooking. And, of course, it's possible to love all your pans equally. broders.com broderspastabar.com terzompls.com CAPONATA
Molly Broder may not have an Italian bone in her body, but she's captured the soul of the boot-shaped peninsula whose wine and culinary traditions have captivated Americans for centuries. Her three sons, Thomas Jr., Charlie, and Danny, have inherited not only an Italian lifestyle, but an American dream: a secondgeneration family business that has become a hospitality beacon for the southwest Minneapolis neighborhood for 40 years. The foundation for their three restaurants — Broders' Pasta Bar, Broders' Cucina Italiana, and Terzo — was born when Molly and Tom Broder went on a trip to Italy. There she took cooking classes from Marcella Hazen, who is to Italian cooking as Julia Child is to French. Prior to that trip, Molly's expertise was French cuisine, but she fell in love with the simplicity of Italian cooking. The freshness of the ingredients spoke for themselves, without the need for butter-saturated sauces or a myriad of steps to follow in a complicated recipe. Her sons learned hospitality through osmosis. "We grew up watching our parents host dinner parties," Charlie said. Friends from out of town would stay over and there were big, lavish spreads of food capitalizing on the fresh bounty of the season, such as the colorful Eggplant Caponata featured here, plus lots of wine and conversations around food. They had big family dinners every night and when their father got sick, Charlie took over the cooking at home, while Molly assumed more responsibility at the restaurants. Tom passed away in 2008. Other children were given Playdough to entertain themselves when their mothers were busy, but Thomas, the firstborn Broder, was given a ball of pizza dough while Molly filled orders. Unlike the Playdough players, Thomas's sculptures were covered with sauce and cheese and baked for his snack. "All three brothers were mesmerized by the making of tortellini," Molly said, laughing. "Another babysitting trick." When the children were older, they'd walk to the restaurants after school and join the staff for "family meals." In high school, they joined the staff as co-workers.Itwasnever Molly's aim to have them all join her in the restaurant business. "Mom discouraged us from doing this," Thomas said. The three have all studied cooking in Italy: Charlie has become an "Italian wine guru," as well as general manager; Thomas found his niche first in cooking and then design; and Danny, the youngest, is still passionate about cooking. "There were challenges when we were all young, and now we're older and we've all found our niches," Thomas said. The secret to Italian cooking, besides which sauces go with which pasta, is fresh ingredients in season. Molly shops at all the farmers markets in the summer, and two to three grocery stores in the winter...several times a week. Doing a big shop for groceries once a week, she added, is the reason why we waste so muchWhatfood.are a pro's "must-haves" for a home kitchen? "A good, deep sink; accessible pans, good knives (also accessible); a good pasta pan; natural light and a gas stove," said Molly. When surveying the kitchen for the photo shoot, Molly said she was going to thin out her chandelier of pans dangling above the island, "but I couldn't decide which ones to remove."
• ¼ cup salted capers rinsed and drained
• 2 red bell peppers, about 8 oz, each cut into lengthwise quarters then crosswise into thirds
• 1½ cups tomato passata (puree) or light tomato sauce
• ¼ cup Broders' balsamic vinegar
•INGREDIENTS:1smallbunchofcelery, tough stalks and strings removed, coarsely chopped (about 8 oz)
3. Combine second ¼ cup olive oil with onion in a large saute pan and cook over medium-high heat until just golden, about 5 minutes. Add the reserved celery, olives, capers, tomato passata, vinegar and salt to taste. Gently stir in reserved eggplant and peppers. Simmer for 2-3 minutes. Transfer to a large bowl or platter and cool.
4. The caponata may be served cool or at room temperature. Garnish with eggs and parsley just before serving. Serves a crowd and keeps for several days. This recipe is adapted from Fabrizia Lanza's cookbook, Coming Home To Sicily
• 2 lbs eggplant cut in 2-inch cubes, salted and left to drain in colander for about 30 minutes
• ¼ cup Broders' extra virgin olive oil
• sea salt
• ¼ cup chopped fresh Italian parsley
• 1 cup Nocellara pitted, cracked green olives, cut lengthwise into thirds
• 5 hard-boiled eggs peeled and quartered lengthwise
•
2. Toss eggplant and red peppers separately in first ¼ cup olive oil and arrange on separate sheet pans. Place in 450° hot oven for about 10 minutes or until brown and red peppers are tender. Remove and set aside.
1.DIRECTIONS:Cookthecelery in a small pot of boiling water for 5 minutes. Drain and rinse under cold water. Drain well and set aside.
LATE SUMMER 2022 73
M
EGGPLANT
Contact for a consultation: 612-823-5093
Whether planning a move from your home or not, here are some ideas to keep your space from overwhelming you, keeping you nimble and free, and providing you lots of space you didn't know you had.
1. Start in the deepest, darkest parts of your home. This would be in the basement, the attic, the back of closets, or boxes that haven't been opened in a long while. When pulling weeds, you want to be sure to get the roots so they don't come back. These dark areas are like the roots—make sure you get into all the corners.
6. Be prepared to be delighted. To offset the discouragement you may experience, there will be lighter moments. These occur when you run across the "thing" you've been looking for but couldn't find, or the "thing" you forgot you had and are now delighted to realize it's there. It can be a treasure hunt.
7. Be prepared for chaos. No matter how you try, it will seem like stuff is everywhere. Tackle one small area at a time, which will be easier to handle. Even then, there will be messiness.
5. Be prepared for discouragement. It doesn't do any good to berate yourself for all the things you have, keeping items/clothes you don't wear, etc. Don't let it stop your process.
74 lake society magazine carolehyder.com
4. Get the stuff out of the house. Don't let bags and boxes of things sit by a door or in the hallway until you decide to take it all to its final destination. Get rid of it right away. Not only does that prevent you from rummaging through it again thinking you may want to keep something, but it also starts a pattern of "emptying out."
FENG SHUI Every
3. Limit the time you work on this project. A Feng Shui approach is to de-clutter in increments of nine (9 minutes, 9 items, etc.). When moving into these hidden areas, it isn't always possible to adhere to this, so set a specific goal, like clearing out this one shelf, moving out everything in one corner, carefully assessing the items you find in terms of whether they fit in your life or not.
8. Make this clearing out process a regular one. If weeks go by in-between clearing out, you will lose momentum. If you're planning a move, there will be an automatic deadline, which should keep you motivated. Create a new habit of clearing and cleaning, always holding the thought that the reward is that you will feel so accomplished as each area comes to life.
9. Involve your space. Don't think for a minute your space isn't thrilled you're doing this. Keep a silent conversation going to thank it for its patience, to honor its reliability, and even to put forth an apology or two for your unintended neglect. Your space can help you get clear about what to keep and what to release.
Helping people create a dream-aligned space that inspires and uplifts.
2. Don't throw out everything. Expect that some of the things you discover are items that you want to keep. Be thoughtful about what will enhance your life and what no longer belongs with you. Have an honorable place in which to store these items so they don't get lost in the dark corners again—a special box, a dedicated drawer, etc.
10. Honor the process. As momentum happens in this clearing-out process, you will notice a change in your energy and attitude. You may feel lighter, happier, stronger; stuff can weigh you down. Treating the items as though they were treasures yet things you need to release, puts a different perspective on clearing out. Even if you're tossing items in recycle, do it with respect. After all, for a time those things made your life better. Day
76 lake society magazine