Kelso Longview Chamber of Commerce
Kelso Longview Chamber of Commerce
Julie Rinard Project Manager
Meet world renowned speakers at sQuatch Fest Jan. 27-28
You've seen it on our flyers, advertisements, social media and heard it on the radio – world renowned speakers are coming to sQuatch Fest. As we prepared for this issue of Business Connection, the latest statistics show our sQuatch Fest Facebook posts reached 30,100 people in the past 28 days and engagement was 5,000 people. We are talking to people every day who are making their travel plans. It's been busy around here!
sQuatch Fest's main attraction is our famous speakers. They have appeared on TV shows, documentaries and podcasts. They've been interviewed for radio shows. Many have published articles in popular publications and authored books. Some travel the circuit of Sasquatch festivals around the country, and we are fortunate to bring them to Longview and Kelso. At sQuatch Fest, you will see photos and hear sound recordings of Sasquatch evidence. On January 27 they will participate in a forum. On January 28 they will make individual presentations. Each will have a booth at sQuatch Fest, so you can meet them, see photos and evidence of Sasquatch and share stories.
Introducing this year's sQuatch Fest lineup: Cliff Barackman
Barackman is a professional educator and Sasquatch researcher, dedicated to Sasquatch field research since 1994. He is widely known as co-host of Animal Planet's hit show "Finding Bigfoot." His expeditions have taken him to 46 states and five continents in search of evidence supporting the existence of undiscovered hominoids worldwide. He recently told us new things are happening nearly all the time and there was another sighting that he followed up on which yielded interesting vocalizations. Along with his wife, Barackman owns and curates
For more sQuatch Fest, see page 2
k January 2023 Volume 15 • Issue 1 Business Connection is published monthly by the Kelso Longview Chamber of Commerce 105 N. Minor Road • Kelso, WA 98626 STAFF Bill Marcum, CEO Julie Rinard, Project Manager Pam Fierst, Bookkeeper k CONTACT US 360-423-8400 kelsolongviewchamber.org To advertise, call Bill Marcum 360-423-8400 or bmarcum@kelsolongviewchamber.org Ad Deadline 20th of Each Month Business Connection
The speaker lineup from 2022 has grown.
from the North American Bigfoot Center in Boring, Ore., which features the largest public collection of Bigfoot evidence in the Pacific Northwest.
Shane Corson
Corson is a researcher with the Olympic Project and host of Monster X radio show. We're welcoming him back to sQuatch Fest as a popular speaker. He loves tracking, hiking, fishing and testing his survivalist skills. Corson acknowledges Sasquatches are very elusive creatures. He works to collect as much information about Sasquatch as possible so that he can find patterns that present themselves with the thorough research that he does. He shares his findings and invites us to draw our own conclusions. Corson had an encounter with Sasquatch in 2011. At sQuatch Fest last year, he delighted the crowds when he displayed a replica of a Sasquatch nest that he found.
Dr. Jeff Meldrum
Meldrum is a professor of anatomy and anthropology at Idaho State University. His interest in Sasquatch footprints was piqued when he examined a set of 15-inch tracks in Washington in 1996. Meldrum provides amazing evidence that suggests a bi-pedal elusive Sasquatch is out there roaming in the forest and mountains. His lab houses more than 300 footprint casts attributed to this mysterious primate. He conducts collaborative laboratory and field research in the United States and internationally (China, Russia). You will see some of his castings in his booth at sQuatch Fest, along with his books that will be available for purchase.
Marc Myrsell
Myrsell has been a land surveyor in Oregon and Washington for decades. Enamored with the quest of lost mysteries, he started re-investigating the infamous 1924 Ape Canyon attack in Washington around 2009. After document research and field investigation, in 2013 he was able to find the remains of the cabin and mine site where miners were attacked in 1924. He continues his research of other notable historical Sasquatch encounters, venturing into paper archives and taking this evidence into the field to look for physical evidence of historical reports. Myrsell has a large fan base here in Washington state. This will be his first experience as a speaker at sQuatch Fest.
of Sasquatch and native American cultures. She holds a master's degree in anthropology from California State University. Strain is the forest heritage resource and tribal relations programs manager for the Stanislaus National Forest located in Sonora, Calif., where she studies Sasquatch. She is affiliated with the nonprofit Alliance of Independent Bigfoot Researchers. Strain joins our speaker lineup for the first time, highly recommended by our other speakers and sQuatch Fest attendees.
Craig Yahne, sQuatch Fest host
Yahne is a cameraman, steadicam operator, drone pilot and videographer. He is a member of Pacific North West Sasquatch Research Group. Yahne takes time off to host sQuatch Fest and support our speakers. Between stage presentations, he will be wandering around sQuatch Fest in his animated and enthusiastic manor for live interviews with vendors and guests. You may end up in photos and video!
Scot Violette, Squatch America
Violette's interest in the most famous of cryptids dates to the first time he saw the classic Patterson/Gimlin film at age 7. After 25 years of looking for and studying Sasquatch, Violette saw one. Now his hobby is his business. He and his wife travel the United States to follow up on sighting reports, meet with and educate enthusiasts to expand the knowledge base and find new evidence of these creatures. They are always hoping to see one again.
Violette's motto is "investigating the unexplained…not explaining the uninvestigated." He is a first-time sQuatch Fest speaker and he's eager to share his experiences with you.
Kathy Strain
Strain is a West Coast Sasquatch researcher who studies the role
People from around the world are making plans to attend sQuatch Fest and stay a few days here in the Pacific Northwest. We hope you join us, too.
sQuatch Fest from page 1
2 | Kelso Longview Business Connection | January 2023
Shane Corson brought a Sasquatch nest replica last year.
2023 • Brew Mountain regional beer & wine garden • Themed merchandise vendors Cowlitz County Event Center 1900 7th Ave., Longview, WA WORLD RENOWNED SPEAKERS Cliff Barackman HOST Craig Yahne Friday, January 27 • 4 - 8 pm and Saturday, January 28 • 10 am - 8 pm Kids' Cave • Saturday, January 28 • 10 am - 6 pm Kathy Strain Scot Violette Marc Myrsell Dr. Jeff Meldrum Shane Corson For more information: jrinard@kelsolongviewchamber.org 360-423-8400 • Food carts • Kids' Cave sponsored by CalPortland Follow sQuatch Fest on Facebook for updates! Jennifer Penfold (360)414-8042 0617-500HC_A Jennifer Penfold (360)414-8042 We appreciate our sponsors! Applied Applications D & C Lemmons Contact our hotel partners to plan your stay! Guesthouse Inn & Suites Call 360-414-5953 Comfort Inn & Suites Call 360-425-4600 Adults $30 Children 5-15 $5 Under 5 Free Tickets available now at kelsolongviewchamber.org Tickets good for both days www.kelsolongviewchamber.org
Johanson tagged as new Chamber president
Marlene Johanson has climbed Mount St. Helens and parachuted out of an airplane, so leaping into her one-year term as Kelso-Longview Chamber of Commerce Board of Directors president with a new CEO at the helm goes along with her "nothing to be afraid of" and "changing keeps me engaged" attitude.
Plus, Johanson said there was a thorough vetting process to find Michael Eliason to suceed CEO Bill Marcum. Everyone on the committee played a role, but Johanson found outgoing Chamber President Lisa Straughan, owner of Express Employment Professionals, knowledge helpful.
"Lisa has human resources experience," Johanson said."I think it's going to be a good fit to help us grow.
"For me change is always good," she said. "It's just a new set of eyes, and I think that's always good."
Adapting to change came early to Johanson, who grew up in a military family that put down roots in the Kelso-Longview community when she was in middle school. After attending Mark Morris High School and Lower Columbia College, she emersed herself in being engaged with her community.
Johanson has served in the banking industry for 23 years, currently as a commercial banking officer for Heritage Bank. She has volunteered as a Chamber Ambassador since 2010 and Lower Columbia Professionals. She has served on the Chamber's Board of Directors for the past four years. In her tenure with the Chamber, she has earned Ambassador of the Year and Businessperson of the Year honors.
Johanson also serves in leadership roles with United Way of Cowlitz and Wahkiakum Counties, KLTV and LeTip. She and her husband of 33 years, Keith, have three adult children and five grandchildren and when she's not working, actively serving the community and spending time with her family, she's hiking, kayaking and planning adventures and ventures. When the pandemic sidelined others, Johanson used her nights and weekends to become a certified trainer and nutritionist and built a gym in her garage.
"Marlene's years of experience as a Chamber Ambassador, her attention to the details and calm nature make her the perfect person to lead the Chamber during this year of transition," Marcum said.
"Bill will definitely be missed," Johanson said. "We appreciate all the work he has done and the time he has spent turning it around for us."
Johanson is not the only Chamber member to take on a new leadership role. Straughan will step into the past president position, while Marc Silva, Columbia Bank, moves into the president elect role and Jason Gentemann becomes vice president. Neil Zick, Twin City Bank, and Michael Claxton, Walstead Mertsching, will resume their roles as treasurer and legal counsel respectively.
Chamber members also joined the board: Pam Whittle, Realty One Group Pacifica; Diane Craft, Koelsch Communities, and Sean Kiffe, NORPAC.
Three
of Commerce
Chamber
Board of Directors
Heritage
Marlene Johanson, President
Bank
Marc Silva, President Elect Columbia Bank
Foster
Express
Zick,
Twin City
Claxton, Legal
Walstead
Craft Koelsch Communities David Cuddihy The Daily News Duane Dalgleish Cowlitz PUD Rich Gushman Gibbs & Olson Keenan Harvey City Council, Kelso Sean Kiffe NORPAC Cherelle Montanye St. John/PeaceHealth John Paul KUKN-KLOG-101.5 The Blitz Bruce Pollock Bicoastal Media Ted Sprague Cowlitz Economic Development Council Michael Vorse Minuteman Press Dennis Weber Cowlitz County Commissioner Pam Whittle Realty One Group Pacifica
Jason Gentemann, Vice President
Farms Lisa Straughan, Past President
Employment Professionals Neil
Treasurer
Bank Michael
Counsel
Mertsching Diane
4 | Kelso Longview Business Connection | January 2023
Former Chamber President Chris Roewe with incoming President Marlene Johanson
Boardmanship series BOOT CAMP 2023 Small Business Friday Mornings ★ 7:30 am - 9 am American Workforce Group Event Center 1145 14th Ave., Longview Spring Series starts Friday, March 3 360-423-8400 www.kelsolongviewchamber.org Sponsored by: March 3 Role of the Board vs the CEO Frank McShane Square Peg Consulting March 31 Financial Accountability David Futcher Futcher CPAs March 24 Working as a Team Frank McShane Square Peg Consulting March 10 Succession Planning Chris Bailey LCC President April 7 Facilitating and Leading Meetings (Robert's Rules) Jennifer Leach Past President Longview School Board March 17 Handling Conflict Jennifer Leach Past President Longview School Board No pricing change since 2013! $100 Members ★ $160 Non-Members Includes up to 4 members of your organization.
Bill Marcum CEO
Boot Camp 2023 starts March 3 and continues each Friday through April 7. Six classes on Boardsmanship, or everything you need to know to serve on a board. Why? The Chamber has 77 nonprofit businesses as members and each year they have openings for one to four new board members, most of whom are local business owners or managers. This training is designed to help those newbies understand their role in the organization and on the board.
The class kicks off with the basics, The Role of the Board vs. the CEO/Executive Director, then shifts to Financial Accountability, Handling Conflict With-in the Board, Working as a Team, Succession Planning and Facilitating and Leading Meetings (Robert's Rules).
Each year we have 10 to 15 nonprofit organizations participating in the classes to give those who volunteer to be on a local nonprofit board the opportunity to learn, ask questions and talk with other board members about what to look for, what question to ask and how to be an engaged board member.
We started Boot Camp sessions in March 2013, and the
price has not changed – $100 for all six classes AND your organization can bring UP TO FOUR members from the organization at that price. If you choose to attend individually, the cost is $35 per class. If you bring four board members, it is less that $5 per class per board member.
It is also great for the executive director/CEO to attend from the organization since many of the topics include the organizations leader in the discussion and the role each should be expected to deliver.
Our great sponsors allow us to keep the price low. Fibre Federal Credit Union, Walstead Mertching and Workforce Southwest Washington help pay for the continental breakfast, materials and Boot Camp promotion, which allows the cost to remain at that 2013 level. American Workforce Group allows us to use their facility as our meeting space, which is also a bonus.
Help your new board members get a jump on providing the leadership your organization needs and deserves. Call the Chamber, 360-423-8400, to get your new board members registered. It's not too early to plan for success.
Bring your board members to Boot Camp
Commerce
Kelso Longview Chamber of
6 | Kelso Longview Business Connection | January 2023 Your Locally Owned and Operated Community Bank There's a Difference. • Checking, Savings and CDs • Business Loans • Construction Loans • SBA Loans 729 Vandercook Way, Longview (360) 414-4101 www.twincitybank.com
Carson Winter Communications and Outreach Coordinator
Foster Farms: 'A culture that nobody wants to walk away from'
Foster Farms is nearing its 25th year in operation in Cowlitz County, where it's provided many jobs to the community that it's grown alongside. Foster Farms is dedicated to providing sustainable and quality poultry to their customers nationwide. WorkSource had the opportunity to sit down with Production Manager Renee Hernandez to learn more about the organization and her personal journey within it.
WorkSource is funded by federal and state grants that it receives through the local workforce development board Workforce Southwest Washington (WSW) with the goal to help people get back to work, often collaborating with employers to place qualified job seekers in quality jobs. As community members, and employment thought leaders, we believe Foster Farms exemplifies quality jobs.
For one, Foster Farms starts new employees at $19 an hour, well above the Washington state minimum wage of $14.49 an hour – and still more than the state's inevitable January 1 increase to $15.74. But wage is only one part of the equation. Renee's journey at Foster Farms paints a portrait of a company that takes employee retention seriously and thrives because of it. Renee calls it, "a culture that nobody wants to walk away from."
Renee came to Foster Farms 21 years ago as a young, single parent looking for work. When she started, it was a competitive work environment in which she sought to set herself apart, despite her lack of experience. "I just paid attention to my surroundings and what was going on around me," she said. With this learning mentality, she was able to identify opportunities for better processes, communicate them to her supervisor, and get noticed.
Throughout her time at Foster Farms, Renee has worn many hats – starting as a floor worker and working her way up to her current position, production manager, where she oversees a team of 570 employees. According to data supplied by Workforce Southwest Washington, this is a position filled by women roughly 24 percent of the time – putting Foster Farms on the progressive forefront of promotional practices.
One of the biggest factors in her rise through the ranks was Foster Farms' support. Renee didn't go to college, but her company made sure she had the training she needed along the way to aid her growth. When asked if she believed a new hire would still have the same opportunities for promotion as she did? Her answer was, "absolutely."
Hiring is only half of the equation at Foster Farms. As Renee says, "It's one thing to try to bring team members in the door. But what are you doing to keep them?" Foster Farms' retention best practices are as thorough as they are impressive. They include:
• Weekly meetings with new team members.
• Requesting feedback on their onboarding.
• Asking new team members simple questions to be sure
they're being taught essential information about their work environment.
• Providing new team members with experienced work buddies to show them the ropes.
• Asking new team members if they feel safe.
It's the last question that might be the quietest factor in employee retention, but also the most important. It's easy to take safety for granted, but a company's reputation can be severely harmed if that idea doesn't translate into a working reality. In fact, when asked what qualities they look for in candidates right now, Renee said, "The number one requirement we have is safety." This alignment of values in employee and employer is one way in which Foster Farms is able to create and maintain a culture of retention.
Employee engagement and self-sufficiency wages are two of the Quality Jobs strategies Workforce Southwest Washington recently released to aid companies with employee recruitment and retention.
"The Quality Jobs framework has a robust list of strategies that employers can plug and play to implement their area of focus," said Alyssa Joyner, WSW's senior project manager for manufacturing. "We understand that not every employer can meet all the standards all at once, and that's okay. Quality Jobs is a starting point for companies to begin thinking about and making changes that make sense to fit their needs for employee recruitment and retention."
The other aspect that aids in retention is the wide availability of jobs at the company. Even Renee admits, "…hanging chickens might not be the job for everybody." There's a wide range of positions and the company works hard to find the right fit for people within the organization. If that means a change of department, rather than a termination – so be it. Fittingly, Foster Farms currently has 166 team members that have been with the company for more than 10 years.
Like many organizations, Foster Farms has been affected by the COVID pandemic. Their team members were classed as essential and maintained a production schedule, despite dealing with staffing shortages. Their team has made good use of WorkSource by participating in local hiring events and sourcing job candidates
For more WorkSource, see page 8
WorkSource
Kelso Longview Business Connection | January 2023 | 7
Renee Hernandez, Foster Farms production manager
COMMERCIAL LOANS WITH A PERSONAL TOUCH
WorkSource
from page 8
from the pool of local attendees.
WorkSource collaborates with companies like Foster Farms all the time to connect them with job seekers, but hiring events are one way that these employers can meet a large number of them at once and in person. The added benefit of partnering with WorkSource is that many of these candidates may be eligible for support services like gas money, tools, and childcare assistance – a bonus that can also positively impact employee retention.
Foster Farms will celebrate a quarter century in Cowlitz County in May 2023. In that time, it has established itself as a community lynchpin in Kelso by placing an emphasis on competitive wages, employee retention, and safety. Coupled with a transparent, people-centered environment, as Renee says, "We think of each other as a family." Foster Farms has a recipe for success.
Companies interested in learning more about how WorkSource can support their hiring and retention needs should contact Gherid Smick at gherid.smick@esd.wa.gov or 360-578-4226.
WorkSource is a network of nonprofits, community-based organizations, local and state agencies working in partnership to provide an array of employment and training services to job seekers and businesses in Washington state. WorkSource is funded through the local workforce development board, Workforce Southwest Washington. For information, visit www.WorkSourceWA.com
Carson Winter, WorkSource Vancouver and Cowlitz/ Wahkiakum communications and outreach coordinator, can be reached at carson.winter@esd.wa.gov or 360-735-4962.
" " Bring your business to Fibre Federal for Business Plus Checking, Business Online Banking, Remote Deposit, low-cost loans, and incredible member service.
Our Commercial Loans aren't automated or handled online. It's all person to person. We simplify an otherwise complicated process by navigating our members every step of the way. We offer commercial real estate loans, construction loans, vehicle and equipment loans, and business lines of credit, all designed with your needs in mind. Melissa McDaniel, Senior Commercial Loan Officer
Federally insured by NCUA 800.205.7872 fibrecu.com Social Media
8 | Kelso Longview Business Connection | January 2023
Cowlitz-Wahkiakum Council of Governments
Bill Fashing Executive Director
Mapping local broadband accurately
The Federal Communications Commission (FCC) has recently released its updated map of broadband service availability nationwide. This update follows years of concerns and complaints about the accuracy of the previous map versions. Concerns still exist about the accuracy of the maps and millions of broadband funds available for grants and loans hang in the balance and will be distributed using the maps. Residents of the region should check the maps for their residence or business location and file a challenge to the map if the data is not correct. Historically, the FCC has reported areas as served with broadband availability of 25/3 megabits per second or greater when they were not served.
Are you or someone you know struggling with access to broadband. This is your chance to make a difference and possibly help to move broadband investments forward in the region. The process of checking the accuracy of the FCC maps is simple. You do need to go online to complete the process. You can use your phone or go to your regional library and access a computer there to test the map accuracy and submit comments.
The map data is based on information provided by Internet Service Providers (ISP) and leaves out many addresses not served by an ISP and could inaccurately represent others. The FCC is gauging service as a speed of 25/3 megabits per second or greater. The 25 refers to download speed with the three referring to update speed.
How to improve the map
You can go to https://broadbandmap.fcc.gov/home, and type in your home or business address. The map will indicate whether the FCC considers that site served with broadband or not. If you click on the dot representing your address a "Challenge Location" option will pop up. The process will require you to include your name, and email to challenge the accuracy of the map. Detailed directions and support can be found here https://broadbandmap.fcc.gov/about. If your address appears to be unmapped, complete the process to identify the site as not being served.
The following was taken from the FCC website to assist in your effort:
• Enter an address into the Search by Address window to zoom to that address point on the map. When you enter an address, you can see information about that location, along with a list of Internet providers that can serve it and the types of service and speeds offered.
• Pan, zoom, and generally explore the map, or search for a location by clicking Location
• Search for service availability or coverage by specific providers by clicking Providers.
• Review internet service availability and characteristics in your state, county, congressional district, census place (town), tribal area, or CBSA (metro area) by clicking Area
• Save the underlying data locally by clicking Download.
If you think the data about your home or business location is wrong, please file a challenge by January 13. Share this information with others and encourage their participation to improve the map accuracy.
How is your mobile service?
During this same time, you can challenge information relating to mobile services within the region. If the information under the mobile coverage is incorrect your can dispute that as well. You will need to dispute the coverage claim by taking an outdoor (or in vehicle) speed test on your mobile phone with the FCC's Speed Test App. Instruction for this process can be found at https://www.fcc.gov/BroadbandData/Consumers.
To learn more about how to use the map and its features, visit the online help center
How to Help Improve the Map
In summary, you, as a user of the map, can assist in the ongoing process of improving the data in one of the following ways:
• If you think the information about the location point of your home or another location is wrong, you can submit a Location Challenge, from the map. You can also submit a Location Challenge if you think a location is missing from the map.
• If you think the information on the map about which
For more CWCOG, see page 10
Sample area of coverage from FCC Maps showing most of the Toutle area with 100 percent coverage.
Kelso Longview Business Connection | January 2023 | 9
ISPs offer broadband service to your home, or to another location, is wrong, you can dispute it by submitting an Availability Challenge from the map.
• If you think the information on mobile coverage is wrong, you can dispute that as well by taking speed tests on your mobile phone with the FCC Speed Test app. The results of these tests will be aggregated to create Mobile Challenges that mobile providers must respond to improve their coverage maps.
For More Information
The Broadband Data Collection (https://www.fcc.gov/ BroadbandData) site hosted by the FCC provide addition information on Broadband for consumers, and other stakeholders. The FCC also has established a consumer help center (https://help.bdc.fcc.gov/hc/en-us ) that includes articles,
video tutorials, and other materials.
The CWCOG serves a variety of planning functions for its member agencies. We serve as the Metropolitan Planning Organization for the Longview/Kelso/Rainier bistate metropolitan area, the Regional Transportation Planning Organization for a five-county region and we also serve as the U.S. Department of Commerce Economic Development Administration (EDA) designated Economic Development District for Cowlitz and Wahkiakum counties. The CWCOG has also recently been recognized as the Administrative Coordination Entity for the Spirit Lake – Toutle/Cowlitz River Collaborative working to address catastrophic flooding, sediment management, fish passage and other issues pertaining to the 1980 eruption of Mount St. Helens.
care for everyone
CWCOG from page 10
10 | Kelso Longview Business Connection | January 2023
peacehealth.org
Cowlitz County Commissioners
Rick Dahl County Commissioner, District 3
Newest commissioner gets personal
In future articles I will try to delve into issues of importance that the Commissioners have dealt with and share my thought on those. For this initial article, I will give some work history, personal background, and interests on myself. When you take on an elected, public role, I am of the opinion the citizens you serve have a rightful expectation to know more of your history.
I was raised in Lewis County, the oldest of three boys. Much of my family still lives there today. I graduated from Centralia High School in 1974, spent two years at Centralia Community College, and two years at Central Washington University, earning a Bachelor of Science in business administration degree in 1978.
My first "real world" job was with Transamerica Finance in Yakima. I believe it was 1981 when I was given my first office to manage in Longview. In 1982, I moved to the banking sector taking employment with Cowlitz Bank as a consumer lender, and commercial lending trainee. In 1984 I followed my boss to a bank in Auburn called Auburn Valley Bank. Once again, consumer lending, commercial lending, and eventually branch management.
In 1989, U.S. Bank purchased my employer, and I became part of the U.S. Bank system. In the mid 1990s I was promoted to vice president and manager of the Cowlitz County District, returning to Longview. In 1997, U.S. Bank sold to an out of state banking conglomerate. An opportunity became available during that time with Reynolds Federal Credit Union. I was offered the job of CEO and took it. Managed that organization through the next decade through plant sale and closure, office relocation to the Triangle Mall area, and name change to First Citizens Credit Union.
First Citizens Credit Union became part of Fibre Federal Credit Union at the end of 2008 through merger. I became their senior vice president, mortgage operations, charged with developing
and implementing a secondary mortgage market division for Fibre. What initially started with me, and two others has grown to be a significant department within the credit union serving all its communities, routinely being one of the top loan producers within the communities served. With retirement of the CEO, I was asked to oversee retail operations for the credit union. Retail operations included the branch system, consumer lending, and call center. I retired in January 2021 as senior vice president, chief retail officer.
I married a local Castle Rock girl, Barby, in 1984. I can always say I was married to Barby Dahl. A marriage that brought me four great stepchildren. We were married almost 31 years until pancreatic cancer took her in 2015. Today I have two sons living/ working in Las Vegas, and a daughter living/working in Battle Ground. The oldest son was lost in 2010 due to an accident. And to date, I have seven grandsons.
My personal interests include motorcycles. I have logged many miles on road bikes, dual sport bikes, and offroad bikes in the 50 years I have been riding. Two different trips on the AlaskaCanada Highway, traveled the western states reaching as far as Wisconsin, and raced some long-time off-road races like the Virginia City Grand Prix in Nevada. I also have a small house in Pierce, Idaho, I like to spend time at. Pierce is an old gold mining/ logging community with ties to the Nez Perce and the Lewis and Clark expedition. Pierce is located off the beaten path with 500plus residents that all wave when you pass by.
I appreciate the opportunity to provide an article. Not super scintillating this month but will tackle some issue the Commissioners have had to deal with in future articles and my thoughts surrounding that. I leave you with blessings for a great Christmas and New Year.
Kelso Longview Business Connection | January 2023 | 11
Cowlitz
Development Council
Join the Seattle, Small Business Administration (SBA) free seminars the fourth Wednesday of each month for an overview of the Washington Export Outreach Team (WEOT) and the resources and technical assistance available to you, as a small business exporter. More information on the specific speakers, topics and to register is available by following this link – https://www.eventbrite.com/o/sba-seattle-districtoffice-7828614365
Nearly 96 percent of consumers live outside the U.S., and twothirds of the world's purchasing power is in foreign countries. If you're a small business owner, the Washington Export Outreach Team is ready to support your growth through international trade.
Established in 2013 following a national mandate to do more to support international trade, WEOT is a collaborative team of local, state, regional, and federal export assistance agencies who
provide the tools and resources you need to sell internationally. WEOT Partners include:
• Small Business Association Office of International Trade
• SBA Seattle District Office and Spokane Office
• Export Finance Assistance Center of Washington
• Washington State Department of Commerce
• Washington State Department of Agriculture
• Washington Small Business Development Center
• U.S. Commercial Service
• Export-Import Bank of the United States
• Western U.S. Agricultural Trade Association
• U.S. Department of Agriculture – Foreign Agricultural Service
• SCORE – Washington State Chapters
• Washington MBDA Business Center
• Impact Washington
Wednesday Webinars
Wednesday Webinars with SBA Seattle is an ongoing series of free, virtual, webinars covering a variety of topics to benefit small business owners. On the fourth Wednesday of each month, they will be focusing on export assistance, featuring conversations with different WEOT members each session.
About the Presenter
John Brislin is SBA's International trade and finance specialist (export finance manager) for Washington state, northern Idaho and Alaska. He has over 23 years of private-sector international banking and trade finance experience working at Bank of Boston (Bank of America) and Bank of California (U.S. Bank). John has over 12 years of public-sector export trade finance and risk mitigation experience working at Export Finance Assistance Center of Washington (EFACW), Export-Import Bank of the United States (EXIM Bank) and SBA Office of International Trade (SBA OIT). He looks forward to working with small businesses so they can turn their export opportunities into actual sales and to achieve the ultimate goal of getting paid – especially on time – for those sales.
Are you ready to export? Economic
You're retired. Your money isn't. To learn about the different options for your retirement accounts, call my office today. IRT-4395G-A © 2022 EDWARD D. JONES & CO., L.P. ALL RIGHTS RESERVED. > edwardjones.com | Member SIPC Nick Lemiere, CFP® Financial Advisor 1332 Vandercook Way Longview, WA 98632 360-425-0037 12 | Kelso Longview Business Connection | January 2023
Ted Sprague President
Jerry D. Petrick Certified Business Adviser
Getting off to a great start for 2023
As the new calendar year gets under way, families and friends have come together to celebrate the holidays in a series of traditions that get passed between generations. These traditions are unique to each culture, group, or family. Businesses also engage in some of these traditions and rituals. Retail businesses close for a few days to do their inventory. The accounting department closes its books for the fiscal year if it matches the calendar year.
Small businesses don't have the capacity that large businesses have with dedicated departments for each aspect of the business. Instead, small business owners tend to do it all. During the closing of 2022 what are the traditions that you engage in for your business? Do you send holiday cards to your clients? Do you meet with your bookkeeper to review your performance for the year? Do you take time to celebrate with your team your successes and reflect on the lessons learned? Do you meet with your Small Business Development Center business adviser to check in and plan for 2023?
Here are some of the resources we find helpful for small businesses:
Read:
1. 8-Step Checklist for closing your books at the end-year
Listen:
1. Big tax breaks await those who plan ahead this year
The deadline to file your tax return is still several months away, but there are steps you can take now to score tax breaks and stay ahead of some tax changes that are coming next year.
The following guidance is very helpful and straightforward provided by Melinda Emerson, December 5, 2022.
10 Ways to Prepare Your Business for 2023
This list will help you get your small business ready for the new year. Prioritize by choosing the things that will make the biggest difference for you as you prepare your business for 2023.
1. Review Your 2022 Results
You want 2023 to be better than this year, right? Then you need to gather the data to assess your wins and struggles from 2022. Some questions to ask yourself are:
1. What was your revenue? Your profitability?
2. How many revenue streams do you have?
3. How many proposals went out?
4. What was your close ratio?
5. What was your shopping cart abandonment rate?
6. Do you need to add to your team?
7. Is it time for a brand refresh?
By looking at the data and answering these questions, you'll understand what went right this year and what you can work on in 2023.
2. Develop Sales Goals
Another way to prepare your business for 2023 is to set sales goals for the new year. Review revenue, profitability, customers served, and other metrics to set reasonable goals for your small business. After selecting an annual sales goal, break it down into smaller goals so you know the sales you need each month and week to reach that goal.
Need some help setting goals? I just wrote a three-part series about developing your 2023 small business plan. Check it out here: Part 1, Part 2, Part 3
3. Tweak Your Sales Strategy
You can't reach those higher sales goals if you continue to do the same thing. So, what are you going to do that's different?
Last month, I wrote an article on 25 Ways to Attract New Sales Leads in 2023. It's well worth the read if you are looking for new sales strategies. You can also ask yourself the following questions:
1. How will you generate leads?
2. How will you qualify leads?
3. How can you upsell existing customers?
4. Do you need to hire a new salesperson?
In creating your sales strategy, you may also want to create a promotional calendar that details the promotions you'll be running next year (at least for Q1). This will allow you to get ahead on your special promotions, which will make them more effective than trying to execute last-minute campaigns.
4. Set Your Budget
Knowing your goals will help you prepare your business for 2023 and set the appropriate budget. Review your financials for the year to see what you spent in 2022. This will give you a baseline budget for 2023. With this starting point, you can start to ask yourself questions like:
1. What are your current operating costs?
For more Petrick, see page 14
Business Toolbox
Kelso Longview Business Connection | January 2023 | 13
2. What does your cash flow look like?
3. What revenue can you expect in 2023?
4. Where can (or should) your company spend more money?
5. Where can you cut expenses?
With a thoughtful and data-driven approach, you can create a reasonable and achievable budget for 2023.
5. Begin Tax Planning
Reaching out to your accountant is another way to prepare your business for 2023. Schedule a meeting to discuss how you are positioned for your taxes next year and ensure your accounting records are up to date. You may also want to reach out to your contractors and vendors and get them to update their W9s. Vendors who you've paid $600 or more during 2022 will need to receive a 1099-MISC by the end of January. You'll also want to make sure you have W2s for all your employees.
6. Organize Yourself Digitally
Spending some time organizing yourself right now is a great way to prepare your business for 2023. Who wants to start 2023 with 10,000 unopened emails from the previous year? Now is the time to deal with those unopened emails and start fresh. Another way I like to organize myself digitally for the year ahead is by setting up my admin folders. My filing system is by year and then by category, for example, 2023 Contracts. By setting up all my folders for next year, I'm one step ahead of the game when important files start coming in. If you don't have a file organizing system, now is the time to develop one (which will save tons of time in 2023).
7. Organize Your Workspace
In addition to organizing yourself digitally, you can prepare your business for 2023 by organizing your physical workspace. A cluttered desk is a cluttered mind! Chances are you've accumulated things in your office or on your desk throughout the year that can be cleaned up and organized. Set aside a few hours to declutter, find better ways to organize, and create a system.
8. Update Your Website
Your website is your No. 1 sales tool. Most people considering doing business with you will first look you up online (and most likely from a mobile device). Make sure your website is simple
and engaging on mobile. Review load time and think about site navigation. Talk to others to get their opinion. Your website may not need a complete overhaul, but small tweaks may improve the user experience.
9. Create a Social and Content Plan
Speaking of your website, you can also prepare your business for 2023 by looking at your Google Analytics, which will tell you what marketing efforts have been working and which need to be tweaked. More specifically, you can use the data on traffic sources to understand which channels are generating the most referrals and metrics of the most popular content to understand what topics are bringing people to your website. Use this data to create a content and social media plan for 2023.
10. Schedule a Team Meeting
After you've done one or more of the things above to prepare your business for 2023, you'll want to bring your team into the loop by scheduling a team meeting, either in person or virtual. Use the time to explain the key goals and targets for the new year and each person's role. Create an agenda for your meeting and share it ahead of the meeting to make your time together productive.
We at the SBDC network stand ready to work with you as you navigate your business through whatever 2023 brings. We are here for you because of an ongoing investment by the United States Congress through the U.S. Small Business Administration (SBA). These are your federal tax dollars at work to provide high quality, confidential business advisory services for your business at no cost to you.
Let's work together to make 2023 an OUTSTANDING year for you and your business!
This article was prepared by Jerry Petrick, MBA and certified business adviser with the Washington State University Small Business Development Center (SBDC). Petrick provides no-cost, confidential business advisory services by appointment. He can be reached via email at jerry.petrick@wsbdc.org
Petrick from page 14 14 | Kelso Longview Business Connection | January 2023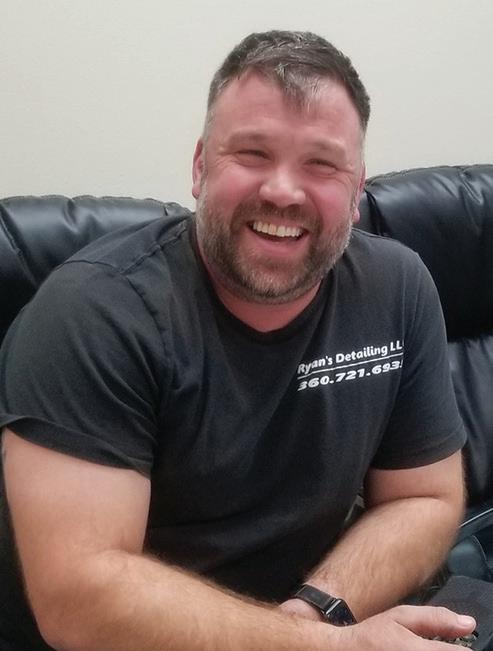 Wednesdays at 6 pm KEDO 1270 AM or 99.9 FM Contact Julie Rinard at 360-423-8400 or jrinard@kelsolongviewchamber.org to schedule your interview
Monica Seidl and Brandon Robinson, Cowlitz-Wahkiakum Council of Governments
Your Chamber Connection Radio Show
Major Lawry Smith and Major Phil Smith, The Salvation Army
Ray and Samantha Merrill, S & R
Cleaning Services
Ragsdale,
Ryan Kampe, Ryan's Detailing, LLC Gayle Acker, Country
Nutrition
Kelly
Columbia Theatre
Village
Shoppe
Business Connection | January 2023 | 15
Kelso Longview
LONGVIEW 1413 Commerce 360-575-9804 CENTRALIA 1530 S. Gold St. 360-807-1211 Shop Local
Look Who Joined in December
Country Village Nutrition Shoppe
Thien Nguyen
1052 Washington Way
Longview, WA 98632 360-425-8100
Renewal City Church DBA The Roxy Theater
Danny Perez
1101 Commerce Avenue Longview, WA 98632 360-355-2576
Tactical Patriot Protective Services
Cheyenne Brooks
272 Colorado Street Longview, WA 98632 360-623-9080
Guesthouse Inn & Suites
Helen Kim
501 Three Rivers Drive Kelso, WA 98626 360-414-5953
Kelso Longview Business Connection | January 2023 | 17 New Members Add your business to our growing membership. Call 360-423-8400 Today! Membership packages to fit your needs Business Association with opportunities to promote trade through Chamber socials, special events and committee participation. • Annual Meeting and Banquet • Networking Events • Committee Participation • Business Contacts • Quarterly Membership Meetings • Civic Representation • Monthly Business After Hours Business Services include marketing for your business, referrals and access to Chamber publications and research data. • Mailing Labels • Membership Window Decals • Member Referrals • Ribbon Cutting • Website Links • Member to Member Discounts • Membership Directory • Tax Deduction • Newsletter • Business Card Display • Use of Chamber Logo Representation through action committees, candidate forums and up-to-date action alerts. • Legislative Representation • Issues Tracking and Information • Task Forces • Candidate Forums • Legislative Update Breakfast • Demographics Publication Membership Packages Basic • $275 or $26 per month Bronze • $500 or $46.66 per month Silver • $1,000 or $86.33 per month Gold • $2,500 or $211.33 per month Platinum • $5,000 or $416.66 per month Diamond Club • $10,000 or $834 per month Nonprofit • $180 or $18 per month
Lower Columbia College
Chris Bailey President
Is LCC's proposed new vocational building about to become a reality?
Back in 2014, Lower Columbia College first submitted its proposal for a new Center for Vocational and Transitional Studies. The proposal was to replace three older buildings (40 to 60-plus years old) with a 55,000-square-foot building to house LCC's welding, machining, manufacturing, IT and college and career preparation programs. Due to inflationary concerns, the building has been subsequently reduced to 46,000 square feet. Last biennium, the Washington state legislature approved funding for design of the building. That work has been essentially completed. In December 2022, the governor's proposed budget included funding for construction of the project. The hope is that the legislature will agree and fund this local project in the upcoming session.
Historically, the legislature funds the design in one biennium and funds construction in the next. That is not guaranteed, however, and this will be part of the college advocacy efforts this year. The community colleges generally get one new building approximately every 10 years.
The building will be an incredible asset to the college and to the entire community. It will allow LCC to substantially upgrade its program classrooms and lab spaces. The current facilities were built to the standards of that earlier time, with much smaller enrollments and limited class size capacities. This proposal will also give LCC the ability, with community support, to construct a state-of-the-art skills center to serve the entire region, replete with new and advanced equipment and more flexible lab space. The Center for Vocational and Transitional Studies will be located in the main parking lot on 15th Avenue, with additional parking behind it, greatly enhancing the appearance of the "front door" to the college.
To assist in this effort, the Lower Columbia College Foundation is embarking on a capital campaign with a goal of raising
an additional $3.5 million dollars for the building and new equipment. The combined effort from LCC, the LCC Foundation, and the community will enhance educational opportunities for our students and help our business and industry partners address their ongoing needs for a skilled workforce. An added benefit will be the construction jobs this project will bring to our local community.
As president of Lower Columbia College, I want to thank our entire community for the amazing and continuous support this institution receives. LCC is your community college!
In addition to our vast experience and customized solutions, we put a lot of heart into helping your one-of-akind business succeed.
HeritageBankNW.com/allofus
18 | Kelso Longview Business Connection | January 2023
| 800.455.6126 | Equal Housing Lender | Member FDIC
HeritageBankNW.com
"If something comes up, I just call my banker and we can figure it out.
"
- Tracy Fisher, Business Diversity Institute
LOOKING FOR A BUSINESS-FRIENDLY PLACE TO GROW? KALAMA RIVER INDUSTRIAL PARK SPENCER CREEK BUSINESS PARK IS WAITING FOR YOU. • ZONED FOR MIXED USE Large land site perfect for lodging/hospitality, retail, etc. • CONVENIENTLY LOCATED OFF I-5 Just 30 minutes from PDX & the amenities of Portland • 45 ACRES OF PRIME, SHOVEL-READY LAND Environmental permits & road improvements in place • COMPETITIVE UTILITY RATES + INCENTIVES Designed to promote growth & ensure your succes • LOCATED OFF I-5 • FLEXIBLE 50K SQ. FT. WAREHOUSE + 1,750 SQ. FT. OFFICE SUITE ALSO AVAILABLE FOR LEASE: www.PORTOFKALAMA.com | (360) 673-2325 | 110 WEST MARINE DR., KALAMA WA 98625
Kelso Public Schools
Mary Beth Tack Superintendent
January time to honor our school board
As we enter January, School Board Appreciation month, we would like to honor the five individuals that make up the Board of Directors for Kelso School District.
Individually they are each strong, thoughtful, compassionate, and dedicated. As a team, they are truly extraordinary. Through collaboration with each other and with school district staff, they help create and support strong systems that aid in furthering high-quality educational programs.
These elected board members are volunteers in the community who selflessly serve in an enormous capacity, taking seriously their responsibilities. These responsibilities include supporting 4,800 students and more than 700 employees, in 11 schools. They are tasked with collecting and responding to a tremendous amount of information regarding school curriculum, safety, policies, and day-today operations, to mention only a few.
Recognizing the importance of student voice, they have created an opportunity for students to be heard. Taking time to hear from students has become a priority and focus of the board, furthering their capacity to make strong decisions that remove barriers and benefit each and every student in our commitment to 100 percent – 100 percent of students that graduate and are post-secondary enrolled in two-year college, four-year college, apprenticeships/trades or military.
This is often a thankless job with substantial demands. Please join us in thanking our school board members for their essential and muchappreciated civic leadership.
#WeAreKelsoStrong
Serving Kelso School District are Jeane Conrad (president), Mike Haas (vice president), Karen Grafton, Ron Huntington, and Leah Moore
Longview Public Schools
Dan Zorn Superintendent
Improving academic achievement in 2023
Happy New Year! We are looking forward to 2023 and all that it has to offer. The new year is always a time of renewal and rededication to the students we serve. With winter break behind us, we are refreshed and eager to take on 2023.
Our focus this year is to improve student academic achievement and the climate and culture in our schools. When it comes to academic achievement, many different factors play into our students' success. One of the most important things we can do to ensure our students receive the best education possible, is to invest in curriculum that meets state standards, is relevant and current, and is designed using best practices in teaching. The quality of instructional material cannot be understated in the competitive world we live in today.
For more than a decade, Longview Public Schools has replaced curriculum every eight years using a replacement schedule. For example, in 2022, the district adopted high school and elementary English language arts materials, high school science and transitional kindergarten materials. This year we will focus on adopting new materials for world languages and K-12 health and fitness. As part of the adoption process, select teacher's pilot curriculum in their classrooms that meets specific criteria and then rate the materials. An Instructional Materials Committee, which includes parents and instructional staff, conducts a similar review and takes into consideration the feedback from the teachers who have spent much of the year piloting the curriculum. The public is then invited to review the materials and provide feedback before a final recommendation is made to the school board. This public process ensures that parents, community members and students have a voice in the curriculum adopted by the district.
Today, teachers use a variety of tools to deliver instruction. Technology plays an important role in the classroom, with many lessons accessed online. Our technology team has done a great job keeping student computers and classroom technology current in all of our schools. They make certain that equipment and software is updated on a regular basis to keep up with technological changes. These technology updates have been funded through the voter approved capital projects and technology levy for many years and has helped our students become technologically literate, which is critical to their success
20 | Kelso Longview Business Connection | January 2023
For more Longview Schools see page 21 www.amadalongview.com 1135 3rd Ave. Suite S-101, Longview (360) 952-3100
in the world today.
Another primary goal throughout our district is improving the climate and culture in our buildings and classrooms. Our administrators, teachers and support personnel work to create a sense of community and belonging in our schools and classrooms every day. They greet students and provide a warm, accessible, enthusiastic and caring atmosphere. They also set high expectations and share their enthusiasm for learning. Our schools work to engage families and invite them to take part in their children's educational experience. This sense of community and sincere care for each child goes a long way in helping students feel like they belong and allows them to safely engage in their school. Research has shown that when students are engaged in their schools and feel as though they belong, they perform better academically.
This new year holds much promise at Longview Public Schools. We look forward to another successful year.
The Kelso Longview Chamber of Commerce would like to THANK the following loyal members for renewing their partnership with us this month. Beacon Hill Sewer District Canterbury Gardens Canterbury Inn Canterbury Park Carl's Towing Service and Repair, Inc Carlson's Heating and Air Conditioning, Inc CCS Coldwell Banker Bain Cole's Appliance Repair Comfort Inn & Suites Kelso DeFrancisco Lampitt and Brado PS Dorothy Bain Hanson Interiors Plus J H Kelly, LLC Life Works Longview Memorial Park, Funeral Home and Cemetery Longview Orthopedic Associates, PLLC Longview Public Schools Newrock Homes, Inc Silver Star Sports Bar and Grill Superior Tire Service, Inc Three Rivers Eye Care U.S. Senator Patty Murray Watkins Tractor and Supply Company Kelso Longview Business Connection | January 2023 | 21
Longview Schools from page 22 Consistent Courteous Complete 1425 Maple Street • Longview, WA 98632 www.cascade-title.com 360.425.2950 Title and Escrow Services
City of Longview
MaryAlice Wallis Mayor
Recalling 2022 while anticipating new year
December can be a hectic jam-packed, 31-day celebration as each activity tumbles into another. Even with the endless fun, it's OK to pace yourself, attend what you can, and simply say – NO – to the rest. There will always be a fresh supply of doings in the days ahead.
An annual event the first weekend in December is the Christmas Twilight Parade (sponsored by the Cowlitz PUD) and "Flip the Switch" activity (sponsored by Longview Parks and Recreation), held at the gazebo at Civic Circle. Standing under the gazebo, listening to the Lower Columbia College Belle Voce Choir in the frosty air, amongst a small crowd gathered in anticipation for the last float to turn the bend carrying Santa was already a thrill! It was on the directors' signal, when an audible countdown began and the Matherson family, "flipped the switch", which culminated lighting the entire Civic Circle. It was magical.
I've contemplated that switch flipping concept for many days. Are there ways we can flip the switch in our own lives and turn on the light around us in a more illuminating way? Whether it be by adding a little more kindness, taking a leap of faith, going out on a limb, splashing in a puddle, building a snowman, healing a heart, mending a friendship, falling in love, or however "switch flipping" resonates with you, be brave and flip it – every – single – day. Get ahead of new year's traditions and start something new – today!
2022 has flown by in the City of Longview, with many notable accomplishments.
Here is a month-by-month glance at some of the highlights.
January – My re-election and two new city councilmembers –Boudreau and Wean; the opening of Longview Business Park; new housing plats recorded for Mt. Solo Estates; upgrades proposed for Lake Sacajawea Park and Hemlock Plaza; and the unveiling of the American Recovery Plan Act infrastructure and development opportunities.
February – A farewell to outgoing Councilmember Schott and welcome to newly appointed Councilmember Ortiz.
March – Changes to the landscape of our community will be coming soon on behalf of the efforts of our state and federal legislators: the addition of a Longview police station satellite office building at Archie Anderson Park, a new roof at the senior center on Commerce Avenue, and a restroom facility at Vandercook Park.
April – A BIG snow in Longview; a trip to Boston to learn more about Divert, a food digester business moving to the Mint Farm; and a tour of Stay Safe Community in Vancouver to learn more about Pallet Home communities. Learning and asking questions helps us sharpen our understanding and improve our efforts. In what ways
City of Kelso Mike Karnofski Mayor
2023-24 budget highlights
At the December 20 meeting the Council passed the 202324 budget. As usual, most of the budget is for normal city operations including law and justice, utilities, roads and general city management. There are some budgeted items that are important to highlight.
The police department will be fully funded with all officer positions filled. The library will be fully staffed and should return to pre-COVID hours.
The budget included $90,000 a year to hire a federal lobbyist. This is the first time the city has had a federal lobbyist. The Council felt the city was losing opportunities to obtain federal money and so it approved the funding. The Council also allocated $75,000 to hire a consultant to update the city zoning code.
Since the Ranney water system production improved after this fall's relifing, the Council was able to reallocate the $3.4 million in federal COVID funds to other projects. The money was reallocated as follows:
• Spray Park water recycle system, $900,000
• Kelso Senior Center repairs, $600,000
• Kelso Train Station roof repair, $500,000
• Lads and Lassie Park, $120,000
• Miscellaneous park and recreation projects, $130,000
The miscellaneous park and recreation projects include improvements for disc golf and baseball and softball fields, along with boxing club repair, a pickleball court and a kayak launch.
The total for all the projects is $2.25 million. This leaves a little over $1 million to be allocated before 2024 for other city uses.
2023 will be an exciting year to see these and other projects underway. It will also be challenging with the need to continuously improve our roads and streets and manage city expenditures.
22 | Kelso Longview Business Connection | January 2023 For more Longview see page 23
are we all willing to contribute in our community?
May – A trip to Washington, DC, to meet with federal lobbyists and share our gratitude to our state and federal legislators for funding the crisis intervention team for the Behavioral Health Unit and advocate for federal legislative agenda items like Columbia Heights Road, downtown Longview streetscapes completion, Southwest Washington Regional Airport infrastructure and a de-escalation training simulator for the police department.
June – The fun never stops in Longview during the summer months. From concerts and movies at the lake, GoFourth Celebration, Cowlitz County Fair, Squirrelfest, Unique Tin and other great wholesome activities, there is something for everyone. What favorite activities did you participate in over the summer?
July – Updates were presented regarding Lake Sacajawea and Camp Alabama. While out and about in the community during the year, how can we see through a more positive lens for a more positive perspective?
August – Never give up. Never, ever give up, and always remember that no matter what, YOU MATTER.
September – Seasons will come and go and we will all do our best to prepare for the "storms" and give thanks for the calm. What lessons are we learning to be better prepared? How will our community heal and grow from any decisions made? How can we all work together and celebrate the successes?
October – Before we celebrate our big 100th birthday in 2023, how will the community continue to strive to find ways to work together to fulfill our founder's vision? How will all citizens enjoying the blessings of that vision do their individual parts to merit such a community?
November – Each and every day is a gift to everyone, and we can choose at the beginning of each day what contributions we will add to it, as we put our best foot forward, for ourselves, our family and our community.
December – Are we ready to flip the switch to 2023? Many grand celebrations will take place throughout the coming year. Remember to pace yourself, be grateful for the little and big things in life, never give up, and keep flipping the switch by adding more light and blessings to your life.
Longview from page 24 Kelso Longview Business Connection | January 2023 | 23
Your Chamber Connection radio show, 6pm, KEDO 1270 AM or 99.9 FM 5
Chamber Ambassadors, 5:30pm, Teri's Steak and Fish House 10
Ribbon Cutting, 11am, Country Village Nutrition Shoppe
Chamber Executive Board, Noon, Mill City Grill
FEBRUARY
Education Foundation, 8:30am, Zoom
Your Chamber Connection radio show, 6pm,
Chamber Ambassadors, 7:30am, Canterbury Park Ribbon Cutting, 11am, Shinju Dojo Aikido
Your Chamber Connection radio show, 6pm, KEDO 1270 AM or 99.9 FM
Lower Columbia Professionals, 4pm, TBD
Business After Hours, 5:30pm, TEAM –Total Employment and Management 11
Ribbon Cutting, 11am, Discovery Coast Media Chamber Executive Board, Noon, Mill City Grill
Education Foundation, 8:30am, Zoom
Your Chamber Connection radio show, 6pm, KEDO 1270 AM or 99.9 FM
sQuatch sQuad, 4pm, Mill City Grill 12
Ribbon Cutting, 11am, Renewal City Church, DBA The Roxy Theater
Lower Columbia Professionals, 4pm, TBD 16
Martin Luther King Jr. Day – Chamber office CLOSED 17
Ribbon Cutting, 11am, Tactical Patriot Protection Services Chamber Board, Noon, Mill City Grill 18
Your Chamber Connection radio show, 6pm, KEDO 1270 AM or 99.9 FM 25
Your Chamber Connection radio show, 6pm, KEDO 1270 AM or 99.9 FM 27
sQuatch Fest, 4-8pm, Cowlitz County Event Center 28
sQuatch Fest, 10am-8pm, Cowlitz County Event Center
Your Chamber Connection radio show, 6pm, KEDO 1270 AM or 99.9 FM
Business After Hours and Ribbon Cutting, 5:30pm, Three Rivers Law Center
Chamber Board, Noon, Mill City Grill
Your Chamber Connection radio show, 6pm, KEDO 1270 AM or 99.9 FM
Calendar JANUARY 2
New Years Day – Chamber office CLOSED 4
1
2
8
9
14
15
20
21
22
24 | Kelso Longview Business Connection | January 2023
Thinking about hosting Business After Hours in 2024? Contact us at 360-423-8400 or email jrinard@kelsolongviewchamber.org January 10: Total Employment and Management (TEAM) February 21: Three Rivers Law Center March 29: Building Bridges Business & Tourism Expo April 11: Cowlitz Wahkiakum Legal Aid May 16: Foster Farms 25th Anniversary Celebration June 13: Stewart Title July 11: Mary Cranston, LLC August 8: Cowlitz Indian Tribe September 12: Northwest Enforcement October 10: Edward Jones - Roy Gawlick November 14: Windermere Northwest Living December 12: Holiday Mixer 2023
Longview Downtowners
Lindsey Cope President
Wishing all a happy New Year from the Longview Downtowners
Thank you to everyone who supported our local business and events in 2022. Economic recovery from the COVID-19 pandemic is not easy, but it would be much more difficult without the support of our local community. Below you will find some highlights of 2022.
• We held a record-breaking clean up honoring our friend and advocate Lonnie Knowles in April.
• We hosted 15 Shop Local Saturdays highlighting our downtown businesses.
• The first Harvest Festival was a fantastic success, boasting
Energy Efficiency Question:
What are the largest contributors to your electric bill?
Answer: Heating and air conditioning and water heating! These two together represent an estimated 70% of your overall electric bill costs.
Solution: We have a rebate for that!
Hybrid Water Heater
$600 rebate
Reduce the cost of heating your water by up to 65-70%!
Ductless Heat Pump (DHP) $800 rebate
(when upgrading from electric zonal heat or electric forced-air furnace)
$100 rebate
(with a DHP replacement) Reduce the cost of heating your home by up to 50%!
Make the switch today and enjoy lower energy costs! Call Energy Efficiency Services at 360.501.9514 (office) or 800.631.1131 (toll-free) for more information.
5,000-plus participants.
• Our partners at the Broad Strokes Project have completed two murals in downtown Longview. Have you seen them?
• We were blessed with a fantastic Small Business Saturday and support for our Shop Local Saturday events in December. Thank you to everyone who participated in our new passport program. We look forward to expanding passport events quarterly.
Our plans for 2023 include our first Sip and Shop in March as part of our growing annual Shamrock Saturday event. Shamrock Saturday is like Small Business Saturday, but the Saturday nearest St. Patrick's Day. This year, we are also planning another passport event, partnering with our pop-up markets, and increasing décor. Stay tuned for all the fun on March 18.
Other plans for 2023, include:
• Supporting and celebrating the Longview Centennial with our partners and community.
• Continuing the beautification of the district with supporting art, clean up, flowers, lights and more.
• Holding our first Downtown Banquet to celebrate our businesses and community, along with our executive level members special events.
Don't forget the Longview Downtowners are open to anyone interested in the promotion, preservation, and development of downtown Longview. Our meetings are on the third Thursday of every month at 3 p.m. at Mill City Grill. We hope to see you there.
Thank you all for your support in 2022. We appreciate every business owner, shopper, and casual wanderer.
Cheers to the new year!
26
Kelso Longview Business Connection | January 2023
|
Networking Event Join us for 10 January 2023 Catering & Drinks by Hop-N-Grape • Raffles 1015 Vandercook Way, Suite D | Longview, WA Register online at: www.kelsolongviewchamber.org $15 in Advance $20 at the Door Winter's Best Winter's Best 5:30 to 7:30 pm Business After Hours
Business After Hours
Hosted
Nearly 200 guests attended the Holiday Mixer at the Kelso Longview Elks Lodge. We appreciate the Elks staff and Lodge members, our Holiday Mixer sponsors, Chamber Ambassadors and many volunteers who helped make this a memorable event. We were able
College
to everyone who attended!
28 | Kelso Longview Business Connection | January 2023
New friends and old friends meet up at the Holiday Mixer every year
to award a Lower Columbia
scholarship from the proceeds of the Holiday Mixer. Thank you
by Kelso Longview Elks Lodge
The Elks Lodge showcased their chef and catering staff's talents with a beautiful and delicious buffet. There was great attention to every detail throughout the event
Denise Miller, Woodland Chamber of Commerce, accepts a prize from Jason Gentemann, Foster Farms. Foster Farms donated eight turkeys and a gift basket for the Holiday Mixer
Kodie Kultala, RE/MAX Premier Group, presents a prize donated by Red Canoe Credit Union to Christina Williams
Chamber CEO Bill Marcum promotes his last Holiday Mixer with us. He retires February 28
Connection | January 2023 | 29
Kelso Longview Business
Ambassador Fran Gehrman, Academy Mortgage, presents a prize donated by Ecological Land Services to Denise Nicholson.
The Holiday Mixer is one of the best networking events of the year.
Guests enjoyed conversation before the 42 raffle prizes were drawn.
Tori Surface, American Workforce Group, accepts a generous advertising package from Ambassador Josh Carter, KLOG-KUKN-The Blitz
Kalei Lafave, Kelso Longview Elks Lodge, and Chris Bailey, Lower Columbia College.
Carrol Ruiz accepts a sQuatch Fest basket from Chamber Ambassador Carrie Medack, Diamond Residential Mortgage. Carrol is ready to attend sQuatch Fest January 27-28.
The ice sculpture provided by the Kelso Longview Elks Lodge was stunning.
Darrell Whittle, Realty One Group Pacifica, accepts a prize from Chamber Ambassador Diane Craft, Koelsch Communities. Prize from the Marcum snowman collection.
Jingle all the Way – Yay!
Yes it rained for this year's Jingle all the Way 5K, but the wet weather didn't dampen the spirits of runners and walkers as they cruised around Civic Circle or those who found a good laugh inside with Sandy B. McNutt, who usually is out and about during SquirrelFest in the summer. See more photos in our video tribute. Click Here
30 | Kelso Longview Business Connection | January 2023
Pre-filing of bills for the 2023 session under way
Written by Washington Retail From Inside Washington Retail
The 2023 session of the legislature convenes on January 9; however, legislators began pre-filing bills for consideration on December 5, 30 days in advance of the session. Bills are often pre-filed in hopes they are scheduled for a hearing early on, while others are simply "statement" bills indicating a legislator's priorities.
As of December 20, there were 121 bills pre-filed. Notably, Rep. Peter Abbarno (R-20) has filed HB 1011 to repeal the long-term care trust program and payroll tax scheduled to take effect in July 2023.
On December 16, SB 5062, concerning online marketplace consumer protection caused by organized retail crime (commonly referred to as the INFORM act), was introduced by Sen. John Lovick (D-44). An impressive group of bi-partisan co-sponsors has signed on as cosponsors. They include Sen. Patty Kuderer (D-48), Sen. Curtis King (R-14), Sen. Jesse Salomon (D-32), and Sen. Shelly Short (R-7).
Finally, we cannot ignore HB 1020, filed on December 8, which would designate the Suciasaurus rex as the official dinosaur of Washington.
Washington Retail will continue monitoring pre-file bill introductions. The first week hearing schedule will be released on January 5.
Longview centennial celebration set to kick off Jan. 20
downtown
The Longview Centennial Committee presents the Centennial Kickoff Celebration January 20 at the historic Merk Building, 1339 Commerce Ave. Admission is free. Social hour starts at 6 p.m. with ceremonies taking place at 7 p.m.
The event will feature historic exhibits, special guests, refreshments, merchandize and a sparking drink toast.
Led by the Longview Masonic Lodge No. 263, the opening of the 25-year time capsul is scheduled to occur before 8 p.m.
Fibre Federal Credit Union, Columbia Theatre family series starts Jan. 22
The new year is right around the corner and with the new year comes the 2023 Fibre Federal Credit Union Rainy Months Series, four family-friendly Columbia Theatre live performances to entertain everyone in the family.
The Fibre Federal Credit Union Rainy Months Series takes
place on select Sunday afternoons during the "rainy months" of January through May. This series is an expansion of the Columbia' s educational programming and emphasizes a shared experience for both children and the adults in their lives. Tickets are $10 per ticket or a family pack of four tickets for $30.
The first show in the series is "In the Year of the Boar and Jackie Robinson," at 2 p.m. January 22. It is based on the book by Betty Bao Lord. Find out more about this and the other shows at https:// www.columbiatheatre.com/ffcu-rainy-months-series
Discover Pass Free Days for 2023 set
Mark your 2023 calendars. Don't miss the chance to enjoy the remarkable beauty of lands managed by Washington Department of Fish and Wildlife, Washington State Parks and Recreation Commission, and Washington State Department of Natural Resources on these Discover Pass free days: January 1, January 16, March 9, March 19, April 22, June 10, June 11, June 19, September 23, October 10, November 11 and November 22.
Learn about the Longview Outdoor Gallery with a visit to the library
The Longview Outdoor Gallery (LOG) committee will present a 30-minute slideshow at 6 p.m., January 9 at the Longview Public Library. There will be time for questions following the presentation.
This is an opportunity to learn about the sculptural landscape in Longview's historic downtown. Longview Outdoor Gallery installed eight new temporary sculptures in September 2021. These art pieces will stay in place for the next two years.
Longview Outdoor Gallery tries to purchase one or more sculptures to give to Longview for the city's permanent art collection on a regular basis depending on fundraising. In the last 10 years, LOG has donated 20 sculptures to the city.
The Longview Outdoor Gallery has created a podcast audio tour to showcase the nearly two dozen pieces of art sprinkled throughout downtown. Click here to see the Walking Tour map.
The podcast is available on six platforms including Apple Podcasts and Spotify. Each episode of the podcast corresponds with a specific sculpture and details the artist who built the piece and a bit about the piece itself. Because it is in podcast form, citizens and visitors wishing to learn about the artwork are not required to walk any one way, like a standard audio tour. Rather, they can walk or drive to look at whichever sculpture they choose, whenever they want.
News & Events
To see more visit
32 | Kelso Longview Business Connection | January 2023
News and events come from our website, press releases, and public information shared with us.
kelsolongviewchamber.org
Kelso-Longview Business Connection monthly newsletter is published the first of each month, posted electronically on our website and emailed to over 7,000 local business professionals, city and county officials. To be included in this monthly email, call the Chamber office at 360-423-8400.
Size 1 - 3 Issues 4-7 Issues 8-10 Issues 12 Issues Dimensions
1/16 Page $110 $90 $70* $50* 2" x 2.5"
1/8 Page $175 $140 $105* $75* 4" x 2.5"
1/4 Page $205 $170 $140* $100* 4" x 5.25"
1/2 Page $325 $290 $245* $190* 4" x 10.5" (vert) or 8" x 5.25" (hor)
Full Page $625 $570 $480* $400* 8" x 10.5" *Includes ad on website)
All ads include full color and any design work. Deadline is the 21st of the month prior to publication. Digital files: PDF is preferred. JPEG accepted at high resolution (at least 300 dpi). Non-Members of the Kelso-Longview Chamber of Commerce, please add 30% to above rates.
To advertise or request additional information, please call at 360-423-8400 or contact: CEO Bill Marcum bmarcum@kelsolongviewchamber.org
Project Manager Julie Rinard jrinard@kelsolongviewchamber.org
Connection Advertising Rates Advertising Agreement Date:______________ Business Name: Phone: ____________________________ Contact Name: Cell: Address: Zip Email: Fax: Number of Issues Invoice Credit Card Check Plus Web Ad: 300W X 100H. Ads can be changed monthly. Signature__________________________________ Ad Rep Signature___________________________ 360-423-8400 www.kelsolongviewchamber.org Effective January, 2023
Business
Diane Craft
Koelsch Communities
DeDe Brill
PeaceHealth
Katie Dillinger
Life Mortgage
Fran Gehrman
Academy Mortgage
Kelly Godden Specialty Rents
Kerri Guitteau and Corby Cowlitz Black Bears
James Hoyt
Heritage Bank
Eric McCrandall
Family Health Center
Carrie Medack
Diamond Residential Mortgage
Bailey Roberts Fibre Federal Credit Union
Pam Whittle
Realty One Group Pacifica
34 | Kelso Longview Business Connection | January 2023 Ribbon Cuttings Welcome New Member S & R Cleaning Services Congratulations Housing Opportunities of Southwest Washington's Veterans Integration Program A new house for veterans
Thank you to these Ambassadors who participated in ribbon cutting celebrations during December!
Welcome New Member Ryan's Detailing LLC Ribbon Cuttings
Connection | January 2023 | 35 Congratulations Copies Today – 30 Years of Serving Cowlitz County
Kelso Longview
Business
ARE YOU LOOKING FOR MEETING SPACE? CONFERENCE & EVENT CENTER We can accommodate your group from $35.00/hour including tables, chairs and whiteboard. Call American Workforce Group at 360-200-4900 Conveniently located at 1145 14th Avenue in Longview