THE PLEDGE
KANSAS 4-H FOUNDATION
FALL 2022
E
L L
A Y
N R O
T O D
G R O W M A K E S
V
T H R I V E 4-H helps youth discover who they are, create bonds that will last a lifetime, and prepare them for whatever path life may take them down. 4 H provides a
space for youth to have opportunities to lead, learn, and create with the
of dedicated and knowledgeable adult volunteers. SHARE 4-H WITH YOUR COMMUNITY www.kansas4-h.org/enrollment.html
Kansas State University Agricultural Experiment Station and Cooperative Extension Service. K State Research and Extension is an equal opportunity provider and employer.
E R
E
safe
guidance
Kansas 4-H began in 1905 when organized groups of youth came together to "learn by doing."
In 1914, the Smith-Lever Act established the Cooperative Extension System connected to Land Grant universities and nationalized 4-H as a positive youth development program. As Kansas 4-H grew, a national trend for 4-H camping was growing, and Kansas 4-H Clubs purchased Rock Springs Ranch in 1946.
In March 1952, a committee of Kansans convened to determine what entity should hold the title of Rock Springs. With a vision for providing educational opportunities for Kansas youth, this committee created the Kansas 4-H Foundation as a 501(c)(3) nonprofit. In addition to holding the title for the property of Rock Springs, early Foundation goals included international programs, leader training and advancement of Rock Springs Ranch.
The Foundation continues to partner with the Kansas 4-H program to meet the evolving needs of Kansas youth and develop future leaders. We acknowledge and appreciate our longtime 4-H friends. Their lifetime of generosity creates new opportunities for the youth of Kansas.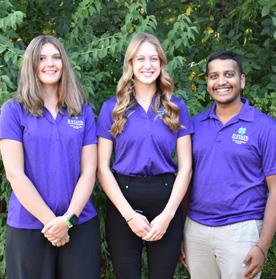 KANSAS 4-H FOUNDATION 3 CONTENTS FEATURES 4 11 12 14 16 18 STATE PROJECT AWARD WINNERS HONORED AT EMERALD CIRCLE CELEBRATION PROVIDING A HEALTHY BREAK WITH OUTDOOR RECREATION DELKER FAMILY MAKES LASTING IMPACT ON ROCK SPRINGS RANCH PLANNING AHEAD FOR TAX-TIME CHARITABLE GIVING KANSAS 4-H STAY CONNECTED HONORING KANSAS 4-H VOLUNTEERS FOR THEIR SERVICE
8 TEEN LEADERS LAUNCH THE ACCESSIBILITY FUND 6 THE POWER OF POSITIVE YOUTH DEVELOPMENT
ON THE COVER: 4-H youth examine a lizard as part of an immersive outdoor experience.