Perspectives
Centennial Gala
The Centennial Gala, held at the Music Hall Ballroom, honored the League's 100 year history and legacy
Making
An inspiring story of how one member changed her career trajectory through connections made in the Junior League of Cincinnati
Kids on the Block: From the Archives to Today
Shedding light on the hard topics, from disabilities to abuse, Kids on the Block opens dialogue for children going on 43 years
Career Connections through the League
MAGAZINE OF THE JUNIOR LEAGUE OF CINCINNATI SPRING 2020 PAGE 4 PAGE 6 PAGE 9
The Junior League of Cincinnati is an organization of women committed to promoting voluntarism, developing the potential of women, and improving communities through the effective action and leadership of trained volunteers.
Perspectives is the magazine of the Junior League of Cincinnati, published multiple times throughout the year. Past issues and advertising rates can be found online at www.jlcincinnati.org. For more news and events, follow us on social media.
Junior League of Cincinnati, 3500 Columbia Parkway, Cincinnati, Ohio 45226
•
• www.jlcincinnati.org 3 President's Perspective 4 The Centennial Gala: Honoring 100 Years of History and Continuing Our Legacy 6 Sparking Awareness with "Ask Me About My Dress" 7 Making Career Connections through the League 8 A Celebration of Growth - Sweet Cheeks Diaper Bank Updates 9 From the Archives: Kids On The Block 10 Update on Centennial Campaign 13 The
through
14 Thank You to the 2019-2020 Annual Fund Donors 15 Member Milestones Writer Kourtney P. Brueckner Writer Elizabeth Longaberger Writer Kelly Saylor Writer Carrie M. Starts JLCincinnati JLCincy JLCincy
this issue Your Perspectives Team Managing Editor Charlotte R. Eichman Assistant Editor Andrea Buschmiller Thank You The Perspectives Committee would like to extend our gratitude to the many women who volunteered their time, knowledge, opinions, and experiences to make this issue possible. Contributers: Lauren Gonzalez Photographers: Amber Bridges and Chelsea Zesch VP Communications Chelsea Zesch
513.871.9339
Junior League of Cincinnati
COVID-19
In
President's Perspective
We have experienced a spring like no other this year. How quickly the world changed as the COVID-19 pandemic forced all of us to reevaluate the lives we are living. I am sincerely grateful to each of you for adapting alongside us and continuously raising a hand to offer help. In the midst of working to stay safe and healthy, the veil of racial inequities that are pervasive in our cities and our countries was raised once again. One of our core values as an organization is our belief that lasting societal change is achieved through collaboration. Now more than ever before, it is crucial to be listening to one another, to be learning from and supporting our Black members as well as all members of color, and to hold ourselves accountable to being an authentic ally in this fight for justice.
The 100th year of the Junior League of Cincinnati has been momentous for so many reasons. Members have shown their commitment in a multitude of ways, from supporting our Centennial Campaign, preparing for the AJLI Annual Conference, celebrating our Centennial Gala and the continued work on raising awareness from The Little Black Dress Initiative to Sweet Cheeks and Tidal Babe. There is a clear dedication that we are all engaged in purposeful work both inside the JLC and outside in our community. If you attended our virtual April GMM, you heard more about our new strategic plan and at its core are five very important pillars: Culture, Community, Cultivate, Change, Care. These pillars are what we plan to weave throughout every facet of the JLC. There will be purposeful
offerings and continued training on how important it is that we step into the ownership of who we are. Though we have accomplished so much this year, there is still work to be done. From enhancing the civic fabric of Greater Cincinnati, to expanding and building a diverse membership that reflects our community, we can continue building an organization positioned for success in the next 100 years.
As we find ourselves in unprecedented times, we must step up, speak out and continue to lead with grace, compassion and integrity. Thank you for your passionate commitment to the JLC and never wavering on the ability to rise to the occasion no matter how big the occasion gets.
my gratitude,
Meredith L. Comin JLC President
#JLCincy | 3
All
Dear JLC members and friends,
The Centennial Gala: Honoring 100 Years of History and Continuing Our Legacy
As our glasses came together to cheers in celebration, lights, laughter, music, and positivity filled the room. The JLC Centennial Gala: Gems of the Queen City was a night to remember. It was an evening to look back and to look forward. It was a night shared with the women who helped shape our past and the women who will propel us into the future. Our League values filled the room on the faces of attendees wearing stunning dresses and beautiful smiles.
The Gala took place on March 7, 2020 at Music Hall Ballroom. As guests entered the event space, they were greeted by an enchanting display of crystals cascading from the ceiling that surrounded a large display of white flowers. As they glanced up, the ceiling sparkled with gems. The entire room symbolized the true magic and elegance of the last 100 years. Dinner was provided by Eat Well utilizing recipes from past JLC cookbooks, and a night of dancing to music by the Sly Band kept the event lively. The evening enjoyed many special birthday touches, culminating in a serenade of "Happy Birthday" by the entire ballroom. After the serenade, guests enjoyed minicupcakes served from a giant dress structure. The night was made possible by our event sponsors Fifth Third Bank , TQL Foundation, and Cincinnati Museum Center, as well as in-kind sponsors Krombholz Jewelers and Kroger Floral, and Prestige AV & Creative Services
Nearly 500 guests attended the Gala, comprised of approximately 300 League members and 200 non-League attendees. The Emcee for the evening was current League member, Miss Ohio, Caroline Grace Williams . Guests participated in two raffles, one for beautiful gems valued at $50-$1,500 that were donated by Krombholz Jewelers and a prize raffle that included almost 100 items donated from local companies and League members. There was also a jewelry raffle in which the winner won a $5,000 piece of jewelry from Krombholz Jewelers. When asked about the most rewarding part of planning the celebration, Gala Co-Chair Kathryn Harsh reflected that, "the most rewarding part was seeing the whole event come together beautifully and everyone having a great time!" She attributed the success of the event to the amazing team of Actives and Sustainers who spent over a year planning the event, as well as the fantastic team of professionals and sponsors who assisted every step of the way. The Gala exceeded its fundraising goal, netting over $100,000, with all funds benefiting the JLC and its mission.
The joint effort that came together to create every last captivating detail was a wonderful reminder of what we
#JLCincy | 4
have and will continue to accomplish together. The night left us with a magical vision of women holding hands and staring into the future. What a bright light our past shines onto the path before us.
Guests enjoy dancing to the music by the Sly Band at the Gala.
President, Meredith Comin, speaks at the Gala.
Centennial Planning Committee
Centennial Gala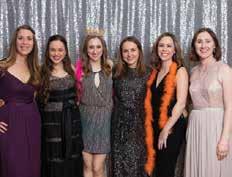 In March the League hosted its Centennial Gala, an epic celebration to commemorate the 100th year of the Junior League of Cincinnati. League members and the public gathered at the historic Cincinnati Music Hall for a glamorous evening of food, libations, and dancing. Guests enjoyed dinner by Eat Well, an open bar, music from the the Sly Band, and a jewelry raffle.
#JLCincy | 5 #JLCincy | 5
Sparking Awareness: "Ask Me About My Dress"
By KELLY SAYLOR
In 2014 the Little Black Dress Initiative (LBDI) was founded by the Junior League of London to raise awareness about how those with financial struggles have limited choices and resources. For five consecutive days, advocates wear one black dress or outfit to initiate conversations and awareness about poverty and the issues faced. This year's New Member class held the LBDI from February 24th through the 28th.
The LBDI included multiple events, such as a fundraiser held at the LOCOBA by Platform Brewery, at which one dollar for every pint sold that evening was donated by the venue. The New Members also hosted a wine tasting fundraiser at LouVino and held a donation drive for hygiene products and dry food goods for St. Vincent de Paul . Additionally, the New Members spent the week raising awareness about poverty in the Greater Cincinnati area by posting on social media, wearing pins that said "Ask Me About My Dress." New Members prompted their network to donate for the benefit of JLC and St. Vincent de Paul, and wore the same outfit for all five days that week to educate their family, friends, colleagues, and beyond about LBDI. The LBDI campaign raised funds and collected donations.
Beyond raising community awareness and donations, New Members were able to see first-hand the struggles of poverty in our community by participating in a poverty simulation at St. Vincent de Paul, which gave them a better handle on local resources available to combat poverty and the complexity of the issue itself. In this simulation, the New Members partner with St. Vincent de Paul, who assigns each New Member an identity of a person experiencing poverty that has come to SVDP for assistance. During this, the New Members get a brief look into some everyday challenges such as: being elderly and without a network of resources or loved one, difficulties with child care while also pursuing advancement within education or a job, those that are returning citizens that have a felony conviction, and more. .
Design Impact partnered with the JLC in years past to create a curriculum unique to the JLC experience, one that continues in the League today. The Design Impact materials are a resource for volunteer training and how to use our emotional intelligence to connect with fellow JLC members and the community. The materials also help facilitate brainstorming broad issues and identify short and long term solutions. The intention is that these trainings prepare New Members to effectively partner with the community and tackle issues through dialogue and action. On the whole, the 2020 LBDI program once again culminated in a successful effort to raise awareness of the impact of generational poverty on women and children.
#JLCincy | 6
Making Career Connections through the League
By LAUREN GONZALEZ
They say that upwards of 70% of jobs are found through networking. When this is coupled with belonging to an organization of women who truly care about lifting you up, you realize that your potential is limitless.
I joined the Junior League of Cincinnati in 2016, after moving to Cincinnati from Miami, Florida to work as a patent attorney with The Procter & Gamble Company (P&G). My undergraduate degrees in chemistry, finance, and international business made me a prime candidate to be a patent attorney; however, I quickly realized that my true passion was to work in corporate transactions.
Although I sought out mentors at P&G, and I made it very apparent that my desire was to be rotated into the corporate transactions group, it became clear to me that I was not going to be able to practice the area of law I had always wanted. I remember asking myself, "Where can I cultivate the skills I need to best position me for where I want to be?" My mind immediately went to the League. I remember approaching Vicki Calogne and Tara Noland asking if there was an open position on the Finance Committee. There was not, but several weeks later Vicki called to ask regarding my interest in working as the Administrator of the Endowment.
Through my role on the Endowment, I developed a relationship with Sustainer Valerie Newell , Chairman of the Board of Trustees of the Endowment and a Principal at Mariner Wealth Advisors. Those who know Valerie will tell you she is one of the most accomplished women both in Cincinnati and nationally and that she is a person who builds up those around her. I experienced this firsthand when Valerie pulled me aside one day and told me she thought I might be better suited in a corporate transactions role. It was as if she had read my mind.
Valerie immediately started making calls and sending emails, introducing me to law firms with whom she thought I would make a great match. One such match was with Graydon Head & Ritchey LLP (Graydon), the oldest full-service law firm in Cincinnati. My first meeting with Graydon felt like fate and now, eight months later, I could not be happier working as a Corporate Associate on mergers, acquisitions, sales, corporate governance, and other corporate and financial work. I will be forever grateful to Valerie and to the League for helping me get to where I am and the relationships I've built and the skills I learned along the way.
Lauren's Top 5 Tips for Women Seeking a Mentor:
• Do not be afraid to put yourself out there.
• If you feel you are lacking in a certain area of your life, reach out to those in the League. Their support and advice is invaluable.
• Always give 100% of your effort and energy, especially when someone is making an effort through their professional relationships for you.
• Be mindful and deliberative of those you seek to network with and be respectful of their time.
• Always bring other women up just as those women who came before you have done for you.
#JLCincy | 7
A Celebration of Growth: The League's Partnership with Sweet Cheeks Diaper Bank
By CARRIE M. STARTS
Successful partnerships share an alignment of core values, purpose, complementary strengths, communication, and strategic planning. This is what the Junior League of Cincinnati found in its partnership with Sweet Cheeks Diaper Bank, and there is no question that the partnership has thrived as a result. Since the inception of the partnership, the League has invested over 3,000 volunteer hours, led and participated in diaper wrappings, organized diaper drives, transported diaper donations, created a Potty-Training Tool Kit to assist in eliminating diaper need, assisted with filling orders for Tidal Babe Period Bank, and planned and volunteered for multiple fundraising events. Most recently, Sweet Cheeks Diaper Bank held its annual fundraiser on February 22, 2020. A Mardi Gras party was held at the nonprofit's headquarters on State Street, the 10,000 square-foot warehouse purchased since its partnership with the JLC began. Vice Chair of Program
Acceleration Rebecca Bryson served as the event's Sponsorship Chair and raised $24,500 in sponsorship funds. Members Katie Fisher and Bridget Fantaci served as Raffle and Silent Auction Chairs, compiling around 24 baskets and 10 silent auction items. JLC members assisted in setting up and working the event as well assisting with social media. The event opened with a VIP cocktail hour followed by a short program, dinner by J. Gumbos, beer by Rhinegeist, and music by Q102. It was a celebration of the success of Sweet Cheeks since its inception and its distribution of 1,550,590 diapers in 2019. Overall, the event raised $49,000 which will contribute to the ongoing difference Sweet Cheeks is making. There is no doubt, it has been quite an exciting three years for this partnership and we are excited for what next year holds.
#JLCincy | 8
Kids on the Block: From the Archives to Today
By: ELIZABETH LONGABERGER
The Junior League of Cincinnati became a program partner of Kids on the Block in 1986. Nearly a decade before, Kids on the Block was founded in Washington, D.C. as an initial effort to educate children about cerebral palsy. The program was started after the Education for All Handicapped Children Act, also known as the Mainstreaming Law, was passed. Over the past 43 years, the nonprofit organization has expanded its mission to include many disabilities and other differences. Today, Kids on the Block provides dynamic, interactive performances using life-size puppets to educate children about child abuse and neglect.
The League contributed an initial grant of $2,800 to start the program locally so the organization could purchase the puppets and copyrighted scripts. League members at the time actually presented the program to area school children. League Sustainer, Mary Lee Olinger, was very active in the initial launch of Kids on the Block, serving passionately as chairman of the program from 1986-87. Olinger shared in a 1986 Perspectives article that "...humor is very important. None of the puppets are depressed or afraid of what to say." As the puppeteers answer these questions with humor and poise, it really helped to guide the young children on how to interact with classmates and peers with disabilities.
The League's efforts provided a very important program delivering a vital message to children. For many years, the puppet shows included five of the same main characters across the world. These characters included Mark Riley, a twelve-year-old boy with cerebral palsy; Renaldo Rodrigeuz, who was almost totally blind; Mandy Puccini, a twelve-year-old girl without hearing; Stephen Arthurs, a nine-year-old physically abused child; and Stephen's best friend, Nguyen Huy Nam, a Vietnamese boy who talked about being from a different culture. The shows included non-disabled children as well to show the children how to react in real scenarios.
Today, over 20,000 children a year engage with the puppeteers show. Jane Herms, the executive director of the Family Nurturing Center, a non-profit social service agency focusing on ending child abuse, shared that "the program includes different skits in which the puppets discuss their personal stories regarding both physical and sexual abuse." There are three puppets, Stephen, Nam, and Joanne, who "dispel myths and provide nonthreatening, factual information." The puppeteers are dressed in modern-day clothing and end the performance
with a talk to the children, offering to answer questions and clarify any of the information. Kids on the Block is a very special, ongoing program that connects all people, including people with and without disabilities, the abused and the non-abused, and children and adults.
The League's Centennial History Committee Co-Chair, Lisa Dye, recently found two Kids on the Block puppets that were straight from the manufacturer in New York City, brand new, and never before used. Lisa received permission from the League to offer the puppets to the local chapter of Kids on the Block. One of the puppeteers told Lisa that the organization was so excited because the puppets are so expensive to purchase. The puppets that Kids on the Block have been using have been mended and worked on many times, and the local chapter did not have enough funds in its budget for new puppets. Lisa mentioned that this donation was the most visibly rewarding out of all her archival work. She was so happy to see the puppets being put to great use for many more years to come!
#JLCincy | 9
JLC Building Supervisor, Anthony Gregory holds a puppet from the Kids on the Block Program at the Columbia Center.
Centennial Fundraising Campaign
Harnessing Skills & the Spirit of Giving Now and in Future
Dear Friends,
A year ago we were beginning our first conversations with donors, with an important goal in mind: to raise $1M in honor of the JLC's 100th Anniversary. Our feasibility study conducted in 2018 demonstrated a clear path forward to raise the funds and re-engage donors while providing training in fundraising skills as part of the process.
Our campaign cabinet was composed of both Active and Sustaining members, with training sessions provided by our professional fundraising counsel for our teams during each phase of the fundraising effort. All of us pulled together to form new friendships and re-ignite existing ones while honing our fundraising skills.
As part of the campaign effort, we have updated our donor database to ensure that it can be easily accessed going forward. Strong data will be invaluable information as we do any fundraising, but most importantly, as we work to improve the outcomes of our annual fund effort in years to come.
Early on, grants from five foundations were secured, affirming the community's willingness to support and honor our rich history of outreach to the greater community. Community support was important and provided the foundation of our fundraising efforts and certainly gave credibility to the campaign effort.
Personal connection has been a driving force behind our campaign, and we're delighted to say that we reached out directly to nearly 90% of the League membership through more than 200 in-person meetings and personal phone calls, followed by nearly 600 contacts during our "All In!" phone-banking phase, and finally the remaining members through personal written appeals and as part of our membership renewal process. The process has truly been an extraordinary undertaking and was accomplished by more than 80 League members who volunteered to participate in the fundraising effort in some way.
To date 257 donors have responded to the campaign. Although we are approaching the end of the campaign, there is still time to participate with your gift prior to our donor recognition deadline of July 1.
We plan to honor our donors with a reception as part of the September general meeting. The first meeting of a new League century is a fitting opportunity to celebrate and announce our final amount raised.
We are so grateful you have taken this journey with us. Thank you for believing in the united resonance of women's voices. Thank you for empowering the next 100 years of visionary civic leaders and for honoring our past and defining our future.
In gratitude,
Digi F. Schueler Campaign Co-Chair
jlcincinnati.org/centennialcampaign
Give online: Contact us: campaign@jlcincinnati.org or 513.871.9339
Looking Forward: Areas to Be Funded
Funds raised will enhance training and will allow for valuable curriculum to be developed and more leadership training tracks to be offered to JLC members.
Contributions will ensure projects can provide a permanent program development cycle as well as nonprofit incubation.
Investing in Columbia Center as our greatest physical asset improves both the membership and rental experience.
Our increased Endowment will strengthen our financial foundation to allow for more mission based spending, better training programs, and greater membership sustainability.
Foundations
The John Hauck Foundation, Fifth Third Bank, John W. Hauck and Narley L. Haley, Co-Trustees. in honor of Janet Hauck, Sandy Elliott, and Paula Wharton
The H.B., E.W. and F.R. Luther Charitable Foundation, Fifth Third Bank and Narley L. Haley, Co-Trustees.
Lauren Bosse Campaign Co-Chair Katie Hayden Gamber Campaign Co-Chair
Megan Stacey Campaign Co-Chair
#JLCincy | 10
raised against our
of
still time to make a multi-year pledge or a one-time gift!
YEARS OF SERVICE $950,000
goal
$1M There's
Thank you to our donors for honoring our past and defining our future
Individual Giving
Visionaries
Ellie & Jim Berghausen
Trish & Rick Bryan
Pepper Family Fund of The Greater Cincinnati Foundation Digi & Mike Schueler
Community Leaders
Missy Byrne
Melanie Chavez Barbara J. Fitch
Carrie Hayden & Katie Hayden Gamber Marty & Jamie Humes
Champions
Lauren Bosse
Vicki Marsala Calonge
Christopher C. & Sheila J. Cole Fund
Lee D. Crooks
Amelia Crutcher
Sandy Donovan
Saralou Durham
Linda C. Fath
Meredith Edwards Ficks
Carolyn Fovel
Lynn Pulsfort Larson & Don Larson
Valerie L. Newell
Marilyn Osborn
Margaret Richards
Nancy R. Gottschalk Charitable Foundation (given by Nancy Gottschalk, Buffie Rixey, and Sarah Pharr)
Susan & Russ Shelton
Laura Skidmore
Megan Stacey
Reba & Al St. Clair
Chris & Paul Stubbins
Ms. Lauren A. Thaman
Anne D. Thomas Priscilla & Les Ungers
New Century Club
Marge Anderson
Susan Shelly Anthony
Cheryl & J.P. Brackman
Adele M. Craft
Myrita Craig & Dr. Peter Margolis
Judy & Chris Dalambakis
Mo Dunne
Molly E. Flanagan
Susan Holzapfel
Ginny & Anna Kuertz
Suzanne & Steve Lakamp
Shannon & Kei Lawson
Tara & Zac Noland
Ellen Miller
Kate Molinsky
Ginny & Chuck Myer
Mr. & Mrs. James L. Pease, III Keke Sansalone
Anonymous Fund of The Greater Cincinnati Foundation in memory of Eva Jane Romaine Coombe
Martha & Gary Steier
Dionn Tron
Lucy Ward Frank & Rosemary Welsh Ellen Zemke
2020 Society
Anonymous
Nancy Reed Aichholz
Julie Albright & Brian Haas
Kelly Barber
Jan Patterson Bartel
Alison Bushman
Angela Carl Cathryn Carmichael
Elizabeth Colohan Meredith L. Comin
Kathryn G. DeNicola
Jane & Igor Dumbadze
Mrs. Emily Emeneker
Bobbie H. Ford
Janice Hartman
Lisa Hubbard Mary E. Ivers
Jane Johnson
Richard & Lisa Kagan Danya & Michael Karram Jan Kiefhaber
Lori Rosekrans Klinedinst Mrs. John K. Krieg Nazly Mamedova Minda Matthews-Smith
Lauren Solimine
Tara Mosley
Cynthia Sheakley Muhlhauser
Mr. & Mrs. Bill Poffenberger
Lori Poole Karen P. Post
René Robers
Jen Schuster Meghan Seitz J.J. & Ross Wales
Jamie Williams
Abby Workman
Friends
Judy Adams
Romola N. Allen
Anonymous Fund of The Greater Cincinnati Foundation
Nicole Antonini
Susan Arnold
Melissa Barclay
Darci Beattie
Nicki Beckett
Jane K. Bennett
Emily Bergmann
Elizabeth Berkowitz
Susan Bierer
Sam Bodner
Mykol Bolden
Sadie Bonifas
Sandra Brady
Mary Anne & Thomas Brennan
Rebecca L. Bryson
Erica Burns
Deborah Hoopingarner Cass
Stephanie Chapman Kerrie Rose Clark
Sarah Clark
Susan & Burton Closson
Sara Cooperrider Carol H. Conlan
Beth Crowl
Patricia A. Culp
Bonnie Daniel
Stephanie DeFalco
Danielle Deja Jeri Duncan Aileen Eckert Joany Ellsworth Bridget Fantaci Scott & MaryEllen Farrell
Lauren Ferrell
Barbara & John Fillion
Kate Fortlage
Nancy Fuller Nancy Jane Gaffney
Brenda Ganulin
Lauren Christine Gonzalez
Elizabeth Hahm
Kylie Hartman
Nancy Hartman
Kelly Haseotes
Emily J. Haun Mary Hensel
Brooke Hiltz
Laura Jane Hinkel
The Barbara and Richard Homlar Charitable Foundation
Katie Hooker Katie Hotze
Katie Hushebeck-Schneider
Judy Imhoff
Barbara Jaymont
Jane Johnson
Sarah Raup Johnson
Amy Jo Jones
Lois McConnell Jones
Junior League Gardeners
Amy Kattman
Dorian Kern
Fran Kohl
Janie Koppenhoefer
Marilyn & Mike Kremzar
Allison Kropp Martine Lamy
Peggy H. Landes
Mrs. Raymond G. Laubenthal
Vicky & Ted Leavitt M. Drue Lehmann
In Honor & Memorium
Christopher C. and Sheila J. Cole Fund of The Greater Cincinnati Foundation in honor of Kathleen McDonald Jones
Christine Lewis
Whitney Lonnemann
Jo Ann Luttenegger
Carol MacGregor
Wendy Wilson Mambort
Peg Mathile
Laura Menge
Leslie & Chris Michel
Lucy S. Milligan
Meredith Meyer
Eleanor & Gary Moffat
Jo Moore
Emma Morehart
Marjorie Motch
Joyce Mueller
Mary Lou Mueller
Jane Muindi
Lisa Nolan
Kailen Nowik
Michael & Brooke Olson
Alexandra Ollinger
Allison Papathanas
Leslie Pennell
Anne Petrocelli
Carol K. Philpott
Lizzie V. Polston
Nicole Portal-Velarde & Andres Velarde
Sarah E. Rieger
Erika Robbe Jessica Robinson
Lindsay Rorick
Cinny & Bruce Roy
Emily Ryan
Erin Savage-Weaver
Katie Schneider
Judy Sheakley
Mina Shen
Deanna Sicking
Jennifer Von Deylen Simon
Mr. & Mrs. Ian & Allison Smith
Linda J. Smith
Mrs. Sarah Stem
Susan Strick
Kelly Snyder
Erin Timmerding
Cicely N. Tingle
Emily Thobe
Sally Wood Thomson
Leslie Touassi
Susan Ferrell Troller
Abby Tuke
Lauren H. Vogelpohl
Lisa Williams
Comfort Wendel
Erika Wera
Katherine Wilkinson
Pamela Wise
Don & Carol Wuebbling
Maggie Wuellner
Chelsea Zesch
Allison Kropp in honor of Melanie Chavez & Keke Sansalone
This listing encompasses confirmed pledges received by May 1, 2020. If you have not yet confirmed your pledge amount, please contact us at campaign@jlcincinnati.org or 513.871.9339.
#JLCincy | 11
#JLCincy | 12
Dear Friends of the JLC,
As you know, this is the League's Centennial year, and our nearly 1,000 members had plans for a myriad of dynamic events to honor this legacy. Our Perspectives team had planned to extend this issue to cover these events, but just a week after the Centennial Gala, the city slowly closed due to the COVID-19 pandemic, with many activities being canceled or postponed. While those events did not take place, we'd be remiss not to cover the work that members accomplished during this time — League women did not stop during the pandemic but continued to find ways to serve the community and each other.
How the League engages in and partners with the community will likely change in the coming months, and we as the League's Communications Council are committed to sharing those stories with you.
Best Wishes, Chelsea E. Zesch VP Communications
Continuing to Serve
Even through the midst of a pandemic, League members consistently asked, "What can we do? How can we help? Where can we serve?" With many local volunteer opportunities closed, League members were hard pressed to find options to give back, but our CandO and Program Acceleration Committees still found a way to provide virtual volunteer opportunities and donations to community partner, Sweet Cheeks Diaper Bank (SCDB).
One of the planned cornerstone events of our Centennial year was the 100 Hours of Service event, led by the League's CandO Committee. The original intention was to host volunteer events during the week of April 13th with the goal of reaching 100 hours of volunteer service by the end of the week. In light of social distancing guidelines, the committee quickly and creatively pivoted by identifying ways to support both current and new partners where virtual donations of time were needed and easily facilitated. Two such new partnerships were with
Rosemary's Babies and Operation Gratitude. Rosemary's Babies' mission is to help teen parents master the concepts of self-leadership to leave a legacy. League members provided recipes and instructions for meals that could be made for under five dollars with simple ingredients a 13 to 19 year old would purchase. Each recipe also included inspirational quotes or advice. Operation Gratitude sends care packages from american people thanking troops, veterans, new recruits, or wounded heroes and their caregivers for their service to our country. League members partnered with the organization by providing letters, notes, and drawings.
The partnership with Sweet Cheeks Diaper Bank also continued during the pandemic, though in a different form, given that in-person diaper wrappings were not permitted. The League continued to collect donations and coordinate the transport of hundreds of diapers to the SCDB warehouse, during this even more pressing time of need in our community.
GMM Planning Committee Flawlessly Executes the League's First Virtual GMM
Emily Haun and the General Meeting Planning Committee proved their ability for agile coordination with the execution of the League's first virtual GMM, the final GMM of our Centennial year. What's more, this was the League's April voting GMM during which the League voted to approve our 2020-2021 Operating Budget. A huge kudos to Emily and Legal Advisor, Beth Berkowitz, for their diligent work during this unprecedented time.
The JLC Staff
A Bit of History: Radio Reading During WWII
The League is no stranger to stepping up during global hardship; during World War II, the JLC took its children's theatre works (now the Children's Theatre of Cincinnati) to the radio, to meet children in their homes.
In an article on BroadwayWorld.Com, The Children's Theatre's Producing Artistic Director recently shared, "During WW2, the women of the Junior League were faced with the same problem we are today. Yet, that did not stop their mission to engage their audience through new and innovative methods. They took to radio to broadcast their shows and kept the mission alive."
As the League continues to operate amidst and beyond the pandemic, there will be many new ways we will strive to fulfill our mission and commitment to the community.
During the period of the stay-at-home order, our tremendous and small-but-mighty staff continued to work remotely and support the League's day-to-day operations. We are grateful for their time, talent, and flexibility during this challenging time.
Program Acceleration Committee and the JLC leadership made a combined donation to the Freestore Foodback.
#JLCincy | 13 #JLCincy | 13
COVID-19
The League through
Judy Adams
Marge Anderson
Alison Baker
Antonella Barrero
Jane K. Bennett
Katie Blank
Andrea Blinkhorn
Julie Bodnar
Rebecca Bryson
Elizabeth Buhr
Erica Burns
Dana Burris
Alison Bushman
Stephanie Chapman
Jane Clarke
Nichole Clarke
Lyndsay Coleman
Brynne Coletti
Catherine Cowan
Ann Crilley
Kathryn DeNicola
Charlotte Duggan
Jeri Duncan
Liz Dye
Sandy Elliott
Joany Ellsworth
Eleanor Finn
Kate Fortlage
Brianna Frappier
Elizabeth Goetz
Anne Greenwald
Jennifer Harrington
Chelsey Harshman
Bobbi Hart
Kelly Haseotes
Barbara Havlovic
Laura Jane Hinkel
Theresa Hooker
Karol Hunt Colleen Huster
Joan Ireton
Amy Jo Jones
Caroline Kent
Martine Lamy
Lucy Lane
Pamela Long Kelly Lyle
Nazly Mamedova
Pat Matchette
Carolyn McCoy
Liz McLean
Marty Mileham
Anne Miller Monica Miller
Mary Jo Mock
Jo Moore
Taylor Neal Kailen Nowik Marilyn Osborn
Susan Laufer Pfau
Shelley Poffenberger
Lori Poole
Nicole Portal-Velarde
Karen Post
Samara Ramudit
Emily Reinhold
Rene Robers
Maureen Rooney
Kristin Scheihing
Digi Schueler
Martha Seaman
Jennifer Shafer
Judy Sheakley Nicole Shenk
Janet & John Simpkinson
Elizabeth C. B. Sittenfeld
Chelsea Smalling
Sandra Smith Gwyn Spindel Martha Steier
Christine Stubbins
Colleen Tersmette
Sarah Vogt
Adrienne Votaw
Kate Walker
Sarah Watson
Karilynn Williamson
Lauren Woeltz
Abby Workman
Empower Media Marketing Inc.
Johnson Investment Counsel**
Truepoint Wealth Counsel***
Platform Beers LLC
United Sustainers**** Alison Hensel*****
#JLCincy | 14 Thank you to our generous Annual Fund donors who have contributed throughout the 2019-2020* year!
*Please note that this list includes donors from JLC's 2019-2020 year that runs from June 1, 2019 through May 31, 2020 ** In Memory of Ruth Ann Rockel *** In Honor of Vicki & Allan Calonge **** United Sustainers in acknowledgment of the Geier Family ***** The Warren and Bernice Hensel Foundation
Member Milestones
Tara Noland, New Position
In February 2020
Tara Noland became Vice President, Client Services for Ignite Philanthropy.
Ignite Philanthropy provides strategic fundraising services and manages multi-million dollar fundraising campaigns for non-profit clients, as well as foundation management for private and family foundations.
Catherine Lentz
Catherine Lentz accepted the role of Branch Manager with a promotion to Vice President for the new Chase Bank branch located in Downtown Cincinnati across from Fountain Square.
Kailen Nowik
Kailen Nowik and Eric Lanman were engaged in August while on vacation in San Francisco.
Perry Littlejohn
Perry Littlejohn and Nick Rippe wed during an intimate ceremony on April 25, 2020 at Summit Country Day's Immaculate Heart of Mary Chapel.
Emily Thobe
Emily Thobe and Sammy Annor welcomed Asa Benjamin Yaw Annor on January 2, 2020. Emily is enjoying time in quarantine with Asa on maternity leave! You can find them snuggling at home or walking in area parks.
Lauren Miller
Lauren and Drew Miller welcomed their first child, Natalie Elizabeth, born January 3, 2020.
Chelsea Zesch
Chelsea Zesch and Joshua Jones are happy to announce their engagement, which took place on April 12, 2020. The couple is planning their wedding for September of 2021.
Submit Your Milestone
We love to celebrate you! Share your promotions, retirements, awards & nominations, new babies, engagements, weddings, and other milestones! Submit your milestone by logging into the JLC member site or email the Perspectives Committee - Perspectives@jlc.org.
#JLCincy | 15