REFURB & DEVELOPER
THE UK CONCRETE SHOW 2023
The UK Concrete Show celebrated its 11th anniversary on 15–16 March 2023
See inside...
UPDATE
April 2023 www.developer-update.co.uk
The 2023 UK Concrete Show presented the ideal opportunity for both established brands and new enterprises to showcase their products and services to an eager crowd of visitors.
Maddie MacLellan, show director, explains. "This year's show did not disappoint, The concrete industry never ceases to amaze us from the innovation of new product launches and companies meeting global challenges such as carbon reduction and green technologies, to the reliability of long-established companies; they all came together at this years show for the ultimate industry event."
Bringing the industry together under one roof in an undiluted environment has always been a key focus of the show providing a platform for businesses to network and educate. Attendees witness first-hand and watch as manufacturers and suppliers unveil new ideas and concepts that they have been developing over the past year and this is what makes the UK Concrete Show a truly unique experience for both visitors and exhibitors.
SHOWTIME
As the doors opened for the first day of the show it was clear that there were a few surprises from some of our industry leaders awaiting the eager crowd of attendees looking to explore - new first-time exhibitors including Mortel Meister, Rakem, GPS Sprayers, EnviroVac, Polarmatic, Hoistech and One-click LCA were on point and ready to show what they can offer.
THE UK CONCRETE SHOW 2023
The UK Concrete Show celebrated its 11th anniversary on 15–16 March 2023 at the NEC in Birmingham. For over a decade, the show has been dedicated to the concrete industry in the UK and Europe, providing a 10,000m2 exhibitor hall, outside exhibition space, and demonstration areas, with educational and networking opportunities.
developer-update.co.uk
These newcomers joined show veterans and industry staples Danfords, CIFA, CEMEX, Conspare, Coote Engineering, Practicon, Command Alkon, Haarup, Liebherr, Construx, KVM, BetonBlock, Euro Accessories, Conplex BV, Hydronix, Proctor Johnson, YB Fixings, Frumecar, Probst Handling and Siltbuster, in addition to other many other exhibitors.
INDUSTRY EXCLUSIVES
An abundant array of industry firsts were showcased at this year's show. Sicoma launched their new mixer; Eurobend with a new wire mesh welding line; Masterscreed's exclusive wall screeder; Hoistech, with a new crane system; and a new concrete software tool developed by One Click LCA with their revolutionary carbon assessment software.
McPhee Mixers presented and demonstrated the UK's first zero-emission electric concrete mixer truck, which was a rather unique experience as we normally don't get to see the drum mixer operating during the show because of emissions, so it was a real treat to be able to see the mixer drum rotate and the controls in operation and Bay-Lynx Manufacturing presented its first liquid colour system on their latest Titan Volumetric mixer.
INTERACTIVE EXPERIENCE
A focus of this year's event was to provide the visitors with a more immersive and practical experience, not only through live exhibits but also from the brandnew Innovation hub and demonstration areas.
Attendees were able to experience technology from Masterscreed, Danfords, Mortel Meister, CIFA, IHS, Utranazz and more. The five- minute Pitch Arena brought product information from exhibitors directly to visitors. Following each presentation, a concise Q&A session was held.
INDUSTRY AWARDS
This year our Industry awards covered four categories and were presented at the end of the first day of the show. Nominations were invited from exhibitors a number of weeks before the show and resulted in 4 clear winners.
The first award was for 'Most Sustainable Innovation' which went to Sonocrete for their ultrasound technology for concrete production, enabling strongly increased early compressive strengths, giving the opportunity to greatly reduce carbon emissions.
Our second award for 'Best New Product' went
to well-deserved Aeromix for their EPS Bound flowing insulation.
Our third award was the 'Industry Choice Award' which went to a very proud Concrete Services and supplies/ Ekin Engineering for their range of electric screeders.
Our final award and new for this year was 'The British Aggregates Association award for Safety Innovation' presented by BAA CEO Mike Phillips to McPhee mixers, part of the TVS Interfleet group for the new safety features on their electric mixer.
It was amazing to see everyone coming together to celebrate the finest that the industry has to offer over a few drinks and to reflect on what was an outstanding first day of the show.
EDUCATION AND INSPIRATION
The show's educational seminar programme brought together experts from around the world who pioneer and innovate emerging technologies, greener solutions, and products to help businesses achieve profitability and cost efficiencies.
Visitors to this year's show were in for a treat with a programme that included ConSpare speaking on sustainability and the launch of their industry white paper, we heard from Sonocrete on ultrasound and concrete and MinTrain on Mixer-Driver Standards and The British Aggregates Association presented on how it is supporting the concrete Industry to name but a few.
2024 show dates have already been scheduled for the 13th & 14th of March and our 12th year promises to bring even more surprises.
Please visit www.concreteshow.co.uk for more information.
developer-update.co.uk
ecodan.me.uk/rduf3
As a market leader in low carbon heating systems, we help housing developers comply with the changes to Part L of the Building Regulations by specifying Ecodan Air Source Heat Pumps for new build homes.
Our dedicated website pages provide you with support at every one of the seven steps of the RIBA Plan of Work.
ecodan.me.uk/rdum
Watch our NEW BUILD video with George Clarke
CONTENTS developer-update.co.uk Refurb & Developer Update - April 2023 10 Bathrooms 26 Industry News 28 Home Design 34 Landscaping Contact Us Publication Manager Jake Page jake@developer-update.co.uk 01843 580460 Advertising Sales Exec Emily Maclean emily@developer-update.co.uk 01843 580460 Editor Sam Andrews sam@developer-update.co.uk 01843 580460 22 14 32 6
TOP PICKS FOR WASTEWATER AND SEWAGE PUMPING SYSTEMS
Here are the very latest product developments and services for 2023 selected by leading Berkshire based
The New DrainKing, duty standby wastewater pumping system , incorporating Jung Pumpen pumps, improves reliability and is easier to operate and maintain.
Benchmark for commercial sewage pumping. EffluMaxi / Compli 400.
Click here to view 3D rotating view!
The EffluMaxi / Compli sewage lifting station, manufactured by Jung Pumpen GmbH, is now easier to install and maintain. The latest version features height adjustable, sliding, clamping, inlet flange (Stepless) and multiple inlet connection options. It also has a variable discharge branch (DN80 or DN100), a low weight, rotatable, non-return valve and buoyancy fixing protection without having to move the unit. The integrated tank volute provides better flow behavior, no corrosion and less clogging.
An updated control panel adds features such as a maintenance interval display and additional connection for an extra, remote high-level alarm.
Pump Technology is the largest Authorized Distributor of Jung Pumpen GmbH products in the UK.
Duty/standby wastewater pumping system . Flexible installation, more reliable operation. The New DrainKing
By eliminating traditional cable hung on/off floats and utilising the pumps' own proven rigid float arms with large triangular low-level floats, pump control is simplified and improved. The rigid float arm and large float is far less prone to clogging by debris, hence stop/start of the pump is always more reliable.
Utilizing the pumps own successful float arm design also means invert levels in to the DrainKing are now lowered considerably making positioning of the pumping system more flexible since it is now easier to get the specified pipe gradient into the tank. Previously the minimum invert level was 260mm, now it can be as low as 120mm with the Jung Pumpen UK6 pumps fitted.
The DrainKing comes with its own pump station control panel. This cycles the duty pump, actions standby pump and alarm. The panel has three, volt free contacts for connect to a BMS system.
5% Discount and Exclusive "Other Brand" Offers when you join the FlushMaster Fan Club!
Pump Technology Ltd have just set up the FlushMaster Fan Club. Installers who order two or more of their unique and popular FlushMasters, together or individually, within a 12-month period will receive a 5% discount for all ongoing FlushMaster orders, plus exclusive offers for other brands such as Saniflo and Whale.
When fitting a toilet without gravity drainage, the usual solution is a Saniflo macerator pump,
Editor's Choice 04 developer-update.co.uk
2023
independent wastewater and sewage pumping specialist Pump Technology Ltd.
however sometimes the necessary discharge pipework run is convoluted and outside the recommended limits for these products.
considerations, pump selection or control panel requirements. All require careful and qualified con sideration. Remedial work can be difficult and costly.
Pump Technology Ltd's in-house, qualified drainage consultant Steve Murphy will specify the correct site-specific pumping station, ensuring the best technical and commer cial package to give the required and reliable pumping operation. The pumping stations are manufactured by Pump Technology Group company Pegasus Pumps, therefore specification, manufacture and delivery is controlled inhouse, quality and on time delivery are assured.
New Saniflo online webshop
In these situations, the solution is the FlushMaster from Pump Technology Ltd. Just like the Saniflo it fits neatly directly onto the back of the toilet or can be fitted alongside behind removable bathroom panelling.
The FlushMaster is fitted with a Jung Pumpen pump featuring a vortex free flow impeller. The hydraulic pumping performance for this pump means the waste pipe can be run in many ways: Horizontally first, a double lit or up a slope. Not simply straight up from the outlet of the pump.
Many plumbers and installers consider the FlushMaster as the only solution when faced with challenging installation problems.
The FlushMaster is simple to install and operate. In the event of blockage, a high-level alarm will be activated. To unblock the pump, the pump can be reversed by simply placing a screwdriver into the top of the pump shaft and rotating it. The object will usually fall away into the bottom of the tank. If the blockage still persists, then the pump can be easily removed without disconnecting the tank from either the toilet or discharge pipework.
Watch Video Here
Engineered sewage pumping stations. PumpMatic
For commercial buildings, a standard pumping station might not always provide the required solution, site elevations, multiple inlets, tank sizing
The site features domestic and commercial Saniflo pumping systems with prices regularly match checked.
Now with the launch of the online web shop www.saniflo-pumpshop.co.uk, customers can self-select and have the convenience of online shopping, easily compare prices for best buy and have confidence our products are in stock, ready for next day delivery, carriage included. (Mainland UK only)
If you do have any questions before purchase, the Pump Technology Ltd team know all about Saniflo products (historically we operated their helpline) and the same staff are on hand today to assist you.
Pump Technology Ltd's full range of products includes: -
Sewage, wastewater and pressurised water pumps from all major manufacturers – generally, in stock and ready for next day delivery www.pumptechnology.co.uk
www.jung-pumps.co.uk
www.saniflo-pumpshop.co.uk
Editor's Choice 05 developer-update.co.uk
ECLISSE Pocket Door Systems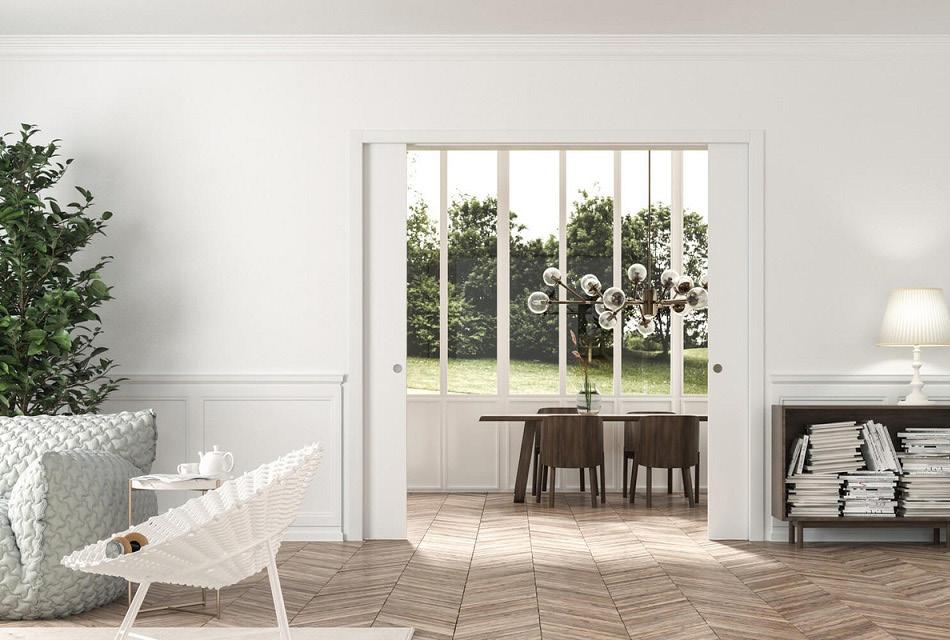 Despite the pandemic, house prices grew steadily over the last few years. Yet as inflation surged to a 41 year high of 11% in late 2022, and The Bank of England base rate followed suit to reach 4.5% by March 2023, house prices have fallen. Higher inflation tends to result in slower house price growth and it can make it harder to secure a mortgage. Average house prices currently sit at £296,000, which is less than this time last year.
The Cost of Floorspace
The cost per square meter of floorspace across the country varies wildly. In 2020 Which? reported that the North East of England offered the most affordable prices at £1,568 per square meter. The East of England was the third most expensive at £3,435 per m2, whilst the South East was over £4,000 per m2 and Greater London was the most expensive at £6,219 per m2. Since then, prices have increased with latest estimates suggesting that average prices across London are £7,000 per m2
In the most affluent boroughs of London such as Kensington and Chelsea where average house prices top £1.4m, just one square meter of floorspace is worth an eye-watering £28,500. Even in Camden (with average house prices of around £800,000) it is £16,000 per m2. To make things worse in London, the comparatively small abodes offer an average internal space of just 93m2 – which means that space really is at a premium not only in terms of cost but also availability.
developer-update.co.uk
How Pocket Doors Work
Pocket doors slide into a cavity, or pocket in the wall. The door panel is top-hung from a track that allows the door to slide from side to side.
ECLISSE systems are made from galvanised steel and aluminium. They have been comprehensively tested for reliability and robustness making them suitable for use anywhere in the home including the bathroom.
ECLISSE offer pocket systems to suit 10 standard UK door sizes, the three standard Irish standard door sizes, plus bespoke sizes. They can be used with your choice of timber doors as well as with a wide range of fully tempered frameless glass doors, to add a touch of elegance.
Inventive Ways to Create Space and Make Better Use of Available Space
ECLISSE pocket door systems are an excellent way to create more usable space that would otherwise be taken up by the arc of the door, as well as the wall space behind. As well as enhancing the flow of the property this freeing up of otherwise unusable space also offers opportunities for
free-standing shelving or artwork. Without a door encroaching into the room, you will also be able to move furniture closer to the edges – creating more usable space in the centre which will make the room feel more spacious.
The functional nature, but creative designs, of pocket doors also makes them an excellent choice for smaller rooms such as utility rooms, ensuites or washrooms – for which you might also choose a glazed door to allow in extra light and add a touch of elegance. Additionally, anyone that works from home might consider using a pocket door to partition off a workstation or home office allowing them to create a sense of division between workspace and personal space.
Telescopic pocket doors, can be used for wider openings, and are a great way to make more inventive use of open plan space allowing areas to be divided off when required such as between a lounge and a dining room, or to partition off a room when guests are in the home allowing for personal space.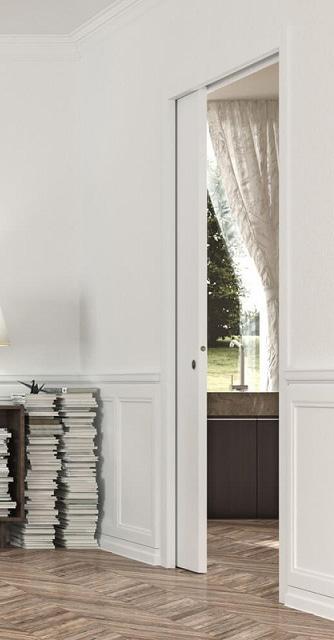 Pocket Doors Offer a Fantastic Return on Investment
Apartments and luxury flats can be very restricted in size making it vital that every square meter is utilised to its maximum potential. By installing pocket doors instead of traditional hinged doors 8% of usable space can be gained in a 100m2 layout. In Kensington and Chelsea that equates to a whopping £228,000, whilst even in North East England where property prices are cheapest it still adds up to a very bankable £12,544 – a fantastic return on the comparatively small investment of installing pocket doors.
To find out how you can make the most of your space and add refinement by using ECLISSE pocket door systems, plus how to correctly size and install them, call now to speak to one of our friendly product experts in our UK-based Customer Service Team.
0333 5770828
info@eclisse.co.uk
www.eclisse.co.uk
07 developer-update.co.uk
THE RETURN OF TRADITIONAL DECORATING WITH A MODERN APPROACH
All these phrases represent a revival in traditional styles and methods of decorating but are far from what could be described as 'granny chic'. Instead, the focus Modern Traditional Décor focuses on the timelessness of the design, the comfort, and the beauty of classic styles, executed with modern techniques and materials.
Uptown Interiors is a specialist painting and decorating company based out of Hertfordshire. They are one of a very small number of companies who specialise in traditional decorating styles and due to the surge in popularity, are in high demand.
Below are some of the most popular services by Uptown Interiors, and these demonstrate a fantastic way that every homeowner can introduce some timelessness and classic beauty into their home –without the need for a full renovation!
Wallpaper
Wallpaper never really goes out of style and if you've picked up some rolls from your local hardware recently – you will haven noticed that most wallpapers on the market are incredibly sturdy, easy to hang - and some are quite durable.
Every year we see the return of some sort of decoration trend that originally had its peak in the 50s, 60s or 70s labelled as "Modern Traditional Décor". For those into interior design, you may also see it labelled as grandmillennialism, matchimalism and neo-traditionalism.
08 developer-update.co.uk
More recently, though, Uptown Interiors have seen an increase in property owners requesting wallpapers that are much more like the papers available in the early to mid-nineteen hundreds, usually seen with heritage work but gaining popularity in homes.
These papers feel more like 'lining paper' – they're incredibly fragile and require different types of adhesives, making them both delicate and expensive (a difficult combination). With high-end wallpaper rolls costing anywhere from £150+ per roll, you simply can't add on a 'roll for luck' when the client is watching the budget.
Due to this, application of specialised wallpapers usually requires the services of an expert. You will find that a lot of decorators do not work with high end papers, simply due to the fact they're not confident or experienced enough working with such high value materials.
Look for an expert who has hung the type of paper you're interested in, and even follow the wallpaper designer's Instagram. Companies like Uptown Interiors often have their work reposted by well know wallpaper designers, showcasing their skills with that specific wallpaper.
Ceiling Roses & Covings
Ceiling roses have regained immense popularity in the last few months. Whilst ceiling roses were originally designed in the Georgian era as protection for the ceiling during periods of heat in, they are now seen as a timeless, classic addition that can elevate the class of any room.
Most ceiling roses are still cast from plaster, but Uptown Interiors note that there is an increase in designs made from tin, chrome, wood, iron and brass!
Another ceiling decoration regaining its popularity is covings. In 80% of multi-million pound new builds that Uptown Interiors are working on, they are also being contracted to install covings. Rather that
the basic white ceiling and coving that we've seen for years, owners are becoming bolder – opting for coloured covings that complement wallpapered ceilings or striped walls – adding pops of colour to children's bedrooms and living areas alike.
Panelling
Thanks to TikTok, we're seeing a huge surge in the popularity of panelled walls.
This timeless decorative style gained popularity in the 16th and 17th centuries and was typically reserved for restoring country manor houses. More recently, the use of wooden mouldings has been used to create the look of panelling in residential homes – from adding a little class to staircases to offering a timeless feature wall in a bedroom –panelling is one of the most effective ways of changing the vibe of a room.
It can be tricky though, requiring expert measurements and application as well as a keen eye for detail when finishing. When done right though, the results can be breath-taking.
Repainting with Bold Colours
Uptown Interiors' favourite revival is the reintroduction of colour! The beige-ification of our homes started in the early 2000s and has clung onto the walls of our homes for two decades. More recently, though, Uptown Interiors have seen a BOOM of colour specifications for properties that look more like a thesis than a one pager!
Colour is back and it's bolder and more beautiful than ever.
Paints have evolved over time and whilst white is very forgiving when it comes to rookie error, colour application is a little more difficult. Especially when using specialised paints such as eco paints or the more expensive formulas.
High end paints usually have a huge range of colours, and colours that stay vibrant for
longer – making them an effective choice. Unfortunately for those with less experience in application, expensive paints are less forgiving when it comes to imperfections. These types of paints require precision when it comes to preparation of surfaces as well as the application itself.
When deciding whether to paint yourself or use an expert, be sure to calculate the cost of materials and as with wallpaper, look for companies whose work is shared by experts or the paint manufacturers themselves!
When it comes to adding timeless styles to your home, there's a lot that can be said about looking at traditional decorating methods. But be sure to consider consulting a company that not only understands traditional styles, but applies them with a modern approach.
About Uptown Interiors
Uptown Interiors was founded by industry veteran, Pawel Wasik ("Pav")
Pav has worked in the high-end decorating industry for over 17 years and is well known in the industry for his attention to detail and unwavering commitment to quality. He works closely with clients on all stages of the project – from colour consultation through to delivery.
Uptown Interiors specialises in traditional decorating methods using modern approaches and applications. They are based out of Hertfordshire but work with a range of clients across London and Southern England.
Uptown Interiors are the chosen partner for high-end interior designers and developers – typically working on multimillion pound developments and refurbishments.
www.uptown-interiors.co.uk
admin@uptown-interiors.co.uk @uptown_interiors_uk
09 developer-update.co.uk
KEUCO AXESS, Design by Studio F. A. Porsche
When Studio F. A. Porsche designed a range of accessible bathroom products for KEUCO, the result was something unique: German engineering meets premium interior design.
What is striking about the entire KEUCO AXESS barrier-free range, Design by Studio F. A. Porsche, is the clean lines of all the products – commencing with the folding support rail, positioned over the rail system for the shower, the grab rails, through to the freestanding stool. The design, focuses on the essentials, combining aesthetics and barrier-free functionality in a stylish and innovative way, without making the special functions visually obvious. It is this aspect that will pleasantly surprise design lovers who want to see accessibility integrated in the bathroom: products with a minimalist appearance - design that inspires.
Good design has to be honest
"It was our wish to meet the highest aesthetic demands and yet incorporate the specific needs of a barrier-free bathroom system. Our aim was to develop accessible bathroom products from a completely new perspective. Timeless, very clear, aesthetic forms, permanently perceived as beautiful, even after many years. Independent of the spirit of time and trends and at the same time, beyond anything known so far. Out ambition was to create something special, right down to the smallest detail, and making it technically possible. A combination of German engineering and top-quality implementation in every respect."
Christian Schwamkrug, Design Director Studio F. A. Porsche.
developer-update.co.uk
ACCESSIBILITY IN THE BATHROOM HAS NEVER BEEN SO BEAUTIFUL
Bathrooms 10
Accessibility meets design: for high-quality bathrooms across all sectors
KEUCO AXESS, Design by Studio F. A. Porsche, is designed for barrier-free bathrooms in hospitality, private and public sectors, e.g. high-quality healthcare facilities such as hospitals and nursing homes, hotels and spas, restaurants in the home. KEUCO AXESS is a sustainable and cross-generational concept made from high-quality materials in a beautiful and timeless design. KEUCO AXESS ensures the comfortable and safe use
of all areas of the bathroomnot only for the elderly, those currently in need of care or for people with a physical disability, but for all generations. The intelligent design details support independence and autonomy in the bathroom; so, people of all ages and abilities can benefit from comfort-enhancing functions. What may be a useful aid for one person, provides additional comfort for another, such as taking a shower whilst sitting down.
A barrier-free bathroom brings many advantages, regardless of age and physical constitution. A bathroom without barriers offers a adds to the quality of life, is comfortable, future-oriented and, thanks to the unique design of KEUCO AXESS, Design by Studio F. A. Porsche, is extremely attractive and visually appealing. Turning barrier-free bathrooms into 'bathrooms' for people of all ages and for all life situations. More and more building owners in the project sector, architects, and planners along with private individuals, when deciding to renovate or
refurbish, opt for barrierfree solutions. They increase the level of comfort and safety in the bathroom and add to the value of a property – even more so now with the unique design of KEUCO AXESS!
Elegance on the wall: a folding support rail like no other
Studio F. A. Porsche has developed a strikingly beautiful and unique solution together with KEUCO - for a folding support rail, the special highlight of the barrier-free KEUCO AXESS range. It looks nothing like folding support rails of the past as the visually appealing folding support rail stands uniquely flat against the wall when folded up. When unfolded and exposed in the downward position, the KEUCO AXESS support rail is a beautiful and elegant solution. It is available in three finishes: chrome, matt black or aluminiumchrome and depending on the surface, a grip-friendly plastic inlay in black or white is seamlessly integrated. The
Bathrooms 11 developer-update.co.uk
plastic is significant as it makes it easy to grip and prevents slipping when supporting or holding on. There is an optional and retrofittable toilet paper holder which has a black or white roller stopper enabling it to colour match the design.
Two different projections in 700 and 850 mm offer perfect safety and support. The larger projection folding support rail is also suitable for larger wheelchair-accessible WCs. The optional and retrofittable radio WC flush actuator integrates aesthetically into the handle and is compatible with radio
developer-update.co.uk
flush cisterns from common manufacturers via Bluetooth.
Despite the reduced design, stability is guaranteed with 115 kg load capacity: KEUCO AXESS folding support handles are TÜV tested and certified according to DIN standard.
The rail system - beautiful design that provides support at the same time
The rail system and the grab rails of the KEUCO AXESS range are characterised by their elegant yet starkly simplistic design. The versatile range provides support and safety in the shower and bath, at the washbasin and WC. Despite high stability when holding and supporting, yet this ergonomic design appears light, stylish, and un-cumbersome.
The grip surface at the front forms a smooth rectangular band - with flat surfaces and precise edges. At the back, the rail/grip system and handles are ergonomically shaped in a
semicircle - for an optimised grip. This oval rounded back perfectly fits in the hand when grasping so it is not necessary to exert a great deal of force when holding on; ensuring a secure grip and a reliable hold.
The unobtrusive wall fixings of the rail system and grab rails emphasise the clear, minimalistic design, whilst ensuring sufficient stability for a barrier-free solution. The range of KEUCO AXESS grab rails ranges in lengths from 400 to 1000 mm.
In the shower, the rail system can be flexibly adapted to suit on-site conditions. The shower rail also serves as a stable grab rail, always giving a feeling of safety. The shower slider can be unlocked and moved up or down simply by pressing on the back, and this can be done with one hand. The shower head can be turned in various positions, to the left and right in the holder and can be tilted up and down from any angle without any problems.
Bathrooms 12
Safe, beautiful and comfortable: mobile seating in the bathroom
A stable seat is a plus for comfort in the bathroom. Taking a shower while sitting down is particularly comfortable. KEUCO has supplemented its range of seats with the mobile KEUCO AXESS stool.
The design of the KEUCO AXESS stool, Design by Studio F. A. Porsche, is crafted to the highest standard: as minimalistic, as safe as possible, and as comfortable as possible. In an archetypical, timeless design, the stylish stool takes up little space in the bathroom and fits in any corner. With a load capacity of 150 kg, the KEUCO AXESS stool can be used in both private and public areas. The stool is particularly stable and resilient as the discretely outward-facing legs with antislip ensure a secure standing position, whilst being easy to reposition using one hand.
The softly roughened, non-slip surface of the seat has a pleasant feel and is easy to clean. The seat is slightly curved inwards and features a small hole in the middle which allows water to drain off directly in the shower. The mobile stool with a white or black seat can be harmoniously integrated into the bathroom or shower area.
With a white seat, you can choose between chrome or aluminium legs; with a black seat, the legs are also in black. All versions are robust, durable and easy to clean.
(Stylishly) safe barrier-free even in the professional environment
of hospitals and nursing homes
For people in need of care, access to the individual bathroom areas can be difficult or even impossible. They are dependent on assistance. Nevertheless, for all people and age groups, the desire for independence and autonomy in the bathroom plays a very decisive role in maintaining quality of life.
Assistance from care staff can be optimally supplemented in the bathroom with KEUCO AXESS as the flexible and adaptable barrier-free bathroom range made by KEUCO enables a high degree of independence for users and facilitates the daily work of care staff. Ideally, a barrierfree bathroom equipped with KEUCO AXESS is designed in such a way that people can find their way around without help, if possible - whether they are motor-impaired, people with little strength or users with cognitive impairments and coordination problems. KEUCO AXESS combines barrier-free
comfort with a high degree of aesthetics, the shapes and materials meet the highest standards of hygiene and ease of care, even in the optional service area.
Andreas Lohmann, Head of Object Management at KEUCO: "KEUCO AXESS closes a real gap. Products for barrier-free bathroom design that don't look like they are barrier-free. A flexible and aesthetic professional system. Well thought-out and with a strong design.
Perfectly combinable with IXMO fittings and KEUCO accessories
KEUCO AXESS products are perfectly matched to KEUCO IXMO fittings. The cover plate can be combined in either round or square. In the shower, head and hand showers can be individually combined.
The IXMO range of fittings from KEUCO enjoys great popularity among design lovers and sanitary professionals thanks to the bundling of functions with a minimalist appearance. IXMO fittings are available for all areas in the bathroom: washbasin, shower, bathtub and bidet. IXMO stands for "x possibilities" and promises: design variety and planning freedom, aesthetics and easy care, quick and an affordable installation.
The KEUCO AXESS barrier-free range can also be combined with various KEUCO accessory collections, such as the PLAN or REVA range. Various different KEUCO shower shelves make handling easier and, together with a comfortable seat from KEUCO, bring real pleasure to the shower.
KEUCO AXESS series, in combination with IXMO fittings and KEUCO accessories, can be used to transform any bathroom in the object or private sector into a design-strong, barrier-free place of well-being
www.keuco.com
Bathrooms 13 developer-update.co.uk
Anyone who finds themselves in need of a future-proof bathroom will find ideal solutions for an attractive cross-generational bathroom from Duravit. The extremely durable ceramic products from the complete bathroom manufacturer ensure bathing comfort with a feelgood atmosphere for years to come.
Forward-looking bathroom planning is always a good investment!
A bathroom that meets users' individual requirements – both today and in the future – supports people in a range of circumstances. For example, high-quality, durable, and timeless bathroom products enable multigenerational – or even accessible – bathroom design and guarantees independent and autonomous living for older people as standard. Comfort, flexibility, and safety co-exist with sophisticated design in a welcoming atmosphere. The long useful life of the bathroom furniture combined with the convenience it affords not only enhances individual comfort, it can also have a positive effect on the value of a property. In addition to the private bathroom, accessible options also make sense in public buildings because European legislation mandates accessibility in such facilities and subsidies are paid for construction projects that are planned and executed in compliance with standards.
developer-update.co.uk
VISION AND ADAPTABILITY: COMPLETE AND ACCESSIBLE BATHROOM SOLUTIONS
Forward-looking planning for maximum versatility – in both private bathrooms and public buildings
• Quality of life and feel-good atmosphere thanks to far-sighted bathroom planning
• Durable full bathroom solutions for private bathrooms and public buildings
• Increased independence with ageappropriate washbasins, toilets, shower trays, and bathtubs
• Design, comfort, and safety for harmonious bathroom design
Current standards, subsidies, and tips
To receive these subsidies, expert Hans-Peter Matt recommends that architects and planners are mindful of individual requirements and the applicable standards and stipulations for accessible bathrooms. He has been advising manufacturers, dealers, and tradesmen on accessibility in the sanitary sector for many years and also trains Duravit's employees in this field.
"My personal edge in the field is that I received a thorough training as a fitter," explained Hans-Peter Matt. "At the same time, I'm mindful of the needs of the target groups and can
Shower + Bath designed by EOOS unifies walk-in shower and bathtub and is easy for users to get into and out of thanks to the integrated glass door.
The Vital washbasin from the DuraStyle range complies with common DIN standards for accessible bathrooms and is wheelchair-accessible.
interpret the legal situation."
During the planning process, a distinction needs to be made between the German requirements "barrierefrei" (accessible) and "barrierefrei R" (accessible for wheelchair users). Standard DIN 18040 provides guidance in this respect and sets down in detail the criteria that need to be fulfilled and in what context, for example if a bathroom is to be described as accessible or even wheelchairaccessible. The currently applicable standards focus on whether what are known as the protective goals can be achieved. How or in what way this protective goal is achieved is less important. Accordingly, there is creative leeway for planning and implementing new construction projects in an inclusive, innovative, and contemporary manner.
Additionally, Hans-Peter Matt recommends keeping a keen eye on the documentation of construction projects that are planned and executed in compliance with standards – which applies both to private bathrooms and public buildings: "Depending on the funding program and who's providing the subsidy, DIN 18040 should be specified in writing in the tender documentation and order confirmation and should also be applied during implementation. Only then is there an entitlement to subsidies," explained Hans-Peter Matt.
Accessible, cross-generational, and aesthetic – but how?
With a carefully conceived product range that is tailored to specific requirements and complies with the applicable standards, Duravit offers a selection of different bathroom designs.
A flush-fitting shower tray is as aesthetic as it is comfortable. Fitted flush with the floor, it blends seamlessly into the overall bathroom and is easy to access. Additionally, the anti-slip qualities of the shower tray need to be considered to avoid tripping accidents. The Stonetto shower tray for example offers class B slipresistance and is suitable for barrierfree installation in compliance with DIN 18040. The Sustano sustainable shower tray provides maximum safety and accessibility, and is optimally wheelchair-accessible when installed flush with the floor. The material's special surface texture means that Sustano shower trays with a matt surface attain anti-slip class C with no additional coating.
Hans-Peter Matt has also been a DIN-certified expert and DIN-examined expert planner for accessible construction since September 2019. His consultancy and expert office mahp-barrierefrei has been operating for 20 years. With his many years of experience and a well-established network, he has cooperated with companies in the manufacturing environment for many years as well as holding seminars and workshops. He also provides his expertise to assist architects' firms and project managers.
For instance, the Vital washbasin and toilet models from the D-Code, DuraStyle, and Starck 3 ranges comply with common DIN standards for accessible bathrooms. Similarly, the DuraSquare washbasins are wheelchairfriendly and the protruding edge of the accessible toilets guarantees comfortable transfer from the wheelchair. A functional and aesthetic washbasin paired with a supporting toilet also enables autonomous and comfortable use, even when people's circumstances change.
Similarly, the Tempano shower tray made from sanitary acrylic can be installed flush-fitting, semirecessed, or floor-mounted. The anti-slip coating compliant with anti-slip class C is essential for this option.
Shower + Bath designed by EOOS unifies walk-in shower and bathtub and is easy for users to get into and out of thanks to the integrated glass door, which quickly and easily transforms the bathtub into an open shower with easy access.
www.duravit.com
Bathrooms 15 developer-update.co.uk
The Sustano sustainable shower tray provides maximum safety and accessibility, and is optimally wheelchair-accessible when installed flush with the floor.
The protruding edge of the Starck 3 Vital toilet guarantees comfortable transfer from the wheelchair.
Stainless steel is 100% recyclable, and manufactured from over 90% recyclable material. It will not rust, flake or corrode.
It is the sustainable, durable choice and can be used in all systems including open. We source our rails ethically and take our social responsibility seriously, from our sourcing to our manufacture to our charity initiatives.
We offer 3 formats of rail throughout the range: Electric, dual fuel and central heating only. We offer both polished and satin finishes as well as the Black Edition Range, manufactured from 100% stainless steel and powder coated black, hereby giving you the ultimate flexibility within your heating as well as visual requirements.
were manufactured from 100% Stainless Steel.
The cornerstones of our business are quality, stock holding and ultimately customer service. The three work hand in hand. We offer an extensive range of sizes and accessories, and constantly strive to bring new and interesting product to the market, whilst always marrying practicality and durability with design aesthete.
We have always maintained a policy of stockholding and all orders are dispatched for next day delivery when ordered before midday. This added to our extensive product range only goes to further improve the service we are able to offer.
Our staff are firstly and foremost polite, friendly and efficient, furthermore they are knowledgeable and able to deal with your queries. There will always be a friendly and willing person
on the other end of the line ready to assist you.
We have a large selection of gallery shots, showing the visual diversity of our rails, on our website www.sussexrange.co.uk. Comfortable in both a modern and contemporary bathroom as well as the traditional, we think you will be impressed by the diversity of the images shown.
We are confident you will be happy with your purchase and are pleased to offer a 25 year guarantee.
Should you wish any further details, please do not hesitate to contact us on 01825 722988 or info@jiseurope.co.uk
developer-update.co.uk
JIS Europe first introduced the Sussex Range to the market in 1998. At that time although there were ladder rails on the market we were unique in that the rails
Black Edition Stainless Steel Towel Rails by JIS Europe 100% stainless steel towel rails 01825 722988 www.sussexrange.co.uk info@jiseurope.co.uk
Tradition meets Innovation: Graphenstone, the most advanced ecological and natural paint on the market, unique in harnessing graphene technology in collaboration with the World's oldest public museum to capture the colours of art and culture through the ages in an exclusive Ashmolean Paint Collection
Graphenstone, the world's most certified eco paint company will launch an exclusive paint collection with the Ashmolean Museum, Oxford, the world's oldest public museum celebrating 340 years.
Taking some of the Ashmolean's most treasured objects as inspiration, the range will launch in April 2023 and comprise 16 carefully curated and complimentary shades that are practical for both home and commercial use. Colours range from the burnt orange of the maple wood used by master violin maker, Antonio Stradivari, to the vibrant teal of the feathers in John Ruskin's 'Study of a Kingfisher'. Each colour has been chosen and matched to the original artworks by the Graphenstone team.
Dec McCarthy, Commercial Manager, Ashmolean Museum, comments, "We have often mixed our own paints for our interiors by matching colours with our collections, so it is great to launch this new range with Graphenstone and offer it to the public. The range Is 100% natural and non-toxic in line
developer-update.co.uk
GRAPHENSTONE
TO COLLABORATE WITH THE WORLD'S OLDEST PUBLIC MUSEUM, THE ASHMOLEAN, ON A NEW PAINT COLLECTION AS IT CELEBRATES 340 YEARS
18
with Graphenstone's unrivalled environmental credentials; and sales will support the Museum and our work."
Graphenstone is made using the highest quality lime and sustainable natural minerals, perfectly suited to both modern and traditional interiors. Containing Graphene, a nontoxic pure carbon that is the strongest material known to science, it offers exceptional performance, durability, and coverage.
Graphenstone's healthy paints are petrochemical and plastic free, with only trace elements of VOCs (less than 0.1%), free from carcinogens, hazardous chemicals, and preservatives. The paints are virtually odour free so will not release harmful off gasses or synthetic additives often associated with breathing difficulties and allergies.
The environmental impact is rigorously controlled, and the manufacturing process is powered entirely by renewables (hydro (37%), wind (51%) and solar (12%)) with waste water being reused in the production process. All packaging is cardboard, and the paint tubs are made using 100% PCR plastic (post-consumer) meaning everything is 100% recyclable.
Patrick Folkes, Graphenstone Director said, "We are often approached by global partners to collaborate. When the Ashmolean explained what they wanted to do, we could not say no to this unique opportunity to create stunning colours that will also help to support one of the UK's most important cultural institutions and we are honoured to be working alongside them."
The range is available in two finishes ideally suited for internal applications. GrafClean and Grafclean
Eggshell are mixed mineral paints composed of vegetable resins and ecological materials, certified as Eurofins 'Indoor Air Comfort Gold' complying with the lowest emission rates in Europe, ensuring quality and the brands contribution to a healthy indoor environment.
The Ashmolean paints will be sold nationally via selected Graphenstone UK distributors and exclusively online at www.graphenstone-ecopaints.store.
Further details of the collaboration will be available the Graphenstone x Ashmolean web page
19 developer-update.co.uk
GEBERIT PARTNERS WITH TOP INDUSTRY EXPERTS TO LAUNCH 2023 HOTEL GUEST EXPERIENCE REPORT
Geberit has released its Hotel Guest Experience Report 2023. The report, created in collaboration with some of the UK's top industry experts, delves into the current challenges and opportunities facing the hotel industry and serves as a valuable resource for those designing hotels of the future.
Now in its third year, the must-read report includes contribution from Jane Pendlebury, CEO at The Hospitality Professionals Association (HOSPA), who explores technology in the sector and examines the potential for the industry to become fully automated. Wren Loucks, CEO & Creative Director at Be-kin, an awardwinning interior design studio, examines ritual, sensory rich experiences and social sustainability in hotel design. Wren looks at how the differences in sensorial, cognitive, and physical abilities can be catered to by designing facilities to suit a range of needs, such as wheelchair accessibility, neurodiversity and an ageing population.
A main challenge the sector continues to face is staffing, which John Mullen, Senior Territory Sales Manager UK & Ireland at Revinate, discusses in the report. The Covid-19 pandemic meant that 121 million of the 330 million jobs in tourism around the world were lost in 2020, leading to nearly one in three jobs needing to be rehired when travel returned. John emphasises the challenge of filling essential jobs in hospitality and tourism to
make sure high-quality service is sustained, and whether technology can play a part in maximising the guest experience.
Finally, Alon Baranowitz of Baranowitz + Kronenberg Architecture talks through the relevance of storytelling in the age of information and the art of inspiring guests with powerful stories.
Sophie Weston, Marketing Manager at Geberit UK, said: "We're excited to collaborate with industry experts to discuss the current and future market trends that will impact the hospitality industry this year. As the hotel industry continues to evolve, we aim to provide valuable insights that will lead to exceptional guest experiences. In turn, this will generate repeat bookings and recommendations, creating long-term benefits for hoteliers." The report starts with a foreword from Ruth Slavid, a writer and editor specialising in architecture, landscape, lighting and construction. Ruth summarises the focus areas in the report including automation and hotels in the digital age, the importance of good storytelling and tackling skills shortages.
To download a free copy of the Geberit Hotel Experience Guest Report 2023 visit www.geberit.co.uk/hotelreport.
20 developer-update.co.uk developer-update.co.uk
HETAS HOT TIP OF THE WEEK BEWARE WHEN SLUMBERING
Many homeowners are leaving their woodburning stoves to 'slumber' overnight to avoid having to relight their appliance the following morning.
As many appliances are not designed to operate in this way, Calvin May, head of technical services for HETAS, compiles the best advice on why you might need to avoid a slumbering stove…
Unless your woodburning appliance is specifically designed to do so, you should avoid slumbering overnight. Leaving your appliance at a low output for an extended period can surprisingly create a number of problems. This can include incomplete combustion which may lead to an increased likelihood of unwanted condensation forming in the chimney. This sort of condensation can damage some chimney systems.
What is slumbering?
Slumber mode is when an appliance is purposely set at a low or minimum output normally for overnight burning to be revived in the morning without the need for relighting. Only some mineral fuel burning appliances are designed to operate in a slumbering mode and if you are not sure whether yours is one of them, it should not be operated in this manner.
Problems associated with slumbering a stove
There can be several reasons why you may choose to slumber, from making it easier to light the following day to the appliance not being sized according to the heating load applied to it, requiring it to be turned down low in order to maintain a comfortable temperature in the living space.
Depending on the chosen fuel and design of the stove you use, you may be at risk of incomplete combustion when running your appliance at a low heat output. This can lead to the formation of sooty and/or dry deposits and condensation on the flue lining. Combustion efficiency can be reduced and you may not be operating the appliance in the most environmentally responsible way.
If you do own an appliance that is designed for slumbering, it is necessary to adopt certain practices to reduce the negative effects of operating at low outputs. Usually this involves running the appliance at high output following slumbering to hopefully burn away any flue deposits and to ensure the chimney warms up sufficiently to provide a good draught and
reduce the risk of condensation.
Stay carbon monoxide safe when slumbering
By allowing your appliance to remain in slumber mode for long periods of time, you are reducing the amount of air available to the appliance, when what you really want for the most environmentally responsible is an adequate supply of air for the amount of fuel being used. Good combustion reduces the formation of pollutants like particulate emissions, CO and other pollutants.
Most appliances are not designed to be used with the door or doors open except at the point of re-fueling. Please read your appliance instructions in case opening the door allows fumes back into your room.
For more tips and advice on making the most of your solid fuel appliance, visit hetas.co.uk.
22
developer-update.co.uk
STELRAD.
Now in stock and ready for immediate delivery
FIT FOR THE FUTURE.
Stelrad's range of radiators are aesthetically designed to perform with the future in mind. All radiators, including current and new models are fully compatible with low temperature heating systems and are in stock for immediate delivery.
Stelrad have the radiators to meet your installation, specification and contract needs.
FULLY COMPATIBLE WITH NEW LOW TEMPERATURE HEATING SYSTEMS
Large range of sizes, styles, colours and high output radiators
Compact with Style Vertical
Find out more at Stelrad.com
GEZE exhibits at BAU
The world's leading trade fair for architecture, material, and systems, BAU 2023 will be opening its doors from 17-22 April in Munich and GEZE, a specialist in door, window and safety technology will be exhibiting a range of innovative products, system solutions and services at the show.
Under the motto of "Liveable buildings: digital, sustainable, smart" GEZE will be exhibiting myGEZE Control: the next generation networking solution for smart buildings that is able to integrate door, window and safety technology into many different areas of a building management system.
In addition GEZE will be exhibiting several other new products; Revo. PRIME – an automatic
revolving door system with a low canopy height and narrow profiles, the F 1200+ window drive, designed for large and heavy turnand-tilt, and bottom hung windows up to 200kg leaf weight, and the TS 5000 SoftClose, perfect for anywhere where a doors needs to be closed securely, but with minimal sound.
The exhibition stand, which is 500sqm in size, will be located in Hall B1, stand 538-539, with representatives from GEZE
UK on hand to offer advice and demonstrate products.
Said Andy Howland, GEZE's Sales and Marketing Director, 'The BAU exhibition is an important one for the whole of the construction industry with visitors from many countries. It is the perfect opportunity for GEZE to show our latest products and innovative solutions'
Additional information:
For more information about GEZE UK's comprehensive range of automatic and manual door closers call 01543 443000 or visit www.geze.co.uk
24 developer-update.co.uk
COAT OFFERS ONE HOUR DELIVERY
Alongside COAT's own colour palette, customers can also choose any colour from any paint brand and COAT will it says, "match the colour, mixing it fresh, using its 100% Low-VOC, water-based premium paint formula with its zero waste, made to order production."
Partnering with eco-friendly delivery company bodo, the new delivery service applies to London only, but there are plans to extend the offer other major cities across the UK.
Rob Green, Co-Founder of COAT Paints said, "We've been changing
the game with paint to meet the needs of the modern customer and now with our partnership with bodo we can go a step further with same day and in some cases one hour delivery to offer the ultimate in customer service in every sense. Bodo and COAT are businesses with a shared mission to put the customer first and with true sustainability at the heart of what we do."
Coat paints are self-priming with a two-coat coverage and has excellent coverage. A water-based primer is available for UPVC, bare metal or unstable and glossy surfaces. New plaster or unpainted trim a mist coat first is required.
26 developer-update.co.uk
Eco friendly brand COAT have launched same day and one hour delivery slots in London.
The potential for a multidimensional garden in the woods was clear from the start on a three-plus-acre clearing in Great Falls, Virginia. The owners of a Colorado-inspired, stoneand-wood residence sought to enhance their property with a pool, vegetable garden and play space for children. The plan developed by landscape architect Jeff Plusen layered vegetation in organic curves and set stones as nature might have dropped them. He even integrated a faux stream by recycling pool water over a cascade of Delaware River pebbles.
"It's a tremendous property carved out of the woods, so the connection to the environment was very important," Plusen notes.
A wild spirit flourishes in the backyard. Stacked fieldstones support a pool sidewall. Irises and grasses sprout among irregular flagstones, a fire circle and pathways to an expansive lawn. For contrast, orderly travertine pavers surround the pool and gazebo.
Garden installation was undertaken by Planted Earth
WOODED WONDER
Landscaping. Starting in 2015, spaces for play equipment and a kitchen garden were established, and serviceberry trees, oakleaf hydrangeas and summer meadow bloomers planted. Close to 100 additional trees replenished the forest edge. "We went with nothing smaller than two-inch calipers," says thenproject manager Justin Spittal.
An unusual cattle-crossing grate at the front entrance keeps deer out, while welcoming guests with an unobstructed and lush view. "This project was awesome," says Spittal. "Other than the native forest, there wasn't a single plant on site when we got started."
Award: Distinction, Total Residential Contracting (Planted Earth). Landscape Architecture: Jeff Plusen, ASLA, RLA, Plusen Landscape Architects, Catonsville, Maryland. Landscape Contractor: Planted Earth Landscaping Inc., Sykesville, Maryland.
28
developer-update.co.uk
An expert team conjures a welcoming forest reverie in Great Falls
Showrooms in Belgravia and Chelsea tollgard.com | +44 (0)20 7952 6070 Architectural sculptures inspired by nature ↖ a arde by Seba Stian Herkner
CT1 IS THE AWARDWINNING CHOICE!
Travis Perkins Commercial Supplier of the Year
C-TEC is proud to announce it has been awarded the prestigious 'Commercial Supplier of the Year' by Travis Perkins, the UK's largest supplier of building materials to the building and construction industry. C-TEC is the manufacturer and distributor of CT1, officially the No.1 Sealant and Adhesive in Britain, as voted by professional trades in a national independent survey by Expert Trades.
The award was presented at a ceremony held on Wednesday 8th February 2023 and attended by hundreds of industry peers from across the country.
CT1 Creates Successful Commercial Partnerships
Working in collaboration with our commercial partners CT1 creates strong bonds and seal long term strategic alliances. Together we bring Britain's trades the very best sealant and adhesive solutions in the construction industry.
In partnership CT1 and Travis Perkins supports trades people nationwide in every sector of the industry including roofing
contractors, joiners, window suppliers, kitchen fitters, bathroom installers, as well as specialist fit out and building companies. The construction industry is the driving force of our country and both companies recognise good trades people are the central to that.
CT1 is Proudly Made in Britain
Proudly made in Britain with British technology and British design CT1's 'Tribrid®' technology provides unique adhesion and longterm sealant solutions on virtually any material in most applications without the need for additional fixings.
Travis Perkins Award Recognises CT1's Innovative Products and Service
In an extremely competitive category, this award recognises the work and dedication of CT1's entire team in not only supplying the best products but standing out the field of customer service to support Travis Perkin's branch managers and staff in over 500 outlets nationwide.
Received by C-TEC CEO Jimmy Walsh he commented: "We are honoured to receive Travis Perkins' 'Commercial Supplier of the Year'. It proves that only do we have innovative, unequalled products we also provide an unparalleled package of sales and marketing support to our partners that helps ensure they're at the forefront of new product innovations in Britain's construction industry."
"We are proud to work with fellow industry leaders like Travis Perkins and look forward to building on our joint successes and developing future opportunities as our partnership strengthens."
CT1 Leads the Drive for Long Terms Sustainable Solutions
CT1's Award-Winning success is built on innovation and continuous improvement. Leaders in research and development, the company was the first to bring a Hybrid Polymer to market 20 years ago and has proudly introduced the revolutionary and environmentally complaint Tribrid® sealant and adhesive technology with explosive results.
30 developer-update.co.uk
CT1 is leading the market once more with the introduction of its new Eco-Compliant Cartridges. This game changing packaging technology is manufactured from 80% recycled content and is totally 100% recyclable.
Creating long term sustainable solutions is at the very core of our products, service and relationships. We don't simply have customers or suppliers, we build partnerships, growing together for long term mutual benefits. There is no greater benefit than a better environment for everyone.
Not only does CT1 replace several different products into just one cartridge, saving time and money, it now reduces the impact on the environment by cutting the amount of non-recycled waste being sent to landfill.
'Hang in There' Stronger Together
As Travis Perkins is such a strong commercial partner there was no better place than Travis Perkins Supplier Conference to launch our innovate new challenge of strength and endurance.
Following the success of our hugely popular 'Saw in the Stone' Challenge we launched the all new 'Hang in There' Challenge for 2023. To take part watch out for it arriving at Travis Perkin's Suppler Demonstration days nationwide. To win an amazing set of Milwaukee Tools and CT1 Products all you have to do is 'Hang in There'
longer than your workmates and industry peers. We will be noting all leading times and inviting winners to a Grand Final at The Installer Show in the NEC Birmingham on 27-29th June 2023.
Supplying Britain Trades
CT1's Unique Sealant and Construction Adhesive, in its new Eco-Complaint cartridges, are available now in all Travis Perkins branches nationwide and online from www.travisperkins.co.uk
CT1 – Often Copied but Never Equalled! We Innovate – Not Imitate! www.ct1.com
31 developer-update.co.uk
For the kitchen redo, a layout that would accommodate multiple cooks topped the owners' wish list. Although some of the kids have flown the nest, the brood prepares and enjoys meals together whenever they can. "We're a family of bakers and cooks," the wife reveals. "We needed the kitchen to work for all of us. Cooking together is a part of our family culture, and it's so much more fun to do that in a nice environment."
Before, a cooktop located in the island limited prep space. Bonnell reconfigured the plan, installing a professional-style Thermador range along one wall. Aesthetics in the previously dark, uninspiring space vastly improved too, thanks in large part to whitepainted custom cabinetry from Cornerstone Kitchen & Bath.
Since increasing the kitchen's footprint wasn't an option, the designer further eased congestion by establishing a separate, bistro-style baking station in what she characterized as a weird pass-through space that connects the butler's pantry and breakfast room. She also added a walk-in pantry, accessed through a hidden door in the butler's pantry, by borrowing 50 square feet from the garage.
Bonnell then cast her designer's eye on the interior architecture. In the entry hall, she complemented the existing plaster crown molding by applying trim to the drywall below. "We had this beautiful, heavy plaster molding, but then the walls fell flat," she recalls. "We really wanted to elevate the space by adding more architectural detail with the applied molding." The existing marble floors stayed put but the previously deep-gold walls were repainted an off-white hue.
When it came to defining a new look, as Bonnell relates, the wife requested "something happy and fresh." The reimagined dining room certainly fits the bill. There, a scenic paper from Schumacher replaced red paint on the walls. And tasseled swags
made way for simple, raw-silk draperies at the windows.
Bonnell sourced new furnishings with the aim of establishing "a collected, lived-in, comfortable feel," she says. For the family room, she designed an outsized sectional, as well as a coffee table that allows two leather-covered ottomans to tuck under opposite corners when not in use. As she explains, "This is the family hangout, so we wanted to create a central seating area that would accommodate everybody."
Thoughtfully chosen touches make her schemes sing without overpowering, as the first-floor primary suite illustrates. Painterly Schumacher wallpaper graces the bedroom, while floral mosaic tile embellishes the bathroom's two arched vanity niches. "We enjoy contrast and interest, but always in a supportive, noncompeting way," states Bonnell. "The layers of details come together to create pleasing, nonjarring spaces."
The wife marvels at her designer's creative flair—and at the completed project. "It really is artistry," she enthuses. "There's no way we could have done it on our own. Erika changed our life for the better."
Interior Design: Erika Bonnell, principal; Emilie Bauer, design coordinator, Erika Bonnell Interiors, Sterling, Virginia. Renovation Contractor: SugarOak Corporation, Herndon, Virginia.
33 developer-update.co.uk
ESTILO INTERIORS HAS DESIGNS ON A RECORDBREAKING 2023
Estilo Interiors, which specialises in the design and build of commercial fit-out and refurbishments, is celebrating a stellar start to 2023 after a flurry of new instructions across the UK. This comes as the organisation celebrates its 20th anniversary, with record revenue figures.
The Birmingham headquartered business has been appointed to deliver double-digit projects already this year, most recently including a major 41,000 sqft project in London, Francis Gardner Apartments, in conjunction with development manager Forge, for client Curation Capital. Francis Gardner Apartments is a student accommodation scheme in West Hampstead and will see Estilo Interiors deliver a full refurbishment of all 69 studios, in addition to the on-site cinema, games room, and gym.
The organisation has also been appointed by MAPP, the leading commercial property company, to deliver two Cat B fit-outs in London and Bristol.
Almost 15,000 sqft of space will be re-designed by Estilo Interiors' industry-leading team, bringing a new lease of life to MAPP's office spaces. This comes in addition to a Cat A+ fit-out for Nurton Developments at 4 Temple Row, in the heart of Birmingham's business district.
Speaking about this year's success to date, Estilo Interiors' Founder and CEO, Andrew Moore, comments: "We continue to enjoy significant yearon-year growth, and we are optimistic about another successful year in 2023. After dedicating the past two decades to building a team and reputation that delivers the best in the business, we are proud to have achieved a record revenue of £27.6 million last year. As we celebrate our 20th anniversary this spring, we are committed to sustaining and expanding upon our success to date.
"It's fantastic to welcome these projects from Francis Gardner Apartments, MAPP and Nurton Developments. We are looking forward to building on our core strengths in bringing workplace insight and innovation to not just these latest instructions, but our clients across a range of sectors; all while looking to further our reach into Birmingham, and beyond."
Setting out with a vision to become a leading turnkey interior fit-out contractor, designing and delivering inspirational and effective environments for occupiers and landlords across the UK, Estilo Interiors has dedicated its ongoing success to the talent of its highly skilled team.
"To have such a strong start to the year, with instructions on over 10 projects in the first two months of the year, is a testament to the quality of the team's design and fit-out delivery, and the name that we've made for ourselves in the industry. Investment and innovation are helping to keep us ahead of the curve, and our exceptionally high standards mean that we're only ever delivering the best for our clients," Andrew continues.
Working for commercial tenants, landlords, and developers across the UK, Estilo Interiors enjoy a reputation for designing and building innovative workplaces that drive performance for clients across a broad range of industries. Its clients include Nurton Developments, Hortons, Wesleyan, Pure Offices, and Northwood Investors, to name a few.
34
developer-update.co.uk
tollgard.com +44 (0)20 7952 6070 Tollgard Showroom, Grosvenor Waterside, Gatliff Road, London SW1W 8QN info@tollgard.com +44(0)20 8067 2123 First Floor, Centre Dome, Design Centre, Chelsea Harbour, London SW10 0XE Extraordinary Pieces from around the World.
DESIGNER CONTRACTS ON TREND REFRESH FOR FLOORING FAVOURITES
The new-look Apollo Plus Volume 2 offers an updated palette with on trend colours across this affordable, soft quality polypropylene two-ply twist carpet range. Hometex Volume 2 introduces in-vogue herringbone and chevron patterns to a competitively priced, felt back vinyl collection.
Said commercial director Louise Walters: "Both collections have been updated to include the latest looks, offering a really high fashion edge to these competitively priced ranges."
Apollo Plus Volume 2 now reflects the resurgence of beiges and more natural earth tones seen at the Harrogate Flooring Show
Designer Contracts, the UK's largest flooring contractor, has refreshed two of its popular flooring collections.
this Autumn. Made from 100% easy-clean Excellon fibre, the collection is available in 11 stylish colours – as either heather or plain – and comes in four and five metre widths.
Hometex Volume 2 is a traditional sheet cushioned vinyl, updated to include herringbone and chevron designs within the mixed collection of 14 colourways. Natural-look wood and stone styles also feature in the range which can be fitted over most existing smooth subfloors and is suitable for use with under floor heating. It is available in two, three and four metre widths and the felt backing is quiet underfoot as well as offering extra insulation.
Designer Contracts operates across 15 UK regional facilities. As well as flooring, the company provides curtains and blinds, furniture and lighting, and operates a show home interior design services division.
www.DesignerContracts.com
36 developer-update.co.uk
Œuvre photographique ISABELLE GIROLLET
lalique.com
WHITEOUT FAILS TO THWART STRAND CELEBRATION
Strand Hardware defied the 'Beast from the East' when it went ahead with its office reopening event and rededication ceremony.
Fortunately, the majority of guests were not deterred by the snowfall, with 70 people attending, including staff, suppliers, customers and media.
They included representatives from Athmer, who travelled from Germany, to support their UK distributor and Simon Forrester, Chief Executive Officer of the Guild of Architectural Ironmongers. They toured the newly refurbished Strand House, in Walsall, where the company has been located for more than 30 years.
Christine Franks, the wife of company founder, the late Jonathan Franks, carried out the ribbon cutting ceremony.
"I know that Jonathan would have been extremely proud to see how Strand Hardware has flourished," she said.
The building has had a radical make over resulting in a more modern, open plan work space for its expanding team. It also includes a hi-tech reception and energy efficient measures
developer-update.co.uk
including better insulation and motion sensor lighting.
Many of the materials used in the project were sourced from suppliers and clients including new windows, fire doors, electricals, plumbing, furniture, decoration, carpeting and signage, along with some of its own ironmongery products.
Guests were treated to refreshments and goody bags and a special cake was created to mark the event.
Managing Director Steve Marshall said: "The completion of the refurbishment project has taken many months of planning, organisation, disruption and hard work from all concerned. Those who had visited us before will no doubt see a vast improvement in
our working environment, and our environmental credentials.
"Since the dear late Mr Jonathan Franks set up the company in 1992, Strand Hardware has gone from strength-to-strength, navigating its way through many national and global challenges, while always sitting solidly on its impeccable financial foundations."
He also paid tribute to Strand's 'family' – its 21-strong workforce and Jonathan's daughter, Catherine Franks who took over as MD in 2005 and now Chairs its board.
"She has positioned Strand as one of the market leaders in our industry with customer service levels that are second to none and a reputation of which we can be proud," he added.
For more information about Strand Hardware's product range contact: info@strandhardware.co.uk or call: 01922 639111
www.strandhardware.co.uk
39 developer-update.co.uk
retr fitting net zer f r There's an Ecodan for every home Find out more at ecodan.me.uk/rduc