Welcome
COCKTAIL CONNOISSEURS
Come raise a glass and explore what's new in Greater Fort Lauderdale. Treat yourself to amazing shopping, dining, nightlife, beaches and more. Plan your adventure at VisitLauderdale.com.
Follow 'Conversations on Cannabis' on: MMERI Forum Radio MMERI Forum Radio@MMERIForumRadio@MMERIForumRadio EDUCATE. Take The Free Online Basic Education Course MMERI.FAMU.Edu/Educate Get The Latest Information About Marijuana In Floridalearn. MMERI.FAMU.Edu/Learn Join Conversations On Cannabis Each Month on YouTube and Facebook talk. MMERI.FAMU.Edu/talk EDUCATE. LEARN. TALK. ABOUT CANNABIS IN FLORIDA. Get Credible Information And Engage In A Safe Space To Learn And Talk About Cannabis.
CONTENTS Winter | 2022 SCORCESA: HAVE YOUR CAKE! 24 BALLIN' ON A BUDGET12 THE GOOD LIFE IRL30 THE CLASSY CHEF44 islandoriginsmag.com2
PUBLISHER
Calibe Thompson
BRAND STRATEGY
David I. Muir
BUSINESS DEVELOPMENT
Tamara Phlippeaux Misha Williams
EDITORS
Monique McIntosh Jayme Fraser
SENIOR ASSOCIATE
Hannah Gulics
ART DIRECTOR
Vladan Dojcinovic
CONTRIBUTING WRITERS
Calibe Thompson
Rebecca Hugh Chrissana Wilmot Steve Bennett Hannah Gulics
Sumaiyah Wade and Melissa Hunter at Sugarcane Magazine Lyndon Nicholas
CONTRIBUTING PHOTOGRAPHERS
David I. Muir
Steve Bennett/Uncommon Caribbean Venjhamin Reyes Photography Hadriel Gonzalez Brandon Wyche JD Barnes Peter Thomas Jeanmeil Nestor Myriam Ocasio Diana Sinclair Craig Harley Cheers Photography Trinidad Keon Predi Photography (Donahue Parker)
Stacy A.S. Williams Don Parchment Rainier 'RJ Deed' Brissett
ON THE COVER: In the luxury issue of Island Origins Magazine, a stunning yet understated look by bridal designer Charles C. Dieujuste, who talks to us about creating unique and timeless wedding wear for the 21st century bride.
Copyright © 2022 by Island Syndicate. All rights reserved. Island Origins Magazine is published by Island Syndicate. This magazine or any portion thereof may not be reproduced or used in any manner whatsoever without the express written permission of the publisher except for the use of brief quotations in a review. For permission requests, write to the publisher, addressed "Attention: Permissions Coordinator," at Island Syndicate, 1915 NE 45th Street, Suite 107,Fort Lauderdale, FL 33308. Printed in the United States of America.
Island Origins Magazine
℅ Island Syndicate
1915 NE 45th Street, Suite 107 Fort Lauderdale, FL 33308 954-284-6355 | islandoriginsmag.com support@islandsyndicate.com
4 Calibe's
STYLE & DESIGN 6 The List: All Aboard 10 Tohni Jen Bellis: Island Vibes 20 Elevated Coastal 24 Scorcesa: Have Your Cake! HEALTH & BEAUTY 8 Hot Trends for the Skin You're In TRAVEL 12 Ballin' on a Budget 16 A Slice of Luxury on Island Waters INSPIRATION 19 JC Sales Team: Dreams & Realty 29 Commissioner Paule Villard: Maman Pèp 38 Karen Vick: Graphic Elements 48 La Paix Bakery: Labor of Love 50 Gang Alternative: Career Development CULTURE 30 The Good Life IRL 34 Caribbean Art Shows at Miami Art Week INVEST 40 New Money: Decoding Cryptocurrencies TASTE THE ISLANDS 44 The Classy Chef 52 From the Holiday Table 56 Restaurant Listing ENTERTAINMENT 58 Photo Recap: Pieces of Jamaica 60 Event Calendar CREDITS
Prelude:
CALIBE'S PRELUDE The High Life
WRITER CALIBE THOMPSON PHOTOGRAPHER DAVID I. MUIR
Although I'd describe myself as low maintenance, I also love posh things. Many people from my community do.
I'm always taken aback hearing about Caribbean people's experience when they've been asked by misinformed Americans if they wore grass skirts or swung from trees back home. My personal experi ence of home included an exposure to high-end hotels, fine dining, fancy cars, expensive jewelry and other nice things. Not necessarily my own, but I knew what they were, first hand.
Many Caribbean people come to the United States, ex cel in academics, or not, and either way, find stunning business and financial success — because we like posh things.
It's not about thinking that we're better than anyone else. It's just an innate "boasy" way we have about us. A confidence and swagger that either blows away any chips that ever land on our shoulders, or uses them as firewood for our burning need to succeed. This assuredness applies whether our brand is Jamaica, Haiti, Cuba, Trinidad or otherwise.
After more than five years working on this amazing publication, showcasing the best of our people, prod ucts, travel destinations, style, fashion, food and so much more, we thought it would be appropriate to indulge ourselves, and you, in a cascade of luxe finery for our ultimate issue of 2022.
This issue starts with a collection of yacht-worthy good ies curated by Rebecca, lavish skin care treatments Chris sana identified, and stories by Hannah on two interior decorators making a mark in their industry. Steve shows us how to travel the Caribbean in opulent style, even if you're on a budget. Then we learn about the yachting life, see the work of a couture wedding dress designer, and meet some of the islanders making a mark in social media, politics, art and real estate. Lyndon introduces us to a famous chef, we learn about a family-owned Haitian bakery, and we get the details on a few decadent regional recipes for the season.
We hope that you enjoy getting lost in luxury on these pages. May your mind be enveloped in thoughts of abun dance as you leave 2022 behind and step into a brand new year and an even better version of you for 2023. That's certainly our plan!
Walk good.
CALIBE'S PRELUDE // THE HIGH LIFE
4
#islandorigins
DISCOVER MIAMI MASTERPIECES
Art of Black Miami is a marketing platform and destination driver organized by the Greater Miami Convention & Visitors Bureau that showcases the diversity of the visual arts locally, nationally and internationally, celebrating the Black diaspora. This initiative highlights the artistic landscape found in heritage neighborhoods and communities year-round throughout Greater Miami & Miami Beach. For more information, visit ArtofBlackMiami.com

CS-04167 #ArtofBlackMiami
© Greater Miami Convention & Visitors Bureau — The Official Destination Sales & Marketing Organization for Greater Miami & Miami Beach.
Artist: Charles Humes Jr.
ArtofBlackMiami.com
T HE LIS T
ALL ABOARD
WRITER REBECCA HUGH PHOTOGRAPHY
Sail the seas in high fashion with these designer Caribbean finds.
BERMU JUMPSUIT
Bajan brand Tialani oozes glamour, proven by this sleek white jumpsuit with a turtleneck halter top, low back and wide leg pants. Ladies, this one is a showstopper. Dress up or dress down for day to night celebrations on
THE PEACE LILLY PLATE
Dining aboard feels particularly refined when the tablescape is adorned with an elegant Peace Lilly ceramic plate set from Portraits by Khaffi. This minimalist rendering of a tropical floral design is hand poured, hand glazed and fired locally in Trinidad. portraitsbykhaffi.com
ticated spin with this hand bag by Jamaican-American designer Brandon Blackwood. A twist on sailing materials, the design features a knotted netting made from brown cowhide leather, which is layered over textured linen. brandonblackwood.com $275
 DRIFT HOME CHARCUTERIE BOARD
Every boat party needs a decadent spread, which will look beautiful laid out on a charcuterie board from Jamaican-based decor brand, Drift Home. Made from cedar, mahogany or mango wood and decorative wooden beads, this artisanal item makes the perfect centerpiece. papiyo.com $52
islandoriginsmag.com6
 DOUDOU BANGLE BRACELET
 INALAIT SET
Cool on the skin, linen is ideal for partying on the open seas, and never looked as effortless as it does in this 1990s inspired shirt and shorts set from Barbados-brand Tialani. Featuring statement buttons and front hip pockets, de signer Tia Olton made this easy-to-style set a closet staple. shoptialani.com $350
Featuring the brand's signature Manluu Cane pattern, the uni sex Doudou bangle bracelet is cast from 18-karat yellow gold and covered with 64 brilliant round diamonds. Made in Man luu's atelier in New York, the opulent bangle is a true treasure. manluu.com $11,500 

DOUDOU RING
Cast in 18-karat yellow gold, this unisex ring is an ode to jewelry designer Moana Luu's Creole heritage, inspired by the iconic cane webbing of traditional French Carib bean furniture – the perfect eye-catching accessory for making waves. manluu.com $1,300

SXM COLOGNE
Mingling with fresh sea air, the SXM cologne from St. Martin-based Tijon Parfumerie is your next signature scent. Aged in French oak, this robust fragrance is a blend of citrus, lavender, bluegrass, spices and a hint of mint. tjon.com $89 for 100ml | $29 for 15ml
SOREL LIQUEUR
Sipping negronis on the high seas is extra sweet with this luscious Sorel liqueur from Bajan-American distillery, Jack From Brooklyn. Infused with Moroccan hibiscus blended with Brazilian clove, Indonesian cassia and Nigerian gin ger, this is a perfect addition to your seaside cocktail hour. sorelofficial.com $42
islandoriginsmag.com 7
Hot Trends for the Skin You're In
WRITER CHRISSANA WILMOT PHOTOGRAPHER SUPPLIED
Personal care products soared with the influx of selfhelp beauty tools, professional-grade over the counter serums, masks and peels, and, of course, DIY natural beauty products. But while at-home pampering be
HYDRAFACIALS
This simple-yet-effective treatment boasts "the best skin of your life" in three steps and 30 minutes. The approach offers maximum hydration, using a patent ed delivery system that exfoliates skin and extracts impurities while simultaneously infusing carefully crafted peptide-and-an tioxidant-rich super serums into the skin.
FERMENTED SKIN CARE
Not just for a happy tummy, fer mented and probiotic-rich prod ucts have made their way to our island shores in a big way. Already the norm in Korean beauty culture, this application focuses on the importance of the micro biome balance on the skin. Luckily, profes sional grade products are already on the market and are available through certified aestheticians and skin consultants.
came a way of life, we're now back outside in all of our so cial butterfly glory and yearning for the magic of a professional touch. Out of the ashes of the COVID era, here are a few trends that are emerging in the world of Caribbean beauty.
DERMAPLANING
MICRONEEDLING WITH PRP
A combination of re generative medicine and plas tic surgery techniques, this minimally invasive procedure uses what's yours to make you even better. Platelet rich plasma (PRP) is harvested from the client's blood and applied to the skin via mi croneedling. What's left after healing is a glowing complex ion with tight and smooth skin because it promotes the production of collagen and elastin.
In an exfoliating method that uses a special razor-like device, clients have the upper layer of their skin removed to reveal the healthier, supple layers be low. It is often preceded by a specialized facial.
OSMOSIS FACIAL INFUSION
More than just a facial, the Os mosis Infusion is a mind and body experience. Using an application method called the liposomal delivery system, this non-acid peel incorporates high doses of natural ingredients such as shea butter, honeysuckle flower extract and sandalwood oil to restore the skin's epidermal barrier while promoting circu lation, collagen production and cellular rejuvenation.
islandoriginsmag.com8 HEALTH // HOT TRENDS FOR THE SKIN YOU'RE IN
It's no secret that health and wellness took a front row seat during the prime years of the pandemic.
1 52 4 3
HOMESTYLE DECORATORS
Island Vibe
WRITER HANNAH GULICS PHOTOGRAPHY GARRIN EVAN PHOTOGRAPHY
Born to Haitian tailor and dress maker parents on The Baha mas' sandy shores, interior designer Tohni Jean-Bellis is making a career out of elevating the coastal Caribbean aesthetics she grew up with. Her keen eye for quality has gar nered her brand, HomeStyle Decorators, much success, and it is quickly establish ing itself as a go-to for a resort island feel in South Florida and beyond.
After moving to the United States as a teen, Jean-Bellis' first challenge was to learn English. Following that, she ob tained a design degree from the Art In stitute of Fort Lauderdale, which made for an easy transition into a career as a lifestyle blogger. But the entrepreneur wasn't quite satisfied. She became a lux ury real estate agent in 2017 and found herself naturally decorating the kitch ens, living rooms and dining areas of her
showings to personalize the client expe rience. The touch of style helped people envision the space as "home." This be came the catalyst for Jean-Bellis to add interior design to her catalog of offerings. And so, the HomeStyle Decorators brand was born.
Now five years in, Jean-Bellis and her team are experts at creating a luxurious, resort feel with their coastal designs, and they are making major headway to becoming a household name, including a partnership with paint brand SherwinWilliams. While residential design will always be part of their portfolio, the brand is expanding their expertise to in clude retreats and vacation homes, too. Whether for an apartment, beachfront property or a mountain home, Jean-Bel lis said HomeStyle Decorators can bring the resort aesthetic to you. For example, "When bringing the Caribbean to the
mountains, I think about sustainability and the elements that come from nature, like cedar. Then you can add artwork, driftwoods and other things and you've merged both — the coast is not all blues and shells!"
Jean-Bellis said it's especially important for Caribbean brands to enter the luxury marketplace. "Oftentimes [the Caribbean] is not celebrated in [that] light," she said. "It's where you eat food, put your feet in the sand. But the island culture is more than that." And luxury is not always what people think it is. "The status quo of lux ury is a price tag. But every person's idea [of luxury] is one they solely possess."
She believes using quality in every detail, incorporating antiques and providing a space that clients feel represents them can bring luxury into a design.
Aside from professional affairs, Home Style Decorators is also heavily involved in propelling the Haitian community forward through advancement of real estate and work with organizations like Women in Distress, including home decor donations through the annual HomeStyle Decorators Charity Drives.
More is on the horizon for HomeStyle Decorators, but even as the brand grows, a luxurious, coastal and, of course, stylish aesthetic will follow.
islandoriginsmag.com10 STYLE & DESIGN // ISLAND VIBE
Compassionate.
Caring is our calling. That's why we get up early, stay late, and never close. And that's why we remain on the cutting edge of medicine more than 100 years after our founding. Today, Jackson Health System brings state-of-the-art care to every corner of Miami-Dade County — and to everyone with respect and expertise.
JacksonHealth.org
The dream of ultra-luxury travel remains just that for many of us. It does not, however, need to remain an inaccessible fantasy. With a bit of luck, ingenuity and a few insightful tips, you, too, can indulge in a jet-set Caribbean travel experience well beyond your usual budget. Here's how:
islandoriginsmag.com12
Aerial view of Sailrock Resort in South Caicos.
HOW TO ENJOY THE FINER THINGS IN THE CARIBBEAN AT A NICE PRICE
WRITER STEVE BENNETT PHOTOGRAPHY VARIOUS
Ballin' On A Budget
TRAVEL //
ON A BUDGET
PHOTO: COURTESY SAILROCK RESORT
BALLIN'
'Tis the Offseason
Cold weather up north makes winter months red hot for Caribbean travel. Demand skyrockets from mid-December through the end of April. The highest demand also yields the highest prices. Airfares, hotel and resort stays, excur sions and rental cars are all more expen sive during the winter months.
Summer is a whole different story.
Resorts and hotels across the Carib bean typically drop their rates by a good 30-, 35-, even 40-percent during the warmest part of the year. These big sav ings aren't just reserved for big-brand resorts. Bespoke properties like Curtain Bluff in Antigua and Sailrock Resort in South Caicos all advertise special rates and value-packed incentive offers for off-peak summer travel.
islandoriginsmag.com 13
PHOTO: COURTESY SAILROCK RESORT
PHOTO: COURTESY STEVE BENNETT/UNCOMMON CARIBBEAN
A casual living area at Sailrock Resort in South Caicos.
A view of the ocean from Curtain Bluff in Antigua.
Summer Sizzles in the Caribbean
When it's plenty warm at home in the States, why travel to the Caribbean (aside from the incredible savings)?
Well, for one thing, while summer temperatures are similar, it almost always feels cooler in the Caribbean thanks to persistent offshore tradewinds.
And summer is also a major festival sea son. Crop Over in Barbados, Antigua Carni val, Spice Mas in Grenada, August Monday in Anguilla and Vincy Mas in St. Vincent are but a few of the large-scale cultural celebrations that sizzle with excitement.
Off The Shoulder Savings
While the savings are big during June, July and August, they're even better during the fall and through early December, a period known as the shoulder season. There is one major caveat to the season's savings: hur ricanes.
The shoulder season coincides with the height of hurricane activity in the Carib
bean. Many of the choicest hotels and resorts close up shop. Those that remain open, however, tend to offer hurricane guarantees. Miss out on a full day of pool and beach fun because you had to shelter from a major storm? No problem. If your resort or hotel offers a comprehensive hurricane guarantee, you can return in the future to make up for lost vacation time at no charge. Other guarantees allow va cationers to change travel plans impacted by hurricanes without penalty.
And shoulder season travel investments will deliver a bigger bang for your buck than any other time of year.
At press time, nightly rates at the exclu sive all-new Saba Rock Resort in the Brit ish Virgin Islands were priced $200 below winter rates. That's a pretty nice discount for the Caribbean's newest private-island escape.
Even the ultra-posh Four Seasons Nevis isn't immune to the discounting. A "fourth night free" offer, the type usually proffered by less esteemed resorts, is included in the property's 2022 shoulder season offers.
Villa savings are even more pronounced. Take the incredible Nevaeh Anguilla. Prices at the seaside luxury compound can reach
islandoriginsmag.com14 TRAVEL // BALLIN' ON A BUDGET
PHOTO: COURTESY SABA ROCK RESORT
The interior of a guest room at Saba Rock.
an astounding $24,500 per night during the height of the holiday season between December 16 and January 7. During the summer and shoulder seasons, the nightly rate can be as low as $5,500.
Spread the Wealth
That price tag for a luxurious private villa still might seem out of reach at first glance. But it pays to do the math and split the cost with travel companions.
Sharing a villa that sleeps eight among four couples often yields pricing compa rable to staying at a much less swanky re sort. But at a villa, you don't have to share the pool, beach, fitness center, restaurant and other amenities with hundreds, some times thousands, of other people.
One option is definitely better than the other, especially for those who value pri vacy and the quality time spent with loved ones in paradise.
Spyglass Hill in Anguilla offers a great example. This luxury four-bedroom villa crests above lively Sandy Ground, a mecca of good times, nightlife and beach fun. Offseason nightly rates here are priced at $1,350. Split among four couples, that's just $337.50 per pair for your own private slice of heaven.
Flying on Empty
Scoring a steal of a deal on an exclusive re sort or tricked-out villa is one thing. Rock ing a private jet is all kinds of next level.
While it may seem hard to believe, deals can be had in this rare air as well.
They're called empty legs, though in some circles they're better known as "deadhead" flights. These come about when a plane needs to travel from one point to another with no passengers aboard, often when a private aircraft is chartered for a one-way trip and needs to return to its home port.
Empty leg flights can yield savings of up to 75-percent off private aviation travel.
That's the good news. The not-so-good news is that you have to remain very flex ible to land one of these deals. The private aircraft has places to go. If you're lucky, you might just be able to tag along for a song.
Aviation charter brokers and aggregator sites are among the best places to search for empty leg flights. Jet Partners, for in stance, maintains a robust list of opportu nities throughout the Caribbean.
islandoriginsmag.com 15
PHOTO: COURTESY STEVE BENNETT/UNCOMMON CARIBBEAN
PHOTO: COURTESY STEVE BENNETT/UNCOMMON CARIBBEAN
Lounge chairs by the water at Nevaeh in Anguilla.
A living space at Nevaeh in Anguilla overlooks an infinity pool and out across the ocean.
BOAT LIFE A SLICE OF LUXURY ON ISLAND WATERS
WRITER CHRISSANA WILMOT PHOTOGRAPHY SUPPLIED
There's nothing quite like a seaborne adventure.
islandoriginsmag.com16 TRAVEL // BOAT LIFE
Sailing is a popular way to remember that gift. A far cry from the Caribbean's his torical ties to piracy, sailing evolved to offer a fresh take on fun with a touch of luxury. Contrary to persistent belief, it is not only for those with deep pockets.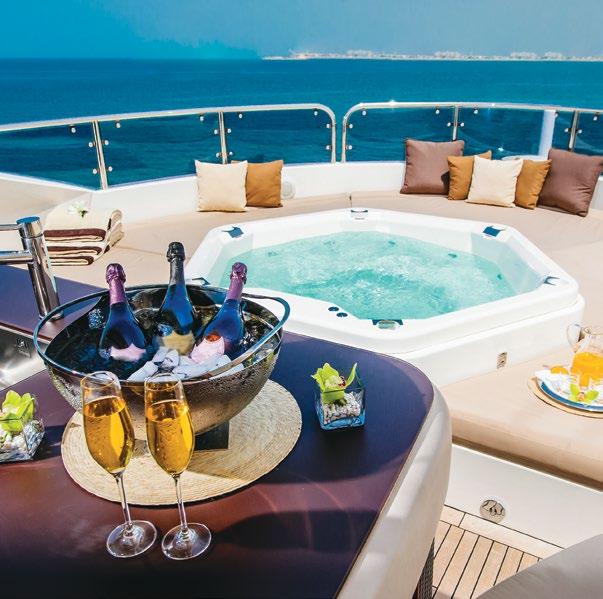 These days, there's no shortage of ways to en joy life at sea with experiences as varied as the isles of this western archipelago.
In multi-island territories like the British Virgin Islands and the Grenadines, sailing is an absolute must if you are to properly appreciate their mag nificence.
For those with the wherewithal, a termed, allinclusive charter with a crew (which usually runs from five to 10 days) is guaranteed to make you feel like the star in an episode of "Lifestyles of the Rich and Famous." A plethora of companies scat tered across the region offer such services, but the prices vary based on the type, size and age of the boat. Operators such as Dream Yacht Charters and the Moorings, which both service islands like Grenada, Martinique and St. Martin, along with TMM, which is exclusive to the BVIs, are just a few picks from the sizable litter.
However, if you're opting to don the captain's hat yourself then a crewless charter is the way to go. Whether you choose to wine and dine all alone on the open sea or bring along a few guests for the ride, businesses like Barefoot Yacht Char ters, which operates in St. Vincent and the Grena dines, will provide you with the tools and freedom to live out your nautical dreams. Likewise, from Belize to the Bahamas, Sunsail will also more than happily extend the same!
While weeklong stints are the norm for winter travelers, day sails provide a taste of affluence to locals who are either looking for quiet family fun or an epic party in motion. On islands like Jamaica and Trinidad, sailing soirees abound. Liquor flows like the currents of the Caribbean Sea and good vibes "cyah dun."
In contrast, romantic sunset tours and snorkel trips, both private and shared, are also available for those who would rather take to the seas in a more low-key fashion. Though shorter, these trips still offer luxury and exclusivity. Amenities might include a gourmet meal and rum punch on tap. For an additional cost, extra water toys like jet skis, paddleboards and kayaks can be added to enhance the experience. Barbados-based Sea duced Charters has taken luxury day sailing to new heights by even including a private chef and a premium bar.
islandoriginsmag.com 17
There's no shortage of ways to enjoy life at sea with experiences as varied as the isles of this western archipelago.
NOT JUST THE ADVENTURE OF DAY DREAMS, SAILING CAN BE WELL WITHIN YOUR REACH WITH THE FOLLOWING TIPS:
1. Sail during the off-season: Some companies will offer cheaper rates during down times to keep business going, so plan your travel cal endar to your advantage.
2. Ask for the "locals discount:" During the height of the pandemic, charter companies like Anne Bonny in the BVI used this strategy to stay afloat. It's now a permanent fixture in their operations and is a hit with residents of the territory.
3. Maximize the boat's capacity: Determine the boat's passenger capacity beforehand and split the bill by bringing your friends and family. Shared tours scheduled by the charter compa ny also result in these savings. Not only is this a surefire way to keep costs low, it's a great way to create an unforgettable experience.
4. Join a yacht club: This is the ultimate social club for seafarers! Here, you will always find someone looking for a plus one, or five, to accompany them on a leisurely sail. And if you're lucky, maybe an opportunity for interisland hopping may even come your way.
Bitten by the sailing bug? Check out some of these sailing events across the West Indies in 2023:
• Barbados Sailing Week: January 18-23
• St. Maarten Heineken Regatta: March 2-5
• St. Barths Bucket Regatta: March 15-19
• BVI Spring Regatta & Sailing Festival: March 27 to April 2
• Bequia Easter Regatta: April 6-11
• Antigua Sailing Week: April 29 to May 5
islandoriginsmag.com18 TRAVEL // BOAT LIFE
JC SALES TEAM Dreams & Realty
WRITER HANNAH GULICS PHOTOGRAPHY COURTESY OF JUST B. STILL PHOTOGRAPHY
Corriolan has more than 13 years of experience in the real estate industry and an impressive back ground working as a residential realtor with global empire eXp Realty. Now, he leads the JC Sales Team, which is brokered by eXp Realty. The group works with both sellers and buyers of any genera tion to find their first home, or their next, explaining the full home buying process along the way so clients are well informed about all their decisions.
The person-centered approach contin ues well beyond closing. The team's invest ment in each client can include working with mortgage brokers to ensure they are on the right track financially, coordinat ing moving companies and even setting up home security, internet and cable. The company is full-service, not considering themselves done until power is turned on, trash pickup day is set, and clients have settled into their new digs. "It's just part of being a one-stop shop," said Corriolan.
"And if they need a pool reference, impact windows — if they need anything around the home — they know they can come back to us and we'll be their resource."
Professionally, the team is recognized in Florida as having some of the top agents in the field. Corriolan himself is a member of the Florida Realtors Board of Directors, the Miami Association of Realtors — the second largest realty association in the world — and was formerly president of the National Association of Real Estate Brokers. But for Corriolan, the team's mis sion to get clients into the home of their dreams is less about the financial gain and more about the personal victory. "The
biggest thing to me is helping that person who believes that home ownership is not an obtainable thing," he said. "And not just for Millennials, but for the people that are 50, 60, 70 who have never owned a home before. They pride themselves on getting what they call their first piece of America."
Aside from their professional services, a big part of JC Sales Team's focus is work ing within the local community. The crew often organizes neighborhood activities, school sponsorships, beach cleanups, tax preparation events, fundraising drives, feedings to serve people who are homeless or less fortunate — and so much more.
INSPIRATION // DREAMS & REALTY
islandoriginsmag.com 19
Jeffrey C. Corriolan and his crew at JC Sales Team have redefined realty services for the modern age, offering traditional buying and selling services as well as added value like support with moving and guidance on contractors.
ELEVATED COASTAL
WRITER HANNAH GULICS PHOTOGRAPHY VENJHAMIN REYES PHOTOGRAPHY
Just do your thing." Not many inte rior designers hear these affirming words from a client, particularly for a full home makeover. When Joelle Ebanks was given full creative control in transforming this luminous Treasure Coast home in Stuart, Florida, she was thrilled. Her cli ent had fallen in love with her brother's home, which Ebanks had designed, and wanted her own signature blend of Florida coastal and con temporary aesthetics.
"
The style is the foundational DNA behind Ebanks' Orlando-based company Island Home
Interiors, launched after years honing her eye at design firms in Naples, Florida and Washington D.C. Here, in the Sunshine State, she could fully indulge in her island roots by reimagining classic coastal style. "In design, I gravitate towards things that I grew up seeing in Jamaica," she explains. "I love anything natural, with organic shapes, espe cially when juxtaposed with the modern."
These elements flow throughout her client's new home, where Ebanks composed a beach cottage palette of shiplap walls, sky-blue hues, fresh linen upholstery, wicker detailing and cor al-inspired finishes.
islandoriginsmag.com20 STYLE & DESIGN // ELEVATED COASTAL
 Formal Sitting Room
The designer's reimagined beach theme begins just be yond the front door, in this serene formal sitting room. Alongside the soft blue ac cents and white shiplap walls, Ebanks incorporated warmer organic textures — like custom cross wood beams on the ceiling, and wicker accent chairs — to balance the cooler hues. Stylewise, Ebanks pairs clas sic coastal details, like natu ral linen sofas and ocean photography, against more contemporary pieces, like the oversized marble cof fee table. "I typically tend to select pieces that work harmoniously — metals, stones and greenery — and a few stand-out pieces to contrast," she notes.
 Family Room
Ebanks didn't sacrifice coastal charm when com posing the casual and prac tical family room. Using pale leather upholstery on the cushy sectional helped har monize the otherwise over whelming piece with the room's beachy atmosphere, complete with shiplap walls, patterned curtains, warm wood furnishings and deco rative coral. "Finding the right sectional for her took more hours than designing the entire house!" laughs the designer.
islandoriginsmag.com 21
Kitchen
Carrying the same sky blue hue into the heart of the home, the center island be comes the most eye-catch ing detail of this chic kitch en, with pendant lanterns in a matching tone hanging above. "It was a really fun way to introduce some color without going overboard," said Ebanks. Elements of glamor — like the large wa terfall marble island counter top, the graphic stone back splash, and the brass finishes on the sink faucet and cabi net door handles — further elevate these details.
Master Bedroom
Ebanks reinterprets the home's signature paneling in the primary bedroom by creating a chevron pattern on the back wall, painted in Sea Salt from Sherwin Williams. Throw pillows in complementary shades of yellow and blue bring pops of the client's favorite col ors. A woven texture head board, caned bench and chandelier accents featuring whitewashed wooden flutes underscore the space's tac tile quality.
islandoriginsmag.com22
STYLE & DESIGN // ELEVATED COASTAL
Patio
A quintessential Treasure Coast home wouldn't be complete without a Florida sunroom patio, and Ebanks took full advantage of the home's generous example. The designer created a fes tive oasis by carving out gathering areas with modern wicker furnishings, from the poolside loungers to a classic peacock chair. A matching sofa and armchair set also surrounds an out door coffee table made to mimic the textured look of Staghorn coral.
Master Bath
The dreamy bath suite can only be described as pure opulence, with its brass fixtures, mosaic tiled floor and grand crystal chandelier float ing above the decadent soaking tub. A serene photograph of rippling water completes the space's sense of absolute relaxation. "I want ed the space to feel like you're at a five-star resort's spa, but in your home," said Ebanks. Mission accomplished, indeed.
islandoriginsmag.com 23
WRITER HANNAH GULICS PHOTOGRAPHY VARIOUS
islandoriginsmag.com24
YOUR CAKE! SCORCESA: New age bridal wear that defies the ordinary
STYLE & DESIGN // HAVE YOUR CAKE!
HAVE
Charles C. Dieujuste launched Scorcesa to change the landscape of style for the modern woman, particu larly for ever-important bridal wear. The goal was to design a brand that speaks to the new age, modern bride who is looking for a unique but not overly conceptual ized piece that can transcend time. Sprinkled with modern luxuries are romantic elements that speak to Dieujuste's Hai tian heritage, like beadwork, delicate draping or twists on 19th Century Caribbean fashion. When asked why bridal in particular, Dieujuste lit up. "It's a very personal experience and a special moment in their life that they're sharing. I just felt like I was coming into my purpose," he said.
But the road has not been easy for the New York-based de signer. After putting himself through school while simultane ously interning with a design brand and holding down a job, the long days and nights left Dieujuste discouraged. The decision to move back to his native island of Haiti allowed the designer the affordability and infrastructure to further develop the label. However, when the catastrophic 2010 earthquake hit, Dieujuste nearly lost everything. But from the rubble, he rebuilt and re conceptualized his dedication to the fashion industry. "Design was always something in the back of my head I knew I wanted to accomplish," he said, recalling the process. The COVID-19 pandemic was the push Dieujuste needed to step out on his own. Combining his grandmothers' names, he created Scorcesa.
Court House Couture
PHOTOGRAPHY: BRANDON WYCHE | @WYCHE_STUDIOS
Q This piece from one of Scorcesa's earlier collections was inspired by the theme of a "courthouse bride." Though a fitted form sweeping out into a draped hemline is a more conventional silhouette, the effortless dress is made modern with the brand's signature high neckline and hint of boning on the bodice. Designed with the intention of being a lifelong piece rather than a one-day wear, the dress was made entirely out of silk fabric, which can be dyed to create a com pletely different look after the nuptials.
 Fashioned from an airy silk satin, this two-piece set is a modern bride's dream. With an affinity for separates, Dieujuste drew inspiration from his mother's Creole-influenced wardrobe to design this daring bridal look as a versatile piece that will never end up in the back of a closet. "It's a contemporary take on bridal, marrying elements of my heritage, the things that I would see my mother or grandmother wear growing up as a child, and our modern life," Dieujuste said. The structured top is an ode to Victorian era necklines, offering a modern take on a countess' gown, while the pleated, high-waisted trousers speak to the confident modern-day woman.
SPRING | SUMMER
PHOTO: HADRIEL GONZALEZ | @HADRIELGONZALEZ
2022
AUTUMN | WINTER 2022
Marriage en Provence
PHOTOGRAPHY: HADRIEL GONZALEZ | @HADRIELGONZALEZ
A modern take on bridal color schemes, this black-and-white silk crepe jumpsuit with a detachable cape catches the eye from every direction. "When I created this piece, I was figuring out what I really wanted to do for the rest of my life," Dieujuste said. "Black resonates to me as more of a death, and then the white is like being born again. Where this [inspiration] truly lies was in my transitional phase." For an extra element of surprise, the black cape features a state ment bow that adds elegance and a soft feminine touch to the unique piece.
islandoriginsmag.com26
STYLE & DESIGN // HAVE YOUR CAKE!
With a sleek frame, thigh-high slit and 1800s-inspired muted princess sleeves, this silk crepe dress pays homage to both the traditionalism of the past and the rebellious spirit of a contemporary bride. For a twist on 19th Century high society attire, the side profile of the dress features an unexpected soft bustle right below the waistline.
islandoriginsmag.com 27
Modern Pearl
PHOTOGRAPHY: JD BARNES | @JDTHECOMBO
Androgyny is at the forefront of this silk brocade set. The two-piece double breasted suit goes against the grain of traditional wedding wear for women, which Dieujuste says was partly inspired by LGBTQ+ inclusiv ity. "I'm in the business of understanding the psyche of my clientele. It's great to be artistic, but I also feel like part of the artistry calls for collaborating with your clients' needs," he said. While the front of the suit is tailored to a masculine aesthetic, the hourglass shaped blazer, thin pleat on the pants and a deceptive open back brings in feminine touches.
islandoriginsmag.com28 SPRING
| SUMMER 2023
STYLE & DESIGN // HAVE YOUR CAKE!
Acommitment to serving the people of North Miami Beach has been a constant throughout Commissioner Paule Villard's journey. Her constituents call her Manman Pèp (the people's mother), and as the first Haitian American woman com missioner in the city, she considers herself a trailblazer.
A Life of Service
It was 2014, and she had recently retired as a sergeant after 27 years in the City of Miami Police force. Eventually, inspired by the Shirley Ch isholm quote, "Service is the rent we pay for the privilege of living on this earth," she answered the call of her community to run for elected office, winning a seat in 2018.
Today, she is the commission liai son for the Education Committee, the Youth Advisory Board and the Senior Committee, even sponsoring the first senior center in North Miami Beach. She started the Miss Teen Haiti program and has been integral in de veloping summer workforce devel opment programs for young people, ages 18 to 21.
When she sees a need, she moves to action. At the start of her first term as commissioner, Villard's first resolu tion installed two trolleys in predomi nantly Haitian areas to help make travel more accessible. When COV ID-19 hit in 2020, Villard even rented a truck using her own money to help distribute food and other necessities.
City Manager Willis Howard says that she goes out of her way to make people feel like family. "She's like your aunt. Sharp and strong but still has that soft part that can get it done with her intelligence."
Next Steps
Looking ahead, she remains focused on serving the people. "I want to con tinue doing my work. It's really hard to find a leader that really does care about their community. Everybody says that, but it is something natural for me," Villard said. Her attention to her constituents, and ultimately the people of North Miami Beach is a legacy that will last all her life.
INSPIRATION // MANMAN PÈP
Manman Pèp COMMISSIONER PAULE VILLARD "THE PEOPLE'S MOTHER" WRITER LYNDON NICHOLAS PHOTO CHRISTIAN OSSOHOU (ISLAND SYNDICATE) islandoriginsmag.com 29
The Good Life IRL
From YouTubers to bloggers, TikTok stars to Instagram influencers, Caribbean content creators are drawing from their island roots, sharing their talents while cultivating a loyal online following from around the world.
islandoriginsmag.com30
WRITER REBECCA HUGH PHOTOGRAPHY VARIOUS
CULTURE // THE GOOD LIFE IRL
They are unique storytellers, giving view ers serious FOMO (fear of missing out). But at their best, they also provide meaningful encouragement for their audience to enrich their own lives with new ad ventures in food, fashion, art and culture.
This inspiration can sometimes get lost among the flood of likes, comments, mentions and shares, as we consume content at an ever in creasing rate. But, for these three Caribbean in fluencers, their love for what they do never runs dry. So we stopped the endless scroll to take a closer look at these talented voices. They shared what drives their creativity, and how they hope their work empowers others to live in style.
Peter Thomas, @BwoyPedro
PHOTOS: COURTESY OF PETER THOMAS | @BWOYPEDRO
"I really wanted to build out my skill set in photo manipulation, but when COVID-19 hit, I started creating travel videos. And then I found myself loving the whole travel idea," said Peter Thomas, Jamaican-based graphic designer turned photogra pher, cinematographer and lifestyle content creator. Sharing his artistry and technical advice on Instagram, he inspires a loyal audience of filmmakers, photographers and fellow aficionados.
The camera opens a gateway into Thomas's imaginative mind, taking followers on a colorful journey around the Caribbean and the world through his dreamlike travel photographs and films. His cinematic shots of nature are particularly breathtaking, immersed in lush forests and deep blue seas. "My work is about living life in colors, seeing the world through my eyes," he explains.
These newfound talents have exposed Thomas to travel op
portunities and cross-border projects, like directing and filming a video for the Barbados Tourist Board. Along the way, he always shares his creative process with his followers, reviewing various camera lenses, rigs and microphones that may improve the qual ity of their work. This has led to collaborations with professional equipment brands like SmallRig, Nitze and FeiyuTech.
Despite his rapid success, Thomas always keeps the spirit of learning top of mind. "I am not where I want to be," he con fesses. "There is so much more to explore in this world, and I want to show the world and my followers that it's a beautiful place." He hopes the people he inspires live by this example and set out for what truly makes them happy. For Thomas, life is not one straight path, but a labyrinth worth traversing. "I never went into content creation as a travel influencer, but I'm doing that now, and I never saw myself as an influencer, but I am doing that now," he reflects. "This is what I've learned. Never give up and keep trying new things. Because life always changes."
islandoriginsmag.com 31
Jeanmeil Nestor, @ohgvibe
PHOTOS: COURTESY OF JEANMEIL NESTOR | @OHGVIBE
Confidence is all about feeling good in your skin – literally so for influencer Jeanmeil Nestor. On his platforms on Tiktok, Youtube and Instagram @ohgvibe, skincare is central to his overall content ex ploring wellness and style. "Skincare is extremely important to me because it starts and ends my day," says the St. Lucian native. "No matter how the middle of my day goes, at least I can cater to myself in the morning and at night. Also, I want to look the best at my class reunion," he laughs.
And who doesn't? Nestor doles out his skincare wisdom through his witty videos and posts, from product reviews to regimen advice. Since building his platform, he has worked with major international skincare brands like Naturium, The INKEY List, Bubble Skincare, and PURE'AM Skincare, just to name a few. After working with these U.S. and Canadian brands, Nestor hopes to prove "the amazing work ethic, content and beauty that comes from the Caribbean," he says.
One of his key messages emphasizes the importance of skincare for men and the idea that nourishing oneself should not be a gender-spe cific activity. "It is amazing to see how my content over the years has helped some of my more reserved male followers to be more expres sive and self-caring and not afraid to dress and take care of their skin."
Overall, he encourages his followers to be their best selves, embrac ing all life's unique facets. Offline, he has many interests. At the Sir Arthur Lewis Community College in Castries he is a full-time chemistry lecturer, a profession that gives him unique insight into the effec tiveness of skincare products. He also works for the island's leading events company and carnival band Xuvo, all while chronicling his get-ready-with-me process for various fetes.
Through his multiple revenue streams and interests, he leads by example and proves anyone can have a plethora of passions. He says, "Being involved in culture and carnival, being a travel junkie, getting that degree you always dreamed of, being an entrepreneur or philanthropist or just looking your best are all possible. You can be whoever you want to be."
islandoriginsmag.com32 CULTURE // THE GOOD LIFE IRL
Myriam Ocasio, @puertoricoeats
PHOTOS: COURTESY OF MYRIAM OCASIO | @PUERTORICOEATS
For 39-year-old attorney Myriam Ocasio, her popular Instagram account Puerto Rico Eats turned from a passionate hobby into a part-time job. She initially launched her platform because "I was always the go-to person for food recommendations in my immediate circle, since I am always on the lookout for new res taurants." But Ocasio realized her message was bigger than a few recommendations. She wanted to showcase her country as a major culinary destination of the Caribbean. "I strongly be lieve that the best way to get to know the culture of a place is through its food, and Puerto Rico has some of the best food in the world," says Ocasio.
Through Instagram, she displays Puerto Rico's gastronomically diverse culture through her delectable food photography and restaurant video tours. Alongside writing a food truck guide for the popular food website, Eater, Ocasio has made several ap
pearances on local radio shows, been interviewed on NPR and collaborated with brands like Porsche and Tito's Vodka.
For those looking to delve deeper into Puerto Rico's culinary scene, she excitedly recommends restaurants like La Pícara, an inventive eatery in Santurce – San Juan's booming arts district. "If you love cocktails and amazing food, [La Picara] is the place to be. Get the steak and order the local sausage risotto." She also lauds spots like Estela. Located in the popular western beach town of Rincón, the restaurant focuses on "international flare [supported by] locally sourced products. Its seasonal menu will wow you ev ery time. One of my favorite dishes is the Arroz con Pato."
By showcasing food around her home country, she says, "I hope my followers see through my efforts, that when you dedi cate yourself to something you are truly passionate about, great things will happen. I am not the protagonist of Puerto Rico Eats. That is why you will rarely see me. Rather, our food and our culture are. I hope this inspires others to pursue their passions, and in doing so, find a way to give back."
islandoriginsmag.com 33
Caribbean ART SHOWS
Miami Art Week is one of the most anticipated art happenings in the world.
WRITER COURTESY OF SUGARCANE MAGAZINE PHOTOGRAPHY VARIOUS
With hundreds of galler ies displaying the works of more than 4,000 art ists from 36 countries, Art Basel Miami Beach is the biggest interna tional contemporary art market in North America and has generated independent exhibitions across the South Florida region. In recent years, collectors and buyers have sought pieces that have not histori cally been a part of mainstream, Euro
pean-centric conversations about art. That has meant appetites have grown for art by Black creators, not only from the United States but across the African diaspora. The Caribbean, in particular, is creating a buzz. Artists from the islands are gaining global recognition for push ing the envelope and showing what the world looks like through their eyes. The following museums are presenting exhibitions by some of the most excit
ing artists from the Caribbean's diverse cultures. You'll find Haitian artists from every generation, such as South Florida's own Kathia St. Hilare and Didier William. And there's work by young creators who explore sensuality, such as Christina Nichola. Whether you choose to brave Miami's notorious art week traffic or to visit an event closer to your So Flo home, this guide will help you find impressive showcases by Caribbean artists.
Perez Art Museum
Mariano: Variations on a Theme
For the first time in the United States, view decades of work from leading Cuban modernist, Mariano Rodríguez, including pieces loaned from his estate. Mariano was inspired by the work of Mexican painters, but his own art often blended styles to explore similar subjects. Aug. 5, 2022-Jan. 22, 2023
islandoriginsmag.com34 CULTURE // MIAMI ART WEEK
Mariano: Variations on a Theme
2022. Pérez Art Museum Miami (PAMM). © Fundación Mariano Rodríguez
PHOTO: LAZARO LLANES
MarianoRodríguez. Mujer con gallo (Woman with Rooster), 1941. Collection of Ramón and Nercys Cernuda. © Fundación Mariano Rodríguez
Q MOCA North Miami
Didier William: Nou Kite Tout Sa Dèyè
North Miami native Didier Wil liam returns to his home city for a retrospective of his work. A printmaker who graduated from New World School of the Arts and Yale University's Mas ter of FIne Arts program, Didier explores resistance, colonialism and mythology with a signature painting style rooted in print making. The exhibition also dis plays new drawings and his first monumental sculpture. Nov. 2, 2021-April 16, 2023 info@mocanomi.org
Oolite Arts
Miami is Not the Caribbean. Yet it Feels Like it.
Curated by Dominican Danny Baez, this exhibition explores Miami's relationship with the Caribbean through the various communities that make a home in the city. Look for work by Des tiny Belgrave, Kim Dacres, Mark Fleuridor, Amanda Linares, Jef frey Meris, Na'ye Perez, Bony Ramirez, Monica Sorelle and Cyle Warner. With their art, each ex plores their personal relationship with Miami through a range of pieces from a nostalgic, muted photo collage to a bust sculpted from tires. Oct. 12-Dec. 11, 2022 info@oolitearts.org
islandoriginsmag.com 35
Twa Manman, twa kouwon
2020, Acrylic, oil, ink, wood carving on panel, 102 × 65 inches, Collection of Beth Rudin DeWoody
ICA Miami
Hervé Télémaque: 1959–1964
The work of French-Haitian Hervé Télémaque spans several styles of contemporary art from grotesque figuration and sur realism to pop art and collages. This exhibition brings together more than a dozen paintings from his first five years. They were created as Haitian autocrat François Duvalier rose to power, after Télémaque moved to a highly segregated New York City to study among other abstract artists, and then to Paris, where he was introduced to Surreal ism and Latin American art. In formed by those experiences, he embedded literary and historical references into his art.
Nov. 29, 2022-April 30, 2023 hello@icamiami.org
Coral Springs Museum of Art Christina Nicola
Jamaican American artist Christina Nicola is known for explor ing sensuality, femininity, queerness and the power of women through her paintings with oil pastels, acrylics, watercolors and collage. The New York-based artist has been featured by Christie's Auction House in a sale of work by emerging artists. This will be her first museum exhibition.
Oct. 18, 2022-Dec. 3, 2022 museuminfo@coralsprings.org
Island SPACE Caribbean Museum
Paul Campbell: Color and Time
Jamaica's premier home grown thespian Paul Camp bell's artistic chops transi tion from screen to canvas in his collection showing at "Art Week Comes to Plan tation." An alumnus of the Edna Manley College of the Visual and Performing Arts, Campbell brings vibrant sur realism reflecting psychedelic dreams, and glimmers of his own likeness, to his canvases. Nov. 17, 2022-Feb. 12, 2023 museum@islandspacefl.org
NSU Art Museum
Kathia St. Hilaire:
Immaterial Being
Another South Florida gradu ate of the Yale University MFA program, Kathia St. Hilare's show will address the artist's transcultural experience as a young woman of Haitian descent growing up within the diasporic Haitian com munities of Opa-Locka, West Palm and Okeechobee. She is known for radical experimen tation with techniques such as weaving, carving, collaging and painting, which she uses to explore the concept of the visible surface and what lies beneath.
Nov. 20, 202 -April 23, 2023 moareservations@moafl.org
islandoriginsmag.com36
CULTURE // MIAMI ART WEEK
Christina Nicola I want to be wonderful (Neon Dreams)
KAREN
Graphic Elements
WRITER HANNAH GULICS PHOTOGRAPHY DAVID I. MUIR
Vick is the founder of Guiding Brands, a trail blazing marketing agency, offering services in digital media strategy, as well as web and graphic design.
In 2000, Vick was five years deep into a retail man agement role for the famous American company Toys "R" Us, when one of her team members unknowingly lit a fire in her.
The student at The Art Institute of Fort Lauderdale would often show Vick fascinating design projects created as coursework. Vick became enamored with the idea of pursuing her budding love of digital art, so when Toys "R" Us instituted a college reimburse ment program for team members she jumped at the opportunity. "I went to one orientation and my mind was blown," she said. Three years later, she had her degree.
Over the following years, Vick's fascination for the crafts of digital design and marketing grew. She worked for a small agency that created web pages for local businesses and then found herself in familiar waters, developing layouts for a toy company. Feel ing ready to strike out on her own, she partnered with a friend to start a small business that built web sites for online educational programs. But she felt the need to pivot, drawn to a more personal purpose. She knew something was lacking within the Caribbe an community and felt called to help minority-owned small businesses. "I wanted to elevate [these] compa nies," she said. "Help them bridge the gap to be on the same playing field as everybody else."
By 2007, Vick had made a mark with her onewoman company, Island Design Studio, known primarily for amazing web design and trustworthy service. She dedicated herself to the community — doing workshops, partnering with organizations like the Tamarac Chamber of Commerce and Jamaican Women of Florida, and working with local business es, whether Caribbean-oriented or not.
She lights up thinking about past clients includ ing one couple whose franchise, after implementing Vick's suggestions, made it into the top 5% for a large Florida franchisor.
After nearly 15 years successfully running Island Design Studio, Vick relaunched in 2022 as Guiding Brands. The name change was accompanied by an expanded portfolio, a handful of new services in her already impressive repertoire, and the chance to hone in on the specifics that made Island Design Studio great, like taking a more strategic and edu cational approach to web design for clients so they don't just get a great website, they also understand exactly how it functions. "A big component of what I do is the teaching part. There's a 'why' behind the way things are done and I've worked hard to educate people [on this]," Vick explained.
As Guiding Brands expands, Vick continues to evolve, working with new technologies to make sure her cli ents continue to get the best service she can give.
islandoriginsmag.com38 INSPIRATION // GRAPHIC ELEMENTS
Few people stumble into their dream career, yet it was a chance acquaintance that would lead Karen Vick to find her true calling.
VICK
NEW MONEY
DECODING CRYPTOCURRENCIES
WRITER LYNDON NICHOLAS PHOTOGRAPHY VARIOUS
Think of cryptocurrency, and a few associations may pop up – obscure tech jargon, lucky buyers becoming overnight millionaires, or massive losses from sudden Bitcoin market swings.
islandoriginsmag.com40 INVEST // NEW MONEY
Few think of the Caribbean and broader diaspora. And yet, the region is witnessing a surge in the crypto space, presenting op portunities for Caribbean consumers to enter the financial market at an unprec edented level.
According to Kaspersky Lab, crypto refers to "any form of currency that ex ists digitally or virtually and uses cryp tography to secure transactions. Cryp tocurrencies don't have a central issuing or regulating authority, instead using a decentralized system to record transac tions and issue new units." Following the launch of the first cryptocurrency, Bitcoin, in 2008, the concept became popular as the Great Recession revealed the frailty underlying the global banking system.
The decentralized nature of digital currency is what first attracted Domini can-native Adella Toulon-Foerster to the industry. "I was in the business before crypto was crypto," laughs the attorney and crypto consultant, who founded a digital gold exchange as early as 2001. "We came up with the idea of an ex change in which a user could have frac tional ownership. I believe that was the true beginning of the crypto revolution. People can actually have ownership over their own assets without having to ask permission. I knew this could be gamechanging for the unbanked, the under banked, and the poor."
Fair Exchange
One major opportunity lies in remit tances, says President and CEO of the Caribbean Blockchain Alliance, Stefen Deleveux. "Remittances are such a part of our reality because so many people in the U.S. and the UK have to send money back to family in the Caribbean, and they have to use a banking system that takes so much money in fees," says Deleveux. "But with cryptocurrency, my money goes from me to the person I'm sending to directly. Having no middle men takes so much of the cost, com plexity, barriers and restrictions out of the equation."
At its core, cryptocurrency "is trying to upend and disrupt the global financial system and put the power in the hands of everyone instead of the few," says In grid Riley, the founder of the Caribbean
technology news website, Silicon Ca ribe. As a former investigative reporter and journalist, she advises those look ing to enter the space to be proactive and educate themselves. "Be curious, attend Twitter spaces, listen and ask questions," says Riley. "I join newslet ters, I read The Milk Road, I watch Coin Bureau. Somebody today just told me about WhiteboardCrypto. I read these
islandoriginsmag.com 41
"I knew this could be game-changing for the unbanked, the underbanked, and the poor."
PHOTO: DIANA SINCLAIR
PHOTO: COURTESY OF ADELLA TOULON-FOERSTER
Attorney and crypto consultant, Adella Toulon-Foerster.
President and CEO of the Caribbean Blockchain Alliance, Stefen Deleveux.
larger websites and media brands, but I also look to communities like Crypto Caribbean, micro-communities based out of Trinidad and the Bahamas, I see who is there doing what and ask questions."
In a space often dominated by men, Ri ley also wants to encourage more women to explore the sector. "Women across the region make up about 53% of every Carib bean nation. We have a lot of buying power, knowledge." She encourages women to "set aside their imposter syndrome and their fears. Whether they want to learn in women's cir cles or solo, get involved, get educated."
The Road Ahead
Still, in the Caribbean, consumers face difficult roadblocks when engaging in these decentralized digital spaces. Most people still rely on the bank ing system to manage their money. And the region's internet infrastructure also needs strengthen ing to access and
secure cryptocurrency exchanges. Although many Caribbean countries have sound inter net systems, they often rely on outside agents like the United States and the European Union to facilitate. This makes Caribbean countries dependent on the U.S.-based system.
By building a more decentralized digital financial infrastructure, Caribbean countries can ideally become more financially indepen dent, and deal more freely with other nations in the region. Decentralized financial exchang es could also help Caribbean communities be less dependent on Western (and often unfa vorable) financial systems, and instead forge deeper ties to other nations in Africa, Asia and South America that remain linked to the Caribbean through colonial histories. "I hope we can use these technologies to reposition the Caribbean away from tourism and the usual industries, so that we can position our selves with more power in the global digital economy," says Riley.
Reality Bytes
Beyond these utopian promises, investing in cryptocurrency does come with major risks. Lack of centralized authority also means a lack of regulation and fraud protection. For example, crypto's surge had generated popu lar "exit scams," where bad actors promote a new and exciting cryptocurrency, only for early investors to run away with the funds. Deleveux cautions those new to investing. "A lot of people get involved in hype. The most important thing is to avoid that by all means possible. Don't buy it as an investment if you don't understand it."
Toulon-Foerster, however, remains hope ful. "It's up to the people that actually believe in the core usefulness of crypto to continue chipping away and really creating those so lutions for the users that need the technol ogy." For her, this means protecting people's investments with a more secure and acces sible technology infrastructure, especially for low-income and underbanked people.
Entities like the Caribbean Blockchain Alli ance host events and educational workshops across the Caribbean, and have been pushing the adoption of fintech, blockchain, and cryp tocurrency across the Caribbean. These events can be a great way for people looking to learn more to do so in an encouraging and nurtur ing environment without the worry of scams or false information. Silicon Caribe is an excellent outlet for news and education about the sec tor. Because, as Riley emphasizes, "it is crucial for Caribbeans to understand what is coming."
islandoriginsmag.com42 INVEST // NEW MONEY
PHOTO: CRAIG HARLEY
Ingrid Riley, founder of Silicon Caribe.
The Classy Chef
WRITER LYNDON NICHOLAS PHOTOGRAPHY CHEERS PHOTOGRAPHY TRINIDAD
islandoriginsmag.com44
TASTE THE ISLANDS // THE CLASSY CHEF
The latter certainly applies to Natasha de Bourg, a Trinidad-born globe-trotting chef turned reality star on the popular Bravo TV series, "Below Deck Sailing Yacht." On the show, her boisterous, take-noprisoners persona matched her bold flavors, mix ing her Caribbean culinary heritage with her in ternational training. The result creates magic in the kitchen. Think salmon carpaccio dotted with a tropical medley of orange ponzu sauce, fresh man goes and sour cherries, or her playful "shrimp on the rocks" – where she wraps the succulent crus tacean in spiralized potatoes and avocado eda mame mousse, served on a bed of moss. "For me, that's what food is about," says de Bourg. "It's a language and a passion that you can only speak when you become one with it. It's like love."
Despite fighting off jet lag (after another in ternational trip) during our call, her bubbly spirit shines through, all animated hands and laughter as she shares her passion for cooking. Her enthusi asm began at a young age in Sangre Grande, Trini dad, learning about food from her grandmother. These Trini dishes gave the chef an early lesson in mixing diverse global flavors, like the family's Christmas stuffed chicken recipe. "It's a mixture of both Creole herbs, Indian spices and a touch of Chinese," says de Bourg. "I just loved the melange of my culture."
Cultural DNA
As an adult escaping a troubled marriage, she sought a new life in cooking, the space that had brought her so much confidence and creativity as a child. She studied culinary arts at the Trinidad and Tobago Hospitality and Tourism Institute, and at Derby University in the United Kingdom. Refin ing her skills, she later completed a Bachelor's De gree in International Business from the prestigious Cesar Ritz College in Switzerland.
"From there everything started to make sense to me," recalls de Bourg. "I was the only brownskinned girl from the Caribbean to be studying at that level." But she didn't let this experience in timidate her. "There were people from so many different countries, and here I am from this small island. I had to represent."
And represent she did, interning at three Mi
islandoriginsmag.com 45
Delving into a delicious dish, you can often taste the personality of the cook behind it. Shy, tepid, one-dimensional.
Or strong, piquant and vibrant, laden with flavorful depths that tap into cultural traditions.
"It's a language and a passion that you can only speak when you become one with it. It's like love."
chelin-starred restaurants like Eleven Madison Park in New York, Atelier Crenn in San Francisco and Mirazur in Menton, France. These eventually led to the role of Executive Chef at French fusion res taurant, L'Ardoise, in France.
Although she enjoyed the wealth of knowledge gained from these experiences, something still felt missing. "Obviously I started traveling and living abroad to learn the basics of international cuisine," says De Bourg. "I think it broadened my horizon in thinking."
So the chef embarked on a new kind of culinary adventure, branching into the world of private yacht charters, which combined her two loves of food and travel. She quickly became a hot com modity, serving as head chef on the Flying Drag on (based in Spain) and later on the Panthalassa (based in Turkey).
Chew On This
It was her experience working on these ships that led her to star on "Below Deck Sailing Yacht."
"What people don't know is that I went on Be low Deck as a bet with one of my friends," she laughs. Alongside her world-class culinary skills, fans knew her for her confidence and strong will (see the showdowns with fellow crewmate Daisy Kelliher, the chief steward). Though reality TV may be famous for its orchestrated larger-than-life characters, for De Bourg's own on-screen pres ence, "what you see is what you get. Nothing is scripted. People think that we're acting, but we're actually working 18 hours a day."
Ever the go-getter, de Bourg has been busy since the show, appearing as a juror on the Jamaican television series "Maggi Food Court," where she judges some of the Caribbean's most talented chefs. She is currently writing a memoir and devel oping her own television series, which ties her love of food with critical social issues affecting the Ca ribbean today, from domestic violence, to colorism.
As such, De Bourg rarely has downtime. When she does relax, "It might sound crazy, but I travel," says the chef. "I love traveling, because it kind of opens up my thinking to see why people eat the way they eat." De Bourg believes one of the best ways to learn about a culture is through their food. "For me, it's becoming one with the culture and with the people. I don't want to go to a fancy restaurant. I want to go to granny down the street who has a hole in the wall, because that's where you get the authentic culture."
Since embarking on her culinary journey, she has visited 72 countries and speaks 3 languages. And each place has added a new flavor to her palate, all grounded in her rich Caribbean roots. "It always goes back to cultural DNA, and I think that's what food is."
islandoriginsmag.com46
TASTE THE ISLANDS // THE CLASSY CHEF
"I was the only brown-skinned girl from the Caribbean to be studying at that level. I had to represent."
LA PAIX BAKERY
Labor of Love
WRITER HANNAH GULICS PHOTOGRAPHY DAVID I. MUIR
The pastry shop in Miramar, Florida has celebrated Haitian food and culture with breads, baked goodies and a welcoming spirit for more than 17 years.
La Paix, which means "the peace," was founded by Lucien Nozile, Yolande Derosier and Nadeige Sterlin. Nozile, who had an impressive career in the baking industry since the 1980s, met his spouse Yolande Derosier in a bakery. They were both instrumental in developing Haitian baking and patis serie arts in South Florida, sharing recipes and mentorship across the state. Since Nozile's passing in 2017, Derosier and her two daughters, Sterlin and Natasha Janvier, co-lead the overall operations at the bakery.
To the matriarchy now at the helm of the business, La Paix is a labor of love. The menu includes fresh hard dough Haitian bread and oven-baked pastries, made from scratch in-house daily, to sweets, juices, soups and even their pop ular Haitian-style breakfast spaghetti. You also can find many of their goods on the shelves of local supermarkets including Presidente, Bravo and Key Food. The bakery location is a one-stop shop for Haitian delights that bring a sense of home to Caribbean people living abroad, and it shares those traditions with the broader community. Sterlin recalled one customer saying, "Now I have a place I can be proud of and bring my friends or people from other cultures to experience Haiti."
Once, a customer in Arizona pleaded for baked goods to remind her husband of his homeland on his birthday. Despite not having an out-of-state shipping option, La Paix made it happen. "For us it wasn't about making the sale," Sterlin said. "It was about making that moment for them."
The trio carries on the legacy Nozile began with a goal of taking the business to new heights. Recently, La Paix Bakery's rebrand and accelera tion garnered the attention of Miramar Mayor Wayne Messam, who recognized La Paix Bakery for overall business success during Haitian Heri tage Month. After more than doubling their rev enue in 2021, Sterlin graciously boasted about the community who got them to this point along with support from Office Depot's Elevate Together grant, the Venture Mentoring Team and the Urban League of Broward County, who helped revamp foundational elements of the business.
With a second location opening up in Dade Coun ty in 2023, La Paix is looking forward to expanding their hot meal selection and providing both indoor and outdoor seating. Even as La Paix Bakery grows, rest assured that celebrating Haitian culture remains at the forefront of everything they do.
islandoriginsmag.com48
Don't read the name "La Paix Bakery" and mistake it for another French cafe.
INSPIRATION // LABOR OF LOVE
Nadeige Sterlin (left), Yolande Derosier (middle) and one of their longest serving employees, Scott, smile for Office Depot's Elevate Together photoshoot.
GANG ALTERNATIVE, INC. Career Development
WRITER HANNAH GULICS PHOTOGRAPHY COURTESY OF GANG ALTERNATIVE, INC.
The social service organization offers positive alternatives for young people and their families, helping them achieve academic, social, economic and spiritual goals.
Recently, GA added two new programs to their already impressive Workforce De velopment Pillar of Service. Project GO (Growth Opportunity) and YouthBuild both support disadvantaged youth in the Miami areas of Little Haiti, Liberty City and West Little River.
Project GO provides career develop ment opportunities to young adults ages 18 to 24, offering them a pathway to se curing and maintaining higher-wage em
ployment. Participants may have dropped out of high school for disciplinary reasons or a history of violent criminal offenses or gang affiliation. Through Project GO, they work with GA to determine their right career path and learn relevant technical skills, then are matched with apprentice ships. The real work experience prepares them for greater self-sufficiency.
The program simultaneously addresses the issues that led to their initial position, like substance abuse and other behav ioral conditions. By teaching both workbased and personal growth skills, Project GO provides participants with a second chance at life.
GA's YouthBuild Program provides ca reer development opportunities as well, but with a focus on pathways in construc tion for youth ages 16 to 24. The pre-ap prenticeship program helps young people learn occupational skills in residential con struction, weatherization and green jobs, including worksite safety procedures and proper use of equipment. They learn tech nical skills through certification training for industry credentials like National Cen ter for Construction Education and Re search and OSHA 10 (a health and safety course). Beyond workforce training, the program also cultivates crucial life skills, like financial literacy, community service and leadership, in its participants.
Through these programs, Gang Alter native, Inc. empowers disadvantaged youth with skill sets and self-determina tion needed to succeed in the 21st Cen tury workforce.
islandoriginsmag.com50 INSPIRATION // GANG ALTERNATIVE
When youth in South Florida face risk of delinquency, Gang Alternative, Inc. steps in.
islandoriginsmag.com52 TASTE THE ISLANDS // FROM THE HOLIDAY TABLE
From
Take your holiday dinner table to the next level with these unique, alternative recipes for the fall and winter seasons.
the Holiday Table
Q Cuba PICADILLO ALVAREZ
An elevated homestyle dish of ground beef and peppers, this din ner favorite can be enjoyed alone or used to fill empanadas.
WHAT YOU NEED
• 1 pound ground beef
• 1 to 2 tablespoons of olive oil
• 1 yellow onion, diced
• 5 cloves of garlic, minced
• 1 red bell pepper, diced
• 3 potatoes, peeled and chopped
• 1 tablespoon ground cumin
• ¾ cup white wine
• ⅓ cup Manzanilla olives
• ¼ cup capers, drained
• ¼ cup raisins
• 16 ounces tomato sauce
• Salt and pepper to taste
WHAT TO DO
1. Cook ground beef in a medium skillet until browned, stirring to break up. Drain the fat and oil and set aside for later.
2. In a different skillet on medium heat, add 2 tablespoons of ol ive oil and cook the onion until soft, around 5 minutes. Add the minced garlic, cooking until fra grant.
3. Add the bell pepper and a little salt and pepper. Then add in the diced potatoes, cooking for 5 minutes.
4. Add the ground beef that was previously set aside and the white wine. Reduce the liquid, then add raisins and tomato sauce.
5. Cook for 5 more minutes then mix in the Manzanilla olives and capers.
6. Stir occasionally until the pota toes are tender. Add salt and pep per to taste.
7. Enjoy the picadillo alone or serve with rice and plantains.
Caribbean / Indian Fusion CARIBBEAN COCONUT MUSSEL CURRY
This Caribbean take on a classic Indian curry is a creamy seafood favorite.
WHAT YOU NEED
• 2 pounds mussels
• 1 can (13.5 ounces) coconut milk
• 2 tablespoons curry powder
• Half a large tomato, diced
• 5 garlic cloves, minced
• 1 onion, diced
• 1 tablespoon ginger, grated
• 2 tablespoons parsley, chopped
• 2 scallions, diced
WHAT TO DO
• 1 tablespoon culantro, chopped
• Half a Scotch bonnet pepper, seeds re moved
• ¼ teaspoon salt
• ½ teaspoon black pepper
• 2 tablespoons extra-virgin olive oil
• 1 lemon, juiced, save some rind for zesting
• 12 ounces of white wine
1. Wash fresh mussels or thaw frozen mussels and retain the juice.
2. Chop tomato, onion, garlic, ginger, garlic, scallions and Scotch bonnet peppers.
3. Heat oil on medium heat. Add in the onion, garlic and ginger and sauté for about 4 minutes. Lower the heat and toast the curry powder in the pan, cooking for 3 minutes.
4. Add the diced scallions and a tablespoon of parsley. Turn the heat back up and stir in the mussels. Add in the diced tomatoes, culantro and Scotch bonnet peppers. Stir. Add the salt and pepper and let it simmer for 3 minutes.
5. Pour in the coconut milk, stir thoroughly and simmer for 2 minutes.
6. Pour in the white wine and bring the curry to a boil. Cook until the mussels open.
7. Add in the lemon juice and grate the rind over the curry.
8. Garnish with parsley and enjoy!
islandoriginsmag.com 53
Jamaica
DUCKUNOO
Brought to the Caribbean by enslaved West Africans, these ba nana-leaf-wrapped, steamed pudding delicacies, also known as "blue drawers," are a seasonal favorite for snacking or dessert. This recipe adapted from food blogger Michelle Blackwood is also vegan and gluten-free.
WHAT YOU NEED
• 2 cups cornmeal
• 1 cup all-purpose flour
• ½ teaspoon cinnamon
• 1 ½ cups maple syrup
• ¼ teaspoon salt
• 2 cups coconut milk
• 2 green bananas, peeled
WHAT TO DO
and cubed
• 1 sweet potato, peeled and chopped
• 1 teaspoon vanilla
• 1 cup coconut shavings
• Banana leaves
• Twine for tying
1. Combine the cornmeal, flour, maple syrup, cinnamon and salt in a large mixing bowl then set aside.
2. In a separate bowl, add the coconut milk, green banana, sweet potato and vanilla, using an electric mixer to blend the ingredients together. The mixture should be a coarse batter consistency.
3. Fold in the dry mixture gradually, stirring after each addition, until combined. Then fold in the coconut shavings.
4. Bring a large pot of water to boil. Start to prepare the ba nana leaves by deveining. Cut the leaf into rectangular pieces and submerge in the boiling water until wilted. Remove them from the water and set aside to dry and cool slightly.
5. Add a spoonful of the mixture onto the center of each rect angular piece of banana leaf. Bring in the edges and fold like an envelope to make a tight package. Tie with twine to secure.
6. Using the same large pot of boiling water as before, add the packages into the water. Reduce to a simmer and leave to cook for 50 to 60 minutes.
7. Remove each package from the water and set aside to cool. Remove the twine, serve and enjoy!
Curaçao PONCHE KREMA DE PISTACHO
A traditional Curaçaoan Christmas drink, reminiscent of the Puerto Rican coquito, Ponche Krema De Pistacho infuses pis tachios into sweetened condensed milk and local rum for a delicious, creamy treat.
WHAT YOU NEED
• ¼ cup water
• 1 cup raw shelled pistachios
• 2 cans (13.5 ounces/ each) unsweetened coconut milk
• 1 ¾ cup sweetened con densed milk
WHAT TO DO
• 1 cup white rum
• ½ teaspoon almond extract
• Pinch of salt
• Ground cinnamon for garnish
1. Start by bringing a pot of water to a boil. Once boiling, add the pistachios and remove the pot from heat. Let them sit in the water for 1 or 2 minutes then drain.
2. Strain the pistachios onto a clean towel and rub gently until all of the brown skin is peeled off.
3. In a blender, add pistachios and blend for 2 minutes until a paste begins to form. Add ¼ cup of water and blend until you have a smooth paste.
4. Combine the coconut milk, sweetened condensed milk, rum, almond extract and salt into a blender with the paste and blend until it's a creamy mixture.
5. Strain the mixture into an airtight container and chill for an hour before serving. Garnish with ground cinnamon and enjoy!
islandoriginsmag.com54
PHOTO: COURTESY OF HEALTHIER STEPS
RESTAURANT LISTING IN
SOUTH FLORIDA
925 NUEVO'S CUBANO'S | $
Cuban Serving succulent roast pork and delicious sandwiches.
925 N. Andrews Ave., Fort Lauderdale 925nuevoscubanos.com
ALBERTE'S
RESTAURANT I $$
Haitian Unique and authentic Caribbean dishes with live music on Fridays and Saturdays.
1201 N.E. 38th St., Oakland Park albertesrestaurant.com
ALEXSANDRA'S CARIBBEAN RESTAURANT| $$
Caribbean, Jamaican Soak up some sun while enjoying their famous jerk chicken sandwich and patties.
235 E. Commercial Blvd., Lauderdale-by-the-Sea
ALI'S ROTI SHOP | $
Caribbean, Indian, Vegetarian Trinidadian mom and pop shop serving favorites like doubles & aloo pie.
303 S. State Road 7, Plantation
LA BELLE JACMELIENNE CAFE | $
Haitian Caribbean decor and friendly staff serving up a wide array of Haitian cuisine.
3328 S. University Drive, Miramar
BAHAMIAN REEF SEAFOOD
RESTAURANT | $$
Seafood Low-key and casual with colorful interior.
7836 N.W. 44th St., Sunrise bahamianreefseafoodrestau rant.weebly.com
BOHIO LATIN FLAVORS | $
Dominican, Latin, Caribbean Family-style restaurant offering music, mofon go, shrimp and dancing. 2181 State Road 7, Margate bohiomargate.com
BUTTER FLAKES
BAKERY & GRILL | $ Jamaican Local spot for patties and hot food.
5100 W. Commercial Blvd. #3 & 4, Tamarac butter-flakes-bakery-grill. business.site
CALYPSO RESTAURANT & RAW. BAR | $$
Caribbean Try their Caribbean-style seafood, Jamaican jerk and curry dishes.
460 S. Cypress Road, Pompano Beach calypsorestaurant.com
CHEF CREOLE SEASONED KITCHEN | $
Haitian Simply delicious signature Haitian seafood. 200 N.W. 54th St., Miami, FL chefcreole.com
CLIVE'S CAFE | $
Jamaican
Popular spot for jerk chicken and curry goat. 5890 N.W. 2nd Ave., Miami clivescafe.com
COLADA CUBAN CAFE | $ Cuban Family-owned bakery serving savory and sweet Cuban treats and other Cuban cuisine. 525 N. Federal Highway, Fort Lauderdale coladacubancafe.com
CONCH HEAVEN | $$ Bahamian Lots of conch-based comfort foods with locations in Miami and Plantation in Florida as well as Atlanta and Riverdale in Georgia. 11275 N.W. 27th Ave., Miami
CONCH KRAWL BAHAMIAN/CARIBBEAN RESTAURANT | $$ Bahamian, Seafood Enjoy traditional Bahamian and other Caribbean dishes. 2600 S. University, Miramar
DON ARTURO BAR & RESTAURANT | $$
Cuban
Traditional Cuban food in a setting when kids are welcome. 1198 S.W. 27th Ave., Fort Lauderdale donarturorestaurant.com
DONNA'S CARIBBEAN
RESTAURANT | $$
Jamaican Authentic Jamaican food all day, plus cocktails and Sunday brunch. 10 locations around South Florida. 5434 N. University Drive, Lauderhill donnascaribbean.com
DUKUNOO JAMAICAN KITCHEN | $$$
Jamaican Wynwood's full-service, upscale, Caribbean dining experience. 316 N.W. 24th St., Miami dukunoowynwood.com
DUNNS RIVER ISLAND CAFE | $$
Jamaican Authentic Jamaican cuisine in a beautiful ambiance, serving the Hallandale area.
908 W. Hallandale Beach Blvd., Hallandale Beach dunnsriverislandcafe.com
FINLEY'S A TASTE OF THE BAHAMAS | $$
Bahamian
Try a breakfast dish served with Bahamian johnny cakes or grits or a daily lunch special 731 Hammondville Road, Pompano Beach finleyspompano.com
HAVANA 1957 | $$
Cuban
Enjoy hearty cuisine and live music in a setting filled with relics of Cuba. 405 Española Way, Miami Beach havana1957.com
ISLAND FUSION GRILL | $$
Jamaican, Cuban, Vegan Jamaican, Cuban, Asian and Creole flavors with seafood and vegetarian options. 4811 S. State Road 7, Davie islandfusiongrill.com
LC ROTI SHOP | $
THE
DUTCH
POT JAMAICAN RESTAURANT | $
Jamaican Authentic Jamaican cuisine. 3120 W. Broward Blvd., Fort Lauderdale dutchpotrestaurants.com
Indian, Vegetarian Cash-only eatery, serving homemade roti with pepper sauce. 19505 N.W. 2nd Ave., Miami
LITTLE HAVANA RESTAURANT | $$
Cuban Authentic Cuban Cuisine 12727 Biscayne Blvd., North Miami littlehavanarestaurant.com
AVERAGE COST PER PERSON BEFORE DRINKS, TAX AND TIP.
$ Under $10 / person $$ Under $20 / person $$$ Under $40 / person $$$$ Over $40 / person
islandoriginsmag.com56 TASTE THE ISLANDS // RESTAURANT DIRECTORY
LOCALICIOUS OLD FASHIONED
ICE CREAM | $$
Ice Cream
Old-fashioned, hand made ice cream including Caribbean flavors.
4220 N.W. 12th St., Lauderhill localiciouscaribbeanicecream. com
JAMAICA KITCHEN | $$
Jamaican Known for their extra spicy beef patties. 8736 S.W. 72nd St., Miami jamaicakitchen.com
JOY'S ROTI DELIGHT | $
Trinidadian, Indian Counter-service cafe with Indian-inspired Caribbean cuisine. 1205 N.W. 40th Ave., Lauderhill joysrotidelightfl.com
JUANA LA
CUBANA CAFE | $
Cuban Offering a simple, Cuban soul food menu. 3308 Griffin Road, Fort Lauderdale juanalacubana.com
JUANA'S
LATIN SPORTS BAR | $$
Latin Casual Dominican, Puerto Rican and American sports bar and grill. 11602 City Hall, Miramar Juanalatinsportsbarfl.com
LAS OLAS CAFE | $
Cuban Freshly squeezed juices and Cuban sandwiches. 644 6th St., Miami Beach
LAS VEGAS CUBAN
CUISINE | $
Cuban, Latin American A dine-in hot spot with 12 South Florida locations offering Cuban meals and cocktails. 2807 E. Oakland Park Blvd., Ft. Lauderdale lasvegascubancuisine.com
EL MAGO DE LAS FRITAS | $
Cuban Cozy spot for Cuban burgers. 5828 S.W. 8th St., Miami elmagodelasfritas.com
MANGU CAFE
ESTAURANT | $ Dominican This Dominican dive offers dishes like pernil and goat stew. 2007 W. 62nd St., Hialeah
MANJAY RESTAURANT | $$
Haitian Modern take on tradi tional Caribbean dishes with creole-style cuisine. 8300 NE 2nd Ave., Miami manjayrestaurant.com
MARIO'S CATALINA
RESTAURANT | $$$
Cuban Dine in a relaxing ambiance with a menu featuring Cuban and Spanish cuisine.
1611 N. Federal Highway, Fort Lauderdale catalinarestaurant.net
EL TIESTO CAFE MIAMI | $$
Dominican
Dominican-Japanese fusion with a twist.
3023 Biscayne Blvd., Miami eltiestocafegroup.com
PADRINO'S CUBAN CUISINE | $$ Cuban
Serving the best mariquitas, mojito and flan for the past 40 years.
1135 N. Federal Highway, Fort Lauderdale padrinos.com
PANFIYAH | $$ Jamaican Try their popular jerk chicken and shrimp pasta.
7183 W. Oakland Park Blvd., Lauderhill panfiyah.com
POLLO EL COJIDO | $$ Dominican Delicious mofongo, quesadilla and sanco cho.
5843 N. University Drive, Tamarac
POLLO TIPICO | $
Dominican Traditional Dominican dishes in a laid-back atmosphere.
5011 FL-7, Davie
PUERTO SAGUA RESTAURANT | $$ Cuban Known for their soup and oxtail stews.
700 Collins Ave., Miami Beach
REED'S CATERING & CONCESSIONS | $$
Seafood, Caribbean Late night seafood truck, with a specialty of conch salad.
12203 N.W. 27th Ave., Miami
REGGAE PON
THE GRILLE | $$
Jamaican, Caribbean Buffet-style dining offering tasty Jamaican dishes.
8032 W. McNab Road, North Lauderdale reggaeonthegrille.com
ROCKSTEADY JAMAICAN BISTRO | $$
Jamaican, Caribbean Nicer than your average Jamaican eatery with menu items like jerk chicken, curries and crab fritters.
2399 N. Federal Highway Unit C, Boca Raton rocksteadyjamaicanbistro.com
SAZON CUBAN CUISINE | $$
Cuban
Tasty Caribbean cuisine and live weekend entertainment.
7305 Collins Ave., Miami Beach sazoncubancuisine.com
SHALAMA'S
HALAL ROTI SHOP | $
Caribbean, Indian Casual ethnic take-out spot with authentic roti, curries and pepper sauce.
1432 N. State Road 7, Margate
SHEIKS
BAKERY & ROTI CAFE | $
Caribbean, Indian Caribbean and Indian offerings include halal meats, spices and bakery products.
184 University Drive, Pembroke Pines sheiksbakery.com
SWIRL WINE BISTRO | $$ Caribbean, Wine Bar
With fresh, high-quality ingredients, their culinary team offers a variety of cuisines and wines.
1435 Lyons Road, Coconut Creek swirlbistro.com
VERSAILLES | $$
Cuban, Latin American Serving tasty Cuban cuisine and culture since 1971, this spot is a hub of the Cuban commu nity.
3555 S.W. 8th St., Miami versaillesrestaurant.com
YARUMBA RESTAURANT & LOUNGE | $$
Dominican Try their traditional stews or Churrasco with live music.
4740 N.W. 167th St. Miami Gardens yarumbarestaurant.com
islandoriginsmag.com 57
Pieces of Jamaica
Once in a generation, a photo col lection comes along that captures the spirit of a country so perfectly that it sets the standard for every thing that comes after. Today, the quintessential coffee table book of photos portraying the realness and beauty of the "land of wood and water" is called Pieces of Jamaica®: Jamrock Edition. These are photos from book events in Florida and Jamaica.
islandoriginsmag.com58 ENTERTAINMENT // PIECES OF JAMAICA
islandoriginsmag.com 59
Event Calendar
NOVEMBER
Sun. 11/20 Rum Cake and Caribbean Black Cake Fest
Where: Island SPACE Carib bean Museum, 8000 W. Broward Blvd., Plantation Admission: $15 Info: islandspacefl.org/cakefest Cake makers will offer tastes of traditional Latin-Caribbean rum cake recipes as well as the dark fruit cake or plum pudding recipes popular in the British Caribbean islands.
Wed. 11/30 to Sun. 12/04
Art Miami
Where: One Herald Plaza (NE 14th Street & Biscayne Bay), Miami
Admission: TBD Info: artmiami.com Now in its 32nd year, Art Miami attracts collectors, curators and enthusiasts with
artwork and installations from more than 170 international galleries.
DECEMBER
Fri. 12/02 Movies & Art Talk with Paul Campbell
Where: Island SPACE Carib bean Museum, 8000 W. Broward Blvd., Plantation Admission: Free Info: islandspacefl.org/events A live conversation with Paul Campbell, Jamaica's leading man, about his fine art on screen and on the canvas.
Fri. 12/02 to Tues. 01/03
St. Kitts & Nevis - Sugar Mas
Where: St. Kitts & Nevis
Admission: TBD Info: skncarnival.com Celebrate more than 50 years of Carnival in St. Kitts and Nevas with swimwear pageants, jouvert, a Carnival queen pageant and more.
Thurs. 12/08 to Sun. 12/11 Winter Pride Fest Puerto Rico
Where: San Juan, Puerto Rico Admission: TBD Info: @winterpridefest on IG This annual festival celebrates the LGBTQ community in Puerto Rico with beach parties, drag and burlesque shows and curated experi ences like cocktail classes.
Mon. 12/26 Sting
Where: Plantation Cove, Priory, St. Ann, Jamaica Admission: $70 to $12,500 Info: sting-jamaica.com The greatest one-night reggae and dancehall show on earth.
Mon. 12/26 to Sun 1/1
Bahamas Junkanoo Festival
Where: Downtown Nassau Admission: Varies Info: bahamas.com A four day festival in The Bahamas with large costumes and goombay music.
JANUARY
Fri. 01/20 - Sat. 01/21
Rebel Salute Music Festival 2023
Where: Plantation Cove, St. Ann, Ocho Rios, Jamaica
Admission: TBD Info: rebelsalutejamaica.com Celebrating Tony Rebel's birthday with some of the best reggae and dancehall music performers.
*Due to frequent COVID-19 related changes, please check with promoters before heading to these events.
islandoriginsmag.com60 ENTERTAINMENT // EVENT CALENDAR
ISLANDSYNDICATE.COM SUPPORT@ISLANDSYNDICATE.COM 954-284-6355 S ryte ing Exce ence PHOTOGRAPHY PRINT PUBLISHING VIDEO PRODUCTION