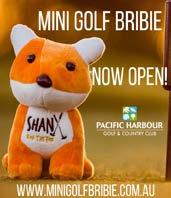 5/1 Toorbul St, Bongaree annielanecafe@gmail.com 07 3408 1679 ALL DAY BRUNCH EXPERTS Opening hours:Tue-Sun 7.30am - 2.00pm Last kitchen orders at 1.30pm Shop 2/19 Benabrow Ave, Bellara Phone: (07) 3408 9299 PAGE 3 SPECIAL THIS PRIME ADVERTISING SPACE IS AVAILABLE NOW! Since 2016 THE ONLY INDEPENDENT, FREE, NON-SUBSIDISED NEWSPAPER SERVING THE ENTIRE NORTH MORETON BAY REGION. 24,000 COPIES DISTRIBUTED EVERY MONTH To advertise e mail belinda@islandandsurrounds. com.au or call 0447 007 966 8/3/2023 & 5/4/2023 8/03/2023 - Issue 87 Easter Sale! 50% off all cushions! It's a century for Marjorie! Marjorie Williams has achieved what most of us can only hope to do, celebrating her 100th birthday. With a big smile on her face and a cheeky twinkle in her eye, Marjorie certainly has a story or 10 to tell about her century of life. Like many, it's been a life of ups and downs but this beautiful lady wouldn't have it any other way. Read the full story on page 4. We're here for YOU!
Published every four weeks.
Phone: 0447 007 966
PO Box 1019 Bongaree Qld 4507 www.islandandsurrounds.com.au
www.facebook.com/islandandsurrounds
100% independently owned
While great care has been taken to ensure the accuracy and contents of the publication, the Island and Surrounds accepts no responsibility for inaccuracies. The views expressed in this publication do not necessarily represent the views held by TIAS. All content is copyright and may not be reproduced without permission. The production of this FREE newspaper is only made possible by you continuing to support our local advertisers. In order to maintain acceptable editorial standards we reserve the right to edit content and, where necessary, the spelling, punctuation, grammar and readability of all articles submitted for publication in The Island and Surrounds News. We are a small Community Newspaper and welcome submissions from our readers and community groups which will provide us with relevant information about our region and provide a platform on which to voice their opinion. Responsibility for the accuracy of the content of submissions remains with the contributor.
Next Distribution dates – 5th April for Bribie Island, Sandstone Point & Ningi. 6th-9th April , delivered to Beachmere, Caboolture, Toorbul, Donnybrook and surrounding areas.
Delivered to homes and local businesses in the following areas:-
Bribie Island, Sandstone Point, Ningi, Godwin Beach, Beachmere (including Peel Road & Beachmere Road) Bribie Pines, Toorbul, Donnybrook, Meldale, Central Lakes, Caboolture and Elimbah. Copies can also be picked up from IGA and other local businesses in these districts.
Circulation 24,000
PUBLISHER AND ADVERTISING SALES
Belinda Ferguson 0447 007 966. belinda@islandandsurrounds.com.au
CHIEF OF STAFF
Kym Braithwaite cos@islandandsurrounds.com.au
JOURNALISTS/WRITERS
Sheree Hoddinett, stories@islandandsurrounds.com.au
Alistair Gray. alistair@thegoodnewswriter.com
Amelia Strazdins.
DESIGN & ADVERTISING
Roger Small design1@islandandsurrounds.com.au
WEBSITE & SOCIAL MEDIA
Matthew Owen
Welcome to Issue 87
Our front page and feature article covers the wonderful story of Marjorie Williams, who celebrated her 100th birthday recently.
Bribie bridge will continue to have headlines in the LOCAL News until the state government commits funds to build a new bridge. We recently saw yet another accident on the bridge leaving locals and visitors, to and from the Island, waiting for hours until it was cleared. Moreton Bay Regional Council has even launched a campaign to save the old bridge.
An interesting article on smart water meters that will save customers dollars.
Wildlife Rescue needs our help! We tell you all about the work they do and what we can do if we come across an injured animal.
We also introduce you to Chloe Tanner, the new Abbey Director.
As usual we cover a wide variety of local issues, while showcasing our local businesses. It is our local businesses who make this publication possible so please support them.
Until next month, Warm regards,
Belinda
Legitimising Bad Behaviour
I have recently read on the internet that current local council laws are being reconsidered by council.
My concern is any leniency that may be put in place regarding backyard fire pits. For a number of years now I have been exposed to fortnightly garden rubbish and treated timber burn offs by a neighbour. The smoke is foul and affects my health.
The fire pit is lit in an unpredictable manner, eg. am-pm, smoking for up to five hours at a time. I can't hang the washing on the line. I have to leave all the windows shut (even in the heat) and still the smoke manages to permeate into my home, resulting in my feeling dizzy, feeling ill and coughing. I have been informed by the perpetrators, with abuse and threats, that they will not adhere to current regulations, that they have no regard for my concerns and they will not stop.
My fear is that if council relaxes the current backyard fire pit regulations, this bad behaviour will then be legitimised and I will have no recourse.
I would like council to thoroughly investigate all possible consequences when considering any changes to current council laws regarding backyard fire pits.
K Handte Bellara
Preposterous
Proposal
I couldn't believe my eyes when I read the LTE concerning the proposal for the Bribie bridge to go either north or south of the Toorbul township.
I could think of various unprintable comments.
Toorbul is a small community of under 600 residents surrounded by bushland and water, with one two lane road into our township.
The current bridge to Bribie is under one kilometre. It would be close to three kilometres across the passage to Bribie from Toorbul. The mind boggles to think of the cost of infrastructure if indeed it was ever a thoughtful suggestion.
I have not found ONE resident who thinks it is a good idea.
J Stephensen Toorbul
New Bribie bridge – What's missing?
2nd APRIL
Mount Mee, Dayboro & Samford Village Day Tour"
What's missing?
TMR is responsible for main roads, bridge planning and construction. The Bribie Road network however, is the responsibility of Moreton Bay Regional Council. We have yet to see the MBRC's future road planning to deal with the potential doubling of traffic volume squeezing onto Bribie Island. There would have to be extensive changes to our road network and car parking, as congestion at peak times is already excessive.
With Moreton Bay becoming a city and with new townships being built close to us on the mainland, the future traffic loads will be huge.
Question?
How can I comment on the consultation process without this major piece of planning detail from MBRC?
I would like to keep Bribie as a distinct coastal village. Maybe the answer is that visitors, on arrival, will just have to slow down. A workable (renewable energy small bus and ferry hopper) dedicated public transport service would also help locals and visitors to easily move around and reduce that invisible pollution.
P Fitzgerald Banksia Beach
Facts not straight
I don't know how E Adams worked out a win to the Greens with the third highest count in the last federal election. Then he states that 73.2% of voters didn't want the Greens. However, that 73.2% didn't vote for a single candidate.
At the same time he insists that 'first past the post' (FPTP) is the only fair system. However, unlike preferential voting, FPTP does NOT allow you to show which candidate you DON'T want to elect, or perhaps want to vote OUT of their current incumbency. Many people vote the way I do - mark the preferred candidate as '1', then the least favourite with the largest possible number and fill in the others between. Surely that is fairer because it gives you more of a say.
I would also like to express my disgust with his deliberate attempt to confuse people about the referendum by stating "facts" which are clearly not true but part of a hypothetical court case. If he listened to Albanese, he might hear the correct facts.
H Beneke Banksia Beach
Transport and Main Roads (TMR) have asked locals to submit their opinions on a new bridge to Bribie. Bribie Island Road from the M1 will eventually be four lanes, undoubtedly bringing more traffic volume. In my opinion, from reading responses to the TMR Bridge Consultation Process, locals seem to heavily favour a four-lane bridge, which they hope will deal with the traffic volume increases. Again my opinion is that TMR also seems to favour a four-lane bridge rather than progressively building two bridges of two-lanes each. National and international evidence clearly proves that more lanes mean more traffic volume and continued flow blockages.
2 Have your say ... write to us From Belinda MOBILE CARAVAN REPAIRS PH: 0422 033 309 Caravans • Pop Tops • Motor Homes • Gas Certificates • Testing and Repairs • Servicing and Repairs • Installing 12V Accessories • Heating and more & CARAVAN GAS C M CM CY K On Track 8th page Issue 58 copPRINT-01.pdf 1 8/12/21 2:54 pm LETTERS TO THE EDITOR The views expressed in Letters to the Editor are not necessarily those of the editor or publishers of the newspaper. SEND YOUR LETTERS TO: belinda@islandandsurrounds.com.au 0447 007 966 Do you have a topic you want us to cover or a story you want to share? Get in touch with our team.
To advertise e mail belinda@ islandandsurrounds.com.au or call 0447 007 966
enterprisecoachesaustralia.com "Available for your char ter"
phone (07) 5498 6930
For more information or to make a booking,please visit our website www.enterprisecoachesaustralia.com