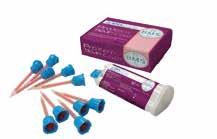 BMS Dental Srl - Via M. Buonarroti, 21/23/25 - 56033 Capannoli (PI) ITALY - Tel. +39 0587 606089 - info@bmsdental.it - www.bmsdental.it your choice will be wider with our new materials ProXem CH Liner Dual cure Calcium Hydroxide Liner ProXem RC Filling Root canal sealing and filling ProXem Temp-luting Temporary cement for cementing crown and bridges ProXem Temp C&B Temporary Crown & bridge material Refresh your smile INFODENT INTERNATIONAL 2/2023 - INFODENT Srl - Via dell'Industria 65 01100 Viterbo Italy Poste Italiane Spa - PP- Economy - DCO/DCVT/n°5fb del 24/05/02 - Sped. in A.P. - art. 1 comma 1 D.L. 353/2003 conv. In L. n. 46/04 - CDSU VT G.C. www.infodentinternational.com - Follow us on ISSN 2785-4108 2 20 23 MAYJULY EXPODENTALVisitusatMEETING HallRIMINI2023 C3,Booth73 check here and find your manufacturer
accelerate healing time resulting in a more successful osseointegration and improved implant anchoring. Bioactive is the ideal choice for compromised cases as it proved to have an expedited recovery period predominantly in challenging completely resorbable calcium-phosphate surface.
For distribution in your region contact : info@alfa-gate.com
is a computer- assisted implant surgery which is Easy, Quick, and
implant is designed to achieve superior primary stability in all bone types. Unique body thread design accomplishes unwavering reliable results for immediate loading. NEW www.alfa-gate.com info@alfa-gate.com
Find out the innovations we broadcasted at IDS 2023! Watch all the interviews and check out what's new in the dental market! COMPANIES INTERVIEWED: More information at infodent@infodent.com
Infodent International | 2 2023 4 contents EDITOR'S NOTE PREMIUM HIGHLIGHTS HIGHLIGHTS MARKET OUTLOOK AT A GLANCE HOT TOPIC DISTRIBUTORS WALL CALENDAR NON PROFIT 6 8 18 54 IDS 2023: Anniversary Event Convinces All Along the Line Practice Green© Awards for Dental Schools and Societies Oral Health vs General Health 62 30 40 52 58 Dentsply Sirona and Smile Train continue efforts to help children with clefts access life-changing care
Unbreakable™
Flexible Partials
Ideal degree of flexibility Lightweight yet durable Guaranteed unbreakable
iFlex™
Flexible Partials
Clinically unbreakable Easy to finish and polish
Stain-free
Karadent™
Full Dentures, Clear Frameworks
No volume shrinkage Upgrade from acrylic Quick to finish and polish
TCS offers three resins (iFlex™, Unbreakable™, Karadent™) to suit labs and dentists preferences. Available in a variety of diameter/type cartridges to fit different injection units on the market.
TCS Manual Injector
The most economical of the TCS injection units. A favorite for many technicians because of its easy maintenance and longevity.
Made in-house in the USA. www.tcsdentalinc.com
TCS Hydraulic Injector
Our best-selling injector for its simplicity and reliability (just plug it in, no need for air connections).
TCS Automatic Injector
The furnace is incorporated in this all-in-one unit, technicians appreciate not having to transfer the hot cylinder from the furnace to the injector.
Abraham Cortina VP of Business Development and Int'l Sales
abraham@tcsdentalinc.com
Scan to discover more
TCS Flexible Partials, seamless solutions for happier patients.
CONTACT
WhatsApp: +1 (562) 212-6876