CYCLAMEN
EUROPE
AUSTRIA
Nord Stefan Tinkhauser M: +43 6 641 429 219 info@plantagent-tinkhauser.at
West Manfred Wurzer M: +43 6 643 429 930 info@plantagent-wurzer.at
Ost Martin Süss
M: +43 6 643 842 556 info@plantservice-süss.at
BELGIUM
Gasa Group
Mike van der Zalm M: +32 477 292 998 mvz@gasagroup.com
BULGARIA
Floret M: +35 98 991 71 498 floret@mail.bg
CZECH REPUBLIC
Wolfram Senff M: +49 (0)17 28 388 047 F: +49 (0)36 28 602 839 senff-siegelbach@t-online.de
DENMARK
GASA Group M: +45 6548 1200 info@gasagroup.com
Lindflora
Torben Vangsgaard M: +45 53 802 499 tv@lindflora.com
ESTONIA
Taimepartner
Jane Hainsalu M: +37 25 66 87 623 jane@taimepartner.ee
Bloomest M: +37 25 62 24 087 info@bloomest.ee
FINLAND
Huiskula
Jussi Hämälainen M: +358 (0) 50 37 12 700 jussi.hamalainen@huiskula.fi
GASA Group
M: +45 6548 1200 info@gasagroup.com
FRANCE
Ducrettet M: +33 450 950 123 F: +33 450 955 471 plants@ducrettet.com
GERMANY
Südwest Andreas Kettermann M: +49 (0)1 725 290 871 Andreas.Kettermann@beekenkamp.nl
Niederrhein
Herbert van Gijtenbeek M: +31 (0)6 10 216 676
Herbert.vanGijtenbeek@beekenkamp.nl
Mitte / Nord
Jan Nieuwenhuyzen M: +31 (0)6 53 928 047
Jan.Nieuwenhuyzen@beekenkamp.nl
Bayern Stephan Faisst M: +49 (0)1 723 849 076 Stephan.Faisst@beekenkamp.nl
Düsseldorf/ Niederrhein Sven Colbecher M: +49 (0)1 732 572 694 Sven.Colbecher@beekenkamp.nl
Ost Wolfram Senff M: +49 (0)1 728 388 047 F: +49 (0)3 628 602 839 senff-siegelbach@t-online.de
GREECE
Baxevanis Panagiotis Baxevanis M: + 30 (0)2 521 066 650 F: + 30 (0)2 521 067 703 M: + 30 (0) 977 416 193 mpax@otenet.gr
Dimitris Dimitriou M: +31 (0)6 21280790 dimitris.dimitriou@hotmail.com
HUNGARY
Hedera Péter Korbonits M: +36 130 69 159 info@hedera.hu
ITALY
Veneto nord / Friuli / Vareze / Trentino / Altre regione
Gianluca Guiducci M: +39 (0)34 83 853 114
F: +39 (0)5 73 367 708 info@giovanipiante.net
Piemonte / Liguria
Furetto S.R.L
Stefano Canale
M: +39 (0)3 386 923 184
F: +39 (0) 182 940 345 scanale144@gmail.com
Sicily
Agriblu di Blundetto SRL
Giovanna Lachininoto M +39 (0) 932 939 014 giovanna.iachininoto@agriblu.it
LATVIA
A.M. Ozoli
Eva Ansone-Tomsone M: +37 126 472 830 info@amozoli.lv
LITHUANIA
Simas Zareckas Ukininkas M: +37 061 031 929 info@simogeles.lt
NETHERLANDS
Gerard Kuipers M: +31 (0)6 53 829 245 Gerard.Kuipers@beekenkamp.nl
John Boender M: +31 (0)6 53 829 242 John.Boender@beekenkamp.nl
Remco van der Ark M: +31 (0)6 53 52 38 86 Remco.vanderArk@beekenkamp.nl
Thijs Dekker M: +31 (0) 6 12 206 749 Thijs.Dekker@beekenkamp.nl
NORWAY
GASA Group M: +45 6548 1200 info@gasagroup.com
Lindflora
Torben Vangsgaard M: +45 (0)53 802 499 tv@lindflora.com
POLAND
Benjy Flora Beniamin Pudelko M: +48 (0) 501 088 178 F: +48 (0) 774 640 384 beniamin@pudelko.pl
ROMANIA
CDF Grup M: +40 76 75 31 551 cdfgrup@yahoo.ro
Fariker M: +40 36 54 33 813 office@fariker.ro
SWEDEN
GASA Group M: +45 65 48 12 00 info@gasagroup.com
Hörnhems M: +46 44 22 87 30 info@hornhems.se
SWITZERLAND
Wolfgang Straub M: +49 152 023 258 54 Wolfgang.Straub@beekenkamp.nl
UKRAINE & CIS
Tamara Elstgeest M: +31 (0)6 11 56 61 43 Tamara.Elstgeest@beekenkamp.nl говорит
UNITED KINGDOM
North & South, Ireland Andy Abbey M: +44 (0)7 860 200 554 Andy.Abbey@beekenkamp.nl
Mid Johan Heemskerk M: +44 (0)7 966 015 177 Johan.Heemskerk@beekenkamp.nl
OUTSIDE EUROPE
CHINA
Beijing Sunny Agri Andrew Shao / Chris Fu M: +86 (0)1 084 283 335 M: +86 (0)13 601 209 672 andrew@sunnyagri.com chris@sunnyagri.com
JAPAN Takamatsu co. Hidemi Takamatsu Shunsuke Ishio M: +81 (0)471 998 131 M: +81 (0)9 060 356 108 takamatsu@tacoflower.jp ishio@tacoflower.jp
PRODUCT MANAGEMENT
CUTTING RAISED
Product Specialist Ard van der Lugt M:+31 (0)6 22 50 42 72 Ard.vanderLugt@beekenkamp.nl
Product Specialist Bas van der Kraan M: +31 (0)6 20 169 757 Bas.vanderKraan@beekenkamp.nl
SEED RAISED Product Manager
Jaap Solleveld M: +31 (0)6 18 383 352 Jaap.Solleveld@beekenkamp.nl
Product Specialist Henriette Veth M:+31 (0)6 51 12 07 18 Henriette.Veth@beekenkamp.nl
PRODUCT TRADE MANAGEMENT & RETAIL Andy Abbey United Kingdom M: +44 (0)7 860 200 554 Andy.Abbey@beekenkamp.nl
Marc van Heijningen Netherlands - Export & Domestic M: +31 (0)6 23 73 20 89
Marc.vanHeijningen@beekenkamp.nl
Stephan Faisst
Germany / Austria / Switzerland M: +49 (0)1723 849 076 Stephan.Faisst@beekenkamp.nl
CUSTOMER SERVICE
M: +31 (0)174 526 100 E: CsSier@beekenkamp.nl
Cassandra den Boer Cassandra.denBoer@beekenkamp.nl
Gera van Dam Gera.vanDam@beekenkamp.nl
Nathalie Kortekaas
Nathalie.Kortekaas@beekenkamp.nl
Shirley Kuyvenhoven Shirley.Kuyvenhoven@beekenkamp.nl
Tanja van Geest
Tanja.vanGeest@beekenkamp.nl
AREA MANAGERS
Hasret Bläsing
France / Italy / Iberia/ Greece /Turkey M: +31 (0)6 46 10 07 57
Hasret.Blasing@beekenkamp.nl
Remco van der Ark
Baltic States / Eastern Europe/ Scandinavia M: +31 (0)6 53 52 38 86
Remco.vanderArk@beekenkamp.nl
Ruud Veenenbos
Asia / France/ Poland M: +31 (0)6 20 595 098
Ruud.Veenenbos@beekenkamp.nl
Sören Houwing
Germany / Switzerland / Austria M: +49 (0) 15 11 23 29 326
Soeren.Houwing@beekenkamp.nl
FINANCE DEPARTMENT
T +31 174 526 100 Finance@beekenkamp.nl
MARKETING OFFICE
Annieck Ruijgrok T: +31 (0)6 12 56 15 83 Annieck.Ruijgrok@beekenkamp.nl
CEO Plants Ornamentals Marc Driessen
Head Of Commercial Operations Europe & Head Of Product Management Marja Vonk Noordegraaf M: +31 (0)6 12 53 94 36 Marja.VonkNoordegraaf@beekenkamp.nl
Head Of Commercial Operations North America, Asia & Rest Of The World, Head Of Marketing & Product Trade Management
Sirekit Mol M: +31 (0)6 29 721 909 Sirekit.Mol@beekenkamp.nl
Head Office
Beekenkamp Plants B.V. Korte Kruisweg 141 Postbus 1, 2676 ZG Maasdijk The Netherlands
T: +31 (0)174 52 61 00 F: +31 (0)174 52 61 60 E: info@beekenkamp.nl www.beekenkamp.nl
Handelsregister Haaglanden: 27222194 VAT: NL0063.16.335.B.01
3 2 INDEX CONTACT
по русски
2 CONTACT
CALENDER 2O24 DECEMBER Mon Tue Wed Thu Fri Sat Sun 48 1 49 2 3 4 5 6 7 8 50 9 10 11 12 13 14 15 51 16 17 18 19 20 21 22 52 23 24 25 26 27 28 29 1 30 31 NOVEMBER Mon Tue Wed Thu Fri Sat Sun 44 1 2 3 45 4 5 6 7 8 9 10 46 11 12 13 14 15 16 17 47 18 19 20 21 22 23 24 48 25 26 27 28 29 30 SEPTEMBER Mon Tue Wed Thu Fri Sat Sun 35 1 36 2 3 4 5 6 7 8 37 9 10 11 12 13 14 15 38 16 17 18 19 20 21 22 39 23 24 25 26 27 28 29 40 30 AUGUST Mon Tue Wed Thu Fri Sat Sun 31 1 2 3 4 32 5 6 7 8 9 10 11 33 12 13 14 15 16 17 18 34 19 20 21 22 23 24 25 35 26 27 28 29 30 31 JULY Mon Tue Wed Thu Fri Sat Sun 27 1 2 3 4 5 6 7 28 8 9 10 11 12 13 14 29 15 16 17 18 19 20 21 30 22 23 24 25 26 27 28 31 29 30 31 FEBRUARY Mon Tue Wed Thu Fri Sat Sun 5 1 2 3 4 6 5 6 7 8 9 10 11 7 12 13 14 15 16 17 18 8 19 20 21 22 23 24 25 9 26 27 28 29 JANUARY Mon Tue Wed Thu Fri Sat Sun 1 1 2 3 4 5 6 7 2 8 9 10 11 12 13 14 3 15 16 17 18 19 20 21 4 22 23 24 25 26 27 28 5 29 30 31 JUNE Mon Tue Wed Thu Fri Sat Sun 22 1 2 23 3 4 5 6 7 8 9 24 10 11 12 13 14 15 16 25 17 18 19 20 21 22 23 26 24 25 26 27 28 29 30 MAY Mon Tue Wed Thu Fri Sat Sun 18 1 2 3 4 5 19 6 7 8 9 10 11 12 20 13 14 15 16 17 18 19 21 20 21 22 23 24 25 26 22 27 28 29 30 31 APRIL Mon Tue Wed Thu Fri Sat Sun 14 1 2 3 4 5 6 7 15 8 9 10 11 12 13 14 16 15 16 17 18 19 20 21 17 22 23 24 25 26 27 28 18 29 30 MARCH Mon Tue Wed Thu Fri Sat Sun 9 1 2 3 10 4 5 6 7 8 9 10 11 11 12 13 14 15 16 17 12 18 19 20 21 22 23 24 13 25 26 27 28 29 30 31
Super Serie® Micro 9
Smartiz® 11
Smartiz® Fantasia® 13
Smartiz® Victoria® 13
Metis® 14
Metis® Decora® 16
Metis® Fantasia® 17
Metis® Lilibelle® 18
Metis® Lilibelle 18
Crispino® 19
Metis® Pom Pom® 19
Metis® Victoria® 19
Super Serie® Verano 20
Super Serie® Crayon 22
Super Serie® Donatello 23
Super Serie® Odora 25
Super Serie® Carino 27
Super Serie® Compact 28
Super Serie® Mini Winter 28
Super Serie® Picasso 29
Super Serie® Jive 29
Tianis® 31
Tianis® Fantasia® 32
Indiaka® 33
Metalis® 34
Premium® Abanico® 34
Universe Midi® 35
Super Serie® Allure 36
Super Serie® Rembrandt 38
Super Serie® Macro 39
Super Serie® Merengue 40
Latinia® Succes® 40
Latinia® 41
Latinia® Fantasia® 42
Latinia® Crispino® 43
Latinia® Funflame® 43
Latinia® Victoria® 43
Halios® HD® 45
Halios® 46
Halios® Blush® 47
Halios® Decora® 48
Halios® Fantasia® 49
Halios® Fantasia® Decora® 49
Halios® Curly® 50
Halios® Friola® 52
Halios® Victoria® 52
Halios® Friola® 52
Super Serie® XL 53
Super Serie® Leopardo 55
Super Serie® Vintro 56
Super Serie® Mammoth 57
For
Varieties in BKX 84 hole trays: 8 trays
Varieties in BKX 128 hole trays: 8 trays
Varieties in BKX 264 hole trays: 8 trays
5 INDEX TRAY SIZE DELIVERY WEEKS PRODUCTION TIME POT SIZE PLANT HEIGHT KEY TO SYMBOLS
varieties, traysizes or deliveries not mentioned in this catalogue we maintain the following minimum quantities per delivery :
MIN
TRAY SIZE
Super Serie® Donatello
• For large-flowered cyclamen
• Transplanted plant
• Plant is 13 weeks old
• Suitable for 12 cm pot and larger
• More mature plant
• Voor grootbloemige cyclamen
• Verspeende plant
• Plant is 13 weken oud
• Geschikt voor 12 cm pot en groter
• Volwassenere plant
• Transplanted plant
• Plant is 11-12 weeks old
• Small-flowered cyclamen
• More mature plant
• Verspeende plant
• Plant is 11-12 weken oud
• Kleinbloemige cyclamen
• Volwassenere plant
• Glue plug: optimal rooting
• For a very uniform startup
• Sown directly into the tray
• Sorted tray
• Young plants 11-12 weeks old
• For large flowered cyclamen
• Lijmplug
• Optimale beworteling
• Direct op de tray gezaaid
• Gesorteerde tray
• Plant is 11-12 weken oud
• Voor groot bloemige cyclamen
• Glue plug
• Sown directly on the tray
• Sorted tray
• Plant is 10 weeks old
• Perfect retrieval
• For small flowered cyclamen
• Lijmplug
• Direct op de tray gezaaid
• Gesorteerde tray
• Plant is 10 weken oud
• Perfect uit te halen
• Voor klein bloemige cyclamen
Beekenkamp Plants Ornamentals is an experienced producer of Cyclamen young plants for several decades. Known for our strong young plants of excellent quality. We highly value the close partnerships we have built with the various Cyclamen breeders and are happy that due to these collaborations, Beekenkamp Plants is able to offer you the right genetics for your growing conditions. Our committed colleagues in the various departments ensure a fluent process in which cooperation and quality are key. The broad assortment we produce has over the years proved to be the right start for excellent flowering Cyclamen.
NEW: cyclamen in 128 BKX-tray high and low
By offering different genetics in suitable trays with fitting delivery weeks, we make sure that the grower can rely on a good start of the crop. This year we have listed the 128 BKX-tray high without gapping for the small flowering varieties, which makes the perfect start to a perfect plant. The 128 BKX-tray low is offered for big flowering Cyclamen and is filled with a transplanted plug. Both the 128 BKX-trays are reusable, therefore it is ideal for growers who want to pot automatically. BKX-tray is being used multiple times, which contributes to sustainability of the environment.
With the NEW Crispino Mini series we offer a uniform Cyclamen series suitable for 9 to 12 cm pots. This is a beautiful new fringed series. In addition, there is now also the Latinia Crispino which is suitable for the 12-15 cm pot.
Looking for something for the smaller pots? The Melange Micro series offers the perfect solution for production in small pots. The uniformity within the different colours makes packaging of the flowering plants easier.
We also offer the Super Series Leopardo for large pots and as a large-flowered series. This series is suitable for 12-15 cm pots and very heat tolerant.
Growing Cyclamen in hot conditions is not easy. The Super Series Leopardo performs excellent in hot conditions and produces beautiful large sized flowers. When you are looking for Cyclamen which can be grown during the dark and colder period of the year, the Super Series Vintro are the perfect solution. The Super Series Vintro are less sensitive to Botrytis and very suitable for flowering in winter due to its sturdy plant habit.
Big fan of scented Cyclamen? The Super Series Odora is a collection of perfumed Cyclamen. Apart from a lovely scent these plants are also very floriferous. All-in all enough to look forward to!
When you like more information, our team of professionals is always at your service!
Beekenkamp Plants Ornamentals is al tientallen jaren een ervaren producent van Cyclamen jonge planten. Bekend om onze sterke jonge planten van uitstekende kwaliteit. We hechten veel waarde aan de samenwerkingen die we hebben opgebouwd met de verschillende Cyclamen-veredelaars. Wij zijn blij dat Beekenkamp Plants door deze samenwerkingen de juiste genetica kan bieden voor uw groeiomstandigheden. Onze betrokken collega's op de verschillende afdelingen zorgen voor een vloeiend proces waarin samenwerking en kwaliteit centraal staan. Het brede assortiment dat wij produceren is door de jaren heen de juiste start gebleken voor uitstekend bloeiende Cyclamen.
NIEUW: Cyclaam in hoge en lage 128 BKX-tray
Door verschillende genetica aan te bieden in passende trays met passende leverweken, zorgen we ervoor dat de teler kan vertrouwen op een goede start van de teelt. Dit jaar bieden we voor de kleinbloemige Cyclamen de 128 BKX-tray hoog zonder tussenruimte aan. Dit geeft de plant een perfecte start. De 128 BKX-tray laag wordt aangeboden voor grootbloemige Cyclamen en is gevuld met een verspeende plug. Beide 128 BKX-trays zijn herbruikbaar en daarom ideaal voor kwekers die automatisch willen oppotten. BKX-trays worden meerdere keren gebruikt, wat bijdraagt aan de verduurzaming van het milieu.
Met de NIEUWE Crispino mini serie bieden wij een uniforme Cyclamen serie geschikt voor 9 t/m 12 cm potten. Dit is een mooie nieuwe gefranjerde serie. Daarnaast is er nu ook de Latinia Crispino serie die geschikt is voor de 12-15 cm pot.
Op zoek naar iets voor de kleinere potten? De Melange Micro serie biedt de perfecte oplossing voor de productie in kleine potten. De uniformiteit binnen de verschillende kleuren maakt het verpakken van de bloeiende planten makkelijker.
Voor de grote potten en als grootbloemige serie bieden we ook de Super Serie Leopardo aan. Deze serie is geschikt voor de 12-15 cm potten en goed bestand tegen de hitte.
Het kweken van Cyclamen in warme omstandigheden is niet eenvoudig. De Super Series Leopardo presteert uitstekend in warme omstandigheden en produceert prachtige bloemen van groot formaat.
Wanneer u op zoek bent naar Cyclamen die tijdens de donkere en koude periode van het jaar gekweekt kunnen worden, dan is de Super Series Vintro de perfecte oplossing. De Super Series Vintro is minder gevoelig voor Botrytis en door zijn stevige plantbouw zeer geschikt voor de winterbloei.
Grote fan van de geur van een Cyclaam? De Super Series Odora is een collectie geparfumeerde Cyclamen. Naast een heerlijke geur zijn deze planten ook zeer rijkbloeiend. Al met al genoeg om naar uit te kijken!
Wanneer u meer informatie wenst, staat ons team van professionals altijd voor u klaar!
6 7
TRAYS & PLUGS
INTRO
Beekenkamp Cyclamen – The best starting material for the best Cyclamen!
TRAY 84 TRAY 128 LOW TRAY 128 HIGH TRAY 264
Beekenkamp Cyclamen – het beste uitgangsmateriaal voor de beste Cyclamen!
9 Super Serie® Micro MICRO VARIETIES Super Serie® Micro ▶ Sales window: June to November ▶ Smallest plant in the Super Series ▶ Compact plant habit MIX 6298650 Super Serie® Micro Super Serie® Micro 264 20 - 28 16 - 17 weeks 6 - 8 cm 10 - 15 cm
11 Smartiz® Smartiz® MELANGE 6900 6297928 BLANC PUR 6120 6297911 FUCHSIA 6070 6297916 FUCHSIA VIF 6071 6297917 MAGENTA FONCE 6107 6297925 ROUGE 6013 6297937 ROUGE VIF 6012 6297932 VIOLET 6090 6297940 VIOLET FONCÉ 6095 6297941 ▶ Sales window: Middle of June to November ▶ Resistant to extreme heat conditions ▶ Excellent shelf life ▶ Central flowering habit ▶ Long lasting colours MINI VARIETIES MEL.MICRO EXP. 6925 6297927 BISOUS MIX 69290 6297830 264 18 - 33 12 - 14 weeks 6 - 11 cm 20 - 24 cm Smartiz® 128 Low 18 - 33 10 - 12 weeks 6 - 11 cm 20 - 24 cm
13 Smartiz® Fantasia® Smartiz® Fantasia® Smartiz® Victoria® MELANGE 6960 6297901 MAGENTA FONCE 6385 6297900 ROUGE 6310 6297893 VIOLET FONCE 6395 6297904 6701 6297945 MINI VARIETIES FUCHSIA 6370 6297898 ▶ Sales window: Middle of June - November ▶ Suitable for small pots ▶ Very floriferous ▶ Easy to grow ▶ Compact plant habit ▶ Fantasia colours complete the range ▶ Sales window: Middle of June - November ▶ Suitable for small pots ▶ Very floriferous ▶ Compact plant habit ▶ The crowned flower 264 18-30 13 - 15 weeks 6 - 11 cm 20 - 24 cm Smartiz® Fantasia® 128 Low 18-30 11 - 13 weeks 6 - 11 cm 20 - 24 cm 264 18-30 12 - 14 weeks 6 - 11 cm 20 - 24 cm Smartiz® Victoria® 128 Low 18-30 10 - 12 weeks 6 - 11 cm 20 - 24 cm
14 15 MINI VARIETIES MELANGE 4900 6297722 MELANGE LISERE EXP. 4911 6297724 SUMMER MIX 4925 6297726 SUCCES MIX 6297782 BLANC PUR 4120 6297702 BLANC PUR EVOLUT. 4121 6297704 ECARLATE COMPACT 4011 6297706 FUCHSIA VIF EVOLUT. 4073 6297714 Metis® Metis® FUCHSIA AQUAREL 4080 6297755 LILAC CLAIR A OEIL 4067 6297717 MAGENTA FONCE 4107 6297720 ROSE CLAIR A OEIL 4062 6297759 ROSE DE PERSE 4085 6297764 ROSE SAUMONE 4050 6297768 ROUGE VIF COMPACT 4013 6297708 SAUMON ECARLATE COMP. 4021 6297776 VIOLET FONCE 4096 6297794 VIOLET VIF 4092 6297793 MINI VARIETIES 264 18-33 12 - 14 weeks 9 - 12 cm 24 - 26 cm Metis® 128 Low 18-33 10 - 12 weeks 9 - 12 cm 24 - 26 cm ▶ Sales window: Middle of June - Middle of November ▶ Excellent outdoor performance ▶ Short production time ▶ Bright and intense colours ▶ The most complete mini series
16 17 Metis® Decora® MELANGE 4950 6297739 BLANC PUR 4225 6297721 FUCHSIA VIF 4270 6297713 MAGENTA 4220 6297718 ROSE DE PERSE 4285 6297766 ROUGE ECARLATE 4210 6297771 SAUMON 4230 6297778 VIOLET 4290 6297788 ▶ Sales window: Middle of June - Middle of November ▶ Excellent outdoor performance ▶ Central flowering habit ▶ Decorative foliage ▶ Bright and intense colours ▶ Silverleaf series Metis® Fantasia® MELANGE 4960 6297685 WINTER MELANGE 4961 6297680 MAGENTA FONCÉ 4385 6297690 ROUGE 4310 6297691 SAUMON ÉCARLATE 4320 6297694 VIOLET FONCÉ 4395 6297696 MINI VARIETIES ARTIC ROUGE 4311 6297672 ▶ Sales window: Middle of June - Middle of November ▶ Striking colours ▶ Very floriferous ▶ Excellent outdoor performance ▶ Fantasia colours complete the range MINI VARIETIES 264 18-33 12 - 14 weeks 9 - 12 cm 24 - 26 cm Metis® Decora® 128 Low 18-34 10 - 12 weeks 9 - 12 cm 24 - 26 cm 264 18-33 13 - 15 weeks 9 - 11 cm 24 - 26 cm Metis® Fantasia® 128 Low 18-34 11 - 13 weeks 9 - 11 cm 24 - 26 cm
18 19 Metis® Lilibelle Metis® Lilibelle® MAGENTA EXP. 44705 6297670 VIOLET EXP. 44790 6297671 ▶ Sales window: Middle of June - Middle of November ▶ Special flower colours Metis® Pom Pom® MELANGE 4590 6297800 Metis® Victoria® DECO MIX EVOLUTION 4791 6297809 4701 6297805 MINI VARIETIES ▶ Sales window: Middle of June - Middle of November ▶ Beautifully fringed flowers with curly leaves ▶ Firm plant habit ▶ Sales window: Middle of June - Middle of November ▶ Excellent outdoor performance ▶ The crowned flower ▶ A fancy type adaptable to industrialised production MELANGE EXP. 48900 6297660 Crispino® MINI VARIETIES 264 18-33 12 - 14 weeks 9 - 12 cm 24 - 26 cm 264 18-33 13 - 15 weeks 9 - 12 cm 20 - 30 cm Metis® Pom Pom® 128 Low 18-34 11 - 13 weeks 9 - 12 cm 24 - 26 cm 264 18-33 13 - 15 weeks 9 - 12 cm 24 - 26 cm Metis® Victoria® 128 Low 18-34 10 - 12 weeks 9 - 12 cm 24 - 26 cm Crispino® 128 Low 18-34 11 - 13 weeks 9 - 12 cm 20 - 30 cm 264 18-33 13 - 15 weeks 10 - 12 cm 14 - 26 cm Metis® Lilibelle® 128 Low 18-34 11 - 13 weeks 10 - 12 cm 24 - 26 cm ▶ Sales window: Middle of June - Middle of November ▶ Suited to flowering from early autumn ▶ Mix of green and marbled leaves
20 21 Super Serie® Verano MIX 6298884 SOLAR MIX 6298871 CREAM WHITE 6298833 MIX OUTDOOR 6298873 DARK VIOLET 6298842 DEEP NEON FLAMED SOLAR 6298835 DEEP WINE RED 6298834 LIGHT VIOLET 6298849 NEON FLAMED 6298890 MINI VARIETIES NEON PINK 6298864 PINK WITH EYE 6298865 PURE WHITE IMPR 6298907 RED 6298898 RED SOLAR 6298888 SALMON WITH EYE 6298869 VICTORIA PINK 6298909 VICTORIA LIGHT PINK 6298908 VICTORIA WHITE WITH EYE 6298910 FUJI NEON PINK 6298839 FUJI SALMON 6298841 FUJI DARK VIOLET 6298837 FUJI WINE RED 6298843 MINI VARIETIES VIOLET FLAMED 6298872 WHITE WITH EYE 6298904 WINE RED FLAMED 6298906 ▶ Sales window: June - November ▶ Uniform within the colours ▶ Uniform plant shape ▶ Short harvest period ▶ Compact plant habit 264 16-28 14 - 15 weeks 6 - 11 cm 15 - 20 cm Super Serie® Verano 128 Low 18-28 12 - 13 weeks 6 - 11 cm 15 - 20 cm
22 23 Super Serie® Crayon MINI VARIETIES PINK 6298195 SALMON 6298200 VIOLET 6298202 WINE RED 6298205 Super Serie® Crayon ▶ Sales window: June - December ▶ Uniform plant shape ▶ Special flower colours MIX 6298250 CREAM WHITE IMPR 6298257 Super Serie® Donatello MINI VARIETIES DARK VIOLET IMPR 6298245 DEEP WINE RED IMPR 6298259 NEON FLAMED 6298256 NEON PINK 6298252 WINE RED FLAMED 6298258 Super Serie® Donatello RED 6298254 ▶ Sales window: July - November ▶ Very floriferous ▶ Compact plant habit ▶ Decorative foliage ▶ Contrasting flowers and leaves ▶ Silverleaf series 264 25-30 14 - 16 weeks 9 - 11 cm 15 - 25 cm Super Serie® Crayon 128 Low 23-28 12 - 14 weeks 9 - 11 cm 15 - 25 cm 264 18-30 15 - 16 weeks 6 - 11 cm 15 - 25 cm Super Serie® Donatello 128 Low 18-30 13 - 15 weeks 6 - 11 cm 15 - 25 cm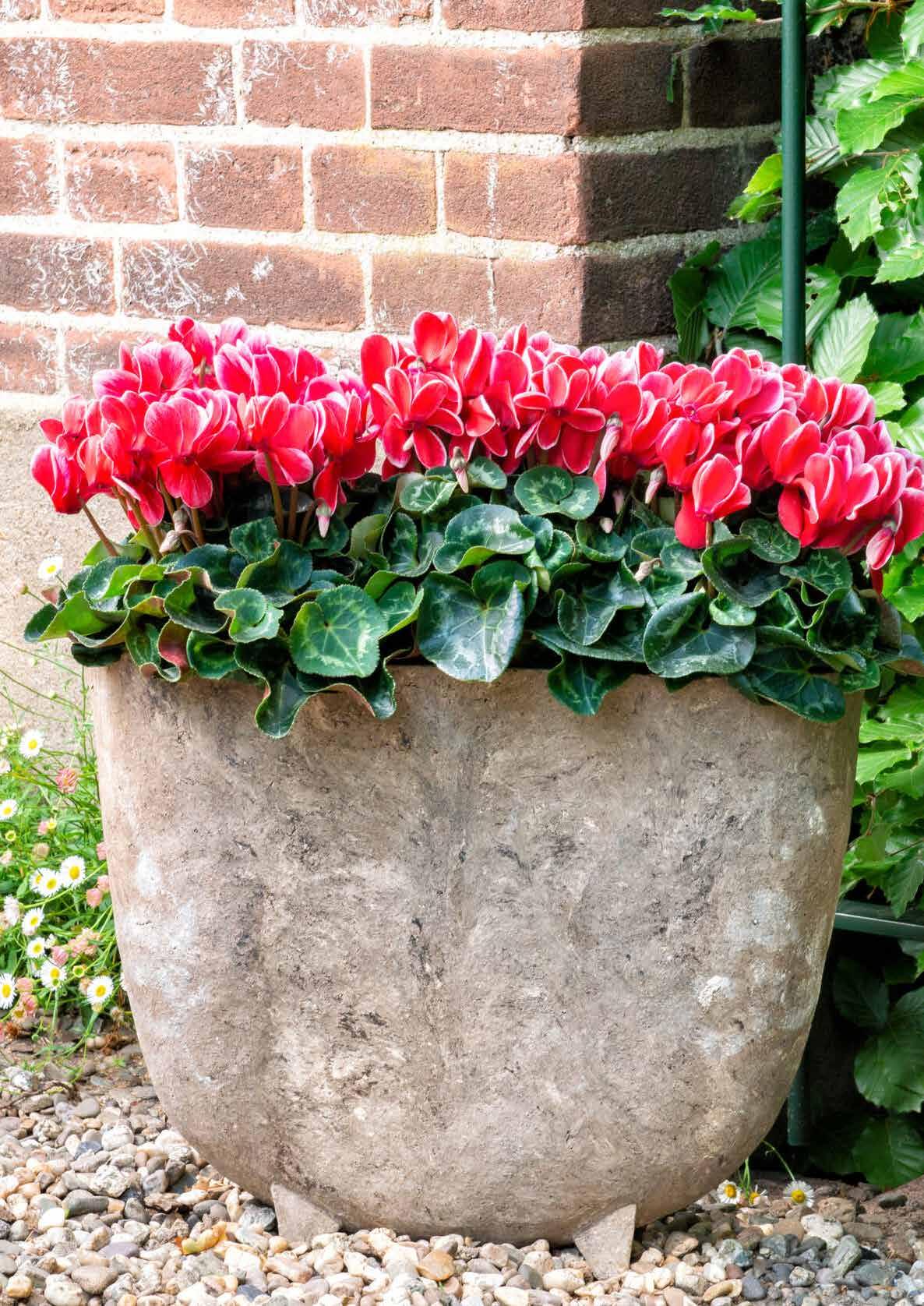 25 Super Serie® Odora FUJI WINE RED 6298736 NEON FLAMED 6298739 SALMON FLAMED 6298742 WHITE WITH EYE 6298745 Super Serie® Odora Labels are included and send separately. MINI VARIETIES 264 16-28 14 - 16 weeks 9 - 12 cm 15 - 25 cm Super Serie® Odora 128 Low 16-28 12 - 14 weeks 9 - 12 cm 15 - 25 cm ▶ Sales window: June - November ▶ Perfumed flowers ▶ Very floriferous ▶ Most suitable for 10.5-12 cm pots
26 27 MIX 6298350 MIX RETAIL 6298328 CREAM WHITE 6298332 DARK VIOLET 6298339 DEEP NEON FLAMED IMPR 6298353 WINE RED 6298369 NEON PINK 6298354 PURE WHITE IMPR 6298360 RED 6298362 Super Serie® Carino MINI VARIETIES SALMON WITH EYE 6298365 MIX OUTDOOR 6298331 SALMON FLAMED 6298366 WINE RED FLAMED 6298368 ▶ Sales window: Middle of June - December ▶ Has a nice round plant shape ▶ Excellent shelf life FUJI MAGENTA 6298343 FUJI NEON PINK 6298355 FUJI RED 6298372 MINI VARIETIES FUJI WINE RED 6298357 264 18-30 14 - 16 weeks 9 - 12 cm 15 - 20 cm Super Serie® Carino 128 Low 18-33 13 - 15 weeks 9 - 12 cm 15 - 20 cm Super Serie® Carino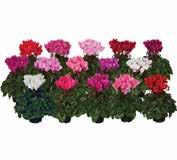 28 29 MIX 6298432 MIX 6298700 CREAM WHITE 6298679 6298714 RED 6298715 Super Serie® Compact Super Serie® Mini Winter MINI VARIETIES DEEP WINE RED 6298723 FUJI MAGENTA 6298691 MIX 6298800 CREAM WHITE 6298778 DARK VIOLET 6298783 RED 6298810 VIOLET FLAMED 6298819 WINE RED 6298820 Super Serie® Picasso Super Serie® Jive MIX 6298505 MINI VARIETIES NEON PINK IMPR 6298807 MIX OUTDOOR 6298818 264 18-32 14 - 18 weeks 9 - 12 cm 15 - 20 cm 264 18-30 16 - 17 weeks 9 - 11 cm 15 - 20 cm Super Serie® Mini Winter 128 Low 18-32 12 - 16 weeks 9 - 12 cm 15 - 20 cm Super Serie® Compact 128 Low 18-28 13 - 15 weeks 9 - 11 cm 15 - 20 cm ▶ Sales window: June - November ▶ Very floriferous ▶ Compact plant habit ▶ Firm plant habit ▶ Sales window: Middle of September - Middle of February ▶ Less sensitive for Botrytis ▶ Suitable for autumn cultivation and winter flowering ▶ Bright and intense colours ▶ More open plant structure Super Serie® Jive 128 Low 19-32 16 - 17 weeks 10 - 12 cm 15 - 20 cm 264 18-28 15 - 16 weeks 10 - 12 cm 15 - 20 cm 264 18-32 14 - 18 weeks 9 - 11 cm 15 - 20 cm Super Serie® Picasso 128 Low 28-38 12 - 16 weeks 9 - 11 cm 15 - 20 cm ▶ Sales window: Middle of September - Middle of February ▶ Product suitable for indoor and outdoor ▶ More open plant structure ▶ Silverleaf series ▶ Sales window: July - November ▶ Beautifully fringed flowers ▶ Robust, solid stems ▶ Central flowering habit
31 Tianis ® MELANGE 3900 6297852 MELANGE FLAMME 3910 6297854 SUCCES MELANGE 3970 6297862 BLANC EVOLUTION 3129 6297836 BLANC PUR 3120 6297843 FUCHSIA 3070 6297838 FUCHSIA VIF 3071 6297839 MAGENTA FONCÉ 3107 6297848 ROUGE ÉCARLATE 3012 6297858 SAUMON A OEIL 3040 6297861 Tianis® VIOLET FONCE 3095 6297865 MIDI VARIETIES ▶ Sales window: August - March ▶ Excellent outdoor performance ▶ Round petals ▶ Compact plant habit ▶ Short production time ▶ Uniform within the colour range 264 19-32 14 - 15 weeks 10 - 12 cm 24 - 26 cm Tianis® 128 Low 19-32 12 - 13 weeks 10 - 12 cm 24 - 26 cm
32 33 MELANGE 3960 6297884 FUCHSIA VIF 3371 6297874 MAGENTA FONCE EVOL. 3386 6297888 ROUGE 3311 6297879 Tianis® Fantasia® VIOLET FONCE EVOLUTION 3396 6297880 MIDI VARIETIES Tianis® Fantasia® Indiaka® FUCHSIA 53070 6297950 MELANGE 53950 6297955 MAGENTA 53105 6297951 SAUMON 53030 6297952 VIOLET 53090 6297953 MIDI VARIETIES Indiaka® 264 19-32 16 - 17 weeks 10 - 12 cm 24 - 26 cm Tianis® Fantasia® 128 Low 19-32 14 - 15 weeks 10 - 12 cm 24 - 26 cm ▶ Sales window: August - March ▶ Very floriferous ▶ Excellent outdoor performance ▶ Excellent shelf life during transportation ▶ Firm plant habit ▶ Fantasia colours complete the range 264 21-32 16 - 20 weeks 10 - 14 cm 26 - 28 cm Indiaka® 84 21-32 14 - 18 weeks 10 - 14 cm 26 - 28 cm ▶ Sales window: Middle of September - February ▶ Very floriferous ▶ Nice bicolour contrast ▶ Has a nice round plant shape ▶ Excellent shelf life ▶ Excellent outdoor performance

34 35 MELANGE 52950 6297621 BLANC 52228 6297609 ROUGE 52210 6297650 Metalis® Premium® Abanico® MAGENTA 55506 6297568 SAUMON 55430 6297585 MIDI VARIETIES FUCHSIA 52270 6297654 MAGENTA 52220 6297651 ▶ Sales window: Middle of July - October ▶ Fantasia colours complete the range ▶ Fan-shaped flowers Universe Midi® BRIGHT RED 6297975 DEEP ROSE 6297976 FLAME MIX 6297977 MIX 6297978 PURPLE 6297979 ROSE WITH EYE 6297980 SALMON FLAME 6297982 WHITE 6297981 MIDI VARIETIES BRIGHT PURPLE 6297974 ▶ A real must have! ▶ This Universe series offers a uniform series of Cyclamen suitable for the 10,5 to 12 cm pot. ▶ Perfect for growing 2 colors in 1 pot. ▶ This series makes it easy for the grower to choose the right young plants and colours. Combining them perfectly for the rest of the chain. Your ideal retail mix! ▶ Has a nice round plant shape ▶ Short production time ▶ Firm plant habit ▶ Uniform within the colour range ▶ Decorative foliage 264 19-30 16 - 18 weeks 12 - 14 cm 26 - 28 cm Metalis® 84 22-30 14 - 15 weeks 12 - 14 cm 26 - 28 cm Premium® Abanico® 264 17-28 16 - 18 weeks 12 - 14 cm 20 - 30 cm 264 18-30 14 - 15 weeks 10 - 12 cm 26 - 28 cm Universe Midi® 128 Low 18-30 12 - 14 weeks 10 - 12 cm 26 - 28 cm ▶ Sales window: Middle of September - January ▶ Uniform within the colours ▶ Specially selected by Beekenkamp ▶ Perfect for retail production
36 37 MIX 6298050 SOLAR MIX 6298066 FLAMED MIX 6298040 CREAM WHITE 6298017 DARK VIOLET 6298021 DEEP SALMON FLAMED 6298067 LIGHT NEON PINK 6298030 Super Serie® Allure MIDI VARIETIES LAVENDER 6298034 Super Serie® Allure NEON FLAMED 6298055 NEON PINK 6298056 PURE WHITE 6298060 RED IMPR 6298065 FUJI DARK VIOLET 6298028 LIGHT WITH EYE 6298029 VIOLET FLAMED 6298068 WINE RED 6298070 FUJI NEON PINK 6298027 FUJI RED 6298026 MIDI VARIETIES 264 16-30 16 - 18 weeks 11 - 12 cm 20 - 25 cm Super serie® Allure 128 Low 18-30 14 - 16 weeks 11 - 12 cm 20 - 25 cm ▶ Sales window: June - December ▶ Very uniform plantshape ▶ Rigid flowering within the series ▶ Uniform within the colour range
38 Super Serie® Rembrandt MIX 6298919 DARK VIOLET 6298912 NEON PINK 6298920 PURE WHITE 6298926 SALMON RED 6298927 WINE RED 6298928 NEON FLAMED 6298922 MIDI VARIETIES Super Serie® Rembrandt ▶ Sales window: Middle of June - December ▶ Robust, solid stems ▶ Silverleaf series 39 Super Serie® Macro MIX 6298550 PURE WHITE 6298565 RED 6298555 MIDI VARIETIES LIGHT SALMON PINK 6298542 CREAM WHITE 6298519 DARK VIOLET 6298523 NEON PINK 6298552 FUJI NEON PINK 6298538 FUJI RED 6298533 264 18-32 16 - 18 weeks 11 - 12 cm 20 - 25 cm Super Serie® Rembrandt 128 Low 18-30 14 - 16 weeks 11 - 12 cm 20 - 25 cm Super Serie® Macro 84 20 - 34 15 - 18 weeks 11 - 15 cm 25 - 30 cm 128 High 20 - 36 17 - 19 weeks 11 - 15 cm 25 - 30 cm 264 20 - 36 17 - 20 weeks 11 - 15 cm 25 - 30 cm ▶ Sales window: July - Middle of February ▶ Suitable for autumn cultivation and winter flowering ▶ Firm plant habit
40 41 Latinia® Succes® MELANGE EVOLUTION 1971 6297486 BLANC PUR 1121 6297463 FUCHSIA 1070 6297473 FUCHSIA NEON 1077 6297475 MAGENTA FONCÉ 1107 6297481 ROSE BONBON 1078 6297488 ROUGE VIF 1011 6297489 SAUMON 1038 6297491 SAUMON FONCE 1036 6297492 VIOLET 1097 6297495 ROSE CLAIR A OEIL 1062 6297490 MIDI VARIETIES Super Serie® Merengue MIX 6298591 Latinia® MELANGE 1900 6297534 MELANGE FLAMME 1910 6297540 BLANC 1128 6297518 FUCHSIA VIF 1071 6297526 ROSE A OEIL 1060 6297554 ROSE A OEIL VIOLET 1063 6297556 ROUGE ECARLATE 1010 6297558 VIOLET CATTLEYA 1109 6297566 VIOLET FONCE 1095 6297560 MIDI VARIETIES Latinia® Succes® 84 18 - 34 12 - 13 weeks 12 - 14 cm 25 - 30 cm 128 High 18 - 30 14 - 15 weeks 12 - 14 cm 25 - 30 cm 264 20-34 18 - 19 weeks 12 - 14 cm 20 - 25 cm Super Serie® Merengue 128 Low 22-34 16 - 18 weeks 12 - 14 cm 20 - 25 cm ▶ Sales window: July - Middle of January ▶ Beautifully fringed flowers ▶ Robust, solid stems ▶ Excellent shelf life ▶ More open plant structure Latinia® 84 18 - 34 14 - 15 weeks 12 - 15 cm 25 - 30 cm 128 High 18 - 30 15 - 16 weeks 12 - 15 cm 25 - 30 cm ▶ Sales window: Middle of July - November ▶ Early flowering ▶ Short harvest period ▶ Easy to grow ▶ Uniform within the colour range ▶ Growers selection ▶ Sales window: Middle of July - October ▶ Large flowers ▶ Very floriferous ▶ Early flowering ▶ Easy to grow ▶ Excellent shelf life
42 43 Latinia® Fantasia® MELANGE 1960 6297421 FUCHSIA VIF 1371 6297412 MAGENTA FONCE 1385 6297419 ROUGE 1312 6297424 VIOLET FONCE 1395 6297427 Latinia® Funflame® MAGENTA 1850 6297456 Latinia® Victoria® 50 ROSE A OEIL 1720 6297500 MIDI VARIETIES MIX 1591 6297439 Latinia® Crispino® MIDI VARIETIES Latinia® Fantasia® 84 18 - 34 14 - 15 weeks 12 - 15 cm 25 - 30 cm 128 High 18 - 34 15 - 16 weeks 12 - 15 cm 25 - 30 cm ▶ Sales window: Middle of July - November ▶ Large flowers ▶ Very floriferous ▶ Nice bicolour contrast ▶ Compact plant habit ▶ Fantasia colours complete the range Latinia® Victoria® 84 18 - 34 14 - 15 weeks 12 - 14 cm 25 - 30 cm Latinia® Crispino® 84 18 - 34 14 - 15 weeks 12 - 15 cm 25 - 30 cm 128 High 18 - 30 15 - 16 weeks 12 - 14 cm 25 - 30 cm 128 High 18 - 34 15 - 16 weeks 12 - 15 cm 25 - 30 cm Latinia® Funflame® 84 18 - 34 14 - 15 weeks 12 - 14 cm 25 - 30 cm ▶ Sales window: Middle of July - November ▶ New ruffled flowers mix (6 colours) ▶ Flowering 3-5 weeks before Curly® ▶ Suited to flowering from early autumn ▶ Mix of green and marbled leaves ▶ Sales window: Middle of July - November ▶ Nice bicolour contrast ▶ Firm plant habit ▶ Contrasting flowers and leaves ▶ Sales window: Middle of July - November ▶ Large flowers ▶ Compact plant habit ▶ Short production time ▶ The crowned flower
45 Halios® HD® MELANGE 2940 6297043 MELANGE FLAMME 2910 6297045 BLANC PUR 2124 6297010 DHIVA VIOLET FONCE 2695 6297014 ECARLATE VIF 2018 6297015 FUCHSIA CLAIR 2081 6297020 FUCHSIA NEON 2077 6297023 GRENADINE 2076 6297028 MAGENTA FONCE 2107 6297040 ROSE INDIEN 2075 6297050 ROUGE REBELLE 2016 6297056 SAUMON 2039 6297060 VIOLET CATTLEYA 2101 6297070 VIOLET VIF 2091 6297259 Halios® HD® MAXI VARIETIES DHIVA ROSE A OEIL 2065 6297011 ▶ Sales window: AugustOctober ▶ Large flowers ▶ Easy to grow ▶ Has a nice round plant shape ▶ Compact plant habit ▶ Central flowering habit 128 High 18-28 17 - 21 weeks 12 - 14 cm 25 - 35 cm Halios® HD® 84 18-36 16 - 20 weeks 12 - 14 cm 25 - 35 cm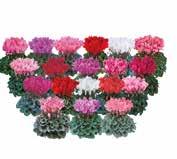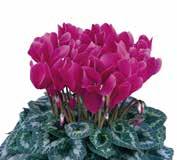 46 47 MELANGE 2900 6297221 MELANGE WINTER 2920 6297233 BLANC PUR 2125 6297182 DHIVA BLANC PUR 2620 6297195 FUCHSIA CLAIR 2082 6297208 FUCHSIA VIF 2071 6297207 FUNFLAME MAGENTA 2850 6297211 LITCHI FUCHSIA 2064 6297214 MAGENTA FLAMME 2150 6297217 MAGENTA FONCE 2108 6297216 ROSE A OEIL 2062 6297238 Halios® MAXI VARIETIES ROSE SAUMONE EVOL. 2053 6297243 ROUGE ECARLATE 2010 6297248 ROUGE REBELLE 2011 6297249 VIOLET CATTLEYA 2102 6297258 VIOLET FLAMME 2160 6297266 VIOLET FONCE 2096 6297264 Halios® Blush® INTENSE 2812 6297275 BLUSH MAXI VARIETIES ROUGE ECARLATE EVOL. 2012 6297250 ▶ Sales window: August- Middle of January ▶ Large flowers ▶ Very floriferous ▶ Suitable for growing cool (10-12°C) ▶ Uniform plant shape ▶ Robust, solid stems ▶ Sales window: August - Middle of January ▶ Nice bicolour contrast ▶ Central flowering habit ▶ Decorative foliage ▶ Contrasting flowers and leaves Halios® Halios® 84 18 - 36 16 - 20 weeks 13 - 19 cm 30 - 40 cm 128 High 18 - 28 17 - 21 weeks 13 - 19 cm 30 - 40 cm Halios® Blush® 84 18 - 36 16 - 20 weeks 13 - 17 cm 25 - 40 cm
48 49 MELANGE FLAMME 2290 6297227 BLANC 2228 6297181 Halios® Decora® MAXI VARIETIES ROUGE EVOLUTION 2211 6297251 ▶ Sales window: August - Middle of January ▶ Large flowers ▶ Excellent shelf life ▶ Decorative foliage MELANGE 2960 6297087 ROUGE 2311 6297095 VIOLET FONCE EVOL.2397 6297100 MAGENTA 2381 6297083 VIOLET FONCE 2396 6297103 Halios® Fantasia® Halios® Fantasia® Decora® MAXI VARIETIES ▶ Sales window: Middle of July - Middle of January ▶ Large flowers ▶ Vigorous ▶ Excellent shelf life during transportation ▶ Fantasia colours complete the range FUCHSIA VIF EVOL. 2373 6297077 MAGENTA EVOL. 2306 6297085 Halios® Decora® 84 18 - 36 16 - 20 weeks 13 - 19 cm 30 - 40 cm Only Melange Flamme 2290 128 High 18 - 28 16 - 20 weeks 13 - 19 cm 30 - 40 cm Halios® Decora® Halios® Fantasia® 84 18 - 36 18 - 21 weeks 13 - 17 cm 25 - 40 cm Halios® Fantasia® Decora® 84 18 - 36 18 - 21 weeks 13 - 17 cm 25 - 40 cm Only Melange 2960 128 High 18 - 28 19 - 22 weeks 13 - 17 cm 25 - 40 cm ▶ Sales window: Middle of July - Middle of January ▶ Central flowering habit ▶ Decorative foliage ▶ Fantasia colours complete the range
50 51 MELANGE 2590 6297334 MELANGE FLAMME 2560 6297333 MELANGE PRECOCE 2582 6297337 BLANC 2525 6297300 ECARLATE VIF 2415 6297155 FUCHSIA 2470 6297314 FUCHSIA CLAIR & FLAMME 2565 6297318 FUCHSIA VIF 2471 6297320 Halios® Curly® MAXI VARIETIES LITCHI FUCHSIA 2465 6297321 MAGENTA 2505 6297326 MAGENTA LISERE 2507 6297328 ROSE CLAIR OEIL MAGENTA 2461 6297347 ROSE SAUMON & FLAMME 2450 6297349 SAUMON ÉCARLATE 2420 6297352 VIOLET LISERE 2595 6297358 MAXI VARIETIES ROSE INDIEN 2575 6297348 VIOLET VIF 2491 6297150 ▶ Sales window: October - January ▶ Large flowers ▶ Less sensitive for Botrytis ▶ Beautifully fringed flowers ▶ Suitable for autumn cultivation and winter flowering Halios® Curly® 84 20 - 36 18 - 22 weeks 14 - 19 cm 25 - 40 cm Only melange 2590, 2560 & 2582 128 High 18 - 28 19 - 23 weeks 14 - 19 cm 25 - 40 cm
52 53 MAGENTA 22506 6297131 VIOLET 22490 6297135 50 ROSE A OEIL 2720 6297400 Halios® Friola® Halios® Victoria® MAXI VARIETIES VICTORIA 50 2700 6297390 ▶ Sales window: October - December ▶ Less sensitive for Botrytis ▶ Suitable for growing cool ▶ Robust, solid stems ▶ Excellent shelf life ▶ Vigorous ▶ Sales window: October - January ▶ Early flowering ▶ Special flower colours ▶ The crowned flower Super Serie® XL MAXI VARIETIES Super Serie® XL ▶ Sales window: Middle of May - January ▶ Robust, solid stems ▶ Compact plant habit MIX 6298989 DARK VIOLET IMPR 6298985 LIGHT SALMON PINK 6298987 LIGHT VIOLET 6298982 NEON FLAMED 6298992 NEON PINK 6298970 PURE WHITE 6298993 RED IMPR 6298995 Halios® Friola® 84 20 - 33 18 - 21 weeks 14 - 19 cm 25 - 40 cm Halios® Victoria® 84 18 - 34 16 - 20 weeks 13 - 17 cm 25 - 40 cm 128 High 16-26 17 - 19 weeks 12 - 15 cm 25 - 30 cm Super Serie® XL 84 20-28 15 - 17 weeks 12 - 15 cm 25 - 30 cm
55 Super Serie ® Leopardo MIX 6298670 CREAM WHITE 6298669 DARK SALMON PINK 6298671 DARK VIOLET 6298672 LIGHT NEON PINK 6298673 RED 6298675 VIOLET FLAMED 6298674 Super Serie® Leopardo MAXI VARIETIES PINK WITH EYE 6298676 Super Serie® Leopardo 84 16-28 14 - 16 weeks 12 - 15 cm 25 - 30 cm 128 High 16-26 16 - 17 weeks 12 - 15 cm 25 - 30 cm ▶ Sales window: Middle of May - Middle of January ▶ Large flowers ▶ Heat tolerant ▶ Especially suited for bigger potsizes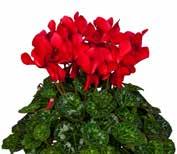 56 57 Super Serie® Vintro MIX 6298950 CREAM WHITE 6298944 DARK VIOLET 6298945 NEON PINK IMPR 6298952 RED 6298953 SALMON FLAMED 6298955 ▶ Sales window: December - Middle of March ▶ Large flowers ▶ Very floriferous ▶ Strong stems ▶ Less sensitive for Botrytis MAXI VARIETIES MIX 6298580 CREAM WHITE 6298570 DARK VIOLET 6298572 LIGHT SALMON PINK 6298562 NEON PINK IMPR 6298583 RED 6298566 WINE RED FLAMED 6298590 Super Serie® Mammoth Super Serie® Mammoth NxtG MAXI VARIETIES SALMON FLAMED 6298573 ▶ Sales window: Middle of May - December ▶ Early flowering ▶ Compact plant habit ▶ Bright and intense colours ▶ Uniform within the colours ▶ Sales window: Middle of May - December ▶ Large flowers ▶ Robust, solid stems ▶ Has a nice round plant shape Super Serie® Vintro Super Serie® Vintro 84 31 - 37 16 - 20 weeks 12 - 13 cm 25 - 30 cm 128 High 29 - 35 18 - 22 weeks 12 - 13 cm 25 - 30 cm Super Serie® Mammoth NxtG 84 20 - 30 18 - 19 weeks 13 - 17 cm 25 - 35 cm Super Serie® Mammoth 84 20 - 30 18 - 19 weeks 13 - 17 cm 25 - 35 cm 128 High 18 - 28 19 - 21 weeks 13 - 17 cm 25 - 35 cm 128 High 18 - 28 19 - 21 weeks 13 - 17 cm 25 - 35 cm
CALENDER 2O23 2 CONTACT EUROPE AUSTRIA Nord Stefan Tinkhauser M: +43 6 641 429 219 info@plantagent-tinkhauser.at West Manfred Wurzer M: +43 6 643 429 930 info@plantagent-wurzer.at Ost Martin Süss M: +43 6 643 842 556 info@plantservice-süss.at BELGIUM Gasa Group Mike van der Zalm M: +32 477 292 998 mvz@gasagroup.com BULGARIA Floret M: +35 98 991 71 498 floret@mail.bg CZECH REPUBLIC Wolfram Senff M: +49 (0)17 28 388 047 F: +49 (0)36 28 602 839 senff-siegelbach@t-online.de DENMARK GASA Group M: +45 6548 1200 info@gasagroup.com Lindflora Torben Vangsgaard M: +45 53 802 499 tv@lindflora.com ESTONIA Taimepartner Jane Hainsalu M: +37 25 66 87 623 jane@taimepartner.ee Bloomest M: +37 25 62 24 087 info@bloomest.ee FINLAND Huiskula Jussi Hämälainen M: +358 (0) 50 37 12 700 jussi.hamalainen@huiskula.fi GASA Group M: +45 6548 1200 info@gasagroup.com FRANCE Ducrettet M: +33 450 950 123 F: +33 450 955 471 plants@ducrettet.com GERMANY Südwest Andreas Kettermann M: +49 (0)1 725 290 871 Andreas.Kettermann@beekenkamp.nl Niederrhein Herbert van Gijtenbeek M: +31 (0)6 10 216 676 Herbert.vanGijtenbeek@beekenkamp.nl Mitte / Nord Jan Nieuwenhuyzen M: +31 (0)6 53 928 047 Jan.Nieuwenhuyzen@beekenkamp.nl Bayern Stephan Faisst M: +49 (0)1 723 849 076 Stephan.Faisst@beekenkamp.nl Düsseldorf/ Niederrhein Sven Colbecher M: +49 (0)1 732 572 694 Sven.Colbecher@beekenkamp.nl Ost Wolfram Senff M: +49 (0)1 728 388 047 F: +49 (0)3 628 602 839 senff-siegelbach@t-online.de GREECE Baxevanis Panagiotis Baxevanis M: + 30 (0)2 521 066 650 F: + 30 (0)2 521 067 703 M: + 30 (0) 977 416 193 mpax@otenet.gr Dimitris Dimitriou M: +31 (0)6 21280790 dimitris.dimitriou@hotmail.com HUNGARY Hedera Péter Korbonits M: +36 130 69 159 info@hedera.hu ITALY Veneto nord / Friuli / Vareze / Trentino / Altre regione Gianluca Guiducci M: +39 (0)34 83 853 114 F: +39 (0)5 73 367 708 info@giovanipiante.net Piemonte / Liguria Furetto S.R.L Stefano Canale M: +39 (0)3 386 923 184 F: +39 (0) 182 940 345 scanale144@gmail.com Sicily Agriblu di Blundetto SRL Giovanna Lachininoto M +39 (0) 932 939 014 giovanna.iachininoto@agriblu.it
A.M. Ozoli Eva Ansone-Tomsone M: +37 126 472 830 info@amozoli.lv LITHUANIA Simas Zareckas Ukininkas M: +37 061 031 929 info@simogeles.lt NETHERLANDS Gerard Kuipers M: +31 (0)6 53 829 245 Gerard.Kuipers@beekenkamp.nl John Boender M: +31 (0)6 53 829 242 John.Boender@beekenkamp.nl Remco van der Ark M: +31 (0)6 53 52 38 86 Remco.vanderArk@beekenkamp.nl Thijs Dekker M: +31 (0) 6 12 206 749 Thijs.Dekker@beekenkamp.nl NORWAY GASA Group M: +45 6548 1200 info@gasagroup.com Lindflora Torben Vangsgaard M: +45 (0)53 802 499 tv@lindflora.com POLAND Benjy Flora Beniamin Pudelko M: +48 (0) 501 088 178 F: +48 (0) 774 640 384 beniamin@pudelko.pl ROMANIA CDF Grup M: +40 76 75 31 551 cdfgrup@yahoo.ro Fariker M: +40 36 54 33 813 office@fariker.ro SWEDEN GASA Group M: +45 65 48 12 00 info@gasagroup.com Hörnhems M: +46 44 22 87 30 info@hornhems.se CALENDER 2O24 DECEMBER Mon Tue Wed Thu Fri Sat Sun 48 1 49 2 3 4 5 6 7 8 50 9 10 11 12 13 14 15 51 16 17 18 19 20 21 22 52 23 24 25 26 27 28 29 1 30 31 NOVEMBER Mon Tue Wed Thu Fri Sat Sun 44 1 2 3 45 4 5 6 7 8 9 10 46 11 12 13 14 15 16 17 47 18 19 20 21 22 23 24 48 25 26 27 28 29 30 OCTOBER Mon Tue Wed Thu Fri Sat Sun 40 1 2 3 4 5 6 41 7 8 9 10 11 12 13 42 14 15 16 17 18 19 20 43 21 22 23 24 25 26 27 44 28 29 30 31 SEPTEMBER Mon Tue Wed Thu Fri Sat Sun 35 1 36 2 3 4 5 6 7 8 37 9 10 11 12 13 14 15 38 16 17 18 19 20 21 22 39 23 24 25 26 27 28 29 40 30 AUGUST Mon Tue Wed Thu Fri Sat Sun 31 1 2 3 4 32 5 6 7 8 9 10 11 33 12 13 14 15 16 17 18 34 19 20 21 22 23 24 25 35 26 27 28 29 30 31 JULY Mon Tue Wed Thu Fri Sat Sun 27 1 2 3 4 5 6 7 28 8 9 10 11 12 13 14 29 15 16 17 18 19 20 21 30 22 23 24 25 26 27 28 31 29 30 31 FEBRUARY Mon Tue Wed Thu Fri Sat Sun 5 1 2 3 4 6 5 6 7 8 9 10 11 7 12 13 14 15 16 17 18 8 19 20 21 22 23 24 25 9 26 27 28 29 JANUARY Mon Tue Wed Thu Fri Sat Sun 1 1 2 3 4 5 6 7 2 8 9 10 11 12 13 14 3 15 16 17 18 19 20 21 4 22 23 24 25 26 27 28 5 29 30 31 JUNE Mon Tue Wed Thu Fri Sat Sun 22 1 2 23 3 4 5 6 7 8 9 24 10 11 12 13 14 15 16 25 17 18 19 20 21 22 23 26 24 25 26 27 28 29 30 MAY Mon Tue Wed Thu Fri Sat Sun 18 1 2 3 4 5 19 6 7 8 9 10 11 12 20 13 14 15 16 17 18 19 21 20 21 22 23 24 25 26 22 27 28 29 30 31 APRIL Mon Tue Wed Thu Fri Sat Sun 14 1 2 3 4 5 6 7 15 8 9 10 11 12 13 14 16 15 16 17 18 19 20 21 17 22 23 24 25 26 27 28 18 29 30 MARCH Mon Tue Wed Thu Fri Sat Sun 9 1 2 3 10 4 5 6 7 8 9 10 11 11 12 13 14 15 16 17 12 18 19 20 21 22 23 24 13 25 26 27 28 29 30 31 DECEMBER Mon Tue Wed Thu Fri Sat Sun 48 1 2 3 49 4 5 6 7 8 9 10 50 11 12 13 14 15 16 17 51 18 19 20 21 22 23 24 52 25 26 27 28 29 30 31 NOVEMBER Mon Tue Wed Thu Fri Sat Sun 44 1 2 3 4 5 45 6 7 8 9 10 11 12 46 13 14 15 16 17 18 19 47 20 21 22 23 24 25 26 48 27 28 29 30 OCTOBER Mon Tue Wed Thu Fri Sat Sun 39 1 40 2 3 4 5 6 7 8 41 9 10 11 12 13 14 15 42 16 17 18 19 20 21 22 43 23 24 25 26 27 28 29 44 30 31 SEPTEMBER Mon Tue Wed Thu Fri Sat Sun 35 1 2 3 36 4 5 6 7 8 9 10 37 11 12 13 14 15 16 17 38 18 19 20 21 22 23 24 39 25 26 27 28 29 30 AUGUST Mon Tue Wed Thu Fri Sat Sun 31 1 2 3 4 5 6 32 7 8 9 10 11 12 13 33 14 15 16 17 18 19 20 34 21 22 23 24 25 26 27 35 28 29 30 31 JULY Mon Tue Wed Thu Fri Sat Sun 26 1 2 27 3 4 5 6 7 8 9 28 10 11 12 13 14 15 16 29 17 18 19 20 21 22 23 30 24 25 26 27 28 29 30 31 31 FEBRUARY Mon Tue Wed Thu Fri Sat Sun 5 1 2 3 4 5 6 6 7 8 9 10 11 12 7 13 14 15 16 17 18 19 8 20 21 22 23 24 25 26 9 27 28 JANUARY Mon Tue Wed Thu Fri Sat Sun 52 1 1 2 3 4 5 6 7 8 2 9 10 11 12 13 14 15 3 16 17 18 19 20 21 22 4 23 24 25 26 27 28 29 5 30 31 JUNE Mon Tue Wed Thu Fri Sat Sun 22 1 2 3 4 23 5 6 7 8 9 10 11 24 12 13 14 15 16 17 18 25 19 20 21 22 23 24 25 26 26 27 28 29 30 MAY Mon Tue Wed Thu Fri Sat Sun 18 1 2 3 4 5 6 7 19 8 9 10 11 12 13 14 20 15 16 17 18 19 20 21 21 22 23 24 25 26 27 28 22 29 30 31 APRIL Mon Tue Wed Thu Fri Sat Sun 13 1 2 14 3 4 5 6 7 8 9 15 10 11 12 13 14 15 16 16 17 18 19 20 21 22 23 17 24 25 26 27 28 29 30 MARCH Mon Tue Wed Thu Fri Sat Sun 9 1 2 3 4 5 10 6 7 8 9 10 11 12 11 13 14 15 16 17 18 19 12 20 21 22 23 24 25 26 13 27 28 29 30 31
LATVIA
Beekenkamp Plants BV
P.O. Box 1 2676 ZG Maasdijk
Korte Kruisweg 141 2676 BS Maasdijk The Netherlands
T. +31 (0)174 – 526 100
F. +31 (0)174 – 526 160
info@beekenkamp.nl www.beekenkamp.nl