2 minute read
Young Alumni Gatherings
from Accord Winter 2020
by Academy of the Holy Names
Young Alumni HOLIDAY MIXER
Courtney Mastrorio A'15, Madison Matter A'15 and Lauren Calka A'15.
Olivia Hobbs A'14, Christina Gerecke A'13, Catherine Young A'13, Alexandra Diaz A'13, Alexandra Gerecke A'13 and Madison Allen A'13.

Rebecca Parillo A'16, Karlee Nipper A'16, Eva Prendergast A'16, Kendal Lewis A'16 and Almarosa Torres A'16.
Gabriella Perez A'10 and Bernard Perez A'11.
Michelle Wherley A'10, Samantha Mikulaschek A'11, Kathleen Sheridan A'11 and Sarah Port A'12. Olivia Rivas A'16, Caroline Yount A'16 and Julia DiFabrizio A'16.
Mary DesRosiers A'16, Megan Bajo A'16, Caroline Swenson A'16, Skylar Sinardi A'16, Madison Matesich A'16, Jacqueline Joyce A'16, Caroline Yount A'16, Jayne McLaughlin A'16, Kelsea Henry A'16 and Hadley Chillura A'16.
COLLEGE-AGE ALUMNAE Holiday Lunch
Mia Lopez A'18, Feraby Hoffman A'18, Audrey Diaz A'18 and Sarah Conn A'18.
Sydney Beil A'18, Evelyn Martinez A'18, Lauren Pieper A'18, Isabella Sebek A'18, Olivia Traud A'18, Madison Williams A'18 and Neha Simon A'18.
Emily Catherine Haly A'19, Charli Young A'19, Natalie Smith A'19, Olivia Fernandez A'19 and Bailly Gray A'19.
Chloe Paman A'17, Sophia Bahr A'17, Teresa Toronzo A'17 and Rachel Rosales A'17.
Gillian Garcia A'18, Tabitha Rucker A'18, Vanessa Davila A'18, Meghan Curinga A'18, Lindsey Perez A'18, Neha Simon A'18, Lyric Vickers A'18, Pwania Taylor A'18 and Nyla Jacobs A'18.
AHN & JHS BAR ASSOCIATION CHRISTMAS PARTY
Audrey Anello A'17, Alexandra Fonseca A'18, Jackie Beltram A'18 and Anna Padron A'17.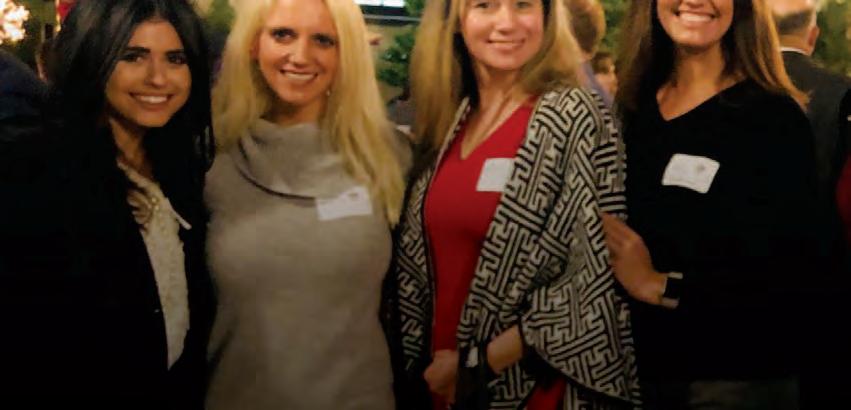 Gabby Perez A'10, Amber Schonbrun McDonnell A'01, Jamison Stevens Hernandez A'01, Sara Sheffield A'01, Carmen DiGerlando A'86, Stephanie Crane Lieb A'99, Danicet Cura A'90 and Lisa Griffin Hodgdon A'90.