SYCAMORE MORE contemporary art MORE BREWCOLDcoffeeVINYL RECORDS FLOAT THERAPY FRITESSTEAK plate fitness pre-k eyeglasses Eclairs falafel CLOTHESDESIGNER FRAGRANCE Q2 2022
z
For more than two decades, the Holly wood Media District has worked to make the neighborhood a welcome, safe, and attractive environment for everyone. To achieve this, we use our annual budget to supplement existing city services like security and trash removal, make capital improvements, engage with the community, and promote the businesses that call the District home.
2 / Hollywood Media d istrict Hollywood Media d istrict / 3 CONTENTS05.CLEAN&SAFEREPORT The stats on BID-provided services. 06. JOIN THE CLUB HEIMAT is where fitness fans belong. 10. SYCAMORE MORE MORE A stroll down LA's hottest street. 16. TRANS PRIDE The LA LGBT Center's event returns. 18. GET SCHOOLED A new approach to pre-K child care. 16 06 10 Hollywood Media District Dianna Eisenberg, Executive Director We are excited to share our redesigned Hollywood Media District Quarterly with you—one of the many exciting changes you can expect to see from us in near future.
For those who don't know us, the Hollywood Media Business Improvement District (BID) is one of the city's most exciting areas to live, work, shop, dine, and grow a company. In fact, more than 350 thriving businesses of all sizes call the District home—from restaurants and fine art galleries to post-production houses, theatres, pet groomers, recording studios, furniture shops, and more.
With so much happening here, and so much more to come, we really hope to see you soon.
4 / Hollywood Media d istrict Hollywood Media d istrict / 5 calls For serVice Apr: 58 May: 40 June: 68 YTD: 324 BUsiNess coNtacts Apr: 99 May: 182 June: 265 YTD: 997 PUBlic assists Apr: 18 May: 34 June: 44 YTD: 162 iNcideNt rePorts Apr: 14 May: 8 June: 8 YTD: 58 iNcideNts oF VaNdalisM Apr: 15 May: 14 June: 8 YTD: 80 CLEAN SAFE REPORT& 92 service requests 9 tons of trash removal 10.5 tons of street waste 90 graffiti abatements 32 hours power washing 150 bulky items removed A year of planning (and planting) has taken root along Highland as work recently completed on the center medians. Each divider has been restored and replanted with hearty succulents that will be maintained regularly by our landscaping team. z HAPPY MEDIAN
A ngelenos love their members-only clubs. Dozens of them can be found scattered throughout the city, devoted to everything from magic to social networking. So, really, it makes sense that someone would have the brilliant idea to create an exclusive venue centered on one of L.A.'s other obsessions: fitness. Enter HEIMAT, the new concept club from RSG Group (owners of Gold's Gym) that opened last month and intends to redefine the limits of what a fitness center can be.
Located in the former Decca Records pressing plant on LaBrea, HEIMAT also offers its members an im pressive range of amenities spread out among its impressive 75,000 square feet. Members get access to everything from a juice bar and boutique spa to a rooftop pool and plenty of sumptuous spaces filled with unexpected flourishes like chandeliers, marble flooring, or original artwork by emerging artists.
Of course, HEIMAT's raison d'être is ostensibly fitness and on that front it certainly does not di sappoint. Besides the to-be-expected weights and cardio equipment, the club also offers myriad group classes (many in their own dedicated studios) that run the gamut from cycle, Bootcamp, Barre, boxing, dance cardio, kinesis, TRX, yoga (mat & hot), and reformer Pilates.
More oN PaGe 8 >
6 / Hollywood Media d istrict Hollywood Media d istrict / 7
HEIMAT, a first-of-its-kind fitness concept, opened in the Media District recently, and never before has getting in shape ever been so chic. THE CLUB
JOIN
Mother Tongue, the latest concept from award-winning Chef Michael Mina, is one aspect of HEIMAT that can be enjoyed without a membership. Executive Chef Fernando Darin's menu transforms meticulous ly sourced ingredients into an eclectic lineup of nourishing global fare like shiitake mushroom larb or roasted Pekin duck breast.
8 / Hollywood Media d istrict Hollywood Media d istrict / 9
Previous page: The HEIMAT rooftop pool. Above: A free weight training space. Below: The Living Room. All photos courtesy of HEIMAT.
Tongue is open to the public for dinner se ven nights a week with breakfast and lunch service coming soon. 960 N. LaBrea. z
MOTHERTONGUE
For anyone who likes to reward a hard workout with a little treat, Mother Tongue allows for that too with its assortment of signature cocktails and a dessert menu that includes a Black Forest trifle with amatika chocolate crémeux, sumac & hibis cus gelee, spelt flour almond crumble, and cherry Motherfoam.
Photo courtesy of the CIM Group
More oN PaGe 12 > SYCAMORE MOREMORE
10 / Hollywood Media d istrict Hollywood Media d istrict / 11
I
Much of this neighborhood's renewal comes thanks to the CIM Group, a development company that prides itself on supporting and enhancing communities. They invested in sig nificant infrastructure for Sycamore Avenue that included street repaving, the installation of approximately 1,700 linear feet of new city sidewalks, and planting green scape. Anchoring the block are new creative offices that are home to entertainment companies such as SiriusXM, Live Nation/Ticketmaster and Hyperobject "CIMIndustries.Group's investment in significant infrastructure improvements in and around Sycamore creates potential to benefit the entire community. It is now an engaging walkable environment and a compelling location option for businesses and is attracting additional investment and new real estate development projects by other developers," said Miguel Padilla, Vice President, Development, CIM Group. "We believe having a variety of restaurants and services supports the businesses and the greater community and also brings interest and energy to the street."
f you haven't visited the 900-block of North Sycamore Avenue lately, you've really been missing out. Located just east of La Brea, the street has blossomed into an eclectic collection of chic eateries, upsca le boutiques, and other unique services. As new businesses continue to stake their claims here—four more are poised to open in the next few months—Sycamore may arguably be L.A.'s hot new "it" address.
12 / Hollywood Media d istrict Hollywood Media d istrict / 13 oresycaMaVeNUe willoUGHBy aVeNUe roMaiNe street 3.5.1.4.2. 9. 11.12.13.16.8.6. 15.14.
2. Known for its freshly baked bread and exqui site, next-level pastries, TARTINE has quickly become a popular Media District lunch spot. Simply order one of its namesake tartines and you'll find out why. 911 N. Sycamore
10. 7. u u 17.
Romaine More oN PaGe 14 > u
7. French bistro, MR. T, plans to open its first American outpost here very soon. Its buzzy Parisian location is well-known for its exten sive wine list, staple French fare, and random other menu items like kebabs and mac and cheese. 953 N. Sycamore. 7000
4. JACQUES MARIE MAGE will offer up sta tement eyewear inspired by sources as diverse as Art Deco and the American West when it opens this summer. 927 N. Sycamore.
6. PLATEFIT uses rapid harmonic vibration devices to destabilize and re-balance the body. The process activates your body's muscle reflexes, increases toning, and endurance. 953 N. Sycamore.
1. Take home a signature coffee blend (roas ted on-site) or, if you prefer, a drink from the espresso bar at SIGHTGLASS COFFEE. There's a daily happy hour here too from 3 to 7 p.m. 7051 W. Willoughby.
3. Even in a city filled with noteworthy shops, JUST ONE EYE a purveyor of goods from established and emerging designers in the worlds of luxury fashion, fine jewelry, art, furniture, and décor—stands out as one of its most compelling. 915 N. Sycamore.
5. Take a break and restore some balance to your life with one of the many treatments on the menu at PAUSE WEST HOLLYWOOD. Who knows? A little float or plunge therapy might be exactly what you need. 937 N. Sycamore.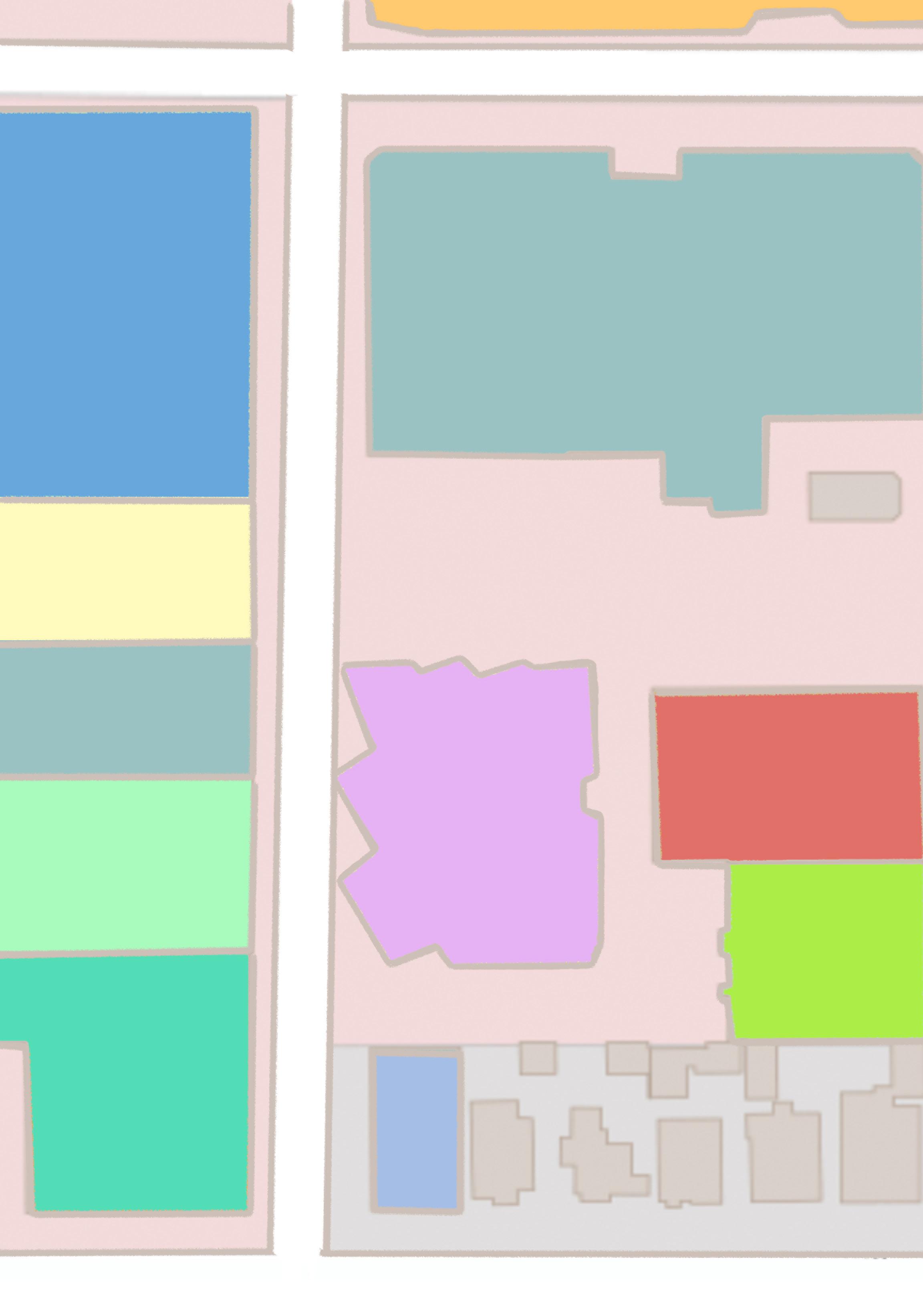 Hollywood Media d istrict / 1514 / Hollywood Media d istrict
13. Canada-based FORMULA FIG offers im mersive, technology-driven skincare treat ments like wrinkle relaxers and a slew of super facials aimed at specific problems. This, its first American store, opens soon. 926 N. Sycamore.
15. Need the perfect place for date night? Canoodle over updated classic cocktails and well-execu ted French bistro fare like caviar toast and steak frites at GIGI'S. 904 N. Sycamore.
14. EX NIHILO—meaning "out of nothing" in Latin—is a Parisian fragrance house that has carved out a space at the intersection of lu xury and the Avant-garde. Now the company occupies an 860 square-foot space on Syca more Avenue too. 926 N. Sycamore. u u u u
9. Any serious collector of contemporary art knows JEFFREY DEITCH and his epony mous gallery here in the Media District. Over a 50-year career, he has developed artists like Keith Haring, Jeff Koons, and Jean-Michel Basquiat. 926 N. Sycamore, rear courtyard.
12. CLOVER specializes in expert Invisalign® care and dental wellness, coming soon. 926 N. Sycamore.
10. Founded in 2005 by Nick Friedberg, NSF has earned a loyal following for its collection of effortlessly stylish clothing, available here at the company's flagship boutique. 926 N. Sycamore, rear courtyard.
11. BRELLA, see page 18. 926 N. Sycamore, rear courtyard.
16. If SUPERVINYL isn't already your go-to em porium for all things record-related, it should be. This shop has a well-curated collection of vinyl albums as well as the equipment to play them on. 900 N. Sycamore.
17. Seeking something old school for your eyewear?
8. MIZLALA is known for fresh Mediterra nean fare like housemade falafel, shewarma, and kefta plates or pitas. However, you'd be remiss not to order a halva cinnamon milks hake for dessert. (Trust us on this.) 7007 W. Romaine.
RETROSPECS & CO. employs its team of hi ghly skilled craftsmen to restore early and la te-modern 20th century eyeglass frames for sale. 7029 Willoughby. z
16 / Hollywood Media d istrict Hollywood Media d istrict / 17
P
TRANSPRIDE
Below: Vico Ortiz from the HBO Max show Our Flag Means Death.
ride returned in a big way this year. After many years in West Hollywood, the annual June celebration came back to the part of the city where it all began, and after two years of hosting virtual events, Trans Pride returned to The Los Angeles LGBT Center 's The Village at Ed Gould Plaza on June 16-18 for its twelfth consecutive outing.
"These last two years have been extremely hard on our community," said Gina Bigham, the program manager of the Center's Trans* Lounge and organizer of the event. "As we watch the continued assault on trans rights across the country, we are determined to celebrate and show the world our strength and Inresilience."all,more than 1,300 attendees showed up for an empowering free weekend of events organized for the TGI/ENBY+ commu nity. Opening night events included a Big Queer Convo with special guest Vico Ortiz of the HBO Max show Our Flag Means Death , a dance party with hun dreds of guests, and a gallery opening by trans artists. Additional events included a resource fair, a flower crown making workshop, and a VarieTy show of performance art, an aerialist, a juggler, the Trans Chorus of Los Angeles, and more. z
Above: Two attendees of the flower crown workshop.
Left: An aerialist performs at the VarieTy show. Photos courtesy of the LA LGBT Center.
18 / Hollywood Media d istrict Hollywood Media d istrict / 19
"Our play-based approach encourages children to explore concepts through intentionally designed, hands-on activities", said Williams. "Throughout the day children are exposed STEM, art, move ment, music, and storytelling—through a combi nation of guided and child-led activities."
"As a working mom in a creative industry, I struggled to find child care that was flexible enough to accom modate my schedule without having to pay for more than I used," said Darien Williams, who founded Brella alongside co-CEO, Melanie Wolff. "Child care was a limiting factor on my career and per sonal life. I felt unsupported by the current system and knew I wasn't alone."
In addition to its infant and preschool pro grams, Brella also offers experiences for the whole family including parent-and-me events, parent education classes, and Bre lla Babies, a new take on Mommy and Me classes supporting the family's first year with baby.
Working parents know that even the best laid plans change—meetings run late, schedules get rearranged—but, most current childcare options do not allow for this kind of real-world flexibility. That's why Brella, a groundbreaking, female-founded company is on a mission to change that.
HelloBrella.com 926 N. Sycamore, rear courtyardPhotos courtesy of Brella
SCHOOLEDGET
Brella offers parents a new model of app-enabled full-time, flexible, on-demand child care, along with caregiver education classes and fami ly events. Moreover, its innovative curriculum and beautifully designed spaces enhance a child's comprehension through science-driven strategies to create a unique learning environment.
CONTACT US: 925 N. La Brea Avenue, 4th Fl. Hollywood, CA 323.371.743890038 email: BIDadmin@mediadistrict.orgMediaDistrict.org FOR CLEANING SERVICE REQUESTS: https://mediadistrict.org/service-request/ FOR PUBLIC SAFETY ESCORTS OR SECURITY CONCERNS: 323-871-4150