mudd
The Leadership Legacy of Maria Klawe
SPRING 2023 THE MAGAZINE OF HARVEY MUDD COLLEGE
Infrastructure Improvements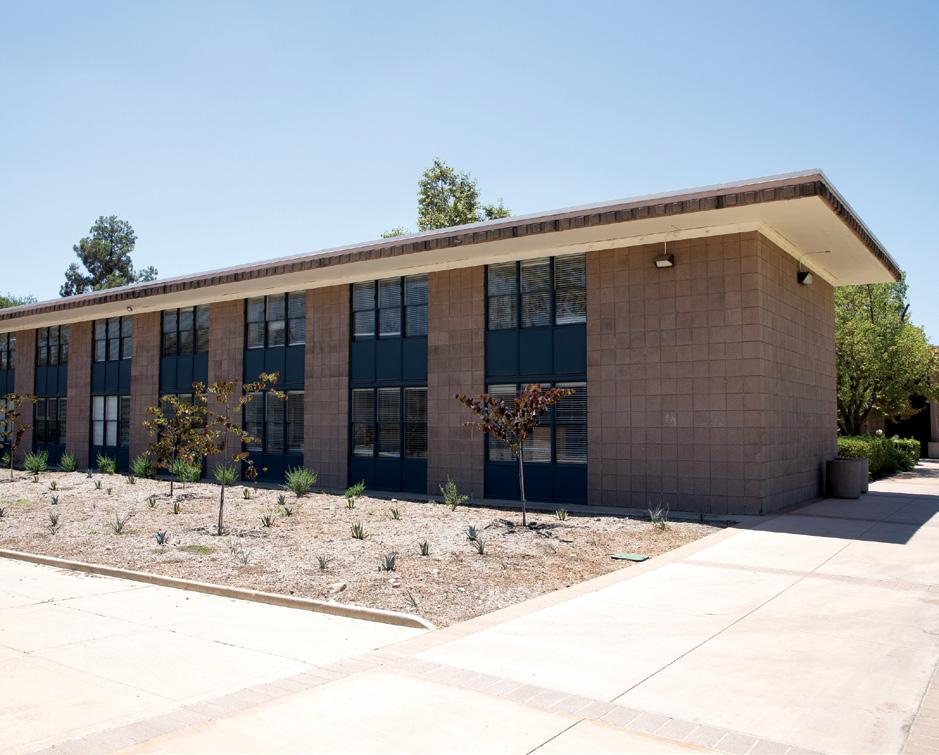 Since 2006
With the HMC Strategic Vision as a guide, the campus has been transformed with new teaching and learning facilities, revamped and new living spaces, and key renovations during President Maria Klawe's tenure. Take a look at just some of the campus improvements accomplished with help from philanthropic institutions, individual donors and with the hard work of faculty, staff, students, alumni, trustees and friends.
Jacobs-Keck updates
Wayne '73 and Julie Drinkward Residence Hall
Solar carports
Galileo modernization
East (shown) and West Dorm renovations
Parsons renovations
Rankin House
R. Michael Shanahan Center for Teaching and Learning
Scott A. McGregor Computer Science Center
12 Learning All The Way
A young mathematician eyeing a career in academia describes the influence of his mentors, including President Klawe.
The Leadership Legacy of Maria Klawe
Numerous accomplishments during President Klawe's 17 years have strengthened the College and helped fulfill its mission.
Touring with Class
A class built on collaboration, Victorian Age authors and adventure concludes after more than two decades.
Positive Energy
Kathy French '97 navigates leadership in her field with confidence and with an inspiring guide: President Klawe.
Shailee "Empower Others" Samar
Having received pivotal advice from President Klawe, Shailee Samar '18 now enables others to succeed.
Sophie Poole '25 discusses mentorship and more with President Klawe.
HA R VEY MUDD COLLEGE MAGAZINE 2 CONTENTS Departments 4 College News 26 Mudderings 28 Class Notes
Mudd Magazine Website: magazine.hmc.edu Go paperless: If you wish to stop receiving the printed magazine, write to us at communications@hmc.edu. We'll send you an email when new editions are posted. Follow HMC Twitter – @harveymudd Facebook – @harveymuddcollege Instagram
19
Read
– @harvey_mudd LinkedIn – harvey-mudd-college
8
21
Interview
23 An
That Inspires
29
16
Dan Kalman is In His Prime Teaching + Storytelling = A Gratifying Career
Celebrations
Spring 2023 | Volume 23, No. 2
Mudd Magazine is produced three times per year by the Office of Communications and Marketing.
Director of Communications, Senior Editor Stephanie L. Graham, APR
Art Director Robert Vidaure
Senior Graphic Designer Joshua Buller
Associate Director
Sarah Barnes
Writer Dominic Indolino
Contributing Writers Ashley Festa, Jen A. Miller
Contributing Photographers
Charles Berry, Shannon Cottrell, Jeanine Hill, Dominic Indolino, Jordan Stone '24
Proofreaders
Sarah Barnes, Kelly Lauer
Vice President for Advancement
Hieu Nguyen
Chief Communications Officer Timothy L. Hussey, APR
Mudd Magazine (SSN 0276-0797) is published by Harvey Mudd College, Office of Communications and Marketing, 301 Platt Boulevard Claremont, CA 91711.
Nonprofit Organization Postage Paid at Claremont, CA 91711
Postmaster: Send address changes to Harvey Mudd College, Advancement Services, 301 Platt Boulevard, Claremont, CA 91711.
Copyright © 2023—Harvey Mudd College. All rights reserved. Opinions expressed in the Mudd Magazine are those of the individual authors and subjects and do not necessarily reflect the views of the College administration, faculty or students. No portion of this magazine may be reproduced without the express written consent of the editor.
Mudd Magazine staff welcomes your input: communications@hmc.edu or Mudd Magazine, Harvey Mudd College, 301 Platt Boulevard, Claremont, CA 91711
magazine.hmc.edu
SPRING 2023 3
Events held during fall and spring recognized and acknowledged Maria Klawe's presidential tenure.
Parents and other family members toasted President Klawe during festivities at Family Weekend, the first one held in-person since 2020.
During a spring retirement gathering, Klawe celebrates with her husband, mathematics professor Nick Pippenger.
HMC trustee Rachel Beda '97 and Joe Beda '97 hosted a reception in Seattle honoring President Klawe that was attended by fellow alumni, parents and guests. Pictured: Hieu Nguyen, HMC VP of advancement, Kevin Schofield P13 P13, Klawe and the Bedas.
STEMM Opportunity Alliance
the college has joined the stemm opportunity alliance, a new initiative to make equity in science fields a national priority and transform the American science, technology, engineering, mathematics and medicine (STEMM) ecosystem.
President Maria Klawe was invited to speak about Harvey Mudd's efforts to increase diversity in STEM at the launch of the alliance at the White House Summit on STEMM Equity and Excellence, hosted by the Office of Science and Technology Policy on Dec. 12 in Washington, D.C. She was one of four panelists invited to highlight promising practices underway at their institutions for building a more equitable STEMM ecosystem.
The initiative is led by the American Association for the Advancement of Science, with the support of the Doris Duke Charitable Foundation and partners from philanthropy, industry, education, research and community organizations.
Civic Excellence
Elections are all about choices, so having a choice of election-related parties to attend during the 2022 General Election was appreciated by Harvey Mudd students.
The Election Night Watch Party and the Ignore Election Night Party, hosted by the Office of Civic and Community Engagement and the student-led Living Learning Community (LLC), allowed students to either follow or avoid the election news.
"It's important to be informed as we're going through the elections," says Hannah Betts '23, co-president of the LLC, "but we are on a college campus, so we need to be aware of mental health issues at same time. With the Election Night Watch Party and the Ignore Election Night Party, we are trying to balance engagement with our civic responsibilities while also giving the space to be like, 'OK, I voted and stressed about this. I need a break,' which maybe helps students be a bit more willing to engage with voting when they need to if they can take a step back after."
Since fall 2020, Harvey Mudd has participated in civic and democratic engagement, educational programming and voter registration efforts. These activities align with the College's mission and are a goal of its action plan, which emphasizes the importance
and value of civic and democratic engagement.
"Another thing we did was work with the Office of Civic and Community Engagement providing voter education," says Malia Morgan '23, LLC co-president. "During lunchtime, they set up a table outside of the Hoch that our members would go to and just give out information on how to register to vote, how to figure out what was going to be on your individual ballot, how to check if you're registered to vote, if your mailing address was right, how to get an absentee ballot and all the hoops that you have to jump through."
The voter education tabling aligns with the LLC's mission, which is to maintain a respectful environment created by students, for all students; to foster open, passionate and intelligent discussions about social justice issues; to encourage students to become leaders in challenging these issues; to support those who may feel marginalized on campus; and
to vitalize Harvey Mudd College's mission to inspire students to understand the impact of their work on society.
It's activities like these that helped HMC earn kudos from the ALL IN Campus Democracy Challenge, a national nonpartisan initiative of Civic Nation, which seeks to close voting gaps based on age and race and to create a more inclusive and equitable United States of America. The College is recognized—along with nearly 400 other colleges and universities—for being an ALL IN Most Engaged Campus for College Student Voting, one that promotes democratic engagement by facilitating civic learning, political engagement and voter participation among its students.
"We take on issues that our community members care about but don't have time to investigate themselves. We bring them that information and present it to them in very accessible ways," says Morgan.
HA R VEY MUDD COLLEGE MAGAZINE 4 COLLEGE NEWS
Harriet B. Nembhard is HMC's Sixth President
Harriet B. Nembhard, a nationally respected leader in the field of industrial and operations engineering and dean of the College of Engineering at University of Iowa, becomes the sixth president of Harvey Mudd College July 1.
"Harriet Nembhard is an exceptional academic leader with a breadth of experience and contributions that align with Harvey Mudd's mission to educate the next generation of STEM leaders," says James Bean, chair of the Harvey Mudd College Board of Trustees and graduate of the class of 1977. "Her decades of leadership in engineering education, strong student focus and work on the national level to transform STEM education position her as the perfect choice to serve as Harvey Mudd College's next leader."
At University of Iowa, Nembhard manages a budget of $100 million and oversees the academic programs, departments and institutes that support 1,802 undergraduates and 283
graduate students. She leads initiatives in strategic planning and implementation, improving the college's research profile and increasing diversity, equity and inclusion. Nembhard has held academic leadership positions at Oregon State University and The Pennsylvania State University, where she was the founding director of the Center for Integrated Healthcare Delivery Systems, an interdisciplinary research institute that uses applied statistics and operations research to improve the efficiency and quality of healthcare delivery to patients.
"I'm excited to bring my passion for STEM education to Harvey Mudd College, a leading higher education institution in experimentation and innovation, especially in developing inclusive pedagogy, increasing diversity in STEM and incorporating interdisciplinary approaches," says Nembhard. "I'm also excited to join a college that is so deeply dedicated to inspiring its students to have a positive impact on society."
SPRING 2023 5 COLLEGE NEWS
" I'm excited to join a college that is so deeply dedicated to inspiring its students to have a positive impact on society."
High Five
It's the fifth anniversary for two programs integral to Harvey Mudd College's mission. Nikki Acosta, assistant dean for institutional diversity and international students and scholars, and Arianna Figueroa Valdez, assistant dean for institutional diversity and deputy Title IX coordinator, provide an update.
International Students & Scholars Program
At the fall 2022 International Student and Scholar Orientation, 32 international and third-culture* students and two returning international Mudder mentors attended sessions to learn more about American culture and about HMC, its academics and student life.
First-Generation Programs
The College is in its second year of being designated as a First-Gen Forward Institution by NASPA's First-Gen Student Success Center. At the inaugural first-generation retreat this year, students returned early from winter break for activities off-site, where they participated in a ropes course that focused on values and community building. Students also engaged in leadership and identity development workshops as well as student success workshops.
The Office of Institutional Diversity also offers a firstgeneration professional development series for faculty and staff and partners with the HMC student organization First-Generation and Low-Income Students at HMC (FLISHMC).
*Those raised in a culture other than their parents' or other than the culture of their country of nationality
Charging Ahead
Thanks to the generosity of lead donors Tom Bleakney '69 and the Witte Family, who contributed in memory of Tristan Witte '18 and in celebration of Peyton Witte '21, there's a third dual port charging station available to community members and visitors on campus. Their collective challenge match inspired other alumni and parents to make individual gifts to help fund a charging station on the northeast side of campus near the new solar carports. The new charging station, installed in January, is conveniently located near student housing. Honoring the Kenneth and Diana Jonsson Professor of Mathematics and chair of the Department of Mathematics Jon "Jakes" Jacobsen, a recognition plaque reads: "Jakes' Powerport All the Power to All the People Class of 2018."
In Memoriam
Nancy Waldman, a longtime librarian in Sprague during the years it was a library, died in February 2023. A recent resident of Mount San Antonio Gardens in Claremont, she was married to Ted Waldman, a professor of philosophy in the Department of Humanities and Social Sciences for 28 years and former chair in the late 1970s.
HA R VEY MUDD COLLEGE MAGAZINE 6 COLLEGE NEWS
International and first-generation students have support and access to a variety of programs and activities.
Serving Students
Jennifer Alanis, assistant vice president for student affairs and Title IX coordinator, received the Doris Michiko Ching Award for Excellence as a Student Affairs Professional for her outstanding work at Harvey Mudd College and her commitment to the student affairs profession. She was recognized for developing programs that address the needs of students and create campus environments that promote student learning and development.
HMC's Division of Student Affairs is responsible for residential life, student activities, career services, health and wellness, institutional diversity and community engagement. Alanis has helped create shared learning experiences, equitable policies and collaborative relationships with the goal of promoting diverse dialogue and providing educational opportunities to students. As a first-generation Mexican American, she understands how creating an inclusive and equitable campus for students, especially those who come from historically excluded communities, helps them succeed.
"We cannot accomplish what we're doing for students if we do not have those collaborative relationships and diverse dialogue," Alanis says. "It's really important to be able to look at policy, procedures and programming through an equityminded lens because our end goal is to make sure that our students make it to the finish line and secure those positions to move them up to their next step."
SPRING 2023 7 COLLEGE NEWS
" It's really important to be able to look at policy, procedures and programming through an equity-minded lens because our end goal is to make sure that our students make it to the finish line and secure those positions to move them up to their next step."
–JENNIFER ALANIS
Touring with Class
Written by Stephanie L. Graham
an interdepartmental adventure that began as an experiment blending travel and literature has concluded after 23 years—but not before impacting the lives of 270 participants, including 233 students as well as parents, siblings, faculty, staff, alums, trustees and friends of the College, and demonstrating the success and importance of academic collaboration.
Professors Jim Eckert (physics) and Jeff Groves (literature) began in the late 1990s to create a course that combined the literature of Charles Dickens and Thomas Hardy with the history of Victorian England. They first offered Dickens, Hardy, and the Victorian Age (Literature 117) in fall 2000. The course, which covered six novels and featured extensively researched group presentations, was followed by a two-week study tour to England, during which two additional novels and some poetry were discussed.
For the study tour, Eckert and Groves arranged tours at sites associated with Dickens in London (the first week) and at Hardy-related sites in Dorset (the second week). The professors worked with a tour company for the first trip but subsequently found it more affordable if they arranged the tours, accommodations, local travel and activities themselves. They also managed to raise funds for the class from alumni and from students' families and other donors, and they worked with the Office of Financial Aid to help defray the cost of the tour for many participating students.
Participants traveled in January to England where they visited many sites related to the texts they'd read to experience the authors' sense of place. Annual stops included Lincoln's Inn, Rochester Castle, Hardy's birthplace and Egdon Heath. Also included were other sites
of general interest, like Stonehenge, Avebury, Salisbury Cathedral and Maiden Castle, the largest Iron Age hillfort in Britain. For some participants, like Daniel Halperin '06 (CS/math), it was their first trip abroad.
"The trip was transformative for me personally in many ways," says Halperin, who traveled during 2005 and has been an ardent supporter of the class and of HMC study abroad in general. He recalls his HMC experience being sheltered. "Living in dorms, not cooking your own food, not cleaning your own bathroom or even really planning your activities. Once we got [to England], it was a huge step up in independence and a confidence boost when we succeeded. The professors set us up for success by having a London-wide scavenger hunt/race on the first day where we had to find Dickensian
HA R VEY MUDD COLLEGE MAGAZINE 8 COLLEGE NEWS
A class built on collaboration, Victorian Age authors and adventure concludes after more than two decades
RESEARCH
Dickens-Hardy participants on Millennium Bridge in 2005.
"There are talkers enough among us; I'll be one of the doers." charles dickens, barnaby rudge
"Though a good deal is too strange to be believed, nothing is too strange to have happened."
the personal notebooks of thomas hardy
sites and navigate around them, forcing us to plan and to get familiar with maps, walking, Tubeing and even taxis."
Halperin's group reported on "Time, Speed and Distance" during the on-campus portion of the course, but students also gave presentations in England. Aech Loar '24 (chemistry,literature), one of 24 students who attended the January 2023 trip, gave their report on the topic of "rural life in the Victorian era." "For our site report, we visited three churches in Dorset that Hardy had some affiliation with and gave a small report on each of them," Loar says.
Arianna Meinking '24 (IPS), also a member of this year's trip, reported about science and religion during the authors' time in front of the Natural History Museum. "We focused on geology and evolution, which were new scientific
fields in the Victorian era," she says.
In addition to students, others also enjoyed the class and the tour when space allowed. Eckert recalls that alumni from nearly every HMC decade, many of whom had lived abroad for many years, were able to participate in the alumni dinner in London that was part of almost every tour before the pandemic. In addition to HMC faculty from chemistry, computer science, mathematics, physics and engineering, three retirees from Claremont's Mount San Antonio Gardens attended, as did staff members Kim Young (chemistry) and Elizabeth Hodas (computing information services), who took the trip with her college-age daughter in 2019.
"I was only intending to audit the class, but one of the student groups was one person short,
so I volunteered to work with them," says Hodas. "Our topic was 'rural life.' During the fall, I met with the students regularly as we prepared for our in-class presentation. It was wonderful to get to know them better. During the trip in the spring, we continued to meet to prepare for our presentation in Dorchester, where we talked about the Tolpuddle Martyrs, right from the witness box in the actual courtroom where they were tried. That was probably one of the most memorable parts of the trip!"
Professors and participants have plenty of memorable stories to share: from being stranded on the bus due to severe weather to spelling "HMC" with shadows in Hardy's countryside to climbing the bell tower of Salisbury Cathedral to sunrises at Stonehenge
SPRING 2023 9 COLLEGE NEWS
Dorset guide Catherine Phillips leads Harvey Mudd participants through Hardy's "Egdon Heath" in 2011.
to—most recently—navigating pandemicrelated closures and cancellations (There was no trip in 2021.). Professors Groves and Eckert count these as memorable moments too, but they most appreciate the extra time spent with students.
Eckert says, "In the 16 days, which includes travel days, we have more contact hours with students than in the 15 weeks on campus, and it's very personal contact. You're sitting at a meal chatting, laughing with your students. It shows us in a very different light, and it shows them in a very different light. I will miss that a lot, and I wish there were more of that on offer."
The study tour really plays to the collaborative student ethos at Mudd," Groves adds. "You see students form a really cohesive group and take care of each other."
Groves, Louisa and Robert Miller Professor of Humanities and former department chair (HSA), chair of the faculty and VP/dean of the faculty, will enter phased retirement next summer after 35 years at HMC. Eckert is entering his 43rd year of physics research and teaching. The duo will end this chapter of their teaching careers, but they hope that by sharing the success of Dickens, Hardy, and the Victorian Age, interdepartmental collaboration will grow.
"It's been a lot of fun for us to work together. HMC faculty members don't get too many opportunities to work across departmental borders," says Groves, whose other interdepartmental endeavor was the environmental analysis course Building Los Angeles with Dan Petersen, professor of physics emeritus. "It's really important for the faculty here to get to know people in other departments and build good relationships. Teaching with Jim for so many years has been a great experience."
Eckert says, "I count myself very fortunate to have been able to teach this course with Jeff. It has been a lot of hard work but it was also one heck of a lot of fun. I am extremely proud of what we created. It's been more than worth it."
HA R VEY MUDD COLLEGE MAGAZINE 10 COLLEGE NEWS
2023 travelers pose at Hardy's Cottage.
dickens,
"Life is made of ever so many partings welded together."
great expectations
Research, Awards, Activities Faculty Updates
Computer Science
Yi-Chieh (Jessica) Wu received a 2023 Undergraduate Research Faculty Mentoring Award, presented by Computing Research Association's Education Committee. The award recognizes her exceptional mentorship, contributions to undergraduate research experiences and guidance on admission and matriculation of students in research-focused graduate programs. Wu develops and applies computational and mathematical models to study evolutionary biology. In 2018, she received a prestigious 2018 NSF Faculty Early Career Development grant for "Algorithms for Gene Family Evolution with Gene Duplication, Loss, and Coalescence." Wu is noted for being an exceptionally productive scholar in terms of the impact of her work and her ability to meaningfully involve undergraduates in her research.
Engineering
source publication, co-authored with Nedda Mehdizadeh (UCLA), outlines the necessary theoretical foundations for educators to develop a critical understanding of the longue durée of racial formation so that they can implement anti-racist pedagogical strategies and interventions in their classrooms. Additionally, Race and Affect in Early Modern Literature from ACMRS Press includes Dadabhoy's article "Imagining Islamicate Worlds: Race and Affect in the Contact Zone." Dadabhoy co-organized and led a session called "Social Media, Harassment, and Institutional Responses" at the Modern Language Association's annual conference.
A recent edition of Sage Journal's Personality and Social Psychology Review included "Social Movements as Parsimonious Explanations for Implicit and Explicit Attitude Change," an article by Anup Gampa (psychology).
Paul Steinberg (political science and environmental policy) authored the article, "Student Health and Climate Awareness: We Can Have Both," for Inside Higher Ed. Steinberg argues that educators can help students transform climate anxiety into meaningful action. He also recently co-founded a local bike advocacy group, claremontstreetsforpeople.org, and is launching a consulting firm for public speaking.
critical dialogue surrounding Los Angeles's art
In his Substack blog, The Absent-Minded Professor, Josh Brake writes about his work process and shares what he's working on and thinking about. Recently, he experimented with the text-based natural language AI chat tool ChatGPT, which he asked to write a haiku. The result, while not precisely a haiku, is an example of the capability of the chat tool: In the land of HMC/ Engineers thrive and create/ Innovation blooms.
HSA
A new book by Ambereen Dadabhoy (literature), Anti-Racist Shakespeare, was recently published by Cambridge University Press. The open-
Kyle Thompson (philosophy) presented "Making Philosophy Three-Dimensional: Using Interactive Pedagogy to Bring Students into the World of Philosophy," at the American Philosophical Association's Pacific Division Meeting.
Lindsay Preston Zappas (art) edits and produces Contemporary Art Review Los Angeles (Carla), a quarterly magazine, online art journal and podcast committed to being an active source for
traveling-pulse collective motion, at Dynamics Days US 2023, an international conference on chaos and nonlinear dynamics.
The Duke University research blog published a post about Francis Su, who visited the school to present his talk, "Anyone can be a math person." Su is the Scientist in Residence at Canadian Mennonite University, where he presented several lectures relating mathematics to various topics, including equity, diversity and inclusion, and spirituality.
Talithia Williams participated in the Nebraska Conference for Undergraduate Women in Mathematics, which provides role models and opportunities to present undergraduate research. She also was the MLK Convocation speaker at UC Santa Cruz in February.
Physics
Beginning July 1, Sharon Gerbode, associate professor of physics, will begin a three-year term as associate dean for academic affairs, serving both students and faculty, and working closely with the Division of Student Affairs.
SPRING 2023 11 COLLEGE NEWS
Learning All The Way
Written by Sarah Barnes
by Shannon Cottrell
mithra karamchedu is only in his first year at Harvey Mudd College, but he's been conducting research with two HMC computer scientists/mathematicians since his junior year in high school: his brother, Chai '21 (CS/ math), and President Maria Klawe. Chai began his graph theory research with Klawe in 2019. During remote learning the following year, knowing that Mithra was interested in math and computer science, Chai and Klawe saw an opportunity to involve him in their work, which they were doing virtually.
"Working with Maria was one of my favorite experiences during my time at Mudd," says Chai. "I am incredibly grateful for her willingness to work collaboratively with me. As a young student, the opportunity to work with such an accomplished researcher is immensely validating. But most of all, working with Maria has just been incredibly fun!"
Mithra sees the collaboration similarly. "[Maria is] probably one of the most intellectually open and generous people I've ever met," he says. "When I got started with this, I was just a high school student, and I didn't really know my college plans. She still welcomed me into the project. I had done some science research before, but I'd never done math research with an esteemed mathematician like her. She gave me a lot of knowledge about how to actually go out and do the research process."
These days, the three still meet weekly via Zoom, though their priorities have shifted a bit as Chai pursues a PhD in computer science at the University of Maryland and Klawe focuses on the final semester of her 17-year HMC presidency.
Mithra, on the other hand, is just getting started in his academic career. He has a pretty good idea of the direction he wants to take, thanks to the influence of mentors like Klawe and a favorite high school math teacher. "I'm pretty sure I want to do academia," he says. "I'm very drawn toward theoretical computer science.
HA R VEY MUDD COLLEGE MAGAZINE 12 COLLEGE NEWS
MUDD LIFE
Photo
MY
The PhD path seems pretty exciting to me, and I love the idea of teaching."
It was in high school that Mithra discovered his love of teaching when he participated in a program working with elementary school children. "It's really rewarding, not just when you're helping someone understand something, but when you're so excited about something,
what he or she does and just loves it in front of you!' If I could, I'd like to just emulate even a tiny piece of that in the way Maria does it."
In addition to his sincerity and the visible joy he exhibits when talking about math and computer science, another of Mithra's endearing qualities is his eagerness to learn from others.
you can really make other people excited. That enthusiasm is contagious, and I think the same thing applies for math, too," he says. Working with Klawe, he says, "makes me want to spread my enthusiasm for math and CS to other people in the same way it spread from her to me."
In fact, thinking about his collaboration with Maria reminds him of another great mentor, Fred Rogers, creator of the children's TV show Mister Rogers' Neighborhood. "On his show, Fred would often have experts, and he said, 'the best teacher in the world is somebody who loves
"I just started college," he says. "I'm still in that transition period of being a teenager and becoming more of an adult, and since I'm on the track of maybe pursuing academia, whatever people I encounter now—my professors, Maria, research collaborators—are going to have a huge influence on me. They are people I will have to learn a lot from, and I can't imagine a better start to that than my work with Maria. Having the chance to work with her really meant a lot. I have a lot to thank Maria for."
SPRING 2023 13 COLLEGE NEWS
Research collaborators Mithra '26 and Chai Karamchedu '21 and Maria Klawe
Working with President Klawe, Mithra Karamchedu says, "makes me want to spread my enthusiasm for math and CS to other people in the same way it spread from her to me."
Harvey Mudd Teams Dominate Global Datathon
citadel, a leading alternative investment manager, is impressed with Harvey Mudd students.
As first years, one HMC team won Citadel's West Coast Data Open then returned as sophomores to win the Datathon Global Championship and $100,000.
Another HMC team placed third in the West Coast event and won second place in the global competition.
For the global event, the 21 top teams received a problem statement and data set then had four days to pose a novel research question, answer it using mathematic, statistical and computational modeling and write a technical report detailing their methods and findings. Competitors included undergraduates, graduate students and PhD students from MIT, Harvard, Berkeley, UPenn, Cornell, Oxford, Cambridge, Columbia, Brown and Duke.
When they won the regional competition in 2021, Milo Knell '25 (CS/math), Alan Wu '25 (CS/math), David Chen '25 (CS) and Forrest Bicker '25 (CS/math) received a $10,000 cash
prize and interview offers at Citadel. They also qualified for the Global Championship along with competing HMC team, Sahil Rane '25, Baltazar Zuniga-Ruiz '25, Karina Walker '25 and Shahnawaz Mogal '25 (University of Arizona).
"Our task was, given massive amounts of data with hundreds of features on colleges, to analyze the data and gain insights about postsecondary education in the U.S.," says Bicker of the championship team, which used their winnings to pay tuition. "We were interested in exploring questions relevant to us. We decided to investigate college outcomes from a financial standpoint, combining findings on student earnings and debt. Bringing together many disparate findings was a challenge, but the judges liked our variety of findings."
The championship team members attribute their success in part to the mentorship of several professors. "We're thankful to Pitzer College economics professor Linus Yamane, who taught us many of the techniques we used in our investigation and inspired our appreciation for rigorous traditional statistical modeling. We
also appreciate the Harvey Mudd community, especially our research advisors, computer science professors George Montañez and Lucas Bang for their ongoing mentorship and support."
HMC's top global datathon team is looking forward to more adventures, and Bicker notes that "the Data Open Championship was an incredible opportunity to put our love of mathematical analysis to work exploring important questions about our world."
HA R VEY MUDD COLLEGE MAGAZINE 14 COLLEGE NEWS
Grand prize winners David Chen '25, Forrest Bicker '25, Milo Knell '25 and Alan Wu '25
Entrepreneurs in the Making
In Harvey Mudd College's new Entrepreneurship Workshop class, student teams develop an innovative idea for a product that solves customers' unmet needs and then create a scalable business model for their startup.
The course is a hands-on, practical class that helps students develop their startup with significantly less money and in a short timeframe. The class is taught by Kash Gokli, founding director of entrepreneurship initiatives and professor of manufacturing practice and engineering economics. "Not everyone here will go on to start a company, but they'll at least learn how it is done and how to set the building blocks if they ever have an idea they want to run with," he says.
Six groups presented various products and services, including a college-experience enhancement platform, a college-based marketplace mobile application, fiber optic light-up ski poles and an affordable analog software for musicians and sound engineers.
"We started off creating an analog synthesizer, but after talking to potential customers at music stores, we found that people really don't care all that much about them," Xander Fries '24 said. "We took that feedback and shifted to talking to customers in active markets."Fries said that the chip and software he has developed with his classmates Devon Overbey'25 and Pierce Gruber '25 will help cut down by hours the time it takes for sound engineers to reset high-quality studio mixing consoles.
"This class taught us how to approach and talk to our target audience to gather information that would help us shift accordingly," Gruber said. "Anyone thinking about getting into entrepreneurship needs to be comfortable with getting out and talking to everyone in their target audience. It is one of the most important steps when getting started with a product."
Ayman Abdellatif '24 teamed with fellow classmates Ammar Fakih '24 and Lucas Welch CMC '25 to create a mobile application that aspires to enhance the undergraduate college experience.
"Athena Network is a one-stop shop that provides college students with all of the resources they may want," Abdellatif said. "Our goal is to connect students with other students, staff, faculty and, most importantly, their community."
Dye Laughing
The Athena Network team discussed its initial hypothesis, showcased a full application overview and presented a three-year forecast for the company.
"I always knew I wanted to be an entrepreneur, even when I didn't know what that meant," Abdellatif said. "After hearing about all of the things that Josh Jones is doing as an HMC alumnus, that really inspired me to text Ammar, my childhood best friend, to get something going."
In addition to being an entrepreneur (DreamHost founder) and investor, Josh Jones '98 and Gary Evans, professor of economics emeritus, co-founded HMC INQ (a finance company that invests in HMC alumni and their startup companies) and Harvey's Angels, a network of HMC alumni who invest in Harvey Mudd-related companies.
Jones also helps teach the Entrepreneurship Workshop class alongside Gokli. "I love seeing these teams' enthusiasm as they go through this semester-long journey and how they have to pivot and adapt with their idea," Jones said. "Students getting into entrepreneurship shouldn't think too hard and just go for it. A few years down the line they may be breaking even and be happier than if they were somewhere else."
Students in the Fibers and Material Studies course, like Hannah Friedman '23 (shown right), learn shibori, a method of folding and binding fabric, before dyeing it in indigo. Visiting assistant art professor Lindsay Preston Zappas teaches the technique, in which fabrics are bound, tied, sewn, compressed, twisted and folded to form sections that will resist the dye and form contrasting patterns.
Throughout the semester, students learn other methods of natural dyeing, including how to use organic materials like turmeric, blackberries, black beans, onion skins and more to bundle dye, and tataki zome, an ancient Japanese technique of hammering plants and flowers into fabric to create patterns. In addition to dyeing techniques, students in the course also learn sewing, quilting and embroidery, elements that they'll include in their final projects.
SPRING 2023 15 COLLEGE NEWS
Professor Kash Gokli advises entrepreneurial students.
The Leadership Legacy of Maria Klawe
Numerous accomplishments during President
Written by Stephanie L. Graham
Klawe's
the College
17 years have strengthened
and helped fulfill its mission.
In the fall 2006 issue of HMC's magazine, in response to the prompt "Leadership is …" Klawe responded "Enabling others to succeed." Over the next five pages, we feature three alumnae who share how Klawe influenced their lives and careers.
maria klawe is no imposter.
You may have heard Klawe talk about "impostor syndrome" when addressing each entering class during Harvey Mudd's Convocation or at other events. Symptoms include doubting that one is deserving of their success or feeling as though one is not doing as well as others. Yet, Klawe points out that despite these feelings, those who identify this way are very successful as they tend to work harder, risk failure more often and persevere. She even referred to herself as the "chief impostor."
Yet, the 17-year history of Klawe's Harvey Mudd College presidency—the longest term since Founding President Joseph Platt (20 years)—is full of examples of how high expectations for herself and the habit of dreaming big have resulted in many outstanding successes. Her first rule for success—fail openly and fail often—has guided her and has resulted in a tenure filled with firsts, priorities met, goals achieved and improvements made.
While former HMC President Jon Strauss had doubled the College's endowment during his nine-year tenure, there was still work to be done after he left Harvey Mudd. Three new buildings (Linde Activities Center, Sontag Residence Hall, and the Hoch-Shanahan Dining Commons) had been added to campus. On the admission side, the College had gone from need-aware for 40 percent of admitted students to being need-blind for all domestic students and permanent residents—meaning an applicant's financial situation is not considered when deciding admission—and 100% of demonstrated need is met for all admitted students. The College's Office of Institutional Diversity was created under the Strauss administration, and Klawe saw great potential in expanding this effort as increasing
diversity and inclusion in STEM fields has been her life's mission. Along with five other themes, diversity became a priority of the College's strategic vision, aka "HMC's dream for the future." Established with input from the HMC community after four days of planning, the strategic vision was launched at Klawe's inauguration Feb. 3, 2006.
Unsurpassed excellence and diversity at all levels
"Changing the diversity of our student body is the thing that I'm most proud of," Klawe says.
"I'm proud of the way the entire community came together to help recruit and retain a much more diverse student body."
Under Klawe's leadership, the College has made significant strides in creating
a diverse campus, one that recognizes, values and supports a broader range of students, faculty, trustees and staff from different ethnic, economic, geographical, intellectual and attitudinal backgrounds. The College implemented several initiatives, including expanding recruitment efforts in underrepresented communities and increasing financial aid for low-income students. These efforts have resulted in a dramatic increase in the diversity of the student body. Women now make up about 50% of the student body compared to an average of 20% during the 1990s. The most gains in ethnic diversity have occurred for those identifying as Hispanic/ Latino (from 8% in 2006 to 21% in 2022) and Black or African American (from 1.4% in 2006 to 6% in 2022), making HMC one of the most racially diverse colleges in the U.S.
Women now make up about of the student body compared to an average of 20% during the 1990s.
HA R VEY MUDD COLLEGE MAGAZINE 18
Diversity of the Student Body Hispanic/Latino 8% 2006 21% 2022 Black or African American 1.4% 2006 6% 2022
Maria Klawe with HMC students in 2016
50%
Positive Energy
Written by Stephanie L. Graham
When the northeast was hit by severe cold weather this past February, Kathy French '97 was helping manage the environmental, health and safety conditions of numerous power plants. Late last year in 2022, she was part of the team working on the acquisition of 42 run-of-river hydroelectric facilities. As an executive for LS Power, an independent developer, operator and investor focused on the North American power and energy infrastructure sector, it's not likely she'll be slowing down any time soon.
French started at LS Power as a project engineer 22 years ago. Today, she is vice president of environmental, health and safety and serves on the Investment Team at the firm. French and her team are responsible for examining and developing solutions for environmental and health impacts related to approximately 17,000 megawatts operating across nearly 100 power-generating battery and RNG plants that span the country. As part of the Investment Team, her expertise is integral to acquisitions like the December 2022 purchase of hydro projects spanning 11 states that the company says is integral to achieving U.S. carbon reduction goals. LS Power's Energy Transition Platforms also include EVgo, one of the nation's largest public, fast-charging networks for electric vehicles, and REV Renewables, a leader in renewables and energy storage.
"My career trajectory was definitely a result of the broad education I received at Mudd," says French. "My field and my company role have required me to intelligently review and address a wide variety of subjects, really drawing on my HMC Core Curriculum training. Biology 52 class, for example, provided a great foundation to facilitate my understanding research on fish migration and avian behaviors to help me make informed decisions of how to manage wildlife issues in my work."
After HMC, French earned an M.S. in environmental engineering from Drexel University and joined the Missouri Society of Professional Engineers, for which she served as president. In 2017, she received the Engineer of the Year Award from the organization's St. Louis chapter. As a member of the firm's ESG Committee, she's a key proponent of LS Power's diversity, equity and inclusion efforts as well as its environmental, social and governance initiatives.
As one of a growing number of women in her field, French has encountered a variety of challenges on her path to leadership, including avoiding the note taker role (assigned because she was the only woman in the room), no non-male bathrooms on project sites, and holding firm to and presenting her position when senior men suggested her input was irrelevant. These are some of the things she recently joined classmate Liz Orwin '95 to discuss as part of the College's Mudd Talks series [bit.ly/ Muddtalks323]. French says role models have helped guide her career,
and among them is Maria Klawe, whom French got to know while serving as a board member (she's now VP) of HMC's Alumni Association.
"Maria has been one of the few women who has reached such a high leadership position that I have had the chance to talk to and get to know as a real person," says French, who has served on AABOG since 2015 and has been an active participant in the life of the College. "There is something compelling about watching a woman in leadership directly and in very real circumstances."
One of French's strongest memories is when Klawe shared how she was able to look beyond accusations, hurtful language and demands, set all those aside and come up with the best solution given all the facts. "As Maria put it, it was her job to 'be the adult in the room.' In situations where interactions have started to spiral negatively, I think about that discussion and try to find a way to put my ego aside and be the adult in the room," says French.
"One of the most impactful things for me has been watching Maria have the courage to be true to herself rather than conform to the stereotypical image of a college president," says French. "Watching another woman get to be herself in a leadership position makes it easier for me to stay true to myself as I have gone up the leadership ladder."
SPRING 2023 19
Kathy French '97 navigates leadership in her field with confidence and with an inspiring guide: Maria Klawe.
ENABLING OTHERS TO SUCCEED: ALUMNAE STORIES
The College celebrated a milestone in 2010, with an entering class consisting of more women than men for the first time in its history. Another milestone was reached in 2014 when more women graduated with engineering degrees (56%) than men, a first for HMC and possibly any other co-ed U.S. college. In the Class of 2018, the College reached its highest percentages of women graduates in physics (58%) and computer science (56%). Each September, the administration is required to report to the board of trustees on the progress of diversity, equity and inclusion initiatives.
"Not only has diversity increased over Maria's tenure, but the students are outstanding as well," says Jim Bean '77, chair of the board of trustees. "Harvey Mudd has disproved the hypothesis of tension between diversity and quality."
Bean adds, "The board of trustees has committed to increasing the diversity of the board in alignment with the student body, faculty and staff." In 2022–2023, 30% of trustees are women, and nearly one-third of the trustees are from underrepresented ethnicities.
In addition to trustee and staff changes— personnel in areas serving students and advancing the College have expanded—the makeup of faculty has also shifted. In 2017, the Andrew W. Mellon Foundation provided funds to support the key goals of the College's Strategic Vision through its Presidential Leadership Program and a four-year grant that helped the College increase racial and gender diversity among the faculty. At the time, 36% of tenured and tenure-track faculty were women and 7% were from minority populations underrepresented in STEM. Today, the number of female faculty has increased to 40% overall and, with a record number of faculty set to be hired this year following the pandemic hiring freeze, progress will continue to be made regarding faculty gender and ethnic diversity.
"Coming out of the pandemic, due to a hiring freeze and some early retirements, we are making an unusually large number of tenure-track hires this year," says Tom Donnelly, vice president for academic affairs and R. Michael Shanahan Dean of the Faculty. 11 searches are complete or near completion. "Based on early returns, I am confident that the cohort of faculty we hire this year will increase our faculty diversity along nearly every axis."
In 2014, the College made Harvey Mudd history with its academic department
leadership. Four of seven department chair positions were held by women professors, marking the first female majority within the Department Chairs Committee. In 2016, women chaired six of seven departments. Today, two departments, Physics and Engineering, are chaired by women.
Experiential and interdisciplinary learning
A strong faculty has been instrumental in the College's academic reputation. During Klawe's tenure, the faculty has implemented changes to the curriculum that support key goals of the strategic vision: increasing interdisciplinary learning in the Core Curriculum, expanding interdisciplinary majors and research projects and establishing centers to stimulate and support interdisciplinary learning and research.
The first changes to the Core were launched in 2010, and the latest revision, "Four Courses with Optional Electivity," was passed by the faculty in May 2020 after three years of work by several committees, a self-study, an external review, and surveys of students, alumni and faculty. The new Core curriculum is designed to increase joy of learning, reflection, mastery and retention by allowing students to take a fourcourse load in the first four semesters, while still being on track to graduate in four years.
"I want Harvey Mudd to be a place that
transforms what the rest of their life will be like," says Klawe. "I also want it to be a place that transforms what the outcomes will be for the world."
Global engagement and informed contributions to society
"Because of the outstanding work of the faculty, we've made great strides in developing innovative and inclusive curricular approaches that have improved learning outcomes for our growing and diverse student population," Klawe says. Results are shared in presentations, papers and joint partnerships with other organizations and institutions, so the lessons HMC learns in developing inclusive pedagogy can spread. Klawe enthusiastically joined faculty members, administrative staff, trustees and others to help share the College's vision and accomplishments.
She was among the 31 representatives, including five presidents from The Claremont Colleges, to travel in 2008 to Singapore, Hong Kong, Shanghai and Beijing. They visited leading universities, held receptions for alumni and parents, and met with leaders from government and industry. Klawe's other international trips included a 2009 trip to England, Iceland and Poland, and one in 2018 to Pakistan, where she gave a lecture at its first liberal arts and sciences institution, Habib University. She returned to Asia in 2019.
Klawe likened HMC's influence in the
HA R VEY MUDD COLLEGE MAGAZINE 20
" Institutions across the country and world now look to HMC for innovations in secondary and postsecondary education."
–MARIA KLAWE
Klawe and Justis Allen '17
Shailee "Empower Others" Samar
Samar '18 learns about paying it forward.
Written by Stephanie L. Graham
During her senior year, Shailee Samar '18 (CS) received the Dorman Student Altruism prize, peer-recognition for impacting fellow students. She says she learned leadership from the best.
Samar first met President Maria Klawe when attending an orientation event on campus. During the welcome reception hosted at the President's House, Samar and her family were impressed that Maria recognized every student and could speak to their background. "Maria had already put in the effort to know me before I even stepped on campus," Samar recalls.
She says her involvement on campus was full of collaboration within a tightknit community. She helped create "lunch/dinnerposiums" to bring together faculty members and students and fondly recalls working with classmates on problem sets in her room. "That togetherness in a really tough environment was pretty incredible," says Samar. As sophomore class president and later as student body president, Samar found Klawe to be very approachable and accessible.
"It's not easy for students generally to talk to their college presidents whenever they want. But I was able to set up meetings with her to discuss things I was going through and issues I was thinking about. Every time, Maria would listen patiently and help look at the issues from multiple dimensions. She hosted Hiking with the President and Painting with the President, really making sure that we students could talk with her if we needed to. I also loved that Maria was so open and transparent with her own life experiences and challenges."
In addition to her roles in student government, Samar did a CS Clinic project with Accenture Labs (augmented/virtual reality content management) and was a student representative on the College's Sustainability Committee. Nominators for the Dorman Altruism prize wrote, "[Samar] has been extremely active with the community and has fostered lots of positive change."
The diverse environment at Mudd that Klawe fostered including a student body of 50% women was something that Samar appreciated and realized she shouldn't take for granted.
"When I went to my internship at Google (Mountain View) after my freshman year, I was in my cubicle and noticed that, of the 17 engineers, I was the only woman," she recalls. "I'd come from this really amazing environment, but that's not how the world is."
Utilizing her HMC lunch/dinnerposiums idea, Samar created a way to empower women at her workplaces. Her program, Women Empowered (WE++), seeks to connect women in tech with leaders in engineering, product, legal and marketing areas in small-group settings over meals. She's organized more than 40 such events at Microsoft, Google and Accenture Labs.
Throughout her career, Samar has stayed in touch with Klawe and benefited from her advice, contacts and counsel. Samar recently left Uber Freight, where she was product manager, to pursue an MBA at Stanford. Before she begins the program this fall, she'll take a six-month hiatus to travel India then Switzerland and Columbia explore and relax. It's something that those who know Samar will not find surprising. She is certified to teach Zumba and yoga and advocates for mental and physical health through Mudd Meditates, which she began during summer 2021 in collaboration with the Office of Alumni and Parent Relations. January through March, Samar leads a weekly Zoom session featuring simple breathing, yoga and meditation techniques to help alumni, students and other participants relax, lower anxiety and increase energy.
It's Samar's way of carrying on the Mudd tradition of prioritizing community and enabling others to succeed. "Maria did a phenomenal job of making sure I could reach the opportunities I should be able to reach. I'm passionate about doing this for others, too."
SPRING 2023 21
Photo by Charles Berry
ENABLING OTHERS TO SUCCEED: ALUMNAE STORIES
world to art, one of her passions (she painted the College's holiday card each year and has over 100 watercolors). "As an artist I think of these changes as small splashes of color on a canvas. Inches away from it you can't see the beauty of the big picture. Only when you step back and refocus do you begin to see how each individual stroke joins with its neighbors to form something compelling.
"When young colleges and universities create a new successful approach to some aspect of education and then disseminate that knowledge, they can have a lasting impact on higher education," Klawe says, "Institutions across the country and world now look to HMC for innovations in secondary and postsecondary education."
Concerted efforts community-wide have resulted in a significant increase in admission applications. In 2015, the entering class was the most diverse in HMC history. Accompanying the steady growth and diversity of the student body was the expansion of the Division of Student Affairs to improve services and continue to nurture and develop the whole student, to expand proctor and mentor programs, to embed intentional training around diversity and inclusion, to expand health and wellness staff and programming, to add peer academic liaisons in dorms and to increase resources for the Office of Institutional Diversity.
"Growth in the area of student affairs under President Klawe reflects the College's now-recognized position as a competitor for top students, across the country and internationally," says Laurie Girand, chair of the Student Affairs Committee of the board of trustees. "HMC strives today to provide the quality and caliber of student services offered at much larger, competing institutions, to a smaller, more tightly knit community."
The College's national reputation has also remained strong, particularly in the areas of Best Undergraduate Engineering Program, and Best Graduate Salaries and Return on Investment. And, Harvey Mudd student scholars have continued to earn prestigious prizes—Goldwater, Apker, Watson, Computing Research Association Research Awards. Such accolades serve to attract positive attention and maintain the high value of an HMC degree.
Other accolades during Klawe's tenure also contributed to HMC's prominence. In 2012, three HMC professors received the Gordon Prize, considered by many in the engineering
Total HMC Admission Applications
Financial Aid From All Sources
field to be equivalent in renown to the Nobel Prize. The prize recognized Clive L. Dym, M. Mack Gilkeson and J. Richard Phillips as innovators who helped develop a highly successful, project-based engineering design curriculum that continues to be the centerpiece of engineering instruction at the College and a model for others.
Innovation, leadership and impact Klawe further expanded the College's visibility by sharing the story of Harvey Mudd College at every opportunity. "A key reason I chose to become president was to help influence the world of higher education more broadly through the type of innovative educational efforts that trace back to HMC's founding," says Klawe. In addition to her travels abroad, she authored a regular Forbes.com column that highlighted key programs and initiatives of the College through her interviews with faculty and staff. Klawe accepted many invitations to key speaking engagements at colleges and universities (some of them to receive honorary doctorates—she has 21), high-profile symposiums and conferences (including Grace Hopper Celebration of Women in Computing, Fortune's Most Powerful Women Summit, and, most recently, the Summit on STEMM Equity
and Excellence, her third invitation to the White House. Notably, in 2009, she was elected to the board of Microsoft as its 10th member and one of only two women. She also served on the board of directors of Broadcom Corp.
She felt that serving on a board for a major corporation was a way to increase the visibility of HMC and build new connections with business leaders. "For people who barely know that Mudd exists, we're going to convince them—because it's true—that making an investment in Mudd is making a strong and valuable investment in the future of our society." She has served on numerous boards, including the American Association for the Advancement of Science, the Alliance for Southern California Innovation and Glowforge (an HMC alumni startup). She continues to serve on the boards of the Mathematical Sciences Research Institute in Berkeley (soon to be renamed the SimonsLaufer Mathematics Institute), Math for America and EdReports.
Such ties have resulted in key partnerships between HMC and various organizations: Building Recruiting And Inclusion for Diversity initiative (with AnitaB.org), WitsOn /Women in Technology Sharing Online (a U.N. and White House initiative), and an academic leadership award and grant with the Carnegie Corporation.
Klawe's many strategic connections added to
HA R VEY MUDD COLLEGE MAGAZINE 22
FALL 2004 1,904 3,678 4,792
2006–2007 2014–2015 2022–2023 (ESTIMATED) $15,027,529 $21,582,929 $30,238,416 FALL 2014 FALL 2023
An Interview That Inspires
Sophie Poole '25 discusses mentorship and more with President Klawe.
Written by Jen A. Miller
Sophie Poole '25 first met President Maria Klawe when she was 15 years old. Then, she was working on a project for Engineer Girl, an organization that brings national attention to the exciting opportunities that engineering represents for girls and women.
Poole, who was adopted from China when she was 10 months old, worked especially hard to showcase these possibilities and careers to girls who had not come from places where they had easy access to STEM education. But she was also worried that she wasn't the right person to be talking to middle school girls about STEM, even though she wanted to show them the opportunities they could find in those fields.
So she conducted video interviews with women in STEM-related fields. "By showing them role models, I was hoping they would gain courage within themselves," she says, and that, just through sheer curiosity, they'd hear something in one of these talks and run with it on their own.
Klawe was one of the people Poole asked for an interview, and they talked about what it was like to be the president of a college, especially a STEM-focused one. Klawe also helped Poole see that she was more than capable of mentoring younger girls, no matter what her age. "She really helped me with that project. It's one of the best things I've done with my life," Poole says.
Not only is that conversation between Klawe and Poole still shown to middle school girls and members of SWENext, the Society of Women Engineers' youth program and at National Academy of Engineering Conferences, but it also gave Poole confidence in her ability to be a mentor and to be herself as well. In high school, Poole was being told that that if she wanted to compete with men, especially in maledominated fields, that she had to be aggressive and overpowering.
"Maria wasn't like that. She was authentic and wanted to bring out the best in everybody. She talked about how she would ask for other people's ideas and opinions and build on that," she says. "I thought, that is real leadership, not pushing others down to get on top."
President Klawe also encouraged her to apply to Harvey Mudd College, to succeed here and take risks, whether that was studying a subject she didn't know much about or trying out innertube water polo.
Poole also learned that science and academia in general doesn't have to be so serious or stiff. On walks around campus, Klawe was friendly and open in ways that Poole assumed a college president wouldn't be. Klawe also talked about her hobbies outside of school, like painting. Every year, Klawe painted a scene from Harvey Mudd College
for holiday cards, including one of squirrels on campus. "To see that kind of humor in a president is amazing," Poole says.
Likewise, when Poole found out they shared a love of key lime pies, she made one for Klawe in a pie dish with all the numbers of π on it, a fun play on words and math concepts.
Poole isn't sure yet what she'll do with her Harvey Mudd degree but knows she'll pursue a career in STEM. This mentorship and friendship with Klawe has given Poole belief in herself and her abilities and has inspired her to keep mentoring, too. "I could see parts of her that I want to become," she says of Klawe. "I'm not planning on being a president of a college, but for any leadership position, I've become a lot more confident with myself."
She also wants to take Klawe's approach to learning and work: that it's a lifelong journey. "When she was talking about retiring, it wasn't in a negative way," says Poole.
She's also inspired by Klawe's continuing commitment to women in STEM. "I thought that was amazing, that retirement doesn't mean that you just stop, but that you do all that you can. She's just nonstop," Poole says. "Most people would stop, say they're satisfied and leave. She knows there's still more this world needs, and she's determined to do it."
SPRING 2023 23
Photo by Jordan Stone '24
ENABLING
OTHERS TO SUCCEED: ALUMNAE STORIES
" I'm not planning on being a president of a college, but for any leadership position, I've become a lot more confident with myself."
–SOPHIE POOLE '25
the solid foundation of The Campaign for Harvey Mudd College, which successfully concluded in 2018, with $179 million raised, including $30 million from longtime supporters R. Michael (past board chair) and Mary Shanahan, the largest single gift in the College's history. HMC's largest comprehensive campaign concluded $25 million over the goal. Gifts fueled many changes on campus, including construction of buildings (Shanahan Center, Drinkward Residence Hall and the McGregor Center), space renovations (Engineering Clinic areas in Parsons, chemistry instructional labs in Jacobs-Keck, Galileo Auditoria), 11 new endowed professorships; scholarships for students, $50 million in increased funding for the endowment; new services and staff in health and wellness, community engagement and institutional diversity "exciting ways we continue to provide unsurpassed educational quality while maintaining fiscal responsibility," says Klawe.
Asking for help
Klawe acknowledges that she "hasn't always gotten everything right" and that there have been challenges along with the accomplishments. As at any institution, there have been some heartbreaking events and tough moments. A particularly challenging year was 2017 when, along with a divisive political climate, there were two student deaths as well as the release of a confidential report containing inflammatory remarks. These events tested her presidential skills and "reminded me just
how important listening can be," she says. Leading a college during a global pandemic is not something Klawe would have guessed her job would include. It disrupted routines and forced everyone to take up new ways of living, interacting and working. Klawe and her cabinet focused on creative and flexible problem solving and finding ways to connect and support the HMC community, including implementing a Community Emergency Aid Fund to support students, faculty and staff and to address general operational changes needed to effectively respond to COVID-19. This included salary support and financial aid as well as technology and supplies needed for classroom learning on- or off-campus during the 2019–2020 and 2020–2021 academic years.
At the first in-person Family Weekend since 2020, Parent Leadership Council members Andrea Fant-Hobbs and Brad Hobbs P23, parents of Madison Hobbs, shared, "Klawe's leadership elevated the Harvey Mudd brand in new and important places and spaces, opening the door for strategic partnerships for the College and opportunities for our Mudders. She truly cares about the students and invests in their success. During her tenure, Mudd's recognition as a top producer of PhDs in the sciences has grown. We also deeply appreciate Maria's leadership in extremis—in the midst of a global pandemic and unprecedented time, she kept Mudd safe and moving onward and upward."
HA R VEY MUDD COLLEGE MAGAZINE 24
" Klawe's leadership elevated the Harvey Mudd brand in new and important places and spaces, opening the door for strategic partnerships for the College and opportunities for our Mudders. She truly cares about the students and invests in their success."
JAN. 1 2006 JAN. 1 2013 JAN. 1 2007 JAN. 1 2014 JAN. 1 2008 JAN. 1 2015 JAN. 1 2009 JAN. 1 2016 JAN. 1 2010 JAN. 1 2017 JAN. 1 2011 JAN. 1 2018 JAN. 1 2012 JAN. 1 2019 JAN. 1 2020 JAN. 1 2021 JAN. 1 2022 Endowment Market Value $229,721,079 $283,696,431 $401,525,407
–ANDREA FANT-HOBBS AND BRAD HOBBS P23
"Feels like a new beginning"
Under Klawe's leadership, the College emerged from the pandemic with an increase in applications, continued advances in the diversity of entering classes and continued progress graduating larger percentages of women in critical areas. Recognizing another area of urgent need, the College has turned its attention to climate change programs and solutions and is getting a strong response. After the reestablishment of the Hixon Center in 2021 (it's now known as the Hixon Center for Climate and the Environment), there has been a successful fundraising effort, curriculum additions to meet student demand and hiring of faculty members with expertise across academic areas.
Trustee Michael Schubmehl '02, who served as co-chair of HMC's Climate Change
Working Group and the Hixon Initiatives Steering Committee, explains, "The center is a place for students and faculty to explore their passion for the human and technical facets of environmental issues, with particular emphasis on solutions to the grand problem of climate change. Mudd students across all fields can benefit greatly from climate literacy, and the first offerings through the Hixon Center—Introduction to Global Climate Change and Climate Science—aim to provide that."
Climate studies and entrepreneurship are two initiatives that Klawe and many HMC community members look forward to seeing grow. They'll soon be guided by Klawe's successor Harriet Nembhard, who begins her term July 1, 2023. "I think she's going to be fantastic," says Klawe.
Klawe is heading to New York to lead Math for America, an organization dedicated to transforming the teaching of math and science by building and supporting communities of master STEM teachers. The move will allow her and her husband, Emeritus Professor of Mathematics Nick Pippenger, to spend more time with their son, Janek, daughter-in-law and two grandchildren, and be nearer to their daughter, Sasha, who lives in D.C.
"I feel this enormous pride and gratitude for having had 17 years at Mudd," says Klawe. "I love Harvey Mudd way more than any other institution I've ever been at. It is just by far the best work experience I've had. I am so proud of what we have achieved together."
SPRING 2023 25
Klawe meets with the Iyer family during 2022 Orientation.
MUDDERINGS
GOLDens Rule
In addition to launching a Discord channel, HMC's newest alumni social platform, Graduates Of the Last Decade (GOLDs) are continuing to connect through in-person events. Sign up for Discord or for an event in your area: bit.ly/3JZtLOZ.
Family Weekend 2023
At last, family members were able to enjoy HMC's Family Weekend, last held in 2020. Participants interacted with faculty and staff, visited classrooms and labs, and met members of academic and administrative departments. View more images from the weekend on Flickr (bit.ly/fw23pics) and the video at bit.ly/fw23video.
HA R VEY MUDD COLLEGE MAGAZINE 26
Former HMC CS professor Colleen Lewis (center) poses with Mudders who attended the Happy Hour event in Champaign, Illinois, hosted by Vidushi Ojha '17 and Austin Shin '18.
AABOG Spotlight Recognition Award
For making electronics more accessible
Carrie Sundra '98 (engineering) grew up on the island of St. John in the U.S. Virgin Islands, then attended Harvey Mudd College, where she proudly scored a 19 on her first electrical engineering exam. Electronics felt esoteric and unrelatable to her, so she subsequently chose to pursue more mechanical and manufacturing courses. But shortly after starting her first job, she got thrown into fine-pitch SMT soldering and sensor research for a 6-inch micro air vehicle—in 1999, when this stuff didn't exist yet. Faced with a super cool application and concrete "thing" to build and make work, electronics got a lot more interesting. Ever since, she's designed custom PCBs and helped develop products for a variety of applications, from avionics for small UAVs that are now in the Smithsonian Air and Space Museum to livestock thermometers to waterproof power scrubbers to assistive devices for freezing-of-gait Parkinson's symptoms to her own yarn-winding and twisting devices.
Sundra is passionate about making electronics more welcoming and accessible to underrepresented folks and founded Alpenglow Industries (alpenglowindustries.com) as a way to effect change. She aims to shatter the stereotype that hobby electronics are boring and only for brainiac-born nerds. Alpenglow kits help teach basics like through-hole soldering and help people level-up with skills like surface mount soldering or programming. "Alpenglow gadgets are funny, feminist, sometimes a bit subversive, and a few are definitely NSFW. We know that anyone with a creative spark can learn basic electronics, and we focus on welcoming newcomers and teaching basic skills in an environment free of gatekeeping and judgment," says Sundra. You'll find the stories of many interesting makers in the Solder Sesh livestream on YouTube.
For impactful work with the Coastal Watershed Council and the United Way
Laurie Egan '12 (environmental analysis) leads the Coastal Watershed Council to transform the lower San Lorenzo River into a thriving urban riverfront, where all Santa Cruzans can connect to nature in their daily lives. Since joining the team in 2013, Egan has shaped CWC's strategy, launched trademark programs, forged deep relationships with funders and decision-makers, led staff through significant challenges and fundraised some of the most transformational investments in CWC's work to date.
Prior to joining CWC, she worked on statewide campaigns to reduce ineffective toxic chemicals in consumer products with Physicians for Social Responsibility Los Angeles and the Center for Environmental Health. Egan serves on the city of Santa Cruz Climate Action Task Force, the board of directors at United Way of Santa Cruz County and was recognized as Santa Cruz County's 2016 Emerging Leader of the Year.
Nominations Welcome
The Alumni Association recognizes important contributions of members of the Harvey Mudd College community through its awards program. Nominations for the Spotlight Recognition Award and other awards are welcome and are reviewed by the Selections Committee of the Alumni Association Board of Governors. Recipients are approved by a vote of the full Board of Governors. Submit a nomination at bit.ly/HMCalumawardnom.
SPRING 2023 27 MUDDERINGS
The HMC Alumni Association selects inspirational alumni whose contributions embody the College's visionary themes of innovation, leadership and impact through global influence and contributions to society.
CLASS NOTES
1962
Dick Silver (engineering) writes, "My boss and sweetheart has lovingly put up with me for 59 years. We have served three times as a Portuguese-speaking missionary couple for the Church of Jesus Christ of Latter-Day Saints, in Mozambique, Angola, and lastly in Marietta, Georgia. Family is most of our focus now. Our oldest daughter adopted herself to us, making a total of eight children. Included are one of Delta Airline's top IT people, a top-secret clearance contractor who works computer systems for the military and a recently established entrepreneur making his own branded habanero sauce for sale in the Red River Gorge in Kentucky. We have had two grandchildren pass away, part of an extended family including 21 grandkids and 10 great-grandkids. A granddaughter is presently slugging her way to her RN degree. I asked our top-secret guy what he learned in his latest military training, his reply: 'If I told you, I'd have to shoot you.' We recently celebrated our youngest granddaughter's second birthday."
1967
Hugh Saurenman (engineering) officially retired and closed his small engineering company after 20 years.
Andy Van Horn (physics) writes, "Since 1987, a focus of my consulting firm has been to improve energy and environmental markets, technologies and regulations. VHC served EPA, EPRI, utilities, cities and market participants and helped design and implement the 1995 national SO2 allowance market emulated by carbon cap-and-trade systems in over 50 jurisdictions. Because clean geothermal heat and power is energy secure, 24/7 reliable, resilient and dispatchable with the smallest footprint and lowest lifecycle costs of any renewable energy technology, in 2020, I became GreenFire Energy's director of applied research (www.greenfireenergy.com). In May, we closed our Series A investment round led by Baker Hughes and are implementing our patented Closed-Loop Geothermal energy systems on three continents, including testing our steam-
dominated downhole system in California to revitalize The Geysers, the world's largest geothermal power plant. My HMC and UC Berkeley education has certainly helped all along the way."
1969
Dale Stirn (math) retired after 32 years developing Stirnco Steel Structures Inc. an industrial general construction company. He recently enjoyed an eight-day diving trip in Galapagos, visiting hammerhead and whale shark friends. He writes, "I spend much of my time with wife, Gwen, traveling and bicycling, sometimes both at the same time, including a trip around France replicating a Le Tour route with a good friend."
1970
Although a physics major (and astronomy PhD), Andy Bernat has been living the life of a computer scientist since 1982, lastly as executive director of the Computing Research Association headquartered in D.C. He recently retired, "so am living the life."
Mahesh Kotecha (physics) continues to advise African banks and multilateral development banks on credit ratings and capital market access. Check out his blog at brettonwoods.org/article/mdbs-should-becredit-enhancer-rather-than-lenders.
1972
NASA Astronaut, HMC Bates Program and physics alumnus George "Pinky" Nelson (physics) visited campus March 7 to present the 2022 Astronaut Scholarships to HMC recipients Amani Maina-Kilaas '23 and Alec Vercruysse '23 and give a talk about his experiences as an astronaut in the 1980s and his career since then.
John Sell (CS) is AMD corporate vice president for strategic silicon solutions architecture. "Customer products incorporating S3 designs include Microsoft Xbox Series X and S, Sony PlayStation 5 and Valve Steamdeck."
1975
Carl Carrera '75/76 (engineering) is enjoying retirement and four grandkids. "We are all healthy, happy and doing well."
A February 2023 Fillmore Gazette article details how Barb Filkins (physics) learned to fly and earned her pilot's license under the tutelage of Iris Critchell. It also details her career in the aerospace industry and the love of flying she shares with her husband, Dale. Barbara teaches aeronautics through distance learning, including flight instruction at the Oxnard and Camarillo airports, and enjoys dressage.
1978
Rich Holman (math) writes, "I'm currently seconded to Zayed University in the UAE as the founding dean of the College of Interdisciplinary Studies. After having helped build two colleges, I decided to retire at the end of August 2022 (dean of faculty at Minerva University since 2019; professor of physics at Carnegie Mellon before that, then dean of computational sciences at Minerva prior). My wife, Prudy, and I will move to Alcobaça Portugal. We've bought a lovely house there and can go to nearby Nazaré to watch the (VERY) big wave surfing competitions!"
1979
Karl Konecny (engineering) recently sold his company North West Motion Products to Oceaneering International and retired. He continues to live along the North Umpqua River in Glide Oregon and is looking forward to more adventures with boat, canoe, camper, hiking and friends.
Joe Shanks (physics) works full-time as principal fellow at Raytheon, helping customers who need to look at clouds from both sides now—and understand impact on target detection and other good things. The family recently celebrated the arrival of the first grandchild, Lana Alohi Shanks, in August 2021.
HA R VEY MUDD COLLEGE MAGAZINE 28
Dan Kalman is In His Prime ALUMNI PROFILE Teaching + Storytelling = A Gratifying Career
Written by Ashley Festa
while it's not odd to find an academic mathematician who writes research papers, it's unusual to encounter one who uses storytelling—and even poetry—to teach and entertain. For mathematics professor Dan Kalman '74, writing has been a constant form of expression.
And add a pun into the equation? "That's icing on the cake," Kalman says. "I have specialized in writing for the kinds of journals and audiences that give me the freedom to do that. I'm not writing a treatise on a question mathematicians have been asking for hundreds of years. I'm writing for people who want to read something interesting that expands their horizons."
Kalman recalls one research project inspired by a mathematical pun: "Total Ellipse of the Heart." It was suggested by a friend and colleague, who came up with both the pun and the corresponding problem, to find the smallest ellipse that totally surrounds a given cardioid.
"It was a title in search of a paper," jokes Kalman. "The pun-related context tickled my sense of the whimsical. The problem looked hard enough to make it a challenge without looking so hard that the chances for success seemed too remote, and I felt there were a number of techniques in my mathematical toolbox that might be applicable."
Though the two friends have not yet published their results, Kalman explains that a big part of his enthusiasm to write is sharing mathematical discoveries with others, no matter how narrow his audience, typically mathematicians and advanced math students.
Kalman factors in the entertainment value of his writing to increase the probability of capturing his readers' attention. He recalls
another paper fondly—"Harvey Plotter and the Circle of Irrationality," published in Math Horizons, a Mathematical Association of America magazine—in which he found an engaging way to share information he learned at a math conference.
"You can't write a dry-as-dust presentation and expect undergraduate students to pay attention," Kalman says. "So how can I write in a way that will draw them along through the mathematics and also teach them? That's where the idea for Harvey Plotter came from."
Writing has been only a fraction of his career, a path that hasn't been linear. After earning M.A. and PhD degrees in mathematics from the University of Wisconsin-Madison, he began teaching at the University of Wisconsin-Green Bay. In 1985, he did a 180-degree turn into industry at The Aerospace Corporation, a nonprofit that operates the only federally funded research and development center dedicated completely to space-related science and engineering. As an applied mathematician, Kalman enjoyed his work there, but discovered he was more passionate about academics and having the freedom to work on research projects. So, in 1993, he came full circle back to academia, joining the mathematics faculty at American University in Washington, D.C., where he taught until his retirement in 2018.
Kalman has written three books, seven book chapters, and nearly 100 articles, and he has received multiple writing honors, including the George Pólya Award, Trevor Evans Award, Carl B. Allendoerfer Award and Paul R. HalmosLester R. Ford Award—each of these received twice (a singular accomplishment)—as well as the Beckenbach Book Prize. In 2021, the MAA's publications team created a virtual special issue featuring all of the papers for which Kalman had received awards, as well as a chapter from the prize-winning book. Although he's extremely humble about the recognitions, they are proof of his talent.
Despite retiring, Kalman hasn't stopped penning articles—and perhaps fiction one day. He has a desk drawer full of fiction outlines, but for now, "that drawer is firmly shut" (mostly because, he says, he's been busy writing articles).
Summing up the joy he found in his career, Kalman explains: "What I really loved about the experience of being a math professor was the social interaction with colleagues and students. When you have a freshman who's nervous about whether they'll be successful, if you can inspire confidence in them and watch them blossom, and then send them off to a career in mathematics, it's hard to find anything more fulfilling than that."
And that has made all the difference.
SPRING 2023 29 CLASS NOTES
"Total Ellipse of the Heart" is a whimsical challenge.
1980
Jeffrey Silverman (physics) writes, "I am a Linux sysadmin at Expeditors International. I recently graduated from Coding Dojo's cybersecurity boot camp (with one red belt and two black belts), and I am now preparing to take the CompTIA Security+ and CySA+ exams. I have six grandchildren, one of whom is named Isaac Newton Silverman (not my idea, really!)."
1982
Tony Li (math) works at Juniper Networks and continues to build out the internet.
1984
What is an economy, and why do we have one? What do money, wealth, stocks, bonds, markets, companies, corporations, banks, insurance, entrepreneurs and even bitcoin have in common? Find answers to these questions and more in What The Hell Is an Economy? (second edition) by Eric Johnson (engineering). It's available only on Amazon as an ebook. Eric also has a blog on economics (and some astronomy): wthisaneconomy.com/blog.
Mark D. Pitchford (engineering) has been elected executive vice president and chief marketing officer of California Casualty Management Company and will lead the marketing and sales efforts of the company. Mark has more than 30 years of wide-ranging experience, including in marketing, service and sales, as a senior executive in the insurance industry. He holds an MBA from Santa Clara University. He was most recently head of the insurance practice for Afiniti, applied artificial intelligence provider. Prior to Afiniti, he was the chief sales and marketing officer at Esurance, where he was responsible for its advertising, sales and customer service operations, customer experience and digital transformation. His other experience includes leading Allstate's direct business and time in various senior-level marketing, sales/service and product management positions at Lumen/Qwest and AT&T/Pacific Bell.
Larry Tong (engineering) writes, "I officially hit the age of being OLD (like many of us in the Class of '84!). My payment processing software company celebrated its 30th anniversary, too. In 2017, we added a new start-up company, Intuitive Data Analytics, with emphasis on delivering spontaneous, no-code, voice and gesture-based analytics and BI. My dream is to
deliver real life Minority Report … BHAG (big hairy audacious goal)!"
In January, the board of directors of Quantum Computing Inc. appointed Carl Weimer (physics) as a member of the board. He will also serve as a member of the Compensation Committee and the Governance & Nominating Committee of the board. He combines over 25 years of experience in the aerospace industry. Previously, Carl had been involved in the aerospace industry, holding positions that include team leader, principal investigator and chief technologist, at Ophir Corporation, Ball Aerospace & Technologies Corp. and the Ball Civil Business Unit. Most recently, he was the principal investigator for the NASA Earth Science Technology Office.
1986
Last summer, Bill Consoli (math) was one of Isaac Bruce's guests at his NFL Hall of Fame induction in Canton, Ohio, where Bill caught up with many former co-workers. He enjoys his work at Edward Jones and is looking forward to retirement in a couple of years.
1989
Steven Molin (engineering) works in cloud engineering in the financial technology sector for Envestnet.
1991
Rachel Watson-Clark (chemistry) is R&D director at The Clorox Company. She oversees Global Technical Discovery Innovation for the Clorox Cleaning businesses: Retail Domestic, International, and Professional Products.
1992
Sunny Trinh '92/93 (engineering) writes, "Global warming is and will continue to be the biggest threat to the welfare of our planet and every creature on it. It has a severe impact on food and water supplies while being a major cause for more frequent and severe weather, higher death rates, higher wildlife extinction rates, higher sea levels and more polluted air. I believe that all the solutions necessary to slow and reverse climate change exist in the world today. In order to enable these solutions, three major barriers need to be removed: funding, lack of transparency and geography. By working with some great partners, I am now fortunate enough to have the opportunity to lead a company with a mission to remove these barriers to
help companies, organizations and governments accelerate the reversal of climate change. The company is called DevvStream (devvstream.com; sunny@devvstream.com)."
1994
Sarah (Moskowitz) Sagi (biology) says, "I have been coaching an elementary school math team for several years. Recently, I began teaching classes and webinars for Math Kangaroo USA, an organization that teaches students to love math. They offer math contests for students in grades 1–12."
1997
Jeff King (biology) writes, "Greetings from the Arabian Peninsula. For the past nine years, my wife, Renee SCR '97, daughter and I have been living in the United Arab Emirates. I've been providing patient care as a family medicine doctor and, for the past three years, have been teaching students at the College of Medicine and Health Sciences at the United Arab Emirates University. We have loved Emirati hospitality and being a part of building national capacity to take care of their own citizens." Jeff headed home recently so that their daughter could attend college.
1999
Edith Harbaugh (economics/engineering), co-founder of LaunchDarkly, a leading feature management platform, is executive chair of the company. "We started LaunchDarkly and the feature management category with the belief that software powers the world and that we could empower all teams to make better software, and I'm incredibly proud that the kernel of our idea has grown into a $100 million ARR company with more than 4,000 customers worldwide," said Edith in a news release. Dan Rogers, former president of Rubrik, became its CEO to take LaunchDarkly to the next phase of its growth.
After 24 years in the Air Force, Colonel Ryan Thomas (engineering) is finally ready to try life as a civilian. In a career that's taken him to eight assignments in the U.S. and Europe, he has led science and technology organizations, supported the intelligence community and taught on faculty at both the Air Force Institute of Technology and the United States Air Force Academy. His wife, Elyn, (Azusa Pacific University '98), daughter, Mollie (15), and son, Samuel (11), are excited to stay in
HA R VEY MUDD COLLEGE MAGAZINE 30 CLASS NOTES
the Columbia, Maryland, area and see what adventure comes next!
2000
Martian Entertainment, the production company of Gregory Rae (CS/math), is producing a pre-Broadway show, "A Wonderful World, A New Musical about the Life and Loves of Louis Armstrong." The show will have runs in New Orleans and Chicago.
2001
Gillian Allen (CS): "After a few years out of work to be a stay-at-home mom, I recently rejoined Microsoft! This time, I'm on the Bing Maps and Geospatial team implementing routing algorithms at scale."
2003
Alexander Bobbs (biology) spent many years in the cancer research field and is now a professor at Ivy Tech Community College. He lives in Kokomo, Indiana (north of Indianapolis), with his wife, Kathryn, and 2-year-old daughter, Zelda. He delivers lectures on COVID-19 immunology, makes indie RPGs and occasionally appears in off-off-off-way-off "Broadway" productions.
2005
Carl Yerger (math) is featured prominently in a New York Times story on the obscure sport of korfball, which allows men and women to play as equals. When Yerger is not working as an associate professor of mathematics and computer science at Davidson College, he serves as president of the U.S. Korfball Federation.
2006
Robert Panish (engineering) shares, "Enjoying time with family, including two kids (ages 5 and 3). At work, I am a chief engineer at Ultra Naval Systems & Sensors, building sonars for the Navy."
Meghan Driscoll and Audy Sederberg (both physics), roommates through most of their time at Mudd, have coincidentally both started new labs at the University of Minnesota Medical School. Audy's computational and theoretical neuroscience group is part of the Medical Discovery Team for Optical Imaging and Brain Science. Meghan's lab in the Department of Pharmacology will focus on 3-D subcellular dynamics. Meghan is joined by her husband, Mark Kegel, and two children in Minneapolis. Audy's husband, Colin Parke, is a recently tenured professor of physics at Georgia Tech in Atlanta, where he lives with their two children.
2010
Daniel Garcia (biology) writes, "Since graduating from Mudd, I've been working toward my career goal of contributing to the discovery and development of new medicines for patients in need. After getting my PhD from University of California, San Diego in biomedical sciences in 2018, I began working as a postdoc in industry at Ionis Pharmaceuticals. In 2021, I moved on to Arcturus Therapeutics, a local biotech focused on lipid nanoparticle-based delivery of mRNA therapy. As a scientist in the Drug Discovery Group, my role is to identify new disease targets, conduct preclinical studies and support the progression of drug candidates into clinical trials in humans. I hope my work will one day lead to an FDA approval of a medication for patients of diseases with unmet medical needs."
2011
Audrey Lawrence (CS) shares, "Philip Winston '95 and I chatted about time series databases on a Software Engineering Radio podcast episode": se-radio.net/2021/11/episode-484-audreylawrence-on-timeseries-databases/
2015
Brittany Borg (engineering) spent five fruitful years in engineering after graduating from Harvey Mudd and recently wrapped up a new chapter of education and graduated with an MBA from Northwestern's Kellogg School of Management and an M.S. in design innovation from the McCormick School of Engineering. She has a new role as a product marketing manager at Intuitive Surgical, advancing the landscape of medical technologies within the lung cancer space. "There hasn't been a time where I haven't been grateful for the lessons I learned at Mudd and how it's guided me in my roles and career trajectory since."
Priya Donti (CS/math) won the 2022 SIGEnergy Doctoral Dissertation Award (PhD from CMU) for her thesis titled "Bridging Deep Learning and Electric Power Systems." She is an assistant professor in the Department of Electrical Engineering and Computer Science, the largest department at MIT.
2017
Liz Lee (engineering) writes, "Our team at Lawrence Berkeley National Lab has almost finished production of new, Nb3Sn superconducting Rutherford cables for the High Luminosity Large Hadron Collider (LHC) upgrade at CERN. It's been exciting to see our colleagues wind our cables into coils and integrate them into focusing quadrupole magnets, which will operate at 12 Tesla and enable new discoveries in high energy physics. It's also been fascinating to learn about the history of accelerator engineering and related technologies from old timers, librarians and archivists in the DOE lab system along the way."
2018
Brendan Murran (math) has been working in investment research in Southern California. "For the first couple of years, I enjoyed partnering with companies that change the way the world does business with emerging technologies, particularly with payments software. More recently, I have been producing investment research for fixed income markets on asset backed securities to help companies and people finance airplanes, rental cars, shipping containers, home mortgages, you name it! I am excited to see and be a part of the transformation of investment management via technology as investment strategies, vehicles,
SPRING 2023 31 CLASS NOTES
and public education all improve rapidly. I have a passion for financial literacy and look for ways to demystify and break down language barriers to help all people become more financially wise and healthy. Apart from work, I enjoy the beauty of mathematics and try to find ways to make it a bigger part of my life."
Sarah Silcox (engineering) says she's been living it up in glorious but parched Salt Lake City, Utah, as the distribution integrity management engineer at Dominion Energy, a gas company. She enjoys drawing comics and catching carp and releasing them back into the local pond.
2020
Since graduation, Max Maleno (engineering) has been working at Lockheed Martin Space in the Bay Area designing/testing/integrating electro-optical instruments for spacecraft. Recently, he was accepted into LM Space's Engineering Leadership Development Program, which offers early career engineers the opportunity to rotate to three different positions over three years, as well as other leadership training and higher-education benefits. His first rotation will be within life support systems on the Orion spacecraft for NASA's Artemis II and Artemis III missions. These will be the first human-crewed missions of the vehicle bringing astronauts back to the moon within the next few years.
Have you changed jobs? Retired?
Celebrated a milestone?
In addition to updates you submit, we compile information from a variety of sources: campus event notices, newspaper and magazine articles, press releases and Google alerts. Please submit updates to alumni@hmc.edu
In Memoriam
William R. Brew '62 (chemistry) died Nov. 19, 2022, in Torrington, Connecticut. He received his juris doctorate from Columbia University. Bill was a retired diplomat with the U.S. Department of State, retiring with 45 years of service. He was featured in the winter 2008 issue of the HMC Magazine for his accomplishments. He enjoyed cooking and genealogy and will be remembered for his strong work ethic.
David Goodsell '61 (engineering) passed away on April 11, 2022. A member of the Founding Class, David went on to attend Harvard (MAT) then University of Georgia (EdD). He taught high school physics, served as assistant dean of admission for HMC, CMC and Pitzer, then taught at Fort Worth Country Day School and Valdosta State University. He served as headmaster for several schools—Lakehill School, Dallas; Heritage Hall School, Oklahoma City; and Elliott Pope Preparatory School, Idyllwild, California—before directing the Desert Sun Science Center in Idyllwild, a position he held for 11 years. David was active in the Church of Jesus Christ of Latter Day Saints and was journal editor and national president for The Society of American Magicians. He was named a Fellow of the Academy of Magical Arts and Sciences and earned awards in magic for his writing, editing and work as a historian. At Heritage Hall School, the administration building is named for David.
Willis Sanchez-duPont '19 (engineering) passed away on July 23, 2022. He excelled in both athletics and academics, enjoyed the outdoors and obtained his pilot's license at 17. An avid ice hockey player, he also enjoyed many other sports such as skiing, soccer and tennis throughout high school. Willis was a National Merit finalist who was passionate about learning and education. After college, he alternated between Idaho and L.A., working in different enterprises. –Excerpted from Idaho Mountain Press obituary
Alden Simmons '61 (chemistry) of Golden, Colorado, an accomplished materials engineer, devoted hunter, eager angler and avid country western swing dancer, died peacefully in his sleep at the Denver Lutheran Collier Hospice Center on Jan. 2, 2023. He was 84.
An accomplished Boy Scout (Eagle Scout, 1954), Alden graduated from the Founding Class of Harvey Mudd College with a focus on fluid mechanics. While at Harvey Mudd, he played varsity football and basketball, and participated in student government and student court. After graduation, he served as an assistant director of development, working in fundraising and public relations from 1968 to 1969.
In 1962, Alden began a four-year stint with North American Aviation, which supported multiple Apollo spacecraft missions. He was lead engineer with the non-metallics section, focusing on propellants and other fluids. In 1969, Alden moved to Boulder, Colo., for a brief role with Ball Brothers Research, but he embraced the move as an opportunity to fish and hunt throughout the Rocky Mountains. In 1971, Alden worked in Denver for Falcon Research and Development, a firm devoted to the creation of powered wheelchairs, controls and accessories for people with spinal cord injuries.
He joined the Coors Ceramics Company in November 1977, and worked there over two decades in a variety of marketing, sales and managerial roles, representing the company in sales in every region of the United States, as well as Europe, Japan and South Korea.
Harvey Willenberg '67 (physics) passed peacefully on Oct. 25, 2022. His son, David, shares, "He always spoke fondly of his time at Harvey Mudd, and the friends he made along the way."
HA R VEY MUDD COLLEGE MAGAZINE 32 CLASS NOTES
Arthur T. Wong '71 (physics) passed away in August 2022. After HMC, he attended the University of Michigan-Ann Arbor to earn a degree in administration.
WE DID IT!
388 Donors
$144,196 Raised
Pi Day of Giving a Smashing Success
On March 14, Harvey Mudd College celebrated its biggest day of giving in honor of π, and the results were remarkable. Alumni, parents, faculty, staff and friends of the College came together to show their support and exceeded the goal of 314 donors! As of March 30, $144,196 of vital funding was received from donors.
Throughout the day, donors could amplify the impact of their gift through challenges and matches, thanks to generous challenge donors. Advocates were key to the success of the campaign and, through their outreach, brought in 69 gifts and $23,103. Dollars raised support a variety of initiatives, including the College's greatest needs: scholarships, financial aid, academic departments and more. Most importantly they will benefit our students and advance our mission of educating the next generation of engineers, scientists and mathematicians with a clear understanding of their work on society. To celebrate, Tom Donnelly, R. Michael Shanahan Dean of the Faculty and vice president for academic affairs, fulfilled his commitment to be "pied" by students. Thanks to the remarkable community of supporters who participated in this year's Day of Giving. Your generosity and commitment to Harvey Mudd College are deeply appreciated.
FACULTY/STAFF
15.1%
OTHER INDIVIDUALS
16.1%
ALUMNI 52.2%
PARENTS
16.6%
Give by scanning the QR code, or visit hmc.edu/give.
Nonprofit Org. U.S. Postage PAID Claremont, CA Permit No. 35 301 Platt Boulevard Claremont, CA 91711
hmc.edu/magazine
Sophie Bekerman '24, Arianna Meinking '24, Ruby Foxall '23, Pierce Gruber '25, John Hearn '23 and Sasha Rothstein '24, participants of HMC's long-running literature course Dickens, Hardy, and the Victorian Age, pose at Salisbury Cathedral Tower this year. Read about the class, its creators and many memorable adventures. Page 8 CHEYENNE FOO '24