heightsseniorsfolio 2022 Karapatang-ari 2022 heights ang opisyal na pampanitikan at pangsining na publikasyon at organisasyon ng Pamantasang Ateneo de Manila. Reserbado ang karapatang-ari sa mga may-akda ng isyung ito. Hindi maaaring ilathala, ipakopya, o ipamudmod sa anumang anyo ang mga akda nang walang pahintulot ng mga may-akda. Hindi maaaring ibenta sa kahit anong paraan at pagkakataon ang kopyang ito. Maaaring makipag-ugnayan sa: heights, Publications Room, mvp 202 Ateneo de Manila University p.o. Box 154, 1099 Manila, Philippines Tel. no. (632) 8426-6001 loc. 5448 Twitter:facebook.com/HeightsAteneoheights-ateneo.com@HeightsAteneoInstagram:@heightsateneoMalikhaingDireksyonatDibuho ng Pabalat: Aitana Nellas Paglalapat: Karl Eli R. Alconis, Alfonso Arellano, Francisella S. Avila, Justine Christiane B. Bello, Jana Ysabel V. Codera, Carmencita G. Dolina, Patricia Grace R. Fermin, Kayla T. Geraldoy, Sarah Huang, Giulia Clara R. Lopez, Isabella Lozada, Raven Nakpil, Danelle Erin Natividad, Kristine T. Pabua, Franz Miguel Reyes, Marie Jilliene Cloe T. Sison, Divine-kai T. Tan, Justin Dhaniel Tan, Mia Genine D. Tupas, Nicole Ann E. Vargas, Dagny Eran M. Yenko Inilimbag sa MVB Verdigris
Seniors Folio antolohiya ng panitikan at sining ng seniors 2022
Mga Nilalaman Zoe Arianna Andin 2 Love Language 4 Gabrielle Bande 14 Unsupervised 16 Interlude 17 Jude Buendia 20 Nakakalimot 22 Artifact of Dysphoria (from many) 28 Raissa Jeanne A. Cafe 30 Another Funeral 32 Rocio Castillo, Isabella Darang, Aleiana Duque 36 Lamon-Babae 38 Angela Cole 72 What I know of memory I know equally of hesitation 74 Gyuri Cruz 76 In Finitude 78 Isabella Marie P. Darang 80 the galaxy of us 82 Aya Domingo 86 Sweetened Dreams 88 Aleiana Zelin T. Duque 108 An Open Letter To The Last 110
heights Seniors Folio 2022 · v OBRA MAESTRA 112 David Hernandez 150 Imagine This Line (After Rauschenberg) 152 Han Herrera 154 Kings in the Back Row 156 Franco Andrei Pineda 158 Cold Homecoming 160 Bagong Síkat 162 kung itulak ba'y kakabig 164 Angelika Portia Lapidario 166 these bodies still remember the storm 168 Maria Larga 170 punla 172 Chance Lee 178 Flooded 180 Alyssa Gewell A. Llorin 182 Kanta ng mga bata sa kanto 184 Elise Ofilada 188 PEPMACO 190 Listahan ng mga Landlord at Comprador na Sisingilin Balang Araw 192 Caitrine Alexandra Roque 194 Snuffles Passes on a Saturday 196 Andrea Tibayan 200 Kamay 202
Kaugnay rito ang pagpapatatag ng mga Senior High School na kilala sa pagpapakilala ng mga strand. Dahil dito, lumaki raw ang potensiyal natin bilang mga mag-aaral at inasahang mas handa tayo para sa kolehiyo. Hanggang noong tumuntong tayo ng kolehiyo, binati pa rin tayo ng pagbabago. Tayo ang unang batch na nakaranas ng panibagong curriculum na may mga bagong kurso at programa.
Hindi maipaghihiwalay ang takot sa kawalan ng kasiguraduhang dulot ng pagbabago. Kapag inabala ang ating nakasanayan, ang ating normal, napipilitan tayong kumilos; tumayo mula sa ating mga komportableng puwesto. Sa pagkakataong ito, wala tayong ibang magagawa kundi tumahak ng landas na hindi pa nalalakbayan.
Ngunit sa pagkaabala lang natin napagtantong mahalaga ang pagbabago. Naging halata para sa atin ang mapagsamantalang sistema dahil naging malinaw na may mga ligtas at komportableng lumulutang habang napakaraming ibang nahahayaang malunod.
Hindi malinaw kung saang direksiyon dapat tumungo, at wala man lang mga panandang makagagabay sa atin. Lumitaw ang tanong: "Bakit kailangang magbago? Wala namang problema." Maliban dito, naibahagi rin ang sama ng loob dahil sa mga "sayang" at "sana"; mga panahong nasayang kung hindi lang tayo napilitang magbago, at mga karanasang nagawa sana bago nahuli ang lahat.
vi · Panimula Hindi na bago para sa Batch '22 ang pagbabago. Bago pa man tayo tumuntong ng kolehiyo, una nating naranasan ang pagbabagong dulot ng K-12. Nadagdagan ng dalawang taon ng pag-aaral upang pumantay ang kalidad ng edukasyon sa mauunlad na bansa. Inayon din ang akademikong kalendaryo sa kalendaryo ng ibang bansa.
Higit pa rito, sa gitna ng paglalakbay natin sa kolehiyo, kinailangan ulit nating magpadala sa alon ng pagbabago nang sakupin ng pandemya ang mundo. Sumisid tayo sa hindi pamilyar na online setup, kasama ang ibang mag-aaral at guro na patuloy na nangangapa sa panibagong espasyo.
Napatunayan nito na mahalaga rin ang pagpapatibay ng loob upang hindi tayo mabigla at tuluyang malunod.
heights Seniors Folio 2022 · vii Hindi pantay-pantay ang mga karanasan sa pagbabago, at nararapat lang na abalahin tayo nito. Walang normal sa naranasan natin dahil hindi lahat ay may kapasidad at may kakayahang lumangoy.
Kamakailan lamang, naranasan natin ang maituturing nating napakahalagang pagbabago matapos ang resulta ng pambansang eleksiyon. Papasok tayong mga bagong nagtapos ng kolehiyo sa panibagong pamamahala at politikal na klima, maliban pa sa pagpasok natin sa panibagong kabanata ng ating buhay. Hindi muli malinaw ang papasukan nating kinabukasan, at tunay na nakakakaba ang nakikinitang direksiyon ng ating kapaligiran. Ngunit tayong mga hinubog ng pagbabago ang dapat manindigan at maging malay sa mga dapat baguhin at pigilang maulit. Hindi nasayang ang panahon nating Batch '22. May binaon tayo mula sa patuloy na pagsisid sa alon ng pagbabago. Niyakap natin ang pagbabago at itinuring natin itong mahalaga upang labanan ang kampante at mapagsamantalang sistemang kinabibilangan natin. Mula sa karanasan natin, napagtantong hindi na dapat ikatakot ang pagbabago. Ngunit sa pagkakataong may makasalubong tayong natatakot sa pagbabago, huwag sana tayong magdalawang-isip na ab alahin sila. Ignacio C. Bunag Katuwang na Patnugot Cydney Maegan M. Mangubat Tagapangasiwang Patnugot para sa mga Panloob na Gawain Alexis Nicole M. Ferreras Tagapangasiwang Patnugot para saHulyoPananalapi2022
Akda
Mga
Zoe Andin ab interdisciplinary studies
heights Seniors Folio 2022 · 2
Zoe finished a degree in Interdisciplinary Studies. Since entering Ateneo in 2017, she was a member of The GUIDON and Heights Ateneo. There, they made a home in the cramped, cold, and sometimes musty-smelling walls of MVP 202 with some of the best people she had the honor of meeting. She is learning to reapproach craft with wonder after years of journalistic structure. Their karaoke song of choice is Stars are Blind by Paris Hilton.
3 · Zoe Andin
Love Language I.
"Be well!" was how Milo said goodbye. Every time he'd leave the pub, he'd call out a chipper "be well!" to anyone still in the room. I found it amusing at first, an odd way of saying "bye", but eventually, it stuck. It just became part of his identity, a trait in the stack of character cards I was building up of the people I encountered regularly. It left something behind after "goodbye"—warm, casual, genuine, and Growingwell-meant.up, I didn't think much of explicitly telling people to take care. It just went without saying. "Bye" did the job and did it pretty well. "Take care" sounded like the sign-offs I'd hear growing up when adults ended phone calls. "Ingat" had gravitas that didn't feel casual enough for everyday conversation. "Ingat!" was a commercial tagline for peach-colored fever medicine. "Mag-ingat ka!" was what someone told you when they wanted to warn you off from strange folks. "Ingatan ang gamit" was a warning against pickpockets and thieves. "Ingat" was for living cautiously, on edge and aware of what lurks ahead. Stay safe, take care. I fell into the habit of saying "ingat" as a farewell sometime in high school. A friend called it out to me as I was leaving an outing. "Ingat!" She followed up with, "Love you!" I stumbled over the word in my awkward Filipino to say it back. She said it with a levity I never approached it with. She said it synonymous to "I love you." Be careful. I care about you because I love you. I worry about you. Be safe. I love you.
heights Seniors Folio 2022 · 4
With time, "ingat" came to mean "take care" and "goodbye" at the same time. It was sending friends off after a long school day as we all retreated to our homes or Friday night haunts. It was waiting on family driving home. It was a salute before diving head-first into rush hour commutes. It was silly at times, when said in front of classrooms or at parting at the cafeteria, but it meant the same. I'll see you later. Be careful. I love you.
· Zoe Andin
"Message when you get home," Matthew and I say as Pat climbs into her Grab. "Ingat kayo ha!" Tita calls out to my cousins and I before we make an evening drive to buy snacks. "Be careful," I tell my parents on their way out to another out-of-town wedding. "Stay safe, wash your hands, get vaccinated, we love you," my favorite late-night show host signs off in a bright but empty studio. "Good evening, take care," the priest on screen says, eyes grazing over the congregation, towards the camera and the audience he hopes is listening. Ingat. (We have been more than six feet apart for months. Sit separated by screens or plexiglass sheets. People we love have been getting sick even from within their own homes. I care for your safety. I am also afraid because I don't know how else to protect you from this. I hope to see this through. I love you.)
II. Hands are the main pathways for germs, hence the emphasis on the importance of hand washing. Use soap and water, rubbing vigorously in circular motions over palms, the backs of your hands, around and in between fingers, under your nails, knuckles, down the wrist, rinse. When no clean water or soap is around, use hand rub religiously. Avoid touching your face, your mouth, your eyes to minimize bacteria. Instead of shaking hands or hugging in greeting, bump elbows, nod, or wave awkwardly even if it feels weird.
5
heights Seniors Folio 2022 · 6
"Touch" has become synonymous to "transmission." I hold hands with my parents during prayer and am hyper-aware of the sweat that sticks to my palms and fingers. I squirt alcohol on my hands on instinct, even after washing them for 20 seconds, humming two "Happy Birthday" songs under my breath. Every package I receive smells a little bit like disinfecting cleaner mixed with water. Restaurant doors are pushed open with my shoulders or elbows. Plastic films cover elevator buttons to act as a veil of protection—how effective, I can't say for sure. When my arms brush another person's on accident, we shrink back as if burned, because paranoia is a sideeffect that soap and water won't wash away. III. Remember to be there by lunch time. Remind me what our restaurant options were again. Do you remember how to get there? You remembered I can't eat raw fish. The last time I hugged either of you before today was February, remember? I don't remember you being this tall. You didn't remember to bring a face shield so we're walking around the block, across the street and back just to find one for sale. I saw this video and remembered to show you.
When my parents sent me off to live in a different country alone for six months, they packed me six bars of soap and four bottles of rubbing alcohol stuffed into my suitcase. Every time I went in and out of my dorm room, I had a giant bottle of Lysol and alcohol to spray down my things. Wet wipes became tableside staples at meals next to the grill for meats and lettuce for wraps. I learned the Korean word for "hand sanitizer" before I learned the most convenient train route from the airport to my university.
Do you remember when we took this photo, all squished together, knees touching, far too many people crammed inside a small org room? Do you remember when we rode that jeep to the cafe and the traffic was so bad that we should have walked instead, but we stuck
it out? Do you remember * and *? I heard they broke up. Do you remember when we had that disaster of an event in high school?
After a seven-hour day of walking around aimlessly, making plans up as we went, and laughter that I hadn't experienced since the world closed down, you grabbed our hands, watching the battery drain from your phone as the pick-up car crawled its way to the digital pin placed outside the bookstore. "Today was a good day. I've missed this feeling," you said, sweat and stray tears staining the top band of your face mask. "I want to remember it." semester! things are very different, I look forward to meeting you and learning with you throughout the next modules. Do let me know if you have any concerns I need to take note of. You can reach me here or via email. problems during our session today. Still trying to work out this new system. Rest assured, we will figure this out for the next synchronous class.
YourBest, Professor Dear Apologiesstudents,forthe screen sharing
7 · Zoe Andin
Although
IV. Dear Welcomestudents,tothe new
fine, thank you. Just
YourBest,
Excuse me... Now, where
Thank you. Yes,
we?
Professor Dear students, Per request of the beadles, will move this week's deadline to Monday next week instead. Hopefully this gives you more time to refine your work. You can do it, I believe in you. Professor Dear students, Can you see my screen? What about now? I'm have something caught in my throat. were
we
No?
heights Seniors Folio 2022 · 8 YourBest, Professor Dear students, This was a good first full week. Thank you for your attendance, but I still hope to see and hear more of you as time goes on. Have a good weekend! YourBest,
YourBest,
YourBest, Professor Dear Thankstudents,youforyour well-wishes. I thankfully tested negative, but will remain in quarantine for the rest of the week. I'll see you on Tuesday as
Following the announcement of an academic break, I will move 9 · Zoe Andin
Professor Dear students, No synchronous class this week. I'm afraid I've come down with a bad cold and will be going into isolation for the week, until I am sure this is nothing serious. Take care.
IDearYourBest,scheduled.Professorstudents,knowitisadifficult time for all of us. It may feel as if your efforts are not paying off but there's only so much you can do. I understand. I am with you in this arduous period. I do not hold it against you if you are struggling with the workload. I will admit the adjustment has been challenging, even for us, your professors.
Many have been getting sick recently. Please stay safe and take care.
YourBest, Professor Dear students, My apologies for not being able to turn in the scores of your papers sooner. Had to take care of some family matters over the weekend. Your grades have been uploaded now. If you have questions, leave a comment here on Canvas and I will do my best to get back to you
all the work you've put in over the course of this semester. It has been a struggle for all of us but we have made it to the last leg. I am very proud of the work you've all produced, and you should be very proud of yourselves.
Please remember to submit your final assessments by December XX so we can all have a restful and stress-free break. In case of emergency, please reach out to me so we can make the necessary arrangements.
ThankDearYourBest,ASAP.Professorstudents,youfor
heights Seniors Folio 2022 · 10 all pertinent deadlines to after the break. I have also decided to remove the quiz requirement for our final module. This will shift into participation points, whether on Canvas or during our synchronous sessions.
The barangay staff go around town to ask how many people live in a household, any senior citizens, what about people with comorbidities.
In exchange for information, there are canned goods, rice, instant noodles, bread waiting. Sometimes, the bags have words printed on them: "From Cong. So-and-So," "mula sa Opisina ni Mayor Kwan," "ingat po! Sen. Something."
Best of luck, Your Professor V.
There is a primetime broadcast about people lining up to get vaccinated. A reporter asks for testimonials from the line. "Para po sa trabaho," says one. "May sakit po kasi ako kaya kailangan talaga," says another. "For the safety of everyone," someone else. "Sabi po kasi hindi kami makakatanggap ng ayuda kung wala eh." Aid. Stimulus. Ayuda. Bayanihan.
"We don't have enough money," the old man on television mumbles in that familiar tone, his black eyes staring into the cameras as the ticker at the bottom of the screen reads: SENATE TO HOLD INVESTIGATION ON ANOMALOUS DEALS FOR PERSONAL PROTECTIVE EQUIPMENT. "Let us try to find more money." We are knee-deep in debt, he doesn't say. A debt that will be carried on 11 · Zoe Andin
"You can't give people hand-outs or else they'll become reliant on them," an interviewee on an American news network derides. On a different broadcast, a representative says that the money is not simply stimulus, not spending money to kick the economy back into gear, but money that will feed families going hungry, pay for goods made more expensive by a global supply crisis.
The man in the barong shakes hands with people at his sortie, smiling and taking selfies with those who see him as a savior. He promises change. He promises an end to the deep-rooted suffering and corruption. He says he knows what the people need. He is trailed by aides with envelopes or bags of household goods.
A woman sets up an initiative in her area with the tagline: Magbigay ayon sa kakayahan, kumuha batay sa pangangailangan. There are donations of produce, eggs, face masks, instant food packs, and hygiene kits. The effort spreads across the country in the hundreds, to far-flung communities where people come to the aid of their fellowmen. When the financial aid of 8000 pesos is no longer enough in the face of rising market prices, community pantries are movements born out of frustration and necessity: a call-out to a government that lacks in every aspect. In response, they are threatened with force and destruction. Called breeding ground for rebel insurgents, forced to shutter operations until it is safe again. The message flies over: citizens step up because the government cannot. The efforts can only last for so long before they fizzle out, fatigued from doing all the heavy lifting.
"Ayuda po."
Storms hit and the cycle continues. There is a call for food, for water, for financial aid. People have lost their homes, jobs, and access to basic needs, now on top of a disease pandemic that is spreading like wildfire. Schools, private groups, civil sector, local government units pitch in to do what they can. The plea for aid resurfaces anew. It will repeat itself like an echo in a canyon, waiting for a response that I fear will never come.
heights Seniors Folio 2022 · 12 long after my term has ended.
Gabrielle Bande is a Creative Writing senior who goes by the nickname Rei. She is a daughter, a friend, a poet, and a dreamer. Most days, she falls asleep with her Discord on; while some days, she barely even sleeps at all. She never leaves the house without a trusty pair of boots on.
Gabrielle Bande bfa creative writing
heights Seniors Folio 2022 · 14
15 · Gabrielle Bande
heights Seniors Folio 2022 · 16
What I do know is that crematoriums are boosting in business compared to funeral homes. That my mother kept a bunch of my money. My electricity bill will keep accumulating because nobody would be there to turn the refrigerator off. That they will find the empty trays of pain reliever and paracetamol.
Unsupervised
What I do not know is how long it would take for them to unlock the door. Or how long before my phone battery runs out. The names that will show up on the tiny rectangle. The kinds of flowers I will receive. If they will ever find my browsing history, or figure out that I didn't actually have a fever.
17 · Gabrielle Bande Interlude yourselfgettoricefriedChowYangofplatterfamilyaorderYou sentient,betoappearslaptopYourtrial.24-hourthethrough fromnoisesbackgroundtransmittingblink,asleepingnot youronvideosimulationLSDanaswellasyou,toCalifornia earsyourindepthunexplainablethefillingwindow,YouTube university:incontractfour-yearyourandbrainyourand in Story,SuicideTaipei stoppitthebeingforknownishotelthe mourn.toleftnothinglose,toleftnothinghavewhopeoplefor youroftellingit,beneathsweatofpoolahastableyouroncoffeeThe mind.youronthingsoflisttheandliquid,ofamountslargetoresistance optimist,anyou'rethinkyouSometimes onwebsitesbookmarkingwereyouwhenlike youwhenorFrancisco,"Saningoto"Where off.lightsthewithsleeptodecide isaboutthinkcouldyouallpoemthiswriteyouasBut table,yourondusttub,ainbloodbatha eulogy,awritingfriendsbesttwoyour praying,fund,scholarshipyourtohappenwouldwhatand mother—yourtogoesnothingthathoping,justor
heights Seniors Folio 2022 · 18 Antipolo,instudentarttheLaguna,ingirlthetobut do.youlikeworldthisaroundmovemightwhoevertoand
heights Seniors Folio 2022 · 20 Jude Buendia ab development studies Hoy, bakla, 'di pa ako tapos! See~ you soon, mga sis!
21 · Jude Buendia
heights Seniors Folio 2022 · 22 Nakakalimot. Video manipulation (screenshot I). 1,242 × 2,200 px.
Nakakalimot. Video manipulation (screenshot II). 1,242 × 2,191 px px. 23 · Jude Buendia
heights Seniors Folio 2022 · 24 Nakakalimot. Video manipulation (screenshot III). 1,242 × 2,186 px.
Nakakalimot. Video manipulation (screenshot IV). 1,242 × 2,195 px. 25 · Jude Buendia
heights Seniors Folio 2022 · 26 Nakakalimot. Video manipulation (screenshot V). 1,242 × 2,200 px.
Nakakalimot. Video manipulation (screenshot VI). 1,242 × 2,200 px. 27 · Jude Buendia
heights Seniors Folio 2022 · 28 Artifact of Dysphoria (from many). Gold chain on fabric.
Raissa Jeanne A. Cafe bs psychology
heights Seniors Folio 2022 · 30
A psych student who likes psychoanalyzing her favorite characters. She spends her time reading, with occasional bursts of writing inspiration in between. Too many WIPs (works in progress) and not enough time. Hopes to publish a book someday, either in her chosen field or in fiction.
31 · Raissa Jeanne A. Cafe
I looked in the mirror and saw myself.
The tie matched well with the black suit, and overall made for a [perfect? Matching] somber look. I can almost feel my heart bursting out of my chest, ironic really.
There was a sea of people, all wearing black, faces somber and sad. I didn't need to go back to my mirror to see that I probably looked the same. Something about death [makes itself engraved] onto our very soul. Marked us in ways beyond the physical.
With one last look, I decided it was as good as it'll get. I combed a final errant strand of hair and finally turned around and walked out towards the big hall. There were a lot of people, and that made sense in a way, statistics and all.
heights Seniors Folio 2022 · 32 Another Funeral
I was more put together than. Expected, considering the circumstances. Staring at myself, I fiddled with the tie I just finished adjusting a few seconds ago. It was tight against my neck. I'd like to pretend it was there to hold back the emotions, chocking it back with a physical noose hiding behind a lovely dark blue fabric, almost black in its darkness.
The road getting there was littered in flowers. They were mostly white, but I spotted a few patches of yellow and pink, just enough to break the monotony of it all. I thought it was a nice touch. The walk felt long, but I wasn't in any hurry. Looking around, it seemed no one else was either. Slowly, I made my way inside.
"Luckily I knew even then how fortunate I was that she chose me in the end. She left first though, I'm hoping to meet her soon."
I hummed in reply. I remembered my own wife and daughter, their smiles, their laughter. The tears in their eyes the last time I saw them. "I miss them."
Joseph put a wrinkled yet sturdy hand on my shoulder. "I do too, but this is our time to remember them, and hope they remember us."
Unable to stop myself I asked, "Who did you leave?"
"My Angie was so patient with me, even after everything I stubbornly kept on doing." Joseph's crow's feet deepened as he reminisced.
It lightened the atmosphere somewhat, although we earned a few confused glances from those near enough. My heart calmed a little with that short interaction, I felt lighter.
33
"What's wrong with my name?" He asked.
I stood awkwardly to the side, not sure where to sit, but sure enough that I was at the right place. A few others milled around as well, unsure about the situation.
Joseph pulled me over to where he sat and I had no heart to say no to the older man.
· Raissa Jeanne A. Cafe
We started talking, random things at first, and then slowly reached the reason we were here in the first place.
"Well," I smirked, "it's nice to meet you, I'm Yosef." I reached out a hand, and Joseph laughed along as he took it with a shake.
Luckily, a kind soul walked over to me. We exchanged a few greetings. He said his name was Joseph. I laughed lightly, he looked confused.
"A few kids, a few more grandkids. Another one was on the way but…" He trailed off. But I didn't get to meet them, was left unsaid, but I heard it all the same. We were in the same boat after all.
The next few minutes were left in comfortable silence, both of us in our own little world of remembrance. I was at least able to say goodbye, something I'm sure was a regret of many here. I would prefer not having to though, but it was never up to me. It was a nice little moment, I never thought I would still be able to make friends after everything. It's nice to see that death was not the end of all I knew.
A poke to my side broke me out of my reverie. I turned and saw Joseph tilting his head to the side in lieu of pointing. An official-looking man stood from his seat, making his way to the elevated stage at the front. The man, likely the funeral conductor, finally walked over to the pulpit, and the chatter stopped. He looked around, probably making eye contact with everyone in the room at least once, and began the service. "Dearly departed, we are gathered all here today to commemorate those we have left."
heights Seniors Folio 2022 · 34
He continued, but I barely paid attention. I felt like crying. I would have if I had any tears, but those were left along with the body I left behind. I am all that remains.
With a deep breath, I remembered everyone I left. And quietly, softly, I let them go. All I could do is hope that they may be able to let me go as well.
Rocio Gabrielle R. Castillo ,
Isabella Marie Darang is an aspiring writer/playwright who studied Creative Writing in the Ateneo de Manila University. She found a passion in theater during her college stay and has since continued to do work for productions, whether that be through production work or writing the material itself. She continues to dabble in other genres as well to broaden her writing skills. She hopes to continue showcasing her works for people to see and read and she hopes to become an acclaimed writer some day.
heights Seniors Folio 2022 · 36
Rocio Gabrielle Castillo is currently a Creative Writing senior in Ateneo De Manila University. Her love for writing began at an early age having been imparted a deep love for words and stories from her mother. While her current writing preoccupations keep her in the world of science fiction stories, being able to write for the stage has been an undeniably life-changing experience. She hopes to become a writer that will encourage her readers to keep questioning and be critical especially in the face of unjust realities.
bfa creative writing, bfa creative writing, bs psychology
Aleiana Zelin Duque is a BS Psychology major in the Ateneo de Manila University who began writing at a young age as a way of creating worlds she wanted to live in — and hasn't stopped since. Her passion for writing has birthed a myriad of lovesick poems, unsent letters, children's short stories, and more recently, plays that best reflect her and the values she holds dearly. She hopes to one day be remembered the way her works have been loved: tenderly, a little scandalously, and always truly.
Isabella Marie P. Darang, &
Aleiana Zelin T. Duque
37 · Rocio Castillo, Isabella Darang, & Aleiana Duque
heights Seniors Folio 2022 · 38 Lamon-Babae A one-act play mga orasdantedoloresamihantauhan 7:00 P.M., 17th Century
Sabi ni Dante aswang daw yung kumuha sa kanya, yung aswang na kapag umaga, sobrang ganda pero kapag gabi na, nag-iiba sila ng anyo. Halos 'di na makilala. Hindi ba iyon nakapagtataka? amihan Dolores, hindi ito ang unang beses na kinailangan kitang gamutin. dolores
Yung mga alam ko lang kasi na aswang nakuha ko sa sabi-sabi ng mga prayle sa plaza. Sila raw yung dahilan kung bakit nalalaglag yung mga sanggol sa sinapupunan ng ina nila. Parang yung nangyari kay Elena.
AMIHAN helps DOLORES clean her wounds. amihan Alam mo, puwede kitang dalhan ng maiinom para mas mabilis gumaling ang mga pasa mo. dolores Salamat, Amihan.
AMIHAN looks DOLORES over, checking for injuries. She gently cups DOLORES' face, moving her head side to side. dolores
39 · Rocio Castillo, Isabella Darang, & Aleiana Duque episode 1
Silence as AMIHAN puts away the cloth and basin of water. amihan Hanggang kailan mo ito matitiis, Dolores?
Narinig mo na ba yung balita? Mayroon na naman daw nawawala sa kabilang baryo. amihan Hindi pa. dolores
heights Seniors Folio 2022 · 40 amihan (muttered under her breath) Ako rin may alam akong aswang. Napakalapit pa nga sa'yo.
DOLORES looks at AMIHAN scoldingly. amihan Sinasabi lang 'yon nina Padre Alejandro. Para itago ang mga kahayupang ginagawa nila sa mga babae, tulad ng ginawa nila kay Elena.
AMIHAN sits closer to DOLORES. amihan Sana nakakaramdam ka pa rin ng kapayapaan kahit kapiling mo ang asawa mo. dolores Bakit mo naman binabalik kay Dante ang usapan? Aswang ang ikinababahala ko. amihan Ako rin. DOLORES relents under AMIHAN's intense gaze. dolores Alam mo namang hindi ganoon kadali.
DOLORES pauses. dolores Mag-iingat ka, Amihan, lalo na at mag-isa ka lang. Napakalayo mo pa sa baryo. amihan Alam mo namang hindi ko kayang iwan ang tahanan ko, kahit gaano pa man kalayo ito.
AMIHAN looks towards the door. amihan Ipinagkaloob iyon ng ina ko sa akin. Doon na lang ako nakakaramdam ng kapayapaan sa sarili ko.
DOLORES shakes her head. amihan Mayroon akong puwedeng ibigay sayo para masigurong hindi ka mabubuntis. Buwan-buwan mo kailangang inumin para umepekto. Lamon-babae.
AMIHAN pointedly glares at DANTE. He clenches his jaw. dante Para saan ba 'yan? amihan Para sa babae lang iyan. Para di magkaa— dolores
DANTE enters the house, tired from working in the fields. DOLORES quickly removes her hand from AMIHAN's grasp and goes to greet him dante Lamon-babae?
Ah, wala. Pantanggal lang ng pangingirot pag dinadatnan na kami.
41 · Rocio Castillo, Isabella Darang, & Aleiana Duque
AMIHAN places her hand on top of DOLORES'. DOLORES rubs her thumb against AMIHAN's hand. They stare at each other for a moment. amihan Hindi ka pa rin ba dinadatnan ngayong buwan?
DOLORES rushes to clear the table of clutter. dante Anong gayuma na naman 'yan? amihan Hindi ko naman iyon kailangang ibigay kay Dolores.
heights Seniors Folio 2022 · 42
DANTE is shocked and stands abruptly while trying to wipe away the water. DOLORES scrambles to get the cup and hurriedly goes to get a towel. AMIHAN watches in silence.
AMIHAN stands. amihan Mauna na ako, dumidilim— dante O, nagmamadali ka? Wag ka muna umalis. Dito ka na lang maghapunan.
DOLORES pauses, holding plates. AMIHAN glances at DOLORES.
AMIHAN reluctantly sits back down. DOLORES places the food on the table. DOLORES sits beside DANTE. amihan Mukhang masarap ang niluto mo, Dolores. dante Masarap nga ba? Tingnan natin. Baka naman masyadong maalat gaya kahapon. AMIHAN and DOLORES share a look. dolores Kamusta ang pagsasaka mo? dante Walang nag-iba. Matamis pa rin ang tubo.
Silence ensues. The three continue eating; DOLORES accidentally drops her cup of water, spilling over DANTE.
AMIHAN hands DOLORES the remaining bowl on the table. Their fingers touch. DOLORES quickly averts her eyes from AMIHAN's.
DANTE shoots AMIHAN a look as he sits across her. DOLORES goes to set the table.
DANTE accepts it and stares at her for a moment. DOLORES avoids eye contact.
AMIHAN opens her mouth and starts to say something before DOLORES shoots her a look.
dante Bakit ka nga ba napadalaw ngayon? amihan Ninais ko lang kamustahin si Dolores. dante Hindi ba bumisita ka rin noong isang linggo? Linggo-linggo ka na ba pupunta sa pamamahay ko?
amihan Yung tungkol sa aswang?
dante Madalas ka rin bang nakakahulog ng mga gamit, Amihan?
43 · Rocio Castillo, Isabella Darang, & Aleiana Duque
AMIHAN tries to catch DOLORES' eye, but DOLORES continues to stare at her food. dante O baka wala ka lang pakialam kung makaabala ka.
amihan Hindi ko naman sinasadya.
DANTE sits back down and starts tapping his fingers on the table while waiting, DOLORES hurries and gives the towel to DANTE.
AMIHAN clenches her jaw. They continue to eat in silence. DANTE glances at the two of them. dante Narinig niyo na yung balita? Yung sa kabilang baryo?
heights Seniors Folio 2022 · 44 dante Oo. Nakakita ka na ba ng ganoon, Amihan? AMIHAN stares at him. amihan Bakit sa tingin mo nakakita na ako?
DANTE stops what he's doing with the towel and faces DOLORES. dolores Sa may gubat. dante Sa gubat. Yung hindi pinupuntahan ng mga tao dahil mayroon daw masasamang espiritung nakatira doon. Bakit nga ba ang layo mo sa amin, Amihan? Mahirap ba makitungo sa aming mga karaniwang tao? amihan Karaniwan? dante Sa bagay, hindi rin kita masisisi kung gusto mong magtago pagkatapos ng nangyari sa'yo.
AMIHAN stops drinking, setting her cup down forcefully.
DANTE starts twisting and gripping the towel in his hands. DOLORES stares at it in fear. dolores Sa… sa may… dante Sa?
DANTE pauses. dante Dolores, saan na nga ba ulit nakatira si Amihan?
amihan (shaking) Hindi 'yan totoo. Alam ni Dolores na— AMIHAN turns to DOLORES, but DANTE slams his fist on the table. amihan Wag mo siyang sinasali sa mga pambubruha mo. Wala siyang pakialam sa'yo.
DOLORES wrings her hands. dante Nagtatago ka lang dahil alam mong hindi ka na tunay na babae. amihan Anong pinagsasasabi mo, Dante?
AMIHAN leans forward, gripping the table cloth. DOLORES clutches her hand. dante (chuckling) Baog.
AMIHAN abruptly stands. She starts to speak but sees DOLORES and stops herself. dante Baka naman kaya hindi ka pwede magka-anak kasi aswang ka rin at hindi lang mangkukulam.
dolores Parang dumidilim na ata, kailangan na umuwi ni Amihan. Amin na ang plato mo, Dante.
45 · Rocio Castillo, Isabella Darang, & Aleiana Duque
DOLORES tries to take DANTE's plate. dante Hindi pa 'ko tapos. Totoo naman, hindi ba?
AMIHAN sneers.
DANTE turns his body to stare at DOLORES and holds the back of her chair. DOLORES does not react. amihan 'Yan ba ang mukha ng taong masaya? dante Ano naman ang alam mo tungkol sa pagiging masaya, Amihan? Hindi ba't mag-isa ka lang?
heights Seniors Folio 2022 · 46 amihan Kinukulong mo lang siya sa bahay na 'to para kampante kang wala siyang ibang pinagkakaabalahan bukod sa'yo. Para ikaw lang at 'yang makitid mong pag-iisip— dante Kinukulong? Masaya siya dito, hindi ba, Dolores?
DANTE clenches his fist. dante Kapit-tuko ka sa asawa ko dahil wala nang natitira sa'yo. DOLORES turns to place her hand on DANTE's arm on her chair. dolores Dante— DANTE shakes her off. dante Manahimik ka. Mali ba ako, Amihan? (chuckling) Mas mabuti ata kung maghanap ka na ng bagong kaibigan, Dolores.
AMIHAN and DOLORES look at each other. DOLORES is teary eyed. amihan At mas mabuti kung hindi mo sinasaktan si Dolores dahil lang takot kang mag-isa.
AMIHAN looks at DOLORES, steeling herself.
AMIHAN turns to the door and walks towards it but stops before exiting. AMIHAN turns to DOLORES, whispers to her. amihan Kapag sinaktan ka niya ulit, itatakas na kita dito.
DOLORES looks at her shaking hands. AMIHAN exits.
DANTE turns to DOLORES. dante Hindi ka niya pwedeng kunin sa akin. Akin ka lang, hindi ba?
47 · Rocio Castillo, Isabella Darang, & Aleiana Duque
amihan Kung papipiliin si Dolores, ako dante Layas. Ngayon na.
DANTE and AMIHAN stare each other down. DOLORES stares at AMIHAN in shock.
DANTE stands up and looms over AMIHAN. dante Hindi mo alam ang sinasabi mo.
DANTE stalks towards the doorway to watch AMIHAN walk away.
DOLORES quickly nods and looks down. DANTE stares at DOLORES. dante Kapag kinuha ka niya sa akin, papatayin ko siya.
DOLORES staggers a bit then runs to stand in front of the window.
heights Seniors Folio 2022 · 48
The frame shifts to a view of DANTE'S back and the houses beyond the doorway. The lights in each house are lit; DANTE's voice can be heard starting the rumors and voices gradually get louder as people echo the rumors regarding AMIHAN: "hinahati sa dalawa ang katawan," "kumakain ng tao," "nagnanakaw ng bata."
Cut to AMIHAN walking away while the rumors echo. She turns to look back at DANTE, but lingers on DOLORES.
The last word to be heard, said by DANTE, is "manananggal" as the screen goes black. -end of episode 1episode 2 scene 1 time: 7:00 p.m AMIHAN returns to DOLORES' house with lamon-babae. She hears the rumors as she walks. AMIHAN calls out. amihan Dolores! Dinalhan kita ng lamon-babae! DOLORES greets AMIHAN and lets her in. They sit across each other at the dining table. dolores Naalala mo?
amihan Papaanong hindi? Makakatulong ito para masiguradong hindi ka talaga mabubuntis.
AMIHAN stops herself as she sees DOLORES' face. DOLORES looks down. amihan Ako ang tinutukoy nila. DOLORES wrings her hands together. amihan Ako ang aswang. dolores Wala silang alam, Amihan. AMIHAN laughs. She begins to pace back and forth. amihan Mukha nga. Hindi ba nila naisip kung anong puwedeng mangyari sa akin ngayong ipinagkakalat nilang aswang ako?
AMIHAN places the herbs into DOLORES' hands. DOLORES looks at the bundle for a moment, examining it before gingerly placing it on the dining table. amihan Narinig mo ba iyong mga sabi-sabi? May bago na naman silang pinag-uusapan. Kilala mo ba kung sino? DOLORES looks at AMIHAN, anxious. dolores Nakaabot na sa'yo? amihan Si Paulina na naman ba? Ano na namang ginawa niya ngayon? Parang hindi pa yata nakalilipas ang isang linggo at—
49 · Rocio Castillo, Isabella Darang, & Aleiana Duque
AMIHAN throws her hands up in frustration. amihan Mismong buhay ko na ang nakataya dito, Dolores, buhay natin—
heights Seniors Folio 2022 · 50 dolores Hindi ka naman tulad ng sinasabi nila. Malaya, makapangyarihan ka, oo, mapusok pa nga minsan… pero hindi ka aswang. amihan Kaya nga, Dolores. Eh pinaghihinalaang mangkukulam pa nga lang, halos sunugin na, paano pa kaya kung halimaw? Aswang?
DOLORES stares at AMIHAN, surprised. AMIHAN stutters, then recovers herself. dolores Natin? amihan Buhay natin… natin bilang tao. AMIHAN groans, clutches her hair and starts pacing around frantically. dolores Amihan, sandali. Umupo ka muna. AMIHAN faces DOLORES. amihan Si Dante ba ang pasimuno? Dahil ba sa sinabi ko kahapon? dolores Paumanhin, Amihan. Hindi ko naman alam na nagbabalak siyang ipagkalat na… amihan Na? dolores Na… manananggal ka raw.
amihan Manananggal? At ano naman ang sinasabi nilang tinatanggal ko, Dolores?
AMIHAN stares in shock. She leans on the table and laughs, shaking her head. amihan Lintik. Karne nga hindi ko kinakain, laman-loob ng tao pa ba masisikmura ko?
DOLORES takes a deep breath. dolores Kaya mo raw hatiin ang sarili mong katawan tuwing… tuwing nagnanakaw ka ng mga bata, sanggol. Mga nasa sinapupunan pa lang ng nanay nila.
51 · Rocio Castillo, Isabella Darang, & Aleiana Duque
AMIHAN stares at DOLORES. amihan May hindi ka sinasabi sa akin. DOLORES fidgets with her skirt and avoids AMIHAN's gaze. amihan Dolores. dolores (mumbles) Kumakain ka rin daw ng tao.
DOLORES cracks a smile before frowning again. amihan Mayroon pa? Hindi mo sinagot ang tanong ko, bakit manananggal? dolores Amihan, wag na— amihan May karapatan akong malaman, Dolores.
AMIHAN turns to DOLORES in surprise. DOLORES looks down at her hands. dolores Mahirap bang isiping may babaeng may kapangyarihan sa katawan niya? Na may babaeng... malaya? Kaya bakit hindi ikaw?
heights Seniors Folio 2022 · 52 AMIHAN freezes. amihan At yung paghahati ng katawan? Dahil ba… (hushed) Napakasahol ng asawa mo, Dolores.
AMIHAN steps towards DOLORES. amihan O ikaw?
DOLORES walks over to AMIHAN. amihan Dignidad ang sapilitan nilang kinuha mula sa akin noon, hindi lang sanggol. DOLORES places her hands on AMIHAN's arms, but AMIHAN shrugs them AMIHANoff. steps back and hugs herself. She turns her back on DOLORES. amihan Hindi ko iyon magagawa sa kapwa babae. Bakit ko sila tatanggalan ng ipinagkait sa akin? dolores Alam ko 'yon, Amihan. Kilala kita. amihan Kaya nga bakit ako ang manananggal? dolores (hushed) Bakit naman hindi?
DOLORES sighs with a deep frown.
DOLORES steps back from AMIHAN. dolores Pero ako mismo, hindi ko alam kung kakayanin ko. amihan O baka hindi mo pa alam ang sarili mong kakayahan.
DOLORES meets AMIHAN's gaze. They smile at each other.
DOLORES goes to sit again, slumping into the chair. dolores Napakadali para sa'yong sabihin iyan dahil hindi naman ikaw ang nagtitiis araw-araw.
DOLORES grips her skirt in clenched fists.
Alam mo kung anong kaya niyang gawin sa iyo, Amihan. amihan Alam mo rin namang kaya ko siyang tapatan.
53 · Rocio Castillo, Isabella Darang, & Aleiana Duque
AMIHAN pauses.
amihan Bakit ba hindi mo pa siya iniiwan? dolores
amihan Dolores, hindi ba't matagal mo na 'tong inaasam? dolores Alam mo namang hindi ganoon kadali, Amihan. amihan Pero sana may hangganan pa rin ang tinitiis mo.
DOLORES glances at the lamon-babae. dolores Sana ganoon na lang kadali.
DOLORES holds onto AMIHAN's hand. dolores Durog na durog na rin ako, Amihan. (hushed) Hindi pa rin siya nagbabago. May natitira pa bang sa akin lamang? DANTE and the neighbors can be heard talking. DOLORES urges AMIHAN to leave. dolores Amihan, kailangan mo nang umalis, ngayon na Amihan— DANTE enters the house. DOLORES rushes to take DANTE's hat and bolo. dante Bakit may manananggal sa pamamahay ko?
AMIHAN starts to move towards DOLORES. amihan Dolores, sandali lang— DOLORES abruptly stands. dolores Nandidiri ka pa rin ba sa sarili mong katawan? Pakiramdam mo pa rin ba na ginigiba ka? They stare at each other. amihan Alam mong winasak nila ako bago ko mabuo ang sarili ko.
heights Seniors Folio 2022 · 54 dolores Hindi ikaw ang halos 'di makakibo dahil natatakot kang isang pagkakamali ay katumbas na ng isang hampas.
DOLORES starts to move around AMIHAN. AMIHAN holds out her arm, then moves to shield DOLORES from DANTE. dante Huwag mo akong subukan, Amihan. dolores Dante, kumalma ka lang.
amihan Alam mong hindi 'yan totoo, Dante. Ano naman ang ginusto mong mangyari noong ipinagkalat mo iyan?
DANTE takes a step forward and AMIHAN takes a step back, closer to DANTEDOLORES.andAMIHAN
DOLORES stays put. dante Alam mo mas mabuti para sa'yo kung umalis ka na ngayon. amihan Hindi ako aalis. dante Bakit ka ba balik nang balik? Ano bang pakay mo sa asawa ko?
DANTE tries to go to DOLORES, but AMIHAN steps in between them. dante Dolores, halika rito.
55 · Rocio Castillo, Isabella Darang, & Aleiana Duque
DANTE sneers at AMIHAN.
continue to stare each other down. dante Dolores, halika sabi rito. amihan Dito lang siya.
DOLORES hesitates, but starts to turn toward the door. amihan Dito ka lang, Dolores.
DANTE starts to smile and caresses DOLORES' face. He ushers DOLORES to take a seat on the chair and kneels in front of her. He caresses her stomach, but then sees the lamon-babae. He hurriedly stands to pick it up. dante Ano ito?
DOLORES freezes. DANTE notices AMIHAN squeeze DOLORES' hand. dante At talagang mas gusto mong sumusunod sa kanya!
DOLORES flinches and DANTE suddenly lunges at her, shoving AMIHAN out of the way and raising his hand to hit DOLORES. amihan Wag! Buntis siya!
heights Seniors Folio 2022 · 56 dolores Dante, walang masamang balak si Amihan. dante Kung ganoon, buksan mo ang pinto para makalabas na siya.
DANTE freezes, quickly turns to face AMIHAN. DOLORES stares at AMIHAN in shock. dante (hushed) Anong sinabi mo? amihan Wala, Dante— DANTE turns to face DOLORES. dante Buntis ka? May anak ako?
DOLORES stays silent. DANTE remembers what AMIHAN said in Episode 1, "Para hindi magkaa— ". DANTE turns to AMIHAN. dante Walang hiya. Balak mo pang patayin ang anak ko—
DOLORES pleads with AMIHAN with her eyes. AMIHAN slowly walks DANTEout.walks to the door holding the lamon-babae. amihan Mag-iingat ka pauwi, Amihan. Apoy ang katapat ng mangkukulam, hindi ba? 57 · Rocio Castillo, Isabella Darang, & Aleiana Duque
DANTE starts to walk towards AMIHAN, but DOLORES steps between them. dante Dolores, tabi. dolores Dante, tama na. Sumasama na ang pakiramdam ko…
DOLORES rubs her stomach protectively. dolores Baka makasama rin ito para sa… para sa anak natin. DANTE looks at AMIHAN and slowly backs away. DOLORES turns to AMIHAN. dolores Amihan, sige na.
AMIHAN and DOLORES share a look. amihan Lamon-babae. dante Dolores, anong ibig sabihin nito?
amihan Kapangyarihang lumikha mula sa palad at hilingpananampalataya,kongsunggabin, hiling kong mapasaakin
AMIHAN bends down to get them. AMIHAN is rattled and watches
AMIHAN is seen rushing back to her house, sounds of the rumors and DANTE's words gradually get louder, heightening her inner turmoil. scene 2
Once she gets home, rumors stop. Sounds of fire crackling can be heard as AMIHAN sees her house on fire. She watches until the flames die out.
DANTE gently cup DOLORES' face. dante At ikaw…
DOLORES shoots AMIHAN a pained look over DANTE's shoulder.
AMIHAN quickly digs through the ashes and gets a mortar and pestle and places the lamon-babae inside. She places it on the ground. She goes to get burnt sage, water, a burnt anito figure, and dried flowers from nearby. She lights up the sage and dances around the mortar and pestle. amihan Buksan, Bathaluman, bunganga ng kaluwalhatian sapat na sa kaluluwa, kahit buntong-hininga lamang She sprinkles ashes from the fire on top of the lamon-babae.
DANTE throws the lamon-babae to AMIHAN. They fall to the floor. dante Wag na wag ka nang babalik dito.
heights Seniors Folio 2022 · 58
She mixes the ingredients together. amihan Harapin mo, babae, ang tunay mong anyo Mapasaiyo ang kapalaran na ninanais, na inaasam at iniibig
She rips the flowers and sprinkles them over the lamon-babae.
Close up of AMIHAN holding the finished concoction and smiling down at it.
She cuts her own hand and drips her blood into the concoction.
59 · Rocio Castillo, Isabella Darang, & Aleiana Duque
amihan Dinggin, anitong mapagpalaya, ang paghikbi ng api sa tahanan ng karahasang hinagpis ang naghahari
amihan Mga kadenang tiyak na balakid sa kalayaan, Gigibain ng lamon-babae, pupuksain bilang mensahe She grabs the water and pours it until the end of the next verse.
amihan Oras na ng pagbangon, oras na ng pagyanig!
Lalamunin ng babae ang puwersang mapaniil Lalamunin ng babae, walang-takot maniningil Oras na ng pagbuwag, oras na ng paglabag!
amihan Humakbang patungo sa iyong kalayaan, iyong Mulakasarinlansamapangwasak na dalamhati, mabubuo ang babaeng sa panlulupig, tumanggi!
She raises the burnt anito figure and stamps its forehead with water. She grabs the dried flowers.
DANTE's hands start to squeeze. DOLORES gasps. DANTE's hands slide down to her waist. dolores Siya lang kasi ang naisipan kong makasisiguro kung buntis talaga ako. dante 'Yong baog na 'yon? DOLORES tries to pull away. DANTE holds her still. dante Bakit hindi ka na lang sa kumadrona nagpatulong? DOLORES stares at DANTE.
DANTE's eyes glaze over, his hands move to DOLORES' neck. dante Mas nauna pang nalaman ni Amihan.
Scene starts with DANTE's "At ikaw…" line from Episode Two. DANTE cups DOLORES' face. dante At ikaw…
DANTE pauses, then smiles. dante Bakit hindi mo sinabi kaagad na magkakaroon na tayo ng anak?
heights Seniors Folio 2022 · 60 -end of episode 2episode 3 time: 8:00 p.m.
dante Hindi na bale. Simula ngayon, sa kumadrona na tayo pupunta.
DOLORES weakly smiles at DANTE. DOLORES turns. dante Huwag ka nang mag-abala. Ako na ang magluluto. DANTE goes to the kitchen and prepares to cook. dante Umupo ka na muna. Hindi ka puwedeng mapagod, baka kung anong mangyari sa anak natin. O matulad ka pa kay Amihan.
DANTE grabs her wrist. dante Ikaw naman, Dolores… hindi ka man lang ba masaya? Magiging isang buong pamilya na tayo.
DANTE lets go of her waist and clenches his fists at his sides. DANTE takes a deep breath.
dolores Papayagan mo ba akong lumabas kung hindi lang para bumili ng pagkain?
DANTE caresses DOLORES' stomach. dante Hindi ko hahayaang may mangyaring masama sa mag-ina ko. DOLORES turns away, moving towards their kitchen. dolores Magluluto na muna ako ng hapunan.
DOLORES glares at DANTE and knocks over a bowl while DANTE's back is turned. DANTE quickly turns to look at DOLORES.
61 · Rocio Castillo, Isabella Darang, & Aleiana Duque
DOLORES sits. DANTE rushes to help DOLORES and picks up the bowl. dante Magpahinga ka lang diyan, Dolores. Ako na bahala sa mga gawaing bahay.
DANTE continues to cook. dolores Kaya ko naman, Dante— dante 'Di mo na kailangang lumabas, ako na bahala sa pagbili ng pagkain natin. dolores Dante, hindi mo 'to kailangang gawin. dante Bakit naman hindi? dolores Hindi mo naman 'to madalas ginagawa…
DANTE glances at DOLORES and they hold each other's gaze for a while. dolores Hindi lang ako sanay. dante Ginagawa ko lang naman ito para sa anak natin. Para walang masamang mangyari sa kanya.
DANTE begins chopping. dante Buti na lang tiniyak kong hindi na tayo aabalahin ni Amihan.
heights Seniors Folio 2022 · 62 dolores Paumanhin, Dante. Masama lang ang pakiramdam ko.
DANTE and DOLORES stare at each other. DOLORES begins to shake as DANTE turns back to his cooking. dante Hindi ka na niya magagayuma, Dolores. DOLORES inches closer, picking up a palayok. dante Tinanggalan ko na ng kapangyarihan si Amihan. DOLORES hits DANTE over the head with the palayok.
DOLORES breathes heavily, standing over DANTE's body before exiting.
63 · Rocio Castillo, Isabella Darang, & Aleiana Duque
DOLORES slowly stands up. dolores Dante, anong ginawa mo kay Amihan?
DOLORES freezes. dolores
Ano nga pa lang ibig mong sabihin kanina? Noong sinabi mo kay Amihan na apoy ang— dante Ngayong magkakaroon na tayo ng anak, kailangang siguraduhin nating hindi siya mababahiran ng dumi. DANTE chops faster. dante Hindi siya dapat lumaki kung saan may mangkukulam.
DANTE turns around just as he lights the fire on the stove. dante Sinunog ko ang kubo ng mangkukulam.
Amihan, nasaktan ka ba? Ano nang gagawin mo ngayon? Saan ka pupun— amihan Aalis na ako.
DOLORES presses her lips to AMIHAN's hands, squeezing them. dolores Hindi ako makakasama sa'yo, Amihan. amihan Bakit mo pa ako hinanap ngayong gabi?
DOLORES pulls back to check for injuries on AMIHAN.
dolores
heights Seniors Folio 2022 · 64
DOLORES stares. amihan Wala na akong tahanan, Dolores. Abo na lang ang natitira. dolores (hushed) Magkakahiwalay na tayo. AMIHAN grabs her hands. amihan Sumama ka sa akin. Pagkakataon na nating mabuhay nang magkasama, Dolores. Nang malaya.
DOLORES runs distraught through the forest. AMIHAN hears DOLORES and starts to run. They see each other and hug as they meet in the middle.
DOLORES breaks away from AMIHAN'S grip. dolores Kinailangan ko lang malamang buhay ka, na hindi ka—
AMIHAN takes DOLORES' hands. amihan Kung ano mang kalayaang ninanais mo, mapapasaiyo. 65 · Rocio Castillo, Isabella Darang, & Aleiana Duque
DOLORES cries. dolores Alam mong hindi na niya ko pakakawalan, Amihan. Lalo na ngayong inaakala niyang…
AMIHAN looks at DOLORES' stomach. dolores Hindi na ako magiging malaya. Ikaw na lang… Pause. AMIHAN reaches inside her pouch to take out the concoction. dolores Ano iyan? amihan Ginawa ko para sa'yo. Para sa inaasam mo.
dolores Amihan, sinunog niya ang bahay mo. Hindi siya titigil hang—
amihan Haharapin ko siya para sa'yo. dolores Pero ano ang kapalit? Hindi ka na magiging malaya kung sasama ako sa'yo, Amihan— amihan Tunay na malaya ako tuwing kasama kita— dolores Amihan, papatayin ka niya!
amihan Pagkatapos, ano? Babalik ka pa rin sa halimaw na iyon? Magtitiis ka pa rin sa karahasan niya? Dolores—
AMIHAN wipes DOLORES' tears away. amihan Paalam, Dolores. Hanggang sa muli nating pagkikita sa susunod nating buhay.
AMIHAN wraps DOLORES' hands around the concoction. amihan Tanggapin mo na, Dolores. Ikaw na ang pumiling kumawala. dolores Anong ibig mong— amihan Gusto ko lang makasiguro na kahit wala na ako sa tabi mo, hindi ka na masasaktan ulit ni Dante.
AMIHAN and DOLORES stare at each other. DOLORES cries harder. DANTE enters, his head bleeding, crashing through the foliage. dante Amihan! Pakawalan mo ang asawa ko! Alam kong ikaw ang dahilan kung bakit niya ako sinaktan!
AMIHAN and DOLORES jump apart. dante Hindi ako magagawang saktan ni Dolores kung 'di mo siya— DOLORES clutches the vial in her hand. DANTE sees it. dante Dolores, ano 'yan?
heights Seniors Folio 2022 · 66
DOLORES quickly hides the vial behind her. dante Ano na naman ang binigay mo ngayon, Amihan?!
AMIHAN abruptly turns to the sound and starts backing away. amihan Dolores… dante Nagsisinungaling kayo. amihan Dolores, umalis— dante Manahimik ka!
67 · Rocio Castillo, Isabella Darang, & Aleiana Duque
DANTE lunges to attack AMIHAN, but DOLORES steps in between them. dante Hanggang ngayon pa rin ba si Amihan ang pipiliin mo? Mabubuo na ang pamilya natin, Dolores. Magkaka-anak na tayo. dolores Nagkakamali ka, Dante. dante Anong ibig mong sabihin?
DANTE is silent, in shock. Sounds of the mob can be heard from a distance: "Dante, nasaan ka na?", "Nahanap mo na ba ang manananggal?", "Punyetang Amihan, aswang!"
DOLORES takes a deep breath. dolores Hindi tayo magkaka-anak. dante (tone change) Anong ibig mong sabihin? dolores Hindi ako buntis, Dante. Sinabi lang 'yon ni Amihan para hindi mo ako saktan.
amihan Dinala ko sila para patayin 'tong halimaw na 'to. Kasalanan mo kung bakit wala na akong anak!
Sounds of the mob getting closer. "Dante, nahanap mo na ba si Amihan?!", "Walang sagot, bilisan natin!", "Dante, patayin mo na siya!" DOLORES turns to look towards the mob. dolores Dante, anong ginawa mo?
heights Seniors Folio 2022 · 68
DANTE lunges to attack AMIHAN and grabs her around the neck. dante May pinainom ka na naman kay Dolores! 'Yong punyetang lamon-babae!
DOLORES tries to get DANTE off of AMIHAN but he pushes her away. She falls to the ground and calls out for AMIHAN.
Sounds of the mob are getting closer again, "Tuloy mo, Dante!", "Dolores, umalis ka na!", "Patayin mo na 'yang manananggal!". DOLORES is seen contemplating whether or not to drink the concoction. DOLORES looks at the mob, then at AMIHAN, and drinks the DOLORESconcoction.starts
transforming, sfx of skin stretching, bones breaking, DOLORES screaming. The mob, "Dolores?!", "Anong nangyayari?", "Dante, si Dolores!", "Amihan, anong ginawa mo?", and DANTE sees DOLORES transforming. dante Anong ginawa mo sa asawa ko?!
AMIHAN stares at DOLORES in awe. AMIHAN slowly reaches out her hand, lightly touching DOLORES' midriff. amihan Manananggal? dolores Sinabi ko namang makapangyarihan at malaya siya, hindi ba? Parang ikaw. amihan At ngayon, ikaw.
AMIHAN and DOLORES laugh. DOLORES tucks AMIHAN's hair behind her ear. They smile at each other. amihan Ano nang gagawin natin ngayon? 69 · Rocio Castillo, Isabella Darang, & Aleiana Duque
DOLORES and AMIHAN are seated beside each other. Pause. dolores Halimaw na ang tingin nila sa atin. Wala nang dahilan para manatili tayo dito. Malaya na tayong pumili, Amihan.
DANTE reaches behind him for his bolo but DOLORES pierces DANTE with her tongue and the mob starts screaming, "Pinatay niya si Dante!", "Takbo! Papatayin niya tayong lahat!", "Totoo ang manananggal!", "Si Dolores ang manananggal!" and running away.
AMIHAN urgently leads DOLORES away from DANTE's body, running deeper into the forest. scene 2
DANTE drops to the floor, dead. DOLORES stands over his body for a moment. dolores (hushed) Pinatay ko si Dante.
heights Seniors Folio 2022 · 70 They both look towards the horizon. AMIHAN stands, looking to DOLORESDOLORES.stands on her own. dolores Babangon. -end of episode 3-
heights Seniors Folio 2022 · 72 Angela Cole bfa creative writing No wish to be perceived, but no desire to be erased either.
73 · Angela Cole
heights Seniors Folio 2022 · 74
What I know of memory I know equally of hesitation
And what I know of both, I know of loss. That's why I remember it well, you know, one of the last good days I had at The Ateneo, a week before the advent of The End of the World: Maria and I scoping out seats for what would be our last in-campus event; my coin-filled coat pockets singing as I shifted to accommodate the sudden absence of the sweltering heat; sitting between her and another friend–and just a little bit past her to my left: you, who looked over at us curiously every time we doubled over with laughter and disrupted the anvilheavy silence because that afternoon's speaker was just too funny; something about writing as the rehearsal of joy in real-time; the quirk of your mouth when I caught you staring at me, startled but not exactly displeased. Our professor had insisted that the talk was important; that the speaker could perhaps teach us things that he felt he could not; and besides, our schedules were flexible; we had all the time in the world to make up for one afternoon lost. But he was also the one who taught us that you cannot recreate a moment the same way it happened. That what happened once, never will again. So now, this is something that exists best in memory: my friends and I grasping at each other's shoulders in the dark; the warmth spreading across my tongue as I sampled lemon bars with Maria at the free buffet afterwards; the last Areté mirror selfie I ever took. My body so stuffed with good luck that I felt like I would never run out of it. I would not have turned away without saying goodbye, had I known that it would.
Maria Jevie "Gyuri" D. Cruz is a philosophy major at home, an artist in her own world, and the compulsive coffee connoisseur of café gyü. She documents most of her works and existential musings on her website, gyurithegreat.com.
heights Seniors Folio 2022 · 76
Gyuri Cruz ab philosophy
77 ·Gyuri Cruz
Imagine being in the middle of your soul, the boundless silence of whom there is music, weaved within within the lightless cavities within and without shadows and visions yet no one finds wholeness. Entirety sees its place in infinity but only in finitude is it visible barely, notwithstanding.
heights Seniors Folio 2022 · 78
Imagine being in the middle of the world, the exact point in which everything crosses crosses one's minds crosses, crosses, crosses everyone else carries on their backs
Imagine being in the middle of the universe the deepest space where gravity is concentrated where nothing else matters but the nothingness of matter everyone, hence, is everyone else: is no one else.
In Finitude
Isabella Marie Darang is an aspiring writer/playwright who studied Creative Writing in the Ateneo de Manila University. She found a passion in theater during her college stay and has since continued to do work for productions, whether that be through production work or writing the material itself. She continues to dabble in other genres as well to broaden her writing skills. She hopes to continue showcasing her works for people to see and read and she hopes to become an acclaimed writer some day.
heights Seniors Folio 2022 · 80
bfa creative writing
Isabella Marie P. Darang
81 · Isabella Marie Darang
heights Seniors Folio 2022 · 82 the galaxy of us if i tell you i love you, would you say it back? would your lips form the words that your heart keeps hidden away like the rays of the sun, warm and pleasant and familiar would you utter with confidence the emotions you keep tightly sealed to stop us from colliding like stars out of reach with our lives aligning with each other's like the planets in the sky to our promises and trust being shattered like a meteor crashing on Earth would it make a difference if our 'i love you's became 'i'm sorry's instead? with every beat of your heart, it feels like time stops and the world stands still for thisthisthis.moment.fleetingmoment of wevulnerabilityfindourselves sucked into with trembling hands and
gasping lungs, unsure what to hold onto as if it's not enough to strip ourselves bare and gaze at each other tracing constellations on our skin with every imperfection we see we have to hold the galaxies from our eyes in our hands to prove ourselves worthy but if you knew i would succumb to the black hole of regret would you still say i love you, even if i won't say it back? 83 · Isabella Marie Darang
heights Seniors Folio 2022 · 84
heights Seniors Folio 2022 · 86
Aya Domingo is a Creative Writing student specializing in fiction. She is also an avid cheesecake enjoyer, a firm believer in the "treat yourself" mindset, and a master at trying to do way too many things at once, among many other things she's still trying to figure out about herself. She is always in pursuit of a "bewitched me, body and soul" kind of feeling.
Aya Domingo bfa creative writing
87 · Aya Domingo
Another peculiar thing was that it was nearly empty, quite an anomaly for a Friday night. The only patron there was a young woman in a sleek black dress, half-slumped over one of the tables as she sipped on a neon pink drink through a heart-shaped straw.
In a half-drunken stupor, Lianne had made a wrong turn, heading into unfamiliar alleyway after unfamiliar alleyway, until she found herself bathed in the warm red light of its neon sign at a dead end.
Sweetened Dreams the bar was an accidental discovery.
heights Seniors Folio 2022 · 88
'The Bar,' it read. She scoffed and turned to see if anyone else thought it was ridiculous, but she was only met with the empty alleyway. It dawned on her only then that she had separated from Helena and the rest of their tipsy friends, but before she could turn on her heels to head back, she heard the distant rumble of rain. She glanced back at the metal door, cold and uninviting, not very promising for what might be behind it. The pitter-patter of rain didn't give her much of a choice though, so she steeled her nerves before pushing through theShedoor.made a mental note to avoid touching any sticky countertops, but she found she didn't have to worry about that. The place was so spotless, it was almost eerie. The tables looked more like mirrors with the way they shone, the floor was void of any spilled drinks or food, and the air was cool, clean, and smoke-free. The bottles behind the bar gleamed beneath the warm lights, and a soft jazz tune filled the silence. It was such a far cry from the skeevy joints near campus that she had just grown accustomed to. It almost felt like some sort of liminal space where nothing seemed to be real. She was sure that this must've been some sort of hallucination, caused by inhaling the smoke of whatever the group had been passing around earlier.
"Welcome." A voice snapped her back to attention. The bartender, she assumed, stepped out from a door behind the bar, rolling the sleeves of his crisp dress shirt up to his elbows. He swiftly took his
Lianne approached the bar. The closer she got, the more she took in the appearance of the bartender. He was handsome, probably not much older than her too, with a charming smirk and kind gray eyes. She knew very well that he was a stranger, but something about him made her feel as if she had known him her whole life.
place behind the bar, hands tucked behind his back.
89 ·
"Alright," she drawled. "Can I have some water then?" The bartender shook his head when she asked, and she was right in thinking that he must have found the perplexed look on her face quite funny, because he couldn't even conceal his laughter as it rang through the small room.
Lianne scanned the bottles lined up on the shelves behind the bartender. Now that she had a closer view, she noticed that most of them were oddly shaped. Some resembled hourglasses, cubes, or flasks. Some carried dark liquid, and others glittered. All of them were missing labels. She had no idea what any of the bottles contained. Red flag number one, she thought.
She raised an eyebrow. "What kind of bar doesn't serve alcohol?"
He didn't seem to be bothered though, for his smile never wavered. Aya Domingo
"How're ya feeling tonight?" He asked. The accent hinted that he must've not been from around the area, but she couldn't trace it back to anywhere else. He didn't quite sound professional either. She watched as he pulled out a cloth to wipe at the already polished counter. "Like I shouldn't be drinking any more tonight," she said. The bartender chuckled. "That's fair, but ya don't have to worry. I don't serve alcohol here."
"Then what the hell do you serve here anyway?" Lianne didn't mean to be rude, but the combination of finding herself in a strange place, the dryness of her throat she had only just noticed, and the few beers in her system were doing a number on her patience. It didn't help that the bartender was being terribly vague while also acting smug about it, but she probably should've expected that from a bar called 'The Bar.' She dubbed that red flag number two, though that probably should have been one from the get-go.
"This one," he grinned, seemingly finding her confusion amusing.
"You'll find out after ya pay up." Her eyes widened. "I haven't even—!" The creak of the metal door interrupted her before she could get any more out, and the bartender muttered an "excuse me" before shifting his attention to whoever walkedLiannein.
saw the briefcase first when it fell to the floor next to her seat with a thump. Its owner wore a crisp gray suit, strangely still in a pristine state with no inch of fabric untucked from where it should be. She figured he was a businessman, if the get-up was anything to go by. However, his eyes were sunken and his cheeks gaunt; he couldn't have been more than 30, and yet… "Welcome back, sir." The bartender greeted him with a smile. Lianne only just noticed the long bottle in his hand, holding a silvery liquid. He placed a tall glass on the counter. "Will it be the usual tonight?"
"Are you sure about this?" he asked, but instead of the uncertainty or hesitation she was expecting, his voice was tinged with expectation. Lianne saw a glimmer in his eyes now, wide with what looked likeAhope.kind smile graced the bartender's face. "Positive."
The other man sighed, a strand of hair falling from where it was slicked back moments ago. He pushed it back into place with a trembling hand. "No, it was… different."
The bartender nodded. "Interesting. I think I've got just the thing." With a wink, he turned toward the shelves of bottles, picking up a small one with a lime green substance. He poured the silver liquid into the glass and filled it halfway, proceeding to drip a bit of green into it.
With that confirmation, the businessman gulped the drink in one
The man rubbed at his temples, "It started out the same. Diving into the ocean, swimming to the bottom instead of coming up for air, but instead of the empty clams, I found a pearl in one."
"This should do the trick for good." He slid the glass toward the businessman, who took hold of it with both hands.
"Oh? How so?"
heights Seniors Folio 2022 · 90
The businessman gave a sigh of relief before picking up his briefcase and sending one last nod of thanks before bolting out the door. Lianne also noted that the woman from earlier had left too. Glass"Likeincluded.Iwas saying," the bartender continued, as if the previous transaction—if she could even call it that—hadn't occurred, "I don't want yer money. I'm gonna ask ya a question, and ya simply gotta give me the truth. Pretty easy, no? That's how we run things 'round here."
There was always the option of calling her friends to pick her up, since the club they were about to head to wasn't supposed to be far. Marlene would probably come to her aid, but not after chastising her for not paying attention. Del might too, but he would spend a couple of minutes laughing at her before doing anything. Oscar would end up even more lost than she was.
Helena would come in a heartbeat, without question. But a terrible, awful part of her had been rearing its ugly head recently, and it liked that she wasn't here with her. She'd deal with that later. Lianne surrendered. "Fine. I'll bite."
go with an alarming urgency. Lianne was shocked that he didn't end up sputtering it all out.
"Lovely," he leaned slightly forward, and she held her gaze so 91 ·Aya Domingo
The moment he set the glass down, he grabbed the bartender's shoulders with a tight grip. "Thank you. I hope this is it." "I know it is."
Lianne could no longer keep track of the red flags. Every logical cell in her body, which she knew she had a ton of, seemed to scream at her to leave. A bar at a dead end that didn't serve alcohol or water or accept money? Some kind of new way to scam her for her personal information for sure. If it weren't for the numbness the drinks from a while ago had left in her system, she would have probably felt the nervous thrumming under her skin. Yet, the bartender's concerned gaze kept her in place. It was almost comforting in a strange sort of way. She might have even thought he cared about her, but that thought fizzled out almost immediately.
"Just gimme the basics, the general plot of it if ya can."
The scene that played over and over again in Lianne's head was something real once. After their first night together they skipped their classes to spend the entire day together in bed, speaking in hushed whispers and giggling under the sheets. They had learned
The bartender shrugged. "Fine by me, I ain't gonna force ya. But they do say it's easier to lay it all out to a stranger."
"Where do I start?"
heights Seniors Folio 2022 · 92 strongly as if he could see right through her. "Tell me, what do ya dream about at night?"
Lianne weighed her options, and that terrible, awful part of her brought up Helena again. It looked like she was going to be in this bar for a while, so she might as well go along with it; she could always blame it on the alcohol later.
"And what if I don't give you anything? What if I say no?"
"Excuse me?" Lianne balked, "I don't think my dreams are any of your"That'sbusiness."exactly what this place runs on, darlin'," the bartender donned another grin, and Lianne began to feel those smiles crawling under her skin. "Well, I usually deal with more nightmarish ones, but I'll take whatever ya give me."
Was she seriously going to do this? Tell a stranger about her dreams in exchange for a measly drink? How would she explain this to her friends when they found her, or even to herself the next morning? She glanced at the bartender, searching for something, anything in the way he carried himself, in his expression, in his speech, that would convince her that this was completely insane. But all she saw was a patient look in his eyes, his body slightly leaned toward her as if to make sure he heard her better, and his clever smile was sincere thisLiannetime.
began, taking a deep breath in. "In my dreams, it's just my lover and I left in the world. We are in her bed as the sun rises. When I wake up, she is already looking at me and smiling. Then she puts a hand on my cheek and kisses my forehead, and she pulls the blanket over us. Just before it covers us both, the dream ends and I wake up."
a lot about each other that day, in the act of exchanging childhood stories, singing their favorite songs off-key, and mapping out every mole or freckle they could find on each other with gentle touches. It was beautiful then.
"Well, it was nice for a while, but…" she began. She slumped over the bar to rest her chin on folded arms. "At some point, I just felt like I wanted to get out of bed. But she'd pull me back in every time."
The bartender nodded and turned to face the shelves. Lianne watched the back of his head move as he scanned the selection he had—a familiar one, she assumed. She couldn't help the smug feeling brew up in her knowing she had stumped him. So much for those clever, self-assured grins he'd been throwing her all night.
"It is. I hate it."
He eventually reached for two circular bottles, one holding a shimmery light blue liquid and the other one had a fuchsia one. She couldn't quite tell what they were, but she wasn't sure if it was the tipsiness talking, or if she really wasn't meant to know. She kept her eyes trained on him as he picked up a shaker and 93 ·Aya Domingo
A beat of quiet passed before the bartender spoke again. "That sounds beautiful." Lianne saw something like perplexity or surprise flash across his features, but it faded quick enough that she thought it a trick of the light. She turned her head.
A seemingly endless silence seemed to cloud the room, and all Lianne could do was sit with the weight of the words that she had only just admitted to herself out loud. She kept her eyes trained on her lap, as if they had spilled out of her mouth like red wine and staining every part of her red.
A response came in the form of tapping fingers against the counter, and she looked up to find the bartender deep in thought, staring at the"Iground.gotta say, I haven't heard a lot of good dreams ever since I started this place, but even among the few, I ain't never heard a case like yers." He shook his head, laughing to himself. "I never heard of someone hatin' a good dream."
"Sorry, I don't know any fancy tricks," he said, as if reading her mind. He picked up a cocktail glass. "Ya looked a lil' bummed."
"God, could you be any more vague?"
"I asked ya about yer dreams, right? You'll find out tonight."
Screw Lianneit.brought the glass to her lips, and with only one sip, sweetness whizzed through her body and gave her full-on cheektingling chills. It was unlike anything she had ever tasted, but the comfort it brought made it strangely familiar, as if she was back in her childhood home and gulping down a glass of lemonade her mother had made for her. Before she knew it, she had cleared the whole glass.
"Told ya!" The bartender beamed. "Come back after a week, and let me know what happened, 'kay?" She could only nod dumbly.
"That's fine," she shook off any expression on her face. He poured the mixed drink into the glass, and she silently marveled at its intriguing magenta hue. It still had the shine from the blue liquid, and it looked almost pearlescent. She slid the glass towards her. "How can I be sure this won't make me sick or kill me or something?" "Did ya see that guy earlier? One o' my regulars, been coming here for two months now. Still alive, right? The woman ya saw when ya came in, that was her third time here. Seems she likes my drinks so much she has to take the glass home every time too." He snickered. The urge to roll her eyes at that nearly took over her.
"Fine, fine. Can you at least tell me what this is supposed to do?"
"I like to let the drinks speak for themselves."
heights Seniors Folio 2022 · 94 deftly poured small amounts of the two liquids inside. He added some crushed ice and shook, and Lianne was mildly disappointed when he didn't pull any theatrics.
There was no way Lianne would be able to crack this man open for all the information, but her curiosity overshadowed her irritation. She peered at the drink and found a warped reflection of her staring back. Were her eyes always this tired?
Lianne would have let the buzz in her bones settle for a moment,
To distract herself and shake off the blues, she ran her usual errands, and bought some extra treats for their weekly movie night date. It wasn't until she was standing in line at the cashier when it dawned on her: Helena. How was she supposed to face her after this? Thankfully the solution came when her phone chimed the moment she set her bags down.
*
"Sorry babe," the text read. "Group meeting got rescheduled 95 ·Aya Domingo
but the ringing of her phone interrupted that plan. Helena's name flashed on the top of her screen, and she had no doubt she'd be interrogated about her whereabouts. It looked like that terrible, awful part of her would have to suck it up for now.
That night, Lianne dreamt of the same familiar bed, the same sun-filled room, the same Helena. Only this time, her lover was still asleep, her back turned toward her.
The bartender nodded. "Anytime, kid." She was just about to reach for the door handle before the bartender spoke up once more. "Oh, by the way, keep this place a secret, will ya? I like keeping a small group of regulars, hope ya get it." He winked. Lianne doubted anyone would have believed her anyway.
When the morning came, Lianne practically leapt out of bed when she realized what had happened. Huh, she thought. That smug-ass bartender's drink actually worked. Even the effects of the actual alcohol she consumed seemed to have dissipated too. She hadn't slept that soundly in ages. But the high didn't last long when shame crept up on her, and it trailed her like a dog as she tried to go about her day. She knew she should've felt more guilty knowing that she enjoyed the dream and the restful sleep that came with it, but she couldn't help that it felt… good. She'd have to unpack that sooner or later, but maybe not on a Saturday afternoon.
"I should go. I hope this works, or whatever," she muttered, sliding off the barstool. "And thanks, I guess."
A poster that didn't look too corny or gross caught her eye, and the plot seemed equally as promising, so she settled on that for tonight. It was just the right amount of scary, without much over-the-top, cheesy jumpscares and had a protagonist that wasn't a complete idiot. With the food and drinks cleared too, she felt contentment settle over her like a warm blanket. Strange. No matter how many movies she had watched on this same couch and on this usual day and time, it has hardly ever felt so satisfying. Her phone pinged once the credits started rolling. "Meeting just finished. Sorry I couldn't make it again. Will make it up to u next"It'stime!!"ok!U should get some rest."
By the time night had rolled around, Lianne made herself snug on the couch, which she never realized was actually quite spacious. She browsed the movie genres with a hand halfway in the bag of chips meant for Helena. She landed on horror, which was one of her favorite kinds of movies, but she hadn't had an opportunity to watch one lately because her usual companion wasn't a fan. In fact, she hadn't been able to watch a lot of movies without Helena since this tradition began; almost all their dates began with a film viewing, just like their very first one.
Lianne sent a "no problem" but couldn't help feeling like this was quite odd. Helena always made sure she was available for movie night no matter how busy she was, since they didn't see each other very often when they were in school and were drowning in their respective requirements and obligations. Lianne was the one usually sending the "sorry, can't make it" texts when her work piled up. Oh well. She already bought the food and drinks anyway, might as well partake in them.
"I will! Did u have fun?"
Lianne couldn't help but smile to herself. "Yeah... I did."
heights Seniors Folio 2022 · 96 to later tonight so I probably won't make it :( Go ahead and watch something without me if u want!"
*
She laughed. "That's what I'm here for, isn't it?" 97 ·Aya Domingo
The bartender perked up from the bar when she approached.
The bartender nodded. "I would assume that's a good thing,"Yeah,right?"but am I an asshole for liking that?" He couldn't hold back a chuckle. "Well, if I conjured up something that gave ya a dream ya hated, then I'd be out of a job, kid. At the end o' the day, I just help with what ya see. Whatever it means to ya is something ya have to figure out yerself."
The bartender cleared his throat, and she found him already holding up the bottles he used last time. "Well, before ya start blowing smoke from yer ears from thinkin' about all that, how's about I make ya another drink?"
After spending the better part of her night turning down pleas from her friends to join them in their club-hopping adventures for the night, Lianne managed to make her way to The Bar. She expected to hardly remember the way there since she was pretty tipsy the first time, but she somehow managed to find it easily, as if walking the route was muscle memory. The red neon sign overhead felt almost warm and inviting now, even after only a week.
The place was quite empty again when she entered, only a single sleepy-eyed patron nursing a dark purple drink sat at one of the tables.
Lianne almost didn't want to answer at the risk of fluffing up his ego, but she acquiesced. "Like a baby."
He beamed with a toothy, I-told-you-so smile. "See? Look, if I wanted to scam ya out of yer wits I woulda actually charged money for that, y'know. Can ya tell me what happened?"
"Welcome back," he greeted, his grin looking even more smug than last time. "So how'd ya sleep last week?"
"Well, it was still the same place, same bed and all, but she didn't wake up this time."
Lianne couldn't answer, she didn't really know how to. She wished the drinks could do the thinking and decision-making for her too, but at least it did something.
heights Seniors Folio 2022 · 98 He flashed her a wink. "Coming right up, then."
Friday after Friday, Lianne found herself back in The Bar, buzzing from the sweetness of the drink and the anticipation of watching her dream change every time.
Despite her inner turmoil, Lianne couldn't deny the peace she felt in the moments of quiet she had with herself. They were akin to the companionable silences she felt with another body next to hers, only she must've forgotten that she could feel the same way on her own. But with the quiet came the clarity too, and Lianne knew she couldn't keep playing dumb with herself. She knew why she felt that way, but after years of knowing and loving Helena, and being known and loved in return, it seemed almost like a crime to even think of a life without her. Yet, the thought never left a bad taste in her mouth, in fact, it tasted like a familiar sort of sweetness.
"I guess I've just been getting more rest," she replied, and it wasn't exactly a lie, she just obviously couldn't tell her why she felt that way. She didn't quite enjoy the feeling of keeping something like this from Helena. They had always been open with each other, Helena more so, but even for how private Lianne was, she felt safe being vulnerable around her. But she didn't want Helena to see right through her this time, an uncanny ability of hers she was usually thankful for until recently. This led to a series of date nights she flaked out on, chalking it up to her workload. Again, not a lie, but not completely the truth either. And being the endlessly sweet and understanding person she was, Helena would always say she didn't mind, and Lianne knew she meant it. Sometimes, she wished Helena would just get frustrated with her at least once, then maybe this would make this dilemma much easier to manage.
*
Helena even remarked about the new glow when they crossed paths on the way to their respective classrooms. "Well, don't you look fresh-faced," she giggled. "Did something good happen recently?"
A chuckle jolted her, and she only realized then how much she was leaning over the counter like any information would get lost along 99 ·Aya Domingo
The bartender looked up from the glass he was wiping, "Ah, him. He must've found what he was looking for."
The bartender paused, putting down the glass. "Ya could say that, yeah. He told me he'd dream he was divin' into the ocean and openin' up all these clams like he was lookin' for something, but he didn't know what. The drink I made for him made him swim up for air."
*
"He found a pearl, right? Is that what he was looking for?"
Lianne even got the courage to chat up some of the other Friday regulars. A medical student was plagued by dreams of performing botched surgery, but his tall orange drink gave him steady hands and keen eyes. An older man held all his memories in a single glass that toppled over whenever he reached out for it, but now he held it close to his chest where it wouldn't budge. The woman in the black dress she saw during her first night had been dreaming of an unrequited love of hers who wouldn't pay her any mind though they were the only people in a room together. Her bright pink drink made the literal man of her dreams actually notice her. She had been coming every Friday like Lianne, though the other regular she saw her first time was always"Hey,absent.whatever happened to that one guy?" Lianne asked once the bar had emptied out, swirling her drink around in her glass and watching it shine. "The businessman, you said he was one of your regulars, but I haven't seen him around since my first time here."
Again with the ambiguity, she thought to herself. What did that even mean? She dug up a memory, looking for clues. She recalled that he didn't ask for his "usual," and instead told the bartender he found something else in his dreams.
"How'd he find the pearl, then?"
Another Friday came around, and this time there were a couple more people coming and going, and she watched the bartender concoct all sorts of colorful drinks in funky-looking glasses. No drink looked exactly the same.
Lianne thanked him for the drink, and she just barely noticed that he didn't say he'd see her next week in that chipper tone of voice, and that strangely charming accent she had grown quite fond of.
*
looked into her own drink, and a slightly murky, magenta version of herself stared back at her. She remembered her first night at The Bar about almost two months ago, her reflection looked tired then. Nothing much had changed since then, but it was almost as if her face was weighed down by something. Fear? Guilt? Sometimes she wished she could blame it on the alcohol, then she'd never have to link it back to a part of her she was trying not to notice. Somehow, she swore she saw her reflection morph into Helena, with her signature pretty smile and rosy cheeks. But it lasted for hardly a moment, and her exhausted, sad face came back into view once"Yeah."more.She downed the rest of her drink, "I just don't know if I have the strength to do it."
heights Seniors Folio 2022 · 100 the way if she wasn't listening closely. She sat back and straightened herself out while she waited for the flush on her face to abate.
"I know ya do. Ya just gotta get out there and do it." Lianne looked up at him, surprised to find a sincere expression on his face. She had been so used to his clever quips that she almost couldn't handle how serious he sounded, or how much the words sounded like a parting gift. She stood up from her seat to shake that off.
"I don't actually know." He shrugged. "These drinks only help with changin' around a few things to make a bad dream into a good one. If ya really wanna get rid of 'em for good, ya gotta do something about it yerself. He must've done just that." "Really?" He nodded curtly and resumed wiping the glasses.
"Y'know kid, I kinda have a feelin' ya know what to do about yersLiannetoo."
101 ·Aya Domingo
The last conversation with the bartender still rang clear in her mind. Ya just gotta get out there and do it, he had said. It was like a dagger was placed in her hands, meant to kill the ugly beast of shame that had taken shelter in her, but the more her grip tightened on it, the more it hurt her instead. She really, really needed that drink. Her friends had been badgering her for ages to come and join them again, but the idea of being in a stuffy room with pounding music and an equally pounding headache was less than appealing, however. She couldn't even fathom how she used to handle all of that before her Friday night's plans changed.
The moment she stepped out into the street, she nearly laughed at the cruelty of the sky. Of course it started to rain, of course, because everything that could have gone wrong that day did. A botched presentation, a dropped lunch, a coffee-soaked notebook, and a forgotten umbrella, all weighed on her mind and bothered her like the water in her shoes.
With one last sigh, Lianne shrugged her jacket over her head and made a run through the night, blurred by the downpour. By the time she reached the final turn, the rain had stopped, but she was already sopping wet. Of course she chose that day to forgo the contacts and wear her glasses instead, now covered in droplets she couldn't wipe off with her wet clothes.
There was always Helena. Lianne could cross the street in no time, pop by the mini mart in her apartment building, and buy that cheap rosé they both loved. She would still be quite dry by the time she got there. Helena wouldn't hesitate to open her home and arms to her; it would be far from the first time. But the idea of receiving comfort from Helena only made the dread seep through her system much faster. She shut down the idea before the dread turned into guilt. The Bar was 15 minutes away by foot. Conditions were hardly ideal for walking, but it was the best choice. It always was. She didn't know why she kept thinking of alternatives. She always knew where she'd end up at the end of the week.
Lianne needed a drink.
The first oddity she noticed was the absence of the red neon of the sign bathing the alleyway. The area was also completely void of any sort of activity. There were never a lot of people around, especially since no one really knew about the area, but there would usually be a regular or two smoking outside and shooting the breeze. This time, the place felt hollowed out with silence. Another peculiar thing was the square of white on the door. She tried to rub at her glasses with a sleeve, but she still couldn't quite tell what it was from where she wasUponstanding.closer look, she realized it was a sign. Taped onto the door was a white sheet of paper, and she had to squint to read the words written in purple marker.
Closed Indefinitely. No, she thought with a panic. That couldn't be. Lianne jiggled the handle, but it wouldn't budge. She rapped on the door with a shaky fist, hoping someone might have locked it behind them by accident, or that the bartender would appear and tell her this was all a joke, or that he forgot to remove the sign. Then he'd laugh and he'd make her a drink and she'd go home and have a good night's sleep. "The usual," he'd say with that ever-present grin.
When she turned the corner, something felt off.
heights Seniors Folio 2022 · 102
The only thing that greeted her was the deafening quiet. A sick feeling bubbled up inside her, coiling her stomach into knots. Without the drink, she'd have to see that dream again. She'd have to wake up simmering in her own guilt again.
For two months, The Bar had been a place of solace, where she could quietly sit in peace and enjoy the moments of solace with herself. There was nowhere else she could go at this hour—at least nowhere she wanted to be.
The only person she could go to, the only one who'd take her in without hesitation nor question, was the one person she could not bear to face. She couldn't stand to be on the receiving end of a sweet smile or a warm touch, not when it would only end up feeling sour to her.
Afraid of being back underneath the dream sheets, she willed herself to stay awake for as long as she could, or forced herself to wake up when she saw the familiar white walls materialize in her head. She tried her hardest to conjure up that image of Helena's back towards her again, but as soon as she tried, the guilt wormed its way back into herLiannesystem.even tried to look for the ingredients that looked as close as possible to what the bartender would use. She attempted to prepare it like he had, a process she had watched attentively every single time. The results only left a bitter or sour taste behind, and in the worst cases, ended up having to be flushed away.
More than a week had passed since The Bar's closure, and Lianne felt absolutely awful.
*
"You know, I don't have a problem letting you stay here, but you're gonna kill yourself if you keep this up." He said one night after closing, placing a warm pastry on her table and taking the seat across from her. "You look like shit, by the way."
"I never got the chance to ask you, but what's been going on with you?" He asks. Lianne keeps her eyes trained on her keyboard so she 103 ·Aya Domingo
The remark unfazed her, having built a resistance to his quips since childhood. "Tell me something I don't know." Despite the harshness of his words, she knew Del was coming from a place of genuine concern.
Del's café nearby her place quickly became her refuge. He let her hang around for as long as she wanted to keep herself distracted, even if she couldn't give a reason for her constant visits. He made a mean cappuccino, but she still couldn't help but wish her coffee was sweet and purple instead. But the coffee blessedly kept her awake, and the change in environment kept her from her tempting bed, and that was enough for now.
Perhaps the only way Lianne could stave off the dream was to not dream at all.
"But what if it was something you felt like you couldn't live without? That even if it wasn't fun anymore, you still wanted to keep it because it's been a part of you for so long?"
Oh, he definitely knew what was going on, the smart bastard. He was right, and the familiar string of words only served to prove it.
"Well, whoever they were, they were right too."
heights Seniors Folio 2022 · 104 doesn't have to face his worried gaze. "You started disappearing on us every Friday night, and now all of a sudden, you spend them here looking all ghostly and shit. We're worried about you, you know?
"I'll take your silence to mean that I'm right," he snickered. She scoffed.,"Oh, don't let it get to your head. It's just… someone told me something similar once too."
Even Helena said she can't get a hold of you sometimes."
"I'm really sorry, it's just… I've just been busy. And I'm not exactly having the best time of my life right now either," she laughed, but Del didn't seem to find the humor in it at all.
Lianne winced. She knew she was being an ass for always flaking, but were her friends going to believe her when she told them she was going to a bar to have her dreams changed?
Lianne wasn't going to admit that of course.
Suddenly she saw a glint in his eye, as if to let her know he was beginning to catch on. "If you're keeping it for the sake of keeping it, it's not gonna do anyone any good, not for you or for whatever it is you're trying so hard to keep around. It's not going to be easy, but sometimes you just gotta do it, for yours and their sake too."
"Can I ask you something then?" Del nodded, chewing on another bit of the pastry. "What would you do if something you loved for a long time didn't make you feel excited anymore?"
"I don't know, not really? I kinda do, kinda don't?" Del shrugged. "Hey, I'm not gonna force you, but you are the master of keeping everything bottled up when you don't need to." She rolled her eyes, but she also couldn't argue with that.
"You wanna talk about it?"
"I'd get rid of it," he said so decisively it left her a little stunned. "What's the point in keeping it then?"
Lianne knew she did.
*
"Yeah. Yeah, I guess they were." They shared a laugh in between bites of the now-cold pastry, and though the heavy feeling against her chest didn't fully assuage, this was the lightest she had felt in a long time.
105 ·Aya Domingo
*
The walk to Helena's place wasn't a long one, but it felt like an endless stretch of road was ahead of Lianne. She knew what she was heading for, she steeled herself for it for days, but part of her still wished she didn't have to reach her destination, but she found her way there before she knew it.
Helena's front door seemed to tower over Lianne, a menacing gray thing ready to swallow her whole. She could no longer remember how long she had spent pacing in front of it, at this point she was sure she had memorized each scratch on the paint or the grime on the gold unit number.
Ring the doorbell, say hello, ask to talk. Over and over she repeated it in her head until they no longer sounded like words. She had all the control here, exactly what she wanted, yet the very sight of the doorknob made her feel even more helpless. Surely she could just stick it out, she could make herself tolerate the dreams. The bartender did say they were beautiful, after all. Before Lianne could continue the endless, grueling debate, she heard a commotion behind the door, and the tell-tale sign of it opening.Helenatook in the sight of Lianne standing rim-rod straight with a trembling hand by the doorbell. She had come here unannounced, but Helena didn't look surprised, not in the slightest. Instead, across her face grew a sad smile, like she knew exactly what she was here for.
The night after she bid Helena goodbye with one last kiss, Lianne finally let herself sleep. She found herself in the bed that once haunted her, but she stretched out an arm, only to find that the space next to her felt much colder and emptier than before. She slipped out of the sheets this time, with a slight tingle in her cheeks and a sweetness on her tongue.
heights Seniors Folio 2022 · 106
Aleiana Zelin T. Duque
bs psychology Aleiana Zelin Duque is a graduating BS Psychology major at Ateneo de Manila University. Throughout her stay in Ateneo starting from senior high, she has written countless poems, lovesick letters, and the few odd short stories. For her love for theater (Tanghalang Ateneo and its Bahay Tanghalan, in particular), she has co-written Lamon-Babae with two of her CW friends, and more recently has taken pride in playwriting Obra Maestra on her own. She takes great pleasure and pride in being able to create words and worlds, but knows that none of this is possible without her loved ones as her best Muses. In the future, she hopes to be a psychologist, a traveler, a hand-holder, a cat owner, and most of all — a Creator.
heights Seniors Folio 2022 · 108
109 · Aleiana Zelin T. Duque
There is nothing left, my love. You have come to my city with your laurel wreath, but I'm afraid you may not find victory here. The remnants of the pieces of myself you seek in honor are scattered. They are taken from me, withheld by some to return to their rightful place, positioned on mantels by the fire, and kept in dark spaces by others.
I cannot give you all I am.
An Open Letter To The Last
I have bled myself dry for each one that came before you.
I am past flesh and sinew, bone and blood. I am past self-fulfilling prophecies and back-handed proclamations of good faith. I am past loving the way I am used to—through and through, or not at all.
heights Seniors Folio 2022 · 110
Let me, at least, wash your feet. Let me hang your robes where it's warm, hold your hands where they are calloused. Let me oil you with lavender. Here, sit with me under the glimmer of Artemis' light, sit and feed on this honeycomb. Tell me your story. Tell me where you've been this whole time I have been building from scratch. Tell me who you had to leave behind to get to me. Or am I the first? And your last? Tell me who you've had to become to survive. Tell me your favorites. What color would you like me to paint these walls? What flowers should I plant in the garden? Which path should we take in the afternoon when we want to catch the sunset? How would you like me to love you?
I know there is nothing left, my love, but it does not mean we can no longer create. Take up your spear. Strike down all the idols that you passed before knocking on my door. Smash the bottles of sunlight and ocean breeze against the brick walls. Free the butterflies and moths from their sanctuary. Do what you must to rid yourself of the oddities they left me, but please, I beg of you, spare the one verse I can trust. It hangs, undisturbed, above the hearth. Let me keep that memento of faith. Go ahead, destroy—so we can start anew. We will leave these ruins behind. Don't fret over memories we have yet to make that others may not witness. "Someone, I tell you, in another time will remember us." Aleiana Zelin T. Duque
111 ·
Show me how you love. Show me how feverishly, how ardently. Show me how much you've longed for this. Show me the hesitation in your touch, the brittleness of your bones after this journey. Show me how much you want to outdo every single one who left their mark on the heart you know you can claim for yourself.
INT. NARCISA'S STUDIO — NIGHT
narcisa Wala sa akin kahit pumikit pa sila. Basta ikaw, sa akin lang. NARCISA sets up her canvas. SOL tries not to smile. NARCISA catches this and laughs. narcisa Wag kang tumawa. Sol. sol Ang hirap kayang magseryoso 'pag kaharap kita.
heights Seniors Folio 2022 · 112 OBRA MAESTRA scene 1
narcisa Sa akin ang tingin, Sol. NARCISA walks back to her easel. sol Lahat ba ng model mo sinasabihan mo niyan?
The door to NARCISA's studio is closed, with a bright orange glow seen through the cracks. The sounds of crackling fire get louder as the camera zooms in. The screen goes black and all sounds halt. A match is lit. NARCISA's face is dimly illuminated. She lights a candle with the match and hands it to SOL. The two stand in the middle of the studio, surrounded by lit candles.
NARCISA now sits in her studio alone. She half-heartedly paints, Suddenly,dazed.SOL stands in front of her. Still holding the lit candle, SOL blows out the flame.
NARCISA turns away and walks over to the jar of paint brushes on the floor. She sits down to pick one.
When NARCISA turns her head, the studio lights are on.
113 · Aleina Zelin T. Duque narcisa What's that supposed to mean?
scene 2 INT.
In the darkness, the following are seen and heard: an empty framed canvas hanging on the wall, SOL crying with tears made of candle wax, groaning white figures, someone singing "Happy Birthday," breaking plates, a woman wailing, and SOL with her hands behind her back, burning.
SOL disappears. NARCISA laughs. NARCISA dips her hands into paint. She begins to rub and scrape her hands all over her body. Her movements become erratic, frenzied. She continues until she is almost unrecognizable. NARCISA'S DINING ROOM — NIGHT
SOL inhales deeply. When she breathes out, all candles, except SOL's, lose their flame.
NARCISA and SOL look at each other, both smiling.
CECILIA fusses over setting the table. REI sits quietly. cecilia Hindi mo talaga 'ko tutulungan? rei Makakasagabal lang ako. cecilia Finally something we agree on. CECILIA sits at the head when she finishes. cecilia Tawagin mo na siya. rei Lalabas din 'yun. Ano ba handa? cecilia Paborito natin. rei Na naman? Nakakaumay... cecilia
Ang dami mong reklamo, edi sana ikaw naghanda. rei Paanong ako, eh gusto mo nga laging ikaw yung—
heights Seniors Folio 2022 · 114
The two stare at NARCISA who enters the room covered in paint. NARCISA washes and dries her hands, but the rest of her is still splattered in color. cecilia Narcisa... narcisa May dumi ba sa mukha ko? NARCISA reaches across the table and places a matchbox in front of REI. rei Para sa'n 'to? cecilia Nasa ref yung cake. Labas mo na.
115 · Aleina Zelin T. Duque rei Susunugin ko yung cake? cecilia Tangina— rei Eto na, eto na. High blood eh. REI exits. narcisa Ang harsh mo masyado sa bata. cecilia And you're too soft. narcisa Ayoko lang namang matulad siya sa... CECILIA looks at NARCISA. narcisa Sa atin. cecilia (laughing) You don't have to save Rei. narcisa At bakit hindi? cecilia Hindi siya si Sol. Then again, she only ever needed saving from you. REI returns with the birthday cake and lights the candle. rei Uy, kung magpapatayan kayo, bukas na. Birthday na birthday, o. REI pushes the cake nearer to NARCISA. rei Ano ulit yung lagi mong sinasabi tungkol sa apoy, Arci?
heights Seniors Folio 2022 · 116
cecilia Tinanong ba namin? rei Ano bang problema mo ngayon? cecilia Anyway. Oo nga, Narcisa, ano ulit 'yun? Kahit ako nakalimutan ko na. Dami-dami mo kasing pinagsasabi palagi.
NARCISA sees a flash of red in her periphery. She stays silent, trying to find where it came from.
CECILIA kicks NARCISA under the table when she notices NARCISA distractedly looking around the room. cecilia What was it? Fire is… narcisa Rebirth. They all look at the small flame. narcisa Pumikit kayo. Make a wish with me. NARCISA looks at them as they close their eyes before shutting her own. When she opens them again, she is back in the studio with SOL, continuing their earlier conversation. NARCISA stands. She goes back to her easel and catches SOL fidgeting with the candle. She steps towards SOL. sol (holding up her free hand) Okay lang ako, Arci.
NARCISA smiles and continues painting SOL.
rei Diba si Sol takot din sa apoy. Masyado raw mabilis kumalat 'pag lumiyab na. Nilalamon lahat—
NARCISA stifles her laughter. sol Hoy! Pinagmumukha mo lang akong Sacred Heart of Jesus eh!
narcisa Can you put your hand up again? Parang kanina nung pinigilan mo 'ko.
NARCISA closes her eyes while laughing. She sees and hears: SOL laughing maniacally while holding a framed painting, CECILIA and REI completely still at the table (unblinking and unbreathing), comealive portraits wriggling around, CECILIA and REI contorting their limbs, and SOL screaming for NARCISA, still burning. NARCISA opens her eyes, back with CECILIA and REI.
NARCISA hides her smile behind the canvas. sol Arci? Pinagtritripan mo lang ba 'ko?
sol (raising her hand at chest level) Ganito?
117 · Aleina Zelin T. Duque sol When you look at me, what do you see? narcisa Hawak mo na yung sagot. SOL stares at the candle in her hand.
cecilia Okay na ba? Tawa-tawa ka diyan. rei Silent retreat pala gusto mo Arci, sana sinabihan mo kami. narcisa Okay na. Kain na tayo.
narcisa Ng mundo... Mundo ng pera?
narcisa Pwede naman. Ang ganda rin ng pagkaluto ng itlog, Cil. You've really outdone yourself. CECILIA drags her fork against her plate.
cecilia Hmm. rei So… okay naman yung painting mo kanina, Arci?
Bakit ba ang dami mong commentary, eh pancit canton tsaka itlog lang naman 'yan?
CECILIA and REI glance at each other, picking at their food. NARCISA practically inhales her plate.
narcisa Sarap ng luto mo ngayon ah.
heights Seniors Folio 2022 · 118
narcisa Just trying to be appreciative of your efforts. cecilia You can appreciate me by putting in your own efforts. Isang taon na, Narcisa. NARCISA stops eating. cecilia Hinihintay ka na ng mundo.
cecilia
cecilia (mutters) Dapat lang. narcisa Mmhmm. Sarap ng flavoring, Cil. Sakto lang yung anghang. rei Baka pwedeng samahan kita? Matagal-tagal na rin nung huling beses mo 'kong tinuruan.
NARCISA abruptly stands. She starts to clear the table.
NARCISA grimaces. rei Hindi 'yun ang point ko. cecilia Then can you please get to the point? rei Ginagawa niyong puta si Sol.
NARCISA turns her head as she hears SOL's laughter. cecilia Eto na naman? Really? rei Ano? narcisa Ibenta mo na lahat ng nasa kwarto ko. REI drops their spoon. rei Seryoso ka ba? Arci—
119 · Aleina Zelin T. Duque cecilia I wouldn't say no. Business partner mo 'ko. Alam mong— rei Art isn't business. narcisa Alam ko naman 'yun, Rei. Pero— rei No, you don't. cecilia
Hoy. Kung hindi ko binebenta mga gawa ni Narcisa, wala kang scholarship. Wala kang mentorship under the person dubbed as "the love child of Caravaggio and Rembrandt."
rei Lahat ng 'yun ginawa mo para kay Sol. cecilia
No offense, Narcisa. Pero alam mo namang sawangsawa na yung mga collectors sa kabaklaan mo para kay Sol.
heights Seniors Folio 2022 · 120
NARCISA starts to leave the room carrying all the plates. rei Wala ka namang problema sa pagbenta kay Sol kung kani-kanino lang ha. cecilia Can you stop phrasing it that way? rei Sa phrasing ka may problema? cecilia
narcisa Okay na ba 'yun, Cil? That's more than 20 paintings. Kikita ka naman diyan, di 'ba?
The plates crash to the floor. REI and CECILIA stand. cecilia Ay, pekpek! NARCISA bends to pick up the shards. narcisa Sol, Sol, Sol. Kahit kailan— NARCISA sees a part of SOL's face in one of the shards. She quickly stands, clutching another broken piece. narcisa Anong hiniling mo, Rei?
Rei. Hindi umiikot ang mundo kay Sol. rei Wala si Narcisa kung wala si Sol.
121 · Aleina Zelin T. Duque
NARCISA walks back to the table. rei Shouldn't you know? narcisa Isang taon na kaming wala ni Sol. rei So you do know. narcisa Wala na ngang babalikan kay Sol. Ikaw ba naman masabihang "artist with no soul" ng taong mahal mo?
CECILIA glances at REI. REI shakes their head. cecilia May point naman siya. narcisa Anong sinabi mo?
NARCISA grips the shard in her hand. cecilia Ano ba, Narcisa. Yes, in technical aspects, walang tatalo sa 'yo. Pero minsan… rei Cil, ako na. cecilia
Walang kaluluwa yung mga gawa mo. Kitang kita sa mata pa lang.
narcisa Paano mo nagagawang sabihin sa akin 'yan? CECILIA pauses. cecilia Imposibleng kami lang ni Sol ang sinabihan ka nang ganito.
NARCISA lets go of the shard. cecilia (sighing) Yes, buhay. Dugo, pawis, oo na. Lahat na. Pero hindi kaluluwa. NARCISA slaps CECILIA with her bleeding hand. CECILIA shrieks and clutches her face. REI takes a step back.
narcisa Putang… Pasalamat kang malaki ang kinikita mo sa mga paint —! cecilia Oh, please! Tingin mo ba maipagmamalaki mo 'yun? CECILIA steps closer to NARCISA.
heights Seniors Folio 2022 · 122 narcisa No. No, no, no, no…
NARCISA grips the shard tighter. Her hand starts to bleed. Her breathing becomes shaky. narcisa Pati ba naman kayo… nakukulangan sa akin… rei Arci, amin na 'yang hawak mo. narcisa Buhay ko ang binigay ko para sa landas na 'to.
NARCISA starts feeling dizzy. She leans on the table. narcisa Arci… narcisa Ikaw rin ba? rei Arci. Please don't make me say it again.
123 · Aleina Zelin T. Duque cecilia Na malaki kita natin dahil pinaglalaruan ng mga collectors yung portraits mo? Portraits ni Sol?
Sabihin mo sa akin paano mo siya hinarap nung nalaman niyang binaboy mo pagkatao niya.
rei Wait… that art critic who commissioned you…
NARCISA watches SOL laugh without a sound. cecilia Pretty words in exchange for a pretty face. rei That's all it took? For you to give up Sol?
SOL looks only at NARCISA. NARCISA sees her. narcisa Manahimik ka na, putang — cecilia
SOL's face is frozen in a scream—silent and still. rei Arci… sa lahat ng pwede niyong ibenta… SOL glares at NARCISA with tears flowing down her face. REI turns away. CECILIA paces restlessly. cecilia "The new face of modern Baroque art! Narcisa! Ang pintor at paraluman ng kinabukasan!"
SOL appears behind REI, still holding the candle. rei (pulling CECILIA's arm) Cil, sobra na. cecilia Ano, Narcisa? Was it worth it?
NARCISA is trembling as CECILIA goes on.
narcisa
narcisa Sol… I would never— cecilia
Ah, so ngayon hindi mo kaya? Pero last year, nung usaping pera— rei Pera kapalit ng dignidad.
NARCISA watches SOL head towards the studio.
Ano na namang pinagsasasabi mo? cecilia
heights Seniors Folio 2022 · 124
NARCISA blacks out.
Narcisa. Wala ka ba talagang naaalala? NARCISA stays silent, still trembling. She grips the doorknob to her studio. CECILIA's voice shakes. cecilia Hindi ko na… hindi ko na kayang ulit-ulitin 'to. rei Buksan mo na, Arci. Hindi mo na 'to pwedeng talikuran.
NARCISA opens the door. SOL stands in the middle of the studio, surrounded by candles, burning.
Ayoko na 'tong pag-usapan. Wala tayong napapala.
NARCISA follows SOL with CECILIA and REI in tow. rei There. There you go again. Kaya hindi matapostapos 'to kasi ayaw mong alalahanin. narcisa
125 · Aleina Zelin T. Duque scene 3 INT. NARCISA'S STUDIO — NIGHT
NARCISA is back in the studio with SOL, laughing, continuing their conversation from earlier. sol Hoy, ikaw pa may ganang sabihan ako na wag tumawa ha. narcisa Sorry. Pero seryoso ako, gawin mo yung pose.
SOL follows. sol Ang ganda ng kinang ng mga mata mo. NARCISA stares at SOL. sol Parang ayoko na rin pala umiwas sa apoy… Titigan mo ba naman ako nang ganyan.
NARCISA steps towards SOL and holds her hand out. NARCISA motions for SOL to lift her chin, her hand hovering between them.
narcisa Bakit? Ano bang nararamdaman mo pagtinititigan kita? SOL lifts her other hand and shows the candle, melting. sol Hawak ko na yung sagot. NARCISA holds her gaze.
Sounds of groaning, sobbing, and sighing are heard until SOL appears on-screen. SOL weeps as the fire grows stronger. All sounds stop. The camera cuts as she begins to smile.
narcisa Nakakatakot talaga kayong mga writer. sol (gesturing to the studio) Uh, hello? Pareho naman kayong artists na… NARCISA smiles, keeping her eyes on SOL. sol Eccentric. But we each do have our own rituals.
narcisa Ritwal 'to, oo. And ceremony.
Ang cute mo talaga pag wala ka nang masabi. narcisa Nang-didistract ka na naman. sol What's distracting is this heat. Kailangan ba talaga maluto tayo nang buhay every time you paint? NARCISA walks back to her easel. I don't plan on dying like Plath. narcisa Plath? sol Sylvia Plath. You know… yung pinasok niya ulo niya sa oven.
NARCISA's hand hovers in front of SOL's face, the latter following the motion until NARCISA is satisfied. sol Muse. NARCISA smiles, SOL laughs.
heights Seniors Folio 2022 · 126 narcisa Poet.
SOL stares at NARCISA. sol The happiest. NARCISA grins and goes back to painting. narcisa Diba Catholic ka?
127 · Aleina Zelin T. Duque sol Meron namang rituals na 'di gumagamit ng apoy.
SOL looks around. Pinili mo pa talaga yung nakamamatay.
narcisa Pwede nating itigil na lang 'to kung gusto mo. NARCISA sets her paintbrush down. Are you tired? Gusto mo kain na lang tayo?
sol Born and raised. Like cattle.
narcisa Kahit naman mga santo niyo, wala ring takot sa apoy. St. Florian, Joan of Arc, John the Baptist. sol Amin na yung towel. NARCISA hands her the towel. SOL wipes away her sweat.
narcisa (fidgeting) But are you happy?
sol Joke lang, ito naman. It's your birthday. I want to do what makes you happy.
narcisa "I indeed baptize you with water unto repentance: but he that cometh after me is mightier than I."
narcisa "He shall baptize you with the Holy Ghost, and with fire." In your Bible, fire isn't destruction—it's salvation. A new beginning, rebirth for when your savior comes. It's… sol Cleansing. A purging of sins.
NARCISA finishes painting.
narcisa Right. And only those who are transformed rather than consumed are triumphant. sol Akala ko ba hindi ka naman relihiyoso? narcisa Hindi nga. But even I can't deny the poetry in your scripture.
heights Seniors Folio 2022 · 128
sol Sinasapian ka ba?
narcisa Pero wag kang mag-alala. Mas may pananalig ako sa 'yo. sol Hindi naman ako Diyos. Babae ako. narcisa Babae ka. Kaya relihiyoso man ako o hindi, sagrado ka. NARCISA puts out SOL's candle with her fingers. sol Poet. narcisa Muse.
SOL turns on the studio lights. She spots a painting covered by a white sheet in the corner. sol Bago ba 'to? SOL lifts the sheet just as NARCISA enters. SOL takes the painting and turns to NARCISA. sol Bakit 'di mo 'to pinapakita sa'kin? NARCISA stays silent. SOL laughs.
narcisa Nahihiya ka ba? Ako nga dapat mahiya eh. The session we had for this was so…
SOL eyes NARCISA and takes the glass of water from her.
sol Maraming yelo, please.
SOL puts down her candle and starts to blow out all the others. She looks at NARCISA's canvas. sol Not bad. Pero parang ang taba ko naman… SOL rubs her stomach and keeps muttering to herself.
sol Hilig talaga netong 'di muna ako tanungin kung okay na… Pinagmukha talaga akong Sacred Heart of Jesus, anak ng…
129 · Aleina Zelin T. Duque NARCISA watches SOL bite her lip. narcisa Kuhanan kitang tubig. NARCISA exits.
heights Seniors Folio 2022 · 130 sol Kuhang-kuha mo katawan ko. Pati stretch marks ko sakto. May nunal pala ko dun? narcisa Hindi ka galit? sol Galit? Para saan? Pumayag naman ako.
sol
SOL smiles at NARCISA, sipping water. Sa 'yo lang ako… nagpapakita nang ganito. I'm always bare when I'm with you. Nakadamit man ako o hindi. SOL looks at the painting again. sol I love when you paint me because I love when you see me. SOL laughs. sol Minsan iniisip ko baka nga ikaw pa ang Diyos sa ating dalawa. You, making me in your image— your beautiful, timeless image. Honestly, when I think of a fire that saves, I don't think of God. I think of you. SOL looks up when she hears NARCISA sharply inhale. sol Oh, Arci… Eto naman o, akala ko sasabihan mo kong corny ulit. NARCISA stops SOL from wiping her tears. narcisa Amin na yung painting, Sol.
131 · Aleina Zelin T. Duque sol Bakit? Akin na 'to no. narcisa (reaching for the painting) Sol, please. sol Never ka pang naging possessive sa'kin, ngayon mo ba talaga sisimulan? Pero gets ko naman. Why wouldn't you want me all to yourself when I look like this? SOL laughs, turning the painting in her hands so it faces NARCISA. SOL looks at the back of the canvas. Her smile disappears. NARCISA backs away. sol Property of… SOL stares at the words, tearing up. She looks back up at NARCISA. The lights dim until there is complete darkness. In the silence, SOL starts to wail. scene 4 NARCISA wakes up in her studio, gasping for air; CECILIA and REI are both inside. CECILIA furiously tries to open the door while REI stands in front of the lone blank canvas hanging on the wall, staring at it. CECILIA's hair is now in disarray, her clothes crumpled. REI looks the same, but more somber. cecilia Rei! Ba't ba nakatayo ka lang diyan?! We need to get out. rei We can't.
(still trying everything on the door) Kaka-hithit mo 'yan sa mga kandila, parang gago. Pwede ka namang mag-shabu, o kaya opioids. Like your stupid American friends. But no!
Wala naman. Nahimatay ka lang naman nang parang tanga. Screaming about Sol, Sol, Sol in your sleep.
REI finds a piece of cloth and walks over to NARCISA as CECLIA rambles. REI hands the cloth to NARCISA. cecilia
Puro kandila, puro wax. Kinakaya pa ba ng baga mo yung usok?
rei Lagi ka namang nahihimatay sa kwartong 'to. cecilia
heights Seniors Folio 2022 · 132 cecilia Tangina ka! Pinto lang 'to. rei Kung ganon, ba't di mo buksan?
CECILIA continues her barrage on the door. narcisa
Bakit 'di niyo 'ko ginising kaagad?
rei Cil, tama na 'yan. Masasaktan mo sarili mo. NARCISA stands.
CECILIA throws herself against the door, almost crying. REI faces NARCISA as the latter looks between the two. narcisa Anong nangyare? cecilia
NARCISA bandages her bleeding hand.
CECILIA shrieks and clutches her hand after punching the door. She whirls around to face NARCISA. cecilia Here we go again. narcisa Nandito si Sol kanina. cecilia Rei. Sabi ko sa 'yo walang nagbago eh. rei Meron. Hindi na tayo makalabas ngayon. cecilia Hindi naman yan improvement. rei Sinabi ko lang nagbago. narcisa Tigilan niyo muna alitan niyo, put— cecilia Bakit, may bago ka bang sasabihin? rei Arci. Ano 'tong mga 'to? REI gestures to the paintings scattered around the studio. CECILIA laughs. cecilia Hindi ba halata? CECILIA looks at the one nearest to her. NARCISA looks at CECILIA while REI looks at NARCISA.
133 · Aleina Zelin T. Duque narcisa Bakit ayaw bumukas ng pinto? Sinong nagsara? rei Wala. narcisa No, no. Si Sol. Si Sol.
heights Seniors Folio 2022 · 134 narcisa, cecilia, and rei: (simultaneously) Ano bang nakikita mo?
The three of them look at each other and speak at the same time again: narcisa, cecilia, and rei: Ikaw.
NARCISA leans on an easel, getting dizzy again. CECILIA picks up one of the paintings.
Kahit gaano mo pa man guluhin yung brush strokes mo, o ipaghalo-halo yung mga kulay, o gamitin mismong daliri mo—alam kong ikaw 'to, Narcisa.
CECILIA shows the painting to REI and NARCISA, speaking faster and faster.
Ni hindi ko nga masabi kung nasan yung mga mata mo. Tsaka ito, ilong ba 'to o tite? Ito, bibig mo o puke?
O wala namang pagkakaiba sa 'yo?
rei Sabi ko sa 'yo may nagbago eh. cecilia So ano? A new art style and she remembers everything? rei Hindi yun ang nagbago.
Kailan ka pa nagsimulang gumamit ng style na hindi Baroque? Are you experimenting? Para sa bagong collection na ba 'to?
narcisa Cil, pwede bang umupo ka muna. cecilia
cecilia
NARCISA avoids REI's gaze.
narcisa Hindi mo pwedeng isipin 'yan. Not when we've gotten so much praise, Rei.
135 · Aleina Zelin T. Duque
rei Anong pakiramdam bumuo ng self-portraits? narcisa Para akong namamatay.
REI stares at NARCISA and starts to laugh. It starts small, then echoes in the studio. cecilia (muttering to herself, finding another painting) Tangina, humihithit din yata 'to. rei Oo nga pala. You only paint what you know.
CECILIA stills in front of the blank canvas on the wall. rei From who? That fucking art critic you can't shut up about? narcisa Careful. CECILIA begins throwing the paintings in a heap in the middle of the room.
NARCISA takes the painting from CECILIA. She steps closer to REI.
Sinasayang mo lahat ng pinagpaguran natin, Arci.
CECILIA starts to pick up the scattered self-portraits, muttering to herself and ignoring the other two.
heights Seniors Folio 2022 · 136 rei Mas nirerespeto mo pa si Boucher kaysa sa sarili mo. narcisa Sinusunod ko lang ang payo niya. rei Sinusunod mo yung gusto niya.
REI laughs in NARCISA's face.
REI is visibly as distressed and restless as CECILIA. rei Sa lahat ng taon mo sa art school, wala ni isa ang nakapagsabi sa 'yo kung paano mo "dapat" gawin yung paintings mo. Nung pinahiya ka ni Guillermo kasi raw masyado kang ambisyosa? For trying to resurrect an art style that's long been dead?
CECILIA starts to light candles around them. rei Everyone thought you would drop out of her class. Three days later, lo and behold, a painting of Guillermo as Jesus coming out of the tomb! And every single face of your classmates—so extremely detailed—I thought they'd crawl out of that painting alive!
CECILIA continues making a pile of portraits. At yun ang problema sa 'yo, Arci. Sumusunod ka na ngayon. narcisa Rei, siya ang nagbigay ng scholarship natin. I owe him. rei You owe him some gratitude, not subservience.
CECILIA shows her the matchbox REI used earlier.
NARCISA smiles at REI. CECILIA turns the lights off. REI's smile disappears. REI slowly shakes their head. narcisa Rei? rei Pero hindi ko na kilala ang kaharap ko. CECILIA tries to take the last painting from NARCISA. NARCISA doesn't let go. She finally notices the heap of paintings in the middle of the room. narcisa Ano 'to, Cecilia?! cecilia Tradition, Narcisa.
137 · Aleina Zelin T. Duque rei Not a single apology out of you either. Sinabi mo pa sa kanya na di ka niya kailangang bayaran para sa painting na 'yun. "Out of the goodness of my heart for our elderly."
NARCISA joins in with REI in laughter. rei And you were so arrogant. Really living up to your name. Sobrang bastos mo nun, bastos! Wala kang gustong kausapin, wala kang gustong pansinin bukod sa sarili mo! Nothing else mattered but the sacredness of the canvas!
REI grabs NARCISA by the shoulders. rei You were bold, and vicious, and merciless. You were you. And it was fucking glorious to be you.
NARCISA hurriedly goes to the door. CECILIA and REI suddenly stand upright behind her. NARCISA hisses and pulls her hand back as soon as she touches the doorknob. CECILIA and REI step towards her at the same time.
NARCISA takes a step back from both of them. cecilia Pero last year… hindi ko naisip na si Sol…
CECILIA laughs, lighting a match. cecilia Patas lang 'to. NARCISA grabs the match from CECILIA. narcisa Cecilia, ano ba! Nasisiraan ka na ba?! REI and CECILIA laugh together, doubling over. narcisa Lumabas na tayo. Ano bang nangyayare sa inyo?!
heights Seniors Folio 2022 · 138 cecilia Kada-birthday mo, may inaalay ka diba?
NARCISA starts to breathe raggedly. She puts the side of her head against the door, listening. The sound of crackling fire is faintly NARCISAheard. quickly backs away. cecilia (wide-eyed, grinning) Well? narcisa Sunog…
CECILIA grabs NARCISA, still grinning. cecilia Narcisa, wag naman ganun. Walang takbuhan, walang talikuran. narcisa Ano ba, Cecilia! Tingnan mo nga sarili mo. You're falling apart at the seams.
CECILIA and REI sharply turn their heads to look at each other. They start running around the room: one moment, joyful; the next, delirious. cecilia Sa wakas! Makakalaya na mula sa mundong 'to!
NARCISA turns around to face CECILIA who is suddenly right behind her, grinning, holding up a match. REI stands in front of the blank canvas on the wall, speaking to it in hushed tones. narcisa Cil. We need to break down the door. Pagkalabas natin, tumakbo lang tayo kahit gaano kalala sunog. Naiintindihan mo ba? Cil?
rei Sol! Sol! Ang tagal ko nang naghihintay, Sol!
NARCISA is still facing the door, breathing faster and faster. CECILIA and REI continue chanting and running behind her. NARCISA stares at the door. The camera pans to the other side of the door. SOL stands outside, smiling. cecilia (sing-song) Narcisa! Halika na, simulan na natin ang seremonya!
139 · Aleina Zelin T. Duque
heights Seniors Folio 2022 · 140 cecilia Really, Narcisa! CECILIA points to the pile of paintings. cecilia Hindi ako dito ang may problema sa pagbuo ng sarili nila. narcisa Wala akong kailangang patunayan sa inyo, Cil. Ako ang bukang-bibig ng mundo— cecilia Aling mundo? NARCISA stares at CECILIA. cecilia Ipapaalala ko lang sa 'yo—wala tayo ngayon sa mundo mo. NARCISA stumbles on her feet. REI is now pressing their body against the door, listening outside. rei Sol! Sol, buksan mo na pinto! Nakikita ko na ngayon— narcisa (rushing to REI) Nakita mo siya kanina?
rei Matagal na. Ikaw ang bulag. cecilia Bulag-bulagan. narcisa Putangina, ano ba! Isang buong taon niyo na kong pinararatangan ng bagay-bagay na hindi ko naman ginawa.
narcisa Isang taon ko nang tinitiis yung kabastusan niyo, pamimilit niyo na bumalik ako sa painting kahit hindi pa ako handa. I don't even let collectors talk to me like that. They all stand in front of the canvas; REI and CECILIA stare at it while NARCISA keeps looking back and forth between them.
141 · Aleina Zelin T. Duque
REI and CECILIA walk over again to the blank canvas as if being called by it, ignoring NARCISA. NARCISA follows them and keeps talking.
narcisa You can't rush art. Not when it needs to be perfection, when it needs to make the people see God. Not when it's mine! cecilia and rei Iyo pa ba? narcisa Ano? From behind them, some of the portraits start to come alive: squirming, cracking their joints. rei Iyo pa rin ba ang paglikha mo? NARCISA grabs them both by the collar. The fire coming from outside the door starts to spread inside the studio. narcisa Akin ang mga piyesa ko. Akin! Ako ang mga piyesa ko. Ako ang buto't laman, ako ang dugo't pawis. Ako ang abo at ako ang liyab. The "portraits" start to stand, shaky and erratic.
CECILIA and REI twist NARCISA around to face them. When NARCISA sees them, she starts gasping for air. Two of the "portraits" erratically pose themselves as "NARCISA" and "GUILLERMO". "NARCISA" mimes bringing a canvas over to "GUILLERMO" and handing it to them. "NARCISA" removes the sheet from the canvas with a flourish. REI speaks, still standing beside NARCISA, and "NARCISA" moves their mouth as if speaking on their own.
Mr. Boucher. What you ask of me… it's too much. No. I won't do that to her. What? Why are you giving me that much money? You've never paid that much for any of my collections.
NARCISA freezes. CECILIA and REI go still, unblinking. The "portraits" behind her gasp and wheeze. They call out to NARCISA, drawing out each syllable of her name.
rei Out of the goodness of my heart for our elderly. The two "portraits" freeze. The other two "portraits" quickly pose as "NARCISA" on the phone with "BOUCHER". NARCISA sobs. CECILIA and "NARCISA" speak the way REI and "NARCISA" previously did. cecilia
NARCISA speaks the next words clearly alongside CECILIA: cecilia and narcisa Punyetang dambuhala 'to.
heights Seniors Folio 2022 · 142 narcisa Ako ang wakas at simula.
Mr. Boucher, you have my word. I won't let you down again.
The other two "portraits" move again, this time with one posing as "NARCISA" and the other as "SOL". "SOL" lies on her stomach, keeping still for "NARCISA". "NARCISA" mimes painting "SOL". The two exchange laughter. "NARCISA" speaks at the same time as NARCISA, CECILIA, and REI. narcisa, cecilia, & rei Konti na lang, Sol. Matatapos na rin 'to.
Just as "SOL" opens her mouth, the "portraits" freeze. The other two "portraits" move again. One portrait poses as "NARCISA", the other as "SOL"'s finished portrait from the year before. "SOL" stands still while holding a candle; "NARCISA" stares at her, then mimes lighting a match.
143 · Aleina Zelin T. Duque
NARCISA, CECILIA, and REI all scream for SOL as "NARCISA" mimes lighting "SOL"'s portrait on fire. SOL's screams are heard through the door.
CECILIA continues speaking; NARCISA bites down on her fist, struggling to keep quiet in spite of her sobbing. "NARCISA" paces; "BOUCHER" mimes smoking a cigar while on the phone. cecilia Nothing, Sir. I'm just surprised by your request. That much money… Sol and I will never want for anything again. I know… I know I haven't been my best lately, but this will be different. My portraits always have life when they're Sol. "BOUCHER" lets out a deep laugh.
StrugglingNARCISA's.tobreathe,
NARCISA closes her eyes and sees the following: NARCISA staring at the blank canvas the same way REI was at the beginning of the scene, she reads the words "PROPERTY OF SOL" engraved on the canvas' frame; NARCISA muttering to herself in different tones as she throws the paintings into a pile, then stopping in front of the blank canvas again (just as CECILIA did).
The "portraits" contort themselves wildly. NARCISA, CECILIA, and REI collapse on the floor together, wailing, heaving, breathing in quick gasps. They find one another, grasping for each other's shoulders, necks.
They start matching each other's deep, anguished cries and wail at the same time. The "portraits" crawl towards the pile of remaining paintings, their bodies rising and falling in time with CECILIA's, REI's, and
heights Seniors Folio 2022 · 144
NARCISA spotting the canvas' art label below the frame, saying: "Sol Galvez. Narcisa's Dirge. Soul on canvas."; NARCISA at the dining table, eating and talking alone; NARCISA arguing with SOL. With a final wail, NARCISA recovers her last memory. scene 5 INT. NARCISA'S STUDIO — NIGHT sol (clutching NARCISA's painting of her) Napakasahol mo, Narcisa. Sagrado… Sagrado ba ko kung binebenta mo lang din ako nang parang karne sa palengke?
SOL gasps, her face crumpling. She drops the painting. narcisa No, Sol, wait. SOL turns away. She runs her hands through her hair and tries to calm herself. With a deep breath, SOL turns to NARCISA and steps forward until they are face to face. sol Ganyan kababa ang tingin mo sa 'kin? A good-fornothing writer from Manila who lives in the shadow of her world-renowned artist girlfriend? Her artist girlfriend with no soul? SOL balls up her fists.
sol Lahat ng ginagawa mo para lang sa sarili mo. narcisa Hindi ka nakikinig. Think of our future, Sol. With this much money, you won't even have to write anymore. Let's face it, with your skill, walang magbabayad ng ganto kalaking halaga—
145 · Aleina Zelin T. Duque
narcisa (trying to hold SOL) Makinig ka sa 'kin, Sol. Sol. Kung ibenta ko 'to, pwede na tayong umalis. Pwede tayong tumira kahit saan mo gusto, kahit gaano pa kalayo. sol Ayokong umalis dito, Narcisa. narcisa Well, I don't want to fucking die in this place! Plath's oven to you is the Philippines to me!
SOL shoves NARCISA away.
heights Seniors Folio 2022 · 146 sol Walang ikaw kung wala ako sa 'yo, Narcisa. Hindi mo alam kung anong matitira sa sarili mo kapag nawala ako. narcisa And you do? Tingin mo hihigit ang kahit anong isulat mo sa lahat ng mga piyesa ko? sol Ako ang mga piyesa mo, Narcisa. Ako ang buto't laman, ako ang dugo't pawis. Ako ang abo at ako ang liyab. Ako ang wakas at simula. scene 6 INT. NARCISA'S STUDIO — NIGHT
NARCISA opens her eyes. "CECILIA" and "REI" are gone. All the portraits are still in a pile, no longer "alive." The fire in the studio has now engulfed all the walls. The blank canvas is the only object that survives the fire.
SOL appears in front of NARCISA. NARCISA gazes up at her. SOL helps NARCISA stand up. They both face the blank canvas. NARCISA takes one last look at SOL. NARCISA reaches her hand out. With one final breath, NARCISA touches the canvas. The camera cuts to the first shot of the play: the closed door of the studio, with a bright orange glow seen through the cracks.
Various luxury items and travel souvenirs litter SOL's desk. Other items include fountain pens, papers with messy handwriting, random books, and a single candle.
147 · Aleina Zelin T. Duque scene 7 INT. SOL'S STUDY — NIGHT
SOL enters the room in a lavish gown, wearing glittering jewels, holding a glass of wine. In her other hand, she holds a book with NARCISA's name partially seen on its spine. The cover bears NARCISA's face, along with the years of her birth and "death."
SOL looks up at the wall behind her desk. She raises a toast to the painting hanging on the wall, sips from her glass, and smiles. the end
heights Seniors Folio 2022 · 148
ab interdisciplinary studies
As of time of writing, the person pictured on the opposite page of this spread is unsure about all things. He just finished watching Lady Bird for a class requirement and hopes that its last minutes, minus the trip to the hospital, were to become his reality by the latter half of this year. If not, he'll just keep trying to do something else but will eagerly work until it becomes so. Until then, he has a purple pillow he made in the fourth grade to keep him company night after night. May we all live in interesting times.
heights Seniors Folio 2022 · 150
David Adriel C. Hernandez
151 · David Adriel C. Hernandez
heights Seniors Folio 2022 · 152 Imagine This Line (After Rauschenberg). Digital illustration. 3000 × 3000 px.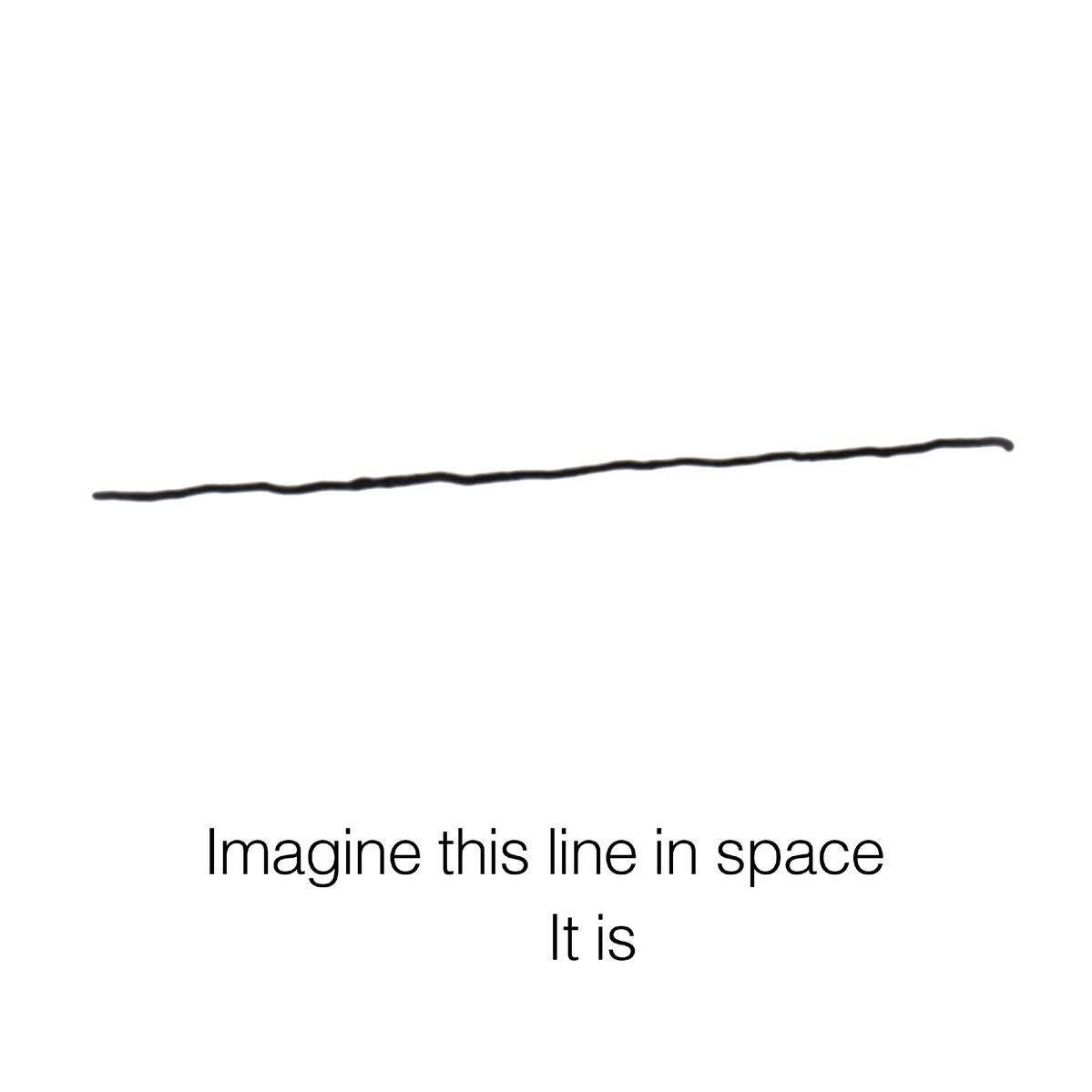 heights Seniors Folio 2022 · 154 Han Herrera ab communications An inclination towards writing emerged and has thus settled in her psyche since she was in the first grade. Albeit the long-established relationship between her and writing, she believes that she still has a very long way to go until she could ever see herself as a writer. She wants to die a poet. Lastly, she loves Big Time Rush and her pet fish named Snake (nicknamed Has) unconditionally.
155 · Han Herrera
heights Seniors Folio 2022 · 156 Kings in the Back Row your jupiter heart i wounded years ago –the inevitable consequence of a flimsy attempt at reckless translation, in fear, i subjected myself to friction almost unbearable so that in callousness i will not betray my own deceit, i only ever meant to let you know that on its very own, my heart still whispers fealty to yours, jupiter heart girl, from the farthest row, i am yours
Franco Andrei Pineda
Lipon ng ilan sa mga akdang nasa Notes App ni Coco ang mga mababasa ninyong tula sa mga susunod na pahina (Hanggang du'n lang sa bago 'yung susunod na contributor, syempre. Anthology mo yarn?). Ilan dito'y bunga yata ng lumbay, tuwa, at pamamag-asa. 'Di niya nga sure kung nagsama siya ng tula na sulat para sa dati niyang (mga) crush. Ang sigurado siya ay salamin ito ng mga napagdaanan at napagmunimunihan niya sa apat na taon niya sa Loyola Schools.
heights Seniors Folio 2022 · 158
Kung nababasa mo ito'y mukhang nahabol naman ni Coco ang deadline ng pagsusumite nang hindi nagccram. Sana naman, 'no?
Eme lang ang búhay, pero ito'y eme mo. Eme. Sa paglikha'y lumalaban. Sa paglikha'y lumalaya. Sa paglikha'y lumalayag. Sa paglika'y lumiligaya.
bs psychology, minor in literature (english)
159 · Coco Pineda
heights Seniors Folio 2022 · 160 Cold Homecoming It's been two years, hasn't it? An exile, exiled from the Exile's Hub Bound to learn, unlearn, and relearn How to live, how to love, how to laugh. Isn't it funny how It took longer for you to pack Than to jump straight back To the former that is now the now? It would've been nice To carry pieces of home Across miles and miles of stalk If only I knew where comfort resides. So here I am again. But in foreign, familiar territory. Motionless, but in motion. Growing, yet undergrown. Though I do know that I am To be welcomed here again Or so I hope I'll be. (2/12/22)
161 · Coco Pineda
heights Seniors Folio 2022 · 162 Bagong Síkat Nagtatanto kung bakit Naibsan ang sakít Sa gitna ng tag-araw; Isang palaisipang 'Di mabigyang linaw. Anong awit ng tag-ani Sa mabathalang Ama'y ibinahagi Na sa isang dagli: Ginapas, 'di butil ng pait; Butil kaytamis 'di pinagkait. Na sa pagbawing balak, Si Helios lubos ang galak Na pahabain mga araw, Upang habulin, mga sandaling Kimi at walang galaw. Na baka bawat bukang-liwayway, Hudyat ng bagong simula; 'Di lang sa dalawang dosenang oras Na uubusin ng guni-guni Ngunit para sa adhikang namamayani. Anupamang nais sabihin Ng kalawaka't kapangyarihan, Dalawang hakbang pasulong At isa Ngayo'ypatalikod,hinay-hinay na't di bubugso. (6/24/2019)
163 · Coco Pineda
heights Seniors Folio 2022 · 164 kung itulak ba'y kakabig yayakapin pa kaya ako sa Abril na kay init, paypay lamang ay kartong punit sabay higop ng kapeng barako? sasabit bang lumangoy kahit maulan ang Hulyo, sampay di matuyo kahit kwelyo ngunit sa ilog pa rin ang tuloy? aalalay ba sa pag-akyat sa Pulag sa Pasko hangi'y kay presko habang Amiha'y nagpapasikat? ilang palit kaya ng panahon bago isiping ako'y palitan dahil ayaw sa salungatan ng klima at gawing de-kahon? giliw, kaya bang tagpuin sa dilim ng distritong kay lawak sabay sa 'king kamay, hahawak; susubok na tayo'y makatatahan din? (5/14/2021)
(or
graduating Development Studies major
Lapidario ab development studies
in school—back
is your
onsite classes
heights Seniors Folio 2022 · 166
just
Angelika Portia
illustrator (sometimes) and
requirements). She's
Portia regular weather-worn friend who, on a regular day when were a thing—can be found spending her breaks sitting on a bench in Kostka or Zen Garden with her blockmates whoever needs quiet company while cramming an a at the Ateneo de Manila University.
167 · Angelika Portia Lapidario
heights Seniors Folio 2022 · 168 Angelika Portia Lapidario. these bodies still remember the storm. Digital illustration. 2000 × 2000 px.
heights Seniors Folio 2022 · 170 Maria Larga bfa creative writing Maria is soon to graduate with a degree in Creative Writing and a minor in Panitikang Filipino. She hopes her writing will be enough.
171 ·Maria Larga
heights Seniors Folio 2022 · 172 punla immersion?Kamusta mountain'stheonlyhere,horizonsnoare(—there kiss.chasteainskythemeetingpointsjagged outskirts,thefrom downwornpathshidesgrassCogon footsteps—anonymousbydustto hooves,carabaoboots,rubbersandals,feet,bare own—housesmy slopeshillyoftoponrest home.)uswelcomeand palayan.sakamiPumuntanaman.langOkay thicknarrow,paths;mountainmuddytoleadroads(—dusty wiltsmakahiyastrayAvegetation.with carabaothetowaveItoes;myofbrushtheat awaitingpigthetopass;mewatching childrenTheheels.myatscampersdogThemeal.nextits
173 ·Maria Larga theyasevenslip,neverfeetme—theirofaheadrun me.atgrintoturn faster,Walk say.)toseemeyesmischievoustheir magtatrabaho.kayobukidsabanganakoSabiNaku. indancingchallengeais(—there yourofftakeeyes:nanay's washcanYouhere.usenoofaretheysandals, Translation:stream.theinfeetyour andinhibitionsbourgeoisyourofftake andfeetyourswallowearththelet letpalms;yourfromseedthe skinyourpaintmud andbrownofhuesin suntheinbaskred; Slowly,backs.ourondownbearing sinkandoffslippersmyslipI sludge.theinto feet.)baremyoncoolisclaywetThe po.langOkay
storiesmetells(—nanay homecomingguerillasof theofarmsthetomountains,thetoher,to bedtheonslepthaveTheyMasses. traversedhaveTheyon.sleptI trackingIAmwalked.Iroadsthe revolutionariesareTheyfootprints?their gone.)long—now nahirapan?namanka'Di lifethethisiswonder:andpeaksmountainthetolook(—I seentheyHavelive?they theeyes,nanay'sinlovethe fieldsricethesmiles,children's sownhandstheirHaveharvest?forready reasonthethisme—isTelllands?these calltheheededhavethey holdnowhandstheirreasonthewar;of walktheyreasonthegun,loadeda anger.isitMaybemasses?toilingtheamong isitMaybegrief.isitMaybe withlandsthesewatertowantsNobodylove.
heights Seniors Folio 2022 · 174
175 ·Maria Larga butblood,their we—dochoicewhat theydid have?) din.Experiencepo.namanHindi them.jointobutnothingwantwouldIgoodbye.saytowantnotdid(—I I should but—themjoin returnwillIwhile.aforhereonlyamI mudwithcitytheto andsoulmyindeepburiedacheanandsandalsmyofsolestheoncaked returnwillIpromise:a Someday,someday. escapewillIsomehow, downcomewillItower,ivorythe willIhill,thefrom andmoreonceoffshoesmyslip Then,earth.barethekissfeetbaremylet leave.)toneednobewillthere naman.Buti
heights Seniors Folio 2022 · 176
Chance Lee bs legal management
While Chance Lee is a BS Legal Management student, her heart deep down longs to find creativity, love, and life in the littlest of things. On the side, she primarily creates visual digital art but also dabbles in writing literature every now and then, including poetry and short essays as a personal hobby. She takes on every opportunity possible to create visual and literary art that stems from personal experiences, connects with people, and/or advocates for the voiceless, whether through personal projects, organization projects, and publications like this. She finds meaning and love in art in any form and hopes to share that with others so there may be more good in the world, as she believes that the truest form of love will always manifest good.
heights Seniors Folio 2022 · 178
179 · Chance Lee
heights Seniors Folio 2022 · 180 Chance Lee. Flooded. Digital painting. 1080 × 1080 px.
heights Seniors Folio 2022 · 182 Alyssa Gewell A. Llorin bs applied physics with materials science engineering Isa pa po sana.
183 · Alyssa Gewell A. Llorin
Alinsunod sa tono ng "99 Bottles of Beer on the
Trese na lang sa silid-aralan Trese na lang sa silid-aralan Treseng bata sa silid Isang araw, may binugaw Dose na lang sa silid-aralan Dose sila sa silid-aralan Doseng bata sa silid Isang araw, 'di na gumalaw
Kinse sila sa silid-aralan Kinseng bata sa silid Isang araw, merong umayaw Katorse na sa silid-aralan Katorse na sa silid-aralan Katorse na sa silid Isang araw, may nilangaw
Kanta ng mga bata sa kanto
heights Seniors Folio 2022 · 184
Onse na lang sa silid-aralan Onse sila sa silid-aralan Onseng bata sa silid Isang araw, may naligaw Sampu na lang sa silid-aralan Sampu sila sa silid-aralan Sampung bata sa silid Isang araw, ilog umapaw Siyam na sila sa silid-aralan
Wall"
Siyam na sila sa silid-aralan Siyam na bata sa silid Isang araw, may nagnakaw Walo na lang sa silid-aralan Walo sila sa silid-aralan Walong bata sa silid Isang araw, dinig ang hiyaw
Apat sila sa silid-aralan Apat sila sa silid Isang araw, mayrong lumitaw Tatlo na lang sa silid-aralan Tatlo sila sa silid-aralan Tatlong bata sa silid Isang araw, isa'y sumigaw Dal'wa na lang sa silid-aralan 185 · Alyssa Gewell A. Llorin
Pito na lang sa silid-aralan Pito sila sa silid-aralan Pitong bata sa silid Isang araw, 'lang pambayad daw Anim na lang sa silid-aralan Anim sila sa silid-aralan Anim sila sa silid Isang araw, may nangligaw Lima na lang sa silid-aralan Lima sila sa silid-aralan Limang bata sa silid Isang araw, gustong sumayaw Apat na lang sa silid-aralan
heights Seniors Folio 2022 · 186 Dalawang nasa silid-aralan Dalawang nasa silid Isang araw, may bulalakaw Isa na lang sa silid-aralan Isang bata sa silid-aralan Isang bata sa silid Isang araw, pati ikaw Nawala na sa silid-aralan
heights Seniors Folio 2022 · 188 Elise Ofilada bfa creative writing Si Elise Ofilada ay senior ng Creative Writing sa Ateneo de Manila University, isang organisador, at cultural worker.
189 · Elise Ofilada
heights Seniors Folio 2022 · 190 PEPMACO Labhan ang iyong damit gamit ang sarili mong dugo. Magsipilyo gamit ang sarili mong dugo. Maligo sa sarili mong dugo. Malunod sa sarili mong dugo. Bawal maghugas-kamay.
191 · Elise Ofilada
heights Seniors Folio 2022 · 192 Listahan ng mga Landlord at Comprador na Sisingilin Balang Araw Alicia P. WilsonWilliamTheTheSusanSoledadJosephJoselitoJoseIgnacioGeorgeFredesvindaElizabethLorenzoGokongweiAlmedaConsunjiSKTyB.GimenezMariChanandOliviaCamposandGemmaTanbuntiongV.PangilinanandErnestoTanmantiongChingTan'sChungTe'sandClaireTanUntiongL.Sy
heights Seniors Folio 2022 · 194 Cate Roque ab psychology Cate enjoys advocacy work and writing when she's not running away from her responsibilities. Check out her previous work here: https://free-churros.carrd.co/
195 · Cate Roque
Now one day I'll have the time of my life in a different city, With a different number and different friends, By the window of an apartment I won't own Soaked in weekend moonlight and in somebody, And when I come home early in the morning you won't be there. No soft brown eyes to greet me by the living room, No begging me to stay a little longer before I head off to work.
You're on a cardboard deathbed carving the flesh under your mouth, A crescent moon fang etching its place in the sky That is your trembling body, trickles of blood peaking out. You look at me with stars in your eyes like My hands could cure everything you're feeling
But when home calls, what then? They drag you back inside, keep your head down
And you'd stop clenching your teeth at my touch. I'd flip over the sand glass and start over, if I could,
I've got four walls holding me down, you've got iron bars.
Because your sand glass lungs are running out of patience.
And suddenly it's been ten years growing your claws Sharp as the nails that keep your cage together.
I've always believed you'd get the life you deserved. That you'd be there when my moving boxes touch New floors to gather dust on, when everything is new again.
I know about all the slipping away the magical moment The lock twists open by chance. I want to tell you that know all about the way you run Like your life depended on it, because it did.
heights Seniors Folio 2022 · 196 Snuffles Passes on a Saturday
I know I'll get everything I want without you by my side
Every night, when you mark circles around The dark unforgiving corner you call your space, I want to tell you that I know what it's like.
Find you a place that doesn't nurture snarling resentment. Here's the chorus of house dog cries all across the neighborhood, Here's my hand reaching out to yours turning cold, Here's the shiver that runs across your whole body, For the first time and the last, I'll leave The door open for you before I go. 197 ·Cate Roque
heights Seniors Folio 2022 · 198
heights Seniors Folio 2022 · 200 Andrea Tibayan ab communication to girltrendz and yeehaw, to all the seatmates I talked to and groupmates I've worked with throughout college, to all the orgs I've joined, to HEIGHTS and EB 2021-2022 (hello sa nag-de-delibs/ totonag-p-proofread/copyedit),allmyprofessorsandteachers,Ateneothathaschallengedand changed me immeasurably, to my bff Czar, to my family (hi Dad and Ates), to Mama, na masaya sana sa piling ni Lord, sa dinami-rami ng salita sa mundo, palagi akong nauubusan—pero sana sapat na 'yung natitira. lubos na nagpasasalamat ako sa inyong lahat. hindi ako makakararaos ng college at ng pandemic kung wala kayo at ang alaalang ibinahagi niyo sa buhay ko. buong buo ang pagmamahal ko sa inyo. habambuhay kayong may lugar sa puso ko. <3
201 · Andrea Tibayan
heights Seniors Folio 2022 · 202 Kamay mula sa batang peminista
Kita mo ba ang kalyo ng kanilang mga kamay? Bawat linya'y may kuwento ng pagpupugay sa kapwa babaeng nagtatrabaho nang walang humpay. Kung uunlad man ang mundo, hawakan lamang ang kanilang mga kamay, damdamin ang bawat kalyo't galos ng kamay nilang dadalhin tayo sa pagbabago.
203 · Loyola Schools Awards for the Arts 2022 Creative Writing: Fiction Ma. Patricia Regina A. Larga, bfa creative writing Creative Writing: Nonfiction Princess Angela D. Cole, bfa creative writing Cydney Maegan M. Mangubat, bfa creative writing Creative Writing: Poetry Joshua John S. Cabal, ab european studies Caitrine Alexandra J. Roque, ab psychology Dance: Choreography Jacinta Angela M. Pascual, ab interdisciplinary studies Dance: Performance Audrey Daphne P. Adarme, bfa information design Nicole D. Paredes, bs life sciences Music: Composition Luis Alfonso R. Montales, bs psychology Music: Performance Tristan Jay G. Lao, bs information technology entrepreneurship Sherisse Myka A. Sy, bs legal management Screen Arts: Direction Joaquin Alfredo M. Consing, ab communication
heights Seniors Folio 2022 · 204 Screen Arts: Production Marie Katherine D. Gayapanao, bfa information design Theater Arts: Direction Robert Bradly M. Hao, bfa theater arts Theater Arts: Performance Daniel Vincent P. Narciso, ab psychology Julia Melisande J. Santiago, ab interdisciplinary studies Visual Arts: Graphic Design Francis Dio F. Calpatura, bfa information design Patricia Grace R. Fermin, bfa information design Aitana Therese T. Nellas, bfa information design Visual Arts: Illustration Angelika Portia L. Lapidario, ab development studies Giulia Clara R. Lopez, bfa information design Aitana Therese T. Nellas, bfa information design Visual Arts: Photography Alexis Jae C. Wang, bfa information design
The members of the Awards for the Arts Committee: Mark Joseph T. Calano, Ph.D. (Chair) Alexis Augusto L. Abola Laura Corazon A. Cabochan Anna Liza F. Castaneda Michael M. Coroza, Ph.D. Carlomar A. Daoana Allan Alberto N. Derain, Ph.D. Gary C. Devilles, Ph.D. Ariel A. Diccion Karen Fatima R. Francisco Jesse Gilliam Z. Gotangco Ma. Victoria T. Herrera Glenn S. Mas Isabel Consuelo A. Nazareno Allan J. Pastrana Maria Inez Angela Z. Ponce De Leon, Ph.D. Aaron R. Vicencio Martin V. Villanueva
Dr. Jonathan Chua at ang Office of the Dean, School of Humanities
Bb. Tatiana L. Maligro at ang The guidon
Bb. Ma. Mercedes T. Rodrigo at ang Areté Ang MVP Maintenance at ang mga Security Personnel
Bb. Dar Cerafica Brazil at ang Matanglawin Ang Sanggunian ng mga Paaralang Loyola ng Ateneo de Manila, at ang Council of Organizations of the Ateneo - Manila
G. Regidor B. Macaraig at ang Purchasing Office
Dr. Maria Luz C. Vilches at ang Office of the Vice President for the Loyola Schools
Dr. Leland Joseph R. Dela Cruz at ang Office of the Associate Dean for Student Formation
G. Martin V. Villanueva at ang Department of Fine Arts
Fr. Roberto C. Yap, S.J. at ang Office of the President
Pasasalamat
G. Gino Cecilio N. Flores at ang Office of Student Activities
Gng. Liberty P. Santos at ang Central Accounting Office
Dr. Priscilla Angela T. Cruz at ang English Department
Bb. Carina C. Samaniego at ang University Archives
Dr. Gary C. Devilles at ang Kagawaran ng Filipino
Dr. Allan Alberto N. Derain at ang Ateneo Institute of the Literary Arts and Practices (ailap)
Bb. Ma. Victoria T. Herrera at ang Ateneo Art Gallery
Dr. Vincenz Serrano at ang Kritika Kultura
Dr. Josefina D. Hofileña at ang Office of the Associate Dean for Academic Affairs
Bb. Marie Joy R. Salita at ang Office of the Associate Dean for the Student and Administrative Services
Dr. Vernon R. Totanes at ang Rizal Library
At sa lahat ng nagpapanatiling buhay sa panitikan at sining sa komunidad ng Pamantasan ng Ateneo de Manila sa pamamagitan ng patuloy na pagbabahagi ng kanilang mga akda at patuloy na pagsuporta sa mga proyekto ng heights
Patnugutan Punong Patnugot Stanley Triston Y. Guevarra [ab lit (eng) 2023] Katuwang na Patnugot Ignacio C. Bunag [bs hs 2022] Patnugot para sa mga Panlabas na Gawain Paul Stanlee V. Añonuevo [bs mis 2023] Tagapangasiwang Patnugot para sa Komunikasyon Cydney Maegan M. Mangubat [bfa cw 2022] Tagapangasiwang Patnugot para sa Pananalapi Alexis Nicole N. Ferreras [ab ec 2022] Patnugot sa Sining Andrea Faustine A. Isaac [ab am 2023] Katuwang na Patnugot sa Sining Kimiko Gabrielle R. de Guzman [ab com 2023] Patnugot sa Ingles Alexie Nichole S. Cruz [ab pos 2023] Katuwang na Patnugot sa Ingles Maria Angela D. Lanuza [bfa cw 2023] Patnugot sa Filipino Ryan Gabriel B. Suarez [ab ds 2024] Katuwang na Patnugot sa Filipino Ziona Gilia S. Castro [ab pos 2023] Patnugot sa Disenyo Aitana Therese T. Nellas [bfa id 2022] Katuwang na Patnugot sa Disenyo Justin Dhaniel C. Tan [bfa id 2023] Tagapangasiwa ng Produksyon Melanie Mae D. Silverio [bs me 2022] KatuwangTagapangasiwana ng Produksyon Lindsey Therese U. Lim [ab mec 2024] Patnugot ng Heights Online Andrea Mae U. Tibayan [ab com 2022] KatuwangPatnugotnasa Heights Online Natania Shay S. Du [bfa cw 2024] Gumaganap na Katuwang na Patnugot ng Heights Online Maria Sophia Andrea E. Rosello [ab com 2024] Punong Tagapamagitan at Tagapamagitan sa Ingles Martin V. Villanueva Tagapamagitan sa Sining Alfred Benedict C. Marasigan Tagapamagitan sa Filipino Christian Jil R. Benitez
Tagapamagitan sa Disenyo Tanya Lea Francesca M. Mallillin Tagapamagitan sa Produksyon Gino Cecilio N. Flores Tagapamagitan sa Heights Online Regine Miren D. Cabato
211 ·
Mga Kasapi
Disenyo Karl Eli R. Alconis, Alfonso Arellano, Francisella S. Avila, Justine Christiane B. Bello, Jana Ysabel V. Codera, Carmencita G. Dolina, Patricia Grace R. Fermin, Kayla T. Geraldoy, Sarah Huang, Giulia Clara R. Lopez, Isabella Lozada, Raven Nakpil, Danelle Erin Natividad, Kristine T. Pabua, Franz Miguel Reyes, Marie Jilliene Cloe T. Sison, Divine-kai T. Tan, Mia Genine D. Tupas, Nicole Ann E. Vargas, Dagny Eran M. Yenko
Produksyon Ashlee Nicole L. Baritugo, Alexandra Maria P. Bringas, Maria Carmela R. Cabanos, Reign Iris M. Centeno, Paolo Gabriel B. Estrella, Mariana D. Gardoce, Angelika Portia L. Lapidario, Christina Bianca C. Mallari, Vaughn Dylan D. Ramos, Rashed Andrei V. Zafra
Sining Lucas Sebastian D. Abaya, Mikaela Alexandria M. Alvear, Jude Angelo S. Buendia, Kevin Bryce J. Castro, C C. Crespo, Regina P. Due, Kelsey Danielle B. Escareal, Eric Noel B. Jabagat, Hannah Stephanie G. Jaugan, Rianna Aurora G. Nolido, Ana Lucia D. Pineda, Ryan Joshua F. Reyes, Lars Michaelsen V. Salamante, Rachel Maxine T. Tan, Adrian Lance B. Teng, Nicole Keith T. Tolentino, Justine Clarisse S. Valdez Ingles Isabella Maria Abelardo, Mikaela Bandera, Beatris V. Cabana, Jose Antonio D. Carballo, Dreibee Dorothy Rosedor P. Criste, Angela Nicole A. Divina, John Divinagracia, Ariana Gabrielle S. Domingo, Gayle Denise A. Dy, Sophia Alexis Escarez, Harvey D. Felipe, Lian Laya Leonen-de Vela, Sofia Ysabel C. Nicdao, Rina Julia B. Ortega, Andre Noel Pandan, Pauline Lyra B. Piedad, Andrea G. Posadas, Gianina Minerva C. Respicio, Bea Pauline Salcedo, Sophia Alessandra Co Sy, Adrian Lance B. Teng, James Simeon Tiu, Renee Andrea Villegas Bagwisan Jerome Allen C. Agpalza, Anjanette C. Cayabyab, Princess Angela Cole, Bernardine B. de Belen, Ivan Yuri P. De Leon, Richell Isaiah S. Flores, Vincent A. Halog, Marie Frances Therese M. Joson, Ma. Patricia Regina A. Larga, Alyssa Gewell A. Llorin, Jerome Matthew L. Maiquez, Sola Fide D. Ramos, Maria Jessica Franz L. Sakay, Lars Michaelsen V. Salamante, Marie Faith P. Santos
heights Seniors Folio 2022 · 212 Heights Online Betina Victoria M. Aragon, Aidan Reuel A. Bernales, Alexandra V. Catapang, Czarina Kaye S. Dela Cruz, Mariana D. Gardoce, MargaritaEliana D. Guevarra, Jylianne Therese Carmela M. Macazo, Deanne F.Sy, Riana Patricia V. Tumale, Ines Sabina C. Verzosa, Simone Andrea L. Yatco