4x4 Wildlife Tours on the Isle of Skye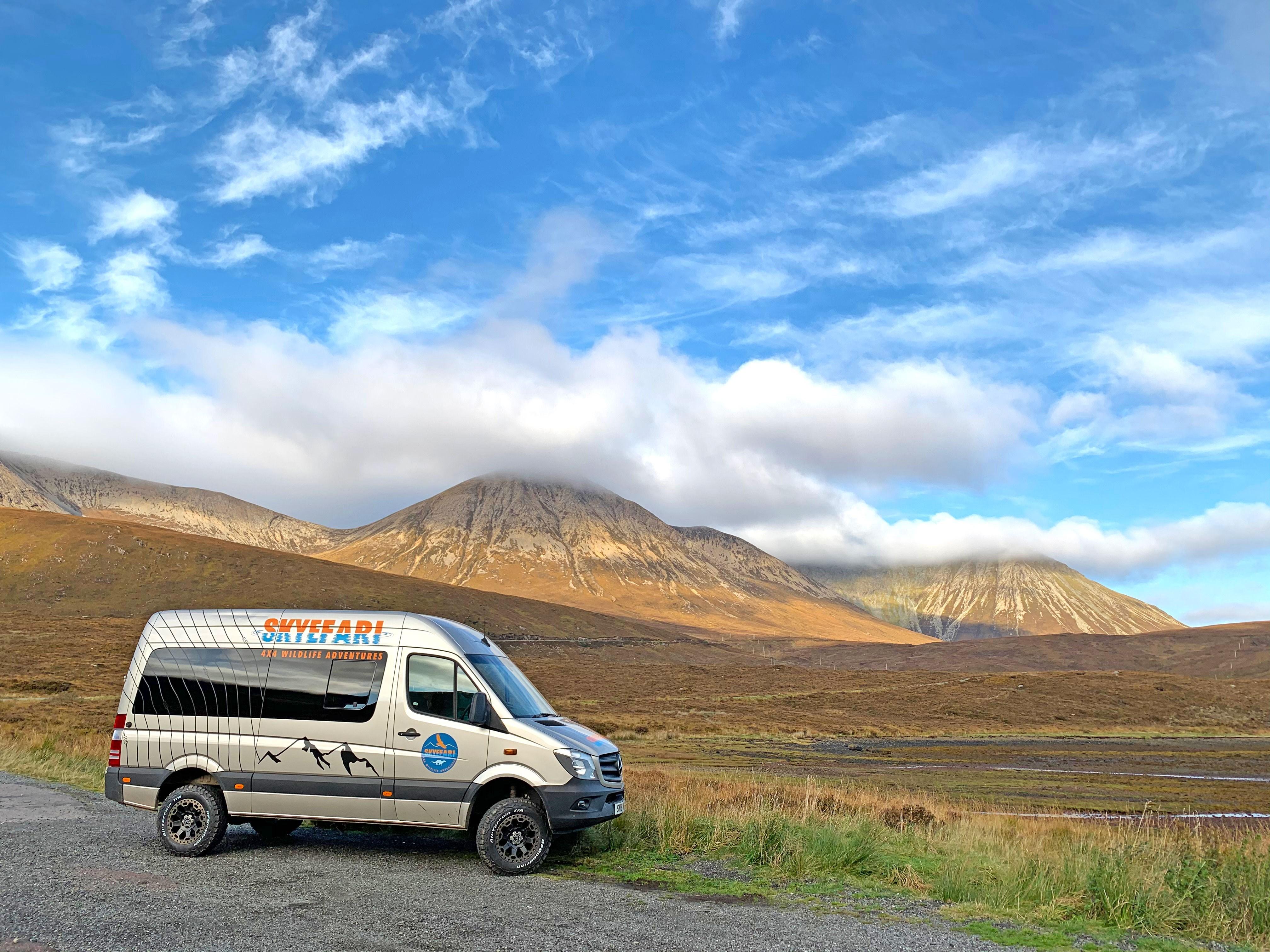 www.skyefari.com
ABOUT SKYEFARI
Let us take you on an adventure...
Journey with us in our specially converted 4x4 Mercedes minibus where we will target the 'Big 5' of Skye's wildlife species, that we afectionately call the "Skye Five".
We will be on the lookout in the hills and mountains of Skye for the majestic golden and white-tailed eagles as well as red deer, and we will also venture to quiet shorelines where we will seek out the elusive otter and seals. We have a long background with observing wildlife professionally around the Isle of Skye and will access quiet areas of the tarmac and away from crowds. There are also chances of spotting whales and dolphins from the shore too!
Why not join us for a fantastic day or night -time 4x4 wildlife -watching adventure in hidden areas of the beaten track around Scotland's beautiful Isle of Skye.
ABOUT YOUR GUIDE
A very experienced professional ecologist, David Lambie has worked all over the Highlands and Islands and knows Skye's wildlife hotspots intimately so you are in safe and capable hands during your SKYEFARI adventure!
DAY SKYEFARI
OUR TOURS
6-7 Hours. Start times seasonal. From: £90pp —£300pp. A full day exploring the wildlife hotspots of the Isle of Skye with our expert guide searching for the Skye Five. NIGHT SKYEFARI Approx 3 hours. Start times seasonal. Price: £120pp. A unique adventure! As the light fades, discover what wildlife appears at dusk and after dark on Skye. BESPOKE TOUR Talk to us about your ideal itinerary. Our 4x4 Mercedes minibus can be chartered to take you on your own private Isle of Skye adventures. Please contact us for pricing. * Advance booking is essential for all SKYEFARI tours. Please contact us to discuss dates and options *
Approx
OTHER WILDLIFE
There are also plenty of other resident and seasonal birds and mammals to be seen on the Isle of Skye, including the chances of even spotting whales, dolphins and porpoise from the shore in certain areas.
Our Mercedes minibus seats up to 8 people.
It has been specially ftted with all -terrain tyres and raised suspension for a comfortable journey.
In its eye -catching SKYEFARI livery, you won't miss us coming down the road!
OUR
TRANSPORT
For accommodation, we have partnered with The Sonas Hotel Collection.
We can thoroughly recommend a stay at any of their 3 wonderful luxury hotels on Skye where we will pick you up.
Toravaig House Hotel
Duisdale House Hotel
For equipment, we have partnered with Swarovski Optik
We are very pleased to be able to ofer you the chance to try out some top quality Swarovski binoculars and a spotting scope on our SKYEFARI wildlife tours.
Skeabost House Hotel
OUR PARTNERS
Skeabost House Hotel
CONTACT US Tel: +44 (0)7871 463755 Email: info@skyefari.com Web: www.skyefari.com Follow us on social media @SKYEFARI