Published by W.D. Hoard & Sons Co. August/September 2022 hayandforage.com Low alfalfa yields can be tiring pg 10 Ship hay or ship cattle? pg 12 Corn silage harvest errors pg 26 Stockers performed well on alfalfa-bermudagrass pg 30
That's the promise of the 6E. When cutting a hayfield, mowing a roadside and lifting dense round bales is all in a day's work, efficiency gained is gold. Both experienced pros and new operators benefit from the intuitive controls, smooth handling and improved comfort.
Get more utility from your utility tractor with the 6E. Available with your choice of a 12F/12R or 24F/12R PowrReverserTM transmission, up to 135 horsepower, open station or cab, 2WD or MFWD. With maximum utility comes maximum production.
Talk to your John Deere dealer about this all-in-one tractor.
JohnDeere.com/6E
JohnDeere.com/MoCo
JohnDeere.com/Balers
As versatile as the farmer who uses it.
Brian Mumm has a passion for the commercial hay business. He's hoping that trait is inherited by one of his children.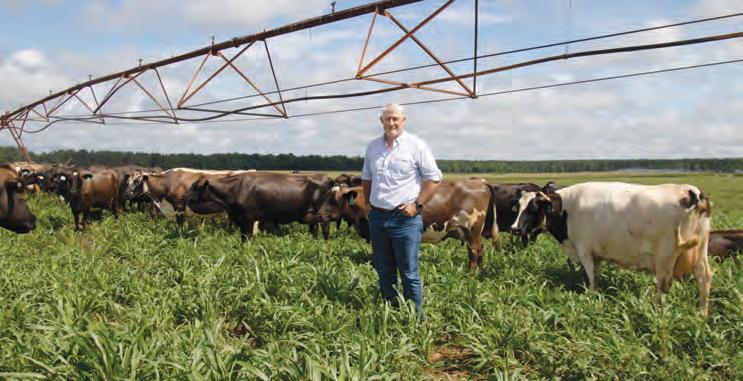 Alfalfa that is grown and harvested at high altitudes has an inherent forage quality advantage.
MANAGING
ART
ADVERTISING SALES
Kim E. Zilverberg kzilverberg@hayandforage.com Jenna Zilverberg jzilverberg@hayandforage.com
ADVERTISING COORDINATOR
Patti J. Kressin pkressin@hayandforage.com
W.D. HOARD & SONS
PRESIDENT Brian V. Knox
EDITORIAL OFFICE
28 Milwaukee Ave. West, Fort Atkinson, WI, 53538 WEBSITE www.hayandforage.com
EMAIL info@hayandforage.com PHONE 920-563-5551
Dennis Mashek cuts some high-yielding, bootstage triticale late last May near Calmar, Iowa. He farms 1,000 acres along with his wife, Barb, and their two sons, Tanner and Josh. Alfalfa and corn silage provide the base forages for the dairy herd. The seventh-generation Hilltop Acres Farm is home to 450 high-producing Brown Swiss cows that average 28,500 pounds of milk, 1,300 pounds of fat, and 1,000 pounds of protein. Hilltop Acres cattle are genomic tested and have been sold around the world.
by Mike Rankin
HAY & FORAGE GROWER (ISSN 0891-5946) copyright © 2022 W. D. Hoard & Sons Company. All rights reserved. Published six times annually in January, February, March, April/May, August/September and November by W. D. Hoard & Sons Co., 28 Milwaukee Ave., W., Fort Atkinson, Wisconsin 53538 USA. Tel: 920-563-5551. Fax: 920-563-7298. Email: info@hayandforage.com. Website: www.hayandforage.com. Periodicals Postage paid at Fort Atkinson, Wis., and additional mail offices. SUBSCRIPTION RATES: Free and controlled circulation to qualified subscribers. Non-qualified subscribers may subscribe at: USA: 1 year $20 U.S.; Outside USA: Canada & Mexico, 1 year $80 U.S.; All other countries, 1 year $120 U.S. For Subscriber Services contact: Hay & Forage Grower, PO Box 801, Fort Atkinson, WI 53538 USA; call: 920-563-5551, email: info@hayandforage.com or visit: www.hayandforage.com. POSTMASTER: Send address changes to HAY & FORAGE GROWER, 28 Milwaukee Ave., W., Fort Atkinson, Wisconsin 53538 USA. Subscribers who have provided a valid email address may receive the Hay & Forage Grower email newsletter eHay Weekly.
August/September 2022 · VOL. 37 · No. 5 6
18
This grazing dairy is a work of Hart Hart Dairy has found ways to keep cows cool and fed during the hot Georgia summers. Milk from the dairy is processed and sold in local retail outlets.
Alfalfa kept him on the farm
Altitude adds energy value to alfalfa hay
22
10 LOW ALFALFA YIELDS CAN BE TIRING 11 BREAKING OUT THE CRYSTAL BALL 12 SHIP HAY OR SHIP CATTLE? 13 SOIL AND GRASSLANDS SERVE EACH OTHER 16 DOUBLECROPPING IS ABOUT TIMING 20 CREATE HERD EFFECT WITH ADAPTIVE GRAZING 25 LET FORAGE BUILD A BETTER FEEDER CALF 26 THESE FIVE CORN SILAGE HARVEST ERRORS OCCUR TOO OFTEN 28 FORAGE AND FEED PROTEINS ARE COMPLEX 30 STOCKERS PERFORMED WELL ON ALFALFABERMUDAGRASS ON THE COVER 4 First Cut 11 Forage Gearhead 12 The Pasture Walk 13 Sunrise on Soil 14 Alfalfa Checkoff 16 Dairy Feedbunk 25 Beef Feedbunk 28 Feed Analysis 38 Forage IQ 38 Hay Market Update DEPARTMENTS
Photo
Rankin
EDITOR Michael C.
DIRECTOR
Todd Garrett
EDITORIAL COORDINATOR Jennifer L. Yurs
ONLINE MANAGER Patti J. Hurtgen
DIRECTOR OF MARKETING John R. Mansavage
August/September 2022 | hayandforage.com | 3
Mike Rankin Managing Editor