TFWA's Cannes reconnection p. 8 "Recovery is already here," MEADFA CEO p. 16 Loacker sees sales boost p. 22 GTRMAG.COMSEPTEMBERVOLPRE-TFWA202234·NO5 Bahrain Duty Free's Sense of Place p. 12
HIBAH NOOR
4 GLOBAL TRAVEL RETAIL MAGAZINE SEPTEMBER 2022
Aijaz Khan aijaz@globalmarketingcom.ca
Just weeks away from the event, we are so proud of this industry and like everyone, the promise of success in the future is driving us
In this digital issue, we interview industry experts at TFWA, MEADFA and Bahrain Duty Free to learn about what they are doing to support industry-wide recovery and how the businesses are adapting to the return to travel. Plus, previews of suppliers and products that will be at TFWA WE Cannes.
"The pent-up demand for travel is clearly there. It's up to us to ensure that we, col lectively as an industry, can get up to speed so that we don't lose the momentum created by this demand," he says.
World of recovery
SEPTEMBER 2022 · VOL 34 · NO 5
ctober will mark the second in-person return of the Tax Free World Asso ciation's World Exhibition & Conference in Cannes, France – and we could not be more excited to see everyone there.
Jessica Hearn
MEADFA President Sherif Toulan put it eloquently, saying "recovery is already here."
Letter from the Editor
GLOBAL TRAVEL RETAIL MAGAZINE Tel: 1 905 821 www.gtrmag.com3344
O
"In locations such as Dubai, recovery has been 10 percentage points better than the forecast. Dubai International Airport is back at 80 to 90% of pre-pandemic levels for footfall. Overall, summer 2022 is very good and in some countries our members are struggling with the surge of travelers," he explains.
EDITORIAL DEPARTMENT
EDITOR-IN-CHIEF Hibah Noor MANAGINGhibah@gtrmag.comEDITOR
Editor-in-Chief hibah@gtrmag.com
Jane Hobson jane@gtrmag.comDEPUTYEDITOR
As we keep moving toward a world of recovery, operators and suppliers tell Global Travel Retail Magazine they are completely focused on maintaining this forward motion. Operators are incorporating technology into their physical stores to bring benefits and conveniences to the shopper experience, from QR codes and digital pay ments to metaverse activations and screens alerting travelers to in-store promotions and experiences. The other focus is of course incorporating sustainable practices through environmental commitments and goals, and responding to the evolving shopper needs for bespoke luxury travel retail experiences.
Mary Jane Pittilla maryjanepittilla@hotmail.comARTDIRECTOR
CIRCULATIONjessica@globalmarketingcom.ca&SUBSCRIPTIONMANAGERaccounts@globalmarketingcom.ca
He also says that resiliency is nothing without agility and that recovery depends on the industry's continued nimble response to change.
The June 28 webinar hosted by Middle East and Africa Duty Free Association (MEADFA) discussed the role of duty free and travel retail in tourism – and the connection this has to recovery in the region and globally.
Laura Shirk laura@gtrmag.comSENIORWRITER
Global Travel Retail Magazine (ISSN 0962-0699) is published seven times a year by Paramount Publish ing Ltd. It is distributed digitally worldwide, with printed issues in April, May, June, July, September, October and November.The views expressed in this magazine do not necessarily reflect the views and opinions of the publisher or the editor. Sep themrber 2022, Vol 34. No. 5. Printed in Canada. All rights reserved. Nothing may be reprinted in whole or in part without written permission from the publisher. Paramount Publishing Ltd.
Kindestforward.Regards,
TFWA President Erik Juul-Mortensen tells Global Travel Retail Magazine that turnout at the event is expected to be near pre-pandemic levels and that exhibitors are enthusiastically reserving floor space for larger booths, a sign of confi dence and willingness to invest in both the event and the future.
Rebecca Byrne rebeccabyrne10@yahoo.com.sgSENIOREDITOR
PUBLISHER
WHAT'S INSIDE
Celebrates Goldbears 24 Mazaya's New Brand Identity 26 Penfolds Global Brand Story 28 Wrappr Steps Into TR 32 iCoupon Digital Platform 35
With a thriving new terminal store and preparing to host the MEADFA Con ference for the first time, Bahrain Duty Free CEO Bassam Al Wardi discusses successes of 2021 and the promising end to 2022
12 Bahrain Duty Free's Sense of Place
Features
HARIBO
Driving shoppers to add to cart Confectionery brand Loacker embraces browsing as a practice and relies on its Best of Moments range to convert browsers into buy ers, says Juan Miguel Cabrera, Head of Travel Retail and Duty Free at Loacker
Contents 2226338
Industry expert and Tax Free World Association President Erik JuulMortensen reveals what to expect at the TFWA World Exhibition & Confer ence, plus the Association's outlook on the future
A strong Middle East
8 TFWA Event Preview and Outlook Reconnecting in Cannes
MEADFA President Sherif Toulan tells Global Travel Retail Magazine about the upcoming MEADFA Conference in Bahrain in November 2022 and what is ahead for the Middle East & Africa Duty Free Association
Lead Stories
More than a place to shop
22 Loacker Best of Moments
16 MEADFA Conference Heads to Bahrain
Departments Editor's Letter 4 News 20 Editor's Picks 30
DISCOVERFORAPPOINTMENTSPLEASECONTACT: travelretail@ritter-sport.com Visit us at TFWA CANNES Booth N18 – Mediterranean Village
8 GLOBAL TRAVEL RETAIL MAGAZINE SEPTEMBER 2022  TFWA Event Preview and Outlook
PHOTO CREDIT: NATHALIE OUNDJIAN
He says TFWA has planned many new opportunities at this year's event, along with the return of expected favorites. As for the future, the Association has sustainability goals on the radar and a realistic view of post-pandemic challenges.
Reconnecting in Cannes
INDUSTRY EXPERT AND TAX FREE WORLD ASSOCIATION PRESIDENT ERIK JUUL-MORTENSEN REVEALS WHAT TO EXPECT AT THE TFWA WORLD EXHIBITION & CONFERENCE, PLUS THE ASSOCIATION'S OUTLOOK ON THE FUTURE by MARY JANE PITTILLA
hroughout summer 2022 the return to travel was more visible than ever before. IATA reports overall total traffic in June 2022 was up 76.2% compared to June 2021, and global traffic increased to 70.8% of precrisis levels. In Europe specifically, traffic rose 234.4% compared to June 2021. And this summer, IATA reports that industry-wide profitability in 2023 appears within reach.
With numbers up and the Tax Free World Association (TFWA) preparing for its second in-person World Exhibition & Conference since the start of the pandemic, the future is looking"Resiliencebright.is nothing without agility, and it's essential that we're nimble in our response to these changes," TFWA President Erik Juul-Mortensen tells Global Travel Retail Magazine.
Erik WorldPresident,Juul-Mortensen,TaxFreeAssociation
Cannes will see the return of many networking events, plus some new opportunities
T
Celebrate with us at our booth in Bay Village 11B at TFWA WE&C Cannes 2022
TFWA Event Preview and Outlook
"During TFWA's recent Beauty in Travel Retail webinars, we saw and discussed how the beauty sector has been leveraging the power of technology to create unforgettable, immersive experi ences for customers. The pandemic was a stark reminder that we must learn how to marry the physical with the virtual to stay connected with today's customers, and consequently, futureproof our industry," says Juul-Mortensen.
"The scale of this year's event won't be on par with preCOVID levels, but it is certainly not far from that."
Focused on learning, TFWA's workshops return with two ses sions, the Airport Forum and Innovation in Action, which take place on October 4 and 5, respectively.
TFWA has held conversations with brands, experts, industry leaders and industry disruptors to understand what is next. What is clear is the industry's need for a digital transformation.
Confidence in Cannes 2022
Another important topic in TFWA's agenda is sustainability. Juul-Mortensen says he acknowledges there has been progress to improve the environmental impact, but that the collective effort of all industry players is necessary to truly make a sizeable impact."Itis
Keeping with the Innovation in Action theme, TFWA i.lab returns as a physical exhibition featuring tech businesses in mobile and digital technology, data analytics, e-commerce, traveler research, sustainability and corporate citizenship. The ONE2ONE meeting service is open to all exhibiting brands, key buyers, airports, trade agents and i.lab participants on October 5 and
the considerable amount of interest there has been in the event this October from all industry players across the globe, both big and small, I strongly believe that TFWA World Exhibi tion & Conference will once again prove itself to be the most important industry event in duty free and travel retail," says Juul-Mortensen.
Erik Juul-Mortensen, President, TFWA says the Association expects a "very healthy" turnout at the 2022 event in Cannes next month
The gradual relaxation of travel restrictions and social distanc ing measures, as well as the resumption of travel in Europe and the US, coupled with the impact of "revenge shopping," is also encouraging he says. In Asia Pacific, many countries are taking a careful approach to reopening borders and international travel in this region will take time to bounce back, he adds.
"Salesinteraction.associates have a significant impact on the decision to purchase and this varies considerably by customer segment, as well as by region. The research reveals that the impact of the interaction has increased considerably in the wake of the pan demic as travelers set to the skies again," reads the report.
TFWA outlook on the future
therefore crucial for our industry to come together and collaborate to devise viable solutions. We should focus on incor porating sustainable initiatives into our current business model to adapt to the new world," he says.
Last year's in-person event was slightly smaller compared to years prior, but things are normalizing in 2022. Juul-Mortensen says TFWA expects a "very healthy" number of exhibitors, buy ers, and attendees at the event, which runs October 2 to 6 at the Palais des Festivals in Cannes, France.
He calls it "frustrating" but says there are still reasons to be positive."Thepent-up demand for travel is clearly there. It's up to us to ensure that we, collectively as an industry, can get up to speed so that we don't lose the momentum created by this demand."
Challenges in the post-COVID world Issues with aviation capacity due to labor shortages and a lack of qualified, well-trained staff have been slowing growth in some parts of the world during the first half of 2022, Juul-Mortensen says. In travel retail, retention of good, well-trained staff is another major issue, he says, adding that research suggests that the role of sales staff is even more important than it was preCOVID, making it essential to solve the problem.
PHOTO CREDIT: NATHALIE OUNDJIAN
While confident about the trade fair, Juul-Mortensen expresses cautious optimism about the future of the industry. He notes that while recovery is clearly underway, repercussions from the conflict in Ukraine combined with supply chain challenges and airports and airlines being stretched beyond their capacities could put a strain on progress.
10 GLOBAL TRAVEL RETAIL MAGAZINE SEPTEMBER 2022
In July, m1nd-set revealed that shopper demographics have evolved significantly over the past five years, including shopping drivers, purchase planning and the level and importance of staff
When asked about TFWA expectations to return to 2019 sales levels, Juul-Mortensen concludes, "We can't expect to get back to 2019 levels until global air traffic returns to full strength, and lat est IATA figures suggest that global air traffic will recover by the latter half of 2023. Positively, spend per passenger has been high since last year, and although we can't rely on this continuing, it bodes well for the future."
The total square-meters of floor space reserved by exhibitors for 2022 has far surpassed that of 2021, says Juul-Mortensen. Several exhibitors are expanding their space with larger booths, which he calls a sign of confidence and willingness to invest in the event and the future.
The conference, exhibition, ONE2ONE meeting service, TFWA i.lab, and several social events such as the opening Get Together evening and the TFWA Lounge: After Work Session, offer delegates a plethora of networking and learning opportuni ties throughout the week. To maximize socializing opportunities for attendees later in the evening, TFWA is introducing a night time social concept on the Carlton Beach, named TFWA Lounge: Night-Time Session.
"Given6.
"At Bahrain Duty Free, we consider ourselves as pioneers in the industry, especially within the MENA region. Partnering with MEAFDA and TFWA is a great opportunity for us to be involved in the discussions and debates that are most important to global travel retail right now," Al Wardi tells Global Travel Retail Magazine in August.
"Just as TWFA and the MEAFDA is committed to the exchange of identifying trends and building awareness for the global duty free and travel retail industry, we are equally dedicated to sharing with, and learning from, our peers in this fast-paced and exciting industry," says Al Wardi.
CEO & Board DutyBahrainDirector,Free
Among all discussions happening in the duty free and travel retail industry, two topics stand out for Al Wardi ahead of November's MEADFA Conference: the use of technology to enhance the customer experience, and driving recovery in the post-pandemic world.
Al Wardi says the partnership helps solidify Bahrain Duty Free as an "innovative trailblazer" in duty free experiences and gives it the opportunity to showcase its world-class offering to the wider industry. It also brings chances to build on existing and foster new relationships with suppliers and partners who continue to play a vital role in its business.
With
ahrain Duty Free plays a prominent role as a global travel retailer, and this fall it is due to host the MEADFA Con ference for the first time. One year after relocating to the new terminal at Bahrain International Airport, Bassam Al Wardi, CEO of Bahrain Duty Free, speaks to Global Travel Retail Maga zine about its successful expansion and opportunities to come.
Migration to new terminal
More than a place to shop a thriving by JANE HOBSON Al Wardi,
new terminal store and preparing to host the MEADFA Conference for the first time, Bahrain Duty Free discusses its successes of 2021 and the promising end to 2022
12 GLOBAL TRAVEL RETAIL MAGAZINE SEPTEMBER 2022  Bahrain Duty Free's Sense of Place
Brand new to Bahrain
While hosting for the first time, Bahrain Duty Free is no stranger to welcoming travelers and providing unique hospitality experiences.
B
Bahrain Duty Free is the official host of the November 27 to 29 event managed by the Tax Free World Association (TFWA). This year marks the first time the MEADFA conference will be hosted in the Kingdom of Bahrain.
Bassam
BAHRAIN DUTY FREE:
Digital screens with bright dynamic visuals are placed throughout high-traffic areas in the airport to capture passen ger attention. For in store communications, the screens can be configured into multiple shapes and sizes. QR codes enhance customer engagement by delivering relevant ads to passengers and alerting them to deals.
The new store heavily focuses on niche fragrances, a key shop ping trend and gap identified by Bahrain Duty Free's internal research team. Among the new products available at Bahrain
The withexperienceluxuryDutyBahrainFreeshoppingHermes
The retailer's main strategy was to create a custom sense of place and a luxury mall-style relaxed atmosphere. The new store, at 4,700 square meters, is more sophisticated and integrated, with bespoke and boutique brands alongside luxury labels and some high-street offerings.
Bahrain Duty Free's managing company Aer Rianta Interna tional (ARI) helped execute the vision for the new terminal.
With annual capacity at 14 million passengers, Al Wardi says traditional and core category shops, such as cosmetics, fragrances, tobacco and liquor, are performing well in the new space. Specially curated areas for apparel, accessories, and elec tronics, including an Apple authorized reseller, plus other new brands in beauty, fashion and jewlery, are also performing well with travelers who want a detailed sense of place.
In addition, the shop also has a cigar lounge where travelers can unwind while they shop, a VIP personal shopping lounge, and the traditional Souq Al Qaysariya designed like an Arabian marketplace that showcases products from local artists.
"By providing essential information on brands and offers, we help to streamline their shopping and improve communications. They have better opportunities to relax and spend more of their wait time at Bahrain Duty Free shops," Al Wardi explains.
International Airport are Xerjoff Universe, family-owned Ital ian perfume house Terenzi, and precious extrait parfums from British brand Thameen. These join the existing names such as, Cartier, Chopard, Hugo Boss, Al Zain Jewelry, Michael Kors and Rolex."This effort to source and launch more niche brands is an example of how Bahrain Duty Free aims to keep its offerings fresh and unique," Al Wardi explains.
Bahrain Duty Free store at the new Departures terminal at Bahrain International Airport
Last year, Bahrain Duty Free migrated its store to the new Departures terminal at Bahrain International Airport.
"It can be easy to get complacent in retail - but we are con stantly striving to improve our shops and spaces," says Al Wardi.
www.gtrmag.com GLOBAL TRAVEL RETAIL MAGAZINE SEPTEMBER 2022 13
"Their experience and expertise within the industry is unmatched, and they've helped us to go through with brand propositions, as well as independent promotional campaigns that align with our voice," says Al Wardi.
"We had the challenge – and opportunity – to build a best-inclass duty free experience. We needed to create an airport shop ping experience that was memorable and truly unique, and that is exactly what we have done at Bahrain Duty Free," Al Wardi says. "We wanted to mirror and elevate the downtown shopping experience in our store."
"The goal is to go beyond a place to shop. We endeavor to create a sense of place – from the layout of our shops to our highly personable customer service, to our unique product range and our use of technology to create seamless transactions for travelers. We have encapsulated the genuine warmth and essence of Bahraini culture in our store so that even if a traveler is only transiting through the airport, they will experience a true sense of Bahrain as we welcome guests with open arms and host them in the utmost comfort."
"The ease and simplicity of using the lockers has made the service incredibly appealing," Al Wardi says.
"We are incredibly proud of the whole team and all the departments that have made it possible for us to deliver such strong results as we emerge from a global pandemic. This is a tes tament to the return of air travel passengers and their enthusiasm for a quality duty free shopping experience," he says.
Bahrainteams.Duty
The lockers can be used for free, allowing passengers to shop and pay in Departures before they fly and collect on return from travel. It helps eliminate inconveniences of weight constraints and carrying around extra items. The service is available for all passengers arriving in Bahrain post-travel. When they get to the Arrivals hall, they collect the item from a dedicated locker using a unique pin that is sent via SMS.
14 GLOBAL TRAVEL RETAIL MAGAZINE SEPTEMBER 2022
Bahrain Duty Free is one of the first operators in the region to implement the service, and it has so far proven a "huge suc cess," he says.
Bahrain Duty Free store at the new Departures terminal at Bahrain International Airport
During the pandemic, the operator developed internal cloud systems, introduced digital payments and increased the frequency of its special offers and promotions to deliver a seam less and integrated duty free experience for its customers and service
Bahrain Duty Free's take on recovery
Modern and inventive planning
Al Wardi attributes this to the retailer's internal work to align its goals for the future, as well as Bahrain being one of the busiest hubs in the region connecting North America and Europe to Asia. The rise in affordable air travel and access to vaccines and testing also play a role.
The Shop & Collect lockers can be used for free, allowing passengers to shop and pay in Departures before they fly and collect on return from travel
He says Bahrain Duty Free's commitment to offering excep tional value in both price and experience across all categories and accessibility to luxury items have been significant driving factors behind its post-pandemic success so far.
Another unique offering from Bahrain Duty Free is its Shop & Collect and Click & Collect lockers at Bahrain International Airports Arrivals, which Al Wardi calls proof of the retailer's "modern, inventive planning."
Free net profit in the first quarter of 2022 was up by +65.2% year-on-year.
With the successes, there remain some challenges in recovery, Al Wardi warns, noting that supply chain constraints, lack of availability of certain materials and responding to evolving trav eler needs will be impact how fast and to what extent the market will recover.
Bahrain Duty Free's Sense of Place
MEADFA President Sherif Toulan tells Global Travel Retail Magazine about the upcoming MEADFA Conference in Bahrain in November 2022 and what is ahead for the Middle East & Africa Duty Free Association by MARY JANE PITTILLA
16 GLOBAL TRAVEL RETAIL MAGAZINE SEPTEMBER 2022
Sherif President,Toulan,MEADFA
Toulan says attendees can expect a major source of opportuni ties for business in the MEADFA region. Top speakers will be there to discuss the challenges with a concrete, holistic perspective.MEADFA represents brands, distributors, retailers and air ports. It is not only a networking platform, but also a trade body, working as the voice of the industry in Africa and the Middle East. The conference aims to build momentum on challenges and opportunity in terms of advocacy, sustainability, sharing and rewarding best practices.
herif Toulan, President of the Middle East & Africa Duty Free Association (MEADFA), is brimming with optimism about the MEADFA Conference 2022 in Bah rain and speaks eloquently about how the Middle East association is evolving.
"Our Association has become a strong and structured lob bying organization, serving and protecting our industry and its stakeholders in the region," he says.
"Bahrain has an impressive new airport with state-of-the-art duty free shops. It deserves to be celebrated and highlighted to the rest of the industry. The Board unanimously voted for having this year's conference in the Kingdom of Bahrain," says Toulan.
MEADFA is holding the event in Bahrain as part of its aim to highlight its members' successess.
MEADFA Conference Heads to Bahrain
S
MEADFA spotlights strong Middle East
The three-day MEADFA Conference takes place November 27 to 29 at the Art Hotel & Resort, Bahrain. It is managed by the Tax Free World Association (TFWA) and hosted by Bahrain Duty Free.
wrappr.com REUSABLE FUROSHIKI GIFT WRAP inc.macleod&briggsoftrademarkaiswrappr@gall.ar.y.bydesignwrapprFeatured
Toulan says MEADFA is taking a holistic approach, focusing on:
"We are very happy with this cooperation," he says. The Association works with customs agencies and ministries of economy and finance in every country where there is a need.
MEADFA is a Business Council member of COMESA (the Common Market for Eastern and Southern Africa). It also has a strong relationship with Airports Council International Africa and is a World Business Partner to ACI Africa.
Lastly, the association initiated dialogue with the World Tour ism Organization during its webinar in June 2022.
"If we consider Airports Council International (ACI) annual traffic for 2021, we are impressed by African figures with 115 million passengers, up 49.4% from 2020. Middle East results are also good with 169 million passengers, an increase of 24.9% from 2020. Operations in Egypt, South Africa and Nigeria show a strong recovery," he says.
1. Advocating and protecting the specificity/uniqueness of the industry via its dedicated Advocacy Committee and its relevant task forces chaired by MEADFA Board Member RobTheMarriott.Advocacy
18 GLOBAL TRAVEL RETAIL MAGAZINE SEPTEMBER 2022
Along with the MEADFA Conference, the Association is making moves to help ensure the continued growth of the business.
"In the Middle East, especially in Dubai, from January to June the recovery has been 10 percentage points better than forecast. Dubai International Airport is back at 80 to 90% of pre-pan demic levels for footfall. Overall, summer 2022 is very good and in some countries our members are struggling with the surge of travelers," Toulan explains.
2. Research and development. The Membership & Training Committee, chaired by MEADFA Board Member Roger Jackson, is constantly adding to the services, insights and opportunities that membership offers. This includes keeping members updated through its monthly communique and keeping the dialogue open between members and industry stakeholders via MEADFA's regular webinars and online events. It also conducts training seminars covering topics that the members vote for.
Strong industry recovery
Post-COVID, the region is booming and Toulan is adamant that "recovery is already here."
3. MEADFA seeks to ensure its members' growth is sustain able, which is the goal of the Sustainability Committee, chaired by MEADFA Board Member Munif Mohamed.
Working for growth
"We support our members to ensure authorities consider our supply chain so they understand that domestic marketinspired regulations should not be implemented in duty free and travel retail," he says.
Powerful partnerships
He says Africa's operations have recovered faster than the rest of the world and describes the Middle East as "above average" in terms of world recovery in 2022.
Committee and its task forces are moni toring and engaging authorities to defend the industry. It is active in the Gulf regarding the track and trace of tobacco products and in Egypt because of the reduction in duty free allowances and all other challenges in the region.
MEADFA Conference Heads to Bahrain
4. Encouraging, highlighting and celebrating its members' success. "The region is the fastest growing, with the biggest investments and results. Promoting and rewarding excel lence is the goal of our newly formed MEADFA Awards Committee, chaired by MEADFA's Board Member Bernard Creed," says Toulan.
MEADFA continues to work with public and government enti ties. It has renewed its relationship with the Federal Tax Author ity in the UAE.
Noting several key challenges that remain, he cautions, "This summer is the best season we have ever had since 2019 but it is harder to satisfy our consumers' surge in demand, especially due to the global logistics and supply chain disruption."
20 GLOBAL TRAVEL RETAIL MAGAZINE SEPTEMBER 2022
Drunk Elephant is highlighting its Ceramighty AF Eye Balm ahead of TFWA WE Cannes. The company describes the product as loaded with ceramides, omega-rich plant oils and butters and Vitamin F. Drunk Elephant Ceramighty AF Eye Balm is a "cushiony, deeply replenishing eye cream that nourishes and strengthens the skin barrier, restoring and preserving elasticity, while delivering intense, long-lasting moisture."Thevegan product has Avena sativa (oat) extract and is free of essential oils, silicones and fragrance.
Drunk Elephant highlights Ceramighty AF Eye Balm
NARS set to takeover TR this fall
Developed in partnership with B-Corp certified PIE fac tory, Pernod Richard (PR) GTR's stand at TFWA WE in Cannes will feature 100% sustainable design, produc tion and management. This year, attendees will learn more about PR GTR's industry-first Lifecycle Analysis Tool for Retail Merchandizing, launched at TFWA WE 2021. The tool assesses the environmental implication of activation design and is used to publicly report on the impact and improvement of retail projects.
The eye balm (15 milliliter) will be available in Travel Retail Asia, Europe and Middle East in September and in Travel Retail Americas from October.
Pernod Ricard GTR returns to TFWA WE
NEWS
The lineup offers 15 transfer-resistant shades in high-intensity color and lightweight wear.
Heading into fall, NARS Cosmetics is looking to lock in its lipstick range. Starting in October, NARS Powermatte Lipstick will be available across Travel Retail Asia Pacific, Travel Retail Japan, Travel Retail Europe, Middle East and Africa. NARS Powermatte Lipstick has a smooth, matte finish and lasts up to 10 hours."Power Pigment Complex, a blend of pure pigments suspended in rich, emollient oils and color-locking ingredients, saturates lips with dense color that wears comfortably around the clock," the company says.
Exhibiting Jameson Whiskey, PR GTR promises to bring the Irish spirit to Cannes. With the launch of its "Like a Local" campaign, the whiskey will take center stage at the show. The campaign has been specifically created to bring the brand to life in the channel.
Henkell Freixenet will return to the TFWA World Exhibition next month, set to showcase a new range of travel retail exclusives from across its brand portfolio: Mionetto, Henkell, Freixenet and Segura Viudas.
The company says, "Soulful Rituals is anchored in the idea that to enrich your life, or the lives of those you love, you must fill the body, mind and soul with experiences and emotions that elevate your sense of wellbeing."
in mind. We want to maximize the premium opportunity in travel retail," says Sandra Janetzki, Senior Vice President at Henkell Freixenet Global Export.
Henkel Freixenet will be in the Blue Village at Blue F11.
E. Gluck to show watches and wearables at TFWA
E. Gluck Corporation will be exhibiting its new Steve Madden watch and wearable tech col lections at booth F15 in the Blue Village. The products are now available to duty free opera tors and travel retailers.
"E. Gluck has received an overwhelmingly positive response to its Steve Madden collec tions and has already shipped to 10 countries worldwide," says Rob Robertaccio, Senior Vice President of Global & Travel Retail Sales. "Given the early positive reactions we have received, we expect this category to be a hit in duty free and travel Wearablesretail."retail at US$35 to US$70 and the watch collection ranges from US$55 to US$150.
Soulful Rituals is made up of three mini collec tions: Love, Happiness and Good Fortune, with each collection containing a foaming shower gel, body cream, fragrance sticks, a scented candle and a gift set.
"Our travel retail sales performance has been growing steadily since travelers started returning in mid-2021 and we were pleased with the channel performance in such a chal lenging environment. This October at Cannes we will show case a number of product exclusives, designed with travelers
Rituals has announced the introduction of its Soul ful Rituals limited edition range.
Rituals debuts Soulful Rituals limited edition
www.gtrmag.com GLOBAL TRAVEL RETAIL MAGAZINE SEPTEMBER 2022 21 NEWS
Henkell to focus on GTR exclusives in Cannes
Best of Moments 300-gram pouch bag
Loacker drives shoppers to add to cart
"Loacker is not only a wafer company. As part of our portfolio, we also have a great range of sweet biscuits and cookies –and these two subcategories are perform ing quite well for us in travel retail. One advantage of passengers browsing is that it leads to the searching for new items and the desiring of new flavors and formats; that's what we try for with our Best of Moments treaties," explains Cabrera.
L
Loacker headquarters and production site in Auna di Sotto, Italy
by LAURA SHIRK
When asked what other ways Loacker approaches the converting of browsers into buyers, the industry professional goes on to say while the pandemic has provided the company with some new insights, "new normal" traveling rates and consumer behaviors have still not reached 2019 levels. He continues to urge caution and believes it's too early to predict how travel and travel retail will be affected in the upcoming months.
The confectionery brand embraces browsing as a practice and relies on Best of Moments range to convert browsers into buyers
eading up to its attendance at TFWA World Exhibition & Conference 2022 in October, Loacker is experiencing a boost in overall sales attributed to the fact that it's a "young brand" in travel retail. According to Juan Miguel Cabrera, Head of Travel Retail and Duty Free at Loacker, the confectionery company is performing extremely well in Europe and the Americas and showing interesting growth in the Middle East and India. Due to the ultimate mix of Loacker assortment in one pack, the company's Best of Moments pouch bag continues to lead sales. The single article makes up 20% of sales and steadily increases in performance across all markets.
Goodness & Wellbeing range
Representing Loacker's best treats, "Best of Moments" presents a premium selection of its top creations in bite-size mini format including Gran Pasticceria Tortina, Classic and Chocolat. With up to 12 different products, the offer encourages passengers to explore the diverse Loacker range and serves as a sweet sharing option or gift idea. Since it's been reported that
"Browsing during lockdown became one of our greatest sources of entertain ment. [Loacker] has included in its range all new KPIs, trying to catch the attention of consumers and providing answers to what they search for in terms of ingre dients, flavors and overall information about our company heritage," he adds.
22 GLOBAL TRAVEL RETAIL MAGAZINE SEPTEMBER 2022 Loacker Best of Moments
post-pandemic confectionery duty free visitors are more likely to browse and less likely to convert into buyers, the team at Loacker is working to find ways to drive shoppers to add to cart.
Moving away from in-store aisles to posi tive lifestyle choices, Cabrera discusses the rise of health-conscious consum ers and the diversification of the brand. More and more consumers are wanting to maintain a healthy diet, while also pro tecting the environment. Loacker's new Goodness & Wellbeing line aims to meet these demands by using 100% natural ingredients and paper as its main packag ing material for the 45-gram, 90-gram and 175-gram sizes. Although the product line is not currently part of Loacker's duty free assortment, it is scheduled to arrive to the channel soon.
For liquorice lovers, HARIBO is launching its first liquorice assortment in travel retail. The Liquorice Hunt (335 grams) is a mix of sweet and salty liquorice with Nappar Lakrits (80 grams), Matador Mix Dark (80 grams), and Salino (175 grams). Young travelers can get in on the action too with small games on the side of the Liquorice Hunt box to add more fun to the experience.
major locations,
A
products
by JANE HOBSON
future
significant
omnichannel opportunities
100 years of Goldbears
24 GLOBAL TRAVEL RETAIL MAGAZINE SEPTEMBER 2022  HARIBO Celebrates Goldbears Centennial
Just two years after marking its centenary, the brand is celebrat ing another significant milestone this year; the 100-year anni versary of HARIBO Goldbears. The brand ran activations at its most high-profile locations throughout the summer, including Italy, Germany, Spain and Turkey with Dufry, and in Austria, Germany and Nordics with its longstanding partner Heinemann. Packaging in the European and Middle Eastern markets carried the 'Happy 100th Bearsday' logo, and the brand launched Blue
HARIBO RINGS IN
The family-owned company is heading to TFWA World Exhibition in Cannes with exciting additions to its travel exclu siveAcollection.newparty mix enters the HARIBO travel retail world, ideal for sharing. The stand-up Friends & Party Pouch (649 grams) is filled with 44 mini bags of the most popular HARIBO good ies: Goldbears (10 grams), Happy-Cola (10 grams), Starmix (25 grams) and Tropifrutti (12 grams).
SWEET ANNIVERSARY another centennial with activations in its new exclusive and plans to expand its in the
travel
s people return to travel and travel retail, confectionery brand HARIBO is determined to focus on the future.
HARIBOTravelMarketing,HeadFontana,ofRetail, HARIBO is ringing in 100 years of HARIBO Goldbears with activations at most of its high-profile locations
Two years after a major milestone, HARIBO is celebrating
Elisa
"We look forward to having key learning from this test and hopefully extend digital oppor tunities in the future," says Fontana. "We are of course very aware that the mark-up is small and shelf life is short for confectionery products, but we are committed to the channel, and we will continue to innovate to delight our consumers."
"Every possible initiative is being taken to support Ukraine at this time," says Fontana.
Clear potential for growth
Evolving consumer purchasing behaviors are also impacting the success of the brand in travel retail. Some people who are com fortable with travel are still opting for facial coverings and some locations still have health restrictions in place.
Digital future
Furthermore, the company is updating the FDA-compliant range for the Americas market with the addition of Dinosaurs, Starmix and Watermelon flavor in the popular resealable bags.
Looking ahead, Fontana says HARIBO will continue to bring delicious treats and tons of fun to those with a sweet tooth, with plans to grab consumer attention in airports and on social media.
Last year in Cannes, Haribo unveiled the travel exclusive HAR IBO Travel Parade (700 grams), the fruity vegetarian versions of HARIBO Picco Balla (425 grams and the strawberry and rasp berry flavored HARIBO The Smurfs (425 grams). The additions are "finding their place in this niche market," Fontana says.
HARIBO is working with airports and retailers to be present on their social media, Click & Collect offerings and loyalty programs. The brand recently tested a digital campaign in Frankfurt Airport with Facebook communications to increase traffic flow to the store, and Wi-Fi Stage Router exclusive sponsoring.
The stand-up Friends & Party Pouch (649 grams) is ideal for sharing, filled with 44 mini bags of the most popular HARIBO goodies: Goldbears (10 grams), Happy-Cola (10 grams), Starmix (25 grams) and Tropifrutti (12 grams)
www.gtrmag.com GLOBAL TRAVEL RETAIL MAGAZINE SEPTEMBER 2022 25
"This does not cultivate a relaxed environment for shopping," says Fontana. "Fortunately for the confectionery category, people are still tempted to treat themselves and to purchase gift items."
NGO to collect relief supplies that are then brought to the PolishUkrainian border in trucks provided by HARIBO. HARIBO also covers costs such as fuel and tolls along the journey. Fontana says employees from every region have contributed with donations in-kind and financial support.
The Liquorice Hunt (335 grams) is a mix of sweet and salty liquorice with Nappar Lakrits (80 grams), Matador Mix Dark (80 grams), and Salino (175 grams)
Product introductions at TFWA 2021
While the pandemic is waning in some locations and the mood in global travel retail is more positive, the brand says there are still challenges amid the successes.
"We still believe strongly in the role of travel retail as the window of a brand," Fontana says. "Sugar confectionery is a very visual product with colorful packaging and engaging displays and, provided that we can secure high-visibility placements in store, we can be sure to catch the shopper's eye."
Basket size is consistent with pre-pandemic levels, but HAR IBO sees that there is "clear potential" for growth. The brand has also noticed a spike in demand for vegetarian items, prompting the introduction of tasty new additions to the range.
In the first half quarter of 2022, Fontana says HARIBO per formed well, with some regions closing the gap versus 2019. The biggest contributor is Europe, where despite the lack of Asian consumers, positive results are shining through thanks to relaxed travel restrictions. In the Americas, recovery is going well, mean while, Asia is lagging its previous passenger flow and the forecast is not yet very positive.
Plus, the "deeply worrying" situation in Ukraine has impacted some business partners, Fontana explains. The company is working with aid organizations to help people from the country, particularly refugees. It is cooperating with a Germany-based
Bear and Team, a limited edition of Goldbears to celebrate the anniversary with Heinemann.
"Close personal relationships built up over many years through face-to-face meetings and regular phone and email communications have been the backbone of our communication with suppliers, retailers and others business partners during the pandemic," says Elisa Fontana, Head of Marketing, Travel Retail at HARIBO. "HARIBO has worked hard to stay in contact with its partners throughout this very difficult time; they were suffer ing just as we were and now we all have to deal with the reper cussions of the Ukraine crisis. However, HARIBO is a fun brand and we strive to bring a smile to shoppers' faces as they return to travel and travel retail."
Expansion plan
F
Mazaya kick-started 2022 by confirming listings with Iraq Duty Free, Heinemann Egypt in Sharm al Sheikh, and more
Shisha generatebaskettheandremainsconsumptionagrowingtrendwillhelpincreasetobaccocategory'ssizeandmoreprofit
Rawan Elayyan, Global Travel Retail Manager at Mazaya, tells Global Travel Retail Magazine how its strong partnerships with retailers and operators and understanding consumers' behaviors are among the brand's main strengths that served the company well through the pandemic.
Elevating its identity
Last year, Mazaya secured important listings with Lagardère Saudi Arabia (Riyadh, Jeddah, and Dammam) and Dufry Morocco (Casablanca and Marrakesh). Now the company is focused on its plans to grow.
After navigating the worst of the pandemic through transparent communication, shisha brand Mazaya is working on the rollout of a new brand identity in domestic and travel retail markets
by HIBAH NOOR
26 GLOBAL TRAVEL RETAIL MAGAZINE SEPTEMBER 2022  Mazaya's New Brand Identity
Mazaya's French tobacco leaves are known for its high absorbing characteristics, according to the brand
"We work closely with operators to continuously optimize our portfolio and enhance our business model, be it in areas of fore casting, demand planning, shipping or logistics," says Elayyan, adding that also understanding its consumer base and studying demographics enables it to sell products better. "This is some thing we stress and acknowledge through our intensive market and retail studies.
or Jordanian shisha brand Mazaya, the aims through the rest of 2022 are growth, expansion and reaping the benefits of all the arduous work undertaken last year in preparation for the restart.
Amid all the hype around Mazaya in the region, the brand is not resting on its laurels and is currently working on various initiatives. "The state-of-the-art HPP that Mazaya is known for will soon be back on the shop floor after a long pause to delight travelers.
Given the importance of a diversified portfolio and flavors meeting different consumer tastes and preferences, Mazaya says it always has new flavors in the pipeline. "One particular flavor we are extremely excited about and is already listed in a few shops is a new variant of the Two Apples flavor called Two Apples Masri. This has been performing strongly in many domestic markets including Levant, North Africa and GCC."
recently Dufry Egypt in Cairo, with other interesting locations are in the pipeline. In addition to new listings, expanding its travel retail portfolio is also on the agenda.
"We have not really observed a change in flavor preference where it is linked to the pandemic timeline, but flavor preference does change due to other factors.
Natural Lemon with Mint molasses is among Mazaya shisha brand's standardclassic/flavors
Millennials, for example, are open to trial and experimenta tion which, by default means new flavors are required to keep this consumer segment pleasantly served."
"Our observations indicate that more and more consumers are eager to experiment with new flavors, so having a variety of flavors in the duty free shops is key," Elayyan explains.
"Throughout the various locations where we are listed, Mazaya has succeeded in growing the shopper's basket size and proved an important revenue stream for duty free retailers and operators. This is crucial in accelerating the overall recovery of the tobacco category."
"The uplifted identity will still connect with Mazaya's vision of special moments shared by people. The rollout of the new brand identity will start in domestic markets and then be applied to our marketing and advertising collateral in travel retail," Elayyan explains.
High-quality ingredients
As the recovery from COVID-19 gathers pace in many parts of the world, the sense of optimism in the greater Middle East area, an important market for Mazaya, is providing a sturdy base to continue to build on.
The good news is that many operators have foreseen this trend and acknowledged the untapped potential of the shisha sector, Elayyan explains.
Mazaya has always had two major consumer categories. One is those preferring classic/standard flavors (for example, Two Apples, Lemon Mint, Grape and Grapte Mint), while the other is consumers favoring new innovative flavors such as Ruby Crush, Candy Drops and Blueberry Exotica.
"Qatar is gearing up to host FIFA World Cup 2022 (Novem ber 21, 2022 to December 18, 2022) and visitors are expected to exceed 1.2 million."
The quality of the brand's ingredients is one of several factors that help create those all-important special moments, she emphasizes. "Our French tobacco leaves are known for their high absorbing characteristics. In fact, they are the most premium in theBlendedindustry.with food-grade flavors, high-quality glycerin, and natural honey, Mazaya molasses guarantee an enjoyable and long-lasting shisha smoking session. We also pride ourselves on our ability to manufacture products in highly advanced produc tion facilities with state-of-the-art equipment."
www.gtrmag.com GLOBAL TRAVEL RETAIL MAGAZINE SEPTEMBER 2022 27
Sense of optimism
As alluded to previously, placing consumers at the heart of its strategies is a key part of the brand's vision and helps distin guish it from competitors. "We acknowledge the importance of understanding our consumers' needs and catering our products accordingly.Ourportfolio comprises over 150 flavors and is, therefore, altered to meet diverse consumer tastes with a superior quality of ingredients."Asshishasmoking continues growing in popularity world wide, Elayyan is certain shisha molasses can add significant value to the tobacco category and drive its recovery.
An exterior shot of the Mazaya yacht at the TFWA World Exhibition in Cannes last year
We are also expanding our fleet of brand ambassadors to assist and educate shoppers and provide them with a smooth shopping experience."Mazayais now in the process of elevating its brand identity. Its current identity is inspired by special moments shared with fam ily and friends because the company believes shisha smoking is a social activity that brings people together. This is emphasized by the brand's logo, which shows two faces bonding with affection.
"For this reason, along with our strong commitment to the channel, shisha has dramatically developed its position within the tobacco category over the past five years."
Penfolds ventures beyond
Vineyard,BourdeauxDourthe,France
they come from – unbound by country, vine or time. This time-honored philoso phy enables us to venture beyond our home to source and blend grapes across hemispheres," explains Kristy Keyte, Chief Marketing Officer, Penfolds.
Most recently, Penfolds winemakers have been working and experimenting in France. Keyte says a rich tradition of research, curiosity and wine trial contin ues to guide Penfolds' creative endeavours in Australia, Champagne, Paso Robles, California, and now Bordeaux, France. The company teamed up with Dourthe Bordeaux, one of the region's most respected winemaking houses to create Penfolds II Cabernet Shiraz Merlot 2019 (Penfolds II) and 2019 Penfolds FWT 585: a trial bin wine made of Cabernet,
or the first time in the history of Penfolds, its annual collec tion release consisted of three country of origin portfolios in 2022: Australian, Californian and the inaugural French release. The company's diverse range showcases its "House Style" in a global context. Described as the ulti mate expression, its wine style allows the freedom to explore premium viticultural regions across Australia – and the world –with a global approach to winemaking.
"Penfolds 'House Style' embraces the concepts of multi-regional blending, opti mum fruit quality and the use of French and American oak and maturation. In essence, Penfolds 'House Style' is to select and blend quality grapes, regardless of the block, vineyard, region, state or country
by LAURA SHIRK
Dourthe
Penfolds partnered with Dourthe Bordeaux to support its global approach to winemaking and create its Penfolds Collection 2022: One Collection, Two Hemispheres
F
Penfolds MerlotCabernetIIShiraz2019 28 GLOBAL TRAVEL RETAIL MAGAZINE SEPTEMBER 2022  Penfolds Global Brand Story
"To have confidence in our French endeavour, a complete understanding of Penfolds 'House Style' was required in order to unite the two winemaking groups with a curious mind and an energy for experimentation and collaboration.
Sauvignon, Merlot and Petit Verdot (FWT 585). The Penfolds Collection 2022: One Collection, Two Hemispheres launched in August."Thisis the start of our French winemaking journey. Our main objective is to remain true to the winemaking ethos of both wineries, deliver the best blend possible and ideally, make Bordeaux and South Australia proud. [Penfolds II] is not
A natural extension
www.gtrmag.com GLOBAL TRAVEL RETAIL MAGAZINE SEPTEMBER 2022 29
"The introduction of 'Venture Beyond' as our global thematic is a strategic shift for Penfolds from fine wine brand to global luxury icon. A logical next step following the introduction of our Meet Extraordinary consumers platform in 2020 – 'Venture Beyond' personifies our innovative spirit and desire to push the boundaries through self-belief," concludes Keyte.
Penfolds Collection 2022 has been celebrated globally in a disruptive, immersive and playful way. Titled "Venture Beyond by Penfolds," the event series combines masterclasses, artist collaborations and culture-led perfor mance pieces, underpinned by the brand thematic: Venture Beyond.
Venture Beyond by Penfolds
about bigness or boldness or assertion. It is blended to convey an ethereal light ness, subtly on the palate – sensitively binding two hemispheres, Old World and New," says Peter Gago, Chief Winemaker, Penfolds.
its sister company, and CVBG. Follow ing many years working with Stanislas and Garance Thiénot, the company has a longstanding relationship with the Thié not family. Since Penfolds released its first Champagne in 2019, made in collabora tion with Thiénot, Keyte points out that the new partnership is a natural extension of an already successful relationship.
Kristy Keyte, Chief Officer,MarketingPenfolds
"For both Penfolds II and FWT 585, the number one focus was to seek out optimal and suitable fruit to comple ment our wine style. While the project evolved organically this way, the end goal remained the same – rather than try to compete or challenge French wine tradi tions, we aimed to create a future for Pen folds in France. A wine made in France with a clear Penfolds stamp," she adds.
Designed to capture the imagination of global luxury consumers, "Venture Beyond" leverages themes centered around space exploration and innovative thinking and features the work of Aus tralian illustrator Jason Solo. Developed in partnership with Manchester-based creative agency LOVE, the omnichannel campaign previously launched this year across platforms including OOH, print, social media, video, point of sale and experiential activations.
Penfolds was introduced to Dourthe Bordeaux by Champagne House Thiénot,
2. Manduka eKO SuperLite Yoga Mat
it in clean and in pristine condition while still offering durability. The tightly woven scrim resists tearing or stretching. Available in hand-processed marble, striped and dip colors.
Editor'sChoice
3. Rituals Cosmetics Sport SPF 50+ Body & Face Lotion: Rituals Cosmetics'
Sport Collection is designed for an active lifestyle. Created using Power Recharge Technology, the broad-spectrum Sport SPF 50+ Body & Face Lotion protects from UV-A and UV-B rays and environmental pollution, which contribute to premature skin aging. It is sweatproof, extra water-resistant and offers 24-hour moisturization. Available in a 100-milliliter bottle. Apply to clean face in morning, reapply every two hours for effec tive protection.
4. Furoshiki Gift Wrap by Wrappr: Wrappr is an alternative to disposable gift wrap. Available in cotton, satin, silk and recy cled polyester, it can be used to wrap gifts on the go, including snacks, bottles, fragrances and more. Designed to be constantly reused and repurposed, it can also function as a bag, clothing, and accessory.
5. Patrón en Lalique- Serie 3: Patrón Tequila and Lalique have unveiled the third collaboration: Patrón en Lalique: Serie 3. The collectible celebrates Weber Blue Agave plant from which Patrón Tequila derives. The Patrón team selected 14 tequilas each aged for up to eight years in French and American oak casks. The result is the crystalline color, sweet and smooth taste, with hints of spices, dried fruits, sherry wine and intense wood.
30 GLOBAL TRAVEL RETAIL MAGAZINE SEPTEMBER 2022  Editor's Choice 5 4 3 2 1 Pick up & lead the pack this fall
Headphones: Made from 100% recycled plastic, Bitmore's e-Pulse Bluetooth head phones pack the latest in Bluetooth 5.0 wireless tech. They offer 10-meter wireless range, up to 10 hours playback and an AUX adaptor for a wired experience. The built-in mic allows the user to make hands-free calls. Making the most of Bitmore's travel simplified tagline, it promises to take your favorite artist to the next level.
1. Bitmore e-Pulse Bluetooth
1.5-millimeter: Manduka's eKO SuperLite lightweight yoga mat is made from sustain ably harvested tree rubber and provides excellent grip. Easy to pack at 1.5 millime ters thickness, it has a closed-cell surface preventing moisture from entering. It keeps
grams and The Smurfs Veggie 425 grams offer sweets free of animal-based ingredi ents, perfect for vegetarian consumers and helping elevate HARIBO's "colorful diversity" mission. Layered Pico-Balla fruit gummies offer three fruit flavors in one: red and green, lemon and strawberry to create the ultimate flavor explosion. The Smurfs fruit jellies are available in strawberry and raspberry flavors.
7. Molton Brown Bath & Shower Gel Refill Pouch: Molton Brown has created refill pouches for some of its most iconic collec tions in travel retail. Based on the thought of its founders, who "imbued the brand with a sense of conscious care for the wider world,"
each 400 milliliter pouch uses 63% less plastic than a standard bottle. Hand wash pouches come in Rhubarb & Rose, Orange & Bergamot and Coastal Cypress & Sea Fen nel; bath and shower gel refills in Recharge Black Pepper, Coastal Cypress & Sea Fennel and Fiery Pink Pepper.
8. NUXE Huile Prodigieuse MultiPurpose Dry Oil: Huile Prodigieuse is formulated with 98.1% natural ingredients and enriched with antioxidant Vitamin E. Consist ing of seven botanical oils to nourish, repair and beautify in a single step, the eco-friendly multi-purpose product results in a dry touch texture. Orange blossom, magnolia and vanilla softens the skin and delights senses.
6
10. Flow Alkaline Spring Water: Flow's original 1 liter Spring Water is its hero product. It has naturally occurring elec trolytes, essential minerals and an alkaline pH of 8.1. Flow Alkaline Spring Water (and select Flow flavored water) will soon be distributed across the Caribbean and Central America thanks to its recent distribution agreement with WB Canna Co. & Wellness. A subsidiary of WEBB Banks, WB Canna Co. & Wellness distributes recognized wellness products in the Caribbean, Latin America and travel retail.
9. Haribo Pico-Balla 425-gram and The Smurfs Veggie 425-gram: HARIBO's vegetarian options Haribo Pico-Balla 425
www.gtrmag.com GLOBAL TRAVEL RETAIL MAGAZINE SEPTEMBER 2022 31 10 9 8 7
Concentrate III: SHISEIDO Ultimune Power Infusing Concentrate III combines world-leading technology, The Lifeblood, with ImuGenerationRED Technology to boost blood circulation and strengthen the skin's inner defenses for a healthy, vibrant look. In addition, the 150th anniver sary limited-edition Ultimune 100 milliliter is available in Travel Retail Asia and Japan. It is also available in Travel Retail Americas to celebrate the brand's global campaign, "From life comes beauty."
6. SHISEIDO Ultimune Power Infusing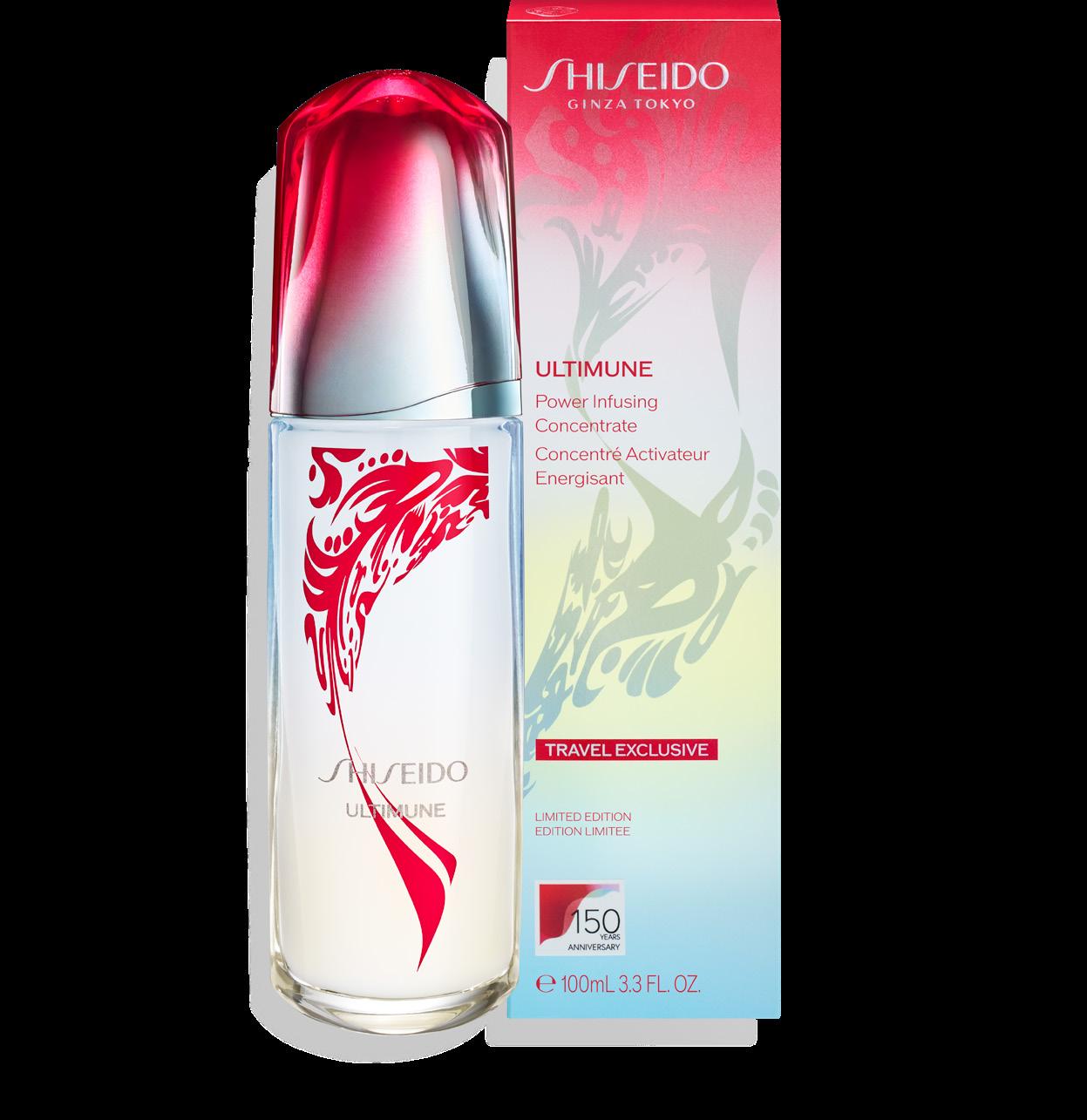 retailintoventuresWrapprtravel
by JANE HOBSON
Trafford,Brittany CEO and Founder at Wrappr
or most travelers, the experience of picking up a last-minute gift or unexpectedly having too much to carry is a common experience. To help alleviate these inconveniences, reusable gift wrap company Wrappr is venturing into travel retail.
Wrappr can be used as gift wrap, clothing and an accessory
Wrappr creates Furoshiki wraps featuring art from up-andcoming artists all over the world. Originally designed as reusable gift wrap made for constant reuse, the receiver of the gift gets two gifts in one – the items inside the wrap and the wrap itself. Now the company is pivoting to highlight the other uses, many of which are ideal for travelers on the go.
Reusable gift wrap company Wrappr tells Global Travel Retail Magazine about its journey into travel retail and the gift of giving art
Along with gift wrapping, the wraps can also be used as an accessory, such as a satchel to carry flight snacks as passengers venture through the airport. Or, clothing, like a neck scarf to add warmth inflight, or as a shawl to cover shoulders at tourist destinations with dress codes.
F
32 GLOBAL TRAVEL RETAIL MAGAZINE SEPTEMBER 2022  Wrappr Steps Into TR
"Our wraps are the perfect product for travelers who are pick ing up a gift for a friend, family member or business partner on their journey. They serve as a simple, easy to use alternative for wrapping paper that requires no tape or scissors to wrap a gift while on the run. They are perfect for wrapping a bottle of wine, perfume, food products, you name it," explains Brittany Trafford, CEO & Founder at Wrappr. "We are eager to work with travel retailers all over the world," she says.
PATRICK DEMPSEY WEARING THE 50Y P ' 8942 SUNGLASSES
34 GLOBAL TRAVEL RETAIL MAGAZINE SEPTEMBER 2022
The company has two missions. The first; to eliminate waste cre ated by gifting. The second; to support real artists.
Trafford explains that fabric wrapping, called Furoshiki, is seen as an art form in Japan. The simplicity, complexity or the wrapping method can be determined by the wrapper, the gift and theWrapproccasion.works with independent artists from all over the world to create original artwork for the wraps. They are paid upfront and receive a royalty on every sale of their work.
The focus for Wrappr in 2022 has been expanding its product line with sizing and materials, as well as securing multiple retail partnership, Trafford says. Wrappr is available in four sizes and several materials: recycled polyester, mulberry silk and organicWrapprcotton.sells wholesale to small boutique retailers in North America and Europe and is available at retailers in Canada and the US, with more announcements to come this fall.
Wrappr Steps Into TR
Lessening landfill
Wrappr can be used to conveniently keep cosmetics accessible in transit
"I have many childhood memories of watching my dad fill garbage bags of wrapping paper on Christmas morning. As a kid, I didn't take on the responsibility of finding the alternative, but I guess after having a baby of my own I felt more of a pull to do something," she says.
A bottle wrapped in Wrappr for a convenient and attractive way to gift while traveling
The company makes a big effort to honor the tradition and culture of Furoshiki, Trafford explains. "We work with Japanese artists, sell wholesale to Japanese shops, collaborate with Japa nese shops – and we've even appeared on TV Japan," she says.
"Our Furoshiki wraps are a beautiful circular economy prod uct, perfect for the traveler who cares about the environment and eliminating waste but who does not want to sacrifice beauty and luxury," Trafford tells Global Travel Retail Magazine in August.
Give art. Not waste.
"Beyond it being terrible, the artwork was also very specific to a gift for a baby girl. The bags were not designed to be recycled or even reused for another occasion. It felt like everyone in my life went to the dollar store and bought the same gift bag that was destined for the landfill," she says.
Wrapping up 2022
Queue the pandemic. Trafford was home with her then-new born. Inspired by the tacky dollar store bags, she says she began to ponder alternatives to wrapping paper, stumbling upon some souvenirs that her brother brought home from Japan – tradi tional Furoshiki wraps.
"The perfect solution," Trafford says. "They were reusable, simple to fold and incredibly beautiful. And each one was a piece of art. Not only could the fabric wraps offer a sustainable solution to the gift wrap epidemic, but they could also give artists around the world the opportunity to promote and sell their work."
When Trafford and her partner welcomed their first baby in early-2019, they received tons of baby gifts in plastic-coated gift bags with unoriginal artwork.
And thus, her second baby was born; Wrappr.
T
"During COVID-19, more and more airlines and retailers began to make the switch to digital in preparation for the return of passengers. This resulted in the iCoupon network quadrupling in size, continuing on a healthy trajectory, as more and more passengers return to air travel and more airlines and retailers join the network," says Bye.
www.gtrmag.com GLOBAL TRAVEL RETAIL MAGAZINE SEPTEMBER 2022 35 iCoupon Digital Platform
The digital platform enables airlines, airports and ground handlers worldwide to remotely issue vouchers directly to passenger boarding passes for use at iCoupon-integrated retailers
by LAURA SHIRK
he leading provider of digital vouchering in airports worldwide, iCoupon's present network con sists of over 124 airlines, more than 220 airports and 70+ retailers. The contactless, digital and automated solution is available across 56 countries and enables airlines, airports and ground handlers to remotely issue digital vouchers directly to passen ger boarding passes for use at iCouponintegratedAccordingretailers.toRichard Bye, CEO at iCoupon, retailers can instantly access real-time voucher data and consolidated billing information via the platform's web portal and with only one point of integra tion required, iCoupon can provide a number of voucher modules: disruption, promotions, discounts, rewards, airline partner deals, staff entitlements, crew arrangements, cash exchange and more.
Richard Bye, CEO, iCoupon
As outlined on the company's website, providing a contact-free, queuefree and paper-free alternative to tradi tional vouchering methods, going digital eliminates the costs associated with manual vouchers and increases voucher redemption rates and average spend perDuringpassenger.the following Q&A with Bye, Global Travel Retail Magazine takes a closer look at the digital vouchering plat form and all that it has to offer.
Global Travel Retail Magazine (GTRM): How does the offer and return on invest ment of the platform differ for airlines, airports and ground handlers?
Next voucheringlevel
iCoupon provides a contactfree, queue-free and paperfree alternative to voucheringtraditionalmethods
Richard Bye: Across our customers and various functions, there is a multitude of benefits that come from the use of iCoupon.Airlinesbenefit from the automatic issuing of vouchers to 100% of passengers' boarding passes in the click of a button. The fact that the platform is fully compli ant with EU261 type legislative require ments means that the airline is protected from any claim passengers may wish to make surrounding lack of compensation for the disruption of events.
In addition, since the voucher is "car ried" by the passenger's boarding pass, airlines are spared the hassle of distribut ing anything physical. Plus, iCoupon's
Bye: Once a retail customer joins iCoupon, our project management team works to get them up and running and acclimatized to using our system. There are numerous ways that a retailer can use iCoupon, whether integrating with the POS, renting a scanner from iCoupon or using its own non-integrated scanner via the iCoupon app.
also have more time in which to use their voucher, as they no longer need to queue to collect or use within a pressurized timescale. What's more, iCoupon acts as a credit towards
Delayed passengers are already in a stressful situation – a lack of efficiency from the airline when offering compen sation is only likely to frustrate them further. When using iCoupon, all the pas senger has to do is show their boarding pass whenever making a purchase at thePassengersairport.
iCoupon Digital Platform
GTRM: Considering the chaos of the current travel experience across the globe, iCoupon is more relevant than ever before. How does the team promote its platform to both passengers and poten tial partners?
the open check, rather than a limit of what the passenger can spend, eliminating the possibility of an embarrassing situa tion where the passenger is "declined" at theWhencheckout.itcomes to airports, as better processes result in happier passengers, their customer satisfaction rate receives a boost. Passengers don't need to move en masse to collect vouchers from the aircraft gates, then over to the retail units, so the flow of the airport is not disrupted. Furthermore, as there is no specific limit to the passenger spend, this often results in higher revenues moving through the tills, resulting in greater commercials for the airport.
consolidated billing system provides seamless reimbursement to retailers – not just for the value of the voucher, but the exact value the customer spends, saving the airline money per passenger.
GTRM: How does iCoupon approach the training of retailers and sales staff and how is the platform implemented into these operations?
The platform offers a number of voucher modules such as promotions, discounts, rewards, airline partner deals and staff entitlements
36 GLOBAL TRAVEL RETAIL MAGAZINE SEPTEMBER 2022
ated with setting up the connection between airlines and retailers.
iCoupon provides full training and handles all of the finance aspects associ
Bye: iCoupon is well-known across the airline industry, which often results in airlines contacting us to get onboard with the solution. We also meet many new customers at trade shows and via outreachiCouponcampaigns.doesnot promote to indi vidual passengers, as the business retains no passenger data. Airlines communicate directly with passengers and the retail units connected to iCoupon at the air ports in which they are distributed.
To date, iCoupon has issued close to 1 billion vouchers, which traditionally would have been paper vouchers. The UK's Forestry Commission has a welldefined specification for the number of trees that make up a forest and how many A4 pieces of paper come from a standard size tree in that environment. Consider ing these statistics, we have been able to calculate that we have saved around two entire forests of trees since our launch, and this number continues to grow.
2 23
April 16 – 19 I Palm Beach County Convention Center I West Palm Beach, Florida
our
Stay in touch with
IN PRINT
For advertising queries, please contact rick@pax-intl.com WWW.PAX-INTL.COMONLINE  Our website is updated daily with content from the seating, interiors, IFEC and MRO industries, plus onboard catering and passenger services news. &

IN YOUR INBOX breaking industry news your inbox, and copies of digital issues as soon as they are available.
weekly to
 Get
PAX issues are distributed at some of the biggest international onboard services, aircraft interiors and MRO trade shows around the world.