American Express Travel® Related Services Company, Inc. is acting solely as a sales agent for travel suppliers and is not responsible for the actions or inactions of such suppliers. Certain suppliers pay us commission and other incentives for reaching sales targets or other goals and may provide incentives to our Travel Consultants. For more information visit www.americanexpress.com/travelterms.
CALIFORNIA: Upon cancellation of the transportation or travel services, where the passenger is not at fault and has not cancelled in violation of any terms and conditions previously clearly and conspicuously disclosed and agreed to by the passenger, all sums paid to the seller of travel for services not provided will be promptly reimbursed to the passenger unless the passenger otherwise advises the seller of travel in writing, after cancellation. This provision does not apply where the seller of travel has remitted the payment from customer to another registered wholesale seller of travel or a carrier, without obtaining a refund and such other provider fails to provide the agreed-upon transportation or service. In this situation, the initial seller of travel must provide the passenger with a written statement accompanied by bank records establishing the disbursement of the customer payment, and if disbursed to a registered wholesaler of travel, proof of current registration of that wholesaler. California law requires certain sellers of travel to have a trust account or bond. Amex has a bond issued by Travelers Casualty and Surety Company of Connecticut in the amount of $100,000. Amex is not a participant in the California Travel Consumer Restitution Fund. California CST#1022318; Washington UBI#600-469-694
American Express Travel Related Services Company, Inc. is acting solely as a sales agent for travel suppliers and is not responsible for the actions or inactions of such suppliers. Certain suppliers pay us commission and other incentives for reaching sales targets or other goals and may provide incentives to our Travel Consultants. For more information visit www.americanexpress.com/travelterms. See full Seller of Travel terms for Amex Travel on the following page.
GREETINGS!
The
2023 is poised to be a record-breaking year in Greater Fort Lauderdale! As we continue to recover from COVID-19, we welcome you to experience Greater Fort Lauderdale's 23 miles of promenade-lined beachfronts and explore a destination that boasts luxury hotels, an impressive art scene, world-class restaurants, craft breweries, nightlife, shopping, casinos, and the Everglades on its doorstep. Cruise along the "Venice of America," explore shipwreck dive sites in the "Wreck Capital of Florida," and get lost in botanical gardens with lush tropical plants and native wildlife.
We are Florida's LGBT+ capital and pride ourselves on being an inclusive, diverse, open and safe destination. We offer the widest range of LGBT owned and LGBT+ welcoming hotels, guesthouses, inns, and resorts of any destination. No other destination has more LGBT owned businesses, including accommodations than Greater Fort Lauderdale!
Thanks to visitors like you, Greater Fort Lauderdale remains the leading destination for all travelers. We welcome you to enjoy all of what we have to offer. For more detailed information, check our website, SouthFloridaFun.com.
Safe Travels!
| 8 |
GFLGLCC - Greater Fort Lauderdale LGBT Chamber of Commerce and Visit Lauderdale welcome you to Sunny Fort Lauderdale!
Keith Blackburn President / CEO GFLGLCC
Richard Gray Senior Vice President, Inclusion & Accessibility
| 9 |
Arts & Culture | 11
From live theatre to concerts, galleries and museums, we've got lots to offer.
Visit & Explore | 27
Greater Fort Lauderdale isn't just about our 23 miles of inviting beaches.
Eat | 37
A sampling of 11 great places we highly recommend.
Fort Lauderdale | 50
From Downtown's famous Las Olas to the beach and beyond.
Maps | 54, 55, 56,68, 92 Find all of our advertisers on our 4-pages of color-coded maps, as well as bars & entertainment locations!
Wilton Manors | 66 Known as the heart of nightlife and entertainment!
Florida's Hollywood | 80
Located just South of Fort Lauderdale – this LGBT welcoming city has beaches, dining, shopping, and lots more!
Oakland Park | 84
Just North of Wilton Manors. Be sure to visit this fast growing city.
Nightlife | 91 Be sure to save some energy for happy hour, last call and everything in between.
Events | 97
From waterfront music festivals to boat shows, food and wine fairs, neighborhood art walks, sports and LGBTQ+ specific events.
Advertisers' Directory | 101
Alphabetical list of our advertisers and where to find them.
CONNECT WITH US! GOGAYLAUDERDALE GFLGLCC LAUDERDALE.LGBT.CHAMBER
Cover Photo by: Steven Shires Photograph, LLC Design & Layout by: MEGraphicDesigner.com
GFLGLCC Greater Fort Lauderdale LGBT Chamber of Commerce 2300 NE 7th Avenue • Wilton Manors, FL 33305 • 954.523.3500 You can view and download this guide at SouthFloridaFun.com
A B
V
We're a culturally rich community and we invite you to experience it like a local. Here, we feature ten recommended museums, theatres, galleries and more.
ArtServe
Art is a powerful tool. It can uplift lives. Upend unjust systems. Transform perspectives and amplify voices that far too often go unheard. When properly leveraged, art is a catalyst for change on personal, communal and economic levels.
At ArtServe, they bring together enterprise, academia, government and philanthropy to engage and inspire people of all backgrounds and abilities through innovative programming, artist support and education. ArtServe's Residency Program supports a community of artists who have a demonstrable history of arts outreach. With a focus on community building and process development, the Program strives to make a positive impact beyond that of art-making.
1350 East Sunrise Boulevard Fort Lauderdale, FL 33304 954-763-8565
Broward Center for the Performing Arts
The Broward Center for the Performing Arts invites you to discover something new to love about the arts. Try theater, from tragedy to farce. Dance, from ballet to modern. Music, from classical to opera to pop. With performances yearround, there's something for everyone to enjoy! No matter what your age, you can learn something new about the arts—and yourself—with their innovative educational programming.Two theaters with over 3,000 seats, offering year-round, world-renowned performances. Come see what you've been missing. See their ad in this guide. 201 SW 5th Avenue Fort Lauderdale, FL 33312 954-462-0222
| 12 |
GFLGLCC B
Charles F. Dodge City Center, Pembroke Pines
The Charles F. Dodge City Center, (CDCC) is in the heart of Pembroke Pines, Florida, the second-largest city in Broward County, and is nestled between Mediterranean style residences, casual-chic and family-style restaurants featuring international cuisine and numerous name-brand stores and shopping malls. The city center is a multi-use facility that is managed by SMG Worldwide and offers more than 35,000 square feet of event space for Banquets, Concerts, Festivals, Meetings and Trade Shows, and much more.
601 SW City Center Way Pembroke Pines, FL 33025 954-392-9480
Gay Men's Chorus of South Florida
GMCSF brings live music and entertainment to the community through large-scale, main-stage concerts in high-profile venues, community-based engagements,
and volunteer projects. More than 20,000 people are inspired and moved each year by the Chorus's music, community outreach, and mission, making GMCSF a significant LGBTQ+ nonprofit service organization and cultural asset in the heart of South Florida. With more than 150 singing members, the Gay Men's Chorus of South Florida is the southeastern United States' largest gay men's chorus and one of the country's ten largest nonprofit LGBTQ+ choruses. See their ad in this guide. 2038 N. Dixie Highway, # 201 Wilton Manors, FL 33305 954-763-2266
Island City Stage
Founded in 2012, Island City Stage produces award-wining professional theatrical experiences rich with
LGBTQ+ history, stories and characters, but have a heart and soul that is truly universal. It specializes in developing new work in addition to featuring the efforts of playwrights
| 13 |
who expose audiences to different voices and diverse experiences. These shows are brought to life on stage through the talents of professional artists whose credits include Broadway, Off Broadway, national tours, major regional theaters, film, and television. Island City Stage offers an intimate setting with six rows of stadium seating to foster a feeling of inclusion and participation in each theatrical event. Island City Stage is a 501 (c) 3 nonprofit organization See their ad in this guide and check out a show. 2304 N. Dixie Highway Wilton Manors, FL 33305 954-928-9800
Museum of Discovery & Science (MODS)
Located in the heart of downtown Fort Lauderdale's Arts and
Science District, the facility offers 120,000 square feet, packed with dynamic science exhibits, learning labs, café, store and grand atrium 300-seat AutoNation IMAX® 3D Theater featuring both 2D and 3D films. Accredited by the American Association of Museums and the Association of Science-Technology Centers. See their ad in this guide. 401 SW 2nd Street Fort Lauderdale, FL 33312 954-467-6637
NSU Art Museum Fort Lauderdale
The Museum is the hub of the South Florida Art Coast, in the heart of downtown Fort Lauderdale. Its distinctive modernist building, which opened in 1986 was designed by the renowned architect Edward Larrabee Barnes.
| 14 |
Located in Fort Lauderdale's active Arts and Entertainment District, the Museum is a short walk to the shops, restaurants and galleries of vibrant Las Olas Boulevard as well as to the picturesque Riverwalk waterfront promenade. NSU Art Museum's 83,000 square-foot building contains 25,000 square feet of exhibition space, a 256-seat auditorium, Museum Store & Cafe. 1 East Las Olas Blvd. Fort Lauderdale, FL 33301 954-525-5500
Stonewall National Museum & Archives
It's always important for LGBT+ travelers to pay homage to a city and region's queer history. And Fort Lauderdale's Stonewall National Museum & Archives is a must-visit for that exact reason. Home to one of the nation's largest gay archives,
visitors can spend hours sifting through old photos, documents and books that chronicle the progression of LGBT+ rights in the U.S. Visit stonewallmuseum.org. Find SNMA on Facebook: stonewall-museum and on Instagram: @stonewallarchive. See their ad in this guide. 1300 East Sunrise Boulevard Fort Lauderdale, FL 33304 954-763-8565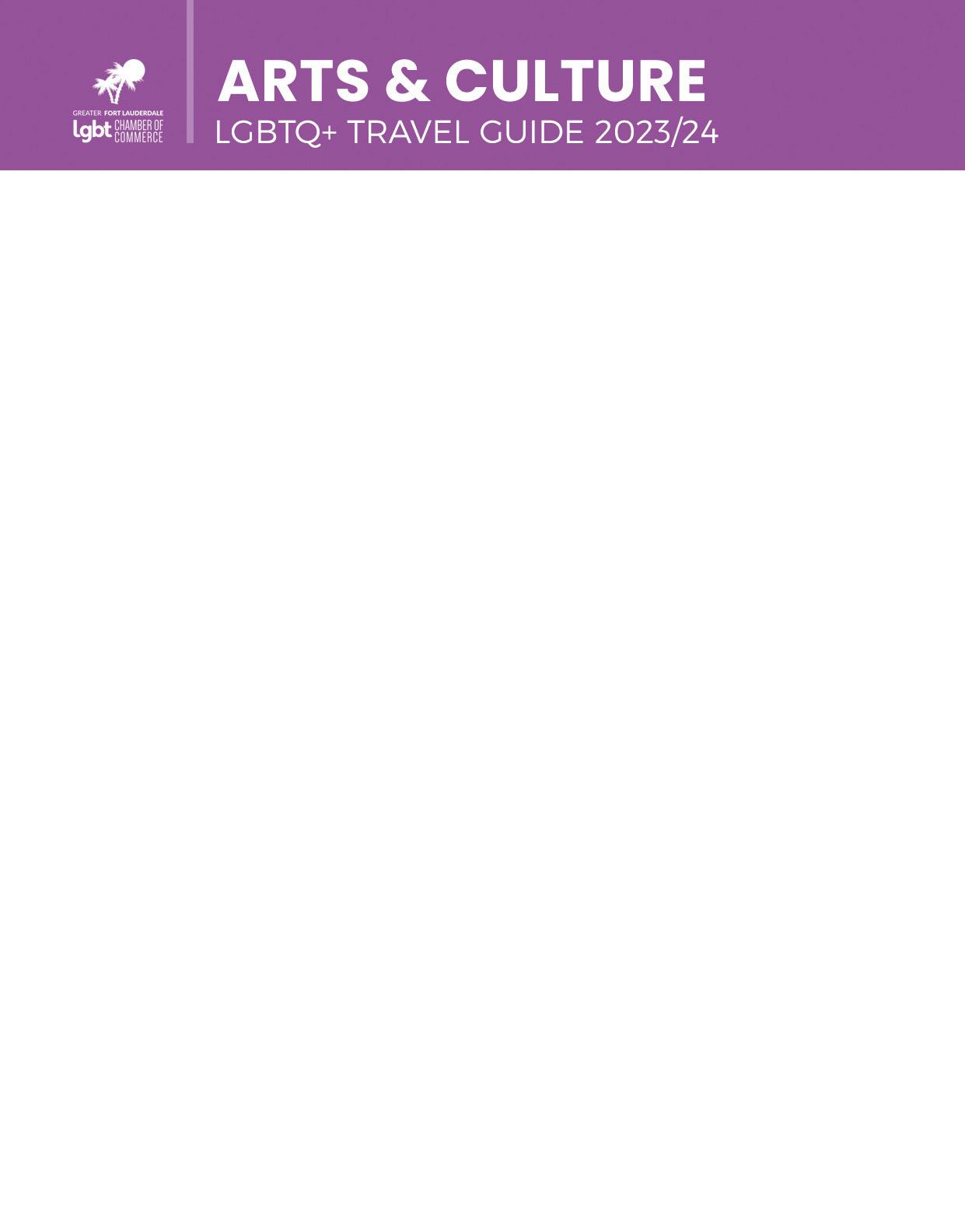 The Parker
The Parker curtain rose for the first time on February 6, 1967. One of
Fort Lauderdale's first venues, the neo-classical Playhouse, was built by Dr. Louis Parker and is managed now by the Broward Center for the Performing Arts. This 1,147-seat fully equipped theater plays an important role in the community by fueling economic development, while also bringing the community
| 15 |
together with performances, activities and educational programming. The historic performing-arts venue (formerly Parker Playhouse) in downtown Fort Lauderdale has completed a $30 million renovation and reopened with its first public event in September 2022. 707 NE 8th Street Fort Lauderdale, FL 33304 954-462-0222
World AIDS Museum & Educational Center
Florida was one of the worst affected parts of the U.S. during the height of the HIV/AIDS epidemic (alongside New York and San Francisco). The World AIDS Museum was set up to shed light on the
history and impact of a disease that took the lives of over 700,000 people in the U.S.It's difficult for younger generations to imagine how bad the stigma around HIV/AIDS was back when it first appeared. In a world with PrEP and an increase in representation of HIV positive individuals living long and healthy lives, it's unfathomable to imagine a time when the general public didn't know or care about the condition. Heck, the U.S. President at the time, Ronald Regan, famously took YEARS before even acknowledging the epidemic. See their ad in this guide. 1350 E. Sunrise Blvd. Fort Lauderdale, FL 33304 954-390-0550
| 16 |
401 SW 2nd Street • Fort Lauderdale, FL 33312
IMAX
Interactive Exhibits All are welcome at MODS! Annual Family Pride Celebration on June 24, 2023. Save $2 off MODS Discovery Pass with code GFLGLCC2023 online or at the box office. Expires December 31, 2023.
Animal Ambassadors
Theater Outdoor Science Park
TELLING THE STORY OF HIV Open Monday - Friday 11AM - 5PM 954.390.0550 World AIDS Museum and Educational Center 1350 E. Sunrise Blvd., Fort Lauderdale, FL 33304 Tours available upon request DOCUMENT. REMEMBER. EMPOWER. worldsaidsmuseum.org info@worldaidsmuseum.org I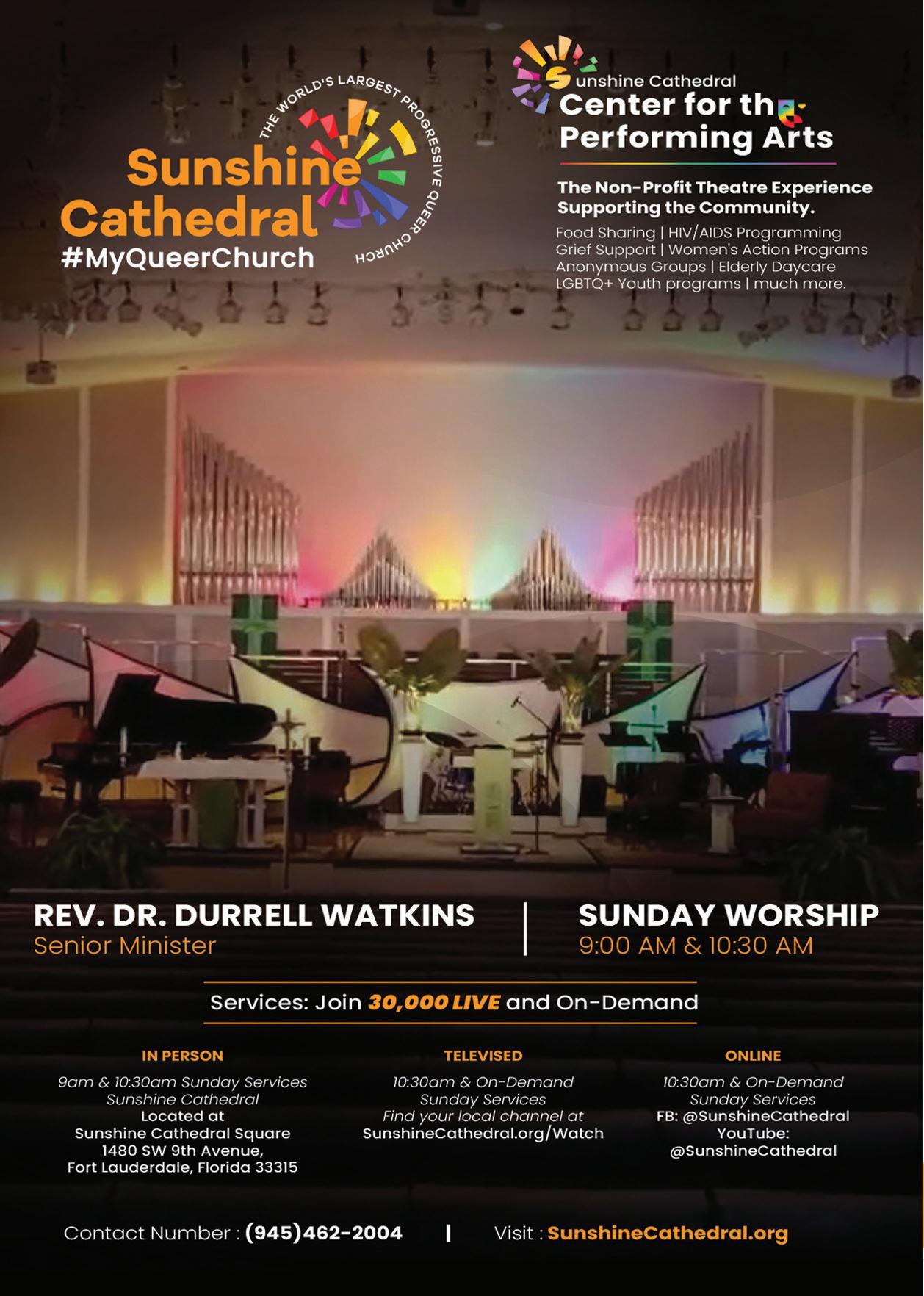 Sunshine by Day... Experience the thrill, joy and passion of live orchestral music! Tickets from $15 at The Parker, Fort Lauderdale southfloridasymphony.org | 954.522.8445 Symphony by NightTM
HOURS Monday, Tuesday, Wednesday & Friday 11:00am - 5:00pm Thursday 11:00am - 8:00pm Saturday & Sunday 11:00am - 3:00pm MUSEUM TOURS Thursday @ 6:30pm Saturday @ 1:00pm Sunday @ 2:00pm HISTORY = PRIDE 1300 East Sunrise Blvd Fort Lauderdale, FL 33304 https://stonewall-museum.org/ The only national LGBTQ+ nonprofit organization headquartered in Florida
We're famous for our 23 miles of blue wave beaches, but if you're looking for something else–something different and unique, we've got some recommendations.
Bonnet House Museum & Gardens
The Bonnet House Museum & Gardens preserves the unique historic estate of Frederic and Evelyn Bartlett. Through enjoyable and enriching cultural experiences, the museum connects today's community to the Bartletts' architectural, artistic, and environmental legacy. The site was listed on the National Register of Historic places in 1984 and declared a historic landmark by the City of Fort Lauderdale in 2002. 900 North Birch Road Fort Lauderdale, FL 33304 954-563-5393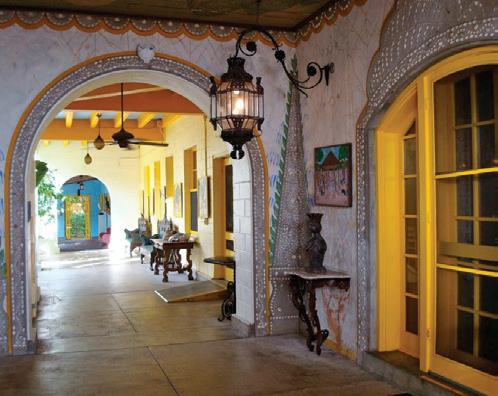 great Venice of America experiences continue to thrill out of town guests, visitors and residents. Join them for a 1.5 hour fully narrated sightseeing cruises of Fort Lauderdale's yachts and homes of the rich and famous traveling on the New River, the Intracoastal Waterway, and Port Everglades. 440 North New River Drive Fort Lauderdale, FL 33301 954-768-9920
Everglades Holiday Park
Carrie B
The Carrie B sightseeing paddlewheel tour boat has been providing scenic sightseeing boat tours and private charters in Fort Lauderdale since 1991. These
Featuring airboat tours, gator shows and animal encounters. Climb aboard one of their stateof-the-art vessels for an unforgettable Everglades airboat ride, then take in a live alligator presentation featuring the Gator Boys Alligator Rescue in the world famous Gator Pit! With miles of wetlands before you, you'll journey deep into the
| 28 |
Everglades, zipping across the "River of Grass" at top speeds, with an expert tour guide leading the way. Now, guests can experience a once-in-a-lifetime animal encounter in a small, private setting. 21940 Griffin Road Fort Lauderdale, FL 33332 954-434-8111
Everglades National Park
America's Everglades - The largest subtropical wilderness in the United States. The park protects an unparalleled landscape that provides important habitat for numerous rare and endangered species like
the manatee, American crocodile, and the elusive Florida panther. An international treasure as well - a World Heritage Site, International Biosphere Reserve, a Wetland of International Importance, and a specially protected areas under the Cartagena Treaty. 305-242-7700
Flamingo Gardens & Everglades Wildlife Sanctuary
Flamingo Gardens Botanical Garden is 60 acres of tropical paradise. It features more than 3000 species of rare and exotic, tropical, subtropical, and native plants. Their arboretum contains some of the largest trees in the state of Florida.
In addition, check out the Wray Home Museum and the Wildlife Sanctuary -- home to the largest collection of Florida native wildlifeincluding alligators, bear, bobcats, eagles, otters, panthers, peacocks and flamingos.
3750 S. Flamingo Road Davie, FL 33330 954- 473-2955
| 29 |
Historic Stranahan House & Museum
Stranahan House is the home of Fort Lauderdale pioneers Frank and Ivy Stranahan. Built in 1901 as a trading post and converted into a residence for the Stranahans in 1906, the house is the oldest surviving structure in Broward County. Located on the New River in the heart of the Las Olas area, it is available for tours and private events. 335 SE 6th Avenue Fort Lauderdale, FL 33301 954-524-4736
Jungle Queen River Boat
The world is a canvas to your imagination. You'll see sights beyond belief. Now imagine cruising on something extraordinary for a day or night. Where the sightseeing, dinner, and show is indescribable. Where you can look up into the sky at night and hear the stars talking to you. No wonder over 18 million people since 1935, from all over
the world have discovered it. They offer 90-minute narrated morning sightseeing cruises, 90-minute narrated afternoon and evening sightseeing cruises. In addition, there is a one-of-a-kind dinner sightseeing cruise. When you arrive at their tropical isle, you'll be treated to an all-you-can-eat dinner with live entertainment. See their ad in this guide. 801 Seabreeze Boulevard Fort Lauderdale, FL 33316 954-462-5596
Sawgrass Recreational Park
Come visit Sawgrass Recreation Park at night for the ultimate nighttime airboat. Join one of their experienced captains as they escort only your group on a private Everglades tour at night. This airboat tour includes an extended one-hour (60 minutes) nighttime adventure. You get to visit exclusive locations in the Everglades and are able to see and
| 30 |
LAUDERDALE.LGBT.CHAMBER V
Visit & Explore
hear a variety of reptiles, insects, and amphibians as we explore. They're also open daily for airboat rides and offer a fleet of rental boats available for fishing. Primitive camping is also available with reservations.
1006 N. US Highway 27 Fort Lauderdale, FL 33327 888-424-7262
Water Taxi
Fort Lauderdale is known as the "Venice of America" because of its many beautiful waterways. One of the best ways to Explore the city is from the water. The Water Taxi is more than just a boat ride.
unique routes with easy transfers, Water Taxi features specialty cruises and is available for groups and events. There is no starting or stopping point. The Water Taxis run from stop to stop along the routes in both directions. There are 15 scheduled stops and on-demand whistle stops. You are encouraged to get off and explore throughout the day. Routes and additional information can be found at WaterTaxi.com, 954-467-6677.
Xtreme Action Park
Their Captains and Crew are well versed on the city and the many attractions that can be viewed from the water. In addition to the three
Now the largest indoor entertainment venue in Florida, Xtreme Action Park has over 200,000 square feet of exciting attractions and event spaces including Go Kart Racing, Bowling Lanes, Arcade Game Room, a Ropes Course Adventure, a Trampoline Park, Roller Skating Rink, Escape Rooms and now all new Laser Tag, Virtual Reality Games and VR Escape Rooms.  Plus refuel your fun at our All American Cafe and the Pit Bar, a full Liquor Sports Bar. We truly have Something Fun for Everyone! Open 7 days a week and 365 days a year.
5300 Powerline Road Fort Lauderdale, FL 33309 954-491-6265
| 32 |
HOME IS WHERE THE LOVE IS. T 954.463.1373 | C 954.292.8900 | tim@timsinger.com A Leading Fort Lauderdale Luxury Broker Since 1987 | LGBT Owned AND OPERATED COLDWELL BANKER REALTY © 2022 Coldwell Banker Real Estate LLC. Coldwell Banker is a registered trademark licensed to Coldwell Banker Real Estate LLC. An Equal Opportunity Company. Equal Housing Opportunity. Owned and Operated by NRT LLC.
With lots of choices for places to eat, we wanted to give you some of our personal recommendations.
Bona Italian Restaurant
With more than 50 years of experience under their belts, they understand how to best serve their customers through tried and true service principles. Instead of following trends, they set them. The food is made from scratch with care. They pride themselves on the highest caliber products that go into every meal. The cuisine, prepared under the direction of Chef Ryan Lorenzo, is American style Italian with influence from the Campania region of Southern Italy. Bona Specialties have become signatures for them. Try the Fazzoletti, pasta purses filled with truffles, Italian cheeses in a carbonara sauce. A perfect place for Cocktails, Small Bites or even
Hosting Private Events.Stop in for Happy Hour, 4:30pm-7:00pm daily. Enjoy a free glass of wine every Wednesday when you order an entrée. Every Monday they choose a different non-profit serving the local community and donate 10% of all dine-in and take-out orders back to that organization. 2468 Wilton Drive Wilton Manors, FL 33305 954- 565-7222
DelacaSeas Café
The best cafe in Lauderdale by the Sea is DelacaSeas Cafe. Locally grown, farm-to-table produce and Fresh Seafood is delivered daily. A hidden gem, serving chef inspired dishes of all of your favorites. Enjoy classic homemade dishes
| 38 |
to gourmet fish entrées, you'll be coming back for more. Open daily serving breakfast, lunch and dinner, and fresh pressed juices, and don't miss our monthly wine dinner series. Come find out what all the locals are raving about. Join them for breakfast, lunch, and dinner. They also serve Sunday/ Champagne Brunch with beer and wine available. Ask about the Monthly Wine Dinners first Monday of each month. Catering is also available. DelacaSeas Cafe was voted one of the top 100 gay owned and operated restaurants in the United States.
4404 Bougainvilla Drive Lauderdale by the Sea, FL 33308 954-557-5798
Hamburger Mary's Wilton Manors
Hamburger Mary's is your dream destination for every party and special occasion. Gourmet Burgers, Decadent Desserts, Colorful Cocktails and the most AMAZING Drag Artists around. Local Drag Queen and Drag King Favorites plus visiting Celebrity guests from RuPaul's Drag Race are sure to turn your party. Not to mention our karaoke night, trivia night and charity bingo! Mary's is the perfect Party palace - bachelorette parties - girls night out - birthday parties. They offer a full menu from salads, their famous Hamburgers, Vegan & Vegetarian fare as well. Turn up
your spirits, with their spirits! Health Conscious to Comfort Classics, all served up with Mary's signature sass. Open 11:00 AM until 2:00 AM 7-days a week. 2426 Wilton Drive Wilton Manors, FL 33305 754-779-7424
Milk Money Bar & Kitchen
A cozy neighborhood full-service kitchen with cocktail bar serving dinner, lunch, brunch, and breakfast. American fare with
global influences & vegan options served in a cool, laid-back space. Located in the increasingly cool NE 13th Street with plenty of free parking.
815 NE 13th Street Fort Lauderdale, FL 33304 954-990-4018
Naked Crab Restaurant
With more than 20 years of culinary experience, Chef David Morales draws on his Latin heritage, blending fresh ingredients and
| 39 |
Eat
spices to create contemporary Mediterranean dishes influenced by the flavors of Europe, North and South America. He sources his menu locally in South Florida, using fresh seafood and produce from local farms. Located in the B Ocean Resort where both locals and visitors can relish on all things surf or turf, pairing the finest prime steaks with the freshest seafood and the highest quality ingredients in a picturesque, beachside setting. 1140 Seabreeze Boulevard Fort Lauderdale, FL 33316 954-727-7090
OCEAN2000
OCEAN2000 offers regionally influenced cuisine, blending local produce and character into a refined menu – with a little Latin spice and spectacular views. Enjoyed by locals and resort guests, OCEAN2000 is a contemporary American Bistro, offering an array of culinary specialties. Enjoy their Seafood-Centric menu and dine amidst magnificent panoramic views of the Atlantic Ocean from either the multi-tiered dining room or sweeping veranda. One cannot get any closer to The Atlantic Ocean!  Located in the Pelican Grand Beach Resort. Serving breakfast, lunch and dinner with weekend brunch. 2000 N Ocean Boulevard Fort Lauderdale, FL 33305 954-556-7667
Rosie's Bar & Grill
Great place to see and be seen with lots of covered outside dining with expansive bar. In addition to the regular weekday menu, Rosie's Bar & Grill is serving Sunday Brunch and featuring some of the most amazing, ''Reason to get out of bed on a Sunday morning'' items you could possibly want to eat. American food with a fun and playful atmosphere. 2449 Wilton Drive Wilton Manors, FL 33305 954- 563-0123
Steelpan Caribbean-American Fusion Kitchen & Bar
Fresh & tropical, Steelpan hosts a fresh and tropical menu featuring savory appetizers, small bites, and entrées, including island bowls and inventive spins on familiar favorites. For an exciting twist on classic and tropical cocktails, the Steelpan mixology team serves up handcrafted concoctions in a fun
| 41 |
and unexpected presentation. Serving breakfast lunch and dinner. Located inside Sonesta Fort Lauderdale Beach. 999 N Fort Lauderdale Beach Blvd. Fort Lauderdale, FL 33304 954-302-5252
Thasos Greek Taverna
Thasos Offers A modern touch to the Greek and Mediterranean cuisine serving traditional recipes with a modern twist in a contemporary setting with an emphasis on fresh seafood. Dining at Thasos brings the Greek cuisine and hospitality to you. We are passionate about our food and provide a warm and friendly atmosphere.
3330 East Oakland Park Boulevard Fort Lauderdale, FL 33308 954-200-6006
Toro Latin Kitchen & Tequila Library
Toro concept comes from acclaimed chef and restaurateur Richard Sandoval, recognized as the "Father of modern Mexican cuisine," who has an international collection of 40 Latin Americaninspired restaurants worldwide. At Toro, he masterfully blends Pan Latin cuisine with South American, Japanese and Chinese influences. One of the best new restaurants in Fort Lauderdale, Toro Latin Kitchen & Tequila Library brings Latin flair to a casual, yet sophisticated, Dania
| 42 |
Beach setting. In local tradition all dishes are intended to be shared family-style and paired with classic Latin cocktails all hand-muddled with fresh fruits, herbs and vegetables to create a celebration of Latin cuisine. Private dining is also available for special occasions. Located at the Le Méridien Dania Beach at Fort Lauderdale Airport hotel.
1825 Griffin Road Dania Beach, FL 33304 954-686-1200
Wild Thyme Oceanside Eatery
Centrally located along Fort Lauderdale Beach's renowned A1A strip within The Atlantic Hotel & Spa, Wild Thyme Oceanside Eatery offers a grown-up interpretation of a chic boardwalk dining experience with a whimsical twist on fresh dining favorites from the land and sea. At Wild Thyme, guests will enjoy stunning, panoramic
oceanfront views to accompany their fresh caught ocean and farm raised main land offerings. The warm and inviting atmosphere is a perfect choice for a small dinner, or to gather with a large group. Wild Thyme's eclectic menu and charming beachfront ambiance provides a home away from home for tourists visiting Fort Lauderdale Beach and locals alike.
601 N. Fort Lauderdale Beach Blvd. Fort Lauderdale, FL 33304 954-567-8070
| 43 |
PELICANBEACH.COM | 888.619.6376 FORT LAUDERDALE, FL + INDULGE Distinctive Oceanfront Dining A NOBLE HOUSE RESO RT