2 - www.laurelofnortheastgeorgia.com - September 2022 laurel of Northeast Georgia STAFF Publisher/Editor - Marketing - Tracy McCoy 706-982-9197 Art Director - Dianne VanderHorst Graphics - Lucas McCoy Marketing & Office Manager - Cindi Freeman 706-982-0216 Assistant Office Manager - D'Anna Coleman Sales Associate / Writer - Michael Detrick PhotographerWriter512-771-0800-JohnShivers/Writer-PeterMcIntosh Laurel of Northeast Georgia Mailing: PO Box 2218 - Clayton, Georgia 30525 Office : 2511 Highway 441 Mountain City, Geo rgia 30562 706-782-1600 • www.laurelofnortheastgeorgia.com Contributing Writers: Emory Jones, Jan Timms, Dick Cinquina, Tori Carver, Terri Goethe, Kami Ahrens, Sue Aery, Jaime Smoot Speed, Dr. Kevin E. Hurt Copyright 2022 by Rabun's Laurel Inc. All rights reserved. The Laurel of Northeast Georgia Magazine is published twelve times per year. Reproduction without the permission of the publisher is prohibited. The publishers and editors are not responsible for unsolicited material and it will be treated as unconditionally assigned for publication subject to the Laurel of Northeast Georgia magazine's right to edit. Return postage must accompany all manuscripts, photographs and drawings. Every effort has been made to assure that all information presented in this issue is accurate, and neither Laurel magazine or any of its staff is responsible for omissions or information that has been misrepresented to the magazine. The Laurel of Northeast Gorgia maintains a Christian focus throughout their magazine. Rabun's Laurel, Inc. reserves the right to refuse content or advertising for any reason without explanation. September 2022 • Volume Nineteen • Issue Nine Welcome
This issue is rich in history. Featuring the Mountaineer Festival on the cov er was a pleasure and researching it for the article inside was even bet ter. There were many things I didn't know but thanks to the Rabun County Historical Society and my friends at Foxfire I learned a lot. Remember the Foxfire Mountaineer Festival coming up on October 1 at the Rabun County Civic Center in Clayton. Make plans to be there, it'll be an opportunity to celebrate our history and for some family fun!
I'd like to say thank you to our many faithful advertis ers who make this magazine possible. Also to you, our readers, we extend our gratitude! We truly love sharing the mountains with you each month. So, about midmonth dig out a sweatshirt or two for those cool eve nings that are coming and build a bonfire and roast a marshmallow for me.
SeptemberHey, is the gateway to fall. Fall begins the 22nd day of this month according to my good friend Siri. I love cooler temps and I am an avid leaf-looker. Not the "bow-up in the middle of the road" kind of leaf-looker, rather someone who rides around looking for the changes. While we've still got some summer left enjoy it because things are gonna turn pumpkin spice before you know it.
TracyFondly, from the publisher
8 - www.laurelofnortheastgeorgia.com - September 2022 OurContentsHistory 10 Mountaineers 16 Foxfire Summer Leadership 2022 22 Foxfire Children's Village 26 Rabun County Historical Society 29 Mountains, Moonshine and a RailroadA Book of Rabun History Arts & Entertainment 32 North Georgia Arts Guild Painted Fern Festival 38 Feature Artist - Steffi Smith Southern Fare 42 Bon Appétit 46 From Your Neighbor's Kitchen 50 Explore Rabun - Livin' La Vida Local! Faith in Christ 54 Rabun For the Gospel Outdoors 56 Adventure Out 58 Firmly Rooted Live Healthy and Be Well 62 Mountain Physical Therapy Says Goodby 64 Pet Health - Emergency Pet Care 66 Life in Balance 66 Recovery Fest Mountain Homes 68 Lake Burton Home Awaits Your Memories 72 One Fantastic Place to Call Home 74 Hospitality Revisited 78 Spectacular Home, View and Lifestyle Around Town 81 Veteran Spotlight 82 Michael on the Map 86 The Slanted Window 87 The Spotted Pig 87 Ferst in Rabun County 88 Beechwood Inn - 100 Years... Just Thinking 90 By the Way
Henry Glassie, US historian (1941-
September 2022 - www.laurelofnortheastgeorgia.com - 9 "History is not the past but a map of the past, drawn from a particular point of view, to be useful to the modern traveller."
)
HistoryOur
10 - www.laurelofnortheastgeorgia.com - September 2022
Imagine a festival that drew crowds from North Carolina, South Carolina, and many counties surrounding Rabun. Families who planned months in advance to be there. Women sewing outfits and bonnets and men growing award winning beards. Horse drawn wagons full of peo ple anxious to have fun and celebrate their heritage and culture. The event included a parade of wagons and locals on horse back, themed floats decorated by groups, businesses and organizations, bluegrass music that could be heard throughout the city and men, women and children danc ing in the streets! It was a time of family fun, tests of agility and strength and good food. Who could climb the greased pole to get the cash prize on top? Whose beard would measure longest? Who could run fast enough to catch the greased pig? Laughter, hoots and hollers were heard a mile away. This festival, called The Mountaineer Festi val, began in 1961 and ran until 1978. Orig inating through the efforts of Co-Chairs Louise (Dillard) Coldren and Marley Can non and the Board of Directors: Bob Vick ers, Paul Lutz, Frank Hickox and Raymond Smith. A.W. Adams served as Secretary and Drewilla Bleckley as Treasurer. On the festival's publicity committee was: George Weatherly, Eddie Barker and Conny Shir ley. They held their first festival planning meeting on April 10th, 1961 for a mid-June event. At this meeting almost every orga nization was present. Many local residents attended, sharing ideas and suggestions. The first Mountaineer Festival took place that year on the second weekend in June. A three day event was hosted with activi ties held throughout the county. It was well publicized throughout the state. It was a huge success and Rabun County hosted 5,000+ folks that first year, who vowed to be there again the next year. In 1963 the festival was incorporated and committees were formed to plan for the inevitable Eachgrowth.new year events were added, com munity involvement continued and more
The Mountaineer Festival in Rabun County
The wood chopping contest with Conny Shirley on stage Festival attendees dressed in mountaineer fashion.
September 2022 - www.laurelofnortheastgeorgia.com - 11
W.S. Bearden driving Edward Ramey and a good ol' hound. Tom Ramey and Schly Burrell enjoying the festival. Della Nichols singing on stage.
12 - www.laurelofnortheastgeorgia.com - September 2022
It was reported in the local newspaper that a few years in, "nearly 25,000" people came to Rabun County over the three days. A horse show was added in the coming years and a rodeo with bull riding.
people came to Rabun County. The exposure was "priceless" ac cording to Mrs. Coldren with articles in the Atlanta Journal, Atlanta Constitution, Anderson Independent and even on television. From the very first event a Miss Mountaineer Festival was crowned in a pageant hosted by the Clayton Junior Women's Club. Georgia Fish and Game participated each year with displays and demon strations. Some of the more popular events were the Coon on the Log contest where men brought their hounds who then tried their best to get the coon off the log as it floated across the pond. The wood-chopping and wood-sawing events were well attended by the men. There were contests for babies and toddlers dressed in mountaineer style. Barbecue was served and over the years dif ferent church groups and clubs began serving food. Men began growing their beards early in the year in anticipation of the beard contest. A fella could win with the longest or the best beard. Wom en made their bonnets to wear with their long dresses with aprons. If you were caught without a beard or a bonnet you may end up in the makeshift jail.
On Lake Burton a water skiing competition was held and later both Burton and Rabun hosted events that added to the festival. There was an art contest, a hog-calling contest, a costume contest and a tobacco spitting contest. People came from far and wide for the festival. Hotels, motels and motor lodges were booked solid for the three days and some for the entire week following. The event was a money-maker for the county and helped to put us on the map. The Mountaineer Festival was a grand celebration, different than any other event around. The dedication of the community and their participation helped to ensure its continued success, until... Many different factors led to the festival's demise in 1978. Opinions differ on why it ended and 44 years later it is hard for people to recall exactly what happened. What is clear is the sadness people feel that the original Mountaineer Festival ended. Fond memories are shared by everyone I spoke with about it. After it ended people continued to talk about what a great festival it was. In 2008 the City of Clayton voted to resurrect the Mountaineer Festival. Many of the events were now considered dangerous to people or the animals. The town had changed dramatically and it was not feasible to have a festival that large or widespread, but they did their best to rec reate it. More help was needed behind the scenes to keep it go ing so in 2010 Foxfire's Festival, begun in 1994, partnered with the City of Clayton to host the Mountaineer festival, merging the two festivals and renaming them to The Foxfire Mountaineer Festival. In 2015 Foxfire stepped up, taking the festival over when the re mainder of the volunteers on the Mountaineer Festival commit tee retired from the committee. The indoor and outdoor festival includes many of the same activities as the original festival, great bluegrass music, outstanding food, arts and craft vendors, demon strations and fun for the whole family. Foxfire Mountaineer Festival takes place at the Rabun County Civic Center and the pavilions. The fields behind it also are utilized. Parking is good across the street.L.J. Hunter and Schly Burrell 1969 Mary Elizabeth Law, J.B. Embry and Mildred Gibbs of Georgia Power Company
HistoryOur
This year's event is scheduled for October 1st. Admission is $8 per person with children under 5 admitted free. The day will begin at 10 am and end at 5pm. Foxfire is the perfect host for this cele bration of our Appalachian culture as they have been preserving mountain ways and the mountaineer lifestyle since their begin ning in 1966. If you have fond memories of the original Moun taineer Festival we encourage you to come out and support this festival. You may be transported back a half century and find The Beard Contest - 1969 "Jedge" W.S. Bearden pictured with two visitors jailed by Bob Vickers and Dave Bailey. yourself buck dancing, sawing logs, or chasing a pig. If you've got a bonnet wear it, if you got a beard flaunt it and if you are proud of our history and heritage, be there! Join us at 201 West Savannah Street in Clayton, Georgia. For more information on the original festival visit the Rabun County Historical Society and to learn more about the Foxfire Mountaineer Festival visit their website www.foxfire.org
September 2022 - www.laurelofnortheastgeorgia.com - 13
Foxfire Summer Leadership 2022: The Legacy Continues
he end of the summer always marks the passing of another year of the Foxfire Summer Leadership Program, a sev en-week immersive experience for local high school students at the Foxfire Museum that car ries on the legacy of over 55 contiguous years of student engagement and community-based learning here in Rabun County. This year, Fox fire welcomed 11 high school students from Rabun County High and Rabun Gap-Nacooch ee School to the program, ranging in age from 14 to 17 years old. Under the guidance of two educators and a college-aged peer advisor, the students were challenged to generate a smallgroup project that investigated some aspect of Appalachian history or culture. Aptly named the SEED (Students Experiencing Education Differ ently) Projects, these can address any topic that the students choose. This year, students divid ed themselves into four groups. Three students researched the history of the Bartram Trail, four students studied Cherokee weaponry, two stu dents learned about woodworking, and the remaining two focused on the creative process behind making a children's book. As part of this process, each student group must conduct in terviews and research, then make a product that shares their findings. These creative outputs in cluded a mini documentary (available on the Foxfire Museum's YouTube), kudzu sculptures, a bow and arrow, and an actual children's book! As part of the program, students also get to take field trips and learn historic crafts from resi dent Foxfire demonstrators. Based on their per sonal interests, students can learn blacksmith ing, panjo-making, weaving, felting, cooking, and more. The goal of the program is to carry on Appalachian traditions while inspiring stu dents to think and learn in a different way that gives them more agency and ownership over their education. First-year Foxfire student Sean Flaherty shared that he joined the program be cause "I could meet new people and do things and learn differently. I got to use my own pro cesses, take my own action, and be responsible for myself." Students are encouraged to work through all aspects of a project in their small group, which sometimes includes learning from mistakes and seeking out help when they need Foxfire Summer Leadership Students, 2022
By Kami Ahrens, Curator & Director of Education, The Foxfire Museum T
16 - www.laurelofnortheastgeorgia.com - September 2022
HistoryOur
Foxfire summer advisor and educator Beth Loveland shared that this summer, she saw everything she loved about Foxfire, from play and creativity to connecting with both elders and nature. This type of immersive learning builds stronger relationships between generations within our communities and encourages students to integrate their academic learning with applied skills, building opportunities for success post-graduation. Bailey Brautigan, another first-year Foxfire student, appreciated that "this job really is an amaz ing opportunity to express what talents you have." Bailey and her group part ner Bella Merino wrote and illustrated a children's book after interviewing a local Appalachian author about the process. Bailey and Bella also helped create a mural that now hangs in the Foxfire Museum's Moore House, where an interpretive exhibit for children will soon be housed.
The final component of the program is a student-led magazine, first pub lished in 1967 by a group of high school English students at Rabun Gap-Na coochee School. This magazine revolutionized education and for many years was a central component at the schools in Rabun County. While the Foxfire program has changed, it remains true to its roots through its celebration of student work and Appalachian culture. Find the most recent issue of the magazine at www.foxfire.org/shop or visit the Foxfire Museum Shop at 98 Foxfire Lane. Any purchase of the magazine or other Foxfire merchandise goes straight back to supporting this incredible student program. Student Sarabeth Speed believes that "Foxfire truly is a place of fun, freedom, and dedication. I've made fantastic friends, memories, and amazing projects that I will remember for a lifetime." Jayton Henry echoed her sentiments: "Work ing as a Foxfire student isn't just about the SEED Project and it isn't about the money; it's about the experience. Being able to have a chance to learn from the people at Foxfire is a gift within itself. That is why my experiences as a Foxfire Student will always have strong impacts on my life and why I won't ever forget what I've learned."
18 - www.laurelofnortheastgeorgia.com - September
Foxfire students visit with flintknapper and Foxfire alum Jim Enloe
Student Lucy Vogelbacher uses a drawknife and shaving horse to work a piece of hickory
it.2022When
working on building a bow with the help of his father, who is a local craftsman, student Celton Littrell shared about the learning process that "by making our own choices, we were able to see for ourselves what we were doing right and wrong."
Students are given the freedom to explore their own interests and try new things.
Student Jayton Henry (left) learns how to make a rivercane arrow from Jim Enloe (right) while student Leizle Mason (far right) records the process
Student Stella Vogelbacher works on weaving kudzu for a sculpture project
September 2022 - www.laurelofnortheastgeorgia.com - 19
Students Bailey Brautigan (left), Bella Merino (center), and Victoria Merino (right) work on a mural for the Foxfire Museum
Foxfire student Sarabeth Speed (left) interviews Brent Martin (right) for her documentary on the Bartram Trail
Foxfire students Leizle Mason (left) and Lucy Vogelbacher (right) work on brainstorming while peer advisor Madi Perdue (center) looks on
Student Leizle Mason learns how to make pie in a wood cook stove oven from Foxfire volunteer David Grist (back)
Construction started early spring on the half-size Warwoman Cabin. The full-scale building is used to interpret mountain life in the 1940s. The original cabin came from the Warwoman Community in present-day Clayton, Georgia, and dates to the 1880s. The children's version was created from historic logs donated to Foxfire by the McKinnon family. In true Foxfire fashion, several community members came together to turn the vision into reality. Retired engineer and Foxfire demonstrator Kermit Rood drafted detailed plans for each structure. Local woodworker Tommy Thompson volunteered his time and talents to convert the old logs into cabin walls, as well as installing new rafters for an albeit more modern-looking roof. Over the summer, Foxfire students helped prepare the footings for the second structure. Museum demonstrator Kelly Coldren donated a miniature stove to outfit the cabin's interior. And, of course, hours and hours of hard work from Foxfire staff members Barry Stiles and Dave Jensen pulled it all Thetogether.wallsof the cabin were made from logs that are easily over a hundred years old, but, to make the play area safe, some modern materials were added. The fireplace and chimney were made from concrete blocks, but to match the historic aesthetic Museum Director Barry Stiles covered the facade in local rock. The building also has a front and back porch like many of the cabins at Foxfire and throughout Southern Appalachia made from newer materials. To encourage play and fuel imagination, the interior was outfitted with a table and chairs, dress-up clothing, and even a miniature cast iron stove! Young visitors to the museum can now get hands on with history and create their own stories about life in the mountains. The next phase of the project will focus on the
Museum at Play: Creating a Children's Village at the Foxfire Museum
The finished replica Warwoman Cabin, open for play!
Foxfire students Celton Littrell (left) and Jayton Henry (center) help Barry Stiles (right) pour concrete
ast fall, Foxfire was awarded a grant from the Lake Rabun Foundation to create replica half-scale buildings for children to play in at the Mountain City museum property. After several months of hard work by Foxfire staff and volunteers, the first of these structures is finally complete and open for play! When finished, the Children's Village will feature five buildings based on existing structures at the museum, including a blacksmith shop, barn, and Cherokee dwelling.
22 - www.laurelofnortheastgeorgia.com - September 2022
HistoryOur
L
By Kami Ahrens, Curator & Director of Education, The Foxfire Museum
HistoryOur
Lakemont, Georgia
construction of a replica chapel, bell tower included. Visit the Foxfire Museum to check in on our progress and to learn more about upcoming projects and programs for the
"If you want to understand today you have to search yesterday." Pearl S. Buck, American novelist (1892-1973)
24 - www.laurelofnortheastgeorgia.com - September 2022
The first structure in the children's village is a half-scale replica of Foxfire's Warwoman Cabin Volunteer Tommy Thompson helps prepare the roof of the cabin Foxfire staff Dave Jensen (left) and Barry Stiles (right) put shingles on the roof whole family. Follow our journey on social media on both Instagram and Facebook: @foxfireorg or check out our website at www.foxfire.org
September 2022 - www.laurelofnortheastgeorgia.com - 25 Museum Director Barry painstakinglyStilesappliesrockstothecabin'schimneyforanauthenticlook
Acting on these investment-worthy considerations, McClure and Mason purchased the King estate in 1966, a large tract of land several miles east of Clayton, to develop it into a golf resort. Kingwood, as it was named, did well in the summer months, but golf in the southern Appalachians is not a winter sport. Between mid-November and April, Kingwood was virtually deserted, a situation less than conducive to the resort's financial health. Something else was needed.
Frank Rickman Enters The Scene
At McClure's direction, Rickman scouted the county to find a site for a ski facility. His search eventually took him to remote Mud Creek Valley, just off Highway 246 between Dillard and Highlands, North Carolina. The area is nestled in the northwest slope of 4,700foot Rabun Bald, the second highest mountain in Georgia.
Dick Cinquina holds graduate degrees in history and journalism, making his work for the Rabun County Historical Society a natural fit for his interests. He is the retired president of Equity Market Partners, a national financial consulting firm he founded in 1981. In addition to writing monthly articles for the Georgia Mountain Laurel, Dick helped produce the Society's new web site and is involved with the renovation of the group's museum. After vacationing in this area for many years, he and his wife Anne moved to Rabun County in 2018 form Amelia Island, Florida. The completed Sky Valley ski lodge
HistoryOur
By Dick Cinquina
For one thing, Scots-Irish immigrants came to this part of Georgia in search of cheap farmland in the early 1800s, while a ski resort drew people to a remote and sparsely populated Sky Valley in the1970s. For another, Rabun County was a poor and insulated area throughout much of its history, but Sky Valley prospered and suffered with the turns of the national economy.
Enter Frank Rickman, one of McClure's boyhood friends, who was hired to oversee construction of Kingwood. Upon visiting the resort area of Blowing Rock, North Carolina, he told the Atlanta Journal and Constitution Magazine that "I looked up and saw a little old ski slope they had there. I ran back and told Larry that's what he ought'a do. But me bein' a bulldozer man and all, everybody said it wouldn't work. Larry said, 'You got the guts to spend my money in a cotton field trying to make snow?'"
T
But Rickman's idea intrigued McClure and Mason. If skiing was realistic, they thought, it might be the cure for Kingwood's low winter occupancy. Kingwood, however, lacked the proper terrain for a ski facility.
Two developers laid out the different path traversed by Sky Valley. Rabun County native Larry McClure moved to a booming Atlanta in the 1960s to make his fortune in real estate. While there, he met Dr. Miles Mason, Jr. The two became partners in land development ventures. McClure knew that land in his home county was inexpensive and available in large tracts. He also knew Rabun County was becoming attractive to people seeking summer homes in the mountains of north Georgia.
Though impressed by the sheer beauty of the valley, McClure and Mason were skeptical about the practicality of skiing in Rabun County. To be certain, they hired a firm to undertake a feasibility study. The winds and general conditions on Rabun Bald and nearby Alex Mountain were evaluated. Most importantly, the firm determined that in any given winter, 80 to 120 days of 28-degree or lower temperatures could be expected in northern Rabun County. Based on these positive findings, the developers decided to move ahead.
Two Real Estate Developers
26 - www.laurelofnortheastgeorgia.com - September 2022
Mud Creek Valley
he history of Sky Valley is a story of risk-taking and national economic cycles. This explains why Sky Valley developed in a totally different way than anyplace else in Rabun County or northeast Georgia, for that matter.
The Rabun County Historical Society Creative Bulldozing, Snow Machines and Foreclosures: The Story Of Sky Valley
The developers opened Georgia's first skiing facility in 1970 as a limited experiment. The event was a rousing success. According to Sandra McClure, Larry's wife, "The crowds of people there were so thick you couldn't stir them with a stick."
Mud Valley Becomes Sky Valley
With the decision to proceed, Frank Rickman took center stage. He was a colorful character. Rickman was fond of saying he was born in the Rabun County jail, where his father, Sheriff Luther Rickman, lived with his family. The Atlanta Weekly newspaper described him as "a bruising, brawling, bulldozer-driving, wild hog-hunting, tall tale-telling Old Mountain Boy." He did not deny any of this.
Ski lodge construction in the summer of 1971 with Frank Rickman's center post from a large Georgia pine hand-carved woodwork and a huge center post cut from what Rickman said was the second largest pine in Georgia. He had to get permission from the U.S. Forest Service to take the enormous tree down.
Among the resort's employees were six Austrian ski instructors, who were hired as much for their musical and yodeling abilities as for their skiing. They taught shushing during the day and entertained guests in the lodge at night with singing and dancing.
Snowmaking Machines Sky Valley Resort would have been a short-lived venture if it had depended on natural snowfall. The 80 to 120 days of 28-degree
Skiers Flock To Sky Valley Resort Once the resort was up and running by 1972, skiers flocked to Sky Valley. The Atlanta Journal and Constitution Magazine reported, "Triumph Spitfires and Corvettes with ski racks and chic ecology decals on the rear; family sedans with candy-smeared back windows; mud-splattered three-quarter ton trucks with stereo tape decks in the cabs and skis rattling around in hay straw and manure in the beds: they all wind their way through the snowy woodlands of north Georgia…" to Sky Valley Resort.
The entrance to Sky Valley was planned as a road off Highway 106 leading across a covered bridge. Rickman's covered bridge was built, but the Georgia Department of Transportation vetoed the plan, since the entrance was on a curve in the highway with limited sight distance. The entrance to the resort became today's Mud Creek Road. The covered bridge still can be seen just north of the overlook on Highway 106.
Practitioner of Creative Bulldozing Rickman also was widely known as a quality, intuitive builder of almost anything. A practitioner of what he called "creative bulldozing," he demonstrated his skill by building a network of roads winding through the development. Without any detailed plan, Rickman simply "eyeballed" the roads into the valley's steep mountainsides, making them fit naturally into the terrain. As he once said, "Anything I build or design is good only if, when I'm finished, you can't tell I've done a thing."
Since Kingwood was too far away to host skiers, McClure and Mason decided to build a full-blown ski resort. Of course, Mud Creek Valley was not the most desirable name for an upscale resort from a marketing perspective. McClure credited former Governor Ernest Vandiver for naming the area Sky Valley. Vandiver allegedly said, "Sun Valley (Idaho) has the sun. You have the sky and a valley."
September 2022 - www.laurelofnortheastgeorgia.com - 27
In 1968, McClure and Mason bought Square D Ranch, a 400acre cattle operation in Mud Creek Valley. The base elevation of the land was 3,200 feet, with the property line extending up to 4,000 feet on Alex Mountain. Over time, the partners acquired an additional 2,000 acres in the valley.
Georgia's
First Ski Facility Opens in 1970
Bavarian-Style Ski Lodge With Blue Ridge Flair Rickman then turned his attention to building the resort's ski lodge. The Atlanta Weekly reported that the Bavarian-style lodge was constructed in the "Frank Rickman style—that is, with the macho touch of rural ruggedness—all without printed plans or Rickmanblueprints."strived for originality in the 22,000-square-foot lodge and incorporated design ideas as they occurred to him. He achieved an Alpine flavor with steep gables, each 40-feet high. But inside, the lodge became distinctively Blue Ridge with its large fireplace,
Frank Rickman (left) and Larry McClure with huge tim bers used in the construction of the Sky Valley ski lodge
Learn more about our history by becoming a member of the Rabun County Historical Society. Membership and complete information about the Society's museum are available at www. rabunhistory.org. The newly renovated museum at 81 N. Church St. in downtown Clayton, which houses the Southeast's largest collection of Tallulah Falls Railroad artifacts, is open ThursdaySaturday from 11 to 3 and Sunday from 12 to 4. The Society is a not-for-profit organization under Section 501(c)(3) of the Internal Revenue Code, making membership dues and donations tax deductible. Visit us on Facebook and Instagram.
Resort Files For Bankruptcy
Skiing on man-made snow Golf Course
HistoryOur
A group of local residents took matters into their own hands. Since no bank was willing to finance a golf course, the group developed a plan to raise the money for acquiring the course by selling 100 shares of stock in Sky Valley, Inc. for $10,000 a share. The stock issuance sold out, and the golf course was purchased from the banks in 2012. Sky Valley finally was freed from bank lenders. Sky Valley has prospered since the buyout. The town is recognized today as a first-class golf resort. It also is a vibrant community of upscale summer homes. The town has come a long way from the time when it was developed on a Mud Creek Valley cattle ranch. And the legacy of Frank Rickman, the bruising, brawling impresario of the bulldozer, lives on in Sky Valley's mountain roads and old ski lodge.
McClure and Mason were pleased with the resort's financial progress until 1975. That was the year when a perfect storm sank the U.S. economy into a steep recession. Interest rates rose to an astonishing 20%. Compounding the situation was a shortage of crude oil orchestrated by the OPEC cartel. Gas prices skyrocketed. The impact on Sky Valley was severe and immediate. Skiers and golfers ceased visiting the resort, and people canceled plans to buy vacation home sites.
Acquired By Local Residents
The impact of Sky Valley's deteriorating financial condition on McClure forced him to sell controlling interest to his partner in 1984. Mason and his sons tried to keep the resort afloat, but bank lenders foreclosed on the ski resort, golf course and related facilities. Mason filed for bankruptcy in 1987. The resort continued to operate under bankruptcy protection, but the banks eventually put the resort's properties up for sale at auction. The city of Sky Valley lacked the resources to fund the recovery of the ailing community. To raise money to repair roads and a failing water system, voters approved a $1.7 million bond issue in 1987. Voters also agreed to levy a property tax, the proceeds of which were earmarked for paying off the bond issuance.
weather that had been predicted in the feasibility study never materialized. During one winter, skiing was possible for only 35 Snowmakingdays. machines were purchased to lengthen the ski season. When the temperature was 28 degrees or lower, the machines ran around the clock to keep three feet of snow on the slopes from mid-December to mid-March. But even with a three-month season, the developers knew the ski resort, by itself, would never be a profitable enterprise. To remedy the problem, a first-class golf course was built to make Sky Valley a year-round resort. However, selling residential lots, condominiums and time-shares was intended to be the resort's most lucrative venture.
28 - www.laurelofnortheastgeorgia.com - September 2022
Perfect Economic Storm In 1975
Although the resort's financial woes were ongoing, Sky Valley was incorporated as a municipality in 1978, becoming Georgia's newest as well as highest city. Larry McClure was elected the town's first mayor; his wife was named City Voter Registrar. The affairs of the town of Sky Valley continued to be controlled by the resort's developers.
Skiing Discontinued The investment group that acquired the resort from the banks discontinued skiing at Sky Valley in 1994 to save money. The resort then went through several subsequent rounds of new investors and owners. But the resort's financial difficulties were not at an end. The Great Recession of 2007-2008 wreaked havoc on Sky Valley. Tourism plummeted. Lending banks again foreclosed on the golf course, which remained in limbo for three years under bank ownership.
A. Rabun County is a product of the Blue Ridge Mountains. For countless decades, people were distilling whiskey illicitly to help put food on the table. And the Tallulah Falls Railroad opened this area to the outside world. These factors have shaped our history, making it fitting to feature them in the title of this book.
A. I expect to have a book signing at the historical society museum in September.
Q. You are truly a history buff! Tell me why you enjoy it so much and how you came to be at the Rabun County Historical Society.
Q. Have you found endless content for future articles at the Rabun County Historical Society museum?
A. Our historical society operates the finest and most informative museum in northeast Georgia. Professional quality exhibits include the largest collection of Tallulah Falls Railroad artifacts, photos and models in the Southeast. The historical society also maintains an extensive archive of newspaper articles, original documents, ge nealogical information and vintage photos, many over 100 years old. This archive has been a principal resource for the articles in my book, and it continues to be vitally important to my ongoing research and writing.
A. Yes, Mountains, Moonshine and a Railroad is my first book. I am
Q. Why not do a soft cover book? Why did you go to the extra expense of hardcover and upgraded paper?
Q. How did you settle on the title of your book?
Q. Is this your first book? Can we expect more?
A. The 42 essays in this book examine the people and developments that have shaped the history of Rabun County. The starting point is our Na tive American heritage and the histo ry progresses through the 1800s and concludes with important twentieth century developments and events. Many of the essays in this volume have not been published previously.
Mountains, Moonshine & A Railroad – A History of Rabun County thinking about writing a second vol ume on the history of Rabun County.
A. Hardcover books convey the look and feel of permanent quality that cannot be matched by a soft cover. The upgraded paper in this volume also accentuates the image of a high-quality book.
Q. You have written many articles in our magazine over the past few years. We appreciate it very much. Is your book Mountains, Moonshine and a Railroad a chronological history of Rabun County? Are all of your articles included and are there some no one has read?
Q. Where can those interested in purchasing your book find a copy? Can they order it?
Q.roadDo you have a book signing scheduled?
You may not be aware that we have helped about a dozen local authors get their books ready for publishing. We are proud of every one we've had a hand in. We are particularly pleased with the most recent book, Mountains, Moonshine & A Railroad. Richard (Dick) Cinquina writes the articles that appear in our magazine each month for the Rabun County Historical Society. He also volunteers at our historical society. When he called to say let's meet to discuss an idea, I was eager to hear what he had to say. Dick had written a comprehensive history of Rabun County. Hardback with 42 chapters, Dick's book tells the always colorful, occasionally contentious and fre quently humorous history of Rabun County and surrounding area of northeast Georgia. He had examined hundreds of old newspaper articles, original documents and re searched a variety of other sources. Dick is a wonderful writer, and I believe anyone interested in a history of Rabun County will want to read this book from cover to cover. It is a treasure that can be handed down through generations. We have a truly incredible his tory and it has been Dick's pleasure to share it. I talked with him about his book, asking questions I thought you might ask. Below are his answers and details on how you can get a copy of Moun tains, Moonshine & a Railroad.
A. Mountains, Moonshine and a Railroad will be sold initially through the Rabun County Historical Society at 81 North Church Street in downtown Clayton. Over time, it also will be available at a number of downtown stores. In the meantime, the book can also be purchased through Facebook @Mountainsmoonshineandarail
September 2022 - www.laurelofnortheastgeorgia.com - 29
A. Although I hold degrees in history, I never used them to earn a living. Following time spent in journalism, politics and speechwrit ing, the majority of my career was focused on the investor relations business I founded in 1981. After retiring, I moved with my wife to a mountainside home in Rabun County where I returned to my edu cational roots by working with the Rabun County Historical Society in Clayton. This volume is an outgrowth of my association with this wonderful organization.
30 - www.laurelofnortheastgeorgia.com - September 2022 Clayton,DowntownGeorgia
September 2022 - www.laurelofnortheastgeorgia.com - 31
For the first time this year, Painted Fern will hold a bake sale. So while you are viewing and having the opportunity to purchase art, you can get something yummy to take with you to enjoy.
work of several of the guild members who want to be a part of the show, but do not need a full booth. This is definitely a "don't miss" feature of Painted Fern.
Painted Fern Art Festival in Downtown Clayton
32 - www.laurelofnortheastgeorgia.com - September 2022
I
Kathy Fordford5050@windstream.netMosaics
In addition to the booths of the individual artists, there is also a guild booth, which will be on the civic center stage. Here you will find the Anne AutsoliefAnneauts@gmail.comjewelry
Two monetary awards are presented at the show. For the People's Choice Award, ballots are given to attendees of the show as they come in, with instructions to vote for the artist/artwork they like the most. The second award is the Producer's Choice Award, which the Painted Fern Committee votes for. In the 2021 Painted Fern Festival, the People's Choice award went to Danny Young, a photographer, whose work includes amazing photographs of wildlife and mountain landscapes. The Producer's Choice award went to Michael Mason, who creates beautiful wood-turned bowls. With so many excellent artists exhibiting, it was a close call for both awards.
The variety of arts and fine crafts featured include paintings in oil, acrylic and watercolor, pottery - both functional and whimsical, and beautiful wildlife and landscape photography. If you are looking for jewelry, you are sure to find something you can't live without in the choices of styles represented by the guild's jewelry artists. The wide variety of work exhibited at Painted Fern also include knives, fiber, floral, pens, mosaics, paper mache', collage and multi-media, with each artist's work being as unique as the artist who created it.
Painted Fern Festival of Art will be held Saturday, September 17 from 10am to 6pm and Sunday, September 18 from 11am to 4pm at the Rabun County Civic Center, 201 West Savannah Street, in Clayton, Georgia. The Painted Fern website is paintedfernartfes Fortival.commore information on the North Georgia Arts Guild, please visit their website at northgeorgiaartsguild.com. In addition to Painted Fern, NGAG sponsors Sassafras Artisan Market, which will be held April 29 & 30, 2023. You can view the website for Sassafras at sassafrasartisanmarket.com.
Meet the Artists of the 6th Annual Painted Fern Festival
Diane Rush - Painting - droyaltdr@yahoo.com
Regina Veranigaleriaregina@comcast.comPainting
f you enjoy viewing fine arts and crafts or just looking for a unique gift for someone special, Painted Fern Festival, sponsored by the North Georgia Arts guild, is an art show you do not want to miss. Held in the air-conditioned comfort of the Rabun County Civic Center, the festival showcases the work of the many talented members of the guild.
Painted Fern, the guild's premier members' show, made its debut in 2008 as a one-day show called Art at the Lake held at Lake Rabun Pavilion. In 2015 the show made the change to a new name, a new venue and became a two-day indoor festival while still showcasing the work of the guild's many talented artists.
Judy Schmidt - Paper papetrails365@gmail.comMache
September 2022 - www.laurelofnortheastgeorgia.com - 33 Kim Adamstumabby@bellsouth.comDickbeadtyc1@gmail.comGlassAlbertelli-pens David Dobs - Digital angelcraft.soap@gmail.comArtTim Ford - Painting & t1ford2035@gmail.comPhotography Chris Grimesmchristineg1947@gmail.comWreaths Cheri Harringtonharrington.llc@gmail.comLeather Lewis Hinelylewisngang@gmail.comPainting Eric Hollifield - Toys doubleheadart@gmail.com Mary Lengnickmary.lengnick1@gmail.comjewelryCarolyn Simmonsrdcsimms@windstream.netclayDiana Winukartisticcallydesignedbyd@gmail.comjewelry Not bwh2@comcast.netBrendaFiberPicturedArtistsHutchinsNancyWilliamsonjwwoodenboxes@gmail.comSueZarterzstitches1972@gmail.com
34 - www.laurelofnortheastgeorgia.com - September 2022 Jean Mitchelljmliatrus@yahoo.comClay Jo Mitchelljosart75@gmail.compainting Joni Mitchelljonissmith@msn.comjewelry Anna-Marie Sullivan Morristhemuddprincess@aol.comClay Donna Persingerheartrootsarts@gmail.compaintingDonnaRainy-jewelrydbrainey@hotmail.comNancy Warmathnwarmath@hotmail.comGlass Lesley WeissGregDannyheylesley@gmail.comPaintingYoung-Photographydannyoung56@yahoo.comCorbet-FishingFliesgreg.corbett@ymail.com Meet the Artists of the 6th Annual Painted Fern Festival Dietrich Hoechtpotsniron@windstream.netmetalwork
September 2022 - www.laurelofnortheastgeorgia.com - 35 Donna McCarthy - fiber donnajeanmccarthy@gmail.com Amanda Seddon - Book nadinetrex@gmail.comArt Dennis Trubeydennistrubey@yahoo.comPainting Jerry Williamsonjwwoodenboxes@gmail.comWoodMichaelMason-Woodmmason@clemson.edu Gail and Roger Marcengill - Iron & blacksmithette@hotmail.comCopper Cynthia D'Angelocardinalpinessanctuary3@gmail.comPaintingCathyJowers-paintingcathyhj79@gmail.comAlan lumigraph@charter.netPhotographyZarter Mary Beth mbstager@gmail.comMultimediaStager Joey Aldrich-Burel - painting jaldrichburel@gmail.com
36 - www.laurelofnortheastgeorgia.com - September 2022 Finding Art
September 2022 - www.laurelofnortheastgeorgia.com - 37
Steffi Smith's name is well recognized in the photography world. Her photography business, Cariad Photography, has blessed many brides and grooms with breathtaking images they will treasure for a lifetime. She has photographed babies, families and individuals as well. In fact Steffi is booking into 2023 for family sessions and senior pictures. Steffi also creates layered works of photographic art. These art forms are not what has brought her to our pages in this issue.
For the Love of Art by Steffi Smith
38 - www.laurelofnortheastgeorgia.com - September 2022 ArtsThe
The Book Houses are typically made using old books and can be added to your bookshelf or put together in a set on a side table. I fell in love with them. Steffi and her husband Steve Collard came up with another purpose for these works of art. Book Safes are created by connecting books and making a "hiding place" for treasures, or cords! Her Book Houses can be customized utilizing a special book you have or with a desired theme if you wish. She decorates the books with moss, and floral accents, she creates the theme using photography with each one reminiscent of a quaint home or storefront. The greeting cards are amazing too. She creates a scene using wool, lace and stones from vintage jewelry, accents from various sources and occasionally she will sneak a true treasure in the design. They are such a magical way to send a greeting to make someone feel extra
A follower of her work on social media, I was introduced to her fairy art and her book houses. When the virus ramped up in 2020 and the world slowed to a snail's pace, this artist found herself stuck at home and bored. Being idle is not a good place for Steffi Smith, she has to have something to do. So she began creating and I for one am glad she did! "I've always loved fairy things so I retreated into my own fairy world. I decided to design a fairy house and it was well received. Then a friend asked me to make a miniature fairy dress for her, so I did. Then I had the idea for Book Houses and they went over well. It has been so good for me during these past couple of years," Steffi shared during a recent visit. "Then I made wool needle-felted greeting cards. They are a gift of art and a card rolled into one. Once they've been read they can be framed with the greeting preserved."
By Tracy McCoy
September 2022 - www.laurelofnortheastgeorgia.com - 39 special. All of Steffi's pieces bring happiness and joy. A nice outcome from the Covid-19 lockdown with Steffi making the best of a bad situation. "It was so therapeutic to make these things and I am happy that so many people have liked them," Steffi said. Fairy gardens are all the rage but who thought about fairy dresses and houses? Steffi did and they are the perfect addition to any collection. She has even been asked to decorate fairy windows for doll houses. I think this artist just got a lot busier but when your work brings a smile to your face and the hearts of others you are happy to do it. Some might say Steffi works from a place of cariad (Welsh for love). If you are interested in Steffi's art you are in luck, she opened two Etsy stores: ArtBySteffiSmith and the other one is HiddenBookNook. On Facebook look for @ artbysteffismith. You may shop and purchase and contact Steffi through each avenue.
40 - www.laurelofnortheastgeorgia.com - September 2022 When You Support A Small Business You Are Supporting Dreams
September 2022 - www.laurelofnortheastgeorgia.com - 41
1/2 Cup half & half
1/4 Cup Parmesan cheese
2 Tablespoons plain flour
1/4 Teaspoon pepper
Three Cheese Pasta Bake 4 Servings
Toss greens; add cheese, olives, carrots and onion. Drizzle dressing over salad when ready to serve. Sauteed Pears Serves 4
By Scarlett Cook
1 Teaspoon salt
Preheat oven to 350°. Grease a 11''x7" baking dish. Melt butter in medium saucepan over medium heat. Whisk in flour until smooth, cook whisking constantly for 1 minute. Whisk in milk and half & half; cook stirring constantly 3 – 5 minutes or until Stirthickened.inCheddar, Parmesan and 1 cup Swiss cheeses; add salt & pepper stirring until smooth. Stir together the noodles and cheese mixture and pour into prepared pan. Top with remaining Swiss cheese.
CuisineSouthern
1 8-Ounce package macaroni noodles, cooked and drained well
Bon Appétit
42 - www.laurelofnortheastgeorgia.com - September 2022
Bake 15 minutes or until golden and bubbly.
2 Cans sliced pears, drained well
1 5-Ounce bag mixed salad greens
1 Cup shredded Cheddar cheese
Italian Tossed Salad Serves 4
1/2 Can sliced black olives, well drained
Hello Fall… and Busy Schedules
1 Tablespoon vanilla extract
2 Tablespoons butter
3 Tablespoons butter
1 1/2 Cups of milk
1/2 Cup shredded Mozzarella cheese
10 Baby carrots, sliced 1 Green onion, sliced Balsamic vinaigrette salad dressing
Hope that you had a wonderful summer without masks and were able to hug your friends and family members. School bells have rung and life has ramped up for most folks. Now you must get everyone out the door in the mornings and rounded back up in the afternoon. These meatless recipes can come together with most of the ingredients found in your pantry.
2 Cups shredded Swiss cheese
3 Tablespoons brown sugar
September 2022 - www.laurelofnortheastgeorgia.com - 43 Melt butter in large skillet over medium high heat; add pears and stir to coat them. Cook about 2 minutes; add brown sugar. Bring to a boil; reduce heat to low and simmer 5 minutes. Stir in Whippedvanilla.topping and / or toasted nuts make a good topping for the pears.
1/2 Cup sugar
1/3 Cup creamy peanut butter
Bake 35 – 40 minutes or until set. Place on cooling rack and cool 1 hour. Cover and chill at least 2 hours. Microwave chocolate and cream 15 seconds, stir and microwave an additional 15 seconds. Drizzle over pie and sprinkle with peanuts.
Candy Bar candy bars
1/2
2/3 Cup chocolate chips
1/4 Cup chopped salted peanuts
2 Large eggs
2 Tablespoons whipping cream
Pie Serves 8 3 Snickers
1 Packages cream cheese at room temperature
1 Graham cracker crust Preheat oven to 325°. Cut candy bars into ¼" pieces and arrange on bottom of crust. Beat cream cheese and sugar at medium speed until blended. Add sour cream and peanut butter; beat on low speed until Addblended.eggs one at time beating just until yolks disappear. Spoon cream cheese mixture over candy bars.
1/3 Cup sour cream
44 - www.laurelofnortheastgeorgia.com - September 2022 A MountainsofTastethe
September 2022 - www.laurelofnortheastgeorgia.com - 45
CuisineSouthern
1 box Betty Crocker Butter Pecan cake mix. ¾ cup oil 1 can coconut pecan icing c. chopped pecans 4 eggs 1 cup Greasewaterbundt pan (or 10" tube pan) and sprinkle with powdered sugar. Sprinkle pecans in bottom of pan. Combine cake mix, eggs, oil and water, mix for two minutes until smooth. Add tub of icing to this mix and combine well. Pour batter into prepared pan. Bake 55 minutes at 350*. Caramel Glaze (makes 1 ½ cups)
2oz jar of diced pimientos
¼
I c. brown sugar ½ c. butter ¼ c. evaporated milk Combine all 3 ingredients in a small saucepan over medium heat. Bring to a boil and stir for 2 ½ minutes. Pour over cooled cake.
Ihope you enjoyed the "Neighbor's" recipes last month. I am filling in for Lorie Thompson who takes us to her Family Table each month. Before I turn the reins back over to Lorie in October I am happy to share more great recipes from some family and friends. I will be reprinting Sue Wykle's recipe from last month since I mistakenly left out half of the ingredients! I hope you all enjoy these recipes and add them to your recipe box. Thank you all!
Most requested and secret recipe!
1 Tbls diced jalapeno peppers, pickled 3 Tbls chow chow, hot or mild 4 Tbls dill pickle relish
8oz shredded cheddar
STEVE'S "MINNEO" CHEESE
46 - www.laurelofnortheastgeorgia.com - September 2022
Steve learned to cook from his mother Roberta Hicks. He enjoys it and according to those who get to enjoy his meals, they are glad he does! A man that likes to cook is every woman's dream. The only thing better is if they like washing the dishes! When he isn't working or in the kitchen, Steve enjoys the outdoors and spending time with his family and close friends. He has a smart and lovely daughter, Kasie Campbell and a super cute granddaughter, Lillie. His special lady, Deborah Ballew, often posts the meals he prepares on social media and so I knew he'd be a great choice for this article. Thanks Steve!
From Our Neighbor's Kitchen
Steve Hicks
½ tsp garlic powder
By Tracy and friends
¼Cakec.powdered sugar
BUTTER PECAN POUND CAKE WITH CARAMEL GLAZE
½ tsp black pepper
1 tsp worcestershire sauce
2/3 cup mayonnaise Mix it all together and eat with most anything!
8oz shredded monterey jack cheese
Mary Jane McCoy Mary Jane is the daughter of Buck and Leona Carver. She began cooking at a young age with her sisters. She is a very good cook and does much of it without a recipe. She just knows how much to add and what it needs after a quick taste. I've been eating at her table for 31 years now. Mary Jane is my mother-in-law and I often brag that I have the BEST! She makes a mean pone of cornbread and so many other things that I can't seem to copy. Maybe it's experience or perhaps some people just have a gift. Whatever it is, I am sure glad I get to eat with her. She and husband Jim have raised three daughters and one son. They plant a garden every year and she works hard to can and freeze enough to last till next year. One of my favorite things besides her cream corn is the Butter Pecan Pound Cake she makes. I bet you'll love it too!
September 2022 - www.laurelofnortheastgeorgia.com - 47
3 sticks of butter OR 2 sticks margarine and 1 Tablespoon of Crisco
1 eight ounce package cream cheese
1 Cup Shredded Swiss Cheese
Sprinkle with Parsley if desired Serve with Crackers
BAKED ONION DIP
1 TBSP grated Parmesan Cheese
Yield, 2 Cups (Recipe can be doubled)
1/4 Tsp Garlic Salt
Preheat oven to 325*
Lucy Ezzard Bartlett Heaven knows the kitchen of Lucy Bartlett is a great place to find yourself. From cooking to canning, Lucy is a wizard! She and her husband Harry live at the base of Tiger Mountain where the blueberries grow. She has been cooking since she was old enough to drag a stool to stand on beside her mother in the kitchen. She learned much of what she knows from her but when she got married she remembers her Aunt Clyde (Janie P.'s mother) telling her "If you can read, you can be a good cook. Use a recipe and follow it!" She depended on the Better Homes and Gardens cookbook that she received as a wedding gift for many years. Experience is often the best teacher so she found herself tweaking recipes with things she though would improve them. Over the years she has collected many recipes from others. She has two grown children and she is Oma to three grandchildren and one great-grandchild. Her grandson, Liam, pulled a stool up to the counter and has learned to cook from Lucy. When he first began taking food classes in high school at fourteen, the teacher asked him how he knew so much about cooking. He told her he'd been cooking with his grandmother for thirteen years and that was the truth. Lucy is well known for her pound cake recipe that was published in our pages years ago. It is well worth a repeat! When not in the kitchen, Lucy loves to sew, garden, and her favorite pasttime is watching the Braves!
3 cups of sugar
1/8 teaspoon of salt
1 Cup Mayo 2 Cups chopped sweet Onion
N. Lucy Jacobs Lucy was born to "Babe" and Joyce Ramey, "My mom Joyce Wood Ramey didn't learn to cook till she married at the age of 14. We learned to cook together. As my Mom was raised by both sides of her grandparents during the depression, she was not allowed in the kitchen. The grandparents were afraid she would waste staples learning to cook...so we learned together by doing the basic cooking; biscuits, gravy, fried meats and vegetables and lots of desserts. We both loved cooking for family get togethers," she told me. Lucy is the proud mother of one beautiful daughter Traci J. Adams, two grandchildren: Presley and Dalton Blalock and one great grandson Parker Reed. She was sure to mention the addition of a wonderful son-in-law and three more grandsons and three great-grands. "I am blessed to be called MeMe!" she added. Her favorite things to cook are her mother's Hash brown Casserole and her chocolate pound cake with old fashioned boiled icing. This time Lucy shared her recipe for baked onion dip.
In a bowl, combine Mayo, Onion, Parmesan Cheese and Garlic Salt; Stir in Swiss Cheese. Spoon into a 1 Quart baking dish Bake, uncovered at 325* for 40 minutes
Dried Parsley, optional Assorted Crackers
CATHERINE ARRENDALE'S CREAM CHEESE POUND CAKE
6 large eggs
1 1/2 teaspoons of vanilla (or 1 teaspoon vanilla and 1½ teaspoon to 1 tablespoon almond flavoring or 1 tablespoon lemon rind grated fine, ½ teaspoon vanilla, 1 teaspoon lemon flavoring.)
3 cups of sifted cake flour (OR 1 cup self rising flour and 2 cups all purpose flour) Have eggs, cream cheese, and butter at room temperature. Set oven at 325 degrees; grease angel food pan or Bundt pan. (I like to use Baker's Joy.) If using a 12 cup Bundt pan, also grease a small loaf pan as the batter is too much for a 12 cup Bundt pan. Cream butter, cream cheese, and flavorings. Add sugar slowly; add salt. Cream until fluffy. Add eggs one at a time, mixing well after each egg. Add flour one cup at a time, mixing well after each cup. If using angel food pan, bake for 1 and 1/2 hours at 325 degrees. Small loaf pan will take about 45 minutes and Bundt pan will take about 1 hour to 1 hour and 15 minutes. Check with toothpick at the earlier times. If any crumbs stick to the toothpick, bake a little longer. Cool for 10 minutes before removing from the pan(s).
1 quart low-sodium chicken broth
2 boneless skinless chicken breasts (2 halves, that is, about 3/4 of a pound), seasoned with sea salt and fresh black pepper
With all of the ingredients this time!
1 Tablespoon ground cumin
DEEP DISH TOMATO PIE – Sue Wykle ½ Pound ground beef ½ cup sour cream 1 medium tomato, peeled and thinly sliced 1/3 cup mayonnaise ½ cup chopped green pepper 1 tablespoon onion salt 1 cup shredded, sharp cheddar cheese 1 cup Bisquick mix ¼ cup water salt and pepper to taste
1 pound collard greens, stemmed and roughly chopped (about 5 cups)
"And, Janet and I have an agreement about the kitchen, I cook, she cleans," said Thomas. When asked for a favorite recipe, they both agreed this one for White Chicken Chili is a crowd pleaser at family gatherings.
Preheat oven to 375 degrees. Grease square baking dish, 8x8x2 inches. Brown ground beef and drain. Mix sour cream, mayonnaise, onion and ½ cup of cheese; reserve. Mix Bisquick mix with ¼ cup of water until soft dough forms. Pat in pan, pressing dough ½ inch up the sides. Layer beef, salt and pepper tomato, green pepper and ½ cup of cheese in pan; spoon sour cream mixture over top. Sprinkle with paprika if desired. Bake until edges of dough are light brown, 25 to 30 minutes. Makes 6 servings.
CuisineSouthern
1/2 teaspoon ground white pepper
Optional garnishes: 1/2 bunch fresh cilantro, light sour cream, chopped tomatoes, lime wedges, cheese, jalapeños
Thomas Cummings If you grew up watching the Brady Bunch, you'll understand when I say that Thomas and his wife Janet blended their families. Together they have seven children, all grown now and 16 grandchildren. Thomas and Janet love to travel, camp, spend time with family and visit friends in New Orleans. The couple bowl in a league together and enjoy art. Their home in Clayton is surrounded by gardens containing both flowers and vegetables. Thomas knows southern food, but you can expect he will add his own touch to it. He likes to explore and try new recipes, which Janet loves! Working together at the Laurel Magazine of Highlands and Cashiers, they put in some long hours so time together in the kitchen is a treat.
Pinch of red pepper flakes
Add the collard greens and cook, stirring occasionally, until they are slightly wilted, about 5 minutes.
In a dutch oven, heat the olive oil over medium heat, add the garlic and onion. Cook for 2-3 minutes, until slightly softened. Add the chicken, cumin, oregano, white pepper, and red pepper flakes. Season with salt and 1-2 teaspoons freshly ground black pepper. Cook until the chicken is slightly browned on both sides, 3-4 minutes.
WHITE CHICKEN CHILI Makes 4 good-sized bowls.
1 Tablespoon dried oregano
1 1/2 cups chopped green chilies.
Add the chilies and chicken broth and bring to a boil, stirring occasionally. Reduce the heat to medium low, cook, stirring occasionally for approximately 1 hour. Break up the chicken as it starts to cook. Let it simmer for another 1/2 hour to get it even more tender. Stir in the beans in the last 10 minutes of cooking. Garnish and serve.
48 - www.laurelofnortheastgeorgia.com - September 2022
3/4 cup diced onion
2 Tablespoons extra-virgin olive oil
2 15-oz cans navy beans, undrained
Kosher or sea salt and freshly ground pepper
Thank You To All Recipes
Who Shared
1 Tablespoon minced garlic
September 2022 - www.laurelofnortheastgeorgia.com - 49 Life is short. Spend it with the people who make you laugh and feel loved.
Take Fortify Kitchen & Bar for example. Proprietor Jack Nolan emphasizes the use of local farms and ingredients not only on their menu, but also on their website, listing all their local suppliers along with his core philosophy… "supporting local farms and sustainable farming practices in the region helps ensure a healthy food source for the future and helps boost the local economy as well." This ideal and commitment to excellence has earned Fortify Kitchen & Bar many awards and recognitions including a "Top 100 Restaurants in America" by Open Table. Some of the farms and producers they use include: Blalock Meats, Hillside Orchard Farms, Ladybug Farms, Holden Oversoul Farm, Chattooga Belle Farm, Mountain Earth Farm, Blue Ridge Honey Company, Stack Farm, Shade Creek Farm, Sylvan Falls Mill, Osage Farms, Round Mountain Farm, Crunkleton Farm, Tiger Mountain Vineyard, 12 Spies Vineyard, Stonewall Creek Vineyard, Heritage Farms, Loganberry Heritage Farm, Sweet Grass Dairy, Anson Mills, Mill Gap Farm, Springer Mountain, Moonrise Distillery, Timpson Creek Farm and many others.
Livin' La Vida Local!
Stonewall Creek Vineyards Crafts Wines for Sipping and Cooking
50 - www.laurelofnortheastgeorgia.com - September 2022
Explore Rabun Sylvan Falls Mill Provides a Variety of Meals and Flours to Area Restaurants Ground from Organically Grown Local Grains
CuisineSouthern
One of the great things about being in a rural area is it's close proximity to so much freshly grown and made dining ingredients. And our local restaurants and chefs take advantage of this in so many creative and wonderful ways. They partner with local growers and producers to develop menus that offer not only exceptional quality, but also outstanding innovation. Of course, it goes without saying that we have traditional Southernstyle dining, offering plates loaded with super fresh, locally grown meats and produce. And we can't forget Bar-be-que! ...slowly smoked and lovingly sauced. But we also have cutting edge, upscale establishments with chefs who are here because they love our area and all that it provides. And, we have the resources they need to fulfill that passion – hard-working, dedicated farmers and producers who know that the foods they grow and make here are that much better because of our amazing mountain environment, fresh air, clean water and rich soil. That love of the North Georgia Mountains and the enthusiasm all of these folks have for their craft shows in everything they do.
September 2022 - www.laurelofnortheastgeorgia.com - 51
Blue Ridge Honey Company Offers a Wide Selection of Locally Produced Honeys
And Fortify Kitchen & Bar isn't the only local establishment to take advantage of the amazing fresh ingredients available right here in Rabun County. The Dillard House has always prided itself on the use of local produce, all the way back to 1917 when founder Carrie Dillard used to prepare meals for her boarding house guests from her own home-grown vegetables. The restaurants at The Lake Rabun Hotel Restaurant and Julep Farms are fabulous top-tier dining experiences which also utilize fresh local ingredients throughout their menus. Chef Vince Scafiti at the Farmhouse Market creates a fresh take on take-out, allowing you to enjoy upscale dining to-go, at a reasonable price. And we can't forget The Chophouse at LaPrades and its James Beard Centennial Honoree, Chef James Reaux, the wonderful Cajun-Creole cuisine of Bleu Canoe, opened by former owner of Harry Bissett's in Athens, Jim White and his wife Lee or the authentic Cuban fare of Chef Alberto Rodríguez at The Hush. All of these exceptional restaurants and so many more, along with all their local suppliers are what make dining in Rabun County an experience worth having and definitely one you will remember and keep coming back for. So, if you come to Rabun County to spend a fun-filled day in the great outdoors, you may find your evening's repast just enjoyable, as you sit and savor both your day's amazing adventures and a fabulous meal prepared just for you, every step of the way.
Hillside Orchard Farms Makes over 800 Products from Locally Grown Produce, Available in Their Country Store and Featured in Many Dishes at Area Restaurants
Fortify's Chef Sam Watson Brings in Some Purple Potatoes from Holden Oversoul Farm Fortify Kitchen & Bar's Seared Rabbit Loin, Carrot Top Pesto Quinoa, Grilled Ramps with Blue Ridge Honey BBQ Sauce
The Award-Winning Fortify Kitchen & Bar in Downtown Clayton Believes in Supporting Local Farmers
Terri Jagger Blincoe of Ladybug Farms with a Harvest of Heirloom Tomatoes
52 - www.laurelofnortheastgeorgia.com - September 2022
NorthNeighbors
September 2022 - www.laurelofnortheastgeorgia.com - 53
Let me suggest a few things to help us think about this issue, and how we as God's people might begin to see work from God's perspective and be a part of helping fix the problem.
Kevin Hurt is Associate Pastor of Grace Bible Church located at 235 Dotson Street, Mountain City, Georgia. Contact them at 706.746.5823, www.mygracebiblechurch.org
By Dr. Kevin E. Hurt, Associate Pastor of Grace Bible Church
If we as Christians turn to God's Word, the Bible, and desire to know what God wants us to think about work, we will walk away with a different conclusion. In the end, it may be that as a culture we have lost a Biblical perspective on work, and as a result that has been the underlying cause why so many have not returned to work.
We could answer that from a secular perspective and conclude the answer is related to: COVID — For some that meant taking early retirement due to health concerns or having to care for aging and ill parents.
• God Created Us to Work — The first thing to remember is that we were made for work. Work is implicit in the "cultural mandate," the command given by God to Adam in the garden of Eden, recorded Genesis 1:28-31. Human beings were created in the image of God for the purpose of ruling over or managing the things God created. In the words of J. I. Packer, "Man was made to manage God's world, and this stewardship is part of the human vocation in Christ. It calls for hard work, with God's honor and the good of others as its goal." Labor is, therefore, one of the most important ways in which we bear God's image, for God himself is a God who works (Gen. 2:2-3). In contrast to Greek mythology, where the gods live a life of celestial loafing, the Bible pictures God himself as a ceaseless worker. This means that any attempt to shirk work, either through thievery, desperate attempts to get rich quickly (lottery), or through mooching off others, are the opposite of what God created us for. So, to not work, unless you truly are unable to work, is to detract from the God who created us to work and reflect Him!
As we approach Labor Day this month — a time that has historically been a time where we recognize and remember the contributions and achievements of Americans — I have been thinking about the current cultural status in America, as it relates to work. It's kind of a non-labor mentality.
54 - www.laurelofnortheastgeorgia.com - September 2022 Faith Record Numbers Are Not Returning to Work
• God Commands Us to Work — The command to work, for example, is implicit in the Ten Commandments (as the fourth commandment begins, "six days shall you labor, and do all your work," Ex. 20:9), and work is explicit in Paul's words when he says, "Let the thief no longer steal, but rather let him labor, doing honest work with his own hands, so that he may have something to share with anyone in need," Eph. 4:28. The whole of Scripture commends honest labor, viewing it as a source of personal satisfaction (Eccl. 3:22), the means of providing for our families (1 Tim. 5:8), the way of benefiting others (Eph. 4:28) and especially as a way of serving the Lord, as we are to do everything in word and deed in the name of the Lord Jesus (Col. 3:17, 23-24). Weaving these purposes for work together means that work is a choice, unless we are unable to work, to please God and serve His purposes for work.
Another Perspective But the list of reasons and challenges listed above, and there are even many more that could be listed, don't seem to get to the heart of the matter.
With record number of people not returning to work after the pandemic, and seemingly unwilling or not interested in getting a job, I'm wondering "why?" What is up with millions of people not wanting to work? And it became even more puzzling to me when last year the enhanced unemployment benefits ended nationwide on Labor Day and people still didn't return to work.
• God Connects Work to the Gospel — We all know that real life in the workaday world is often complicated, frustrating, and sometimes disappointing. Work problems are real: stress, job dissatisfaction, the question of fair wages, and other ethical concerns demand careful consideration. In short, that means we are continually made aware of the fact that we live in a fallen and sinful world. The ultimate reason for the complexity of work and its problems is sin, which began back at the fall of man in Genesis 3 and has continued to this very day.
Why Aren't People Returning to Work?
The increase of financial aid and tax benefits — This has led people to nest money. Cash balances were up 50% for the typical household in July 2021 relative to two years earlier, according to the JPMorgan Chase Institute. Families may have spent less money — With certain entertainment and venues having closed during the pandemic crisis, people stopped going and doing like they used to, and as a result are spending less money.
Do they cause you to realize that the problem is really not outside of you — it's not the job or the people you work with — but the real problem is within you? Does it remind you that you are a sinner who needs Jesus Christ as your Savior? Does the fact that you have turned to Christ as the only One you are trusting in for the forgiveness of your sin freshly motivate you to do your work?
Hopefully,work!
Do you find yourself thinking like this, "Whatever you do, work heartily, as for the Lord, and not for men" (Col. 3:23)? And do you remember, "Therefore, my beloved brothers, be steadfast, immovable, always abounding in the work of the Lord, knowing that in the Lord your labor is not in vain" (1 Cor. 15:58). If, so then you are being motivated by Christ and the Gospel when you do your as you think about the cultural issues related to work, you might take this article and enter the conversation with those around you, and hopefully, become an instrument that God will use to help bring His answers to this current struggle.
Think about those day-to-day struggles with people, the workplace, and the hardships and frustrations you face. Do they humble you?
But those struggles are the reminder that we are broken and sinful people, and we need a Savior. People tend to think that the only time you would think about needing a Savior would be when you hear a sermon in Church, telling you that Jesus died on the Cross in your place to pay for your sin and that you need to turn from yourself and to Him and trust Him as your Savior. But work, with all of its struggles and challenges because of the fall and the entrance of sin into our world, is also a way that God reminds us of our sin and our need for a Savior.
September 2022 - www.laurelofnortheastgeorgia.com - 55
By Peter McIntosheventat
56 - www.laurelofnortheastgeorgia.com - September 2022
Outdoors
On this month's adventure we're heading south to Stephens County to see an easy to get to, free falling cascade. Our destination is Toccoa Falls located on the campus of Toccoa Falls College. Unlike most waterfalls in Georgia which tumble over boulders and ledges, Toccoa Falls is a straight drop, 186 feet into a box canyon. The trail to this cascade is less the 1/4 mile in length and is handicapped accessible. The footpath begins at the Gate Cottage Gift Shop, a lovely shop with lots of cool souvenirs and refreshments available. One of the items for sale is a book titled "Dam Break in Georgia," detailing a tragic Adventure Out Toccoa Falls
the campus back in November of 1977. There's a $2 fee to access the trail, but for anyone over 60, such as yours truly, it's only $1.00. What a deal! After a short walk up the trail, the beautiful, misty waterfall comes into view. There are lots of big rocks to sit on and enjoy the falling water. The falls is part of Toccoa Creek which flows through the campus before winding it's way into Lake Hartwell. Water volume wise this isn't a huge waterfall but it makes up for it in aesthetic beauty. Happy hiking. So you've gone on a little adventure and hopefully worked up an appetite, so let's head up the road and grab a bite at Ping's
Peter McIntosh is an accomplished professional photographer. His photography is displayed in collections across the country. His passion for nature and the outdoors is what fuels his column. His work is available as fine art prints. Peter offers one on one and small group instruction on camera operation and photography. To see more of Peter's photos, or if you have a question or comment, visit Peter's website: www.mcintoshmountains.com
No need to forestall, here's my poem for y'all: This September is a good time to go-a, To see a waterfall way down in Toccoa.
Toccoa Falls:https://www.facebook.com/toccoafallswaterfall
September 2022 - www.laurelofnortheastgeorgia.com - 57 Grill at Lake Toccoa. It's the latest venture by my good friend Mike McKissack of Sunday Diner fame. It's a beautiful restaurant located right on the water. The staff is friendly and the food is yummy.
Sunday Diner/ Mike's Food Truck/Ping's Grill: https://www.pingsgrill.comhttps://www.bigmikesfood.comhttps://www.sundaydinerclayton.com
For more information:
And if you get hungry I've got just the thing, Let's go grab a bite at that place called Ping's. Getting there: From Hwy 441 and Alt Hwy 17 in Hollywood, go south on Alt Hwy 17 8.5 miles. Toccoa Falls and Toccoa College are on the right just before a bridge. Follow the black circular "Falls" markers 1 mile to the parking area and gift shop.
Please tell then I sent you. (See their ad on page 44) P.S. Toccoa Falls is a popular wedding venue and Ping's Lakeside Grill would be the perfect place for your reception.
Ping's Grill is 1 mile back up the hill on the right just past a small convenience store. You passed the lake on your way to the falls.
Victoria (Tori) Carver is a flower farmer. From the thousand bulbs and plants that she puts in the ground each year she creates lovely bouquets. Many enjoy her flowers in their home each week. She has established a subscription program for her customers or a honor-system bouquet sales for random purchases. Tori and her husband and chil dren make their home in Clayton, where they are a treasured part of the community. If you are interested in Firmly Rooted Flower Farm please reach out by email to firmlyrootedflowerfarm@gmail.com or phone 706-490-0041. You will also enjoy their website at www.firmlyrootedflowerfarm.com
Hybridizing Dahlias
As the summer season begins to wane, most crops are beginning to decline and set seed. Dahlias however, hit their peak in late August and September. In fact, most will continue to bloom until the first frost.
I've tried my hand at hybridizing dahlias and it's quite fun. I haven't found any serious contenders yet, but I've grown a few I really like for my personal collection. Serious hybridizers will tell you that only 1 to 2 percent of the dahlias they breed from seed have any chance at making it to the mainstream market. Breeding a dahlia with ALL the recessive traits shining through is a difficult task and happens very Ifrarely.you are a dahlia grower and interested in growing a new variety of dahlia from seed, now is the time to let your dahlia start setting seed. It takes about six weeks after being pollinated for seeds to form in a dahlia pod so stop cutting those dahlias and let the process begin. Once the tip of your seed head turns brown or black it's time to harvest and save those seeds for next spring. If you are truly interested in hybridizing dahlias, let me know and I'll be glad to recommend a couple of books that delve deeper into the subject. I encourage you to give it a try though, if even for fun. You never know... you might have the next Café Au Lait (the grand dame of all dahlias) on your hands.
By Tori Carver
Firmly Rooted Flower Farm
In case you are unfamiliar with dahlias, they are quite an amazing flower. They originated in the mountains of Mexico and Central America. The original species of dahlias are very unlike the showy dahlias people are accustomed to today. The original species, which is still alive and well today, looks very similar to a daisy with a single row of petals, open centers, and tall and lanky stems. In fact, those are all dominate traits of dahlias. The dahlias we are accustomed to today with their multiple petal count, closed centers, and strong stems are all recessive traits. Basically, hybridizers are hoping and praying for recessive traits when breeding dahlias. Shocking, I know. Dahlias are propagated by three methods: tubers, cuttings, and seeds. Tubers and cuttings will produce an exact clone of the mother plant. Seeds on the other hand will create an entirely new variety (or cultivar) of dahlias that will be genetically different from any other dahlia on the planet. The reason for this is that while most living organisms are diploids, which means we have two sets of chromosomes (one from each parent), dahlias are octoploids which means they have eight sets of chromosomes. Once you wrap your brain around that, you can imagine how endless the possibilities are when growing dahlias from seed. Growing dahlias from seed is like eating a box of chocolates. You never know what you are going to get.
58 - www.laurelofnortheastgeorgia.com - September 2022 Outdoors
September 2022 - www.laurelofnortheastgeorgia.com - 59

60 - www.laurelofnortheastgeorgia.com - September 2022
I can not tell you how many exceptional people I have worked side by side with and the amazing patients that we have cared for. Both co-workers and patients became like family. When you see a patient post-surgery with so much pain and loss of movement or an elderly patient with balance issues, pain from arthritis or mobility issues, who after treatment are moving better and are pain-free it is so gratifying. We know we pushed you beyond your perceived ability but you didn't give up and all the while we knew you could do it and that it was necessary for your recovery. Thank you for sticking with us and allowing us to help you.
I refuse to look at this as an end, it is a new journey for me. I will travel, visit family, hike, bicycle and enjoy life. After many years and 100s of patients I feel like I have fulfilled the purpose set before me. So in the coming weeks we'll be wrapping things up. We will be having a "retirement sale" and everything will be priced to sell. So it's a great time to get great deals on equipment, tables, office items, etc.
The sale is Friday, September 16th and Saturday, September 17th from 8am -2pm, and everything must go. My advice is show up early and come prepared to transport what you purchase. It's been such a pleasure to work with this community in Rabun and my patients in Franklin. Wishing you all the best!
Gratefully, Cherisse Sansone Mountain Physical Therapy – 1218 North Main Street - Clayton, GA 30525 and 225 Riverview Street, Franklin, NC 28734
62 - www.laurelofnortheastgeorgia.com - September 2022 Dear Friends, How does time go by so quickly? Twenty-five years and it seems like yesterday that I began this journey to help heal and improve the lives of the patients entrusted to me. You have been such a pleasure to work with.
I decided that it was time. I put a "For Sale" sign on my building and said to myself I am good either way. If it sells, good, if it doesn't, good. Well, it sold and I'll take that as my cue to retire. We will miss you all very much, but life is short and I've got so much more I want to do. We trust that you will each find good care in the area and believe you will wish me and my staff the best in the years to come.
By Smoot Speed
64 - www.laurelofnortheastgeorgia.com - September 2022
Pet Health
It's important to have a basic understanding of the types of veterinary practices. The most common type is a general practice, which see appointments, healthy and sick patients, from a set opening and closing hours. These practices often keep pets overnight, with technicians or assistants checking in on patients during that time. When a patient needs constant monitoring, they will recommend going to an emergency hospital for overnight care.
Jaime Smoot Speed was born in West Virginia, went to James Madison University with a BS in molecular biology, then worked at Johns Hopkins doing research until attending UGA for Vet School. She graduated 2010 and moved to Clayton with her husband who is a native five years ago. She works part time at Rabun Animal Hospital. She opened Claws & Paws in December 2020. You can reach Claws & Paws at 706-212-7322 or visit their website: claytonpawsandclaws.com or on facebook and instagram: @claytonclawsandpaws
The beautiful mountains, the perfect trails, the quaint towns, and amazing local shopping are just some of what draws us to this area. But with isolation in these mountains comes its fair share of challenges, specifically emergency medical care. If you see a person hit by a car, you know immediately to call 911 and likely know your choices for emergency rooms… but what if your pet has an emergency? Do you have a plan?
WellandHealthy
The first step is to call a veterinary emergency hospital. Which hospital this may be depends on your area. If you have a pet, please plan ahead for these emergencies – have this number in your phone or tape it to the refrigerator. Not sure where to find this information? Ask your regular veterinarian. It is important to establish what is considered a VCPR – a "Veterinary Client Patient Relationship." Without this established, a veterinarian is legally prohibited from prescribing medications or giving medical advice. Further, if your pet has a minor emergency, most veterinary practices will do their very best to see patients that have already been established or be able to provide basic advice over the phone. They often have established relationships with emergency and specialty hospitals, or at least have a specific recommendation for your pet.
Jaime
September 2022 - www.laurelofnortheastgeorgia.com - 65
Dr. Nicole Palumbo, managing DVM of an emergency practice explained in a recent article, "A single veterinarian without staff cannot provide the best care possible if your pet is in critical condition, and pressuring these veterinarians to do so adds extra stress onto them and your pet." In summary, these practices are designed to only see simple emergencies, not critical patients.
The next type is an on-call practice. This is a practice that has a veterinarian who answers calls to triage the pets and may see simple medical emergencies. These veterinarians usually have very limited to no staff and are often on call for 24 hours a day, sometimes one week at a time, with no back-up. This may mean that they are answering calls 24 hours a day, for 7 days at a time. Sometimes these veterinarians then must see regular appointments during the day as well.
The final type we will discuss is the specialty hospital. These hospitals, while often taking emergencies, primarily work with your regular veterinarian to provide specialized care. These may consist of orthopedic surgeons, neurologists, internal medicine specialists, dermatologists, and cardiologists just to name a few. These veterinarians have completed additional training in a specific area and passed a rigorous exam that evaluates skills in that specialty area. Plan for emergencies, especially when living in a remote area such as these beautiful mountains. Plan ahead financially for emergency care as this can often become expensive and contact your regular veterinarian for advice on what to do in an emergency. In this article is a general list of local areas and drive times to 24-hour facilities and are simply meant as a guide.
Twenty-four-hour emergency hospitals are fully staffed hospitals that operate around the clock. The veterinarian will be seeing emergent patients and overseeing hospitalized patients at the same time. These veterinarians are at a minimum specialty trained in emergency surgeries and care. These practices are designed to see the most critical patients first, which may mean a longer wait for less critical patients.
66 - www.laurelofnortheastgeorgia.com - September 2022
Dr. Sue Aery is the owner of Aery Chiropractic in Highlands, North Carolina and Elevation Chiropractic & Wellness in Clayton, Georgia. Hours and availability are posted on the website, www.aerychiropractic.com or by calling 828-200-4476.
SEPTEMBER IS NATIONAL RECOVERY MONTH! Recovery is for EVERYONE: Every Person • Every Family • Every Community Please join us at Pitt's Park in Clarkesville, Ga. on Saturday, September 17 th , 2022, from 11 am - 3 pm as Community Recovery Center and Homestead Women's Recovery partner with Georgia Council on Substance Abuse (GCSA), and the Department of Behavioral Health and Developmental Disabilities (DBHDD) for this year's 2nd Annual Northeast Georgia Recovery Fest. We have gathered a variety of resources from our community who are committed to serving all who are affected by addiction. Get connected with Counseling Programs, Recovery Residences, Churches, Treatment Centers, and RCO's as you enjoy a fun filled afternoon including live music, from "Let There Be Rock", guest speakers, refreshments, face painting, spectacular raffle items, and much more! Everyone is welcome. We hope to see you there. If you are interested in hosting a table at the event or donating raffle items, please email us at NEGArecoveryfest@gmail.com. For additional information please call 706-754-3367 or 770-530-3021.
By Dr. Sue Aery
WellandHealthy
Balance is a big deal, no matter your age! Balance is often what separates those of us aging quickly from those of us aging with confidence and healthy activity. No matter how old we are, if we don't have good balance, we age that much more quickly. This has so many important effects on the body. First, movement is the key to being and staying healthy. Blood circulation, heart function, breathing and brain function all rely on movement. Movement relies on our nervous system and the connection between the brain and our ultimate coordination. Walking and standing are what keep us living well cognitively, socially and emotionally and they give us the ability to be self-sufficient. Circulation drives the bones, joints and muscles. Breathing helps feed oxygen to the brain and tissues. When we become too sedentary, the body will rapidly degenerate, nerves begin to fail and the brain can decline quickly. These are aspects of health that we tend to ignore until we feel the negative effects. Being sedentary leads to being less balanced, in turn leading to diminished confidence, loss of muscle mass, holding on to toxins, not sleeping well, poor digestion and often experiencing bouts of pain. Wow, balance is a MUST! The more we move, the better our balance and function. Now, movement looks different for many of us. Depending on our age, weight, physical ability and living situation, we can work towards that balance of healthy movement that will drive better health. Walking, swimming, stepping, running and biking are examples of very gentle ways of exercising. Just 30 minutes a day is more than adequate for better health, and mixing it up is great for a stronger body. For the more ambitious, try things like running, peleton, cross fit, pickleball and tennis. Dedicated time is most important for this to be successful and healthy. Find the time to incorporate these 30 minutes of movement to each day and you will find better balance!
Life in Balance
68 - www.laurelofnortheastgeorgia.com - September 2022
Call today to set up your private showing. The home is listed with Tina Anzo of Berkshire Hathaway Home Services in Clayton, Georgia.
Beyond the 2 levels of covered porches facing the lakeside cove, traversing down the stone path, you will find the custom boathouse, which includes dual electric boat lifts. From the covered deck above, you will love the endless changing sunsets! The exterior is adorned with luscious custom landscaping, and a beautiful detached two-car garage which complements the overall aesthetics of a property where no detail has been spared.
Rather than go through the time and expense, this NEW construction home is just completed and ready to move in. Known for its deep, emerald, green waters, Lake Burton located in the heart of Rabun County is a paradise for those looking for safe swimming, great fishing, boating, kayaking and anything else your heart desires. It is located less than 2 hours to Atlanta, Ashville or Greenville.
This Nantucket style home boasts rich hardwood floors that complement the classic white ship-lap walls, creating a striking balance on the shores of one of the South's most desired lakes. The main level features a spacious great room with a wood burning fireplace, a chef's luxury dream kitchen curated with custom cabinetry, a very large center island, white marble countertops, a 6-burner Thermador range, Sub Zero refrigerator and an oversized farmhouse sink. The handsome master bedroom on the main level, with walk-in closet, ensuite bath features double sinks, a clawfoot tub and separate shower, all outfitted in pristine white marble. Down the hall, you will find the office/study and a half bath.
This architectural beauty is waiting for you to start living the Lake Dream! The amazing retreat is only 2 minutes from the Waterfall Club and 12 minutes to Clayton, with its fabulous shops, galleries & farm to table dining options!
You can reach Tina by calling her direct line 1-404-964-2363. To see all of Tina's listings visit www.tinaanzo.com
by Michael Detrick Dreamed of building a new home on a beautiful lake in the mountains??
Lake Burton New Construction Home Awaits Your Memories!
The second floor offers 3 more ensuite bedrooms, a large laundry room, covered porch, an additional sitting area and another half-bath.
Additionally, there are two expansive lofts which provide endless possibilities for extra sleeping, exercise room, game room, storage etc.
70 - www.laurelofnortheastgeorgia.com - September 2022
72 - www.laurelofnortheastgeorgia.com - September 2022 LivingMountain This is One Fantastic Place to Call Home By John Shivers
A detached triple garage with workshop / storage on the same level and a studio type room up top that lends itself to multiple uses is nearby. Additionally, a whole house generator, an abundant water well, whole house water filter system and tankless water heater make mechanical operations effortless. And the owned 1,000 gallon buried propane tank goes with the property.
Here at 1400 Tiger Pass in Tiger - A mini-estate… unparalleled mountain beauty… you're king of the hill! With 33.79± acres, and a home that takes the term "custom" to a totally new level, you'll be living on "Cloud 9." Known as "Rabbit Eye," this property gives the term "personal retreat" an entirely new definition. Yet you're only ten minutes from Clayton.
In the process, you simply won't be able to stop exclaiming over this 2,664± square foot home that affords as much livability outside as in. From the moment you leave the public road and wind your way on a well-maintained road to the top of the mountain with overhanging forests and native plantings, you're already in another world that backs up to U.S. Forest Service lands. What awaits at the other end is anything but cookie cutter. That first hunch is right on the money. Because the livability, the detail, the sheer beauty of the entire package is something usually found only in dreams. And to find that beauty, privacy and character all in one package, is an opportunity that doesn't come along every day. It's the perfect place to live, relax and entertain, and the nice breezes and wonderful vistas are part of the package. Additional acreage is available. Whether you're enjoying the warmth of the stone-rimmed fire pit on the Zoysia lawn on the northern ridge of Tiger Mountain, enjoying the cover of the extra deep porch that wraps around three sides of the home, or hiking the mile-long trail around perimeter of the property, this is one fantastic place to call home. The custom designed open concept floor plan of this two bedroom home, each with oversize layout and more of those priceless views, is geared toward casual but intentional living. The two sided fireplace – one on the porch and the other in the great room – is as functional as it is eye-catching. Six sets of French doors connect these two living areas, and multiply the home's functional ability to flow your guests. Two full baths with separate tubs and showers, and one half bath, and a conveniently-located laundry room with built-in storage, add to the convenience factor. Ample closets and room for both a sitting area and home office in the master suite make life so simple. Much of the interior is a wood-lover's dream, enhanced by the use of differing woods – primarily hickory and white oak - with contrasting finishes of the highest quality workmanship and detail. The result is a mountain lodge with both character and eye appeal that you'll be thrilled to call your own. In the resident chef's domain, custom furniture quality hickory cabinets topped with granite provide generous work and storage space. A full complement of stainless appliances, including double ovens, breakfast bar, and a walk-in pantry, make meal prep a piece of cake. Even the resident pooch has its own custom food and water station.
September 2022 - www.laurelofnortheastgeorgia.com - 73
If you're ready for a new mountain lifestyle that's almost unbelievable, you have to check out this exceptional piece of property, MLS #10077589, by contacting Poss Realty Agent/Broker Scott Poss at 706-490-2305 or at the office at 706-782-2121.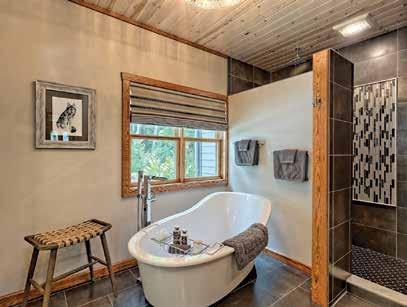 74 - www.laurelofnortheastgeorgia.com - September 2022
t's no secret that a well-planned design can trans form a simple structure into a beautiful home. We are created with a need for shelter, but also with a penchant for beauty. So, it is natural for us to want to live in surroundings that not only provide protection, but also appeal to our desire for the lovely. In her book Captivating, Stasi El dredge describes our longing for beauty like this: "Beauty is transcendent. It is our most immediate experience of the eternal. Think of what it's like to behold a gorgeous sunset or the ocean at dawn. Re member the ending of a great story. We yearn to lin ger, to experience it all our days. Sometimes the beauty is so deep it pierces us with longing. For what? For life as it was meant to be. Beauty reminds us of an Eden we have never known, but somehow our hearts were created for."
ANGEL OAK
By Terri Goethe, Angel Oak Design
Most people I encounter through our interior design business and home store want their home to be beautiful, functional, and com fortable so that everyone living there will feel good about coming home. We absolutely love helping them achieve that goal. But let's not neglect addressing the matter of hospitality. Are we consider ing how other people (friends or guests) feel when they visit?
LivingMountain HOME
Hospitality is defined in the dictionary as "the friendly reception and treatment of guests or strangers; the quality or disposition of receiving and treating guests and strangers in a warm, friendly, generous way." Whether we are the homeowner or the designer, if our focus is solely on style and design, we lose sight of a far great er purpose. Our homes should be safe havens for us and for those who enter our doors. Ideally, time spent in our homes will create pleasant, happy memories for family, friends, and guests. If we fail to create this type of environment, then a spectacular design will seem cold and indifferent.
There are so many practical ways to make people feel welcome and comfortable in your home. Greeting your guests at the door, ver bally letting them know you are glad they came, and offering food and drink are all ways to help make them feel "at home". In our home, we love to invite our guests to help with the meal preparation when they are interested. It is surprising how many people will gladly jump in to help. When we have overnight guests, we leave a welcome basket with essential items they may need, a snack or two, and a few extras to pamper them. I have forgotten items before when staying with friends, so I know the convenience of having at least the basics accessi ble. These simple gestures may seem insignificant but will quickly make your guests feel like family!
Alexander Strauch said "Hospitality, therefore, is a concrete, down-to-earth test of our fervent love for God and His people. Love can be an abstract, indistinct idea; hospitality is specific and tangible. We seldom complain about loving others too much, but we do complain about the inconveniences of hospitality. Hospi tality is love in action. Hospitality is the flesh and muscle on the bones of love. Through caring acts of hospitality, the reality of our love is tested."
I
"Genuine, God-centered hospitality sometimes means getting our hands dirty with the gritty details of life." - Terri Goethe
Hospitality Revisited
Now, don't get me wrong - planning a design with each of our clients and seeing it become a reality brings great satisfac tion. I even get excited when someone notices that I have added something new to my own home or re-designed a room. But what a shame it would be if this becomes the main goal. For people to feel significant, safe, welcome, and comfortable in each of our homes should be the greater goal. This is something that can be done, no matter the size, cost or location of your home. Of course, true hospitality isn't just fragrant candles and fluffy towels. It is not found in grand gestures or pretense. Genuine, God-centered hospitality sometimes means getting our hands dirty with the gritty details of life. It is an open door in a time of need, a kindhearted welcome, a simple sharing of food and drink from mismatched dishes, a makeshift bed with a patchwork quilt, a listening ear, a compassionate touch. It is serving another, creating a sanctuary of safety, healing, and refreshment.
76 - www.laurelofnortheastgeorgia.com - September 2022
September 2022 - www.laurelofnortheastgeorgia.com - 77
Prepare to have your very breath taken when you cross the threshold of the custom home located at 539 Highlands Lake Trail in The Highlands neighborhood outside Clarkesville. At an elevation of almost 2,000 feet, the views are unbelievably beautiful. Even the rare thunderstorms that rumble through the area are something spectacular from this perspective. And every morning, sunrises will greet you from your seat in the swing on the front porch, and bid you a colorful adieu from the covered back decks each evening.
Talk about a northeast Georgia mountain lifestyle on 3.48± acres. It simply doesn't get much better. Or does it?
78 - www.laurelofnortheastgeorgia.com - September 2022
Spectacular Home, View and Lifestyle
LivingMountain
By John Shivers
This 5,364± square foot home, built in 2008, has recently undergone a comprehensive remodel that has only made the great attributes more desirable. And while people who live in glass houses shouldn't throw stones, with the massive expanses of glass in this home, you'll be no more than a stone's throw from the distant mountain views that are as picturesque as they are timeless. And the more than 200 square feet of outdoor porch area, complete with hot tub, only adds to the eye candy factor.
To experience first-hand this property, GMLS#20057536, contact Harry Norman, REALTORS® Luxury Lake and Mountain agent Jennifer Kyle. You can reach her at (cell) 706-968-2255 or (office) 706-212-0228.
Step into the Great Room that actually does triple duty as living area, kitchen and dining space, and your eyes are drawn upward to the twostory ceiling and the walls of windows that make the entire space light and airy. Neutral colors, graceful columns, a native stone fireplace and stone accents set the stage for some fantastic living. A home office immediately off the main foyer allows you to deal with business, and still be a part of the family goings-on. Just don't let yourself be too distracted by those memorable views right outside.
In the kitchen, generous expanses of furniture-quality cabinets, granite countertops, and a full complement of high end stainless appliances allow the resident chefs to set the stage for some gracious entertaining.
An island / breakfast bar and a coffee bar only expand the hospitality potential and the quality of life. The adjacent dining area incorporates the views and can easily expand to seat ten to twelve. Just off the 3 car garage is the large custom laundry room with added storage. With five bedrooms, each with its own special view, this home can easily sleep large families, or a large number of friends. Four full bathrooms and one half bath handle the crowds beautifully. In the main bedroom, furniture-quality built-ins, a dedicated sitting area, large bay window that marries outside and inside, and access onto the porch make this a true sanctuary for the homeowners. A spacious, custom closet completes this suite. Each of the bedrooms on both the first and second levels are mini-suites with a bathroom and generous closet space included, along with those fantastic views. There are actually two lower levels that give this home so much versatility. On the first daylight level are additional bedrooms, a second laundry room, an exercise room, the home theater that could actually be used as a bedroom, and a large game room and even more of those beautiful windows. How much more living can you enjoy? The daylight sub-basement provides generous storage, and a second garage door. From a practical standpoint, there's a back-up generator, tankless water heater, security system, central vacuum, back-up water well, low voltage landscape lighting, fenced dog walk, and a 500 gallon buried propane tank. And check out the small orchard with apple, peach, pear, plum and pecan trees.
80 - www.laurelofnortheastgeorgia.com - September 2022
Doug is originally from Flowery Branch, but has lived in Rabun County (presently in Tiger) since 1967 after he met his wife Linda through their mutual friend, Charles Thurmond. Like many veterans, his life, legacy and service are an individualized version of history that is full of lessons, memories, and reflections. He is the type of person you want to sit down with and soak in the years and countless stories he can tell. But at the same time, he's the type of guy that continues to invest unselfishly in the community with a mind toward helping others. He pays for his own uniforms that he uses for the many occasions and events he and his comrades support, and is interested in getting some of Rabun County's younger veterans involved with organizations like the VFW.
Doug Wayne Honors His Nation, His Fellow Veterans and His Community by Roger Glen, Colonel, United States Army (retired)
W
If you wonder what makes America great, look no further than people like Doug Wayne. At an age when many are resigned to enjoy a quiet, peaceful life and wide open schedule, Doug is busy honoring his nation, his fellow veterans, and his community. In his stories and ethics, I find it easy to identify what makes Rabun County such a great place to live. This man has poured his life into this county, country and colleagues.
Veteran Spotlight
hen you think of veterans and Rabun County, Doug Wayne comes to mind early and often. His journey with the United States Armed Forces began with a desire to join the Marines Corps, but in a twist of fate he was drafted into the Army before he could enlist in the USMC. He completed his initial entry (basic) training at Fort Dix, New Jersey and then his Advanced Individual Training at Fort McClellan, Alabama. Because he had a degree from the University of Georgia he was sent to Officer Candidate School at Fort Gordon, Georgia and was commissioned as a Second Lieutenant in the Signal Corps. His route to a deployment in Vietnam included an initial assignment to Germany. Doug served as a Company Commander in the period around the famous TET offensive, and turned a poorly performing unit into a disciplined organization- so much so that his Battalion Command asked him to serve a second six-month assignment, something unheard of. For his exemplary leadership he received a Bronze Star and four Army Commendation Medals. In his typical fashion, he reflects credit to several non-commissioned officers under his command, and the support of the troops (Army slang for the personnel in a unit). Doug returned from Vietnam and retired in 1987 having attained the rank of Captain as a Commissioned Officer, but also Sergeant First Class as a Non-Commissioned Officer. You should ask him the story behind how he managed to achieve that when you see him out and about. He became a father for the first time while deployed- something that's hard to understand unless you've spent lonely hours in a foreign country while such momentous events occur in the lives of those you've left in order to answer the call of duty. It isn't hard to find Doug, because he is heavily involved with the Disabled American Veterans Northeast Georgia Mountains Chapter, Veterans of Foreign Wars Post 4570 (Clayton) and the American Legion Post 220 (Mountain City). He serves on the combined Honor Guard for many local events, and is the MC of The Rabun County Memorial Day and Veterans Day ceremonies. But Doug's legacy of service is not limited to the military. He has also been associated with the Boy Scouts of America where he earned his Eagle Scout badge, and was a teacher with Rabun County Schools for years- leveraging his Masters degree in Human Resource Management from Pepperdine.
September 2022 - www.laurelofnortheastgeorgia.com - 81
Last month, I enjoyed my travels to Long Creek so much that I decided to devote another month's adventures to a Palmetto State town. And so, queue up some 80s pop, and we are on the road to the town of Walhalla.
At home, I sleep in the secondary bunkhouse as opposed to the main cabin. It feels like summer camp. I never went to summer camp, but I like to describe it as feeling that way. Also, there is no room in the cabin for my 1000+ record collection and turntable situation. So, I spend many of my hours in my music room summer camp second-story hideout. Back to the serpent.
Going into the final full month of summer, we had witnessed our North Georgia forests at their richest and most ripe hues of green, the temperature at its most unforgiving peaks, and I had nursed a wicked sting to the face from one of nature's most prized pollinators. Following this horrifically uncomfortable interaction with a bee, it came to me as no surprise that I would next be met by a serpent.
Listed on the National Register of Historic Places in 1971, The Stumphouse Mountain Tunnel is an unfinished railroad tunnel that was intended to connect the port of Charleston to the cities of the Midwest.
Take 9: Walhalla, South Carolina
As I made my morning walk from the bunkhouse to the cabin, upon opening the cabin deck gate, there looking me dead in the face – tightly coiled and with neck and tail erect – was a crotalus horridus. A timber rattler. And he hissed. And he rattled. Horrid, indeed. Retreating backwards, I let the gate close and retraced my previous steps. The snake ended up slithering off into the woods but reminded me once more that as much as I love to play in nature, nature doesn't always play nice. At least he warned me. I, much like Paula Abdul in one of her biggest hits, was not in the mood to tangle with a snake. ("He's a cold-hearted snake, look into his eyes…")
And very quickly look away. The following week I saw another one while hiking around the Lake at Big Canoe. Be careful out there, folks! But, back on the map!
Michael on the Map
In this series I will be traveling to the towns of northeastern Georgia and western North and South Carolina, sharing my adventures and discoveries as I meet the locals who make up the area. Hop in my Jeep and let's hit the road!
2022
Situated in the northwestern section of South Carolina, and known as the Gateway to the Blue Ridge Mountains, Walhalla was founded in 1850 by German immigrants; refugees from the German revolutions of 1848-1849. With a 2020 census population of 4,072, Walhalla celebrates its unique heritage with its annual Oktoberfest, beginning the third Friday of October each year. I will need to return for this. Not knowing much about the German heritage of the area until my visit, what had piqued my interest initially forged my want to chronicle Walhalla, was Stumphouse Tunnel. Its images were dark and creepy, and clearly there was a story to uncover.
More on him in a minute.
82 - www.laurelofnortheastgeorgia.com - September
by Michael Detrick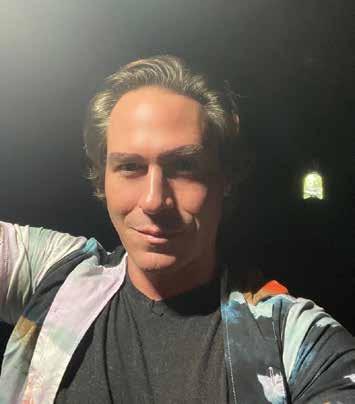 Accompanying the 100-foot waterfall itself is the legend that swirls around it. Named for a Creek Indian maiden who fell in love with a white man, it is said that Issaqueena – to avoid Cherokee capture –led her pursuers to the falls and to believe that she had jumped to her death. What she had done, however, was cleverly hide herself on one of the falls' cascading ledges. Traversing down the path along the right side of the falls, you will land at an observation deck that provides a decent view. It will take a little more work and some more intense mountainside scrambling to get to the bottom, but it can be accomplished for those who welcome a more rugged terrain experience. The view from the bottom cannot be beat.
"There is something about just getting out in nature that is so good for the soul," Betty said during our visit, with Maryanne chiming in "I'll never stop enjoying the outdoors." Amen, ladies. After the eerie coolness of Stumphouse Tunnel and the legend and majesty of Issaqueena Falls, it was time to part ways with Betty and Maryanne and get something to eat. Setting out for downtown Walhalla – with no particular place in mind – I rambled around until I came upon a place called The Hungry Hiker.
As I was making my way from the back of the 25-foot tall and 17-foot-wide tunnel to the front, two figures took shape in the sunlight just outside its granite walls. "We thought you were a ghost!" one of them proclaimed as we made introductions. And now a pair of little ladies in their 70s enjoying their "exercise day" would become my companions for a quick waterfall hike.
Upon entering I quickly scanned the room to see what kind of spot
Construction began in 1856, but by 1859 the State of South Carolina had spent over a million dollars on the excavation and refused to provide more funds. It has remained abandoned ever since. Originally planned to span 5,863 feet, it can today be entered and explored to a depth of 1,617 feet. Within this dark and damp corridor, water drips in sporadic constant single streams from its blue granite ceiling, and the temperature remains a static 50 degrees year-round. You really don't have to be all that adventurous to make your way to the back of the tunnel, but you will want to bring a flashlight. (Your cellular device likely has this.)
September 2022 - www.laurelofnortheastgeorgia.com - 83
Leaving Stumphouse Tunnel, my new friends Betty and Maryanne of Greenville, South Carolina, took the little trek down to Issaqueena Falls, whose trailhead is accessed only a few hundred feet from the tunnel.
The Palmetto Trail, beginning at Stumphouse Passage, is a planned 500-mile foot and mountain bike trail stretching across the state from Oconee to Charleston Counties, with sections that are also equestrian-friendly. Other places of interest – for the naturist – include Yellow Branch Falls, and – for the historian – include Oconee Station State Historic Site, which offers a unique look at an 18th and century preserved military outpost.
Once inside Garage Tap Room, I was greeted by locals Robbie Cook and Ricky Burrell, and it was while enjoying a pint of Kentucky Bourbon Ale (#1 on their menu and a smooth 8.2% craft brew) that Robbie shared with me another great bit of history about the infamous Stumphouse Tunnel. "My dad used to carry blue cheese from that tunnel all the way to Clemson," Robbie shared. As it turns out, cheese was manufactured 30 miles away (on the then Clemson A&M College campus, which is today Clemson University) and taken to the tunnel to cure, thus creating this unique Roquefortstyle blue cheese. Salad, anyone? But Walhalla has much more to offer than Indian maiden legends and abandoned tunnel blue cheese lore.
The Walhalla Civic Auditorium is the area's foremost entertainment venue and offers a wide array of concerts and events year-round, encompassing a breadth of live performances across all genres.
"Under the bridge downtown, I could not get enough. Under the bridge downtown, forgot about my love."
And with that, your faithful narrator closes this column knowing that it is time he seeks out his next live music venture, and – while a tunnel is not a bridge – do they not serve the same purpose? Thus, I leave with a few lines from the Red Hot Chili Peppers:
84 - www.laurelofnortheastgeorgia.com - September 2022
I've landed in (its décor is outdoorsy, representing its namesake) and who do I see at a table along the left side of the room but Betty and Maryanne! After inviting me to join them, I decided – by recommendation of our server, Kim – to have the Shrimp and Grits. Kim warned that it was spicy. While it had some kick, my tolerance for hot is high, so I think most folks could handle it. Delicious.
After our late lunch, I parted ways with Betty and Maryanne and set out for a beer before I ended my Walhalla adventure and headed back to Clayton. I decided to go to a place I had passed on my way into town.
September 2022 - www.laurelofnortheastgeorgia.com - 85
Each wine's label showcases a shade from that evening sky through the slanted window." Dion and Cathy have assembled an outstanding team of men and women who tend, harvest, make and bottle their delicious wines. Their winemaker is none other than Jabe Hilson noted for his ability to create unique and award winning wines. Their nephew, Nick Roots, has taken on the responsibility of the "vigneron" with such zeal and passion that the grapevines look the healthiest they have in 12 years and harvest promises to be robust again this fall. The vintners who oversee their unique process from the ground to the glass ensure that their Slanted Window wines are among the finest you'll find in the southeast. What began with five rows of grapes is now a vineyard that produced ten tons of grapes last year. The road hasn't been easy but the journey has been worth it.
Fast forward forty years both Mr. and Mrs. Sena had passed and their son Dion and his wife Cathy made the decision to spend more time in Franklin to live in the "summer home". They found that Hurricane Ivan in 2004 had caused severe damage to the home and property. The couple began the clean up and in doing so found that although a tree had fallen on the roof of the home the siding protected the slanted window and what they uncovered during that restoration would be the start of their journey in winemaking. Dion and Cathy aspired to plant 5 rows of grapes. They researched the varieties of grapes that grow well in this region. They visited with other vintners, and locals and the European vinifera he had planned to plant were not known to thrive in this climate. He was told they would never grow here. Dion's Italian heritage and determination to bring European wines to Macon County was not satisfied with "never". Although the plants grew slowly, his patience paid off and he found himself with the Sangiovese grapes he wanted to grow. Dion and Cathy didn't just want to grow grapes, they wanted to make wine and have a tasting room for guests to visit to taste the fruits of their labor. Enter Cathy's tenacity and determination.
Senamore Vineyard and Winery & Slanted Window Wines by Tracy McCoy
T
his story unfolds over the course of 50 years. Unsure of how I can share the entire story I aspire to entice you to visit to find out all of the details. It begins with a children's camp in the Tellico community 15 miles or so from downtown Franklin, North Carolina. The camp for children was never opened and ended in bankruptcy. This put the original house and 10 small cabins on 150 acres up for sale. The home, constructed in 1878, was sold to the Sena family from Miami, Florida. It had a window in the gable of the home that was noticeably slanted to the right. The window was troubling to Mrs. Sena and so she had the window covered with siding, forgetting it was ever there. They brought their children to the mountains for decades and summers were spent enjoying life in Macon County. Memories were made that would last a lifetime.
86 - www.laurelofnortheastgeorgia.com - September 2022
Many obstacles and challenges were encountered along the way but Senamore Vineyard and Farms was the first ever vineyard to produce wine in Macon County. The name of their wines? None other than Slanted Window wines. When Dion and Cathy had finished their renovation of the home years earlier, looking out the slanted window the sun was setting. Cathy snapped a photo and the wavy glass, combined with the beautiful hues of the sunset provided inspiration for the name. Both explained "The "Slanted Window namesake gives us pause to consider different perspectives, not unlike the journey of winemaking and wine tasting."
The Spotted Pig
Each month children from birth to age five are mailed to their home a free book appropriate for their age. Each book mailed comes with a useful newsletter for parents including book guides, activities and resources all designed to make reading fun. Our bookstore quality books are carefully selected for maximum developmental impact by our team of early child development / education experts.
With such staples as pulled pork, ribs, chicken, brisket, and smoked turkey, combined with a selection of specialty sauces, The Spotted Pig also offers an array of delicious homemade sides including coleslaw, Brunswick Stew, corn pudding, and fried okra. Appetizers include fried pickles, fried jalapenos, and smoked salmon dip. Sandwich, salad, and seafood options are also available.
Instill a Love of Reading Ferst readers wants every child to have the best start in life and nothing helps a baby's brain de velop more than exposure to books in their home and being read to daily. 61% of low-income families don't have a single book in their homes suitable for a child. 37% of children arrive at kindergarten without the skills necessary for lifetime learning. Children who are not reading on grade level by the end of the third grade are four times more likely to drop out of school. The number of age-appropriate books in the home can be a stronger predictor of literacy and academic success than family income.
Ferst Readers was started in Georgia and has expanded to nine states and the DC area. These states have seen the positive outcomes that this program has had here in Georgia and want their children to have access to this proven opportunity. Our local chapter is one of 75 in Georgia and sent out its first books in 2010. Since 1999 Ferst Readers has mailed more than six million books to children.
September 2022 - www.laurelofnortheastgeorgia.com - 87
Of course The Slanted Window Tasting Station has a slanted window, a friendly vibe and welcoming crew! In addition to their tastings, you can enjoy a charcuterie board, salads, flatbread, sandwiches and a little something sweet. It is easy to find, parking is great and you will most certainly enjoy your visit. You'll find their tasting station at 587 Harrison Avenue, Franklin, North Carolina 28734.Follow them @ Slantedwindow and visit the website for additional info www.slantedwindow.com. Get in touch by calling 828-276-WINE (9463)
All donations raised in Rabun County stay in our county and benefit our children. For $40.00 a year a child will receive a book each month.
Ferst Readers has two upcoming fundraisers – Currahee Brewery on Thursday, September 1st and our Walk for Literacy on Saturday, September 10th. With the number of children in Rabun County getting these free books the monthly need for funds is over $1,000 a month. For more information or to donate email Jan Timms – jantimmsemail@gmail.com.
Open Thursday-Saturday from 11 – 9PM and Sunday 11-4PM, The Spotted Pig is located at 151 North Main St, Clayton GA 30525. The farm is their home and while they do offer private scheduled tours of the vineyard offering insight into the winemaking process for up to 8, they wanted a tasting room closer to town. The Slanted Window Tasting Station was born when Dion and Cathy purchased an old filling station just past the Sunset Restaurant. The charm of the old station has been transformed into a filling station of another kind. Guests can sample Slanted Window Wines, local brews and bourbons. Weldon Mills Distillery produces The Soldier's Cut, an 82 proof bourbon whiskey honoring the 82nd Airborne Division and raising money for Gold Star Families. Dion and Cathy sell this product at their tasting room. When Dion learned of 828 VETS Mission, dedicated to bringing growth, awareness and success to veteran owned businesses and also helping veterans with needs throughout the 828 area code, he knew what his next step was. From the sale of every bottle of The Soldier's Cut, they donate a portion to 828 VETS.
Not your typical BBQ joint, your host Jonny Elsberry has created in The Spotted Pig in Clayton a new Main Street staple known for its tender smoky meats and mouthwatering sides. What you will find at The Spotted Pig are meats seasoned with their signature dry rub, and then slow cooked over wood coals. The longer and slower you cook the meat, the deeper the smoke penetrates, creating its signature pink appearance. The ribs are cooked on the smoker for about four hours, and the brisket cooks for a minimum of 14 hours. These processes take a lot of time, but it is more than worth it to provide you the best barbeque available. Their meats are prepared daily to give you the freshest, most tender and succulent barbeque possible.
With upcoming weekly specials and live music Fridays and Saturdays from 6-9PM, unwind on their spacious outdoor deck right off of Main Street with your favorite barbeque and a cold beer. Wine is also available. Take-out specials and catering available as well, so make sure to inquire about those!
TownAround Beechwood Inn: 100 Years of Making Memories and its Story Still Unfolding By Michael Detrick Eli & Marlon
of that vision is using only locally grown produce from area farmers (Eli cooks up a homemade breakfast daily for guests) and enlisting in local artists and craftsmen for their creative projects. The hands down guest favorite fulfillment of utilizing products from right here in the community, however, is executed through Beechwood Inn's "Wine30", a tradition Inherited by previous owners, David and Gayle Darugh.
On the beautifully maintained grounds you will also find two cabins – one which is perfect for a couple (Marlon affectionately calls it "The Honeymoon Suite") – and another that can house a large family or group of up to six people. The grounds also offer common areas for people to enjoy. There is a fire pit, and they are in the process of cultivating a vegetable garden. "You can leave here with tomatoes now," Eli proudly stated. Your hosts have also been known to hang up a hammock for guests to enjoy, whether to just relax outside, or read a book.
The Beechwood Inn is distinguished as a member of Select Registry, a group of just over 300 country inns, bed and breakfasts, and boutique hotels throughout the United States.
W
After a lot of research and a lot of help, they found that new chapter here in Clayton, Georgia. "It was a long road, but it was well worth it," Eli said.
September 2022 - www.laurelofnortheastgeorgia.com - 89
"When David and Gayle retired and left us this jewel, we decided to try to do everything to honor its legacy and its 100 years, but at the same time make it our home," she said. And so, the renovations began.
Part of that charm and essence – at first – presented itself in the form of the most intriguing of mysteries, which is also a wonderful story.
hen Eli Rodriguez and Marlon Castiblanco started looking into becoming innkeepers in 2020, they were not sure where they would end up. Eli had spent years in hospitality, and Marlon had forged his career in television production. Together, this husband-and-wife duo had spent the last 30 years in Miami, working in those industries and raising their two daughters. Some soul-searching later, it was time for a change. A new chapter.
As – in times past – guests would escape city life to enjoy the peace and tranquility of the North Georgia Mountains, they do so still today. When Eli and Marlon discovered this exquisite slice of history, they knew they had found exactly the place to turn their dreams of becoming innkeepers into reality.
"It was very important for us and for the inn to be a part of a community, and to be able to relay the different aspects of that community," Marlon said. Eli elaborated the sentiment, "Our vision is not only to make this a place that people can call a home away from home, but also to be involved with and collaborate as much as possible with the community we are in. As a local business, we want to promote local Partbusinesses."oftherealization
Marlon, a lover of music, has provided the front room of the house with a turntable and records for guests to browse through and enjoy. Who doesn't love an old house with a record player?
"What captured us about this property, other than it being absolutely charming, was also the town. We love Clayton. We love what is going on here, and it is something we knew from the start that we wanted to become a part of," Eli shared. After 30 years of the bustle and bright lights of Miami, Eli and Marlon were looking for something quaint. Something quiet. And somewhere they could plant new roots while maintaining those of the past.
Today the main inn boasts seven carefully revitalized rooms, each with one king or queen-sized bed. All are very spacious; some having adjoined dressing rooms, as well as their own living spaces, which speaks to the architectural processes of the era in which it was built. Each guest room has its own updated bathroom with modern finishes while maintaining an antique feel. Six of the seven guest rooms have their own fireplace (sure to keep a chimney sweep busy in days of yore).
Eli shared that keeping with traditions doesn't end there.
Room by room, Eli and Marlon have brought their own creative vision to the inn, while preserving its vintage charm and essence.
Wine30 is a daily reception which offers vintages from Beechwood Inn's own label (made from local Georgia grapes), as well as other selections from local wineries including Stonewall Creek, Tiger Mountain, and 12 Spies Vineyards. With plans to partner with each of these in the future for wine tastings, today, your gracious hosts share these local wines with their guests on the front porch of the inn. The porch railing – locally crafted of mountain laurel – has been preserved and added to. Made of branches intertwined and mingling, it is an organic and artistic expression of where the inn has been and where it is going.
This innkeeping team are making plans in upcoming months to invite the community to an open house, because – beyond getting to know their guests – they strive to forge relationships with those who live in this area. In their words, "There is not a more perfect place than Clayton to realize so very much potential."
The Beechwood Inn finds itself not far from downtown Clayton but feels worlds away. Built in 1916 by Reverend Herman Charles and his wife Lura Bucholz for themselves and their three daughters, this beautiful, prodigious house was the dream home for this respected family of However,five.with the unexpected death of Herman a few years later, Lura would seek new ways to support herself and her daughters. And so, it was in 1922 that this private residence would be transformed, opening its doors as a summer house for upscale boarders. It has remained a boarding house, inn, or bed and breakfast ever since, and is thus this year celebrating its centennial anniversary. Cheers to 100 years!
"As it turns out, because this property was built in 1916, there was no electricity. So, people would go room by room with a hanging candle. That's how they would light up each room. And so, we've kept these "coat hangers" in several rooms to tell the story. It is part of the heritage and part of the history of this house," Eli mused.
Eli quizzically explained, "When we first looked at the house, we found that there were so many coat hangers, all over the property. Why would people need so many coat hangers!? We don't want to own such a cold property!"
He had me there. The only other can of paint I had was seafoam green. By the time we got back from the hardware store, the big event was over, and all the dignitaries had left. So, with nobody in charge, I spray-painted the shovel and hat their appropriate colors and let Cunningham break ground to his heart's content. I never could get him to use the shovel, though.
I reached behind the seat again and pulled out a can of spray paint.
On the drive over, I started having pleasant memories of my school days. Back then, I wanted to study agriculture and learn about things like corn, soybeans, peanuts, and okra. But there were just too many fields to choose from. Anyway, when we got there, I got a tad turned around on that big campus they have now and had to ask directions from a man walking by with a clipboard. He may have been the principal; I'm not sure. But when I rolled down the window to inquire, he looked at the pig and said, "the ag center is back down the road." "That's good to know," I said. "But we're here to help break some ground for the new arts center." He seemed surprised. "May I please see the pig's invitation?"
By The Way
"It's not blue."
Emory Jones grew up in Northeast Georgia's White County. After a stint in the Air Force, he joined Gold Kist as publications manager. He was the Southeastern editor for Farm Journal Magazine and executive vice president at Freebarin & Company, an Atlanta-based advertising agency. He has written seven books. Emory is known for his humor, love of history and all things Southern. He and his wife, Judy, live on Yonah Mountain near Cleveland, Georgia.
"He ate it," I lied. "But don't worry, I'll vouch for him." I felt bad about lying since he'd said please, and all. The man peeked inside my truck. "I don't see a hardhat. Even with an invitation, he'll need a hardhat. A blue one. And a shovel. For the picture, you know."
"This should fix that," I said, showing him the little blue sticker on the label. "There's still the matter of a shovel."
I originally hung the original in our living room. But my wife, Judy, who keeps up with such things, read somewhere that the latest decorating fad is something called "Closet Art." So, that's where it hangs now, right over my stack of Eddie Arnold albums. This particular groundbreaking ceremony sounded like it was tailormade for Cunningham. For days, that poor pig practiced a little dance he hoped to perform at the function.
By Emory Jones When I—perhaps inadvertently—received an invitation to the recent groundbreaking ceremony for the new performing arts center up at the White County high school, near Cleveland, my pet pig, Cunningham, naturally assumed he'd been invited, too. Turns out he was wrong. As you know, Cunningham has a passion for art, and the only thing he likes more than breaking ground is a sweet potato. And corn. But dancing and acting are high on the list, too.
It would've been groundbreaking to have a pig at the ceremony
90 - www.laurelofnortheastgeorgia.com - September 2022
ThinkingJust
I didn't know, but I reached behind the seat and pulled out the yellow hardhat Cunningham wore when we used to play catch. I quit playing with him because he always hogs the ball.
"Will this work?"
On the morning of the big occasion, I loaded Cunningham in the truck and headed toward the high school. He wanted to ride in the back, but it was sunny, and I was afraid he might get sunburned, so I made him sit up front with me.
I reached behind the seat again and pulled out the little shovel Cunningham uses to dig in the yard when Judy's not home.
Cunningham even took oil painting lessons once. Okay, it was just one lesson, and they asked him to leave early. But I had that abstract self-portrait framed to encourage him.
"Our shovels are painted gold. Yours isn't even painted."