laurel of Northeast Georgia
March 2023
Volume Twenty
from the publisher
Hello!
Issue Three
I've been wondering, what does home mean to you? It is my happy place. My safe haven where I can get completely comfy and relax. I am a homebody. I love to journey out and explore nature, go shopping, just ride roads I've never been on and discover new places but it is always nice to come back home. Homes seem to always need updating, maintaining and cleaning. Caring for your home and property will keep you very busy. Sometimes it is easier to call in the pros and just enjoy your home.
This issue we'll take you inside the beautiful home that is featured on our cover and the new Stekoa Creek Village townhomes near downtown Clayton. We will look at what makes a great kitchen from Lorie Thompson who not only knows what her clients at Poss Realty want, but what every great cook wants in their kitchen. Lorie writes our Family Table article in the magazine and she knows her way around the kitchen! You'll find other articles this month about homes and we hope you will take a look at our home service directory and all our advertisers have to offer.
March is a strange month, we are all ready for spring, yet winter is still looming and we all know about the 18 inch snowfall in 1993. It is always possible to see a snow in March. Michael traveled to Toccoa, Georgia and enjoyed a great lunch, visited some well known attractions and had a nice visit. Look for his take on Toccoa in his column Michael on the Map. We hope that you enjoy this issue and will share it with a friend. Please support our advertisers because this magazine would not be possible without them. Keep the coat handy but enjoy the sunny warm days we will surely have. Thank you so much for loving us, cause we love all of you. Don't forget to set your clocks forward on Sunday March 12th and to wear green on St. Patty's Day.
All my best, Tracy
Laurel of Northeast Georgia
Mailing: PO Box 2218 - Clayton, Georgia 30525
Office : 2511 Highway 441
Mountain City, Geo rgia 30562
706-782-1600
www.laurelofnortheastgeorgia.com
Contributing Writers:
Tori Carver, Lorie Thompson, Emory Jones, Jann Timms, Jonan Keeny, Kami Ahrens, Kendall R. Rumsey, Roger Glenn, Michael Rogers, Sean Dietrich
Flashback by Tony Wheeler
STAFF
Publisher/Editor - Marketing - Tracy McCoy
706-982-9197
Art Director - Dianne VanderHorst
Graphics - Lucas McCoy
Marketing & Office Manager - Cindi Freeman
706-982-0216
Assistant Office Manager - D'Anna Coleman
Sales Associate / Writer - Michael Detrick
512-771-0800
Writer - John Shivers
Photographer / Writer - Peter McIntosh
2 - www.laurelofnortheastgeorgia.com
- March 2023
Welcome
•
•
Laurel Inc. All rights reserved. The
of
Georgia Magazine
published twelve times per year. Reproduction
Copyright 2023 by Rabun's
Laurel
Northeast
is
without the permission of the publisher is prohibited. The publishers and editors are not responsible for unsolicited material and it will be treated as unconditionally assigned for publication subject to the Laurel of Northeast Georgia magazine's right to edit. Return postage must accompany all manuscripts, photographs and drawings. Every effort has been made to assure that all information presented in this issue is accurate, and neither Laurel magazine or any of its staff is responsible for omissions or information that has been misrepresented to the magazine. The Laurel of Northeast Gorgia maintains a Christian focus throughout their magazine. Rabun's Laurel, Inc. reserves the right to refuse content or advertising for any reason without explanation.
6 - www.laurelofnortheastgeorgia.com - March 2023 Contents Mountain Homes 10 This Home Screams Made in America 14 Stekoa Village –Historical Setting for Townhome Living 18 Amy's Green Cleaning and So Much More 22 Porch Living 24 Angel Oak Moves 26 SERVICE Directory Southern Fare 34 Bon Appétit 36 The Kitchen – The Heart of the Home Arts & Entertainment 38 Flashback 2014 – Off to the Races 42 Sassafrass Artisan Market 44 The Lents Wrote the Books for You Outdoors 46 Adventure Out –Blue Hole, High Shoals and Tray Mountain Summit 48 Firmly Rooted – Hooray for Hellebores! Faith in Christ 50 Rabun for the Gospel Breaking Free from the Bonds of Complacency 52 Faith Full Around Town 54 Michael on the Map - Toccoa 57 Pickleball Group 58 PAWS for Life – Foster From Afar 60 Mountain Famous - Holly Beth Live Healthy and Be Well 62 Spring Allergies Are Coming Soon 64 The Desperate Need for Mental Healthcare Looking Back 66 Flashback – Life in Rabun, 2003 68 Foxfire – Memories of a Mountain Home 70 Sean of the South - Home Sweet Home Just Thinking 72 By The Way – It Would've Been Groundbreaking To Have A Pig At The Ceremony 73 Featured Veteran – Master Sergant Brandi Bray 74 Touring Downtown 68 48 36
Services
8 - www.laurelofnortheastgeorgia.com - March 2023
This Home Screams Made in America
By John Shivers
Pause for a second at the top of the hill outside the brick gateposts that announce the home at 15 LaPrades Road, Clarkesville, Georgia. Let your eyes take it all in. There's a lot to see and even more to appreciate. Follow the paved drive down through the landscaped yard, and stop again. This is a home that proudly proclaims its heritage and all that it has to offer. If you're looking for a newly constructed home that takes customization and exquisite design to dizzying new heights, this six bedroom home answers your every requirement, as well as other perks you haven't even thought about.
Your eyes travel from the board and batten white exterior of this modern three-level American-style farmhouse to the architecturally matching three-stall detached garage, to a glimpse of the matching boathouse, and the inviting waters of Lake Burton. This wonderful family-oriented home is just waiting for someone to adopt it.
For starters, this fee simple 1.080± acre lot with fully paved access is within easy walking distance to the multiple dining options at LaPrades Marina. It's the perfect setting for the entertainer's dream home designed for lakeside socializing or just a gathering of the extended family. In addition, the six bedrooms, six full baths and two powder rooms give you the capabilities of a five-star B&B staged against all the comforts and conveniences of a comfortable family home. In addition, two different bunk areas really make sleeping folks a snap when there's little room in the inn.
10 - www.laurelofnortheastgeorgia.com - March 2023 Mountain Homes
There are bedrooms on each of the home's three levels, with the owner's suite including a spa-like en-suite bath with shower and soaker tub on the main level. Thanks to an abundance of windows top to bottom, the home is flooded with natural light year-round, and enjoys a front row seat for breathtaking four season views, and the beauty of the lake waters that create a relaxed, yet sophisticated atmosphere.
The architect's commitment to individuality is apparent from the moment you step through the double front doors that allow you a glimpse of the lake in the distance. Whether it's the real wood floors crafted from rugged, reclaimed heart pine flooring cut from antique beams, or refined white vertical and horizontal shiplap walls, the list is endless. Caesarstone® countertops, JennAir® kitchen appliances, including a 42" paneled refrigerator/freezer, 36" stainless steel gas range, under counter wine cooler, icemaker, and a total of three gasstarter fireplaces, including one on the covered upper level of the boat house, add to the convenience factor.
The second floor opens to a generous landing with built-in bunk beds to sleep extra guests. Two additional guest bedrooms each enjoy ensuite full baths. The terrace level features a guest bedroom with lake views and en-suite bath with shower/tub combo along with a 2nd large bedroom with built-in twin over queen bunk beds.
A spacious lower level family room includes another fireplace, game area and full wet bar with under counter beverage cooler, ice maker and microwave drawer. French doors lead to a landscaped lakeside yard with stone steps leading down to the two-story, two-stall boathouse with kitchenette, built-in ceiling heaters, and a swim dock. A detached 3-car garage is heated and cooled and could double as a gym, game area or other living space. The home's security system has cameras mounted on all the buildings.
Your home search isn't complete if you don't check out GMLS #20100223. Harry Norman, REALTORS® Luxury Lake and Mountain agent Julie Barnett is ready to give you a tour and answer any questions you may have. You can reach her at (cell) 404-697-3860 or (office) 706212-0228.
March 2023 - www.laurelofnortheastgeorgia.com - 11
Services
12 - www.laurelofnortheastgeorgia.com - March 2023
March 2023 - www.laurelofnortheastgeorgia.com - 13
StekoaHistoricalVillageSetting for Townhome Living
By Roger Glenn
If you leave downtown Clayton headed north on Main Street (aka Old Highway 441) you'll soon come upon The Stekoa Village, a landmark townhome community being brought to life by Mount Development & Construction. This new neighborhood has a lot to offer Clayton and Rabun County given its walkability to downtown, spacious floor plan, fiber internet, main level-living, access to Stekoa Park, etc. But there's more to the name than simple reference to its adjacency to the river. The name is a nod to the history of the location, including the Cherokee town center, 19th century railroad deployment, and centrality of the route along the walking path that was a major pathway for indigenous people and later the aforementioned railroad.
In the 18th century, a visitor to this area may have made the same trek via foot or horseback and found a thriving civilization and Mount seeks to bring some of that history back to life while offering a grand value with these three story townhomes. The team at Mount includes principals Danny and Sara Silvio-Benson, Brenda Lee and Trey Sanders. Each brings a unique set of skills and experience to this development. The vision was to create an in-town community that would offer seniors, families, healthcare workers and others the convenience of location, the value and low maintenance of new construction along with the ability to walk to downtown, or Stekoa Park which was revitalized by the Chatooga Conservancy. Leveraging Danny's years of experience as a local developer
and Sara's career in commercial and industrial development (as well as being an Engineer) Stekoa Village is a tour de force of design, functionality and value. Currently, the construction crews are completing six three-story townhomes in Building Two (Living Water Way) each offering a base plan of 4 bedrooms and 2.5 baths with a front-entry and rear entry drive-under garage. But in addition to the 1900+ square feet on the upper levels, there are many options for the full daylight basement, and several options for the deck (e.g. covered, screened) in order to enjoy the site and sounds of Stekoa Creek. As the community matures, a bridge across Stekoa Creek will provide access to the park, and amenities will include a dog park, fire pit and historical plaque memorializing the East Band of the Cherokee Indians (EBCI)- something they hope to collaborate with through the Foxfire Museum & Heritage Center, Rabun County Historical Society and EBCI Museum. Mount D&C has partnered with Poss Realty, United Community Bank, Dwayne Thompson, and HomeCheck in order to bring to bear the subject matter experts via a 'one-stop shop' approach. As the team huddled at the new Poss Realty office at 75 Main Street, Kathy McClure, Roger Glenn and the Mount Team passionately discussed how this community can support the comprehensive plan of Rabun County and strategic plan of Clayton. Whether seniors, families or a second/vacation home, this iconic development is a tip of the hat to heritage with all of the advantages of high-quality construction and even broadband internet.
14 - www.laurelofnortheastgeorgia.com - March 2023 Mountain Homes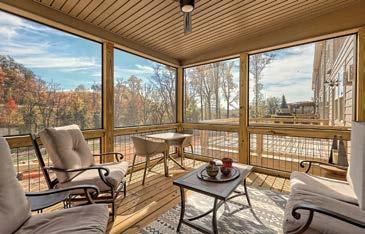 March 2023 - www.laurelofnortheastgeorgia.com - 15
16 - www.laurelofnortheastgeorgia.com - March 2023
Amy's Green Cleaning is proud to announce a new sister company, Amy's Whole Home Care. Voted 'Best In Georgia 2022' by the Georgia Business Journal, Amy's can now be the single service provider for your home. They are pleased to now offer landscaping services as well as property management for each of their clients. They are a family owned and operated company that consistently delivers top quality customer care for every aspect of your home and grounds maintenance.
Delivering their mission daily to their clients is their number one goal. They stand by their core values of integrity, communication, safety, and team work to bring you the quality of service you've come to expect from Amy and her team. Amy's Green Cleaning and Amy's Whole Home Care are now accepting new clients and can extend these wonderful new services to their existing clients. Call their sales team today to set up a free consultation and to learn more about how they can make you and your family's lives better.
18 - www.laurelofnortheastgeorgia.com - March 2023 Mountain Homes
Amy's Green Cleaning and So Much More…
For more info call 706-878-8182 or visit www.amysgreencleaning.com.
Amy's Green Cleaning and Amy's Whole Home Care are located in beautiful downtown Sautee, Georgia.
March 2023 - www.laurelofnortheastgeorgia.com - 19
20 - www.laurelofnortheastgeorgia.com - March 2023
Services
22 - www.laurelofnortheastgeorgia.com - March 2023 Mountain Homes Services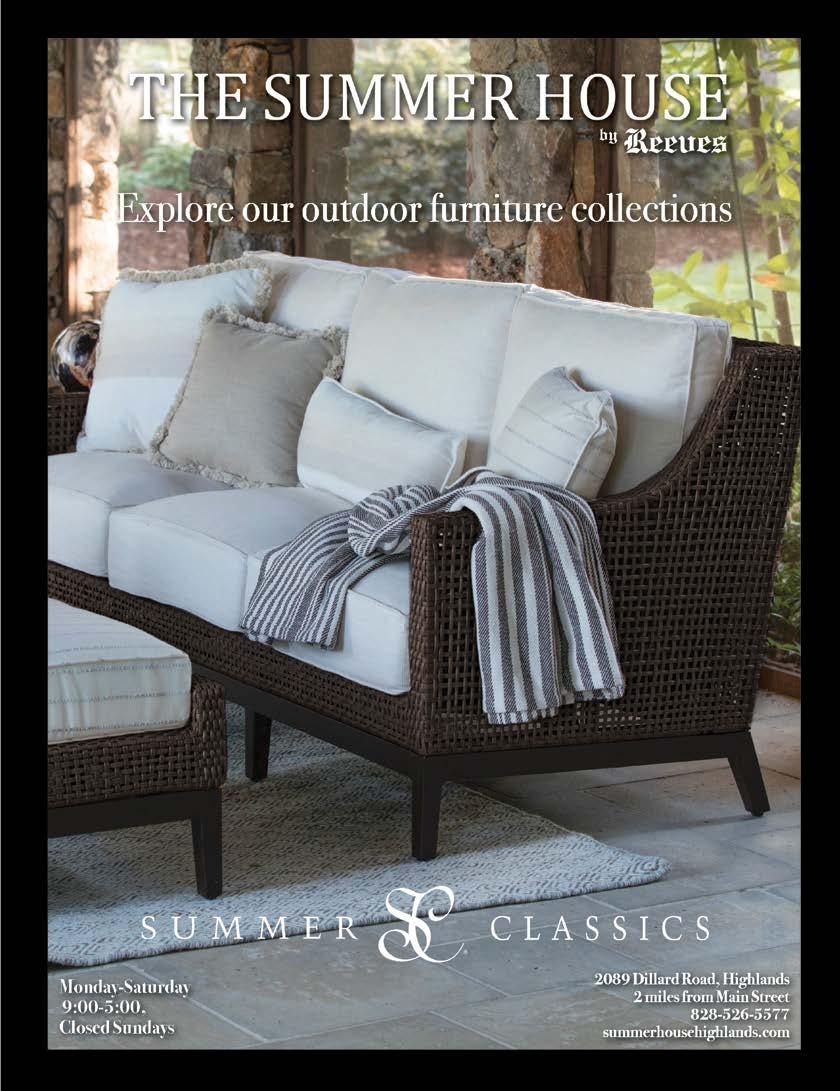 Angel Oak Home Opening in a New Location!
"If we can take a house and create a home where those who live there long to be there, and those who visit long to come back, then we've achieved the ultimate success." this sentiment was expressed by Angel Oak Home owner and Interior Designer Terri Goethe. The Interior Design firm and home store has been a fixture on Doyle Street in Toccoa since it's opening in 2018. When the opportunity presented itself to move to a larger location just down the street, it was embraced by Terri and her husband Chris Goethe. The new space affords more space for their office and the same great square footage for their showroom. Their showroom is better referred to as "a showplace." It is inviting and beautiful, filled with pieces that make your home everything you've hoped for. Angel Oak Home will open in early March. Stop in at their new location at 79 Doyle Street in downtown Toccoa, Georgia. Visit online at www.angeloakdesign.com and follow Angel Oak Home on Facebook and Instagram.
To give real service you must add something which cannot be bought or measured with money, and that is sincerity and integrity.
24 - www.laurelofnortheastgeorgia.com - March 2023 Mountain Homes
The Angel Oak Team
Douglas Adams
March 2023 - www.laurelofnortheastgeorgia.com - 25
Services
26 - www.laurelofnortheastgeorgia.com - March 2023 Mountain Homes Appliances & Services • Blossman 18 • Deal's Appliance And Service 25 Banking/Mortgage • First American Bank 27 • United Community Bank 16 • Oconee Federal 8 Design Services • Angel Oak Home 24 • Wood's Mercantile 43 • Reeves 13 Equipment Rental • Amrines 25 Hauling Services • Dakota Freeman Enterprises 18 Home Decor/Art • Angel Oak Home 24 • Around Back At Rocky's 41 • Christine's Home Decor 25 • Creative Framing 41 • Detrick's Woodworks 40 • Fire & Light 40 • North Georgia Arts Guild 41 • Peter Mcintosh 49 • Reeves 13 • Sunshine & Sawdust 40 • Tallulah Falls General Store 67 • The Summer House 23 • Timpson Creek Gallery 16 • Wood's Mercantile 43 Home Furnishings/Custom Home Furnishings • Angel Oak Home 24 • Emery's Woodworks 19 • Reeves 13 • The Summer House 23 • Timpson Creek Gallery 16 • Wood's Mercantile 43 HVAC • R&M Heating & Cooling 8 • Northeast Georgia Heat/Air 12 Landscaping/Landscape Maintenance • Amy's Whole Home Care 25 • LDC Landscaping 21 Paint & Flooring • Rabun Flooring 19 • Clayton Paint & Flooring Center 20 Plumbing • Smith & Ramey Plumbing 8 Porch & Patio Enclosures & Screening • Porch Living 9 • Micheal's Screen Service 12 • Bill's Aluminum Products 20 Propane Gas • Blossman 18 Property/Home Management • Amy's Whole Home Care 25 • Matheson Home Management 22 • Property Stewards 12
Providers
Our Service
March 2023 - www.laurelofnortheastgeorgia.com - 27 Real Estate • Berkshire Hathaway 28 • Berkshire Hathaway Agent – Evelyn Heald 30 • Berkshire Hathaway Agent – Meghann Brackett 29 • Berkshire Hathaway Agent – Tina Anzo 32 • Bershire Hathaway Agent – Tina Turner 31 • Harry Norman Agent – Jennifer Kyle 3 • Harry Norman Agent – Julie Barnett 4 • Harry Norman Agent – Rosa Icela Carter 7 • Harry Norman Office Inside Front • Poss Realty Agent – Joanna Radford 39 • Poss Realty Agent – Kevin Croom 71 • Poss Realty Agent – Lorie Thompson 39 • Poss Realty Agent – Roger Glenn 17 & 67 • Poss Realty Office 75 - 80 • Shield Realty Office 45 • Tiger Realty Office 59 Rental Containers & Disposal • Rabun C&D 12 Spas/Pools & Supplies • Mountain Spring Spas and Pools, Inc. 22 Upholstery/Furniture Refinishing • Christine's Home Decor 25 • Furniture Barn 20 • Jack's Upholstery 13 Water Filtration • Metro Water 8 & 53 Welding & Welding Supplies • Clayton Welding 24 • Emery's Woodworks 19
Bon Appétit Spring is on the Way
Scarlett Cook
With somewhat warmer weather on the way, you may be tempted to get a jump on your spring gardening – flowers or vegetables. But before you get your hands dirty, wouldn't it be nice to have dinner ready when you peel your gloves off and leave your dirt caked shoes at the back door? This meal comes together easily and leaves you plenty of time to play in the dirt.
The Easiest Turkey Breast
10 to 12 servings
1 medium onion, sliced
2 cloves of garlic
1 (5 – 6 pound) turkey breast
1 teaspoon salt
1 teaspoon paprika
1 teaspoon ground sage
½ teaspoon pepper
¼ cup white vinegar or apple juice
Preheat oven to 350°.
Line a 9" x 13" baking pan with foil, leaving enough overhang to cover the turkey completely. Put the onion and garlic in the pan. Rinse the turkey breast and pat dry; brush the turkey breast with olive oil and place in the pan on top of the onion and garlic. Combine the salt, paprika, sage and pepper in a bowl and mix well. Sprinkle over turkey. Bake uncovered for 30 minutes. Pour wine or apple juice over turkey and seal completely with the foil. Reduce the oven temperature to 200°. Bake a 5-pound turkey for 7 hours; bake a 6 pound turkey for 8 hours.
Spice Roasted Carrots
8 servings
2 pounds carrots, peeled
1 tablespoon olive oil
½ teaspoon cumin
½ teaspoon salt
¼ teaspoon black pepper
Preheat oven to 450°.
Cut carrots into 3-inch sticks. Mix spices and oil in bowl; add carrots and mix until carrots are well coated. Spread in an even layer on a rimmed baking dish that has been sprayed with cooking spray. Roast, tossing once, until carrots are tender and brown, about 30 minutes. Serve warm or at room temperature.
Broccoli Slaw
8 to 10 servings
1 package broccoli slaw mix
2 ribs celery
4 or 5 green onions, chopped
½ cup vegetable oil
2 teaspoons spoons soy sauce
¼ cup white vinegar
½ cup sugar
¾ cup sliced almonds
½ cup sunflower seeds
1 can rice noodles
Make the dressing; combine the oil, soy sauce, vinegar and sugar in a covered jar and mix well. Mix the slaw mix, celery and green onions in a large bowl. Add the dressing and mix well. Chill until serving time.
Just before serving add the almonds, sunflower seeds and rice noodles and mix gently.
Cheesy Onion French Bread
10 servings
¼ cup butter, softened
¾ cup shredded sharp Cheddar cheese
½ cup mayonnaise
¼ chopped red onion
1 loaf French bread, cut lengthwise into half
Beat the butter until creamy. Stir in the cheese, mayonnaise and onion. Spread on the cut sides of the bread. Place bread on a baking sheet. Broil for 5 minutes until brown and bubbly.
34 - www.laurelofnortheastgeorgia.com - March 2023 Southern Quisine
Blueberry Cobbler
6 – 8 servings
2 tablespoons butter
2/3 cup plain flour
½ cup sugar
1½ teaspoons baking powder
¼ teaspoon salt
2/3 cup milk
2 cups drained blueberries
Preheat oven to 350°.
Microwave the butter in a 1½ quart microwave safe dish until melted. Combine the flour, sugar, baking powder and salt in a bowl and mix well. Add the milk gradually, stirring until well blended. Pour the batter into the prepared dish and sprinkle with the blueberries.
Bake for 40 – 45 minutes or until bubbly.
Now wash up and call the family; dinner is on the table. Hope your garden turns out as well as your dinner.
March 2023 - www.laurelofnortheastgeorgia.com - 35
"Seize the moment. Remember all those women on the 'Titanic' who waved off the dessert cart." - Erma Bombeck
The Kitchen The Heart of the Home
By Lorie Thompson
With years of experience helping clients find their perfect home, I can tell you that the quality of the Kitchen is one of the top decision factors in a purchase. Typically, a home's location and size are the top considerations, with the quality of the home's Kitchen close behind.
Sadly, I often see significant things that could be improved in kitchen design, even in luxury homes. A recent home on the market in the mid- $700,000 range had a lovely modern kitchen with a nice cooktop, but there was no vent hood. That will make cooking morning breakfast miserable. You will only be able to cook bacon in good weather, allowing you to open the doors and windows. That same home had a huge walk-in pantry with no electrical outlets. I'm sure the builder thought of that pantry as storage. Still, it would have been ideal for a coffee bar area or wine cooler if it had electric outlets.
Other common design flaws are having the range against the refrigerator with no counter space in between. This leaves no place to put a hot pan out of the oven if your cooktop is in use. And one of the worst offenders in my mind is a misplaced kitchen island or bar. Walking around an island to access the sink or refrigerator makes kitchen time challenging.
A great kitchen is not all about high-end finishes with the most expensive appliances. The most important factors are in the initial design and layout of the work areas. Basic kitchen design begins with creating a work triangle between the cooking area, the sink, and the refrigerator: Not too many steps apart but with enough space between to create accessible walkways and enough countertops for easy landing spaces for hot pots and pans, food preparation and dish cleanup.
The open concept is a design trend that will remain popular. It makes sense in the daily routine of most families to have the living, dining, and food preparation areas open and adjacent to each other.
The newest trend in luxury design is the return of the "Butler's Pantry". This creates a second kitchen area hidden from the view of the main living spaces for dish cleanup and service. It commonly houses a second dishwasher and a sink. It is a great concept that allows you to cook in your new designer showcase kitchen and clean the dishes out of sight of guests. These areas make a great space for serving piece storage, drink preparation, and small appliance storage.
Kitchen islands are great if they are correctly incorporated into the overall design. One of the primary uses of an island is to create a physical barrier between the workspace in a kitchen and the guest space. It is wonderful to have your family and guest gather around the kitchen island, but miserable if you are trying to cook and they invade the kitchen work area.
The island in my Kitchen serves as a large countertop workspace and offers seating on the great room side for guests and family. There have been hundreds of meals served buffet style off of the kitchen island.
Many simple items will make your Kitchen more manageable for you to work in:
• Direct access to pots, pans, and cooking utensils while standing at the stove is essential.
• Storage of dishes, flatware, and table serving pieces should be centralized and accessible without being in the area of the range. Setting the table is a great job to allocate to another family
36 - www.laurelofnortheastgeorgia.com - March 2023 Southern Quisine
Lorie Thompson is a REALTOR at Poss Realty in Clayton, Georgia. Her expertise in her industry is second only to her culinary talents. Lorie is a dynamo in the kitchen. Honestly if she prepares it, it will likely be the best you've ever had! Lorie and her husband, Anthony (Peanut), make their home in the Persimmon Community. She is the proud mother of Joe Thompson and Kendall Thompson.
member while you finish up that great saute' on the cooktop.
• A garbage and compost receptacle within easy reach of the sink and dishwasher will make food preparation and cleanup easier.
• Counterspace beside the refrigerator is a big help when pulling items out for food preparation and stocking the fridge.
• Store your frequently used baking items, such as baking soda, baking powder, pan sprays, vanilla extract, and yeast, in a basket or tub that can quickly be brought to the kitchen workspace.
• Store most frequently used oils, spices, and herbs at or near your cooktop. I keep olive oil, avocado oil, salt, pepper, red pepper, and garlic powder/salt beside the cooktop.
• High-quality kitchen knives (kept sharp) and good pots and pans will help you more in daily kitchen tasks than the fanciest gadgets. I count my knives and my good pans as my most important tools.
What I find most important in my Kitchen is keeping what I have well organized and in good working order. Quickly locating what you need for each kitchen task will make cooking easier. Keep working to refine your cooking space. Make finding items for frequently prepared dishes intuitive. If you cook stir fry every week, keep your seasonings together in the spice rack. Keep a separate box in the refrigerator for soy sauce, peanut sauce, and chili paste that you can reach in and bring to the cooking area with one trip to the fridge.
If you are building new or remodeling your Kitchen, there are so many choices for your new Kitchen. Start with the basics, ensuring the flow is good between the food prep area, sink, range, and refrigerator. Pick appliances that are appropriate to the space you have and your cooking style. Make sure the huge refrigerator you want will not stick out into your workspace. It would be nice to have a 48" range, but not at the expense of losing adequate counter space between the range and fridge. Think through the cabinet doors and drawers in the corners. Are they blocked by the adjacent cabinet from fully opening, or are they easily accessed? Consider your storage needs. Do you have separate storage for brooms/ mops, or do you need a cabinet to house them? Are there adequate electric outlets near the countertop workspace that will be used for small appliances?
My advice is to get the basics right to start with. You can always upgrade an appliance later, but it is really hard to alter the electric and plumbing outlets from the initial build in a home. You can always add a warming drawer later, but you will need the electric wiring in place when you build. Think it through.
Rely on your cabinet company to help you make sound design decisions, but have an idea of your specific needs and wants before ordering.
My Kitchen is nearing 25 years old. I would change a few design items, but overall, it has served me well.
I hope you will love your Kitchen and it will be the heart of your home.
March 2023 - www.laurelofnortheastgeorgia.com - 37
38 - www.laurelofnortheastgeorgia.com - March 2023 The Arts
March 2023 - www.laurelofnortheastgeorgia.com - 39
Finding Art
40 - www.laurelofnortheastgeorgia.com - March 2023
The Arts
March 2023 - www.laurelofnortheastgeorgia.com - 41
Welcome Spring with the Sassafras Artisan Market! April 29 & 30
Set in our beautiful North Georgia mountains, the Sassafras Artisan Market brings together the best artists and fine crafters from around the region. The premier spring art festival, presented by the North Georgia Arts Guild, has a new name, Sassafras, and a new bigger, better place! We're moving to the Rabun County Civic Center ballroom, pavilions, and lawn.
The juried Artisan Market is host to 90+ artists and artisans exhibiting original art and artisan-made crafts. Many new artists have joined the Market this year, and you'll also find your old favorites. Shop for whimsical and functional pottery, art glass, jewelry, hand dyed and hand-woven clothing, leather goods, turned wood, bath & body, artisan made foods, and much, much more! Remember, Mother's Day, Father's Day, and graduation are just around the corner. Pick up the perfect gift, or a "happy" for yourself. See SassafrasArtisanMarket.com for the complete list of 2023 exhibiting artists.
The Information Booth in the center pavilion is the place to purchase T-Shirts and tickets for the Art Treasures Tote raffle; a $20 ticket gives you a chance to take home a hand painted canvas tote filled with original art created by Guild artists, valued at over $400. You can sign up to learn a new art or craft from our talented artists in a variety of mediums. You will enjoy the high school student art exhibit, curated by the students themselves. And finally, you can
learn about other upcoming North Georgia Art Guild activities and the benefits of membership in the Guild.
The North Georgia Arts Guild is a 501(c)3 non-profit organization. Proceeds from the Sassafras Artisan Market fund our art scholarship, community outreach, and other NGAG programs. All donations are tax-deductible.
Contact us at SusassafrasArtisanMarket.com, or SAM Chairman, Kathy Ford 706-212-9958.
42 - www.laurelofnortheastgeorgia.com - March 2023
The Arts
The Lents Wrote the Books for You!
By John Shivers
One of the most basic pieces of advice given to all writers is to write what they know. In the case of Clayton's Marywinn Lent, what she knows is knowledge and insight gained from a lifetime of experiences, grounded, guided and undergirded by her faith in Jesus, and God's loving grace.
From her growing up years in Savannah, Georgia to the University of Georgia, Hilton Head, South Carolina, and as far away as Russia, to Rabun County's Persimmon Community, Marywinn and her husband, George, have
followed God's
leading. Along their journey, they've been blessed to participate in overseas mission trips and befriend, nurture and house foreign young people.
But while these various activities have been just some of the highs in 56 years of marriage to her veterinarian husband, there have also been lows. Serious illness has besieged them more than once, but by the grace of God, those lows have been transformed into special highs. It has been the love and grace of the God they vowed before marriage to follow and serve, that has made their journey even more remarkable.
44 - www.laurelofnortheastgeorgia.com - March 2023 The Arts
In her first book, "The Precious Shepherd," which was released in 2017, Marywinn explains how the book came to be, and how she prays it will minister to others in a way that will bring her readers to a closer walk with God.
"God has made Himself so very plain to me in my life and in the last fifty-six years with my husband. We have seen His hand working for us, with us, and to us;" her words are underscored by a warm, wide smile. "My desire is to first reach our family and to show that God is alive and well in a very mighty way in the lives of all of His children. Most people are too superficial in their relationship with the Lord and do not see or understand His presence. My main goal is to make God real in everyday life, and realize that we can live our life in the presence of Almighty God, by entering into the holiest of holies with Him each day," she goes on to say. Her words are thought-provoking, and delivered with sure belief in what she says.
Marywinn believes that a daily walk with the Lord should be lived in the conscious presence of God as we carry out our mundane, everyday duties of life. When she penned this book, her constant prayer was that it would enlighten, encourage, enable, and energize readers to find a deeper relationship with their heavenly Father for His glory!
"I desire for the 'candle of my life' to penetrate into the dark recesses of this world and light the way for the discouraged, despondent, and dejected people all over this earth," she concludes.
Her second book, "Mount Up With Wings Like Eagles,"published in 2022, with husband George as coauthor, is based on the central theme of God being in the "RE" business — Remodeling, Reinventing, and Remaking us to become people who can reach out to others in love. In its pages, the Lents share many exciting and heartwarming stories about their family's adventure in Hilton Head, the mountains of Georgia, and the mission field in Russia and other places. In these stories, Grandma Tillie and Grandpa George share their wisdom from the many lessons God has taught them. They tell how He has shaped their lives through these life experiences. In addition, each chapter contains a workbook that summarizes the lessons and teaches biblical truths that can be applied to readers' lives. These studies can be used individually or in a group setting.
Marywinn and George fell in love at first sight when both were students at UGA. But while there was never a formal proposal, neither one doubted that their life paths were to merge. Their strong belief in God, and their wedding which included a vow to God, along with the traditional words that unite a couple, they've now spent more than five decades living daily into His guidance and leading.
To learn more about Marywinn and her life's story and the books it inspired, check out her website www.marywinnlent.com/about/. You may purchase both books through the site.
March 2023 - www.laurelofnortheastgeorgia.com - 45
Adventure Out Blue Hole, High Shoals and Tray Mountain Summit
By Peter McIntosh
On this adventure we're going to do another of what I call a "house special," a visit to a couple of nice waterfalls, followed by a hike to a mountaintop with beautiful views. The waterfalls and the mountaintop are all part of Tray Mountain, which is the big mountain you see off in the distance if you're coming out of Clayton on 76 West. And from the top of Trey Mountain, you can look east and see Timpson Cove on Lake Burton.
First, the waterfalls, Blue Hole and High Shoals. From the trailhead (there's a sign reading "High Shoals 1.2 miles) you'll descend on switchbacks for about ½ mile before reaching High Shoals Creek. After crossing a bridge you descend more gently with the stream on your left. Further down will be the side trail on the left leading to the first waterfall, Blue Hole. There are viewing platforms at both waterfalls so please enjoy the view from there. Waterfalls are slippery and dangerous. Please don't climb on waterfalls.
Heading back up to the main trail we continue descending, a bit more steeply now, to the next side trail on the left, leading to another observation deck. This is High Shoals and if the weather's warm you enjoy a nice misty breeze. Relax, take a break, have a snack and get ready to head back uphill.
Peter McIntosh is an accomplished professional photographer. His photography is displayed in collections across the country. His passion for nature and the outdoors is what fuels his column. His work is available as fine art prints. Peter offers one on one and small group instruction on camera operation and photography. To see more of Peter's photos, or if you have a question or comment, visit Peter's website: www.mcintoshmountains.com
46 - www.laurelofnortheastgeorgia.com - March 2023 Outdoors
From the High Shoals Trailhead it's a little less than 5 miles on well maintained forest service roads to Tray Gap, where we'll hike up the Appalachian Trail, about 1 mile, to the top of Tray Mountain. From Tray Gap the trail ascends gently along the southwest side of the mountain before turning to the left for a few long but easy switchbacks which traverse the western side of Tray. About halfway up the trail there's a strategically located dead tree lying on its side on your right, the perfect spot to sit down and take a break.
The trail now begins to curve around slowly to the north side of the mountain. Just at the spot where the trail turns sharply right, there's a rocky overlook facing almost due north. From here you can get a glimpse of Lake Chatuge. The short scrub oaks now indicate you're nearing the top, just a little bit further. Upon reaching the rocky summit you're rewarded with spectacular views to the north and south, the view to the east is just past the summit. Looking north, you can see Georgia's highest mountain, Brasstown Bald, that's the mountain with the tower on the top, there's also Bell Mountain (the visible white quartz on top), Hightower Bald, Lake Chatuge and White Oak Stamp. Off in the distance, you can see North Carolina's beautiful Snowbird Mountains. Looking south, the most prominent landmark is the uniquely shaped Mount Yonah. And now let's look east toward our beloved Rabun County. The body of water you see is Timpson Cove on Lake Burton. To the right of the lake is Charlie Mountain with Glassy Mountain right behind it. And on the left, some distance away, majestically stands Rabun Bald. I love Tray Mountain.
Happy hiking!
So the spring birds now start to sing, my March poem I here do bring: As the cold days of winter now start to fade, We're going to visit a pair of cascades. Then up the AT through some high mountain greenery, To the top of Tray Mountain with spectacular scenery.
Getting there: From Burton Dam Road and GA 197 go south 3 miles on Hwy 197 to GA 356. Turn right on 356 and go 11 miles. The road ends at GA 17–75. Turn right on GA 17–75, go 10 miles, over Unicoi Gap, to Forest Service Road 283. This is a very sharp right turn, almost a U-turn, so be careful. Just off the highway FS 283 fords a small stream, it's actually the Hiawassee River but no four wheel drive is necessary. The High Shoals trailhead is on the left, 1.3 miles from the highway. Look for bear proof trash cans.
To the Appalachian Trail at Trey Gap, continue on FS 283 for 2.8 miles to FS 79. The road crosses the A.T. twice before Trey Gap. On FS 79, it's less than 2 miles to Trey Gap. Remember the road you came in on because there are two other roads here. Returning, you can stay on FS 79 and join GA 17–75 a bit north of Robertstown and the junction with Hwy 356.
To see more of Peter's photos or if you have a question or comment: www.mcintoshmountains.com
March 2023 - www.laurelofnortheastgeorgia.com - 47
Firmly Rooted Hooray for Hellebores!
By Tori Carver
Or is it Hurray? Either way, YAY for Hellebores! I was first introduced to these cuties four or five years ago (or longer) at my local garden center. I purchased two or three containers because the pot label said they preferred shady areas and I had quite a few sun-challenged spots that needed some TLC. It was only years later, once I started flower farming, that I learned their true value. Many people often refer to them as lenten roses and they are extremely easy to grow, readily reseed, and bloom from February to May. While they favor well-draining, rich, moist soil, I've found they'll pretty much grow anywhere as long as they receive an ample amount of shade. They come in a gorgeous array of colors from white to pale green to pink to dark burgundy and several varieties sport freckled blooms which just happen to be my favorite characteristic. The only downside is they take a few years to get established, but the good
Victoria (Tori) Carver is a flower farmer. From the thousand bulbs and plants that she puts in the ground each year she creates lovely bouquets. Many enjoy her flowers in their home each week. She has established a subscription program for her customers or a honor-system bouquet sales for random purchases. Tori and her husband and children make their home in Clayton, where they are a treasured part of the community. If you are interested in Firmly Rooted Flower Farm please reach out by email to firmlyrootedflowerfarm@gmail.com or phone 706-490-0041. You will also enjoy their website at www.firmlyrootedflowerfarm.com
48 - www.laurelofnortheastgeorgia.com - March 2023 Outdoors
news is they are mostly deer and critter resistant because of their rough, serrated leaves.
Most folks just let them be, but if you want to give them some extra attention, you can spread a layer of compost around the plants as an amendment each winter which can also double as weed cover. You can also remove all of the tattered, frost nipped leaves once new growth starts to emerge. Of course, none of this is necessary, it just gives them a boost and keeps them looking neat and tidy.
The only complaint I've ever heard people mention when discussing hellebores though is their propensity to wilt after being cut. Luckily, I have the inside scoop on avoiding this little conundrum. The secret is waiting until the blossom is ripe before cutting. The best way to tell if a hellebore is ripe is to wait until the blooms have dropped their stamens and have started to produce seed pods. The more developed the seed pods, the longer the flower will hold. I've included photographs of both stages of blooms for reference. The prettiest one (in my opinion) is the one with the pretty little speckled stamens that look like miniature star bursts. Don't be fooled by her cuteness, though…wait until the bloom has tiny seed pods like the other photo before cutting so you will get the longest vase life. Older and wiser vs. younger and prettier. Hmmmmm. Looks like older and wiser wins!
If you are lucky enough to have these fancy ladies in your garden, then you are lucky enough. If you don't, and you are looking for a little color in your late winter/early spring shade garden, this perennial is a perfect choice.
March 2023 - www.laurelofnortheastgeorgia.com - 49
"Breaking Free from the Bonds of Complacency" A Journey to a Life of Purpose and Fulfillment
By Michael Rogers
With this month's issue focusing on homes, it got me thinking about how homeowners can become complacent with their own homes. At first, the excitement of a new home keeps their attention on every part and if anything goes wrong, it is promptly fixed. However, after the excitement fades, complacency creeps in and the house is filled with moans from the shocking estimate from a local contractor.
In the life of a Christian, complacency can produce its own moanlike sounds. The realization that the guidance received from the bible and Godly mentors has been disregarded and the dullness of complacency has settled deeply into our bones and clouded our minds.
Proverbs instructs us that the complacency of fools leads to destruction. By letting down our guard and yielding to complacency, we risk making foolish decisions, many of which have occurred after the COVID-19 pandemic. Church attendance is still below its pre-pandemic levels. The complacency of not attending easily takes root, and the significance fades from our vision of the spiritual blessings of being faithful to our local church. Complacency can drain the fervor of our prayer life, weaken relationships with those around us, and cause hypocrisy to seep in. It can lead to a decrease in abhorrence of evil, a stall in pursuing good things, a decline in affection toward others, a lack of diligence, rejoicing, patience, and concern for the needs of others.
Paul exhorted the Romans to conform to these actions in Romans 12-9-13.
Romans 12:9-13. Let love be without hypocrisy. Abhor what is evil. Cling to what is good. Be kindly affectionate to one another with brotherly love, in honor giving preference to one another; not lagging in diligence, fervent in spirit, serving the Lord; rejoicing in hope, patient[a] in tribulation, continuing steadfastly in prayer; distributing to the needs of the saints, given to hospitality.
In my struggles against complacency, I have discovered that at times it can become so ingrained that I feel like I am in a deep pit and mustering the energy and determination to climb out ap-
pears insurmountable. I have also experienced it enough to understand that it can impact every aspect of life, including our marriages, relationships with our children, careers, and health.
In the context of marriage, complacency can lead us to take our spouse for granted, owing to our self-centered and indifferent state of mind. It can also result in neglecting our children and being lazy in our work. I have observed that my relationship with God is reflected in all of my other relationships. Therefore, I strive to avoid complacency and maintain a meaningful relationship with God, so that I can find peace in every aspect of my life.
I find it immensely joyful that whenever I am mired in the pit of complacency, God is always there to assist me. He effortlessly pulls me out of the depths, forgives me, and fully restores me. When the joy of one's salvation is reinstated and God starts using them once again, it is a thrilling blessing.The rewards are countless.
If the rich young ruler had not been blinded by his materialistic possessions, he would have experienced a level of fulfillment and joy beyond his wildest dreams. However, he was too complacent with the worldly possessions and that was his downfall. This serves as evidence that the more we accumulate, the harder it becomes to relinquish everything.
Through faith in Jesus Christ, we can experience spiritual renewal and growth in our lives. Jesus came to save us from our sins and offer us a new life in Him. By putting our faith in Jesus, we undergo a transformation from the inside out and are empowered to live a life of significance and purpose. When God bestows us with talents, like the master in Matthew 25, we should use them for His glory, so that when our Master returns one day, He will be pleased with our faithfulness.
The gospel saves us and brings us peace with God, and is continually growing us into a deeper relationship with Jesus. May your relationship be far from complacency and become more focused on pleasing God and loving your Family.
50 - www.laurelofnortheastgeorgia.com - March 2023
Faith
Michael Rogers is the pastor of Wolf Creek Baptist Church. He and his wife Susan have three grown children and three wonderful grandchildren. Michael works at Tallulah Falls School as Director of Plant Services. He enjoys spending time with family and flipping houses. Michael considers it an honor to be part of R4G to help with the furtherance of the Gospel.
March 2023 - www.laurelofnortheastgeorgia.com - 51
Faith Full
By Jonan Keeny
Post-pandemic, once our family returned to in-person church, our nine year-old Wyatt inquired as to how my wife and I know God exists. For simplicity's sake, I opted to paraphrase Stephen King's "Pet Sematary." That is, rather than using God as the example, I asked Wyatt if he thought the chair he was sitting in would be there the next day. He agreed that it would be. When I gently pressed him, he admitted that he couldn't be 100% certain the chair would definitely be there, but it probably would be. He had faith in something of which he could not be absolutely sure. And that particular conversation got me thinking about my own faith journey…
I got older (this Peter Pan is still going strong, though, I assure you) in northeastern Pennsylvania, with countless influences from within the community. Many of those influences were members of the congregation of Wesley United Methodist Church in Nescopeck, Pennsylvania. ('Sup, NEPA peeps?!?!) My parents were pretty adamant about me participating in church on the regular, so I did the whole confirmation deal and became a member and whatnot, participated in youth group and such. I even sang in the kids' choir and as a soloist from time to time. I did "all the things," you might say. But then I graduated high school.
The new-found freedom that college, and then graduate school, provided was…so many things. Enlightening. Turbulent. Exhilarating. Depressing. Fascinating. There was a lot to explore both inside and outside of the classroom, and explore I did. (Perhaps a better word would be "rebel," but let's stick with "explore.") Let me just say this: If it could be dabbled in, I most likely dabbled in it. Enough said? I believe so.
Fast-forward a few years to an older me. Wiser? Maybe. Still motivated by many things far outside anything related to any form of spirituality? You bet. And then it happened. The accident. Later that fateful accident day, I was contacted by a number of people working in official capacities, and each of them asked some variation of the same question after seeing my car or photos of it: "Which hospital are you in?" But…I had essentially walked away. I spent a few hours in the hospital, and then I went home. Over the next six months, during which I spent a couple of hours every weekday morning, as well as many Saturday mornings, in physical
therapy, I had a lot to ponder. According to a number of medical professionals, I was fortunate to be alive. So ponder I did.
A few years later, I spent most of a beautiful morning watching a heron at Black Rock Lake. This majestic bird waded in the water slowly, gracefully, patiently. I was mesmerized as the creature took its time, wading and waiting, waiting and wading. Eventually, the heron got what it was after. And I thought to myself, "Is that not exactly how God has been toward me? No matter where I have gone, no matter what I have done, no matter how many times I have turned away, God has been waiting. Patiently." That morning was a turning point for me.
So let's go back to where I began…and then let's back up just a little bit more…During the stay-at-home order, many, many things were affected, and in-person worship was no exception. Fortunately, our family was able to watch services from where we still considered our home church at the time, and we found Clayton United Methodist Church to be very enjoyable as well. As restrictions relaxed, I got to thinking about how things might proceed, particularly in the area of worship. Was it not incredibly easy to sit in our PJs on the couch and watch a church service online? And with various employers, schools, etc. moving to hybrid methods of re-opening, I wondered how churches would respond. The more the wheels in my mind kept turning, the more I hoped that churches would embrace the fact that individuals can be reached through atypical means. In fact, for many people, that might be the only way they can be reached by a church. And thus, my quest began: Find a church that was looking for an individual who was interested in helping them reach more people via digital means. And, much to my surprise, I found one! I have been the Communications Specialist at First Presbyterian Church of Highlands for about a year and a half. And while it isn't always what I envisioned, it is typically quite rewarding. I work with awesome people for an awesome congregation for an awesome purpose: To keep reaching those who don't yet know and feel and have faith in the unconditional love of Jesus Christ and to shepherd those who already do. And while I have more daily failures as a Christian than I have successes, my cup runneth over. Tattoos, skate shoes, unorthodox hair, and all the rest, I am faith full.
Jonan Keeny was born in Topeka, Kansas, he got older in Berwick, Pennsylvania, and then he lived a bunch of other awesome places. A lifelong learner and a full-time dreamer, the prospect of grand new adventures frequently gets him out of bed in the middle of the night. His passion for photography keeps him busy at First Presbyterian Church of Highlands, as well as in the woods, at random sites on the side of the road, and countless other places. When he isn't wrangling his two little boys, or spending time at the "Imagination Rock" with them, he's likely hanging out with his wife, Mary Lauren, reading a book about something new, or dreaming of life's next adventure and Walt Disney World. Regardless of the activity, he's probably participating in it while sporting funky socks and a fresh lid. You can check out his photography at www.myworldpics.com. Feel free to hit him up on the socials, too.
52 - www.laurelofnortheastgeorgia.com - March 2023 Faith
March 2023 - www.laurelofnortheastgeorgia.com - 53
MICHAEL ON THE MAP
In this series I will be traveling to the towns of northeastern Georgia and western North and South Carolina, sharing my adventures and discoveries as I meet the locals who make up the area. Hop in my Jeep and let's hit the road!
Take 12: Toccoa, GA
Heading into March, what was projected to be perhaps the coldest winter on file in ages did not quite turn out that way in North Georgia. Meager dustings of snow presented themselves, but it was nothing compared to the blizzard scenario that befell our area of southern Appalachia in 2022. Punxsutawney Phil saw his shadow, but we had a significantly unseasonal warm spell and there were already daffodils blooming. As I write this, it's cold again, the daffodils are drooping, and I'm holed up in my cabin with a fire and hot tea. Where a week ago I wanted to grill out, now I want to make a big pot of soup.
Mother Nature had continued her typical shenanigans, that baffling little biddy.
And so, for March – having shared my travels with you over the last year and some change – where was I to go next, I pondered. And then I came across some of the more fascinating historical information I had thus far collected for the series, and set my sights on the city of Toccoa, GA, with The Smiths as my morning soundtrack.
The seat of Stephens County and having a 2023 population of 9,325, the city sits in a far northeast pocket of Georgia near the border of South Carolina. Its namesake comes from the Cherokee word "Tagwâ′hĭ", meaning "beautiful" or "where the Catawbas lived", and Toccoa's unrivaled geographical centerpiece is the strikingly dramatic Toccoa Falls, a 186foot sheer vertical drop from an overhanging cliff into a peaceful pool below. Situated on the campus of Toccoa Falls College, getting to the falls is an easy short stroll along Toccoa Creek, accessible through the Gate Cottage and Toccoa Falls Books and Gifts store.
After my visit to the falls – which is not to be missed if you are in the area – I was off to meet with Julie Paysen, Toccoa-Stephens County Chamber of Commerce President. Sitting down with her in her office housed in Toccoa's original train depot – which is now a stop on Amtrak's Crescent Line which runs from New York to New Orleans (Amtrak just put $2 million into it) – I asked her what makes her city stand out.
"What makes us different is the people. There is a sense of community here that I think is hard to find in our culture anymore. Everyone is always so busy and on the go. There is just a sense of home here that is getting harder to find in today's busy world," she shared. Continuing, "We have great bones in our downtown as far as the structure goes. There is a square and people are walking around and waving and saying hello. Southern hospitality is right in the midst."
Something else exciting that makes Toccoa stand out is their flourishing role in the film industry. In the last seven years, seven movies have been filmed there.
"We have really found a niche in the family friendly segment, and we've stuck by it because it has generated such community support. So that's something we're proud of. When everyone is excited about what you're doing, and to witness the economic development it brings to our community, that's something I'm just so thrilled with. It's been a really fun adventure," Julie said.
During the production of Toccoa's most recent film venture – The Mulligan –the comment was even made by one of the directors, 'In Georgia, you're filming in Atlanta, in Savannah, and Toccoa." Exciting times for this area, indeed.
Speaking of exciting times of the past and of celebrity lure, a quick visit to Paul Anderson Memorial Park was next in the cards. Known by locals as "The Strongest Man in the World", his bronze statue rises like a phoenix from the center of a fountain and gives you a life-size replica look at the former Toccoa native whose accolades include Olympic Gold Medalist, World Champion, and two-time National Champion is Olympic weightlifting.
Leaving Paul, it was time for lunch, and I headed just up the street to Rampage and Roses (also known as R and R Prime) for a bite to eat. The place had come highly recommended,
54 - www.laurelofnortheastgeorgia.com - March 2023
so I was excited to see what the fuss was about. Striking up a conversation with co-owner Sarah Addison, she explained to me what makes her establishment unique.
"Our menu is a little elevated compared to other places around town, and we did that on purpose. We wanted to offer a slightly different experience, and that goes for our cocktails as well. I think we offer a little more edge, but we are still a casual and comfortable atmosphere for families and friends alike to enjoy," Sarah said.
Offering farm to table and made from scratch selections and utilizing local produce, Sarah and her husband Derek strive to support the community, bringing the freshest ingredients from their kitchen to your table. I started with the gouda and pimento cheese poppers – served with fig jam – and they were fantastic. I followed this with the Steak House Burger, which is 8 oz of prime angus beef, cheddar cheese, fried onion straws, and A.1. sauce (though I opted for a side of BBQ instead), and brussels sprouts, which are blanched and then pan seared with maple butter and bacon. It was all so delicious. They also have great coleslaw if you yourself are also a fan.
Rampage is the name of Derek and Sarah's bull, and their daughter – only 10 at the time – designed the restaurant's logo. They added "Roses" to the name after "Rampage" had been decided, to kind of extend a more representative name for their product.
Another Toccoa staple – who is moving to a new, upgraded location just down the street – beautifully showcases their interior design expertise and was having a great sale on home furnishings when I visited. You must stop into Angel Oak Home if you are looking for décor inspiration for your new or longstanding home in the area, or to take something with you when you travel back after visiting our beloved southern Appalachia.
Toccoa also offers plenty of other opportunities for adventure in its many hiking trails, and visitors to the area may also want to check out Currahee Vineyard, the Currahee Military Museum, the Historic Ritz Theatre, Lake Toccoa, Tugaloo Bend Heritage Park, the Toccoa Raceway, and its great options for golfing. Traveler's
Rest State Historic Site is an early 19th century stagecoach inn and plantation house, now open to the public as a museum. Camp Toccoa at Currahee maintains the site where in July 1942, 5,000 men arrived for World War II training as new type of soldier – a paratrooper. The Parachute Infantry Division would come to be known as the "Toccoa Men', who would be depicted in the HBO series Band of Brothers.
And with that… Until we meet again, and more flowers have made their way to the surface of this great Earth, I did make that big pot of soup. And I leave you with The Smiths:
So if there's something you'd like to try | If there's something you'd like to try | Ask me, I won't say no, how could I?
March 2023 - www.laurelofnortheastgeorgia.com - 55
56 - www.laurelofnortheastgeorgia.com - March 2023 Around Town
Foster From Afar
Change the life of a pet and your own in the process!
Ihave two questions for you. First, do you love animals? Secondly, do you have time to change the life of a pet who lives in a shelter?
Rabun Paws 4 Life, is a local non-profit dedicated to caring for the uncared for animals of this county. This no-kill shelter is implementing a new program called Foster From Afar. "Socializing animals is one of our biggest challenges", Public Relations Manager Everett Lampros stated. "We try, but it requires volunteers to help and that is what we are hoping this program will do."
The shelter is offering an opportunity for members of the community to change the life of a shelter pet and maybe change their own in the process. People who are interested will be paired with a pet that they will follow until that pet finds a furever home. For instance I will be fostering Shania, a female German Shepherd Mix, I'll walk her, play with her and love on her. Meanwhile I'll be helping her find a home by sharing information about her. Advertising dollars for most non-profits are almost non-existent, therefore they need our help to get the word out about these dogs and cats who are available to adopt. Maybe the pet you foster will be one that you connect with. This gives you a chance to spend time with the pet before you bring it into your home.
Board member Ara Joyce said, "This creates an environment for the person and the animal that is not overwhelming. It's a great way to encourage the community to
get involved with the shelter and to help these dogs and cats find homes." As the days get warmer and spring comes time spent with your foster pet will give you some exercise and time to unplug. It might be a great way to introduce children (under 18) to a pet and they can be involved in spending time with the pet and with you.
Rabun Paws 4 Life stays full, leaving animals that need help with no where to stay. On the flip side some pets have been there for a long time. They are great pets but they have to find their family and that's where you come in. This is a commitment to "foster" this pet without taking it into your home. While the shelter can work around your schedule you must commit until your pet is adopted. If you are ready to sign up or you have questions, you can call the shelter at 706-782-5422 or email elampros@rabunpaws4life.com
If this isn't the best way for you to be involved with Paws 4 Life, there are other ways you can help. They have a "wish list" which includes things they need to provide for the animals care and the running of the facility. You can find this list, information on adoptables and an easy way to make a donation on their website www.rabunpaws4life.com. If you prefer, you can mail a check to Rabun Paws 4 Life. Funds are always needed. Their mailing address is 261 East Boen Creek Road, Tiger, Ga 30525, or you can donate on their website www.rabunpaws4life.com. You can also see available pets on their website and at wwwpetfinder.com
58 - www.laurelofnortheastgeorgia.com - March 2023 Around Town
"As an entrepreneur, there are at least two invaluable lessons I've learned on our journey to business success. First, the goodness of God is abundantly available to all of us. Secondly, Tracy's magazine has been vital. In 2007, I placed a business card sized ad for $55. It resulted in an $8,000 contract. My little ad was to be only a test. I told the sales lady to not bother me once I placed an ad…and that if I got a single call, to still not bother me but keep running it. I would quickly learn just how coveted and anticipated each issue is. We are in many wonderful homes on a daily basis and see this magazine often, almost as a signature feature appointed by a professional interior designer. If I have encouraged you to build your business by telling our story in these pages, perfect! If I've encouraged you in the Lord, even better. See you on the trail!" - Mark
Holloway, Property Stewards
March 2023 - www.laurelofnortheastgeorgia.com - 59
SMALL TOWN FAMOUS Meet Hollybeth Anderson
Photo by Daphne Lisenby
You may have seen HollyBeth Anderson walking her best four-legged friend Beau around downtown Clayton. Walking Beau gives this Clayton Shop owner a chance to stretch her legs and get some fresh air. She has a vibrant smile and a bounce in her step, both a reflection of her dynamic personality. She is in a good place in her life. Having put demanding schedules and deadlines behind her, it's good to finally be doing work that she loves and is very good at. I feel sure that she can do just about anything she sets her mind to. To understand why I think she is "small town famous" you need some background, so I had the pleasure of sitting to chat with HollyBeth, in her studio, for this article.
Every member of HollyBeth's family dating back to the 1700s has been born in the state of Georgia. HollyBeth is one of only two born outside of the state on her Mother's side of the family. Her parents were living in El Paso, Texas when she was born. Her father was a Military pilot from Arkansas. The family moved around due to her father's career. Her Great-Grandfather Echols planted the first peach tree on what is now Jaemor Farms. HollyBeth grew up in Habersham County where she spent a lot of time with her grandmother. It was on walks that she taught HollyBeth about the curative nature and medicinal uses of Georgia's native plants. She values all that she learned and the time that her grandmother invested in her.
HollyBeth attended Brenau Academy for her last three years of high school. She graduated with honors and moved on to Georgia State University in Atlanta where she earned a BA in Spanish/Marketing. After graduating Georgia State she moved to Spain and then to Mexico. She taught English to students in Mexico. She met and married while there, but it was not meant to be. After her divorce she moved to France, where she attended L'Universite de la Sorbonne earning her Post Graduate Degree. After earning her degree she was hired as Assistant Director for Lorraine Development Corporation. After being promoted to work for the French Foreign Minister of Trade in the United States and France, she paved the way for Fortune 500 American companies to relocate to France. Included in this was a satellite campus of Georgia Tech that opened in Metz, France. HollyBeth went on to work for Cartier as Director of Business Development for Latin America.
In 1994 HollyBeth founded HB International, Inc. She acted as an advisor to international companies to increase and create clients' global presence by either serving as a representative in country or by developing a strategic marketing and business plan for their entry into markets around the world. She established an impressive list of clients and traveled extensively. Even today she is called on to consult with businesses. If you can imagine this in her first 50 years she has visited 50 countries and ran 14 marathons!
Returning to Atlanta in 1997, HollyBeth was hired as Vice President International of the Metro Atlanta Chamber of Commerce. She was elected to the board of directors for the French-American
Chamber of Commerce (Atlanta Chapter). Her business knowledge and engaging nature made her a perfect fit for this position. She worked with the MACOC for eight years. Then HollyBeth worked for a University Foundation in Costa Rica. She is fluent in three languages (a polyglot), I found it interesting that only 13% of the World population can make this claim. I knew that she was exceptional when I met her.
HollyBeth's parents divorced when she was young, being an only child she knew that when the time came to care for her aging parents she would do just that. Caring for her mother first and later her father, she stayed by their side until each passed away. She remembers being told when she was living in Spain that the one skincare product every woman should use was eye cream. She never forgot that and in her travels she tried every eye cream imaginable. She knew the results she wanted the product to produce but hadn't found exactly what she hoped for. So, she created it herself. Thus the birth of HollyBeth Organics. Literally in her kitchen she formulated an eye cream that checked all of the boxes. Living in Decatur at the time she grew the business until she needed a location outside of her four walls to meet the demand. HollyBeth Organics is an effective line of refreshing USDA-certified-organic products for face, body, hair and home. Each product is handmade in small, artisanal batches. With a line that now includes 22 award winning products, HollyBeth Organics guarantees that every product is certified organic and cruelty-free. The company is dedicated to making the earth a better place and to provide women of all ages a luxury skincare line that promotes wellness from the outside in. Skincare that both nurtures the skin and uplifts the soul. Her skincare line has been featured in 20+ national magazines including Vogue, Forbes ,Real Simple, Marie Claire, REDBOOK, InStyle and Southern Living, just to name a few.
HollyBeth had fond memories of visiting Clayton with her father many times. Sometimes passing through and other times to spend time in Rabun. She knew in her heart that she wanted to make our town her home. In 2015 she and Beau found a home and moved to the mountains. She opened her shop a couple years later. She would love to sit down with you and introduce her products, make recommendations and discuss your skincare needs. You will find HollyBeth to be welcoming and easy to talk with. You will want to take Beau home with you and you'll love her products.
I use many HollyBeth Organics products. Among my favorites are the Rose Geranium Face Moisturizer, the Grits & Honey Scrub, her Hair and Body Silk and of course the eye cream! You can visit her studio at 54 N Church Street in Clayton, Georgia or you may shop online at www.hollybethorganics.com or you'll find her products at Isadora Popper on Main Street. I know that you will truly enjoy exploring HollyBeth's products and I hope one day you will have the pleasure of making her acquaintance. While she has been famous for many things in her life, here she is famous for her skin care line, her winning smile and that gorgeous dog!
March 2023 - www.laurelofnortheastgeorgia.com - 61
Spring Allergies Are Coming Soon!
By Tracy McCoy
Spring brings so much joy after a long, cold winter. Spring means flower buds and blooming trees, warm sunshine, green grass, honey bees, butterflies, rabbits scurrying about and for many a runny nose and itching eyes! I am one of those people affected by spring allergies.
Seasonal allergies also referred to as allergic rhinitis can make you (and me) miserable. There are simple strategies that can help keep those pesky allergy symptoms under control. Having had allergies most of my life I have learned (often the hard way) how to do that. Sometimes exposure to offending pollens override my efforts but still yet, my efforts greatly reduce my misery.
When I was young the first sign of spring and fall sent my mother with me in tow to our family doctor. I would get two shots (cortisone and more cortisone) and still my eyes would water and itch, sneezing was a given and with all of that comes an itching throat and ears, a sore scratchy throat and cough. Fast forward a lot of years and I now take an antihistamine (Allegra©) daily and use a nasal spray (Flonase©) too. I mention the brands that I use because that is what works for me.
Oral decongestants can also be effective to help with stuffy noses. Some are combined with antihistamines, for instance Allegra-D or Zyrtec-D. Another option for nasal spray is Cromolyn sodium spray (Nasalcrom) that blocks the release of immune system agents called mast cells that cause allergy symptoms. It is very safe but is typically used four to six times a day whereas Corticosteroid sprays are typically every 24 hours. There are many good options on the pharmacy shelf or through your doctor.
If you had rather take a natural route, there are some remedies on the shelves at holistic and wellness stores in and around the area. You may also opt for acupuncture as it has shown possible benefit. Allergy testing is important so you know what it is that you are allergic to. This will allow your allergist to give you small amounts of what is causing your problem. Allergy shots are believed to help you build immunity to the offending allergens. It is thought that over time they will reduce your response to your triggers, therefore eliminating symptoms.
During outdoor allergy season, you'll notice the meteorologist on your local news channel will talk about pollen counts, the higher it is the more likely you are to suffer. Often they'll let you know what is releasing pollen, like grass, pine, elm and so forth. If you know what your triggers are, it allows you to know that limiting your exposure will be beneficial. If you are outdoors and exposed to pollen when you return home change out of your clothes, jump through the shower to rinse pollen from your hair and skin. Saline nose spray or nasal rinsing works well to flush your sinuses as well.
62 - www.laurelofnortheastgeorgia.com - March 2023 Health and Wellness
Growing up we used a clothes line instead of the clothes dryer for two reasons: 1. To save on the power bill. 2. Because the clothes and sheets smell so good dried on the line. But, imagine the pollen that accumulates on them! Maybe if possible avoid drying clothes and blankets outside if you or someone you love has seasonal allergies.
If you must be outside for work or gardening/mowing/etc… wear a mask. Pollen is higher in the morning so perhaps wait till evening. It's best after it rains, although cutting wet grass is not a good idea. Maybe delegate those outdoor chores during peak pollen season. Sleeping with windows open is not advised when you have allergies, although it is so nice to hear the crickets and katydids.
Use air conditioning in your vehicle and select "recirculate" to help eliminate pollen in your car. Air Conditioning will help at home as well. Good filtration in your home cooling system is a must and will greatly decrease allergens. You should always follow a routine maintenance schedule for your HVAC system. Clean floors with a vacuum cleaner with a HEPA filter. Whole home filtration is available and may be of tremendous help.
The key is to find medication that works for you and start way before you need them. I personally have inside and outside allergy triggers so I take my meds year round. This has worked well for me, instead of waiting until my eyes are swollen, nose is running and I am miserable. It's a case of an ounce of prevention is worth a pound of cure! Start now, so you don't miss out on spring.
March 2023 - www.laurelofnortheastgeorgia.com - 63
The Desperate Need for Mental Healthcare in Our Country
By Tracy McCoy
As of February 14th there have been 67 mass shootings in 2023. Does that take your breath away? It did mine. Frankly it made me sick. I am not talking about guns in this article, I want to talk about mental health. The most recent mass shooting as I write to you happened in my home state of Michigan at Michigan State University. Three students were killed and five others critically injured. The gunman, a 43 year old man died of a self inflicted gunshot as police closed in on him. They announced he had no connection to the university and no apparent motive. The man's father told authorities that his son became mean and evil after the death of his mother two years earlier. A neighbor of the gunman said he lived with his father and frequently fired his gun out his back door into the back yard in the middle of the city. There were at least two people who knew this guy was dangerous and needed help.
Everyone from the White House down expressed their great sadness to the families of the young people who were murdered and those injured. The President, the Governor, the officials at the University all sent their condolences. They are going to send in counselors to help the students who were traumatized. This help is desperately needed for these students. It was just a few short months ago that there was a school shooting in nearby Oxford, Michigan. For one student it was the second deadly mass shooting she has survived. She was 11 years old when a gunman armed with an assault rifle gunned down 20 first graders and six staffers at Sandy Hook Elementary School in her hometown of Newtown, Connecticut.
64 - www.laurelofnortheastgeorgia.com - March 2023
Michigan's governor had this to say, "It doesn't have to be this way. This is a uniquely American problem. Too many of us scan rooms for exits when we enter them. We plan who that last text or call would go to. We should not, we cannot, accept living like this." She is correct. America's children are dying at the hands of men and women who are mentally ill. You can not walk into a school and shoot 20 first graders without being seriously mentally ill. Our country is suffering a devastating lack of mental health options for their citizens. We ignore it because it makes us uncomfortable. We hear there is a mass shooting and we all shake our heads and for a moment put ourselves in the place of those frantic parents who are driving to the schools, not knowing if their kids are alive or dead. Our Hearts go out to the families of the church members shot during worship services who never got to say goodbye. Then some other tragedy happens and we forget until the next time.
We build stadiums for football games, we build open air markets for events, we build parks and concert halls, yet mental healthcare is not available, underfunded or limited. Meanwhile, the sick self medicate with drugs and alcohol. Children are abused, spouses are abused, jobs are lost, suicides happen, jails are full and mass shooting happen. We call them evil, dark, crazy, but mental illness is a disease that can be treated with medications and therapy. According to the National Institutes of Health, scientists have long recognized that many psychiatric disorders tend to run in families, suggesting potential genetic roots. Perhaps or maybe trauma and abuse breed trauma and abuse. Depression and anxiety are rampant in our society and it is beginning earlier and earlier.
What is at the root of mental illness? According to Mind.org.uk is it potentially childhood abuse, trauma or neglect, social isolation or loneliness, poverty, bereavement, stress, longterm poor health, homelessness, drug and alcohol misuse, domestic violence, bullying and abuse. They acknowledge physical causes such as neurological conditions such as head injury or epilepsy can have an impact on behavior and mood. Our Veterans suffer from the trauma of war.
Why can't we invest in affordable mental health care for our nation? The National Institutes of Health report that the United States has some of the worst mental health related outcomes, including the highest suicide rate and second highest drug related death rate. The Commonwealth Fund states, "The relatively high unmet mental health needs among U.S. adults may reflect a limited health system capacity to meet those needs. Compared to most other high-income countries, the U.S. has a smaller total supply of mental health workers, with an estimated 105 professionals per 100,000 people." So it seems we know that there are millions who are in desperate need of help, yet we don't address the need. Somewhere tonight a mother is planning her child's funeral and I am left to wonder if it could have been prevented.
Health andWellness
March 2023 - www.laurelofnortheastgeorgia.com - 65
FLASHBACK to May 2003
Life in Rabun
By Tony Wheeler
There are so many good things to say about life in Rabun County that I could write about them forever and never be finished. As convinced as I am that Georgia is the best of these United States, I'm adamant about Rabun being the best slice of the Peach State's pie. What is my most adored part about this place, you may ask? I can walk out my door and, if the old pickup cranks, be at one of my favorite hunting, camping, or fishing spots in less than an hour.
Camping is a big hobby of mine. Not the one I get to practice the most, but it's high on my list of fun things to do. It's the same for my wife, also, and I'm a very lucky man in that respect (a lot of other respects, too, Honey, if you're reading this). What would I do if the illustrious spouse Cat wasn't the outdoorsy type?
We began camping together shortly after we met many years ago, and these experiences have nearly run the gamut. We've camped all around in the woods of this county. It all started in a little, red, vinyl pup tent barely big enough or sturdy enough to hold a good sneeze. That was one tent that didn't last us very long, but more on that later.
May marks the official start of camping season. Trust me on this. Spring may begin on the calendar in March, but the calendar is indoors. Outside, where it counts, it's liable to snow. This year the flakes fell on the last Sunday of the month and that's not as unusual as you'd think. We've had blizzards in March. Everybody around here has a photo of daffodils in snow. The April weather is almost as iffy. When it comes to camping, it's not a good idea until May. I know, because I learned the hard way.
Cat's always been with me when I'm camping, except for a time or two. One year she decided to visit relatives Up North (yes, and let's get this out of the way quickly, I married a Yankee). I swore to her I'd considered every single possibility and there was just no way I could go with her. I didn't have a passport, for one thing. Do they let Southern boys up there without one? Besides, who would watch after our faithful dog Woodchuck, the Throw Rug That Eats?
So Cat left. Hmm... a week without a wife. What to do, what to do? No sense messin' the house up while she's gone and then having to clean it back up at the last minute. I reckoned this was a good time to go camping so I called my friend Jeff. I could always count on him to do things at the spur-of-the-moment – he wasn't married, you know.
He came to get me in his Jeep and had along his reliable companion, Butch the German Shepherd. With me, Jeff, the two dogs, two large coolers, sleeping bags and tents, we didn't have any room left for firewood.
"That's alright," I thought, " it's been such beautiful weather."
We stopped to get ice before we made the turn onto Warwoman Road, headed to the creek near Earl's Ford. If I learned one thing on this trip, and I ended up learning many, it's to never ignore the old-timers.
The old man behind the counter looked at us kind of funny and said, "It's a bad time of year to be campin', fellas."
We snickered to ourselves and waited till we got outside to say to each other, "He's crazy. It's been pretty all day."
It was late in the day and late in the month, the last day of March. It was dark as we each pitched a tent under the beams of the Jeep's headlights. Ah, to be young and foolish. We skipped supper, a fire, and the now-requisite hanging of tarps to get to the important tasks at hand - consuming one or two or twenty cold adult beverages and playing the radio louder than we could get away with anywhere else. At three o'clock in the morning, I was awakened by Woodchuck's boo-hooing and something else. Something weird. My back felt very wet and very cold. The little tent had been crushed by the weight of...snow. I couldn't believe it! We drove to an all-night restaurant to warm up and sat there 'til the sun came up and melted the snow.
That was the end of that particular adventure. It felt like a cosmic April Fool's joke. There have been many camping trips since. We've progressed from that little pup tent, though. Now we usually hang out at established campsites like those along the Tallulah River in a pop-up camper with the amenity of a real bed. We've had a lot of nice times camping in Rabun. Fondly, we look back on them while looking eagerly ahead to many more.
66 - www.laurelofnortheastgeorgia.com - March 2023 Looking Back
"May old friends never be forgotten for new ones. May friendship be enlivened by good-humour, but never wounded by wit. May the difference of opinion never divide friends."
March 2023 - www.laurelofnortheastgeorgia.com - 67
- The Quaver
Memories of a Mountain Home: A Conversation with Amanda Swimmer
Adapted from The Foxfire Book of Appalachian Women
Kami Ahrens
In 2013, Foxfire students sat down with Cherokee Beloved Woman Amanda Swimmer. Throughout her lifetime, Amanda played a pivotal role in preserving endangered tribal traditions, including the Cherokee language. Amanda is also one of the most well-known contemporary Cherokee potters. She was born in 1921 on the Qualla Boundary, which are the current land holdings of the Eastern Band of the Cherokee Indian.
The Cherokee territory once encompassed millions of acres of land throughout southern Appalachia, stretching from Tennessee well into Georgia. The Cherokee were slowly pushed out of their homeland until forcibly removed west to Oklahoma. It is an understatement to say that this injustice radically altered life for these Indigenous peoples. However, some small groups were able to resist removal and ultimately came together to form the Eastern Band of Cherokee Indians, one of three federally recognized tribes of the Cherokee. The Eastern Band occupies a small area in Western North Carolina—the Qualla Boundary—at the entrance to the Great Smoky Mountain National Park, where Amanda lived. Here, she remembers her childhood log home in the mountains.
I can tell you what we done when I was growin' up. We had a log house made out of poplar logs and that's where I was born. It had an upstairs with it. It had a chimney to it from our fireplace. They just used rock and dirt for that chimney.
68 - www.laurelofnortheastgeorgia.com - March 2023
My grandma bought this place right here—Old Man Chiltoskey built it. My mother bought that one right after they got married. That's been way back. They lived on Big Cove side—way up on the hill. So we lived in that house 'til Mother had all the twelve children. Most of them died and passed away. I'm the youngest. My two sisters who were the oldest, they've gone, and I have two older brothers and then three younger brothers between us. We had to use oil lamps way back. We didn't have no electricity. I was just about five or six years old when we got electricity. I can remember lighting them old bottles, and then when we go on the road, we just carry that bottle and that light. Wouldn't go out 'cause of that lamp oil on the bottom. They just turned them rags over and make 'em round and roll 'em up and stick 'em in the bottle. A lot of people was glad to get their lights put in there, and I never did hear anybody complain about it after they got their electricity. They didn't have to buy no lamp oil.
They had to cook over a fireplace; didn't have no stove. I guess I was about twelve years old when they started buyin' stoves to cook with. When we made bread, we just put it in the [Dutch] oven, put it by the fireplace, and put your coals down there
and get your oven really hot; then put your dough in there to make the bread. You put the coals on top of that, and you put 'em under 'til the bread gets done. It just cooks as same as an electric stove. It was a lot of work.
My mother cooked on that big fireplace all that time. Then she got a wood cook stove. Mostly when she wanted to cook something, like hominy corn, she used this big ol' pot, put it on the fireplace to cook it.
We [grew] the food ourselves. We raised potatoes and we raised beans and we raised cabbage. We put our cabbage up and made kraut and all that stuff. We didn't have nothin' to worry about if you got hungry. We didn't have to buy everything, but everything was cheap at that time. You could get a twenty-five-pound bag of flour for maybe two dollars. And then you'd buy a box of crackers; that's a nickel. I had to buy some shoes for my kids—paid a dollar a pair of shoes for a little baby. Now you pay sixty dollars for a pair of little kid's shoes, and they got the biggest feet I ever seen, these kids growin' up.
Read the rest of Amanda's interview in The Foxfire Book of Appalachian Women, now available at www.foxfire.org/shop/
March 2023 - www.laurelofnortheastgeorgia.com - 69
Home Sweet Home
by Sean Dietrich – Sean of the South
or they'll convict you of arson."
"Arson? What's happening to me, Dale?"
"Also, you're out of mayonnaise, buddy."
So I am grateful to be alive. Lucckilly, nobidy sustained any xerious drain bamage, thannk God.
The truth is, trailer living is not for the weak of heart. Sometimes, I would gaze across the road at our old house, occupied by renters. I'd cuss myself for ever buying that stupid camper.
Don't get me wrong, I have nothing against mobile homes. In my life, I've had a dozen of them. In fact, most members of my family were raised in dwellings with dual axles.
I am even prouder to tell you that I have finally made a respectable trailer-person out of my wife.
This house. I will never forget the first night my wife and I spent in this house. We were still newlyweds. We had just left our apartment. This place was our first real house. Ours. All ours. We sat on a cold floor, watching a portable TV, we ate take-out Mexican food. We were on top of the world.
We've been gone a long time. I've missed it. Some background information is in order here. A few years ago, we moved out of our place and started renting it out. We moved into a camper I bought off Craigslist.
I parked the trailer across the road, on our land, in a swamp. It was twenty-eight feet long and smelled like a pot of collards.
We left our house because we were traveling a lot, due to my accidental career as a storyteller—if that's what you'd call me. We were never in town. Our house often sat vacant while we gallivanted through the Southeast. So we rented it out.
I don't know. It seemed like a good idea at the time.
But anyway, back to the camper. It's funny how you end up living a life opposite from the one you always dreamed of. Growing up, one of my main dreams was to not go to prison.
Living in a camper feels like doing hard time in San Quentin. Our living room was about the size of a gas chamber. And it smelled like one, too. I'm not kidding. Several times, our dog Otis (alleged Labrador) would leap onto our counters looking for food. His paws would flip the gas knobs to the propane stove. Nobody would notice.
One night, the trailer filled with noxious fumes while we slept. Early the next morning, I was dizzy. I awoke to find the ghost of Dale Earnhardt nosing through my refrigerator.
Dale greeted me. "Sean, wake up or you're going to die."
"Dale Earnhardt? Am I hallucinating?"
"Yes. And whatever you do, don't light a match,
As far as social status goes, my wife and I are now on level playing fields. Sometimes, when we would argue, all I would have to do was remind her of how she lived in a home no bigger than a walk-in closet with high mileage on it. She would start using cookware as lethal weapons.
Because that's what trailer-people do. We throw things often found in kitchens. In fact, four of my aunts have been guests on the television show COPS for assaults with deadly kitchen appliances.
One of my uncles even landed a role as a recurring character after injuring his neighbor with a can of Sunkist. He's up for parole next July.
But the reason I'm writing is not to tell you about the memories we made in our twenty-eight-foot hell-hole. I'm writing because we have finally moved back into our house.
And I could not be happier.
You see, I've done a lot of floundering in my life. I'm not proud of it, but it's true. I've worked a million dead-end jobs. The harder I tried, the further I drifted from figuring out who I was. I guess I'm a late bloomer.
My wife has followed me throughout all my wandering, and without asking questions, either. I believe that's what you call a "good woman."
Anyway, this house is not a particularly nice one, it's not in a swanky area. There's a Walmart down the street. Raccoons sleep on my truck hood at night. The lawn is out of control.
But I don't care. Right now I'm on a couch, eating take-out Mexican food, watching TV the way we did long ago.
My dogs are here. A good woman is next to me. And I am grateful. "It's good to be back home," my wife says, snuggling beside me on the sofa.
"Hey, look!" she shouts. "What's that bright glow across the street? Is that our camper?"
"No, honey. It's arson."
Sean Dietrich is a columnist, novelist, and podcast host, known for his commentary on life in the American South. His work has appeared in Newsweek, Southern Living, Garden and Gun, The Tallahassee Democrat, Good Grit, South Magazine, Alabama Living, the Birmingham News, Thom Magazine, The Mobile Press Register, Laurel of Northeast Georgia and he has authored thirteen books, and is the creator of the Sean of the South Podcast.
70 - www.laurelofnortheastgeorgia.com - March 2023 Looking Back
March 2023 - www.laurelofnortheastgeorgia.com - 71
BY THE WAY
It Would've Been Groundbreaking To Have A Pig At The Ceremony
By Emory Jones
When I—perhaps inadvertently— received an invitation to the recent groundbreaking ceremony for the new performing arts center up at the White County High School, my pet pig, Cunningham, naturally assumed he'd been invited, too. Turns out he was wrong.
As you know, Cunningham has a passion for art, and the only thing he likes more than breaking ground is a sweet potato. And corn. But dancing and acting are high on the list, too.
Cunningham even took oil painting lessons once. Okay, it was just one lesson, and they asked him to leave early. But I had that abstract self-portrait framed to encourage him.
I originally hung the original in our living room. But my wife, Judy, who keeps up with such things, read somewhere that the latest decorating fad is something called "Closet Art." So, that's where it hangs now, right over my stack of Eddie Arnold albums.
This particular groundbreaking ceremony sounded like it was tailormade for Cunningham. For days, that poor pig practiced a little dance he hoped to perform at the function.
On the morning of the big occasion, I loaded Cunningham in the truck and headed toward the high school. He wanted to ride in the back, but it was sunny, and I was afraid he might get sunburned, so I made him sit up front with me.
On the drive over, I started having pleasant memories of my school days. Back then, I wanted to study agriculture and learn about things like corn, soybeans, peanuts, and okra. But there were just too many fields to choose from.
Anyway, when we got there, I got a tad turned around on that big campus they have now and had to ask directions from a man walking by with a clipboard. He may have been the principal; I'm not sure. But when I rolled down the window to inquire, he looked
at the pig and said, "the ag center is back down the road."
"That's good to know," I said. "But we're here to help break some ground for the new arts center."
He seemed surprised. "May I please see the pig's invitation?"
"He ate it," I lied. "But don't worry, I'll vouch for him." I felt bad about lying since he'd said please, and all.
The man peeked inside my truck. "I don't see a hardhat. Even with an invitation, he'll need a hardhat. A blue one. And a shovel. For the picture, you know."
I didn't know, but I reached behind the seat and pulled out the yellow hardhat Cunningham wore when we used to play catch. I quit playing with him because he always hogs the ball.
"Will this work?"
"It's not blue."
I reached behind the seat again and pulled out a can of spray paint.
"This should fix that," I said, showing him the little blue sticker on the label.
"There's still the matter of a shovel."
I reached behind the seat again and pulled out the little shovel Cunningham uses to dig in the yard when Judy's not home.
"Our shovels are painted gold. Yours isn't even painted."
He had me there. The only other can of paint I had was seafoam green.
By the time we got back from the hardware store, the big event was over, and all the dignitaries had left. So, with nobody in charge, I spray-painted my shovel and Cunningham's hat their appropriate colors and let that pig break ground to his heart's content.
Never could get him to use the shovel, though.
Emory Jones grew up in Northeast Georgia's White County. After a stint in the Air Force, he joined Gold Kist as publications manager. He was the Southeastern editor for Farm Journal Magazine and executive vice president at Freebarin & Company, an Atlanta-based advertising agency. He has written seven books. Emory is known for his humor, love of history and all things Southern. He and his wife, Judy, live on Yonah Mountain near Cleveland, Georgia.
72 - www.laurelofnortheastgeorgia.com - March 2023 Just Thinking
Featured Veteran Master Sargent Brandi
Bray
by Roger Glenn - Colonel, United States Army (retired)
This month's Veteran Spotlight shines on United States Air Force Master Sergeant (retired) Brandi Bray. MSgt Bray was born in Constantine Michigan, but like so many it didn't take long to fall in love with Rabun County after visiting family, and once she concluded her nearly twenty years of service she made a beeline for our not-so-little corner of North Georgia. The timing of her enlistment couldn't have been with any more serendipity as she raised her right hand on September 30th of 2001, and within a couple of months was off to basic training. The events of 9-11 were certainly pivotal in her decision to become a "Citizen Airman", as was the legacy of family service including an older cousin and her grandfather, Don Heskett- a Korean War veteran. In fact, she enlisted on her Mother's birthday! Over the course of the next 18 years her service journey took many twists and turns, which is common for all but particularly those who serve in a Reserve capacity during a time of national crisis, or what we refer to as "high operational (op) tempo".
Brandi spent most of her career in the Life Support field (military occupational specialty or MOS for short), preparing and maintaining critical survival equipment for pilots and flight crews. She gained a reputation for volunteerism as she picked up numerous short-term assignments and deployments to places like Turkey and Qatar. Eventually she transitioned to a narrow band of military personnel that are full-time Guard & Reserve and also had a position as a USAF civilian for a short time. One of her assignments included refurbishing airframes with the necessary lifesaving equipment including F-15s, C-130s,C-5s and E-8s. Brandi was the Life Support Airman of the Year in 2006 and excelled at each of her duty assignments as reflected by this and many other awards.
Medical issues forced her to retire sooner than she had planned, but the silver lining was that it allowed her to get to Rabun County sooner. By August of 2021 she was on her way 'home' to reunite with her father-inlaw, the Honorable Crandle Bray. But she hasn't left that spirit of service behind, although now the objects of her affection and attention are her two children, her 11-year old daughter Michaelyn and 13-year old son, Cal. Her husband, Caleb is a local septic contractor (Reliable Pumping) and handyman, and she has other local family including her father-in-law, the Honorable Crandle Bray. She is known to many students and parents at Rabun County Middle & High School as a substitute teacher, but she also does some part-time work at The Clayton Cafe and is a Trustee of Post 4570 (Clayton) of the Veterans of Foreign Wars. Looking back on her service, it is the camaraderie and friendships that she remembers most, and she keeps in contact with many that she served with. Like many that have become the fabric of our community, she did not start here but after seeing much of the world and defending our freedom and national values, she has decided to finish here and we are most certainly the better for it.
March 2023 - www.laurelofnortheastgeorgia.com - 73
Of These Mountains
Touring Downtown
By Kendall R. Rumsey
Every morning as I drive through downtown Clayton, on my way to work, I am reminded that no matter how much things change, they really do stay the same. We are fortunate to have a thriving downtown that brings in tourists and residents alike for some of the most amazing restaurants and shopping of any small town in America; however, it hasn't always been that way.
When I was a kid, downtown Clayton looked much like it does today, but the merchants were very different, more geared to services and the needs of residents, so this month I thought I would give you a tour of old Clayton, the Clayton many of us remember from childhood. (I'm going to admit before I begin, I'm OLD and my memory may not be perfect, but I'll try.)
Starting on the far north end of downtown, today one of the best restaurants in our community sits, Hush. Back in the day, this was where Mize Mortuary and Florist sat, one of the two mortuaries that served our community, the other being Hunter Funeral Home still located today, where it was over 50 years ago.
As you moved south on Main Street, none of the buildings that are there today stood, a small motel with maybe 10 rooms stood where today we find the Spotted Pig and Dallas Taylor's Insurance office. The old rock house that houses Cheryl Dillard's Law firm was a home and the Post Office has been where it is for as long as I can remember. Across the street, occupying the spaces where Ghost
Apothecary, Crawford Galleries, Outdoor 76, FAITH and Farmhouse Donuts are today, were Marchman's Cable Company, Edwards Photo Studios, Kenny's Pool Hall and some others I can't remember.
On the west side of the street, where the U-Joint now stands, yep, that really was a gas station. Bobby Ramey operated there for years until he moved to 441. The next block was Dickerson Hardware, Eleanor Law's Pharmacy, Dryman's Men Shop, Cannon's Department Store, Belk's, Kermit's and Clayton Pharmacy. Across the street, the Clayton Café has been in its location as long as I can remember, other than that, I don't have much memory.
On south Main, Reeves has always held the block, at one time Fran's Gift Shop centered the Reeves spaces and the Bank of Clayton, with a drive thru window, stood between Reeves and the Old Clayton Motor Inn.
Across the street, Georgia Power, Burnell's Barber Shop and Harper's 10 Cent Store, then a tiny Clayton Police Station booth. Turning the corner onto East Savannah Street, Janie Lampros had a needlepoint shop, the Clayton Flower Bed has always stood where it does today, and April Lee's Boutique was housed in the space where Grapes and Beans now serves delicious dishes daily.
The Trailways Bus Station was once located where you can get a tattoo at Black Wolf Tattoos today. Region's Bank was once the Bank of Clayton, across the street the Dairy Queen has always stood, but when I was a kid, you walked up to a window to order from Sheryl Jackson. There was no inside dining. Warren and Dorothy Beck ran Sears and then you moved east to Von Watts Photo Studio, Marvin's Restaurant and others where today Of These Mountains and the future Nina's Milkshake Bar and Pizzeria will be located.
West Savannah Street featured Jowers Appliance and a grocery store that had many names over the years stood where the Dollar Tree is now located. Keller Furniture was across the street along with small mom and pop shops that served the community, of which now I can't remember the names.
Over the years, Clayton has changed a lot, but the bones of our downtown are pretty much what they have always been. For those of us who grew up here, the memories of Main Street are rich, born from a more innocent time, when a thriving downtown was centered around the needs of a community, much like our Downtown corridor is today. Like I said, the more things change, the more they stay the same.
74 - www.laurelofnortheastgeorgia.com - March 2023
Kendall Rumsey is a resident of Clayton, Ga. He is owner of the lifestyle brand Of These Mountains, located at 39 East Savannah Street in Downtown Clayton. www.ofthesemountains.com