CONNECTION
Summer 2023
Vol. XVIII, No. 1
Copyright 2023
All rights reserved
Published by University Communications
231 W. Hancock St. Milledgeville, GA 31061
President
Cathy Cox
Interim Vice President of University Advancement
David Fraboni, II
Writers
Margaret Brown, '19
Kristen Maddox, '21
Daniel McDonald, '19
Cindy O'Donnell
Al Weston
Design
Brooks Hinton
Bailey Wilson, '12
Photography
Anna Gay Leavitt
Michael Gillett, '15, '20
Kristen Maddox, '21
Kaitlyn Ortiz
Josh Smith
Please send change of address and class notes to:
Campus Box 96 Milledgeville, GA 31061 connection@gcsu.edu
No person shall, on the grounds of race, color, sex (sexual orientation or gender identity), religion, national origin, age, disability, veteran status or genetic information be excluded from employment or participation in, be denied the benefits of, or otherwise be subjected to discrimination, under any program or activity conducted by Georgia College & State University.
From the President of
the GCSU Alumni Association Board of Directors
Dear Bobcats,
As summer kicks off and students trade the shade of Front Campus for sandy white beaches, studies abroad and summer jobs back home, I can't help but pause to reminisce on what an honor it is to be a part of this thriving university community–one that continues to excel in academia, research and innovation.
One of the primary goals of the Alumni Association is to engage our alumni, wherever they are, with the university to build a more cohesive alumni network. We believe that the relationship between the alumni and university is symbiotic and mutually beneficial. Our 50,000+ living alumni, who are scattered all over the world, are a testament to the quality of education and training they received here at Georgia College & State University. We are proud of our alumni and their achievements. We want to ensure they remain connected to their alma mater and to each other.
I invite, and challenge, fellow alumni to continue engaging with the university and its programs, and to offer their gifts and talents to the GCSU community. Your contributions are vital to the ongoing success of the campus, and we urge you to consider volunteering, mentoring and offering financial support to GCSU. Your gifts help strengthen the university endowment or day-to-day operations and provide opportunities for future generations of students.
We're excited about the upcoming school year and have numerous events and initiatives that we hope will better connect our alumni; both in Milledgeville and closer to your home. I know I speak for the Alumni Association Board of Directors when I say we are committed to fostering a sense of community among our alumni and invite you to join us in that mission. We are confident that together we can achieve great things and make a difference in the lives of our students, alumni and the broader community.
Finally, I would like to express my gratitude to the GCSU administration, faculty and staff for their unwavering commitment to excellence. Your dedication to providing a first-class education to our students is truly inspiring, and we are proud to be a part of such an outstanding institution.
Thank you for your continued support. We look forward to working with you all in the future.
Go Bobcats!
Zach Mullins, '11 President, GCSU Alumni Association Board of Directors
CONNECTION MAGAZINE • SUMMER 2023 3 CONTENTS 4 | UP FRONT 10 | HOMECOMING AND SPRING CONCERT PHOTO RECAP 12 | STUDENT PROFILE Students Selected as Fulbright semi-finalists. 14 | NEW AND FAMILIAR FACES Meet Georgia College & State University's Alumni Association Board of Directors. 18 | GC ASKS YOU What Does GCSU Heritage Mean to You? 20 | COVER STORY Purifying Pollution in Central Africa. 24 | FEATURE STORY A New Chapter in Preserving O'Connor's Legacy. 26 | ATHLETICS > Intramural Sports Field Record-Breaking Number of Teams. > Bobcat Athletics Flexes Academic Muscle. > Richter Recognized. 28 | ATHLETICS HALL OF FAME Sherquita Bostick, '10 and Niclas Johansson, '10 Inducted into 2023 Athletics Hall of Fame. 29 | FACULTY PROFILE Our Own Governor's Teaching FellowSpecial Education Professor Dr. Rob Sumowski. 30 | ALUMNI WEEKEND RECAP > Alumni Award Winners. > College of Business & Technology Hall of Fame. > Peabody Luncheon. 32 | CLASS NOTES 34 | IN MEMORIAM ON THE  COVER Dr. Samual Mutiti, Professor of Geology and Environmental Sciences,
in
See page 20 for story
works with Amber Johnson
Zambia.
MARKETING PROFESSOR GRANTED TOP HONOR
 For her devotion to students, selfless commitment and innovative teaching—Marketing Professor Dr. Joanna Schwartz won the University System of Georgia's 2023 Felton Jenkins Jr. Hall of Fame Faculty Award.
Athletics Department students frequently proclaimed Schwartz as Most Influential Professor. In the College of Business & Technology, she won the Student's Choice Award three times. She also won the 2022 University Excellence in Teaching Award.
Dr. Costas Spirou, provost and vice president for Academic Affairs, nominated Schwartz, praising her ability to create original coursework, integrate real-world experiences in her classes, offer stellar research opportunities and generate partnerships with off-campus organizations.
"I hope that my students take from my classes the importance of inclusivity and respect,"Schwartz said. "I need to show respect to my students, if I expect a classroom environment where every student feels valued and heard and where we can all come together and learn from each other."
LEADING THE CHARGE TOWARD EQUITY
t Madelyn St. John of Milledgeville is one of three young adults with intellectual disabilities in our new GCSU Thrive initiative. The two-year certificate program operates through the university's School of Continuing and Professional Studies to give these individuals hope, options and a place in the community.
"We think this will transform campus and the surrounding area," said Dr. Nicole DeClouette, interim associate dean and professor of Special Education. "There's a huge potential to make this program more dynamic and inclusive. Disability is often forgotten when we talk about diversity."
GCSU Thrive is one of eight Inclusive PostSecondary Education (IPSE) programs in Georgia—that offer adults with disabilities the chance to continue their education in a modified path to college.
4 CONNECTION MAGAZINE • SUMMER 2023
DEPT. OF MARKETING UP FRONT
DEPT. OF TEACHER EDUCATION
DEPT. OF THEATRE AND DANCE
ENTERTAINMENT AND FILM INDUSTRY GURU
t Entertainment and film industry guru Harlee Pope, '18, shines in the entertainment and film industry. She's worked on the set of the CBS TV series "MacGyver," interviewed rock legends like "Men at Work," and starred in the Pretense music video by Alex Gråey.
"Georgia College & State University's Georgia Film Academy program taught me the ins-and-outs of the film industry," she said. "I got an internship in the Atlanta Film industry, then a full-time job on the MacGyver reboot."
Pope is a film industry freelancer, who has worked on over 34 professional film productions in three years, including DC Universe's "Doom Patrol," Lionsgate's "Heels," Netflix's "Insatiable" and "Thunder Force" and Fox's "The Resident."
"To watch patient, hustling, problem-solving, creative, forwardthinking people work every day is so inspiring and challenges me to grow," she said. "You never know who or what is going to come to set each morning. It's so exciting to adjust constantly."
CONNECTION MAGAZINE • SUMMER 2023 5
DEPT. OF CHEMISTRY, PHYSICS, & ASTRONOMY NEW PHYSICS CONCENTRATION FOR RADIATION THERAPY AND MEDICAL IMAGING TECHNOLOGY
 This fall, a new concentration in medical physics will prepare students to get a master's degree for careers in radiation therapy.
A dual-enrollment partnership with Auburn University in engineering, and talks with Georgia Tech to offer dualenrollment for medical physics students are also in the works.
And housed in the new Integrated Science Center, the department purchased a sophisticated, high-field Nuclear Magnetic Resonance (NMR) Spectrum Meter in its efforts to give students the best possible training. Faculty and students can use the NMR in almost any scientific method from organic synthesis, biochemistry, bioorganic and material science to forensics, environmental science and analytical chemistry.
To train the next generation, we will be aggressive and go after all the resources the students and faculty will need for the program to be successful," said Dr. Sayo Fakayode. "We are open and excited. I just thank my team. They are the very best—very effective and very creative. I see this as an exciting moment."
DEPT. OF INFORMATION SYSTEMS & COMPUTER SCIENCE
LOCAL HIGH SCHOOLERS JOIN FIRST WOMEN IN TECHNOLOGY DAY
t Designed to help young women envision a career in a technologically-oriented field, the first Women in Technology Day—created by the College of Business & Technology—was designed to generate interest among female high school students about technology and introduce educational pathways that could lead to careers in the tech sector.
Visiting students enjoyed a line-up of conference events geared toward women in technology. They attended virtual reality sessions exploring technology and meditation, learned about the GCSU Women in Technology experience firsthand from their college peers and created a robotic process automation for mimicking human interaction on a web browser.
"It was inspiring to see so many women excited about technology," said Joy Godin, associate professor of management information systems.
6 CONNECTION MAGAZINE • SUMMER 2023
FRONT
UP
Iconic landmark restored
A new, robust Bobcat medallion was installed in November 2022 to withstand foot traffic, events and ceremonies that make Front Campus such a valued part of the institution.
The previous medallion, installed in 2014, had cracks throughout.
CREATOR'S CHERISHED ICON LIVES ON
p Jason Hendrix, '09, knew something important was missing when he attended Georgia College & State University basketball games as a junior—a mascot.
That's when he led the charge of the Thundercats—a GCSU fan base, which led to the creation of the university's mascot "Thunder."
After seeing mascots from other universities, Hendrix became determined to create a Georgia College mascot.
The Thundercats collected donations from alumni, students and local businesses, but it wasn't enough to buy one. So, Hendrix sought advice from other university mascots.
After meeting with former President Dr. Dorothy Leland many times, she presented Hendrix a check for the mascot project.
"I still get chills every time I talk about this," he said.
Hendrix, of Tallahassee, Florida, returned to campus Nov. 26, 2022, to celebrate Thunder's 15th birthday.
"My end-all, be-all goal is to a leave a legacy," Hendrix said. "I'm so glad to see what GCSU has done with Thunder. The whole thing is super special to me."
The new medallion has one piece of fourinch-thick granite with etched and sealed lettering. It more than doubles the thickness of the multi-piece granite installation it replaced.
The new medallion is stronger to provide a better platform for the celebrations that happen in December and May.
With over 20 years of research and design experience, Facilities Management has built a better Bobcat medallion that will support our graduates and traditions for decades.
CONNECTION MAGAZINE • SUMMER 2023 7
DEPT. OF ART
MUSIC RESONATES IN NEWLY-EXPANDED SPIRIT OF MACON MURAL
t The Macon Transit Authority formally presented the expansion of Abraham Abebe's public art installation that has enlivened a drab corner of downtown with vibrant colors, dynamic images of native wildlife and graphic renderings of Macon's iconic city skyline.
Associate Professor of Art and Graphic Design, Abebe updated his Spirit of Macon mural to feature the musicality of the city that launched the careers of Little Richard, Otis Redding, the Allman Brothers Band, Robert McDuffie and Jason Aldean.
8 CONNECTION MAGAZINE • SUMMER 2023
Abebe's addition to the Macon mural.
Abraham Abebe
(Photo credit: MTA)
UP FRONT
ZIMBABWE FEMALE STUDENTS FIND HOPE
p Former international student Michael Mbulelo Ncube's passion to help others began at an early age. He won his primary school's Citizenship Award three times for his great humility and resolve to help humanity. This compassion still drives him today.
In 2020, he started the Girl Global Child Foundation, offering scholarships to pay school fees for seventh-grade Zimbabwean female students to continue their high school education.
When African students reach seventh grade, their parents must pay fees for them to advance to high school. If parents can't afford them, their education is over.
"Many times, in the African community, parents sacrifice for the boy to go to school and neglect the girl," Ncube said. "This creates many social ills later in life and possessiveness by males toward females, because females don't have a leg to stand on."
When a young girl is empowered to say, 'I did this on my own' — that's what we try to instill.
Michael Mbulelo Ncube
The foundation has awarded over 100 scholarships to help girls attend high school.
"Opportunities are scarce here; oftentimes hard work is not rewarded," he said.
"When a young girl is empowered to say, 'I did this on my own'—that's what we try to instill," Ncube said.
GCSU STUDENT IS GEORGIA'S SOLE TRUMAN SCHOLAR
p Colin Hall, a political science major from Jones County, Georgia, is Georgia College & State University's first-ever Truman Scholar.
The scholarship is a highly-competitive national award given to exceptional college juniors who demonstrate outstanding leadership potential, a commitment to public service and academic excellence.
Hall joins a class of 62 new Truman Scholars selected from 705 applicants representing 275 colleges and universities nationwide. He's the only student in Georgia to earn this prestigious honor.
Hall's ultimate goal is to be elected governor of Georgia.
"The Truman wants someone who's dedicated to a life in public service," he said, "and I can say that one of my big missions in life is to serve people."
MORE TO COME!
This award was breaking news when the magazine was already in production. A more in-depth story will follow in the next issue.
CONNECTION MAGAZINE • SUMMER 2023 9
International Education Center
HOMECOMING & SPRING CONCERT
p (L-R) Duke: Will Thomas Duchess: Nicole Rubin Queen: Lauren Moskowitz King: Sam Howard
CONNECTION MAGAZINE • WINTER 2023 11
Spring concert headliner Yung Gravy 
Going Places
Students selected as Fulbright semi-finalists
Georgia College & State University students and alumni continue experiencing success applying for one of the United States' premiere cultural exchange programs.
The U.S. Department of State's Bureau of Educational and Cultural Affairs named four Georgia College students and recent alumni as semi-finalists for the Fulbright U.S. Student Program.
"I am so proud of all of our Fulbright semi-finalists, and I'm especially excited to have several alumni represented," said Anna Whiteside, assistant director of the John E. Sallstrom Honors College and national scholarships coordinator.
Operating in over 160 countries worldwide, the Fulbright Program is the flagship international educational exchange program sponsored by the U.S. Government, and is designed to increase mutual understanding between the people of the United States and the people of other countries.
Recent graduate and Fulbright semi-finalist, Julian Lopez applied for the scholarship program because of its focus on ambassadorship and intercultural connection. Lopez is a strategist with the global consulting firm BCG BrightHouse. He believes the Fulbright program—with its meaningful engagement with people from other cultures— will help him develop a skillset for working with people around the world.
"Intercultural understanding and collaboration are paramount in the business consulting profession, especially when working with global clients," he said.
Another benefit of the Fulbright experience, Lopez added, is the opportunity for America's brightest scholars to represent our nation's positive virtues abroad.
"There are so many stereotypes and misconceptions about Americans in Europe—I experienced it while over there in 2019," he said. "I want to bring clarity to what is accurate and what isn't."
Georgia College graduate creative writing student Kelsie Doran is a world-traveling poet who enjoys teaching the gift of language. Helping Norwegian students in her potential host country learn English, she said, is something that would benefit them beyond her Fulbright experience.
In the spirit of cultural exchange that is at the core of the Fulbright program, Doran hopes to bring back tools and concepts from the Norwegian education system to use upon her return.
"I hope to learn from the students, and that we can grow from one another," she said. "I hope to gain insight, to embrace Norway fully and to explore what it means to teach."
Doran and Lopez applied for the Fulbright to advance their personal and professional trajectories beyond their classroom experiences at Georgia College. Both said Whiteside assisted them with their applications in a way that made the process efficient and an opportunity for growth.
"Just do it; there's really nothing to lose," Lopez said. "If you get the scholarship, you're looking at the opportunity of a lifetime. If you don't, the application experience will only make you into a stronger, more experienced, more articulate applicant for opportunities down the line."
The scholarships office is available to work with students—undergraduate, graduate and alumni—to develop their Fulbright application, Whiteside said. Visit the National Scholarships Office website gcsu.edu/national-scholarships to learn more about the Fulbright and other national scholarships.
"Many people don't know this, but you can apply for Fulbright Scholarships as an alum," Whiteside said. "And, as a Georgia College alum, you are welcome to come and work with me on your application."
FULBRIGHT FINALIST
Anagha Ramakrishnan, '22, is set to engage in a yearlong cultural exchange in Greece as a finalist for the Fulbright U.S. Student Program.
As a journalist with bylines in the Atlanta Journal-Constitution and who fact-checks stories for CNN, Ramakrishnan will travel to the cradle of Western Civilization to explore the underpinnings of communication, research the roots of democracy and teach local students.
"Greece is the starting point for theatre, comedy, drama, politics, democracy and where communication really sparked up with Aristotle's theories of persuasion," Ramakrishnan said. "To be in an area where those theories and practices were born out of and to experience that firsthand will truly help me become a stronger communicator and a stronger storyteller, which is my ultimate goal."
CONNECTION MAGAZINE • SUMMER 2023 13
Meet Georgia College & State University's Alumni Association Board of Directors.
Pam Booker, '97, serves as the chief human resources officer for Middle Georgia State University in Macon, Georgia. She also serves on the Georgia College Foundation Board of Trustees. Booker is a J. Whitney Bunting School of Business & Technology Hall of Fame recipient and a former president of the Alumni Board. In 2021, she was inducted into Omicron Delta Kappa National Leadership Honor Society. Booker was also named the 2022 Alumni Service Award recipient. ..........................................................................................
Rachel Brochstein, '09, earned her bachelor's degree in history. She's a realtor at Harry Norman Realtors. Brochstein is chair of the Outreach Committee.
Kristen Chapman, '07, received her bachelor's degree in health education. She has a master's degree in public health from Armstrong Atlantic State University and doctorate in public health from University of South Florida. She's a public health advisor at the Centers for Disease Control. ..........................................................................................
Dr. Brooke Conaway, '03, received her bachelor's degree in economics. She has a Doctor of Applied Economics and Master of Applied Economics from Clemson University. Conaway is an associate professor of economics at Georgia College.
Matt Davis, '02, '04, earned his bachelor of science in history and his master of arts in public history. He's director of Historic Museums at Georgia College. Davis is a member of the College of Arts & Sciences Advisory Board, Georgia Association of Museums, President of Southeastern Museums Conference Council Board of Directors, City of Milledgeville's Convention & Visitor's Bureau Board of Directors and American Alliance of Museums Curator's Committee. He enjoys playing saxophone, hiking and making home repairs. Davis and his wife have three children.
Andrew Deneen, '10, received his bachelor's degree in English. He graduated with a Juris Doctorate from Florida State University in 2013. Deneen won the Outstanding Recent Alumni Award in 2020 for his accomplishments as an attorney. Deneen and his wife have a son. ..........................................................................................
Kendra Evans, '08, received her bachelor's degree in Spanish. She received her MBA from Mississippi State University in 2012. She is a lecturer in the J. Whitney Bunting College of Business & Technology.
Robert Fuller, '79, '99, obtained his Bachelor of Business
Administration in Management and his Master of Public Administration. After 26 years of service, Captain Fuller retired from the Macon Police Department and continued his career with Georgia Peace Officer and Standards and Training Council (POST) as a compliance investigator. He owns MPD Security, Inc. and Robert Fuller Properties, LLC. Fuller serves on the Board of the Macon-Bibb County Employee Credit Union, where he chairs the Personnel Committee. He is also a member of the National Organization of Black Law Enforcement Executives (NOBLE), both the national and state chapters and is past president of the 100 Black Men of Milledgeville-Oconee where he serves as vice president and grant administrator. Fuller serves as the assistant chair on the Scholarship Committee.
Patrick "Pat" Gamble, '11, received his bachelor's degree in rhetoric. Gamble currently leads marketing for Bubly Sparkling Water at PepsiCo as a senior brand marketing manager.
Shea Groebner, '05, received a bachelor's degree in environmental science. He serves as the assistant director of Facilities in the Department of Environmental Health and Occupational Safety at Georgia College.
CONNECTION MAGAZINE • SUMMER 2023 15
..........................................................................................
..........................................................................................
..........................................................................................
..........................................................................................
Justin Haight, '09, '21, earned a Bachelor of Business Administration degree in management and marketing and obtained his master's degree in management information systems. He's the director of Talent Partnerships at the Metro Atlanta Chamber of Commerce.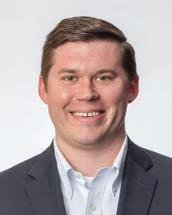 Michelle Hendricks, '96, received her bachelor's degree in management information systems. She has since worked in various information technology areas including database system support, software consulting, computer training and teaching. For the last 11 years, she worked for CAE USA, in the Joint Surveillance Target Attack Radar System (JSTARS) program. She recently retired after serving over 25 years as a defense contractor, working for the U.S. Department of Defense at Robins Air Force Base.
Kyle Hood, '06, '08, received his Bachelor of Criminal Justice and his Master of Public Administration. He has held a variety of community planning and management positions in cities and counties throughout Georgia. He is the Chief Operating Officer of the Georgia Department of Community Affairs. He is president-elect of the Alumni Board.
Evan Karanovich, '12, received his bachelor's degree in political science from GCSU and his MBA from the University of Georgia. While at Georgia College, he served as a volunteer firefighter with Baldwin County Fire Rescue and held numerous roles
throughout campus, including Student Government Association president in 2011 and 2012. Karanovich began his career with Chick-fil-A in 2016. He became the first administrative and strategic advisor for Chick-fil-A Chairman and CEO Dan T. Cathy. ..........................................................................................
Cameron Kline, '15, received his bachelor's degree in history with a minor in political science. Kline is an associate attorney in Freeman Mathis & Gary, LLP's Atlanta office and practices in government law, construction law and professional liability. Kline previously served on Governor Brian P. Kemp's staff as a member of the legal team, where he advised the Governor on pending legislation, proposed policy agendas and general legal matters. He has experience guiding private property owners through administrative procedures for local zoning and land use matters at the county and municipal levels.
Dell Mason, '86, earned a degree in management. Mason and his sister, Sharon, run the family business: Mason & Johnson Saw Company, Inc. The family-founded and operated company was established in 1982 and sells products across the Southeastern United States and internationally.
Dr. Luis Matta, '11, '18, received a bachelor's degree from the University of Phoenix, an MBA and graduate degree in management information systems from Georgia College, and a Doctorate of Business Administration from Argosy University. He is president of The Matta Group, Inc., a Minority Business Enterprise Certified Consulting company.
Ranard Mattox, '90, received his bachelor's degree in history. He earned his MBA from Wesleyan College in 2016. Mattox is the project advisor for Alpha Phi Alpha Educational Talent Search, where he manages a program designed to help people ages 11 to 27 explore career and post-secondary education opportunities.
Brandie Mock, '07, received her bachelor's degree in psychology at Georgia College and a master's degree in industrial and organizational psychology from Radford University. Mock is a product manager at CFA Institute, where she leads a team that provides oversight into the department's use of software solutions. She is married to Dr. Harold Mock, director of Leadership Programs at Georgia College.
Zach Mullins, '11, earned a bachelor's degree in business management. He's a long-time member of the Alumni Board and was the Student Government Association president from 2009 until 2011. Mullins began his career at Cox Media Group, working as a sales associate, rising into his current role as vice president of Channel Partnerships & Retail Ad Tech. Mullins is president of the Alumni Association Board of Directors.
Cecile "Ceil" Parker, '56, is a graduate of Georgia College's Peabody School. She also graduated from Middle Georgia College and worked as the secretary to the president of Georgia College. Parker is retired and lives in Milledgeville.
16 CONNECTION MAGAZINE • SUMMER 2023 ..........................................................................................
..........................................................................................
..........................................................................................
..........................................................................................
Jennifer Pollard, '95, received her Bachelor of History and became the executive director of Lockerly Arboretum in January 2017. She has spent 20 years in nonprofit organizations, focusing on fundraising, strategic planning and nonprofit management. Pollard has worked in house museums like the Louisa May Alcott's Orchard House in Concord, Massachusetts, as well as environmental organizations like Eastern Shore Land Conservancy on Maryland's Eastern Shore. She was awarded International Certified Fund-Raising Executive (CFRE) status in 2008. Pollard is a 2011 graduate of the National Conservation Leadership Institute.
Sam Rauschenberg, '07, obtained his undergraduate degree in economics. He holds a master's degree in public policy from Duke University's Sanford School of Public Policy. Rauschenberg serves as vice president of Organizational Effectiveness at Achieve Atlanta—a non-profit organization that helps Atlanta Public School students access, afford and earn postsecondary credentials. He's responsible for data strategy and operations, partnering with program teams to execute strategy, evaluate impact and enable the organization to accomplish its mission. He lives in Norcross with his wife, Hannah, and two kids—Hudson and Ruth. Rauschenberg serves as treasurer of the Alumni Board.
William "Will" Smith, '12, '18, received his bachelor's and master's degrees in accounting. He is an accountant for University Advancement at Georgia College,
where he manages state and Heritage Fund budgets and provides insight on Georgia College's investment accounts. Previously, Smith worked for Financial Services at Georgia College as the senior accounting assistant. He is the Recognition Committee chair.
Chandler Snell, '11, earned a bachelor's degree in community health. While attending Georgia College, Snell was a four-year starter and letterman on the GCSU baseball team. He's a fifth-generation owner of E.R. Snell Contractor, Inc. Snell has worked with the company for over 12 years, working on multiple projects, including building the intersection of Interstate 75 and Jodeco Road.
Natalie Sorto, '12, received her bachelor of arts in mass communication and a minor in Spanish. She's employed at Ampersand in Atlanta, where she works in advertising for clients like Lexus and Sonic. During her time at Georgia College, she was a member of the Leadership Certificate program, Student Government Association, Latino Student Association, International Club, Alpha Lambda Delta and Big Brothers Big Sisters. Sorto serves as assistant chair of the Outreach Committee. ..........................................................................................
Patti Zimmermann, '78, received a bachelor's degree in music education. She began her career in music education then transitioned into information technology. Zimmermann has worked for Macy's for 21 years, serving as a senior analyst in Technology Finance. She has also worked with Federated Systems Group, IBM, Equifax, the Atlanta JournalConstitution and First National Bank of Atlanta. Zimmermann is chair of the Scholarship Committee.
The Georgia College & State University Alumni Association Board of Directors is made up of 28 alumni who represent the Georgia College alumni base from across the nation. The alumni board is the governing body for the Georgia College Alumni Association.
Board members are volunteers, and selected by Board of Directors' Alumni Recognition Committee and confirmed by the current board. For more information about the Georgia College Alumni Association Board, please contact us at alumni@gcsu.edu
CONNECTION MAGAZINE • SUMMER 2023 17 ..........................................................................................
..........................................................................................
WHAT DOES GCSU HERITAGE MEAN TO YOU?
A wonderful art education, as well as a math major–my education has afforded me a lifetime of teaching, traveling, and representing GCSU! My artwork has been shown around the world!
BETTY BIVINS EDWARDS, '67
GSCW gave me the foundation to continue my education and helped develop who I am today.
PEGGY ROWE, '61
I appreciate the education and experiences I had at GCSU. Keep up the good work.
GAYLE CHRISTENSEN AVANT, '56
Just acknowledging the positive impact GCSU had on our lives.
KEITH FULLER, '81
Memories of the late-night deadlines and getting The Colonnade to The Union-Recorder on time, then going back early the next day to pick up the printed paper.
BEVERLY MCFADDEN KING, '98
A contributing factor to my mission trips to Africa (7 total), spreading God's word to a third-world country.
CARLTON PRICE JR., '72
Sustainable funding to ensure access to all to GCSU's wonderful education and tradition of academic excellence.
BLAKE "STEPHEN" SHIVER, '06 AND LINDSEY EARLE SHIVER, '06
The tradition, the values, the history, and the future goals of the university.
LAURA DEEMER, '08
GCSU and Milledgeville will always remain so fundamental and special to us academically, emotionally and professionally!
VICTORIA BAILEY OLSEN, '15 AND KYLE OLSON, '15
The continuation of traditions of excellence in the college experience, both inside and outside the classroom.
LINDA LAWSON SHERWIN, '70
I will always remember my year at Georgia College-serving as President of my junior class was the highlight of my year there. Going back for the 50th year reunion was really special!
BONNIE DEKLE HOWARD, '63
Promoting Georgia College. As a teacher, all my foundation was laid at GCSU! 33 years as a first grade teacher, three as a kindergarden teacher and still teaching!
BRENDA
I am proud to be the third generation to graduate from GCSU! My great aunt--Pauline R. Jrulock--my mother, Nelle Bond Byrd ('42) and Cathy Byrd ('72). My husband, Paul, was welcomed home from Vietnam by Dr. Spect and Dr. Royal who convinced him that an excellent school of business was being established--he stayed for his MBA.
SARAH BYRD ROBERTS, '72 AND HENRY ROBERTS, '73
GCSU has been the mainstay of our community. Our family has benefited over the years from the quality of life that this fine institution brings to our community. The Heritage Fund will provide opportunities for the arts and sciences programs to expand, thereby, benefiting the community. Thank you to President Cathy Cox for her leadership. She is what GCSU needed at this time.
CHARLES BURRELL, '74
CLIFTON, '71
20 CONNECTION MAGAZINE • SUMMER 2023
Georgia College & State University students are sowing the seeds of change.
Funded through a $300,000 grant from the National Science Foundation (NSF), an environmental science professor is leading this transformation in the central-southern region of Africa. His students are researching plants that may have the power to renew vast stretches of land poisoned from years of mining.
The three-year program includes International Research Experiences for Students (IRES) in the summers, plus continuing research during academic years on campus. It builds upon years of study by Dr. Samuel Mutiti, professor of geology and environmental sciences, who has worked tirelessly to clear Zambian soils of toxic metals.
Last summer, Mutiti took the first cohort—three undergraduate students and a graduate to Copperbelt Province and Kabwe, once dubbed the world's most toxic town due to mining. Months of dry season in the region are followed by windy months. Children play in dusty fields, breathing in air particles laden with heavy metals like lead, cadmium and zinc.
Lead causes neurological problems, brain damage and lowered IQ in children. In pregnant women, it can cause anemia and miscarriages.
In recent years, Mutiti's team built a concrete wall fence to block wind gusts at a playground at the David Ramushu Combined School in Kabwe. They buried contaminated dirt, encapsulating it with a layer of clean soil. In the future, Mutiti hopes to add plants that are known to pull pollutants from soil into their roots and stems.
"One of the things we focused on last summer was the selection of contaminated sites as good candidates for experimental phytoremediation," Mutiti said. "We visited many different sites, collected different plants and soil samples for analysis. Each site has its own suite of pollutants, challenges and other factors. Which site will be ideal for future research?"
CONNECTION MAGAZINE • SUMMER 2023 21
MACEY CARSON
For the IRES project, Georgia College students collaborate with peers at the Colorado School of Mines to study heavy metal pollution and phytoremediation—the use of plants to clean contaminated environments.
They're also looking for ways to reuse the plants.
Georgia College's portion of the NSF grant is $165,000 to send four students for research to Zambia this summer, four next summer and another cohort in summer 2024.
Four students will be funded to return to identified sites and grow plants that pull ground toxins into stems and leaves, leaving behind cleaner soil.
In summer 2024, the last cohort will test plants for accumulation of toxins and determine if any parts are safe to be used for other purposes such as food, medicine or biofuels.
Senior biology major Abby Logan of Dacula, Georgia, was in the first cohort. She has a pre-med concentration and minor in public health but was new to
SHANNON NORTH
"and how the science we're learning about and currently researching can make a difference in people's lives."
Senior Alana Stevens of Buford is majoring in environmental science with a minor in geology. She also knew little about the research going in. Now, she and Logan are lead researchers in Mutiti's lab on campus.
"I didn't know about phytoremediation or Phyto-mining when I signed up for this. I remember hearing those words for the first time and feeling very intimidated. But now," Stevens said, "I just feel very inspired."
In Zambia, students started their days early, traveled a lot, slept in youth hostels, and enjoyed African foods, like nshima—a thick porridge of white corn eaten with leafy greens and meat.
Mutiti lauded the work of his first cohort. Students learned to adapt, meet challenges head on, change plans at a moment's notice and work with people from all backgrounds at an international site. They developed a good work ethic, learned laboratory techniques at other universities and networked with professional scientists. He's proud of the way students broadened their perspectives and took ownership of the work, while gaining confidence and leadership skills. Students practiced critical thinking. They used logical reasoning and solved problems, as well as analyzed and interpreted data.
The knowledge they gained didn't come to a stop when the trip ended. Logan and Stevens are using what they learned last summer to continue research on campus and guide other students who hope to be part of the next Zambian cohort.
"I'm enjoying it," Stevens said, "because I feel like l've done projects in school where I've started to answer a question, and I don't quite get to the finish line. So, I'm really excited about this project and seeing what it becomes, because it does feel really big, and it will have big impacts."
Since soils couldn't be removed from Zambia, the group is working with the Environmental Protection Agency (EPA) to find contaminated soils in Georgia. If polluted soils can't be located, they'll add lead and metals to dirt to get the right amount of contamination for their research.
This soil will be used to plant sunflowers in the rooftop greenhouse at Herty Hall, along with other plants capable of growing in high concentrations of metals.
Graduate biology student Ashley Clark of Augusta is working on this aspect of the research. It's his job to locate plants that pull toxins, like one he's currently researching: hemp.
Some plants will be allowed to grow normally in clean soil. Others will be planted in contaminated dirt.
Supplements like chicken manure, compost and other microbes will be used to see if they help plants absorb toxins.
Junior Wiley Bundy of Savannah is majoring in environmental science with a minor in geology and concentration in hydrology. She'll water the plants—some overabundantly—to see if metals leach into groundwater.
Ultimately, this research not only helps protect people—but it will propel students toward future goals.
In Zambia, Stevens discovered a love for fieldwork. She enjoyed meeting within a group, discussing what they did in the field that day and compiling information. She'd like to work in a research lab after graduation and continue programs that have global impact.
CONNECTION MAGAZINE • SUMMER 2023 23
ASHLEY  CLARK
A new chapter in preserving O'Connor's legacy
Georgia College & State University opened a gift to fans of Flannery O'Connor, '45, on the eve of the renowned author's 98th birthday.
Georgia College celebrated its most famous alumna by cutting the ribbon on the new Andalusia Interpretive Center in a ceremony held March 24.
The opening kicked off two days of birthday celebrations, including author talks, book signings and free tours of Andalusia— O'Connor's home from 1951 until her death in 1964. On March 25, O'Connor's birthday, Andalusia staff hosted a party featuring cake and singing.
24 CONNECTION MAGAZINE • SUMMER 2023
The Andalusia Interpretive Center is a $3.5 million investment in the preservation and interpretation of O'Connor's life, literary legacy and the history of the Central Georgia region that inspired her writing.
The center encompasses 5,300 square feet of exhibition, artifact storage, retail and conference space. The center is designed around an open-concept storage facility allowing visitors greater access to the many personal artifacts that preserve O'Connor's material legacy.
Georgia College Director of Historic Museums Matt Davis, '02, '04, says the Interpretive Center is a giant step in restoring the farm where O'Connor completed the majority of her published output and that appeared in stories including "Good Country People," "A Circle in the Fire" and "The Displaced Person."
"For fans, the improvement is two-fold," Davis said. "It will improve and continue to enhance what you can experience about the life of Flannery O'Connor at Andalusia, and it also helps us to take all the nonoriginal functions out of the house museum and recreate the environment Flannery knew when she lived there."
The Interpretive Center opening comes less than a year after the U.S. National Park Service designated Andalusia a National Historic Landmark. Andalusia joins Georgia's Old Governor's Mansion as Georgia College's second official National Historic Landmark. The Andalusia designation recognizes O'Connor as one of the most influential American authors of the mid-20th century.
"O'Connor's contributions represent a unique space in American literature and her works continue to inspire new generations," National Park Service Director Chuck Sams said at the time of the designation.
The popularity of O'Connor's writings paired with the efforts to preserve the farm that inspired her work and the new resources for interpreting and sharing the author's legacy make Andalusia, and Milledgeville, a destination for tourists who are interested in American history and culture.
"We're delighted to welcome the addition of the Interpretive Center at Andalusia: Home of Author Flannery O'Connor to Milledgeville's culturally rich tourism economy," Visit Milledgeville Executive Director Rebekah Cline Snider, '06, said. "From Japan to Spain to Turkey, Andalusia has led us in welcoming literary enthusiasts and creatives from across the globe. We're proud to continue uplifting the fantastic work Georgia College continues to embark upon to make O'Connor's life and legacy accessible to the public."
CONNECTION MAGAZINE • SUMMER 2023 25
INTRAMURAL SPORTS FIELD
RECORD BREAKING
NUMBER OF TEAMS
Our Intramural Sports fielded 430 teams competing in nine different sports during the fall 2022 semester.
That's a GCSU Intramural Sports record for the number of teams competing at one time. With about 1,400 students signing up to play intramural sports, that means roughly one out of four GCSU students will play an intramural sport.
"Our participation rate is one of the highest in the country," said Drew Bruton, associate director of Wellness and Recreation.
As many as 2,200 students will participate in intramural sports by the end of the academic year, Bruton said. That's about 38% of GCSU's 5,500 undergraduate students. The national average is closer to 11%, down from 18% in the years before the COVID-19 pandemic.
Bruton attributes the jump in participation to students looking for ways to meet people and find their niche.
"Intramural sports offer a social outlet that you're not going to find anyplace else on campus," Bruton said. "Students enjoy the programs they are in, and they let the freshman know about it."
The increased participation will have an effect on the level of play. Bruton said the greater number of teams allows his office to pair teams based on competitiveness.
"Our goal is for players to have fun," Bruton said. "We want people to feel welcome and have a good time, even if they're not the most competitive person."
Teams and individuals compete in flag football, softball, indoor soccer, kickball, cornhole, spikeball, kan jam, pickleball and soccer tennis.
"Intramural sports are something that make Georgia College special and different from other University System of Georgia schools," Bruton said.
430
1,400
NUMBER OF STUDENTS SIGNED UP
INTRAMURAL TEAMS // FALL 2022 *
26 CONNECTION MAGAZINE • SUMMER 2023
TO PLAY
NATIONAL CHAMPS
Congratulations to the Georgia College & State University
Future Daddy's and Beast on their performance at the National Intramural-Recreational Sports Association National Flag Football Championship.
The Future Daddy's won the National Championship, besting University of Texas San Antonio 41 – 14 in the championship final.
Beast finished fourth in the women's flag football tournament, winning two of four games over the weekend.
Future Daddy's Marcus Prestwood won tournament
Most Valuable Player accolades and is recognized as the top men's flag football player in the country.
BOBCAT ATHLETICS FLEXES ACADEMIC MUSCLE
Our student-athletes got the job done once again this year.
The Bobcats posted a 94% Academic Success Rate, tops among NCAA Division II public schools. The ASR is the percentage of student-athletes who graduate within six years of initial collegiate enrollment and includes virtually all Division II student-athletes.
This marks the third-straight year Georgia College Athletics earned the NCAA's Presidents' Award for Academic Excellence. The NCAA Division II Presidents' Award is presented to all member schools earning an ASR of 90% or better. The year 2022 marked the second-straight season GCSU student-athletes led all Division II public schools in the nation in this important academic measuring stick.
The Division II ASR includes transfers into a school in the calculation and removes transfers out who left school while academically eligible. The ASR also includes the more than 31,000 non-scholarship student-athletes who were enrolled in the four years covered in the most recent data.
RICHTER RECOGNIZED
Tennis player Emilia Richter wrapped up an amazing career in style. Richter was named Intercollegiate Tennis Association All-American—the 24th Bobcat in GCSU Women's Tennis history to achieve this recognition, but the first since 2006.
Richter went 16-5, earning All-Peach Belt honors in singles. She finished her public health degree with a 3.76 GPA and earned a conference finalist nomination for NCAA Woman of the Year.
CONNECTION MAGAZINE • SUMMER 2023 27
94
% ACADEMIC SUCCESS RATE
HALL OF FAME inductees
Two outstanding athletes were inducted into the university's 2023 Hall of Fame at a special ceremony held Feb. 18, during Homecoming weekend.
Sherquita Bostick, '10, of Florence, South Carolina, played two seasons of softball for the Bobcats as a junior college transfer and was named Peach Belt Conference Player of the Year in both. She picked up All-America, All-Region and AllConference honors in both seasons, as well. Bostick's .655 slugging percentage ranks second in school history, and her .371 batting average is fifth. Bostick was the 2009 PBC Tournament MVP, leading the Bobcats to their lone PBC Title.
"Always believe in yourself and strive to do your best in everything you do," Bostick said.
Niclas Johansson, '10, of Falsterbo, Sweden, was a four-year member of the Bobcat Golf team, earning All-America status each season. He finished ninth at the NCAA Finals in 2009 and 11th in 2009. Always shining bright on a big stage, Johansson was individual champion at the 2008 NCAA South/Southeast Regional, pacing the Bobcats to a Region Championship as a squad, as well. He also took runner-up honors at the 2010 Peach Belt Conference Championship, leading the Bobcats to one of their two conference titles. His career scoring average of 73.37 ranks second in school history.
"It is a huge honor to get inducted, and I thank everyone involved," Johansson said. "It's a confirmation of my successful time at Georgia College & State University, but most importantly a reminder of one of the best four years of my life. Not only did I grow as a golfer, but also as a human being."
28 CONNECTION MAGAZINE • SUMMER 2023
2023
Sherquita Bostick (top center) and Niclas Johansson (bottom center) accepted the GCSU Hall of Fame Award from Athletics Director Wendell Staton (left) and President Cathy Cox.
Our own Governor's Teaching Fellow
FACULTY PROFILE
Special Education Professor Dr. Rob Sumowski is one of 12 faculty members from across the state selected as a 2022-'23 Governor's Teaching Fellow.
"I'm honored, partly because the program was begun by Governor Zell Miller, a staunch advocate for public education and a man I met as a young teacher," Sumowski said. "I'm also honored because everywhere I look on this campus, there are faculty who are so good at what they do that it makes my head spin. The idea that I might be considered as even approaching the high bar set by my colleagues humbles me."
Former Georgia Governor Zell Miller started the yearlong symposium in 1995 to provide state education faculty with opportunities to learn important teaching skills.
Sumowski will attend a series of meetings at the Louise McBee Institute of Higher Education at the University of Georgia. Fellows spend three days a month in master classes learning how to become more effective instructors.
The symposium is "a chance to pause and reflect on improving our delivery of instruction," Sumowski said, "but it's also intense, and it moves quickly."
He applied for the Governor's Teaching Fellow program because he's always rethinking his approach to "everything."
"I am realizing there are a hundred different ways to deliver academic content, and a lot of them are more effective than what I have been doing and thought was successful," Sumowski said. "I am reminded how much more there is to learn about our craft."
As part of the program, each fellow identifies a key academic project to focus on. Sumowski chose to redesign a course called "EDEX 4334: Teachers as Leaders" that senior special education majors take prior to graduation.
"The goal of this redesign is to proactively address some of the real-world challenges our graduates are about to confront, such as managing colleagues vertically (administration) and horizontally (peer educators) and supervising paraprofessionals, while dealing with time management, workload and stress," he said.
"I hope the benefits of redesigning this course will directly impact teacher retention and reduce attrition among our program's graduates during the first years of their teaching careers."
I am reminded how much more there is to learn about our craft.
CONNECTION MAGAZINE • SUMMER 2023 29
Special Education Professor
Dr. Rob Sumowski
Sumowski will serve as President of University Senate in the 2023-24 term.
ALUMNI WEEKEND 2022
ALUMNI AWARD WINNERS
PEABODY REUNION
30 CONNECTION MAGAZINE • SUMMER 2023
Major General Thomas F. Grabowski, '90 Alumni Achievement Award
Max Crook Honorary Alumnus Award
Dr. Marcia Perry, '61 Alumni Heritage Award
Javier Becerra, '12 Outstanding Recent Alumni Award
Amy Raburn, '96 Ethel Rae Mozo-Stewart Community Service Award
Pam Booker, '97 Alumni Service Award
Sherquita Bostick, '10 Hall of Fame Inductee
Glenn Waddell William Bone Golden Key Award
Larry Moore
J. WHITNEY BUNTING COLLEGE OF BUSINESS & TECHNOLOGY Hall of Fame Inductee
CONNECTION MAGAZINE • SUMMER 2023 31
A NIGHT UNDER THE STARS ALUMNI WEEKEND PICNIC
............................................................
Vickie Danielson, '69, is 75 years old with health concerns, but she doesn't let this stop her.
"I still love learning, reading, writing and drawing," Danielson said. "I had a stroke in May 2022, but I have made a good enough recovery to get around in a wheelchair."
............................................................
Daryl C. Hunnicutt, '79, retired from Kroger after 27 years of service working at the same store in Johns Creek, Georgia. He was the last original employee at this location.
............................................................
Dr. Cedric Howard, '94, was featured in CIO Views Magazine as one of the Top 10 Most Inspiring People in Education, 2022.
Jason Childers, '07, was promoted to chief warrant officer 2 Aug. 19, 2022. Childers is a member of the Georgia Army National Guard, 170th CPT as a cyber warfare technician. He is currently assigned to the 780th MI BDE (Cyber) in Ft. Meade, Maryland. Childers lives in Savannah with his wife Brooke, and his children, Lily, Victoria and Alexander.
Amy Keith Gaines, '07, was promoted to vice president of Strategic Product Initiatives at Ellucian.
Georgia College, Milledgeville was where he first said, "I love you" to Brittany. She works as a full-service event manager, and Jeff manages strategic growth for a private equity firm.
Jason Hendrix, '09, and his wife, Rosilyn Hendrix, welcomed their second child, Addison Marie Hendrix, into the world July 14, 2022. Brother Micah Nolan Hendrix—age 3—is pictured, as well.
............................................................
Lauren Ballew Burden, '10, has been selected as a Top Young Professional for Douglas County, Georgia. She was honored, along with 11 other recipients, at a luncheon Sept. 14, 2022. Burden is the director of Communications and Community Relations for the Douglas County District Attorney's Office.
Jillian Bowers, '13, and James "Will" Harrison, '13, met at Georgia College. The couple married Sept. 24, 2022, at the Old Medical College in Augusta, Georgia. The wedding party included Emily DeMorse, '13, Will Gaissert, '12, Charlie Houston, '16, Erik Larsen, '12, Ann Marie Lubatti, '12, Steven "Mac" McElveen, '13, '14, and Caroline Mickley, '13.
Brittany Hinger, '08, married Jeffery Scott Lunsford Jr. June 25, 2022, at Swan House in Atlanta, Georgia. The couple has been together since 2013, meeting through mutual friends. They reside right outside of Atlanta with their two black labs. Although Jeff didn't attend
Katlyn Allmon Rabideau, '11, and Daniel Rabideau, '12, welcomed their first child, Callen James, in July 2022.
Dr. David Patch, '12, '14, graduated from St. George's University School of Medicine in 2019 with a medical doctorate. He is completing an orthopaedic surgery residency at the University of Alabama at Birmingham and actively engaged with orthopaedic surgery research. Patch attributes much of his success to the foundation GCSU's Athletic Training Program and Department of Kinesiology provided him along the way.
Dr. Nathan Anisko, '15, married Alethea Dione Duc in January 2022. Their wedding reception was held Oct. 8, 2022, at the Four Seasons Hotel in Atlanta. Benedict Esposito, '15, was the best man. Bobcats in attendance were Brad Williams, '13, Andrew Gahwiler, '14, Jorge Santander, '14, Taylor Fangman Gahwiler, '15, and Melissa Bryan Williams, '15
Julie Coppedge
Ashley, '15, '16, and Ryan Ashley, '14, '15, welcomed their first child, Harper June Ashley, Jan. 27, 2022. She weighed 7 pounds, .5 ounces and was 20.5 inches tall. Ryan and Julie are excited to welcome the newest Bobcat to their family.
32 CONNECTION MAGAZINE • SUMMER 2023
............................................................
............................................................
............................................................
CLASS NOTES
Hannah
Abby and Taylor Robbins, '15, welcomed their second child, Liam, in September 2022.
Juawn Jackson, '16, was elected as president of the Bibb County Board of Education. First elected to the board at age 26, and now, at 29, Jackson is the youngest ever elected to the board and to serve as its president. Jackson, a resident of Macon, graduated from the Bibb County School District in 2012.
................................................................
Angela Moryan, '16, continues her broadcast journalism career as the newest member of the WISH-TV sports team in Indianapolis, Indiana. She makes the jump to a top-25 market after spending nearly five years as the weekend sports anchor at the CBS affiliate in Chattanooga, Tennessee. In 2022, Moryan covered the University of Georgia in the National Championship, March Madness, and now the Indianapolis Colts, Indiana Pacers, Indiana University, Purdue University and IndyCar.
Dr. Clint Edmunds, '17, graduated from the University of Georgia in May 2022 with a Ph.D. in Animal Science and a research focus in swine nutrition. Edmunds is an assistant professor of Biology at Clayton State University.
Haley Flythe Morris, '17, graduated with a Master of Social Work degree from Valdosta State University in 2019. Since then, she has been working as a licensed master social worker at Hospice of Southwest Georgia. In December 2022, Morris took her Association of Social Work Boards National Clinical Board Exam and is now a licensed clinical social worker.
................................................................
Alexandra Lehman North, '18, married her husband Bryan, a sergeant in the Army, in December 2020 at Bonaventure
Cemetery in Savannah, Georgia. They moved to Hawaii shortly after, where she is an academic advisor at Hawaii Pacific University, a private institution in Honolulu, Hawaii. Although her master's degree is in K-12 education in library media, Alexandra finds gratitude and purpose in assisting nursing, public health and social work undergraduate students during their college tenure.
"I want to thank Dr. Diane Gregg for being the best mentor and advisor to me throughout my time at GCSU," North said. "She taught me so much about education, how to be a great digital citizen, and how to nurture and assist students in any way possible."

................................................................
Bradley Mell, '19, and Courtney Frank, '19, met at Georgia College in 2018. The couple got married June 12, 2022, at Primrose Cottage in Roswell, Georgia.
"We thank Georgia College for so many sweet memories and meeting lifelong friends," Courtney said.
Daniella Thomas, '19, and Tyler Pittman are getting married in October 2023.
"We've made Milledgeville our official home, as we purchased our first house here in June 2022," Thomas said. "We currently enjoy living life with our three dogs and planning for what life has in store for us." Please
CONNECTION MAGAZINE • SUMMER 2023 33 ................................................................
................................................................
Baumgarten, '16, married Adam Greene, '16, '17, Nov. 13, 2022. They were surrounded by friends they made at Georgia College. The couple met there in 2013.
Chastain "Chaz" Clark, '16, married Roxanne "Roxy" Johnson, '15, Nov. 12, 2022, in Druid Hills, Atlanta.
................................................................
Yannick Hass, '16, married Hannah Serdinia, '17, Sep. 27, 2022, in Lawrenceville, Georgia.
submit your news for Class Notes at: gcsu.edu/alumniclassnotes
Donald C. Fuller *
Sara E. Murray *
Reba R. Smithline*
Helen P. Cross, '35
Alice D. McHale, '36
Helen Treadaway, '36
Clara H. Meadows *, '36
Louise B. King, '37
Myrtle Roach, '37
Sara A. Williams, '38
Virginia A. Baxley-Brown, '38
Helen C. Johnson, '39
Anita C. Stunkard, '39
Mary W. Baell, '39
Gussie B. Pace, '41
Julia M. Power, '41
Bebe M. Meaders, '41
Hortense D. Shepherd, '41
Marion Cloud, '42
Eunice Ferguson, '42
Thelma A. Gay, '42
Mary E. Hays, '42
Audrey J. Norrie, '42
Norma J. Smith, '42
Mary G. Smith-Rowley, '42
Annie R. Anderson-Brown, '43
Louise S. Allen, '44
Varina Connell, '44
Cathrin W. Domingos, '44
Toni M. Paoli, '44
Sara B. Ratcliffe, '44
Euzena C. Wotitzky, '44
Sophia W. Brunson, '44
Elaine B. Williams, '44
Elizabeth Joan D. Yoe, '44
Mary J. Deckard, '44*
Marion N. Poats, '45
Ophelia P. Wilkes, '45
Carolyn M. Holsenbeck, '45*
Mary B. McCormack, '46
Betty C. Hall, '46
Mary S. Pratt, '46
Mable H. Sheppard, '46
Benny N. Banks, '47
Opal B. Franko, '47
Jean F. Newton, '47
Dorothy T. Paul, '47
Ann S. Rice, '47
Edith Fordham, '48
Martha C. Paxson, '48
Frances V. Poole, '48
Betty H. Dean *, '48
Janelle C. Hildebrand, '48
Jane M. Jones, '48
Imogene L. McCue, '48
Doris B. Zeigler, '48
Marise E. Brink, '49
Dolores M. Gazzola, '49
Ruth C. Groover, '49
Martha I. Kieffer, '49
Jacquelyn W. McAfee, '49
Minnis A. Alderman, '49
Esther S. Clayton, '49
Alma L. Gillespie, '49
Opal K. Hicks, '49
Frances T. Younger, '49
Marjorie J. Allen, '50
Mollie P. Cole, '50
Sara G. Hoover, '50
Emma L. Morrison, '50
Carolyn A. Cooper, '51
Louise F. Dodd, '51
Jane B. Zeyfang, '51
Katherine W. Carlyle, '51
Ernestine P. Parker, '51
Jean C. Russell, '51
Patsy M. Watson, '51
Josephine E. McRee, '51*
Virginia L. Clark, '52
Daryl T. Lasseter, '52
Iris F. Ward, '52
Murlie B. Bennett, '52
Martha L. Byrd, '53
Louise S. Etheredge, '53
Wynelle D. McCorkle, '53
Mildred C. Moon, '53
Mary Jane O. Rowley, '53
Florence L. Smith, '53
Jeanne C. Bledsoe, '53
Rolene B. Cain, '53
Beverly B. Pinyan, '53
Jeanne R. Stansell, '53
Helen D. Byrd, '54
Claire T. Coleman, '54
Mildred S. McCranie, '54
Jimmie R. Pittman, '54
Clarice V. Smith, '54
Jacolyn R. Smith, '54
Norma T. Veal, '54
Shirley W. Aderhold, '55
Norma Borders, '55
Mary H. Skinner, '55
Merlyn B. Harris, '56
Suzanne J. Strickland, '56
Laura K. Garrard, '56
Miriam McKinley, '56
Sarah E. Pilkenton, '56
Angelyn A. Duke, '56
Ellen J. Finley, '57
Mavis M. McKinnon, '57
Ora J. Sawyer, '57
Lydia O. Shivers, '57
Mary A. McDaniel, '58
Martha P. Redmond, '59
Dorothy O. Sharpe, '59
Jane T. Brown, '60
Naomi K. Cravey, '60
Martha C. Hogan, '60
Eleanor S. Martin, '60
Mildred P. Layton, '60
Mary B. Davis, '61
June K. Miller, '61
Eula V. Strickland, '61
Claudette T. Smith, '62
Peggy C. Breedlove, '62
Judith N. Newberry, '62
Barbara Pulliam, '62
Martha J. Cleary, '63
Lavania G. Carlton, '64
Joan G. Fluker, '64
Karen Bowman, '65
Sharon R. Grant, '65
Ann S. Wilson, '65
Shirley B. Ellis, '66
Carol C. Deaton, '66
Lois B. Akins, '68
Nahid E. Mendelson, '68
Dorothy M. Whigam, '68
Carolyn R. Garner, '68
Martha Ann S. Bailey, '70
Brenda K. Jones, '70
34 CONNECTION MAGAZINE • SUMMER 2023
IN MEMORIAM
*Denotes alumni of Peabody School. This list recognizes deceased alumni the university has been notified of as of April 2023
Eddie R. Burgamy, '71
Mary Jo H. Stephens, '71
Rosemary M. Cook, '72
Junnie P. Golden, '72
Dorothy M. Thomas, '72
Richard A. Cecil, '73
Bertha H. Slater, '73
Gwen F. Warren, '73
Barbara S. Chandler, '73
Sarah F. Hester, '73
Richter A. Williams, '73
Charles T. Hughey, '74
James A. Miller, '74
Martin R. Parham, '74
Jacquelyn W. Shields, '74
Lillian Tarpley, '74
Donald K. Jackson, '74
Sharon B. Schwartz, '74
Berry R. Gossett, '75
Frank W. Hill, '75
Joseph W. Mundy, '75
Myrtle B. Thorpe, '75
Linda T. Garland, '75
Gerald D. Collins, '76
Eva J. Garrett, '76
Patsy Y. Puczkowski, '76
Robert L. Schnick, '76
Lucien R. Kight, '76
Curtis C. McCollum, '76
Cornelia S. Means, '76
Lillie A. Bray, '77
James L. Burgamy, '77
Susan A. Clancy, '77
Jeffrey R. Myhand, '77
Dwight W. Thomas, '77
James B. Gardner, '78
Harriet J. Geesey, '78
Patricia S. Gutierrez, '78
Pamela Adams, '79
Janett W. Jordan, '79
Randall V. Moore, '79
Vincent A. Bass, '80
John J. Cooke, '80
Alan V. Davis, '80
Willie R. Lattimore, '80
Terry N. Stevens, '80
Carole M. Wheeler, '80
Willie K. Brooks, '81
Kathy R. Daves, '81
Miles D. Edwards, '82
William O. Greenhaw, '82
Alice L. Harrell, '82
Brenda W. Bedford, '83
Tony B. Campbell, '83
Gregory L. Fortson, '83
Wayne F. Hill, '84
Cynthia R. Brown, '84
Mary M. Hargaden, '85
Shadrach M. Sanders, '86
Rommie Johnson, '87
Roger L. Walden, '88
Perry Dupre, '89
Mary E. Coulombe, '90
Charles W. Carper, '91
Byron L. Maduska, '91
Randall M. Cannon, '92
Danny M. Wall, '92
Pitts D. Seaton, '93
Patsy K. Wicker, '94
Vernetha S. Bryant, '95
Jason D. Ross, '95
Kathryn S. Blanks, '96
Bert W. Craw, '96
Donna D. McMillan, '96
Lucretia Y. Polk, '96
Dianne M. Hill, '97
Ronald H. Kleinknight, '97
Ronnie W. Rozier, '98
Regan H. Hightower, '98
Kimberly A. Todd, '00
Sandra E. Hall, '04
Jeanette Ray, '04
Anna A. Johnson, '04
Mary E. Wickersham, '05
Shannon L. Robinson, '05
Jennifer L. Chitwood, '07
Chelsea R. Benson, '12
Herman Wesley, '13
Alexandra M. Patafio, '14
Mackenzie N. Turpen, '15
CONNECTION MAGAZINE • SUMMER 2023 35
GET THE LATEST BOBCAT GEAR Visit us at gcsu.edu/barnesandnoble Barnes & Noble at Georgia College • 478-445-8398 SHOP NOW! University Advancement Campus Box 96 Milledgeville, GA 31061 gcsu.edu/advancement ELECTRONIC SERVICE REQUESTED