1 HORTENSIA Fall 2022 GardenClubof Alabama gcahortensia@gmail.com
ATTENTION
District Directors, Club Presidents, Members
We Need Your Help to make this publication informative and interesting.
What to Send:
1. Information about your projects, your outreach to the community, your speakers of interest, your flower shows.
2. Correct and up-to-date information on your members
3. Important dates for our calendar
4. Memorials now go directly to the editor (info below.) Please provide wording for the memorial. We cannot do this for you.
How to send: email: gcahortensia@gmail.com or mail to Joey Skaff, 127 South Drive, Fairhope,AL 36532
1. Please identify yourself with your full name, your club, your phone number, and district.
2. Try to put it in a document format as PDF's are harder to work with. Please remember our format is 4.25" wide by 5.5" high.
3. If possible, send your rosters in an Excel format. If not, send it as a word document. Rosters need to be sent in a timely manner. We are updating our membership and if we do not have the proper information then your club or members will miss out on important information.
4. Please send your photos in a jpeg format. This provides better clarity and gives the editor the ability to crop and edit them. Photos sent from IPhones are sometimes blurry.
WHY DID WE GO DIGITAL?
As we all know, prices creep up. Our current bylaws restrict Hortensia costs to $2 a member. To print and send out a paper copy three times a year at that price is impossible. The state currently only receives $5 from your club's dues.
The digital path allows us to give our members more information and to use color photos. It also allows clubs to send the Hortensia to potential members via the link. We are upgrading our app so links to websites and videos can be embedded. This allows one to click the link and see the website without copying and pasting.
The cover photo is from the below blog. It was created with an art knife. mimousk.blogspot.com/ 2017/03/leafcut art.html Table of Contents Page 1 From the Editor Contact Information 2 Message from our President 3 Publications from GCA 4. Facebook and Every Light a Light for Peace 5 Landscape Design School 6 Why Plant Native 7 8 How to prepare award submissions 9 Alabama Nature Videos 10 More Great Videos from GCA 11-12 District Meetings 13 14 Convention 2023 information, 15 Ads and Memorials Info 16 Hortensia sponsor and members we have lost 17-20 Memorial ads 20 Form for placing an ad in 2023 Program Book 21 Calendar with Upcoming Events
As your new editors we hope that each of you can help us by contributing pictures, articles, information about upcoming events, coverage of your flower shows with pictures of your floral designs, explanation of community project ideas, program ideas, or other relevant information to share. Please provide your material via email, if possible, in a doc format (not PDF.) This will greatly help us.
We are relying on club presidents and district directors to keep us informed!
We welcome your feedback and admit that we will make mistakes, especially as we begin this task.
"Joey" Skaff, Editor
Charlotte Croft, Circulation gcahortensia@gmail.com charecroft1@gmail.com 127 South Drive 15567 Danne Road Fairhope, AL 36532 Fairhope, AL 36532 703-965-8545
Memorials and ads: gcahortensia@gmail.com or mail to the editor. Thank you Pam for helping us get started!
Resources and New Contacts
Garden Club of Alabama Gardenclubofalabama.org
Lamar Merrill, President merrill1945@gmail.com 859 913 9170
Deep South Garden Club www.dsgardenclubs.com
National Garden Club of America gardenclub.org
Program Ideas: Linda Tucker 251-747-5767 lwhippersnapper@aol.com
Elaine Smith no longer handles this
New Members Listing
Send one notification to Charlotte Croft (above) And one with the dues check to: Treasurer Barbara Anthony P.O.Box 2674 Phenix City, 36868
New Membership Chair Deborah Harris 205-681-6733 hsamdeb@bellsouth.net
1
MESSAGE FROM PRESIDENT LAMAR MERRILL
I want to thank everyone for your hard work to make Alabama a better and more beautiful place to live.
I am so sorry to hear that many of you have suffered through the Covid experience, some have even passed away because of its terrible affects. Let's hope for a better future.
A big thanks goes out to those who made our convention a great success. I have heard from attendees that they had a great time and learned new information. I want to especially thank Karen Merrill for her great effort, despite her health condition. She is a great organizer and helpmate to me!
I attended the National Convention in Orlando. The National Organization has put programs and classes online because of Covid. They also had a great flower show. It was so interesting to visit with other state presidents, many of whom share the same problems we face as a state club. Most states have gone to fully electronic communication with their clubs.
I want to thank Joey Skaff for her efforts to put out our first Online Hortensia. It was a great issue full of interesting and helpful information. Next issue should be with an upgraded app which should solve some past issues. We encourage members to send informative articles to Joey Skaff. We are going online as the price of publishing and mailing the Hortensia has become prohibitive. Our state dues cannot cover printing costs for 3 issues. The bylaws only allow us $2 per person per year for the Hortensia out of the $6 state dues. Online software is only about $40 per month for the entire state. We still plan to publish one paper issue every time a new Presidency comes in (the edition with all the names, positions, addresses, and phone numbers) in September 2023. That will cost $6,000 once every two years.
With the online edition we plan to send one published copy to each District Director. Those who need a physical copy can pay for a copied version. The next online version will be embedded on our website by the Dillmans. We thank the Dillmans for their great job with the website. If you do not have a computer or smart phone, go to a library, ask a club or district member, children or grandchildren who can help you.
In this edition you will find District Meetings listed, and the "Every Light a Prayer for Peace" event (over 100 attended last year.) Thanks for all your support to keep the GCA running and supporting your communities.
2
3 WhyÊbeÊanÊaffiliatedÊNationalÊGardenÊClubÊmember? Where else can you get so many publications for such a little cost? Think how much one magazine is at your local store! By being a National Garden Club member you can subscribe for free to the National Gardener or you can view it online. https://gardenclub.org/national gardener Interested in Landscape Design ? https://gardenclub.org/newscape Preparing for a flower show? The flower show handbook is available to download free. https://gardenclub.org/sites/default/ files/2022 08/ngc handbook for flower shows-july-2022-revision.pdf
LikeÊusÊon
The Garden Club of Alabama now has a Facebook page. Check out what other clubs are doing and add your events! Hit the LIKE button so you will not miss new postings!
Every Light a Prayer for Peace—Dec. 2
Consider attending this annual event sponsored by the Garden Club of Alabama. The first stop is the Governor's mansion where members can view the mansion's first floor Christmas decorations and have some light refreshments. After that the large Christmas tree in front of the state capitol building is lit in a ceremony presided over by the Garden Club of Alabama's state president, Lamar Merrill. The ceremony is well attended. Suzy 334 376 2326
4 https://www.facebook.com/GardenClubAL
FACEBOOK
Chair:
Shepherd
suzysgardenclub@aol.com
ThisÊcourseÊchangesÊyourÊviewÊofÊlandscapes,ÊitÊhelpsÊyouÊappreciateÊdetails,ÊandÊrecognizeÊwhatÊmakesÊaÊsuccessfulÊ plan. TheÊinstructorsÊareÊpastÊheadsÊofÊtheÊDepartmentÊofÊ HorticultureÊandÊcurrentÊprofessorsÊinÊhorticultureÊandÊlandscapeÊdesign. AÊgreatÊlearningÊexperience! IfÊyouÊwantÊtoÊ participateÊinÊtheÊtesting,ÊÊyouÊcanÊbeginÊtoÊqualifyÊforÊtheÊ LandscapeÊDesignÊCouncilÊofÊtheÊNationalÊGardenÊClub. Series & Tuesday, October 17 18, 2022, Auburn University Campus classroom site to be announced
Mail to: Linda Stephens, Registrar, 3453 Co Rd 121, Fort Payne, AL 35968, lindaste@farmerstel.com 256 638 4000 H
5 Landscape Design Study Course, Auburn University Oct. 17-18
Registration for: LANDSCAPE DESIGN STUDY COURSE 4,
XV Monday
Name:_____________________________________________ Address:___________________________________________ City, State, Zip:_____________________________________ Phone number (include area code):__________________ Email______________________________________________ Garden Club________________________________________ District_____________ Other Affiliations, i.e.: Master Gardener, Landscaping Services, Spouse etc._________________________________ _____$50 Both days: _____$30 one day: _____$30 Refresher: _____$5 NGC accreditation fee: _____$5 annual dues for GCA/LDCC: $_________TOTAL DUE, check payable to LDCC ( A box lunch will be priced separately)
WHY PLANT NATIVE?
The Audubon Society states that North America has lost 3 billion birds in the last 50 years. This is more than 1 in 5 birds since 1970. Of those lost birds, 90% came from 12 bird families that include swallows, sparrows, warblers and finches. In response, Audubon has declared a 'Bird Emergency,' and demands immediate action. To promote sustainable food webs and support wildlife, urban planners and private landowners must prioritize native plant species.
Natives:
1. Studies have found that invasive plant fruits are high in sugar but not high in lipids [fat] which birds need for their migration journeys.
2. Native plants host many insects which are fundamental foods for baby birds. Recent research by the Smithsonian Conservation Biology Institute shows that chickadees can only sustain their population when at least 70 percent of plants in a nesting area are native. Species like warblers, vireos, and flycatchers are even more reliant on bug and insects.
Non-natives: (hint: scientific name often ends in Japonica)
1. The fruit of non native plants are often high in sugar but low in fat which birds need for fuel. They could be compared to human junk food.
2. Most seriously invasive plants have fleshy fruits and are bird -dispersed. These invasive plants compete and overrun natural ecosystems. They crowd out native plants which are needed to feed butterfly larvae.
Native Red Buckeye
6
Awards Due: Nov. 15
7
—
http://gardenclubofalabama.org/ Chair: Linda Stephens lindaste@farmerstel.com 256-638-4000
8 Document your projects with newspaper clippings, Facebook entries, thank you letters.
Videos:
The Underwater Forest
https://www.youtube.com/watch?
v=PKm0eRfFFfo&ab_channel=ThisIsAlabama
Alabama Birds
"Alabama Birds" is about more than birds. As impressive as Alabama's great bird diversity is, so too the natural habitats of Alabama are exceptionally diverse. This special combination has inspired a legacy of Alabamians advocating for bird and habitat conservation. It has also contributed to growing public enthusiasm for recreational birdwatching in the state, fostering the establishment of the Alabama Birding Trail system and a host of annual "birdfest" events enjoyed by many. https://www.youtube.com/watch?
v=dEqsg0D2OpQ&ab_channel=DiscoveringAlabama
Alabama Fossils
In "Alabama Fossils," the hunt is for things that are millions of years old. The program takes you to spots all around Alabama where fossils can be found, from the mountains in the north to the beaches in the south, and examines what this fossil record tells us about Alabama's ancient past. https://www.youtube.com/ watch?v=PP1Ov3j_0tU&t=674s&ab_channel=DiscoveringAlabama
Discovering Alabama Dr. E. O. Wilson Special
Discovering Alabama host and creator, Doug Phillips, enjoys an interview visit with world renowned ecologist and Alabama native, Dr. E.O. Wilson. Dr. Wilson, who passed away in 2022, has been a friend of Discovering Alabama for many years and has appeared in a number of Discovering Alabama programs presenting his environmental insights. https://www.youtube.com/watch?
v=0Dsq8CwraK0&t=614s&ab_channel=DiscoveringAlabama
9
More Great videos from the National Garden Club
Perfect Vision Virtual Flower Show 2020
A National Garden Club virtual flower show. Exhibitors took several photos of their entry from all sides and sent them in for the show. Judges then used the photos to judge the show. https://www.youtube.com/watch?
v=lHexOuBB6uA&ab_channel=NationalGardenClub
NGC Petite Flower Show 2022
At the 2022 NGC convention in Orlando, a Petite Design Specialty Flower Show was held. Flower Show Instructor David Robson ( show chairman) talks about the show, and the design types and some techniques. https://www.youtube.com/watch?
v=ch8afNaJ7To&ab_channel=NationalGardenClub
Tapestry Design 2022
An interview with NGC instructor Penny Decker. Tapestry Floral design is one of the four mass designs added to the Handbook for Flower Shows in 2017. In this video, Penny discusses the key ingredients to a successful tapestry design and demonstrates some of the techniques that can be utilized. https://www.youtube.com/watch?
v=HWvTp7ncC1o&t=1071s&ab_channel=NationalGardenClub
Cleaning Your Garden Tools 2022
https://www.youtube.com/watch?
v=cdPq0XEoAiU&t=35s&ab_channel=NationalGardenClub
NGC Projects
https://www.youtube.com/watch?
v=ngAqMchCpSg&ab_channel=NationalGardenClub
National Garden Club - Growing Our World https://www.youtube.com/watch?
v=gRO_s2VgiPQ&t=101s&ab_channel=NationalGardenClub
10
DISTRICT MEETINGS
Oct. 10 District II
Little River Canyon Center
4322 Little River Canyon Trail NE, Fort Payne
Sign-in 10:30-11 $15
Make checks to: District II GCA, Mail to: Dianne Kuehl, PO Box 430, Mentone, AL 35984 by October 4
Oct. 11 District I
Turtle Point Yacht and Country Club
9:30 Social 10 Meeting 1000 Club Drive, Killen, AL info: 256-757-2153
Oct. 12 District III
Birmingham Botanical Gardens 2612 Lane Park Road
Oct. 19 District VII
Historic Rawls Hotel
116 South Main St., Enterprise, AL
Sign-in 9:30 AM, Meeting 10 $28
Register by Oct. 12: Jan Guice, 736 Country Circle, Dalevile, AL 36322
Oct. 20 District VIII
Alabama Gulf Coast Music Hall
12615-A Foley Beach Express, Foley, AL Sign-in 9:30, Meeting 10 $25
Registrar: Kathy Sudduth 33507 US Highway 31, Spanish Fort, AL 36527
11
Oct. 25 District IV
Jemison Mansion on Greensboro Ave, Tuscaloosa
Hosted by Ceres Garden Club
9 AM Continental Breakfast and plant sale
Speaker: Will Hawkins, Historical & Preservation Society
Mail your $25 registration to ( Check written to Ceres Garden Club: Peggy Babb, 1100 Kings Mountain Road, Tuscaloosa, AL 35406 Deadline: Oct. 10
Oct. 26 District V
First Baptist Church 200 8th Ave., SW, Childersburg, AL
Oct. 27 District VI
Reaping Nature's Bounty
Young Meadows Presbyterian Church 5780 Vaughn Road, Montgomery
Speaker: Master Gardener Jane McCarthy Registration and Coffee 9AM, Meeting 10AM $20 Payable to Montgomery Federation of Garden Clubs
Registrar: Kayren Pittman, 3526 Dalraida Pky, Montgomery, AL 36109 cell: 334-201-2660 larkspur17@icloud.com
12
Attention: Please remember Each district needs to choose two members for the state nominating committee and give those names to the Board at their district meeting. These committee members will choose our next Board and will report to Tricia Mitchell (trcamitchell@aol.com).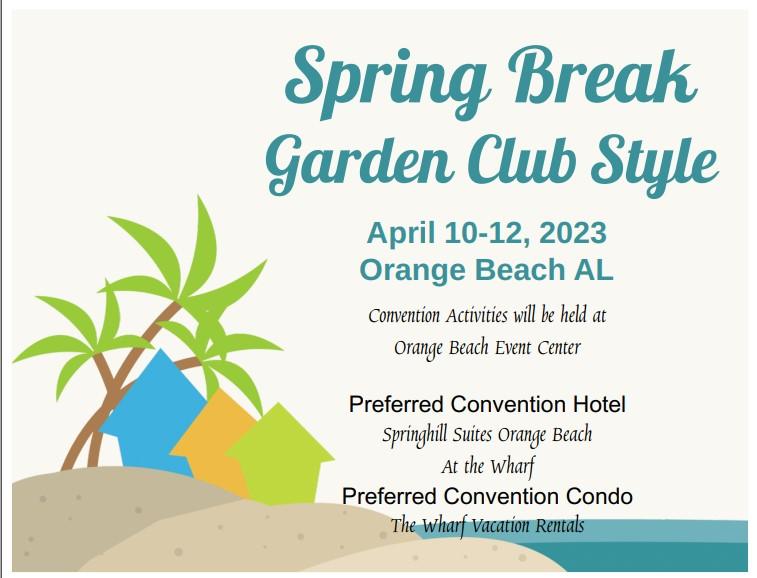 13
Below is a link to reduced hotel pricing for the Garden Club of Alabama State Convention, Spring Break Garden Club Style being held at the Orange Beach Event Center Monday, April 10-Wednesday, April 12, 2023. The Springhill Suites is offering us a reduced rate including free breakfast and parking for $149 King room or $169 for Double Queens with balcony. This hotel is right next to the event center. Please book early before this price is gone! You can cancel up to 72 hours prior with a credit card and you won't be charged upfront. Here is the link: https://www.marriott.com/events/start.mi?id=1651779962003&key=GRP You can also call 877.590.8185 and request the rate for the Garden Club of Alabama.
The Wharf Rental Management directly on the Intercoastal Waterway has beautiful condominiums available at special rates for limited time as well! Great option only 4 minute walk from Orange Beach Event Center. This is a terrific way to bring the family or groups of friends to enjoy even more the area has to offer! Please call 866 864 0937 for rate options and view on there website wharfcondos.com for photos and more information before you call them to book. Kim Edgerton, 2023 Convention Chair, kimbilledge@yahoo.com 574-210-9350
14
15 Memorials MemorialsÊneedÊtoÊbeÊsentÊinÊaÊtimelyÊmanner.ÊÊ UnlessÊyouÊ areÊrequestingÊtheÊfreeÊmemorialÊlisting,ÊtextÊandÊproperÊinformationÊmust beÊincluded.ÊÊPleaseÊdoÊnotÊaskÊtheÊeditorÊtoÊ composeÊyourÊad.ÊÊTheÊeditorÊreservesÊtheÊrightÊtoÊpublishÊtheÊ HortensiaÊifÊyourÊmaterialÊisÊnotÊreadyÊwhenÊpublishingÊtimeÊ approaches.ÊÊ How to send: email: gcahortensia@gmail.com or mail to Joey Skaff, 127 South Drive, Fairhope, AL 36532 1. Please identify yourself with your full name, your club, your phone number, and district. 2. Try to put it in a document format (not a PDF which is harder to edit.) Please remember our format is 4.25" wide by 5.5" high. Please send your photos in a jpeg format. This provides better clarity and gives the editor the ability to crop and edit them. Photos sent from IPhones are often blurry. Next Deadline: Jan 10
Thank you to our patrons
Suzy
In Honor of those members who are now gardening in heaven:
(Van) Evangeline Winnett Sloan, Blue Star Garden Club District
Jill McLemore, Former President Garden Club, District
Taffy Zadnichek, Fairhope Garden Club, District
16
Shepherd, ELAPFP Chair Flower Lovers Garden Club, Enterprise, District VII
Gardendale,
III
Fairhope
VIII
VIII
Martha Clyde Bush
Martha was a faithful member of Camellia GC in Clayton, AL, District III. She was a charter member and served in many leadership positions, including president. She will be deeply missed by all members for her ready smile and faithfulness to the club.
In Memory of Emilie Puckett Fort Payne Garden Club District II
17
Martha Burkhalter 1939-2022
Martha was a long and faithful garden club member and a talented Master Flower Show Judge. She extended a helping hand to all. Her knowledge and expertise will be missed!
18
Sarah Evangeline (Van)Sloan
August 18,1931 - June 11, 2022
Van, as she was known by many of her friends, was a treasured member of Blue Star Garden Club of District III and served as the President for 14 years. She was a valuable member who loved gardening, especially teaching young children about gardening.
Garden Dale Garden Club would like to pay tribute to her and her awesome service of so many years . She will be truly missed by all that knew her.
Stella Brown
Stella was a faithful, founding member of Garden Dale Garden Club, District III. She served in many club positions. She was especially valuable for her horticultural ability and knowledge, which enriched the North End Council's standard flower show. She is deeply missed by all that knew her.
Garden Dale Garden Club members
19
The Garden Club of Alabama,
"In a State Where Gardens Grow, God Walks" The Garden Club of Alabama 2023 Convention Committee is selling ad space in their 2023 Convention Booklet.
Full Page $125.00
Half Page $75.00
Quarter Page $50.00
Please mark which type of ad you would like to purchase.
______ Memorial Please include person's name, Club, City, and District. You can also include a picture of the person.
______ Regular Advertising Size wanted and any artwork to be include.
Please make your check out to Garden Club of Alabama 2023 Convention with 2023 Convention Ad on the memo line. Send the checks to Kathy Sudduth at 33507 U S Highway 31, Spanish Fort, AL 36527. With your check, please send what you want the ad to say. You can also email any artwork to Kathy at 1stvicepresidentgca@gmail.com Please have your ad orders in by March 15.
20
In Memory Peggy Kellum Member of Tuscaloosa/Northport Garden Club, District IV
Oct. 10 District I meeting
Oct. 11 District II meeting
Oct. 12 District III meeting
Oct. 19 District VII
Oct. 20 - District VIII
Oct. 25 District IV meeting
Oct. 26 - District V meeting
Oct. 27 District VI meeting
Nov. 15 -Deadline for the submission of most awards
Dec. 2 Every Light a Prayer for Peace
Jan 10, 2023 GCA Board meeting 9:00 for Executive Committee, 10:00 for Board Meeting.
21 Calendar