Welcome to the March 2023 issue of
Show
www.tvtech.com | March 2023 WHAT'S NEW IN CAMERAS, LIGHTING & AUDIO? • PREVIEWING NEXTGEN TV • IP SHOWCASE OF100YEARS NABp.13
its centennial
NAB
Preview Broadcasters' biggest gathering celebrates
contents 10 NAB Show: Capitalizing on What's Next in Media and Entertainment Event promises renewed focus on creation, connection and capitalization as it celebrates its 100th year By Susan Ashworth 13 Celebrating a Century of NAB Shows The 'long and winding road' to the centennial gathering By James E. O'Neal 16 Let the IP Conversation Begin IP Showcase will discuss the hot topics and give attendees a chance to share ideas By Andrew Starks 18 The Professionalization of PTZ No longer just the mainstay of surveillance or speciality applications, PTZs are now suitable for most productions By Craig Johnston 20 Audio in 2023: Virtual Mixing, Cloud and AoIP NAB Show exhibitors focus on how IP is revolutionizing audio production By Kevin Hilton 22 Virtual, Cloud Workflows Dominate Latest Production Trends Exhibitors at the NAB Show will showcase new tech to advance remote production By Bob Kovacs 25 Lighting Choices Come Down to Three Letters: LED Vendors will be offering a lot more quality at a lower cost By Bruce Aleksander 27 ATSC to Update Industry on 3.0 Progress How a triad of organizations is making NextGen TV a reality
March 2023 volumn 41, issue 03 6 in the news 30 eye on tech 34 people 18 16 22 twitter.com/tvtechnology | www.tvtech.com | March 2023 3 10 13 20
By Michael Silbergleid
Being There
Three years ago this month, the world shut down as Covid took hold of our lives and livelihoods. In-person events were shut down and we were all advised to shelter at home and avoid contact with each other.
A number of studies have since shown the toll this has taken on not only our society but, in particular, our work lives. In 2020, most of us had not been familiar with the acronym "WFH" but now it's part of our lexicon. As is the nature of our business, many of our fellow associates didn't have the luxury of remote work, but the tools needed to produce live content remotely were in place and have since been enhanced to help us cope with the new production normal.
Those same studies have also shown us that the need for in-person events for education and networking has never been more vital and that's why events such as next month's NAB Show have taken on added importance. In addition to marking an important centennial milestone, the gathering in Las Vegas will serve as a reminder to where we've been and where we as an industry are going.
Many of the topics of discussion will reflect the ongoing efforts to harness the power of the cloud and AI to improve the creative process as well as the management and distribution of content. Broadcasters will also discuss the transition to NextGen TV, in particular, pointing to the need for a hard deadline to ending 1.0, giving local stations the flexibility and capacity to offer the enhanced capabilities of the next generation format.
After the tentativeness of 2022, where in-person events slowly returned to life, attendance at industry trade shows in 2023 have already greatly increased, with attendee numbers returning to near-pre-pandemic levels. Hundreds of Zoom calls over the past 72 months have proven that there's no substitute for in-person events. Our industry is ready to return in full force to Las Vegas—will you be there?
Speaking of milestones, I wanted to take this opportunity to congratulate an industry colleague and friend who has been an important part of TV Tech for many years. Bill Hayes, the long-time director of engineering for Iowa PBS recently announced his retirement. Anyone who has been a part of this industry for any period of time has probably met Bill, who is a past president of IEEE-BTS, SMPTE governor, current partnership board member of the IBC and recipient of Future's 2021 Tech Leadership Award.
Bill is also a long-time contributor to TV Tech as well as our summits and since he now has plans to consult on NextGen TV we look forward to continuing to provide him a platform to share the insight he's gained during his 50-year career as a broadcaster.
Congratulations, Bill!
Tom Butts Content Director tom.butts@futurenet.com
FOLLOW US www.tvtech.com
twitter.com/tvtech
CONTENT
Content Director
Tom Butts, tom.butts@futurenet.com
Content Manager
Terry Scutt, terry.scutt@futurenet.com
Senior Content Producer George Winslow, george.winslow@futurenet.com
Contributors Gary Arlen, Susan Ashworth, James Careless, Kevin Hilton, John Maxwell Hobbs, Craig Johnston, Bob Kovacs and Mark R. Smith
Production Managers Heather Tatrow, Nicole Schilling
Managing Design Director Nicole Cobban
Senior Design Director Cliff Newman
ADVERTISING SALES
Vice President, Sales, B2B Tech Group Adam Goldstein, adam.goldstein@futurenet.com
SUBSCRIBER CUSTOMER SERVICE
To subscribe, change your address, or check on your current account status, go to www.tvtechnology.com and click on About Us, email futureplc@computerfulfillment.com, call 888-266-5828, or write P.O. Box 8692, Lowell, MA 01853.
LICENSING/REPRINTS/PERMISSIONS
TV Technology is available for licensing. Contact the Licensing team to discuss partnership opportunities. Head of Print Licensing Rachel Shaw licensing@futurenet.com
MANAGEMENT
SVP Wealth, B2B and Events Sarah Rees
Chief Revenue Officer, B2B Walt Phillips VP, B2B Tech Group, Carmel King
Head of Production US & UK Mark Constance
Head of Design Rodney Dive
FUTURE US, INC. 130 West 42nd Street, 7th Floor, New York, NY 10036
All contents © 2023 Future US, Inc. or published under licence. All rights reserved. No part of this magazine may be used, stored, transmitted or reproduced in any way without the prior written permission of the publisher. Future Publishing Limited (company number 2008885) is registered in England and Wales. Registered office: Quay House, The Ambury, Bath BA1 1UA. All information contained in this publication is for information only and is, as far as we are aware, correct at the time of going to press. Future cannot accept any responsibility for errors or inaccuracies in such information. You are advised to contact manufacturers and retailers directly with regard to the price of products/services referred to in this publication. Apps and websites mentioned in this publication are not under our control. We are not responsible for their contents or any other changes or updates to them. This magazine is fully independent and not affiliated in any way with the companies mentioned herein.
If you submit material to us, you warrant that you own the material and/or have the necessary rights/permissions to supply the material and you automatically grant Future and its licensees a licence to publish your submission in whole or in part in any/all issues and/or editions of publications, in any format published worldwide and on associated websites, social media channels and associated products. Any material you submit is sent at your own risk and, although every care is taken, neither Future nor its employees, agents,subcontractors or licensees shall be liable for loss or damage. We assume all unsolicited material is for publication unless otherwise stated, and reserve the right to edit, amend, adapt all submissions.
Please Recycle. We are committed to only using magazine paper which is derived from responsibly managed, certified forestry and chlorine-free manufacture. The paper in this magazine was sourced and produced from sustainable managed forests, conforming to strict environmental and socioeconomic standards.
TV Technology (ISSN: 0887-1701) is published monthly by Future US, Inc., 130 West 42nd Street, 7th Floor, New York, NY 10036-8002. Phone: 978-667-0352. Periodicals postage paid at New York, NY and additional mailing offices.
POSTMASTER: Send address changes to TV Technology, P.O.
March 2023 | www.tvtech.com | twitter.com/tvtechnology 4
Box 848, Lowell, MA 01853. Vol. 41 No. 3 | March 2023 Future plc is a public company quoted on the London Stock Exchange (symbol: FUTR) www.futureplc.com Chief Executive Zillah Byng-Thorne Non-Executive Chairman Richard Huntingford Chief Financial and Strategy Officer Penny Ladkin-Brand Tel +44 (0)1225 442 244
editor's note Future plc is a public company quoted on the London Stock Exchange (symbol: FUTR) www.futureplc.com Chief Executive Zillah Byng-Thorne Non-Executive Chairman Richard Huntingford Chief Financial and Strategy Officer Penny Ladkin-Brand Tel +44 (0)1225 442 244
Time Spent Streaming Expected to Exceed Linear TV Viewing in 2023
In what researchers are calling an inflection point in the time Americans spend viewing video, a new forecast from Insider Intelligence is predicting that for the first time in 2023, U.S. adults will spend more time watching digital video than traditional linear TV, according to the latest time spent forecast from Insider Intelligence.
In 2022, digital video time among U.S. adults nearly caught up to TV time: U.S. adults spent an average of 3 hours and 2 minutes per day watching digital video and 3 hours and 7 minutes watching linear TV. Except for a slight uptick in 2020, daily TV time has declined every year since 2013, and it will continue to drop through 2024, the researchers said.
Conversely, digital video time saw double-digit growth every year between 2011 and 2021. Growth slowed to single digits in 2022 but will remain positive through 2024, Insider Intelligence is predicting.
This year, Insider Intelligence is forecasting that U.S. adults' daily TV time will drop to 2 hours and 55 minutes, while digital video time will climb to 3 hours and 11 minutes. Linear TV will now represent 47.7% of total time spent with TV and digital video per day (the first time it's dropped below
50%), while digital video will make up 52.3%.
The researchers noted that TikTok is driving social video consumption and they are predicting that TikTok's total viewing time will surpass Facebook in 2024
The researchers have defined traditional linear TV as any type of video content delivered via cable, satellite, telecom, or overthe-air antenna; digital video is video viewed via over-the-top or connected streaming services, as well as video viewed on social media, including YouTube.
"This milestone is driven by people spending more and more time watching video on their biggest and smallest screens, whether it's an immersive drama on a connected TV or a viral clip on a smartphone," said Paul Verna, principal analyst and head of the digital advertising and media desk at Insider Intelligence. "The growth of digital video is especially impressive when you consider that, as recently as four years ago, it accounted for roughly half of TV time. And bear in mind that our time spent forecasts are for adults only. Given teens' preferences for social and streaming video over TV, we can expect these trends to continue to shift in favor of digital."
George Winslow
TVB: Netflix With Ads Has Extremely Limited Reach
The Television Bureau of Advertising has issued new research on the audiences advertisers might reach via Netflix's "Basic with Ads" tier showing the ad-supported streaming tier has extremely limited reach compared to the audiences of local TV.
"Netflix's reported audience numbers for its ad-supported tier, 'Basic with Ads,' are an estimated 600,000 'monthly active users.' Importantly, this metric refers to subscribers, not viewers and Netflix ad-supported users pale in comparison to local linear TV viewing audiences," said Steve Lanzano, TVB President and CEO.
"The comparison is extremely meaningful for the advertising community and brands. On a typical evening in November (11/9/22) in the New York DMA alone, Nielsen reports that 1.6 million adults 18+ were reached by local broadcast TV stations' early news between 5PM and 6:30PM," Lanzano continued. "Early news reach in the New York market was nearly triple
the number of Netflix's reported universe for its ad-supported tier."
Nielsen currently does not break out streaming video on demand (SVOD) audiences into ad subscribers and ad-free subscribers, the TVB researchers noted. Only the total universe is reported. To estimate Netflix's ad audiences, TVB applied the total Netflix rating to the reported Netflix ad subscriber base of 600,000.
The TVB estimates reveal that on the same night in November (11/9/22), Netflix's top three programs, "The Crown", "Love is Blind" and "Enola Holmes 2" delivered 5,040, 4,440 and 1,860 adult 18+ ad viewers, respectively.
Those are tiny numbers compared to local broadcasts, the TVB stressed. New York evening news adults 18+ impressions for the same day and time slot included: WABC (915,191), WCBS (462,339), WNBC (282,280), WNYW (103,380) and WPIX (37,611)..
George Winslow
TVB says shows like Netflix's "The Crown" register tiny numbers when compared to local broadcasts.
in the news 6 March 2023 | www.tvtech.com | twitter.com/tvtechnology
Credit: Netflix
Sling Launches Freestream FAST Channel
Sling TV has jumped into the free ad-supported streaming business in a major way with the launch of Sling Freestream, a advertising-supported streaming television service (FAST) that provides viewers with 210+ free channels and 41,000+ on-demand titles.
Unveiled on Feb. 9—Sling's eighth birthday and "National Cut the Cord Day"—Freestream is available through the Sling app on all Roku devices, and is rolling out across LG, Samsung and Vizio devices. Freestream will roll out across all Sling-compatible devices throughout the coming months.
While the service marks a major strategic shift towards FAST services, the launch is also notable because Dish says the Sling Freestream platform "pioneers flexibility between paid and FAST TV" by allowing viewers to upgrade to paid services, including Sling's pay TV packages and 50 standalone subscription channels, easily from Sling Freestream.
Sling is billing the service as the first to enable "One-Click" upgrades to premium pay TV within a FAST service.
Sling Freestream delivers more than 210 channels and 41,000 on-demand titles for free. In addition Freestream uniquely offers international programming in nine languages, such as AajTak International, DesiPlay, Noticias Univision 24/7, ARY News, France24, beIN SPORTS XTRA, SonyKal, TVP World, Al Jazeera English and Al Arabiya. George
Winslow
Is LESS Really More?
When it comes to video quality and energy use, the answer to this paradox may actually be yes.
Meet Dom Robinson, founder of the Greening of Streaming organization. Robinson has an important message for the television and video streaming industry— even if on the surface it seems paradoxical. When it comes to video quality LESS is more.
Robinson is proposing something he calls the LESS Accord, or "Low Energy Sustainable Streaming Accord." He envisions a broad industry agreement that one day asks more of video quality than the traditional benchmarks associated with the art and science of encoding.
"We're starting a really taboo discussion," he says. "We're asking the industry, 'Is there a minimum viable default quality that we can target?'"
In early February, Robinson took an initial public step at an IBC Accelerator Kickstart, seeking input from engineers and others on a project that in essence would upset the applecart that's carried the industry for more than a half century.
"We've got an industry in telecoms and broadcast that chases the case, chases the megabits, chases the pixel ratios, chases the color density, [chases] all of these things," he says. "We're at a point where you need to run a computer that can give you a VMAF [Video Multimethod Assessment Fusion] score to understand what quality you're getting. It's beyond anything the consumer gets value
from, and the problem is some of these incremental jumps are making huge energy differences."
For example, using a simple handheld meter purchased on Amazon, Robinson found his 70-inch TCL television consumes between 75W and 85W when using the built-in DSP to watch a stream or broadcast. But when HDR content is decoded, that energy consumption jumps to 135W because the DSP doesn't support HDR decoding. Rather, the set must rely on software and the built-in CPU to get the job done, he says.
Multiply the additional 50W by the millions upon millions of TV sets in use at any given time, and the potential additional strain HDR could place on the power grid becomes a bit clearer—and HDR is only one of many examples, he says.
Robinson is looking for input from all stakeholders on defining a minimum viable default quality—the exact opposite of the decades-long orientation of the broadcast industry, which can be summed up as a long march to ever greater quality.
The idea behind the LESS Accord addresses how energy efficiency might be added into the mix when determining what video quality is displayed. By default, the display may operate at a minimum –i.e. more energy efficient—quality but give viewers a way to demand the highest quality on demand.
"If I have a crowd of people coming in [to a sports bar] who want to watch a sporting event, I press a gold button, not a green button, and it jumps that stream up to delivering that UHD, HDR, 120-frame-per-second experience," he says.
Before broadcasters dismiss this, asking 'What does this have to do with me?' remember our industry is well down the path to nationwide deployment of an IP-based NextGen TV standard that's both over-the-air and streamed. Seems to me like reason enough to get involved with Robinson's efforts. l
8 in the news
OPINION
March 2023 | www.tvtech.com | twitter.com/tvtechnology
Phil Kurz
Credit: Getty Images
NAB Show: Capitalizing on What's Next in Media and Entertainment
Event promises renewed focus on creation, connection and capitalization as it celebrates its 100th year
By Susan Ashworth
Both the tough struggles and fortuitous pathways forged by the disruptions of the last three years have resulted in a revamped and refreshed media industry eager to capitalize on what's next at the upcoming 2023 NAB Show, April 15–19.
While familiar players and themes will certainly be on hand when the show kicks
off April 15 (exhibits open April 16), in Las Vegas—marking 100 years since the first gathering in 1923—the NAB Show continues to mirror the shakeup of the entire industry, from decentralized production to the boom in streaming to a renewed focus on unique
forms of content.
TRANSFORMATION OF PRIORITIES
For broadcasters, that means a transformation of priorities across all levels of business operations—be that automation, data-driven personalization or cloud-based workflows—each designed to improve operations by reducing media chain costs from both linear and digital distribution chains.
NAB has revamped the show by building it around a set of curated content pillars— Create, Connect and Capitalize—which Chris Brown, NAB executive vice president of conventions and business operations, said not only reflects how the industry works but better makes it easier for every attendee to navigate the show and find what is relevant to them. A fourth destination, called Intelligent Content, represents an emerging side of the business and includes data and the enormous influence it has across the content lifecycle, he said.
This year, that approach will be refined by shuffling around locations so that categories
10 show preview
Credit: nab
March 2023 | www.tvtech.com | twitter.com/tvtechnology
NAB Show exhibits will take place in the North, Central and West Halls of the Las Vegas Convention Center
are linked and expanding the show's set of "Experiential Zones," which are intended to be focal points for each major area within the show. The goal, Brown said, is to help visitors understand what they should be looking at within each pillar. "The zones provide this focus by examining the pillars from three perspectives—one for inspiration, one for innovation and one focused on implementation."
As a home base, these are areas where attendees can take in free learning sessions, see technology briefings and demonstrations, meet with startups and network both informally and more formally with a series of open, peer-to-peer roundtables. The NABiQ program will also return; this hackathon concept introduced last year brings visitors together in teams to tackle shared problems or develop new product ideas.
Also new is the "Broadcast District" in the West Hall that will include educational sessions, networking and special events focused on radio and TV broadcasters. At this centralized location, "TV and radio broadcasters will receive tangible takeaways to help them generate revenue, streamline expenses and innovate while getting insights into what's next for their business through a tailored experience designed to meet their needs," said April Carty-Sipp, NAB executive vice president of industry affairs.
NEXTGEN TV PROGRESS
For broadcasters, one of the biggest stories at the show will be NextGen TV (see preview on p. 27). There are viable business opportunities that come hand in hand with the shutdown of ATSC 1.0, said Del Parks, president of technology for Sinclair Broadcast. "If the industry can set and stick to a deadline, that will help accelerate the adoption of NextGen TV across the U.S. and allow local broadcasters and viewers to begin to take advantage of the power of NextGen TV," Parks said.
"TV broadcast stations and groups deserve a lot of credit for the degree of cooperation on the roll out efforts," he added, noting that at the end of Q1 2023, 61 percent of the total U.S. households in 69 DMAs will have access to an over-the-air NextGen TV signal.
Others believe there is much more work to be done on the consumer side. "Is there even consumer awareness of NextGen TV/ ATSC 3.0?" asked Josh Stinehour, principal analyst of Devoncroft Partners, which will hold an industry summit during the show. "The measure of a new consumer service is consumer adoption." In Stinehour's opinion, the business and marketing side of
the broadcast industry has "let down" the engineering-side of the sector.
'GOLD RUSH' DAYS ARE OVER FOR STREAMING
Some believe that bubble popped in 2022 and will never reinflate. "Cheap money, M&A and an irrational exuberance for streaming covered up the concerning economic trend in media organizations," Stinehour said. "With recent increased regulatory scrutiny, M&A is largely a relic of the past in the media industry, and money is much less abundant than the heady days of 2020 and 2021."
Does that mean the gold rush days of streaming are behind us? "A 'gold rush' is the correct analogy because there really wasn't much gold," Stinehour said. "Where fortunes were made, the primary basis was selling 'picks and shovels' to the dreamers or selling the dream to a bigger fool. The same observations pertain to the history of streaming.
"Notwithstanding, it is a multiplatform world going-forward," he added. "We as an industry need to figure out how to make the new economics work because, as of early 2023, they do not."
Others see streaming platforms as the media industry's present and future. "We are in the business of providing news and entertainment content to our viewers on whatever platform they wish to view us on, and we have the distribution rights," Parks said.
NAB's Brown said that while there has certainly been some shakeout—would be expected with any emerging side of the industry, there is still plenty of activity in the space and plenty of need to continue a dialogue around everything from business
models to content development to user and tech interface.
These topics will be front and center at the Streaming Summit conference, where there is expected to be a lot of discussion around the FAST channel phenonmenon and its impact on the overall streaming and wider broadcast industry. According to Brown, there are now more than 1,500 FAST channels in the U.S., with one research company reporting that FAST channel revenues are expected to reach $12 billion in 2027.
CLOUD AND VIRTUALIZATION
Another key sector to be explored at the show: virtualization and the cloud. "I believe virtualization generally, and cloud specifically, are the salvation of the media technology sector," Stinehour said. "The transition is fundamental and is a once-in-acareer, second bite at the apple to correct the business models of market participants."
"On the production and post production side, virtualization and remote production tools continue to drive new dynamics, as do advances in VFX technology via game engine technology and exciting tools like 'volumetric' displays," Brown said. This year the show will also introduce a virtual production studio on wheels, called the "MagicBox," in the Create Inspiration Zone.
Other technologies to look out for: 5G, Artificial Intelligence, data-driven personalization, and workflow automation software and virtualization.
"In my estimation, the most significant disruption of the next decade is going to happen in content creation," Stinehour said. "I am all-in on virtual production [LED volumes]. The early business returns are breathtaking."
Above all, the NAB said it was focused on creating a vibrant marketplace as well as programs and services that deliver substantial direct value to our community.
"This centennial year is more important than ever as it provides the perfect opportunity to celebrate how far we've come as an industry but more importantly where we are headed," said the NAB's Brown. "Think about how far the industry has come in that time, from a strictly audio medium to the introduction of moving images to the dawn of film, TV, cable, satellite, streaming—and all the amazing technology that has driven those incredible advances. NAB Show has both been a reflection of those changes and a catalyst for changes to come." l
Visit nabshow.com to register.
12 show preview
March 2023 | www.tvtech.com | twitter.com/tvtechnology
Credit: nab
Chris Brown, NAB executive vice president of conventions and business operations
Celebrating a Century of NAB Shows
The 'long and winding road' to the centennial gathering
By James E. O'Neal
With the curtain set to rise on the 2023 NAB Show and the event having reached centenarian status, it's interesting to examine how it came to be and follow some of its twists and turns in going from infancy to becoming the "biggest and best" gathering of broadcasters and content creators on the planet.
Its origin is closely intertwined with the launch by Westinghouse of KDKA radio in late 1920. This experiment in wireless delivery of news and entertainment on a regularly scheduled basis was a game changer, arousing public attention as never before. Soon new stations were taking to the air on almost a daily basis, with hundreds in operation in just a relatively short time.
With no established precedents or business models to follow, some of these first-generation broadcasters recognized the value in banding together to share knowledge and protect common interests, leading to the chartering of the National Association of Broadcasters in April 1923 and the first-ever "NAB Show" held later that year.
While little information survives, we do know that it was a single-day affair attended by only a few, and by later standards would seem rather anemic, with activities mostly centered on business matters such as performance royalties, the need for additional spectrum (a concern even then), and regulatory issues. As there were few equipment manufacturers, the technology displays were not a part of that show. (Exhibits at early NAB Shows came chiefly from the NAB and member stations. Technical displays did not appear until the show's second decade.)
A SHOW FOR ALL SEASONS
While the NAB Show is a rite of spring for many—seemingly always occurring in April and always in Las Vegas—this April/
LV pairing is relatively recent. (Also, for many years the event was referred to as a "broadcasters' convention.")
New York City served as the backdrop for that 1923 show, with the event taking more than half a century to reach Las Vegas for the first time, and not becoming a yearly event there until 1991. After spending its first five years in the Big Apple, the show was moved to Washington D.C. in 1928.
Seven years later, it began to move around, convening in Cleveland, Cincinnati, Los Angeles, Detroit, Colorado Springs, San Francisco, St. Louis, Atlantic City, and even trying out resort hotels in White Sulfur
Springs, W. Va., and West Baden, Ind.
Since its inception, the NAB Show has been hosted by no less than 17 cities and in almost every month, skipping only December and January, and taking 20 years to convene in April for the first time.
A heavy snow slowed down proceedings at the November 1932 conference, triggering a schedule reevaluation that pushed the event—with one exception—into warmer months from then on. (However, even that didn't guarantee good weather at the late-March 1987 Dallas show, where snow showers and bitterly cold temperatures greeted attendees.)
AFTER A CENTURY, WHO'S COUNTING?
Even though the show has been scheduled every year from 1923 on, the recent pandemic forced two cancellations, and the 1945 wartime event was kyboshed by a government order directed at freeing up transportation and lodging for military and defense industry personnel. (The directive banned meetings of more than 50 persons from outside the community hosting the event).
And technically speaking, there was no "NAB Show" from 1951–1957, as the organization temporarily rebranded itself as the NARTB (National Association of Radio and Television Broadcasters) to recognize TV's rise to prominence. The yearly gatherings continued, however, under the NARTB banner.
Broadcast technology was initially only a small part of early NAB Shows, but as the annual event entered its second decade, tech began to command an increasingly greater share of attention, with the 1935 program including a report on the status of television in
nab history
Credit: University of Maryland Libraries; Broadcast Engineering magazine 13 twitter.com/tvtechnology | www.tvtech.com | March 2023
The individuals responsible for the NAB's creation are seen in this April 23, 1923 photograph taken at the organization's founding. (L-R: Raymond Walker, C.H. Anderson, Frank W. Elliott (WHO), Commander Eugene F. McDonald Jr., Paul Klugh (WJZ), William S. Hedges (Chicago News radio editor), Elliott Jenkins (WDAP-later WGN), A.B. Cooper, John Sheppard III, and Powel Crosley Jr. (WLW). McDonald headed up the Zenith Radio Co. (now Zenith Electronics) and was largely responsible for chartering the NAB, serving as its first president.
Since its inception, the NAB Show has been hosted by 17 cities and in almost every month, skipping only December and January, and taking 20 years to convene in April for the first time.
Europe, and the first mention of an NBC Show "engineering committee" meeting found in a report on the 1936 convocation. It was small by later standards—eight persons, with WSM's legendary Jack DeWitt serving as chairman.
Several technical displays were featured at the 1937 event, with exhibitor Western Electric unveiling one of the first commercial audio processors, its model 110A "program amplifier."
State-of-the-art tech made its presence known in a really big way at the 1939 Atlantic City, N.J. show, with RCA and NBC engineers setting up "high-definition" 441-line cameras and encouraging attendees to be "televised." Photographic screen shots made it possible for those conventioneers posing before the iconoscope cameras to prove it to folks back home. As summed up by a trade publication: "…the photos will undoubtedly be cherished in later years as relics of the pioneer days of television."
That 1939 show also included an eerily prophetic comment from New York Times radio editor, Orrin E. Dunlap Jr. "Today it may seem that television is creeping at the pace of a glacier. But by 1950 broadcasters will be
Moments of Drama
NAB Show veterans know that they can sometimes expect the unexpected— sometimes above and beyond the unveiling of a revolutionary product, especially as high-level government officials, members of congress and even heads of state occasionally make appearances. At least two of the shows are especially memorable in this regard.
An appearance at the 1941 NAB Show in St. Louis by then FCC Chairman James L. Fly sparked political fireworks that made headlines across the country. Just days before the show, Fly released a draft of new rules that would greatly impact business relationships between networks and their affiliates. The Commission's "Report On Chain Broadcasting" quickly met with condemnation from major networks and NAB alike.
Verbal blows came to a head at the show with past-NAB President Mark Ethridge lambasting Fly and the report, and Fly countering by repeatedly referring to the NAB as a "so-called" organization and likening the way the broadcasting industry operated to a "dead mackerel in the moonlight…that both shines and stinks."
Following Fly's remarks, then-current
deep into… television. The ice age will not last forever."
(Dunlap's address was read by an NAB staffer as he was unable to attend the show.)
'FIRST LOOKS'
In addition to providing many attendees with their first look at television, the NAB
Show has also served as the launchpad for many more broadcasting technological innovations. New breakthroughs introduced included color, 3D and HDTV; UHF transmission; ENG; communications satellite linkage; timecode editing; the dawning of digital technology; server-based video playout; solid-state transmitters; chip sensor cameras—the list goes on and on.
Perhaps the most memorable tech rollout occurred at the 1956 Chicago NARTB, with Ampex ushering in not only a new technology, but a sociological game-changer with their introduction of the videotape recorder. The unveiling had been kept secret, and when wraps were taken off, the machine instantly became—and remained—the focus of attention at the show with the electronics firm receiving orders for some 80 of the $50k VTRs (more than $44 million in today's money).
The number of attendees and exhibitors has risen steadily since the inaugural 1923 event. Over the next decade, hundreds attended, eventually surpassing 1,000 as the 1940s began, and has continued to climb almost every year. (In addition to the "VTR
the dais at the 1992 Television Luncheon where former President Ronald Reagan was receiving the NAB's Distinguished Service Award. Before the intruder was subdued, he managed to smash a large crystal statue that had been presented to Reagan, startling the former chief executive and showering him with glass shards.
Fortunately, Reagan was not injured, the protester was wrestled to the stage and removed, and the former president continued with his speech.
NAB president, Neville Miller, called for a congressional investigation of the FCC, and questioned whether "the state of mind exhibited by Mr. Fly qualifies him to be chairman of a government agency calling for judicial impartiality."
Broadcasting magazine's Sol Taishoff de scribed the politics unleashed at the show as "the most tumultuous of its 19 years," adding "For acrimony and invective, the convention had no parallel in NAB annals, and it will prob ably be recalled in radio history as the "Battle of St. Louis."
(Fly was a no-show at the 1942 event.)
A half-century later, an anti-nuclear activist managed to slip past security and onto
However, there were plenty of frazzled nerves among those who recalled John Hinckley Jr.'s 1981 assassination attempt on Reagan (which occurred rather ironically at one of the three hotels hosting the final NAB Show to be held in Washington).
14 nab history Credit: University of Maryland Libraries; NAB Studio; Library of Congress, Harris & Ewing collection March 2023 | www.tvtech.com | twitter.com/tvtechnology
The 1956 NARTB Show marked the unveiling of the world's first practical videotape recorder.
Former broadcaster and U.S. President Ronald Reagan's speech during the 1992 Television Luncheon was interrupted by a protester.
James L. Fly FCC chairman, 1939–1944
unveiling" the 1956 show is remembered for a (then) all-time high attendance that exceeded 4,500.)
By the time of the 1977 Washington
show, registration had swelled to nearly 13,000, totally overwhelming the city's limited convention resources. (There was no convention center then, requiring the
conference to be spread over three hotels connected by shuttle buses.) Hotel rooms were also in short supply, leaving upwards of 100 registrants with no place to stay.
Feathers were ruffled so much that the NAB vowed not to return the show to Washington until at least 1984, (it never did). Broadcasting magazine summed things up: "The NAB passes but D.C. flunks." (A similar lodging issue at the 1947 Atlantic City show also earned that city a spot on the NAB's "no more shows there" list.)
The number of attendees has continued to grow, hitting more than 100,000 by the 1990s. The number of exhibitors and exhibit space has increased correspondingly, with more than 1,800 spread across more than a million square feet of floor space in 2016.
Although attendance at the first postpandemic show was substantially down from the show's all-time high, the 2023 NAB Show will likely see an even higher number than the 52,468 who registered for the 2022 event. We hope you will be one of those who help swell that number as this "show of shows" moves into its second century! l
nab history Credit: Broadcast Engineering magazine
For many years, the show's meetings and exhibits could be accommodated in large hotels as exemplified in this photo taken when Chicago's Conrad Hilton was a good fit for the 1963 event.
Let the IP Conversation Begin
IP Showcase will discuss the hot topics and give attendees a chance to share ideas
By Andrew Starks
Now in its eighth year, the IP Showcase has evolved into a must-see exhibit for anyone deploying IP technology. Over the years, AIMS and other major technical and standards organizations within the broadcast industry have taken advantage of large industry events like the NAB Show to highlight vendor products, technical presentations, and real-life case studies of IP deployments, while providing attendees with networking opportunities with access to the experts that make open IP standards a reality.
As the NAB Show celebrates its 100th anniversary, we couldn't be more excited to be there again, as well as welcoming our newest members—Megapixel VR and NETGEAR—to the IP Showcase.
DEMONSTRATING INTEROPERABILITY
In the beginning, the IP Showcase started out as a way to demonstrate to the industry that IP standards work and to highlight their interoperability. However, based on feedback from attendees, we quickly learned that there's a lot of hunger out there for education on a wide range of topics.
Part of this need is met by the IP Showcase Theater, where industry professionals give 20-minute presentations on case studies and other topics. As in previous years, this will be a centerpiece of the IP Showcase at the 2023 NAB Show.
In addition, the "IP in Action" wall will be back, which will display additional information about different IP installations that have taken place.
We'll also have people on the ground to answer questions about today's hot topics, such as ground-to-cloud, cloud-toground, and of course, the IPMX set of open standards and specifications for AV-over-IP deployments being developed by AIMS.
There's also been a lot of work going on with codecs in our various groups, and we'll be there to educate people on the flurry of activity around standards over the last year, including work around JPEG XS, H.264 and EDID.
In addition, the Advanced Media Workflow Association (AMWA) recently published its guide for implementing NMOS controllers, and its work on stream compatibility management is moving to the next phase of testing and interoperability. The Video Services Forum (VSF) has also released the first draft of TR-10-1 for system timing in IPMX—with revisions active and ongoing—and the HDCP Key Exchange Protocol draft specification. We're expecting these to be popular topics of discussion at the show.
Education is certainly at the forefront of attendees' expectations for the IP Showcase; however, we've also learned that
16 tech showcase March 2023 | www.tvtech.com | twitter.com/tvtechnology
This year, the IP Showcase is adding a "meetup" section, where NAB Show attendees can sit and host conversations revolving around IP media systems that are important to them.
organizations and individual professionals aren't strictly looking for information and insight, they are also eager to share ideas.
KNOWLEDGE SHARING
So, this year at NAB Show, we decided we really wanted to emphasize the social aspect of the IP Showcase and provide attendees with the opportunity to get together and have these conversations. And we're doing that with the introduction of a new element: the meetup section. This is going to be an open space with flexible seating, where attendees can come in and host conversations revolving around IP media systems that are important to them.
And while we're normally very selective about who can give presentations at the IP Showcase, we're opening the meetup space to just about anybody who wants to have a conversation regarding anything related to AV-over-IP, SMPTE 2110, or even other proprietary protocols out there. As long as the topic is centered around IP media systems and making them work, anyone can host a conversation; they don't need to belong to AIMS or any other organization.
The reason for this inclusivity is that we envision this new section not only as a place to support our community of open-standardsbased solutions, but to also hear from users in general. We want to find out what you're doing in IP, the problems you're facing, and your success stories.
Sharing such information at the IP Showcase is a really exciting prospect, and we're anticipating that a lot of smaller groups will want to take advantage of it. So, we've been casting a wide net for participants, sending out a sign-up sheet via social media and other outlets. All people have to do is fill out a form, and they're
given a time slot for their conversation.
We'll also have industry experts come in to address groups that want to discuss certain topics. So, for example, if there's a group that wants to discuss network convergence or issues they're having when setting up IP systems, we'll bring in experts from companies in our organization that specialize in those topics, and they'll be available for those meetups.
And finally, we're opening up the space to groups that already meet within standards organizations over Zoom and elsewhere to have face-to-face meetings at the NAB Show. There are so many possibilities to use this new space as an educational opportunity, and we can't wait to see what people do with it. It's going to make the 2023 NAB Show one to remember, and we look forward to seeing everybody there.
Visit us during exhibit hours at Booth W2867 in the West Hall of the LVCC. l
Andrew Starks is director of product management for Macnica where he leads the company's standards efforts and has been a significant contributor to AIMS's Pro AV initiative, including the development of the IPMX roadmap and its marketing plan.
tech showcase
Organizations and individual professionals aren't strictly looking for information and insight, they are also eager to share ideas.
features a newly developed optical low pass filter and 4K 1-inch MOS sensor—the highest sensitivity of Panasonic's entire PTZ lineup. As a result, production teams can seamlessly operate in low light conditions and produce high video quality when shooting against an LED wall.
Hitachi Kokusai will unveil the SKUHD7000-S2, its second-generation 4K-capable Ultra HD broadcast and live production camera system. It is delivered with HDTV SDI outputs and can be option licensed-in for UHD (4K) SDI outputs at an additional cost. The SK-UHD7000-S2 features three 2/3-inch global shutter CMOS image sensors acquiring in RGB 4K. A new prism design with expanded spectral range; simultaneous HDR/SDR workflow with separate video control and support for standard 2/3-inch B4 lenses.
Cameras at NAB Show: The Evolution of PTZ
By Craig Johnston
New imaging technologies at the 2023 NAB Show will reflect the advances that AI, chip technology and virtual production have had on the development of cameras, lenses and camera support equipment, and in particular, compact studio PTZ (pan-tilt-zoom) cameras.
CAMERAS
JVC will introduce its first NDI-(Network Device Interface) compatible broadcast cameras, the GY-HC500UN, GY-HC550UN and GY-HC500SPCN. Already found in several JVC PTZ cameras, NDI reduces the hardware required to operate, enables transmission of numerous video streams over a single connection. It also allows for multiple video sources to be managed in real-time with the NDI Discovery function. The NDI functionality also allows users to easily integrate several JVC cameras into one workflow.
Current HC500 Series users will also be able to have their cameras upgraded by JVC to
implement the new NDI capabilities.
Canon U.S.A. will launch its CR-N700i 4K 60P 4:2:2 10-bit PTZ camera with a 1.0-inch Type CMOS Sensor and 12G-SDI connectivity. Designed for professional broadcast, studios and live event productions, the CR-N700 incorporates the intelligent AF from Canon's popular professional video cameras such as the EOS C70 and XF605, producing precision focus across the entire pan, tilt and zoom range.
Sony will mark the NAB Show debut of its ILME-FR7, an E-mount interchangeable lens camera with a full-frame image sensor in a PTZ implementation. Its versatile remote control and cinematic features open creative possibilities in studio, live production, and filmmaking settings. The camera's powerful connectivity, efficient multicamera workflow and comprehensive lens choices break through virtually any location space limitations.
Panasonic Connect will showcase a pair of its newest cameras for streaming and video operations. The AW-UE160 4K
PTZ camera
Ikegami will exhibit the latest-generation UHK-X700 and UHK-X750 broadcast cameras and BSX-100 base station. The UHK-X700 is designed for pedestal or tripod mounting or over-the-shoulder operation. Its front end comprises three 2/3-inch CMOS UHD sensors with global shutter. Full HDR/SDR support is included plus the ability to choose between BT.2020 and BT.709 chroma spaces.
Blackmagic Design will show its Pocket Cinema Camera 6K G2, a powerful handheld 6K digital film camera with 6144 x 3456 Super 35 high resolution HDR sensor, dual native ISO, EF lens mount and direct recording to USB-C disks. The camera features the same generation 5 color science as the high-end Blackmagic URSA Mini Pro 12K digital film camera but delivers an even greater advancement in image quality, according to the company. With 13 stops of dynamic range, it can shoot in bright sunlight or with almost no light at all.
LENSES
Fujinon will introduce what it calls "a totally new category of lens," with the debut of its HK25-1000mm F2.8 Cine Box PL lens, a native PL-mount box lens that combines broadcast functionality with beautiful bokeh, delivering a cinematic look to live production. HZK25-1000 utilizes optical design technology to achieve a maximum aperture of F2.8 and 40x zoom ratio. This ultra-high zoom ratio lens is compatible with the large sensors of digital cinema cameras, yet provides a brightness of F2.8 at the wide-angle. Not only does it enable filming in low-light environments such as indoor
18 imaging technology March 2023 | www.tvtech.com | twitter.com/tvtechnology
No longer just the mainstay of surveillance or specialty applications, PTZs are now suitable for most productions
Sony's new ILMEFR7 is an E-mount interchangeable lens camera with a full-frame image sensor in a PTZ implementation.
Panasonic Connect's W-UE160 4K PTZ camera
concerts or nighttime events, but the shallow depth of field also provides the advantage of beautiful bokeh, bringing a cinematic look to
live production.
Canon will showcase a suite of new lenses including the CINE-SERVO 15120mm T2.95-3.95 EF/PL (CN8x15 IAS S), Canon's latest 8K CINE-SERVO lens for a broad range of productions. It achieves 8K optical performance throughout its entire zoom range, with 8K-compatible chromatic aberration correction and optimized coatings, reducing ghosting and flares inside the lens.
Cooke Optics will highlight a new 1940mm wide zoom in its Varotal/i FF range, which joins the 30-95mm medium and 85-215mm long zooms that were launched last year. The 19-40mm zoom completes the Varotal/i FF series, enabling Cooke to offer broad focal length coverage for the majority of production needs.
CAMERA SUPPORT
Shotoku will show its TI-11X elevator pedestal paired with the TG18i PT head to offer a highly capable robotic camera channel including elevation. The TI-11X is based on Fujinon's HK251000mm F2.8 Cine Box PL Lens
the new X-Height elevator column and offers a longer range of travel and increased speed over the TI-11 i-height pedestal. Like the TI-11, the TI-11X is aimed at studios where full manual override is not a priority.
Telemetrics will demo a new wireless video transmission and battery system for its OmniGlide Robotic Roving Platform that allows users to freely move the popular OmniGlide studio camera pedestal and avoid obstacles virtually anywhere in the studio without cables.
Videndum's Sachtler brand will feature its aktiv fluid head product range with SpeedLevel and SpeedSwap technology that allows camera operators to mount, level and lock the head in seconds and to switch quickly from tripod, slider or hand-held shots in an instant to capture the widest range of shots in the shortest time. Three new products, aktiv10T, aktiv12T and aktiv14T 100mm fluid heads, bring the speed and control benefits of aktiv to camera operators with heavier payloads up to 16 kg. l
imaging technology
Telemetrics will demo a new wireless video transmission and battery system for its OmniGlide Robotic Roving Platform.
Audio in 2023: Virtual Mixing, Cloud and AoIP
NAB Show exhibitors focus on how IP is revolutionizing audio production
By Kevin Hilton
With the importance of sound now more appreciated in broadcasting, the audio technology sector is producing new products that meet changing operational and creative needs. Here's a look at what some of the leading mixing console manufacturers will be showing at the 2023 NAB Show and how they see the market developing.
Audio may be represented by fewer companies at this year's NAB Show compared to those in the video and visuals sector—as is ever the case—but it makes up for it with a concentration of new technologies that are having a major impact on broadcasting. Virtualization, immersive experiences, IP connectivity and the cloud are all current considerations for broadcasters and, in many respects, sound is leading the way.
GOING VIRTUAL
Virtual operations and the cloud in particular have been playing a role in audio
installations over the last two decades. This trend began with the separation of the mixing control surface from the processing engine, with the latter located in a rack room within the broadcast center rather than with the mixer in the studio or control room. That partitioning has increased with the mix processors now more likely to be located in a third party remote facility connected via the cloud.
Among the audio exhibitors actively pushing this is Wheatstone, which will show its Layers Software Suite, which features a mix engine that can be placed either in an on-prem server or offsite at a cloud data center. The user interface, Layers Mix Glass, is designed to run on a standard laptop, tablet or PC touch screen, as well as a software app.
Phil Owens, senior sales engineer at Wheatstone, says they're seeing increasing interest in virtual mixers and, particularly, in the ability to operate a production from a laptop or mobile device.
"This is the next big frontier," he says, "and with that comes extending streaming,
processing and, to some extent, mixing from a data center, either a local private one or a public cloud service such as AWS. Being able to spin up or down streaming as you need it has great value to broadcasters."
The Layers system is part of the WheatNetIP audio networking system that Wheatstone will also be showing, along with the Tekton compact control surface and the Strata TV audio console. Owens says that although working remotely and in the cloud is being adopted, many broadcasters still prefer to mix on-premises because live sound mixing is latency sensitive.
"But those tradeoffs with latency and buffering for packet loss across distances is something we're very familiar with as an AoIP [Audio over IP] manufacturer," he says, "and today, we can make some pretty decent tradeoffs. This is not only because of the technology we use, like SRT for UDP transport, but also because of the growing number of data centers cropping up in cities."
IP THROUGHOUT THE CHAIN
Telos Alliance, which helped pioneer AES67/ AoIP with its Livewire protocol, will showcase its latest Axia AoIP products, the Quasar XR and SR broadcast consoles. According to Telos Alliance Product Manager Larry Schindel, the SMPTE ST 2110 and AES67 interoperability standards are now being used increasingly as the AoIP components of TV sound, which itself is undergoing a change in how it is delivered.
"What we are seeing in the U.S. is broadcasters trying to take the signal all the way through the distribution chains," he explains. "The more challenging part is not sending the final mix but having different outputs. Broadcasters can deliver a complete mix if they want.
"Today, if they are covering sports, the A1 mixer is creating a mix, with a clean feed, an international output and a bed mix," Schindel adds. "Another will be a complete mix with the announcers. It's not a big change but is an easy lift to get there [due to the technology]."
20 audio preview March 2023 | www.tvtech.com | twitter.com/tvtechnology
Wheatstone Software Layers Suite features a mix engine that can be placed either in an on-prem server or offsite at a cloud data center.
Christian Struck, senior product manager for audio production for Lawo
AI IN THE MIX
Calrec Argo mixing system
Lawo will release v10.6 software for its A_UHD Core-based audio infrastructure at the show. This was first used during the 2022 World Cup and features immersive audio tools that can be used to create NGA (next generation audio) material, with support for various channels formats, including 5.1.4, 7.1.4, 9.1.6 and 4.0.4.
Lawo says it will also unveil two new hardware products during the show but had no further details at press time.
Lawo says it is also seeing more pressure being put on audio engineers and mixers to produce and manage multiple mixes and outputs. This, according to Christian Struck, senior product manager for audio production for Lawo, will call for the greater use of automation and cognitive technologies to cope
with the increase in signal volume.
"As the workload for sound supervisors increases, one has to be sure that what is sent out can be consumed in the intended way," he says. "It will become increasingly important to tackle automated mixing and AI as supportive measures for audio engineers. The mixing console as we know it and tablets, or other control protocol-based user interfaces, clearly need to adapt to new production models."
ADAPTING TO NEW REQUIREMENTS
Audio console manufacturers have long offered different options to meet a wide range of user requirements and are now taking that further using modular techniques and IP.
Calrec Audio has taken this route with the Argo mixing system, which will make its NAB Show debut alongside the new ImPulse1 IP engine (launched in January). Argo comes in two models: the larger Q, with two mid-level rows of interchangeable panels, and the smaller S, which has only one midlevel row.
ImPulse1 is a small version of the established ImPulse IP core and is intended
to be more cost-effective and compact while still being a 128 input channel DSP device in a 1U package.
Henry Goodman, head of sales and marketing for Calrec, explains that the ImPulse1 is aimed at broadcasters that do not necessarily need a multi-console environment. He adds that audio mixing requirements will continue to change, although manufacturers, including Calrec, are already making accommodations for newer technologies such as immersive audio and object-based monitoring and metering.
"At the moment it's a question of how the operational side of a production is done and how that changes the way people use the console," Goodman said. "It's still in its infancy but it's feasible for an operator working on a live show to effectively do multiple mixes for different presentations at the same time."
The 2023 NAB Show promises to be a good showcase for broadcast sound technology and may very well provide some pointers as to where the future of audio mixing is heading. l
audio preview
Telos Axia Quasar
Virtual, Cloud Workflows Dominate Latest Production Trends
Exhibitors at the NAB Show will showcase new tech to advance remote production
By Bob Kovacs
The role of the cloud is now well entrenched in broadcast and cinema production, but some traditional tools remain. This gives flexibility to production workflows that would have been unthinkable 15 years ago, when everyone's attention was focused on the digital/HD transition.
At the 2023 NAB Show, there will be something old and something new. One of the latest technologies is the use of "volumes" to provide hyper-realistic backgrounds for live and cinema production.
KNOCKING DOWN BARRIERS
Pixotope, a provider of virtual production
software solutions, will showcase its Graphics XR Edition, which includes a range of tools that simplify setup and operation in connection with the use of LED volumes, by reducing the technical complexities and associated resource costs of XR workflows and environments.
"With XR Edition, Pixotope is knocking down a major barrier to virtual production adoption by addressing the challenges that have previously made it difficult to leverage XR outside of major blockbuster productions," said David Dowling, chief revenue officer of Pixotope. "It effectively removes the need for proprietary hardware, bringing users an off-the-shelf XR solution that enables bigger, better stories with greater ease."
Blackmagic Design will roll out its line of network storage solutions, including Cloud
Store, Cloud Store Mini and Cloud Pod, all of which let users share media files between multiple users on a global scale. The devices also understand proxy workflows, allowing a whole timeline and its media to be shared in minutes with responsiveness similar to a directly connected drive.
"We noticed how other storage solutions on the market didn't offer the performance needed by the feature film and TV industry, so we took it upon ourselves to build something for our customers that's not only fast but also reliable, portable and accessible in terms of costs," said Bob Caniglia, director of sales operations for the Americas at Blackmagic Design. "The resulting Cloud Store, Cloud Store Mini and Cloud Pod are easy to set up and use, while providing secure access to media files globally with syncing and
22 production gear preview
March 2023 | www.tvtech.com | twitter.com/tvtechnology
Dalet Flex media asset management and workflow system
sharing media via Dropbox and Google Drive, allowing users from around the world to collaborate."
OPEN ARCHITECTURE
Panasonic will feature its Kairos line of IP-based production switchers. Kairos is an IT-based open architecture platform that enables functional enhancements and control linkage with external devices by adding software. At the show will be the next-generation Kairos Core 200 and Kairos Core 2000 mainframes, which offer improved functionality and performance, including many more inputs and outputs, improved video-processing performance and enhanced
file-storage capacity.
Avid will be on hand to demonstrate its Maestro suite of graphics design and production tools for broadcasters. From news tickers and data-driven visuals to interactive and augmented reality content, Maestro provides solutions and tightly integrated workflows to add content on-screen in a coherent and engaging way.
LiveU will focus on flexible workflows such as remote/decentralized production, and cloud-based management and distribution help to allow delivery of high-quality, dynamic live content. LiveU will also showcase its latest 5G offerings and cloudbased solutions, which use the company's
low-latency, high-quality transmission protocols.
Rolling out its latest NDI-capable switchers is FOR-A, which will introduce the HVS-190, a 1-M/E version of the company's flagship HVS490 video switcher. As with the HVS-490, the HVS-190 also supports high-bandwidth NDI and NDI HX input and output. In addition to these switchers, FOR-A's MFR-3100EX all-in-one production center, ClassX graphics, Insight media server, and SOAR-A live production platform are all upgradeable to NDI.
Ross Video will feature its 12G ready Ultrix FR12, the latest version of its awardwinning Ultrix Router. The FR12 router has an integrated production switcher that allows customers to build an infrastructure
production gear preview
Blackmagic Design Cloud Store network storage solution
Teradek Prism
with greater flexibility, performance and integration. The Ultrix FR12 is targeted at studios, OB vans and flypacks.
MONETIZING CONTENT
Dalet will highlight its Dalet Flex media asset management and workflow solution, which lets users seamlessly produce, curate, orchestrate, archive, deliver and monetize content. With its new mobile app, FlexMOBILE, you can bring the power of Flex to your fingertips with the ability to find, preview, comment, review and approve your assets from anywhere.
TVU will demo its RPS Link Encoder and Channel Plus. The RPS Link Encoder provides multicamera, synchronized remote production capability, targeted for use in remote locations where reliable wired IP connections are unavailable or inadequate. Channel Plus, a cloud-based playout service with integrated ad sales support, enables broadcasters to create live and VOD channel programming from a simple web browser with minimal training and experience.
Matrox will spotlight its ConvertIP line of 4K distribution products that can send zerolatency 4K over 1, 10, and 25 GbE cabling systems. Built on Internet Protocol Media Experience (IPMX), ConvertIP encoder/ decoder line supports 4K60 4:4:4 IP signal transport.
Vizrt will highlight its AR and virtual
studio capabilities in live production through Viz Virtual Studio and Viz Engine 5. Together, Viz Virtual Studio and Viz Engine 5 enable the creation of interactive 3D virtual sets, AR graphics, and mixed reality presentations, elevating audience experience through XR with hyper-realistic quality.
"Viz Virtual Studio in combination with Viz Engine 5 is a game changer for visual storytellers," said Chris Black, head of brand and content at Vizrt Group. "Presenters can simply walk through 3D spaces, while the camera follows them and captures the interaction with XR infographics in an XR set that illustrates the story."
NewTek will showcase the latest in its TriCaster line at the 2023NAB Show. On display will be the new Flex Control Panel, TriCaster Mini X, its sports replay solutions, and more. CaptureCast, the company's flagship lecture capture solution for enterprise and education technology, will also be available.
Teradek, which will exhibit as part of the Creative Solutions Group in the North Hall, will focus on 4K with the debut of Prism Mobile, a camera-back video encoder with integrated cellular bonding, delivering
Teradek says it developed Prism Mobile "to provide better connectivity, seamless portability, and more reliable video contribution for professionals in the field." It features two built-in high-performance cellular modems, and support for nine simultaneous network connections across WiFi, Ethernet, and Cellular offering the connectivity required for going live at sporting events, political rallies, and conferences. l
24 production gear preview
4K HDR live video from the toughest network environments.
March 2023 | www.tvtech.com | twitter.com/tvtechnology
Pixotope Graphics XR
Ross Video Ultrix router
FOR-A HVS-190
Lighting Choices Come Down to Three Letters: LED
Vendors will be offering a lot more quality at lower cost
For those of you attending the NAB Show, any boasting about bigger, brighter, and better-than-ever lights is more than just hyperbole. In a pattern similar to the early days of computing, LEDs have made major strides in efficiency and color quality. They really are better than ever.
Manufacturers may have been sidelined during the pandemic, but many have used that time to refine and expand their product lines. In addition to those efforts, you find there's been major improvement in the LED components themselves. Here's some of what you can expect to see.
SAVING MONEY
With few exceptions, manufacturers have discontinued their "traditional lamp" fixtures. What you see on display will be almost exclusively LED. The rare exceptions to this rule will be the big HMIs or special-purpose fixtures that require a quality that LEDs can't provide. So unless it's an 18K spot or something with exotic optics, it's all LED.
New laws to get mercury out of the environment have put fluorescent lamps on the "nearly extinct" list. The big lamp manufacturers have already finished making the last of them, and whatever remains in the warehouse will be the last of it. As a result, there may be high demand this year for LED soft-lights to replace obsolete fluorescent equipment. With supply-chain problems finally clearing up, product availability should be better than the past few years.
Progress in the development of LEDs has followed a path similar to Moore's law for microelectronics. Haitz's Law predicts LED efficiency increases and cost reductions that we're seeing reflected in the latest light fixtures. If you do a lumens-per-dollar calculation, you'll find you're getting a lot more quality light for your buck than ever. That's at least partly due to the efficacy improvement of the LED chips themselves. This helps explain why newer models can honestly boast
about better output.
'TUNABLE WHITE'
Real-world lighting requirements don't come in just one color-temperature (CT). Bi-color fixtures address this demand with variable white adjustment. Models that include +/- green adjustment will make it easier to use together with other fixtures that may not be spot-on. These "tunable white" fixtures are ideal for field use where color-temperature versatility is needed. Studio spaces may even discover they prefer how skin tones look when lit with a bit lower color temperature than the de facto standard of 5600K "daylight."
Expect to see many companies offering
slightly different versions of a Mono-Light. This format is almost primal in its bare-bones layout. It consists of a COB (Chip On Board) LED, fan-cooled radiator, power supply (often separate), and a control interface to make it all work.
These lights put out a lot of raw light, but are typically used with a variety of light modifiers (reflector, diffuser, Fresnel lens, etc.)—typically fitting a common Bowens mount. For better and worse, this category is the Swiss Army Knife of lights. With the right attachments, mono-lights are a useful tool for smaller scale field production out of a trunk.
Like the unofficial motto of the US Post Office ("Neither snow, nor rain, nor heat…"), look for more IP65 lights that will deliver under every condition. These more robust field lights are designed to handle the worst of the elements. "Run & Gun" crews will appreci-
25 lighting technology twitter.com/tvtechnology | www.tvtech.com | March 2023
EXPERTISE
BRUCE ALEKSANDER
Creamsource's Vortex 4 IP65 field lights are designed to handle the worst of the elements.
lighting technology
ate having these IP-rated fixtures when the weather takes a turn for the worse.
Cable snake nests are the unavoidable bane of location setups. Look for help with more fixtures featuring fully integrated wireless control. Some are brand specific and pro prietary, but other systems are intended to work with any DMX device. Among wireless systems that have proven interoperability, watch for fixtures that have incorporated LumenRadio CRMX and Multiverse wire less DMX/RDM enabled systems.
WAR OF THE LED EMITTERS
With the high sensitivity of today's cam eras, color quality—rather than just bright ness—has moved to center stage. Without taking too deep a dive into the science behind LED color, creating a light with a broad color spectrum enables more accurate color reproduction. Different manufacturers have taken different approaches, each with their own unique "secret sauce" mixture of LEDs and phosphors.
The engineering goal behind these varied approaches is to provide as natural a visible spectrum as possible, while still
colors to smooth out the spikiness of single-frequency emitters, while others use 6 or more separate colors to stake out their broad color gamut.
Quantifying the color accuracy of lights is evolving. While everyone is familiar with CRI (Color Rendering Index), it has limitations. Companies are now posting the more specific TLCI (Total Lighting Consistency Index) numbers, and even the TM-30 scores. By these measures, the closer the score numbers are to 100, the closer they are to perfection.
NOVEL DESIGNS
As virtual production continues to prove its value in the industry, look for more lighting manufacturers to develop image-based lighting solutions. For those who need it, these fixtures can integrate with real-time image content to create plausible lighting that seems to arise from the virtual environment itself.
Part of the fun of the NAB Show is getting to see the latest lighting fixtures. I've seen several new fixture designs that deserve recognition for their ingenuity. One novel light fixture has a liquid-cooled stalk of LEDs surrounded by a stepped reflector. Beam width is controlled by which rows of chips are reflected in selected portions of the reflector. It's innovative and a great conversation
Time will tell the utility of such novel designs. Some will remain curiosities of limited application, while another may turn out to be the new "workhorse" of the
Our industry is filled with some of the most creative people on earth, and this year's NAB Show is your chance to meet them and see their latest creations for yourself. Enjoy the adventure! l
26 March 2023 | www.tvtech.com | twitter.com/tvtechnology
Bruce Aleksander invites comments and topic suggestions from those interested in lighting at TVLightingguy@hotmail.com.
With few exceptions, manufacturers have discontinued their "traditional lamp" fixtures. What you see on display will be almost exclusively LED.
Quasar Science Ossium Frame C/W Rainbow 2 supports an array of Rainbow tubes.
With the right attachments, Kelvin's monolights are a useful tool for smaller scale field production out of a trunk.
ATSC to Update Industry on 3.0 Progress
How a triad of organizations is making NextGen TV a reality
By Michael Silbergleid
There are three organizations that are proponents of ATSC 3.0 (or the more consumer-friendly NextGen TV), all approaching adoption of the non-mandatory standard differently: the ATSC (atsc.org), the NAB (nab.org) and Pearl TV (pearltv.com). All share a common goal: to make ATSC 3.0 the norm. A big part of that will be this year's NAB Show.
DIFFERENT APPROACHES
"The main goal for the ATSC is to provide the forum for the technical development to take place," said Madeleine Noland, president of the Advanced Television Systems Committee. "As such, we're the technical experts—the educators and vanguard for the technology. Our role is to make sure what ATSC 3.0 is and what it does, its benefits and to move the ball forward."
ATSC members are continuing to develop the evolvable standard.
As the trade association for TV and radio broadcasters in the U.S., NAB represents broadcasters implementing advanced technologies like NextGen TV. "We help the industry be the best it can be," said NAB CTO Sam Matheny. "For television, that's through the adoption and implementation of ATSC 3.0."
Then there's Pearl TV, a consortium of more than 820 network-affiliated TV stations, with eight of the largest broadcast companies in the U.S. that is leading the NextGen TV transition. They're the organization that said last December that by the end of 2023, NextGen TV services will reach 75% of the U.S. population.
"Pearl TV's mission over the last 10 years has been to work collectively on investing in and fostering new technology platforms and services that would further the businesses of the industry," said Anne Schelle, managing director for Pearl TV. "The biggest part of our efforts have been around developing the
proper infrastructures to foster a robust marketplace for receiver manufacturers to build and sell a product to consumers, for consumers to know it exists and to be educated on the benefits of NextGen TV, and helping broadcasters to be able to stand up quality services."
Pearl TV works on the collaboration mechanisms to transition markets and the agreements that need to be created. That has led to the creation of templates for the industry and managing transitions in the markets with the networks. They work with manufacturers and broadcasters on the promotional aspects of NextGen TV, providing on-air promos that they've produced. They also do market research
with consumers with regard to what the expectations are in a next generation television.
"We have a NextGen TV FastTrack program with high-volume consumer manufacturers," said Schelle. "Our lab in
nextgen tv preview
Madeleine Noland, president, ATSC
Bradenton, Fla. helps to fix compliance issues that have cut nine months off the time to get products to market."
Pearl TV is also responsible for making sure that each consumer device meets the required specifications in order to receive official NextGen TV licensing and certification logo use.
You might have noticed the switch between the terms used by each organization: The ATSC and the NAB using ATSC 3.0—the industry terminology, while Pearl TV uses NextGen TV—the more consumer and manufacturer marketing terminology.
CONSUMER ADOPTION
While it might appear that adoption is slow, that's far from the truth. Since the beginning of the year, Miami and Boston have joined the ranks and by the time you read this, another market or country may have joined the ATSC 3.0 family as more than a dozen markets are poised to start services this year. In January, The Republic of Trinidad and Tobago adopted the ATSC 3.0 standard, joining the U.S., Jamaica, South Korea and certain ATSC 3.0 elements by Brazil.
In the same way that consumers want superior 4K content for their new 4K TVs, research has shown that when they see the benefits of ATSC 3.0 they want that too.
According to the NAB's Matheny, his top three reasons for ATSC 3.0 are fairly simple: better pictures, better sound and interactivity.
But, it's the consumer that really matters.
"When you describe what NextGen TV is in our ads (watchnextgentv.com) and show it to consumers, they score really high with 50% of consumers wanting to buy it," said Pearl TV's Schelle. "The value proposition is there with higher quality video for sports and free TV. Some
rank audio the biggest benefit with dialog enhancement, movie theater sound and consistent volume across channels. Plus more high value content and interactivity over time with future upgradeability—those are selling points in and of itself."
While many ATSC 3.0 broadcasters are currently spectrum constrained for 4K—as broadcasters must still provide an ATSC 1.0 signal (typically with one station handling ATSC 1.0 for themselves and another station, while the other handles ATSC 3.0 for both)— Schelle sees that as a future driver, with HD HDR as a selling point today.
Another driver for today is free OTA TV. A test by Pearl TV with an antenna placed
in the middle of a house in Baltimore pulled approximately 160 channels from both the Baltimore and Washington, D.C. markets.
"Retailers are waiting for a national platform, until NextGen TV is readily available in most places or their places," said Schelle.
That's why ATSC 3.0 market rollouts appear to happen only in larger markets–they scale well for manufacturers, but those come with challenges, including negotiations between stations as to the logistics of who does what, as well as business concerns.
"The focus on larger markets tracks with the last transition," said NAB's Matheny. Smaller markets come later in the process. It's in alignment with history. But there are lots of small markets planning to go on air in 130+ DMAs this year.
"Plus, smaller markets get to benefit from the larger markets going first and products to mature, so it'll be a lot easier for them, especially with industry expertise from the ATSC, Pearl TV and us on how to deploy," he added. "The NAB has also been advocating to the FCC to modify some of the restrictions on channel sharing so more stations can do this more easily."
ATSC 3.0/NEXTGEN TV AT NAB SHOW
The triad of ASTC 3.0/NextGen TV supporting organizations plan a full court press for NAB Show.
Aside from the NAB celebrating its 100th anniversary, Matheny's department is responsible for the Broadcast Engineering & IT Conference, which consists of almost 50 presentations and panels over four days with ATSC 3.0 adoption heavily featured. According to Matheny, these sessions will feature national security applications, video coding techniques, media workflow, broadcast facility design and much more.
The ATSC will be in the West Hall at W3443, showing new developments, hosting events for opportunities to highlight ATSC 3.0, showing the first NextGen TV licensed and logoed set-top boxes, and reminding attendees that as of January 2023, approximately 14,000 ATSC 3.0 TVs are sold daily.
The ATSC booth will also host Pearl TV, where Schelle will discuss FastTrack and consumer messaging to broadcasters deploying NextGen TV—along with all the ins and outs of sending out a quality signal, application services, having local news and weather, what consumers say about it and who is using it. l
28 nextgen tv preview
March 2023 | www.tvtech.com | twitter.com/tvtechnology
Pearl TV's NextGen TV FastTrack program helps consumer electronics manufacturers fix compliance issues that have cut nine months off the time to get NextGen TV products to market.
Anne Schelle, managing director, Pearl TV
Matthews Studio Equipment Gatorbuddy
Gatorbuddy is a professional tool to help video shooters and photographers work with bounce and fill cards in an efficient way to increase productivity. The sturdy yet mobile Gatorbuddy features a steel base and four Tente caster wheels. It can glide around the studio and then lock safely in place to enable lighting adjustments. Gatorbuddy can be used to move panels and V-Flats smoothly in and out to swap backgrounds.
In addition to creating walls and dividers instantly, Gatorbuddy also can be equipped with a laptop or monitor to use as a workstation. The design features a sturdy wheeled base with a low center of gravity for stability. Eight inserts offer positioning of the three screw-in aluminum Baby Risers while a slider knob accommodates width and angle adjustment of various size panels. A Junior Wall Plate can be added to support a C+Riser or V-Flat holder as well as adjust angles. z For more information, visit www.msegrip.com
Xytech Granite
Granite, a new version of Xytech's Media Operations Platform for end-to-end media production, provides 400+ new and improved features with customizable feature sets. Granite gives Xytech customers the ability to take full advantage of the platform for managing people, equipment, resources, facilities, and logistics. With enhancements and additions to its APIs and integrations such as OpenID, Azure AD, MS Exchange, Google Calendar, MS SharePoint and many more, media production teams no longer need to switch programs while completing critical tasks, as Xytech enables them to work in a single platform to trigger workflows, saving time, and increasing productivity.
Long-Term Planning, the newest addition created for Granite, allows users to track, report and compare resource capacity and demand, providing companies with greater visibility into their media pipelines. z For more information, visit www.xytechsystems.com.
AWS Elemental Timecode Burn-in
AWS Elemental MediaLive now offers timecode burn-in so that users can add timecode visually into individual video outputs from a MediaLive channel. While visual timecode is not generally used when delivering video to viewers, this feature is useful for testing, monitoring, and compliance. MediaLive allows configuration on an individual output basis, so users can separate audience delivered outputs from outputs with burned-in timecode for technical monitoring. Timecode burn-in in MediaLive is available at no additional cost.
AWS Elemental MediaLive is a broadcast-grade live video processing service for creating high-quality live video streams for delivery to TVs and multiscreen devices. The MediaLive service functions independently or as part of AWS Media Services, a family of services that form the foundation of cloud-based workflows and offer you the capabilities you need to transport, create, package, monetize, and deliver video.
z For more information, www.aws.amazon.com/medialive.
Vegas Creative Software Vegas Pro 20 Update
Vegas Creative Software has released a free update for its Vegas Pro 20 that adds the ONNX Runtime AI engine to make better use of GPU power from a wider selection graphics cards. The update, now available for free to existing users and incorporated into the release for new users, enables faster processing of AI functions in the Vegas Pro workflow.
The release also offers new features such as additional advanced color curves, enabling editors to dial in with more precise control of their color workflows. The update includes other new workflow features and enhancements to improve efficiency and collaboration directly on the timeline. Vegas Pro 20 is available as three options: Vegas Edit, Vegas Pro; and Vegas Post.
z For more information, visit www.vegascreativesoftware.com.
Studio Technologies Model 545DC and Model 545DR Intercom Interfaces
Studio Technologies's Model 545DC and Model 545DR intercom interfaces allow users to use analog party-line (PL) intercom circuits with contemporary Dante audio-over-Ethernet (AoE) applications.
Model 545DC, designed for use with single-channel analog partyline (PL) intercom circuits, supports two single-channel PL intercom circuits and is directly compatible with single-channel analog partyline (PL) products from Clear-Com. Model 545DR, intended for use in applications such as broadcast, provides two-channels of analog PL on a single 3-conductor cable, It also offers one 2-channel interface and works directly with the RTS TW-series of 2-channel analog intercom circuits. Both can interconnect with Dante-supported devices, including Studio Technologies' line of Dante-enabled user beltpack, intercom station and intercom audio engine products. z For more information, visit www.studio-tech.com.
Cinegy Cinegy Air v22.12
Cinegy Air v22.12 is a major upgrade to the current version. The new version, part of Cinegy's rolling development program, also includes an update to the graphics and branding engine, now called Cinegy Title.
Cinegy Air can now play out both HDR and SDR sources through an HLG Air engine, with the ability to select conversion LUTs per item. LUTs are applied automatically where possible, and can be manually selected from dropdown options within the playlist tab. The playout engine can now also create a simulcast SDR stream from a primary HDR engine. Cinegy Air can now also generate Kantar audio watermarks for audience measurement and content protection.
Other new functionality includes enhanced preview playout for playlist verification. For multichannel operators Air Playlist Editor can now use audio matrix and character generator settings across multiple playlists, ensuring consistency across regional variations, for example. Cinegy Air now also supports the Rosstalk Protocol, to seamlessly control routers and other hardware from within the playlist. z For more information, visit www.cinegy.com
30 XXXXXXXX 2021 | www.tvtechnology.com | twitter.com/tvtechnology 30 eye on tech | product and services March 2023 | www.tvtech.com | twitter.com/tvtechnology
Avid Media Composer 2022-12
Avid has unveiled v2022-12 of Media Composer with several new features that significantly speed up post production between editorial and audio post teams and produce significant production efficiency by bringing video and audio post teams and workflows closer together. One key development is closer integration with Pro Tools—with the upgrade, Media Composer sequences can be directly exported into Pro Tools with video, audio and metadata combined into one export .PTX file that can be opened directly in Pro Tools.
The new version also offers full support for Avid's completely reimagined MBOX Studio audio interface, providing editors with a powerful solution for recording, punch-ins and multichannel monitoring of sequences in up to 7.1 surround sound. Access to the preamps and audio converters in MBOX Studio also enables users to capture every sonic nuance of every performance with low-latency monitoring. z For more information, visit www.avid.com/media-composer
Irdeto ActiveCloak for Media
Irdeto has launched a new and improved ActiveCloak for Media (ACM), a software digital rights management software development kit. The enhanced solution includes multiple layers of security designed to ensure content encryption keys cannot be illegally extracted from devices.
Many devices in use today lack hardware DRM protection and rely solely on its operating system software DRM, making them highly vulnerable to content key extraction. With content encryption keys in hand, pirates can create a host of problems, including the delivery of illegal services leading to missed revenue opportunities and increased CDN cost.
ACM helps to avoid the reputational and operational impact by protecting the video applications themselves instead of relying on the device's operating system DRM to secure the content on vulnerable devices. With Irdeto ACM, the content decryption will bypass the device's operating system software DRM, taking place inside the video application itself instead.
z For more information, visit www.irdeto.com
Magewell Pro Convert Audio DX
The Pro Convert Audio DX multi-format IP audio encoder, decoder and capture device is Magewell's first to offer integrated support for Audinate Dante audio networking, enabling users to convert audio between Dante, NDI and SRT transport technologies while also bridging analog audio, software and IP networks.
Pro Convert Audio DX can send and receive up to eight channels of audio in unicast or multicast Dante flows (audio streams). In addition to Dante, the device also supports uncompressed audio using the NDI media-over-IP technology or compressed AAC audio using the lowlatency SRT protocol.
With the ability to convert between Dante, NDI and SRT, the new device enables mixed-technology local and remote production workflows that combine best-of-breed products supporting different standards and formats. The Pro Convert Audio DX also can serve as a gateway to the IP domain for analog audio, encoding signals into Dante, NDI or SRT streams. Similarly, it can decode IP audio streams for analog output. z For more information, visit www.magewell.com
Newtek Flex Control Panel
Newtek's new Flex control panel enables operators to control PTZ cameras directly, as well as audio connections, audio and video switching and talkback via NDI. This is the first NewTek control panel to build in control over audio and video switching and PTZ control and talkback in a single unit.
The built-in features offer operators greater precision and control. With the addition of audio I/O, Flex expands the on-board I/O of any NewTek TriCaster with the option to add external sources directly from the NDI ecosystem. Flex connects to a network via NDI, making unnecessary the physical tether to the video switcher with fixed cable runs and complex setups that are difficult to move to a new location. The new control panel not only can connect to any TriCaster switcher on a network via NDI, but it also supports operators needing to work in a distributed production environment.
z For more information, visit www.newtek.com
Enensys Technologies ModulCast-ATSC
Enenysys Technologies has introduced ModulCast-ATSC, its new ATSC 3.0 OEM modulator for integration into digital TV transmitters. ModulCast-ATSC is an optimized and unique modulator board supporting the ATSC 3.0 standard. It meets with the requirements of transmitter manufacturers for rapid and straightforward integration and delivers high-performance RF output to meet broadcasters' quality requirements.
Focused on SFN low-power transmitter applications, ModulCastATSC is designed to offer high-quality RF performance combined with digital power amplifier precorrection. It is fully compliant with FCC standards without any channel filter, simplifying operation and reducing costs for LPTV stations.
z For more information, visit www.enensys.com
Canon Add-On Application System for PTZ Remote Cameras
A new firmware update for Canon's pan-tilt-zoom (PTZX) remote cameras now provides access to new paid video production features. Applications on the "Add-On Application System" include auto tracking and auto loop functions for Canon's CRN700 4K PTZ camera. The auto tracking application enables the CRN700 to pan, tilt and zoom automatically as it tracks moving subjects. The auto loop application allows users to program and automate repeated camera movements.
The Add-on Application System can be added with a future firmware update. Canon plans to expand the number of applications it offers as well as the lineup of compatible remote camera models. As opposed to competitive offerings that require an external control device, the new paid add-on applications run directly from within the Canon PTZ camera. The auto tracking add-on reduces the workload of the camera operator, allowing users to focus on other tasks, such as switching and streaming. It also allows for multiple cameras on set to shoot with fewer people. z For more information, visit www.usa.canon.com
32 XXXXXXXX 2021 | www.tvtechnology.com | twitter.com/tvtechnology 32
on tech | product
March 2023 | www.tvtech.com | twitter.com/tvtechnology
eye
and services
Playbox Technology OTT Stream Content Management System Ad Server
Playbox Technology has enhanced its OTT Stream Content Management System with a fully integrated, automated ad server. Whether the stream is an alternate delivery platform for broadcasters or a new service from a content owner, the addition of the ad server can maximize potential ad revenue by enabling precise ad placement in streams.
The OTT Stream cloud solution offers playout capabilities for multiple channels and services. Available as a perpetual license or as a softwareas-a-service, it takes advantage of the scalability and flexibility of the cloud to allow users to grow functionality and offerings as subscriber demand blossoms. With the ad server capability, media companies can manage and monetize streaming content more effectively and efficiently. The ad server can insert and manage ad content in live and on-demand streams and it also offers media companies a way to analyze and optimize ad placement.
z For more information, visit www.playboxtechnology.com
Telestream Lightspeed Live Capture v3.5
Version 3.5 of Telestream's Lightspeed Live Capture multichannel on-premise ingest solution allows broadcasters to connect the software over IP networks locally or remotely using SMPTE 2110 with NMOS, NDI sources and SRT sources. The new capability augments existing Transport Stream and RTMP IP format support. The new connectivity methods provide reliable, low-latency, frame-accurate connections over common IP network implementations while preserving source synchronization.
NMOS support for SMPTE ST 2110 adds a control plane that makes the infrastructure simpler to operate. The implementation comes with full support for the ISO4 and ISO5 specifications. Using the ISO4 specifications within NMOS, Lightspeed Live Capture can query for information about other devices.
The software also registers its capabilities and discovers other devices where live capture workflows might originate. ISO5 is used by Lightspeed Live Capture to perform the setup and removal of media flows between itself and the sending device.
For more information visit
Flowics Updated Control Interface for HTML-5 Graphics Solution
Flowics has unveiled an updated control interface for Flowics Graphics, its HTML5based broadcast graphics solution. New control interface features include: updated Rundown Control, which gives graphics operators the freedom to sort, rename, duplicate and create multiple instances of overlays based on graphics templates without loading all existing overlays; options to change text, image or data provider when duplicating an overlay. It also provides the ability to create playlists over overlays, making it possible to meet all operational scenarios during show production. The more efficient workflow available to teams working in a cloud-native environment make it possible for users to collaborate remotely without needing local installation, hardware or virtual machines.
For more information visit www.flowics.com
products & services marketplace
33 eye on tech | product and services twitter.com/tvtechnology | www.tvtech.com | March 2023
people on the move
For possible inclusion, send information to tvtech@futurenet.com with People News in the subject line.
RHONDABASSETT-SPIERS CEO
Telestream
Telestream has appointed Rhonda Bassett-Spiers CEO, succeeding Dan Castles who will retire but remain with the company through April 2023 to aid in the transition. Bassett-Spiers' 30+ year career of leadership across the technology industry includes most recently as president/CEO of iTradeNetwork, a global supplier of end-to-end supply chain management and intelligence solutions for the perishable food industry.
KEISHA TAYLOR STARR CMO
The E.W. Scripps Company
Keisha Taylor Starr has been named to the newly created position of chief marketing officer for The E.W. Scripps Company. She has led marketing strategies for Scripps' national networks, including the rebranding of Scripps News from Newsy. Before joining Scripps, Starr was SVP of marketing and public relations for digital news outlet The Recount and was also SVP of integrated marketing at Learfield IMG College.
KITTY HIGINBOTHAM President Wall Street Communications
Wall Street Communications, a provider of content creation, digital marketing and media relations services, has appointed Kitty Higinbotham as the agency's president. Higinbotham previously served as senior writer and content specialist for the agency. Prior to joining Wall Street, she served as publications editor for a startup helping small businesses launch on the web with storefronts on an internet mall.
RICK SEEGULL SVP, Technology & Bus. Dev't. for the Americas Riedel
Communications
Riedel Communications has appointed Rick Seegull SVP of technology and business development for the Americas. He was previously the VP of system consulting for the Americas, In his new role, he will be responsible for the overall direction of Riedel within the Americas, with respect to technology and business development. Seegull graduated from the Polytechnic University of New York with a B.S. in EE.
SHANE MCCARTHY CEO
Friend MTS
Friend MTS has appointed Shane McCarthy CEO. McCarthy was formerly COO of Irdeto and president for international business at Pace. As the founder and CEO of professional consultancy Caldero, McCarthy also sits as a Non-Executive Director at U.K. technology trust board Consult Red. McCarthy's accomplishments include the creation of a 500-person cybersecurity business unit to develop, deploy and maintain cybersecurity systems for the video market.
JAN MITSUMORI
Inside Sales Representative
Advanced Systems Group
Jan Mitsumori has joined Advanced Systems Group (ASG) as an inside sales representative to its U.S.-based team. Mitsumori has a strong background in media workflow and business development with a focus on digital and media asset management. Most recently, Mitsumori was a business development specialist with Workflow Intelligence Nexus. Prior to that, she was VP of media and entertainment sales for StorExcel.
MIKE FIDLER Executive Director 8K Association
Mike Fidler is the new executive director of the 8K Association where he will be responsible for furthering the adoption and implementation of 8K, while conveying the 8K message effectively to all industry stakeholders, including content creators, delivery platforms and the production community. Fidler has extensive experience driving the launch of technologies such as DVD, Blu-ray Disc, 4K UHD, Digital Cinema and Filmmaker Mode.
JAMAL VP of Marketing SSIMWAVE
Saj Jamal has returned to SSIMWAVE as VP of marketing. Jamal will work to build on the IMAX brand with a focus on how SSIMWAVE's technology can advance studio-to-device content delivery. While VP of marketing for startup accelerator Communitech, Jamal was involved in the initial development of SSIMWAVE as he helped establish the business value of its proprietary tech among media and entertainment industry professionals.
34
March 2023 | www.tvtech.com | twitter.com/tvtechnology
SAJ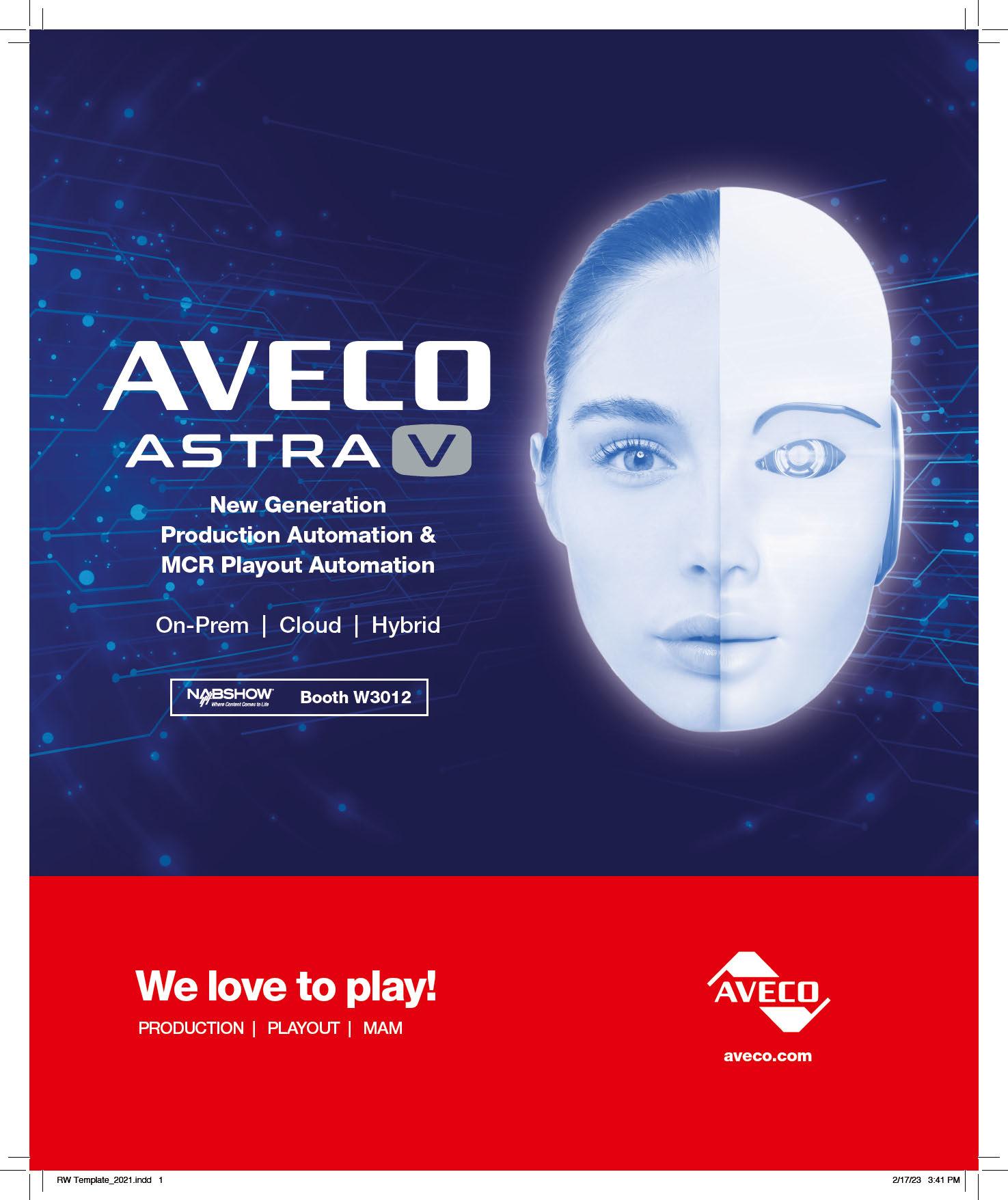 9000