Welcome to the March 2023 issue of
9000
Dr. Michael Santucci on Hearing Health ★ Craig Anderton: Profiles in Gear Lust ★ Michael Whalen and Guests March 2023 \\ mixonline.com \\ $6.99 >Iron Maiden's 'Legacy of the Beast' Tour >Catching Up with Chris Young >Mental Health on the Road >Social Distortion Goes Digital >Slipknot on Tour THE NEW HOME OF MUSIC PRODUCTION • LIVE SOUND • SOUND FOR PICTURE REVIEWED • Massenburg DesignWorks MDWDRC2 • Audix A127 Omni Mic • PreSonus Studio One 6 • JBL EON One MkII Loudspeaker THE HIT FACTORY REBORN TROY GERMANO REACQUIRES RIGHTS TO LEGENDARY NYC STUDIO NAME
Pictured
in The Hit Factory Studio 2, from left: Slick Rick, engineer Kenta Yonesaka, Troy Germano, Mark Ronson and Steve Jordan.
MUSIC
16 Michael Whelan's Our April Tigers BY ROBYN FLANS
18 News & Notes: David Kershenbaum's Home Studio; Yamil Martinez and Reggaeton
DEPARTMENTS
40 New Products: Studio and Live Sound
41 Review: Massenburg DesignWorks
MDWDRC2 Dynamics Range Controller
BY BARRY RUDOLPH
44 Review: Audix A127 Omnidirectional Microphone BY STEVE
LA CERRA
46 Review: PreSonus Studio One 6
MIKE LEVINE
JBL
YOUNG
On the Cover: In January 2023, after 20 years, Troy Germano reacquired rights to The Hit Factory name, bringing back one of the world's iconic studio brands and renaming his worldclass Germano Studios in NoHo, New York City. Pictured in Studio 2, from left: Slick Rick, engineer Kenta Yonesaka, Troy Germano, Mark Ronson and Steve Jordan. Photo: Bob Gruen.
LIVE SOUND
20 Catching Up with Chris Young On Tour
23 Maintaining Mental Health on the Road
24 News & Notes: 22Live Debuts in UK; Social Distortion Goes Digital; Adamson CS-Series in School; CMA Honors Top Live Engineers; Slipknot Live; Sweet Sounds at Monitors; Volbeat Tour Takes on Panther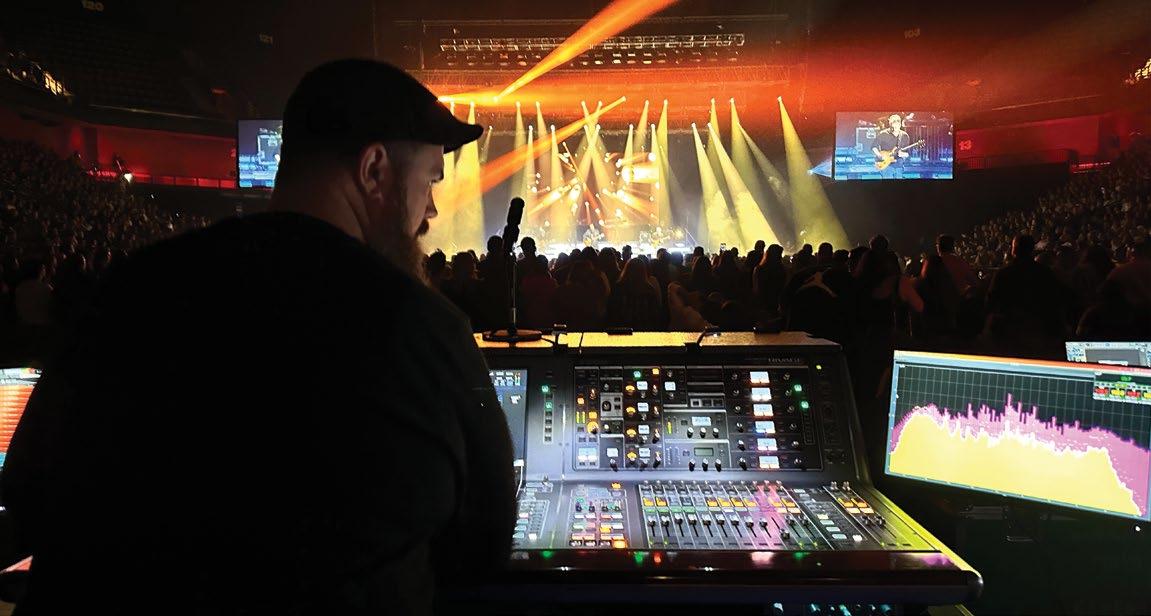 MIX | MARCH 2023 | mixonline com 4
BY CLIVE YOUNG
BY CLIVE YOUNG
TECHNOLOGY
Professional DAW
BY
48 Review:
EON One MK2 Column Speaker BY CLIVE
8 From the Editor: What's in a Name? 10 View From the Top: Audiomovers BY CLIVE YOUNG 12 Oscar Nominees: MPSE and CAS Honorees 50 Open Channel: Profiles in Gear Lust BY CRAIG ANDERTON 03.23 Contents Volume 47, Number 3 28 The Hit Factory Reborn: Legendary Studio With an AllNew Future BY TOM KENNY 32 Inside Iron Maiden's 'Legacy of the Beast' Tour BY CLIVE YOUNG 36 Dr. Michael Santucci on Hearing Health BY STEVE HARVEY FEATURES PRESENTED BY 20 32 Mix, Volume 47, Number 3 (ISSN 0164-9957) is published monthly by Future US, Inc., 130 West 42nd Street, 7th Floor, New York, NY 10036. Periodical Postage Paid at New York, NY, and at additional mailing offices. POSTMASTER: Send address changes to Mix, PO Box 8518, Lowell, MA 01853. One-year (12 issues) subscription is $35. Canada is $40. All other international is $50. Printed in the USA. Canadian Post Publications Mail agreement No. 40612608. Canada return address: BleuChip International, P.O. Box 25542, London, ON N6C 6B2.