FLORIDA KEYS
Living
ISLAND COLLECTION OF HOMES
305-664-4966 81800 Overseas Highway Islamorada, Florida Keys 305-451-4078 99900 Overseas Highway Key Largo, Florida Keys AmericanCaribbeanRE.com ~ FB.com/AmericanCaribbean LET US OPEN THE DOORS TO THE FLORIDA KEYS REAL ESTATE MARKET
2022UpperFloridaKeysMarketInsights ALOOKBACK L
By:CarolynAmbler,Realtor
ooking back at five-year trends provides data to speculate upon how the Upper Florida Keys real estate market will perform in 2023. Average sold prices for residential property are at an all-time high In the Upper Keys, the average sold price approached $1.3m in 2022; an increase of 130% from 2021, despite inventory trending down. Inventory in 2022 was down 35% year over year Although there is reduced inventory available to purchase; the current number of homes for sale is similar to prepandemic inventory levels in 2018 and 2019. Decreased inventory did indeed lead to less sales; almost 34% fewer properties were sold in the Upper Keys in 2022 compared to 2021.
Ultra-luxury and trophy property sales are the major influences for elevated average sold prices In 2022, there were five sales over $10 million dollars, with two of these sales from American Caribbean Real Estate; whereas in 2021, there were two sales over the $10m mark Last year, the highest waterfront residential sale was $16,500,000 and the highest non-waterfront home sold for an unprecedented $2,700,000.
In the rising mortgage interest rate environment, many buyers are taking a more relaxed position when making offers This is most likely a temporary market condition until buyers adjust their mindset and stop fixating on past rates; realizing that current rates are historically typical. Even with increased interest rates and higher average sold prices, transactions continue at a steady pace. Days on market are significantly lower than in the past five years and averaged a very modest 48 days from list to contract in 2022.
The overall 2022 sold volume in Key Largo, Tavernier and Islamorada totaled over $900 million and was only off 15% from the surging sales in 2021; this is attributed to higher average sales prices
Currently, with slightly more than five (5) months inventory listed for sale, the real estate market in the Florida Keys is balanced or normalized Over six months of inventory would be the start of a buyer's market, less than five months and it is considered a seller's market. Based on this neutral absorption rate and continued buyer demand for homes and investment property, prices are expected to remain stable in 2023. Interest rates and lower inventory may impact overall sales volume, especially at the lower end of this market, under $1m sold price. The outlook is optimistic for a steady and solid real estate market, especially for ultra-luxury sales in the coming year
American Caribbean Christie's International Real Estate provides a customer-centric approach, working to accomplish your real estate goals. Our collaborative approach delivers success to you, as evidenced by our high success ratio from contract to closing We promise to guide you through each transaction, with integrity using our experience and real estate expertise
American Caribbean Real Estate 305.664.4966 ~ 305.451.4078 3
MarrVelous Pet Rescues p. 5 More than your Average Pet Rescue
Cocktails in the Keys p. 12 The Perfect Year Round Libation
What is a 1031 Exchange p. 16 And How Does it Work?
Ocean Pointe Properties p. 17 Units Available for Sale
Christie's International Real Estate Global Relationship p. 20 American Caribbean Exclusive Local Affiliate
Save The Lighthouse p. 27 A Historic Restoration
Eat Sushi Be Happy p. 31 Recipes from SHIMA
Aquarius Program p. 35 Underwater Study with FIU
Landscape p. 38 Adding Value to Your Property
10
Who's Who in Luxury Real Estate p. 39
American Caribbean Affiliate
Signature Sale p. 40 A Selection of Sales
Social Media and So Much More p. 41
What Our Media Does for You
Commercial Real Estate p. 42 Live and Work in Paradise
Our Community Involvement & Community Minded Companies p. 43
22
A Snapshot of Our Associates' Work In the Community
Meet Our Agents and Staff p. 43 Our agents have the knowledge and experience to help with your piece of paradise
28
American Caribbean Real Estate, Christie's International Real Estate knows these islands and invites you to make them your new home. We've been bringing buyers and sellers together in the Florida Keys since 1965 at the Key Largo location, and since 1987 at the Islamorada location.
Be sure to visit one of our website: AmericanCaribbeanRE.com
Follow us on Facebook for Monthly Market Reports, Community Events and Featured Offerings facebook.com/americancaribbean
Locally Respected, Globally Connected
305-451-4078
99900 Overseas Highway Key Largo, Florida Keys
305-664-4966
81800 Overseas Highway
Islamorada, Florida Keys
Contents
MarrVelous Pet Rescues (MPR) was officially formed in April of 2007 as a 501c3 non-profit and housed at the American Caribbean north office up until the end of 2021, when the rescue acquired its new home. Founded by many agents in the office it became apparent to us that we could use our expertise of finding homes for people to also find homes for animals. Our company is filled with REALTORS and staff who are passionate about animals which was a good fit for the MPR mission and provided a service to our community and most importantly the animals. Today the Board is filled with others from the community, and we have tremendous support from individuals and businesses. The new Rescue space which was purchased in 2021 operates as a virtual shelter, where all animals still live in foster homes. New community programs are always being added like dog training, pack walks, Yappy Hours at local restaurant supporters, and now our very own Spay & No Balls Clinic to assist in the spay and neuter of MPR rescue animals. We have had the privilege to have aided in the placement of over 1500 animalsduringthepast15years!
"Saving just one pet won't change the world…but surely, the worldwithchangeforthatonepet."–Anonymous
Interestedinhelpingout–therearemanyway
If you would like to get involved in Marrvelous Pet Rescues or can open your heart and home to another furry family member contact them today Follow them on FB at FB.com/KeysPetRescue
LOOKING FOR HOMES RESCUE is
favorite
5 American Caribbean Real Estate 305.664.4966 ~ 305.451.4078
our
breed
ADOPT ~ FOSTER ~ DONATE~VOLUNTEER~ SHARE SOCIAL MEDIA POST
Prestigious Port Largo, KeyLargo
MLS#603716 | Offeredat$2,995,000 | 6Bedroom| 5Bathroom
Positionedtoenjoythekeyslifestylewithsoutheasternbreezes,deep-waterdock&quickoceanaccess.Theperfectbalancebetweentogetherness& privacy Thismulti-generationhomeoffersover4,000sf,allowingtoliveunderoneroofwhileenjoyingthebenefitsoftwoseparatelivingareas,each withtheirownkitchen&separateentrance,in-lawquartersongroundlevelaboveflood.Elevatorandalovelypavedbreezewaycourt-yardareagreat for outdoor living & entertainment Solid well maintained CBS home with new metal roof, remodeled with light coastal colors, porcelain tiles throughout 75ftdock,brandnewhottub
www.AmericanCaribbeanRE.com
Sales@americancaribbean.com
6
Tamarind Bay, KeyLargo
MLS#604872 | Offeredat$859,000 | 2Bedroom| 2Bathroom
Live the easy, Key Largo lifestyle in this crisp, clean, & spacious 2 bedroom,2bathcondo Enjoybeautifulsunsetsoverthebay&twilight viewsoftheprivatecanalrightfromyourbalcony!Light&Bright-the open,splitfloorplanoffersanopenkitchen,wallofglassoverlooking thewater,fullsizedwasher&dryer
Brand NewModern Home, KeyLargo
MLS#601355 | Offeredat$769,000 | 3Bedroom| 2Bathroom
You'lllovethebeautifulandbrightopenconceptofthis3bd/2bahome with 1,557 SF plus 394 SF covered terrace with quality finishes throughout Gorgeouskitchenwithquartzcounters,largecenterisland with extra cabinetry, walk-in pantry and Stainless Steel appliances makeitadreamkitchen.Ampleparkingandroomforpool,plusashort drivetotheHomeownersParkwithboatramp
Welcome to'TheTree House', KeyLargo
MLS#603095 | Offeredat$639,900 | 3Bedroom| 2Bathroom
NestledinthetreeswithintheheartofKeyLargoisthis3bedroomwith 2bathroomhome.Thehomehasalargeyardsurroundedbytrees.The inside of the home features vaulted ceilings and an upgraded kitchen with granite countertops. Downstairs includes a workshop, laundry room,andtwoextrarooms.
CharmingKeys Cottage, KeyLargo
MLS#603743 | Offeredat$535,000 | 2Bedroom| 1Bathroom
Thishousehasasplitfloorplangivingeachbedroomtheirprivacyand offers great space in-between to entertain in this home with a family room,abeautifulU-shapedkitchen,spaciousfullbathandaninterior washer & dryer! Lots of room to park your cars and boat This home comesfurnished!
7 American Caribbean Real Estate 305.664.4966 ~ 305.451.4078
BeautifulWaterfront, KeyLargo
MLS#604866 | Offeredat$1,375,000 | 3Bedroom| 2Bathroom
Homewith60ftdockofferinggentlebreezesandquickboatingaccesstotheopenbaywithinminutes.Theperfectsettingwithaboathouse,hottub and newly built garage to store golf cart and extra storage. 3/2 with open concept and inviting balcony area overlooking canal. Large covered entertainmentareaandoutdoorsummerkitchentocookyourcatch.
Landings of Largo Model C, KeyLargo
MLS#602553 | Offeredat$975,000 | 3Bedroom| 2Bathroom
Thisfloorplanisanoriginal3/2upstairs,withanencloseddownstairs additionalspace.Thesaleincludesdeededboatslip#3withan8Klbs boat lift The boat slip is located steps from the boat ramp New tile woodplankstyleflooringinlivingareas.Locatedinawell-maintained gatedcommunitywithmanyamenities.
www.AmericanCaribbeanRE.com
Sales@americancaribbean.com
Landings of Largo Flat, KeyLargo
MLS#603821 | Offeredat$525,000 | 2Bedroom| 2Bathroom
Desirablegroundfloor2/2gardenmodelinpopularLandingsofLargo! Freshly renovated and fully furnished, this spacious condo just sparkles!Upgradesincludenewluxuryvinylwaterproofflooring,wood cabinets,granitecountertops,afullsuiteofstainlesssteelappliances, newrange,microwave,washer/dryerandfreshpaint!
8
WaterfrontTreasure, KeyLargo
MLS#604416 | Offeredat$2,179,999 | 3Bedroom| 2Bathroom
Immaculate 3 bedroom/2 bath residence has been totally renovated to perfection. Beautiful polished travertine stone floors. Expansive modern kitchenwithnewstainlesssteeloven,stove,built-inmicrowaveandsink Sharedbathconnectingthetwolargequeensizedbedrooms.70'concrete dockwitha20,000lb boatlift(2019)plus11,000lb setofdavits.
South CreekStunner, KeyLargo
MLS#604365 | Offeredat$719,000 | 2Bedroom| 2Bathroom
Fully remodeled 2 bedroom, 2 bath CBS home in one of Key Largo's most popular subdivisions! South Creek Village offers a private homeowner's park with boat ramp & basin. Soaring ceilings and a clean, contemporary design make the open living, dining & kitchen arealightandbright
Canalfront LivingFlat, KeyLargo
MLS#604683 | Offeredat$1,095,000 | 2Bedroom| 1Bathroom
ThisCBS-constructedhomeoffersyoutheFloridaKeyslivingatitsbest. CBS construction with a concrete roof The home has 2 bedrooms, a bathroomroomupstairs,agreat1st-floorarea,andawineroom.Enjoy theoutdoors,swimintheabovegroundpool. 50'concretedockwitha 14,000lbboatlift
9 American Caribbean Real Estate 305.664.4966 ~ 305.451.4078
Contemporaryand Chic Seaside Oasis, KeyLargo
MLS#604233 | Offeredat$4,250,000 | 4Bedroom| 5Bathroom
Thissecludedpropertyextendsfromhighwaytowaterandislocatedonover1acreofland.Followyourtreelineddrivewaytoyourcoastalthree-story homeconsistingoffourensuitebedrooms,allbeingindependentofthemainlivingareas,allowingforprivateguestsuites.Entrancingviewsofthe water can be seen throughout the home and verandas. he sleek design of this structure and home compliments the sand laden yard and nature enhanced grounds. You and 14 of your closest friends can enjoy the massive fire-pit overlooking the water's edge. There is a secondary garage structure of over 700 sq ft with 11-foot-high ceilings that has been artfully converted for personal use and a guest area. Additionally, you will find anothersingle-familystructurereadyforyoutopersonalization.SRzoningallowsforvacationrentals.
1 0 www.AmericanCaribbeanRE.com Sales@americancaribbean.com
Port Largo Pool Home, KeyLargo
MLS#604069 | Offeredat$2,850,000 | 4Bedroom|3Bathroom
Spectacularpoolhomeofferstheultimatetropicallivingexperienceandperfectsettingtoenjoythesaltlife.Withplentyofspaceforallyourwatertoys and75ftdockwithquickdeepoceanaccess.Expansiveentertainmentareasinsideandout Wraparoundterrace,pavedbreezewaywithenoughroom foreveryone.4bedrooms&3bathALLONSAMELEVEL.Exquisitelayoutplan,openconcept,highceilings,plantationshutters,tilefloors,top-of-thelineappliances,largecenterislandwithVikinggasstove,Achefsdreamw/plentyofcounterspace,granite&amplecabinetry
1 1 American Caribbean Real Estate 305.664.4966 ~ 305.451.4078
1 2 www.AmericanCaribbeanRE.com Sales@americancaribbean.com
Coveted Neighborhood, KeyLargo
MLS#604499 | Offeredat$659,000 | 2Bedroom| 1Bathroom
Updated2bedrooms1bathroomwithanextrabonusroom.Couldbe convertedtoa3rdbedroomoraddanotherbathroom.TheTikiTorches inthebackyardarealsogasandareturnedonbyaremote. Enjoyoneof thebesthomeowner'sparks.
CalusaCove, KeyLargo
MLS#601645 | Offeredat$450,000 | 2Bedroom| 2Bathroom
This 2 bedroom mobile home has been remodeled for comfort with a tiledshower,icecolda/c,vinylflooring&more.Hugemetaloverhang coversatiledareaperfectforoutdoorliving.Plentyofparkingonsite.
Amenities:pool,boatramp,playground,clubhouse,basketballcourts &nowafoodtruckisashortwalkaway.Norentalrestrictions!
BuildYourDream Home, KeyLargo
MLS#604511 | Offeredat$695,000 | 1Bedroom| 1Bathroom
Build your dream home with a Bay view! Seller currently has a ROGO exemptletterinhand!45feetofcanalfront,thispropertycurrentlyhas a 1 bedroom 1 bath mobile home, concrete dock, tiki hut, outdoor kitchenandshedandiscompletelyfencedin.Enjoytheconvenienceof havingTWOboatramps.
Great Dockage, KeyLargo
MLS#603867 | Offeredat$799,000 | 2Bedroom| 2Bathroom
40 Ft concrete dock, why pay high marina prices. Dock the boat here and start enjoy waterfront living on wide clean canal. You can use doublewidemobilewhilebuildingplansfornewCBShome4bedrooms 3bathwithpoolareapproved.
1 3 American Caribbean Real Estate 305.664.4966 ~ 305.451.4078
Canalfront Paradise, KeyLargo
MLS#604920 | Offeredat$1,295,000 | 3Bedroom| 2Bathroom
Keys paradise! CBS built home in 2006. Perfect home for anyone lookingforthatkeystranquility Thisfamilyhomefeatures3bedroom2 bath on second floor NEW AC, and NEW WATER HEATER NEWLY FENCEDYARDandlandscaped.60'ofnewlybuiltCONCRETEDOCK.
Tropcial Getaway, KeyLargo
MLS#604735 | Offeredat$399,000 | 2Bedroom| 1Bathroom
2 bedroom, 1 bath, screen room, big shed, and great outdoor entertainment bar under the canopy. All in pristine condition. 45 x 80 fencedinyardw/canopyforboatstorage.Getawayjuststepsfrombay fronthomeownersparkw/boatrampandprivatebeach.
Landings of Largo, KeyLargo
MLS#603967 | Offeredat$749,900 | 2Bedroom| 2Bathroom
2-story model in popular Landings of Largo! Upstairs you will find a spacious2/2withtilefloorsthroughoutandupdatedbathrooms.Large primarybedroomwithanensuitebath.Twocoveredparkingspacesfor yourconvenience.
Townhome plus Boat Slip, KeyLargo
MLS#603931 | Offeredat$825,000 | 2Bedroom| 2Bathroom
This 2/2 Townhouse with a 30' Deeded Boat Slip (#2) in the desirable Landings of Largo has everything you need to enjoy the Florida Keys lifestyle.Boatslip#2convenientlylocatedonlyafewstepsawayfrom therampandoffersan8Klbswaterlift
1 4 www.AmericanCaribbeanRE.com Sales@americancaribbean.com
Private Canalfront Home, KeyLargo
MLS#601524 | Offeredat$1,150,000 | 2Bedroom| 2Bathroom
Youcankickback,relax&enjoythebeautyoftheoutdoorshereinthisKeyLargocanalfronthome!Whenyouenterthishome,youaregreetedbythe soaring, vaulted wood ceilings, an open living, dining & kitchen area with double impact French doors that open to the large, covered veranda overlookingthewater Therearetwospaciousbedroomsfeaturingbambooflooring,spaciousclosets,vaultedwoodceilings-themainbedroomhas anen-suitebath&hisandhersclosets.Brand-newconcretedockwith10,000boatlift.Thelargefencedandgatedlotmeasures6600SF.
Beautyon the Bay, KeyLargo
MLS#603136 | Offeredat$2,850,000 | 2Bedroom| 2Bathroom
This amazing beauty on the bay is calm and relaxing and includes a sandy bay bottom with beach access. Imagine the possibilities! This private diamondintheroughcanbetheperfectlocationtorebuildyourdreamhome.Amazingbayviews&sunsets. Fromhighwaytobaywith200ftonthe bay is on an acre & a half of upland plus the bay bottom for a total of approximately 2.38 acres including adjacent lot on the south. Make this your paradise.
1 5 American Caribbean Real Estate 305.664.4966 ~ 305.451.4078
1 6 www.AmericanCaribbeanRE.com Sales@americancaribbean.com
Get to the Pointe...Ocean Pointe
EnjoythemanyactivitiesOceanPointeSuiteshastoofferaboundits69acresofbeautifullylandscapedprivategrounds.Startyourdaywithameal from the waterfront cafe, utilize the lighted tennis & Pickleball facilities, enjoy a drink from the Mermaid bar while relaxing by the large newly renovatedheatedpoolandspa,orgetsomesunontheprivatebeach.Theprotectedmarinaprovidesanextra-wideboatrampanddirectoceanaccess. On-sitemanagementforanyrentalneeds.Excellentrentalproperty
Ocean Pointe 3301
MLS#604502 | Offeredat$719,000 | 2Bedroom
End unit with nice ocean views, impact sliders and windows throughout This is the largest floor plan at Ocean Pointe, very private too with lots of closets.Beingsoldfullyfurnished.
Ocean Pointe 2309
MLS#601944 | Offeredat$689,000 | 2Bedroom
2bedroom,2bath2D-1modelwithaniceoceanviewfrommainbedroom and living room. Tile floors and updated bathrooms. This condo Grossed over60kin2021.
Ocean Pointe 2409
MLS#602415 | Offeredat$675,000 | 2Bedroom
TopfloorD-1modelwithoceanviewsfromtheownersbedroomsuitetoo Thiscondogrossedover60kinrentalsin2021.
Ocean Pointe 1216
MLS#602625 | Offeredat$659,000 | 2Bedroom
Nicely kept end unit with lots of privacy and extra windows and closets! Two bay windows too. Short term rentals are allowed, great rental potential.
1 7 American Caribbean Real Estate 305.664.4966 ~ 305.451.4078
Renovated Canalfront Home, Tavernier
MLS#602716 | Offeredat$1,225,000 | 2Bedroom| 3Bathroom
Renovatedcanalfronthomefeaturing2bedroomsand2bathroomsplusalargeloftidealforanofficeoradditionalbedroom.40'concretedockwitha new15,000poundboatlift Plentyofstorage.Renovationsincludenewimpactwindowsanddoors,tileflooring,fullyremodeledkitchenandboth bathrooms.Thefrontofthehousefaceswestallowingyoutoenjoythebackyardwithoutthesunbeatingdownonyou.Thishomeisreadyforyouto beginlivingtheK lif tyle!
Live the Boatingand Island Life,Tavernier
MLS#602920 | Offeredat$799,000 | 2Bedroom| 2Bathroom
This beautiful waterfront island home with 40ft concrete dock with davits and direct ocean access is offered fully furnished & turn-key making it a great getaway or full time residence. Remodeled 1,365 sf hasanexpansive2/2whichcaneasilybeconvertedtoa3/2byaddinga dividingwallintheden.
SeaGulls 506, Tavernier
MLS#603824 | Offeredat$699,000 | 2Bedroom| 2Bathroom
Oceanfront condo with spectacular upgrades and ocean views! This 2bd/2bacondohasbeenfullyrenovatedandoffersspectacularocean views from every room! The NEW Kitchen features an open layout, custom wood cabinetry, stainless-steel appliances and quartz countertops.
1 8 www.AmericanCaribbeanRE.com Sales@americancaribbean.com
Brand NewCoastal ContemporaryPool Home,Tavernier
MLS#603490 | Offeredat$3,499,000 | 4Bedroom| 3Bathroom
You can have it all with this new 4 bedroom/3 bath home and its resort amenities. Ground-level entry leads you to the open living and kitchen all overlookingthecustompoolandcanal.Panelstackingslidersfromthegreatroomtoyouroutdoorterraceandoasis.Thekitchenisforthediscerning cookinthefamily,Thermadoroutfittedappliances,completewitha48''refrigeratorthatboastspaneledcovereddoorstomatchthecabinetsanda gorgeous9-footquartzislandidealforentertainingatitsbest The12'X36'poolhasaheaterandachillerforyear-roundfun.Somanyhigh-endextras toinclude-custom-madeglasspaneledinteriorBrazilianwooddoorswithhiddenhingesandmagneticdoorlocks.
1 9 American Caribbean Real Estate 305.664.4966 ~ 305.451.4078
Christie'sInternationalRealEstate
900OFFICESIN48COUNTRIES
CONNECTINGBUYERSANDSELLERSOFTHEWORLD'SMOSTIMPORTANTPROPERTIES
AstheexclusiveaffiliateofChristie'sInternationalRealEstate,AmericanCaribbeanRealEstateoffersincomparableservicetoa global clientele through our world-class marketing platform, collaboration with auction house colleagues, and our exclusive invitation-onlynetworkoftheworld'stoprealestatebrokers.Christie'sglobalpresencespans46countries.
GLOBALAUTHORITYINLUXURYREALESTATE
Christie'sInternationalRealEstate, whollyownedbyChristie's,istheonly globalrealestatecompanyownedbya fineartauctionhouse.Wefocus exclusivelyonluxuryresidential properties.Ouruniqueperspectiveon theworldsofartandhigh-endhomes, combinedwithourleadingnetworkof realestatebrokers,makeChristie's InternationalRealEstatetheglobal authorityinthemarketingandsellingof distinctiveproperties.
TheWorld'sLeadingAuction House
In addition to our real estate connections, Christie's is the largest art auction house, having built its name on a foundation of expert, trusted adviceanddiscreetservicetoits exclusive clientele. Today, it is the world's premier art auction business, setting the standard for international art and luxury goodsales.Christie'sprovidesa synergy between the two world ofartandrealestate.
2 0 www.AmericanCaribbeanRE.com Sales@americancaribbean.com
Coral Cove, Islamorada
MLS#603977 | Offeredat$2,995,000 | 3Bedroom| 3.5Bathroom
CoralCoveisanOceanfront&gatedneighborhood,intheheartofIslamorada,locatedontheAtlanticOcean.Thisisaveryprivateenclaveofonly9 homes,withacommunitypoolandprotectedboatbasin,withcommunitydockageavailable.This3B/3.5Bhomeenjoysbeautiful,Oceanviewsand shows like brand new, with state-of-the-art features, which enhances island living, including an impressive sound system, remote temperature control,electronicblindsandsecuritysystem.Hugeopenporchesaccommodatetheimpressiveoutdoorsummerkitchenwithbar,barbeque,dining andTVloungeupstairswithanadditionalcoveredbar,loungeareaandfirepitdownstairs.
2 1 American Caribbean Real Estate 305.664.4966 ~ 305.451.4078
Palm Harbor, Islamorada
PALM HARBOR is one of the most exquisite and incomparable estates in all of the Florida Keys. Hemmingway would have been inspired beyond imagination, both on land and sea. This outstanding, tropical retreat is located on the Atlantic Ocean and is perfectly situated on a beach-front with private peninsula,andprivateharbor,intheprestigious,Green Turtle Beach, Islamorada, Florida Keys. The main house encompasses over 7,500 square feet, with 4 bedrooms,4baths,2halfbaths,acustomtackleroom, loedcard/gameroom,crow'snest,outdoorshowers, and covered parking. The guest house offers 2 bedrooms, 2 baths, 2 garage bays, a caretaker's office, andstorage.Asonedrivesthroughthegatedentrance, itbecomesexceedinglyevidentthatallofone'ssenses areawakened,asaresultofperfectattentiontoevery detail,beginningwiththedriveway,whichislacedwith small seashells and extraordinary vegetation The estate encompasses 6.44 acres (3.06 upland), juts into
2 2 www.AmericanCaribbeanRE.com Sales@americancaribbean.com
MLS#600269 | Offeredat$23,000,000 | 6Bedroom| 8Bathroom
the crystal blue Atlantic Ocean and provides unobstructed water views throughout the estate, especially from the third-floor crow's nest. Once beyond the gated entry, the seclusion and privacy allow one to escape the stress of everyday life. The 3.38 acre, deep-water harbor, is a boater's dream, boasting 500' of dockage and two boat lis. As one approaches the residence, and passes through the breezeway, the great lawn, 150' of sandy beach and private peninsula are intoxicating, and draw one to theocean-frontwithoutdeliberation.Theharborwill awe the avid boater, diver or fisherman with its extensive dockage. Enjoy a leisurely day basking in the pool or lounging on the expansive pool deck which hosts a summer kitchen and outdoor shower Theseamlessblendingofindoorandoutdoorlivingis beyondcompare.Theexteriorsarealovelymedleyof blue,greenandyellow,acolorpaletteinconcertwith the colors of the sea, the sun-washed skies and the vegetation.Thewhiteinteriorswithsoaringcathedral ceilings are complimented by hardwood floors and darktrimonthemultitudeofwindows.Thewallsare ideal for the display of large-scale art. The meanderinggardensincludeanorchidhouse,secret garden,miniatureStonehengeGardenandnumerous private locations to read, reflect or enjoy a private conversation.
2 3 American Caribbean Real Estate 305.664.4966 ~ 305.451.4078
FairWinds Oceanfront Estate, Islamorada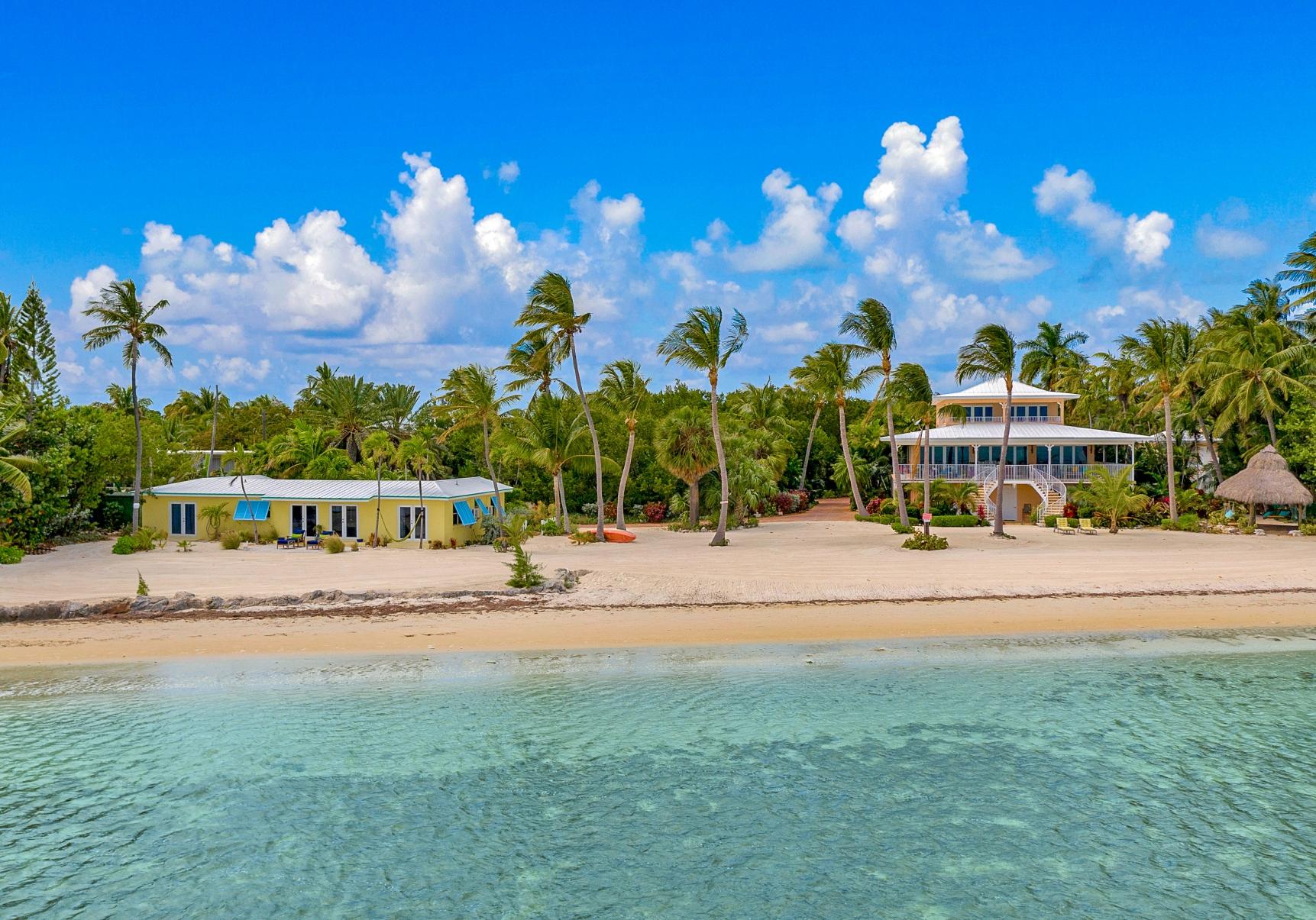 MLS#599684 | Offeredat$7,900,000 | 8Bedroom| 6Bathroom
A unique two acre walk in the water oceanfront estate, located in downtown Islamorada on Upper Matecumbe Key FairWinds reflects elegance, beauty, seclusion, along with many amenities. Inside the gates are enchantingly lush tropical gardens with carefully cultivated native specimens leadingtotheshimmeringpastelbluesoftheAtlanticocean,whichgentlycaressesthe250+feetofsecludedsandybeach.Completewithagrandmain housewithawrap-aroundporch,wideverandasandstunningoceanviews.Theguesthouseandauxiliary3-baycarriagehouse,toppedbyaprivate separatecaptain'squarters,alsofeaturestunningviewsoftheAtlanticOcean.
2 4 www.AmericanCaribbeanRE.com Sales@americancaribbean.com
OutstandingOceanfront Estate, Tavernier
MLS#599098 | Offeredat$8,700,000 | 4Bedroom| 4Bathroom
Asyoupassthroughthedoublegatesandbeginyourdriveonthereclaimedbrickdrivewayyouenterapark-likesetting.Uponarrivalattheresidence, thegreatroom,itssoaringceilingsandtheexpansiveoceanvistasmakeanindelibleimpression.Achef'sgourmetkitcheninspiresculinarycreations and entertaining with two islands adorned by Patagonia granite counter tops. Designed for spacious living and enhanced connection to the environment,allfourbedroomshaveprivatespaciousbalconieswithoutdoorshowers.TheoceanfrontporchescapturetheessenceofKeys'relaxed livingoverlookingyourstunningwaterfallpoolcompletewithspill-overhottubandsandybeach.Trulyanestateofmindforthosewantingitall!
2 5 American Caribbean Real Estate 305.664.4966 ~ 305.451.4078
Islaon the Bay, Islamorada
MLS#603554 | Offeredat$8,950,000 | 7Bedroom| 9Bathroom
Nestledinitsownsanctuarywithover500feetonthebayand5.82acres,ararejewelisunderconstruction.Comingsooninasought-afterandrare Islamorada location, you will find this Caribbean influenced estate home under creation. Purchase now as the mega shell and personalize the completion.Baskinthe50footlongswimmingpoolencompassingthesecondfloorterracesforastunningsetting.Thehomefeatures6,318sq.ft. underairandverandasgalore.Theupstairslivingareafeatures6B/6B+11/2bath,pooldeckand103sq.ft summerkitchenoverlookingthebay The downstairsfeaturesa1B/1Bguestsuite,carport,1,600sq.ft three-cargarage,plusaworkshopandelevatortothemainlivingarea.
2 6 www.AmericanCaribbeanRE.com Sales@americancaribbean.com
2 7 American Caribbean Real Estate 305.664.4966 ~ 305.451.4078
White Marlin Estate,Tavernier
MLS#603960 | Offeredat$11,900,000 | 8Bedroom| 7.5Bathroom
FloridaKeysoceanfrontresidencelocatedonIslamorada'sprestigiousMillionaires
Row Therecentlyremodeledexpansivehomewithnew2-story additionandanewconcreteroof Nowfeatures6suitesproviding8bedroomsand7.5baths.Oceanviewsfromthespaciouslivingroom,openkitchen, diningarea,andmastersuites.Resort-worthystylepooloffersawaterfallandtwoslideswithanopenwaterview.aversandgrassedlawnfeaturea waterfrontCBSconstructgazeboandbordertheboatbasinwithaprotecteddock,boatlift,davits,andnavigablechannelleadingtodeeperwater
www.AmericanCaribbeanRE.com
Sales@americancaribbean.com
2 8
Come Flywith Me,Tavernier
MLS#601875 | Offeredat$1,375,000 | 3Bedroom| 3Bathroom
Don'tmissthisopportunitytoliveinTavernAeroAirportPark,aprivateairportcommunity.Allhomeshavedirectaccesstothegrassrunwaywhichisin operationfromsunrisetosunset TavernAeroboastsaprivatemarinawithdockageandboatrampforresidentsonly Thishomeisaconcretebunker!It hasbeenupdatedwithimpactwindowsandanewercustomkitchenwithstainlessappliancesandabuilt-inbeer/winerefrigerator
Seagulls Escape,Tavernier
MLS#602073 | Offeredat$810,000 | 2Bedroom| 2Bathroom
Coastal beach flat with ocean views! This space is comfortable and inviting.Completelyrenovatedwithinthepastyear Theceilingswere raisedtoenhancethefeelofthespace.Stainlesssteelappliancesand quartz countertops highlight the open design of the kitchen. Shiplap wallsaddtothecoastaldecorofthisunit
SeaGulls 310,Tavernier
MLS#604630 | Offeredat$639,000 | 2Bedroom| 2Bathroom
Theonlydirectoceanfrontunitwithcrystal-clearviewsoftheAtlantic Ocean and the immense white sandy beach! Turnkey and top-of-theline, this condo has everything you need right at your fingertips. This two bed 2 bath condo has been furnished and designed with a beach bohodécor
2 9 American Caribbean Real Estate 305.664.4966 ~ 305.451.4078
Ocean and BayViews, Islamorada
MLS#604062 | Offeredat$4,450,000 | 3Bedroom| 2.5Bathroom
Originalowneroffering3B/2.5Bwithover4,000Sqftoflegallivingon2floorswithocean,bayandlagoon/harborviews.Allconcreteconstruction,Trilevelhomewithsundeckson2levelstocapturebothsunset&sunriseviews,Guestwingw/coveredscreenedpatios.Moon&Sunriseviewsoverthe AtlanticOceanfromframedarchwaysinlivingroom&3rdlevelPrimarySuitetoincludealargesolarium.Gatedentry,landscaped&lightedgrounds, multiplecarports,storage/workroomplusfreightelevatorfacedinKeystone,largebrickpavedbackyardw/gazebo&chickeeforoutdoorenjoyment, plentyofroomforapool,fingerpieronprotectedharboroffFloridaBay,concreteseawallovercoralriprapshoreline,naturalsandybaybottom.
www.AmericanCaribbeanRE.com Sales@americancaribbean.com 3 0
3 1 American Caribbean Real Estate 305.664.4966 ~ 305.451.4078
Concrete Pool Home, Tavernier
MLS#603390 | Offeredat$915,000 | 3Bedroom| 2Bathroom
Solidconcretepoolhome,eventheroofisconcretewithImpactwidows.Beautifulbirdcagepoolareathatisperfectforentertainingorjustrelaxing. PlentyofroomforboatstorageandorRV Convenienthomeowners'parkwithaniceboatrampfordirectoceanaccessrightdownthestreet X-flood zonesofloodinsuranceisnotrequiredandorveryinexpensiveifyouwishtohave.3sheds,newpoolheater2021,withnewpoolcover Outdoorgarden sprinklerandoutdoorlighting,withanicegazebobythepool.
3 Lots in SoughtAfterIndianWaterways,Tavernier
MLS#604518 | Offeredat$2,875,000 | 3Bedroom| 3Bathroom
This3/3allconcretehomeinpopularIndianWaterwayshasthree,totaling180feetonthewater!Lot'sofroomtoexpandorredevelop.Inanadditionto thehomethereisa2cargarage,boatrampandmultiplesheds.Beontheshadesideofthecanaltoenjoyyourafternoonoutside.Plentyofparkingfor yourtoys(trailers,RV's,boats)andamplespaceforalargecustompool.Concretedockontwolotsandsmalldockonthe3rdlot Shiptoshorepowerat thedockstoo.
2 www.AmericanCaribbeanRE.com
3
Sales@americancaribbean.com
PhenomenalVenetian Shores Location, Islamorada
MLS#603075 | Offeredat$2,550,000 | 3Bedroom| 3Bathroom
100ftofdeepwaterdockagewithgorgeousviews-just3lotsinfromSnakeCreek!This3bedroom,3bathallconcretebunker(includingtheroof!)isa blankcanvas-readyforyourfinishingtouches.Recentupdatesincludeallimpactwindows&doors,new exteriortile,new aluminumrailings,new aluminumfencingwithdualelectricgates,andfreshpaint.IdeallylocatedwithanEASTERNEXPOSUREforsunnymorningsanddesirableafternoon shadeandroomforapool&more.Greatfloorplanwith2bedroomsand2bathsupstairs,aseparate1/1guestsuitedownstairsalongwithagarage. Tonsofcoveredporchspaceupstairsanddowntoenjoytheviews.
3 3 American Caribbean Real Estate 305.664.4966 ~ 305.451.4078
Italian Inspired Home InVenetian Shores, Islamorada
MLS#604803 | Offeredat$2,488,000 | 5Bedroom| 4Bathroom
AllconcreteTri-levelhomeoffering4B/3Bonmain2livinglevelsplusanaboveflood1B/1Bguestquarterspoolside.Custombronzeworkaddtothe ambianceofthiscustomhomelocatedon100ftwidecanalwith70ftofdeepwaterdockage.Upstairsoffers3guestbedrooms,1guestbathroomplus PrimarySuitew/Plantationshutterstoprovidethatperfecttropicalflair.Laundryroom&Atticaccessforextrastorage.Thegroundlevelenclosureis abovebasefloodandoffersalivingarea&1B/1Bguestsuitew/garageenclosure.
3 4
www.AmericanCaribbeanRE.com Sales@americancaribbean.com
I've been a resident of south Florida my entire life, and have fond memories of boating, diving, swimming and fishing all throughout the Florida Keys with family and friends. Spending time with family and friends is something we can all appreciate; but those of you who live in and or visit the Florida Keys also appreciate its natural beauty, clear waters and unique experiences.
However, did you know that 5.4 nautical miles off of Key Largo sits a one of a kind underwater (Habitat) laboratory owned by Florida International University (FIU) called Aquarius? As the Operations Director for FIU's Medina Aquarius Program speak to a lot of locals and frequent visitors to the Florida Keys. When people ask me what I do for a living and I tell them, I'm always surprised at the typical response; "Aquarius? An underwater laboratory? What's that I've never heard of it?" I take great pride in this opportunity to make people aware of this iconic structure that has played a vital role in supporting research and public education about our oceans
Aquarius has a long and prestigious history of conducting undersea research since it was first deployed at Conch Reef in Florida Keys National Marine Sanctuary waters back in
FIU Aquarius Program
1993. Aquarius is 46 feet long, 10 feet in diameter and weighs 82- tons. It sits on a 120-ton baseplate in 60 feet of seawater. During normal operations, Aquarius houses four researchers (Aquanauts) and two (Habitat) technicians. The technicians facilitate the research by overseeing diving operations, monitoring onboard life support systems, pressurization and decompression. Aquarius is logistically supported by a team of highly skilled professional divers who are ready to respond in case of an emergency and a 33-foot diameter discuss buoy (Life Support Buoy), which supplies electricity, breathing air and communication with the land base.
I consider myself to be very lucky to be part of this historic program, and would like to thank our extremely talented and hardworking staff for helping me continue to make the Medina Aquarius Program Possible.
Roger Garcia CHT-ADMIN, DMT, CMA FIU Diving Safety Officer Operations Manager Aquarius Reef Base
Islamorada Fl. 33036
85932 Overseas Hwy
3 5 American Caribbean Real Estate 305.664.4966 ~ 305.451.4078
CasaKokomo, Marathon
MLS#604894 | Offeredat$889,900 | 2Bedroom| 1Bathroom
Exquisitelyfurnishedandupdatedandsupercomfortable2bedroom/1Bathwaterfronthalf-duplexthatistheperfectgetawayand/orinvestment property that is ideal for pampered vacation rentals. 7-day rentals permitted. Exceptional and fresh updates throughout the entire home. Newer centralandductlessA/Cs,newstainlesskitchenwithGasstove,freshlyupdatedbathroom,updatedwaterheater,metalroof 32-footconcretedock witheasyaccesstoopenwater.
Ultimate FishingRetreat, Islamorada
MLS#602756 | Offeredat$1,900,000 | 2Bedroom| 2Bathroom
Uponarrivingattheproperty,theoceanbreezescaressyourface,andyouknowyouhavefoundsomethingspecial.With75'ofdockageforyourflats skiff,youroffshoreboat,andyourwatertoys,andideallylocatedonaprotectedoceansidecanal.elevatedstilthome,completewithwraparound porch,openlivingareawithvaultedceilings,andopentheoversizeddoorsthatencompassthecedarlinedlivingroom,diningarea,kitchen,andthe primarybedroommakingforaseamlesstransitionoftheoutdoorsandindoorsandlettheoceanbreezesflowthrough.
www.AmericanCaribbeanRE.com
Sales@americancaribbean.com
3 6
FairWinds, Islamorada
MLS#604880 | Offeredat$5,500,000 | 5Bedroom| 3.5Bathroom
A unique walk-in-the-water oceanfront estate home, located in downtown Islamorada. This home reflects the barefoot elegance, breezy beauty, seclusion,andamenitiesrequisiteforabeachsidefamilycompound.Onceinsidethegates,thereareenchantinglylushtropicalgardenswithcarefully cultivatednativespecimensandabundantfruittrees,leadingtotheshimmeringpastelbluesoftheAtlanticOcean,whichgentlycaressestheprivate andsecludedsandybeach.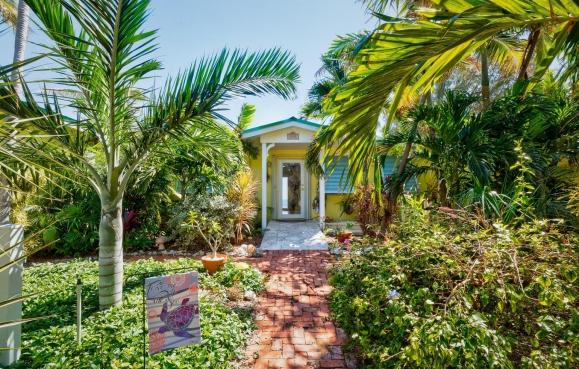 Beachfront Oasis, Islamorada
MLS#604881 | Offeredat$3,995,000 | 3Bedroom| 2Bathroom
elcometoyourenchantingoceanfronthomeintheheartofIslamorada,completewithlushtropicalgardens,asandybeach,andstunningviewsofthe ginclearwatersthattheFloridaKeysarefamousfor.Thisthree-bedroomtwo-bathroomadorablehomeissituatedallononelevelforchic,breezy, refinedcoastalliving.
3 7 American Caribbean Real Estate 305.664.4966 ~ 305.451.4078
3 8 www.AmericanCaribbeanRE.com Sales@americancaribbean.com
AmericanCaribbeanRealEstateisalsoa memberofWho'sWhoinLuxuryRealEstate.
Theglobalrelationshipscultivatedthrough membersofWho'sWhoinLuxuryRealEstate provideunmatchedpromotionforyourreal estateandconnectionstolocalrealestate professionalsaroundtheworld.Thishandselectedgroupwithpropertiesinmorethan60 countriescollectivelysellsover$240billionof realestateannually,makingitthemostelite andcomprehensiveluxuryrealestatenetwork intheworld.
The LuxuryRealEstate com Apple TV app showcases property videos from LuxuryRealEstate.com, giving Apple TV owners the ability to browse thousands of high-quality videos and video tours of properties from members of Who's Who in Luxury Real Estate including American CaribbeanRealEstate.
3 9 American Caribbean Real Estate 305.664.4966 ~ 305.451.4078
Bali Hai Islamorada-Soldfor$13,999,000 OceanfrontAwaits Islamorada-Soldfor$11,950,000 Ocean Blue Islamorada-Soldfor$5,300,000 Ocean Cay KeyLargo-Soldfor$3,900,000 NewCoastal Chic Islamorada-Soldfor$3,850,000 Oceanfront Estate KeyLargo-Soldfor$3,400,000 Tarpon Point Islamorada-Soldfor$3,250,000 Beachfront Estate Islamorada-Soldfor$2,660,000 Venetian Shores Islamorada-Soldfor$2,600,000 Modern Canalfront KeyLargo-Soldfor$2,200,000 OceanViews KeyLargo-Soldfor$1,800,000 Modern Chic Tavernier-Soldfor$1,700,000 KeyWest Style Islamorada-Soldfor$1,595,000 MarinaDel Ray KeyLargo-Soldfor$930,000 Landings of Largo KeyLargo-Soldfor$850,000 Ocean Pointe Tavernier-Soldfor$694,750 OUR FLORIDA KEYS Signature SALES 3 9 American Caribbean Real Estate 305.664.4966 ~ 305.451.4078
Key Elements to Our Social Media Success
We use the most popular social networks to further increase the exposure of your home by posting new listings, upcoming open house dates, video tours, and listing information to social media platforms. In addition, we realize a purchase in the Keys is about a desire for our unique lifestyle.
BY THE NUMBERS
Social
Social Media Followers ~ As of January 2023
Unparalleled Online Presence
Over 90% of homebuyers begin their search online
American Caribbean Real Estate delivers to a huge online audience. We devote significant marketing resources to search engine optimization and website advertising to make sure your property is seen. 90% of buyers use the internet to search for a home. By listing with American Caribbean Real Estate, your property will be posted on websites that attract over 100 million visitors each month.
NEW DESIGN, MORE TRAFFIC
Our company site, AmericanCaribbeanRE.com, offers the most comprehensive online marketing presence of our listings. It is mobile responsive, translated into 26 languages, features a dynamic mapping feature and much more.
Experience ~ Expertise ~ Engagement ~ Emotion
SOPHISTICATED LEAD ROUTING AND SEARCH TOOLS INTERNATIONAL BUYERS
GLOBAL SITES THROUGH OUR STRATECIC PARTNERSHIPS BLOG REACH MILLIONS OF BUYERS THROUGH OUR MULTI-CHANNEL DIGITAL STRATEGY LOCAL & INTERNATIONAL BUYERS SOCIAL MEDIA SEARCH ENGINE OPTIMIZATION EMAIL BLASTS VIDEO & VIRTUAL TOURS V V V V V V V V V V ChristiesRealEstate.com LuxuryRealEstate.com 19.6K 4K 185 135 660
MEDIA TRAFFIC
CONNECT TO
SOCIAL
Media Follower comparison of local real estate brokerage Facebook page follower count.
4 0 www.AmericanCaribbeanRE.com Sales@americancaribbean.com
19.6K
Waterfront Commercial,Tavernier
MLS#603467 | Offeredat$1,850,000
Commercialbuildingandboatslipsforsale.Tenantinplacewithlease. One quarter of the building and four boat slips available for rent, offeringopportunityforhigherrevenue.Fourseparateelectricmeters and four mini split A/C units. Near Tavernier Creek oceanside. Newer CBS building constructed in 2016. Real estate only, businesses do not convey
7Acres, Islamorada
MLS#599713 | Offeredat$6,750,000
Over 7 acres with over 700 ft of beachfront directly on the Atlantic Ocean with one building right.
Business OnlyforSale,Tavernier
MLS#601720 | Offeredat$250,000
Unique opportunity to purchase a very popular breakfast and lunch restaurantlocatedinTavernier!Thisturn-keyrestaurantisknownforits healthybreakfastandlunchoptions.Outdoorseatingwithwaterviews. Ideally located and offers plenty of parking. Equipment, inventory convey–businessopportunityonly,norealestate.
BayHarbor, KeyLargo
MLS#602193 | Offeredat$275,000
3 Lots with 42 ROGO points to build your dream home!TIER3-30points,4POINTsforsewerlines inplaceplus8ptsforaggregationoflots.
Canalfront Lot,Tavernier
MLS#600074 | Offeredat$995,000
Offering panoramic ocean views from this cleared waterfront lot with direct ocean access. PlansinROGOforafabuloushome.
S. CreekVillage, KeyLargo
MLS#602335 | Offeredat$190,000
Tier 3 lot 50 x 102 behind a nature preserve for privacy with no neighbors. Restoration permit passed1stinspectionandreadytosubmit
2 Lots, KeyLargo
MLS#603853 | Offeredat$350,000
Side by side total of 10,500 sf - Build one or 2 homes, in this desirable Key Largo location just stepsawayfromtheprivatebayfrontpark.
RivieraVillage, KeyLargo
MLS#602625 | Offeredat$175,000
Build your dream home in this desirable Key Largo location just steps away from the private andoptionalbayfrontpark
4 1 American Caribbean Real Estate 305.664.4966 ~ 305.451.4078
The Realtors and Staff of American Caribbean Real Estate Islamorada Location 81800 Overseas Highway, PO Box 353 Islamorada, Florida 33036 Office: 305-664-4966 Fax: 305-664-8719 Key Largo Location 99900 Overseas Highway, PO Box 600 Key Largo, Florida 33037 Office: 305-451-4078 Fax: 305-451-5299 American Caribbean Real Estate 305.664.4966 ~ 305.451.4078 4 3 AmericanCaribbeanRE.com~facebook.com/americancaribbean
Leaders in the Real Estate Market and Community Leadership carries with it a responsibility to the community AtAmericanCaribbeanRealEstatewerealizethemoreweputintoourcommunitythestrongerweareasawhole.Our brokerageandouragentsworkcloselywithseverallocalcharitiesandorganizationsincludingourownnot-for-profit organization,MarrVelousPetRescues&Adoptions--avolunteeranimalrescueservice. Our Community Involvement
Long Standing
Joy C. Martin Carolyn Ambler Amy Bruggeman Terry Canto Stephanie Cyr Angel DiGiorgio Mike Diaz Christine GarciaCastellanos Michelle Fromen Lorie LaLonde Doug Hill Taylor Globus Jamie Gunthner
Pam Roberge Tom Rodriguez
Pam Sante Kelly K. Shaw Trent M.P Shaw Rhonda Simonds-Brewer Ken Smith Joel Young Maggie Garcia Patricia Hann Melissa Hogan Melina Miller Kenie Rodriguez Shirley Wilson Liza Dieppa
Lorie Leal Carlos Lorenzo Jonathan Lorenzo Mykeal Marinelli Karan Moeller Cristina Marcia'Allen Shelby Morris Susan Recarey David Ritz Eric Rizzo Jeff Quinn
Let Us Show You the Keys
You Don't See from US1
We want to be your Realtor!