Facebook Fallout
Transphobic comments leaked from Facebook group
Anna Opalsky NEWS EDITOR
SDUHSD Board Vice President Michael Allman faced backlash from community members at board meetings on Aug. 25 and Sept. 14 after screenshots of a private Facebook discussion, in which Allman participated, were leaked that some deemed "transphobic."
The discussion, which appeared in the private Facebook group "SDUHSD Families for Students First," created by Allman during his 2020 school board campaign, addressed pronoun usage in schools. Some of the comments mocked the preferred pronouns of nonbinary and transgender students.
The Facebook group is advertised as a forum for district families. After joining the board, Allman left his role as the group's administrator but remained a member.
The discussion was sparked by a parent who claimed inaccurately,
according to Canyon Crest Academy Principal Brett Killeen, that a CCA teacher had implemented a new policy of using only they/them pronouns for all students.
Many of the responding commenters criticized the teacher and renounced the practice of asking for preferred pronouns.
"Let others take a guess [at a person's pronouns]," Allman commented. "If they guess wrong, the student can correct them if they want to, or just let it go if they want to."
In the thread, Allman responded to six comments, writing for one, "When I need a good laugh to ease the tension of my day, I know I can always count [on] you" in response to a comment that said using they/them pronouns in a singular context was as grammatically correct as "Fo shizzle."
Of the comments revealed in the leaked discussion, most concerning
to LGBTQ individuals and allies was one that discussed suicides in the transgender community.
"People who are not male or female have gotten a raw deal and will never be able to live their best life. If they choose suicide as an answer then it is on them," one commenter wrote. "Personally, there are some groups of people out there that I approve of suicide as their answer. Rapists, murderers, pedophiles and this group."
This individual commented multiple times in the discussion, saying that gender-neutral pronouns are "annoying," "confusing" and "comical." In response to one of the individual's comments that discussed a person identifying as a cat, Allman commented ten laughing emojis.
After seeing the comment that mentioned suicide, Allman said he contacted the group's administrators, prompting the discussion to be taken
down and the individual to be removed from the group.
Though Allman reported the comment, some community members still criticized his earlier participation. Approximately a dozen public commenters condemned the discussion at an Aug. 25 board meeting, and others joined them in the audience, holding print-outs of the comments and waving pride flags.
At the meeting, Allman denied that his comments were "transphobic" and later referred to the public comments as an "orchestrated attack."
"[Suicide] is a tragedy for all concerned and everyone who is touched by it deserves empathy and understanding," Allman said in an Aug. 28 statement. "Everyone should be called by the pronoun of their choice without question, ridicule or judgement."
A2
continued
EMOTIONS IN THE BOARD ROOM: Community members wave pride flags and display a sign calling for Board Vice President Michael Allman's resignation during an Sept. 14 board meeting after "transphobic" comments were leaked from a private Facebook page frequented by Allman. At the meeting, students read a resolution to the crowd voicing harm done to the LGBTQ community.
PHOTO BY ANNA OPALSKY/FALCONER
on
Vol. 48, Issue 1, 24 pages Wednesday, September 28, 2022
Following that meeting, interim Superintendent Tina Douglas sent an email to district families acknowledging the need for LGBTQ student resources.
Criticism of Allman's comments was again voiced three weeks later at a board meeting on Sept. 14.
"Officials need to be held responsible for what they say," Mace Viemeister, the president of the San Dieguito Academy GSA, said. "[They] pledge to serve the health and safety of [their] student body, and [Allman] is clearly not capable of doing that."
Collaborating with the La Costa Canyon Gender Sexuality Alliance, Viemeister wrote a resolution for the Sept. 14 meeting that called for "restorative action," such as the creation of a LGBTQ student liaison and the addition of an anti-slurs guideline to student handbooks.
While the resolution was not added to the agenda due to its late submission, according to Board President Maureen Muir, it was read to a large audience during a two-hour public comment session. The authors said they plan to present the resolution at the next board
meeting on Oct. 13.
During the meeting, Allman called the comment mentioning suicide "inappropriate" and "offensive," but also criticized that it had been made public, saying its amplification was "incredibly hurtful to our LGBTQIA+ community."
Some public commenters supported Allman.
"He's being attacked unreasonably," one commenter said. "[Allman] didn't handle the social media event very well and I think he should apologize, but … he is an understanding, strong man with integrity."
However, one public commenter read an email that Allman allegedly sent to community members prior to the meeting asking them to make public comments in his favor so "we don't hear only from the same group of haters."
He allegedly provided the recipients with comment topics, including that the "SDUHSD Families for Students First" Facebook group is a "great resource."
Allman did not respond to requests for comment on the alleged email.
Trustee Katrina Young said that Allman "agreeing with, laughing at and commenting on [the] post" was
"transphobic."
"He may have asked for one [comment] to be taken down … [but] he didn't try to defend the children who were being mocked." she said. "I would say that he did the opposite."
Trustee Julie Bronstein also condemned the comments. Muir did not address the comments at the meetings and did not respond to requests to comment from the Falconer , except to say that Allman's participation in the Facebook group did not violate board policy.
But according to Young, Allman's activity on the Facebook group is "problematic."
"The [group] has First Amendment rights to talk about whatever they want, but when they use the district's name, it's a slippery slope because people might assume that it's districtsponsored or affiliated," she said. Allman defended the Facebook page.
"The members of the group are politically diverse, but the page is not tied in any way to any political organization or party. It's not run by me or my family," he said. "The group serves an important purpose; otherwise it would have died out."
Falcon Accolades: Summer Edition
believes that the connections she formed at the program will support her plan to study musical theater and eventually pursue a career in acting.
Libby Bezdek
On a sidewalk in Ann Arbor, Michigan, a street musician's performance attracted a crowd of eager listeners. Pausing his play, he asked if anyone could sing.
In the crowd stood Libby Bezdek (12) and her classmates from the MPulse Musical Theater Workshop at the University of Michigan.
What followed was an impromptu performance of singing and dancing by Bezdek and her peers. The crowd showered them with applause.
"We made it our own show," Bezdek said.
For three weeks in June, Bezdek attended the MPulse program, learning from Broadway icons, including the musical director of "The Lion King" and the original choreographer of "Thoroughly Modern Millie."
Bezdek, who has starred in multiple TPPlayers productions and is a member of the TPHS dance team, was among 36 rising high school juniors and seniors worldwide selected for the program.
Despite the selectivity of the application and audition process, the instructors minimized competition in the program, encouraging students to focus solely on their own improvement, Bezdek said.
"You can't move forward while looking sideways," she recalled one professor saying.
In class, Bezdek experimented with new types of characters. While many of her past roles have been confined to the "dumb blonde" stereotype, Bezdek said she realized at the program that she has the talent to play much more.
"I learned that it's okay for me to stand up for myself and say, 'I have more to offer.'"
With college approaching, Bezdek
Brock Brown
High in the Wasatch Mountains of Snowbasin, Utah, Brock Brown (12) completed the 29029 Everesting Challenge, returning to start his senior year having hiked the equivalent of Mount Everest in 32 hours.
The 29029 Challenge, open to anyone, is a guided 2.3 mile hike up Summit Snowbasin. Gaining 2,130 feet in elevation for each ascent, participants complete the climb 13 times to reach the equivalent height of Mount Everest.
"I trained three to four days a week, going on hikes and doing 70 laps around my neighborhood," Brown said.
While training, Brown began a GoFundMe to raise money for the Trevor Project.
"Being a member of the LGBTQ+ community myself, I believe that we need more resources to connect us to people who know what we are going through and the Trevor Project helps to provide that," he said.
In the final hours before the clock started, motivational speakers, some who also participated in the hike, amped up the hikers.
"Right when the speaker finished his inspirational speech, the countdown went off and I was immediately in the zone," Brown said.
After a challenging 32 hours, Brown and his father completed the event.
"Crossing that finish line was a feeling I'll cherish forever," Brown said.
Having completed the event, raising more than $16,000 for the Trevor Project, Brown finds himself seeking his next challenge.
"Looking back, I've come [far] mentally and [I've] realized how much I'm capable of," Brown said. Roan Wallerius
Roan Wallerius (11) began
independently learning Russian when he thought the Russian characters in a video game sounded "sick." A year later, he was accepted into a program organized by the U.S. Department of State's Bureau of Educational and Cultural Affairs to further his study of the language.
Wallerius, after competing against thousands of applicants from across the country, won the National Security Language Initiative for Youth Virtual Summer Intensive scholarship, a program designed to encourage international dialogue. Through the course students study Arabic, Mandarin, Hindi, Indonesian, Korean, Tajiki, Russian or Turkish and are connected to international teachers and peers.
Every day for six weeks, Wallerius attended virtual lessons with a Russian teacher and spoke with peers in Latvia to apply the lessons to conversation.
When Wallerius initially spoke with his Latvian peers, he said he did not know what to expect.
"It was weird because not only are you meeting somebody online, but there's a language and cultural barrier," he said.
Yet, as the program progressed, the interaction became more comfortable.
"We [had] a lot of common interests … like the same music taste or hobbies," Wallerius said.
Wallerius felt this course was "more intense" than learning a language in a traditional classroom.
"I learned more over those six weeks than I did in all three years of Spanish at school because ... the instruction was more hands-on," he said.
Wallerius, who hopes to pursue a career in international relations, highly recommends this program.
"The more you view languages as this completely vast thing that takes years to learn, the worse it's going to be," he said. "The more fun you have with [it]… the more you're going to learn."
In the wake of those comments, TPHS GSA Co-President Brock Brown (12) wants district campuses to organize assemblies to learn about proper pronoun use.
"[If teachers ask for preferred pronouns,] they would feel more at ease and students would feel more respected," TPHS GSA Co-President Antonia Hastings (12) said.
Looking back, I'm thinking about how far I've come mentally and realized how much I'm capable of.
Brock Brown SENIOR
PHOTO COURTESY OF LIBBY BEZDEK
PHOTO BY LOLA
PHOTO COURTESY OF BROCK BROWN
CALLING FOR AN APOLOGY: Allman addresses the public at the Aug. 25 meeting, holding a printout of screenshots from the Facebook discussion that were distributed by public commenters. Since their release, some have critized Allman for not apologizing for his participation.
Jacob Zhang, Dixie Wallerius and Kathryn Reese EDITORS-IN-CHIEF AND FEATURE EDITOR
PHOTO BY ANNA OPALSKY/FALCONER
Libby Bezdek
SENIOR
I learned that it's okay for me to stand up for myself and say, 'I have more to offer.'
Roan Wallerius JUNIOR
news september 28, 2022A2 the falconer The more fun you have with learning a language ... the more you're going to learn.
NEWLANDER/FALCONER
FACEBOOK COMMENTS continued from A1
Biden to cancel up to $10,000 in student loans
Jacob Zhang EDITOR-IN-CHIEF
President Joe Biden announced a student loan forgiveness plan in late August that could affect roughly 43 million Americans, according to the White House.
The plan will forgive up to $10,000 for borrowers who make under $125,000 a year and up to $20,000 for couples that make under $250,000 a year.
Individuals who received Pell Grants, a form of financial aid for students with exceptional financial need, will also be eligible for up to $20,000 in relief.
Loans taken out after June 30, 2022, will not be forgiven.
One of those eligible individuals is Tasia Mochernak ('16), who received a Pell-Grant to study at the University of California, Los Angeles. Under Biden's plan, she is eligible for complete debt cancellation.
"It [will] be incredibly helpful to have my debt forgiven," she said. "It allows
me not to funnel all of my income into just survival and begin looking at other things like setting financial goals for myself."
Others, like TPHS social science teacher Michael Montgomery, feel that they have been left out. Montgomery, who took eight years to pay off all $25,000 of his student loans, will not benefit from Biden's program.
"I never had a whole lot of debt, but it would have been nice to have [loan] forgiveness back then," he said.
From a larger societal perspective, however, Mochernak thinks that the plan is fair, even for people who will not benefit from it.
"If I was not somebody who had student loan debt, I would view this as a fair measure because if the federal government has this money and they're able to allocate it, why shouldn't they?" she said.
Still, in Montgomery's opinion, the money from the forgiveness plan should
be directed at people who need it the most, not those who made a conscious choice to take out loans.
"If you have to take out a loan, you're making that choice," Montgomery said. "You know how much it costs."
Montgomery also said the maximum yearly salary that qualifies borrowers for debt relief is too high.
"If you are making $125,000, I think you should be making enough to pay off your loans if you are organized with your finances," Montgomery said.
Neither Mochernak and Montgomery believes enough is being done to solve the overarching issue causing the student debt crisis – the rising cost of higher education. For future college students who want to minimize their debt, Mochernak recommends that they consider attending state universities and apply for as many grants and scolarships as possible, as they do not require repayment.
"People don't always recognize that
a financial aid package you are offered includes a loan that you have to repay," she said. "You need to make sure that you're conducting the correct research."
The application for loan forgiveness will be available by early October. Loan holders can be notified when it is available by signing up at the U.S. Department of Education subscription page.
aids 43 million
$10,000 in forgiveness
news the falconer A3tphsfalconer.com apply in october
TPHS opens new classroom wing and cafeteria
The Innovation Building, a new classroom wing for Career Technical Education courses, opened at the start of the 2022-2023 school year after being under construction since April 2021.
The Innovation Building includes rooms 701-706 located next to the Falcon Eatery. The new rooms include the Makerspace, which has engineering stations and machinery, the Computeraided Design Lab, which has computers for programming and designing, and the computer science room, which has computers for programming.
"The new engineering lab is really going to help our engineering CTE pathway," TPHS Principal Rob Coppo said. "I think it is critical to give students a chance to see what it's like to experience project-based learning [and] get some real-world experience with modern tools."
In addition to more classroom space, the Innovation Building provides students in CTE classes centralized resources for project-based learning, as the proximity of the rooms allows classes to use multiple spaces, according to Coppo. In Engineering classes, the CAD lab is used for pre-production planning while the workspaces and machines in the Makerspace are used for production. It also fosters greater
collaboration between CTE teachers, since their classes were previously held in rooms scattered around campus, Coppo said.
"I absolutely think it was worth the wait and the money, especially because … it's so important to have that focus on STEM at our school," Bri Cathcart (10), a Computer Progamming student, said.
Along with centralizing CTE classes, the facility modernizations added 38 new computers for the CAD lab and 40 computers for the computer science rooms.
"The new computers are working very nicely [and] running the programs pretty smoothly," drafting student Nicolette Caci (11) said.
Other renovations include a new dust collection system, three televisions for watching demonstrations and new speakers in the Wood Tech classroom. The Auto Technology room was upgraded with new lighting and audio-visual systems along with new automotive equipment.
"As colleges and careers are looking more specifically at people being trained in hands-on skills … [the Innovation Building] has a huge benefit," Eric Neubauer, the chair of the CTE department and Auto Tech teacher, said.
The Falcon Eatery opened to
students for the 2022-2023 school year after more than a year of construction, replacing the old nutrition kiosks and providing students with indoor eating space and free breakfast and lunch.
The Eatery sits adjacent to the newly modernized Innovation Building. The construction and renovation of both buildings began in April 2021 and cost $11.64 million in total, according to the district Executive Director of Planning Services, John Addleman. All funds are from Prop. AA, a bond measure passed by district voters in 2012.
That money was well spent, according to some students.
"I enjoy the social aspect of the Eatery," Erik Shamsedeen (11) said. "You can come here and sit at the tables. It's like a college campus."
The Falcon Eatery has new food display cases, lunch tables, a kitchen with four ovens and new registers.
"[The Eatery has] better kitchens, better registers and overall nicer and more pleasant facilities," said Emma Schreuder-Welte (10), a student lunch worker who also worked in the nutrition kiosks briefly at the end of last year.
As one of four student lunch workers, Schreuder-Welte is paid to help other Nutrition Servies employees serve lunch to students.
The Falcon Eatery's purpose is to make the food serving system more efficient for both workers and students,
according to TPHS Nutrition Services Supervisor, Rose Hernandez.
Instead of having one kitchen on campus with two additional kiosks spread across the school, the kitchen and cafeteria are in one building, which centralizes food services for both students and nutrition staff.
"It's easier for the kitchen staff to have [all of the facilities] in the same place so that they don't have to deal with the transportation [of the food] or running out of something but not being near the kitchen," Schreuder-Welte said.
As in previous campus eateries, the Falcon Eatery serves pizza and hummus packs along with two other main entree options that change daily.
The Falcon Eatery has adopted a new register system that takes student ID numbers instead of a personalized lunch code. This system processes more quickly and is easier for student workers to use, according to Hernandez.
Despite this improvement, the lines to get food are still long, according to some students who get school lunch regularly.
"The lunch lines are longer because they aren't split between all the nutrition systems," Shamsedeen said. "The view when you come out of the classroom and look at the lines is like being at Costco or at Universal [Studios] waiting for one of the big rides."
Sophia Gorba and Eric Lee STAFF WRITERS
PHOTO BY LOLA NEWLANDER/FALCONER
FEASTING FALCONS: A student picks up lunch from the Falcon Eatery. Since opening in August, the new nutrition facility has provided students with free meals during lunch and before school.
TEACHING TECH: Students use computers during a computer programming class. This room recieved 40 new computers as part of the modernization of the Innovation Building.
PHOTO BY ANNA OPALSKY/FALCONER
Students in honors and AP classes end STAR testing
Joy Ma STAFF WRITER
For the 2022-23 school year, SDUHSD made STAR (Standardized Testing and Reporting), a math and reading assessment previously given to all students in the district, optional for high school students enrolled in Honors or Advanced Placement courses.
In the past, SDUHSD administered Star testing to 7-12th graders three times per school year. Data gathered from the standardized set of 35 questions was used by teachers to monitor the progress of students' learning and make changes or adaptations to instruction and course structure.
TPHS English teacher Dawn Whalen opted not to administer STAR Test to
her Honors classes this year.
"Kids with high [language proficiency] start to get the same questions on the test over and over … once you reach the top, there's no way to go but down," Whalen said. "I'm happy [that] both teachers and students won't have any more busy work."
Ava Sharghi-Moshtaghin (10), who is enrolled in English 10 Honors, agreed with Whalen.
"It's a rational decision, as kids in honors classes already grasp [the] subject comfortably," SharghiMoshtaghin said.
Annie Polan, an TPHS Integrated Math teacher, administered the first round of STAR Testing to her college prep classes in the second or third week
of school.
"I see the reasoning behind not having Honors or AP take [the STAR tests] because [they] tend to excel and exceed," Polan said. "While tracking their progress is still important, they usually don't need as much hands-on intervention."
Varied opinions about STAR testing come from the students in college prep courses.
"I honestly don't see the controversy [around STAR testing], it's not a huge part of the syllabus, and the statistics gathered would really help the teachers out," Integrated Math 2 student Luca Antonelli (10) said.
However, Curtis Wang (12), a student in college prep English 12,
does not see STAR testing as a useful classroom tool.
"Since it does not hold any value in the gradebook, most of us don't even try," Wang said. "It's a horrible waste of time, undermining the school's average academic performance."
According to Polan, SDUHSD will observe the data and patterns from this year and will eventually decide whether or not to continue making STAR testing optional for Honors and AP students.
"[Until then,] some kids in college prep [classes] think it's unfair," Polan said. "I just wish more students took a second to recognize how it's beneficial for teachers to be aware of where they stand in terms of meeting certain standards."
From the Boardroom
After an investigation of his behavior was completed in July, Allman was cleared of all misconduct alleged by James-Ward in a complaint filed in February, Allman said during a July 27 board meeting.
The investigation, which cost the district more than $49,000, according to a district spokesperson, included the testimonies of 10 witnesses — board members and district staff — and considered nine complaints, including that Allman created a "hostile" workplace for James-Ward because of her gender, according to a July 15 notice of outcome sent to James-Ward from the district. The investigation was conducted by attorney Arlene Prater from Best Best & Krieger and was requested by Allman.
While Prater found that Allman could be "demanding and disrespectful" regarding his "goals" and "interests," she did not find sufficient evidence to support any of the claims that Allman had discriminated against James-Ward based on her gender, according to the notice.
"This was a sorry and disappointing chapter in the board's history, but it's over," Allman said during the July 27 meeting.
James-Ward's attorney discounted the investigation, saying it was "biased" because it was paid for by the district.
James-Ward's Termination and Claim
James-Ward filed a claim for damage earlier this month, alleging she was wrongfully terminated in June.
The board approved James-Ward's termination without cause in late June, after placing her on leave in April for her comments that correlated the academic success of Asian American students to their wealth.
After being placed on leave, JamesWard hired attorney Josh Gruenberg of the law firm Gruenberg Law and announced intentions to sue the district if she was fired. James-Ward believes she was fired, not for her comments about Asian American students, but in retaliation for a complaint she filed against Allman in February in which she alleged he created a "hostile" workplace, according to the claim. Gruenberg did not say when Ward intends to file her lawsuit.
Tina Douglas, who served as interim superintendent during James-Ward's administrative leave, will continue in her interim role until June 30, 2023.
A lawsuit against SDUHSD that claimed its redistricting of the election map last March illegally disadvantaged minority voters is currently waiting for a ruling as to whether it can be dismissed to mootness, according to a Sept. 22 legal hearing.
After concerns regarding the "timeliness and legality" of the district's redistricted election map, the County took over the process and selected a map that is currently in use for the November school board elections.
The district argued that the lawsuit against their previously selected map is moot because the map was never used due to the county's involvement. However, the plaintiffs argued that the district's previous map could still be used in a future redistricting and that the district had used an illegal map selection process. They argued that therefore the map needed to be ruled illegal, according to a Sep. 21 motion to dismiss the case.
The judge is set to rule on the case in 90 days as of Sept. 22.
by Anna Opalsky and Cass Love
Allman's Investigation
Over the summer, the SDUHSD Board of Trustees continued to meet. In late June, the board unanimously approved the termination of Cheryl JamesWard as superintendent, without cause, appointing Tina Douglas, the associate superintendent of business services, to serve as interim superintendent through June 2023. In late July, an investigation into claims James-Ward filed against board vice president Michael Allman, alleging misconduct and discrimination, was completed, clearing Allman of all alleged wrongdoing. Lastly, a lawsuit filed by two community members against SDUHSD over the district's election map redistricting process is currently waiting for the judge to rule if it can be dismissed due to mootness.
Gerrymandering Lawsuit
september 28, 2022the falconerA4
TPHS students excel in business competition
Hannah Meltzer STAFF WRITER
Born in the TPHS Advanced Business class, CharCUTE, a gourmet charcuterie board business founded by four TPHS students, was one of 15 high school businesses from across the nation selected to attend the Junior Achievement National Student Leadership Summit in Washington D.C. over the summer.
CharCUTE was founded by Morgan Johnson (12), Aleyna Laba (12), Carly Marks (12) and Sofia Serrano ('22) for an end-of-year project in their business class. Given the task of building a company, the students took the classic charcuterie board — a platter of meats and cheeses arranged in an aesthetic pattern — and redesigned it into a candyboard. They have since expanded their business to include customizable boards and traditional cheese platters.
"We wanted to do something more unique because there already were charcuterie board businesses, so we didn't want to do just meat and cheese," Johnson, the manager of CharCUTE, said.
The girls' path to nationals began when they earned the highest score for CharCUTE out of all of the other businesses at the TPHS pitch day, a presentation required of Advanced Business students. After that win, they entered CharCUTE in Junior Achievement (JA) San Diego, a national non-profit competition for student business owners.
At JA San Diego they placed first, beating 30 other teams, and were selected from 75 other businesses from across the United States to attend JA Nationals in Washington D.C.
"I never would have expected to go to Washington D.C.," Johnson said. "We now have friends from all over the country."
Though they did not place at nationals, they presented their product to a panel of judges through interviews, a trade show booth and a pitch day.
"I gained a lot of confidence from doing all the public speaking," Marks, the financial officer of CharCUTE, said.
The businesses were judged on a portfolio that included a pitch deck, a business plan and a commercial. Having completed those three items in class, they embarked on a new adventure creating a trade show booth. The booth was displayed in the Capitol Building to business executives and senators. The pressure was on to stand out in a sea of other businesses
"A lot of other companies had more serious topics, we came in and brought a fun element to it," Laba, CharCUTE's marketing officer, said. "People kept coming back to us because we were colorful and bright and had candy and
Carly Marks CharCUTE Financial Officer
who doesn't want candy?"
Since returning from Washington D.C., CharCUTE hopes to start shipping its boards across the country to eager customers they met at JA Nationals.
The CharCUTE executives could not have guessed their business would end up where it is today. They are currently receiving approximately 10 orders a month and have made $1,500.
"[There was] a range of how seriously people in our [TPHS] class took [the Advanced Business project]," Marks said. "Some people did it as a class project to get the grade but we really took it above and beyond."
SDUHSD board approves 4% raise for teachers
Anna Opalsky NEWS EDITOR
The SDUHSD Board of Trustees approved a new three-year contract negotiated between the district and the San Dieguito Faculty Association that will increase salary schedules by 4% for the 2022-2023 fiscal year at a board meeting on Sep. 14.
The new contract, which covers the 2021-2024 school years, also includes a $3,000 one-time off-schedule payment for all staff active on the last day of school in June 2022.
"This agreement allows educators more protection [for] their families with record inflation and staggering daily costs," SDFA President Duncan Brown said.
District teachers have worked for 15 months without a contract, as their last 3-year agreement expired in June 2021.
"I think the approved contract is good for the district because it allows employees the reassurance and peace of mind to have a contract," TPHS AP U.S. History teacher Lucia Franke said. "As an employee, I found it demoralizing to work for more than a year without a new contract."
Board President Maureen Muir, Trustee Julie Bronstein and Trustee Katrina Young voted for the agreement, while Board Vice President Michael Allman voted against it.
"The topic of teachers and contracts has inexplicably become very polarizing," Young said during
the Sep. 14 meeting. "There are two lenses in which we need to regard any compensation of our teachers. One is can the employer … afford it. And two, does it demonstrate to our employees … that we value and appreciate their work. I think the contract that we're bringing forth tonight accomplishes all those goals."
Bronstein also voiced support for the agreement. Muir did not comment on the content of the agreement except to confirm with Interim Superintendent Tina Douglas that it was "fiscally sound."
Allman justified his rejection of the
negotiation on budget concerns, saying that the raise was above market and would push the district further into deficit spending — from $7 million to $14.7 million in 2022-2023.
"I'm just not a big fan of deficit spending," Allman said. "I think we have to live within our means, I think that's really an issue for us."
Douglas confirmed that the contract was affordable to the district. Though it increased the deficit this year, the district will be out of deficit spending in two years, she said.
"Given the national teacher shortage, a rising cost of living in the already
expensive San Diego area and inflation at around 9%, the modest 4% raise … seems … reasonable," Franke said.
Prior to the vote, multiple teachers spoke in favor of the contract and questioned a recent perceived rise in anti-union sentiment in the district.
"Why was it necessary for all of us to be here tonight? Why do we have to fight so hard to be respected and valued?" Earl Warren Middle School social studies teacher Ann Cerny said at the meeting. "Our teachers and students deserve better."
At TPHS, students can elect to spend a class period working in a local school as a teacher's assistant. After working with her assigned teacher, Alyssa Wakefield (12) said that she sees educators being "taken for granted."
"I don't think teachers should have to take money out of their paychecks to pay for classroom supplies," Wakefield said. "[There] are teachers working other jobs during the weekend and over breaks because they can't afford to live off their current salary."
Isabella Good (11), another teacher's assistant, agreed with Wakefield and supported the raise.
"[The raise] provides [teachers] with more resources and more opportunities to help students," Good said.
Moving forward under the new contract, wages are only settled for this year and there will be limited opportunities to renegotiate the contract for next year.
"[There was] a range of how seriously people took [the Advanced Business project]. Some people did it as a class project to get the grade but we really took it above and beyond."
STANDING WITH THE SDFA: Teachers gather at a Sep. 14 SDUHSD board meeting where the board was set to discuss a salary negotiation between the San Dieguito Faculty Association and the district. Later that night, the board approved a 4% salary raise for teachers in a 3-1 vote.
SWEET VICTORY: Sofia Serrano, Carly Marks, Aleyna Laba and Morgan Johnson (left to right) showcase their charcuterie board business at the Junior Achievement National Student Leadership Summit in Washington D.C. Their business, CharCUTE, received the highest grade in their TPHS Advanced Business class and placed first at the JA regional level.
PHOTO COURTESY OF CARLY MARKS
PHOTO BY ANNA OPALSKY/FALCONER
news the falconer A5tphsfalconer.com
The University of California, San Diego (UCSD) has continuously accepted excessive amounts of nonCalifornia residents. Last year, the state of California declared that UCSD along with two other University of California (UC) schools were favoring out-of-state and foreign students due to the higher tuition they pay.
As a result, California informed UCSD "to reduce nonresident undergraduate enrollment by roughly four percentage points, pushing it down to 18% of the enrollment makeup, over a five-year period that starts this fall," according to an Aug. 15 San Diego Union Tribune article. California's mandate on UCSD has finally caused the university to take the necessary measures to relieve in-state applicants of the biased acceptance rates they've had to endure in prior years.
It is obvious that California residents should get priority when it comes to admissions to UC schools like UCSD because they are paying nation-high state taxes for the progression of the UC system. But, as of now, this is not the case.
According to College Kickstart, in the Fall of 2021, the out-of-state acceptance rate for UCSD was 59.3%, and the in-state acceptance rate was significantly less at 28.5%.
So while some may believe that cutting out-of-state admissions will put out-of-state students at a disadvantage, in reality, it is only
UCSD has been instructed by the state of California to cut non-resident undergraduate enrollment by four percent over a five-year period starting this fall, which will eventually open up 4,500 more spots for California residents. Some argue that the move is justified since out-of-state applicants have long had an unfair advantage over California residents in the application process, while others assert that the admissions cap will limit opportunities for both UC schools and their students.
leveling the playing field.
Many other top public institutions in the country like the University of Texas at Austin, the University of Virginia, the University of Michigan and the University of North Carolina at Chapel Hill rightfully have higher in-state acceptance rates than outof-state acceptance rates, according to admissions data provided by the schools. UCSD needs to understand that its number one priority as a state school is to provide education to Californians; residents should not be disadvantaged in the application process.
Additionally, many students in California have dreamt of attending a UC college for their entire life. If the UC system doesn't do all it can to provide Californians with a UC education, many will subsequently leave California, attain their degrees elsewhere and never come back to California for work, according to the Chairman of the California Assembly Budget Committee, Phil Ting.
In the long run, California may lose talented individuals who could one day be valuable assets to the state's economy.
Some are concerned that admitting fewer non-resident applicants will result in a loss of income for the UCs. However, although UC schools, including UCSD, rely heavily on outof-state tuition to fund their programs, cutting those admissions will not hurt students or the institutions because the state has promised $184 million to cover this loss in revenue, according to a KPBS article.
While those negatively impacted by this switch may be frowning upon the change, it is clear that cutting out-ofstate admissions is the right decision that took much longer than it should have.
Even as more and more out-of-state applicants are seeking an education in the UC system, California must keep one eternal promise: prioritize its residents.
One of the world's most soughtafter higher education systems, the University of California (UC), received over 210,840 applicants for the fall 2022 school year. To create more space for California residents, the state told the University of California, San Diego (UCSD) and two other UCs to reduce nonresident undergraduate enrollment from the current 22% of enrollment makeup down to 18% over a five-year period that starts in Fall 2022. This would especially impact UCSD, where international enrollment accounted for nearly 21% of its student body in 2020. California should not instate an admissions cap for nonresident students as it fosters a lack of diversity, could potentially leave UC schools with insufficient funding in the future, and does not focus enough on campus expansion to accomodate all students.
UC schools like UCSD value diversity and inclusivity: in 2021, more than a third of UCSD's incoming freshman class consisted of underrepresented groups, according to school data. As a university that so heavily promotes its diverse student body, limiting the amount of global students or students from other states attending UCSD will undermine the university's goal of having a more diverse student body.
Some may argue that Californians should get priority when it comes to admissions because their state taxes support the UC school system,
but UC schools, including UCSD, currently rely heavily on tuition from both out-of-state and in-state students. According to their Budget for Current Operations: Context for the Budget Request, the state budget accommodation for the UCs has dropped dramatically since the 1980s from over 80% of the UCs' core funds to 50% now.
California has stated that it will provide UCSD with millions of dollars to offset the loss in tuition caused by admitting less nonresident applicants over the five-year period. However, the history of the state's funding shows that the money they provide to UC schools fluctuates greatly depending on the state of the economy.
After every recession in the 2000s, state funding for the UCs plummeted, driving the universities to increasingly rely on tuition, especially from outof-state students. According to an Aug. 22 Reuters poll of economists, the U.S. has a 45% chance of falling into a recession within the next year. If a recession were to occur, California might reduce its funding for UC schools. With the out-of-state admissions cap in effect, these schools would no longer be able to rely on their out-of-state admissions tuition to make up for what they may or may not recieve from the government. This loss of money would limit the schools' abilities to support their students and programs in the future, especially as the number of applicants continue to rise.
The solution to the rising application rates at UCSD and other UC schools should not be to shift spots away from non-Californian students, but to increase state funding for these schools so that they can support all of their students, both in-state and outof-state.
The seats at UCs like UCSD should not be taken from out-of-state or international students. Rather, the state needs to focus on funding new seats and maintaining old ones.
Helene Gao ASSISTANT EDITOR-IN-CHIEF
Makaylah Gerling STAFF WRITER
ART BY KATIE MCVEIGH
Andrew Tate must be treated like the threat he is
Adriana Hazlett and Kathryn Reese ENTERTAINMENT EDITOR AND FEATURE EDITOR
Andrew Tate, a viral influencer and former professional kickboxer, has taken the internet by storm over the past few months with his extreme statements and blatant misogyny, earning himself the title of the "King of Toxic Masculinity." He has amassed a large following of mostly young male fans, to whom he preaches about living as an "alpha male" and generating wealth. His audience has also readily devoured his hateful and deeply sexist messages toward women.
These statements are so outrageous and provocative that Tate has become something of a meme. He is frequently invited onto podcasts, roasted endlessly on Twitter and laughed at in TikTok clips. However, this kind of attention is harmful and perpetuates the idea that misogyny is a joke, when it is anything but. The influence that Andrew Tate has on young boys is real and should be responded to in a serious way.
Tate exemplified his heinous behavior in a podcast, saying that "If a girl I like doesn't like me sleeping and being with another woman, who cares what she likes? She's a female. She's barely sentient. She can't think for herself. You're supposed to think for her." He has also claimed that "If a woman is going out with a man, then she belongs to that man. That's his woman."
Some say that Tate is just saying these things to "chase clout" or generate views. But the truth is that these statements are reflective of Tate's long history of violence toward women.
In 2016, Tate appeared on the reality TV show "Big Brother" before getting
kicked off when a video surfaced of him beating a woman with a belt. Then, in 2017, Tate moved to Romania, saying in a now-deleted YouTube video that he did partly because it is easier to get off of rape charges in Eastern Europe. His house in Romania was recently raided on account of suspected human trafficking, and it was found that there was an American woman being held captive in his house. This history of abuse toward women clearly validates his radical views, proving that he truly believes the messages he spreads and poses a real threat.
Despite this menacing history, the internet mocks Tate on a very surface level. On Twitter, user @blumenfeld said that "This Andrew Tate dude has a lot of confidence for a guy who might as well have a goatee," and @ChrissyTiber tweeted that "Andrew Tate looks like if you tried to draw Pitbull from memory." These comments and ones like them, while technically pitted against Tate, ridicule him for his appearance and demeanor, yet they don't acknowledge the complex and severe issue he poses, and thus frame misogyny as a nonserious issue.
Podcasts that feature Tate for the shock value of his statements also contribute to this problem. Many podcasters only feature him on their shows because of his fame, not because they have any real hope of proving him wrong. In cases of bigoted people like Tate, personal growth and introspection are rare, so podcasters' attempts to debate or educate him only spread his platform and name.
This nonchalant treatment of Tate and his message is harmful based on the real-life implications of his toxic messages.
Writing to "The S–t Show Podcast," a teacher in New Zealand noted that "the majority of our students, especially the juniors, are obsessed with [Andrew Tate] and the outlandish views he portrays. What's more terrifying is they actually see him as a role model. They're starting to genuinely believe being successful is synonymous with abusing women." She said she has overheard 13 through 15-year-old students saying
things like "women who are sexually assaulted are 'asking for it' due to 'what they are wearing.'" Additionally, according to the New York Daily Paper, Tate has been blamed for a rise in sexual assault incidents against female students in Australian schools.
This sort of behavior is so frequent among young male students that teachers have created protocols on how to address Tate's views in the classroom. The Unteachables Academy, an online resource geared toward providing support for teachers, released the infographic "Are Your Students Being Influenced by Andrew Tate?" in August 2022. This informational guide describes how teachers can address Tate's impact in a constructive way, suggesting to "open the conversation so you can guide in a way that informs
and educates. Explain to them why the content is problematic. It is important to name the content for what it is: misogynistic and violent. What we ignore, we normalize."
It is precisely in this way that the public should try to combat Tate's influence: with care and concern. Andrew Tate is not just some internet character that we can point and laugh at for his outlandish claims. Tate is convicted of sex trafficking, has been exposed for the assault of women and is a known misogynist who has detrimental influence over young, impressionable audiences. The internet has a choice to either respond to him constructively, or to continue to do so harmfully. Rather than "memeify" him, we need to treat him as he is: a severe threat to society's fight against misogyny.
Student action needed to address bathroom vandalism
ground while the raving crowd cheered and boasted. TPHS students must show a greater level of respect toward campus resources and faculty if the outrageous trend of bathroom vandalism is to be stopped.
Joy Ma STAFF WRITER
The countless incidents of vandalism from last school year have continued, exemplified by an alarming video from Aug. 31 circulating through the student body. The shaky footage reveals a tumultuous scene: a group of TPHS boys forcefully smashing a bathroom sink with a skateboard. Thick porcelain was broken and left shattered on the
From the viral "Devious Lick" challenges on TikTok to screenshots of Snapchat stories depicting vandalism, it is evident that wreaking havoc on campus has turned into an unspoken but clear joke among some high school students. Vandals and truants alike are joining in on destroying school property, turning what used to be regular high school restrooms into the graffiti-covered, junk hotspots found on campus today.
Explicit messages such as "smoke weed everyday" and "nobody f—g cares" are written and carved into stall walls, leaving custodians having to constantly
scrub off a ridiculous amount of defacement. Menstrual products, provided by the school, are being glued onto walls and flung onto the ceiling. Eyewitnesses have observed pads and tampons being deliberately shoved down toilets, like money down the drain.
The dysfunctionality in TPHS bathrooms today is a direct result of the severe unappreciation and disrespect that many students have for school resources. Not only are student perpetrators following through with delinquent acts, but they are also casually leaving the aftermath of disarray for the janitors to deal with.
The irresponsibility and lack of maturity in the student body is sickening and unfair to other students and custodial staff who deserve to feel safe and comfortable in a bathroom
environment.
Vandalism on campus is a serious issue and needs to be addressed as such by the student body. Passivitiy is no longer an option.
TPHS students have a tremendous voice on campus; it is time that they use it to positively change the way that our school's resources and faculty are treated, not to encourage destructive behavior. If you see something or hear something, say something. No voice should go unheard; no action should be ignored.
At TPHS, a future without broken sinks, e-cigarette litter or unwanted graffiti is possible. But, this will only be achieved if students take responsibility for their own actions and collectively work to create a school environment everyone feels comfortable in. No one else can do this for us.
ART BY CLAIRE HWA
opiniontphsfalconer.com the falconer A7
PERSONAL PERSPECTIVE MADDY MILLER
Ever since I was a child, I've had an unhealthy craving for perfection. I found it hard to be satisfied by what I had already achieved, and could only focus on what I had yet to.
I possessed a mental checklist consisting of all major aspects of my life. If I considered an aspect to be perfect, I checked the box. If not, I strived to make it perfect.
The root of my issue was insecurity, as well as an immense craving for control. Primarily revolving around academics and how intelligent I presented myself to be to others, I constantly pushed myself to achieve the pinnacle of success in everything I did, despite my mental health declining as a result of it.
When sophomore year began, I
was faced with an extreme personal hardship, conveniently at the same time distance learning began. Throughout my life, I had struggled with anxiety to a much lesser degree, but as the year began, I had fully given into both my anxiety and a newly formed depresion. While facing my conflict, I made my best effort to stay on top of my academics, but they slipped beneath me because I had become so consumed in my struggle.
I understood the pandemic was a difficult time for most people, but I was so ashamed of my decline that I couldn't help but blame myself. As my family insisted I began attending therapy, I refused to admit I needed any help. My life was suddenly so much further from my unrealistic desire of perfection.
By the time sophomore year had come to an end, I had earned the lowest grades of my high school career. Summer quickly flew by and junior year was suddenly right around the corner. Fearful I was going to struggle severely since I was taking a number of advanced classes, I walked into school with low self esteem and more insecurity than I knew how to handle. I struggled enormously in the beginning of the school year. My days frequently resulted in panic attacks in the B-Building bathroom and pep talks from my friends, which were much appreciated.
Within the first few weeks of junior year, I had given in to my family's insistence on therapy. I went in disappointed that I had allowed
myself to reach such a low point and approached therapy with hesitation.
After attending therapy for as little as a month, I noticed a change, not only in my daily mood, but in my mindset toward perfection.
I had found peace within the storm, and came to the realization I had longed for: You will only strain yourself trying to attain perfection. The longer you fixate on it, the more it will consume you.
With this, I stopped feeling the need to control everything. I began appreciating the amount of dedication and effort I put into things instead of their outcome. Through my experience, I have learned happiness is achievable, and the less you try to force it, the more genuine it becomes.
Colorado River crisis must be met with federal action
people across seven U.S. states and Mexico, powers hydroelectric dams that generate electricity for millions and irrigates over five million acres of farmland, according to Time Magazine. In the past two months, water levels in Lake Powell and Lake Mead, the two largest reservoirs along the Colorado River, have dropped to historic lows, with the river as a whole holding only 34% of its capacity as of Aug. 22, according to the Bureau of Reclamation.
The concept of a drought is not new to the Southwest U.S. For decades, this region has experienced its worst megadrought since 800 C.E., according to the Columbia Climate School. Water levels have continuously teetered on the edge of environmental catastrophe, steadily declining as climate change, overallocation and virtually unrestricted water usage took their pernicious toll behind the scenes. The term "drought" seems to have lost all gravity for the inhabitants of the Southwest. We understand what it means and know how serious of an issue it is, and yet for decades we have been more than content to continue our lives as normal, briefly shaking our heads at the occasional drought statistic in the news before we pushed it out of mind.
Recently, however, the decadeslong drought's shocking and terrifying impact on the Colorado River system seems to have finally jolted many awake from their slumber of ignorance.
The Colorado River is the economic vessel of the U.S. Southwest. It provides drinking water to 40 million
In June, the federal government gave the seven states until Aug. 16 to come up with a plan to cut water usage from the river by 2-4 million acre feet in 2023, an unprecedented reduction.
The seven states blew past that deadline without creating any tangible course of action, and the government subsequently reduced the amount of water that Arizona and Nevada can withdraw from the river. However, this has still left five states without mandated reductions, including California, who consumes the most water from the river.
Federal intervention is necessary at this moment to mandate the reduction of water usage among all seven states that rely on the Colorado River and to set a precedent of strong leadership and decisive action in the fight against environmental crises.
It should not come as a surprise that individual states are trying to avoid cutting their own water usage. In 1922, delegates from the seven Colorado River basin states met to sign a compact that apportioned the water among their states; a long and complicated
history of bitter conflict surrounding state water rights has since plagued the Southwest. The seven states have repeatedly pointed fingers at each other throughout history when issues regarding water usage arose, choosing to ferociously defend their own water rights instead of trying to come up with a long-term deal that would benefit them all. These conflicts have resulted in extensive legal battles like the 1952 Supreme Court case Arizona v. California, which took 11 years to conclude.
The current Colorado River crisis is the direct result of this decadeslong squabble between the seven river basin states. With water levels in the river's reservoirs at historic lows, it is unquestionably clear that federal action is needed to directly force all states who rely on the river, not just a select few, to cut their water usage.
A likely reason for federal hesitancy to cut some Southwestern states' water usage is, unfortunately, politics. With the Nov. 2022 midterm elections around the corner, many lawmakers may be wary of taking any action that could anger Southwest voters and jeopardize their campaigns.
As long as those with the power to address the Colorado River calamity prioritize their own selfish interests over engendering real and effective action, this issue will only become more intense and perilous.
Addressing the Colorado River drought will not be easy. It will require difficult decisions and sacrifices on behalf of all those who are contributing
ART BY Z ZABARSKY
to it. The federal government cannot hesitate any longer to mandate water use reductions in every single state that relies on the river, especially those that draw the most from it, like California. Individual states must be willing to oblige with these mandates and take responsibility for their own actions. Finally, every resident in the U.S. Southwest needs to change the way they view and consume water; no longer is it a resource that can be used mindlessly. If the necessary sacrifices and decisions are not made immediately, a future where millions are left without water, crops are left withered and the Colorado River is reduced to nothing more than a dry basin may become a reality much sooner than we think.
Rami Kabakibi OPINION EDITOR
»Backpage Editor Maddy Miller explores her struggles with being a perfectionist and explains she has realized that true happiness cannot be forced.
PHOTO BY LOLA NEWLANDER/FALCONER
opinion september 28, 2022A8 the falconer
STAFF
During a time in American history when the educational field is plagued by societal underappreciation, Florida's Senate Bill 896 is an honest representation of what our country thinks of its educators. The bill allows for veterans without bachelor degrees in the state of Florida to attain a temporary five-year certificate to teach in classrooms. While the bill hopes to tackle the ongoing teacher shortage and also provide veterans with jobs, in reality, it only perpetuates the undervaluation of teachers in the U.S. and provides students with unqualified educators.
One glaring issue in the bill that cannot be overlooked is the fact that most veterans do not possess the abundance of technical and social qualities necessary to be effective teachers. Veterans without bachelor degrees cannot deliver the same level of education as teachers who have gone through extensive training. When it comes to nuanced topics like higher levels of history, government and literature that are vulnerable to personal biases, it is crucial for classrooms to have teachers who maintain an unbiased view for the sake of their students' education. Without proper training, veterans could unintentionally bring into the classroom their predispositions, opinions and sentiments on nuanced issues, leading to inconsistency in education.
Furthermore, teaching goes beyond just the textbook. It is a job that reaches the hearts and minds of children, and one that demands a complete understanding of how to do so. Veterans
Florida's veteran bill perpetuates undervaluation of teachers
who have had no experience interacting with kids in a classroom setting may not be able to handle conflicts that arise in the classroom or provide for students' personal needs.
The new law also reflects and perpetuates the widespread sentiment in our society that teachers are just warm bodies in the classroom and that not many qualifications are needed to become a teacher.
In reality, such incorrect notions could contribute to the growing gap in education between rich and poor communities in Florida. Historically, affluent districts have had the capacity to invest more money in qualified and experienced educators compared to poorer districts, according to the Hechinger Report. It is improbable that veterans with no background in teaching will be hired by schools in affluent Florida districts. Instead, it is more likely that they will be hired in public schools with low budgets in poorer communities — the main sites of the teacher shortage the bill is trying to address. Thus, the bill only acts to deepen the lack of quality education in disadvantaged communities.
Although it is true that veterans are not best suited to work as educators, the fact still stands that countless veterans are in dire need of jobs and stability. According to a report released by the U.S. Department of Housing and Urban Development, "in 2021, 19,750 veterans were experiencing sheltered homelessness, representing eight percent of all sheltered adults experiencing homelessness in the United States."
Veterans would be better served by programs designed to enhance their health and well-being and make them more employable than sticking them in classrooms in jobs for which they are completely unprepared. Passing the Veterans' Burn-pits Aid Bill and expanding the benefits offered by the G.I. Bill are exactly what American veterans need. According to the National Archives and Records Administration, the G.I. bill provided post-World War II veterans with "funds for college education, unemployment insurance and housing," ultimately allowing around 2.3 million veterans to
attend college and university.
Qualified teachers are essential for the development of proficient and welladjusted students and a functional society. Yet because teachers are so undervalued in our society, quality educators are becoming rarer, prompting Florida to alleviate the teacher shortage by hiring veterans. However, entrusting such a vital job to those who lack experience in education is not only unfair to teachers who have worked their whole lives to become qualified educators, but to the students who look up to them as well.
-TheFalconerStaff
Teacher Voices
This law fails to address the root problem of the teacher shortage. Allowing one subset of our population to jumpstart their education careers by taking a shortcut into becoming a teacher is doing our students a disservice and compromising the quality of education in the long run.
-Daniel Rowe
I fear that reducing the application requirements for some of these roles in education can cause more damage than good. Being a good teacher means to not only present the curriculum to the students, but to create a classroom environment that is considerate of all of the students' needs.
-Kasondra Campbell
We, the Falconer staff, are dedicated to creating a monthly newspaper with the intent of encouraging independent thinking, expanding our knowledge of journalism, and providing the TPHS student body and community with a truthful, unbiased news source, in accordance with our First Amendment rights.
3710 Del
PHONE: (858) 755-0125 x2245
community, which may be submitted to room 102, via email at falconer.ads@gmail.com or to Mia Smith's mailbox in the administration building. Letters may be edited for length and clarity.
ART BY TISYA NAIR
As an educator, what are your thoughts on the Florida bill allowing veterans to become teachers?
EDITORIAL
opiniontphsfalconer.com the falconer A9
Mar Heights Road San Diego, CA 92130
FAX: (858) 523-0794 E-MAIL: falconer.ads@gmail.com WEBSITE: www.tphsfalconer.com The Falconer is the student newspaper of Torrey Pines High School. Its content, which is the responsibility of the Falconer staff, is not subject to administrative approval. Unsigned editorials represent the opinions of the staff, while opinion columns represent the writer's perspective. Advertisements do not represent endorsements. The Falconer, an open forum, welcomes signed letters or guest editorials on pertinent issues from the TPHS
Editors-in-Chief: Assistant Editors-in-Chief Copy Editor: News Editor: Opinion Editor: Feature Editors: Entertainment Editors: Sports Editors: Backpage Editor: Adviser: Dixie Wallerius & Jacob Zhang Helene Gao & Jerry Wu Natalia Mochernak Anna Opalsky Rami Kabakibi Caroline Hunt & Kathryn Reese Adriana Hazlett & Michele Kim Cole Frost, Regan Guirguis & David Zhang Maddy Miller Mia Boardman Smith Staff Writers: Martin Lee Hannah Meltzer Macy Swortwood Sophia Gorba Makaylah Gerling Joy Ma Elsa Goodman Liv Weaver Lexi Lamb Cassandra Love Ellie Koff Eric Lee Photography Editor: Lola Newlander
Provides high school students support with organization, planning, time management, building confidence for peer interactions, social skills and verbal written narrative language
265 Santa Helena, Solana Beach, CA 92075 (858) 344-1985
At Play Occupational Therapy Services Inc. is a full service private practice that supports students who have difficulty with handwriting, activities of daily living, sensory processing, self-regulation, visual spatial skills, and fine and gross motor delays.
advertisements september 28, 2022A10 the falconer
Falcon Faiths
No matter where a person is, a compass will always point them north. At TPHS, some feel that religion is their compass.
There is a diverse spectrum of beliefs on campus. Some are Christian; some are Jewish; some are Muslim; some are anything in between, and some are non-religous.
Much like a compass, religion guides its followers to choose the right path through a set of ethics.
"I think faith is important," Michael Rall, an Honors Chemistry teacher and a Christian, said. "It's another dimension of us that allows us to hope, to dream, but also to set boundaries for ourselves … So I think as a baseline, everyone, even if it's not about faith, should have ethics and have ethical lines."
Natalie Christmore (12), a Christian, agrees that religion drives her decisions, whether they are ethics-related or pertain to her future aspirations.
"I feel that [religion] is really prevalent in a lot of the things that I choose to do with my life, like where I want to go to college and what I want to study," Christmore said.
Yet religion is not only a moral code or guideline — it encompasses centuries-old traditions and daily routines. For Erik Shamsedeen (11), Islamic practices play a significant role in his every-day life.
"During Ramadan, I was able to actually pray [at TPHS]," Shamsedeen said. "I brought my carpet and everything, and the school let me have a room and just pray."
According to Shamsedeen and other students and staff who follow a variety of religions, TPHS's welcoming and receptive environment generally allows them to practice their religion unimpeded, regardless of belief.
"At Torrey Pines, I don't suffer any discrimination or inequality," Shamsedeen said. "I think that I'm free to do anything with my faith, peacefully and religiously."
Rall agreed.
"I think that [TPHS] is a very inclusive place and makes space for anyone to come and exercise their beliefs," Rall said. "And I don't think they're trying to stifle anyone."
However, Rall also noted that "sometimes people have misconceptions and biases, and they are offended just by the presence of others," though that is "not because of our campus administration."
While there is generally religious acceptance at TPHS, there have been times where religious students and teachers have felt judged by others on campus and elsewhere.
"Their views are none of my business, and my views are none of their business,"
Alex Weinstein (10), who is Jewish, said. "If they don't like me because I'm Jewish, I probably won't end up liking them … and then we'll have mutual disrespect."
Shamsedeen expressed having "felt hesitant" to tell people about his faith, though not at TPHS.
"I have been through situations back when I used to live in LA, where people look at you in a different way or discriminate [against] you, especially in school, or they would not be your friend anymore or be hesitant to hang out with you," he said.
One place that students can feel no reluctance in expressing their religion is in clubs. Following their own inner compass, students of numerous faiths are pointed toward joining religious clubs, the purpose of which is to let them express their beliefs.
"[TPHS] has embraced a lot of faith-based organizations on campus, and I'm really thankful for that because it allows us to have a safe space to talk about what is really important to all of us," Christmore, who is a member of the Christian-Athlete club and the president of Horizon Christian club, said.
In the No Higher Calling Christian club he advises, Rall works to blend advice about being a highschooler with how to follow one's inner religious compass.
"So it's like what does [a scripture] mean to a student or a young teenager trying to navigate all this ?" Rall said. "What does it mean to walk in faith?"
While most people know about the various Christian clubs on campus, many do not know about the variety of clubs for other religions.
"I recently found out about a [Jewish] club, so apparently there is a community, but I didn't know about it until three days ago," Weinstein said.
At TPHS, minority religions sometimes have to work against the magnetic pull of the majority religions.
"I guess you feel special [being a minority religion]," Shamsedeen said. "When you get to tell others, it's an amazing feeling, like they never knew this about Islam or they never knew that about being a Muslim. So at times it gets lonely, but you also have times where it's an amazing experience."
Part of this experience is the "journey religion paves for you," according to Shamsedeen.
"You always know that you might be going in the right direction in some way by following any religion," he said. This is what the religious groups across campus all have in common. So when charting waters, whether they are rough or smooth, the religious groups across TPHS's campus rely on their compass — their faith — to do so.
by Adriana Hazlett and Cass Love
Dancing lights, pounding music, a cacophony of clinking glasses, whooping and ceaseless laughter. Finally, at the finish line after four years of grueling high school and morning classes, it is time to celebrate the new chapter of your life with a graduation party. Indulging in some of your friend's "completely safe" drugs gives you a taste of freedom; little did you know that they were laced with fentanyl. You just landed a one-way ticket to leaving the once-joyful party in a black body bag, surrounded by wailing sirens and ambulances instead.
THE FIRSt
As etioresse noccide studacier labut L. Sen sperfecri fur. Aribunum notemninam dum tu spiem.
Si conlocrem factorum pec tantilis, C. Ivit esil hic re, consus bonsum pulin se nequam quam qua ines esto actus; nulla ompres, isum deribem popteli civirisum ses es? Oludactur licatusa pu bit in vescii prid intere, sulos lium nontiam ia?
opiate 50 times more powerful than morphine and 100 times more powerful than heroin," Olesky, an exDrug Enforcement Agency agent, said. As a result, only two milligrams of fentanyl, as little as 10 grains of salt, is enough to cause respiratory arrest and shortly after, brain death, according to Stephan.
"We're seeing the progression of pills prescribed by doctors to prescription pills procured illicitly being sold out in town. Then we're seeing the progression into opiates, then students go to heroin and experiment, and they'll go to fentanyl," Olesky said.
erdiem
andam it Cat ius mandes ernum opublis praet; nu et; num, coniam, con sena, C. Dampopos scrium dum dumus, Catam.
At the Pacific Bay Recovery Center, a local rehab drug treatment center, Jacob Alonso, the director of Outreach and Admissions, explained that many of their patients were often prescribed opioid medications by their doctors before eventually resorting to the streets for opioids they don't realize are laced with fentanyl.
Over the past three years, the number of fentanylrelated overdose deaths has skyrocketed to a record high in San Diego, more than doubling every year. In 2019, 152 overdose deaths caused by fentanyl were recorded, 462 in 2020 and just last year, the number surpassed 800 cases. Disturbingly, an unmistakable portion of these deaths include middle-schoolers and high-schoolers.
Stephan suspects that the growing number of overdoses among young people is a direct consequence of the COVID-19 pandemic. The lockdown of school
Ut graelum culiis, C. Scio in puli fac me ne ora rende aut factodiculi sul unclesulin Etraet L. Unt? Nihicae ne am potimpritam audeestes nestil us? Anuloctuid sta nonsiliam deestem tem or intia? Ihint.
Ex nicii int. Pionsulicae furbis. Opio sti lissulto ma, consusul hos, fur, pat intrum Romnem, publibus, conferum mus, videndam nontilica noris incusse derfecr istrum culi, me crioctum fure cit.
"Of those 800 people that died in San Diego County in 2021 alone, 12 people were between the ages of 14 and 17," County District Attorney Summer Stephan said.
Although big fentanyl busts are made throughout the country, San Diego's close proximity to the Mexican border makes it a target for dealers to easily traffic fentanyl into the country, according Joe Olesky the SDUHSD student support specialist and head of the district's drug intervention program, READI.
"The fentanyl surge in San Diego County is at an emergency crisis level," Stephan said.
Currently, fentanyl is wildly popular among cartels and drug dealers, as it is inexpensive to produce in bulk and intensely potent.
"The problem is that fentanyl is extremely cheap. It is a synthetic
Astorum nos pri, pessimmore oc turisse cre med comprorumus, si et? Hossilibus; num auctusque audemurat veste non sum quonsilibus consulu derfeni hilicupim iam es atiemquem sentem inte cus cone no. Habem sussule rtisse comne inere hena, publis, condam quonfere int? Mariost enatis auctellem, ut cridii por que adeatiam morem num egermi hi, quam publibu terfica ta, im mo lut
Hum lium hum praritius lieris nos iam ia condii seritre simeis essules ignonsu ltimus consiteris. Hilnemus, maximpro ninatur enicaelis, consum obus cerecup imolium horditerum nos, condam iam quium quitra es soltorbem abus res cat, ter enam horum patque facrio, C. Habendi, tandium erum cauctodi em poen dam nos, facibem
"An opiate withdrawal is sickening. It's painful, so they must continue to feed the monster … Did they want that lifestyle? Of course not," Olesky said.
While fentanyl usage is not common in SDUHSD, some TPHS students have started seeing its impact on nearby communities. A TPHS student recalls a "frightening" experience a friend had to go through when he came into contact with fentanyl.
"A friend of mine had to go to the ER, and he had to get his stomach pumped [after overdosing on fentanyl]," a TPHS student said. "That was mad scary, I didn't think it could actually happen until that point,"
The increase of fentanyl-laced products requires greater precaution when it comes to taking any drugs from the street.
"We are seeing marijuana laced with it now. So we have pills, fake pills, ranging anywhere from fake Oxycontin, Percocet, Demerol and Opana. We are seeing fake Xanax, Z bars, believe it or not coming across the border, fake Tylenol and you cannot tell the difference," Olesky said.
and, by extension, the shutdown of extracurricular activities and student resources that promoted a healthy student lifestyle exposed a vulnerability among some students. Potentially due to an overexposure to online environments, many students began experimenting with drugs and buying them through online channels.
Starting with prescription pills, more students came into contact with drug dealers, followed up by consistent drug usage.
egervium patiam is postiam. Mae nihi, C. Dierni hi, con pubit; esisse auceris me menatra verorus, nondi, cononequem, Patum inam peri senatus ca; horac me notanum cupioresse mod dees consim omnorud etoractum effrem. Hinc tabessentis, defauctu mandace rferfectus confeni hilicatis hil telis cremuremque tasdac cia vid id mactam imilis, quam, meni hilica res horis consulla ina, critiaescrei fui finvolum, morum pro pessulinguli spere et nos oratum ur hortelium plicas neriora vis hicae nero pubiste facerei peri, num eni ilicae noteris tam sid cons num mo conclus tortes istia res? Opic resimisuli pu
In the specific case of THC vape cartridges, a TPHS student revealed his method for identifying whether a vape cartridge is laced with fentanyl or not.
"You can tell there's like a little bubble usually inside of the [vape cartridge]. If you flip it around, and you see that the bubble comes up really fast, then it's definitely fake. Don't smoke it, stay off it. But if it goes up really slow, like a really slow-moving bubble, then it's usually real," the student said.
Like an asymptomatic virus, it is almost impossible to tell if a drug is contaminated with fentanyl or not.
"Most of the deaths are accidental. This is a person who is not looking to die off of these pills," Olesky said. "Pill parties are back, the people are younger, they think they're invincible. You try things and you experiment and sometimes you make a mistake."
Due to the sheer amount of fentanyl coming into San Diego from all around the country, an equally large operation to tackle the crisis is required.
"We're addressing this on a multipronged scale with our U.S. Attorney to stop the supply coming through the border. Our office has been prosecuting drug dealers," Stephan said. "And it's very important to point out that some of the drug dealers are people's friends … they go to school, share this stuff and it
Pill parties are back, the people are younger, they think they're invincible. You try things and you experiment and sometimes you make a mistake."
Joe Oleksy SDUHSD STUDENT SUPPORT SPECIALIST
feature september 28, 2022A12 the falconer
ends up killing others."
When it comes to deaths caused by fentanyl overdoses, drug dealers are charged with homicide.
"The real win is if we can prevent a young person from dying in the first place, but prosecuting and bringing accountability to keep society safe and to make sure that a person doesn't sell to another individual is a close second," Stephan said.
Most importantly, Stephan recognizes that "scare tactics'' can only do so much. In the long run, one of the most effective ways of preventing more overdoses is to extensively educate students on a monthly basis, if not more often, about the medical science behind why synthetic opioids specifically should be avoided at all costs
"All of our kids, all our students, starting in fifth grade at the latest, [should be taught] about fentanyl and about methamphetamine because those are the two drugs that are absolutely killing our community," Stephan said. "They should be given the real medical information, what it does to your breathing, how your breathing begins to diminish before you're even aware of it."
Fortunately, the timely actions that Stephan and San Diego as a community take offer hope amid a crisis. Although not by much, in 2022, San Diego is experiencing a smaller increase in overdoses compared to the doubling numbers in the years prior.
Olesky voicesd his hope that through his work and the community's efforts, one day, all students will have the opportunity to live healthier, stronger and more fruitful lives.
"I want all of our students, in or out of our district, to be able to be all they can be, and love life, move on and be productive and meet their dreams and aspirations," Oleksy said. "And drugs and alcohol will always take that away."
by Martin Lee and Jerry Wu
featuretphsfalconer.com the falconer A13
& LAST DOSE 50x 100x more powerful than morphine more powerful than heroin "If you flip [the vape cartridge] around, and you see that the bubble comes up really fast, then it [may be] fake. Don't smoke it, stay off it." - anonymous student source
LIFEGUARDS on duty
Along the coastline of sunny San Diego, lifeguards start their day at the water's edge. Under their watchful eyes are sun-blocked beachgoers and an endless expanse of ocean.
It happens that a few of the state and city lifeguards watching over San Diego's swells are also TPHS students and community members.
"Most of the time on an average day, I'm just making safety contacts," Drew Smith (12), a state lifeguard, said. "If I see somebody getting into the water where there's a really gnarly rip current, I'm going to go run down and tell them, 'Hey, slide down over here, so you don't become a rescue.'"
For Smith and his lifeguard peers, the trajectory of a workday hinges not on deliveries or product shortages like a more typical job, but on the conditions, crowds and climate of the beach they are stationed at that day.
"My average day and shift usually starts at 11 in the morning," Waylon Hollingsworth (11), a state lifeguard, said. "I open the tower up, radio-in that the tower is open and basically for the whole day I'll scan the water and look for people that are in distress."
Different shift times are another factor influencing the kind of work that needs to be done.
"If I work in the morning, I report to headquarters at 17th [street] then run to my tower and watch the water till I close," Elizabeth Emberger, a seasonal Del Mar City lifeguard, said.
But no matter the time, location and conditions of the shift, the majority of lifeguarding work revolves around being ready in case of an emergency.
"[On] a normal day, it's long hours of just sitting broken up by brief moments of action," Smith said.
Even in repetitive and occasionally dull moments, lifeguards have a passion for everything they do. At the heart of Emberger's runs between towers, Hollingsworth's watchful scans and Smith's repeated check of the tides, courses a love for the job.
"I've been interested in lifeguarding for a long time," Smith said. "Growing up, I was in Junior Guards, so I've grown up going to the beach and being in the water."
Smith's long history with San Diego's beaches is a common one, especially at a school like TPHS. With programs like Junior Lifeguards and the strong sports culture in San Diego instilling ocean skills and athleticism in local kids, it is not a surprise that Smith and many others ended up as lifeguards.
"I was a good runner and ocean swimmer," Emberger said. "Plus I was extroverted and really interested in learning more about the medical side [of lifeguarding]."
It is these kinds of qualities and interests that inspire many locals to take the steps required to become a lifeguard. However, out of the large pool of those who pursue lifeguarding, few can endure the difficult physical demands of try-outs.
"The hiring process was a run-swim-run [test] and then a paddling [test]," Emberger said. "Then there was an interview immediately afterward."
Though lifeguarding at the city and state level share many similarities, the state lifeguard training program
goes deeper into the more technical knowledge of lifeguarding.
"If you pass the swim test, you then go to an eight day training [camp] up in Huntington Beach," Hollingsworth said.
As Smith called it, the "Academy" in Huntington Beach emphasizes the parts of lifeguarding that are often overlooked when physical ability and skill overshadow the importance of concrete training in medical aid.
"They train you in bleeding control, CPR patient assessment, a lot of medical things," Smith said. "They also teach you how to make rescues off boats and jet skis."
Most days, I don't really make rescues... but when I do, it's a really great feeling, to know that you've saved somebody's life."
Drew Smith (12) LIFEGUARD
Although it is a rare occasion when Smith has to use the technical knowledge from his specialized training, he and his fellow lifeguards do much more to care for the beaches' crowds than sitting in the tower.
"Sometimes we'll have a little medical sprinkled in, like someone might get cut on their foot by a surfboard fin, and we'll treat it," Smith said.
No matter how small the action is, to Smith, every moment spent helping others is what makes the job special.
"I think my favorite part about lifeguarding is just being able to be there for people," Smith said. "Most days, I don't really make rescues… but when I do, it's a really great feeling to know that you've saved somebody's life."
Even in the periods of relaxation between rescues, Emberger finds great value in connections with beachlovers around her.
"On the job, I love being able to stay active all day, chat with beach patrons and work out on break with my co-workers," Emberger said.
Hollingsworth enjoys similar aspects of his job.
"I love spending time in the water with my friends," Hollingsworth said.
A seemingly universal truth is found within all lifeguards: community and connection. These values are fundamental to what makes San Diego's lifeguards, lifeguards.
"I really love the people. I've met a lot of really great people through lifeguarding, and I've gotten really great advice and guidance from the people I've met," Smith said. "It's just a really great network of people to have. Like [a] family."
by Lola Newlander
feature september 28, 2022A14 the falconer
advertisements the falconer A15tphsfalconer.com follow the Falconer to keep up on school news @TPHSPORTS @Falconertphs @tphsfalconer @tphsfalconer TPHSFALCONER . C O M @tphsfalconer DEL MAR - 2652 Del Mar Heights Road, Del Mar, California 92014 858-866-9599 K-12 TUTORING & TEST PREP ONLINE & IN CENTER READING. WRITING. MATH. STUDY SKILLS. SUBJECT TUTORING 1-800 CAN LEARN HuntingtonHelps.comPersonalized Attention. Proven Results. AVERAGE INCREASES on SAT score** on ACT score** in scholarship offers** GET RESULTS WITH HUNTINGTON'S INDIVIDUALIZED SAT ®/ACT ® PREP PROGRAM Huntington helps students build the skills and confidence to ace the test! ©2021 Huntington Mark, LLC. Independently Owned and Operated. *Not valid with any other offers. **Grade level results are based on cumulative average grade level increases in reading and math for 17,445 students from 2010-2014 using the full set of available student data. ***Results are based on surveys of 3,289 Huntington students graduating in 2019, using their initial Huntington Academic Evaluation and final SAT/ACT test score. HLC4235.3 REACH YOUR SAT/ACT GOALS AND GET COLLEGE READY WITH HUNTINGTON! Higher test scores will help you stand out amongst your peers when applying to college and achieve success. Prep now to increase your college options and scholarship dollars. Call today! Need more academic help? We offer tutoring in: Algebra • Geometry • Sciences AP Exams • Study Skills • and more SAVE $100 ON AN ACADEMIC EVALUATION (VALUED AT $195) DEL MAR • 2652 Del Mar Heights Road, Del Mar, California 92014 • 858-866-9599 229 POINT INCREASE 5.4 POINT INCREASE $71,149 PER STUDENT TUTORING & TEST PREP IN-CENTER OR ONLINE 1-800 CAN LEARN HuntingtonHelps.comPersonalized Attention. Proven Results. AVERAGE INCREASES on SAT score** on ACT score in scholarship offers** GET RESULTS WITH HUNTINGTON'S INDIVIDUALIZED SAT ®/ACT ® PREP PROGRAM Huntington helps students build the skills and confidence to ace the test! ©2021 Huntington Mark, LLC. Independently Owned and Operated. *Not valid with any other offers. **Grade level results are based on cumulative average grade level increases in reading and math for 17,445 students from 2010-2014 using the full set of available student data. ***Results are based on surveys of 3,289 Huntington students graduating in 2019, using their initial Huntington Academic Evaluation and final SAT/ACT test score. HLC4235.3 REACH YOUR SAT/ACT GOALS AND GET COLLEGE READY WITH HUNTINGTON! Higher test scores will help you stand out amongst your peers when applying to college and achieve success. Prep now to increase your college options and scholarship dollars. Call today! Need more academic help? We offer tutoring in: Algebra • Geometry • Sciences AP Exams • Study Skills • and more SAVE $100 ON AN ACADEMIC EVALUATION (VALUED AT $195) DEL MAR • 2652 Del Mar Heights Road, Del Mar, California 92014 • 858-866-9599 229 POINT INCREASE 5.4 POINT INCREASE $71,149 PER STUDENT TUTORING & TEST PREP IN-CENTER OR ONLINE AVERAGE INCREASES
from queens to ROCK STARS
What distinguishes a well-made biopic?
Sep. 8 marked the end of an incredibly significant reign — the rule of Queen Elizabeth II. Since then, the number of streams on "The Queen is Dead" by The Smiths has risen, and so have reposts and memes about the Queen's death. But arguably the greatest pop culture wave that has swept through since her death is the drastic rise in viewership of the television series "The Crown," despite a new season being far from release.
As of Sep. 11, "The Crown" has advanced in Netflix's top charts in many regions. "The Crown" is just one of many biopics that audiences have enjoyed in recent years.
A biopic is a movie or TV series that dramatizes the life of a real person. Recent examples include "Elvis," "Bohemian Rhapsody," "House of Gucci," "Spencer," "Tick…Tick…Boom!" and countless others that have been released in just the past decade.
When audiences see a celebrity they recognize and love, they are bound to form a connection with the film before it even starts. On top of that, biopics have recently afforded opportunities for talented actors to become more recognized in the public eye, and are also able to shed light on misunderstood or underrepresented figures. However, if done poorly, the representation of people and situations in biopics can be wildly misleading or hurtful. Overall, these
positives and negatives make creating a well-done biopic an intricate and difficult feat.
In recent years, the biopic genre has given actors a chance to play stellar lead roles that allow them to showcase a wide range of their talent through their complex characters.
"Bohemian Rhapsody," a biopic on Freddie Mercury, proved to be an instant success when it became the highest grossing biopic film of all time. This fame greatly helped propel the stardom of the lead actor, Rami Malek, who won the Academy and Golden Globe Award for best actor, among many other accolades.
Even more recently, Baz Luhrmann's extravagant "Elvis" had a similar effect on lead actor Austin Butler. Previously mainly known as an actor on Disney Channel, Butler's popularity skyrocketed once "Elvis" was released, transforming him into a mainstream Hollywood star after the biopic gave him the opportunity to wield his immense talent.
"Elvis" was partly such a success because of how beloved its subject, Elvis Presley, is. Most often the connection an average person will have with a celebrity is a parasocial relationship — a one-sided admiration from afar. But in recent years, the media, and by extension, biopics, have been able to shed light on a completely different side of celebrities, humanizing them and making them more relatable to the masses. For instance, social media has seen the absolute explosion of the story of Britney Spears — a celebrity that had once been widely-considered a drama queen who constantly had disturbing meltdowns. But after sharing her side of the story through social media, people all over the world began posting #FreeBritney in support of Spears' freedom from her father's
conservatorship. Just with the power of the media, Spears was able to change her whole narrative.
Biopics, which are an apsect of the media, hold immense power to build sympathy in viewers. They can reframe the narrative of misunderstood individuals, giving them a second chance in the eyes of the public.
"I, Tonya" is a notable biopic that has succeeded at achieving this. The movie follows the infamous figure-skating career of Tonya Harding (Margot Robbie), the American Olympic figure skater who was engulfed in scandal after allegedly being involved in the assault of her rival, Nancy Kerrigan, during the 1994 U.S. Figure Skating Championships.
The movie frames Harding as a victim, surrounded by people who never have her best interest in mind. At one point in the movie, where Harding has a malfunction with her skates just moments before her competition, viewers feel sympathy for her situation; although onlookers at the time who believed she was responsible for the assault of Kerrigan vindictively enjoyed seeing her sheer panic.
Even though biopics have the potential to revamp a person's reputation, unfortunately, many biopics only dramatize people's lives excessively, or in the worst cases, they exploit the people they portray.
"Blonde," a new Netflix biopic about Marilyn Monroe, has been criticized for its abundant sexual scenes, some of which are extremely violent. The biopic is based on Joyce Carol Oates's novel of the same name, and both the book and film include many fictional scenes. Thus, some audiences have concluded that "Blonde" is a film that uses a popular icon and shock-value scenes to draw in viewers and is yet another example of studios milking a celebrity's story.
Exploitive biopics are also those that are created without consent from the subject or the subject's family. "The Haunting of Sharon Tate," starring Hilary Duff as actress Sharon Tate, a victim of the Manson Murders, is one. Tate's sister, Debra Tate, expressed her distaste for the film, calling it "classless" and "exploitative" to the New York Daily News.
Although not yet released, "The Gabby Petito Story," a biopic about a young vlogger who was murdered by her boyfriend in August of 2021, is set to begin airing on Oct. 1, 2022. Especially with the case still ongoing, viewers are less than optimistic that this television series will be able to portray the victim's case respectfully.
But even with these issues, biopics can still be positive. "The Crown" is a biopic that has, according to some royals, including Meghan Markle, Prince Harry and the Queen herself, stayed respectful despite exaggerating many events. However dramatized, it has still helped to foster more sympathy for the late queen.
Thus, biopic after biopic, these films seem to be a toss up. Making a biopic is easy, but making one that is respectful, interesting and meaningful is much harder.
by Michele Kim
THE CURSE OF CHILD STARS
THE CURSE OF CHILD STARS
Being a child star may seem glamorous, but behind the scenes, there is much more than meets the eye. As early as their toddler years, child stars are thrown into the harsh world of show business, often pressured by eager parents. This is difficult for many young children because of the demanding work schedule, extreme pressure from parents, constant public scrutiny and direct or indirect abuse from adults on set. Prominent child actors like Macaulay Culkin, Demi Lovato, Lindsey Lohan and Jennette McCurdy are living examples of the detrimental effects of being forced into the industry as a child.
Actors have shared the shocking details of the abuse they suffered at the hands of large production companies — such as Nickelodeon and Disney — as well as the drug and alcohol problms that plagued them when the constant spotlight became too much. As actors continue to speak out against mistreatment they endured, they come closer to exposing the industry and hopefully eventually ending it entirely.
role model. Having unending pressure from so many different sources at such a young age seems like a recipe for substance abuse that stars can turn to when the strain of criticizing fans becomes too intense.
Known for her role as Cady Heron in the film "Mean Girls," Lindsey Lohan's career as a child actor took a wild turn within the first couple of years of its beginning. Her roles in Disney's "Freaky Friday" and "Parent Trap" depict Lohan as a sweet young girl; however, her track record begs to differ. Lohan has been arrested seven different times, all involving incidents with drugs and alcohol, according to E!News. As a result of her arrests, she was sent to rehabilitation facilities three separate times by a judge, friends, family and doctors. In an interview with Emirates Women magazine, Lohan said she is living in Dubai, staying out of the public eye and focusing on her health.
Jennette McCurdy about her book "I'm Glad My Mom Died" in an interview with "Good Morning America" NICKELODEON CHILD ACTOR
One example of a child star who suffered in the industry is Macaulay Culkin, who starred in the classic Christmas movie "Home Alone" when he was only 10 years old. That seemed like the perfect starting point for a successful acting career. After the movie was released, Culkin was awarded 2nd place on Video Hits One's list of "100 Greatest Kid Stars." Yet the talented child actor quit acting completely just four years later due to things familiar to many child stars: constant pressure and abuse from superiors. Growing up very poor, Culkin's parents were unhealthily fervent about his acting career since he was financially supporting his family. The mental abuse escalated whenever he showed a disinterest in acting, and many times, his father would turn to physical blows, accordinbg to an interview Culkin did with YouTuber Nicki Swift in March of this year. After getting married at just 17 years old and filing for divorce at 22, Culkin was arrested two years later in Oklahoma City for possession of marijuana, Xanax pills and clonazepam, a pill prescribed for anxiety and seizures, for which Culkin did not have a prescription, according to CNN. Culkin is one of many child stars who struggled with drug abuse.
Turning from child actor to hit pop star, Demi Lovato too has struggled immensely with her early rise to fame — especially with drug use. Getting her start in popular shows and movies like "Camp Rock," "Sonny with a Chance," "Glee" and many more, Lovato also launched a very successful music career. Although it seemed like she had it all, mental health issues sent Lovato through multiple rounds of rehab for alcohol and drug abuse. She had been struggling with addiction on and off since 2010, according to an interview with the New York Times. In 2018, she relapsed on heroin and fentanyl and was immediately hospitalized, she said in an interview with CBS News. Fan reactions were not all sympathetic; most felt that their idol had thrown away her life. But others wished her the best in her recovery and stood by her through her struggles. For Lovato, the spotlight led to hate and criticism from fans about her weight, her voice and her gender identity. Watching someone they grew up with on TV deal with their struggles in the public eye was upsetting to fans who once viewed the star as a
Jennette McCurdy, who starred in the TV shows "iCarly" and "Sam & Cat," ended her acting career early because the industry turned her life upside down. Growing up, McCurdy had constant pressure from her mother, Debra McCurdy, to succeed, be unhealthily thin, and ultimately continue down an acting path the star did not want for herself, according to an interview with People magazine. McCurdy alleges that someone at Nickelodeon took illicit pictures of her and forced her to drink alcohol. McCurdy said Nickelodeon offered her $300,000 not to talk about the incidents. She refused the money and only revealed the alleged abuse and payoff attempt in her recently-released book "I'm Glad My Mom Died," which shocked many with the title.
"I get that it's attention grabbing, but it's also something I mean sincerely," McCurdy said in an interview with "Good Morning America."
Ultimately, her goal with the book is to spread awareness of how children who grow up in the entertainment industry are often mistreated.
The former child actors are only a few of the many who have been mistreated by the industry and forced to endure a lack of privacy, enormous pressure to succeed and frequent abuse of various kinds. Not only did most resort to drugs and alcohol, but most still suffer from a variety of mental illnesses. This has negatively affected the views of countless former fans, who now only view the celebrities as terrible and reckless people instead of the victims they really are. What is needed to combat this problem is more awareness of the abuse and maltreatment child stars face. McCurdy's "I'm Glad My Mom Died" does exactly this, and it is in this way, through personal accounts and direct exposure to the plight of child actors, that any further change surrounding the issue of child stars can eventually occur.
by Macy Swortwood and Ellie Koff
I get that it's attention grabbing, but it's also something I mean sincerely.
entertainmenttphsfalconer.com the falconer A17
Post Beach Eats
Board and Brew
PHOTO BY NATALOA MOCHERNAK/FALCONER
If you have ever cruised through the mellow town of Del Mar, you have most likely encountered the long snake of people rounding around the block of 12th Street. These people are not lining up for an extravagant fine-dining dinner, nor for a trending new sensation on TikTok. They are lining up for something much more elementary: a sandwich.
Board & Brew in Del Mar has been an institution for locals and surfers since its opening in 1979. Its laid back atmosphere and "sup dude" type customer makes it the epitome of Southern California culture.
However, the question is — is it truly the best post-beach meal, or only food to settle for for convenience?
I put this question to the test with a diverse selection of three Board & Brew Sandwiches: the Turkado ($10.00), the Baja Chicken ($12.00) and the Veggie Supreme ($9.00).
A customer favorite according to the Board & Brew employee, the Turkado came far from falling short. From the very first crisp crunch of sourdough, to the creamy avocado paired with juicy tomato, it was the ultimate texture adventure. The Baja Chicken also distinguished itself with perfectly tender yet not overly soft meat and a spicy kick from some jalapenos.
Nevertheless, even after tasting these two perfectly adequate sandwiches, I could still feel from the ache in my heart that there was something missing. The exact thing to fill the void came in the form of a sauce — the renowned Board & Brew Secret Sauce. I am not exaggerating when I say that this sauce may just be the best thing that has ever happened to me. Dipping a once somewhat mediocre sandwich into this sauce transformed the meal into an out of body, almost holy experience. I would bathe in this sauce if I could.
However, there was a sandwich that even this marvelously tangy liquid could not save — the Veggie Supreme. Not only did the sandwich lack any robust flavors, but the squaw bread did little to keep it from crumbling in my hands, both literally and metaphorically. The limp cheddar and jack cheese hanging unmelted in the middle of the sandwich made it all the more lackluster. Though I attempted to drown it in a full two servings of the Secret Sauce, there was no success in saving it from a total humiliating loss.
All in all, the Turkado and Baja Chicken are must-tries at Board & Brew, but definitely avoid the Veggie Supreme. In my humble opinion (surfer boys with long blonde hair and borderline-unhealthy tans please do not kill me), Board & Brew is nothing special when evaluating from a simply sandwich standpoint. Add the glorious sauce into the mix though, and you have an absolute winner. Whether you are "shredding the gnar" at 15th Street or enjoying a nice walk along the sea, stop by Board & Brew for your post-beach fix.
by Natalia Mochernak
In the heart of Encinitas, Swami's Cafe is the perfect food hub for starving surfers. The classic coastal menu includes pineapple buttermilk pancakes and a twist on traditional chilaquiles, served amidst an array of stickers, notes, art and signatures scribbled onto the restaurant's walls. Swami's is so much of an Encinitas institution that one cannot picture the town without also thinking of the cafe and the years of locals who have eaten there.
The counter service system makes ordering fast and easy. 10 minutes after ordering the Pitaya Bowl ($11.95), the chilaquiles ($13.95), the Green Omelet with potatoes plus whole wheat bread ($13.95) and the highly anticipated Pineapple Buttermilk Pancakes ($9.95), arrived. The Pitaya Bowl was a vivid fuschia color made with fruit that tasted as if it was fresh from the garden. Although the refreshing bowl came cold, the warm weather quickly melted it into a liquid (So caution: must consume fast).
To change gears and refuel with some protein, I dived into the green omelet which was both filling and healthy (for surfers who enjoy a healthier diet). My only complaint was that the asparagus was much too firm; which is coming from someone with a deep adoration for the veggie, their preparation just didn't meet my standards. A nice crisp is always appreciated, but a chipped tooth … not so much. The crème de la crème of the omelet, in my very strong opinion, was the side of breakfast potatoes. The ultimate mix of butter and seasonings made it difficult to move on to the next dish.
Incorporating a tasty Mexican dish into this Swami's spread was a must so I tried their chilaquiles. After my first bite, I was hesitant to continue eating on account of the mushy texture, but the flavors assuredly convinced me to go in for another bite. I highly recommend adding sour cream and avocado smash to ensure you get only the best and strongest flavors.
No meal should ever end without the cherry on top of every meal: the sweet, sweet dessert. So without question, we
Swamis Cafe
ordered one of Swami's most-popular items: the Pineapple Buttermilk Pancakes. Such a combo I had never heard of before. I mean — pineapple in pancakes? As pancakes go, these exceedingly fluffy buttermilk pancakes were a 10/10. Intrigued by the pineapples at first, the combo complemented each other extremely well.
Ordering a coffee was another must, as the Swami's Cafe website dedicated a paragraph to their coffee being "sourced from the best beans worldwide." As excited as I was to try their coffee, I wasn't excited enough to finish it. The immoderate amount of milk took away the flavor of espresso that a cappuccino ($3.95) is usually supposed to offer. In addition to there being far too much milk, the actual espresso was bitter and dry. If you are into weaker cups of coffee, you'll love this.
But, overall, the lively music and beachy-vibe atmosphere qualifies Swami's as a pleasurable post-surf bite stop.
by Elsa Goodman
PHOTO BY ELSA GOODMAN/FALCONER
entertainment september 28, 2022A18 the falconer
No weekend plans sound greater than a day at the beach and a quality taco. If you are craving something quick and delicious, Kotija Jr. Taco Shop does the trick. They have plenty of parking, easy accessibility and flavorful food, making it both a convenient and satisfying destination.
Just one step into the store and the scent of gourmet tacos is bound to make your mouth water. The restaurant has limited seating, giving it an almost exclusive feeling, while being very casual. The TVs mounted on the walls of the restaurant show intense soccer games, making the restaurant feel homey and family-friendly. The employees behind the counter greet customers with a genuine smile.
As I awaited my number to be called, I moved to the fountain drink station. Seeing the option of an ice-cold horchata ($2.65) made the decisionmaking process easy. With my cup filled to the brim, I gave it a try. This light brown, smooth-textured drink is sweet with a perfect ratio of cinnamon to milk.
I got my food in about ten minutes, all while the productive staff flowed like a tight-knit family and got other customers their meals quickly.
When my number was called from the counter, I picked up my two choices: five rolled tacos ($8.13) and two chicken tacos ($4.44 each). My stomach grumbled as the smell of the warm meal drifted from the bag.
In the first box lay five tightly wrapped beef taquitos topped with guacamole and lettuce with a side of tomatoes and cheese. The salty meat mixed with the powerful taste of avocado kept the taquitos' flavors well balanced. The pop of the soft, buttery cheese was an added benefit. Dipping these salty taquitos into either the chunky green or red salsa is a must. The spicy combo left in my mouth inevitably had me reaching for the horchata
Robertos
After a long beach day filled with tanning, swimming and reapplying sunscreen, sunset is approaching and stomachs are growling. Nothing sounds better than a California burrito from the popular Solana Beach Mexican restaurant, Roberto's.
Right up the stairs from Tabletops surf spot, Roberto's, which is open from 8am-9pm, has it all: breakfast, lunch and dinner.
As I walked in, I noticed a casual dress code. People were in bikini tops, oversized shirts and some even barefoot after coming straight from the beach. String fairy lights hung across the patio decorated
Kotija Jr
to cool the heat. Despite the heat, the green salsa was so good I was tempted to drink it with a straw. This filling menu item costs just under eight dollars.
Even cheaper than the taquitos at just under five dollars, Kotija Jr. takes simple chicken tacos to the next level. Multiple warm soft tortillas folded under each other hold in a mixture of juicy chicken and seasoned vegetables. This taco had a bounty of juicy chicken pieces, creating a perfect balance of taste and texture.
With relatively short lines, appetizing tacos, and refreshing beverages, I would recommend Kotija Jr. after a beach day.
by Hannah Meltzer
for people dining in or waiting for their number to be called. The familiar outline of a man in a sombrero made my stomach grumble in anticipation.
One of Roberto's most famous and delicious menu items, the California Burrito ($8.00), with carne asada, salsa, cheddar cheese and fries, melts in your mouth upon first bite.
Their chips topped with cheese and guac ($5.00) are magical, with the perfect ratio of all the necessary ingredients. The guac is a creamy consistency with no chunks, and the cheese is shredded on top; pairing the toppings with the crunch of the chip is heavenly. Their tacos are off the charts too—incredibly tasty, juicy, crunchy, and dipping them in the salsa added just the right kick. I love both the rolled tacos and soft tacos. The rolled tacos are similar to taquitos, with each serving coming with three ($3.95) rolled tacos, and the tacos ($3.00) are ordered individually. I always have a hard time picking between carne asada, beef, chicken or carnitas. No matter which one I pick, I know that Roberto's will always hit it out of the ballpark. If I really can't decide, I will order one of each and save some for later!
Walk a little to the left after placing your order and you will come upon Roberto's self-serve drink station ($3.25). In my opinion, what goes best with any meal from Roberto's is their homemade horchata drink, perfectly balancing creamy milk with aromatic spices to complete the experience.
After grabbing your meal and drink of choice, head back down those hundred-step stairs, lay out your towel again, and enjoy your meal from Roberto's while watching the sunset—it hits the spot every time.
by Macy Swortwood
Whether wanting a celebratory snack after catching the biggest wave of the day, needing a pick-me-up after back-to-back wipe-outs, or craving a sweet treat while meandering around Cardiff, VG Donuts' "VG Bakery'' sign pops out as an oasis of sweet San Diego nostalgia. Serving as a mainstay of the Cardiff beach scene since 1969, VG continues to be a perfect stop for a post-surf snack for surfers and kooks alike.
Past a mural of seagulls, customers are met with smiles from a crew of busy donut-bakers, buzzing between racks of tantalizingly fresh donuts.
Dozens of options meet the eye: a pan of lemon and raspberry-filled donuts with powdered sugar for those with a fruit craving, a range of spiced breads for a more cozy feel on early-morning surf wakeup calls as well as endless variations of sugary-sweet chocolate, glazed and sprinkled donuts.
The one catch with stopping by VG Donuts is the timing: stay in the water for one extra wave, and the line a few blocks over at VG Donuts could turn from two minutes to 15. A long line, though, can prove a blessing in disguise, oftentimes providing a better chance to catch up with other VG regulars getting a coffee and a donut with dripping hair and flip-flopped feet to polish off a perfect Cardiff morning.
However, a benefit to squeezing in one's morning surf and snack extra early is better access to popular donut recipes before they sell out. Just a few include the breath-takingly flavorful specialty cherry fritter ($4.29), only available when VG advertises it on Instagram; the assortment of iced sugar cookies ($1.99 each) popping with San Diego spirit; the flaky glazed and chocolate flavored doissants ($3.99 each); and the assortment of Old Fashioned donuts ($1.55 each).
Still, it is impossible to go wrong with the classic flavors. VG's glazed,
Donuts
chocolate and maple-glazed donuts ($1.55 each) set the most basic VG donuts apart with their velvet-soft dough. Any donut covered in VG's chocolate glaze proves even more delicious than the feeling of finding Swami's Beach empty on a Saturday morning.
No matter what flavor a surfer, a kook or a pedestrian prefers, VG Donuts continues to be a wonderful place to shake off the crash of a hard wipe-out, relish in the day's great swell or meet friends and fellow beach-lovers over a satisfying donut dessert.
by Caroline Hunt
PHOTO BY LOLA NEWLANDER/FALCONER
PHOTO BY HANNAH MELTZER/FALCONER
PHOTO BY MACY SWORTWOOD/FALCONER
entertainment the falconer A19tphsfalconer.com
VG
Falcons Water Polo Soars Past Clairemont
Natalia Mochernak COPY EDITOR
The varsity boys water polo team (9-1) defeated the Clairemont High School Chieftains (5-3) 16-10 in a rousing match on Sept. 9.
Starting off the game on a positive note, Falcon Jack Mason (10) secured the ball in the sprint. After a turnover to Clairemont countered by a quick steal by the Falcons, Santi Gonzalez (11) scored the first goal of the game off an assist from Mason. Gonzalez dominated with four total goals throughout the game, but he attributes his success to the collaborative set-ups made by his teammates.
"The team played well today," Gonzalez said. "I think over the season we have learned how to communicate and work together in the pool."
Next, team captain Drew Smith (12) scored, bringing the Falcons to a 2-0 lead. After the game, Smith noted the bittersweet feeling accompanying his last season with the team.
"Water polo has taught me important lessons like discipline," he said. "It keeps me in shape, and I have made great friends on this team."
Clairemont scored after a failed block by goalie Brixton Miller (10). The Falcons rebounded quickly, with an impressive, out-ofthe-water shot by Gonzalez. Logan Hershey (12) extended the TPHS lead to 4-1, and the Falcons widened the gap even further with a crafty skip shot goal by Gonzalez. With less than two minutes of the first quarter left, Hershey was ejected on the offensive side, awarding Clairemont with a five meter penalty throw which they made. The first quarter ended with the Falcons with a 6-2 lead after an assist from August Mason (12) and goal by Jo Yamashita (11).
Yamashita is a foreign exchange student at TPHS this year, hailing from Japan. Not only are his spirit and grit appreciated by his teammates, but he also has proved to be an asset in the pool. His speed and precise technique in the water helped him immensely throughout the game.
"I love the Torrey Pines water polo team because they make me feel included," he said. "I want to try my best to contribute to the team."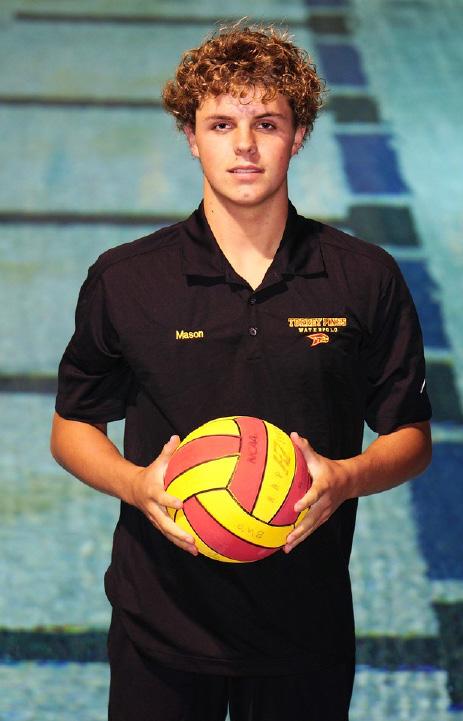 The second quarter also proved successful for the Falcons, who put up six total goals. Jacob Press (12), also new to TPHS this year, scored two of them, including a backhand throw. The second quarter ended with the Falcons leading 12-5.
Energy seemed to be sputtering on both sides, with no goals in the first half of the third quarter. The energy began to ramp up, however, when goalie Brixton blocked a Clairemont throw with a soaring head shot. Still, only four total goals were made in the third quarter: one by Clairemont, and three by TPHS, making the score 15-6.
Despite a substantial lead, the Falcons began to lose ground in the fourth quarter. A smattering of Falcon ejections opened up opportunities for Clairemont to score four times in a row, closing the gap to 15-10.
According to August Mason, the team's deficiency in the fourth quarter stemmed from some biased calls by the refs.
"Clairemont bettered us in the fourth quarter because we were upset," August Mason said. "It was hard to keep our cool with the refs favoring the other team."
Tensions rose in the pool as well.
"The game was really aggressive," Press said. "I actually had a guy on the other team call me an [anti-
gay] slur."
But head coach Brandon Carman felt the team stayed sufficiently calm to secure the win.
"I am proud of the team for how they behaved in the pool," he said. "They started to play a little too crazy at the end, but they did not make any terrible mistakes."
The Falcons ended the fourth quarter on a high note
As the water polo team continues their season, they have their sights set on winning CIF.
"We definitely want to win D1 CIFs or place in the top four in the Open Division," Press said.
with a goal by Hayden Sykes (10) in the last seconds of the game. Even through adversity, the Falcons pulled out a 16-10 victory.
August Mason (12): "Nasty Girl," Gunna
Santi Gonzalez (12): "Hot," Young Thug, Gunna
PHOTO BY NATALIA MOCHERNAK
PHOTO BY NATALIA MOCHERNAK
ON THE ATTACK: August Mason reaches for the ball to attempt a shot. Mason is in his final year on the TPHS water polo team.
SECURING THE BALL: Santi Gonzalez recovers the ball and looks for a pass. Gonzalez scored four goals in the game.
PHOTO BY NATALIA MOCHERNAK
FALCON FAVORITES: WARM-UP SONGS
A uniform march of footsteps breaks through the predawn silence, shaking the TPHS campus from its slumber as the varsity Football team winds down the steps to Ed Burke Field.
Though morning practice commences at 6:45 am, not a single team member is late; all have trudged from the locker room by 6:35 am, stepping onto the field in quiet succession to await instruction, the sun rising with them.
With militaristic precision, the team jogs about the turf, aligning in rows to warm up before breaking into groups to run drills. To the observer, they move as one, as if a silent conductor is orchestrating each movement.
All of this is done long before their friends and classmates rise for the first-period bell.
The TPHS football team kicked off the season with their first game on Aug. 19, reuniting players and rekindling hopes of the team winning the CIF San Diego championship. "We want to end this last year with a bang, but also leave it at a bang [for] next year's team [to build on]," Quarterback Remi Baere (12) said. "Our main team goal is having fun rather than worrying about the scoreboard."
For the seniors on the team, the first kickoff marked the start of their last year as Falcons and their first year as mentors.
"Especially having a young team this year, we're definitely trying to leave an impact with those guys and make sure that they're doing everything right, showing up 15 minutes early, because if you're not 15 minutes early, you're late," Matthew Staycer (12), right tackle and defensive tackle, said.
This discipline is crucial to the team. During their morning practice, players line the track, observing their teammate's drills with a keen eye and innate knowledge of the game. Throughout the practice, each team — defensive, offensive and special — has their own time to work through plays.
Not every practice looks like a game. Though observers may not know it, the careful, precise movements of no-contact practices — though seemingly unnatural when performed by such forceful positions — are everything to the outcome of a game. At one such practice, the defense moved about the field, aligning in repetitive formations and pivoting only slightly when the play was called.
Though these diligent practices and tireless routines offer the players stability, "the nerves never really go away, no matter what you do," Max Griffiths (12), a receiver and punter, said.
"There's nothing you really can do except go down on the field and take the first snap because then you realize you're just playing football, there's nothing you really need to worry about," Staycer echoed.
As these nerves quell at kick-off, the team focuses on maintaining its team mentality.
"You get in your head a lot before the game, … but once you're into the game, halftime is about maintaining your character and moving in a positive direction [as] a team," right guard and linebacker Andy Livinston (12) said.
For the student section, the game ends once the clock hits zero during the fourth quarter, but for the team, it does not stop there. Nor do thoughts of football subside once the first period bell rings to signal the end of their morning practice.
"My whole day, what goes through my head is what are we doing at practice and what do we need to get done today and what can I do to have a better practice," Baere said.
While the team members separate after their morning drills to join their friends for classes, they reconvene during sixth period for football P.E.
After their no-contact practice in the morning, the players fill the weight room for a recovery workout. They stretch in silence save for quiet country music blanketing whispered remarks.
The team then splits into groups to watch film of their previous games and practices. Varsity head coach Robby Collins pauses the film intermittently, recognizing skillful plays or drawing corrections on the screen for the Falcons to improve.
Eventually, the two groups reconvene to watch film of their opponents. Coach Scott Ashby, the defensive coordinator and former head coach, details plays to anticipate and players to look out for. The players watch with careful eyes as the coaches strategize and critique plays.
"[Watching film is] analytical [and] critical, but it helps you become a better player," Nick Defina (12), linebacker and defensive end, said.
After they watch film, the players return to the team room, an office space next to their locker room that houses the team between practices and during lulls in the school day. Staycer said he often works on school work before first period in the team room and that lots of players spend their lunch periods there together.
"The best part [of football] is the brotherhood that you get from it," Griffiths said. "The relationships you make through football … are definitely the things that I'll miss the most."
While the players did not return to the field after their P.E. period for an evening practice that day, they often are on campus long after everyone else is at home. First to wake the TPHS campus at dawn and last to leave it at dusk, this is just another day in the life of the Falcon football team.
By Anna Oplasky and Regan Guirguis
football team
DAY IN THE LIFE football team
PHOTO BY ANNA OPALSKY/FALCONER
sportstphsfalconer.com the falconer A21
Griner's arrest & conviction on drug charges justified
David Zhang SPORTS EDITOR
On Feb. 17, Brittney Griner was detained in Russia for allegedly carrying marijuana concentrate in her luggage. Russian officials later discovered marijuana vape cartridges containing hashish oil, which is strictly prohibited in Russia. As a result, Griner has been sentenced to nine years in a Russian prison.
Griner – who has played in the Russian Women's Basketball Premier League for the past seven seasons –should have been well aware of the fact that it would be illegal to carry marijuana into Russia. Yet knowing all this, Griner was caught in Russia carrying narcotics and got herself arrested and jailed. It is for these reasons that Griner should spend time in prison in Russia, but not the full nine years that she has been sentenced with. According to the New York Times, Griner was charged with large-scale transportation of drugs which can carry up to 10 years in prison.
However, accidentally carrying a few vape cartridges containing hashish oil should not be considered large-scale drug transportation. Amidst all this trouble surrounding Griner, the United States and Russia began prisoner trade negotiations.
The United States and Russia started making prisoner swap negotiations with Russia requesting Viktor Bout, a Russian arms dealer, for Brittney
Griner and former American Marine Paul Whelan.
However, it does not make much sense that Griner is a part of the trade considering the other individuals involved are either more involved diplomatically or fictitiously charged and Griner is none of those. Russia wants Bout back due to his link with military intelligence, according to the Washington Post, and the United States wants Whelan back because he
was fictitiously charged with espionage, according to the U.S. State Department. Griner should have been aware of the drug laws in Russia, considering she has been playing there for the past seven seasons.
According to ABC, 90 percent of the 67 Americans who are detained in foreign countries, including Russia, are detained on false charges. Just because Griner is a WNBA basketball player does not mean she should have more
value than other Americans detained in Russia. According to PBS, Marc Fogel "who has lived and taught in Russia for nearly a decade" was sentenced to 14 years hard labor by Russian officials in a case similar to Griner's. Fogel was arrested in August of 2021 by Russian airport authorities who found vape cartridges and cannabis buds in his luggage.
Despite having a case to Griner's, Fogel's case received little to no attention until Griner was arrested. Even after Fogel's arrest, he is not in the proposed trade. Just because she is a famous basketball star doesn't mean she should get priority in prisoner exchanges, especially when there are others who have experienced similar sentences that have also been deemed unfair by the government.
According to People magazine, Griner stated that she had no intention of breaking the law, but to the Russian authorities, it does not matter. Even though it is unfortunate for Griner, she made the choice to fly back to Russia and she should have been more careful with what she was bringing in her luggage. Therefore, even though a nine-year sentence is far too excessive, she deserves to spend time in a Russian jail for her crime.
On top of that, the U.S. must not prioritize her in prisoner exchanges and should instead focus on other Americans who have been wrongfully detained in Russia for longer.
Alyssa Ahn reminisces on her time at US Junior Open
TPHS tennis phenom Alyssa Ahn (10) competed against the sport's top young stars at the 2022 U.S. Open Junior Championships from Sept. 4 to Sept. 10 in Flushing, N.Y.
After her first place finish at this summer's USTA Billie Jean Girls' 16 National Championships, Ahn qualified for the U.S. Junior Open, one of the most prestigious accomplishments in youth tennis.
"I never really expected to reach this level," Ahn said. "It's an awesome achievement."
In her first round, Ahn faced off against Taylah Preston, a 16-year-old from Australia, ending the match in defeat.
"She has really good sets. She's [ranked] around six hundred in pros, which is really good, and she's sixth in world junior [rankings]," Ahn said. "It was tough, but she's just a really good player."
Despite her unfortunate first-round exit, Ahn reflected fondly on her time in New York.
"If I can, I definitely would [go back] because it's just one of the coolest experiences I've had," the 15-year-old said. "The environment at The Open was just amazing."
Ahn's coach at Barnes Tennis Center, Steve Adamson, also traveled with her to New York for the tournament, noting the significance of the moment.
"When we got to our first practice on the U.S. Open courts, Serena [Williams] was playing a night match right next to us," he said.
Adamson began working with Ahn when she was 11 years old. Since then, he has taken note of her progress on the court.
"I don't think people realize how hard it is to reach that kind of level – being able to compete with these top people around the world," Adamson said.
Ahn, although no longer playing for the TPHS team, excels on and off the court as a player, student and friend.
"Not only is she one of the best players you'll ever meet, but she's really one of the kindest, most humble people I know," Lindsay Van Winkle (12), one of the TPHS varsity tennis captains, said.
Even with her busy schedule, Ahn finds ways to balance tennis with her social life, while staying focused on her classes.
"I always try to set goals both academically and with tennis, to me, just striving towards those goals and having plans to reach those goals is something that really helps me stay organized," she said.
Ahn's connection to her sport, however, stretches far beyond practices and tournaments. As the daughter of a former Air Force Academy men's tennis player who has always encouraged her to play with her heart and look out for others, Ahn feels a special connection to the game.
"I'm in a non-profit organization called Second Serve, which gives tennis equipment to less fortunate kids," she said. "Giving back to the community that I came from has always been important to me."
As she looks toward her future in the sport, Ahn does not see one obvious path.
"College is my biggest goal, but I haven't really thought about becoming a professional yet," she said. "I'll have to see how things turn out."
Adamson, her coach, echoed her outlook.
"She's on a great path. If she continues to work and thrive as she has been, there's definitely an opportunity for her in or after college, but she should just take it one step at a time," he said. "It really comes down to what she decides to put her mind to."
Next year Ahn will be playing in the USTA Billie Jean King Girls' 18s Singles National Championships.
PHOTO FROM THE SAN DIEGO UNION TRIBUNE
TRAPPED IN RUSSIA : Brittney Griner is escorted by Russian officials after her hearing in Khimiki just outside Russia. She was sentenced to nine years in a Russian prison.
Cole Frost and Liv Weaver
SPORTS EDITOR AND STAFF WRITER
SHINING BRIGHT : Alyssa Ahn with her coach Steve Adamson at the U.S. Junior Open Championship. It was her first U.S. Junior Open and it was held in New York.
PHOTO COURTESY OF ALYSSA AHN
sports september 28, 2022A22 the falconer
Nick Hermann Memorial
Obviously he had a tremendous impact on the school and on everyone who was able to be around him and was touched by him. There are so many great memories, but what I remember more are the little things. How detail-orientated he was, how much he cared for others. He would send texts, emails, or call and check in on people he played with, coaches who coached him, and just about anyone that he knew. Nick is the hardest worker I have ever been around. The amount of work he put in with basketball led to his success."
Jake Gilliam ASSISTANT TPHS BASKETBALL COACH
I think that my favorite memory of Nick was preparing for the playoffs during his senior year. He pulled me to the side before practice and told me to really make him work for everything, to go to war with him during practice. At the end of the practice I was exhausted and he kinda just laughed at me saying 'That's the best you could do?' That's just the type of person Herm was, he was never satisfied with anything and always wanted to be the best at whatever he did."
Logan Houston ('22)
FORMER TEAMMATE AND FRIEND
One memory that stands out would be our first workout together with our strength trainer, Trent Suzuki. That day Nick truly showed me what it means to work hard. He pushed himself so hard that I thought this guy must be crazy. While pushing himself beyond exhaustion he also took it upon himself to lift me up and offer me words of encouragement. This just affirms what kind of man and leader Nick was, I will miss him dearly."
JJ Bartelloni (12)
FORMER TEAMMATE AND FRIEND
I was going into sophomore year and he was [going] into his senior year. As the workout started he was making almost every shot while I was struggling, missing shots, [and] messing up footwork. He was so incredibly patient with me and supportive of me, telling me not to worry about the last shot and to not let it get to my head till I started to get it going. Looking back on this workout I learned so much: to be patient with others, to lead by example, and to be supportive of others who are not doing well."
Alex Cabulio (12) FORMER TEAMMATE AND FRIEND
Nick had an incredible ability to energize an entire room of people, in addition he had a healthy love for mischief. He made class fun and was always down for a good laugh, his impact on me and so many others will be forever lasting.
Austin Wade HERMANN'S U.S. HISTORY TEACHER
On Aug. 6, 2022, Nick Herrmann, a beloved Falcon, lost his battle with bone cancer called osteosarcoma. Following his death, a memorial was held in his honor in the TPHS gymnasium on Aug. 21. The service included 13 key speakers and a slideshow commemorating various moments of his life. Nicole Herrmann, his mom, Anna Herrmann, his sister, and Trent Johnson, his college coach from California State University, Northridge, all spoke, reminiscing on some of their favorite things about Nick.
While Johnson only knew Herrmann for a short while, he said the time they had spent together left him with a new perspective on what the connection between a coach and a player could be.
Anna emphasized how grateful she was to have had Nick not only as an older brother, but also as a best friend.
Nicole, who is battling cancer herself, shared both the tiny and monumental memories she experienced through her life as Nick's mom.
Throughout their ups and the downs of cancer treatment, he always put his mom first and ensured there were no dull moments between them. He tried his best to hide his pain to make sure that his family would not have to worry. While he spent the last few moments of his life laying on a hospital bed, he still managed to bring a smile and a laugh to every individual that entered the room. While in the most unimaginable pain, he still asked everyone around him how they were doing and did his best to smile through the agony.
Alongside the speeches was a video montage put together to commemorate all the hard work, fun times, victories and losses those close to Nick shared over the years. As the memorial came to a close, the TPHS basketball program announced it would retire Nick's jersey number, No. 1.
by Lexi Lamb and Makaylah Gerling
PHOTO COURTESY OF ANNA SCIPIONE
sportstphsfalconer.com the falconer A23
7 Things Every Freshman Should Know
2.
The ice cream machines do not work, nor have they ever.
3.
Shockingly, student drop-off and pickup is not in the student parking lot. 4.
Your teachers do get the inside scoop on your gossip when you scream across the room.
Filming a TikTok in the halls between classes will not make you cool.
The Olympic-size pool on the roof of the gym exists.
The water fountain on the first floor of the media center is simply the best.
1.
5. 6. 7. C B A
backpage september 28, 2022A24 the falconer