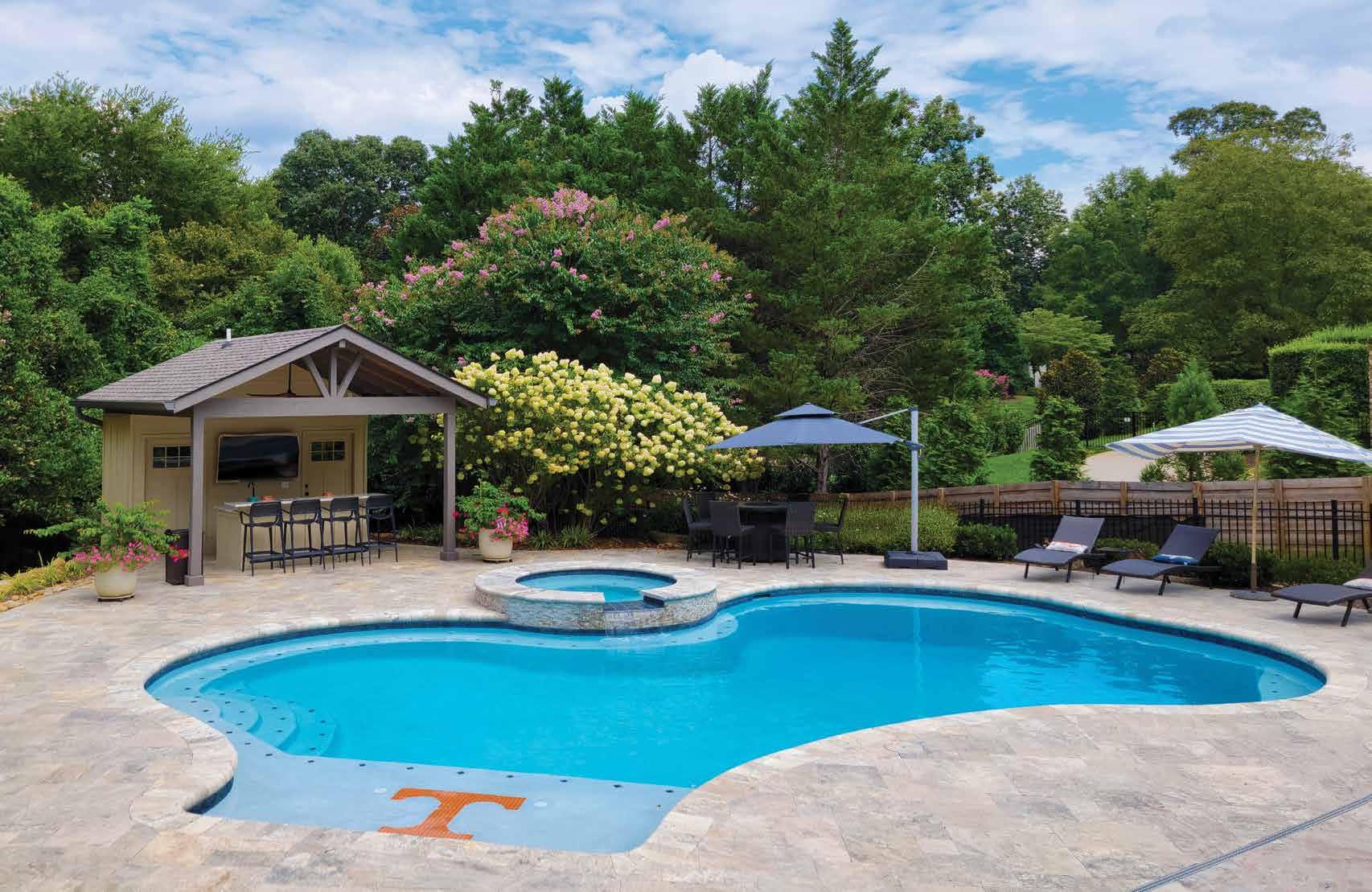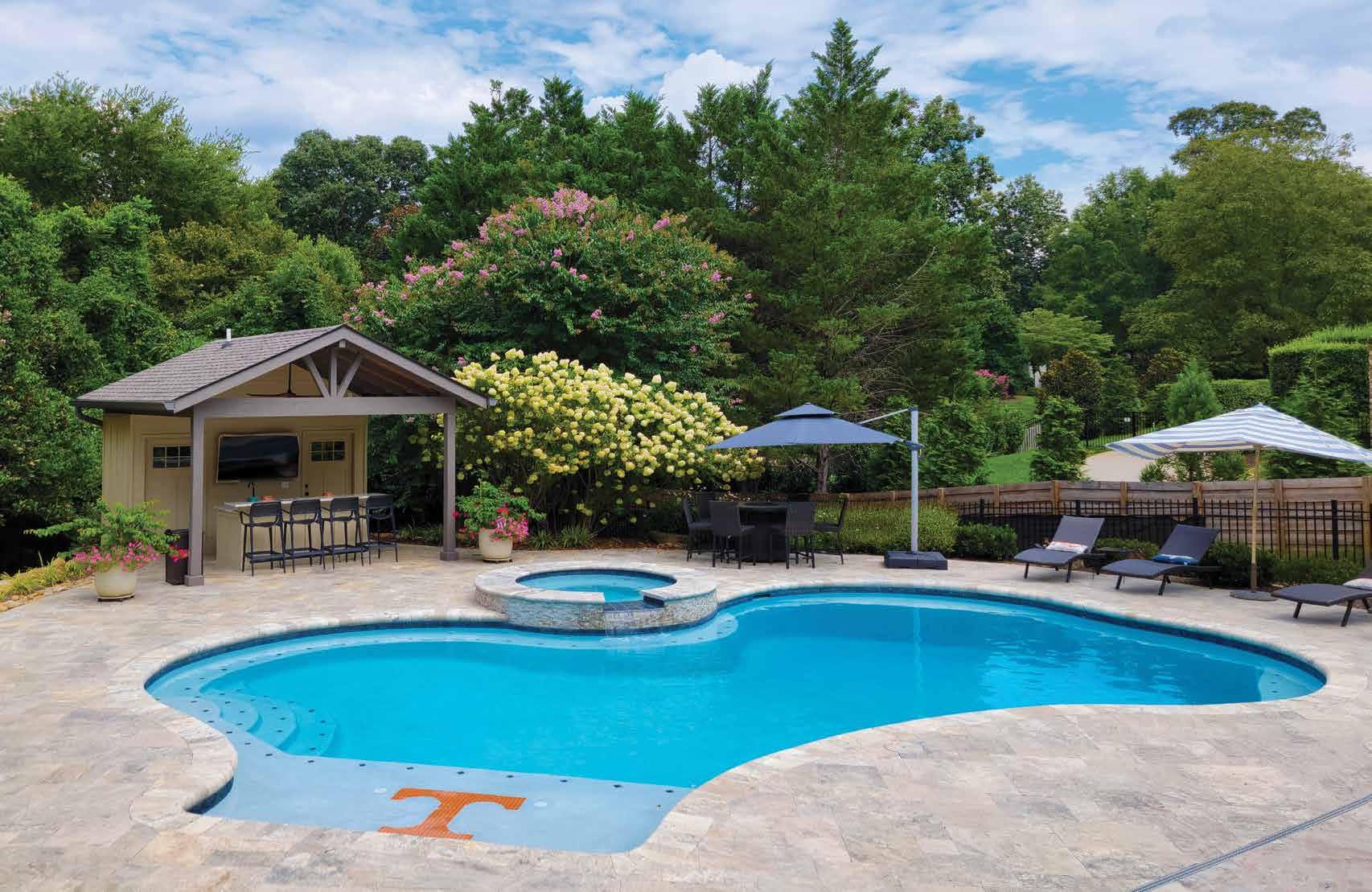 WESTMORELAND COMPLETED 2022
From the Publisher
IHAVE always been surprised by those who don't or won't ask someone else for advice on a subject that person has some expertise in. If you are having trouble with your cake sticking to the pan, then you call your friend who often bakes to find out what you should try next. When your shrubs are turning yellow, you stop by your local nursery for a consultation - thanks, Lisa at Meadow View! When Brett and I were moving to Knoxville on our one year anniversary, we asked my parents (who relocated many times as I was growing up) for moving tips. "Pack the bed last so it comes off the truck first. Then put sheets on it." Very wise - moving is exhausting, and when you are ready to crash, your bed is there to greet you!
I can only assume that when it comes to requesting information from our friends and family, the main concern is that we will be "bothering" them. Please
ASA DESIGN-BUILD firm, Cabry Design & Cabinetry is eager to make your dream kitchen a reality! From initial design to final installation - and all the details in between - Cabry's team of professionals will be there with the expertise and experience for a successful remodel with stunning results.
remember that the majority of people love to share their expertise or the skills they have! Why become proficient at a certain task or knowledgeable in a specific subject if you never get to use it? I love sharing information about things I know quite a lot about with those who are interested. It always feels good to help someone out by giving them a knowledgeable "how to" or short cut, a clever product endorsement, or maybe a helpful hint that will make their to-do list easier.
So before starting something that you are unfamiliar with, stop and consider any "resources" that might be helpful. Allowing others to be good at what they know or do is an awesome trade off for both of you! It gives them a sense of accomplishment and gets your task done faster and easier. If the thought of asking for help is what holds you back, then consider it to be "wisely utilizing your resources" instead!
Susan Cafferty Publisher + Editor
MARCH Susan Cafferty Publisher + Editor Brett Cafferty Marketing + Operations Kendra Menendez Editor + Administration Meredith Hancock Design + Production Contact Information Post Office Box 24532 Knoxville, TN 37933 865.640.3015 Reach us Online info@everythingknoxville.com EverythingKnoxville.com Hours of Business Monday - Friday 9:00 am - 5:00 pm Everything Knoxville is distributed in Downtown Knoxville and select residential communities including Sequoyah Hills, Bearden, West Knoxville, Farragut, Concord and Hardin Valley
EVERYTHING KNOXVILLE | VOLUME 17 | ISSUE 2 Cover photo by Alex Sattler Insights & Highlights ........................ 26 Food and Recipes ............................. 30 Travel and Recreation ...................... 32 Boomerocity ...................................... 38 Calendar of Events ........................... 42 Knox Heritage .................................... 48
Local
Know your repair rights. 10 MBody Healthcare It's time for you to feel heard. 21 The Lily Pad Boutique Fun spring fashions and great styles for everyone. 34 Designer Garages
your garage organized for spring.
Undercover Systems Weatherproof all of your out-of-door events.
8
Guys Collision
Get
45
4 EVERYTHING KNOXVILLE March 2023
Photo by Morgan Hayley Harper
PLEASE SEE OUR ARTICLE ON PAGE 24
COME HOME TO YOUR DREAM KITCHEN
CABRY DESIGN & Cabinetry has been designing and remodeling kitchens in the Knoxville area for more than 18 years. They are a DesignBuild firm that promises to listen to you, offer a good value for the money, and they guarantee that you will enjoy working with them - wow! We've all known someone - a friend, friend-of-a-friend, or family member - who had a less-than-stellar remodeling experience. Choosing a Design-Build firm might have solved some of those dilemmas before they even had a chance to start. Everything Knoxville talked to Cabry Design founder, Todd Thomas, and one of his most recent clients, Kim Schumpert, whose lovely kitchen is the photo subject for this feature, about the entire process.
EK: We know that kitchen renovation projects take a lot more time than is alluded to on a one hour television program. What are the first steps?
Todd: We feel that being a Design-Build firm is the best method to manage a complex project. Kitchen renovations involve many parts and pieces, from design and layout, to appliances and storage, to installation. By offering all of these services in one place, we are able to take the stress off of the homeowner who would otherwise need to find their own capable designer, source cabinetry, employ a contractor, and make the hundreds of selections and decisions that are involved in a kitchen renovation.
Kim: After living in my home for 10 years, I wanted a kitchen renovation that was more reflective of my personal style… more modern with clean lines. I entertain often and wanted an island that created a space for gatherings. I knew that I wanted to eliminate the pantry closet while still having maximum storage space but wasn't quite sure how to make all that happen.
After a frustrating experience with another cabinet company, I started searching online for other options. Cabry Design came up, so I did further research and saw their multiple reviews, which were very positive. I knew I needed a trustworthy company that
would put my ideas first, so I gave them a call. After meeting their team and taking a tour of their facilities, I knew they were the answer. I felt confident in their experience and know-how. I wasn't just another kitchen job. I was Kim's Dream Kitchen!
EK: There is so much planning and many options to consider when doing a kitchen remodel. How is Cabry Design & Cabinetry able to best help in making the right choices?
Todd: We do this by listening to our clients' wants, needs, favorite appliances, storage preferences, and so on. After that, we are able to create a design concept followed with 3D design options. With each project, we bring our design perspective, experience, ideas, and knowledge, but we are careful not impose a "style." We create individual answers every time that are custom tailored to each client while respecting their budget and personal preferences.
Kim: I had Pinterest boards, many ideas, and required lots of communication. The Cabry Team consistently responded with follow-up questions and ideas to help me achieve the dream kitchen I had in mind. In addition, I was provided ideas and boards on anything I asked about… lighting, décor, and seating.
Todd: By making it a priority to stay up to date with design trends, appliances, and organizational hacks, we can recommend quality materials that best fit your space, style, and budget - always keeping in mind that your new kitchen should complement
BORN FROM PASSION. DEFINED BY CRAFT. PERFECTED BY CABRY.
Photos by Alex Sattler
the architectural style of your home. Our Design Team assists with materials, products, and color choices to ensure a cohesive, finished look. Shopping for beautiful materials, products, and colors for your remodel or new build can be both exciting and overwhelming. We work with the homeowner to provide complete design and construction services. This allowed us to be by Kim's side from start to finish of the entire remodel.
EK: Kim, you and Cabry Design obviously made an outstanding team - the end results are certainly a beautiful kitchen! What do you feel sets them apart here in Knoxville?
Kim: In today's world, timelines for these renovation projects can be challenging. Cabry Design did a great job communicating any delays or adjustments to the remodel process. It was a full-service experience with kitchen design and installation. Cabry's installation team was exceptional in every little detail and in making any adjustments needed as I started
to live in the space. The kitchen is the heart of every home, and we love the space that Cabry helped us achieve!
Todd: We strive to be the best at what we do. We feel that what sets us apart is not only the level of design, but the attention to ALL of the details necessary to ensure your dream kitchen comes true. Closely behind the designers is a dedicated, wellhoned team who is personally involved in the management and execution of each project. Every member of the Cabry Design team - from the designers to the installersknows that their role is essential, and they take that responsibility seriously for each and every client. Our individualized designs are what make the difference that create a show-stopping space that you will want to share with all of your friends and family. Ready to plan your dream kitchen? Give us a call at 865-556-9419 to learn more about the Cabry difference!
EXPERIENCE THE CABRY DIFFERENCE
• We take the often overwhelming and make it manageable. It's the Cabry difference!
• Kitchen design and layout options to consider with our degreed interior and kitchen designers.
• Complete measuring and evaluation to include structural conditions and utility locations.
• Cohesive design assurance with assistance in selecting tile, countertops, lighting, fixtures, flooring, and paint colors. We help your vision become an even better reality.
• Extensive cabinetry optionspainted, stained, modern, traditional - and all American made!
• In-house project management and construction services. Our team takes on the responsibility, giving you peace of mind.
Cabry Design & Cabinetry
8705 Unicorn Drive, Suite 114 Knoxville, TN 37923
865.556.9419
CabryDesign.com
@cabrydesign
YOUR REPAIR RIGHTS
BY KEN MANNS, OWNER
I'MSIMPLY a guy that can fix and paint cars that opened his own shop to best serve repair customers. I never dreamed that one of the most important things I needed to learn would be legal terminology and Tennessee law. My now "continuing education" has been focused on insurance requirements and restrictions in order to better serve our community.
I honestly had no idea the extent of influence insurance adjusters had on the repair process until I was faced with it - daily. Unfortunately, many insurance companies approach repairs solely from a cost saving viewpoint rather than what the manufacturers recommend in terms of safety standard replacement parts, etc. I also strongly believe that in order to fix vehicles properly, my shop needs state-of-the-art equipment, and my employees should be paid well for their know-how and experience, along with being continuously trained and educated. Excellence and integrity doesn't always come cheap!
Because I choose to use the proper procedures and parts that all manufacturers recommend, some insurance companies are trying extremely hard to direct customers away from Local Guys Collision. I have now spent a lot of time and resources learning how to stand up for the rights of our repair customers, as well as my shop. Many customers aren't even aware of all the behind-the-scenes insurance challenges we are faced with during the repair process. The habit of insurers steering customers to "select" shops is not only immoral, but it's also illegal. You have the right to select your own repair facility in the state of Tennessee. I repeat, you have the right to select your own repair facility in the state of Tennessee.
Since opening more than a year ago, Local Guys Collision has strived to offer the best in vehicle repairs and to create the best workplace for its employees. Our services, paint, and replacement parts are first-rate, and our employees are appreciated for the hard work they put in day after day. I believe that by providing this environment, the customer ends up receiving a much better product.
This is the local experience I am trying to bring back into the automotive repair industry.
5718 Kingston Pike
Knoxville, TN 37919
865.465.6225
LocalGuysCollision.com
Guys Collision
Local
259 N. Peters Road, Suite 102, Knoxville, TN 37923 passiononpaper.com|865-531-9886 follow us on: YOUR PAPER DESTINATION Do you love paper as much as we do? • journals • books • note cards • napkins • vases • placemats • greeting cards • decorative file folders • and much MORE! 8 EVERYTHING KNOXVILLE March 2023
It's Time for You to Feel Heard
BY MELISSA MAJOR, NP
OUR ORIGINAL intent in opening a direct primary care (DPC) practice was to provide affordable healthcare for the uninsured. Although we have met this need for many patients, most people come to us carrying medical insurance. These people were not looking for an alternative to insurance. Instead, they sought access to care.
One patient, when asked why she was not using an in-network provider, offered, "My doctor's nurse flat out told me they don't take care of sick people anymore." She is referring to the common practice of passing acute care needs on to the closest urgent care facility due to a lack of primary care availability. Another patient found us online after her doctor retired. After waiting three months to see her newly assigned doctor, she was met in the exam room by a midlevel from the practice, reporting that the
having for nearly six years that had led to multiple specialists and thousands of dollars (mostly in duplication of services) with still no clear diagnosis. Frustrated and "having lost all faith in healthcare," she decided to try DPC. Sitting with her in my office recently, I asked if she was happy with her direct care experience, even though we had yet to reach a conclusive diagnosis. She replied, "I have realized my frustration was never about needing a concrete diagnosis. It was simply the need to feel heard. And I know you hear me." As we near the end of our first year, two things have become clear: Good medical insurance does not equate to good medical care, and patients need to feel heard.
At MBody Healthcare, our approach to patient care begins with listening. We have designed an environment that is welcoming and feels like home. There are no lab coats or other emblems you may initially think of when a doctor's office comes to mind. We will likely be casually dressed in t-shirts and jeans when
you arrive. Although unconventional, this is simply an outward expression of who we are and by no means an indication of us not taking your healthcare needs seriously.
We encourage the same from you. Come as you are. We prefer people to be honest, upfront, and comfortable with making all their needs known. This fosters connection and provides a fantastic catalyst for positive outcomes. We are imperfect humans who may not necessarily fit the stereotype of "doctor," but we know medicine and are passionate about reaching those who need us. We truly believe that in order to see quicker results with longer lasting changes, medical providers must be more closely connected to those they are trying to help.
MBody Healthcare

10414 Jackson Oaks Way Knoxville, TN 37922 865.399.6026
MBodyHealthcare.com
We have had the most amazing experience with MBody Dr Major and Melissa take their time and actually listen to your concerns. We have never felt rushed and they really have an environment where you feel comfortable asking even the smallest or dumbest questions.
to
They have suffered long enough. Now is their time
heal.
1 0 4 1 4 J a c k s o n O a k s W a y , K n o x v i l l e , T N 3 7 9 2 2 O f f i c e : 8 6 5 - 3 9 9 - 6 0 2 6 | T e x t : 8 6 5 - 6 8 5 - 9 3 5 1 | o f f i c e @ m b o d y h e a l t h c a r e . c o m S C A N T H I S C O D E T O T E X T U S W I T H A N Y Q U E S T I O N S M B o d y H e a l t h c a r e c o m A m e m b e r s h i p - b a s e d , d i r e c t c a r e p r a c t i c e o f f e r i n g f o c u s e d , a f f o r d a b l e h e a l t h c a r e N o w a c c e p t i n g n e w p a t i e n t s PPERSONALIZED ERSONALIZED HEALTHCARE... HEALTHCARE... Like Having a Like Having a Doctor in the Family Doctor in the Family 10 EVERYTHING KNOXVILLE March 2023
Contemporary Furniture & Interior Design DESIGNER Nouveau Classics Contemporary Furniture & Interior Design 101 S Gay St Knoxville 865.525.4755  www.nouveauclassics.com
VIP ARTY Spring P
Pickleball is Growing in Knoxville
BY BRANDON MACKIE, PICKLEHEADS.COM
GETREADY to swing into action, Knoxville! The fastest growing sport in America has arrived, and its fun, social appeal has everyone talking. Meet pickleball.
If you're not yet familiar, pickleball is a unique sport that combines elements of tennis, badminton, and ping pong. The game is played on a badminton-sized court, with a small perforated plastic ball and a paddle.
You can play singles or doubles, making it a great activity to do with your friends, family, or even a date. It's very easy to learn, so don't be afraid to give it a try.
The latest figures from the Association of Pickleball Professionals suggest that the number of pickleball players in the United States has now reached 36.5 million. Pickleheads, a pickleball data provider, reports 10,320 courts nationwide.
Why Pickleball is Growing in Knoxville
During the past few years, pickleball has
experienced significant growth in Knoxville. Our city has invested in new facilities and programs to meet the rising demand among its residents. Thanks to these efforts, we have seen our pickleball community flourish and expand.
One of the reasons for pickleball's growth is its appeal to a wide range of age groups and skill levels. The demographic makeup of Knoxville includes a significant portion of retirees, comprising almost 20% of the population, who are drawn to the game's low-impact
nature and social aspect. Additionally, younger players are also being introduced to the sport through local recreation programs, schools, and community centers.
Pickleheads reports that there are a total of 33 pickleball facilities located in Knoxville, making it the city with the highest number of places to play pickleball in the state of Tennessee.
Places to Play Pickleball in Knoxville
The courts listed below are some of the most popular locations in Knoxville.
Popular public courts:
• Bassel Tennis Courts
• John Sevier Park
Popular private courts:
• Tennessee Tennis Club and Academy
• Pavilion of Pickleball
New court opening planned:
• Lakeshore Park
• Trustwell Living of West Knoxville
Courts with special amenities:
• Sam Duff Memorial Park (Krystal restaurant)
• Fort Sanders Club (aquatics facility)
Get out and have fun playing pickleball in Knoxville!
THURSDAY, MARCH 23 | 11 A.M. - 12:30 P.M. OR 5:30 P.M. - 7 P.M. T o R S V P c a l l ( 8 6 5 ) 8 9 6 - 3 4 5 0 6 2 7 A m e r i c a n G l a s s W a y , K n o x v i l l e , T N 3 7 9 3 2 D e s i g n D e c o r K n o x v i l l e . c o m E n j o y C o m p l i m e n t a r y R e f r e s h m e n t s W h i l e Y o u S h o p O u r L a t e s t D e s i g n e r C o l l e c t i o n s
12 EVERYTHING KNOXVILLE March 2023
Kitchen Innovations
Maximize Your Storage Space
SHELF HELP has been helping our clients solve kitchen and bath storage challenges in the Knoxville area since 2016, and we wanted to share a few client favorites that make day-to-day tasks easier.
Kitchen Cookware Roll-Out
Ideal for sheet and glass pans. Keeps you from having to pull out the entire "stack" of pans just to get one out, then needing to put them all back again.
Storing these items upright is easy to see and reach, and the slide-back upper shelf works great for lids! Available in several sizes to fit base cabinets.
"Thank you so much for the wonderful kitchen upgrade. The guys were super nice and helpful. We found a perfect setup to give me so much more versatility. Appreciate you and your installers." - Cyndi
Spice-tray Insert
The staggered tier design allows for spice bottle display, making it easier to find and grab the one you need. These inserts drop in and can be sized for any (or many) drawer.
Make your day-to-day living comfortable and your home more functional with Shelf Help custom-designed roll-out shelves and organizers for your kitchen, pantry, or bath. Call us today for your free, no-obligation, in-home consultation.
Shelf Help
865.675.5098
ShelfHelpTN.com
March 2023 EVERYTHING KNOXVILLE 13
A New Way to Renovate Your Home
WHETHER YOU'RE wanting to boost your home's value or give an out-of-date kitchen a refresh, there's a new, innovative, and eco-friendly trend in home renovations thanks to Spray-Net. Knoxville residents and SprayNet franchisees, Alfonso and Jacquelinne Cruz, are offering residents a smarter and environmentally conscious way to update the look of their kitchens and exteriors, with all work and factory-finish results covered by Spray-Net's 15-year warranty on peeling, which is transferable - a value-added feature for anyone considering selling their home in the near future.
Spray-Net's exterior home painting innovation was designed to weather extreme cold and heat. Alfonso and his team use SprayNet's proprietary software to adapt the paint formulation to each type of exterior surface such as brick, stucco, vinyl, aluminum siding, doors, and windows. The same process is followed for existing cabinetry in kitchens and bathroom vanities including laminate, melamine, thermofoil/plastic, and solid wood, resulting in a long-lasting factory finish every time.
This custom formulation ensures that the coating is flexible enough to avoid cracking, hard enough to avoid chipping, smooth enough to easily wash, and tough enough to block stains. This sets Spray-Net apart from other cabinet-painting services or DIY enthusiasts who apply the same standard paint formula used on a wide variety of materials and surfaces, which typically results in a streaky finish that won't withstand everyday use long term.
Comparably, the cost of Spray-Net's kitchen cabinet, exterior painting, and refinishing service is a fraction of the price of a brand new kitchen or a new home exterior and saves perfectly good material from entering a landfill.
Alfonso and his crew are gearing up for a successful season. "I am a proud homeowner myself and the way we can have people fall in love with their home and kitchen again for a fraction of the cost is why people choose Spray-Net and why I chose to be a part of it," he said.
Together, Spray-Net's innovation and Alfonso's passion make these painting solutions a formula you can rely on.
Spray-Net Knoxville
865.507.4306
Spray-Net.com
No-peel warranty Sustainable C A L L U S F O R Y O U R F R E E Q U O T E ! S P R AY- N E T.CO M 8 6 5 . 5 0 7 . 4 3 0 6 CONVENTIONAL PAINTING REPLACEMENT A S S E E N ON A whole new way to renovate. Whether it's for the exterior of your home or kitchen cabinets, Spray-Net delivers the convenience and affordability of conventional painting with a factory finish that looks and lastsbacked by our 15 year warranty! F I N A NCING AVAILABLE Contact us for details! March 2023 EVERYTHING KNOXVILLE 15
HELP YOUR GARAGE SAY GOODBYE TO WINTER
DOES IT SOUND strange to hear "clean" and "garage" in the same sentence? It's really not an impossibility, even though garages are notorious for being messy, dusty, and thoroughly uninviting.
The aftermath of winter may be a garage with additional mess and clutter, including residue from salted winter roads and muddy boots. However, rather than closing the door on the chaos, make a plan to clean your garage. And once you've cleaned out the winter mess, here are some storage tips for maintaining your garage for maximum efficiency.
• Use plastic, lidded storage bins instead of cardboard boxes to protect stored items. Cardboard absorbs moisture, attracts pests, and deteriorates over time.
• Transfer bags that can burst open and spill into plastic containers ( pet food, sand, plant food).
• Create low-level storage with shelves, drawers, or baskets so kids can manage their own things like sports equipment.
• Store seldom-used items up high; keep
what you use most often within easy reach to eliminate constantly shifting things around.
• Keep the floor clear. Bulky items like camping tents, holiday decorations, and lawn furniture can be stored out of the way in overhead storage racks. Garden tools, even a wheelbarrow, can be hung on versatile slatwall.
• Purge, purge, purge! Get rid of items you no longer need or want. Donate or sell what is in good condition and throw away the rest.
A clean garage contributes to your whole house staying cleaner by eliminating tracked in dirt, oil, pollen, and anything else that could stick to the garage floor or your shoes. Investing in a low-maintenance floor for your garage is also key to maintaining a clean space. An unfinished concrete floor makes it almost impossible to keep your garage clean. Surface cracks and crevices attract and hold dust and dirt, and its porosity retains moisture that can facilitate the growth of mold and bacteria, creating an unhealthy environment.
An easy-care custom garage floor from PremierGarage of Knoxville, in business for more than 15 years, will help keep your garage cleaner with surfaces that resist spills and moisture, as well as reducing dust and dirt buildup. Backed by a multiyear warranty, the proprietary polyaspartic flooring provides durable elegance while eliminating stains, cracks, chipping, and peeling. The slip-resistant surface is available in a variety of colors, is UV resistant, and stands up to years of hot tires, stains, and dropped tools.
With competitive pricing without sacrificing quality, PremierGarage also provides excellent customer service. The company and its employees are committed to customer satisfaction to help you make your garage spring ready!
PremierGarage 865.947.8686 PremierGarageKnoxville.com
16 EVERYTHING KNOXVILLE March 2023
Denton & Lori Lesslie love to eat. They are Knoxville natives who have fun finding and experiencing local food and drink spots while sharing their adventures @somewhere.inthe.south.
Standing Ovation for Ale' Rae's

KNOXVILLE PEEPS, we'd like to introduce you to (drum roll, please)… Ale' Rae's GastroPub and Coffee Bar! You want to go. Even if you don't know it yet. As Denton said, "This is exactly what I've been looking for in Knoxville!" And he is spot on.
Ale' Rae's is owned and operated by David Goldschmidt and his daughters, Allie and Rachel (thus Ale' Rae's, pro nounced alley rays), and is located at 937 North Broadway. Wondering, "What's a GastroPub?" It's a pub that specializes in high-quality food, and that's exactly what you will experience. Pure deliciousness.
You can expect super warm, inviting interactions with the staff from the time you enter this gem to when you walk out the doors talking about how you will definitely be returning. Every detail matters: the fabulous, fun décor, the stage in just the right spot, the 120-year-old original floors, the sealed ceiling (be sure to look up!), the quaint coffee bar (yes, they also have a coffee bar), the bar made of old doors, the creative cocktails and drinks, and that lick-your-plate GastroPub food. And live music… every night. From rock, to blues, to jazz, to country, and more. Ale' Rae's is an all-in-one experience Wednesday through Sunday with a daily 2-5 Happy Hour. They even take reservations!
Now for the food and drinks. We started with the Spicy Fried Cauliflower with roasted cashews and its
mouthwatering black bean hoisin sauce and Sriracha aioli. It's as good as it sounds. We then shared the ah-ma-zing Jager Schnitzel with brown gravy, mushrooms, and savory Bavarian kraut and pepper blend. We're craving this as we write. For our side, we got the Marley Mac n Cheese with crispy bacon crumble and cheddar cheese grilled skirt. This is not your everyday mac n cheese. No words will do justice for this savory, scrumptious meal.
For our drinks, Denton ordered the local Traffic IPA by Crosstown and Lori got the best margarita she's ever had: the Triple Berry Margarita. Just wow. To wrap up the evening, Lori also tried the Berry White Mocha to go and it was perfection.
If you haven't been able to tell, we highly recommend this ray of sunshine treasure, and we absolutely give Ale' Rae's a standing ovation. We had so much fun. Now, it's your turn! Tell them Somewhere in the South sent you, and look for us, because there's a good chance we'll be there!
Follow us as we venture out from Somewhere in the South for more local food, drink, and life adventures @somewhere.inthe.south on Instagram, and look for the post of Ale' Rae's.
Till Next Time, Denton & Lori
18 EVERYTHING KNOXVILLE March 2023
AS THE saying goes, March comes in like a lion and out like a lamb! We're hoping there's a lot of truth in this as we look forward to the return of sunny days and fun spring fashions!
From floral, to watercolor, to plaids - prints are everywhere this season... already matched for you, you'll have no trouble wearing the looks with confidence!
Glorious florals and other garden-inspired elements are trends this season. Tops covered in ditzy floral prints and petal embroidery on jeans and blouses bring a fresh and fun look to spring 2023.
Neutral shades are a beautiful but subtle knock-out... they're elegant and so easy to work with. Champagne, blush, beige, and putty color tones are an essential as you begin to build your spring wardrobe.
Remember that gray can look much softer on the skin than black or navy and its strength is to highlight lines and details... choose grays that emphasize cut, fabrication, and craftsmanship. Perfect to pair with every color, gray can be worn as your basic, giving a fresh change from your basic black.
There's going to be a great style that appeals to everyone... the fashion trends this season are so diverse! If you're the classic, tailored gal... a crisp button down blouse with a popover, sleeveless vest is the spring 2023 trend you'll want to try! If a laid back style is more your "thing," don't worry; joggers and sneakers are still a top trend going forward.
There's never a dull moment in our wonderful world of fashion - it's fun and exciting as we gear up The Lily Pad to greet you with our fabulous selections for spring 2023!
Remember... you can shop for three generations at The Lily Pad! It's a great place to spend the day and enjoy a girl's day together... taking a lunch break at one of our fabulous eateries in Sweetwater and leaving with lots of happy spring fashions for each of you! Happy spring, and happy shopping!  The
KNOX SHAMROCK FEST™ LUCKY KIDNEY RUN™ Live & Virtual Options for 6k run & 1 mile walk | Starts at 3 pm
HE 2023 Knox Shamrock Fest™ is the region's premier, family friendly St. Patrick's Day Festival with live Irish music, inflatables, face painting, balloon twisting, Irish cultural events, and Irish treats! Lucky Kidney Run™ is a major fundraiser benefiting the East Tennessee Kidney Foundation. Bring awareness to this "silent" disease and support those that suffer from kidney disease - 100% of funds raised stay right here in East Tennessee! Visit ETkidney.org for more information and to register for the race. Be sure to check out the photo gallery! Sunday, March 19 • 1 to 5 pm | World's Fair Park Performance Lawn
Lily Pad Boutique
TMarch 2023 EVERYTHING KNOXVILLE 21
209 N. Main Street Sweetwater, TN 37874 423.337.5537 LilyPadBoutiqueOnline.com GREAT Style FOR EVERYONE
Say I Do to Wedded Bliss in Your Closet
BY CARRIE MCCONKEY, CARRIEMCCONKEY.COM
YOU'VE decided to take the leap and commit to your true love. When you're making plans to merge your lives - and your households - one of the most challenging areas for any couple can be the primary closet. As you plan your nuptials, follow these suggestions to make sure that the union of your wardrobes is a joyful one.
Evaluate Your Closet Contents
If you or your partner is a fashion-lover (or perhaps you both are devotees), start by taking a good look at which items mean the most to you. Do you have a special collection of ball caps, purses, or shoes? Consider custom shelving to organize, protect, and showcase your priority pieces.
Make the Most of Your Space
Chances are you have a good deal of underutilized space in your closet, or your current system could be refined. Double rods make the most of your wall area, and slide-out tie, belt, and jewelry racks offer maximum storage within a minimum space.
Give Some Thought to Renovations
Creating storage in an unused space can give you the room that you need, along with more valuable square footage in your house. The short-term inconvenience of renovations can bring long-term relationship harmony to your closet.
Don't Forget Convenience
Rather than two sets of dresser drawers in the bedroom, consolidate and add soft-glide drawers to your closet. Allow the early riser a quieter start by adding a convenient bench, mirror, and ironing board inside the closet.
As your two hearts become one, make the transition easy by
planning your shared closet space. Whether you need a his and hers, his and his, or hers and hers, at Closets by McKenry, we're here to help you start a peaceful closet co-existence. Contact us today for a free consultation, and live happily ever after by giving yourselves the wedding gift of a beautiful, professionally designed closet.
Closets by McKenry 201 Center Park Drive, #1070 Knoxville, TN 37922 865.249.6382
ClosetsByMcKenry.com
YOUR SOURCE FOR SOMETHING NEW TO YOU! 320 LAKESIDE PLAZA IN LOUDON (TELLICO VILLAGE) | 865.458.9721 | PREMIERECONSIGNMENT.COM | MONDAY - SATURDAY 10AM-3PM Upscale furnishings, décor, art, rugs, lighting, and accessories New items arriving daily – visit us online or in-store Full-service consignment and estate sale specialists 90% OFF SAVE UP TO ORIGINAL RETAIL PRICES
CONGRATULATIONS!
24 EVERYTHING KNOXVILLE March 2023
What You Can Do to Help Prevent Identity Theft
ACCORDING TO IdentityTheft.org*, losses from identity theft cost Americans $5.8 billion, and fraud cases are up a whopping 70% from 2020. We don't want you to be part of those statistics, so let's focus on protecting your identity.
Your personal information is anything that can link something back to you. In other words, any information that identifies you to a stranger. This includes your full name, Social Security number, date of birth, email address, etc. Once someone has your personal information, they can use it for all kinds of nefarious things that are often tedious and sometimes expensive to undo. They can apply for credit, file a fake tax return, or even get medical services in your name.
Opportunities come up daily to protect your information. Here are a few quick and easy suggestions:
• Just Hang Up: Tell anyone trying to sell you something that you are not interested. Then just hang up! Contrary to how it might initially feel, you are not being rude
• Never Click: So many emails are randomly sent out that target a wide audience. In December, many people received messages from "Amazon" saying there was a problem with their order and to just "click here" to fix it. Always go directly to the vendor (via website or a phone call), and never click on anything in an email, even if it looks legitimate.
• Just Ask: If you are filling out paperwork and you aren't sure about sharing the information listed, just ask! You are always entitled to ask why that information is needed, and the person you are working with should always know how it will be used.
A good rule of thumb is unless YOU have initiated the contact, never share any of your personal information on the phone, through the mail, or over the internet. If you don't know for sure who is on the other side of the transaction, ask questions and don't move forward until you are comfortable with the situation. If you have any questions or concerns about identity theft, please call us at 865-686-5202 and we would be glad to help. If you believe that someone has inappropriate access to your personal information, suggestions for next steps can be found at IdentityTheft.gov.
ShredPro
Then come on in and ask your questions about financial advisors in general or our office specifically. We won't collect your contact information. Our goal is to make you more comfortable and confident when it comes to your financial planning.
Congratulate yourself for knocking two items off your to-do list, and enjoy a complimentary treat from one of our favorite local companies, Knox Dough.
Travis Cullman, CFP®, CPFA
Senior Vice President, SageSpring Investment Professional, RJFS
P: 865.686.5202 F: 865.622.9579
Travis.Cullman@sagespring.com | sagespring.com
136 Concord Rd, Knoxville, TN 37934 STEWARDSHIP. TEAMWORK. FAMILY. You Invest In Your Future. We invest in you.
Investment advisory services offered through SageSpring Wealth Partners, an independent registered investment adviser. SageSpring Wealth Partners is not a registered broker dealer and is independent of Raymond James Financial Services. Securities offered through Raymond James Financial Services, Inc., member FINRA/SIPC. Representatives may not be registered to offer securities and advisory services in all states.
* IdentityTheft.org/Statistics
Links are being provided for informational purposes only. Raymond James is not affiliated with and does not endorse, authorize, or sponsor any of the listed websites or their respective sponsors. Raymond James is not responsible for the content of any website or the collection or use of information regarding any website users and/or members. Ramsey Solution's relationship and agreement is between SageSpring Wealth Partners only. Raymond James Financial Services, Inc. is not affiliated with the solicitor arrangement between Ramsey Solutions and SageSpring Wealth Partners. Raymond James is not affiliated with Knox Dough.
Join us Thursday, April 20th for our Second Annual OPEN HOUSE & COMMUNITY SHRED
DAY
be here to unload your car and immediately shred your documents.
Secure will
INSIGHTS HIGHLIGHTS &
DECORATING DEN INTERIORS
This mirror features a radiating hand-painted faux horn inlay with soft concave movement toward the center. The edges are completed with a mottled warm bronze and copper finish. A stunning statement for sure! Available at Decorating Den Interiors | Kozar Design Team, 521 Lovell Road, Suite 205 in Knoxville, 865.392.6222, SandyKozar.DecoratingDen.com.
MEADOW VIEW GREENHOUSES & GARDEN CENTER
Primitive 12" burlap bunnies with "hand sewn" details are an adorable, nostalgic addition to your Easter décor. Available at Meadow View Greenhouses & Garden Center, 9885 Highway 11E in Lenoir City, 865.986.7229, MeadowViewGreenhouse.com.
EUPHORIC CHEESE SHOP
Mimolette, an aged cow's milk cheese from France that becomes sweet with time; Humboldt Fog, a bloomy-rind goat's milk cheese made in the U.S.; and Barbers 1833 Cheddar, a sharp cheddar rich with flavor and protein crystals imported from the U.K. Euphoric Cheese Shop carries nearly 100 cheeses covering a wide variety of colors, textures, and milks, including the three shown here. Available at Euphoric Cheese Shop, 139 West End Avenue in Farragut, 865.392.1199, EuphoricCheese.com.
26 EVERYTHING KNOXVILLE March 2023
THE LILY PAD BOUTIQUE
New Modzori reversible sandals are the perfect spring shoe for any outfit! Available at The Lily Pad Boutique, 209 N. Main Street in Sweetwater, 423.337.5537, LilyPadBoutiqueOnline.com.
SHAE DESIGN STUDIO
Featuring plush seat cushions and draped in reliable performance fabric, this Riley Sectional by Universal Furniture brings a breezy sophistication to living spaces. This right arm sofa, left arm corner measures 10 feet by 8 feet. Available at Shae Design Studio, 9700 Kingston Pike in Knoxville, 865.313.2656, ShaeDesigns.com.
GARDENIA COTTAGE INTERIORS
Our deluxe 7" bird nest features twigs, faux green moss, and two pale blue bird eggs. Tuck our nest in with your favorite décor for a fun spring addition. Available at Gardenia Cottage Interiors, 11416 Kingston Pike in Farragut, 865.236.3414, GardeniaCottageInteriors.com.
March 2023 EVERYTHING KNOXVILLE 27
GET YOUR HOME READY FOR SPRING!
MOST HOMEOWNERS around town know us for our exceptional tile and grout, carpet, and indoor surface cleaning. We are thrilled to be known as the best in the area at what we do. In fact, a great portion of our clients have been with us for years, and most of our business comes from referrals.
It's not as known that in addition to specializing in all hard-surface cleaning, we also offer professional soft washing for your home. Perhaps you are familiar with pressure washing (or power washing) and have not heard of soft washing. First, to be clear, one should never pressure wash their home. The damage that occurs from this type of cleaning method can destroy your siding, stucco, shakes, and shingles. Soft wash is a completely different (lesser known) process than its more commonly known counterpart.
In a soft wash, very little water pressure is used to preserve the integrity of your home. The cleaning happens from the detergents used, NOT from water being blasted upon the surface. The specialized detergents are specially formulated to cling to your home so that its properties have a chance to dwell, thereby killing mold, fungus, and other organic materials so they may be more easily rinsed away. By using a low-pressure rinse, the home is protected from not only damage, but also from washing stripes, window, and window seal damage. In addition, because soft washing uses a low-pressure spray, your foliage, shutters, and joints will remain intact and protected.
If you are having issues with mold streaking the outside of your home, or dull and stained gutters, it is time to call a professional. Black streaks on roofs are not only unsightly, but they must be dealt with before permanent damage occurs. It is impossible to simply wash off these elements, and scrubbing will be futile.
Each home is unique in the challenges it presents, and each requires a unique solution. Surface Doc is specifically qualified to tackle each element and the challenges they present. When you call us, you can be assured we will call you back promptly. Our team knows what they are doing and look forward to meeting all of your cleaning needs… inside and out.
CALL TODAY FOR A FREE ESTIMATE.
Surface Doc offers "Soft Washing" of siding and roofs for both businesses and homeowners, including stucco, cedar, vinyl, aluminum, stone, brick, slate, clay, asphalt, etc. Surface Doc will safely clean your siding and roof without the use of high pressure. Get rid of the green and black algae on your home.
| SurfaceDoc.com
865.567.1986
Suffer from Hip or Knee Pain? RELIEF is Possible!
DENA HAD a lot of pain in her knee from a torn meniscus, even after having surgery to repair it. The knee pain caused her to walk in such a way that her lower back and hip also started hurting. She had already done steroid injections and physical therapy, but nothing helped. Dena had always enjoyed working out and living an active lifestyle with her friends and family, but the pain was really holding her back. She couldn't even tailgate at UT football games because of the pain.
Her friend told her about West Knox Acupuncture and Integrative Medicine, so she gave them a call. Dena was able to set up an initial consultation and start treatment right away when they told her they could help. It was very comforting to know that the doctors at West Knox Acupuncture have been helping people just like her get out of pain for almost 20 years.
About 10 weeks into her treatment plan, Dena was pain free for the first time in years! She was finally able to sleep without her pain waking her up at night. At the end
of her treatment plan, she was able to hike up the hills and walk the stairs to the stadium at UT football games. Her family was almost as excited as she was now that she had gotten her life back!
When Dena was asked about what the treatments were like, she told us that the first time she didn't even feel the needles. She also said that she felt much more relaxed overall, and the clinic was so nice that she felt like she was at a spa. Dena shared that the doctors there were very empathetic and truly cared about her and wanted her to feel better. The front and back office staff were always very caring and helpful.
When Dena was asked what she would say to someone who was on the fence about trying something like this, she said,
"Whatever issue you've got, West Knox Acupuncture can help."
You can see Dena personally talk about her experience if you go to wate.com/living-east-tennessee/ west-knox-acupuncture-testimonial.
If Dena's situation sounds like you or someone you know, call West Knox Acupuncture and Integrative Medicine at 865-275-2444.
treatments,
After my
I was pain free for the first time in years!
couldn't
West Knox Acupuncture and Integrative Medicine 9125 Cross Park Drive, Suite 150 Knoxville, TN 37923 865.275.2444 WestKnoxAcupuncture.com March 2023 EVERYTHING KNOXVILLE 29
I
do the things I enjoyed and I had run out of options.
Closets: Everybody has them. And a good closet system can certainly make your life easier and more organized, especially your primary closet.
Well thought out and organized closets not only help maximize storage capacity, but they also increase the value of your home. In fact, for the past few years, primary closets with plenty of storage have been one of the top 10 features people look for when buying a new house.
If you're thinking about renovating your main bedroom suite or building a new house, here are a few trends for 2023.
His and Her Closets - Create perfect harmony with your significant other with his and her closets. Women are adding touches of glamour with chandeliers and mirror accents. Men prefer less glamour but want to display and easily find items like special hats or ties. With two walk-in main bedroom closets, each person can create a custom design that meets their individual
Closet Trends for 2023 A Family Favorite
needs. If it's one large walk-in closet, create sides that are mirror images, so neither partner gets more storage than the other. Equality does breed harmony.
Ditch the Dresser - To make more room in the bedroom, homeowners are saying goodbye to their dressers. Incorporating drawers and shelving in the closet allows for space and versatility to store your entire wardrobe. Drawer storage in the closet provides an out-of-sight organization while lending an attractive, smooth, finished look. The primary closet is now designed to be onestop-shop when it comes to getting dressed. Counters - If you have the luxury of space,
an island provides the perfect place for a landing zone of daily items. If there isn't enough space for an island, have a contrasting or matching counter top placed above a double set of deep drawers. Homeowners are often using this space not only as a landing zone, but also as a charging station by placing an outlet just above the countertop.
Multifunctional Designs - Most often space is a premium in homes, so homeowners are looking to maximize what they have and evolve the space to fit their needs. Designing space in large walk-in closets for multipurpose functions, such as including a vanity or a place to sit down, is rising.
Whatever your style, The Tailored Closet will design a custom closet that fits your needs. As whole-home organization specialists, The Tailored Closet also has innovative storage solutions for the pantry, laundry, home offices, garage, and more. Make 2023 the year of organization.
The Tailored Closet
865.777.0306
TailoredClosetKnoxville.com
EVERYONE LOVES a warm, creamy, comforting casserole - especially when it can be made quickly and easily with just a few ingredients. Angie Cook, busy mom and Knoxville entrepreneur, does too!
"At Cook's Pimento Cheese and Spreads, we are always looking for an easy and cheesy way to make dinner quick and delicious," said Angie. "Our pimento cheese and spreads are the perfect addition to step up the dinner menu."
She offered this yummy Cheesy Broccoli & Rice Casserole recipe that comes together in no time. It can also be made ahead and kept in the fridge until you're ready to fix dinner - just add the topping before baking and increase the cooking time by a pinch.
Angie and her crew have been handcrafting authentic southern pimento cheese since 2016. She and her family began with a mobile food truck, serving one of the best grilled pimento cheese sandwiches ever! Now she creates her cheeses out of Knoxville's own Real Good Kitchen - a shared commercial kitchen on Magnolia Avenue where food vendors rent space to create their specialties.
Angie's Pimento Cheese and Spreads can found at local Farmers' Markets, as well as The Euphoric Cheese Shop in Farragut and Butler & Bailey Market in Rocky Hill. They will also be an active participant in the upcoming Knoxville Cheese Festival on March 24th and 25th held in the TAPestry Event Space at Barrelhouse by Gypsy Circus on Lamar Street.
Angie adds, "Try this delicious recipe as a side dish, or let it be the star of the show." It also freezes well, so be sure to double it to have a stash for later! Simply follow the recipe, but don't add the topping until ready to bake. Enjoy!
CHEESY BROCCOLI & RICE CASSEROLE
By Angie Cook, CooksontheCurb.com
Ingredients:
• 2 cups rice, cooked
• 2 cups fresh broccoli, steamed (frozen works great as well, just cook according to package directions)
• 1 can cream of chicken soup
• 16 oz of your favorite Cook's pimento cheese (I used Classic)
Topping:
• 1/4 cup of butter, melted
• 1/2 sleeve Ritz crackers, crushed
Directions:
Preheat oven to 350°.
Mix the cooked rice and broccoli, soup, and pimento cheese well, then transfer to a 9x13 baking dish sprayed with cooking spray. For the topping, combine the melted butter and crushed Ritz crackers.
Top the casserole with cracker mixture. Bake for 30 minutes or until top is golden.
To make it the main course: Add two cups of cubed, cooked chicken to the cheese and rice mixture, mix well.
30 EVERYTHING KNOXVILLE March 2023
ATLANTA, OUR closest "big" city, is only 3 easy highway hours away. Coined the "New York of the South," Atlanta has a very dynamic, multi-cultural feel with beautiful homes and more than a handful of lovely public parks. If you haven't been lately, there are certainly plenty of places to go see - Zoo Atlanta, High Museum, Ponce City Market, Coca-Cola Museum, Georgia Aquarium, and Centennial Olympic Park, to name just a few more notable destinations. There is also the pedestrian Eastside BeltLine Trail, perfect for strolling or hopping on a scooter (like the ones in downtown Knoxville), that gives you easy access to many attractions along the way.
But what about the more unique things to do in Atlanta? Your next roadtrip with friends or family could include some (or all!) of the following interesting things to do:
1. CENTER FOR PUPPETRY ARTS • 1404
Spring St. NW at 18th • Tuesday - Friday 9 am to 5 pm, Saturday 10 am to 5 pm, Sunday noon to 5 pm (last entry 4:30 pm) • Puppet.org
From the ancient to the contemporary, puppets and their puppeteers, artists, and techniques fill this museum. Their Global Gallery holds the history and traditions of puppetry from different regions across the world. The Jim Henson Gallery explores the imaginative mind and influential legacy of the animator, inventor, filmmaker, screenwriter, and puppeteerincluding puppets from Sesame Street, The Muppet Show, Fraggle Rock, The Dark Crystal, Labyrinth, and more. A special exhibit through June 18 explores adaptations of Maurice Sendak's classic children's book, Where the Wild Things Are, for the stage and screen. Get a behind-the-scenes peek into the 2009 film to learn how the wild things were created and adapted on set. There is also a downloadable museum Scavenger Hunt!
nature-inspired and fun-seeking families come together to feel human again. An urban oasis in the heart of Midtown, the Garden includes 30 acres of gardens, an award-winning Children's Garden, the serene Storza Woods highlighted by a unique Canopy Walk, and the picturesque Skyline Garden. With fountains and pools, overhead walkways, garden sculpture, meandering trails, tropical plant greenhouses, and Dale Chihuly glass works, the Botanical Garden is worth a look. Their website will even plan your path based on your timelimit specifications! Orchid Daze runs through April 9, and the world premiere of "Trolls: Save the Humans" featuring enormous, reclaimed material sculptures is through September 17. Expanding another 7 acres along the BeltLine, the plan is to be completed in time to welcome 2026 FIFA World Cup visitors.
3.
COLLEGE FOOTBALL HALL OF FAME
• 250 Marietta Street NW • ThursdayMonday 10 am to 5 pm • CFBHall.com
you have a QB arm? Can you kick a 20 yard field goal? Their newest exhibit highlights the 2022 College Football Hall of fame inductees.
4. HARRY POTTER™: THE EXHIBITION
• 200 Peachtree Building at 155 Carnegie Way NW • Daily 10:30 am to 5:30 pm • Atlanta.HarryPotterExhibition.com
Celebrating the iconic moments, characters, and beasts, Harry Potter™: The Exhibition is a groundbreaking touring exhibition that celebrates all things
GARDEN • 1345 Piedmont Ave. •
Tuesday - Sunday from 9 am to 6 pm (last entry at 5 pm) • AtlantaBG.org
An ever-evolving destination where
The fan journey begins in The Quad, where you register your All-Access Pass and see your helmet light up on the 3-story helmet wall. Be sure to check out the 150 year plus history that is showcased in the 3-story painting. At the Indoor Playing Field, get caught up in the emotions that players experience by running through the TouchStone Tunnel. Put yourself to the test at the Chick-fil-A Peach Bowl Zone. Do
from the Harry Potter™ film series, Fantastic Beasts, and the Wizarding World. This unique in-depth exhibition delights visitors through powerful storytelling and innovative and interactive technology with authentic props and costumes. Choose your favorite Hogwarts™ house, wand, and Patronus to begin a personalized journey
2. ATLANTA BOTANICAL
1 2
6 7
3 4 5
Photos courtesy of each specific venue or attraction
32 EVERYTHING KNOXVILLE March 2023
through this immersive experience: Plop down in Hagrid's giant chair, squeeze into the Cupboard Under The Stairs, pot a Mandrake, and practice your Quidditch™ skills by throwing a Quaffle, all while learning behind-the-scenes filmmaking details. This unforgettable experience is an absolute must-see for any age Harry Potter fan!
5. THE KROG DISTRICT • 99-124 Krog St NE • TheKrogDistrict.com
The Krog District is a mixed-use collection of properties and gathering spaces that runs through Atlanta's Inman Park and Old Fourth Ward. With more than 20 food options and large communal tables, there is sure to be something for everyone in your party! Right off the BeltLine, there is shopping, treats, pampering, and gear available, as well as food offerings from pizza to ice cream. This redevelopment and re-use project has well-crafted merchandising and elevates the historic neighborhood, creating a thriving destination for locals and visitors. Even Southern Living magazine said this district was "primed to become one of Atlanta's favorite hang-outs."
6. OAKLAND CEMETERY • 248 Oakland Ave SE • Open daily dawn to dusk • OaklandCemetery.com
Historic Oakland Cemetery is rich in history, art, architecture, and local lore. An important cultural resource, it also serves as an island of tranquility in the heart of the city. Created in 1850, Oakland Cemetery is composed of several distinct areas: Jewish Flat with its closely spaced markers, Bell Tower Ridge with its impressive mausoleums and grand magnolias, and African American Grounds with its graceful grounds and vernacular headstones. Each of Oakland's unique character areas speaks to the era in which it developed and of the communities buried there. Take a guided tour or a selfguided stroll through the monuments and beautiful spring blooms.
7. FERNBANK MUSEUM OF SCIENCE
CENTER • 767 Clifton Road • Daily from 10 am to 5 pm • FernbankMuseum.org
Travel around the world and back in time to discover amazing places, ancient fossils, prehistoric cultures, constellations, and new science discoveries in their indoor and outdoor exhibits. Explore combustion, aerodynamics, plate tectonics, and more in Fantastic Forces, a new STEAM exhibit. "The Nature of Color" exhibit runs through May 7, using hands-on interactives to analyze how colors make us feel and are perceived across cultures, as well as how plants and animals use color to help them survive. Activities also highlight the science of rockets, tornadoes, earthquakes, liquefaction, lightning, planetary orbits, gravity, centripetal force, and more. Learning and exploring has never been more fun!
200 Peachtree Building
Atlanta
Atlanta also boasts many murals, public art, and the Tiny Doors Hunt. (Find one at the Botanical Garden!) As with most larger cities, hotels can be found just outside the city limits for a more reasonable price. More information on Atlanta can be found at ExploreGeorgia.org. And don't forget to stop at IKEA and Buc-ee's on your way home! Happy travels! Through
April 16
Get Your Garage Organized for Spring
BY CARRIE MCCONKEY, CARRIEMCCONKEY.COM
WHENSPRING arrives, we begin visiting one room of our house much more often: the garage! We're ready to garden, take care of our lawns, and give our cars a good washing. The garage is ground zero for all of these activities and more. Get the jump on warmer weather by getting your garage organized for spring. Here's how!
Say Goodbye to Clutter with Slatwall
Get belongings off the floor and into view with slatwall. Sports equipment, power tools, garden implements, and everything in between can easily be hung no matter how
odd the size. Don't leave your smaller items out! Slatwall accessories such as shelves, hooks, baskets, and bins can handle them all.
Custom Cabinets Keep Things Under Wraps
Keep items handy, organized, and out of sight with durable melamine cabinets. Create zones for gardening needs, car washing supplies, and non-perishable home goods such as paper towels and soft drinks. Arrange tallest items in back, shortest in front, and use labeled bins for smaller things.
Step On It with a Polyaspartic Floor
Open the garage door as the weather warms and show off your attractive Epoxy
Polyaspartic floor. This heat-resistant, stain-resistant, and chemical-resistant surface is a snap to clean, although you may not have to worry about that very often… the granite-patterned flake finish provides camouflage for dirt and dust.
Clear Your Mind with Overhead Racks
Overhead racks are your answer for infrequently-used belongings. Beach equipment, luggage, coolers, camping supplies, seasonal decorations - the storage possibilities are endless. All can be safely stored overhead and out of the way but still easy to access when it's time for fun.
As your garage takes center stage this season, Chris McKenry and his team at Designer Garages will help you create custom designed storage using a beautiful range of colors and finishes. Call, click, or come in to his West Knoxville showroom to schedule a free consultation, and get your garage ready for spring!
Designer Garages
201 Center Park Drive, #1070 Knoxville, TN 37922 865.268.4868
DesignerGarages.com
THIS INAUGURAL Tennessee Triennial is a unified multi-site, multi-city exhibition that promotes contemporary visual art as a tool to foster constructive dialogue across communities, the state, the country, and internationally. The 2023 theme and core concept is "RE-PAIR," set forth by Consulting Curator María Magdalena Campos-Pons, and will be on exhibit at the Knoxville Museum of Art through May 7th.
Responding to the Triennial RE-PAIR theme about art designed "to heal, suture, and recompose fractured bodies, re-pair, patch, rebuild spirits, bodies, cities, political institutions, economic relationships," the KMA presents works emphasizing the transformative power of art to propose new solutions to global discord.
The Triennial presentation features thought-provoking objects created by a diverse, intergenerational slate of 13 international artists from across the U.S. The works address conceptual concerns ranging from the intersection of personal and political to environmental, cultural, and spiritual. They embody histories that sensitively embrace contradiction and complication and that challenge diverse audiences to look both forward and backwards in search of RE-PAIR.
Cocktails & Conversation with Artist Suzanne Jackson and Exhibit Consulting Curator Dr. Maria Magdalena Campos-Pons
Tuesday, March 14, 5:30-7:30 pm
Discover & Dine with Artist Althea Murphy-Price
Wednesday, April 26, noon-1 pm
Sarah Jane Hardrath Kramer Lecture with Featured Artist Willie Cole Thursday, May 4, 6-8 pm
See KnoxArt.org for more info, to register, and for expanded bios.
34 EVERYTHING KNOXVILLE March 2023
The Meaning of Mezze
KEFI BY RILEY WOODY
WALKING
INTO Kefi is like walking into a luxurious private party: It fits perfectly into the aesthetic of the Old City. The quiet lo-fi jazz bopping in the background and extra wide cushioned chairs create an inviting space perfectly balanced between professional and comfortable.
The circular bar sparkles with golden backlight, drawing the eye - and the patrons - to the back of the room. The buzz of conversation and communal energy ripples through the rest of the room from this off-center epicenter.
The dining room chatter comes from business meetings, birthday parties, girls' night out, and date night that blends to an incomprehensible yet exhilarating sound of people enjoying each other's company and sharing a meal. One busi nessman even greeted his clientele with "Welcome to our favorite restaurant in Knoxville."
Located at 120 E Jackson Avenue, Kefi is a mezze style restaurant, which many think simply means "ordered to share." Actually, the Middle Eastern and Mediterranean style communicates a sense of casual feasting. Ideal for the type of culture that never required a formal dinner invitation, mezze involves lots of small dishes, like hors d'oeuvres or tapas, except they're not just the first course. The entire meal is one small burst of flavor after another, and each dish is meant for sharing so the whole table can taste.
A dip or cheese plate is a good place to start, and at Kefi, the most popular starter lights up the room. Literally. The soothing soft light from palm leaf light fixtures contrasts starkly with the bright flare of sizzling orange flames that leap up from a wood and cast-iron tray of Saganaki. Each server cries "Opa!" as they light the alcohol-covered, hard-rind kesseri cheese. The heat and sound from each flambe makes it impossible to ignore and almost as hard to resist ordering one for yourself. Not one table failed to order Saganaki flambe while I dined at Kefi, and considering the restaurant was so packed that conversations started bleeding together, it's a good starting selection no matter your palate or purpose for dining.
The only unshareable thing on the menu is called Avgolemono soupa. "Lemon juice and egg broth" leapt off the page for my next order, and the tender chicken, soft rice, and creamy base were all gone far too quickly.
I followed the creamy soup with Tyropita, crunchy little filo pies topped with sesame seeds and oozing warm white cheese. They won't last long, but offer your palate a short reprise from complicated flavor before
diving into a more substantial meat dish. We ordered Garides: large, firm shrimp stacked on grilled country bread and smothered in garlic and feta so well blended it was more like a sauce.
To match all this foodie flavor, Kefi has abundant craft cocktail options. On a cooler night, as our server suggested, order something rich and comforting like the Fig Smash, which sips almost like hot tea, or the Painkiller, which somehow communicates the coziness of socks and the freshness of a warm beach in the same glass. The Maid in Cuba and its creamy counterpart, the Santorini, both play rum off of lime juice for that perfect balance of heat and fresh zing. But for those seeking unique flavor, order a Meraki Sling, which fully utilizes the incomparable talents of elderberry liqueur and pomegranate syrup, or
the Crocus 75, because it's impossible to go wrong with gin, saffron, and champagne.
We ended our order for the night with Sokolatina: milk chocolate mousse, raspberries, and flourless chocolate cake. The raspberry whipped cream (which isn't actually mentioned on the menu) combined with a pillowy layer of mousse and a decadent morsel of cake made for the most perfectly complete bite of dessert. Go to Kefi, even if you only order dessert.
It might be hard to believe after five courses of small plates split between two that we were both too full to finish dessert, but it's true. Mezze might mean small, but it certainly isn't meager. Try a different style of dining and bring your friends with the intention to share everything you order, because adventure at Kefi is about being together.
Riley Woody is a recent University of Tennessee graduate, Knoxville native, and avid foodie ready for any adventure with her pen and palate in tow.
(865) 238-5600 Sweet, affordable websites that work. Read many more stories at www.slamdot.com Our Customers Say It Best. "Slamdot has been very thorough, very professional, and very patient. The finished website looks amazing." - Ben Stultz Fresh Impressions
March 2023 EVERYTHING KNOXVILLE 37
JANIE HENDRIX THE MAKING OF JIMI
BY RANDY PATTERSON, BOOMEROCITY.COM
JIMI HENDRIX. The name conjures up images, memories, and sounds as individual as those who hear the name. For some of you, it may be remembering seeing Jimi in concert, maybe even at Woodstock. Others will remember how his music influenced their own musicianship or even changed their lives.
Regardless of what comes to mind, it all validates the fact that Jimi Hendrix made a permanent imprint on society and history. His sound was unmistakable, and countless guitarists have made it their goal to emulate their guitar hero's sound.
As everyone knows who has the slightest knowledge of Jimi, he passed away far too soon at the tender age of 27.
Think about that for a moment.
Many of you baby boomers have grandkids older than that now. Sobering.
Had Jimi lived, he would have turned 80 years old in November of last year. It's hard to imagine an 80-year-old Jimi Hendrix, because he's forever young in our minds.
To commemorate Jimi's 80th birthday, Janie Hendrix and John McDermott, co-author and Experience Hendrix L.L.C. catalog director for almost three decades, have published Jimi. It's the official 80th birthday edition, with lots of interesting and even never-before-published items in the book - borrowing from (and going much further than) both authors' previous books.
The book is excellent and is chock full of amazing photos and commentary by Janie and John. It is the perfect addition to the personal library of any music lover or Hendrix fan.
Janie shared about the book: "I think that first of all, the driving force was the fact that it was Jimi's anniversary of his life and wanting to get something out that was really cool - something that people would love because the 'Illustrated' book, of course, sold out, and there really aren't any copies left in our archives. When we met with Chronicle (the publisher), they just felt like a right fit. And they were able to do it very quickly. I think the end product is proof in the pudding of what it really should be."
With so much having been said and done regarding Jim Hendrix's life and career, I asked Janie if there were any surprises when putting Jimi together.
"Well, for me, I'll say this: One, of course, as we've gone on, it's almost like Jimi's our angel guidance behind us - or in front of us - always pointing out different people to go talk to. But then people come out of the woodwork saying we have photos, or they have some artifact that we have acquired.
"But Chronicle also is a great partner to work with, because when I was looking through the final copy, I was like, 'Okay, I just thought somebody (had put) like Post-it Notes.' If you notice on every five or six pages or so, there's a little doodle, like little arrows or hearts or something like that. And I just thought, artistically, they got a little carried away. But, no, those are Jimi's doodles that they had pulled from various handwritten lyrics or things that were in his journal…. All these like little kind of iconic '60s type doodles, it was so Jimi, because that's what he would do. He'd be on the phone with a pad and just doodling little hearts and arrows and drawings.
He'd draw stuff on my hands. So I thought that was very sweet and very cute and was really reflective of who he was as a person, because he was very sweet and kind and those little notes on the page, I really felt that they captured that part of him."
Janie's co-author, John McDermott, added: "I think I looked at it from the opportunity side. I thought it was we were really happy with the 'Illustrated' book, as Janie had said, and this was an opportunity to take it into a different direction - to not necessarily just replicate something we'd already done, but have a chance to go back in and add more to it. We've been so fortunate to work on so many Jimi Hendrix projects that it's exciting to be able to think you guys haven't seen this before. We've had that benefit. Now we're sharing it with you. It's like Janie said, we're always on the hunt. Whether it's an audio recording or film footage or photography in this book, you know, the photography, you're going to see things which are just amazing to see. I kind of liked that sharing aspect of it."
You can see this original Zoom interview in its entirety by visiting Boomerocity.com, where Janie and John talk about how Jimi's dad embraced his son's fandom, which Hendrix concert is coming out on vinyl, and how much joy it brings them to share Jimi's life and talents with others. If you wish to order Jimi , you can do so from the same page. You can also catch the latest Boomerocity interviews on their YouTube channel (@boomerocity) or listen on all major podcast platforms.
Randy's first interview was at the tender age of 13 with none other than Col. Tom Parker. Thirty-six years later, he founded the webzine, Boomerocity.com, and has conducted more than 400 interviews with some of the most interesting people in music.
38 EVERYTHING KNOXVILLE March 2023
The Benefits of Regularly Attending Dogtopia Daycare
DOG DAYCARE isn't just fun and games! It's a great place for dogs to learn positive behavior, get out their energy, and learn how to be in a new environment with new people and other dogs, ultimately reducing separation anxiety. Dogtopia was designed with dogs' wants and needs in mind, and our caring team will make sure your dog always has the "Most Exciting Day Ever" while in our care. The benefits of regular attendance can improve your dog's quality of life (and yours, too!).
Improves socialization - All dogs must successfully pass a Meet & Greet evaluation to make sure they are comfortable in our open-play environment and up to date on vaccinations. Even if you have a shy dog, regular daycare can bring them out of their shell to become more comfortable around new dogs and people.
Introduces new environments - Regular attendance helps dogs find the confidence to be comfortable in new environments. Dogs are like children - with a little time and patience, they'll realize being away from mom or dad at daycare is really fun!
Provides a safe place to play - Canine Coaches undergo extensive training in dog body language, safe play, and positive reinforcement to prepare for the variety of playroom situations and are always there to supervise. Our rubberized flooring is designed to keep dogs safe while allowing them to play the day away!
Reduces anxiety - When you leave home, dogs should understand that you will return without the concern of being left behind. Dogtopia daycare is a great way for your pup to learn that spending time away from mom or dad isn't so bad.
Play in any weather - Dogtopia is a great way to maintain your dog's exercise regardless of sun, rain, or even snow! With temperature-controlled playrooms, dogs will always feel comfortable.
A home away from home - Dogs can sometimes be anxious when spending time in a new place, especially away from their parents. When your dog attends daycare regularly, they'll associate time spent at Dogtopia as fun and exciting. Whether your dog is spending the day or a longer duration while you're on vacation, Dogtopia can become their home away from home. Do you think your dog would enjoy daycare at Dogtopia? Contact us for more information, we'd love to hear from you!
Dogtopia of Bearden-Knoxville
5213 Homberg Drive Knoxville, TN 37919
865.622.2599
Dogtopia.com/Bearden-Knoxville
SUNDAY, APRIL 2 | 10 AM TO 2 PM
Spring is here, and it's a great time to start thinking about your gardens!
THIS FUN-FILLED, free event will feature more than 30 local plant nurseries, gardening vendors, local artists and crafters, food trucks, and more! So whether you need wonderful plants for your yard, unique art for your home, or just want a great way to spend the afternoon, Ijams Nature Center's Mayapple Marketplace has something for everyone.
2925 Island Home Avenue, 37920 | Ijams.org
March 2023 EVERYTHING KNOXVILLE 39
If Our Walls Could Talk
WHAT DOES one see when looking around the walls of the Random Acts of Flowers' facility? You could say it simply looks like a workshop, not so unlike any other of its kind. Perhaps you would say it looks even more special than that. Some might even say it is a joyful place, filled with beautiful flowers, which will surely bring hope and encouragement to those in our community. We would have to agree with all of those observations, but at RAF, what we really believe is that our walls tell our story.
Adorned on all the walls are the pictures of those hardworking volunteers and staff who, through the years, have built the foundation and legacy for what Random Acts of Flowers has become. On those same walls, you will find countless pictures of deserving recipients caught in candid moments of awe, surprise, and joy at the delivery of such beautiful random acts of kindness during an otherwise difficult time. Our walls are also filled with countless thank you notes filled with gratitude for such a lovely
gesture from so many recipients through the years. Our walls also tell the story of community and not just the community that we serve. Within the confines of this organization, Random Acts of Flowers also tells the story of the community that we have created within our own four walls. Our facility is not just a place we work to fulfill our mission, but it is a place of camaraderie, friendship, and even - at times - a place of refuge from our own personal struggles. There is so much to see and learn when surrounded by these incredible walls. We invite you to see for yourself.
For more information on becoming a volunteer or RAF supporter, call 865-633-9082, email info@RAFKnoxville.org, or visit RAFKnoxville.org.
40 EVERYTHING KNOXVILLE March 2023
KITCHEN INNOVATIONS FOR YOUR HOME
Easy reach and easy access for kitchens, baths, and pantries
Convenient, organized solutions to maximize your storage space
Professionally installed in your existing kitchen, pantry, bath, or laundry cabinets
"Thank you so much for the wonderful kitchen upgrade. The guys were super nice and helpful. We found a perfect set up to give me so much more versatility. Appreciate you and your installers. Best!"
–
Village
Your LOCAL source for custom-designed, built and installed roll-out shelves and organizers – AT 50% LESS THAN NATIONAL FRANCHISES.
Corner cabinet solutions to reclaim wasted space
Cyndi, Tellico
Under sink storage that fits around plumbing Pantry cabinet upgraded with full-depth drawers Pull out organizers make the most of narrow cabinets Storage solutions tailored for you Vertical dividers allow easy reach & storage Trash and recycling pull outs (865) 675-5098 | ShelfHelpTN.com | ShelfHelp@tds.net Serving East Tennessee since 2016
MARCH
THROUGHOUT THE MONTH
Synergy Student & Art Eductor Exhibition at Dogwood Arts from 9 am to 6 pm weekdays through the 23rd.
Nourish Knoxville's Winter Farmers' Market in Market Square on Saturdays from 10 am to 2 pm through the 25th.
Lonnie Holley paintings and found-object sculpture at UT Downtown Gallery in conjunction with the Big Ears Music Festival. Weekdays 11 am to 6 pm, Saturdays 10 am to 3 pm through April 2nd. Extended hours during Big Ears weekend.
Landfall Press: Five Decades of Printmaking at Knoxville Museum of Art
Tuesday - Saturday 10 am to 5 pm, Sunday 1 to 5 pm through April 30th.
Tennessee Triennial: RE-PAIR at Knoxville Museum of Art, Tuesday - Saturday 10 am to 5 pm, Sunday 1 to 5 pm through May 7th.
See page 34
MARCH 10
Things My Mother Taught Me at Theatre Knoxville Downtown at 7:30 pm. Shows are Thursday - Sunday through the 26th.
Piecing Together History: Ramsey House Quilt Collection at Historic Ramsey House Wednesday - Saturday from 10 am to 4 pm through the 31st.
MARCH 11
Daylight saving time begins - spring forward Knoxville Home & Garden Show at the Knoxville Expo Center from 10 am to 4 pm. Also the 12th from 11 am to 4 pm. Visit ExpoManagementInc.com for more info.
Krenov-Style Wood Hand Plane Class at Able Trade, West Jackson Avenue from 10 am to 5 pm.
Herbal Bath Teas Workshop at Knoxville Botanical Gardens Visitor Center from 1 to 3 pm.
Knoxville Symphony Orchestra: The Music of Whitney Houston at the Civic Auditorium at 8 pm. Marc Broussard at the Bijou Theatre at 8 pm.
MARCH 12
Second Sunday Art Activity at the Knoxville Museum of Art from 1 to 4 pm. Hands-on art activity for children in grades K-6. Free!
Second Sunday Docent Tour at the Knoxville Museum of Art from 2 to 3 pm. Free!
Oak Ridge Community Band Concert at Sacred Heart Cathedral, 711 S. Northshore Drive at 6:30 pm. Free admission!
MARCH 13
Knox County Schools Spring Break through the 17th.
Banff Mountain Film Festival at the Bijou Theatre at 7 pm. Also the 14th and 15th.
MARCH 14
Cocktails & Conversation with Suzanne Jackson and Dr. Maria Magdalena CamposPons at the Knoxville Museum of Art from 5:30 to 7:30 pm.
An Evening with Third Eye Blind at the Civic Auditorium at 7:30 pm.
MARCH 16
Buddy Guy at the Tennessee Theatre at 7:30 pm. Men on Boats at the Clarence Brown Theatre at 7:30 pm. A true(ish) retelling of the 1869 Grand Canyon expedition. Shows through April 2nd. See ClarenceBrownTheatre.com for more information.
MARCH 17
St. Patrick's Day Knox St. Patrick's Parade along Church Street, Gay Street, and Jackson Avenue at 7 pm. Ice Bears vs Quad City Storm at the Civic Coliseum at 7:30 pm. St. Hat Tricks!
Jubilee Community Arts: Four Leaf Peat at Laurel Theatre at 8 pm. The Mavericks at the Bijou Theatre at 8 pm.
MARCH 18
Hand Piecing Quilt Workshop at Historic Ramsey House from 10 am to 1 pm. Family Fun Day at the Knoxville Museum of Art from 11 am to 3 pm. Free arts activities and family entertainment!
Cheap Trick at the Tennessee Theatre at 7:30 pm. Ice Bears vs Quad City at the Civic Coliseum at 7:30 pm. Storm Legends Night!
Jubilee Community Arts: Red-Haired Mary at Laurel Theatre at 8 pm.
MARCH 19
Knox Shamrock FestTM at World's Fair Park from 1 to 5 pm. Lucky Kidney RunTM at 3 pm. Benefiting the East TN Kidney Foundation, ETkidney.org. See page 21
East Tennessee Bluegrass Association Monthly Jam at Ijams Nature Center from 2 to 5 pm.
BoomBox at the Bijou Theatre at 7:30 pm.
Knoxville Jazz Orchestra: NXT GEN Concert Margherita Fava:TATATU/Bernell Jones Project at Old City Performing Arts Center at 7:30 pm.
MARCH 20
First day of spring
MARCH 22
Champions of Magic at the Civic Auditorium at 7:30 pm.
MARCH 23
Knoxville Symphony Orchestra: Appalachian Journeys at the Tennessee Theatre at 7:30 pm. Also the 24th. Drew and Ellie Holcomb at the Bijou Theatre at 8 pm. Also the 24th and 25th
MARCH 24
Bassmaster Classic at Volunteer Landing and along the Tennessee River through the 26th. Alive After Five at the Knoxville Museum of Art from 6:30 to 9 pm.
Knoxville Cheese Festival at Barrelhouse TAPestry Event Space at 7 pm. Also on the 25th - VIP at 1 pm, general at 2 pm.
Ice Bears vs Macon Mayhem at the Civic Coliseum at 7:30 pm.
Mossy Oak Night!
MARCH 25
Tennessee Valley Cat Fanciers Show at Chilhowee Park Jacob Building from 9 am to 4 pm. Also the 25th.
Intro to Woodworking Class for Women at Able Trade, West Jackson Avenue from 10 am to 4 pm.
Mimosa & Margarita Fest at the Knoxville Botanical Garden & Arboretum from 1 to 4 pm.
Ice Bears vs Macon Mayhem at the Civic Coliseum at 7:30 pm. Country/Off-Road Night!
MARCH 26
Harley Kimbro Lewis at the Bijou Theatre at 7:30 pm.
MARCH 28
Whose Live Anyway? at the Tennessee Theatre at 7:30 pm.
MARCH 29
Blippi: The Wonderful World Tour at the Civic Auditorium at 6 pm.
THINGS TO DO • PLACES TO GO • PEOPLE TO SEE
MARCH 30
Big Ears Festival in downtown Knoxville through April 2nd, BigEarsFestival.org.
Kane Brown at Thompson-Boling Arena at 7 pm.
MARCH 31
The Surprising Story of the Three Little Pigs at Knoxville Children's Theatre at 7 pm. Shows through April 16th. See KnoxvilleChildrensTheatre.com for details.
MARK YOUR CALENDAR
APRIL 1
Dogwood Trails & Open Gardens through the 30th. Visit DogwoodArts.com for details.
Dogwood Arts Chalk Walk in Market Square from 8 am to 5 pm. Awards ceremony at 7 pm.
Covenant Health Knoxville 5K and Kids Run in downtown Knoxville. Kids Run begins at 5:30 pm and 5K begins at 7 pm. Also the 2nd. For info visit KnoxvilleMarathon.com.
The Eagles: Hotel California Tour at Thompson-Boling Arena at 8 pm.
APRIL 2
Covenant Health Knoxville Marathon, Half Marathon, and Relay Races in downtown Knoxville beginning at 7:30 am. For info visit KnoxvilleMarathon.com.
Mayapple Marketplace annual spring celebration at Ijams Nature Center from 10 am to 3 pm. See page 39
APRIL 4
Knoxville Jazz Orchestra presents Bird Lives featuring John Beasley and Charles McPherson at the Bijou Theatre at 8 pm.
APRIL 5
William Shaub & Friends presents The Late Genius: Beethoven's Final Days at the Knoxville Museum of Art from 7 to 9:30 pm. Also the 6th.
The Kid LAROI at Thompson-Boling Arena at 8 pm.
APRIL 6
R.E.S.P.E.C.T. -
A Celebration of the Music of Aretha Franklin at the Tennessee Theatre at 7:30 pm.
APRIL 7
First Friday on Market Square, Gay Street, The Old City, and Downtown North beginning at 5 pm.
David Sedaris at the Bijou Theatre at 7 pm. Rodney Carrington at the Civic Auditorium at 7 pm. Ice Bears vs Roanoke Dawgs at the Civic Coliseum at 7:30 pm. Chilly 500/RC Racing Night!
APRIL 8
Spring Tree Walk at Knoxville Botanical Gardens Visitor Center from 9 to 10 am. Pinky Patel at the Bijou Theatre at 8 pm. The Black Jacket Symphony presents Tom Petty's Full Moon Fever at the Civic Auditorium at 8 pm. All event dates and times subject to change.
March 2023 EVERYTHING KNOXVILLE 43
New Exhibitions Opening
THE ARTS & Culture Alliance is pleased to present five new exhibitions at the Emporium Center in downtown Knoxville from March 3 through April 1. Most of the works are for sale and may be purchased through the close of the exhibition by visiting in person or the online shop at KnoxAlliance.store.
Beauvais Lyons: Circus Orbis – See to Believe in the Upper Gallery
This exhibit offers a window into a little-known part of Tennessee history. Founded in 1908 by Thaddeus Evergood, Circus Orbis was a regional circus that performed for more than 20 years. Curated by Beauvais Lyons, Director of the Hokes Archives, as well as a Chancellor's Professor of Art at the University of Tennessee, the exhibit includes a selection of lithographs, printed ephemera (including pop-up books and a paper puppet theatre), and facsimiles of painted banners. Plus a series of historic photographs by Adam HartstoneRose from the 1920s and a sampling of circus music. Circus Orbis gave its final performance in July of 1929 when the Paducah fairgrounds venue was destroyed in a fire. It remains a unique part of Tennessee history.
Knoxville Modern Quilt Guild: Quilt Show 2023 in the Lower Gallery
Featuring a curated collection of quilts from members of Knoxville Modern Quilt Guild, this exhibit showcases modern elements such as bold colors and prints, high contrast and graphic areas of solid color, improvisational piecing, minimalism, expansive negative space, and alternate grid work. With a mission to support and encourage the growth and development of modern quilting through art, education, and community, the Knoxville Modern Quilt Guild is for residents in and around Knoxville interested in modern design and quilting. The Guild provides a community where modern quilters can meet, share ideas, and create in an environment that encourages creativity and acceptance. The Guild meets monthly and welcomes new members.
Fluid Art by Farhad Naimy in the Atrium
This new exhibition features contemporary and modern painting using different techniques of letting the movement of paints create every piece. All works are presented on gesso wood panels with acrylic paint and finished
with resin to enhance the colors.
As a professional engineer, Farhad Naimy brought his passion for architecture, design, and creative use of space to his custom-built, multimillion-dollar homes in San Francisco and throughout the Pacific Northwest. Naimy pulls from his lifetime of international experiences to create art. He is captivated with fluid art because of his deep connection to nature and color. Viewers feel them more than are able to explain them. The chemistry in life and in art is unexplainable but experienced through our senses.
Bruce Bunting: Paper Frames on the North Wall
Bruce Bunting is a retired automotive engineer and selftaught artist. He has always been interested in art and is an avid do-it-yourselfer. He settled on papermaking because it represents a juxtaposition of equipment, materials, chemistry, and art.
Artist statement excerpt: During this project, I merged my art with the frames in which it is displayed. I began to cast my frames from paper to integrate them more fully. Some of the art is cast as part of the frame, while other works are inserted into the frames in the form of collages. My subject matter has many influences and is generally whimsical and macabre.
Sheila Chesanow: Long Term Parking in the Display Case
Artist statement excerpt: When driving down the road in the countryside in Tennessee, it is common to see abandoned cars on the properties of people who never had the time to keep up with their vehicles. Often, the car will sit in the location where it last ran with the potential to somehow wake up and drive happily down the road again. Quietly rusting away is both beautiful and depressing; automotive enthusiasts will be crying bittersweet tears at the sight of these rusting beauties. Always interested in art and photography, Chesanow learned to develop her own images. Her work was published in the Best of Photography Annual twice. She focuses on nature and fine art photography, which is reflected in her work.
The exhibitions will be on display at the Emporium Center, located at 100 S. Gay Street in downtown Knoxville. The Emporium is open to the public Monday through Thursday from 9 am to 5 pm, Friday from 9 am to 7 pm, and Saturday from 10 am to 1 pm. For more information, call 865-523-7543 or visit KnoxAlliance.com.
Emporium Center March 3
44 EVERYTHING KNOXVILLE March 2023
All of Your Out-of-Door Events
IT'S ALMOST TIME to move your family's events back outdoors, and the professionals at Undercover Systems can provide you, your family, and friends with the option to spend unlimited time out-of-doors all year-round.
This spring is the perfect time to install Undercover Systems' totally unique underdeck ceiling system under your home's existing raised decks. This totally proprietary and patented underdeck system will ensure that this year's outdoor gatherings will be protected from unexpected and unwanted rain, the searing summertime sun, and next winter's sleet and snow. You'll appreciate Undercover Systems' attention to detail, which comes from years of experience, as they help you craft a seamless transition from your home's interior to your new out-of-door living spaces. Underdeck ceilings are available in a variety of colors and textures - even bead board! - to perfectly complement your existing architecture and landscaping plans.
"It's great time to weatherproof all of your future out-of-door events," said Jim Conn, owner of Undercover Systems. "Throughout the entire process, our skilled craftsmen work with you, each step of the way, from consultation until your project is completed to your satisfaction. And because each underdeck system we install is custom made by Undercover Systems specifically for your individual home, you can be assured of many years of reliable, trouble-free family enjoyment. Most of our competitors use generic, off-theshelf components found at the big box home improvement stores. Our underdeck product is totally supported by Undercover Systems' gutter system and not your home's decking as with competitive systems. This promotes greater air circulation and deck longevity. A fact that homeowners always appreciate!"
A complaint-free member of the Better Business Bureau, Undercover Systems offers you the peace of mind that you deserve in a building contractor.
Why not start creating a lifetime of memories by surprising your family this season with a special springtime gift that the entire family can enjoy all year long? Call Jim Conn today at 423-267-0091 and start celebrating every season out-of-doors.
Undercover Systems
423.267.0091
UndercoverSystems.com
Weatherproof
March 2023 EVERYTHING KNOXVILLE 45
Eye-catching Viburnum 'Spring Lace' blooming in early April at the UT Gardens, Jackson.
UT Gardens' Plant of the Month
VIBURNUMS FOR TENNESSEE GARDENS
BY ANDY PULTE, DISTINGUISHED LECTURER AND DIRECTOR,
VIBURNUMS ARE a versatile and popular choice for use in the Tennessee landscape. These shrubs and small trees can be used in a variety of ways. They are known for their four-season interest including attractive flowers, berries, and foliage. Viburnums are also a great choice for attracting birds and wildlife to the garden. Many are easy to grow and are tolerant of a wide range of soils and environments; this makes them a natural choice for the garden.
Viburnums require minimal maintenance in the landscape, and the larger ones look great in the back of a garden border. Some of the most well-known, old standby viburnums used across the Southeast are the snowball bush (Viburnum opulus), Chinese snowball bush (Viburnum macrocephalum), fragrant snowball viburnum (Viburnum x carlcephalum), blackhaw viburnum (Viburnum prunifolium), arrowwood viburnum (Viburnum dentatum), and American cranberry bush viburnum (Viburnum trilobum).
As the State Botanical Garden of Tennessee tests new plants, we have a few newer viburnums that we have really enjoyed. 'Spring Lace' hybrid viburnum (Viburnum x 'Spring Lace') has been one of our favorites. You will see how it gets its name in mid-spring as it is covered in large white lace-cap-type flowers. A mid-sized plant at maturity, 5 feet wide by 5 feet tall, tends to be its garden size. Another winning new viburnums at our gardens is Pearlific ® viburnum (Viburnum 'PIIVIB-I'). This is a complex hybrid viburnum with good heat tolerance for our region. Flowers are pink in development and open to pure white. Floral scent is pleasant but not overpowering. A slightly smaller shrub, you can expect plants to reach 4 feet wide by 4 feet tall in 8 to 10 years and top out at 6 feet tall and wide over time.
I firmly believe there is room for at least one viburnum in almost every residential landscape. We have many native species in the United States, and wildlife love them. As a group, you can find both evergreen and deciduous viburnums. Some of the deciduous selections are prized for their fall color. If you are not familiar with viburnums, let this article be the start of discovering the perfect viburnum for your landscape. We invite you to come see the diversity of viburnums growing at all the UT Gardens sites across the state.
The UT Gardens includes plant collections located in Knoxville, Crossville, and Jackson, Tennessee. Designated as the official botanical garden for the State of Tennessee, the UT Gardens are part of the UT Institute of Agriculture. The Gardens' mission is to foster appreciation, education, and stewardship of plants through garden displays, educational programs, and research trials. The Gardens are open during all seasons and free to the public.
Photo by Jason Reeves
Courtesy of Wikipedia Commons/Wouter Hagens
Courtesy of Wikipedia Commons/Wouter Hagens
46 EVERYTHING KNOXVILLE March 2023
GATOP GARDENS
March in the Garden
PATIENCE IS a virtue. I want you to keep telling yourself that for the next few weeks because some of you are already getting in a hurry. I've seen plants being replaced that aren't dead, plants cut back that shouldn't be pruned yet, and plants installed that shouldn't be planted yet. Our average last frost is not until April 15th, folks. Replacing shrubs that aren't dead (at the most volatile time of the year, no less) is a waste of time and money. Pruning struggling plants stresses them even more, and planting before the time is right is a recipe for failure. If you have questions, please call us before you proceed. There are plenty of things to do this month to keep busy:
☼ March is the month to finalize your garden plans. What needs to be added, removed, divided, pruned, fertilized, or replaced? Would you like to start a vegetable garden? Do you need more blooms and less evergreens or vice versa? Do you want to attract pollinators? Want to remove plants that require too much maintenance? Now is the time to make these decisions and contact landscapers for installation. I cannot overemphasize how important it is to hire a good landscaper! I have seen too many yards that were over-planted or had them in the wrong place. Ask your neighbors, check with the BBB, then have a good conversation with the person you choose, because you could be living with their work for a very long time.
☼ March is also a great month for preparing your beds. Remove all weeds and work a little compost, rotted manure, worm castings, and/or topsoil into the beds. Put down a pre-emergent like Preen to keep weeds from coming back, but not in a bed where you are going to plant seeds! Preen doesn't know a good seed from a weed seed and will prevent them all from germinating.
☼ If you have a problem bed where everything seems to die, this is the time to do a soil test to see if your nutrients are lacking or your pH is wonky.
☼ Don't underestimate the power of mulch. It will help to keep soil temperatures and moisture levels stable. Our temperatures will go up and down like a roller coaster the next few weeks, and shallow rooted plants can actually "heave" themselves out of the ground. Mulch prevents that. Use natural products that will decompose and add nutrients to your soil.
☼ Plant trees, shrubs, and cool season perennials in your yard as soon as the ground is workable. By workable, I mean when it isn't a muddy mess. Roots require oxygen, and they can't pull it from the
BY LISA GRUGIN
soil if it is saturated. They will drown. You can also plant pansies and violas if you didn't get them in last fall or if your fall plantings froze.
☼ If you're planting a garden this year, start warm season annual and vegetable seeds inside. Cool-season greens, onion sets, beets, carrots, potatoes, and radishes can be seeded directly into the ground. You can also plant cole crop seedlings (head lettuce, broccoli, asparagus, cauliflower, cabbage, Brussels sprouts) mid-month if Mother Nature is cooperating.
☼ You can fertilize trees and shrubs after the middle of the month. Fertilize perennials when they begin to show new growth, crocus after blooms have faded, and daffodils when the leaves start to yellow. Organic products are less likely to burn your plants.
☼ Divide and transplant summer blooming perennials such as daylilies, hostas, and Siberian iris.
☼ There are a few things that can and should be pruned now. Prune summer flowering shrubs like roses and Crepe Myrtles before they start putting on new growth. By the end of the month, you can prune out any dead or damaged wood on shrubs that were zapped by the Christmas freeze.
That being said, there is a huge difference between pruning and butchering. Don't prune like a toddler that just found a pair of scissors!
☼ Grasses and ground covers can be cut back now. For short grasses, set your lawnmower on the highest setting and run over them. Large grasses are easier to manage if you tie twine around the clump and then cut below the twine. Wear gloves!
☼ You may have perennials that look terrible right now. Once the new growth has emerged at the base of your perennials, cut all that ugly old stuff off. If you have questions, please call.
☼ Don't forget the birds! Keep feeders clean and full of a good quality birdseed, and keep birdbaths clean and full of water. High fat foods such as black oil sunflower seeds and suet are best this time of year. Clean out birdhouses for new bird families. We're getting shipments in daily of gift items and plants, so stop by to see what's new!
Meadow View Greenhouses & Garden Center
9885 Highway 11E Lenoir City, TN 37772 865.986.7229
MeadowViewGreenhouse.com
March 2023 EVERYTHING KNOXVILLE 47
The Iconic Burwell Building and the Curious Case of THE HUMAN FLY
ONAPRIL 7, 1918, spectators lined Gay Street to catch a glimpse of George G. Polley, a.k.a. The Original "Human Fly," attempt a most spectacular stunt - climbing all 10 stories of the 1907 Burwell Building on Gay Street. The climb was in conjunction with the Great Liberty Parade, which was to take place right after the stunt. Polley planned to scale the outside walls by hanging on to crevices in the bricks, window ledges, cornices, and any other projection he could find.
George Polley, a native of Richmond, Virginia, was born in 1897 and grew up a star athlete. His career originated at the age of 12 when a local businessman promised him a new suit if he would climb to the top of his building. Polley was triumphant and never looked back, becoming best known for his "buildering," work as a vaudeville magician, and raising charitable contributions during World War I.
After arriving in Knoxville on April 5, Polley secured a permit from the City of Knoxville to climb the Burwell Building. Two days later at 1:30 pm, "The Human Fly" began his climb, and within 30 minutes he had reached the top and proceeded to stand on his head with his feet extended over the edge of the roof before scaling the flagpole too! Five thousand people looked on in amazement.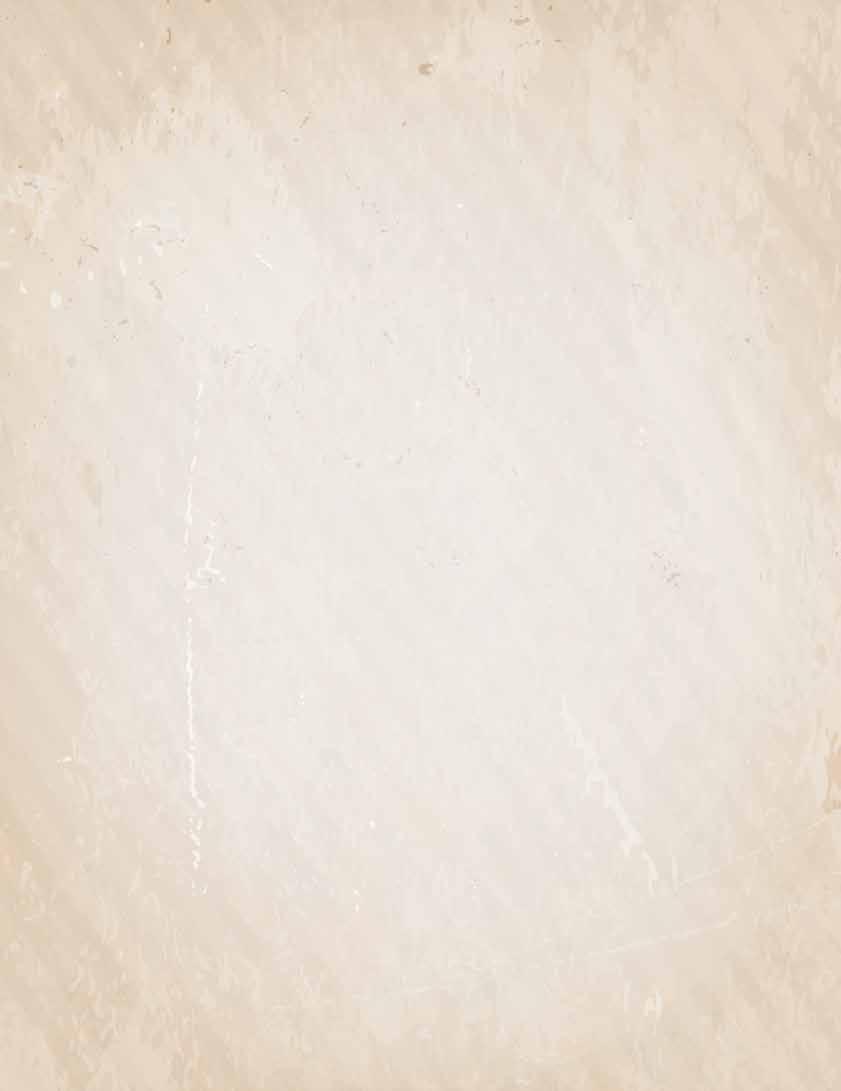 Known throughout the country as "The Human Fly" who risked his life countless times in spectacular climbing stunts, Polley never fell but part of his act was to pretend to slip or lose control. During World War I, he served as
an Army sergeant and became nationally known for raising funds for U.S. soldiers overseas, the Salvation Army, and many other charitable organizations here in the States. George Polley is said to have climbed more than 2,000 buildings throughout his short career. His greatest achievement might have been his daring attempt at climbing the Woolworth Building in New York City in 1920. At that time, it was the tallest building in the world at 792 feet. He made it to the 30th floor before being arrested for failing to secure a permit. Sadly, Polley died in 1927 during an operation to remove a brain tumor.
The iconic Burwell Building was built in 1907 as the Knoxville Banking and Trust Building at the corner of Gay Street and Clinch Avenue. It was the tallest building in Knoxville at a height of 166 feet until 1913, when the Holston National Bank was built across the street. The building was designed by the architectural firm of Richards, McCarty, and Bulford of Columbus, Ohio, in the Second Renaissance Revival style. The Knoxville Banking and Trust Company ceased operations in 1912, and the Southern Railway Company established its main Knoxville ticket office in the building's lobby. In 1917, the C.B. Atkin Realty Company purchased the building and renamed it "Burwell" in honor of Mrs. C.B. Atkin's family name. Clay Brown Atkin (1864-1931), who at the time was one of Knoxville's wealthiest citizens, also purchased land for the Tennessee Theatre and an expansion of the Burwell Building.
Since the Burwell was not the tallest building in Knoxville at the time (Polley's preferred climbing subject), he most likely was asked to scale the building at the request of C.B. Atkin to increase publicity and excitement for his new real estate ventures. "The Human Fly," however, wasn't the first to "scale" and stand atop the building. One of the essential members of the construction crew was a mule called Maud - named for a funny comic strip character that would kick someone high into the air at the end of each strip. After the iron work structure was completed on the building in 1907, Maud the Mule was hoisted to a platform at the top of the building to the cheers of thousands of onlookers!
The next time you're strolling down Gay Street, look up at the Burwell Building. Can you see George Polley swinging from a cornice or window sill? Can you see Maud the Mule being hoisted above the roof? We sure can!
Knox Heritage preserves structures and places of historic or cultural significance for our community. Founded in 1974, Knox Heritage is a non-profit dedicated to historic preservation education, advocacy, and technical services. It also owns and operates Historic Westwood and the Airplane Filling Station. Knox Heritage is supported by members who value preserving historic places in our community. Learn more and become a member at www.knoxheritage.org.
Maud the Mule
48 EVERYTHING KNOXVILLE March 2023
George G. Polley, a.k.a. "The Human Fly"
Customer Service: An Acquired Skill
Photo by Mirtography
Business Note
BY BRETT CAFFERTY
ABOUT EVERY other month, my wife makes a major re-supply run (which I am grateful for) to purchase exciting and necessary household items like garbage bags, light bulbs, batteries, etc. Rather than go to several stores, we go to a national big box. On our most recent trip, I was tasked with making a return while she shopped, so I approached the customer service desk.
A young person at the desk was quite unexcited to be there. She looked at me but waited for me to initiate the conversation. We took care of the return, and as I walked off, I was quite surprised at the lack of interaction from someone working in a "customer service" role. This could have been an isolated incident - a bad day, working too many shifts due to staff shortages, perhaps placed in the wrong role. It might have been one of those chicken and egg questions - lack of training, shortage of help (including management), and businesses having to just put anyone in spots that need to be filled just to make it through the day. I don't envy the management or employees these days with all of the challenges they face.
I wasn't angry, just a bit bewildered. I knew that getting upset was like "shooting the messenger" if they have not been trained with appropriate expectations. Some kids are fortunate to receive this equipping while growing up, others are not.
Having worked in the service industry when I was
younger, then moving to outside sales and management, I was able to learn the basics of business etiquette through training, repetition, and working with customers - and usually by example of seeing it done by others. This led to meeting expectations and being accountable to those in charge.
The adult world began! Looking back, I learned a whole lot about people, customer service, and business basics by working in a small business. Some days were hard, some were fun, many were long, and there was always trash to take out and bathrooms to be cleaned. But the experience was invaluable.
We keep hearing and seeing the reality of current labor shortages as many employers must hire and be willing to keep anyone who shows up. The passing of time compounds this issue as shortterm problems become months, then years. It's a very difficult position for employers and employees alike and doesn't allow much time or energy for developing and training staff. Or to catch a breath.
A closing thought… there is a very real, and a very painful, shortage of help in almost every business in our community. The end of the school year is not far off, and if you have or know a teen or college student who could be working, a great place to get started is with a locally owned small business. They need our help, and the employee education and experience gained will be invaluable for years to come.
New for 2023, Everything Knoxville is now reaching new homeowners throughout Knox County – increasing awareness and potential customers for our advertisers and helping new residents learn what's going on around town, where to go, and who to call! ASK ABOUT OUR NEW ADVERTISER "TEST-DRIVE" PACKAGES Flexible participation at a savings to meet your business needs and budget Knoxville's most widely distributed magazine, direct mailed to 22,000+ high-income households from downtown Knoxville to Bearden, West Knoxville, Farragut, Hardin Valley, and beyond Graphic design and copywriting to help our clients communicate their best message Flexible participation, no contracts, and complimentary article space to help share your story Everything Knoxville is excited to begin our 17th year of sharing the services and small business stories of Knoxville, along with local events and the good work of community organizations As a trusted local resource, we reach more homes, more often to maximize results for our advertisers Knoxville's Most Widely Distributed Magazine P.O. Box 24532, Knoxville, TN 37933 | 865.640.3015 | info@everythingknoxville.com | EverythingKnoxville.com 50 EVERYTHING KNOXVILLE March 2023
Redefining the Vision of Skin Care
AHEALTHY AND radiant complexion is an essential part of feeling good and presenting your most authentic self. But how do you know what you need to exhibit the best skin and the best version of yourself? With VISIA Complexion Analysis and the help of the Southeastern Dermatology expert team.
VISIA Complexion Analysis is a state-of-the-art system that lets Dr. Doppelt and his staff take a deep look into your skin and complexion. The VISIA Complexion Analysis allows you to see your current skin in a whole new light and uses computer technology to look ahead to see how different treatments could help you reach your skincare goals.
What is VISIA Complexion Analysis?
VISIA Complexion Analysis lets you take a thorough look at your skin. This computer-controlled tool uses regular, UV, and polarized photography that work together to produce detailed reports about how the right skin care regimen and treatments can benefit your complexion. You can see UV damage, wrinkles, hyperpigmentation, and more with unparalleled detail. VISIA Complexion Analysis can even show your Truskin Age, which can be used to determine how your skin has responded to time and treatment.
Additionally, VISIA Complexion Analysis lets you look ahead. See wrinkles before they form with a unique algorithm designed to show you aging progression and your untreated skin's future. Analysis and AI tools also show you your skin type and let you visualize how your skin can improve after various treatments. This allows you and your practitioner to choose the best options with skin care and treatments with side-by-side comparisons.
What Can VISIA See?
• Spots: Typically brown or red skin marks, distinguishable by the distinct color and contrast from the background skin tone. Spots vary in size and shape and are normally visible to the naked eye.
• Wrinkles: Furrows, folds, or creases in the skin that can increase as a result of sun exposure and are associated with a decrease in skin elasticity.
• Texture: Raised and depressed areas that indicate variations on the skin surface affecting skin smoothness.
• Pores: Circular surface openings of sweat gland ducts. Due to shadowing, enlarged pores appear darker than the surrounding skin tone and are identified by the darker color and circular shape.
• UV Spots: The absorption of UV light by epidermal melanin just below the skin surface results in the display and detection of UV spots that can result from sun damage.
Board Certified Dermatologist
• Brown Spots: Pigmentation and discoloration on and beneath the surface of the skin.
• Red Areas: Concentrated darker red areas, which may be related to a variety of conditions such as inflammation or spider veins.
• Porphyrins: Bacterial excretions that can become lodged in pores.
Is VISIA Skin Analysis Accurate?
Look to VISIA to show an accurate and in-depth report of your skin's current and future condition. VISIA Complexion Analysis uses different methods of photography and analysis to accurately measure your skin pigmentation, pore size, porphyrins (evidence of bacteria), UV spots, photo damage, texture, and wrinkles.
You and your practitioner can count on VISIA Skin Analysis to be accurate thanks to the latest technology. The seventh-generation VISIA Skin Analysis relies on advanced algorithms and AI to provide detailed and factual visual reports. This means VISIA will not only show damage like that is invisible in normal light, but will also accurately predict changes thanks to improved skin care and treatments like injectables.
How Do You Read VISIA Results?
The team at Southeastern Dermatology will carefully review VISIA results with you during your consultation. By providing the expertise and experience of a board-certified dermatologist with VISIA's state of-the-art technology, you'll get a clear picture of the condition of your skin and what is ahead with the right treatment. You'll be able to ask any questions and chart out a skin care and treatment routine designed to give you optimum results.
Call 865-474-8800 to schedule your VISIA Complexion Analysis consultation, or request an appointment online and see what it takes to truly enjoy the skin you're in.
B. DOPPELT
MATTHEW
D.O., F.A.O.C.D., F.A.A.D.
1930 Pinnacle Pointe Way | Knoxville, TN 37922 | 865.474.8800 | DrDoppelt.com