Say "I Do" with an weddingeasy checklist!
Six newly married Tri-State couples share how they created their special day
Wedding Timeline
Use this helpful guide to plan your perfect celebration.
By Meghan Stratton
10-12 months prior to the ceremony, or right after getting engaged:
 Create a big-picture budget for the wedding.
 Choose a ceremony date and a backup date.
 Compile your guest list.
 Research and tour venues. Book the ceremony and reception venues you love and start to envision your big day there.
 Pick a wedding theme or color, and book your florist.
 Book the officiant or select someone you know who is ordained.
 Research and book your photographer, videographer, and DJ/entertainment.
 Shop for and order the bride's and groom's attire.
 Shop for bridesmaid dresses and groomsmen suits.
 Have an engagement party.
 Select a seamstress or alterations company.
7-9 months prior:
 Create and mail your save-the-dates.
 Book or coordinate your wedding day transportation.
 Research and book hair and makeup artists.
 Create your gift registry and wedding website.
 Book hotels for out-of-town guests.
 Book honeymoon accommodations and transportation.
 Book a rehearsal dinner venue and confirm your venue's availability for the rehearsal.
6 months prior:
 Order invitation stationery.
 Purchase wedding rings.
 Plan and take engagement photos.
 Have your wedding attire altered.
4-5
months prior:
 Send out invitations.
 Order cake or desserts.
 Purchase bridal shoes, accessories, and veil.
 Reserve any rental items like chairs, linens, and dinnerware. Before you order anything, check what your reception venue provides.
 Finalize the guest list and the dinner menu.
 Book wedding night accommodations.
2-3 months prior:
 Do trial runs for bridal hair and makeup.
 Purchase or arrange extras like a guest book, toasting glasses, and a cake knife.
 Create and print programs and menus.
1 month prior:
 Apply for and pick up your marriage license. (Check with the clerk of the county you're marrying in; some licenses expire if not filed in a certain number of days.)
 Write your vows.
 Create and finalize the reception seating chart and table numbers.
 Finalize the schedule for the day of the wedding and confirm your vendor arrival times.
 Review must-have shots with the photographer.
 Review your final RSVP list and communicate any reception changes to your venue and/or caterer.
2 weeks prior:
 Finalize vendor payments. Don't forget to tip!
 Break in your wedding shoes.
 Delegate day-of duties to trusted loved ones.
 Review your wedding day playlists — this includes music for getting ready, the ceremony, cocktail hour, and the reception.
 Get the groom and groomsmen fresh haircuts.
 Get a final fitting of all bridal party attire, including the wedding dress and groom's suit.
JANUARY/FEBRUARY 2023 EVANSVILLE LIVING 65 The Wedding Book SPECIAL ADVERTISING SECTION
Continued on page 93
812-423-6744 Please visit our website www.trueventrental.com BY APPOINTMENT ONLY!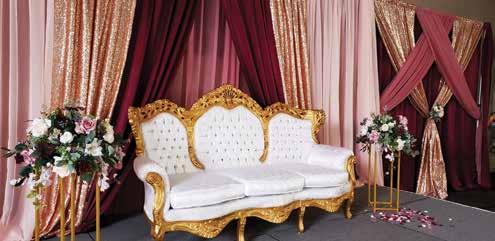 For all of your event needs SERVING THE TRI-STATE SINCE 1988
Katelyn' s
AND DESIGN
812-204-9532 12500 Highway 41, Suite 5 Evansville, IN 47725
Our goal is perfection.
We specialize in wedding and formal gown alterations and will walk you through the entire process. There is no job too big or too small. We offer services ranging from hems and bustles all the way up to complex gown design and reconstruction. Whether your goal is price or perfection, we can tailor the right fit for you. Upfront pricing quotes are provided during your fitting consultation. We aim to provide all of our clients with the highest quality work, fair pricing, honesty, integrity, and great customer service. Come see why our clients continually come back to us.
ALTERATIONS
/evansvillesewing CALL TO SCHEDULE AN APPOINTMENT TODAY: 812-204-9532
By Meghan Stratton
After dating for seven years, high school sweethearts Jadrien and McKenna Higginson were married outdoors on a sunny day surrounded by an autumn glow.
The two attended Castle High School in Newburgh, Indiana and ran track. Jadrien chose the date of their engagement two years before it happened, and on June 11, 2021, he proposed on a bench at the Newburgh riverfront.
JANUARY/FEBRUARY 2023 EVANSVILLE LIVING 69 The Wedding Book SPECIAL ADVERTISING SECTION
& McKenna
Jadrien
Photographer/ Videographer Haley Raven Photography Florist "I Do" Floral Designs Dress Magnolia Bridal House Catering Kokies Catering and Banquet Centers DJ Todd Early of Generation Sound Cake Amelia Cottrell
A career in real estate is about a lot more than selling homes: it's about relationships. At F.C. Tucker Emge, our company is founded in a belief that opportunity is knocking on everyone's door. We can help you leverage your skills and interests into building a career built on independence and creativity.
F.C. TUCKER EMGE 812.402.0200 • FCTuckerEmge.com
Stay up-to-date on our Virtual Career Sessions! Follow us on Facebook: @FCTuckerEmge
Invest in your future: Let's Talk about selling homes.
Throughout the planning process for their Oct. 1, 2022, wedding, Jadrien and McKenna focused on making their wedding intentional and Christ-centered. They enjoyed asking each bridesmaid and groomsman to be in the wedding party and spending time all together before the ceremony.
The couple wrote their own vows for the ceremony at Kokies Echo Valley, and the bride's uncle recited a letter about marriage that he had also read at her parent's wedding. In their unity ceremony, the couple tied three strands together representing their two families and God becoming one.
The reception was held at Kokies Catering and Banquet Center with a classic comfort meal for dinner. The dance party lasted nearly four hours long — and was cushioned by matching sneakers for the wedding party — but it was one special dance that McKenna holds dear.
"We decided to do a private dance halfway through the reception," she says.
JANUARY/FEBRUARY 2023 EVANSVILLE LIVING 71 The Wedding Book SPECIAL ADVERTISING SECTION
"All of our guests went outside to prep for the flashlight exit. Jadrien and I stayed alone inside and danced to the song I walked down the aisle to — a break in the chaos for just the two of us to have a moment together and take it all in. It was the most special and unique part of our day."
PERSONALIZED SERVICE & QUALITY WORK Alterations by Olivia 812-858-8736 • 107 Sharon Road, Newburgh, IN 47630 • alterationsbyolivia.com Monday-Thursday 9:00 a.m. - 6:00 p.m. • Friday & Saturday 8:00 a.m. - Noon More than 33 years experience, backed by a reputation of attention to detail and excellent customer service. BRIDE & GROOM • BRIDESMAIDS • MOTHER & FATHER OF BRIDE/GROOM • TUXES • FORMAL WEAR • PROM BY APPOINTMENT ONLY
Photos by Neeley Photography
Alex & Danielle
By Meghan Stratton
Danielle and Alex Mitchell are high school rivals turned sweethearts. Both are native West Siders, but Danielle attended Mater Dei High School, while Alex studied at F.J. Reitz High School. There already is strong debate about where any children the couple may have will attend secondary school.
They met in high school through mutual friends and dated nearly six years before getting engaged. Alex proposed at the Haynie's Corner Arts District fountain after a romantic dinner at Sauced, and the couple's families eagerly watched the proposal from behind nearby trees.
Alex and Danielle needed a large venue for their nearly 250 wedding guests. The April 30, 2022, ceremony was held at Resurrection Catholic Church amid Easter flowers and decorations.
After the ceremony, the couple took their wedding party on a joy ride with a party bus from Feller Limousine. They danced and drank on the outdoor patio at Mo's House in Haynie's Corner before heading to their reception at The Bauerhaus.
JANUARY/FEBRUARY 2023 EVANSVILLE LIVING 73 The Wedding Book SPECIAL ADVERTISING SECTION
Photographer Kay Hackney for Sharin Shank Photography Videographer Madelyn Shayne Photography and Videography Venue/Catering The Bauerhaus Bridal Gown Ella Park Bridal Florist J'Petals Florals Wedding Rings Droste's
"Our reception was romantic and fun thanks to the amazing Bauerhaus," Danielle says. "We were so appreciative of the amazing food, drinks, music, dessert, and midnight snack! It had just started to rain right before we arrived, and we were able to get some amazing photos right outside the venue."
The Bauerhaus added a personal touch with a large display of the couple's engagement photos. The bride wore a dress from Ella Park Bridal and earrings from Olive and Piper, but her wedding band was a custom creation. Alex took metal from Danielle's grandmother's wedding ring and made it into a new wedding band. Danielle's sister also has some of their grandmother's ring in her own wedding band, so both sisters will always have their grandmother with them.
The Mitchells' wedding day was full of personal moments, and one of the happiest was when Danielle saw Alex at the end of the aisle.
"We had done a first look earlier that day, but the emotion hit us both all at once," Danielle says. "I was all smiles, and Alex was choking back some happy tears. It was a beautiful moment for us both."
JANUARY/FEBRUARY 2023 EVANSVILLE LIVING 75 The Wedding Book SPECIAL ADVERTISING SECTION
Magic Moments BRIDAL | PROM | TUXEDO 1424 N. Royal Ave., Evansville, IN 47715 812-422-7433 magicmomentsbridal.net Locally owned and operated for 26 years!
601 WALNUT STREET, EVANSVILLE, IN 47708 EVANSVILLEDOUBLETREEHOTEL.COM When you plan your wedding with DoubleTree by Hilton™ Evansville Hotel, you can expect personalized attention and superior service from your first meeting with our Wedding Planning Specialist. Our professional team will work with you to ensure your wedding is a complete success. We would be honored to help you with one of life's most important and exciting events. CHOOSE DOUBLETREE TO CELEBRATE THE HAPPIEST DAY OF YOUR LIFE! Book your customized appointment today with our Wedding Specialist. CHELSEY ATKINSON 812.205.2578 Chelsey.Atkinson@Hilton.com
By Meghan Stratton
Kalisha Singh and Pratish Maharjan both were born in Nepal, and it was important to them that they incorporate Nepali details into their Hindu wedding. Because the bride's parents live in Evansville, family and friends traveled from around the world to celebrate the couple in the Tri-State at Pine & Co.
The couple dated long distance for about a year before getting engaged. They both have lived in the U.S. for 20 years — Kalisha in Los Angeles, California, and Pratish in Traverse City, Michigan. They were connected by family and met for the first time in October 2020. Pratish proposed a year later on a night walk in Manhattan Beach, California.
"We didn't have a wedding planner, and we just had a few months to plan for our wedding," Kalisha says.
JANUARY/FEBRUARY 2023 EVANSVILLE LIVING 77 The Wedding Book SPECIAL ADVERTISING SECTION
& Pratish Venue Pine & Co. Photographer Bolson Photography Catering Yak and Yeti Cake GaylaCake Hair & Makeup Madana Shrestha, POSH International Hair Studio Music Bruder Entertainment
Kalisha
the tri-state's premier event venue Pine & Co is a beautiful, secluded 10-acre venue in Northern Vanderburgh County with a view of gorgeous landscapes and tranquil waters. Our spacious facility offers a variety of options for small and large receptions, parties, meetings and special events. pineandcoevents.com | 15901 Petersburg Road, Evansville, IN 812-868-1111 | pineandco22@yahoo.com | pine & Co
Guests came from near and far to attend the couple's Sept. 30, 2022, wedding, including Pratish's parents, who flew from Nepal. The ceremony, held outdoors by a gazebo and pond on the grounds of Pine & Co, was an abbreviated version of a typical multi-day Nepali wedding.
The ceremony included traditions and rituals performed by a Hindu priest. Kalisha wore a red sari and red bridal veil in accordance with Hindu culture, and Pratish sported a traditional long shirt and pants called a daura suruwal, along with a dhaka topi hat that is popular in Nepal.
The couple and their guests enjoyed a cocktail hour and traditional Nepali food from Evansville eatery Yak and Yeti. Entertainment for the night consisted of music from Bruder Entertainment and a few songs sung by the bride's cousins.
"We're so thankful to our family and friends who helped to plan and coordinate, from outfits to decor and food," Kalisha says.
JANUARY/FEBRUARY 2023 EVANSVILLE LIVING 79 The Wedding Book SPECIAL ADVERTISING SECTION
The Of Vanderburgh County Call 812-435-5602 or visit burdettepark.org to book 5301 Nurrenbern Road Evansville, IN 47712 Crown Jewel
The O'Day Discovery Lodge is truly a one-of-a-kind facility in Evansville. Located on the city's west side in Burdette Park, a large recreational park and cabin site, the 16,000 square foot venue with unique architectural features and wooded setting offers an interesting option for memorable weddings, as well as corporate banquets and conferences. The Discovery Lodge can accommodate up to 1,000 guests.
• One-stop shop: in-house catering, bar service, and event planning by Acropolis Catering • Linen, glassware, centerpieces, and vintage Rolls Royce for pictures available for additional charge • Audiovisual equipment, ultra high speed internet/Wi-Fi • Capacity: 250 Book your wedding at Venue 812 - 2023 Dates Available! 1401 N Boeke Road • 812-758-4660 • venue812.com Photos by HJRR Photography CORPORATE EVENTS, CELEBRATIONS, WEDDINGS, AND MORE!
Zachary
By Meghan Stratton
The stars aligned on Oct. 1, 2022, for Zachary and Emma Risher's celestial-themed wedding. Mount Vernon, Indiana, native Zach originally wanted to propose under the stars on the beach at Cape Canaveral, Florida, but inclement weather had other plans. Instead, the couple got engaged during a break in the rain on the anniversary of their first kiss.
Zach and Emma, a Long Grove, Illinois, native, met while attending Southern Illinois University in Carbondale, Illinois, and started dating after working together on a friend's independent film. They became engaged after almost four years of dating and planned a wedding in New Harmony, Indiana.
When planning their wedding, Emma and her mother, Ann, spent hours finding the right decor to fit the starry theme. Zach hand-painted the table centerpieces for the reception.
JANUARY/FEBRUARY 2023 EVANSVILLE LIVING 81 The Wedding Book SPECIAL ADVERTISING SECTION
& Emma Florist The Golden Rose and Events of Harmony Hair & Makeup Brides by Aubree Photographer Straw Photography and Media Cake Piece of Cake DJ Joe Risher Horse Carriage Horseshoe Bend Carriage Co.
TROLLEY CO. Arrive in style! The Moonbeam Trolley offers a unique perspective of your city through the windows of our charming 1900s-style streetcar. Bring a taste of old-world enchantment to your wedding or special event with the professional chauffeur services offered at Moonbeam Trolley Co. Tell us your vision, and let's make memories on Moonbeam! WEDDING CHARTERS | BACHELOR & BACHELORETTE PARTIES | GUEST TRANSPORTATION PHOTOSHOOTS | PROM | SPECIAL EVENTS | CUSTOM TRANSPORTATION moonbeamtrolley.com 812-598-3181 paula@moonbeamtrolley.com
MOONBEAM
Neeley
Photos by
Photography
And that wasn't the only personalized touch — Zach also wore his grandfather's suit from his grandparents' marriage 74 years ago. Photographer Zach Straw of Straw Photography and Media took a variety of detail shots to capture the personal elements of the ceremony and reception.
"Our ceremony was held on the second floor of the beautiful Rapp-Owen Granary," Emma says. "The venue made it feel very timeless."
A horse drawn carriage from Horseshoe Bend Carriage Company whisked the couple away following the ceremony. The reception was held at the New Harmony Inn and Conference Center, and Emma says the dance floor was packed with their loved ones.
"Because our friends and family live around the country, it was very special that we had everyone that means a lot to us together in the same space," Emma says.
The Wedding Book SPECIAL ADVERTISING SECTION
BOOK YOUR NEXT EVENT WITH COPPER HOUSE! • Creative dishes made in-house • Event spaces for up to 100 guests • On-site event coordinator Garden Room Scan the QR code to visit our website! 1430 W. Franklin St. • 812-909-8089 •
Wedding and Social Invitations by Link
Around 2014 as our own kids started marrying, we had this idea that a local design and print service for brides to be might be a thing. As Etsy, Pinterest, and other online services started to take off, we heard some dissatisfaction from customers about the inability to touch and feel the product which is instrumental in making sure everything for your perfect day meets your expectations. So we started into this small niche business of preparing and printing Wedding and Social Graphics for customers who would develop their expectations online and then have them fulfilled with a local purchase. A place where they could use their senses to bring their expectations to life. Its worked wonderfully for us and the many new customers we have assisted. Last year coming out of COVID there were many couples ready to tie the knot. We assisted 67 of them in creating visually pleasing graphics for invitations, programs and other print and promotional collateral to make their special day superb.
(812)421-1400 • WWW.LINKGRAPHICS.COM 1018 East Diamond Avenue. Evansville, IN 47711
INTERESTED? DISCUSSIONS ARE FREE!
Sharon & Bob
Tyler
By Meghan Stratton
It was a sunny, 45-degree day in February 2022 when Rachael and Tyler Blocker were married in an intimate, backyard wedding. Rachael's grandfather walked her out of her childhood home and down to a dock on their farm, where her groom waited.
The couple's immediate family watched the ceremony nearby, but one important person was missing. Tyler's mother passed away from breast cancer in November 2021. On his wedding day, Tyler's sister gifted him a lasered handkerchief featuring their mother's handwriting so she could be present.
Tyler proposed to Rachael in his mother's home after three years of dating. They planned their wedding in under one month.
"Because our farm work life can be stressful during certain times of the year, we knew we wanted to keep our wedding small, simple and 'very us,'" says Rachael, a member of the family of farmers behind Mayse Farm Market. "Our planning process was smooth, and it all seemed to have happened naturally, just like how our relationship formed and blossomed."
JANUARY/FEBRUARY 2023 EVANSVILLE LIVING 85 The Wedding Book SPECIAL ADVERTISING SECTION
& Rachael Florist Timberview Flower Farm Photographer Haley Raven Photography Dress Ella Park Bridal Dress Alterations Katelyn's Alterations & Design Cake Piece of Cake Dinner Reservations Biaggi's Private Wine Room
Despite the abbreviated planning timeline, the couple found small businesses and vendors eager to help make their wedding happen. Timberview Flower Farm coordinated florals and greenery, and even the couple's dog sweetly sported a wreath for the occasion. After the ceremony, the guests enjoyed dinner at Biaggi's Italian Restaurant's private wine room and cut into cake from Piece of Cake bakery.
At the end of the day, the couple said their wedding was everything they wanted, and they couldn't have asked for a more perfect winter day.
"Getting married at the farm made our wedding day even more sentimental," Rachael says. "Our wedding day was so beautiful, and I loved how we just did our own thing."
JANUARY/FEBRUARY 2023 EVANSVILLE LIVING 87 The Wedding Book SPECIAL ADVERTISING SECTION
Call 812-759-9000 to Speak with a Coordinator All Inclusive Wedding Ceremonies and Receptions Follow us @thebauerhaus Explore our website
Austin
By Meghan Stratton
When high school sweethearts Austin and Julia Dewig were married on June 4, 2022, they invited "just about the entire town of Haubstadt," Julia says. The couple met through mutual friends while attending Gibson Southern High School and dated more than four years.
Austin proposed at the top of a hill, and candles lit Julia's path toward her friends, family, and fiancé-to-be. When it came time to start planning, Julia enlisted the help of spreadsheets and planners. To make sure everyone involved in the ceremony is on the same page, she recommends creating a "day of the wedding" planning document to hand out, as well as emergency kits for bridesmaids and groomsmen.
The wedding at St. James Catholic Church was presided over by three priests who the couple each knew. The church was well attended with around 650 guests. The nearby Vanderburgh County 4-H Center auditorium was the perfect venue for the couple's large reception.
88 EVANSVILLE LIVING JANUARY/FEBRUARY 2023 The Wedding Book SPECIAL ADVERTISING SECTION
& Julia Photographer Jesse and Gena Photographers Florist and Decor OBJ Designs Lights and Draping T.R.U. Event Rental Dress House of White Hair Hair Barn Caterer Pappa Bear's Catering
89 The Wedding Book SPECIAL ADVERTISING SECTION Call 812-759-9000 to Speak with a Coordinator Follow us @bauerhauscatering Explore our website BOOKING
FOR
WELCOME TO WAREHOUSE 410, EVANSVILLE'S NEWEST & ONLY INDUSTRIAL VENUE! Weddings & receptions for 250-450 guests 3 overhead garage doors allow for patio seating & indoor/outdoor feel Complimentary client closet: florals, vases, center pieces, arches, and more
EVENTS
FALL 2023 & BEYOND! 410 Carpenter Street • @warehouse410evv
OBJ Design helped make Julia's design vision come to life, as she has always dreamed of a pink sparkly wedding. The venue was covered in flowers, chandeliers, lights, draping, and plenty of sparkles.
The wedding food was a familial labor of love. Austin's family owns Dewig Meats, and their catering company Pappa Bear's provided two whole hogs, steamboat round, barbecued chicken, and plenty of sides. The couple also asked each of their aunts to bake a different type of cookie for the cookie bar. And instead of walking around to guests' dinner tables, Austin and Julia greeted each guest as they entered the buffet line.
From the ceremony to the reception, Austin and Julia's wedding was full of celebratory personalized touches as a testament to their love for family and one another.
"When I was walking up the aisle, I looked out into the pews, and the church was packed with all our friends and family," Julia says. "This was so special! It made me tear up looking at both of our parents as well. They were so helpful during the entire wedding process, and we will be forever grateful for having such loving parents as well as friends."
90 EVANSVILLE LIVING JANUARY/FEBRUARY 2023 The Wedding Book SPECIAL ADVERTISING SECTION mariamechelle.com • 812-906-5879 @bridalmakeupbymaria Specializing in Traditional & Airbrush Make-Up
BALLY'S EVANSVILLE OFFERS FULL-SERVICE EVENT PLANNING! PLAN YOUR WEDDING WITH US! CALL 812-433-4611 BIG GAME PARTY SUNDAY, FEBRUARY 12, 2023 3PM – END OF GAME • RIVERFRONT EVENT CENTER HUGE VIDEO SCREEN! TAILGATE BUFFET! CASH BAR! EXCITING PRIZE GIVEAWAYS! INDY 500 RACE WEEKEND PACKAGE A $1,000 VALUE! STAINLESS STEEL WATER BOTTLES COLLAPSIBLE COOLER BAGS KEG GRILL CAN COZIES PORTABLE TAILGATE GRILL/COOLER SET REGULATION CORN HOLE GAME DART CABINET SET DISK SLAM GAME Ticket prices and details at ballysevansville.com CONFERENCE CENTER, HOTELS, RESTAURANTS, CASINO, AND ATTACHED PARKING ALL IN ONE GREAT LOCATION! ENDLESS THRILLS AT EVERY TURN 1-800-342-5386 | BALLYSEVANSVILLE.COM | 421 NW RIVERSIDE DR. | EVANSVILLE, IN See Players Club for details. Bally's Evansville is a registered trademark of Bally's Corporation. BALLY'S and the BALLY'S Logo are service marks and registered service marks of Twin River Management Group, Inc. Must be 21 or older to gamble at casinos. Know When To Stop Before You Start.® Gambling Problem? Call 1-800-9 WITH IT (1-800-994-8448). ©2023 Bally's Corporation.
The Black Horse Barn
Where the magic begins...
92 EVANSVILLE LIVING JANUARY/FEBRUARY 2023 Urban Setting • Inclusive Packages Indoor & Outdoor Space • Seating for up to 200 Guests Getting Ready Suites • Caterer's Kitchen • Event Security Complimentary Decor • Event Planning • In-House Bartending mainstreetevansville.com • 315 North Main Street • We are a modern industrial venue located in the heart of Evansville. We have Instagram-worthy spaces to host both your ceremony and reception. Our rental packages include tons of complimentary amenities to make planning and budgeting easy. With our expertise, inclusive services, and attentive staff, we'll manage all the details and make you feel like a guest at your own wedding! The Wedding Book SPECIAL ADVERTISING SECTION MASSAGE & SPA PACKAGES • MANICURES & PEDICURES • SKINCARE & FACIALS • WAXING & BODY TREATMENTS 3101 N. GREEN RIVER RD. • SUITE 130 • EVANSVILLE • 812-598-2835 Book your appointment online at thebellaterraspa.com We are a boutique organic spa offering a full menu of services and packages including massage, facials, waxing, and manicures/pedicures. Enjoy complimentary aromatherapy with every massage! Treat yourself to a spa day, de-stress together with a couples massage, or host a spa party for the girls.
AAA Travel WBC2
aaa.com
Agape Graze . . . . . . . . . . . . . . . . . . 94 agapegraze.com
Alterations by Olivia 72 alterationsbyolivia.com
Artistic Imagery Photography . . . . . . . . 87 artisticimageryphotography.com
Award World Trophies & Gifts 86 awardworldtrophies.com
Bally's Evansville . . . . . . . . . . . . . . . . . 90 ballysevansville.com Bar Louie 95 barlouie.com
Bauerhaus . . . . . . . . . . . . . . . . . . . 87, 89 thebauerhaus.com
Bella Terra Organic Spa 92 thebellaterraspa.com
Biaggi's . . . . . . . . . . . . . . . . . . . . . . 65 biaggis.com
Black Horse Barn 91 theblackhorsebarn.com
Bridal Makeup by Maria . . . . . . . . . . . 90 mariamechelle.com
Burdette Park 79 burdettepark.org
Copper House . . . . . . . . . . . . . . . . . . 83 thecopper.house
Culligan of Evansville 93 culliganevv.com
Doubletree . . . . . . . . . . . . . . . . . . . . 76 evansvilledoubletreehotel.com
Evansville Museum of Arts, History and Science . . . . . . . . . 95 emuseum.org
F C Tucker Emge Realtors 70 fctuckeremge.com
Flowers and More . . . . . . . . . . . . . . . . 95 flowersandmorein.com
Friedman Park Event Center 64 friedmanparkeventcenter.com
Just Rennie's . . . . . . . . . . . . . . . . . . . 94 justrennies.com
Katelyn's Alterations and Design 68 katelyns-alterations-design.business.site
Link Graphics . . . . . . . . . . . . . . . . . . 84 linkgraphics.com
Magic Moments 75 magicmomentsbridal.net
Main Street Wedding and Event Venue . . . 92 mainstreetevansville.com
Mesker Park Zoo & Botanical Garden 91 meskerparkzoo.com
Moonbeam Trolley Co . . . . . . . . . . . . . 82 moonbeamtrolley.com
OBJ Design 74 obj-design.com
Owensboro Convention Center . . . . . . 94 owensborocenter.com
Pine & Co 78 pineandcoevents.com
Shelter Insurance . . . . . . . . . . . . . . . . 94 shelterinsurance.com/CA/agent/vickyanslinger-clark
T .R .U Event Rental . . . . . . . . . . . . . . 66, 67 trueventrental.com
Travel Smart 95 choosetravelsmart2.vacationport.net Venue 812 . . . . . . . . . . . . . . . . . . . . . 80 venue812.com
Warehouse 410 89 facebook.com/warehouse410evv
Zeidler's Flowers . . . . . . . . . . . . . . . . . 71 zeidlersweddings.com
1 week prior:
Have your rings cleaned.
Invest in a beauty routine including but not limited to manicures, pedicures, hair coloring, massages, or facials.
Pack your day-of emergency kit with items such as deodorant, hair pins, makeup, sewing kit, mints, and stain removal tools.
Pack for your honeymoon. (If traveling internationally, be sure your travel documents have the correct surname on them! See a travel agent for more details.)
The day prior:
Pull together attire and accessories
Give designated helpers the items for which they're responsible.  Steam the dresses.  Relax and have fun at your rehearsal dinner!  Stay hydrated and get plenty of sleep.
Wedding Day:
Eat a healthy breakfast.  Give your rings to the best man or maid of honor before the ceremony.
 Get your pre-selected hairstyle and makeup done.
 Dab your flowers with paper towels before you hold them.
 Remember that anything that would take five minutes on a normal day usually takes 20 minutes on your wedding day. If you're running ahead of schedule, fabulous!
 Enjoy your wedding, and spend time with your loved ones!
people in your household drink. Your pets drink. Your skin drinks. Heck, even your appliances drink. Why not give them a safer, cleaner solution that will improve the health of your whole home...
everyone who eats, showers, or lives within it.
JANUARY/FEBRUARY 2023 EVANSVILLE LIVING 93 The Wedding Book SPECIAL ADVERTISING SECTION YOUR WHOLE HOME DRINKS FOR ONLY $75/MONTH The
CULLIGAN TOTAL HOME WATER SOLUTION REVERSE OSMOSIS DRINKING WATER SYSTEM + HIGH-EFFICIENCY WATER SOFTENER INSTALLED BUY • FINANCE • RENT 377 Fuquay Road, Chandler, IN 812-853-5000 • culliganevv.com $100 OFF a Culligan AC-30 Drinking Water System Limited time offer. See participating dealer for details. ©2013 Culligan International Co. May be subject to credit approval. Not valid with other offers. Dealer participation may vary. Coupon must be presented at time of sale. Contaminants may not be in your water. Limited time offer. See participating dealer for details. ©2013 Culligan International Co. May be subject to credit approval. Not valid with other offers. Dealer participation may vary. Coupon must be presented at time of sale. Contaminants may not be in your water. $200 TRADE IN Trade in your old softener and SAVE $200 on a new Culligan Water Softener system! Vendor List
and







Wedding Timeline, continued from page 65
JANUARY/FEBRUARY 2023 The Wedding Book SPECIAL ADVERTISING SECTION Vicky Anslinger-Clark Proudly serving Evansville, Indiana and surrounding areas 4918 Temple Ave., Ste. A, Evansville, IN 47715 812-428-0300 • 812-499-2425 VAnslinger-Clark@ShelterInsurance.com shelterinsurance.com/CA/agent/vickyanslinger-clark You'll never forget that moment when you both said "yes" and everything changed forever It's important to remember you aren't just planning a wedding; you're planning a new life together. There will be a number of legal and financial changes for the road ahead and I can help you review your current insurance plans, assist in combining coverage, and help with switching carriers if needed. Make an appointment today! PICKUP & DELIVERY AVAILABLE! 1401 N. Boeke Road • 812-518-0008 • Online ordering: agapegraze.com Catering inquiries: agapegraze@gmail.com CHARCUTERIE & CATERING
JANUARY/FEBRUARY 2023 EVANSVILLE LIVING 95 Flowers & More is a full service florist specializing in creating exquisite wedding designs. Our experienced team is focused on each individual bride and groom. From start to finish we fulfill each desired wedding vision. May it be a simple ceremony of 20 guests or a lavish ceremony and reception, Flowers & More is your preferred wedding florist. Let us make your wedding day dreams more than you could ever imagine! 1000 W. FRANKLIN STREET | 812-424-8931 FLOWERSANDMOREIN.COM Complimentary Consultations
The Wedding Book SPECIAL ADVERTISING SECTION Email marketing@emuseum.org for more info! Looking for a stress-free honeymoon or destination wedding? Experience matters, and Travel Smart has been in business for 32 years! No matter what type of trip you are looking for, our agency can help you plan your perfect getaway, honeymoon or destination wedding. We offer FREE consultations! Let our advisors help! SCAN TO VISIT OUR WEBSITE! 13601 Hwy 41 N. 812-867-0022 Monday - Friday 8:30 a.m. to 4 p.m.
PHOTO BY SHARIN SHANK
vendors and is a motor club with a principal place of business at 12901 N. Forty Drive, St. Louis, MO 63141. Copyright ©2022 Automobile Club of Missouri. All Rights Reserved. Now is a good time to prepare for your next well-deserved vacation. AAA has you covered with services to help you travel with confidence, including Travel Insurance , passport photos and exclusive rates on expedited passport courier service Our friendly and experienced advisors can help you navigate the changing travel landscape and SAVE money on cruises, rail trips, Alaskan adventures and tropical vacations to Hawaii, Mexico and more. Travel with Someone You Trust – AAA! Call or visit your AAA Travel office in Evansville today! CALL: 812-477-9966 • VISIT: 7820 Eagle Crest Boulevard Traveling