PURIM at 5783 / 2023
IT WAS THE BEST PURIM EVER!
For our 150th sesquicentennial anniversary, we pulled out all the stops – and it was exceptional. On Purim, we saw what has always made KJ unique: beyond being a house of worship, we are a vibrant center of activity for the Jewish community of the Upper East Side and beyond. Over 1,700 people came on Purim night alone; but this is not just about the numbers, this is about the Jewish future. And with programs focused on children, teens, and young adults, KJ brought the joy of Purim to the next generation.
SUNDAY, MARCH 5
JNF & KESHER FAMILY PURIM PARTY
Our yearly "pre-game show" was in partnership with JNF, and in support of their important programs in Israel. It had a sold-out crowd of young families and was filled with pre-holiday excitement.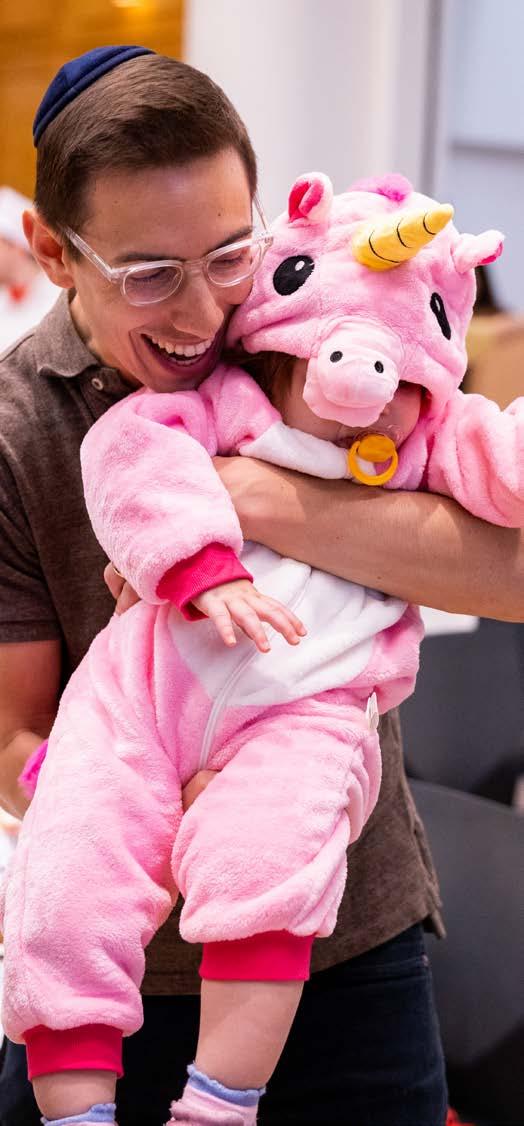 We simply can't tell the story with just a few photos. So instead, we would like to share with you this Purim Yearbook2023 Edition.
MONDAY, MARCH 6
MINI CARNIVAL FOR YOUNG CHILDREN
Our lift-off engines fired up with a pre-Megillah mini carnival for our youngest members and their families, giving tots their first taste of the Purim Spirit at KJ.
PARENTS & TODDLERS READING
KJ's commitment to inspiring the next generation was evidenced by its sponsorship of a special Megillah reading for "can't sit still tots" and their families, where the cacophony of children was welcomed and inspiring.
MAIN SYNAGOGUE
FEATURING LIVE ILLUSTRATION
As has been the case for 150 years, our main synagogue was filled. It is a long-standing tradition that high school students read the Megillah, chapter by chapter; on Purim we get to see our future leadership in action. Complementing the expert reading was a live performance by cartoonist Avi Steinberg, who drew illustrations of the Purim story that were projected onto multiple large monitors for all to enjoy.
WOMEN'S READING
KJ has always taken seriously the importance of women's leadership, and this reading is part of that commitment. Our women's Megillah Reading is led primarily by teens and students, who, as they read Esther's story, take on their shoulders the future leadership of our community.
SEPHARDIC MINYAN
KJ prides itself on being one community with two minhagim. Our Sephardic minyan, which is approaching its "bar mitzvah" year, was overflowing, and had two evening locations for Megillah reading.
FAMILY DANCE PARTY
Emulating the celebrations that erupted in Shushan centuries ago, KJ erupted in joyful community achdut at the child-friendly dance spectacular, featuring glow-in-the-dark bubble cannons, a masterful DJ, Dippin' Dots ice cream, nearly 200 pizza pies, and holiday treats for young and old.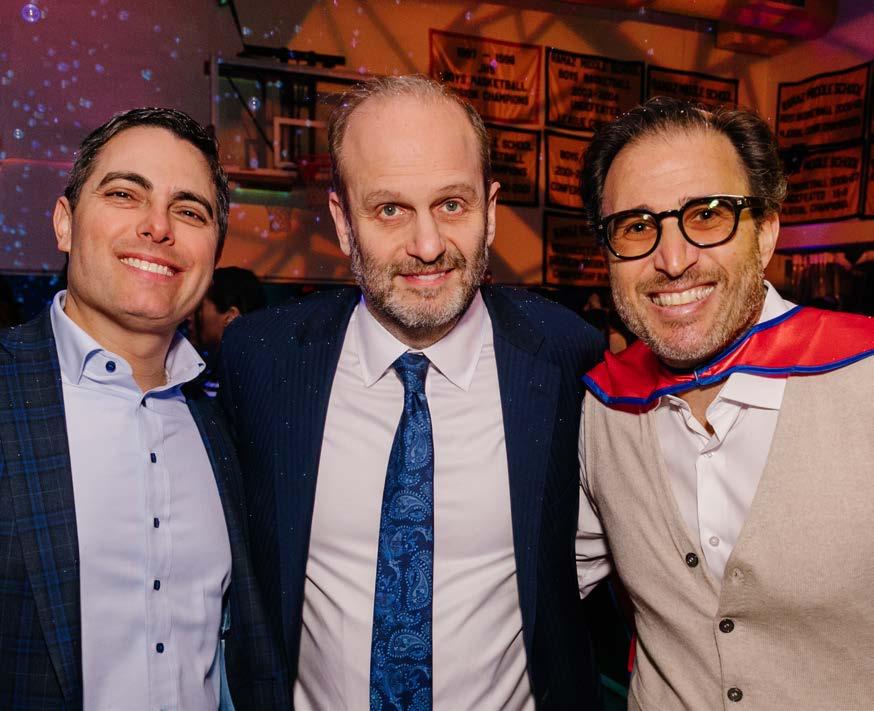 KJB MEGILLAH COMEDY NIGHT
At the heart of KJ's mission is ensuring we provide a religious connection to every Jew, no matter what their background.
Our annual KJB explanatory Megillah Reading and Purim celebration inspired a standing-room-only crowd, and then was capped by a standout comedy performance by Eli Lebowicz.
TUESDAY, MARCH 7
MISHLOACH MANOT
Nothing says "community building" more than the Purim Holiday gift packages that are sent from household to household, generating cheer and camaraderie. This year more than 1300 gift packages were circulated within the membership, with hundreds more donated to Met Council.
MATANOT LE'EVYONIM & MACHATZIT HA'SHEKEL
Charity is the glue that binds the fabric of Jewish life, and KJ raised $17,000 from collections over the holiday and distributed that day.
MEGILLAH READING
Multiple services met the needs of the entire community throughout Purim morning, followed by breakfast to bring the community together.
MITZVOT OF PURIM
KJYD MORNING MAGIC SHOW
On Purim morning the youth department sponsored a magic show for young children, enabling parents to have some free time in order to fulfill the mitzvah of hearing the Megillah.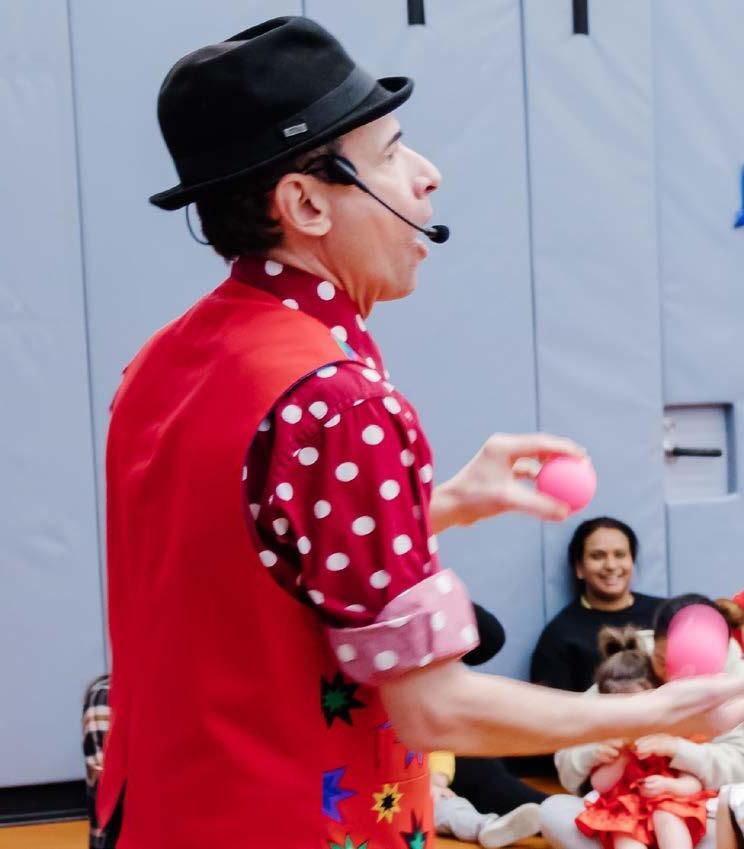 KJYD PURIM CARNIVAL
The pinnacle of our Youth engagement took the form of a four-floor carnival for children & families, including rides, inflatables, food court, carnival & arcade games, entertainers, prizes, and everything to bring smiles to the community.
KJ TEENS MIND OVER MATTER
No community celebration would be complete without providing unique programming for teenagers, and KJ's Teen Programming rose to the occasion by drawing scores to their Purim Party featuring a mind-reading mentalist and tasty bites. The following day Deeni and Rabbi Manu Hass had scores of teenagers over for an afternoon Purim Seudah.
CHABAD/KJ YJP DANCE PARTY
KJ is committed to being a place that enables young adults to meet together in an inspiring social environment. This year, for the first time, KJ cosponsored with Chabad Young Jewish Professionals a blowout Purim seudah with amazing beats, decor, costumes, and fun.
A KJ FAMILY CELEBRATION
THANK YOU to our clergy, administrators, maintenance team, security, community readers, lay leaders, volunteers, department heads, and of course, our KJ family, for making this Purim one for the books!
Purim marks a time when the entire Jewish community, young and old, men and women, all stood together on the brink of annihilation, and then, in a heartbeat, their fate changed and they instead celebrated unexpected salvation. KJ keeps that community spirit alive by providing meaningful programming for a diverse, constituency, young and old, Sephardic and Ashkenaz, men and women.