CLIMATEEMPIRETAKESAIMATCHANGE svp Mohit Grover on how the withaggressiveiscompanygettingitsclimatestrategy AUGUST 2022
Janet Rickford LOBLAWLOBLAWTECHNOLOGY/ Jessica Armstrong MAPLE LEAF FOODS Stephanie Goyette KRAFT HEINZ CANADA BonnieSOBEYSBirollo LouisaMETROFurtado Shilpa Mukhi P&G CANADA Presented by GOLD SPONSORS SILVER SPONSORS COFFEE SAMPLE SPONSORS INDUSTRY PARTNERS Dynamic panel featuring 2022 Star Women: SOLD OUT! || starwomen.ca September 28, 2022 || The International Centre || Mississauga, ON SPONSOR

August 2022 || CANADIAN GROCER 5 SHUTTERSTOCK/PROSTOCK-STUDIOCAPPUCCINO:GOEHRING,TANYAPORTRAIT:GOODMANSARAHFORD,MIKEPHOTO:COVER People 8 || The Buzz Comings and goings, store openings, awards, events, etc. 10 || Sarah Goodman How the Chiwis founder turned a love of dehydrated fruit into a growing healthy snack business Ideas 13 || Coping with inflation Tactics shoppers are using to manage spiralling food costs 15 || Let's make a deal! Survey says: consumers are more willing to share personal data in exchange for affordable food 16 || Are you ready for the metaverse? Why grocers may need to start exploring this latest digital revolution 19 || Labour pains Attracting and retaining front-line staff is the biggest operational challenge for leaders: study 21 || Catching up with GenNext We talk to past winners of our Generation Next Award to find out: "Where are they now?" Aisles 63 || Personal best As consumers put more effort into skin and hair-care routines, retail sales are enjoying a boost 66 || Full steam ahead See what trends are perking up coffee sales 67 || New on shelf Shining a spotlight on the latest products hitting shelves Express Lane 70 || Up, up and away! Upcycled Food Association's Ben Gray on the momentum of sustainable food systems Contents FeaturesCoverStory STEPPING UP 31 Meet theacompaniesthemakingpositivedifference—winnersof Canadian Grocer 's 2022 Impact Awards GRAND SLAM! 57 A look at the winners of the 29th Canadian Grand Prix New Product Awards 24CHANGEATTAKESEMPIREAIMCLIMATE svp Mohit Grover on how the grocery company is getting aggressive with its climate strategy Follow us on C@CanadianGroceranadianGrocerMagazine 10 66 Opinions 7 || Front Desk 23 || Consumer Connection August 2022 || Volume 136 Number 5 31
canadabeef.ca | cdnbeefperforms.ca TO DOWNLOAD YOUR FREE DEMAND PLANNERS GO TO CDNBEEFPERFORMS.CA/RETAIL OR SCAN THIS QR CODE. NEWSALESTOVALUEBEEFCANADIANCUTSBOOST Canada Beef offers three new beefhowresourcesdemand-buildingvalue-cutdesignedtoshowretailerstomerchandisecutstooptimizevalue,expandmeatcaseoptionsandgrowprofits. There are six demand building resources available from Canada Beef. For more information and to order a print copy of the planners, contact Nick Chirichella nchirichella@canadabeef.ca.
Keep up to date on the latest news by signing up for our e-newsletter. It's free and we'll deliver it to your inbox four times a week. Visit canadiangrocer.com to subscribe
Time to recognize the workingcompaniestomake a positive difference
At a time when we most need it, it's encouraging to see so many companies stepping up to make meaningful change. CG
Shellee Fitzgerald sfitzgerald@ensembleiq.comEditor-in-Chief
The world is a tricky place to navigate just now and endless news reports about the calamities facing us is enough to tax the spirit of even the glass half-full types. But I'm pleased to tell you we have a rem edy for that—welcome to our positive impact issue! We believe that good work deserves to be recognized and that's why, last year, we launched the Canadian Grocer Impact Awards. We wanted to call attention to actions—both big and small—taken by companies in our industry to make things better for their employees, their communities and the planet. We were blown away by the response the program received last year and we were just as impressed with this year's submissions. As you will see in our coverage, this year's Impact Award-winning companies have stepped up in myriad ways to make a meaningful difference. Their initiatives range from subsidizing registration fees for hockey families, to helping B.C. com munities devastated by last fall's floods to providing crucial funds for children's mental health programs and making employee benefits packages more inclu sive with the addition of gender affir mation coverage (check out all 40 of this year's winners, starting on page 31).
Empire is also working to make a posi tive impact. For our cover story this issue, we talk to Mohit Grover, the company's SVP of innovation, sustainability and strategy, about the grocer's aggressive new Climate Action Plan (starting on page 24) and how it is stepping up its efforts to slash food waste and single-use plastics in its Andoperations.stayingon the topic of sustainabil ity, we talk to Ben Gray, co-founder and chief innovation officer at the Upcycled Food Association, about the momentum of the upcycled foods movement in Can ada and what impact this solution can have on our mounting food waste prob lem (read the interview on page 70).
August 2022 || CANADIAN GROCER 7 DJORDJEVICIMAGES/SANJAGETTY
Front desk CHEERS TO THE MAKERS!CHANGE CORPORATE OFFICERS CHIEF EXECUTIVE OFFICER Jennifer Litterick CHIEF FINANCIAL OFFICER Jane Volland CHIEF HUMAN RESOURCES OFFICER Ann Jadown EXECUTIVE VICE PRESIDENT, OPERATIONS Derek Estey EXECUTIVE VICE PRESIDENT, CONTENT & COMMUNICATION Joe Territo MAIL PREFERENCES: From time to time other organizations may ask Canadian Grocer if they may send information about a product or service to some Canadian Grocer subscribers, by mail or email. If you do not wish to receive these messages, contact us in any of the ways listed above. Contents Copyright © 2022 by EnsembleIQ, may not be reprinted without permission. Canadian Grocer receives unsolicited materials (including letters to the editor, press releases, promotional items and images) from time to time. Canadian Grocer, its affiliates and assignees may use, reproduce, publish, republish, distribute, store and archive such submissions in whole or in part in any form or medium whatsoever, without compensation of any sort. ISSN# 0008 3704 PM 42940023 Canadian Grocer is Published by Stagnito Partners Canada Inc., 20 Eglinton Avenue West, Ste. 1800, Toronto, Ontario, M4R 1K8. Printed in Canada PUBLISHER Vanessa vpeters@ensembleiq.comPeters EDITOR-IN-CHIEF Shellee sfitzgerald@ensembleiq.comFitzgerald MANAGING EDITOR Kristin klaird@ensembleiq.comLaird ART DIRECTOR Josephine jwoertman@ensembleiq.comWoertman SENIOR DIRECTOR OF PRODUCTION Michael mkimpton@ensembleiq.comKimpton SENIOR VICE PRESIDENT, GROCERY AND CONVENIENCE, CANADA Sandra sparente@ensembleiq.comParente VICE PRESIDENT, EVENTS Megan mjudkins@ensembleiq.comJudkins SENIOR DIRECTOR, DIGITAL CANADA & SPECIAL PROJECTS Valerie vwhite@ensembleiq.comWhite SALES NATIONAL ACCOUNT MANAGER Katherine kfrederick@ensembleiq.comFrederick ACCOUNT MANAGER Karishma krajani@ensembleiq.comRajani SALES COORDINATOR Juan jchacon@ensembleiq.comChacon SUBSCRIPTION SERVICES Subscriptions: $85.00 per year, 2 year $136.00, Outside Canada $136.00 per year, 2 year $216 Single Copy $12.00, Groups $61.00, Outside Canada Single Copy $16.00. Digital Subscriptions: $60.00 per year, 2 year $95.00 Category Captain: Single Copy $20.00, Outside Canada Single Copy $30.00 Fresh Report: Single Copy $20.00, Outside Canada Single Copy $30.00 Who's Who: Single Copy $190.00, Outside Canada Single Copy $230.00 Email: contactus@canadiangrocer.com Phone: 1-877-687-7321 between 9 a.m. to 5 p.m. EST weekdays Fax: 1-888-520-3608 Online: www.canadiangrocer.com/subscription REPRINTS, PERMISSIONS AND LICENSING Please contact Wright's Media ensembleiq@wrightsmedia.com 1-877-652-5295 News to share? Tell us about your openings, comings and goings, etc. by dropping a line to sfitzgerald@ensembleiq.com
NATURE'S EMPORIUM is heading to downtown Toronto. The natural food and health market has announced it will open its first store in the city's South Core district in early 2023. The 25,000-sq.-ft. store will occupy space in a mixed-use development within the Shops at One York. "For years, people have been asking us to open a store in Toronto, but we couldn't find the right location," CEO Joe D'Addario tells Canadian Grocer . He adds, "The South Core has a void that needs to be filled in terms of a natural and organic supermarket." Nature's Emporium currently has four locations in the Greater Toronto Area: Newmarket, Maple, Burlington and Woodbridge. The company says further expansion in Halton Region is "coming soon."
Nature's Emporium will be coming to downtown Toronto in early 2023
The sprawling 145,000-sq.-ft. supercentre includes a pharmacy, a 4,000-sq.-ft. Jack Nathan Health medical centre as well as Walmart Express Pickup service with grocery orders ready in two hours or less. The Hillside store is Walmart's third location in the Victoria area.
Aisle 24 currently has 16 locations in Ontario and Quebec and has plans in the works to open 40 more stores—extending its reach to Vancouver, Edmonton, Calgary and Halifax—by the end of the year.
AISLE 24, a fully-automated cashierless grocery market, opened a new Toronto location in late July. Open 24/7, the "hyper-urban grocery store" is located at 21 Ord nance Street and features what the company describes as an integrated security solution to safeguard custom ers and allow franchise owners to manage operations remotely.
Aisle 24 is expanding its network of fully cashierlessautomated,stores
Victoria, B.C. is home to a new WALMART SUPERCENTRE
The latest news in the grocery biz
Located at the city's Hillside Shopping Centre, the store is the first new Walmart in British Columbia since 2018.
8 CANADIAN GROCER || August 2022 24AISLECANADA,WALMART
The Buzz
The Hillside Super centre is Walmart's first new store in B.C. since 2018 OPENINGS
TrentLeslieDavidMichaelChandrasekaranRoseAndréGagnéMarsanTimLuteMackayMacDonald
EVENTS
AWARDS/RECOGNITION COMINGS AND GOINGS
Metro has announced longtime executive André Gagné is retiring in September. Gagné joined Metro in 2003 as vicepresident and general manager of Loeb Canada. He later stepped into the role of vice-president, conventional merchandising for A&P Canada before taking on his current position as Metro Ontario's vice-president, fresh merchandising. Michael Rose, currently director, category management, conventional merchandising, will replace Gagné.
The Canadian Health Food Association's CHFA Now conference and trade show is set to take place at Toronto's Exhibition Place from Sept. 15 to 18. For details, visit chfanow.ca. Canadian Grocer's 2022 Star Women in Grocery Awards are returning to a live event on Sept. 28 at The International Centre in Toronto. For details, visit starwomen.ca.GroceryInnovations
At Agropur Dairy Cooperative, David Marsan has been promoted and is now vice-president, major accounts and retail. Prior to joining the Quebec-based company in 2019, Marsan racked up experience at Kraft Foods, where he spent 17 years, and Danone. Conagra Brands Canada has made changes to its leadership team. The company announced that Tim Lute has joined the company, taking on the role of vicepresident, commercial strategy, insights & transformation. Prior to joining the company, he spent 20 years at Coca-Cola Canada. Leslie Mackay has been named vice-president, customer leadership organization. Mackay previously held the role of vice-president of sales. Conagra announced that Mike Lund, interim leader of sales, has left the company. Paul Hogan has been promoted to vice-president at Conagra Brands where he will oversee business growth in Canada, Mexico and global markets, while continuing to act as general manager in Canada.
August 2022 || CANADIAN GROCER 9
THE GOLDEN PENCIL ANNOUNCED!WINNERS
Canada , presented by the Canadian Federation of Independent Grocers, returns to the Toronto Congress Centre Oct. 25 to 26. Visit groceryinnovations.com for more info. Canadian Grocer's Grocery Connex is coming to Toronto's Fairmont Royal York on Monday November 21 from 10 a.m. to 6 p.m.. Grocery Connex combines three great events—Canadian Grocer's GenNext Awards, Thought Leadership CEO Conference and the Golden Pencil Awards—in one live experience. Visit groceryconnex.com for information and tickets.
Deepti Chandrasekaran has joined Loblaw as its director, omnichannel merchandising for centre of store in the market division. Chandrasekaran comes to Loblaw from CIBC's digital-banking arm, Simplii Financial. She also spent more than a decade at Canadian Tire in progressive roles across category management, business planning and strategy.
The Food Industry Association of Canada has announced that Carmen Fortino, executive vice-president, Ontario division head and national supply chain at Metro, and Michel Manseau, senior vice-president and general manager Canadian consumer business unit at Kruger Products are the recipients of the 2022 Golden Pencil Award, the grocery industry's highest honour. Presented since 1957, the prestigious Golden Pencil Award recognizes individuals who have made significant and worthwhile contributions to improving the Canadian food industry as well as their communities. Fortino and Manseau will be presented with their awards at the Golden Pencil Awards ceremony, part of Canadian Grocer's Grocery Connex conference, in Toronto in November.
2022
Flow Alkaline Spring Water has announced some executive changes. Trent MacDonald has been named chief financial officer, replacing Devan Pennell who has assumed the role of chief strategy officer at the Toronto-based beverage company. The Very Good Food Company also has a new chief financial officer. Pratik Patel stepped into the role at the plant-based food company in late July. Patel was previously head of finance at Bardel Entertainment.
Deepti
People FRUITTOGO Who you need to know How dehydratedloveturnedGoodmanSarahherofonefruitintoagrowinghealthysnackbusiness By Andrea PhotographyYu by Tanya Goehring
A
difficult decision to halt production. "There was no way I could scale the busi ness with what I was working with, and COVID had also just started," recalls Good man. "I took a pause because I needed to figure out how to grow the business in a betterDuringway."that time, Goodman recalled some advice she received from food industry veterans. "I was told so many times, 'if somebody else has the equip ment, the staff and the space to do what you're doing, use them. Don't reinvent the wheel," she says. So, Goodman part nered with a co-manufacturer in Califor nia, placing a 1,000-pound order with an intended relaunch for January 2021. The order, however, didn't turn out as Goodman expected. "The pit in my stom ach was so deep," she says. "They had overdried them, and they had also used fruit that wasn't ripe enough. They were really sour and inedible."
GOODMANSARAHWhatinspiresyouandkeepsyoupassionateaboutyourwork?
Thankfully, the co-manufacturer took ownership of the off-batch and remade the order for a February 2021 relaunch in 75 stores. They'd be back at Whole Foods, Nesters and Choices as well as a handful of independent health food stores.
August 2022 || CANADIAN GROCER 11 30 seconds with … li TT le more than a decade ago, Sarah Goodman bought a dehydrator and began cre ating different snacks to fuel her hikes through the moun tains of British Columbia. Dried kiwis ended up being her top choice. "They were crispy and light, and they tasted like healthy Sour Patch Kids," she recalls. At the time, Goodman was running a consumer health tech company. But by late 2019, she felt ready for a career change. During her evenings and week ends, she researched the food production industry, participated in business work shops and networked with distributors. She named her company Chiwis, a port manteau of chips and kiwis, and devel oped a second product—a tropical mix of dried kiwis, rich coconut and sweet pine apple. For her products, she'd use upcy cled fruit, when possible, to reduce costs and make the product more appealing to eco-conscious consumers. By March 2020, Goodman was ready to launch her business. She left her job at the consumer health tech company, rented space from a small commercial kitchen in Squamish, B.C., and pur chased commercial dehydrators and food-safe manufacturing equipment. She intended to start small with inde pendent markets and build up to a major grocery chain. But to her surprise, a dis tributor quickly brought Chiwis on board and landed her a contract of 20 cases for seven Whole Foods Market locations in British Columbia. "I immediately thought 'this is amazing. This is so great. And so Goodmanterrifying'."gotto work; she put in 15-hour shifts to get the order ready, doing everything from slicing kiwis on a mandolin to arranging the slices by hand on dehydrator trays, then packaging and heat-sealing bags. Her first round of Chiwis ended up on Whole Foods' shelves a few weeks later, in April. "To see it come to life and then to go into a store like Whole Foods was such a cool feeling," says Goodman. A month later, her distribution grew to two other small grocery chains in the province— Nesters Market and Choices Markets— reaching a total of 50 stores. But it wasn't all smooth sailing, Goodman encountered some stumbling blocks as she scaled the company. "The commercial drying machines weren't providing a consistent product," she says. "Some chips would be great, and some would be burnt." So, in May 2020, Goodman made the
Creating products that people love and feel good eating. Seeing the looks on customers' faces and the feedback that they love our snacks. What's your favourite Chiwis product? When I was developing the new chips, I thought my least favourite would be the orange. But now they're my full-blast favourite. I always have a bag of orange chips in my car, and I must eat three to five oranges in chips a day. They're so good, and they're so good for you. What are your favourite cuisines? I can eat sushi or tacos any day of the week. What's an unexpected way to enjoy Chiwis? We've been crushing up the pineapple chips, rimming glasses with honey and then rimming them with pineapple chips for margaritas. We did it for a little summer party that we had, and they were so good. At Christmas, we also dip the orange chips in dark chocolate. What do you like to do when you're not working? Mountain biking, hiking, snowboarding and hanging out with my dog. Her name is Norah the Explorer. We're really lucky to be in Squamish.
The growth of Goodman's business has been steady ever since. By the end of last year, Chiwis were available in 385 stores, mostly in British Columbia. She also introduced three new SKUs to the lineup: pineapple, mango, and orange chips. Keeping the momentum going, earlier this year, Goodman launched in 85 Lon don Drugs stores in Western Canada. In the spring, she made her first two fulltime hires: an operations manager and a marketing manager. Save-On-Foods came on board in May, extending her reach in the Western provinces, along with adding distribution in Yukon. The summer of 2022 also saw Chiwis go national thanks to a launch in 7-Eleven. By the end of August, Chiwis will be in more than 1,000 stores.
Goodman is now focusing on research and development with plans to introduce more products in 2023. Around the same time, she hopes to launch in the U.S. Pacific Northwest with a digital market ing campaign focused in Washington, California and Oregon. Now that her business is getting off the ground, Goodman is paying it forward to other entrepreneurs seeking advice. "I was so lucky that people gave me their time when I was beginning and I got to learn so much so fast," she says. "The food indus try community is amazing." CG
innovativeretail@matrixmarketing.com 1-888-780-5967 www.matrixmarketing.com www.modern-expo.eu RETAIL FIXTURES THE NEXT GENERATION OF NOWAMERICA!INAVAILABLENORTH



Field Agent Canada's "Inflation Situation" survey of 2,739 shoppers found 75% have begun purchasing different groceries to offset rising food costs—which in June were 8.8% higher than they were at the same time last year, according to Statistics Canada data. (The one bit of good news for Canadians is that inflation may have peaked.)
While slightly less than one-third of respondents (31%) said they haven't noticed changes in stock levels, 42% said they are a little lower and 15% said they are much lower. Low stock is problematic for CPG companies, said Field Agent, because that means shoppers could swap it out for an available competitor and potentially make a permanent switch.
Canadian groCery shoppers are using a variety of tactics to cope with spiralling food costs, including buying fewer brand name products and shopping at discount banners more fre quently, says a new study.
August 2022 || CANADIAN GROCER 13 IMAGES/SORBETTOGETTY SHOPPER BEHAVIOUR COPING WITH INFLATION
Nearly all of the shoppers surveyed (95%) said they have noticed a spike in food prices in the past three months, with 28% indicating they are "much higher."
—Chris Powell Ideas RETAILERS || SUPPLIERS || SHOPPERS || INSIGHTS
The study found 74% of respondents are purchasing less expensive brands, while nearly half (48%) said they have started buying some items in bulk. Nearly two-thirds of respondents (63%) said they have started shopping more at low-cost retailers, while 23% indicated they are getting a membership at a ware house club retailer such as Costco. In verbatims, survey participants said they are also compar ing flyers from the various grocery banners to price match and are increasingly using coupons and/or discount codes more often. One shopper said they are also now "extra careful" in the number of brand name products they buy.
The study also found rising costs are putting a dent in impulse purchases, such as pop and chocolate bars. More than half (53%) of respondents said they are less likely to grab an unplanned treat while shopping, with 19% saying they are much less likely to do so. "We don't have room for impulse buys in our budget anymore," said one respondent.
AnnualWHOWHO'SdirectoryofchainsandgroupsinCanada 2022 CanadianGrocer.com/reportsOrderyour2022copyonlinetoday!Limitedquantityavailable2022
Canadians are happy to hand over their personal data if it will net them a deal at the grocery store, a new study suggests.
you
your
As consumers increasingly use apps and loyalty programs for discounts rather than traditional flyers, the AAL sought to answer: Are Canadians willing to sacri fice some of their privacy for more food affordability in an inflationary market? The answer is a resounding yes.
• Gathering personal information that consumers or someone else has posted online to create a detailed profile of their interests and personal traits.
August 2022 || CANADIAN GROCER 15
• Using information available about the consumer online to target specific prod ucts they may be interested in buying.
• Using information available about them online to give them a more conve nient shopping experience.
When it comes to sharing data for more targeted marketing, the survey found Canadians are lukewarm. Nearly half of Canadians don't want to share data that will result in marketing messaging, while 27% are comfortable with their data being used to market to them. would be the lowest discount amount would What would be the lowest discount amount on meals or food for which would be willing to give personal data?
The researchers asked respondents how concerned they are about apps from food delivery companies, grocers or restaurants in three specific scenarios:
Let's make a deal
"These things exist because they are successful, and if it saves consumers money and takes the thought process out of it, potentially this is a good thing," says Music. "The more nefarious part for me is that you don't know what's happening behind the scenes or who has access to [your data], or what they could poten tially be doing with it."
on reTail produCTs for which you
HOW MUCH OF A DISCOUNT DOES IT TAKE TO EXCHANGE DATA? SOURCE: AGRI-FOOD ANALYTICS LAB, DALHOUSIE UNIVERSITY, JUNE 2022 1% to 5% 1% to 5% 6% to 10% 6% to 10% 11% to 15% 11% to 15% 16% to 20% 16% to 20% 21% or greater 21% or greater None—I would give my data for the convenience regardless of the discount None—I would give my data for the convenience regardless of the discount Ideas 18.9% 18.8% 25.2% 25.9% 21.9% 22.6% 15.7% 14.7% 15.6% 14.4% 2.8 % 3.8%
New study finds consumers might be more willing to share personal data during inflationary times in exchange for affordable food
In the report, AAL director Sylvain Charlebois said while privacy is import ant, food inflation is likely making Cana dians willing to compromise to get better deals. "The Tim Hortons incident can be considered a warning to the food indus try. Companies need to be clear on intent and how apps will work to build loyalty."
The survey found that 70% of Canadi ans are not concerned about any of the three ways data will be used, and 30% are concerned by at least one of them. Only 16% of Canadians are concerned about all three ways their data will be used, and only 4.5% are unwilling to share their personal data.
be willing to give your personal data?
The Agri-Food Analytics Lab (AAL) at Dalhousie University in Halifax recently asked more than 7,000 Canadians about data and privacy. The survey comes on the heels of a federal and provincial investi gation of Tim Hortons, which was found to have violated privacy laws when its mobile app tracked and recorded users, even when the app wasn't open.
By Rebecca Harris
prepared
The study also looked at how much of a discount Canadians are expecting if they share personal data with a food company, a retailer or restaurant. On average, 43% of Canadians will share data for up to a 10% discount. In addition, 65% of Cana dians are willing to share data for up to a 15%"Peoplediscount.want to see that [sharing data] means something, that there is value in return," says Janet Music, research pro gram co-ordinator at AAL. "It can't just be collecting data for data's sake."
For most consumers, the value exchange of loyalty programs and apps can be bene ficial, when used in the right way.
What
exploring this latest digital revolution
Daniel Vogel, an associate professor in the Cher iton School of Computer Science at the University of Waterloo, is part of a research team developing a metaverse-type lab environment. Rather than a vir tual world people get in and out of, the focus is on creating an augmented reality that layers digital infor mation on top of real-world objects. "It's still fully immersive, but you'll be using hand and body ges tures to interact with real-world objects with layers of additional digital information," he says. In a grocery start
Once the domain of science fiction novels and video games, the metaverse is gaining momentum as a viable—and inevitable—evolution of the inter net and is pushing the limits of possibility within the digital "Metaverse"world.isa term originally coined in 1992 by Neal Stephenson in his novel Snow Crash to depict a computer-generated universe. Today, it's the most popular word used to describe a digital environment (i.e., platform) that uses augmented reality (AR) and VR to give users the ability to immerse and interact in a digital world that mimics our real one.
There Could be Time in the not-too-distant future when employees will be trained entirely within a virtual grocery store that mimics a real one; where customers don virtual reality (VR) gear to see only the products and information relevant to them as they walk the grocery aisles.
By Rosalind Stefanac
ARE YOU READY FOR THE METAVERSE? Why grocers may need to
Ideas
16 CANADIAN GROCER || August 2022 GAPLINESHUTTERSTOCK/LED
While many will say this notion of a mainstream augmented and virtual reality environment is still in its infancy, a number of companies are already exploring what the metaverse will mean for their businesses—and what they can do to capitalize on it.
Another area of opportunity is in store layout and design. "[In the metaverse] you could run three or four very different planograms simultaneously, and in less time, so you could really make that mer chandise execution process a lot more streamlined," he says. "Likewise, you could make a lot of quick changes to store fixtures and design."
A 2022 report by McKinsey and Company, Value Creation in the Metaverse, notes that corporations, venture capital and private equity have invested more than US$120 billion in the metaverse in the first five months of this year alone—more than dou ble what was invested in 2021. The report also esti mates that most learning and development could be happening in a metaverse environment by 2030, with 57% of metaverse-aware companies saying they are already adopters.
"Depending on how [the world's] economic situation plays out, we could start to see simpler use cases for the metaverse in the next two to three years," he says. At the same time, he points to the need for retailer awareness around data privacy, cybersecurity, fraud and user health and safety. "These are things that don't get as much press but are extremely important as we get caught up in the 'shiny penny' aspects of the metaverse."
It's not surprising that large technology companies are the biggest investors, so far, but organizations across industries (including grocery) have also started exploring the space, even going so far as to create strategies and investments for operating in the metaverse. In fact, it has been reported that big box retailers like Walmart are developing their own cryptocurrencies and non-fungible tokens (NFTs) to use in the metaverse. Meanwhile, French grocery giant Carrefour has already bought property in an area of this virtual world called The Sandbox, equiv alent to 30 supermarkets. This past May, the gro cer launched its first NFT collection called NFBEES, inspired by veggie or fruit pollinated by bees, and is planning to provide fun and educational bee-themed games in The Sandbox.
While Weintraub believes the notion of curated customer shopping experiences using AR and VR will eventually be feasible, he says internal uses of the technology are easier "to wrap your head around" and offer a clearer return on investment.
With Canada lagging behind early adopters in Asia, Europe and the United States, Canadian gro cers also have the advantage of coming into the metaverse after major technology issues and appli cation misses have been resolved, says Mathur. "We can take some of those learnings and apply them here," she says, advising retailers to "be open to the value you can tap into…don't be afraid to learn and experiment with some of the ways other markets are availing this Best-sellingtechnology."author,retail industry futurist and founder of Retail Prophet, Doug Stephens says there is no harm in grocers of all sizes "dipping a toe in the waters" to better understand the notion of digital real estate and how applications in the metaverse could enhance experiences for both their employees as well as their customers.
Marty Weintraub, national retail leader at Deloitte, points to several "buckets" of opportunity for gro cers in a metaverse environment, with training and onboarding as a key one. "Turnover is high in a grocery store, so you're training people constantly on how to stock shelves, unload a truck, make a price change or run a cash lane," he says. "There is efficiency and agility in being able to do that in a metaverse environment without employees having to be physically in the store."
Internal uses of the technology are easier "to wrap your head around,"
With the pandemic heightening consumers' expecta tion of digital capabilities, retailers are being pushed to rethink what their online platforms are going to be in the future, says Sonia Mathur, managing director & management consulting practice lead, Canada at Accenture. "Some of the grocers out there have pub licly disclosed that [metaverse] planning is part of their strategic objectives," she says. "It is something they are thinking seriously about as part of contin gency plans, expanding portfolios and reach, and really just for the competitive element."
"DependingWeintraub,Deloitte'ssaysMartyandofferaclearerreturnoninvestment.onhow[theworld's]economicsituationplaysout,wecouldstarttoseesimplerusecasesforthemetaverseinthenexttwotothreeyears" Ideas
August 2022 || CANADIAN GROCER 17 setting, that could mean using VR gear that would allow you to see digital information, usually found through your phone, displayed on walls or products where it makes the most sense, says Vogel. He notes there are already available devices that do this, albeit too bulky and expensive for regular use. "If you think [about] how fast virtual reality has happened, a lot of the technology is related so AR isn't far behind."
Next steps for grocers
Stephens predicts all of Canada's major grocers will be employing some level of blockchain within the next five years to optimize their operations in the metaverse. "As a small- to medium-sized business, you don't want to get locked out of those blockchains and [supply chain] relationships," he says. "It's some thing everyone should be getting out in front of now to better understand the kind of work being done."
But, he believes it is blockchain (the digital, decen tralized ledger of transactions across computer sys tems that cryptocurrencies rely on) that will most benefit grocers as the metaverse evolves. "Grocery's main problem today is waste and inefficiency and blind spots within the supply chain," he says. "If I'm a grocer, I can look into that blockchain and see the movement of product from one end to the other, which means I can also validate claims that a prod uct is fair trade or has a net-zero carbon [footprint]."
Real-life grocery applications
A OPPORTUNITIESWORLDOF NEW!
Other key findings in the survey:
LABOUR PAINS
Ideas
· More than four in 10 execs surveyed said they're trying to improve retention by sharing employees across locations: While pay increases (60%) and adding perks (50%) top the list of ways companies are trying to improve reten tion, 41% said they're looking to share employees across locations and regions.
The second problem area is hiring and retention. "Businesses have to do more with less and then somehow make their workplace the place people choose over others," says Halbert. "Some of this is shifting away from the employee's favour, but employees have been very much in charge of their destiny for the last couple of years because there has been so much hiring required and options everywhere."
Front-line employees, on the other hand, were either sent home and out of work or had to continue working on the front lines and face the risks of the pandemic. "But the bottom line is they only got paid if they worked. And so, that created a big divide in the employee base," explains Halbert. "Now, there is a big effort around bridging that in a more sustainable way."
· Companies are prioritizing mental health services as important work place benefits: 62% of respondents said their company either already offers or plans to offer mental health services to employees. In addition, 67% offer or plan to offer employee rewards and 63% offer or plan to offer flexible/self-scheduling arrangements."Mentalhealth and work-life balance is definitely a concern because even though employees have a job, there is still a lot of external pressure and stress and people with multiple jobs," says Halbert. "This is a world where if they don't work, they don't get paid. And that in and of itself is naturally stressful."
"If you have a grocery store in one town and five miles away have another store, your employees can work in both," says Halbert. "This creates options and flexi bility for employees and, in turn, employ ers can spread their labour pool and use [that flexibility] as a recruiting tool to attract employees."
The study also found employee reten tion trumps improving customer service as executives' No. 1 priority. One third of respondents cited retention as their top imperative, followed by attracting talent (28%), upskilling staff to be able to "do more with less" (20%), improving oper ational efficiency (12%) and delivering better customer service (7%).
Rich Halbert, chief strategy officer at WorkJam, says two problem areas are "white hot" right now. First, the pan demic created a deep "Us versus Them" divide for companies with front-line workers because it was basically busi ness as usual for corporate employees who were able to work from home and continued to get paid.
PROFESSIONALSHUTTERSTOCK/ESB
· Executives understand better retention is linked to business success: 72% of respondents understand invest ing in employee retention will result in better ROI, but only 50% think their orga nization is doing an excellent or good job retaining front-line employees.
· Diversity, equity and inclusion (de&i) initiatives rank low on employ ees' lists of desired workplace improvements: Scheduling flexibility (57%) tops the list of areas employees have indicated they'd like to see improvements. Meaning ful work (54%), compensation (53%), sched ule predictability (49%), growth (46%) and company culture (45%) all ranked much higher than DE&I efforts (17%).
Attracting and retaining front-line staff is the biggest operational challenge right now: survey By Rebecca Harris
WHAT'S KEEPING retailers and other executives up at night? Look no further than the "Help Wanted" signs in their windows.Arecent survey by WorkJam, a digital front-line workplace platform for organi zations with shift and hourly employees, found that leaders consider labour short ages (48%), employee turnover (31%) and even workplace stress (10%) as larger operational challenges than supply chain issues (9%). The study engaged 138 global executives in 21 major industries, including retail, manufacturing, consumer goods, and transportation and warehousing.
August 2022 || CANADIAN GROCER 19
· Compensation and better career path opportunities are the main rea sons employees leave: Three-quarters of executives think employees are leav ing their company for better-paying jobs, while 67% think they're leaving for career development reasons. Less than half (49%) believe employees leave to attain better schedule flexibility and work-life balance and only 44% believe employees leave in search of better benefits.
· In retail, front-line workers are look ing for better pay and scheduling: Retail executives say their front-line employees are looking to them to boost pay and pro vide more flexible schedules, with each fac tor cited by 57% of respondents. Employees would also like to see improvements in schedule predictability and career growth opportunities, both at 52%.
Twice the Snack in Just One Pack New Armstrong Cheese Combos are a hearty snack containing cheese sticks and naturally smoked meat sticks. Convenient and delicious, Armstrong Combos make the perfect snacking pair. Available in two flavours and individually wrapped for convenience, these sticks are a source of protein and calcium, and contain only 90 calories or less per stick. Perfect for consumers who are looking for a quick, on-the-go snack.
WHAT'S
This yogurt snack is ideal for parents and their kids' nutrition needs. It has 40% less sugar than the leading drinkable yogurt and is a source of calcium. The new 900ml bottles are offered in two different flavours children love: strawberry and vanilla, and as always, are made with real fruit.
Chill out with Kiju Kiju Organic is made from organic fruit, grown, juiced and packaged according to the strictest standards. Kiju is expanding into the chilled category with three 100% organic juices with natural functional benefits: Orange (Magnesium), Carrot-Mango (A+E Vitamins) and Berry-Pomegranate (with Polyphenols). More than ever, consumers are looking for beverages with natural benefits as a path to wellness. That's why Kiju continues to be committed to offering organic juices with no added sugar, artificial flavours or colours.
SPECIAL PROMOTIONAL FEATURE IN CANADIAN GROCER || August 2022
Parents are looking for healthy and convenient snacks for their kids. This is why iÖGO nanö is pleased to introduce a new convenient large size bottle enabling parents to adjust the portions based on their children's appetite.
Good for Every Appetite
NEW PRODUCTS IN GROCERY NEW
What has changed in your career since 2019, when you won a GenNext Award?
FOR
Can you share a tough career lesson you've learned? Learning how and when to say no. I'm a people pleaser but over the years, as I've gained more experience and [have been] surrounded by strong women men tors, I've learned how to evaluate those decisions. Gone are the days when I had to deprioritize my other projects and put in a lot of extra hours just to please others. I've learned that saying no, especially to more senior co-workers, doesn't make you weak. In fact, you earn their respect. 'No' doesn't mean never, it's just not now.
By Rebecca Harris
I moved from category director of No Frills produce merchandising to our pro duce procurement team at Loblaw. I'm now procuring berries, pomegranates and cranberries for the enterprise.
Mike Longo 2014 Vicepresident of fresh foods, Longo's Job now: officer,merchandisingChiefLongo's CALL NOMINATIONS! you know a rising star in the grocery industry? Nominate at cggennext.ca
August 2022 || CANADIAN GROCER 21
Ideas GENERATION NEXT 2022
What has changed in your career since 2014, when you won a GenNext Award?
Do
Teresa Blakney
Catching up with Generation Next
What advice do you have for future "ris ing stars" in the grocery industry? There are so many great career opportunities in the grocery industry. Try different things along the way to get a good understand ing of the entire business and how it all comes together. When you do this, you will land in the area you're most passion ate about. CG
Being chosen for the GenNext Award was one of my largest highlights, along with being selected to represent Loblaws at CPMA's Passion for Produce program in 2014. There was a great mentorship piece where we had one-on-one conversations with leaders in the produce industry. This was a huge opportunity for me as it helped set the foundation I needed to continue to grow, gain knowledge, learn how to network more effectively, and pick the brains of leaders to learn what has worked well for them. Ultimately, it gave me the confidence that I can one day be a leader in the industry. Can you share a career lesson you've learned? You're always selling and build ing your brand no matter what you're doing. Whether you're on a conference call, store tour or even just having a coffee with a colleague, you're always building on who you are and what you represent. So, it's best to be authentic!
The biggest change I've experienced in the last eight years is how quickly the gro cery industry has evolved and how con sumer behaviour has transformed. There is a constant need to adapt and pivot, especially over the last few years, to stay on top of technology and trends. In a pos itive light, I believe we have never been in a better position to respond to consumer demand through technology as we focus on our guest experience. Can you share a tough career lesson you've learned? I've learned many tough lessons over the years. One of the toughest is around implementation projects; if you're ever leading an ERP [enterprise resource planning] implementation project, ensure you have adequate budget (think of a num ber and double it), extend your timelines, and then cut down your benefits.
2018 WINNERMark Condoluci 2019 WINNER Job then: Category director, No Frills (Loblaw) Job now: LoblawcategoryProcurementdirector, Job then: Brand manager, ConagradevelopmentbrandatBrands Job now: Director of Brandstreats,snacksmarketing,&sweetConagra
What do you like best about your current role? Everything! If I have to pick just one, I'd say the ability to impact consumer behaviour and their food journey. My role enables me to set the strategic vision to grow the business and, at the same time, do the right thing for consumers.
JobWINNERthen:
For the past 12 years, Canadian Grocer's Generation Next Awards have been celebrating the industry's rising stars (under age 40). We recently checked in with a few of our past winners to see what they've been up to since nabbing the award
What is your biggest career highlight?
What's the best career advice you've ever received? Stay authentic, and it's okay to be vulnerable. Everyone is unique and has something to bring to the table. Even though I'm not in a global market role, do not underestimate my past work experi ences in Malaysia and China because it leads to different perspectives. And that's what I like about the diversity, equity and inclusion efforts that are gaining more awareness and traction nowadays.
SPECIAL PROMOTIONAL FEATURE IN CANADIAN GROCER || August 2022
The Snacks Dreams are Made of Introducing Cha's Organics Coconut Rolls, now available in Original Coconut, Chocolate and Ginger flavours. Gluten free, vegan and free from all major allergens, these delightfully crispy wafer rolls are made from pure organic coconut milk combined with wholesome, real food ingredients all rolled into an unparalleled bite-sized indulgence.
WHAT'S
NEW PRODUCTS IN GROCERY
NEW
The Ultimate in Flavourful Refreshment Made with real fruit juice, these cranberry sparkling beverages from Ocean Spray® are bursting with fruity bubbliness. The naturally bold taste of cranberries plus the refreshment of bubbles, provide the ultimate in flavourful refreshment. Contains no artificial sweeteners, flavours, or preservatives and comes in a convenient single serve 6 pack that can be enjoyed at home, or on the go. Consumers can drink it straight up or add it to their favourite beverage.
Sides in a Snap Conagra Brands is disrupting the veggie market with exciting innovation. With eight new items, Swanson® Steamfresh® and Oven RoastersTM are taking the hard work out of serving deliciously steamed, roasted and flavourful vegetables. These side dishes are ready in less than 25 minutes, with no artificial colours, flavours or preservatives. With a wide variety of pre-seasoned options, there is something for everyone to enjoy.
Other technologies haven't totally caught on.
August 2022 || CANADIAN GROCER 23 CONSUMER CONNECTION || Ransom Hawley
Though more retailers are using digital pricing, only 21.5% of Canadians have noticed them in aisles. There's also a lack of understanding around check out-less shopping, with older generations saying they're less likely to try it.
More consumers are feeling the pinch and it's impacting their shopping behaviours
Ransom Hawley, former packaged goods leader, is founder and CEO at Caddle Inc., the largest mobile-first insights platform that rewards Canadians for sharing data and engaging with brands.
Those generational differences persist when it comes to innovations in the last mile of store-to-door consumer delivery: drones and robots. Just over 40% of Canadians say they're interested in automated delivery and gen-Zs are most intrigued.
Though consumers appear to be interested in automated delivery, this isn't a done deal yet. Yes, convenience moves the needle for many shoppers, but in the current economic climate, grocers must ensure automated delivery doesn't mean an added cost for consumers. While we can expect to see gro cers continue to sway shoppers through innovation, from Canadian consumers' point-of-view, value is the bottom line.
Yet, self-checkout is here to stay. Largely thanks to the pandemic's focus on reducing social con tact, grocers have vastly improved self-checkout experiences. Now, there are more Canadians using self-checkouts on a regular basis than those who don't, and 85.1% who use the service say they're sat isfied with the experience.
In inflationary times, Canadians are prioritizing value
For brick-and-mortar shoppers, the top Net Promoter Score (NPS) drivers are cleanliness and hygiene, quick shop and checkout, and good value for price. These are clear indicators that the pandemic and economic climate are influencing shoppers. As a one-stop-shop, Costco maintains the highest in-store NPS nationally, followed by Giant Tiger and No Frills. Despite the resurgence of brick-and-mortar shop ping and the lifting of pandemic restrictions, shop pers are still buying groceries online. In that regard, retail giant Amazon enjoys the highest NPS of online grocers, but the data suggests loyalty is still in flux. Consumers are still figuring out which company offers the best user-experience and this means brand promiscuity. More than half of shoppers say they're likely to try another online platform for their next shop. Indeed, for both brick-and-mortar and online retail the next battlefield for grocers may well be loy alty as cost-conscious consumers look beyond brand and focus on the best price. As a result, grocers are working even harder to get people back in their stores and to remove as much friction for shoppers as possible. We're seeing some innovations in the grocery store aisles to accomplish just that. Technologies such as interactive screens, aimed at engaging and educating consumers, are appealing to three out of four Canadians—especially if it saves them money.
A pulse check of grocery consumers reveals some of these changes are not only here to stay—but could shape the aisles of the future. Even more Canadians are feeling the pinch of inflation. According to Caddle's 10,000-member Daily Survey Panel (January 2022), 90% of con sumers believe food prices are higher now than six months ago—that's up four basis points from Sep tember 2021. And that belief is held across multiple generations, including 93.5% of baby boomers, 91.9 % of gen-Xers, 85.1% of millennials and (a growing) 79% of gen-Z consumers. With inflation top-of-mind, shopping behaviours are changing. While historically consumers preferred to do their purchasing in one place, many now visit multiple stores in search of value. Discount and tradi tional grocery stores are still drawing the lion's share of shoppers followed by Costco and Walmart. And when there are deals, shoppers want to know about them. Nearly nine out of 10 Canadians like to get some kind of flyer from grocers; however, there are signs of a rapidly changing promotional marketplace.
For
Compared to a physical flyer, grocery store apps are now the preferred platform to receive promo tions, and retailers are rising to the challenge with highly customized offerings to get shoppers in-store.
At the checkout, convenience is king. A whop ping 59.2% of Canadians use credit card tap-to-pay, whereas boomers are the most likely to stick to cash and least likely to choose self-checkout to settle up.
wellbattlefieldonlinemortarbrick-and-bothandretail,thenextforgrocersmaybeloyaltyascost-consciousconsumerslookbeyondbrandandfocusonthebestprice
CG
in jusT a few years, the world has seen intense dis ruption. From the pandemic to the war in Ukraine and the current economic turmoil, consumers' priorities have shifted and their grocery shopping is increas ingly shaped by a search for value and convenience.
According to an April United Nations climate report, our window to limit global warming to 1.5 C to avoid the worst consequences of climate change is closing. It's "now or never" warned the report, to sig nificantly slash our greenhouse gas (GHG) emissions. Others echo the urgency. Researchers at the Univer sity of Oxford call the 2020s the "Decisive Decade" to act on climate change. Though immense, the climate challenges we face are not insurmountable. Com batting the crisis, say the experts, will require more collaboration, more engagement and more action from individuals, governments and businesses. The race to net zero Companies like Empire are answering the call. In July, the grocery retailer announced its Climate Action Plan, a new strategy to meaningfully cut its GHG emissions and begin the transition to decar bonizing its business. Under the ambitious plan, out lined in Empire's recently released 2022 Sustainable Business Report, the company is pledging to achieve net-zero Scope 1 and Scope 2 emissions by 2040 with a goal of attaining net zero for its Scope 3 emissions by 2050. Put simply, Scope 1 and 2 emissions are those generated in its own operations, while Scope 3 are those coming from its value chain.
CLIMATEEMPIRETAKESAIMATCHANGE
NO QUESTION, THE PLANET is getting warmer, and the impacts of this reality are already being felt in ways both dramatic and devasting. Deadly floods, scorching heatwaves, fires, droughts and the knock-on effects of these weather events are grim reminders of our climate predicament. Unless more serious action is taken to slow the Earth's rising tem perature, scientists warn, things are only going to get worse for the planet's inhabitants. Much worse.
In the report, Empire president and CEO Michael Medline wrote that while it's encouraging to see the conversation around climate change reach new heights, "the time for talk is over. We are in a new phase of this challenge that we believe requires aggressive action."
By Shellee Fitzgerald Photography by Mike Ford
svp Mohit Grover on how the grocery company is getting aggressive with its climate strategy
While scores of companies have announced goals to tackle GHG emissions, science-based targets are at the heart of Empire's plan and that's an important distinction, says the company. Science-based targets provide companies with
Sustainability
August 2022 || CANADIAN GROCER 25
Bonterra ™ For a beמּer planet ™
ainably focused paper products for a beמּer planet.
Introducing Bonterra ™, an innovative and sustainably focused new line of household paper products, that gives Canadians the opportunity to start small at home to effect big change in the world. Made in Canada, Bonterra bath tissue, paper towels, and facial tissue products are revolutionizing the household paper category for the benefit of the environment, with responsibly sourced materials, plastic-free packaging, carbon-neutral manufacturing, and proud partnerships with 4ocean and One Tree Planted. Together, we can choose a beמּer future for the planet and for future generations.
©2022 ™ Trademarks Of Kruger Products L.P. Made In Canada With Domestic And Imported Material. Made From 100% Recycled Paper With At Least 80% Post Consumer Materials. Using A Combination Of Hydroelectric Power And The Retirement Of Our Existing Carbon Credits. EXCLUSIVE SPONSOR PROUD PARTNER OF
The company is now building on that momen tum and recently began developing a multi-year Plastics Action Plan. The plan will focus on three key areas: reducing plastic waste, improving reuse and improving value recovery. According to its new sustainability report, targets will focus on reducing unnecessary and hard-to-recycle single-use plastics within its own brand and operations, increasing the use of post-consumer recycled (PCR) plastic mate rial in packaging as well as leading on circularity while engaging with its customers to help reduce the amount of plastic waste generated at home.
"We're one of 50-odd Canadian companies that have set science-based targets, which is a really meaningful target to set," explains Mohit Grover, Empire's senior vice-president of innovation, sus tainability & strategy, during an interview at the company's Mississauga, Ont. office in late July.
Key steps Empire will take to reduce Scope 1 and Scope 2 emissions in its operations include energy-ef ficient lighting and refrigeration retrofits in its stores; the installation of rooftop solar panels at more of its locations to turn these underutilized spaces into "clean energy-generating stations;" and the electri fication of its delivery and fleet vehicles. "And we're thinking about how we'll do that in Voilà, too. Our trucks are refrigerated, and they require additional load," he says, adding that Empire will be looking at innovative solutions to be able to power the trucks for the distance needed to travel and refrigerate product.
Declaring a war on waste (plastic and food)
"On the Scope 3 side, which is with our vendor partners, that's all about engagement," says Grover. And that's crucial to the plan's success as much of the company's emissions profile is generated in the company's value chain, which is complex for a com pany that works with large multinational vendor partners all the way down to local Canadian compa nies. "And so, part of that action plan will be for us to engage with and educate [our vendors] so they are doing the right things around emissions," he says, noting that those conversations are already taking place. "Our Scope 3 emissions from our supply chain is a big focus area for us to have impact over the next decade and beyond and to meet those goals that we have for a net-zero target."
Grover adds that while the 115-year-old company has always acted on environmental issues ("It's been part of our company's ethos from the start"), in the last few years Empire has started to be more trans parent around the work it's doing.
"We've really planned out the next three to five years, and execution against that plan is going to be really important. It's a long journey; these targets are set many years out, but we want to start to execute soon so we can have impact early," explains Grover, who joined Empire about three years ago, with sus tainability being added to his responsibilities a year into his tenure.
Sustainability
"We're one of Canada's largest grocers," says Grover, "so we feel we have a responsibility to take action, specifically around our emissions profile." Empire's commitment is no small thing. A giant in Canadian retail, the company has a network of more than 1,500 stores across the country under retail banners that include Sobeys, Safeway, IGA , Farm Boy, Longo's, Lawtons Drugs as well as e-commerce delivery services Voilà, Grocery Gateway and IGA net; Empire has the clout to make a big impact by delivering on its climate commitments. But setting goals is one thing, ensuring the company meets its ambitious targets is quite another. Grover says the company has a roadmap to keep it on track.
"The way we look at it, we want to hold ourselves accountable," says Grover, adding that Empire will continue to enhance its disclosures. "We've already aligned against SASB, which is a sustainable account ing standards board, and they have a food retailers and distributor standard that we already published against last year and we're doing that again this year," he explains. "We're also looking to our inves tors, analysts, other stakeholders and in this year's [Sustainable Business] report you'll see we've strengthened our disclosures around governance programs, policy programs, because we heard a lot of feedback from that group. They wanted to know more about how we internally govern and track."
Though a big priority for the company, the new Climate Action Plan isn't the only piece of its sus tainability strategy. Empire established itself as a leader in curbing plastic waste in 2019, when Sobeys announced it would eliminate single-use plastic bags at checkouts at all 255 stores, it was the first national grocer to do so. In May 2021, Empire expanded the effort to its other banners resulting in approximately 800 million single-use plastic bags removed from circulation annually.
August 2022 || CANADIAN GROCER 27 a clearly defined path to reduce GHG emissions that are in line with what the latest climate science says is necessary to meet the goals of the 2015 Paris Agreement to limit global warming to no more than 1.5 C. The Science Based Targets Initiative (SBTi)— a partnership between CDP, the United Nations Global Compact, World Resources Institute and the World Wide Fund for Nature—provides standards and guidance for companies to set their targets.
And then there's food waste. It's a massive problem in Canada where the estimated value of unnecessarily lost or wasted food is in the neighbourhood of $49 bil lion annually, according to a 2019 report from Second Harvest and Value Chain Management International. With food at the core of its business, Empire says it has a responsibility to reduce waste from its oper ations and across its supply chain. "We set a goal for food waste reduction to try to hit 50% by 2025;
CHICKEN FARMERS DELIVER ON ANIMAL CARE Canadian consumers want Canadian chicken. But, did you know that the Canadian chicken industry works to some of the highest international standards of animal welfare and food safety? That's not a phrase thrown around lightly – there are comprehensive, national programs which ensure this. DON'T REINVENT TheWheel Ask us – we're here to help. communications@chicken.ca@chickenfarmers@chickenfarmers@chickendotcawww.chicken.ca|www.chickenfarmers.ca | www.letstalkchicken.ca
It began this past March when, in partnership with Ignite Atlantic, Divert NS, and Atlantic Canada Opportunities Agency (ACOA), Sobeys announced its Plastic Waste Challenge. The goal was to find "a viable and sustainable commercial solution for in-store wrapped meat and seafood packaging."
"When we first made that announcement in 2019, we always viewed it as a first step in a journey towards plastic waste reduction," Eli Browne, Sobeys' director of corporate sustainability, tells Canadian Grocer. "We always intended to look for more opportunities… [and] we really started to target non-recyclable meat and seafood packaging." The challenge began with a call for submissions. Applicants described their experience in the space, concepts and design, estimated production costs, noted where they were in the we're about halfway there," explains Grover. To cut waste, the company has implemented a multi-tiered food waste prevention program at its stores, which includes things such as staff training, computer automated ordering as well as finding ways to use surplus ingredients.
At a time when customers, employees and inves tors are demanding companies do better when it comes to important issues like sustainability, Grover says Empire is well positioned to do its part. "ESG is just part of our company's business strategy, and it's integrated into everything we do. And if you meet any of our executive team members, or district operators, or store employees, they're going to talk about our journey in many areas of sustainability," he says. "We're really excited about the progress we've made, but more excited about the future ahead." CG development process and the steps needed to fully realize a prototype. Commercial viability was key, but Sobeys was also looking for an innovative product that would be diverted from landfills and meet its criteria around food safety and durability."Wewere blown away by the response," says Browne. "The variety in the submissions that we got was reallyFromencouraging."there,apanel of Sobeys, Ignite Atlantic, Divert NS and ACOA execs whittled the applicants down to six finalists and invited them to Halifax to pitch their products in person. In the end, the victor was Newmarket, Ont.'s Eco Guardian, which won with its fibre-based product.
In 2019, Sobeys planted a sustainability flag in the ground when it became the country's first national grocery retailer to announce it was eliminating single-use plastic bags at its stores.
Empire notes that not only is the partnership help ing combat the problem of food insecurity in Can ada, but it's keeping food waste out of landfills and diverting GHG emissions. Infarm has been another important partner for the company. The German company's hi-tech indoor farming systems started appearing in Empire's stores in 2020 and the partnership has expanded to also include growing centres that supply fresh leafy greens and herbs to the company's network of gro cery stores. Infarm is touted as a smart, sustainable solution for feeding urban populations as its produce requires 95% less water, 95% less land to grow and is grown without pesticides. In fact, Empire says it has saved five million litres of water as a result of its Infarm partnership.
A strategic partnership with food rescue orga nization Second Harvest is helping it get closer to its goal. Between May 2021 and May 2022, Empire donated more than 9.6 million pounds of surplus food to the organization, the company equates this to nine million meals provided to families in need.
—John Grigg
August 2022 || CANADIAN GROCER 29 SOBEYS
PLASTIC CHALLENGEWASTE
Sustainability
Sobeys sparks innovation with sustainable packaging competition
Anil Abrol, president and CEO of Eco Guardian, says the win "has validated what we are doing. That is why I think the award is so important for us, because the Eco Guardian name will be with Sobeys as one of the leaders in innovation."EcoGuardian will work with Sobeys to pilot its packaging in Nova Scotia, with the hope that it will roll out nationally. If that happens, Browne notes, it will mean millions of sustainable packages in circulation as opposed to the Styrofoam and plastic variations currently in use. Did the challenge work? "In my opinion, yes, it was a success," says Browne. "We're on a journey here. And we're really excited about continuing the momentum."
"It's a great customer proposition," Grover says of the Infarm offer. "Customers want to have something that's grown close to home that has a better freshness and taste. But in addition to that, we use less water, we use less emissions transporting the goods to our stores, and we have less waste. So that's an innova tion that we've brought to life in our stores and scaled across our network, and we are really proud of it."
KrugerBigAssist.ca ®® 2022 COMMUNITYWINNERSERVICEAWARD
. Read on to see how this year's 40 winners are making a positive impact in the areas of sustainability; supporting employees; diversity, equity & inclusion; and community service.
2022AWARDSIMPACT
By David Brown, Carolyn Cooper, Rebecca Harris and Danny Kucharsky
if doing good is good for business, then things look rosy for Canada's grocery industry. In actions big and small, grocers and CPG companies across the country are making things better for their employees, their communities and the planet. To shine a light on these efforts, last year we launched the Canadian Grocer Impact Awards
August 2022 || CANADIAN GROCER 31 STEPPING UP 40 ways theisindustrymaking a difference
CALGARY CO-OP Calgary Co-op has been helping the Cal gary Food Bank with cash and non-per ishable food donations for many years, but the retailer expanded its initiatives in April 2022 by launching the Calgary Co-op Fresh Food Rescue, which donates fresh food and assists with deliveries to the food bank.
"Our desired outcome is for the com munities in which we operate to see and feel the impact of our charitable giving, colleague volunteerism and food assis tance support," says Burnbrae Farms president and CEO Margaret Hudson.
FARMSBURNBRAEPRODUCTS,KRUGERCO-OP,CALGARYAGD, Calgary Co-op Fresh Food Rescue was launched in April 2022
KRUGER PRODUCTS In 2020, Kruger Products launched the Kruger Big Assist to provide financial assistance to keep kids on the ice by sub sidizing registration fees for Canadian hockey families. In its second year, recognizing the August 2022 ||
2022AWARDSIMPACT
For two years, the pandemic prevented Atlantic Grocery Distributors (AGD) from hosting its annual Herbert J. Powell Memorial Golf Tournament, a fundraiser for the Alzheimer Society of Newfound land and Labrador. But AGD still wanted to continue its more than 20-year involve ment with the organization, to which it has donated more than $260,000.
Burnbrae Farms' staff raise funds for the YMCA of Eastern Ontario AGD is a longtime sup porter of the Alzheimer Society of Newfoundland and Labrador Kruger's The Second Assist helps diversityinclusivitypromoteandinhockey
BURNBRAE FARMS
ATLANTIC DISTRIBUTORSGROCERY(AGD)
AGD asked its vendor partners to donate to the Alzheimer Society instead of paying the fees to attend its annual golf tourna ment. The company also found other cre ative ways to raise funds for the Society, including the donation of $1 from the sale of each tub of Moritz Icy Squares choc olates. The response was overwhelming and AGD was able to donate more than $30,000 to the Society in spring 2021. Hig don says AGD is energized about its sup port of the Society as progress continues to be made with therapies, support and research toward a cure.
CommunityService
As part of the program, vegetables, dairy products, frozen goods, fresh meat and other items nearing their expiration dates—but are still safe to eat—are deliv ered daily to the Calgary Food Bank. Within a few months of the launch, Calgary Co-op had donated 260,000 pounds of food with a usability rate of 98%, and helped more than 16,000 com munity members put fresh, healthy food on their tables. "The focus of Cal gary Co-op's giving strategy is improv ing food security. Our Fresh Food Rescue Program, in collaboration with the Cal gary Food Bank, is just another way our inspired team members work together to support our community," says Ken Kee lor, CEO of Calgary Co-op.
Burnbrae Farms has a long history of sup plying Canadians with nutritious and affordable eggs. In recent years, the fam ily-owned company has been surpassing its goal to donate at least one million eggs or egg products annually. During the height of the COVID -19 pan demic in 2020, Burnbrae donated more than four million eggs and egg products to more than 30 Canadian charities. And last year, the company almost doubled its donations to more than seven million eggs, including 219,000 pounds of eggs and egg equivalents to Second Harvest, a food rescue charity. In addition, Burn brae's annual holiday food drive collected nearly 13,000 pounds of food for Cana dian food banks. Many of Burnbrae Farms' employ ees volunteer their time to deliver eggs and participate in community events. For example, in 2021, employees at the company's Winnipeg facility served 400 breakfasts with Burnbrae Farms eggs to the Siloam Mission. And each Octo ber, employees help the YMCA of East ern Ontario, in Brockville, run a fire truck pull to raise money for that organiza tion's financial assistance program.
CANADIAN GROCER 33
Erin Higdon, vice-president, business strategy, AGD says, "during the height of the pandemic, while our world shut down, those living with Alzheimer's dis ease in our province, along with their families, still relied on their services." However, it was challenging for the Soci ety to maintain daily operations as many funding sources were shut down.
Calgary Co-op is a proud recipient of two Canadian Grocer Impact Awards Community Service & Supporting Employees We are passionate about people and the communities we serve. calgarycoop.com f @ calgarycoop @ calgarycoop 3,850 INSPIRED TEAM MEMBERS COMMITTED TO DONATING $3 MILLION TO LOCAL CHARITIES IN 2022 FRESH FOOD RESCUE PROGRAM HAS POSITIVELY IMPACTED 36,000 LIVES SUPPORTING THE COMMUNITY THROUGH HIRING AND BUYING LOCALLY PROUD AWARD RECIPIENT
Metro Ontario created opportunities for customers to donate $2 at the check out and matched their donations up to a collective $700,000 (between Metro and Food Basics).
METRO ONTARIO
Hundreds of people laced up their sneakers on April 24 in support of South lake Foundation, raising more than $330,000. The five-kilometre run was held in person this year, after two years of virtual events thanks to COVID-19.
As a result, more than $3 million was raised between October and December 2021, with nearly $2.4 million coming from consumer donations. The funds benefited food banks, shelters, soup kitchens and other charities designated by local stores.
"This unique, locally-focused initia tive helped support communities with a hands-on approach, including repair ing, building and enhancing community infrastructure to bring together commu nities stronger than ever," says Vince Vet ere, general manager, cheese and table spreads at Lactalis Canada.
"Metro Ontario prides itself on being Ontario's community grocer," says Car men Fortino, executive vice-president, Ontario division and national supply chain at Metro. "With that, we felt the weight of knowing that thousands of peo ple in the 100-plus communities we live and work in, go without basic needs like food, shelter and hygiene every day."
"All sports, particularly hockey in Can ada, play an integral role in the devel opment of children both physically and mentally, and we are proud to assist cur rent and potential hockey families across the country participate in the game we love," says Susan Irving, CMO, Kruger Products and a hockey mom of two.
The Cape Breton Female Hockey Asso ciation in Nova Scotia, which won the first Second Assist, is using the grant to cre ate teams in First Nations communities, develop all-female referee crews, train female and BIPOC (Black, Indigenous, and People of Colour) coaches and implement a financial assistance program.
importance of inclusivity and diversity in minor hockey, Kruger launched The Sec ond Assist, with an additional $50,000 grant for one of the 15 organizations awarded the Kruger Big Assist.
LACTALIS CANADA Lactalis Canada's P'tit Québec cheese is a mainstay in rural Quebec—an area of the province that doesn't get the finan cial attention big cities receive. As a result, many small projects go unfinished due to a lack of funding and resources.
The run has become Southlake Foun dation's largest annual event and funds raised ensure the hospital has the tools and equipment it needs to support lead ing-edge care.
Realizing that people may walk through grocery stores unable to purchase enough food for their families, Metro Ontario launched the Out of Reach food bank donation drive during Thanksgiving and the 2021 holiday season.
Fortino says consumers feel empow ered to donate to food banks when they know it benefits people in their commu nities who are affected by food insecurity.
August 2022 || CANADIAN GROCER 35
"We wanted to give shoppers the ability to fundraise for these families directly in their communities," Fortino says.
Community Service continued 2022AWARDSIMPACT
Over the past two years, the program has awarded more than $400,000 to Canadian minor hockey associations to cover registration fees and has helped more than 1,000 kids.
To combat food insecurity, Metro Ontario launched its Out of Reach food bank drive last fall, raising more than $3 million Through its P'tit Quebec brand, Lactalis Canada is helping rural Quebec com munities complete small but meaningful projects
Projects included installation of a new bike rack, a protective railing along a sce nic walk, repainting the playground's fence and picnic tables, and replacing the local school's baseball benches.
To improve the situation, P'tit Québec launched P'tits projets pas si P'tits (not-so small, small projects), which helps com munities conduct small but meaningful projects.Theinitiative kicked off last Septem ber in the Sainte-Rose-du-Nord (popula tion 439) in the Saguenay-Lac-Saint-Jean region, where the local senior citizens res idence and elementary school received more than $25,000 worth of donations, equipment and labour.
CANADALACTALISONTARIO,METRO
This year marked the 10th Nature's Emporium Run for Southlake, which over the years, has raised more than $2.3 million in support of urgent patient care priorities at Southlake Regional Health Centre in Newmarket, Ont.
"Our simple, yet important belief is that when we choose to eat well, we live better
NATURE'S EMPORIUM
Tide Loads of Hope provided free laundry services to families affected by the BC floods in 2021 to give them a sense of normalcy.
Proud Winners of the 2022
Pantene champions the 2SLGBTQ+ community through education, allyship and storytelling. Their #HairHasNoGender campaign encourages people to live their true identities, including themselvesexpressingthroughtheir hair.
Olay is engaging over 10,000 girls to build the skills and confidence needed to fulfill critical roles as future leaders in STEM.
The #CrestSmileWithPride campaign is raising the next generation of allies to create a world with more smiles.
P&G Force for Growth and Good

When a state of emergency was declared last November after record-breaking rainfall caused floods and landslides in Southern B.C. and Vancouver Island, Pat tison Food Group companies jumped into action to ensure residents and stranded travellers received essential goods.
GROUPFOODPATTISONEMPORIUM,NATURE'S
Community Service continued 2022AWARDSIMPACT
To date, Nature's Path has provided more than $600,000 in grant funding to community gardens across North Amer ica. "We believe everyone has the right to quality organic food," Stephens says, noting the company also provides at least $2 million worth of organic food annually to food banks.
PEAK OF THE MARKET
and sleep better, move better, feel bet ter," says Joe D'Addario, CEO of Nature's Emporium, a health food grocer with four locations in the Greater Toronto Area. "As a leading health food market, we play a very important role in the communities we serve. Our partnerships build on our objective to educate our customers and empower them to take a proactive and preventative approach to their health and wellness," he says.
The program helps Peak of the Mar ket give back to local communities, while also addressing the company's sustainability practices. By creating the program, Peak of the Market has seen a significant decrease in the amount of August
PATTISON FOOD GROUP
2022 || CANADIAN GROCER 37
Pattison Food Group com panies jumped into action to help B.C. communities hit hard by floods last fall
For the past 10 years, Nature's Emporium has raised crucial funds for the Southlake Foundation
Save-On-Foods co-ordinated emer gency supply drops by helicopter and air plane to communities that were cut off, and hired additional truck drivers to dou ble the number of deliveries made from its Edmonton warehouse to still accessi ble B.C. communities. In the District of Hope, Save-On-Foods also co-ordinated a convoy of 20 delivery vans packed full of essential goods, and with an RCMP escort made the first deliv ery into the devastated community.
The partnership with the Southlake Foundation has served as a springboard for Nature's Emporium to initiate more community-based initiatives. For exam ple, the retailer recently joined Halton Food for Thought's Breakfast for Dinner campaign as presenting sponsor to raise funds for student nutrition programs.
Through a partnership with the Winnipeg Blue Bombers, Peak of the Market is tack ling the problem of food insecurity. In February, the company launched "Pow ered by Peak," which provides fresh pro duce to community groups throughout Manitoba. Every month, volunteers from the Blue Bombers football team, along with Peak of the Market staff, pack boxes of fresh produce and deliver them to community groups. In just a few months, the company has donated enough pro duce to feed more than 3,000 families.
"My grandfather was a berry farmer in the 1940s and he taught my dad to always leave the soil better than you found it," says Jyoti Stephens, vice-president, mis sion and strategy at Nature's Path. "This has grown into our mission at Nature's Path—to always leave the earth better than you found it, in every sense of the phrase."
Save-On-Foods (part of Pattison Food Group) launched a Canadian Red Cross disaster relief campaign to raise funds to support devastated communities. Customers could donate in all Save-OnFoods, PriceSmart Food and Urban Fare locations across Western Canada and the Yukon. Save-On-Foods matched each donation for a campaign total of $258,078.
NATURE'S PATH Organic community gardens can help increase food security by providing peo ple with access to fruits and vegetables. That's why Nature's Path launched its Gardens for Good program more than a decade ago. The program provides grant funds to community gardens across Can ada and the United States to improve access to organic food. In 2021 and 2022, Nature's Path added an in-store component to spread aware ness about Gardens for Good, with an emphasis on supporting local gardens run by or serving BIPOC communi ties. More than 600 applications were received, and grant fund donations totalled more than $200,000.
"The extreme flooding in the fall of 2021 brought devastation and unprece dented challenges to communities across B.C. and I am so proud of the great lengths that our teams across the Pattison Food Group went to in order to get food and medicines into stranded communities, like the District of Hope," says Darrell Jones, president of Pattison Food Group.
Ranked as #1 seafood brand by Canadian NGO SeaChoice on Seafood Progress, a tool to assess seafood brands' approach to sustainability. Every can of Rio Mare tuna is responsibly sourced with a goal to achieve 100% from MSC certified fisheries or from Credible and Comprehensive Fishery Improvement Projects by 2024 (70% is achieved in 2021).
The team at Atlantic Grocery Distributors Limited, who proudly serve the people of Newfoundland and Labrador, is honoured to be recognized with a 2022 Canadian Grocer Impact Award.
Transformative partnerships with WWF and Oxfam to protect the health of our oceans and improve the social impacts of the supply chain.
The Alzheimer Society of Newfoundland and Labrador, however, is an organization that is especially near and dear to our hearts and the hearts of the Powell family. For the last two decades, our annual fundraisers for the Alzheimer Society have helped raise more than $260,000 for their life-changing research and work for those in our province living with the disease. As their largest benefactor, we were grateful for the partnership of our sister companies and our vendors so the Society could rely on our support in 2021, despite the limitations put on fundraising events during the pandemic. While our work is food distribution, our passion is serving the people of Newfoundland and Labrador. Giving back to our province is a natural extension of that passion, and we look forward to continuing those meaningful and impactful showings of support for years to come.
PROUD WINNER OF 2022 AWARDSIMPACT
AGD is fiercely dedicated to supporting and giving back to the communities they serve, from smaller rural initiatives to large charitable organizations. We see the impact our support has, and there is nothing quite as rewarding as enlisting our resources and our amazing employees to help others province-wide.
Dave Powell
P&G CANADA
In November 2021, flooding devastated many communities in British Columbia. P&G Canada stepped up to support these communities by donating health and hygiene products and providing free laun dry services in Abbotsford and Kamloops through its Tide Loads of Hope program. For more than 15 years, Tide Loads of Hope has been cleaning clothes for families affected by natural disasters. For its efforts in British Columbia, 2,750 clean-up kits were donated and more than 2,650 pounds of laundry were cleaned during the crisis.
Tide Loads of Hope has cleaned more than 68,000 loads of laundry across North America and the company is committed to expanding the program tenfold over the next decade, with a focus on commu nities most affected by climate change.
produce ending up in landfill or for ani mal feed. The program also builds on Peak of the Market's history of giving back. For the past five years, the orga nization has donated approximately $14 million worth of fresh produce to Harvest Manitoba and other community service organizations across Canada.
RABBA FINE FOODS Rabba Fine Foods has long-standing part nerships with several charitable organi zations and continues to find ways to make a "Rabbadifference.hasdeep roots in the com munity it serves. In addition to food insecurity, Rabba contributes to health and emergency services and is also a supporter of arts and events that add colour to local communities," says Rima Rabba, director of marketing. "Rabba believes that a good community starts with good neighbours."
As part of its Rabba Roots Community Giving program, the grocer teamed up with P&G Canada to donate toiletries, baby supplies and other essentials to The Mississauga Food Bank to help 2,000 refugees arriving from Afghanistan last summer. In April, Rabba and Burnbrae Farms donated 5,400 eggs to The Missis sauga Food Bank, just in time for Easter. This year also marked Rabba's fourth annual Super Bowl dinner at Good Shep herd Ministries community shelter in Toronto. With support from partners such as P&G Canada, Maple Leaf Foods and Nestlé Canada, Rabba donated food and individual care packages for nearly 1,000 homeless men. Rabba also par ticipates in The Grocery Foundation's Toonies for Tummies campaign and has raised a total of $40,000 since 2015.
SPUD When devastating floods and mudslides hit British Columbia last November, wip ing out roads and damaging farms, SPUD pitched in to help. The Vancouver-based grocery delivery service collected food donations from customers, and then worked out complicated logistics for its vans to make deliveries to communities that were severely impacted.
Launched in September 2021, the cam paign spotlighted experts and their fam ilies, and told the stories of the partner hospital foundations and how their pro grams are funded. Sobeys also partnered with social media influencers who show cased candid family moments, educated their followers about the campaign, and encouraged their followers to donate. According to Sobeys, the campaign made a meaningful impact: $2.29 million was raised for child and youth mental health, along with a $150,000 contribu tion by "EvidenceSobeys.shows that investments in prevention and early intervention have the greatest potential to reduce the impact of mental illness on children," says San dra Sanderson, senior vice-president of marketing at Sobeys. "That's why we're so proud to be driving impactful change for children and youth across the country."
"When we saw the devastating impact caused by the floods in British Columbia last year, we knew we could help by offer ing cleaning products and free laundry services to those displaced by the flooding, as well as the disaster relief responders," says Moses Ogbonnaya, vice-president, fabric and home care, P&G Canada. "The basic comfort of clean laundry in times of crisis restores a sense of hope, dignity and optimism to those in great need."
"Synonymous with community, Peak of the Market and the Winnipeg Blue Bombers are proud to team up to ensure local community groups are powered by nutritious and delicious fresh pro duce," says Pamela Kolochuk, CEO, Peak of the Market. "Not only are we fulfilling important sustainability practices but, together, we ensure bodies and minds are nourished."
SPUD then teamed up with United Way and the non-profit Chilliwack Bowls of Hope Society, which provides daily meals for 900 schoolchildren, to ensure the donations got to where they were needed most. The grocer and its partners orga nized numerous trips to deliver more than 1,000 pounds of food donations to remote Indigenous communities in the Seabird Island First Nation. For SPUD, the initiative sparked ongo ing relationships with United Way and Bowls of Hope. For example, SPUD recently donated 550 kilograms of pulses to Bowls of Hope, providing 10,000 meals for people in "Cultivatingneed.healthy communities is one of our core values and the best way we have found we can support our communities is to serve those who are food insecure," says Arndrea Scott, vice-president, communi cations and marketing, SPUD. "Initially, the goal was to help get much-needed gro ceries to those in need. From there, the relationship between the United Way and Bowls of Hope grew into so much more."
SOBEYS Just a few months into the pandemic, Sobeys made a big commitment to children's mental health. The retailer launched "A Family of Support: Child and Youth Mental Health Initiative," in partnership with the Sobey Foundation and Canada's Children's Hospital Foun dations. The initiative funds local mental health programs to support 13 children's hospital foundations across Canada. In its second year of fundraising, Sobeys developed a robust marketing campaign to drive awareness, raise funds and educate people on the state of child and youth mental health in Canada, demonstrating the specific need for pre vention and early-intervention programs.
August 2022 || CANADIAN GROCER 39 CANADAP&G Community Service continued 2022AWARDSIMPACT
P&G teamed up with GlobalMedic to distribute hygiene kits to B.C. communities devasted by floods
Georgia Main Food Group has always been proud of its B.C. roots and supports local in everything we do. That's why we're committed to sustaining the environment and supporting our community from sourcing products, recovering food, choosing responsible packaging and everything in between.
P R OUD WINNER O F THE 2 022 IM PA C T AWAR D
As Jamieson Wellness marks its 100th anniversary this year, the company is putting a sharp focus on diversity, equity and inclusion (DE&I).
In 2020, Jamieson Wellness commit ted to fight anti-Black racism, which evolved into a full-on DE&I movement within the organization. The company established an Advancement of Diversity and Inclusion Council, created an official DE&I policy, and made several commit ments. Progress to date includes a new recruitment process to ensure candidate slates for all open roles are equitable; the inclusion of identity-specific communi ties within recruitment activities; and a mentorship program for employees who identify as racialized persons, women andTheLGBTQ2S+.company has a goal of reaching fair representation of women in leader ship and board roles by 2025. To meet its goal, Jamieson is empowering its women leaders to advance through mentor ship programs, networking events and by supporting its women's employees resource groups.
A portion of sales from Muskoka Brewery's Born This Way IPA goes to The Get Real Movement, a non-profit discriminationcombatting
MUSKOKA BREWERY
KUDRINKO'S Kudrinko's efforts in DE&I extend far beyond the walls of its supermarket in Westport, Ont. Last year, Neil Kudrinko, who owns Kudrinko's with his wife Martha, pub licly disclosed that he identifies as queer/ pansexual. While Kudrinko's has always had inclusive hiring practices, the public coming out presented an opportunity for Neil, Martha and the company to become leaders in their small rural community.
On the community front, Longo's has partnered with the Pinball Clemons Foundation and Jamaal Magloire Foun dation, which support underserved and marginalized youth by providing educa tion resources and assistance.
Longo's also celebrates diverse holi days and events that are important to its team members including Black History Month, International Women's Month, Pride and Ramadan, among others. Cur rently, Longo's is collecting employees' DE&I demographic information that will help the company further identify oppor tunities. For example, Longo's recently added coverage of gender affirmation sur gery to its benefits package.
One way Kudrinko's has taken a leadership role in DE&I is by adding gender affirmation coverage to its benefits package
Kudrinko's made its benefits package more inclusive by adding gender affir mation coverage for trans individuals. The company is also a supporter of PWA Toronto's Friends for Life Bike Rally, which raises funds to support people liv ing with HIV and AIDS. In August, Neil is riding 600 kilometres from Toronto to Montreal, and Martha is volunteering as a crew"Takingmember.aleadership position in DE&I has helped us attract new staff, develop a more loyal customer base, and [I] encour age my industry peers to make the gro cery industry more welcoming to all," says Neil Kudrinko.
LONGO'S Longo's has long been known for its strong workplace culture, which includes an emphasis on family values. But in 2020, the grocer put a deeper focus on DE&I. In partnership with the Canadian Centre for Diversity and Inclusion, Lon go's established a DE&I Council. Among its initiatives, the council provides the company's leaders with ongoing educa tion and bias awareness training. For all employees, Longo's uses an online train ing platform that covers topics such as unconscious bias and inclusive language.
Muskoka Brewery is making efforts to address diversity in the craft beer sec tor. In 2020, the Ontario brewery created Born This Way IPA, with a portion of sales August 2022 || CANADIAN GROCER
JAMIESON WELLNESS
41
"It is important to recognize DE&I as an ongoing aspect of growth that needs to be built into the fabric of an organi zation's culture," says Mike Pilato, presi dent and CEO of the vitamin and natural health product company. "It is an organi zation's responsibility to both better itself and the world in which it operates by get ting this work started. You can make great progress and will experience some set backs along the way, but not starting is not an option."
Kudrinko's joined The Welcoming Proj ect, which encourages organizations to make LGBTQ2S+ patrons feel welcome, and Neil was successful in getting several other local businesses to sign up as well. The gro cer is also the lead sponsor for Westport Pride, which Neil founded in 2021 with for mer employee Jessica Roberts.
"At Longo's, we are deeply commit ted to ensuring that every team member in our community feels safe and sup ported," says Anthony Longo, president and CEO of Longo's. "Our focus on diver sity, equity and inclusion helps us build strong cultural connections where every one has a sense of belonging."
BREWERYMUSKOKAKUDRINKO'S,
2022AWARDSIMPACT
InclusıonEquityDiversity,&
you
team
Congratulations Pattison Food Group team members and all 2022 Impact Award winners! 2022 Award Winner Community Service, Local Impact & Giving Back
To our members across the Pattison Food Group, thank for coming together to support the District of Hope and all affected areas during this incredibly challenging time. This was truly a team and are so proud that could be there for communities and when they needed us the most.
effort
we
we
neighbours
our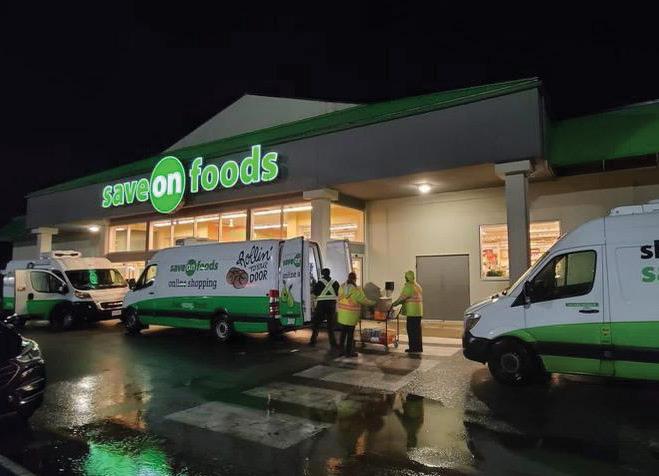 To support employees with disabil ities, P&G engaged a research firm to interview employees to better under stand the disability experience at work. The company also connects employees with disabilities to global P&G support groups and has partnered with universi ties to encourage more people with dis abilities to apply for jobs.
"At P&G, we believe an equal world is a better world for everyone. We aspire to be a force for good toward a world free from bias, with representation, voice and equal opportunity for all individuals," says Ger aldine Huse, president, P&G Canada.
While gender equity has been a top pri ority, Muskoka Brewery is now focusing on equity across all underrepresented groups. The company has partnered with Indspire, a not-for-profit that invests in the education of Indigenous people. In a five-year commitment, Muskoka Brewery is offering a co-op position and a $5,000 scholarship per year.
going towards The Get Real Movement, a student-run non-profit that works to combat discrimination and promote acceptance for all. To date, $21,000 has gone towards inclusivity training at uni versity campuses and corporations. Last year, the company received a Gold Certification for gender parity by Women in Governance, a not-for-profit organi zation working to close the workplace gender gap at all levels, in all industries. Since 2015, between 40% to 46% of Mus koka Brewery employees have identified as female, and its six-person leadership team comprises three women, including two from the LGBTQ2S+ community.
August 2022 || CANADIAN GROCER 43 CANADAP&G Diversity, Equity & Inclusion continued 2022AWARDSIMPACT
Pantene launched the third chapter of its #HairHasNoGender campaign in support of the LGBTQ2S + community. The initiative was inspired by research that revealed 53% of LGBTQ2S+ individ uals feel the need to hide their identities at work. Pantene created a film series named "Workplace: Reimagined," which explores how an inclusive workplace can give LGBTQ2S+ individuals the confidence to express themselves at work. With its 70-year history in skincare sci ence, Olay is empowering young women to envision a future in STEM through its #FaceThe STEM Gap initiative by high lighting prominent women in the indus try. Olay donated $75,000 to the National Girls Program by Actua, Canada's largest STEM youth outreach organization, and released a limited-edition Retinol STEM jar in collaboration with Walmart.
"By championing equality and inclusion
P&G Canada has launched a number of DE&I initiatives including its #HairHasNoGender cam paign and its partnership with Spencer West, a disability and LGBTQ+ advocate
Last year, the consumer goods com pany launched an Indigenous Pro fessional Network (IPN) and donated $100,000 to GlobalMedic to distribute P&G hygiene kits to Indigenous commu nities across Canada. The company also matched $200,000 in donations to the Indigenous Peoples Solidarity Fund by Unite for Change and launched a national Indigenous student internship program.
"Muskoka Brewery is proud of strides made in the past but remains commit ted to progression and ongoing change to ensure an environment that welcomes everyone," says Kyra Dietsch, market ing and communications manager. "We look forward to continuing to support our friends at the Get Real Movement and working towards achieving platinum for our next Gender Parity Award!"
P&G continues to align its brands to DE&I initiatives. This year, long-time Pride sup porter Crest partnered with disability and LGBTQ+ advocate Spencer West for Pride. The toothpaste brand's "Smile With Pride" campaign centred on the importance of raising the next generation of allies.
P&G CANADA P&G Canada is working to create mean ingful change in DE&I on many fronts.
Over the past year, Sobeys has driven meaningful change across the company, successfully advancing a supportive, compassionate culture of inclusion and making each element of diversity, equity and inclusion a key priority. Through various initiatives, including a Diversity Self-Identification process, diversity and anti-racism training, and a recent partnership with Kids Help Phone, Sobeys has successfully embedded DE&I into every level of the organization.
A Culture of Inclusion
Empire is thrilled to be recognized for its work bringing impactful initiatives to life across the Sustainability, DE&I and Giving Back categories. Thank you to all those who played a part, including our teammates, customers and communities.
Sobeys is deeply committed to and invested in driving sustainability, whether it be through reducing surplus food, eliminating plastics or setting new science-based targets to significantly reduce greenhouse gas emissions. Over the last year, Sobeys announced a national partnership with Second Harvest, removed 800 million single-use plastic bags from circulation annually, and reduced its energy use through upgrades to refrigeration, lighting and HVAC systems in over 900 stores.
Driving Climate Action
Sobeys' second annual fundraising campaign for A Family of Support: Child and Youth Mental Health Initiative addressed the need for early intervention and raised $2.44M for local mental health programs at 13 children's hospitals across Canada. The partnership with Canada Children's Hospital Foundations helps reduce patient wait times, create and adapt clinical spaces, expand capacity across the healthcare system, and enhance training for mental health leaders, pediatricians, and frontline healthcare workers.
Building a Family of Support
SOBEYS (EMPIRE) Empire has seen the positive impacts of having diverse teams, from driving inno vation to delivering great customer expe riences. With DE&I being a critical part of its success, the company continues to advance its efforts. Empire president and CEO Michael Medline worked closely with senior lead ers to embed DE&I into every level of the organization and ensure accountability. For example, 90% of staff at the director level or above developed a DE&I goal, and the outcome impacts their annual bonus.
SupportingEmployees
Last year, Bimbo Canada developed a cross-functional, national Safety and Wellness Engagement Team to strengthen the safety and wellness cul ture at its Canadian bakeries and sales centres. The Safety and Wellness Engage ment Team provides site leaders with communication toolkits and resources to help them drive relevant local and national safety and wellness initiatives, and to empower all hourly associates to become safety and wellness champions. In 2021 alone, Bimbo Canada held 150 Associate Wellness programs at its facili ties across Canada. Other initiatives include local Site Cen tral Safety Committees to improve safety in Bimbo Canada facilities, a Mental Health Committee to increase awareness efforts both internally and externally, we ultimately drive growth for our business and value creation for all of our stake holders including employees, consumers, retailers, and the community."
"At Empire, we understand that fos tering a culture of care, trust, respect, and inclusion goes hand in hand with success," says Simon Gagné, executive vice-president & chief human resources officer for Sobeys. "We're proud to have driven meaningful change to advance a supportive and compassionate culture."
On the community front, Empire part nered with Kids Help Phone as part of its "A Family of Support: Child and Youth Mental Health" initiative. The partner ship will support two community-based mental health programs: RiseUp and Finding Hope, to connect Black and Indigenous youth to real-time virtual counselling and crisis help.
CANADABIMBO Diversity, Equity & Inclusion continued August 2022 || CANADIAN GROCER 45 2022AWARDSIMPACT
In 2021, Bimbo Canada stepped up its safety and wellness (including mental health) efforts Recognizing that DE&I is critical to its success, Empire has embedded it into every level of the organization
Founded in 2018, Empire's Women's Inclusion Network (WIN) addresses bar riers to the advancement of women and provides development and networking opportunities. Today, WIN represents nearly 800 retail and office employees across the country.
Empire implemented a self-identifica tion process to help increase understand ing of the diversity of its workforce and set meaningful goals. The company also implemented diversity and anti-racism training across its network.
BIMBO CANADA
One More Bite: Corporate Affairs METRO's food recovery program, One More Bite, redistributed the equivalent of more than 9.4 million meals in Ontario and Quebec in 2021. Out of Reach: Marketing, Metro Ontario The Out of Reach campaign raised $2.6 million, thanks in large part to the generosity of our customers. is proud to recognize two programs for winning Impact Awards. A special thank you to our passionate store teams and our partners for their continued support. You make these initiatives possible.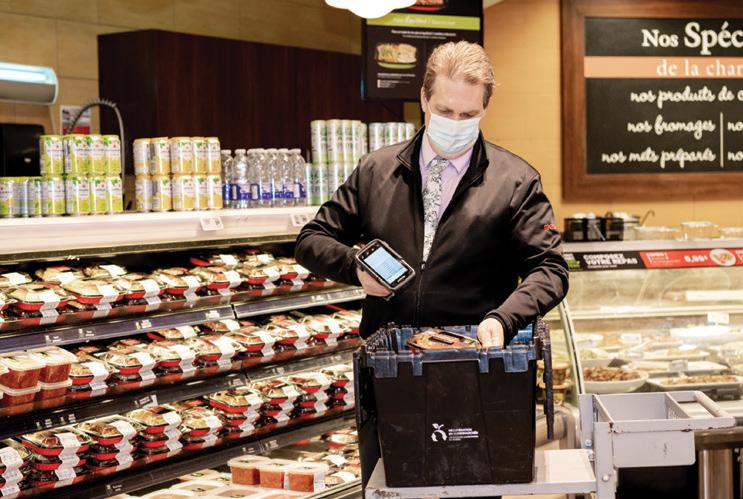 And to better help employees expe riencing a mental health crisis find the support they need, all managers and assistant managers completed a Mental Health First Aid course earlier this year. || Calgary Co-op prides itself for supporting its employees. The retailer has been among Alberta's Top 75 Employers for six years running Canadian Grocer's Impact Awards will be returning in 2023.
CALGARY CO-OP Calgary Co-op has long been committed to the communities it serves and strives to help its 3,850 team members feel good about their jobs. This year, the grocer launched a number of initiatives to sup port its employees and, for the sixth year in a row, was named one of Alberta's Top 75 TheEmployers.retailer offers employees coupons, programs and incentives, as well as man agement training and career advance ment opportunities. Calgary Co-op also contributes to employee scholarships (nearly $100,000 in 2021) and funds post-secondary bursaries at Mount Royal University, University of Calgary and Southern Alberta Institute of Technology. "At Calgary Co-op, valued team mem bers are pivotal to its success," says CEO Ken Keelor. "Team members have shown dedication, resilience and caring support and service throughout the pandemic and beyond." Keelor adds that the com pany is honoured its team members have won numerous White Hat Awards for Best Retail Customer Service.
"At Bimbo Canada, we prioritize safety and wellness over everything else," says Leslee Wills, the company's vice-presi dent, people & corporate affairs. "We are a deeply humane company [that] under stands that safety and wellness impact our associates, our peers, friends, fam ilies and the communities that we live and work in."
"Our continuous goal remains to sup port the well-being of our 500 employ ees in Canada," says Mélanie Lebel, senior vice-president, human resources at Danone Canada. "We strive to live our values of humanism, openness, proximity and enthusiasm, and this award recognition is a true testament to our values in action. Delivering great results while supporting, protecting and empowering employees is at the core of what we care about."
August 2022
For a third year in a row, the company has been recognized as one of Canada's Top 100 Employers. The company has been certified as B Corp since 2018, and was recertified in 2021, recognizing the company's initiatives to improve the safety and well-being of its employees and the communities in which it does business.
CANADIAN GROCER 47 CO-OPCALGARY Supporting Employees continued 2022AWARDSIMPACT
In the early days of the pandemic, Danone took action ahead of government guidelines to implement safety protocols and participated in the collective effort to accelerate the province's COVID -19 vaccination campaign. Other initiatives included internal social media channels dedicated to sharing mental health and wellness tips; a new peer-to-peer recog nition program; moving the downtown Toronto office to a more modernized and collaborative workspace; and giving employees the flexibility to participate in internal events in-person or virtually.
Watch for our call for nominations in the New Year.
DANONE CANADA
and decrease stigmatization of mental well-being, a "Healthy Minds" Training program customized for its people lead ers, and weekly safety meetings where operational leaders from across the coun try determine actions to avoid future inci dents. Since 2020, Bimbo Canada has also had mandatory Safety Leadership train ing for all people leaders and has trained almost 500 associates.
KOOTENAY CO-OP Just like other workplaces, Nelson, B.C.'s Kootenay Co-op adapted to the pandemic by making it possible for any employee who could, to work from home. And in October 2021, all employees received a generous bonus for their hard work. To ensure its most vulnerable employ ees would feel as safe as possible coming to work, Kootenay Co-op was ahead of provincial health orders in implementing COVID -19 safety protocols and installing all necessary measures for staff. While following the mask mandate as part of the provincial health order, Koote nay Co-op faced an increase in offen sive behaviours from some customers, resulting in employees feeling harassed and unsafe. Some were even brought to tears by aggressive customers. As a result, the Co-op's managers increased their presence on the floor and addressed situations as they arose. "Employees communicated their need for increased safety, so we hired a security guard for as long as it was deemed necessary," explains Amanda Verigin, marketing and sales manager at Kootenay Co-op. "Employees never have to navigate dif ficult or stressful situations alone and always have the option to walk away from a situation that escalates."
Making Our Voice Heard In Support of Transformational MichelleCongratulationsChangeSaunders FHCP, Vice President, Sustainability Canadian Grocer, Impact Award Winner Sustainability (2022) We are honoured to be a recipient of an Impact Award in the Diversity, Equity and Inclusion category, presented by Canadian Grocer. At Longo's, our focus on diversity, equity and inclusion helps us build strong cultural connections where everyone has a sense of belonging. Thank you to our Team Members for living the Longo's values and helping us achieve this honour. 2022 Award Winner DIVERSITY, EQUITY AND INCLUSION 28636127 - 2022 2022 Canadian Grocer Impact Award_Half Page Ad.indd 1 2022-08-08 12:13 PM
As the first national trade association to endorse the Ellen MacArthur Foundation's vision for a New Plastics Economy in June 2019, FHCP is helping to move Canada towards a future of zero plastic waste.
Focused on the journey to a circular economy, FHCP works with governments and partners across the country to develop: improved alignment across Canada in environmental policy focused on packaging, including Extended Producer Responsibility (EPR), which transfers financial and operational oversight for the delivery of recycling programs to ensure packaging never enters the industry-ledenvironment;collaborative initiatives to ensure progress in eliminating plastic waste through innovations in packaging, packaging materials and system design; approaches grounded in the feasibility and efficacy of their measures, and; productive and positive engagement of manufacturers, regulators, and advocates across environmental issues.
"Being tree people at heart, we take part in tree planting initiatives that help reha bilitate degraded forest ecosystems across Canada," says Dubois, who believes Appa laches Nature is a driving force behind raising standards in the Canadian maple syrup industry. To that end, the company has been actively investing in its network of maple producers to create an innova tive carbon neutral product certification initiative with Ecocert Canada.
Thetford Mines, Que.-based Appa laches Nature took the unprecedented step of becoming a certified carbon neu tral maple syrup processor. The com pany is constantly reducing its carbon footprint through product development, optimization of processes and controls, packaging and logistics improvement and by helping its producer partners become more efficiency-focused in their own pro duction and logistics practices.
Last year, Rio Mare increased its advo cacy efforts for better seafood manage ment, while committing to minimize the impact of its fishing operations on the oceans and biodiversity. For this reason, by 2024 the company has committed to only using biodegradable FAD s (Fish ing Aggregating Devices). Its fleet also developed and adopted an innovative solution, called the hopper, to prevent the deaths of vulnerable species as a result of incidental capture.
APPALACHES NATURE/ MAPLE JOE CANADA
"At Cha's Organics, when we're consider ing innovations we always ask ourselves to go beyond just the product and ask ourselves how we can make this product a vehicle to bring more empowerment to people and make positive impacts envi ronmentally," says Matthew Caspersz, director of sales. "When these aspects align, we know we're on the right path."
In 2019, Appalaches Nature built one of the most energy efficient production facilities in the world, heated entirely using biomass.
"At Appalaches Nature we treat every sugar maple tree like one of the family," says co-founder Serge Dubois. "A big part of that is caring for the environment they grow in. Another is developing sustain able tree-to-table products, like those under our flagship Maple Joe brand. Being environmentally responsible is simply in Joe's nature!"
GROUPBOLTONORGANICS,CHA'SNATURE,,APPALACHES
Last year, Rio Mare increased its advocacy efforts around better seafood management
CHA'S ORGANICS
Cha's Organics' heirloom rice from Sri Lanka is grown using regenerative agricultural
neutralbecameAppalachesmapleLastpracticesyear,Que.-basedsyrupprocessorNatureacertifiedcarboncompany
2022AWARDSIMPACT
Sustainability
BOLTON GROUP – RIO MARE
August 2022 || CANADIAN GROCER 49
"As a market leader in the seafood sec tor, Rio Mare is aware of its responsibil ity towards the environment, and it aims at generating a positive and restitutive impact on the natural resources involved [in] its supply chain," says Luciano Piro vano, global sustainable development director, food, Bolton Group. "Our com mitments were rewarded by the Canadian NGO Seachoice, which ranked us first on Seafood Progress, a tool to assess seafood brands' approach to sustainability." In 2009, North York, Ont.-based Rio Mare was among the founding compa nies of the International Seafood Sus tainability Foundation, and since 2016 it has committed to sourcing its tuna from MSC-certified fisheries or from Credible and Comprehensive Fishery Improve ment Projects by 2024. The seafood com pany achieved 70% of this goal in 2021 and expects to reach its target over the next two years.
Among the Montreal-based company's sustainable practices is the use of hand made packaging for its curry kits. The packaging is made of upcycled and recy clable paper from a Sri Lankan artisanal
Proud Winner of the 2022 Impact Awards
In 2021, FHCP co-founded the Can ada Plastics Pact (CPP), an organization driving collaboration in rethinking how businesses design, use and reuse plastic packaging, and launched Circular Mate rials, a not-for-profit producer responsi bility organization.
women's co-operative, which helps cre ate livable wages for the workers. In 2021, Cha's Organics became a purveyor of organic ancient heirloom rice from Sri Lanka grown using regenerative, organic agricultural practices. While introducing a rice grain with more nutrition to Cana dians, the move also supports organic, regenerative agriculture in Sri Lanka, where conventional farming has a negative human and environmental health impact. The rice is packaged in handcrafted biode gradable paper bags that are also made by the same women's co-operative.
EQUIFRUIT "Consumers are unaware that cheap bananas keep farmers in a cycle of pov erty," says Kim Chackal, director of sales & marketing at Equifruit. She adds that her organization's mission is "to change [the] consumer and retail mindset on banana prices while working towards global Fairtrade banana domination." Equifruit is 100% Fairtrade-certified, which guarantees a sustainable floor price for farmers, safe working condi tions, no forced child labour, gender equity, and US$1 Fairtrade social pre mium for each banana case ordered, to be reinvested in projects with positive envi ronmental, economic and social impacts.
August 2022 || CANADIAN GROCER 51 EQUIFRUIT Sustainability continued 2022AWARDSIMPACT
Not long ago, the town of Grande Prai rie, Alta., had no access to local fresh greens and the team at New Horizon Co-op wanted to do something about it. That's when they discovered Growcer, a
In 2021, the Drummondville, Que.based company contributed $432,880 in Fairtrade social premium to its farmer communities in Peru, Ecuador, Colom bia, Nicaragua and Mexico, and supported several meaningful projects. In Ecuador, for example, farmers were able to repur pose the bags used to protect the bananas as they grow into pallet guards, diverting thousands of plastic bags from landfills. Equifruit communicates its efforts through packaging and messaging, with POS materials, social media, pod casts, trade shows and strategic partner ships. Consumers often choose Equifruit bananas because they're aware of Fair trade certification and want to support ethical sourcing and help farmers, explains Chackal. "We want people to feel like they're part of the banana badass community and tailor our messaging as an invitation to help us solve the cheap banana problem."
GEORGIA MAIN FOOD GROUP
"Protecting our planet and its valuable resources remains a key priority for FHCP -member companies and Cana dians alike," says Michelle Saunders, FHCP 's vice-president of sustainability. "As the first Canadian trade association to endorse the Ellen MacArthur Founda tion's vision for a New Plastics Economy in June 2019, FHCP has been at the fore front of efforts to move Canada towards a future of zero plastic waste." Stemming from this commitment, FHCP plays an important role in facili tating industry alignment and influenc ing government proposals and policies that lead to a circular economy. The orga nization works with governments and partners across the country to develop alignment on environmental policy focused on packaging, to eliminate plas tic waste and to encourage productive and positive engagement of manufactur ers, regulators and advocates.
"The networks of charities that support the stores help to alleviate food insecurity in the communities that we operate by distributing our surplus food to those in need," says Tom Truchan, the retailer's manager of sustainability. "Since April 2020, we have diverted over one million kilograms of food away from the waste stream, generating the equivalent of 1.7 million meals and eliminating 2.6 mil lion kilograms of CO2 from entering the atmosphere."Inaddition, all of Georgia Main's stores receive monthly metrics on their diver sion, while in-store signage engages asso ciates and customers, and social media posts celebrate the company's milestones.
"Our heirloom rices need less water, utilize traditional farming practices handed down for generations, need no chemical inputs and trap carbon in the soil, which can be farmed for generations without losing integrity and fertility," explains Caspersz.
Cha's Organics saw huge developments in distribution and availability in the past year and partnered with Costco to offer a six-pack of premium organic coconut milk, which supports Cha's "1% for the Elephants" project, protecting Sri Lanka's wild elephant population.
FOOD, HEALTH & CONSUMER PRODUCTS OF CANADA (FHCP)
NEWGROWCER/HORIZON CO-OP
In 2020, Georgia Main Food Group, the parent company of B.C. grocery brands IGA and Fresh St. Market, implemented a food rescue program at all of its stores in partnership with food recovery ser vice FoodMesh, to divert its surplus edi ble food away from the waste stream to achieve its highest end use.
As a 100% FairtradeCertified banana importer, Equifruit is working to solve the "cheap banana problem" and keep farmers out of poverty
Sustainability continued
METROCO-OP,HORIZONGROWCER/NEW Grande Prairie's New Horizon Co-op now has access to fresh, local greens thanks to a sustainable, modular farm from Growcer Metro's "One More Bite" program sees unsold, but still edible food donated to food banks. Since 2016, 18-million kilograms of food has been redistributed
While McCormick's vision is global, it has taken specific actions in Canada including a financial commitment to researching bee health at the University of Guelph on behalf of its Billy Bee Honey brand, and the construction of a ketchup manufacturing facility in London Ont., closer to the tomatoes it uses, thereby reducing its carbon footprint.
For the farmers that grow its products, McCormick has introduced programs to support regenerative agriculture and ini tiatives to improve skills, raise incomes, provide access to financial services and education. In 2019, McCormick also introduced its own "verified sustainabil ity standard" for suppliers. Called Grown for Good, the standard is intended to ensure an ethical and sustainable sup ply chain at all levels, with a focus on three key areas: ethical and safe supply chains, regenerative production systems and resilient communities.
In just a few months, the New Horizon Local Garden is producing an average of 216 heads of lettuce, 45 packages of kale, 30 packages of spinach and 150 packages of herbs (such as mint, basil, etc.) every week, which are sold at the co-op's two Grande Prairie locations. Aside from pro viding customers with fresh produce, the system cuts down on waste and packag ing since the freshly grown product need only travel from the modular farm in the parking lot, to the produce aisles in store.
MCCORMICK & COMPANY
McCormick & Company is already a global giant of the food flavouring indus try, but has ambitious goals to create a healthier planet, and more resilient com munities wherever the company operates and sources its herbs and spices. In 2017, the company introduced its Purpose-led Performance plan, a range of initiatives to be a more sustainable com pany. Among its goals, McCormick aims to sustainably source 100% of its top five raw materials—black pepper, cinnamon, oregano, red pepper and vanilla—by 2025, and increase the resiliency of 90% of the farmers who grow them.
Canadian company with technology that allows communities in remote locations to have access to fresh, locally-grown pro duce year-round. It was a perfect match.
"The New Horizon Local Garden provides food security and sustainability for our members and customers," says Karen Fladager, director of operations at New Horizon. "Its controlled environment allows us to provide local produce that is fresh … all year round."
One of Growcer's modular farms arrived at New Horizon's Trader Ridge store last October. The farms use hydro ponics—nutrient-rich water instead of soil—to grow plants. The container farms are climate controlled with factors like light, nutrients, temperature and humid ity monitored and controlled in real time, meaning the farms can operate in com munities with the most extreme weather and inhospitable growing conditions.
52 CANADIAN GROCER || August 2022
METRO Six years ago, Metro set a goal to reduce its food waste by 50% by 2025, and last year was proof how committed—and how effective—Metro has been. Dubbed "One More Bite," the program sees unsold but still edible food donated to Food Banks of Quebec, while in Ontario the food goes to Second Harvest and Feed Ontario. Since 2016, the program has saved and redistributed more than 18 million kilo grams of food, the equivalent of 35 mil lion meals. The program was particularly important during the pandemic, with demand in Quebec up 22% in 2021 com pared to 2019, and up 10% in Ontario. In 2021, the program redistributed the equivalent of more than 9.4 million meals in the two Accordingprovinces.toMetro, its food waste strategy is both good for those in need and good for the environment by reduc ing organic waste in landfill. But donat ing isn't the only strategy for the grocer.
Among the accomplishments last year, Piller's achieved a 51% landfill diversion rate (up 11% from the year before), on its way to a goal of 80% by 2025. After a thirdparty energy audit, the company identi fied—and implemented—a number of water conservation strategies that saved the equivalent of 12 Olympic-sized swim ming pools. It also installed two energyefficient boilers at one facility that are expected to save 560,000 cubic metres of natural gas. And after installing LED lights in two facilities in late 2020, Piller's reduced energy usage by 1.5M Kwh.
But Carr and Miller's belief in the abso lute necessity of reducing emissions from the food system has led to a program that saved 1.2 million upcycled containers for reuse, and a waste diversion program— including a store-front café selling imper fect goods—that has kept 3,509 kilograms of food from landfill. The commitment to local food has translated to support for more than 100 local suppliers.
Piller's also has sub-committees charged with brainstorming ideas around nutritious food, people, communities and, of course, the environment.
Last year, Empire/Sobeys undertook a review of its operations and business practices to identify what environmental issues were most important to stakehold ers and most impactful on the business. From that review, the company moved quickly to introduce programs to reduce food waste, eliminate plastics and fight climate change. In April, the grocer started working August 2022 ||
"We implemented measures to ensure products are sold and consumed by our customers rather than thrown out or donated," says Metro's Stephanie Bonk, who helps manage the One More Bite program. "For example, we introduced discount programs for fresh and con sumable products that are close to their expiry date." And even food residue is being put to good use. "For example, we send residues to processors (for animal feed and industrial uses) and industries that produce compost and biogas."
NADA GROCERY
PILLER'S FINE FOODS
MONDELĒZ INTERNATIONAL Mondelēz is a global snack-food giant famous for its chocolate, and it created its Cocoa Life program to help the cocoa farmers that make it all possible. The pro gram aids farmers in six cocoa-growing regions—Ghana, Côte d'Ivoire, Indone sia, India, the Dominican Republic and Brazil—by providing education and train ing on modern agriculture techniques and environmental practices that ensures a more sustainable business. There are more than 210,000 Cocoa Life registered farmers, and more than 300,000 training sessions have been delivered. According to Mondelēz, farmers saw net incomes increase between 15% in Ghana and 33% in Cote d'Ivoire since 2019.
"We work with hundreds of suppli ers to get products to us locally and package-free, resulting in a big reduc tion in our carbon footprint," explains Miller, the company's CEO. The found ers' vision and dedication to a greener grocery system has earned them recog nition in BMO's Celebrating Women pro gram, (and a Canadian Grocer Generation Next award for Miller) as well as media attention from the likes of The Wall Street Journal and The New York Times
SOBEYS (EMPIRE)
For seven years now, Alison Carr and Bri anne Miller have been working to build a more sustainable grocery system that includes a "package-free, food supply chain." In 2018, they opened NADA Gro cery in Vancouver, and since then they've introduced food waste diversion strate gies, sourced low-carbon products from local suppliers, and offered carbon neu tral home delivery. It hasn't been easy, says Miller. The biggest challenge has been "getting funding and growth capi tal as an impact company that prioritizes people, planet and profit—not just profit."
CANADIAN GROCER 53 NADA 2022AWARDSIMPACT
"Mondelēz is passionate about creat ing snacks as sustainably as possible," says Chantal Butler, the company's vice-president, marketing. "In Canada we are proud to source 100% of the cocoa used in creating our chocolate from the Cocoa Life program." And customers seem to like the idea of eating chocolate made with sustainability in mind. Mondelēz recently ran a market ing campaign with Walmart built around the fact Mondelēz brands are now made with 100% sustainable cocoa. Cadbury Dairy Milk gained 0.7 share, and the pro gram surpassed its targets by 114% overall, and by a remarkable 230% for Walmart. This year, Mondelēz is expanding Cocoa Life into cookies with Oreos made from 100% sustainable cocoa. "Canadians are seeking out brands that have a vested interest in our planet and community and at Mondelēz we do just that," says Butler.
Vancouver's NADA is building a more sustain able grocery system that includes deliverycarbon-neutraldiversionfood-wastestrategiesandhome
"Focus areas for 2022 include working with our suppliers on sustainable packaging ini tiatives for post-consumer recycled mate rials and recycle-ready materials, as well as continued waste reduction and landfill diversion measures," says Hilpert.
In 2021, Piller's Fine Foods realized a number of accomplishments towards its goal of being a more sustainable food business. "By implementing sustainable programs at our facilities and educating staff on the benefits of them, we have generated greater awareness surrounding the important role that businesses (and our teams) hold in ensuring a more sus tainable future," says Trent Hilpert, the company's president.
"It's one thing to talk about and promote inclusivity –but it's another to take action and be affirming."
Neil Kudrinko
" Kudos to Kudrinko's for their leadership in creating an affirming space through progressive policies and a comprehensive benefits program that attracts and retains top talent." 92% of the top 50 Fortune 500 companies feel that diversity policies (including sexual orientation and gender identity) are good for business.* 30% of LGBTQ employees in Canada report experiencing discrimination in the workplace compared to only 3% of non-LGBTQ employees*
PROUD RECIPIENT OF THE 2022 We believe everyone has the right to quality organic food. Gardens for Good program granted $110,000 to 22 community gardens this year. PROUD WINNER OF THE 2022 CANADIAN GROCER IMPACT AWARD DIVERSITY, EQUITY, AND INCLUSION
with Second Harvest's "Food Rescue App" to redirect surplus food to com munity partners in need. It set a goal to reduce food waste by 50% by 2025, and has already reduced it by 24%. Also last year, Sobeys completed its commitment to remove plastic grocery bags from all banners—that represents 800 million fewer plastic bags annually. Now, 85% of Sobeys customers bring reusable bags or are not using bags at all. And finally, moves to become more energy efficient, including upgrades to refrigeration, lighting and HVAC systems in 900 stores resulted in a 144 million kWh reduction in electricity use.
In-store, Stong's gives customers the choice of a printed receipt or not, which saves paper, and it recently added a Soapstand Refillery that lets customers fill their own containers of dish soap and laundry detergent. So far, the grocer has sold 230 litres of soap, which translates to 460 fewer plastic bottles. In its bakeries, Stong's uses "Good Nature" packaging made from plant-based renewable mate rials free of BPA s, phthalates and other harmful chemicals. To cut down on food waste, Stong's works with Food Stash Foundation to deliver near-expired food to those in need, and this year it intro duced the Too Good To Go app for its customers, which offers deals on surplus products. And finally, last year it part nered with conservation program Ocean Wise to combat overfishing. "Making sure that sustainability is an ongoing conversation in our company helps our business not only be responsi ble with our environmental impact, but also takes into account our social and economic impact," says Bradley.
This year, SPUD introduced a task force dubbed "Food Waste Fighters" comprised of warehouse staff spending time each day identifying food near its expiry and carefully selecting the product in best possible condition for community part ners. SPUD also weighs all its donated food, converting it to meals and carbon to measure the environmental benefits of the programs—in May alone, SPUD donated the equivalent of 3,000 meals to local families in need. SPUD extended its waste-fighting ways to its store aisles and shelves, by creating and selling products made from imper fect, rescued foods such as "DIY rescued apple pie," and "DIY rescued smoothies."
The roots of Stong's Market go back more than 100 years, but the grocer earned an Impact Award for its modern, progres sive, forward looking sustainability poli cies and "Sustainabilitypractices.and reducing our envi ronmental impact is an important pil lar to our business and the communities we work and live in," says Brian Bradley, president of Stong's Market, which has two locations in Vancouver.
UNILEVER CANADA Unilever has been working on social good causes like sustainability and the environ ment for years, and has set the ambitious goal of being a net-zero company by 2039. In addition, the company has introduced programs to source from farmers using regenerative practices to come up with better packaging options and to eliminate deforestation in its supply chain.
Taking that a step further, SPUD provided customers with recipes, inspirations and tips to make use of flawed produce and food scraps at home. It's all good work, but SPUD wants to do more. "We are already doing well, but our goal is to be under 1% food waste ongoing," says Anderson. "This takes constant atten tion, training and evaluating practices."
In 2019, Unilever Canada launched a campaign—featuring five of its brands— to help consumers understand how its products do good for the planet. For both Dove and Seventh Generation, the focus is on reducing the environmental impact of its bottles. All Seventh Generation and Dove body wash, shampoo and condi tioner bottles are made of 100% recycled plastic and are fully recyclable across Canada. By using recycled plastic, Dove avoids 20,500 tonnes of virgin plastic globally each year. For Hellmann's, the focus is on food waste reduction, raising awareness of the problem with Canadi ans and offering tools to help them avoid waste. Popular ice cream brand Ben & Jer ry's supports small-scale farmers growing Fair Trade certified ingredients in Can ada and is also supporting the Northern Ontario Indigenous community of Grassy Narrows from the threat of mining and logging. And for Knorr, 93% of all vegeta bles and herbs used in the brand's prod ucts are grown through regenerative or sustainable farming practices that reduce greenhouse gas emissions.
SPUD As a grocery retailer focused on work ing with local farmers and other suppli ers, SPUD has sustainability built into its business model. But SPUD has done more than that. "Food waste is a major contrib utor to climate change. It's never been more important that we tackle this as an industry," says Angela Anderson, direc tor, communications at SPUD. "We are laser focused on managing inventory and expiration dates [and] developing strong community partnerships that can multi ply our efforts around food waste while contributing to food security for those who need it."
Partnerships with Food Stash Foundation, Too Good To Go and Ocean Wise, help Stong's Market be a more sustainable grocer
CG August 2022 || CANADIAN GROCER 55 STONG'S Sustainability continued 2022AWARDSIMPACT
"At Sobeys, we're proud to embed sus tainability in every corner of our busi ness," says Mohit Grover, the company's senior vice-president, innovation, sus tainability, and strategy. "Our passionate team, led by Eli Browne [director of corpo rate sustainability], has worked tirelessly to challenge industry standards and rein force our commitment every day to create a more sustainable business and future."
STONG'S MARKET
To find a Rexall location near you, visit Rexall.ca Nosh & EverythingCo. Bagel Cashews • Made in Canada • Delicious "Everything Bagel" seasoning • 9g protein / serving • Great quality ingredients • Jumbo cashews Nosh & LavenderCo.Lemon Cookies • Made in Canada • No artificial flavours or colours • Peanut & nut free • Kosher • Produced in small batches! Be MealBetterReplacement Bars • Made in Canada • No artificial flavours or colours • 24 vitamins & minerals • Chocolate: 13g protein/bar Vanilla: 17g protein/bar • Kosher Be Better Epsom Salts RESTORE • Relaxing herbs with lavender & geranium oil scented epsom salts • Relaxation • Emotional balance REST • Chamomile tea with orange & eucalyptus oil scented epsom salts • Refresh • Energize New Product Award Winners
products that truly meet their needs and dietary preferences,"
and a
August 2022 || CANADIAN GROCER 57 GRANDSLAM! A LOOK AT THE MOST NOTABLE NEW FOOD AND CONSUMER GOODS PRODUCTS LAUNCHED IN THE CANADIAN MARKET IN 2021 PlAnT BASED dressings and vegan dump lings, roasted fava beans and instant oat meal, are among the 40 winners of the Retail Council of Canada's (RCC) 29th annual Canadian Grand Prix New Product Awards, and are reflective of consumers' growing appetite for healthy, convenient and high-quality products.
meat and dairy
Canadian values. Canadians
products
"The winners this year reflect the story of changing are seeking said Diane J. Brisebois, president and CEO of RCC quality of alternative is astounding testament that these product choices are here this year's
to stay." Here's a look at
. "The
winners: Deli Meats and Cheeses Agropur Dairy Cooperative || Agropur Grand Cheddar Snack (Sweet) BCC Foods || Nutybite Bakery Fresh (Par-Baked) Bridor || Sliced Croissant Loaf Baking Needs and Dried Bakery Conagra Brands || PAM Confectionery & Shelf Stable Desserts Dare Foods Limited || Realfruit Gummies NationalFOODbrands Grand Prix Winners
in the 30th Annual Canadian Grand Prix New Product Awards! VIEW FOOD AND NON-FOOD CATEGORIES REGISTRATION OPENS SEPTEMBER 7, 2022 www.rccgrandprix.ca CONSUMER PACKAGED GOODS AND PRIVATE LABEL BRANDS ARE For questions about this year's Canadian Grand Prix New Product Awards program, inclucing the submissions process, please contact Pierre Chartier | pchartier@retailcouncil.org or (514) 830-5429 Finalists and winners of this prestigious awards program benefit from: INCREASED VISIBILITY AND EXPOSURE Our jury of retailers and industry experts will test, evaluate, and provide feedback on your product, packaging, and positioning. PERSUASIVE TRADE MARKETING Finalists and winners are profiled in showcase flyers on reebee and featured on The Food Professor Podcast and in leading grocery publications like Grocery Business, Canadian Grocer, Western Grocer and Food in Canada Magazine. INDUSTRY-WIDE RECOGNITION Celebrate your team and recognize their outstanding work.
August 2022 || CANADIAN GROCER 59 General Merchandise Carlton Cards || Magic Moments Appliance and Cookware Kilne || 6-Piece Steak Knife Set Health Care – Over the Counter Millennia TEA || Superfood TEA Cubes Paper, Plastic & Foil Reynolds Consumer Products Canada || ALCAN Recycled Aluminum Foil Household Products Whirlpool Canada || Swash Laundry Detergent All-Canadian Agropur Dairy Cooperative || Agropur Grand Cheddar Innovative Packaging Organic Meadow || Organic Meadow Zero-Carbon Milk Carton Excellence in Ethnic Products The Spice Tailor || The Spice Tailor Biryani Kit by Anjum Anand Innovation and Originality Von Slick's Finishing Touch || Von Slick's Finishing Touch Made with Real Butter Overall Consumer Value Walmart Canada || Your Fresh Market Ricotta & Spinach Ravioli brandsNationalNON-FOODSPECIALAWARDSNational brands food (continued) Condiments & Sauces Honey Bunny || Peace River Hot Honey Meat, Egg & orFresh/RefrigeratedSeafoodFrozen Maple Lodge Farms || Maple Lodge Farms ULTIMATE Chicken Sausages Frozen or Refrigerated Prepared Foods & Entrees Siwin Foods || Plant Based Chicken Flavour Dumpling Beverages The Not Company || NotMilk Shelf Stable Prepared Foods & Entrees The Spice Tailor || The Spice Tailor Biryani Kit by Anjum Anand Snack (Savoury) Three Farmers || Roasted Fava Beans Dairy (Milk, Yogurt, Cheese & Spreadables) Von Slick's Finishing Touch || Von Slick's Finishing Touch - Made with Real Butter Grand Prix Winners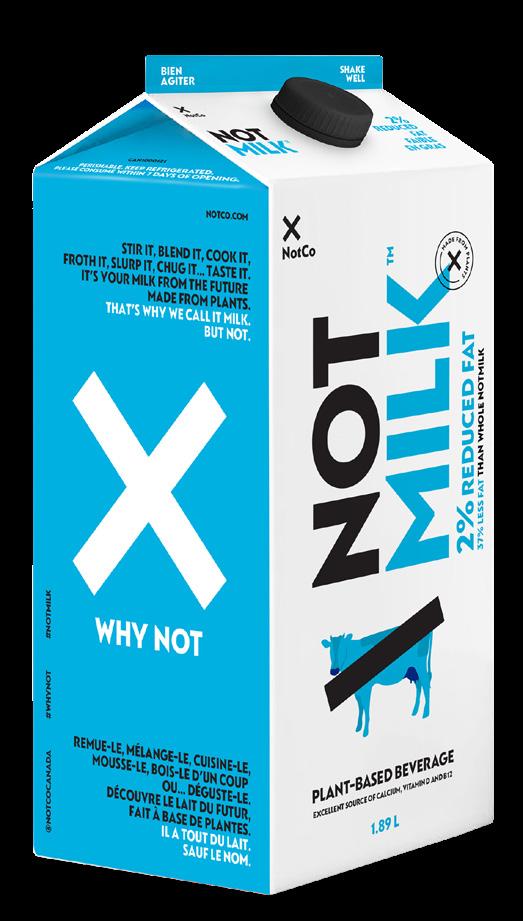 60 CANADIAN GROCER || August 2022 Bakery Fresh (Par-Baked) Longo Brothers Fruit Markets || Longo's Curato Hazelnut Crostata Beverages Metro || Invitation Alcohol Free Wine Frozen or Refrigerated Prepared Foods & Entrees Metro || Irresistibles Shrimp Appetizers Appliance and Cookware Canadian Tire Corporation || PADERNO Classic Non-Stick Cast Iron Frypan Pet Needs Metro || Irresistibles Biscuits Health Care – Over the Counter Rexall Pharmacy Group || Be Better ReplacementMealBar Personal Care Rexall Pharmacy Group || Be Better Scented Epsom Salts Household Products Walmart Canada || Great Value Disinfecting Wet Mop Cloths Private label PrivateFOODlabelNON-FOOD Shelf Stable Prepared Foods & Entrees Metro || Life Smart Instant Oatmeals Meat, Egg & FrozenFresh/RefrigeratedSeafoodor Metro || Life Smart Naturalia Frozen Fish Fillet Confectionery & Shelf Stable Desserts Metro || Selection Premium Truffles Snack (Savoury) Rexall Pharmacy Group || Nosh & Co. Everything Bagel Cashews Snack (Sweet) Rexall Pharmacy Group || Nosh & Co. Lavender Lemon Cookies Desserts, RefrigeratedFresh/orFrozen Save-On-Foods Limited Partnership || Ice Cream Waffle Sandwiches Condiments & Sauces Sobeys || TypePlant-BasedComplimentsBlueCheese-Dressing Baking Needs and Dried Bakery Walmart Canada || Great Value 100% Superfine Almond Flour Fruit, Vegetable & Produce (Fresh, Refrigerated or Frozen) Walmart Canada || Great Value Sliced Kiwi Deli, Meats and Cheeses Walmart Canada || Our Finest Red Leicester Cheese Grand Prix Winners
avec corrections OK de presse Taille des textes - Type Size Gauge
1. SUBARU STARLINK® Connected Services are offered on an initial three-year free subscription on select trim levels. Customers are required to enroll in the SUBARU STARLINK® Connected Services program. To operate as intended, SUBARU STARLINK® Connected Services require a sufficiently strong cellular network signal and connection. See your local Subaru dealer for complete details. 2. Safety ratings are awarded by the Insurance Institute for Highway Safety (IIHS). Please visit www.iihs.org for testing methods. Visit us at subaru fleet .ca CROSSTREK 2022 FORESTER 2022 OUTBACK Innovative advance warning safety system that helps you avoid potential danger on the road. Subaru's eye on safety. Full-time all-wheel drive for full-time confidence in motion. Superior drivability, outstanding control and handling you can count on.
Clients : veuillez réviser ce dessin-clé de façon approfondie avant de donner votre approbation finale. l'approbation finale pour ce dessin-clé, la responsabilité de Pigeon Brands quant aux erreurs et aux omissions se limite au remplacement des fichiers des dessins-clés que Pigeon Brands avait le mandat de préparer. et/ou l'imprimeur devront être soumises au client et/ou à Pigeon Brands pour approbation. Ce dessin-clé a été réalisé à contient pas de « trapping ». Tous les « trappings »/surimpressions devront être appliqués à la préimpression. Les couleurs de cette épreuve ne doivent pas être considérées comme étant exactes, à moins d'indication contraire. caractères envoyées avec ce dessin-clé ont seulement pour but de faciliter la préimpression. En cas de modification de texte, l'intervenant doit posséder sa propre licence pour les polices de caractères. Notre usage des polices est conforme à notre licence octroyée par le propriétaire de la police. La mise à disposition des polices ne constitue en aucun cas un transfert des licences de ces polices. Clients, please proofread artwork thoroughly before providing final approval. for any errors or omissions in this artwork is limited solely to replacing the artwork file(s) which Pigeon Brands was mandated to prepare. plates/cylinders are generated. Any modifications to accommodate print production requirements must be submitted to client and/or Pigeon Brands for approval. This production artwork has been prepared this artwork are with this artwork, are solely intended to facilitate pre-press. Should additional text modifications be required, the receiving party is required to possess its own licence of the fonts. Our use of the font software is done so under licence from the owner of the fonts. We do not have the authority to grant a transfer of ownership or sublicence, and no such transfer or sublicence is e ected hereby.
*DEPENDING
At Metro, we keep quality and innovation at the forefront of our Private Brands. These winning entries demonstrate this tradition, as well as Canadian naturalness and culinary culture. Exclusively* at Metro, Super C and Food Basics. ON IN-STORE AVAILABILITY.
1 From
000.0 cm 14 mmBRANDS 6 WINNERS6 Award-winning products to celebrate the best of innovation
2 welcome peaceuncommontoofmind TM
On-board technology system connecting your Subaru to the world. 24/7 safety and convenience wherever you go. innovative features to expert maintenance, plus leading resale value, Subaru brings safety to your drivers and value to your fleet.
IIHS TOP SAFETY PICK+IIHS TOP SAFETY PICK Models with EyeSight® and specific headlights
CROP MARKS DO NOT PRINT
2022
As consumers put more effort into their skin and hair-care routines, retail sales are enjoying a boost By Jessica Huras
Beauty may B e in the eye of the beholder but, from self-care rituals to the demand for brand transparency, the biggest trends impacting the beauty and personal care industry are more universal.
"With the relaxing of COVID restrictions, people are starting to go out a little more—they're going to the office, they're going back to school, so that's helping in the recovery," she explains. Data from Euromonitor shows the beauty and personal care category in Canada grew by 10% between 2016 and 2021 reaching US$9.1 million. Bell cautions, however, that new factors affecting the category in 2022, such as inflation, may cause a slight softening of its growth this year. "This
Aisles
PRODUCTS || STORE OPS || CUSTOMERS || TRENDS
August 2022 || CANADIAN GROCER 63 IMAGES/TANYAJOYGETTY PERSONAL CARE CATEGORY PERSONAL BEST
Evelyn Bell, a consultant at market research firm Euromonitor Interna tional, says the beauty and personal care category has rebounded well from the overall decline it experienced during the pandemic.
"Historically, people thought they could only get cheap and cheerful prod ucts at a grocery store," adds Reid. Con sumers can now find products that offer great value, as well as effectiveness, in grocery stores, saving them the additional trip and bigger expense of buying these products at a specialty store.
Consumers are conscious not just about the ingredients found in their prod ucts, but their packaging as well. P&G, for example, recently released Secret Alu minum-Free deodorant in a plastic-free, cardboard package in response to this demand for eco-friendly packaging.
64 CANADIAN GROCER || August 2022 year, we do expect growth but not as much as last year, which was kind of the recovery or the bounce back of the indus try [year]," she says.
"As professional services were closed or limited, consumers really embraced a DIY approach and focused on home regimens to deliver on their needs for both beauty but also well-being," she says. More time at home during the pan demic allowed customers to take their time with skincare, often developing multi-step routines.
Call me responsible "I think as we all reflected during the pandemic, what accelerated is what I would call 'con scious consumption,'" says P&G's Reid.
Green Beaver's Menard wants to see retailers move away from displaying natural beauty and personal care prod ucts separately from their conventional counterparts. "I think it was fine when the demand was smaller than what it is today…but the way it's going, I think within the next five to 10 years, most con ventional products are going to be more naturally-based and with greener packag ing," he says. "It's going to happen."
Consumers are seeking brands that are transparent and ethical—from cruel ty-free ingredient decks to a commitment to sustainability and social responsibility.
Alain Menard, co-founder of Green Bea ver, says this antiperspirant has been a "gamechanger" for consumers who prefer the sweat-stopping capabilities of antiper spirant over deodorant (which only pre vents odour), but dislike the aluminum content of conventional antiperspirants.
The "skinification" of hair care Bell says consumers are also beginning to dedicate as much time and consideration to their hair-care routines as they have tradition ally devoted to skincare, describing this trend as the "skinification" of hair care.
Reid says while consumers prioritize responsible brands, they also expect those brands to perform. She points to the Native brand, which P&G recently launched in Canada. "It delivers that great ingredient transparency that consumers are craving, combined with still a wonderful usage and performance experience," she says. "It's beautiful how far natural brands have come in terms of skincare as well as makeup because they really do measure up," says Siklodi at Nature's Emporium. She points to Canadian brand Green Bea ver's aluminum-free antiperspirant as an example of a product that's effective while also offering a natural ingredient deck.
As consumers return to busier sched ules, the treating skincare as self-care trend continues, along with interest in using an array of products to pamper the skin.
"The number of [skincare] products people are using is larger than it was in 2019," says Bell.
Reid recommends retailers show case beauty and personal care products through their online channels, store fly ers and end-of-aisle displays, highlighting their benefits and reasonable price points.
Aisles
"It used to be just shampoo and condi tioner, but now you have a bunch of treat ments for everything," she says. It's a trend P&G's Reid has also observed.
Thalis Mann, body care purchaser at Toronto grocer The Big Carrot, says refill able beauty and personal care products are attracting interest. "Our toothpaste tab lets, shampoo and conditioner bars, fam ily sizes, and refillable items have become increasingly popular," she says.
"Consumers became much more educated on ingredients and the benefits that they were looking for—and while we had seen that for many years in skincare, we saw that really being elevated in hair care," she says.
More products, more time While subcat egories like cosmetics and deodorant saw a decline in sales during the pandemic as consumers socialized less often, skincare was an exception, according to Lisa Reid, country leader for P&G Beauty Canada.
While multi-step skincare routines have traditionally been associated with female consumers, Vivien Siklodi, health, beauty and cosmetics expert at Nature's Emporium, a natural and organic grocery chain in the Toronto area, says she's see ing men take a greater interest in devel oping skincare regimens. Euromonitor's Bell agrees, explaining that the growth in skincare purchases by male consumers is another example of a personal care trend that gained momentum during the pan demic, but continues into 2022.
"When you wash your hair two or three times a week, it means that your shampoo and conditioner and your treatment have to work harder to remove build-up from styling and restyling your hair throughout the week," says Reid. With this in mind, P&G recently launched a "scalp rebalance and refresh" collection featuring rose mary under its Pantene brand. Bell believes the trend toward multi-step hair care routines is in its early days and poised to take off. "We're just at the begin ning of the trend," she says.
Euromonitor's Bell notes consumers are often willing to pay more to support responsible beauty and personal care brands. "With the economic situation, you need to really think about how you're going to invest your money and they [con sumers] see these brands as an invest ment for their health," she says.
"Packaging has been a huge determina tor in more customers' purchases," says Siklodi. "They are looking for items to be in glass, or to have sustainable packaging that's either [made of] recycled materials or compostable packaging."
"We're continuing to see consolidated retail trips and this—combined with the recessionary pressures that consumers are feeling in Canada—is really a fantas tic opportunity for growth in beauty and personal care," she says.
Rethinking the beauty and personal care aisle As a lasting impact of the pan demic, consumers are continuing to make fewer retail trips—a shift that P&G's Reid thinks grocers can leverage to boost sales of beauty and personal care products.
Reid says although sales of hair treat ments have increased, many consumers are washing their hair less often because they believe it's a healthier way to care for their locks. This is driving consum ers to become more selective about the shampoo and conditioners they use when doing these less-frequent washes, with many applying the same critical eye to the ingredients and benefits of their sham poo and conditioner that they previously reserved for skincare products.
To subscribe visit: canadiangrocer.com To advertise contact: Vanessa Peters, vpeters@ensembleiq.com #1 Reach #1 Frequency #1 Website #1 E-Newsletter Design for the times The Save On Foods pres den a ks expans on e comm and a ways go ng he ext a m e or customers exclusive cheeseSpecialtyJonesDarrellplease!GrandPrixwinners star WOMEN JUNE/JULY What's next for click-and-collect? A big year for produce CEO Ken Keelor on making his stores the most trusted places to shop and putting more "Calgary" in Calgary Co-op CALGARYCO-OP'SMISSION The #1 industrygroceryresourceinCanada
Keurig Dr Pepper Canada has seen category growth of 25% in two years. "Van Houtte has a leadership posi tion in flavoured coffee," Khandelwal explains. "Over the past year, it has expanded its flavoured coffee lineup by introducing a spirit and dessert-inspired indulgence roster, which includes Irish cream, Ama retto, Belgian Chocolate and Dulce de Leche." The brand also launched an instant coffee, ticking those convenience and versatility boxes for consumers.
In-store cafés at Italian Centre Shop are an effective sales driver with customers able to try coffees before buying an entire package. Serving novel twists on coffee beverages demonstrates new ways to enjoy it, from slushy drinks to lattes with Nutella. Products— most sourced from Italy and other European coun tries—are placed strategically near the cafés. Coffee sales have resisted seasonality at Italian Centre Shop, explains Spinelli. It sells throughout the year and growth has been steady over the last two years. She finds many shoppers buying organic coffee or whole beans to grind at home, while millennials gravitate to more acidic brews. Looking ahead, she hopes to welcome brand ambassadors from coffee brands to do in-store sampling and encourage trial. Manufacturers are looking to innovation to attract customers. Lavazza has seen substantial growth over the last five years, going from a $25-million brand to From whole beans and next-level offerings to dessert-inspired varieties, consumers discover new reasons to keep drinking coffee By Michele Sponagle
Flavoured coffees continued to steam ahead.
SHUTTERSTOCK/PROSTOCK-STUDIO
CANADA IS MAD for coffee. In fact, it is the only nonEuropean country to place among the world's top 10 coffee-drinking nations. And Canadians consume more coffee than tap water, to the tune of US$18 bil lion a year, according to Statista's figures.
66 CANADIAN GROCER || August 2022
Chiaramello points to an expansion of formats, innovation in single-serve options, and a focus on non-dairy substitutes (such as almond, oat or rice milk) for espresso-based and cold brew beverages as the trends to watch. He suggests retailers stay on top of emerging trends in the category and make room on their shelves for innovative products. Conscientious consumers want to know about the origins of their coffee. "More than ever, the value of advocating sustainable products, as well as respect for the environment and coffee workers is essen tial," says Chiaramello. For this reason, he believes demand for organic and sustainable products will continue to rise creating the perfect environment for innovation. "Although costs of these products are higher, they meet the expectations of consum ers, who are ready to pay more," he says.
As inflation continues, at-home coffee consump tion remains more affordable than the out-of-home experience, creating a unique opportunity for retailers to capture those occasions. To do so, Khandelwal says retailers should take a balanced portfolio approach by leveraging brands, pack size and innovations to meet consumer needs. The café-at-home trend is also impacting sales of single-serve brewers, now a bigger segment than traditional drip coffeemakers.
Aisles
Full steam ahead
a $45-million one. "Canada has a vibrant coffee cul ture and premium coffee is becoming more import ant every year," says Andrea Chiaramello, head of Lavazza Canada. "The younger generation is look ing for coffee innovation, especially in the iced/cold brew formats." He notes Canadians between the ages of 17 and 49 are major consumers of specialty coffee, with consumption among millennials and gen-Zs growing by 5% to 6% every year.
Canadians are also looking for new ways to elevate their coffee drinking. "Consumers are reproducing the coffee shop experience at home and experiment ing with new textures, flavours and diving into the world of specialty coffee," explains Shilpa Khandel wal, director insights & innovation, Keurig Dr Pepper Canada. In fact, out of the average 2.7 cups of coffee consumed daily, premium coffee represents 2.2 of those cups, showing Canadian consumers are exper imenting with specialty coffee experiences at home.
Consumers are "looking for high quality, rich tast ing and aromatic coffee," notes Khandelwal. "No longer is it restricted to only a cup of coffee in the morning; coffee is being consumed across many occasions in the day. Canadians love their coffee."
At Italian Centre Shop (with locations in Edmon ton and Calgary), shoppers can find more than 100 brands of coffee. Keeping pace with current tastes means constant updating of its coffee roster, accord ing to company president, Teresa Spinelli. "Our cus tomers are always looking for something new," she says. Knowledgeable staff are on-hand to guide them to the store's latest offerings.
Cheez-It SNAP'd baked crackers are thin, curvy and have a chip-like crispness. Made with real cheese and sold in 213-gram bags, Cheez-It SNAP'd crackers are available in three flavours: Double Cheese, Cheddar Sour Cream & Onion, and Jalapeño Jack.
5 DEL MONTE DICED PEARS Del Monte has added pears to its lineup of ready-to-eat fruit snacks. Del Monte Diced Pear cups are available packed in water or 100% grape juice from concentrate. Both versions contain no artificial flavours or colours and are rich in vitamin C. They're available in packs of four or 20. CG
IMMUNO10 PROBIOTIC BARS
New on shelf!
Rich and chewy Immuno10 Probiotic Bars from Yoso are packed with protein (10 grams) and fibre (15 grams) and contain 10 billion probiotics. With only three grams of sugar and seven grams of fat, these new bars are also plant based, keto-friendly, Non-GMO-Certified and EcoCert Organic.
1 IMPOSSIBLE CHICKEN NUGGETS
Tell
2 CHEEZ-IT SNAP'D CRACKERS
Impossible Chicken Nuggets Made From Plants feature what the company describes as a "crispy golden breadcrumb exterior and a tender, juicy bite on the inside." They contain 12 grams of protein per 95-gram serving, and have zero cholesterol. Impossible Chicken Nuggets come fully cooked and ready to prepare in the oven, air fryer or microwave.
August 2022 || CANADIAN GROCER 67
4 CHEEZMADE Tre Stelle has launched Cheezmade, which it describes as a dairy-based meat alternative made with 100% Canadian cheese that has the same taste and texture as chicken. Available in patties or nuggets, Cheezmade is high in protein and calcium and free from artificial colours, flavours or preservatives.
3
Launching a product? us about it! Send product information and photos to managing editor Kristin Laird. klaird@ensembleiq.com
Aisles The latest products hitting shelves 1 2 3 4 5
VOTED BY 4,000 CANADIANS* Podium GoodMorning.combySolCuisine Hot N' Chik'nSpicyWings Live Right Cran-Cherry Cashew Dark Chocolate Fruit & NutCauliflowerSolBarCuisineBurger CrowdsaucedHeinz Voilà Sobeysby Compliments Smoked Gouda Cheese Beef Burgers Stuffed RinseSunlightAid Dempster'sChickpeaTortillas Philips One by Sonicare L'Oréal Angie'sBalmVoluminousParisNoirMascaraBOOMCHICKPOP®SaltedMapleFlavouredKettleCornHamiltonBeachFlexBrew®TRIOCoffeeMakerZiplocRecyclablePaperBagsBoursin Minis Garlic & Fine Herbs ENTER ONLINE: productoftheyear.ca 2023 ENTRIES ARE OPEN
@productoftheyr @productoftheyearcanada @productoftheyear Product of the Year Canada *Survey of 4,000 people by Kantar Neutrogena Hydro Boost Hyaluronic Acid Serum Dove RemedyTherapyHairBreakageRange The Endy Sofa SignatureDempster'sBagels Vector Maple Crunch Cereal UltraPROSpongeTowelsDairyBoursinFreePaperTowelMiYOSMARTHOYA Lens Takis®SweetDragonChili™ The Laughing Cow® Mix Chickpea with Herbs Compliments Maple & Aged White RecoveryNeutrogenaPopcornCheddarMixBrightBoostOvernightGelCream T-fal Easy Fry Grill & Steam XXL Air Fryer Cocoon™ by Sealy Classic Mattress Sara Lee Little Bites Party Cake Mini Muffins Blender Bites 1 Step Organic Smoothie Pucks T-Fal Platinum Hard Anodized Cookware Casper Wave Hybrid Snow Oasis Health Break collagenwith BrothConcentratedCampbell's®
Ben Gray, co-founder and chief innovation officer of the association, recently spoke to Canadian Grocer about the progress upcycled food is mak ing in Canada. The interview has been edited for length and clarity. How has the Canadian launch of Upcycled Certified gone? It's going really well. Since launch ing we've connected with hundreds of companies with ingredients and products in the Canadian market. There's interest from the Cana dian government as well as industry. A lot of com panies see a key driver here that can help them meet their sustainability goals. We're looking to bring the certification program to other parts of the world, and Canada has been a great learning experience. How many Canadian companies are certified?
UP, UPAWAY!AND
Upcycled Food Association's Ben Gray on the momentum of sustainable food systems
Upcycled foods use ingredients that otherwise would not have gone for human consumption, are procured and produced using verifiable supply chains, and have a positive impact on the environment. I think of it as "three U's"—unseen, unwanted and untapped. Unseen—things like tao fruit or coffee fruit where normally we're only using the coffee bean or the cacao nibs but there's all these other parts that can be used to make new products. Unwanted—ugly produce, fruits and vegetables that aren't the right size or colour or maybe have some blemishes (but) can still be consumed and oftentimes taste just as good and are great for different applications. And untapped—things like oat milk. You've got a ton of pulp that's being made as a result of oat milk that can be turned into a flour or spent grain.
A Dalhousie University study found 15.5% of Canadians have heard of upcycled foods. How does that compare to the U.S. and what can be done to raise awareness? In the U.S., that number is closer to 10%. We know consumer awareness in Canada is higher. We also know Canada has five major grocery players, so the brick-and-mortar market is more centralized. See ing upcycled food on the shelf is going to be really helpful for consumer awareness. For the hundreds of retailers who've publicly committed to reducing their carbon footprint, featuring upcycled food prod ucts on shelves and menus is a really tangible way to show that progress and engage with consumers.
IN APRIL , the Denver-based Upcy cled Food Association, which formed in 2019, launched its Upcy cled Certified program in Canada. The new seal will help shoppers easily identify upcycled ingre dients and products.
Currently, four companies have ingredients and products. As a distinction, the certification is for ingredients and products. It is not for companies. For the companies that have successfully gone through the process, that translates to 26 ingredi ents and products. We also have upwards of about 40 companies that are in the pipeline to get ingredients and products certified.
How much impact can upcycled foods have on a massive problem like food waste? Food surplus within the food industry is roughly worth US$250 billion a year. Generally, food waste is seen as a US$940 billion annual problem globally. We see already that we're inching ever closer to one billion pounds of food that has been diverted as a result of certified ingredients and products. How do consumers perceive upcycled foods? We know almost 50% are willing to purchase upcy cled products and 62% are willing to pay more for food and beverages that are dedicated to stopping waste. Consumers, in some cases, are willing to pay the same or more than [they would for} a conven tional product. What role can Canadian grocers play? They end up driving a decent amount of innovation. If they want something to happen to an ingredient from the supply standpoint, they can probably make it happen. We know 95% of people want to do some thing about food waste. We're talking about con necting with someone who already believes this is a pretty good idea and it's the grocers who really have the power to amplify that message. What reaction have you had from Canadian grocers? We've made great progress with a few of the major Canadian grocers. We expect that upcycled prod ucts will be in all the major grocers in Canada in due time. CG
By Danny Kucharsky
There are various definitions for upcycled foods. What is your definition?
70 CANADIAN GROCER || August 2022 ASSOCIATIONFOODUPCYCLED Q & A
Express Lane
RISINGRECOGNIZETALENTINTHEGROCERYBIZ! In association with The Golden Pencil Award, Canadian Grocer is accepting nominations for the 2022 Generation Next Awards, which recognize emerging leaders (under age 40) in the grocery and consumer packaged goods industries NOW ACCEPTING NOMINATIONS Deadline to enter: September 16, 2022 Presented by Exclusive GenNext Partner For full details, visit: cggennext.ca
What makes FEVER-TREE CANADA'S MIXER of CHOICE? For where to buy & cocktail recipes, visit us at: www.fever-tree.com Using the finest, naturally-sourced ingredients from around the world, Fever-Tree is Canada's #1 premium mixer and #1 premium tonic, voted the No.1 best-selling & top-trending mixer brand by the world's best bars for the 8th year running. FEVER-TREE SPIRIT ELEVATEDGARNISH @FeverTreeCanada | #MixWithTheBest distributedExclusivelyby: treeoflife.ca