COME &Explore ELGIN COUNTY 2023 @elgincounty elgintourist.com VISITOR'S GUIDE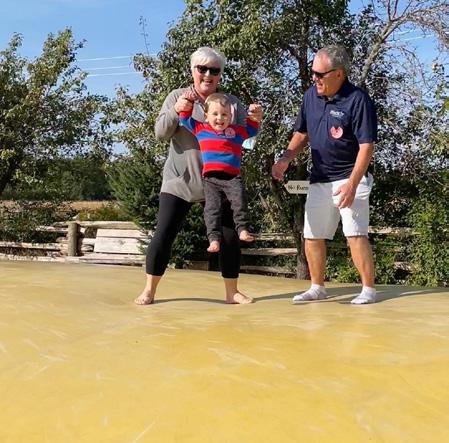 OPEN: Jun. - Oct. (Mon-Sat) 9am-5pm. Closed Sundays. Canada Day Civic Holiday Labour Day Thanksgiving Monday FUN FAMILY EVE R Y D A Y EVERY DAY IS A GOOD DAY ON THE FARM 11302 Imperial Rd N, Aylmer • 519-773-5503 ADVENTURE FARM | May 23 - Oct. 31 HONEY SHOP | Jan. 10.- Dec 24 Monday - Saturday: 9:00am - 5:00pm. Closed Sundays www.clovermead.com ADVENTURE FARM
Elgin County Economic Development & Tourism Office
Open Mon. to Fri. 8:30 am - 4:30 pm
450 Sunset Drive, St. Thomas 519-631-1460 x168 1-(877)-GO ELGIN (463-5446) x168 tourism@elgin.ca elgintourist.com
Tourism Kiosks Open Victoria Day through Labour Day Port Burwell Historic Lighthouse 17 Robinson Street, Port Burwell 519-874-4807
Port Stanley Visitors Centre 199 Carlow Road, Port Stanley 519-631-1460 x321
Mobile Tourism Kiosk at events in Elgin and surrounding area.
The 2023 Elgin County Official Visitor's Guide was designed by AE Graphics Group. Reproduction of any material without the written permission of Elgin County is strictly prohibited.
There is more Elgin County than we can fit into these pages, but we have done our best to share Elgin County through your eyes. So please don't stop sharing your photos with us, tagging @ElginCounty, and Instagramming your photos with #ElginCounty. Who knows, you might just see your Elgin County photo in next year's guide!
2023 Elgin County Visitor's Guide 3
Welcome Message 4 Arts & Entertainment 7 Attractions & Museums 11 Shop 15 St. Thomas The Railway City 19 Stay 23 Taste 27 Map & Information 32 Agritourism 37 Markets 39 Golf 43 Adventure 45 Services 51 Signature Events 55
COME &Explore ELGIN COUNTY