2022 FOUNDATION ANNUAL REPORT
IT'S A GOOD DAY TO BE A PANTHER.
IT'S GOOD DAY TO BE A PANTHER.
Any day we can continue supporting the goals of the University, and the goals of its faculty, staff, and students is a good day. It is only thanks to the generous gifts provided by EIU donors, alums and friends of the University that we can continue this lofty pursuit. Thanks to you, today is a good day to be a Panther.
The fall foliage came and went at the same rate it always does on and around EIU's campus - too quickly.
TABLE OF CONTENTS
COVER PHOTO
1 2022 EIU FOUNDATION REPORT
A NOTE FROM THE VICE PRESIDENT
Message from the Vice President for University Advancement & Executive Officer of the EIU Foundation Ken Wetstein P. 3
Where Your Gifts Go P. 4
TRANSFORMING LIVES
Marrying Opportunity and Generosity at a Young Age P. 5
Equity and Inclusivity Embolden Scholarship Endeavors at EIU P. 7
EIU Celebrates a Legacy of Philanthropy P. 9
STUDENT STORIES
Scholarship Recipients P. 11
PLANNED GIVING, RECOGNITION
EIU Chapter of Lambda Chi Alpha Celebrates 45th Anniversary P. 14
Heritage Society Members Recognized at Homecoming P. 15
EIU FOUNDATION BOARD OF DIRECTORS
Message from the New EIU Foundation President P. 17 Board Welcomes New Members and President P. 19
FINANCIALS: WHAT IT ALL MEANS
EIUF Financial Report P. 25
• EIUF Financial Statements & Independent Auditor's Report
• Form 990 (Return of Organization Exempt From Income Tax)
EIUF Endowment Performance Report P. 27 MISSION STATEMENT P. 30
TABLE OF CONTENTS
pg. 9 pg. 14 pg. 5 pg. 7 2022 EIU FOUNDATION REPORT 2 pg. 11 pg. 25
A NOTE FROM THE VICE PRESIDENT
Dr.
Ken Wetstein Vice President for University Advancement & Executive Officer of the EIU Foundation
Greetings Friends, Alumni, and Donors,
I recently read an article that encouraged its readers to develop an "Attitude of Gratitude." The author expounded that "an attitude of gratitude means making the conscious habit of expressing appreciation on a regular basis for big and small things alike." I think that is the perfect sentiment to express we are GRATEFUL for each and every one of you and for your sustained support of this University we love so dearly!
This annual report from the EIU Foundation highlights the wonderful philanthropy and generosity of EIU's alumni, donors, and friends during the 2021-2022 fiscal year. As we transitioned from a global pandemic to the re-opening of our world, I am happy to share that this has been the best year on record for gifts to the EIU Foundation in the University's history. I attribute that success to the hard work of the University Advancement team (past and present), the visionary generosity of our donors, and the University's fantastic trajectory of growth and momentum.
EIU President David Glassman is the author of so much of this success. His steady leadership has guided EIU through our state's unprecedented budget impasse (2015-2017) and the unique challenges of a global pandemic (2020-2021). In his eight-year tenure the University has experienced consistent enrollment growth, a steadily improving academic profile for the freshman class, and record numbers of international students and honors-eligible students. EIU is stable, growing, and wellpositioned for further growth and improvement. As Dr. Glassman moves to his retirement at the end of June 2023, it is only right to express GRATITUDE for his leadership and commitment to EIU and its students.
Words cannot fully express the gratitude we feel to each of you who are investing in Eastern Illinois University. This is a special University with a special family of alumni, donors, and friends. I consider it a great privilege to cultivate support on behalf of EIU Thank you so much for all the big and small things you do for EIU every day!
In Gratitude, Ken Wetstein Vice President for University Advancement and Executive Officer of the EIU Foundation
A NOTE FROM THE VICE PRESIDENT
3 2022 EIU FOUNDATION REPORT
THE ACTIONS OF EVERY DONOR MATTERS, AND EVERY GIFT MAKES A DIFFERENCE. Information above describes cumulative gifts from July 1, 2021 through June 30, 2022. $489,147.52 for University Capital Projects $3,114,141.11 for the EIU Foundation Endowment WHERE YOUR GIFTS GO $3,864,513.44 for University Operating Costs Total number of endowments established through the EIU Foundation as of June 30, 2022. 722 Total Number of Documented Planned Gift Commitments recorded as of June 30, 2022. 124 Total Value of Documented Planned Gift Commitments as of June 30, 2022. $40,821,084 4531 Total Donors VALUE OF CASH GIFTS RECEIPTED $7,467,802.07 2022 EIU FOUNDATION REPORT 4
MARRYING OPPORTUNITY AND GENEROSITY AT A YOUNG AGE
GURICK ESTABLISHES AN ENDOWED SCHOLARSHIP AND ENCOURAGES OTHERS TO EXPLORE THE BENEFITS OF GIVING TO EIU.
Mitchell Gurick is a pioneer in many senses of the word. Currently living in San Francisco, Gurick is an eight-year employee of Google's human resources "People Partner" leadership team.
TRANSFORMING LIVES
5 2022 EIU FOUNDATION REPORT
"People Partners," Gurick explains, are an integral part of the Leadership team who need to understand every aspect of the business—acting as thought leaders regarding people and organizational topics.
"Our team helps resolve global complex organizational challenges through people-related solutions," he explains. "We partner with leaders across the organization to create a 'people strategy' that brings cross-functional groups of subject matter experts together to do just that. Together, they help to design and execute the strategy for how Google hires, onboards, develops, motivates, retains, and organizes talent."
That intersectionality of collaboration and skilled training, Gurick says, are foundational elements he learned at EIU. For Gurick, that's why EIU has left such an impression on him, and on his affinity for celebrating meaningful and productive relationships.
"My Career and Technical Education major at Eastern took me on a journey far beyond business—it taught me to glean insights into and the power of education in giving back and helping others grow," he says.
Learning how to share information and ideas effectively, even when those ideas were complex—that was a mainstay of my EIU education and why I'm so passionate about giving back to the University today," Gurick says.
In fact, Gurick's focus on helping others achieve their goals is a staple of his personal constitution. He began meeting fellow EIU students' needs as early as 2013, when as a young EIU student himself he started the "Mitchell Gurick Student Trustee Scholarship" for students who demonstrate a strong academic record and leadership skills inside and outside the classroom.
"There's a need to reward people for their outstanding performances, and it corresponds with our basic human desire to do good and to be recognized for doing good," he says. "There is so much potential waiting to be tapped, and giving to EIU is a way to give bright-eyed, eager students that opportunity to succeed and then to pass that legacy of accomplishment along to others."
Gurick was initially drawn to EIU because it had a business education major he was deeply interested in. But it was when he began living and learning on campus day-to-day as a student—that's when he says he really discovered EIU's impact through the relationships he made with faculty members and friends he made on campus.
Based on his experience at Eastern and coupled with the opportunities EIU offered him, Gurick's decision to "pay it forward" is one he stands by, and one he encourages others who found success at or after EIU to explore.
"Through it all," he says, "it's important to remember your roots. All of us have to remember the foundation that EIU provided. Many of my closest friends at EIU have a really strong urge to give back to the university. The people who attend and eventually graduate from EIU are good people, and eager to make a difference for others knowing how Eastern helped us all to grow and thrive."
"I'd encourage all my friends and associates to support Eastern Illinois University through the Foundation, through gifts that support student ambitions or even through volunteering," Gurick adds. "It's a wonderful cause and helping others to succeed is one of the best ways to feel good about our own personal ties to EIU and in a global, interconnected world."
To make a gift to the EIU Foundation or learn about volunteer opportunities, go to eiu.edu/advancement/ how-to-give.php or call (866) 581-3313.
Mitchell Gurick
MAKE A GIFT TODAY 6 2022 EIU FOUNDATION REPORT
EQUITY AND INCLUSIVITY EMBOLDEN SCHOLARSHIP ENDEAVORS AT EIU
JACK PULLEN AND JIMMIE FRANKLIN PAY TRIBUTE TO DEAN JAMES JOHNSON AND FUTURE EIU LEADERS
WITH RESOLUTE SUPPORT OF THE DEAN JAMES E. JOHNSON SCHOLARSHIP
Anyone would be intrigued to have a conversation with Elmer "Jack" Pullen and Jimmie Franklin. Their experiences at EIU in the 1960s and 70s laid the foundation for the type of men—and the type of visionary leaders—that set a remarkable example for EIU affiliates who truly wish to make a difference in the world.
But they owe it all, they say, to one man in particular.
Assistant Dean of Student Personnel Services James Johnson was a staple at EIU from 1970 until his retirement in 1991—and beyond. A New York City native, Johnson joined EIU as an administrator after graduating from the University in 1952. He served EIU as supervisor of Eastern's International Student Services Office and then-titled AfroAmerican Cultural Center. A vibrant and active member of the EIU and the local community, Johnson also served as
president of the Charleston Chamber of Commerce and Eastern's Alumni Association. He was also a member of the Charleston Kiwanis Club. During his 21 years at Eastern, he has served more than 400,000 students, whom he made a priority at every turn.
Pullen and Franklin were so taken with Dean Johnson's approach to student success and campus leadership, they worked to establish the Dean James E. Johnson Scholarship in his memory.
When Pullen first came to EIU as a student in the fall of 1967, there were only 37 black students enrolled at EIU. At that time, EIU's Governmental Career Training program was in high demand, and Dean Johnson was charged with recruiting additional students from across the State.
TRANSFORMING LIVES 7 2022 EIU FOUNDATION REPORT
"Dean Johnson was a dynamic man with a contagious character, so before long we had students just clamoring to attend," Pullen said. "But once enrolled, students needed to find approved housing to be eligible for financial aid."
Dean Johnson stepped up again, working with Ona Norton and her husband Ken to assist students of color in securing off-campus housing in Charleston. Norton was a respected member of the Charleston community, and was recently honored along with EIU's first black graduate Zella Powell (1910) with a September 2022 renaming of a residence on campus to "Powell-Norton Hall."
"It was that kind of collaborative, 'we're all in this together' mentality that made Dean Johnson the kind of person he was," added Dr. Jimmie Franklin, the Dean James E. Johnson Scholarship cofounder along with Pullen and Francene Gilmer. Franklin is a former EIU Professor of History, (1970-86), Director of Faculty Research (1970-73) and EIU's first Director of Affirmative Action (1973-75), while Gilmer is a former student, earning a master's degree in education at EIU in 1980 before beginning a fulfilling career in higher education and public service.
"[Dean Johnson] was a very outgoing person and touched the lives of many students of all backgrounds, nationalities and races," Franklin added. "He certainly was not one dimensional, and that was one of the driving forces for us to honor him with this scholarship."
Today, Pullen and Franklin are looking to enhance the legacy of Dean Johnson at EIU, and they hope to do so by further endowing the scholarship they created in his honor when it was first created.
"We all know an investment in higher education is an investment in our future," Franklin said. "And an investment in the future of EIU's students is an investment in the world we're trying to create for ourselves, for our children, our grandchildren, and for the generations to come whose futures can benefit from EIU scholarships in ways we can't even imagine."
"Dean Johnson really instilled a faith and confidence in his students that they could overcome nearly any disadvantages they may have faced," Pullen added. "Scholarship opportunities help students to do just that while providing diversity for EIU's student base and helping
to grow even more interest in EIU after emerging from the 2020 pandemic."
"Dean Johnson was a prototype of success and perseverance," Franklin said. "The kind of person he was and the experiences he created helped countless students care about education, and also instilled faith in a democratic and equitable society. We'd love to make sure those values continue to be upheld in his honor through this scholarship."
The Dean James E. Johnson Scholarship was established and endowed in 2014 by family, friends, colleagues, and former students of James Johnson. The purpose of the fund is to memorialize the life and work of Dean James E. Johnson.
As Jack and Jimmie have noted, Dean Johnson touched many lives in significant ways at EIU and in the surrounding area, making him a fitting icon for the university and the region.
Over two decades, large numbers of students, faculty and staff, and people in the area were recipients of his gracious deeds, or were encouraged or uplifted by his ever-present smile and warm humanity.
Annually, the scholarship created in his name and memory is awarded to a student of impeccable character who has well-defined academic goals and a broad interest in sports and recreation in American life.
If you are interested in supporting the Dean James E. Johnson Scholarship, or to make a gift to other areas, please contact Brian Silotto, Director of Development, at (217) 581-5045, or via email at bksilotto@eiu.edu.
Elmer "Jack" Pullen
2022 EIU FOUNDATION REPORT 8
Jimmie Franklin
EIU CELEBRATES A LEGACY OF PHILANTHROPY
EIU Foundation Honors Dr. Gail J. Richard and the Marjorie Davis Trust
EIU career, Dr. Richard taught courses and provided diagnostic and treatment services in the SpeechLanguage-Hearing Clinic for a variety of individuals challenged by communication disorders. Her reputation for professional and service excellence attracted people and families from across the nation interested in receiving Dr. Richard's personal touch and expert evaluation.
At this year's Tribute the Eastern Illinois University Foundation highlighted the lifelong contributions of celebrated EIU philanthropists Dr. Gail J. Richard and the late Marjorie and Paul Davis.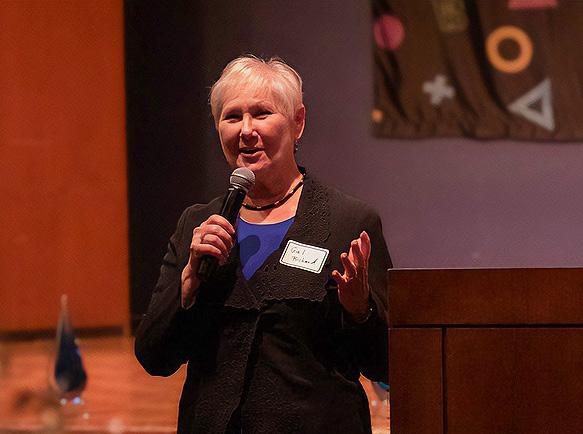 DR. GAIL RICHARDS NAMED 2022 PHILANTHROPIST OF THE YEAR.
Dr. Gail J. Richard joined a variety of distinguished guests, EIU supporters and fellow celebrants at the October 2022 Tribute event to accept the EIU Foundation's 2021 Burnham and Nancy Neal Outstanding Philanthropist Awards for her ongoing contributions and enduring support.
Dr. Richard graduated from EIU in 1977, earning a Master's Degree in Speech Pathology and Audiology. She was then eager to join EIU's esteemed faculty, which she did in 1981. During the course of her storied
During her 14 years as chair of the Department of Communication Disorders and Sciences (CDS), she also helped to coordinate the Online Master's Degree in CDS, which enrolled its first class in 2012. After her retirement, Dr. Richard returned to EIU to establish and serve as the first director of Eastern's nationally-recognized Autism Center, which provided dedicated diagnostic services for individuals on the autism spectrum as early as 2014. She also established EIU's Students with Autism Transitional Education Program (STEP) in 2015, which serves a diverse assortment of students with high-functioning Autism or Asperger's Syndrome in their transition to college life at EIU. In addition, D. Richard initiated the annual Autism Conference and additional fundraising opportunities to support the Autism Center at EIU.
She regularly presented on the topic of Autism Spectrum Disorders across the United States and internationally, and has numerous publications in Autism, Syndromes, and Language/Auditory Processing. Dr. Richard also held a number of leadership positions in state and national organizations, including president of the American Speech-Language-Hearing Association. Dr.
TRANSFORMING LIVES
9 2022 EIU FOUNDATION REPORT
DR. GAIL J. RICHARD
Richard was honored in 2004 as an EIU Alumni Association Distinguished Alumnus Award Recipient and given an Honorary Lifetime Membership in the EIU Foundation in 2017. She was initiated into the EIU Athletic Hall of Fame in 2016 for her profound impact and compassionate involvement.
Dr. Richard has devoted significant time and personal financial resources in support of EIU's CDS Department, Athletics and Autism Center at EIU. Through her efforts, countless individuals and families have benefited from life-changing diagnostic and treatment services. Dr. Richard's dedication and leadership also propelled EIU to become a leading advocate of Autism awareness and a place of comfort and support for many local residents.
THE EIU FOUNDATION ALSO CELEBRATED THE LEGACY OF MARJORIE DAVIS AND PAUL DAVIS AT TRIBUTE 2022 , POSTHUMOUSLY NAMED EIU'S 2021 OUTSTANDING PHILANTHROPISTS.
Marjorie and Paul Davis set up the Marjorie Davis Trust to benefit the EIU Foundation and the many students the Foundation supports.
Marjorie was born in rural Windsor in 1929 and graduated from EIU in 1951 before teaching English for 24 years. She married Paul Davis in 1970, and they enjoyed 46 years of marriage before his passing in 2016.
She held professional memberships in Delta Kappa Gamma, Honorary for Women Educators, KAUW and National Council of Teachers of English, for which she served as secretary for five years.
A lifelong educator, Marjorie recognized the importance of education—and more importantly, the students who benefit from a higher education at Eastern Illinois University.
Marjorie's estate supported numerous bequests to educational institutions in addition to EIU. Her planned estate gift to Eastern matured following her passing on July 20, 2018.
The gift from the Marjorie Davis Trust resulted in an extremely significant bequest of $1.7 million in November 2021.
EIU's Foundation is extremely grateful for Marjorie and Paul's commitment to education and to the University and its Foundation. Chief Operating Officer of the EIU Foundation Jonathan McKenzie spoke to the importance of her planned gift, thanking the Davis family for their deep devotion to EIU.
The Philanthropist of the Year award is given to individuals and organizations who have demonstrated a sincere dedication and commitment to the financial, academic, and cultural well-being of EIU. The critical support and sustaining financial commitments provided by these distinguished philanthropists are essential to the future of the university and the students it serves.
2022 EIU FOUNDATION REPORT 10
SCHOLARSHIP RECIPIENTS
Alumni donations, regardless of their size, can have a huge impact on the lives of EIU students. Here are a few testimonials from recent scholarship recipients supporting that thought.
GRACE FOSU MS TECHNOLOGY
RECIPIENT OF THE CARL P. KOERNER JR. SCHOLARSHIP
I would like to use this opportunity to say a very "big thank you" to the donor of this honorable scholarship. The efforts and resources they put into this scholarship are commendable because recognition is a source of motivation to support students to achieve more.
KYLE WILCOXON MA COMMUNICATION AND LEADERSHIP
RECIPIENT OF THE JON J. HOPKINS MEMORIAL SPEECH EDUCATION SCHOLARSHIP
I would like to thank the donor(s) that created this opportunity for me. I am blessed to have been chosen to receive it. Thank you for supporting me and other students like me at EIU. I hope you understand that this money will be put to good use. Thank you so much and I appreciate the kindness you show by providing this scholarship!
ANNA SIPES
BIOLOGICAL SCIENCES AND WORLD LANGUAGES & CULTURES
RECIPIENT OF THE S.L. NANDA MATH AND SCIENCE SCHOLARSHIP
Thank you so much for your generosity. I am honored and humbled to have been selected for the S.L. Nanda Mathematics and Science Scholarship. Having grown up in Charleston and graduated from Charleston High School, it is a unique experience to have the opportunity to complete my undergraduate studies
in biological sciences and Spanish here in my hometown. Eastern's program is phenomenal, and the people who support it make it even more so.
MICHAEL ARMAH MA HISTORY
RECIPIENT OF THE CHARLES H. AND DOROTHEE COLEMAN SCHOLARSHIP
The Charles H. and Dorothee Coleman Scholarship is a life changing experience and moment for anyone coming from a less privileged home to be able to hold their heads high and have a reason or a course to hope for the future. Their initiative reminds us of why we need to give back and also be an agent of change no matter what field one finds himself or herself in. I'm genuinely thrilled and very grateful to be a benefactor of their initiative.
JASMIN MARCOS EXERCISE SCIENCE RECIPIENT OF THE FLORENCE KAPLAN FOUNDATION
ENDOWMENT
I want to thank you for choosing me and for believing in me. You believed that I would accomplish my goal of being an athletic trainer. Knowing that someone other than my family believes in me has given me this boost and pushed me to work harder on my studies and show that this scholarship is not wasted it is put into capable hands.
I want to share the success and joy in my career with the people who love and believe in me. I want to share that joy with my donors most of all. I wish I could meet you in person and be able to shake your hand. Thank you again for the opportunity of a lifetime.
STUDENT STORIES 11 2020 EIU FOUNDATION REPORT 2022 EIU FOUNDATION REPORT
Go to eiu.edu/scholarships for more information on these and other existing scholarships. Details on how to support EIU scholarships can be found at eiu.edu/advancement/how-to-give.php.
SEAN HAYNES
MUSIC EDUCATION
RECIPIENT OF THE GEORGE WESTCOTT BAND AWARD
Thank you for this award. It will allow me to continue my schooling and make my dream come true. The support of band directors and professor's past, along with professors and directors present and future, fill my heart with gratitude and love for music and teaching. Even now the idea of being considered "an outstanding musician" is somewhat of a dream to me. It is with great honor and unfathomable appreciation that I accept this award.
ABIGAIL RITI PSYCHOLOGY RECIPIENT OF THE PRESIDENT DOUDNA MEMORIAL SCHOLARSHIP
I am deeply grateful and thankful for the opportunity to meet expectations and perform for the EIU community. The money is going into my college career. It will also help me give back to the community through the mental therapy and assistance that I want to provide others in the future. The appreciation for being awarded this scholarship cannot be described with words because there are truly too many in the dictionary that I could say to express my explicit gratitude for such an honor.
RACHEL WISNER ACCOUNTING RECIPIENT OF THE BRANKEY SCHOLARSHIP
I am very honored and grateful to have been selected for the Brankey Scholarship. This scholarship will help me defray costs as I attend Eastern Illinois University with a
major in accounting. I greatly appreciate your generosity. I admire the example of giving back to the community set by your organization's members. I have a life goal of emulating this behavior in my future. Words cannot express how much I appreciate this scholarship and the opportunity to attend EIU this fall. Thank you so much for your support!
TARYN WILSON
PRE-NURSING
RECIPIENT OF THE DR. WILLIAM V. WEBER MINORITY AFFAIRS/ TRIO RETENTION FUND
To the donors who created this fund— Bless your heart and everything you have done to provide this scholarship for minority students such as myself and past recipients. Your compassion to donate to a scholarship is inspiring and I hope that I will be able to give back to other students and make an impact in their lives just as you did mine. Thank you so much and I will make sure I excel in my studies.
MICHAEL OTZWIRK GEOGRAPHY AND GEOLOGY RECIPIENT OF THE VINCENT P. AND PAMELA R.
GUTOWSKI
SCHOLARSHIP
I would like to say thank you for giving to our department and for helping me further my education. The professors I have had the privilege to learn from over the past few years have shaped me in great ways. Their dedication has been a guidepost I strive to emulate. Thank you, also, for believing in me. I have a lot of work to do after college, but I promise it will be worthwhile. I see our planet as a marvelous place, and it is my mission to protect its resources and its species to the best of my ability.
Environmental stewardship is my main goal. By donating this scholarship to me, you too have helped protect our natural world and I sincerely thank you for that.
12 2022 EIU FOUNDATION REPORT
PLANNED GIVING, RECOGNITION 13 2022 EIU FOUNDATION REPORT
EIU CHAPTER OF LAMBDA CHI ALPHA CELEBRATES 45TH ANNIVERSARY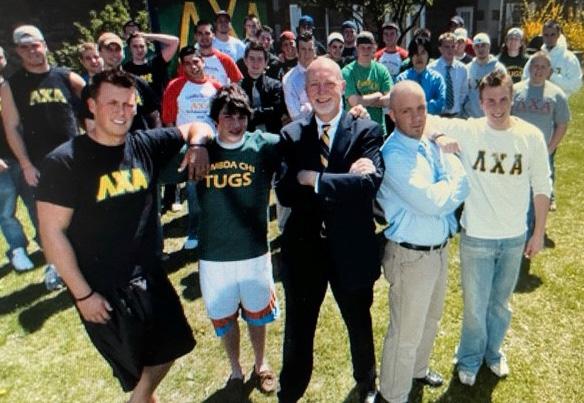 The EIU Foundation Board recognized the Phi Alpha Zeta Chapter of Lambda Chi Alpha Fraternity on their 45th Anniversary in April 2022.
In recognition of their philanthropic support, EIU presented and adopted a resolution recognizing the Lambda Chi Alpha Fraternity during their 45th Anniversary Banquet. The fraternity has generously established the following endowed funds in support of the University and its students:
+ Jack Robert Kelly Scholarship
+ Lambda Chi Alpha Scholastic Incentive Scholarship
+ Lambda Chi Alpha House Improvement Fund
+ Lambda Chi Alpha Founders Alumni Scholarship
+ Dennis Meehan Grannan Scholarship
+ John D. Schmitt Scholarship
PICTURED ABOVE The first appearance of the Lambda Chi Alpha Fraternity in the EIU yearbook, The Warbler, was in 1976.
FRONT ROW Barry Kishpaugh, Dave Williams, Don Coplea, Chris Hladick, Ed Manade, Doug Seabolt. BACK ROW Michael Marine, Richard Kehoe, Ron Wilson, George Forgea, John Wescott, Chip Liczwek-Treas., Peter Matteucci-Pres., John Schmitt-Sec., Richard FunkAdv., Rich Holman, Joe Metzke, Rich Mitchell. Not pictured: Jim Hinze, Michael Hubbard.
CHAPTER OFFICIALLY RECOGNIZED FOR THEIR EFFORTS IN SUPPORT OF THE EIU COMMUNITY
2022 EIU FOUNDATION REPORT 14
PICTURED ABOVE Lambda Chi Alpha founding member John Schmitt '76 '78 poses for a quick photo with current members.
HERITAGE SOCIETY MEMBERS RECOGNIZED AT HOMECOMING
PLANNED GIVING, RECOGNITION
The Eastern Illinois University Foundation's Heritage Society honors and recognizes those who have made a planned gift to the EIU Foundation. It's our way of thanking our donors now for their efforts to make Eastern Illinois University a better place in the future.
PICTURED ABOVE The EIU Foundation recently honored new members of the Heritage Society who were in attendance at this year's homecoming with a special pinning ceremony held at the MLK Jr. University Union's University Ballroom. New Heritage Society members were presented with a society pin; recognized for their commitment to support the University through planned gifts; and posed for a photo with EIU President David Glassman.
Dr. Mary Ann Hanner, Dr. David Glassman and Mr. Dale Hanner
Mr. Lalo Solis, Dr. David Glassman and Mr. Robert Glover Mrs. Cindra Stiff and Dr. David Glassman
15 2022 EIU FOUNDATION REPORT
The Heritage Society celebrates the generosity of donors who believe in transformational change for EIU. The following individuals join the Heritage Society members who have been recognized with this honor and distinction.
Col. Harvey L. Zimmerle
Dr. Jon M. Laible
Dr. Margaret J. Weber
Dr. Lida G. Wall
Mrs. Georgeann Miller
Dr. Charles A. Rohn
Dr. Michael L. Hicks
Dr. Ray Hoops
Dr. Roger L. Yates Mrs. Patricia M. Meyerholtz Dr. Charles G. Eberly Dr. Gordon L. Grado Dr. Harold D. Nordin
Dr. Mark A. Shatz
Dr. Ronald I. Sutliff
Dr. Stephen Wilson Dr. William C. Hine
Dr. Annette Christy Dr. Barbara A. Maier
Dr. Bill Wootton
Dr. Carol A. Lundgren
Dr. Cheryl M. Crates
Dr. David J. Maurer
Dr. Debra A. Reid
Dr. Gary J. Robertson Dr. Helen J. Krehbiel
Dr. Herbert M. Lasky Dr. Jerry D. Heath Dr. John R. Willems Dr. Judith M. James Dr. Mary L. Coleman Dr. Patricia S. Poulter Dr. Shirley B. Moore
Ms. Jean M. Galovich
Dr. Terrance C. Parks
Dr. William V. Weber
Egg E. Berry
Dr. Ruth Dow
Dr. Mary Anne Hanner
Dr. Carol D. Stevens
Dr. Jill F. Nilsen
Mrs. Susan E. Peck
Mr. Bill G. O'Rourke
Mr. Bill Satterwhite
Mr. Cal L. Stockman
Mr. Charles W. Huber
Mr. Daniel W. Musser Mr. David Paddock
Mr. Dennis C. Muchmore
Mr. Edward F. Taylor
Mr. James M. Bradford Mr. James R. Andrews
Mr. Jeffrey G. Scott
Mrs. C. J. Bradham
Mr. Larry D. Penman Mr. Mike Yager
Mrs. Judy G. Peacock
Mr. Perry R. Hall
Mr. Phil D. Carlock
Mrs. Hilda J. Bandera Mrs. Julie L. McMillen Mrs. Lori L. Sink Mr. Ron D. Jeffris Mrs. Debbie M. Coleman Mr. Steve W. Jasinski Mr. Steve D. Hernandez Mrs. Vicki M. Shockley
Mr. Thomas R. Hoehn Mrs. Nancy C. Page
Mr. Al F. Longtin Mr. Al Corzine III Mr. Arnold A. Aeschleman Mr. Bob A. Ingram Mr. Bob Martin Mr. Bradley C. Knell Mr. Brian E. Myerscough Ms. Susan L. Gilpin Ms. Marlys K. Fallen Ms. Mary L. LaLonde Ms. Sue E. Taylor Mr. Curt Leonard Mr. David Kuhl
Ms. Latanya M. Law Mr. Donald C. Ballou Mr. Donald R. Hisgen Mr. Everett M. Lawrence Mr. Harry W. Frost Ms. Kathleen A. Eroh Mr. Jacob A. Griffin Ms. Jacqueline L. Mollet Mr. Jeffrey P. Knezovich
Mr. Jeffrey S. Hunt Mr. Jim Newkirk Jr. Mr. Joe R. Dively Mr. Joshua K. Henry Mr. Justin T. Seno
Mr. Kevin T. Piket Ms. Kathy E. Rhodes Ms. Teri J. Luecke Ms. Erin R. Feinstein Ms. Gina Garcia Mr. Michael L. Reynolds Mr. Michael C. Boyer Mr. Paul L. Snyder Ms. Mary J. Quinn Mr. Percy Hale Jr. Mr. Randy Taylor Mr. Robert L. Dowdy Mr. Ronald A. Bouchard Mr. Ronald R. Robinson Mr. Rustin S. Regentz Mr. Sean M. Drendel Mr. Stephen L. Kull Mr. Stephen A. Gosselin Mr. Steve Shirar Ms. Margaret A. Ansley Mr. Victor F. Balasi Rev. Lynda R. Haring Mr. Bob Breving Mr. Brad J. Green Mr. Brian T. Foley Mr. Bruce A. Hunt Mr. Charles R. Casey Mr. Dennis M. Grannan Mr. Donald G. Dotzauer Mr. Edmund S. Berchert Jr. Mr. Garry J. Nelson Mr. Gary R. Aldridge Mr. Greydon A. Smith Mr. Jack R. Pine Mr. James C. Economy Ms. Cindra K. Stiff Mrs. Rhonda L. Edwards-Noggle Mr. Jeffrey M. Augustine Mr. Jeremy R. Yost Mr. Jerry C. Groniger Mr. John D. Schmitt Mr. John W. Shuppert Mr. Keith K. Kohanzo Mr. Larry F. Uebner Dr. Sandra Spalt-Fulte Mr. Mel A. Rushton Mr. Michael H. Chron Mr. Mitch Gurick
Mr. Norman K. Plummer
Mr. Richard D. Leonatti
Mr. Rick L. Ingram
Ms. Nancy C. Douglas de Baca Mr. Robert F. Glover
Ms. Judy A. Ethell
Mr. Robert P. Warner Ms. Christine E. Westerlund Mrs. Karen J. Miller Mr. William C. Keiper Mrs. Karen M. Rehwinkel
Mrs. Kathryn E. Jones Mrs. Marilyn N. Miller
Mrs. Mary Lou Gaskill
Ms. Amy R. Frank
Ms. Anne K. Hofferkamp
Ms. Barbara E. Leonard
Ms. Barbara R. Roberts
Ms. Carol A. Richardson
Ms. Debra M. Witges
Ms. Delena G. Foster
Ms. Elaine L. Wagner
Ms. Isolina-Maria Sanchez
Ms. Jan Reetz
Ms. Jane A. Lockett
Ms. Jane A. Elmore
Ms. Janet E. Ernst
Ms. Joan M. Farwell-Sargent
Ms. Kevinetta C. O'Brien Ms. Lee A. Davies Ms. Leslie A. Wilson Ms. Lisa J. Moore
Ms. Louise E. Boewe
Ms. Madeline C. Covi
Ms. Marilyn J. Gerdt
Ms. Marlene Brotherton
Ms. Maxine Cole
Ms. Rose Ann Sigborn
Ms. Sara R. Coppernoll
Ms. Sheila A. Westcott
Ms. Sherri L. Faith
Ms. Shirley Zabka
Ms. Suzanne R. Baier
Ms. Tamara L. Hascek
Rodney W. Roosevelt, Ph.D.
16 2022 EIU FOUNDATION REPORT
MESSAGE FROM THE NEW EIU FOUNDATION PRESIDENT
Coming out of the COVID-19 pandemic, I would be remiss as the new Foundation President if I did not recognize the excellent work of the two proceeding Foundation Presidents, Dr. Jill Nilsen and Ms. Susan Young, the Foundation Board, and of course, President David Glassman, for the tireless work they all did for EIU. During this challenging time, they kept the Foundation on task and focused, building upon the "foundation" created in 1953 and strengthened by their predecessors. They helped Eastern survive the budget impasse and the additional financial challenges to the University. They supported President Dr. Glassman as he negotiated these unchartered waters, gaining recognition for EIU during this time.
TODAY. TOMORROW. TOGETHER.
Today, Eastern remains dynamic, having risen like the Phoenix from these setbacks with the help of countless students, faculty, staff, administration, alums, and donors. So many EIU supporters all dedicated and committed to seeing EIU grow into the evolving tomorrow. The continued analysis and evaluation of today and tomorrow can best be expressed as "You can't really know where you are going until you know where you have been." (Maya Angelou, Jan. 9, 2021).
What is needed is a foundation made of personnel and support dedicated to the success of EIU by working together. For example, generous donors, the local medical community, and EIU have teamed together to introduce a new College of Nursing at Eastern. This type of commitment will give back not only to the community, county, and the state of Illinois but nationwide.
This year (2022-2023) is extraordinary for EIU, not only for the successes made by the University, its faculty, students, and alums, but also in the works, achievements, and vision of its 12th President, Dr. David Glassman. He has announced his retirement at the end of this year. Let us all recognize and congratulate his work, commitment, and the outstanding contributions he has made to us together.
I am nearly a lifelong EIU supporter, having come to Charleston at the age of two as the son of a new faculty member and his wife, Dr. and Mrs. Louis Grado. The first years were spent living on campus in old army barracks for faculty parked on the shore of TC Lake (Teachers College Lake). I was enrolled and went through the Buzzard Laboratory School through ninth grade, returning to EIU for my undergraduate degree. I am honored to have served as a member of the Eastern Illinois University Foundation Board and am now honored to serve as the President for 2022-2023.
I look forward to your continued generous support to help the Foundation promote the interest and welfare of the University in the present and future.
Thank you very much for your support of EIU!
Dr. Gordon Grado, MD, DABR, FACRO, FACR, PhD (hc)
Gordon Grado
President, Board of Directors 2022-2023 Eastern Illinois University Foundation
eiu.edu/advancement MAKE AN ONLINE GIFT TODAY AT EIU.EDU/GIVING.PHP.
EIU FOUNDATION BOARD OF DIRECTORS
Dr. Gordon Grado, President Eastern Illinois University Foundation Board of Directors 2022-2023
17 2022 EIU FOUNDATION REPORT
EASTERN ILLINOIS UNIVERSITY FOUNDATION
Founded in 1953 under the leadership and direction of H. Ogden Brainard, the Eastern Illinois University Foundation has, since its inception, been dependent upon the generosity of its members to encourage and provide private support to the University, and to promote the ideals of volunteerism and philanthropy among alumni, friends and employees of the University.
18 2022 EIU FOUNDATION REPORT
EIU FOUNDATION ELECTS NEW BOARD MEMBERS
Two
have been
to
The
in the
DR. GORDON GRADO, PRESIDENT SCOTTSDALE, ARIZONA
Gordon graduated from EIU in 1974 with a BS in Zoology. In 2006, he was named the Distinguished Alumnus by the EIU Alumni Association and in 2013, was awarded an honorary Doctor of Science from Eastern Illinois University. Gordon is the founder and Medical Director of Southwest Oncology Centers based in Scottsdale, Arizona with four other oncology centers throughout Arizona and with two affiliated centers in Mexico and two in Latin America. Before his private practice, he established and chaired the Radiation Therapy program at Mayo Clinic, Scottsdale and was the Wurtele Professor of Therapeutic Radiology and Oncology at the University of Minnesota where he developed the prostate brachytherapy program.
He has given hundreds of presentations worldwide and authored numerous peer-reviewed articles on the subject of oncology and prostate cancer. In June 2000, Governor Jane Hull of Arizona named him to serve on the Arizona Prostate Cancer Task Force. Gordon has worked with EIU lecturing health science students and developed a mentoring program for pre-medical students who fly to his Arizona Southwest Oncology Centers (and Mexico) where they work as interns for at least two weeks and have also worked on research projects. Most recently, Gordon served on the board of Adelante Healthcare, which began as a program to provide health care to farm workers and now offers affordable healthcare throughout Maricopa County. He also provides support to St. Vincent de Paul and their clinics in Arizona.
MS. DAWN JOHNSON, VICE PRESIDENT BALLWIN, MISSOURI
Dawn graduated from EIU in 1983 with a Bachelor of Arts in journalism. She is a litigation lawyer at Greensfelder, Hemker, and Gale, P.C.—St. Louis, Missouri. As head of the firm's Franchising and Distribution Industry Group, Dawn leads a team of transactional and litigation attorneys who represent clients nationally and internationally. Her practice focuses on all aspects of the dealer, distributor and franchisee relationship, including termination and non-renewal, claims under state and federal relationship laws and claims such as breach of contract, fraud, tortious interference, antitrust pricing, and trademark infringement.
Dawn has significant appellate experience and is co-leader of the appellate practice within the firm. She handles appeals and works closely with other trial lawyers in the firm to ensure that issues are properly
EIU FOUNDATION BOARD OF DIRECTORS
individuals
added
the EIU Foundation's Board of Directors for 2023—Mr. John Schmitt of Chicago, IL. and Ms. Bonita Tillman of St. Louis, MO.
Dr. Gordon Grado of Scottsdale, AZ. will serve as President along with Vice President Dawn Johnson of Ballwin, MO.; Treasurer Kelvin Lane of Buffalo Grove, IL.; and Secretary Randall Wright of Houston, TX. Dr. Judith James, Dr. Charles Maris, and Dr. Jill Nilsen, all of Charleston, IL.; join Mr. Elmer Pullen of Brookport, IL.; and Ms. Susan Young of Mahomet, IL. to round out the board.
19 2022 EIU FOUNDATION REPORT
Foundation Board of Directors governs the EIU Foundation, an independent nonprofit organization that provides EIU alumni, friends and advocates a means to invest
University. Established in 1953, the EIU Foundation administers gifts in support of Eastern Illinois University's institutional mission.
preserved for appeal. Dawn has argued before the Missouri Supreme Court and the Missouri Court of Appeals, Eastern and Western Districts, the Illinois Court of Appeals and the U.S. Court of Appeals for the Eighth Circuit. Before attending law school, she was an award-winning reporter for the Herald & Review daily newspaper in Decatur, Illinois. After graduating from Washington University School of Law, she continued her writing experience as a law clerk to U.S. Magistrate Judge David D. Noce in the U.S. District Court, Eastern District of Missouri, from 1993 to 1997.
She is active within her community, having served on the Board of Directors for Safe Connections from 2015 to the present; College Summit Missouri Site Advisory Board, 2012-present, Chair, 2015-present; Gateway Legal Services, Inc., Board of Directors, 2008 to the present; and the Bar Association of Metropolitan St. Louis, Board of Governors, 2002-2004.
DR. KELVIN LANE, TREASURER BUFFALO GROVE, ILLINOIS
Kelvin graduated from EIU in 1979 with a Bachelor of Science in technology education. He was initiated into Alpha Phi Alpha Fraternity Incorporated while at EIU in the Spring of 1977. In 1988 he obtained a Master of Arts in computer teacher education from Governors State University. He graduated from Roosevelt University in 1993 with a Master of Arts in administration and supervision. He obtained his Doctorate from Loyola University in curriculum and instruction.
Much of his career was dedicated to high school administration. He started his education career in 1993 teaching industrial arts and then later computer technology in Wheeling, Illinois. His most recent role was the Coordinator of Student Discipline for the second-largest School District in Illinois, Elgin U46, from 2009 until retirement in 2014. Kelvin has dedicated his career to helping students reach their full potential regardless of learning style in a safe and nurturing environment. He continues to consult with school districts, focusing on student life and discipline.
MR. RANDY WRIGHT, SECRETARY HOUSTON, TEXAS
Randy graduated from EIU in 1970 with a Bachelor of Science degree in physics. After completing a master's in business administration degree from Southern Illinois University at Edwardsville, Randy began a career in healthcare administration on the staff of the Southern Illinois University School of Medicine in Springfield. In 1979 he moved to Houston to work for The Methodist Hospital. Over a 20-year period at Methodist he held various leadership roles including Administrator for the Institute of Otorhinolaryngology, Vice President over the for-profit programs of the hospital and then Senior Vice President responsible for the Hospital's Diagnostic and Therapeutic programs. In 2000, Randy moved to Texas Children's Hospital, the nation's largest children's hospital. He served in many different executive roles at TCH including Chief Information Officer, Acting Chief Financial Officer, President of the Texas Children's Health Plan, and interim Administrator of the Children's Hospital of San Antonio. His major responsibility was as Executive Vice President and Chief Operating Officer and he retired from TCH in 2016.
Randy and his wife Brenda (Bachelor of Science in Education 1970) have strong ties to EIU and particularly the Physics Department. They created endowed scholarships honoring Dr. Glenn Q. Lefler, who was Department Chairman from 1950–1970 and for Dr. Bill Butler, who was Department Chairman from 1970–1987. Brenda and Randy, along with Dr. P. Scott Smith, a long-serving faculty member, provided a significant part of the funding for the development of an Observatory to support the Astronomy program.
20 2022 EIU FOUNDATION REPORT
In 2004 Randy was awarded the honorary degree of Doctor of Public Service for his support of EIU. In 2016 he was recognized as a Distinguished Alumnus by the EIU Alumni Association. In 2017, Randy and his wife Brenda were honored by the EIU Foundation as Distinguished Philanthropist. Randy serves on the Children's Hospital of San Antonio Foundation Board and the MD Anderson Cancer Center Board of Visitors.
DR. JUDITH JAMES CHARLESTON, ILLINOIS
Dr. Judith James, an accomplished retired EIU professor, began her journey teaching in the Zoology Department on a temporary basis, prior to completing her doctorate in 1987. After earning her Ph. D. in Genetics from Illinois State University, she taught a variety of genetics courses, ranging from "Heredity and Society" through the required genetics courses for majors and an honors and graduate course in Human Genetics. She served as Pre-
Medical Studies Chair and University Personnel Committee Chair, as well as on the Faculty Senate, Intercollegiate Athletic Board, Student Health Advisory Board, and Library Advisory Board. Academically, she published various professional articles on developmental genetics, presenting her research at myriad national and professional meetings. In addition, Judith also served on the Board of Directors of the Central Association of Advisors for Health Professions for six years. Judith's invaluable dedication to the EIU earned her two Faculty Excellence Awards. Her greatest passion was the major support she provided to autistic students and funds for graduate assistants and diagnostic tests for children. After a fulfilling career, including so many memorable and crucial contributions to EIU, she retired from the university in 2001.
DR. CHARLES MARIS CHARLESTON, ILLINOIS
Chuck earned his BS in Zoology with a Chemistry minor from EIU in 1971 and an MD from the University of Illinois College of Medicine in 1975. After medical school, he completed full residencies in General Surgery and Otolaryngology-Head & Neck Surgery. Chuck entered private practice in 1982 as a Sarah Bush Lincoln Medical Staff Member. During his tenure at Sarah Bush, he served in multiple medical staff positions which included service as Chief of Surgery and three terms as Medical Staff President. In 1996 Chuck became an associate of the Carle Clinic Association based in Urbana, IL. Chuck progressed through multiple medical administrative assignments. He retired from medical administration as Chief of Surgery and Medical Director of Surgical Services in 2014. During his career, he has served on the volunteer medical faculty of the UIUC College of Medicine and most recently with the Carle Illinois College of Medicine as a Clinical Assistant Professor. Dr. Maris is a Fellow of the American College of Surgeons and a Fellow of the American Academy of Otolaryngology-Head & Neck Surgery. He is a past member of the IL ACS Committee on Trauma and a State Faculty member for the ACS Advanced Trauma Life Support Course for Physicians. He was instrumental in bringing the ATLS Course to downstate IL acting as course director for the first ATLS courses at the Carle Level 1 Trauma Center. He served as a member of the Sarah Bush Lincoln Foundation and served as a physician member of the Carle Foundation Board of Directors.
Dr. Maris and his wife Karen are EIU Alumni Association Members and recently endowed a Scholarship for students enrolled in the new EIU Electrical Engineering Program. While an EIU undergraduate, Chuck was a founding member of the EIU Eta Mu Chapter of Sigma Chi. In July of this year, he was honored as a Significant Sig at the fraternity's Grand Chapter meeting in Scottsdale, AZ. Chuck retired as a Colonel from the US Army Reserve in 2011 after 34 years of combined reserve and active-duty service. His most memorable assignments include mobilization to the Persian Gulf in 1990-91 as Assistant Chief of Surgery for the 159th MASH, four years as Command Surgeon of the 3rd COSCOM in Des Moines, IA, and four years of duty as the Command Surgeon for the 89th Regional Readiness Command in Wichita, KS.
EIU FOUNDATION BOARD OF DIRECTORS
21 2022 EIU FOUNDATION REPORT
DR. JILL NILSEN CHARLESTON, ILLINOIS
Jill graduated from EIU in 1974 with a Bachelor of Science degree in speech pathology and audiology and a Master's of Science degree in 1975. Jill was an EIU faculty member, Department Chair, Associate Dean of the Graduate School, and Vice President of External Relations before her retirement. Her contributions to EIU have been and continue to be extensive. During her time as Vice President, Jill restructured the EIU Development efforts so every college was an integral partner in EIU's Development activities. She also created an endowment in the Department of Communication Disorders and Sciences that provides funding for graduate student research presentations.
Jill was recipient of the 2015 Outstanding Philanthropist award. She is an EIU Alumni Association Distinguished Alumna and a recipient of the Louis V. Hencken Service Award. She also served as a member of the College of Education and Professional Studies Philanthropy Board. Jill was formerly President of the CASA of East Central Illinois Board of Directors, and her service in other local agencies includes the Boards of the Sarah Bush Lincoln Health Systems, the Coalition Against Domestic Violence, CCAR Industries, and the Charleston Zoning Board. She served as a member of the EIU Presidential Search Committee as well as President of the EIU Annuitant Association and President of the Charleston Area Chamber of Commerce.
MR. ELMER PULLEN BROOKPORT, ILLINOIS
Elmer is a 1970 graduate of EIU with a Bachelor of Science in sociology and a Master of Science in education in 1973. He served as a financial aid counselor at EIU for more than 30 years. Elmer has volunteered on numerous non-profit and university committees. Selected in 1978 as "Big Brother of the Year" by the Big Brothers Big Sisters of Coles County Organization, he also served on the Big Brother organization's Board of Directors. Elmer was chosen as "Boss of the Year" by Eastern's Office Staff Support Group in 1989.
He was a member of the Charleston Rotary Club and served on the Board of Directors of the Central East Alcohol and Drug Council. Since retiring to Brookport, IL, Elmer has continued to serve the local and regional community on several committees and boards. He is a veteran of the US Army.
MR. JOHN SCHMITT CHICAGO, ILLINOIS
John D. Schmitt, graduated from EIU with a Bachelor of Arts, in '76 and a Master of Arts in Political Science, in '78. John served as a Graduate Assistant in the Political Science department during graduate school and assisted Dr. Peter Leigh and Dr. Charles Hollister. John was involved with Greek activities on campus through his involvement with his fraternity Lambda Chi Alpha of which he was a founding and charter member. John has been involved with the EIU Lambda Chi Alpha fraternity all throughout his alumni years having served as Chapter Advisor and as Treasurer and Secretary of the EIU Lambda Chi Alpha Alumni Association. John also served his International Fraternity serving as Chairman of the Alumni Advisory Board. The Lambda Chi Alpha International Fraternity awarded him the Order of Merit for Alumni Service in 1996. John is currently serving as the Lambda Chi Alpha Fraternity Foundations Chairman of the Founders Day of Giving Committee.
John spent 35 years working in Illinois Government, Not-for-Profits, Local Government, and Higher Education (State Senate, Department of Energy and Natural Resources, Department of Conservation, Office of Illinois Governor James R. Thompson). He participated in a trade mission to the former USSR and a mission to France. John also served as Executive Director of the Nature of Illinois Foundation and was the first Executive Director of the Illinois Conservation Foundation which raised over $16 million. His last position of over seven years was
22 2022 EIU FOUNDATION REPORT
with his beloved Alma Mater Eastern Illinois University in which he served as the Director of Development/ Philanthropy for the Chicagoland region.
John has been a long-time member of the Association of Fundraising Professionals (AFP) and served as President of the Chicago Chapter in 2012. The Chicago Chapter of AFP at the time was the largest Chapter with over 1,000 members.
John has been a long-standing member of the EIU Alumni Association and served on the Board of Directors from 1983-1986. He was awarded the EIU Alumni Association's Lou Hencken Alumni Service Award in 2004.
He established the John D. Schmitt Scholarship which annually awards an officer of the Lambda Chi Alpha Fraternity at EIU. John has also been instrumental in leading to the creation of three other EIU scholarships benefiting undergraduate members of Lambda Alpha Chi: the Lambda Chi Alpha Fraternity Founders Scholarship, the Lambda Chi Alpha Scholastic Incentive Scholarship, and the Jack R. Kelly Scholarship. In 2022 John Schmitt was named the EIU Homecoming Parade Grand Marshal. In 2018 the EIU Foundation honored John Schmitt with the Outstanding Member Award.
MS. BONITA TILLMAN ST. LOUIS, MISSOURI
Bonita graduated from Eastern in 1980 with B.A. degrees in both Journalism and Political Science and a teaching certificate. After a brief stint as a substitute teacher, she spent 15 years as an editor and reporter for the Suburban Journals newspaper chain in the Metro-East communities of Granite City, Edwardsville, East St. Louis, and Belleville, IL.
In 1996, she transferred her skills to a public relations position at Nestle' Purina pet products company in St. Louis where she worked for 22 years. She retired in 2018 as Manager of Corporate Public Relations. Since that time, Bonita started Aries Communications LLC and contributes regularly as a freelance writer to the St. Louis Business Journal and its affiliates in Tampa Bay and Orlando, Fla. She also continues to support the profession via the St. Louis Press Club and the Greater St. Louis Association of Black Journalists where she has been treasurer for 10 years.
At Eastern, Bonita helped initiate the EIU Black Student Reunion celebration and served on the EIU Alumni Association Board of Directors from 2010 to 2019.
MS. SUSAN YOUNG MAHOMET, ILLINOIS
Susan graduated from EIU in 1984 with a Bachelor of Science degree in accounting and a Master of Science degree in taxation in 1990 from DePaul University. Susan retired as Executive Senior Associate Director of Athletics/Chief Financial Officer after serving more than ten years in the summer of 2021. In her role, she oversaw the annual financial operations, capital project funding, and human resources for the division.
Susan's prior supervision in other areas also included the State Farm Center, Orange and Blue Golf Course, Atkins Tennis Center, and IT services. Before her tenure with U of I, she spent nearly six years as Senior Vice President and Chief Operating Officer of First Mid-Illinois Bank & Trust Wealth Management Division in Mattoon. She is an accomplished executive with more than 30 years of tax, financial planning, and investment advisory experience for several firms, including Ernst & Young, Fel-Pro Incorporated, and KKP Group. Susan has been very involved in the Eastern Illinois University Alumni Association, serving as president in 2004-05 and as a board member from 2001 to 2010.
EIU FOUNDATION BOARD OF DIRECTORS
23 2022 EIU FOUNDATION REPORT
2022 EIU FOUNDATION REPORT 24
The Foundation is an Illinois notfor-profit 501(c)(3) corporation.
IT ALL MEANS 25 2022 EIU FOUNDATION REPORT
FINANCIALS: WHAT
EIUF FINANCIAL REPORT
THE FOLLOWING REPORT DETAILS THE MOST CURRENT AUDITED STATEMENTS DATED JUNE 30, 2021.
The EIU Foundation operations budget is underwritten by distributions from the Brainard Trust and the Neal Charitable Lead Unitrust, administrative fees generated on investments, farm management fees, and earnings from endowment funds restricted for Foundation operations. Specifically, an administrative fee of 1.25% is assessed on trusts administered by the Foundation, with a fee of .75% on Foundation investments and 4.75% of gross income on the farms. Collectively, these sources provided $773,569 in revenue to support the Foundation's operations in FY22.
The Foundation has contained operational costs through a conservative, long-term approach to the budgeting process. As a result, the Foundation has maintained a stable reserve of funds and was able to deploy some of these reserves in support of University priorities identified by the EIU administration the past six fiscal years.
The most current audited statements from FY 21 are presented as part of this annual report. You can also review a copy of the Foundation's annual federal tax filing, commonly referenced as Form 990.
The total net assets for EIUF were $101,034,782 on July 1, 2020 and $123,978,065 on July 1, 2021. While the FY 22 statements are being finalized, the preliminary statement shows net assets of
approximately $118,700,000 as of July 1, 2022. This preliminary estimate is slightly lower from the prior fiscal year as a result of market turbulence and the corresponding impact on the EIUF endowment. The EIU Foundation provided $1,362,816 in scholarships and $2,543,107 in grants to EIU in FY 2020. In comparison, the EIU Foundation provided $1,475,525 in scholarships and $3,105,950 in grants to EIU in FY 2021.
Foundation investments are overseen by the Foundation's Investment Committee and the Board of Directors. Allocation recommendations are presented by the Foundation's investment consultants, Fund Evaluation Group (FEG), and approved by the Board's Investment Committee before submission to the full board. The Foundation remains focused on achieving investment performance that exceeds the approved spending rate of 5% from endowed funds. FEG, based in Cincinnati, Ohio, has been the Foundation's investment advisor since May, 2018.
IMPORTANT FINANCIAL DOCUMENT LINKS
The following documents are available for review:
EIUF FINANCIAL STATEMENTS AND INDEPENDENT AUDITOR'S REPORT AVAILABLE AT GO.EIU.EDU/EIUFAUDIT
FORM 990 (RETURN OF ORGANIZATION EXEMPT FROM INCOME TAX) AVAILABLE AT GO.EIU.EDU/FORM990
EIU FOUNDATION – CHIEF OPERATING OFFICER'S BIOGRAPHY
Mr. McKenzie began serving his alma mater in 2004 as an Assistant Director in the Alumni Services Office before joining the senior staff of the Dean of the Lumpkin College of Business and Technology. He presently serves as the Chief Operating Officer of the EIU Foundation. Mr. McKenzie holds bachelor's and master's degrees from Eastern Illinois University having graduated in 1999 and 2001 respectively.
EIU FOUNDATION – ASSISTANT TREASURER'S BIOGRAPHY
Mr. McCann has served in a variety of administrative roles at EIU since 2006, including Interim Vice President for Business Affairs. He currently serves as Director of Business Services and University Treasurer. Mr. McCann received his bachelor's degree in business/accounting from Augustana College in Rock Island. In addition to his work at Murphey, Jenne and Jones (now known as Peat Marwick), McCann has served as a partner with the accounting firm of Doehring Winders and Co., LLP, and as chief financial officer with Behnke and Co., Inc., a Decatur insurance firm.
PAUL McCANN, EIUF
ASSISTANT TREASURER
26 2022 EIU FOUNDATION REPORT
JON MCKENZIE, EIUF CHIEF OPERATING OFFICER
Center, CFA Fund Evaluation Group Senior Vice President Consultant
EIUF ENDOWMENT PERFORMANCE REPORT
THE FOLLOWING INFORMATION OUTLINES INVESTMENT PERFORMANCE WITHIN THE EIUF ENDOWMENT FOR THE PERIOD JULY 1, 2021 TO JUNE 30, 2022.
In today's complex investment landscape, institutions face unique challenges. The mission at Fund Evaluation Group (FEG) is to empower clients to fulfill their missions through superior investment performance, objective insights, and research. FEG is an independent, employee-owned, full-service investment advisory firm with more than 30 years of stability and growth. FEG is headquartered in Cincinnati, Ohio.
FEG was contracted by the EIU Foundation to serve as investment advisor beginning May 2018. The EIU Foundation Investment Committee and Board of Directors review and approve investment recommendations presented by FEG and monitor the firm's performance relative to EIUF's investment policy and objectives. The EIUF Board also conducts an on-site due diligence visit as part of our commitment to steward the generous support of EIUF's many donors and friends.
FEG REPRESENTATIVE BIOGRAPHY
David Center is Senior Vice President and a consultant at FEG. He has almost 20 years of experience helping non-profit educational institutions with allocation and policy work, governance and education, as well as manager search and selection. Prior to FEG, Center served as a consultant with Cardinal Investment Advisors, New Leaf Capital Consulting, and Hammond Associates. David received an MSIA (MBA) in Finance & Strategy from Carnegie Mellon University, and holds a bachelor of science in electrical engineering from Lehigh University. David has served on the Board of Directors of the CFA Society of St. Louis, as the President of the CFA Society of Louisiana (formerly FANO), and as the President of the Greater New Orleans Council of Camp Fire USA. David currently resides in Cincinnati, Ohio with his wife and two children.
David
EIUF ASSET ALLOCATION EIUF's portfolio is diversified by global risk factors such as global equity, global fixed income, real assets, and diversifying strategies. FINANCIALS: WHAT IT ALL MEANS DIVERSIFYING STRATEGIES Event Driven, Relative Value, Macro ROLE/RISK Diversification and Total Return Poor Manager Execution REAL ASSETS Real Estate, Natural Resources, Infrastructure ROLE/RISK Inflation Protection and Total Return Deflation GLOBAL FIXED INCOME AND CREDIT Bonds, Bank Loans, Credit Hedge Funds ROLE/RISK Equity Risk Mitigation and Total Return Rising Rates and/or Credit Downgrades GLOBAL EQUITY Stocks, Private Equity, Long/Short Hedge Funds ROLE/RISK Total Return Stock Market Declines 58% WEIGHT 9.4% WEIGHT 14.4% WEIGHT 18.2% WEIGHT 27 2022 EIU FOUNDATION REPORT
EIUF TOTAL PORTFOLIO PERFORMANCE
• Returned -8.1% for the fiscal year 2022, 120bps higher than the Policy Index. Note: Primary Objective (CPI+5%) appears abnormally high due to recent inflation.
• EIUF has a diversified, "all-weather" portfolio which has outperformed its primary objective over the past three, five, and ten years. This despite a market that has heavily favored U.S. equity since the global financial crisis ended in 2009.
EIUF COMPOSITE PERFORMANCE
• EIUF's portfolio is diversified by global risk factors global equity, global fixed income, real assets, and diversifying strategies.
• Real assets performed well over the last year as the sector gained 9.0%. The benchmark is comprised of 50% of the Bloomberg Commodity Index which has performed strongly over the last year (+24.3%), of which EIUF does not have direct exposure to and is the reason for the underperformance vs. the benchmark.
EIUF PRIVATE CAPITAL PERFORMANCE
• EIUF has about 15.4% of its portfolio allocated to private capital across equity, debt, and real assets with ~68% of it in private equity.
• Private capital has added approximately 4.4% in return over the public markets.
• Illiquidity Premium (%) – 4.4%
• Illiquidity Premium ($s) – $4,782,691
EIUF POLICY INDEX ANNUAL RETURN (%) EIUF RETURN (%) POLICY INDEX PRIMARY OBJECTIVE (CPI + 5%) EIUF PUBLIC MARKET EQUIVALENT (%) 1 Yr -8.1 -9.3 13.9 7.2 5.9 10.0 6.5 6.0 9.0 7.0 7.2 7.6 3 Yr 5 Yr ANNUAL RETURN (%) 10 Yr -7.9 -15.8 -4.5 9.0 14.3 -5.4 -5.4 GLOBAL EQUITY REAL ASSETS GLOBAL FIXED INCOME DIVERSIFYING STRATEGIES 13.0 8.6 14.6 9.2 9.0 27.4 6.6 14.2 TOTAL PRIVATE CAPITAL PRIVATE DEBT PRIVATE REAL ESTATE PRIVATE EQUITY PRIVATE NATURAL RESOURCES 0.1 4.2 *Due to the availability of private capital data, the IRR data on this page is provided based upon the most recently available period (3/31/2022). Index: 50% Bloomberg Commodity/50% Alerian MLP -12.5 28 2022 EIU FOUNDATION REPORT
EVALUATING THE PORTFOLIO FROM A HIGH LEVEL (6/30/2022)
EIUF has outperformed its primary objective (spending + inflation) over the trailing 3 and 5-year periods. With a 10 year return of 7.0%, and a current spending rate of 5%, a strong argument can be made that EIUF has achieved its primary objective over 10 years.
GLOBAL EQUITY COMPOSITE
• Returned -12.5% for the trailing 1-year period, outperforming the MSCI AC World Index by 330 bps.
GLOBAL FIXED INCOME
• Returned -4.5% for the trailing 1-year period, outperforming the BB Aggregate Index by 580 bps.
• Flexible positioning and reduction in interest rate risk and duration risk are conservative stance, funding source for future.
• Opportunistic allocation to distressed debt should add value going forward.
REAL ASSETS
• Returned 9.0% for the trailing 1-year period.
• Multi-asset manager +1.2% over past year and the dedicated MLP manager gained 14.2%.
DIVERSIFYING STRATEGIES
• Returned -5.4% for the trailing 1-year period, in-line with the HFRI Fund of Funds Index.
PRIVATE CAPITAL (AS OF 3/31/2022)
• Private capital is adding about 4.4% over the public markets vs. expectations of 3% or more with natural resources being the largest drag (+0.1%) and private real estate being the largest contributor (+27.4%).
1Beta calculation is relative to MSCI ACWI Index.
2Policy Index is currently comprised of: 5.0% PIMCO Inflation Response Multi Asset Index, 6.5% Thomson One All Private Equity Index, 1.0% Thomson One Mezzanine Index, 23.0% Russell 3000 Index, 16.0% MSCI EAFE Index, 9.0% MSCI Emerging Markets Index, 13.0% Bloomberg Barclays US Aggregate Index, 2.0% Alerian MLP Index, 22.0% HFRI FOF: Conservative Index, and 2.5% HFRI FOF: Strategic Index. Please see Appendix for benchmark history.
3Broad Policy Index is comprised of: 70.0% MSCI AC World Index and 30.0% Bloomberg Barclays US Aggregate Index.
FINANCIALS: WHAT IT ALL MEANS
29 2022 EIU FOUNDATION REPORT
EIUF SUMMARY PERFORMANCE AND RISK
It is critical to understand returns in the context of the risk taken. EIUF's total portfolio risk
70% of the risk in global equity. TOTAL FUND POLICY INDEX 2 PRIMARY OBJECTIVE (CPI + 5%) BROAD POLICY (70%/30%) 3 GLOBAL EQUITY COMPOSITE MSCI ACWI WORLD INDEX PUBLIC EQUITY MSCI ACWI WORLD INDEX PRIVATE EQUITY GLOBAL FIXED INCOME COMPOSITE PUBLIC INTEREST RATE SENSITIVE BARCLAYS U.S. AGGREGATE BOND INDEX S&P LSTA/PERFORMING LOAN INDEX PRIVATE CREDIT PUBLIC CREDIT REAL ASSETS COMPOSITE PUBLIC REAL ASSETS BLOOMBERG COMMODITY INDEX ALERIAN MLP INDEX PRIVATE REAL ASSETS DIVERSIFYING STRATEGIES HFRI FUND OF FUNDS INDEX CASH -8.6% -12.0 -1.8 -6.9 -3.8 -8.9 -15.7 -2.9 -7.8 -3.9 3.8 -14.8 -4.7 -5.7 -11.9 -15.7 7.4 3 MOS -11.3% YTD -16.4 -5.8 4.0 -6.0 -11.9 -20.2 -7.6 1.7 -6.5 7.7 -19.8 -10.3 18.4 -16.8 -20.2 10.0 6.0% INCEPTION 7.9 5.4 1.4 5.0 7.0 6.2 4.7 1.3 2.5 7.5 7.5 4.1 -1.6 5.3 6.2 5.6 -8.1%
-4.5 9.0 -5.4
5.4 -5.4 13.9
24.3
4.3 7.2% 3
8.1 3.4 9.0 6.2 5.9 6.2 -0.1 8.2 4.0 10.0 5.3 -0.9 14.3 4.0 6.2 0.1 6.5% 5 YR 7.7 3.4 5.5 5.6 6.0 7.0 1.4 5.4 3.6 9.0 5.8 -0.9 8.4 5.2 7.0 -0.3 6.0% 7 YR 7.4 2.8 4.6 4.6 5.8 7.0 1.3 4.5 2.7 8.2 6.0 1.4 2.8 5.4 7.0 -2.1 7.0% 10 YR 9.0 3.1 2.9 5.6 7.2 8.8 1.7 2.9 3.8 7.6 8.0 1.5 -0.8 6.6 8.8 0.7 $85,769,854 MARKET VALUE $49,719,477 $15,468,394 $8,068,885 $8,309,255 $3,156,513 $6,919,215 $36,882,679 $8,905,846 $1,149,670 $12,367,721 $145,377 N/A N/A 0.3 6.1 0.7 0.7 14.5 15.0 N/A N/A N/A N/A N/A N/A 0.0 3.4 0.0 3.2 1.0 18.1 0.9 15.8 --- ANNUALIZED --- RELATIVE RISK ABSOLUTE RISK --- RISK --BETA VOLATILITY 0.6 11.2 (5 YR. BETA) (5 YR. ST. DEV.) 1 -0.6 -4.5 -1.1 -4.6 12.1 5.2 1.3 -2.8 $4,002,626
(6/30/2022)
is about
1 YR -12.5
-9.3 -15.8 -7.9
-17.6 -10.3
-13.7 -15.8
YR
MISSION STATEMENT
The Eastern Illinois University Foundation exists for the following purposes:
To encourage and provide private support to Eastern Illinois University, including the region which the University serves, and to promote the ideals of volunteerism and philanthropy among alumni, friends and employees of the University;
To assist and support Eastern Illinois University's educational and cultural mission through encouraging philanthropic gifts of cash, property and other materials of educational and artistic value; and
To enhance the educational activities of Eastern Illinois University students and employees by participating in and supporting academic and artistic programming through scholarships and grants.
2022 EIU FOUNDATION REPORT 30
An early snowfall came to the EIU Memorial Courtyard this year. It quickly melted away in favor of a few more weeks of fall weather.
eiu.edu/advancement MAKE AN ONLINE GIFT TODAY AT EIU.EDU/GIVING.PHP.