Celebrating 100 Years
wHat iT Takes?
Tee up along Florida's Sports Coast to discover the best golf excursions. With a wide variety of courses, every round of golf here is both challenging and enjoyable.
naturally fLorida
After a round of golf, paddle through the peaceful Werner-Boyce Salt Springs State Park or unwind on the beach at Anclote Key Preserve State Park to experience the serenity of Mother Nature. flsportscoast.com
THE LINKS!
You Have
HIT
Do
Fox Hollow Golf Club
Rolling fairways and five sets of tees offer new challenges every time you drive the ball.
Lexington Oaks Golf Club
With a multitude of lakes and wetlands adding challenge and character to the course, it's hard to forget a round here.
Plantation Palms Golf Club
Challenging greens, rolling terrain and tight landings make this course a true golfer's dream play.
Fox Hollow Golf Club
Saddlebrook Resort & Golf Club
Boasting two picturesque Arnold Palmerdesigned courses, it's no surprise Saddlebrook is a well-known destination for world-class golf.
Beacon Woods Golf Club
Each hole is designed to bring out the best in both novice and pro golfers, with sporting fairways and well-guarded greens.
Lake Jovita Golf & Country Club
The rolling hills and elevation changes on Lake Jovita's two courses will test your skills.
Seven Springs Golf & Country Club
With one course perfect for beginners and another that will challenge the pros, the whole family will have a great time playing here.
The Groves Golf & Country Club
Designed with nature's best interests in mind, The Groves is known as The Longest Short Course in Florida.
Saddlebrook Resort & Golf Club
Lexington Oaks Golf Club
Highland Park Golf Course Birmingham, Alabama
Château Élan Golf Club Braselton, Georgia
Play More Golf in 2023 with the Troon Card!
Mystic Creek Golf Club El Dorado, Arkansas
Now in its 25th year, the Troon Card program makes it easy for golfers to play Troon-affiliated courses at the best rates. Choose from state, region-specific, or national Troon Cards to unlock preferred rates at more than 150 golf courses worldwide. Troon Cardholders enjoy these great benefits: • Complimentary Clinics • Monthly Special Offers • 10% off at Participating Golf Shops and Restaurants • AVIS Car Rental Discounts up to 35% off • And Much More! * Restrictions apply. Visit TroonCard.com for full details. Troon Card Rates up to 50% off * "2 for 1" Golf Offers * 15% Discount on Reservations Made 4+ Days in Advance* Visit TroonCard.com for a complete list of benefits, courses and rates, and to purchase your Troon Card today!
Tiburón Golf Club Naples, Florida
Maggie Valley Club & Resort Maggie Valley, North Carolina
The Westin
& Spa
The Southeast Troon Card is valid in: • Alabama • Arkansas • Florida • Georgia • Louisiana • Mississippi • North Carolina • Tennessee • International Locations Experience the Best of the Southeast with the 2023 Southeast Troon Card! Scan to learn more, or visit TroonCard.com.
Knoxville Municipal Golf Course Knoxville, Tennessee Grand Bear Saucier, Mississippi
Savannah Harbor Golf Resort
Savannah, Georgia
Joy To The World!
Being on The Naughty List has worked to my advantage, for the most part.  I had a chat with Santa the other day and asked him what the secret to his success was beyond a loving wife, a bunch of elves, 8 tiny reindeer and a sleigh. This is what he told me:
When in doubt show up early but not too early- make sure the kids are asleep. Think less. Feel more. Ask once. Give thanks often. Expect the best and you will get it. Appreciate everything. Never give up. Make life fun.
Lead. Invent. Regroup. Wink. Chill. Smile. And let out a hearty "Ho, Ho, Ho!"  now and then (but not when your best girlfriend walks into the room lest she wonder if you are calling her a name). Live as if your success is inevitable…because it will be.
Christmas Miracles?? Meet Our new Social Media Manager. Nafanua Marlowe has been creating freelance digital media for small businesses and influencers and has found the perfect segue of media and the lifestyle working with Golf Central Magazine (GCM) and Turf Life (TL).  Raised and nurtured by a large family of avid golfers, including her dad, uncle and hubby, the mere sight of the green calls for an exhale of relief and a raised glass of wine. Nafauna has a passion for golf's future spotlighting the games philanthropy, health benefits, and ecological science behind the green… not to mention the sheer fun of the game as well! Look for her to be a positive influence for the game as well as for GCM and TL creating a culture that allows us all to keep on living and giving.
Publisher: Terrie L. Purdum
Edi tor in Chief: Shannon Coates
Graphic Design: Melahn Cable, Golf The Wise Way: Greg and Beverly Wise, Photojournalists
Photojournalist: Greg Corbo
Photographers: Lynn Pelham, Brion Price, Peter Hakansson Mike Coonan, Becky Galloway, Madison Coates, Mac Carraway
Senior Correspondent: Rick Harris, Sr.
Contributing Writers: Jay Golden, PGA; Bob Bolton, Greg Corbo, Elisa Gaudet, Holly Geoghegan, Mike Jamison, Mike May, Anthony Williams
Editor Emeritus: Joel Jackson, CGCS Retired
Regional Partner: Doug Hollandsworth, Founder-Georgia Golf Trail Turf Pirate: Anthony Williams
Social Media Manager: Nafanua Marlowe
Media Partners: John Gerber, DSP Media; Holly Geoghegan, Golf Insiders, GMS; Tony Leodora, Traveling Golfer
Golf Central Magazine is published monthly by: Sand Hill Publishing & Public Relations 4313 Berwick Dr, Lake Wales, FL 33859
NEW PHONE: 863.875.6863
E-mail: info@golfcentralmag.com
©2022 Golf Central Magazine. No portion of this publication may be reprinted without the prior written permission of the Publisher. Editorial contributions are welcome, but Golf Central Magazine assumes no responsibility for unsolicited proposals, manuscripts and photographs. All materials submitted not accompanied by a selfaddressed stamped envelope will not be returned. Mailing, electronic mailing or faxing of contributions constitutes an expressed warrant on the part of the contributor that all material is original and does not infringe on the rights of others. Golf Central Magazine retains all reprint rights and reserves the right to edit any submitted material to meet our specifications for publishing and or use in advertising or promotion. The Publisher and staff are not responsible for any loss or grievance by any person or persons whatsoever, due in any way or in part to the content of this publication. The Publisher reserves the right to refuse to accept any material deemed inappropriate or in bad taste.
2009 North Florida PGA Amateur of the
6 Golf Central • Volume 23, Issue 9
the publisher
from
Year Volume 23, Issue 9
May the holidays be ones to remember with those you love and those who love you as well.
Author and friend, Ron Heller
Photo by Greg Corbo
Needing to get away and shake up those plans? With Pete Dye's modern gem and a classic Donald Ross course together at the same resort (plus casino action after your rounds are in the books), Southern Indiana hits that sweet spot of golf and gaming.
Big-time golf, small-town character: French Lick is the road trip you've been waiting for.
Must be 21 years or older to enter the casino. Gambling Problem?Call 1.800.9.WITH.IT or text INGAMB to 53342!
2023
ABOUT that
ROAD TRIP...
Get started at frenchlick.com/golf Secure your tee time (888) 936-9360 Group planning (8+) (812) 936-5825
8 Golf Central • Volume 23, Issue 9 Caribbean Golf Central 30 Aurora, Anguilla FEATURE 10 Mayfair Country Club Golf Bachelor 22 Shane Rice Golf Bachelorette 14 Crystal Castle Golf fore Charity 26 Playing for a Cause Growing the Game 45 First Tee Living on the Links 16 Olde Cypress 18 Timacuan Golf Club Special Events 24 Lifeboat Project What's New 34 Golf Nation Young Guns 42 CGX College Camps Turf Life 52 EREF 54 Oakland Turf Plantation 58 Bray's Island 60 Turf Pirate Departments 20 LPGA 28 Carolinas Golf Central 36 Georiga Golf Trail 38 PGA Tour 40 Golf Business 44 Holiday Gift Guide 46 South Florida PGA 48 North Florida PGA golfcentralmag.com Pg 12 Volume 23, Issue 9 Celebrating100Years 14 16 24
Beautiful parks. Incredible golf.
Natural beauty, exceptional golf, and nine great courses from which to choose. Scan this code to plan your golf getaway today, or visit tnstateparks.com/golf
Shown is the golf course at Montgomery Bell State Park.
Mayfair Turns 100
ny golfer who's fallen in love with this game, albeit on a limited budget, has probably pursued that passion playing a municipal golf course. "Munis" as we golfers fondly call them, differ from public courses as they are owned and/ or managed by a city, town, or county. While privately owned public courses are managed to make money, municipals primary goal is to offer affordable outdoor recreation without breaking your wallet. Don't worry about the dress code or changing your shoes in the parking lot (unless you're at Beth Page or Torrey Pines), munis are as "old school" as it gets and have the history to go with it.
Such is the case with Mayfair Country Club in Sanford, Florida (just
outside Orlando) which is marking a major milestone and celebrating its 100th anniversary this year.
In 1870, the city's namesake, Henry Shelton Sanford, purchased a 20,000acre tract of land. Eight years later, he sold a portion to Charles Amory. Armory was a retired sea captain, who planted citrus trees and the signature double row of oak trees that line the main entrance and remain today. He also built a boat-shaped home on the course which later served as the clubhouse for many years.
The property was then purchased by brothers and business partners Sydney and Joshua Chase, owners of Chase & Company. Early in 1922, the Chase brothers commissioned a 50-man crew to build a 9-hole golf
course which officially opened later that year as the Sanford Country Club. Green fees were $1.00 for out-of-towners, $0.50 for city residents, and a 30-round book cost $10.00.
The city of Sanford purchased the golf course from the Chase brothers in 1924, expanded play to 18 holes, and operated it over the next two decades. According to various accounts the course was designed under the direction of a young, relatively inexperienced course builder named Cameron Trent. Many, however, believe the course architect was the preeminent Donald Ross as noted by the large historic metal sign at the entrance to the course.
At that time, Ross had spent years designing dozens of courses in Florida
10 Golf Central • Volume 23, Issue 9 feature
Sanford's famous "muni" celebrates a century of golf history in Central Florida.
A
although a majority were never visited by him in person.
"In its heyday, Sanford was heralded as a course of superior quality; I find it unlikely that Mayfair was a first effort by an unknown designer," said Paul R. Dunn, former historian of Pinehurst Country Club and co-author of Great Donald Ross Golf Courses Anyone Can Play. "It deserves to be known as a Donald Ross creation."
It didn't take long for the course to attract two of golf's biggest stars for an exhibition. In 1927, 11-time major champion, Walter Hagen, and seven-time major champion, Gene Sarazen, both World Golf Hall of Fame members, traveled to Sanford to compete in an 18-hole exhibition match. The match ended after 14 holes with 'The Haig' defeating 'The Squire' 5 and 4. This put Mayfair on a future path to being praised in national golf publications and hosting several professional golf tournaments.
In the 1940s, the city leased the
golf course to several parties, the lon gest and most notable among them being the New York Giants baseball team. The Giants used Sanford as their Spring Training headquarters from 1948-1959, residing at Sanford's Mayfair Inn, which the team used as a dormitory for minor-league ball players in addition to operating the hotel. The course was renamed the Mayfair Country Club in 1953. Baseball Hall of Famer Babe Ruth was a frequent visitor to the course.
Between 1955-1958, the club hosted "The Mayfair Inn Open" on the PGA Tour. The event was played in mid-December from 1955–1958 for a total purse of $15,000. Famed golfing legends Sarazen, Arnold Palmer, Sam Snead, Ben Hogan, and Canada's Moe Norman, competed in the event. Palmer won his first professional paycheck for $528 in December 1956.
In 1959, Mayfair Country Club hosted the "Sanford Women's Open," a one-time event on the LPGA Tour. The tournament was won by LPGA founding member and World Golf Hall of Famer, Marlene Hagge.
Since the departure of the Giants in the 1960s, Mayfair has remained under city ownership and managed by various property management groups. Its historical roots are a big reason why it is one of 54 golf courses that comprise the Florida Historic Golf Trail. The par-70 layout features
11 Golf Central • Volume 23, Issue 9
Among the frequents visitors to Mayfair Coiuntry Club was the legendary Major League Baseball Hall of Famer, George Herman "Babe" Ruth.
four sets of tees that range from 5,000 to 6,400 yards.
Over time, hurricanes and storms have led to the loss of many of the large picturesque oak trees, dripping with their thick Spanish moss, that were symbolic of old Florida. Today, Mayfair's fairways are more open and forgiving which benefits higher handicap players, but the approaches to the green still retain a high degree of difficulty and more than half of the holes have water hazards to keep even the best golfers on their toes.
In preparation for Mayfair Country Club's 100th anniversary, the team at Mayfair have been focused on modernizing and improving the golf course's clubhouse, maintenance and conditioning under the guidance of General Manager Scott Bennett, Golf Course Superintendent Chris Zinna and the resources and support of Down to Earth Golf, a facility services company based in Lake Mary, that manages and maintains more than 30 golf courses across the United States.
Zinna is eight years into his 10year plan to return Mayfair to its historic roots literally and figuratively. "They (Down to Earth) get it." said Zinna in a recent issue of Florida Green Magazine. "They know you can't make money without spending some money…the way golf courses get better is consistency and DTE gets that. It nice to have a management company that has your back."
The original clubhouse was de-
molished in 2021 with a temporary clubhouse placed on site. A new clubhouse estimated at $1.5M will offer modern and contemporary golf amenities while paying homage to Mayfair's history. Originally scheduled to open for the 100th anniversary, construction was delayed due to the pandemic.
Mayfair hosts a variety of charitable and non-profit golf tournaments. Bennett noted that the club is especially proud to have relaunched the Mayfair Open back in 2018. Over 100
One of the charming aspects of Mayfair is the towering signature oak trees that greet golfers as they drive in the main entrance.
professionals and 60 amateurs compete in the tournament for more than $60,000 in prizes.
One tournament that directly impacts the city of Sanford is the CaddyShack Open, benefitting Cops for Christmas. Cops for Christmas is an annual event held by Sanford's Fraternal Order of Police Lodge 140. At this event, local children and their families are provided breakfast, ride Sanford's Downtown Trolley to Walmart, and get paired up with an officer who presents each child a $100 gift card to go shopping. In 2019, the tournament raised over $9,800 benefiting 107 children.
Mayfair Country Club offers some of the most affordable golf in Central Florida. One round and this "muni" will become one of your favorites. Check out Mayfair's social media for their latest unique and fun events, glow golf, happy hour, leagues and more or to book a tee time call 407322-2531.
Mayfair features a mix of mature oaks and pines highlighted with a few water hazards and plenty of bunkers to challenge all golfers.
12 Golf Central • Volume 23, Issue 9
THE WISE CHOICE WHEN FEEDING YOUR TURF NutriWise Carbon Based Bio-fertilizer with a microbial package Improves soil fertility Fixes nitrogen from the atmosphere Solubilizes phosphate and unlocks potassium from the soil Eliminates growth surges Supplies the ecosystem with beneficial microbes ü ü ü ü ü www.PNfertilizers.com 732-888-8000 | info@pnfertilizers.com
Where were you born? Did you grow up there? Huron, South Dakota. Yes.
What do you do for a living? Bartend PGA tournaments, Caddy for The Caddy Girls, and Model.
What would you like to do for a living? Marketing/PR
What golf apparel do you like to wear? Lulumon, Adidas, William Murry
Steak, chicken, or seafood? All the above
What do you find to be the most annoying habit people demonstrate on the golf course? Laying up
Given the choice; would you select love, success, or money to keep yourself happy? Love
What do you fear the most? Being complacent. You should always be challenging yourself to be better.
What three people would you most like to play with in your fantasy golf foursome? Tiger Woods, John Daly, Viktor Hovland
golf bachelorette CrystalCastle
Golf Central • Volume 23, Issue 9 14
Displays of the world's nest automobiles.
ST. PETERSBURG VINOY PARK. SUNDAY, JANUARY 22ND
AWARDS PRESENTATION SPONSORED BY
ST. PETERSBURG VINOY PARK. SUNDAY, JANUARY 22ND. 300+ EXOTIC, CLASSIC & MUSCLE CARS ON DISPLAY. ENJOY COCKTAILS, GREAT FOOD, MUSIC & MORE.
living on the links
By Shane Sharp
The Club at Olde Cypress Reopens 34,000-Square-Foot Clubhouse
Following Final Renovation
The Club at Olde Cypress, one of the most vibrant, active and welcoming private clubs in Southwest Fla., has reopened its 34,000-square-foot clubhouse following the final phase of a major renovation of its interior and on the heels of a full-scale agronomic remastering of its golf course in 2021.
Inside Olde Cypress' clubhouse, Winter Park-based Soco Interiors has transformed the golf shop, welcome area and offices with a contemporary palette of crisp whites, sophisticated grays and layered neutrals with accents of deep blue. The woodwork is painted a cool gray and blends perfectly with new silver and wood-accented pendant lighting and a modern sphere-shaped chandelier. Countertops are adorned with sleek Calacatta stone tops, and display areas for clothing and shoes create a neutral backdrop for displaying the latest fashion trends.
As part of the final phase, new custom mahogany doors were installed to welcome members into the new-look clubhouse. Oversized marble-look flooring and a palette of soft grays, blues, and white set the tone in the clubhouse's bright, open spaces. Two gold-leafed glass
chandeliers in the main hall serve as dramatic focal points, while new upholstered seating and fresh artwork add a contemporary touch. The lighter color scheme continues into the gallery and back hall with gray-toned luxury vinyl-wood plank flooring. New valances in a shimmery fabric contrast these light, sunny spaces.
"We all recognize how fortunate we are to be reopening our beautifully updated clubhouse during a time when the damage wrought by Hurricane Ian still impacts so many people in our region," says Olde Cypress General Manager Ken Lanigan. "As we celebrate and enjoy our new project, our ownership, leadership and members continue to assist our community in its rebuilding efforts."
The clubhouse renovation is part
16 Golf Central • Volume 23, Issue 9
of a multi-million-dollar investment in Olde Cypress by owner STOCK Development. In 2021, the club's P.B. Dye-designed golf course underwent a full agronomic remastering including resurfacing of all 18 greens, practice green and chipping area with TifEagle Bermuda. Tee boxes were also enlarged, leveled and re-grassing with Bimini Bermuda. The installation of a new subsurface drainage system allows for the rapid expulsion of excess water. To complete the project, the course's 98 bunkers were refreshed with new edging, contouring and visually-stunning sand.
In addition to the first floor, the clubhouse upstairs interiors were enhanced and refined. New artwork and accessories mix colorful, contemporary pieces with unique textural elements. The dining and ballroom spaces have been modernized with new lighting and flooring. The library has a lighter look with painted wood architectural details that contrast vividly with the fresh white walls.
The Club at Olde Cypress is the centerpiece of a highly sought-after,
450-acre gated enclave with resale homes ranging from $950,000 to over $2.5 million. Over the past two years, residents and members have flocked to Old Cypress, lured by the 34,000-square-foot clubhouse with fine and casual dining and its highlyregarded P.B. Dye golf course, the famed architect's only design in Collier County. Other amenities include tennis
and pickleball courts, fitness center and pool and a 34,000-square-foot clubhouse featuring both casual and fine dining. The club and surrounding 540-acre gated community are located just minutes from the Naples' famous beaches, world-class shopping on 5th Avenue, and the Southwest Florida International Airport.
17 Golf Central • Volume 23, Issue 9
Olde Cypress Golf Shop
living on the links
By Mike Jamison
Timacuan Golf Club Is Now Private Under New Ownership Group
Since it opened its doors in 1988, Timacuan Golf Club in Lake Mary has operated as a semi-private club, and a very popular one at that. While catering to as many as 200 members at different points during the past 34 years, Timacuan has also welcomed non-members to enjoy the highly ranked Ron Garl layout. Now, that has changed.
Links Asset Trust, a company owned by the principals of Resort Development Partners, a company known for revitalizing distressed private clubs, has signed a 50-year lease to operate Timacuan Club, with the goal of returning it to the standing it earned during its first two decades of existence, while converting the semi-private club to a private club. The company has complete control over all operations while creating the true member experience at Timacuan.
There are still opportunities for non-members to experience Timacuan. For a very limited time only, the new TImacuan Club is offering a onetime opportunity to play Timacuan as a member for a day.  The program provides prospective members a firsthand look at the improvements already taking place over the 18 holes and the facility. Following the round they can enjoy all the clubhouse amenities and learn about more plans for the future.
"We are extremely excited to take over operations at Timacuan, and we are eager to share our vision for the property with golfers all across the region," said W. Douglas White, a Founding & Managing Partner at Links. "We have big plans for the club, the course, and the membership. Timacuan will be THE club Central Floridians want to be a member of. Timacuan was one of the great golf clubs in Florida for many years. It's time to return it to its proper status as a premier club."
"We know that once prospective members play the course and see and hear about all that we have in store for Timacuan, they will want to become a member, "said interim General Manager Ron Carlton. "Our current members saw upgrades right away, and we will
continue to make improvements in specific areas of the golf course and clubhouse as we move forward."
In 2023, plans are to completely renovate the practice facility and the first floor of the two-story clubhouse, with second-floor renovations to follow in 2024.
Membership will provide access to the amenities and other services provided at the newly renovated Timacuan Club. Members also have access to the company's owned and operated facilities in North Carolina, Pennsylvania, Indiana, South Carolina, and Virginia. Members will have exclusive access to all Club amenities. The Club plans to offer golf, dining, and improved member practice facilities.
"The Club offers a non-equity
18 Golf Central • Volume 23, Issue 9
"Member
Day"
Will
For A
Program
Introduce Prospective Members To The Club
membership to persons who desire an unparalleled private club and social experience and are approved for membership on a first-come, first-served basis," said White. "Membership allows use of the Club facilities by the member, his/her family members, and guests subject to the reservation procedures and other rules and regulations."
From the moment it opened in 1988, Timacuan Golf & Country Club was a favorite among Central Florida golfers and tournament directors who wanted a challenging, fair golf course with private club-level service for their players.
The Ron Garl-designed layout hosted prestigious tournaments like U.S. Open Qualifiers, state championships and major junior competitions, and was ranked as high as No. 14 in Florida. U.S. Open Champion Graeme McDowell said of Timacuan: "It is a great layout with a links-like feel to it. It can be testy in places if you get off the beaten path, but it is a very fair course."
But after several ownership and management overhauls, things changed. Course conditioning slipped, revenues dropped, and players and tournaments turned to other courses.
That, however, is changing – and in a very big way.
"I remember when Timacuan was the envy of golf course owners and managers all across Central Florida," said White. "Well, we are going to return Timacuan to those glory days. We will restore this club to the prominent position it earned and occupied not that long ago."
Timacuan joins the portfolio of Links Asset Trust properties under common ownership of Resort Development Partners. The team at Links will oversee all day-to-day operations to ensure a first class member experience.
To find out more about the new Timacuan Club and its membership programs, contact Ron Carlton at 407.321.0010 ext. 255 or via email at GM@golfTimacuan.com.
For more information on Resort Development Partners and Links Asset Trust, visit www.resortdevpartners.com.
Timacuan Golf and Country Club (407) 321-0010 info@golftimacuan.com www.golftimacuan.com
19 Golf Central • Volume 23, Issue 9
The Race for the Globe…
Lydia Ko wins 2022 CME Group Tour Championship, Vare Trophy and Player of the Year
Coming into the final round Lydia Ko was tied at 15 under par with Leona Maguire. They were five shots clear of the field of 60 top LPGA players in the "Race for the Globe."
Maguire took an early lead when Ko bogeyed the first hole on a blustery, misty, overcast day at Tiburon Golf Club, in Naples, Florida.
By the turn, the lead had flipped, with Ko on top by a stroke. Both players made bogeys on the par-5 14th, each finding
the hazard. Shockingly, now other players were coming up in conversation. Anna Nordqvist with birdies on 17 and 18, posted a final-round 67 to get to the clubhouse at 14 under.
Ko realized what she needed to do… and turned on the heat on a very cool Naples afternoon, making birdies on Nos. 16 and 17 pulling two shots clear of the field. Her score of 70 in the final round finished her at 17 under par – 271 total.
"Lydia is truly a class act," said Maguire. "She always is. She was really steady, really solid. She obviously putts phenomenally well, so any time she got
a chance, she took it, and that's what you have to do."
Congratulations to Lydia Ko – CME Group Champion 2022.
Wise
Photos and Story by: Beverly and
Greg
north florida PGA north florida PGA north florida PGA north florida PGA north fl Ladies Professional Golf Association Ladies Professional Golf Association Ladie
Becomes a walk up the 18th fairway, comfortable with the lead and enjoying the memories of an incredible comeback year.
Tending to the Flag
Parjaree Anannarukarn
Golf Central • Volume 23, Issue 9 20
Leona Maguire Kistler celebrates with family on 18
Georgia Hall
Lyia Ko
Anna Nordqvist
Brooke Henderson
Peek a Boo
Lydia Ko on 18
A bite to eat
Benefit St Judes
Go Figure
Nasa Hataoka
21 Golf Central • Volume 23, Issue 9
Bundled Up Volunteering
Shane Rice
Where were you born? Did you grow up there? Ft. White, FL. Yes, I grew up in a small town where everyone knows your name.
Is "acting your age" overrated? Yes it is!! That being said you need to do it in the right situations and when needed.
What do you do for a living? I am a golf course superintendent
What would you like to do for a living? I am absolutely doing what I want to do for a career. I love my job
Aside from golf; what do you prefer for fun and relaxation? Going to a tiki bar on the water, fishing and starting to hunt some.
What golf apparel do you like to wear? Adidas
Tell us something about yourself that only your closest friends know? I don't take most things too serious and would rather be laughing than be serious all the time. Also, I am not a fan of cold weather.
What do you find to be the most annoying habit people demonstrate on the golf course? Taking too much time to hit the ball.
Name the three most important things to you in this world. My family, my dogs and my career.
Given the choice; would you select love, success, or money to keep yourself happy? I think you need all of these to be happy.
What do you fear the most? Not having a family to enjoy my elderly years.
What three people would you most like to play with in your fantasy golf foursome? Tiger, Rory and Hogan
What are some of your great accomplishments? Actually, it will happen in a few months when I get my Class A through the GCSAA.
Relaxed evening at home, or nightclub and cocktails? I'm an early bird so, nights in.
Favorite comedian? Mitch Hedberg
Favorite television channel? I do not watch tv unless I'm watching a game at the bar.
Favorite magazine? Florida Green
Favorite charity to support? The First Tee
What else would you like for us to know about you? I want to start traveling soon. I have been so focused on my career I want to start enjoying getting away when I can. I also want to be more active in visiting my family in South Georgia (when it is warm).
22 Golf Central • Volume 23, Issue 9
golf bachelor
OCCASION
You're invited to experience the spirit of the season with tradition and family. Beginning with a tree arrival ceremony that ushers a colossal Fraser Fir into the Great Hall, The Omni Homestead Resort celebrates the holidays all season long with visits from Santa, bedtime stories by elves, ice skating, cookie and gingerbread house decorating and more.
REMEMBER MAKE THIS SEASON TO AN
OmniHotels.com/TheHomestead 800-838-1766
special events
Sporting Events Attract More Than Spectators
Florida is a mecca for golf tournaments, super bowls, college games, professional basketball, baseball, football, and soccer. All drawing collectively millions of visitors to their gates. This is what makes our economy in Florida thrive with tourist dollars and allows us not to have a state income tax. 100,000,000 visitors a year to this great state share our sunshine and 180 miles of coastline. 80,000,000 of those visitors come to central Florida to visit Walt Disney World, Universal Orlando, the Arnold Palmer Invitational, and everything else we have to offer.
We also attract a very specific group to the greater Orlando area. Human traffickers. The bigger the event the more they thrive. Bringing in young girls ages 12-14 who don't want to be here. They are coerced, forced, and threatened with their lives if they don't perform with whatever their trafficker's demand. Think about it. Do you have a daughter, or granddaughter that age.
Florida ranks third in the nation
in human trafficking behind California and Texas. Orlando is third in the nation in calls to the Human Trafficking hot line in 2021. Third. Scary, isn't it? For many we are not the "the happiest place on earth". Far from it.
In 2021 human trafficking was a 150-billion-dollar industry worldwide only second to illegal drugs. Forty million victims annually around the world are trafficked. It's a staggering number and growing at a rate of 20% a year.
So here are some myths: it's not all illegal aliens coming across the Rio Grande. In fact, 80% are Americans. US citizens. Runaways, aged out of foster care, trafficked by their own families at early ages of 9-12 handed down generation by generation. Kidnapped at malls, major concerts, raves, lured over the Internet in chat rooms and groomed. Some of the social media sites are well known as Bumble and Snapchat but there are many that take you your kids to the dark web like Best
Secret Folder, Calculator%, Whisper etc. All of these have traffickers lurking like they are someone else. Ready to engage your children.
I am the current Board Chair of a 10-year-old charity called the Lifeboat Project. We help survivors with the healing process by offering free housing, mental health counseling, clothing, food, education for them and their children, and assistance getting back into the workforce when ready. Currently we are focusing on mothers and children because no one else in Central Florida does.
November 17, we completed our second annual event called 'Yacht Rock Night" sponsored by IHEART Media, Clear Channel Outdoor, Advent Health, Park Jewelers Lake Mary, Audi North Orlando and 5/3 Bank. We raised over $100,000 and it all goes back to the survivors and their needs.
If you would like to get involved, go to our website www.thelifeboatproject.org or contact me directly at ed@thelifeboatproject. org. You will be glad you did.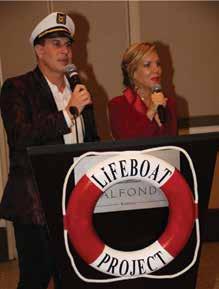 24 Golf Central • Volume 23, Issue 9
By Ed Gilbert
Chad and Leslye from Magic 107.7 co-hosting Yacht Rock Night at the Alfond Inn to fight human trafficking
Connie Gilbert, Gail Bittman Board Chair of the Sharing Center and Mike Bittman from Nelson Mullins
State Representative Ana Eskamani with Ed Gilbert and Kathy McLain from the Lifeboat Project at Yacht Rock Night
Jill Cohen Founder and CEO presents Know The Hero Award to Tatiana Malcolm from Publix
A FEELING LIKE NO OTHER ® ©2022 MGM Resorts International ® . All rights reserved. Must be 21. Gambling problem? Call 1.888.777.9696. The South's premier MGM Resort offers world-class dining, upscale shopping, a nationally-ranked spa and salon, a PGA TOUR Champions golf course, a luxurious pool overlooking the Mississippi Sound, and endless gaming excitement and action. PLAN YOUR VISIT AT BEAURIVAGE.COM OR CALL 1.800.805.4425
6th Annual Playing for a Cause – Golf Classic
We are very proud of the dedicated supporters and golf committee members that worked hard to raise awareness of those faced with gynecologic cancer and funding to advance needed research. Our host course, Mission Inn Resort had the course ready for the day and provided a great dinner. Each player started their day with a very cool shopping spree in the Mobile Proshop provided by Professional Golf Events. Many of the players were part of the Bay Area Golf Network, and we are very appreciative of their promotion of the Golf Classic. Golf Central Magazine
was a big partner with their 3 teams in this year's event and auction items.
Of our Team Sponsors, Catherine Rhodes of Realty Executives was the winner of the "Teal Shoe" Award. This award is for the team with the most donations for their team. Our fundraising will once again go to AdventHealth Cancer Institute for their gynecologic cancer research programs. For information on how you can get involved in next years event, please contact Dave Walker or Jeff Picacchia with Professional Golf Events. professionalgolfevents.net
26 Golf Central • Volume 23, Issue 9
27 Golf Central • Volume 23, Issue 9
Courtney Staup Team Ingalls
Eric Derham
Catherine & Lisa
Team Corbo
carolinas golf central
A Classic Carolina Creation
For golfers searching for a distinct coastal golf experience, they will be challenged to find a better venue than the Rivers Edge Golf Club, located in the Brunswick Isles area of North Carolina.
Rivers Edge -- PlayRiversEdgeGolf.com; 910-755-3434 -- is a golf course that will most certainly find a spot in your top-ten list. This par-72 Arnold Palmer design actually overlooks the nearby tidal basin of the Shallotte River, which impacts play on seven holes, while marshland, ponds, streams, and lakes influence play on another nine holes.
"At Rivers Edge, no two holes are the same and the stretch along the Shallotte River was done in such a way that to replicate it today would be difficult, if not impossible," notes Dan Miller, head golf professional at Rivers Edge. When playing the seven holes along
the Shallotte River, take time to admire the beauty of what Mother Nature has created. It's a key part of the golf experience at Rivers Edge, where you will also see osprey, turtles, fox squirrels, and the occasional alligator. At Rivers Edge, the first four holes are inland, but water impacts play on each hole. At the 5th hole, a short par three, you'll see the Shallotte River for the first time. Your tee shot on the 5th is a 100 percent carry from tee to green. After disappearing into the countryside for the next two holes, you'll re-emerge into the tidal basin for the last two holes of the opening nine. The 8th is a splendid downhill par three with the tidal basin behind the green. The par-five 9th is the only hole at Rivers Edge with a name: Arnie's Revenge. The 9th features two shots over water with a narrow approach to a peninsula
green bordered by the tidal basin on three sides. When played into a breeze, the degree of difficulty for Arnie's Revenge increases. If you play the hole too conservatively, you can easily get a double bogey. If you play the hole too aggressively, your score might soar. Securing a par or better at Arnie's Revenge is a worthy achievement.
"With the tidal change throughout a day, it is not odd to see different aspects of river life during your round," adds Miller. "What the design may lack in overall yardage, it makes up for in course strategy.  Each hole offers a safe route or a risk/reward that can be chosen by the player. Rivers Edge is definitely a place that allows multiple play without getting bored."
After playing the front nine, you'll discover that the back nine at Rivers Edge might be even better. The first highlight of the inward half is your approach shot to the par-five 11th hole. The last four holes are also fun to play as they are flanked by water on the right. The views across the Shallotte River, while playing the last four holes, are worth the price admission, as they say. On the 17th, Palmer utilized the breeze, an uphill tee shot, and a crescent-shaped fairway to build a terrific par five that actually measures less than 500 yards from the tips.
Rarely will you find a coastal golf course that finishes the front and back nine in such a profound way. If you have an up-and-down day at Rivers Edge, but secure a par at Arnie's Revenge and finish strong on the last four holes, your Rivers Edge experience will be a success and one worth repeating, time and time again. The Rivers Edge Golf Club awaits your arrival.
28 Golf Central • Volume 23, Issue 9
By Mike May
18th Green With Shallotte River and Tidal Basin in Background
18th Hole Tee to Green
29 Golf Central • Volume 23, Issue 9
9th Green from Fairway– Arnie's Revenge
View of 8th Green from Tee 5th Hole Tee Shot to Green
Clubhouse from 9th Green– Arnie's Revenge
Clubhouse from behind the 9th Green– Arnie's Revenge
caribbean golf central
The "Dawn" of a New Day…
The mystical and romantic name "Aurora" is defined in the Latin dictionary as the Dawn… a new beginning.
What a truly fitting name for the "reimagined" Aurora Anguilla Resort & Golf Club. Following a multi-million-dollar renovation, Aurora Anguilla Resort
& Golf Club (formerly CuisinArt Resort) formally reopened earlier in 2022 and is now managed by Salamander Hotels & Resorts. Resort Owner and a true visionary, Richard M. Schulze teed up the
first shot on Avalon Links. This launched Anguilla's latest attraction – a world-class short course with stunning views of Rendezvous Bay.
In front of celebrities, dignitaries, friends, family and members, Schulze officially opened the nine-hole Avalon Links, which was designed by Greg Norman Course Design.
Featuring eight par three holes and one par four, the course opens with panoramic views of the Caribbean Sea and the course unfolds with a variety of shot angles, distances, and carefully integrated design elements to make it playable and fun for accomplished and novice golfers alike.
The new experience complements Aurora's already-acclaimed 18-hole
Golf Central • Volume 23, Issue 9
Photos and Articles by Greg
Wise
View of Aurora Anguilla from Rendezvous Bay
30
View of Avalon Links and Aurora International with St Maarten in the background
International Course, also designed by Norman and recently reopened after significant improvements.
Schulze further plans to improve the Aurora Anguilla experience with the addition of an activity park featuring a 500-seat amphitheater for live entertainment, the reopening of island favorite Tokyo Bay restaurant, and the launch of a new charter flight service from Westchester, New York, on December 22 to make it easier to connect to this amazing resort.
Honoring the natural beauty of Anguilla, Avalon Links is perfect for both golfing enthusiasts and non-golfers. Located within the boundaries of the International Course, it is challenging enough for experienced golfers who are looking for a quick round, while also those who wish to spend some quality, fun time with family and friends.
The idea for a short course arose on a tour between Schulze and Norman and both agreed that the conditions of the place lent themselves to create something unique. The first hole begins with panoramic views of the Caribbean Sea and unfolds with a rich variety of tee shot angles, distances and carefully integrated design elements, including white sand belts and large areas of grass to make it playable and fun for beginners. Water features and a double green provide elements of excitement, and a short Surrounded by turquoise waters
31 Golf Central • Volume 23, Issue 9
Aurora International–Championship Golf Course
Future expansion of Aurora Angilla Resort
New Short Course–Avalon Links
Owner Dick Schulze hits the first tee shot on the new Avalon Links short course
and the shimmering sunsets of the island, Aurora Anguilla offers ocean view Island Suites with wraparound terraces and private Jacuzzis. For larger groups, the resort also has stunning three and five-bedroom villas, as well as private 6,300-squarefeet Estate Homes that include a dedicated butler and private pool.
The resort is totally becoming selfsufficient… even boasting its own Hydroponics Farm, where the vegetables are grow fresh in climate controlled conditions. Talk about "Farm Fresh… right to the Table," you will find it here.
Probably the most surprising part of this resort is the very people that make your stay the most enjoyable place you have ever been. The entire staff believe in the moto and carry it on their name badge, "One Team, One Dream." Learning even more about Mr. Schulze, his mission is to create the ultimate Family Resort with the friendliest staff in the world… and he is on his way to make this dream a true reality.
It is time to book your next adventure/vacation to this island paradise, Aurora Anguilla Resort & Golf Club. www.auroraanguilla.com.
32 Golf Central • Volume 23, Issue 9
Dick Schulze speaking about his dream
Beautiful ground around the core of the resort
Hydroponic Garden means Farm to Table Fresh
The Tranquil Sunrise of the New Beginning
www.makefieldputters.com HOLIDAY SALE 12/24 – 12/31 PROMO CODE: HAPPYHOLIDAYS2022 10% OFF FREE ENGRAVING! FREE SHIPPING! *GIFT CARDS AVAILABLE* Makef ield Putters Most Innovative New Club Technology – PGA Show 2022 Roll into the Holidays!
Consumer Brand, Retail Icon Mindy Grossman Backs NBTV Channels, New Golf Nation Channel
Consumer brand and retail icon Mindy Grossman is the latest notable executive to invest in and advise on NBTV Channels, producer of the new Golf Nation entertainment channel featuring in-video shopping and scheduled to sneak-peek on December 5.
She joins NBTV Channels backers Mark Bezos (High Post), David Nichols (former President of K-Swiss), John Esposito (Chairman of Whistle Pig and former CEO of Bacardi North America), and other family offices and venture funds.
Grossman is currently a Partner at Consello, an advisory and investment
firm. Previously, she was CEO of WW International (Weight Watchers) in partnership with Oprah Winfrey, CEO of HSNI, parent company to Home Shopping Network and a portfolio of catalog and digital brands, and an executive with Ralph Lauren and Nike. A five-time selection on "Forbes 100 Most Powerful Women" list. Grossman ranked No. 22 among Fortune's "Top People in Business." She is on the Board of Directors of Fanatics, Inc., the leading global sports platform.
Golf Nation is the first and only producer of original golf-lifestyle shows with the ability for viewers to instantly purchase items via an on-screen "buy bar" while never
leaving the screen. Each episode is commercial-free and five to 30 minutes while specials may be longer.
"The future of direct-to-consumer shoppable video commerce, anchored by NBTV Channels' technology, is here and now," says Grossman. "Golf Nation's curated golf-lifestyle programming gives viewers entertaining reprieves from traditional golf shows. It also allows brands to build audience, create engagement and generate sales tied to immersive content and commerce."
Referred to as "Netflix Meets Home Shopping Network," Golf Nation shows are free to watch on GolfNation.com. In early 2023 Golf Nation will be available
34 Golf Central • Volume 23, Issue 9
what's new
Suzy Whaley
Nick Buzzell
Mindy Grozzman
via mobile app, connected-smart TVs, Apple TV, Android, Fire TV and Roku.
Golf Nation sneak-peek series include:
• Ambush with David Feherty
– Hidden camera hijinks
• Don't I Know You? – Golf's "Newlywed Game;" first episode with Zach & Kim Johnson
• Golf Unseen – Adventures to exotic golf courses with cultural experiences
• No Judgment – Three female friends from Grueter Golf breaking down golf's barriers
• Tee Shots – Drink, chat, swing, repeat hosted by famous mixologist Bill Binder
• Versus – Golf influencers compete head-to-head
• Watch. Buy. Play. – Hottest golf products on the planet
Golf Nation follows NBTV's Spirits Network that often sells out products inside "Cocktail History," "Tales From the Cask," "Sipping Point" and "Science of Spirits" and other series of shows. Surveys show more than 60% of Spirits Network viewers count golf as a passion.
"Mindy Grossman, her fellow investors and our immensely strong leadership team are behind the first-class production of entertaining golf-lifestyle shows, many involving established and emerging celebrities," says Nick Buzzell, Chairman and CEO of NBTV Channels and NBTV Studios. "Brands are already partnering with Golf Nation to sell their products via a 'buy bar' on screen."
In March, Suzy Whaley was named
President of Golf Nation. The first female President of the PGA of America, she is also a Master PGA Professional, one of only a handful of women to play in a PGA TOUR event and commentator on ESPN and Sirius XM coverage of Tour events. Whaley oversees Golf Nation's industry relations, brand involvement and show ideation.
Golf Nation's arrival aligns with golf participation up more than 20% the past two years and retail sales experiencing a 57% lift, driving the $84B annual golf economy. Connectedsmart TVs reached annual highs of 223.3M viewers and $18.9B in ad sales. More information: www.golfnation.com, info@golfnation.com.
35 Golf Central • Volume 23, Issue 9
P E R F O R MA N C E SU N W E A R
Transitions and the swirl are registered trademarks and Transitions Adaptive Lenses is a trademark of Transitions Optical, Inc. ©2012 Transitions Optical, Inc. transitions.com
On the PGA TOUR®, vision is a golfer's most important equipment. Transitions lenses adapt to changing light to help golfers see more comfortably in all light conditions and help protect eyes from the sun's harmful UV rays. Visit your local Vision Source doctor, Dr. James Podschun, located at 2828 Casa Aloma Way, Suite 400 in Winter Park, FL 32792, to ask which Transitions lenses are right for you. 407-671-0960
www.TurfLife.club Come see us at the PGA Show booth #3516
Kenny Perry and Trevor Immelman have made Transitions® lenses part of their game.
georgia golf trail
Q&A With Doug Hollandsworth (Founder–The Georgia Golf Trail)
Golf Central Magazine: When did it occur to you to create The Georgia Golf Trail?
Doug Hollandsworth: I first thought of creating The Georgia Golf Trail in 2008 because of my associations with other golf courses around the U.S. Some of them were better than others and I knew Georgia needed to better promote itself to the golfers in the U.S. and around the world.
Golf Central Magazine: Why did you create The Georgia Golf Trail?
working with many of The Georgia Golf Trail members for years so I went around and talked to them about this and literally every one of them wanted to be a part of it. I'm not sure which one actually came on first, but it was very nice to see that Georgia's resorts, hotels, and golf courses knew that this was going to be a great idea and wanted to be a part of it.
Golf Central Magazine: What kind of feedback have you received over the years from members of The Georgia Golf Trail that confirm the economic impact and value of The Georgia Golf Trail?
As we approach the end of 2022, it marks the end of the 10th year of the existence of The Georgia Golf Trail (GGT), which is the brainchild of Georgia native and veteran golf media/marketing specialist Doug Hollandsworth. Given this historic milestone in golf in Georgia, Golf Central Magazine editor-in-chief Shannon Coates sat down with Hollandsworth and peppered him with 10 questions about The Georgia Golf Trail in order to find out what prompted him to create such an entity and to check on the state of the GGT as we move into 2023 and beyond.
Doug Hollandsworth: Georgia has so much to offer travelers, visiting golfers, corporate groups, and families. I knew we had the best golf tournament in the world, that being the Masters in April in Augusta. But, I wanted to create something in golf that showcases everything that Georgia has to offer -- from the mountains to the sea – throughout the year and not for just one week in April.
Golf Central Magazine: Which was the first course to jump on board and support your idea of The Georgia Golf Trail?
Doug Hollandsworth: I have been
Doug Hollandsworth: Over the years, I have told the members that this was going to take a while as we were way behind other states which had established their own golf trail and what they had done to promote golf in their regions, but I think each one of them has seen what we have been doing for them each month every year. Gradually, they started seeing the economic impact of The Georgia Golf Trail. Without a doubt, membership with The Georgia Golf Trail has its privileges and benefits.
36 Golf Central • Volume 23, Issue 9
Doug Hollandsworth on the set at WTOC-TV in Savannah.
Doug Hollandsworth playing golf at the Jekyll Island GC.
Doug Hollandsworth with Bobby Jones IV, the grandson of the great Bobby Jones.
Golf Central Magazine: Who are your main supporters, sponsors, and allies -- both in the private and public sector -- of The Georgia Golf Trail?
Doug Hollandsworth: Right now, in the private sector, Bridgestone Golf, which is based in Georgia, is a key supporter of The Georgia Golf Trail. It's great to have a globally known and respected golf brand from Georgia showing support for The Georgia Golf Trail. In the beginning, the Georgia Department of Economic Development/Tourism Department was who I went to speak with and they thought it was a great idea. Then, the Georgia Department of Natural Resources/State Parks came on board. I was friends with Bobby Jones IV, the legendary golfer's grandson. I want to thank him for his thoughts as he was a big supporter of the GGT from the outset.
Golf Central Magazine: If there's a golf venue that wants to join The Georgia Golf Trail, what can it expect in return from joining The Georgia Golf Trail?
Doug Hollandsworth: The Georgia Golf Trail looks for quality places across Georgia from hotels to golf courses to resorts where we can best promote Georgia. We are not looking for quantity we're looking for quality Georgia has some of the best golf courses and resorts anywhere in the country and the story has never really been told so over these last 10 years we have made big strides into getting the word out across the world not just here in United States.
Golf Central Magazine: Are there plans to expand membership of The Georgia Golf Trail to include restaurants, historical venues, and tourism destinations?
Doug Hollandsworth: Right now, we are looking into expanding The Georgia Golf Trail in different regions in Georgia. There are a lot of places across the state that we would love to have a partner where we can promote tourism in that area of the state. We are always looking for new venues, like restaurants, attractions, and things that people would love to know about when planning a trip to Georgia.
Golf Central Magazine: What
kind of support does the GGT get from its many media partners and supporters that help you tell the story about The Georgia Golf Trail?
Doug Hollandsworth: We're very fortunate to have many media partners who want to help us tell our story. Whether it is in radio, magazine, television, or social media, we mainly promote Georgia across the eastern United States, but also we look to other parts of the world to promote Georgia as we get a number of golfers from overseas that come to the United States to play golf.
Golf Central Magazine: What are some of your more memorable moments along The Georgia Golf Trail during the last ten years?
Doug Hollandsworth: I would have to say some of our more memorable moments have been working with the state of Georgia Departments of Tourism, Natural Resources and Agriculture to help us showcase what all Georgia has to offer. Working every day with our members from North Georgia to Jekyll Island creates my many memorable moments, there are really too many to even remember. It has been a great ten years, but we have a lot more to do and we are very excited about continuing to tell our story about Georgia.
Golf Central Magazine: Based on the growth of The Georgia Golf Trail during the first ten years, where will The
Georgia Golf Trail be after 20 years?
Doug Hollandsworth: We're very excited to be doing this now for 10 years and we would like to expand The Georgia Golf Trail to include other things across Georgia that can help Georgia financially with tourism, but also grow our awareness programs across the world. There are so many things that we can do, with golf acting as a catalyst. Our website – GeorgiaGolfandTravel. com – gives you great information about
37 Golf Central • Volume 23, Issue 9
our current members.
David Zelski (Host of the TV Show A Fork in the Road) interviewed Doug Hollandsworth at the Creek at Hard Labor State Park.
Doug Hollandsworth at Stone Mountain Golf Club within the Stone Mountain State Park.
PGA Tour PGA Tour PGA Tour PGA Tour PGA Tour PGA Tour PGA Tour
north florida PGA north florida PGA north florida PGA north florida PGA north fl PGA Tour
VICTOR HOVLAND
VICTOR HOVLAND
Almost As Much Fun As The Real Thing!
Norwegian repeats as champion of the 2022 Hero World Challenge
Norwegian repeats as champion of the 2022 Hero World Challenge
orway's Victor Hovland, age 25 and tenth in the Official World Golf Rankings, went back-toback winning the 2022 Hero World Challenge, December 1-4, at Albany Golf Club in New Providence, Bahamas. He is the first player to do that at the HWC since Tiger Woods in 2006 and 2007.
NNorway's Victor Hovland, age 25 and tenth in the Official World Golf Rankings, went back-toback winning the 2022 Hero World Challenge, December 1-4, at Albany Golf Club in New Providence, Baha mas. He is the first player to do that at the HWC since Tiger Woods in 2006 and 2007.
Last year Hovland denied Collin Morikawa from becoming World No. 1 and this year he did the same thing to Scottie Scheffler.
Last year Hovland denied Collin Morikawa from becoming World No. 1 and this year he did the same thing to Scottie Scheffler.
As he entered the tournament, Hovland was not certain about his game. Here are some of the changes he made that led to his victory.
As he entered the tournament, Hovland was not certain about his game. Here are some of the chang es he made that led to his victory.
Q: When you came into the same place five days ago, you were not too sure about your game. You
Q: When you came into the same place five days ago, you were not too sure about your game. You
had played well, but not played well enough as you said. What changed in these five days?
had played well, but not played well enough as you said. What changed in these five days?
A: So one example that I was struggling with was that I was spinning the ball a lot and if I hit a full shot, my face would turn to shut and I would just kind of hit pull draws, which is not good if you're trying to hit pull cuts all day. So what I ended up just basically doing was I just kind of chipped everything. I felt like I was going to have a Tommy Fleetwood kind of finish, if you will, because I know where that's going to go. Frankly, it helped in the left-toright winds because I can just kind of hit that pull draw up against the wind and it will come back. And on the right-to-left winds, well, I either have to aim it pretty far right or I just have to lean the shaft really
A: So one example that I was struggling with was that I was spinning the ball a lot and if I hit a full shot, my face would turn to shut and I would just kind of hit pull draws, which is not good if you're trying to hit pull cuts all day. So what I ended up just basically doing was I just kind of chipped everything. I felt like I was going to have a Tommy Fleetwood kind of finish, if you will, because I know where that's going to go. Frankly, it helped in the left-toright winds because I can just kind of hit that pull draw up against the wind and it will come back. And on the right-to-left winds, well, I either have to aim it pretty far right or I just have to lean the shaft really
Q&A
Golf Central • Volume 23, Issue 9
38
Q&A
hard to make sure that that face doesn't turn over. That's just like how I figured out how to play golf this week.
Q: I saw you practicing AimPoint in putting. Do you feel this contributed to your good round and your ultimate victory?
A: Yeah, so when I first started working with my coach, Jeff Smith, he came to Karsten Creek where I practice and we just went out and played a few holes. He just watched me putt a couple out on the course and I would misread 15-footers by
probably two feet, and I would hit good putts. My reading ability was just really, really bad. It was at a golf course I play at every single day I'm home, so I should know the greens. And he had some experience with AimPoint, so he basically said, OK, you need to really learn this. So the rest of the nine holes he just basically read the greens for me, told me where to aim and I just started making everything. So that really kind of clicked in my head that, OK, I really need to master this. Obviously, it's not a perfect system, I'm not going to make every single putt, but it gives me a framework to where I
can trust that read and most of the time it's going to be close. So what I do every single -- what you saw on the practice green, I just kind of get some tees up, hit short putts, get the level out just to make sure that my feet of calibrated, yeah, and then ready to go.
Q: You just said a little bit ago it was a lot more stressful than I thought it would be. But you handle stress well. When you get in these situations, it doesn't seem like you're necessarily looking stressful. How do you handle it and what's the mindset?
A: Yeah, I've obviously been in this situation a little bit more than when I first came out on Tour, so I think the more you put yourself in that situation, you're going to handle it better. I think just kind of throughout my childhood, not to -I've had a very good upbringing, but it's, you know, whether it's getting -- taking the bus to school with a golf bag and my books and gym clothes and it's packed on the bus, I've got to stand there for an hour to school and then back home and then to practice, I think those little things just makes you a little bit tougher. Growing up in Norway, it's not necessarily great for golf and I think you have to just make do with what you have. I think those things just build character a little bit and makes you handle stress a little better than, you know, if you just had everything on a silver platter.
(Hero MotoCorp, the world's largest manufacturer of motorcycles and scooters, made its global debut with the brand's first electric vehicle (EV) , VIDA, at the Hero World Challenge. Hero has been the title sponsor of the event since 2014.)-76
Tiger takes dead aim at the floating target in the pond between the 9th and 18th greens during the "Hero Shot" exhibition event at the 2022 Hero World Challenge.
39 Golf Central • Volume 23, Issue 9
Golf Boom Fading? Fear Not With Help From The Experts
At this point, it is well documented that the golf industry was one of the only things to that might have actually benefited from the COVID-19 pandemic. Rounds were way up, equipment sales saw record highs across virtually all categories and private clubs experienced one of the biggest booms in membership growth this century. While the latter has probably received the least press and attention, the health and well-being of private clubs is a vital part of the golf industry in the United States. With that in mind, we wanted to talk with the experts to better understand the current state-ofaffairs and provide some best practices that private clubs can use to navigate their own membership growth.
Time to meet the experts. Capstone Hospitality was founded in 2009 by former professional golfer Brian Friederichs. The firm's talented team works with private clubs across North America to drive membership sales by delivering a customized sales plan, renewed energy and competitive spirit. Capstone Hospitality has gained valuable industry knowledge in a diverse range of markets while working with clubs in golf, boating and beyond. The company's goal is simple – drive membership growth and set clubs up for long-term success. On average, client clubs enjoy a 407% increase
in initiations sold after one year of partnering with Capstone. In short, they have an impeccable track record and offer multiple services to develop and drive sales for clubs of all sizes.
We asked Friederichs about what he felt were the top things private clubs need to be thinking about when it comes to attracting members. Here's what he told us:
1. COVID's Impact: Clubs around the country have benefited from renewed interest in golf, however, thinking the COVID generated uptick in membership is the new norm is a recipe for disaster. We've partnered with more than 70 clubs and can say for certain the number of organic incoming leads for
2022 is already dipping substantially year-over-year, in all regions. This is a natural reaction to the market, rising inflation and the fact that for the first time in two years people are traveling, attending sporting events and exploring hobbies other than golf. Don't panic though, there are ways to keep the membership pipeline very healthy, you just have to work hard and take a proactive approach.
2. Devoted Sales Staff: When our team is brought in to analyze a club's current membership practices the No.1 issue we see is that they don't have a sales staff dedicated solely to growing members. Membership Directors and General Managers are at times overwhelmed by wearing too many hats. Although important tasks, they get bogged down in other areas such as member relations, communications/newsletters, billing questions, operations, events/ catering, etc. With all of this on their plate, it's easy to see why there is a lack of strategic outreach to potential new members and thus, no long term and sustainable pipeline. At Capstone, we provide our clients with a highly trained sales professional who implements our proven lead generation systems and stays hyper focused on selling memberships all day.
3. Not Enough Lead Generation:
This goes hand-in-hand with No.2, but without qualified leads a club simply can't reach its full potential when it comes to growing membership. Finding the right individuals and families to join your club is the only way to
40 Golf Central • Volume 23, Issue 9
golf business
Biltmore
Marsh Landing
create long-term health. To do this properly, you need to get out into the community and understand the needs of potential members. What value does your club provide them? What are the most common hurdles they see in becoming a member, and how do you overcome them? Are you even talking to the right people? In short, if generating qualified sales leads isn't a priority, it needs to be. Our approach at Capstone not only includes the dedicated staff member utilizing our lead generation system, but also having a team behind the scenes focused on driving leads to the club through creative and digital marketing. Leveraging technology and understanding the best ways to reach potential members will pay massive dividends.
4. Capital Investment: Golf Digest
recently wrote a piece about private clubs spending huge sums of money to upgrade their facilities and add new amenities. There isn't anything wrong with investing in your club, but doing so recklessly and not properly saving and stacking capital resources could definitely backfire. As we've already discussed, the boom from COVID was very real, but it's waning. Clubs who burned through their profits on fancy amenities might have been a little shortsighted about the future. Don't get me wrong, you may need to spend on the areas that will attract the types of members you're seeking – young families, retiring boomers, etc. – just be safe about it and consult an expert on when you should spend and when you should save.
5. The Waitlist: With increased demand and pressure on operations, at times, a waitlist or forced attrition may be necessary. As with everything, there is a right way and wrong way to go about this.
• Audit: The first thing a club should undertake is a full membership audit to ensure all members are paying appropriate dues for their level of access. Many clubs offer different categories of membership – seasonal, preview memberships, group memberships, etc. In many cases, members who fall into these categories have the same access as full dues paying members, so there might be an opportunity to raise dues on select categories and collect an initiation or upgrade fee. This will either force attrition and make way for more full dues paying members, or the members from these subcategories will decide they want to stay, which will result in a nice capital injection.
• Waitlist Strategy: Once the audit is complete, establishing a waitlist strategy will continue to allow the club to capture new members. These will vary from club-to-club but should include at minimum: pricing and marketing strategies once on a waiting list; level of access to the club (if any) while on a waiting list; and the refundability or nonrefundability of a waitlist deposit.
• Selling / Lead Generation: Selling and marketing a waitlist to prospective members requires a different style –one that is much more advanced. We strongly recommend a seasoned pro who understands the dynamics be at
the helm to truly maximize potential.
• Waitlist Management: To keep people on the waitlist engaged with the club, the list must be worked regularly. Check in with them periodically, occasionally invite them out to the club and keep them interested. Capstone has built out and sold waitlists successfully at multiple client clubs. We have clubs with two+ year waitlists and are still actively selling. If done appropriately, with a laser focused approach, a club can set itself up for true, long-term financial stability.
Capstone Hospitality has partnered with over 70 private clubs throughout North America, helping them experience tremendous growth and financial stability through their proven methods and cutting-edge technologies. The process starts with a full and complimentary analysis of a club's facilities and membership strategies, followed by the creation of an in-depth plan that addresses unique goals and needs. Next, a member of Capstone's sales team seamlessly integrates into the club's cultural fabric, executing on the customized strategic plan. This hands-on approach ensures that staff knows a client's business inside-and-out and can adjust tactics as needed.
To learn more about Capstone or contact them about setting up a complimentary analysis of your club, please visit www.capstone-hospitality. com, call 904-853-6609 or email info@capstone-hospitality.com.
41 Golf Central • Volume 23, Issue 9
Pensacola Country Club
young guns
CGX Camps Showcase Ivy League Golf to Junior Golfers
College Golf Experience and Ivy Golf Institute combine to bring a new camp program to Mission Inn Resort
As golf's popularity continues to expand, one of the fastest growing segments in the industry is juniors. Over the past three years, the number of junior golfers has risen 25 percent to more than 3.1 million, according to the National Golf Foundation. That growth includes an increase in the number of competitive playing junior golfers -leading to unprecedented competition for college golf scholarships, recruiting
among college golf coaches, as well as juniors and parents trying to get noticed by coaches.
Joshua Jacobs, a junior golf industry veteran and entrepreneur who founded TGA Premier Golf, one of the industry's largest youth golf programs, recognized there was an educational and experiential opportunity to help junior golfers and their parents learn about college golf and the recruiting process, while engaging directly with college coaches.
In June 2021, Jacobs launched College Golf Experience (CGX) with the exclusive endorsement by the Golf Coaches Association of America (GCAA). CGX was born with a vision to deliver education-based camps for boys and girls ages 11-18 that provide eye-opening networking experiences between juniors, parents, and college golf coaches.
The specialized camp company has run 26 camps to date including three camps exclusively for Ivy League coaches. CGX camps include Institutional (Elite) Camps with single schools, Preview Camps prior to junior tournaments, and Showcase Camps
that feature multiple college coaches from regions or specific conferences. By the end of 2022, CGX will have worked with over 100 coaches, and anticipates working with 325 coaches in Division I, II, III and NAIA across 75-100 camps in 25-30 states in 2023.
"In every other sport, 20 to 30 percent of the recruiting process and the education to getting to the collegiate level is centered around camps. That holds true for team and individual sports," said Jacobs. "We quickly became aware that there was a lack of education among parents and players about college golf across the various divisions and programs, the path to playing at the next level. When you couple that with coaches looking participate or host their own camps, there's an opportunity to create an ecosystem similar to the high-level junior tournament landscape, except with camps."
One of CGX's coaching partnerships here in the Northeast is with the Ivy Golf Institute (IGI), a series of educational junior golf camps hosted exclusively by Ivy League coaches. Camps are designed to offer insights for
42 Golf Central • Volume 23, Issue 9
Erika DeSanty, Head Women's Coach of Princeton University, instructing at the Ivy Girls Camp at La Costa Resort in Carlsbad, CA
junior golfers and their parents on playing college golf in the Ivy League. Together, IGI and CGX are creating a new pathway to playing college golf in the Ivy League in an educational, immersive, and fun setting at various locations across the country throughout the year.
CGX has already held successful camps with the Ivy Golf Institute. A Boys and Girls Winter Ivy Camp will be held at Mission Inn Resort and Club in Howey-in-the-Hills, Florida on Jan. 7 –8. CGX also has more camps planned in Florida over the next 12-months.
"The partnership between Ivy Golf Institute and CGX is reshaping the camp model for junior golfers interested in playing at elite academic institutions," said Erika DeSanty, Head Women's Golf Coach, Princeton University. "Representing nearly every golf program in the Ivy League, we are determined to build meaningful connections with all participants and their families, while supporting and guiding them
as they embark on one of the most crucial decisions of their golfing lives."
Players attending Ivy Golf Institute Camps participate in simulated on-course college golf practice and tournament rounds. Players and their parents will also attend education seminars led by the coaches on college golf in the Ivy League, the recruiting process, course management and strategy, in additional to experiencing real-time feedback on their games via skill assessments and challenges similar to what coaches work on with their teams.
"In partnership with the Ivy Golf Institute, we are striving to teach, motivate, and inspire players, while supporting these highly academicallyminded families with the tools to help them find their fit in college golf," explains Jacobs. "Our Ivy Camp series has been an exciting opportunity to create transformational experiences for juniors and their parents with
esteemed coaches from America's most prestigious institutions."
The coaches attending the Ivy camps:
Ivy Boys Winter Camp – Dartmouth Men's Head Coach Rich Parker, Columbia Men's Head Coach Rich Mueller, and Penn Men's Head Coach Clay White.
Ivy Girls Winter Camp – Yale Women's Head Coach Lauren Harling, Dartmouth Women's Head Coach Alex Kirk, and Penn Women's Head Coach Mark Anderson.
"CGX is a first-class operation driven to educate junior golfers about college golf while also leveraging a unique partnership with Ivy League schools. I'm incredibly honored and excited about working CGX camps and sharing my experience," said Rich Mueller, Head Men's Golf Coach, Columbia University.   To learn more about CGX or to register for the Ivy Camp or other CGX camps coming to Florida, visit: https:// collegegolfx.com/camps/#upcoming.
43 Golf Central • Volume 23, Issue 9
Joe Louis Barrow, Jr. honored with First Tee's Inaugural Lifetime Achievement Award
First Tee celebrated its 25th anniversary this week with a Network Summit in Dallas that was capped off with a big honor for retired CEO Joe Louis Barrow, Jr. PGA TOUR Commissioner Jay Monahan and former Commissioner Tim Finchem presented the award to Barrow, who led the nonprofit organization from 2000 to 2017.
Barrow combined passion, enthusiasm and empathy as he led First Tee through a time of incredible growth. Under his leadership, First Tee expanded its network of Chapters, which now stands at 150. The organization also launched its School and Community Programs, which serve millions of kids who may not have access to a golf course.
"While at First Tee, Joe was appropriately called the "Chief Evangelist" because he was always sharing a great story about the impact First Tee had on a particular young person," said Monahan, who also serves as Chair for the First Tee Board of Governors. "Joe led with many strengths, but perhaps his greatest was ensuring that the kids remained at the heart of every decision."
Barrow was CEO when First Tee launched its first national participant event, the Life Skills and Leadership Academy. In 2021 the event was renamed the Game Changers Academy Honoring Joe Louis Barrow, Jr. and evolved to address challenges teens face in their daily lives including social justice issues and diversity, equity and inclusion – topics near to Barrow's heart.
Barrow took on his role as CEO while First Tee was in its infancy. The nonprofit – which teaches life skills through the game of golf – was first announced by Finchem and other leaders from the golf industry at a Central Park press conference on Nov. 13, 1997. A quarter century later, the organization has served millions of kids.
"I am truly humbled by this
recognition," said Barrow. "And I am deeply proud of the positive impact First Tee has had over the years. It wouldn't have been possible without my dedicated colleagues, the coaches and Chapter staff, and supporters who believed in our mission."
The Lifetime Achievement Award was one of several awards First Tee presented in Dallas during the organization's Network Summit held Nov. 16-18. The Summit brought together representatives from First Tee's network of 150 chapters to celebrate the organization's 25th anniversary and continue building momentum for the future with robust workshops, training and peerto-peer networking. Appearances were made by President George W. Bush, honorary chair of First Tee, PGA TOUR player Will Zalatoris, artist and criminal justice reform activist Valentino Dixon and other inspirational speakers. The Summit was presented by Century Golf Partners, supported by 3M and made possible by other corporate partners who stand behind First Tee's mission. The Dallas event also featured an Alumni Summit presented by Gallagher and an Innovators Forum for participants.
"There are more than 10,000 volunteers, Chapter staff members, board members and donors who make First Tee the impactful organization it is today," said current First Tee CEO Greg McLaughlin. "It's so special to be able to honor a handful of those people who have truly changed kids' lives for the better."
growing the game
Golf Central • Volume 21, Issue 8
Jay Monahan, Joe Louis Barrow Jr., Tim Tinchem
President George W. Bush with 28 First Tee participants attending the Innovators Forum and 20 alumni who were attending the Alumni Summit in conjunction with the Network Summit.
South Florida PGA Junior Tour Announces its 2022 South Florida PGA Junior Tour Award Winners
The South Florida PGA Junior Tour honored seven outstanding Medalist Tour players for their hard work and dedication throughout the 2022 season. Each year the Junior Tour staff awards players with the following awards: The Honda Classic Most Improved Player, The Ed Ficker Sportsmanship Award, and The Don Law Service Award.
Danny Green Ed Ficker Sportsmanship Award
Punchy Mahathep Ed Ficker Sportsmanship Award
Marley Pedrique Honda Classic Most Improved Player
Luke Parsons Honda Classic Most Improved Player
The Weinberg Family Don Law Service Award (Jonathan, Alexander, Stephanie)
First, the Ed Ficker Sportsmanship Award is given to one male and one female who displayed the best overall sportsmanship throughout the season.
Both Green and Mahathep demonstrated sportsmanship values to fellow players, volunteers and staff. Both players exemplify civility, respect, and a positive attitude throughout and after each round. The most improved player of the year was awarded to Parsons of Palm Beach Gardens and
Pedrique of West Palm Beach. Pedrique had an impressive 2021 season on the Prep Tour where she finished with five top-five finishes, earning her way to the Medalist Tour. Pedrique finished the 2021 season on the Medalist Tour with a scoring average of 80.00 and this year, improved that to a 76.71 scoring average, including a career low 73. In addition, Pedrique won the Labor Day Classic, one of the eight SFPGA Junior Tour Majors hosted throughout the year.
In 2021, Parsons had a scoring average of 79.50 with two top-25 finishes. In 2022 Parsons played in 20 events with two first-place finishes
and two second-place finishes with a scoring average of 74.26, including a 68. Parsons plays an active role with the SFPGA Birdie Club, carding 78 total birdies. Lastly, Parsons qualified for the final round of the Drive, Drip and Putt event at Augusta National this April.
The Don Law Service Award is given to an individual who has made an effort to serve their community.
The Weinberg Family, Jonathan, Alexander, and Stephanie, were awarded this honor on behalf of their dedication to grow the game of golf while serving the south Florida Community. The Weinberg Family has played an influential role in the SFPGA Birdie Club, raising over $10,000 in the last two years for the South Florida PGA Foundation.
Additionally, this year the siblings have started their own business, Green Golf Impact, aiming to limit the amount of used golf balls ending up in landfills or lost in nature. Their mission is to raise awareness about golf ball waste and its effect on the environment.
The South Florida PGA Junior Tour is honored to recognize these seven individuals for their hard work, enthusiasm, and commitment to the game.
Congratulations to all our award recipients!
46
Golf Central • Volume 23, Issue 9
north florida PGA north florida PGA north florida PGA north florida PGA north fl
south florida PGA south florida PGA south florida PGA south florida PGA south
TALAMORE 36 Holes by Arnold Palmer & Rees Jones Historic Village of Pinehurst Area of North Carolina (800) 552-6292 www.TalamoreGolfResort.com/GolfCentral FREE $50 RESORT CREDIT Mention Code: GOLF CENTRAL Where You'll Always Get More... • Access to 30+ Area Golf Courses • Luxurious, On-Course Accommodations • Daily Breakfast Delivered to Your Door* • Carolina Pig Pickin' with All the Fixin's* • New! Toptracer Range & Putting Course
north florida PGA north florida PGA north florida PGA north florida PGA north fl
November was another great month for the North Florida PGA, as it included several high-profile Section tournament events, as well as initiatives to inspire generosity amongst our Members for various of our programs!  November was all about our Veterans, as we celebrated the PGA National Day of Hope on Veterans Day! Members across our Section came together and donated funds to positively impact the lives of Veterans who take part in our PGA HOPE programs. As we head into the new year, we will be conducting 17 PGA HOPE sessions at 7 locations across the North Florida region, and we are excited to continue to serve and give back to those who have sacrificed so much for us!
On November 29th, we also participated in the biggest day of global generosity, Giving Tuesday! For the third consecutive year, we took part in the global day that
inspires people to do good and give back to organizations making lasting impacts in their communities!
Our Giving Tuesday initiative was a success, and we look forward to participating again next year!  November was also a big month of tournaments! The Pro-Scratch, which is one of the biggest events of the year, saw a full field of 100 Professionals eager to secure victory at Palma Ceia Golf & Country Club! Greg Koch & Logan Blondell were successful in securing the victory at the Pro-Scratch at Palma Ceia Golf & Country Club after finishing at -6 (64)! They finished
ahead of Gary Koch and Daniel DeBra, who finished close behind with -5 (65). Right behind in third place was Fielding Brewbaker, the Professional Pasadena Yacht & Country Club and his partner Devin Hernandez. Rounding out the top five was a 3-way tie for fourth place featuring Kevin Kenny & Mike Finster, Stan Cooke & Drew Cooke and Gregory Ferrier & Lucas Carpenter. All three groups finished at -3 (67).
Just a few days later, the battle against our four Chapters commenced with the Porter Cup at the Country Club of Winter Haven! The Northern Chapter won with 160 points after three rounds of play, finishing ahead of East Central Chapter, which finished at 148.5 points, West Central Chapter at 147 points and Southwest Chapter at 144 points. Northern Chapter was able to preserve a commanding lead over last year's champions, East Central Chapter. West Central Chapter closely trailed East Central Chapter, with only a difference of 1.5 points.
As things slightly slow down this month, we hope everyone has a great holiday season!
48 Golf Central • Volume 23, Issue 9
By Daniel Calderon
Pro-Scratch Winners-Greg Koch and Logan Blondell
Team Northern Chapter Wins 2022 Porter Cup
strength, mobility, and reach
fitness goals
Smart Fitness is a personal training facility located in Ocoee, FL. Our evidence-based workout is safe and effective for clients of all ages and backgrounds. We thrive on providing feedback and setting proper goals with 20-minute sessions twice per week so you can achieve your personal best!
At Smart Fitness, you'll benefit from:
Personal Training
Personalized, 20-minute sessions designed to help you reach your fitness goals
Nutrition
Valuable resources to help achieve a healthier lifestyle
Corporate Wellness
Personalized fitness plans developed for employees coming from organizations of all sizes
Recovery
Fitness • 20 minutes, twice a week • Small, private studio • 68º climate controlled • Safe for knee, back, hip & shoulder joints
Improve your range of motion, performance, and boost your recovery with a Licensed Massage Therapist
FIRST WEEK FREE 407.877.4044 www.gosmartfitness.com 324 Moore Rd in Ocoee | Located inside the Publix plaza, next to Keke's.
Build
your
with Smart
CITRUS COUNTY LUXURY HOME 6935 Haulover Pt Homosassa, FL 34448 Brought to you by William "Jeff" Hartson, Realtor 352.302.8048 BEAUTIFUL WATERFRONT HOME ON MASON CREEK Video Tour: http://tour.studio3services.com/tour/haulover6935.m4v Matterport of home: https://my.matterport.com/show/?m=yBv4oMQcBFm&brand=0 $1,400,000 LISTING PRICE
Loopnet Commercial Listing: https://www.loopnet.com/Listing/770-NE-5th-St-Crystal-River-FL/26948247/ Matterport of home: https://my.matterport.com/show/?m=ZvDdzLJm2xE&mls=1&help=1 $998,000 LISTING PRICE CITRUS COUNTY COMMERCIAL LISTING Mickey's Bar & Billiards Brought to you by William "Jeff" Hartson, Realtor 352.302.8048 Loopnet Commercial Listing: https://www.loopnet.com/Listing/3603-E-Langspur-Hernando-FL/25343138/ 3603 E Langspur Ct Hernando FL 34442 25 Acres of Industrial Land Offered at $775,000 in Hernando, FL Includes Active Citrus County Salvage License There are 41 acres adjacent to this parcel that are also for sale by the same owner!
Supporting Green Industry Professionals
The Environmental Research & Education Foundation, Inc. (EREF) has been fighting for green industry professionals for over ten years. You have seen our messages in the pages of Golf Central Magazine for many of those years, sponsored by Turf Life.
During that time, EREF has worked vigorously to expose false narratives that the industry's professionals engage in activities that harm Florida's water quality –primarily through applications of fertilizers and other nutrients.
Those false narratives are completely at odds with:
 Decades of peer-reviewed research creating and supporting the industry's Best Management Practices, which are hardwired into Florida statute.
 Findings of multiple independent studies showing that applications of nitrogen during the growing season for turf and plants do NOT migrate away from the intended target.
 Overwhelming evidence from multiple sources that the specific nitrogen isotopes having the greatest adverse impacts on Florida's water come from discharges from Florida's many old and leaky septic tanks, from treated wastewater (the by-product of human sewage treatment), and from an epidemic of raw sewage discharges from damaged, neglected and poorly maintained municipal sewage systems throughout Florida.
The struggle continues as it becomes clearer that the fertilizer blackouts and other junk-science remedies are simply not working. However, the public and the media are wising up to these reckless diversions from the real root causes, and a statewide effort to address Florida's wastewater crisis may soon be on the horizon.
The efforts to focus on those real root causes, and to support Florida's green industry professionals, require a broad and sustained effort – from grassroots contributions, to trade association and allied industry solidarity, to communications
with the citizens of Florida.
Due to Hurricane Nicole, an important water issues roundtable on these matters scheduled for November 10th at the Florida Turfgrass Association (FTGA) conference in Orlando was cancelled (along with the entire conference). While rescheduling those events is in progress, EREF would like to thank Turf Life for its sponsorship of that event and for its willingness to step up over the years in support of Florida's green industry professionals.
Turf Life and its branded products reflect the cherished lifestyles related to lawns, landscapes, parks, golf courses and sports fields, all of which are an integral part of what makes Florida the special place it is, and EREF greatly appreciates Turf Life's ongoing commitment.
52 Golf Central • Volume 23, Issue 9
Article and photos by Mac Carraway
53 Golf Central • Volume 23, Issue 9
By Cecilia Brown
Passing the Torch at Oakland Plantation Turf Farm
Oakland Plantation, situated on a bluff overlooking the Cape Fear River in Bladen County, was built over 200 years ago by General Thomas Brown, a Revolutionary War patriot. It is one of a few houses of its period in North Carolina still being used today.
In 1970, Oakland Plantation began the sod farming business with five employees and three acres of turfgrass. By 1972, the business had grown to 30 acres and the first shipment of sod left the farm on May 21, 1973.
"We gradually started growing grasses and expanding and converting from row cropping. We cleared a lot of land. We've also bought some remote farms nearby as well. So through the 80s-90s, we expanded a lot and in the 2000s we went down a little in acreage and probably stayed steady from there," said Oakland Plantation's General Manager, Will Neisler.
Today the business continues to grow with over 1,200 acres. Oakland has supplied some high-profile clients over the years, from the Baltimore Ravens to golf's holy grail, Augusta National.
Will is taking on responsibilities at the farm from his father and President of Oakland Plantation, Rick Neisler who is now semi-retired. The history of their family involvement with the farm dates back to when Rick's grandfather was invited to fox hunts on the property with the previous owner.
When the previous owner passed away, Rick's grandfather purchased the farm. Rick's father, who worked in cotton textiles and also enjoyed hunting, decided they needed to find a way to generate revenue off of their land. One of his coworkers at the mill told him about his son that was selling turfgrass in Georgia and encouraged
him to go check it out. So, Rick's father went and checked it out and when he returned, he decided to plant sod.
Rick was in high school at the time his father and grandfather started the farm. He went on to graduate from NC State's Turfgrass Program before coming back to become the General Manager of Oakland Plantation in 1980.
"We still do a lot of hunting. That's a big part of how you keep four generations of a family happy. We have hunts in the fall with my 3rd and 4th cousins and family members. Sometimes we have our big customers and NC State faculty come to hunt. We use it as a way to kind of connect with people in the industry," Will shared.
Will shared that two of his aunts and his uncle work at their farm. They consider it a family business. Like his dad, Will spent every summer as soon as he could be hired working on the farm. "I started stacking grass when I was 13 and I'd stack one for every five that the guys working here year-round would do. Then I did pretty much every odd job. I'd walk and spot bermuda and flag it and eventually be able to take over on some pesticide use and spray for weeds," he said.
Then, Will started tagging
54 Golf Central • Volume 23, Issue 9
Rick and Will Neisler
Will and Bud
along with the team for various installation jobs. When he was 14 years old, Oakland Plantation supplied turfgrass for the Baltimore Ravens NFL stadium. "That was a really cool experience and I came home with all kinds of Ravens gear," he said.
When he turned 16 years old he was able to get into the tractor and start mowing. "I was very grateful for that job. I spent a few summers just mowing," he said.
Will admits he took a winding path to get back to Oakland Plantation because he wasn't intending to come back to the farm to work all along. He went to school for advertising and graphic design. Then he worked in commercial signage for five years creating technical illustrations.
When Will met his wife and they started settling down, he wanted to move closer to home. "I wanted to be a part of the history at the farm and carry the business into another generation as I helped my dad in his semi-retirement," he said.
Although he'd done most of the jobs around the farm, when Will came back in 2015, he spent a lot of time watching and learning from others. Since he stepped into the role as general manager
with no office experience, he quickly learned Quickbooks, billing processes, payroll and other HR systems. "Over the past couple of years, I've started trying to adapt and make changes to our systems that I felt were outdated. For the first half of the time I've been here, I've been trying to learn as much as I can about the operation. The second half has been more of me trying to step in and make changes I think will be beneficial for the farm in the long run."
Rick said it's exciting to see the sod farm transition from his parents, to him and now down to his son. "I'm very excited it's going in that direction. It's nice to keep it going. I do the fun things and leave everything else to Will," he said.
Oakland Plantation steadily has 25 employees, with a few more in the summer. "We're very lucky that we have people who have worked on the farm for a very long time. My dad has been President for 47 years. Our Production Manager is Tony McLean and he's been here for 40 years. Our Farm Manager John Williams will have been here 20
years in May. There are other guys on our crews who have been here between 1520 years and most of the rest have been here over 5," Will said. "Our Scheduler for 22 years, Marilyn Beck passed away last year and we miss her a lot."
He said they're thankful for their strong crew of people that have stood by Oakland Plantation and been a part of the operation for such a long time, making them sustainable.
Oakland Plantation currently has 11 different turfgrass varieties in total of four types of grasses in production. They also recently planted both of NC State University's latest turfgrass releases at the farm. Lobo™ Zoysiagrass was released in 2021 and Sola™ St. Augustinegrass was released in August 2022.
"We stayed up with the new varieties and figured out which ones fit us the best," Rick explained. "We roll with the punches figuring out what's going to work, and implement it and move on to the next thing. We used to grow grasses we don't grow anymore. It's a moving target based on what's new and what the market wants."
Oakland Plantation has been a part of the Sola research project and its
55 Golf Central • Volume 23, Issue 9
Rick and Will – 1988
Will Neisler
expansion. "The origin point of Raleigh St. Augustine can pretty much be traced entirely back to our farm in the 1980s. A rough winter killed most of the Raleigh that NC State and Bill Gilbert had planted except for what we had here, so we repopulated it and most of the Raleigh today in the world, according to my dad, has origins here on our farm," Will said.
They've been interested in a new St. Augustinegrass that would thrive in the northern N.C. climate. "Palmetto and Raleigh both grow here, but I wouldn't say they thrive here. So we've been looking for something and Sola seems to do better. It's still early but we planted Foundation Stock of Sola in June 2022 that next year we hope to be providing that to other turf farms," Will said.
"These new varieties we just planted are for the future. We've got to get them into production for about two years out. So we're not just looking at tomorrow or the next day, we're looking years down the road," Rick added.
Rick said relationships and networking with customers and industry partners contribute to a great deal of their farm's success. "We grow a lot of really good varieties and have something good to show people, so that always makes it easier to be successful if you've got the right products. We work with Sod Solutions because their products are ones that I can make money with and that's why
we have a relationship," Rick said. Along with the right products comes an investment in the right technology. Oakland Plantation has some new automated harvesting equipment. They first switched to automated equipment in 2005-06 and now they're revisiting what new automated equipment they want. "There's still things changing around here every day, for the better," Rick said. Will is the current SecretaryTreasurer for the North Carolina Sod Producers Association (NC SPA) and Rick and Williams are both past presidents. Oakland Plantation has had 16 consecutive years of NC SPA board membership. Will has already announced he plans to step down at the end of his next term to allow for other farms to be represented.
Will said being a part of the turfgrass industry is very enjoyable. "I think that grass is a good product that at the end of the day is the cherry on top of a project. Like when someone is building a new home or development, the grass is one of the last things to go in. The area goes from looking like a construction site to a home. It goes from a field to a sports field, from some shaped dirt to a fairway," he said. "I feel like it's a unique place to be able to provide that."
Rick is semi-retired and enjoys spending his extra spare time with his grandchildren or fishing for white perch in a nearby 10,000-
acre lake. Although he's working on other various projects now, he is still very involved at the farm.
Will said his dad's leadership and drive took them from a small acre farm to where they are now, using his industry connections and relationships.
"My dad knows people around the industry. He met Tobey Wagner from Sod Solutions in the late 90s. He knows various golf course industry professionals. Just making those connections and being part of industry groups helps you to know what grasses are coming down the pipeline and helps you make the right decision on what to start growing," he said.
Will said golf courses have made Oakland Plantation successful because of being located roughly an hour from Myrtle Beach and the South Carolina coastal towns. "We set ourselves up to do golf courses in the 90s and for 20 years that was a huge part of our business. It's less now because they're not building golf courses as much, so we've downsized some of our bermudagrass acreage and changed to a different format of harvesting. We are more prepared for landscape installs which over the last 15 years has been a big change in our market," he said. "Between Wilmington, Myrtle Beach and all the coastal towns they keep finding room to build more houses and I think my dad's decisionmaking on when to make changes in our business were well-timed."
56 Golf Central • Volume 23, Issue 9
Total Magnesium (Mg) 0.50% Soluble Magnesium (Mg)
Total Magnesium (Mg) 0.50%
Soluble Magnesium (Mg)
0.50%
Soluble Iron (Fe) 3.40%
1.60%
0.050% Soluble Iron (Fe) 3.40% Chelated Iron (Fe)
Total Manganese (Mn) 0.25%
Chelated Iron (Fe) ................. 1.60%
Total Manganese (Mn) 0.25%
Soluble Manganese (Mn) 0.25%
0.10%
Soluble Manganese (Mn) 0.25% Soluble Zinc (Zn)
Sulfur (S) combined 3.50%
from: Manganese Sulphate, Zinc Sulphate, Iron Glucoheptonate, Iron Sulphate, Magnesium Sulphate.
Soluble Zinc (Zn)
0.10%
Sulfur (S) combined 3.50%
Derived from: Manganese Sulphate, Zinc Sulphate, Iron Glucoheptonate, Iron Sulphate, Magnesium Sulphate.
Sunn 28-0-0 N-SURE ITEM #160031 GUARANTEED ANALYSIS Total Nitrogen 28% 20.2% .......... Slow release Nitrogen 7.8% Urea Nitrogen Sunn KTS PRO LIQUID FERTILIZER Item# 160041 GUARANTEED ANALYSIS Soluble Potash (K2O) .............. 25% Total Sulfur (S) 17% 17% combined sulfur 0% free sulfur Derived from: potassium thiosulfate Sunn 6-0-0 Blend PRO LIQUID FERTILIZER Item# 160010
GUARANTEED ANALYSIS
......
..................
Sunn 12-0-0 Blend PRO LIQUID FERTILIZER ITEM# 160021 GUARANTEED ANALYSIS Total Nitrogen .......................... 12% 12% Urea Nitrogen Chlorine not more than 2% SECONDARY PLANT FOODS Iron as Fe 6% Manganese as Mn ..................... 2% Derived from: Urea, Iron Glucoheptonate, Manganese Glucoheptonate Minors Blend LIQUID FERTILIZER ITEM #160000 GUARANTEED ANALYSIS
....
.................
..................
Manufactured by SUNNILAND CORPORATION PO Box 8001 Sanford, Florida 32773-8001 www.sunnilandcorp.com Share your photos & videos #sunnilandcorp Follow us @sunnilandcorp www.sunnilandcorp.com • 800-432-1130
Derived
Brays Island Recognized for Environmental Leadership With Audubon Cooperative Sanctuary Certification
About an hour north of Hilton Head Island, tucked into the verdant lowlands of South Carolina, is Brays Island — a private golf and lifestyle development born and bred with environmental conservation in its DNA.
When developer Sumner Pingree conceived Brays Island in the 1980s, he put nature over profit, developing just 325 of his property's 5,500 total acres. More than four decades later, Brays Island has only increased its commitment to uphold those seminal ideas, with renowned, Florida-based maintenance partner International Golf Maintenance (IGM) leading the way.
In November, Brays Island earned certification in Audubon International's Audubon Cooperative Sanctuary for Golf Courses, joining an elite group
of more than 900 courses worldwide. In concert with a truly dedicated and involved resource group comprised of owners, consultants and other stakeholders, IGM Regional Manager Tyler Minamyer and Director of Golf Course Maintenance Jeff Miller made a plan to get it done in just a year's time. And they did.
"IGM at Brays Island has shown a strong commitment to its environmental program. They are to be commended for their efforts to provide a sanctuary for wildlife on the golf course property," said Christine Kane, CEO at Audubon International.
Added Annick Wadsworth, a Brays owner and Resource Committee member, "The Audubon international certification of our golf course confirms Brays Island's
commitment to preserve the beauty and character of the land we, the owners, all so cherish and care for."
To reach certification, a course must demonstrate that they maintain a high degree of environmental quality in environmental planning, wildlife and habitat management, outreach and education, chemical use reduction and safety, water conservation, water quality management. Brays Island met these challenges by reducing irrigated areas, establishing buffers around water features, providing excellent wildlife habitat, and conducting water quality testing.
58 Golf Central • Volume 23, Issue 9
Photo by Dottie Tison used with permission
No-Mow Bermuda
Photo by Dottie Tison used with permission
"What's different about Brays is that in concept it was developed to be an environmentally friendly sporting community," Minamyer said. "The Audubon Cooperative Sanctuary Program was a perfect fit for our overall goals. Getting it done in a year was a challenge, but at the end of the day we had a really great group of Owners who supported us through the Resource Committee. We had a great staff including naturalists for Brays Island who were very helpful. We were lucky to find people with
expertise in a variety of areas."
Minamyer also thanked Audubon International's Frank LaVardara, Director of Environmental Programs for Golf, and Scott Turner Environmental Program Manager, for their expertise in coming up with a plan that fit Brays' committeedriven certification goals to a tee.
Going forward, the certification will require that the golf course maintain and implement environmental projects and educational efforts. Minamyer assured that he and the Brays Island team are ahead of the game.
"There have been very quantifiable results to the process for us. Not just the achievement of certification, but to ability to continue to ride that train — the messaging, the packaging, the talent group that worked on this, is still available to push with the next improvement project."
To learn more about how your local golf course can gain recognition for your environmental efforts and learn how to expand your initiatives through Audubon International's numerous
environmental certifications, visit www.auduboninternational.org.
Audubon International, an environmentally focused non-profit organization, offers members numerous certifications and conservation initiatives to protect the areas where we live, work, and play. Their certifications are designed to increase environmental awareness, encourage sustainable environmental efforts, and educate both their members and their communities.
Brays Island offers a golfing experience like no other. The 18-hole, par-72 championship golf course designed by Ron Garl is highlighted by impeccable greens and natural hazards. Sprawling over 300 acres, the course fits naturally into the existing beauty of the plantation. The Golf program at Brays Island suits the most experienced golfers, as well as those just looking to get into the game. With several PGA professionals on staff, an in-house golf school, and extensive practice facilities, anyone can improve their game here on the plantation.
59 Golf Central • Volume 23, Issue 9
Photo by Dottie Tison used with permission
Photo by Dottie Tison used with permission
Photo by Dottie Tison used with permission
By Anthony L. Williams, MG,
Turf Pirate's Journal $Arts and Crafts $
Happy Holidays Turf Pirates and I hope that you are living life to the fullest each and every day. It seems that after another tough golf season full of weather, labor shortages, parts supply problems and 1,000 other stresses that we can finally take a minute to relax and reset. Even Turf Pirates need to occasionally call a time out and rethink some things. It is in this spirit that I bring you this special edition of a Turf Pirate's Journal. Today Turf Pirates we are going old school we are talking arts and crafts. Everyone loves arts and crafts (A & C) and a good A & C project should be fun with no pressure but the results of said project should be something that you are proud of even if it does not qualify as a high value art piece. The art and the circumstances that create it are what's important and in Turf Pirate lore there is a heavy dose of art in our craft. Now on to the story at hand. The art project I wanted to share was actually the brain child of my wife of 37 years, Phyllis. She is an Angel and God knows she has earned special status as not only a Golf Course Superintendents wife but as a serious Turf Pirate's wife, life can often be interesting. It should also be noted that all superintendent spouses go straight to heaven as they have endured much in this world. Onward to the main point. As I was collecting another round of hats this year for my pretty expansive collection of hats my wife pointed out a few things. #1 there is a lot of hats taking up space. #2 You don't wear them all #3 It is time for change. I did launch the expected protest but she came up
with a great idea to save the parts of the hats that were actually important to me, namely the logos and special event stuff (I did of course pull a few from the herd that I still wear cause what good is a pirate without a cool hat). Phyllis took all those hats and cut out the logos and particulars, bought me a sizable picture frame and back ground matt, got some glue and told me to start putting them together in some kindergarten fashion. It's not pretty but it's perfect. No more mountain of hats but instead in my office on a quiet wall there is 30+ years of Turf Pirate History (see the attached photo). Every club logo that I have served is there. A few US Opens, a few Peach Cups, Texas events like the Byron Nelson and a whole bunch of companies that supported my Piracy over the years like Marriott Golf, Four Seasons, Jerry Pate Turf, RainBird, Georgia and North
Texas GCSA and many other classic partnerships that I am truly grateful for. I also thank my wife for understanding my conundrum with getting rid of the hats and encouraging me to take on an A & C project. Sometimes on rainy days I look at this collection of old hat parts and reflect on my journey in turf and smile. To the uninformed this art project may seem misguided but it means a lot to me as it's a collage of the seas spray churned up by my life as a Turf Pirate and those who sailed with me. If you know, then you know. What do you say turf Pirates do you have a mountain of old hats stuffed in a box or strewn about your office or truck? Take on a little art project for the holidays and drift back to that vendor or person that handed the classic head wear to you and as we often do at the Ancient and Honorable Tribe of Turf Pirates make a memory worth having
60 Golf Central • Volume 23, Issue 9
CGM
CGCS,
The pH of this.
The growth of that. Too much moisture. Not enough moisture.
Looking out for the environment. Looking out for the health of the course. And that's just over coffee.
To learn more visit gcsaa.org/GC
So say thanks to your golf course superintendent. Or make that, thanks a million.
AND YOUR GOLF COURSE SUPERINTENDENT IS THINKING ABOUT THEM ALL.
THERE ARE A MILLION THINGS THAT NEED TO HAPPEN FOR YOUR COURSE TO BE PLAYABLE.
store.turflife.club Become part of the Turflife Club! Grab a Decal from the Website