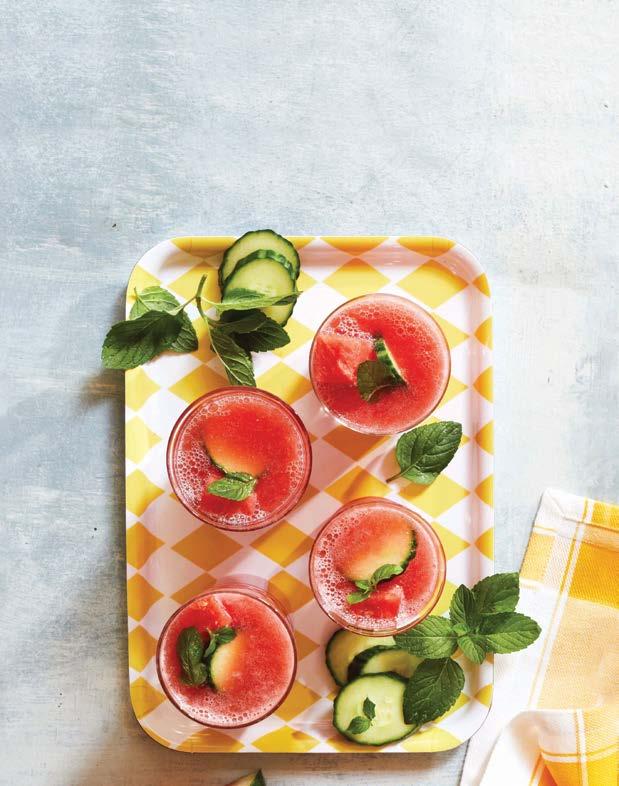 edible AUSTIN No. 87 Summer 2023 SUMMER FUN SUMMER 2023 | Issue 87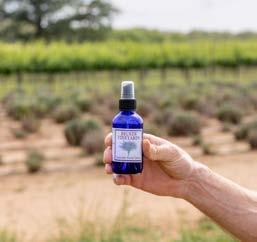 edibleaustin.com 1 CONTENTS 2 FROM THE PUBLISHER 4 WHAT'S ON OUR COUNTER 6 NOTABLE EDIBLES What's Happening Around Austin 12 EDIBLE ENDEAVOR Ashraf Khan 14 LOCAL LEGENDS Joe's Bakery 20 FARMERS MARKETS Hutto Silos Farmers Market 22 SPOTLIGHT ON LOCAL 1417 French Bistro 32 EDIBLE VARIETAL Texas Viognier is Summer in a Bottle 36 FARMER'S DIARY Lavender Fields COVER Watermelon, cucumber and mint agua fresca (photo by Pauline Stevens) THIS PAGE Panzanella Salad (photo by Pauline Stevens) Becker Lavender Farm (photo by Baylie Beebe) RECIPES IN THIS ISSUE 13 PERI PERI CHICKEN 26 PANZANELLA SALAD 28 WATERMELON, CUCUMBER AND MINT AGUA FRESCA Summer 36 26 . 100% Locally Raised and Fed in the Texas Hill Country 100% Black Angus . 100% Locally Processed . NO Antibiotics and NO Added Hormones . Quarters, Halves and Griller Packages Beef for the Serious Beef Eater ORDER TODAY: WindyBarBeef.com 512-474-2855
Summer is in full swing, and we couldn't be more excited to bring you the latest edition of Edible Austin! This season, we delve into the vibrant tapestry of our local food scene, celebrating the stories, flavors, and experiences that make our community so special.
In this issue, we shine a spotlight on the timeless charm of a beloved institution, Joe's Bakery. For decades, Joe's has been serving up delectable treats and warm memories to generations of Austinites. We explore the history behind this Local Legend, uncovering the secret ingredients that have made it a cherished gathering place for friends and families. From their mouthwatering pan dulce to their famous breakfast tacos, Joe's Bakery has undoubtedly earned its place in Austin's culinary heart.
If you're a wine enthusiast, our Edible Varietal story will transport you to the sun-drenched vineyards of Texas. This summer, we invite you to discover the beauty and complexity of Texas Viognier wines. Our passionate wine expert has scoured the Hill Country and beyond, unearthing the best vineyards and winemakers who have perfected the art of crafting this unique varietal. Uncork a bottle, savor the delicate aromas, and join us on a journey through the flourishing wine culture of our great state.
As the sun paints the landscape in golden hues, we turn our attention to the enchanting Hill Country lavender farms in our Farmer's Diary story. From the rolling fields to the soothing fragrance, these farms offer a sensory escape from the hustle and bustle of city life. We delve into the lives of the dedicated farmers who cultivate these fragrant blooms, revealing the secrets behind their sustainable practices and their commitment to preserving the beauty of this cherished plant. Get ready to immerse yourself in the world of lavender and discover the diverse array of products and experiences that these farms have to offer, including a recipe for a festive summer lavender gin paloma.
You'll also find great seasonal recipes, spotlighting the abundance of fresh produce available during the summer months, including a summer panzanella salad and refreshing watermelon agua fresca.
As always, we extend our heartfelt gratitude to our readers, contributors, and advertisers who make Edible Austin possible. Your support allows us to continue sharing the stories that celebrate our local food culture and the people behind it.
So, grab a copy, find a shady spot, and immerse yourself in the vibrant pages of our Summer 2023 edition. We hope it inspires you to explore, savor, and connect with the incredible food community that surrounds us.
PUBLISHER/EDITOR
Monique Threadgill monique@atxpublications.com
ASSOCIATE PUBLISHER/ CREATIVE DIRECTOR
Ralph Yznaga ralph@edibleaustin.com
COPY EDITORS
Claire Cella
Stacey Ingram Kaleh
CONTRIBUTING WRITERS
Ashley Brown
Claire Cella
Stacey Ingram Kaleh
Sumaiya Malik
Ava Motes
Yolanda Nagy
Pauline Stevens
Jamie Threadgill
CONTRIBUTING PHOTOGRAPHERS
Baylie Beebe
Barbara Eloisa
Pauline Stevens
ADVERTISING SALES
Amy Lockhart amy@edibleaustin.com
Grace McCormick grace@atxpublications.com
Stephanie Walsh stephanie@edibleaustin.com
CONTACT US: 512-441-3971 info@edibleaustin.com edibleaustin.com
2 Summer 2023
FROM THE PUBLISHER
Caves
Ste.
Edible Austin is published by ATX Publications LLC. All rights reserved. No part of this publication may be used without written permission of the publisher. ©2023. Every effort is made to avoid errors, misspellings and omissions. If, however, an error comes to your attention, please accept our apologies and notify us. Edible Communities James Beard Foundation's Publication of the Year, 2011 for $35 /year SUBSCRIBE TO THE MAGAZINE AT edibleAUSTIN.com local farmers & ranchers shop sustainably grown food from for locations, vendor lists & more info visit texasfarmersmarket.org saturdays 9a - 1p @ Lakeline sundays 10a - 2p @ Mueller double your benefits to spend on fresh fruits & vegetables with Snap (year-round) and WIC (April - October) THE LEANI NG PEAR ill C ountry - i nspired C uisine Unique. Well Crafted . Delicious. 111 W imberley 512-847- pear leaningpear . C om 111 River Road Wimberley TX 512-847-PEAR leaningpear.com Unique. Well-crafted. Delicious. Hill Country-Inspired Cuisine schitzcreek.com thirstymule.com
5524 Bee
Rd.,
J-4 Austin, TX 78746
Cinful Sweets
Cinful Sweets artisanal bonbons are like tiny pieces of heaven, melting in your mouth with every bite. Each bonbon is meticulously crafted with the finest ingredients and filled with luscious flavors that transport you to a world of indulgence. From classic favorites like dark chocolate ganache to exotic combinations like lavender and sea salt, these bonbons are a true delight for any chocolate lover. Cinful Sweets has also introduced a whimsical creation called the "breakable" that looks exactly like a cupcake. This sweet treat is not meant to be eaten whole but rather "broken" into smaller, shareable pieces. The breakable is made with layers of chocolate and a surprise center that will leave you craving for more. It's a delightful twist on traditional cupcakes and perfect for special occasions or simply indulging in a moment of bliss. cinfulsweets.com
Summer is here, and our kitchen counter is adorned with an array of delectable treats that are sure to make your taste buds dance with joy. Join us as we explore the culinary wonders that grace our countertop this season, featuring Cinful Sweets, Eat Up First Jams, and the tantalizing recipes from Judd Servidio's Salt & Vanilla cookbook.
Eat Up First Artisanal Jams & Jellies
If you're looking for a spread with a burst of flavors that will transport you to a tropical paradise, pick up a jar of Eat Up First's pineapple Thai chili jam. Imagine the sweet tanginess of pineapple infused with the warmth of Thai chili, all captured in a jar. This tantalizing creation even carries a delightful twist — it tastes like a pineapple upside-down cake! The jam is a perfect accompaniment to toast, scones, or even as a glaze for grilled meats. With a hint of heat, it adds an exciting kick to your culinary adventures. Eat Up First offers an array of different jams, jellies and other artisanal products that are made with local, quality ingredients right here in Austin. eatupfirst.com
Salt & Vanilla Cookbook
To round off our countertop treasures, we have the Salt & Vanilla cookbook by chef Judd Servidio. After serving as a private chef for Austinites John Paul DeJoria, co-founder of Paul Mitchell and Patron Tequila, and his wife Eloise for more than 10 years, Servidio developed his own cookbook featuring over 100 recipes he has prepared for the family and their friends, business associates and guests. This culinary masterpiece is a celebration of two fundamental ingredients that elevate dishes to new heights. With a focus on exploring the delicate balance between salt and vanilla, Servidio's recipes guide you through a culinary journey like no other. From savory dishes that play with salt's ability to enhance flavors to sweet creations that embrace the aromatic allure of vanilla, this cookbook is a treasure trove of inspiration for every home cook and food enthusiast.
saltvanilla.com
edibleaustin.com 5 4 Summer 2023
WHAT'S ON OUR COUNTER
WORDS AND PHOTOS BY MONIQUE THREADGILL
Warm and Friendly Neighborhood Restaurant Happy Hour Indoor and Outdoor Dining Private Parking Lot Open Seven Days a Week Weekend Brunch 1417 South 1st St. Austin, TX 78704 512-551-2430 1417frenchbistro.com info@1417atx.com
Monique Threadgill is publisher of Edible Austin and loves to travel and explore new places, foods and cultures. She also enjoys discovering and sharing new products with Edible Austin readers.
LEE'S KITCHEN + COCKTAILS OPENS IN WESTLAKE
Now serving up Asian cuisine and mixed drinks in the Westlake Hills neighborhood is Lee's Kitchen + Cocktails, the latest restaurant venture from the family behind PhoNatic. Similar to their other counter-service Vietnamese spot, Lee's pays homage to the Vietnamese and Taiwanese comfort dishes that the Lee family regularly serves in their home kitchen. With a sleek sun-lit space in the Village at Westlake shopping center, Lee's delivers classics like hainan chicken, bò lúc loc, fried rice vermicelli and beef broth pho in a comfortable family-friendly atmosphere.
With a background in the grocery and food service industry, the Lee family prides themselves on only using the freshest ingredients in their dishes and drinks. Their full bar features bright cocktail pairings like a passion fruit margarita, hibiscus gin and tonic and lychee martini. They also offer a selection of local and imported beers and an extensive wine list.
Visit Lee's at 701 S Capital of Texas Hwy Suite G700. Takeout orders can also be placed online at leeskitchenatx.com.
AARON FRANKLIN REINVENTS UPTOWN SPORTS CLUB
Paying homage to old East Austin is Uptown Sports Club, a former Eastside watering hole that has found a second life in its original location. Uptown Sports Club first opened in 1949 as a neighborhood spot to drink and socialize. Now, the bar and restaurant is heralded by Aaron Franklin with the hope of honoring its original spirit with a reimagined New Orleans-style menu.
Nick Lin and their mother Jin Lin, who ran several successful San Diego restaurants before relocating to Austin.
EMMER & RYE OPENS MEDITERRANEAN CONCEPT EZOV
Ezov, a new Mediterranean concept from Emmer & Rye, is now open in the former Pitchfork Pretty space. Named after the Hebrew word for hyssop, one of the main ingredients in the Middle Eastern spice blend za'atar, Ezov celebrates the markets of Tel Aviv with a Texan bent. The restaurant is headed up by Berty Richter, an Israeli native who has been cooking in Texas for seven years at Fareground stall TLV and San Antonio's Ladino. With a seasonal menu, Ezov incorporates the freshest local ingredients into Israeli favorites like falafel, hummus, sabich and chicken shawarma. Highlights from the menu include seasonal crudo with pistachio, tahini and pomegranate; halloumi with date molasses and dukkah; and smashed cucumber with labne and sumac. For dessert, customers can enjoy classics like Baklava, which is served with Texas pecans.
Ezov also offers Mediterranean wines from Greece, Lebanon, Israel and Italy, as well as fresh and bold cocktails inspired by Tel Aviv nightlife. The family-friendly restaurant is located at 2708 E Cesar Chavez St. For more information, visit ezovatx.com.
The standout on the Uptown Sports Club menu is its selection of Po'Boys, which are made with French bread from Leidenheimer Baking Company — the gold standard in authentic New Orleans restaurants. Although Uptown doesn't serve Franklin's lauded barbecue, it offers gumbo (which takes three days to prepare with its oven-cooked roux of sunflower oil and flour), and seafood dishes like Crab Louie, oysters and a trout dip. Franklin says the seafood offerings will continue to expand in the coming months alongside the restaurant's dinner menu.
Uptown is a walk-in-only restaurant, and has a comfortable dog-friendly outdoor patio, televisions to keep up with sports and a relaxed social atmosphere much like the Uptown of decades past.
Check out the new Uptown at 1200 E 6th St or visit uptownsports.club.
SOUPLEAF OFFERS ALL-YOU-CAN-EAT HOT POT
Hungry hot pot lovers will rave about Soupleaf Hot Pot, a new all-you-can-eat restaurant in the Highland neighborhood.
Focusing on Chinese-style hot pot, Soupleaf offers made-from-scratch soup bases like spicy Chinese mala, vegetable and tomato, which customers can then top with a range of buffet ingredients — including vegetables, noodles and fish balls. The restaurant also offers meats and seafood like brisket, pork belly, clams and scallops that can be added at a la carte prices.
Lunch at Soupleaf is $18.99 per person and dinner is $23.99 per person with unlimited refills. However, the family-friendly spot also offers discounts for children between the ages of four and 10 who are sharing pots. Soupleaf is co-owned by siblings Nelson Lin, Nicole Lin,
Soupleaf is at 6929 Airport Boulevard. To learn more about Soupleaf, visit soupleafhotpot.com.
VERACRUZ FONDA INTRODUCES STOREFRONT IN MUELLER
Fans of Veracruz All Natural, one of Austin's top taco trucks, can now enjoy their famed Mexican fare in a new table-service setting at Veracruz Fonda & Bar. Located in the Mueller neighborhood, Veracruz Fonda offers breakfast, lunch and dinner inspired by the flavors of Veracruz, Mexico — the hometown of co-owners and sisters Reyna and Maritza Vazquez.
The Vazquez sisters debuted their first Mexican food truck on East Cesar Chavez in 2008, and have since opened several other locations around the city. Now, with their new brick-and-mortar venture, they have the opportunity to serve an expanded menu.
Breakfast at Veracruz Fonda includes conchas and picadas — the open-face tacos that are a signature in Veracruz, Mexico — as well as a juice bar and coffee from Desnudo, which currently operates out of Veracruz's food truck court on Webberville Road. For lunch and dinner, Veracruz Fonda offers
moles, antojitos and entrees like Calabacitas
Con Queso. And, of course, the authentic tacos that made Veracruz a local favorite are also available.
Veracruz Fonda & Bar is now open at 1905 Aldrich St #125 in the former JT Youngbloods space. To learn more, visit veracruzfonda.com.
edibleaustin.com 7 6 Summer 2023
Left Page, Top: Photo by Lee's Kithcen + Cocktails
NOTABLE EDIBLES
Right Page, Top: Photo by Uptown Sports Club Right Page, Middle: Photo by Veracruz Fonda Right Page, Bottom Right: Photo by Soupleaf Hot Pot Right Page, Bottom Left: Photo by Ezov
WORDS BY AVA MOTES
FLO'S WINE BAR & BOTTLE SHOP OPENS IN TARRYTOWN
New in Tarrytown is Flo's Wine Bar & Bottle Shop, a neighborhood-friendly bar and store accompanied by New York-style pizzeria Allday Pizza. The space includes a patio for leisurely hangouts and a counterservice window serving up whole pies and slices for lunch and dinner. Standout pizzas include the classic pepperoni topped with fresh mozzarella, the four cheese with homemade stracciatella and the broccolini pizza with roasted garlic and lemon pepper. They also serve gourmet meatballs, salads and gelato available to enjoy alongside Flo's wine selection, which includes 250 labels available
VIA 313 ADDS LOCATION IN BEE CAVE
Now serving up a taste of Detroit in Bee Cave is Via 313, a deep dish pizza joint that has had Austinites raving since it first opened in 2011. Dubbed "Pizzeria of the Year" by Pizza Today and named as one of the "Top 10 Pizzas in America" by Food Network, Via 313 has built a reputation for its signature deep dish pies — which are sure to have mouths watering at their newest location.
"We've had our sights set on Bee Cave for a while now and we're excited to finally bring our Detroit-style pizza to this community," said Co-Founder Zane Hunt. "The Austin area has shown its support for our awardwinning pizza, so it made perfect sense to give it even more."
Via 313's new home in Bee Cave will serve its signature Motor City pizza — with pillowy deep dish crust, Wisconsin cheese, and tomato sauce that is laid on after the bake — which made the pizzeria a local favorite. Via 313 has everything from unique pizzas like The Cadillac (which is topped with gorgonzola, fig preserves, prosciutto, parmesan, and balsamic glaze), to the double-pepperoni classic The Detroiter. The menu also features vegan and vegetarian options, as well as an alternative gluten free pizza crust, offering something for every pizza fanatic.
whimsical edge, featuring everything from an apple foam drink to a flaming rose honoring the restaurant's namesake.
Rosé Gosé is owned by Belarus natives Veronika Hurynava and Igor Drypsiak, who describe the cuisine as "comfort food"-based. The restaurant's menu selection is upscale and varied, with cheese boards, poke bowls and a raw bar with beef tartare paired with smoked mozzarella mousse and fries or caviar.
and croissant sandwiches — including the lox 'n found croissant, which is a French take on a typical bagel and lox. In the evenings, The Scarborough offers their Bonsoir Menu, which includes snacks like crostini and both sweet and savory entree crepes. This is paired with an expanded wine list, local craft beer offerings, and summery cocktails like a hibiscus mule and passionfruit mojito.
To try a taste of The Scarborough's crepes and more, visit 101 W. Sixth Street. Learn more at thescarbrough.com.
HUCKLEBERRY FEATURES CEVICHE SUMMER
Austin's beloved sustainable seafood truck, Huckleberry, is launching "Ceviche Summer": a rotating ceviche special that will last all summer long. Inspired by co-owner Melinda Reese's upbringing in Florida, where ceviche was a staple after summer fishing trips, this coastal staple is prepared like a home cooked meal. And, with the help of Chef Davis Turner, the new ceviche menu inspires unique creations with fresh black drum, shrimp, oysters, and more.
by the glass or bottle for on-site drinking as well as to-go.
Flo's is co-founded and co-owned by childhood friends Flo Clemons and Adair Belisle, who said they long dreamed of opening a local hangout. The pair has partnered with Townsend Smith and Daniel Sorg (two of the founders formerly of Sammataro), who run Allday Pizza to create a well-rounded pairing of food and drink.
Visit Flo's at 3111 W 35th St. For more information, see floswinebar.com and allday.pizza.
To try Via 313 for yourself, visit their newest location at 3944 S. FM 620 Road or order online at via313.com.
ROSÉ GOSÉ DEBUTS ON AIRPORT BLVD.
With the closure of ATX Grill (which had a brief stint in the former Sala and Betty space) comes a New European and New American spot: Rosé Gosé. The restaurant and bar boasts more than 250 wines, 50 craft beers and a mysterious list of numbered cocktails — No. 1 is a gin martini with sparkling wine, lychees and bergamot oranges, while No. 3 is a rum punch with passionfruit and pineapple. These cocktails, though inconspicuous, have a
To try Rosé Gosé yourself, visit 201 Airport Boulevard. For more information follow IG: @rose_gose_austin.
ZE CREPES RELAUNCHES AS THE SCARBROUGH
Downtown eatery Ze Crepes has relaunched as The Scarbrough — a name inspired by the restaurant's home in the lobby of the historic Scarbrough Building. The new concept continues to serve up the sweet and savory crepes that made Ze Crepes a local favorite, but also offers an expanded dinner menu with more health-conscious options.
The Scarbrough's Bonjour Menu features brunch fare like healthy fruit and parfait bowls, a croque madame, breakfast crepes,
Launched in 2020 and located in the backyard at Still Austin Whiskey Co, Huckleberry is the go-to for ethically sourced gulf coast comfort foods. Their so-called "smart food truck," utilizes 5G and IoT technologies to provide insight on food storage, temperature, and humidity — guaranteeing the highest quality fish in every meal. In addition to their ceviche specials, Huckleberry continues to offer their fan-favorite seafood platters, Po'Boys, and shrimp rolls.
Find Huckleberry at 440 East Saint Elmo Rd. and visit huckleberrytx.com for more.
edibleaustin.com 9 8 Summer 2023
Left Page, Top: Photo by Via 313 Left Page, Bottom: Flo's Wine Bar photo by Mackenzie Smith Kelley Right Page, Top Left: Photo by Rosé Gosé Right Page, Bottom Left: Photo by Ze Crepes Right Page, Top Right: Photo by Ze Crepes Right Page, Bottom Right: Photo by Huckleberry
Ava Motes is an Austin native who follows the city's expanding food scene with an eye for the people and stories behind beloved menus. In her spare time, she loves trying new restaurants, exploring farmers markets, and relaxing in cafes with a good book in hand.
edibleaustin.com 11 10 Summer 2023 it's all in the details Find an agent & request a quote at societyinsurance.com/Texas . TRIED-AND-TRUE RESTAURANT & BAR COVERAGE WITH NO SURPRISES. SMALL DETAILS. BIG DIFFERENCE. Long-standing industry expertise means that nobody understands the unique challenges of protecting your hospitality business better than Society Insurance. Offering tried-and-true specialized programs for every type of restaurant and bar establishment, we are proud to provide our comprehensive coverage to the Lone Star State. T HE LONE S TAR STAT E N OW S E R VIN G